Starting a Notion workspace from scratch can be a daunting process, but with a pre-designed Notion template, you can get a jump start on increasing your productivity, organizing your life, journaling your thoughts, and so much more – all under one roof!
Notion's got an incredible community, and this community has built a plethora of free Notion templates available for almost every use case in your life. To help you pick the right ones for your needs, we've curated the top free Notion templates!
Table of Contents
Want more Notion templates and updates? Join our mailing list, and check out our several other Notion template round-ups!

Robust, do-it-all Notion templates for daily planning, school, travel, meal planning, habit tracking, and so much more –

see the templates here

!
Free Notion Templates for Students
Bring all of your notes, assignments, academic plans, semester goals, and more into one place with a dedicated Notion workspace designed for students! Use these free Notion templates for students to organize your life and hit all your deadlines.
Looking for more robust options to organize your academic life? Don't miss our full round-up on Notion templates for students.
School Dashboard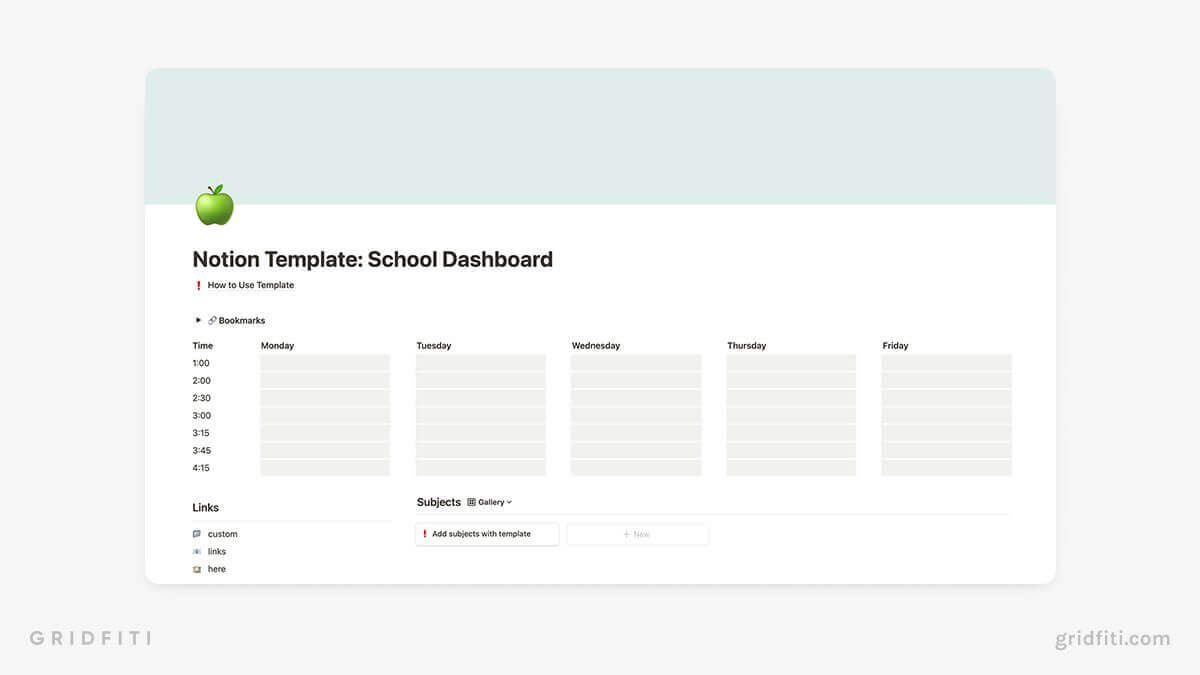 Template by @keewpiie
Pomodoro Study Template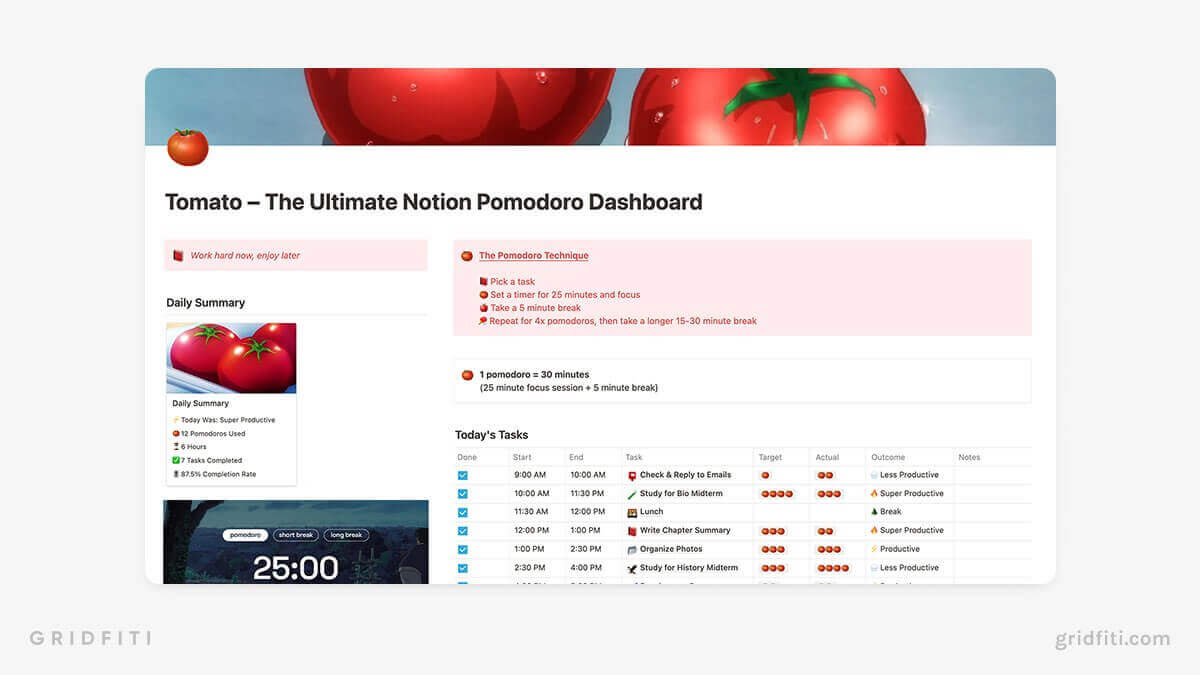 Template by Gridfiti
Aesthetic Student Life Dashboard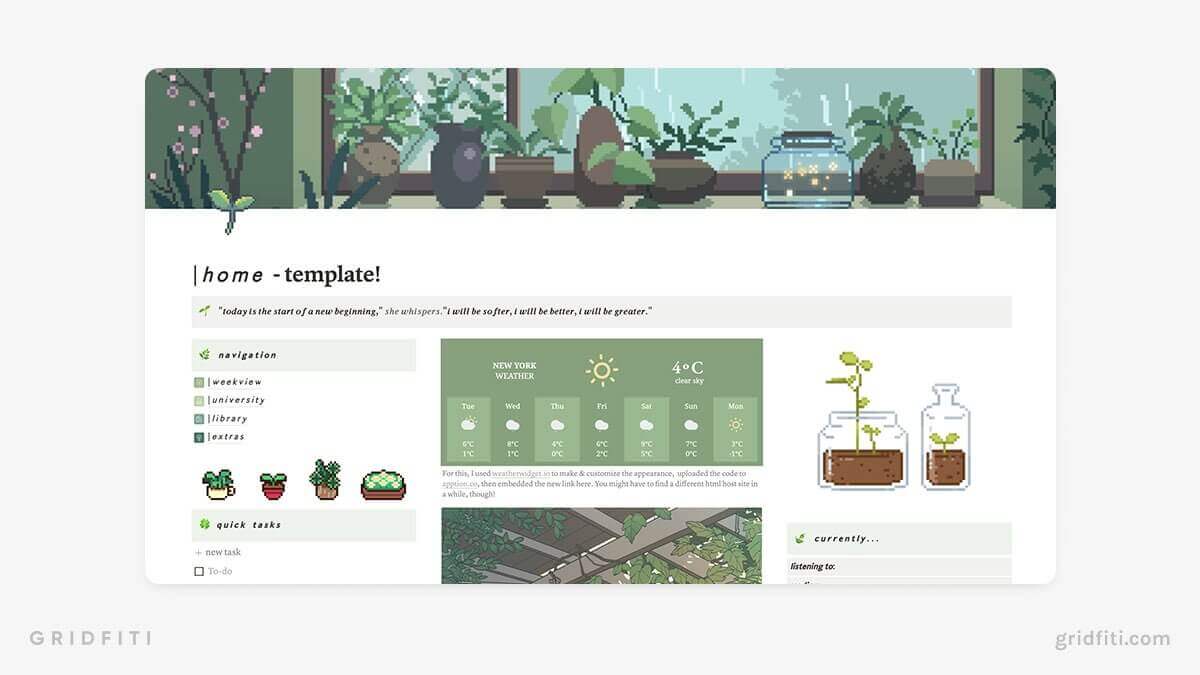 Grad Student Notion Homepage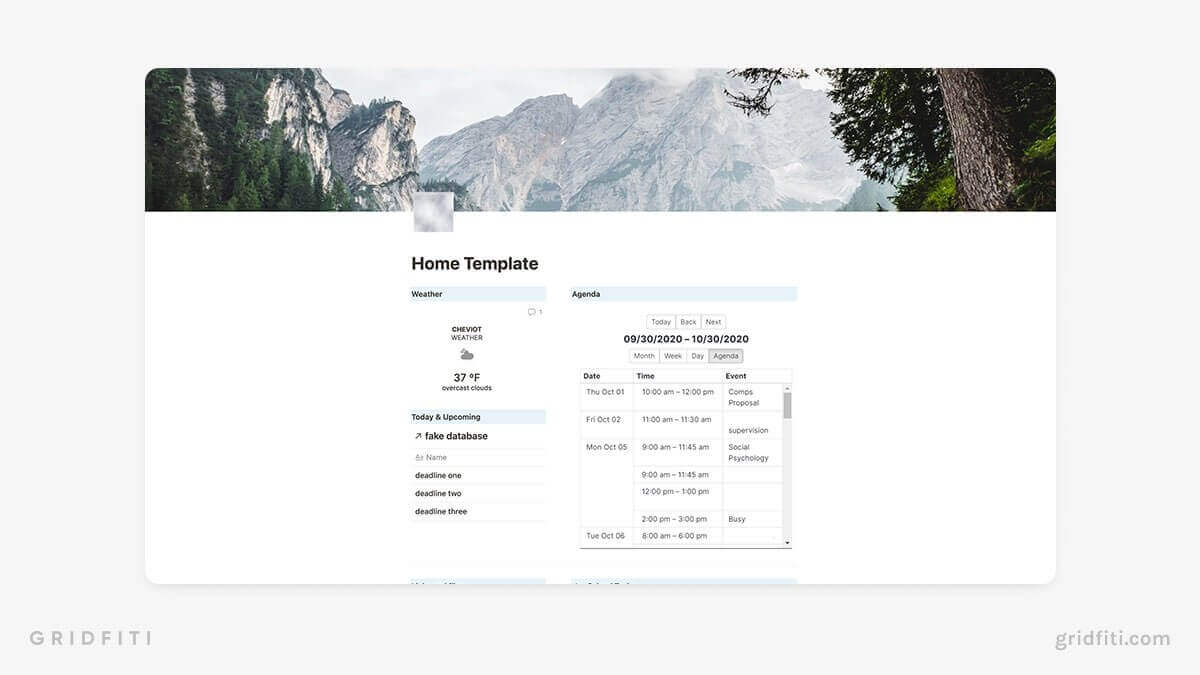 Your Student Dashboard
Colorful School Hub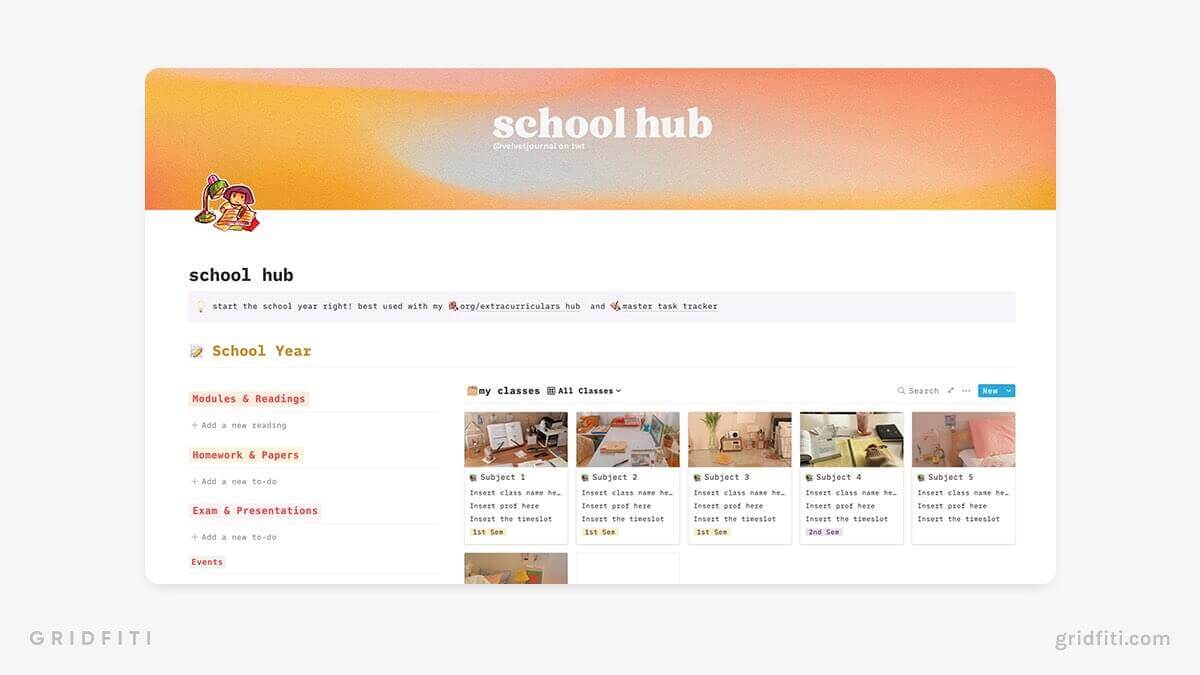 Template by @velvetjournal
Master Task Tracker for Students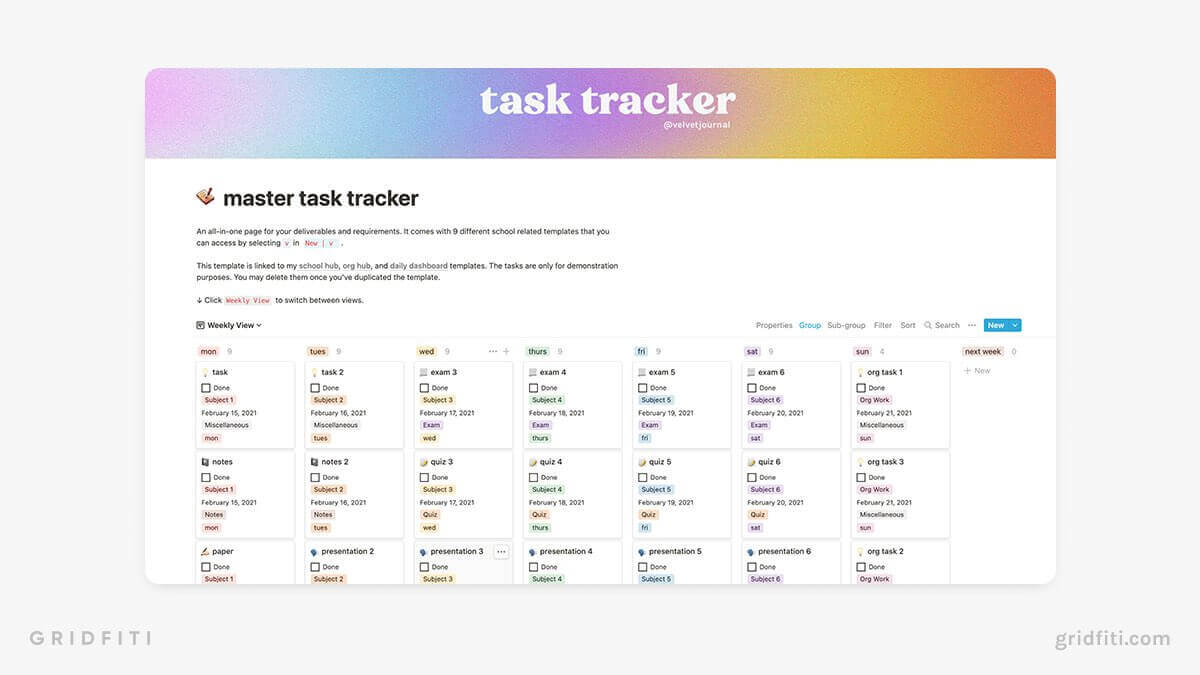 Template by @velvetjournal
Aesthetic Student Planner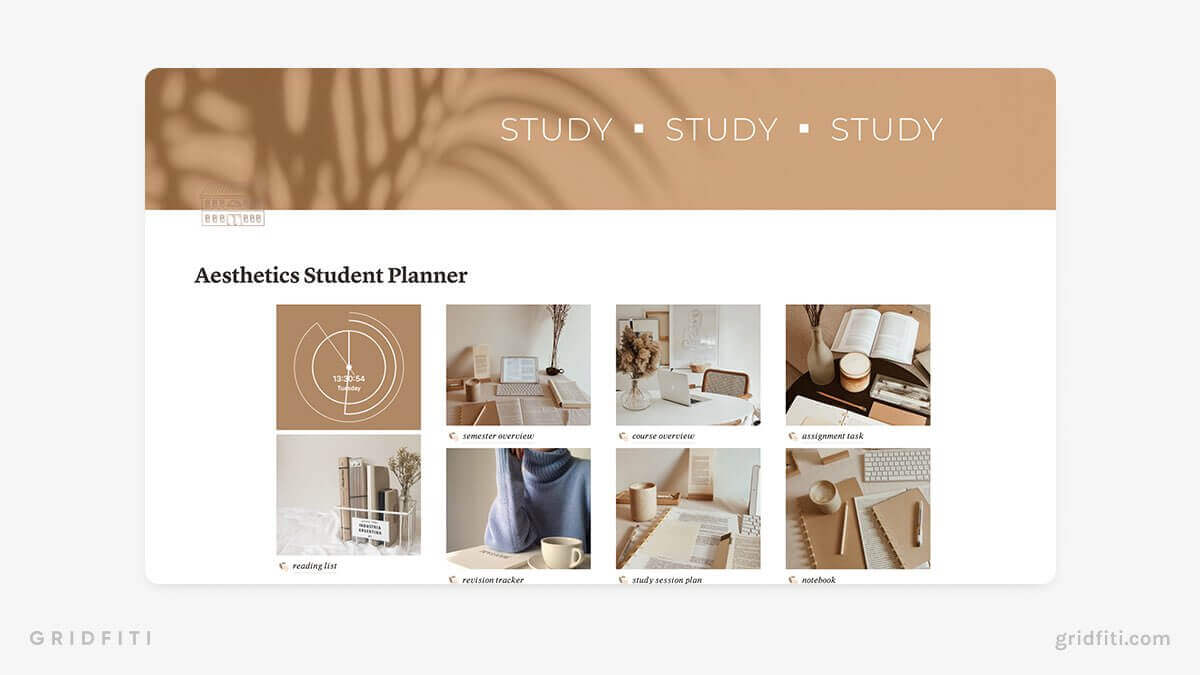 Template by Ella Li
Note-Taking Template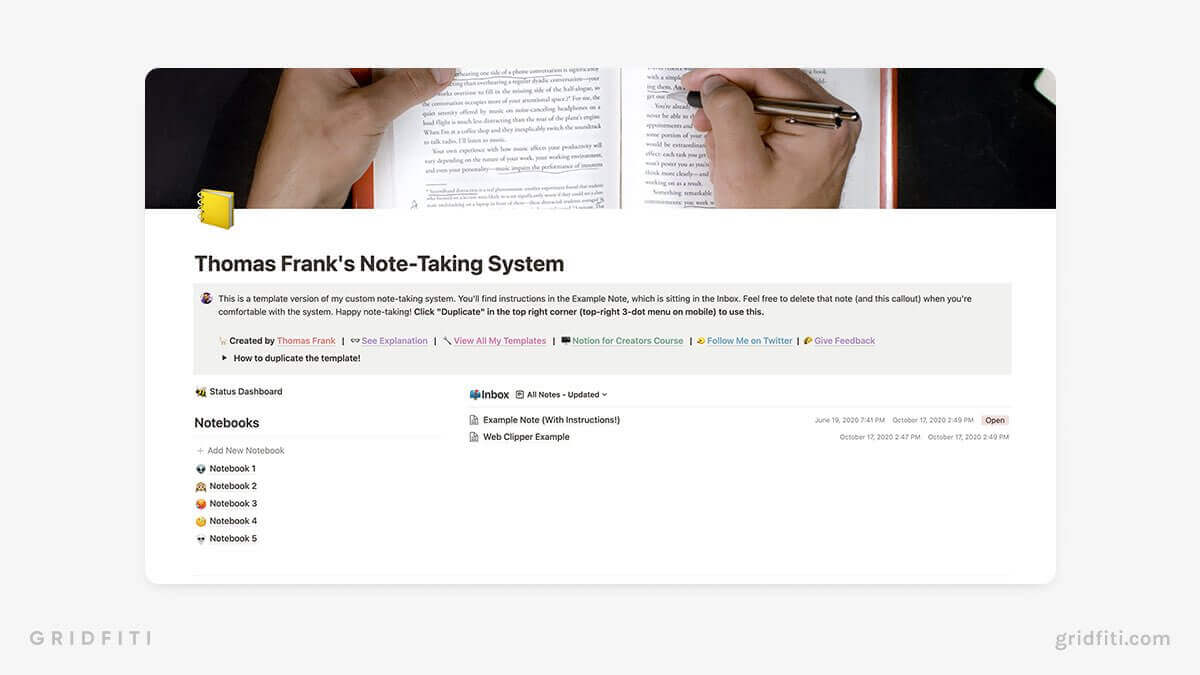 Template by Thomas Frank
Free Notion Homepage & Dashboard Templates
Notion dashboards are a great way to organize your pages and areas of life into an all-in-one hub. Creating a full one from scratch can be daunting, but luckily there are some great free simple Notion homepage layouts and dashboards to get started with and customize!
For more Notion homepage templates, check out our curated list of the best Notion life OS templates!
Minimal Aesthetic Personal Dashboard
Looking for more minimal templates? Check out our blog post highlighting our favorite minimalist Notion templates!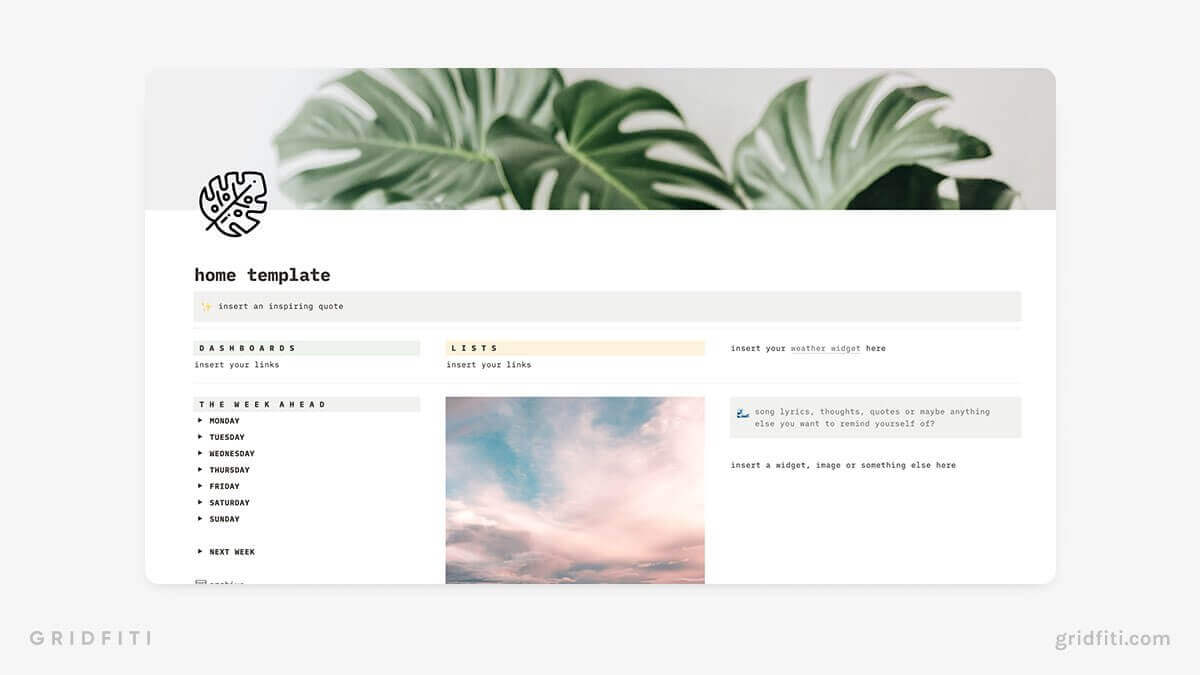 Template by /u/frxchs on Reddit
Life Management System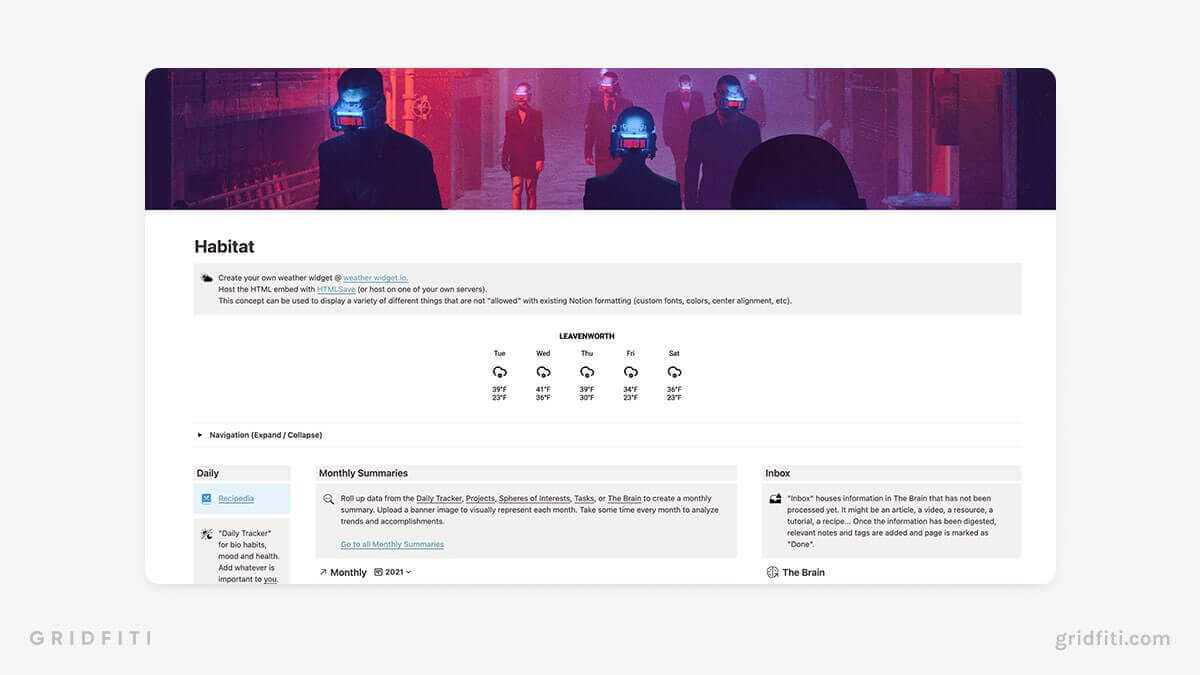 Template by Jamie Butler
Colorful Notion Dashboard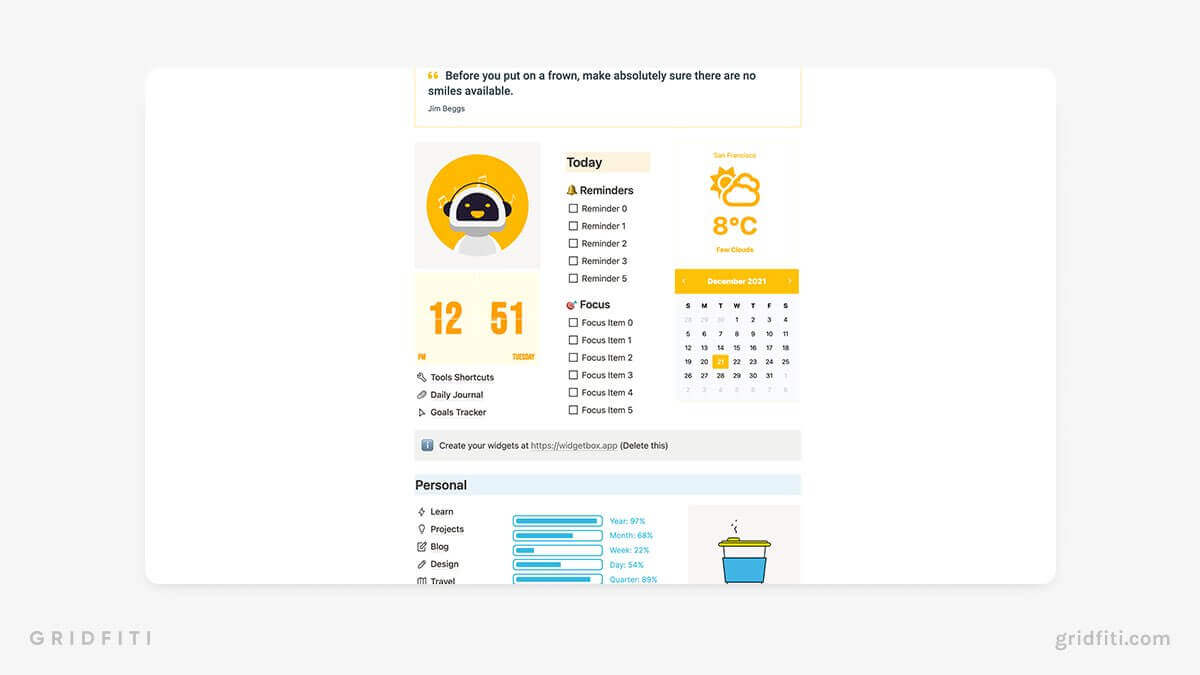 Free Notion Personal Templates
Plan your meals, trips, and organize your watch list and journals with one of these personal Notion templates. Use Notion as your personal operating system to store your favorite recipes, links, images, and more – all in databases!
Don't miss our full round-ups with the best premium templates in their class:
Personal Content Library – Watch, Read & Listen Later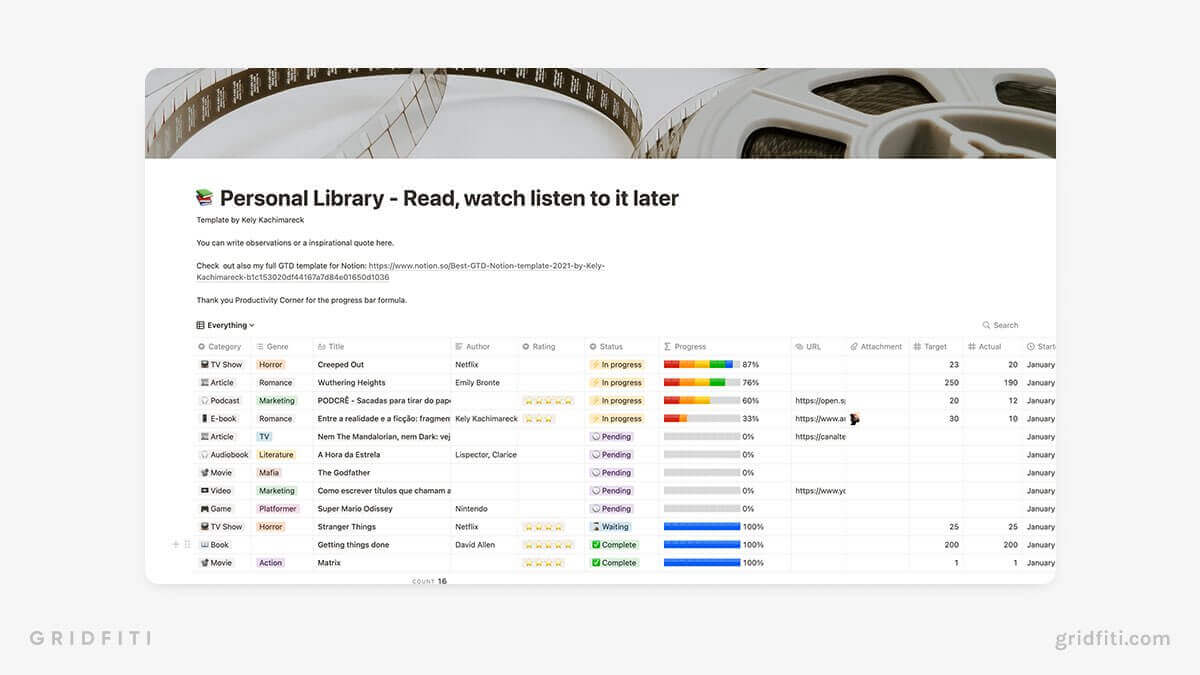 Template by Kely Kachimareck
Simple Media Manager – Movies, TV Shows & More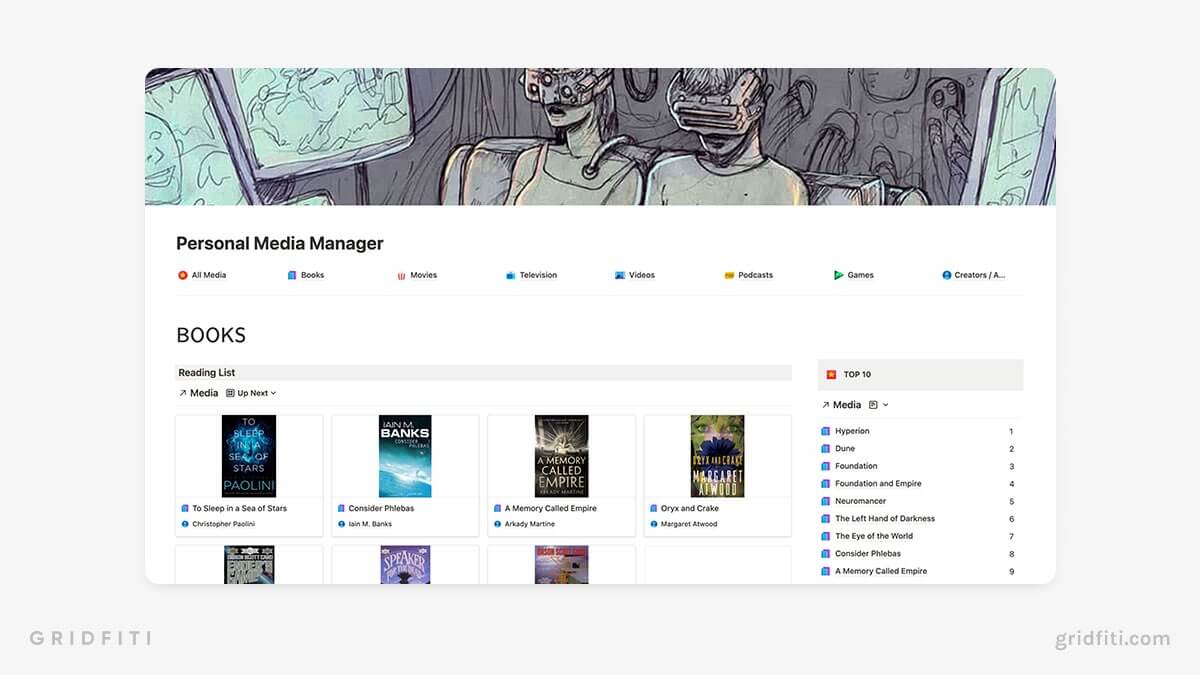 Template by Jamie Butler
Notion Video Game Tracker Template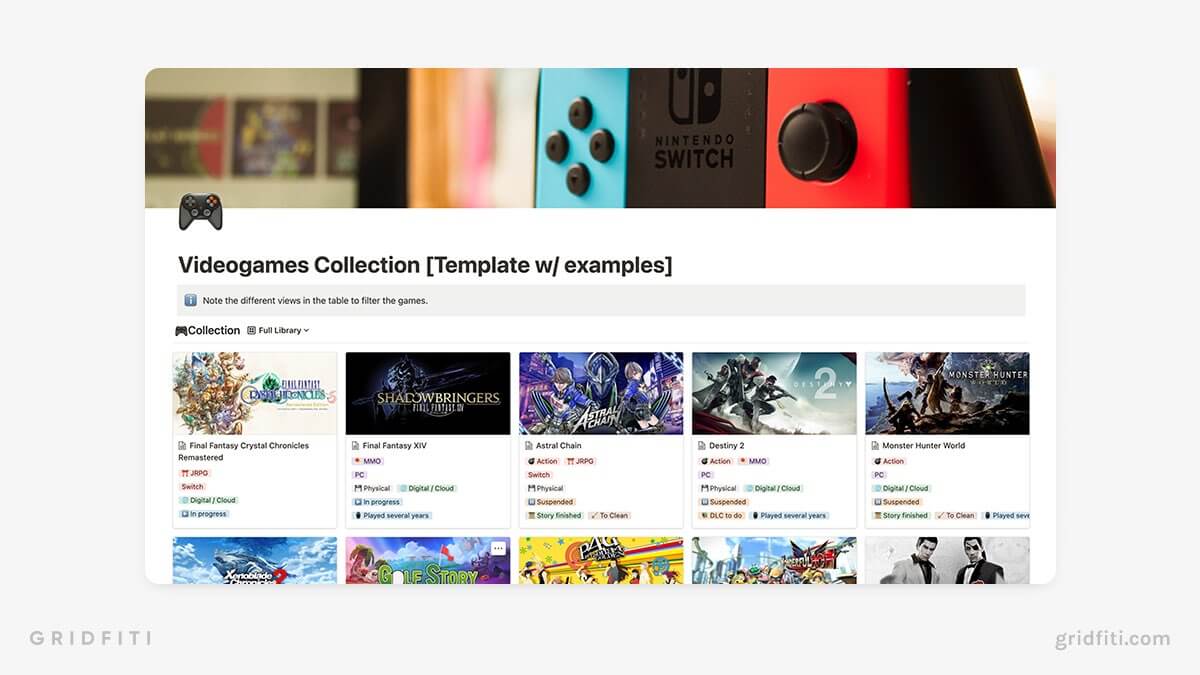 Template by Jamie Butler
Journal Dashboard Template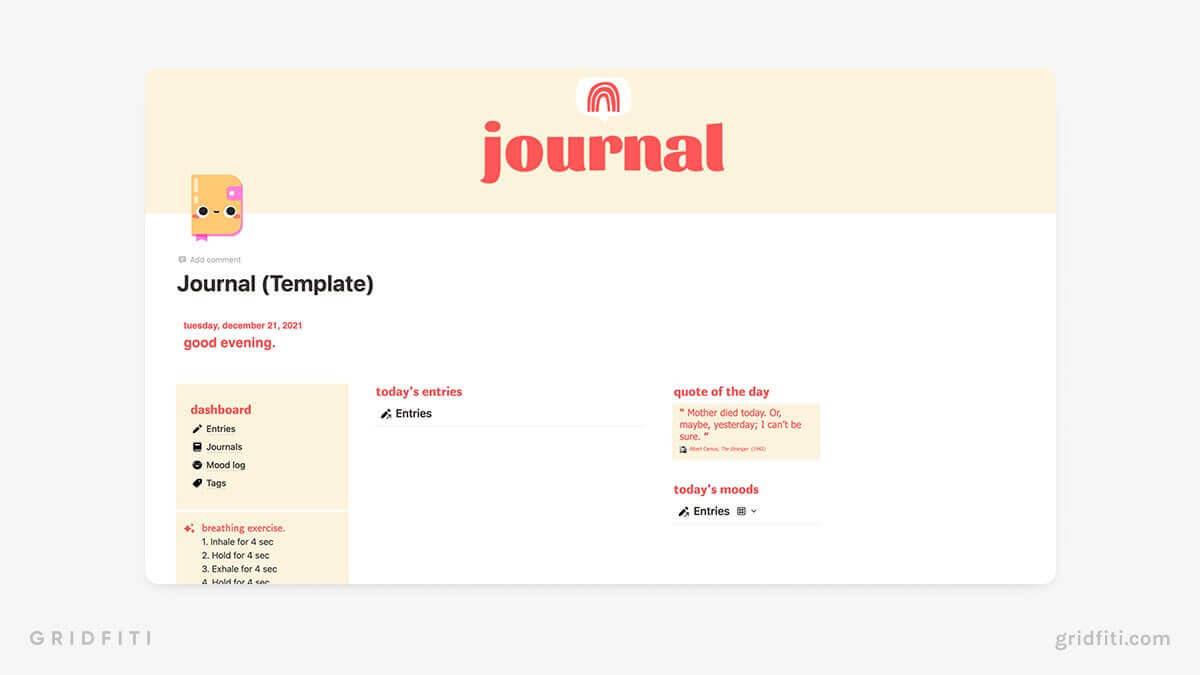 Template by /u/EllieGons on Reddit
Bullet Journal Template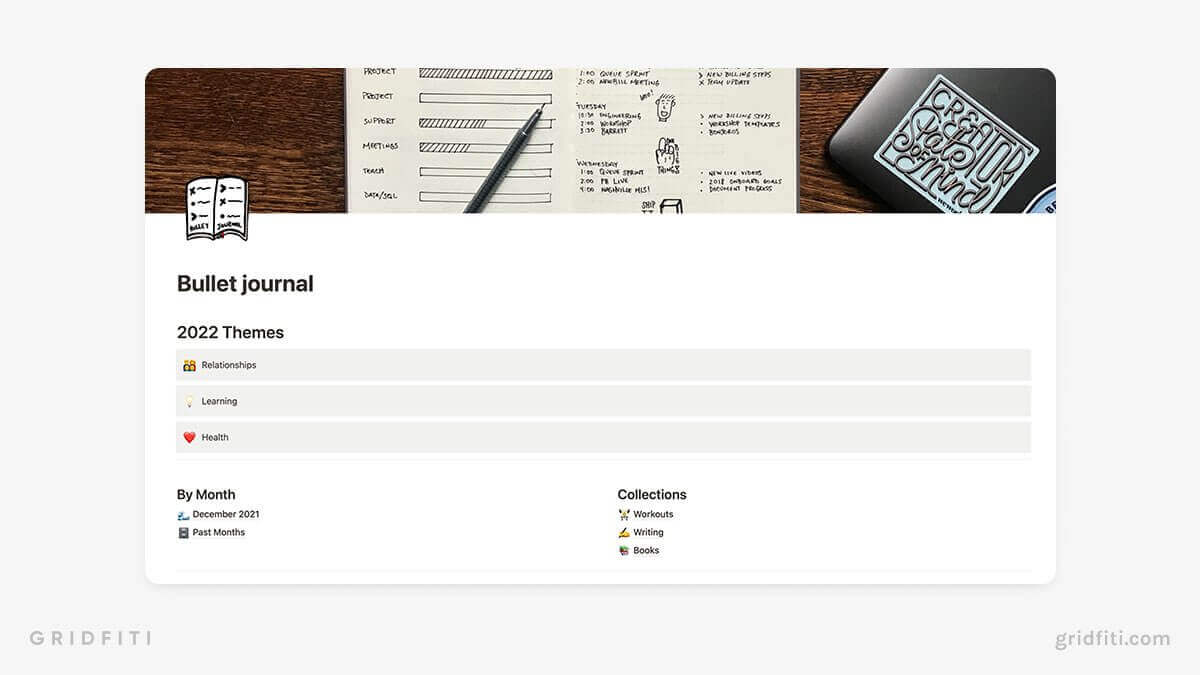 Template by @mattragland
Meal Planning Dashboard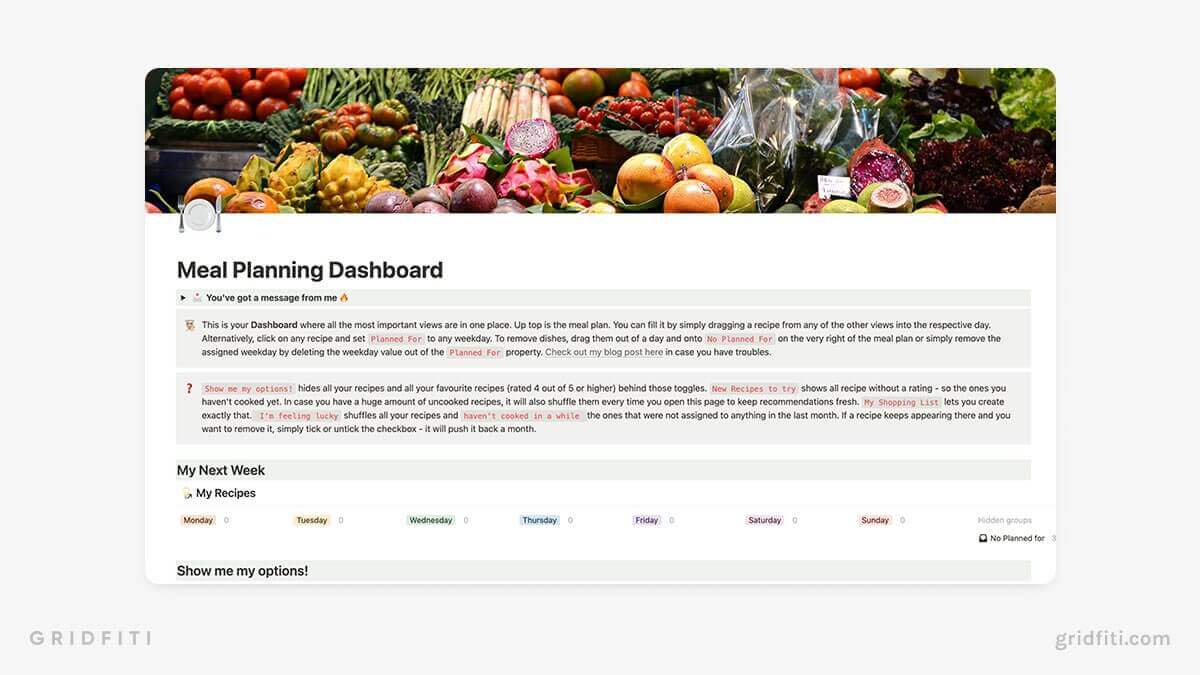 Template by @mfreihaendig
The Ultimate Travel Planner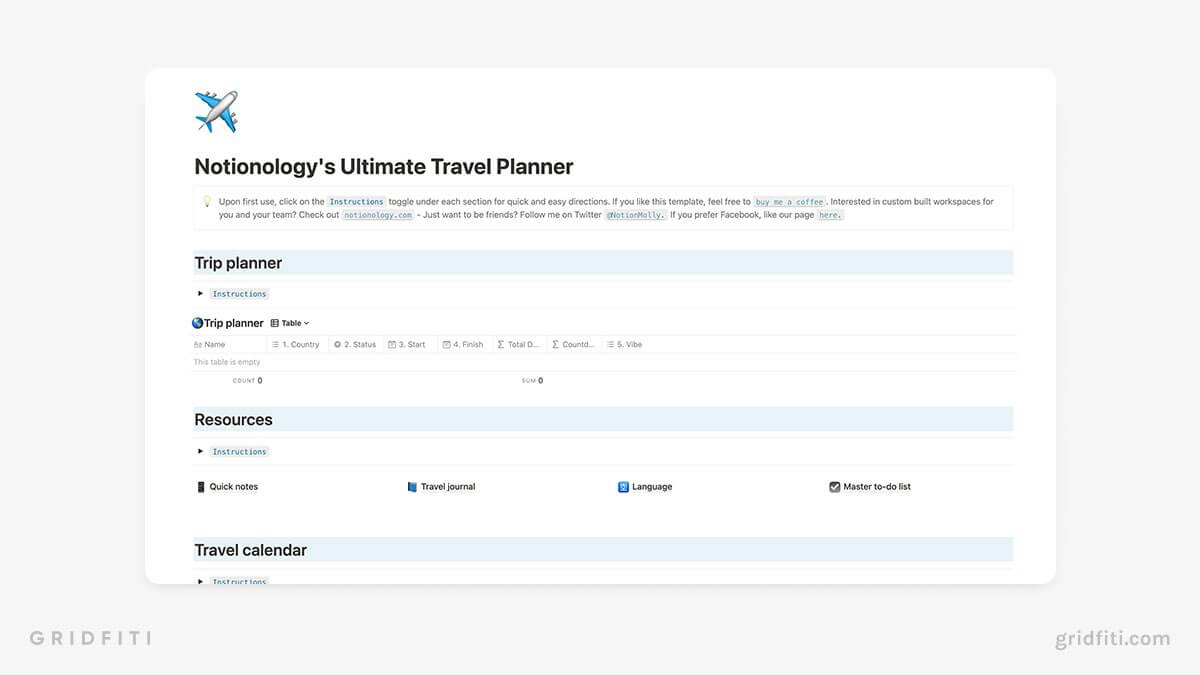 Template by @notionmolly
Notion Bookshelf Template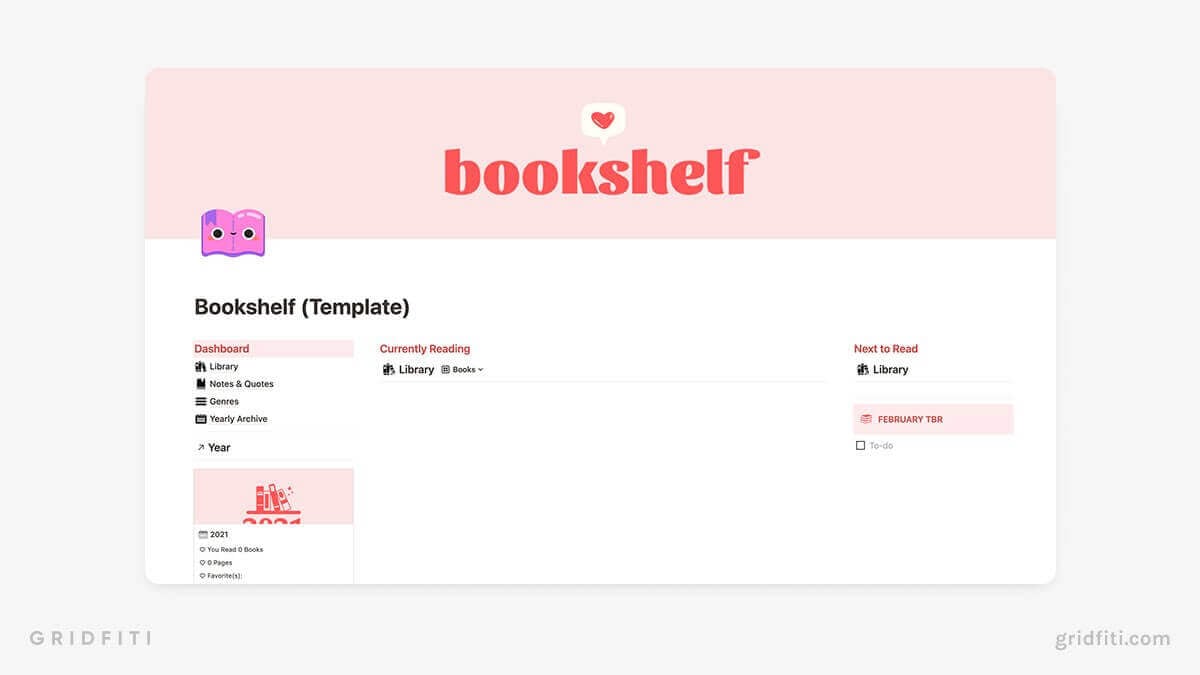 Template by Ellie
Ali Abdaal's Book Notes Template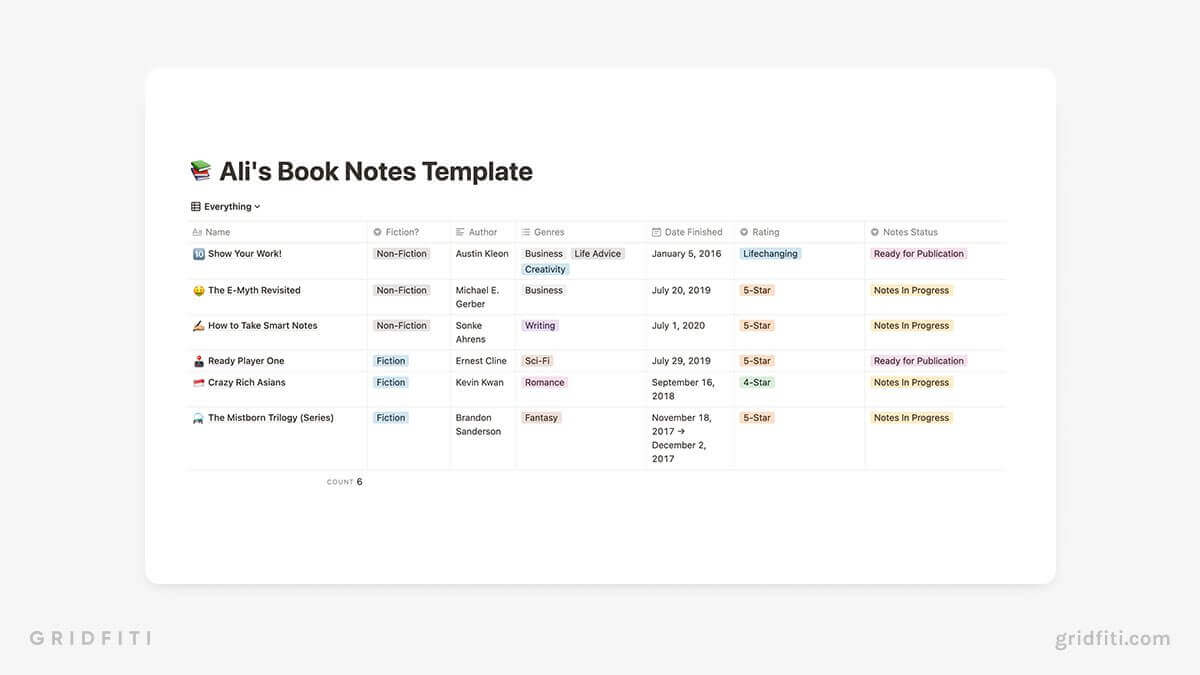 Template by Ali Abdaal
Free Aesthetic & Cute Notion Templates
Notion's customizability makes it the perfect place to design a workspace that goes with your personal aesthetic. There are a ton of pre-made themed templates out there – check them out! Don't miss our full round-up on aesthetic Notion templates, too.
Studio Ghibli-Inspired Notion Dashboard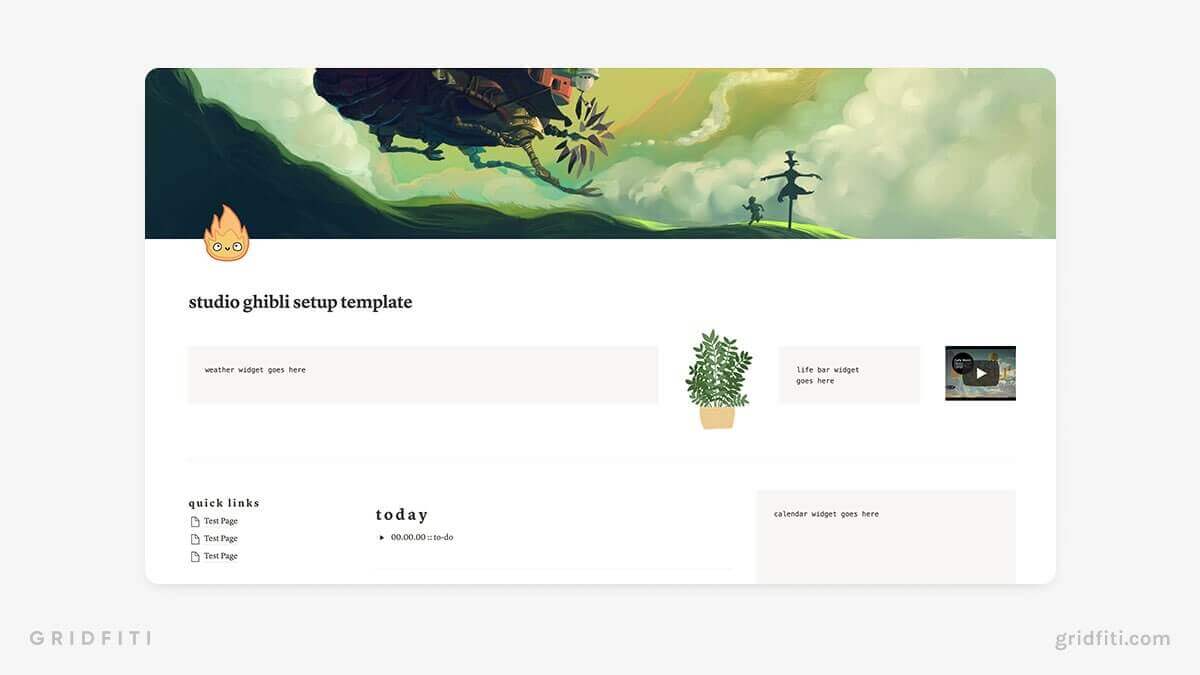 Template by Lis Yeung
Cute & Colorful Notion Homepage Dashboard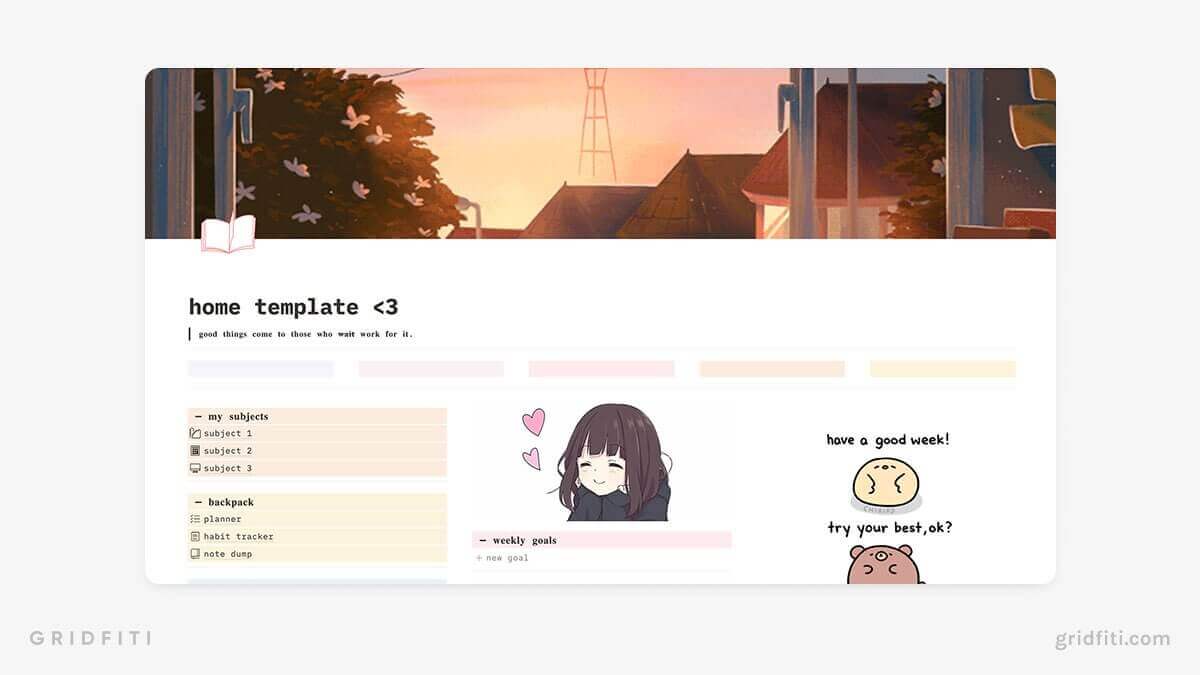 Template by u/Exact_Device_3569 on Reddit
Over the Rainbow Aesthetic Notion Dashboard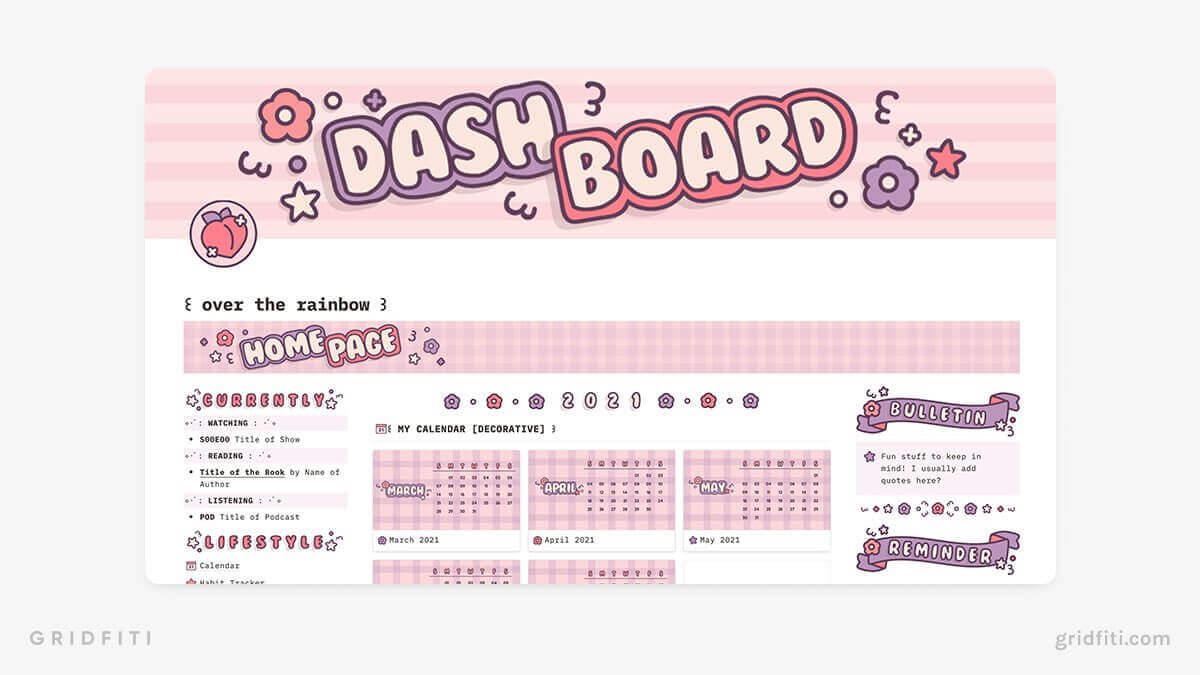 Template by @daphnedi_
Pastel Aesthetic Semester Planner for Students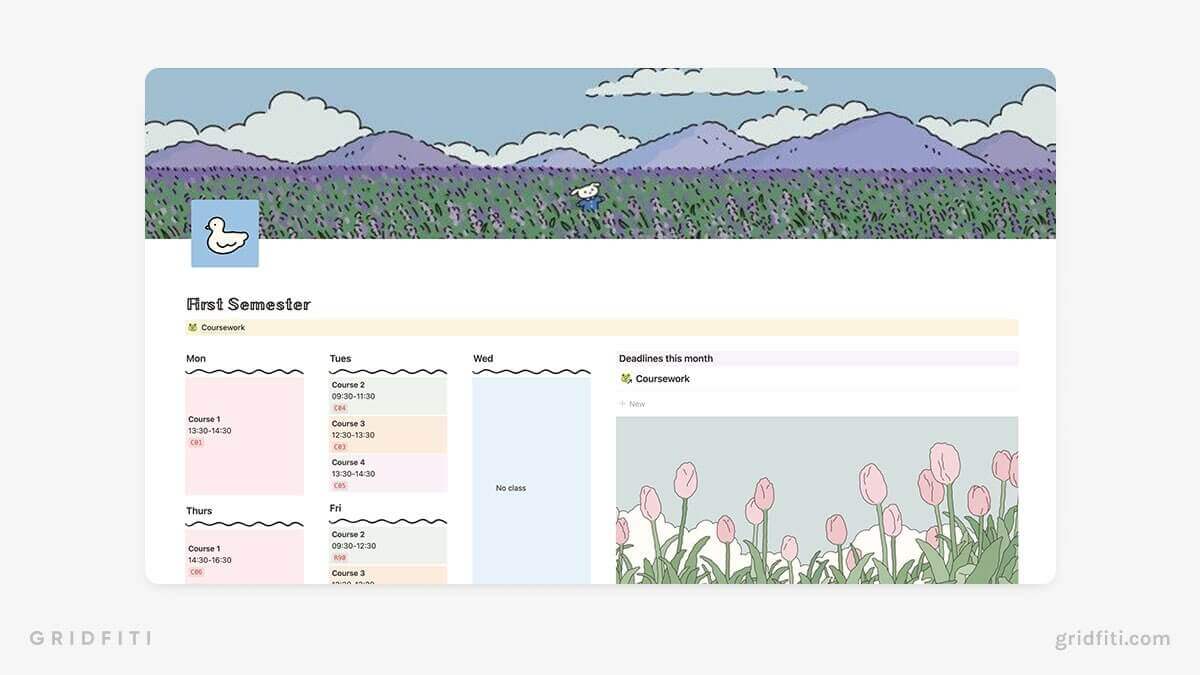 Yearly Planner and Organizer
For more planner templates, check out our full round up post outlining the best Notion calendar templates!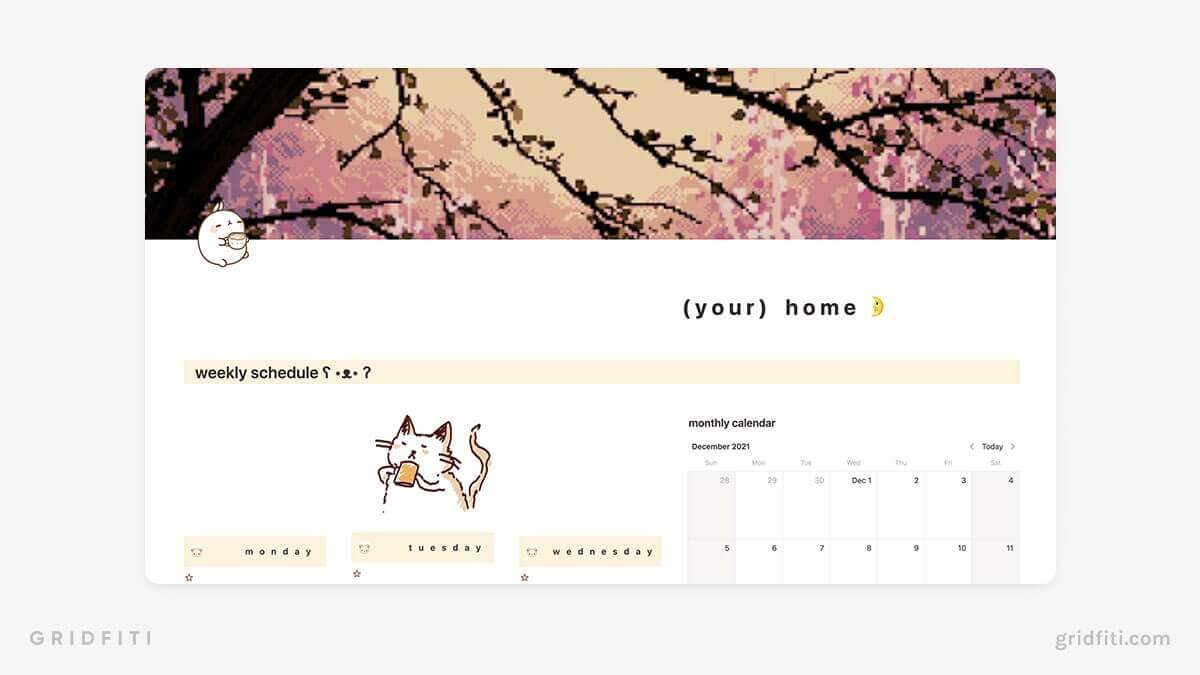 Template by /u/redshibe4 on Reddit
Free Notion Templates for Productivity
Organize your life and accomplish your daily or weekly tasks with these free Notion templates to increase your productivity! Plan your days, manage your tasks, track your habits and, ultimately, get more done.
Want more robust productivity templates to pick from? Don't miss our round-up on the best Notion productivity templates:
Notion Productivity Hub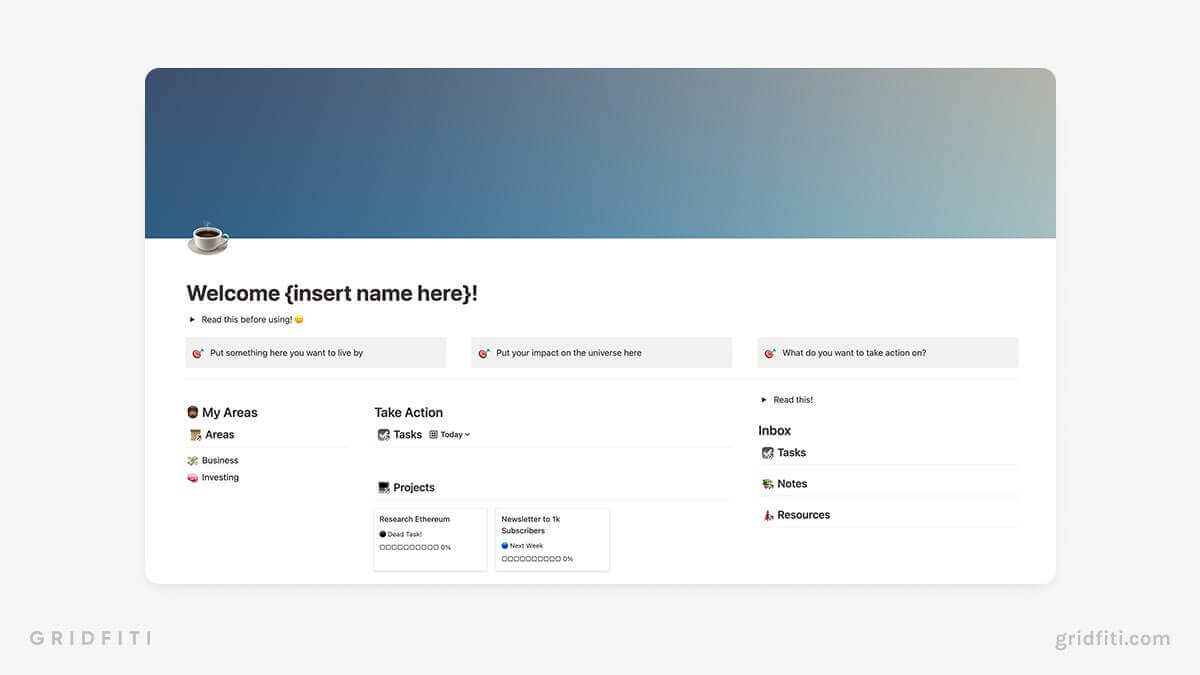 Productivity Operating System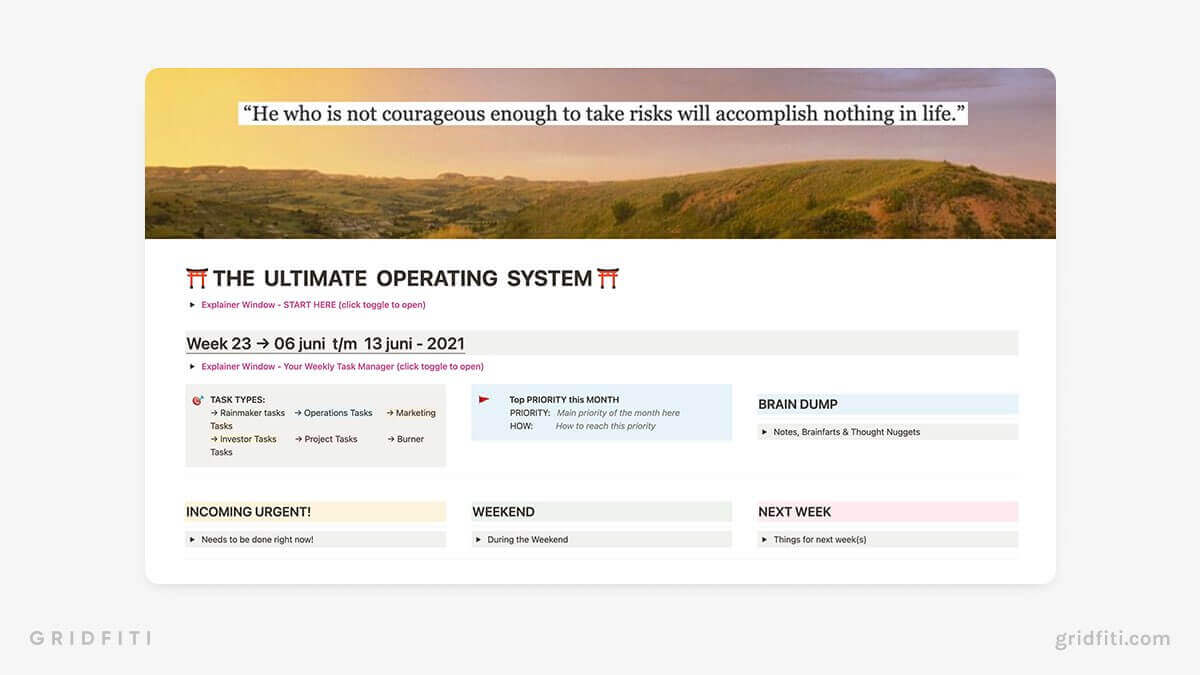 Template by Juriaan Karsten
Weekly Dashboard & Task Database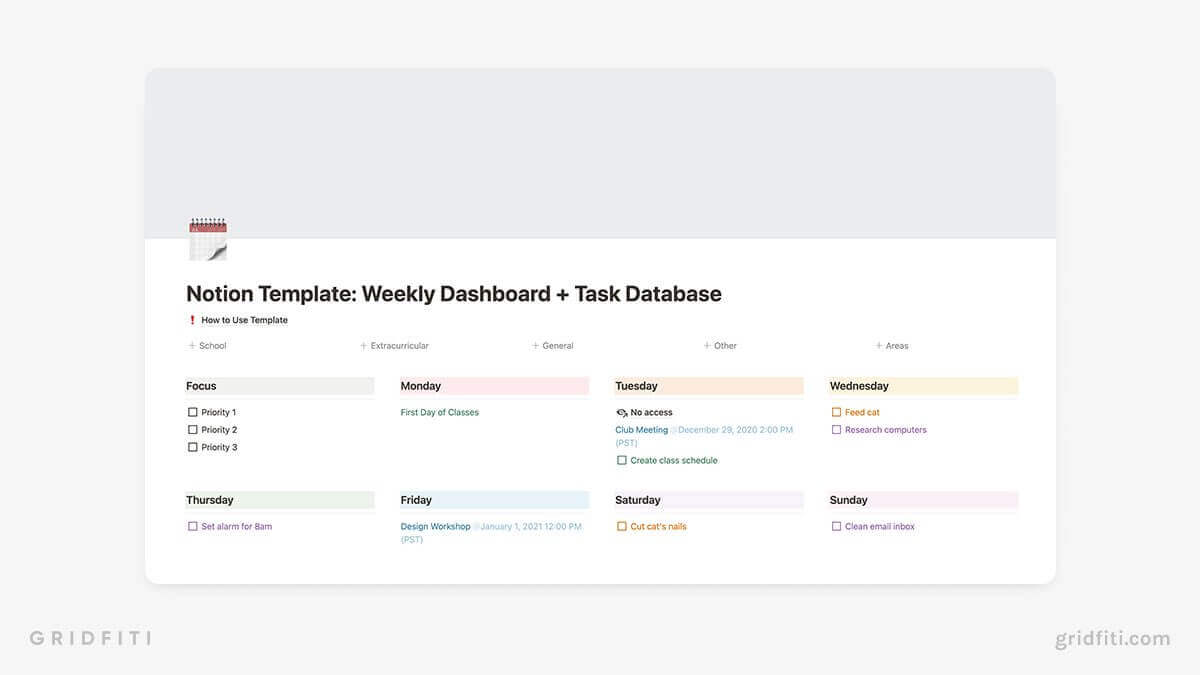 Template by @keewpiie
Smart Planner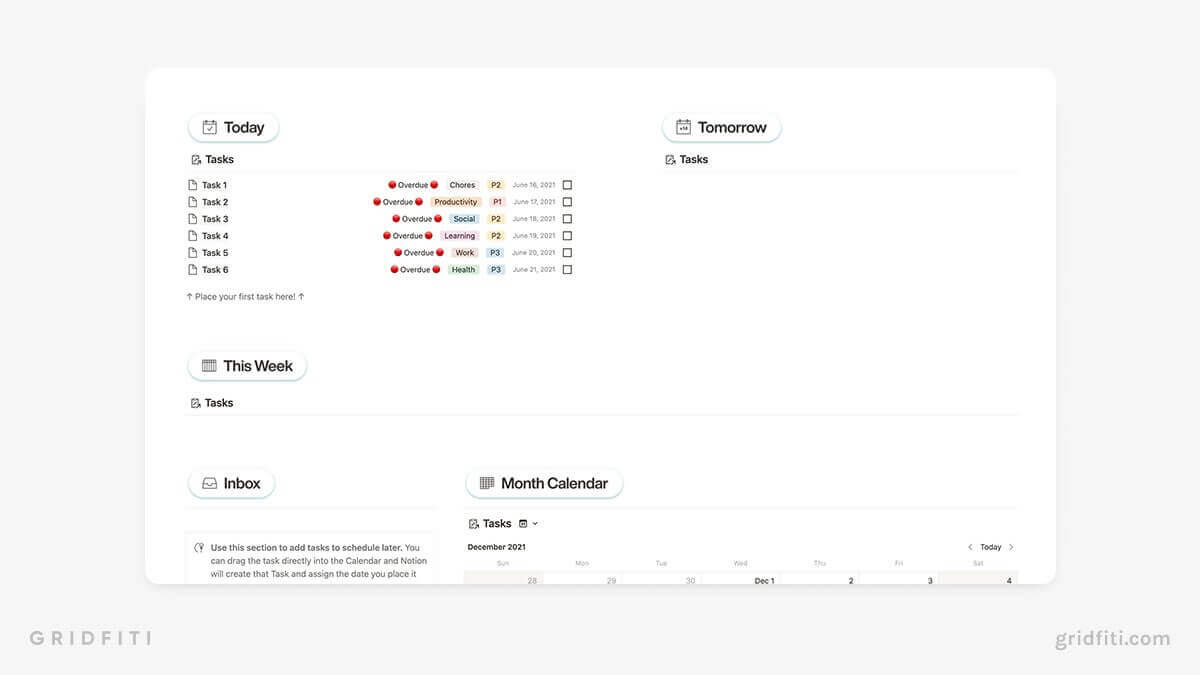 Template by @jackhentosh
Habit Tracker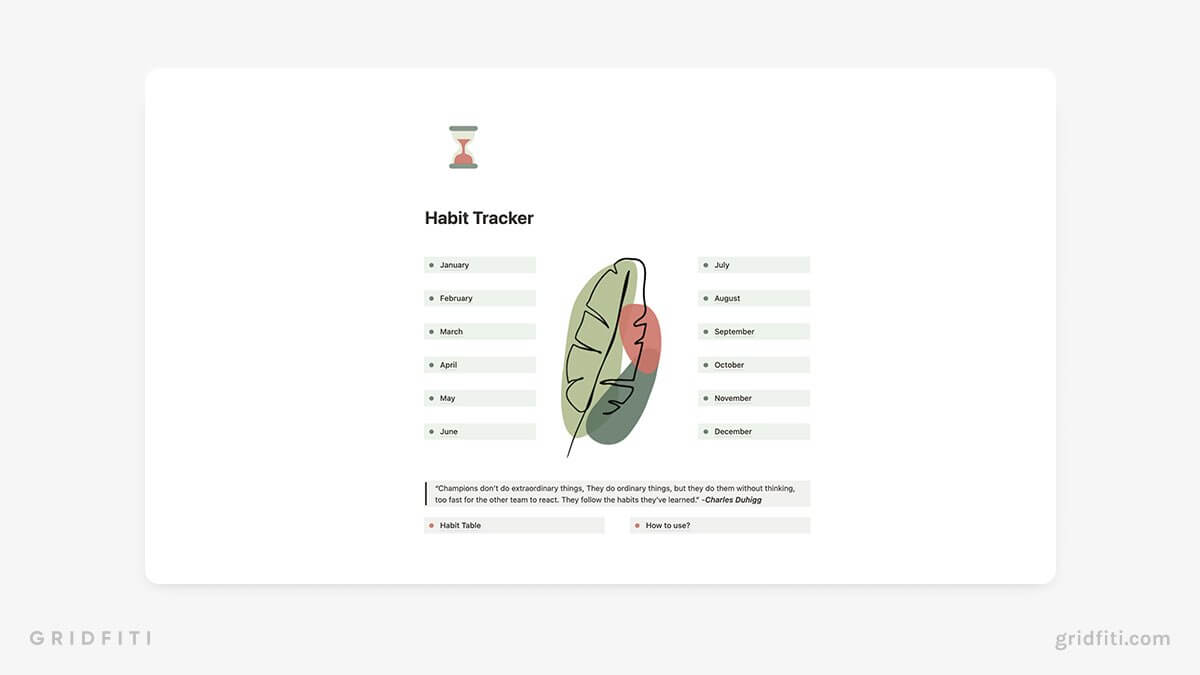 Template by @mounika_2000
Tasks & Project Management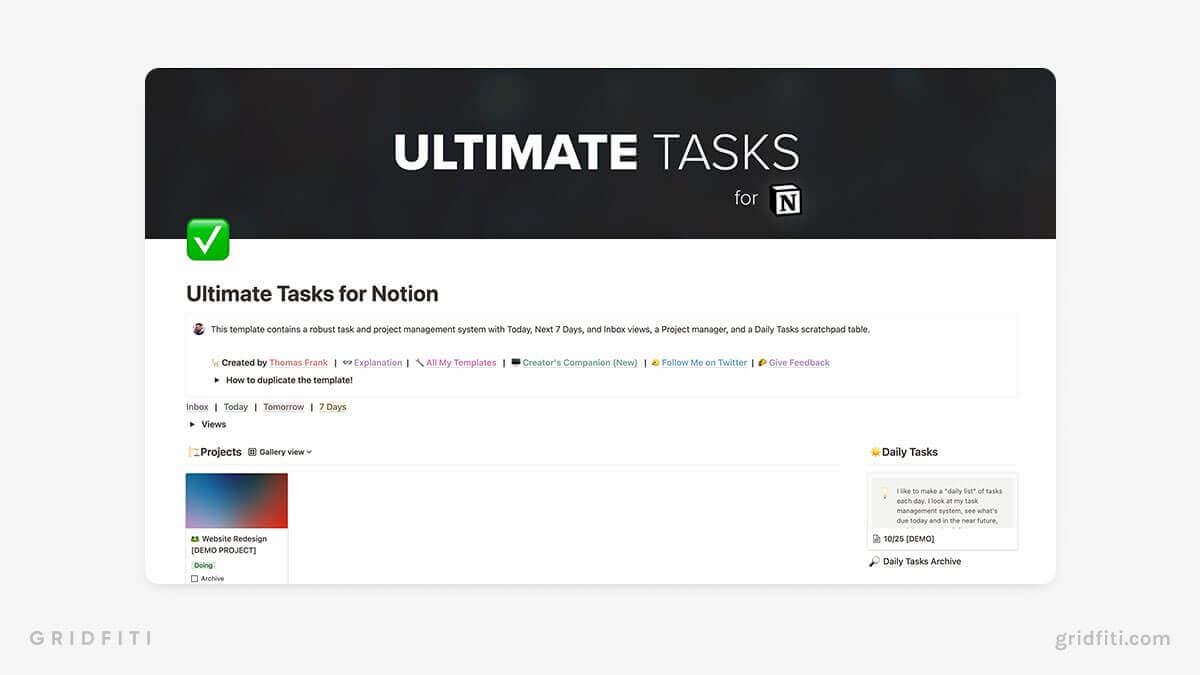 Template by Thomas Frank
Simple Life Tracker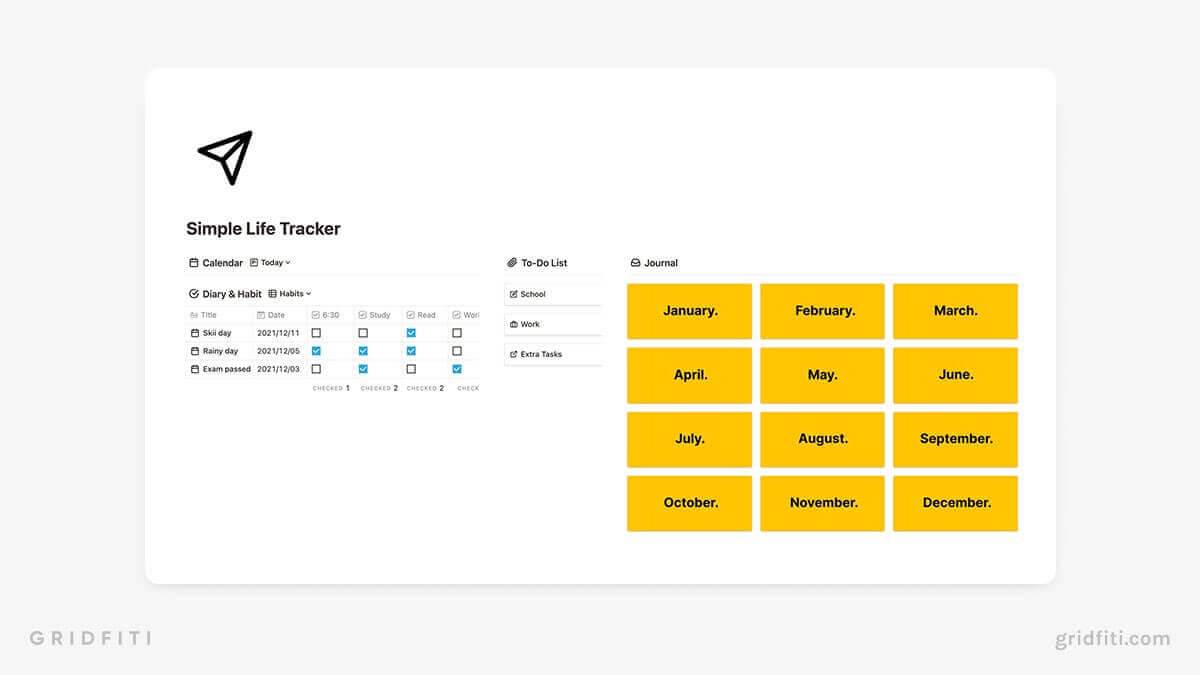 Foundations Notion Template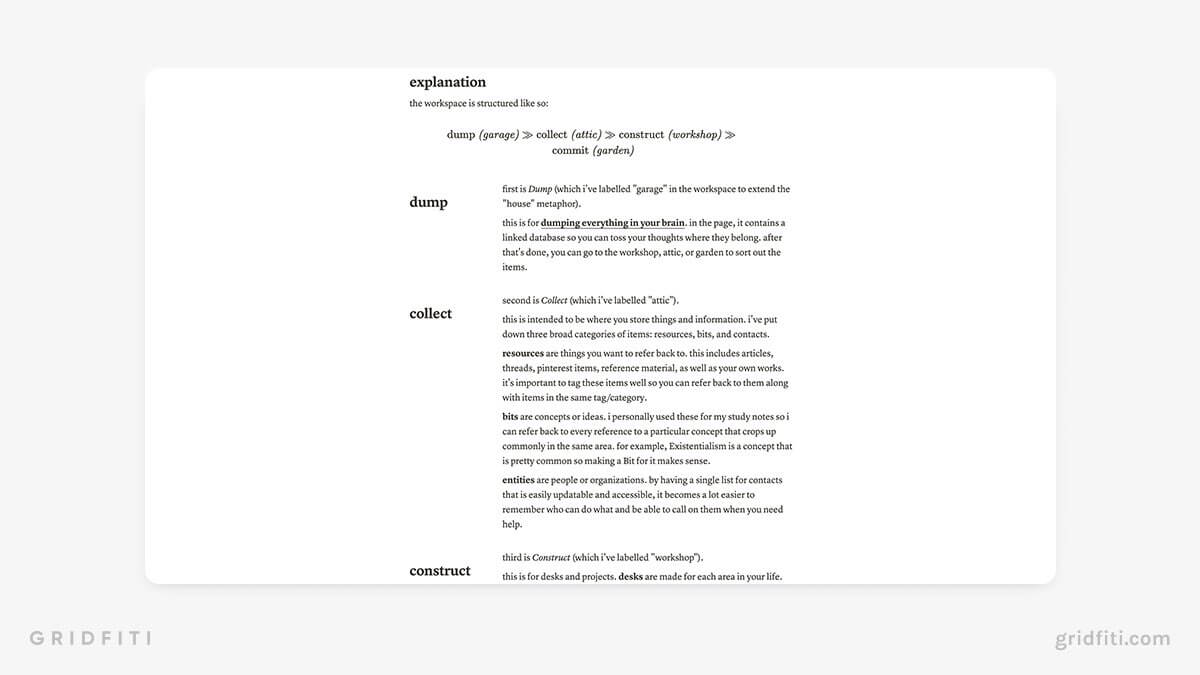 Template by Vayne Altapascine
Free Notion Templates for Health & Wellness
Keep both your mental and physical wellness in check with these health-focused free Notion templates. These templates will help you gain a better understanding of yourself, track your habits, and fine tune your behaviors to build a happier life.
Mood Station & Mood Tracker Template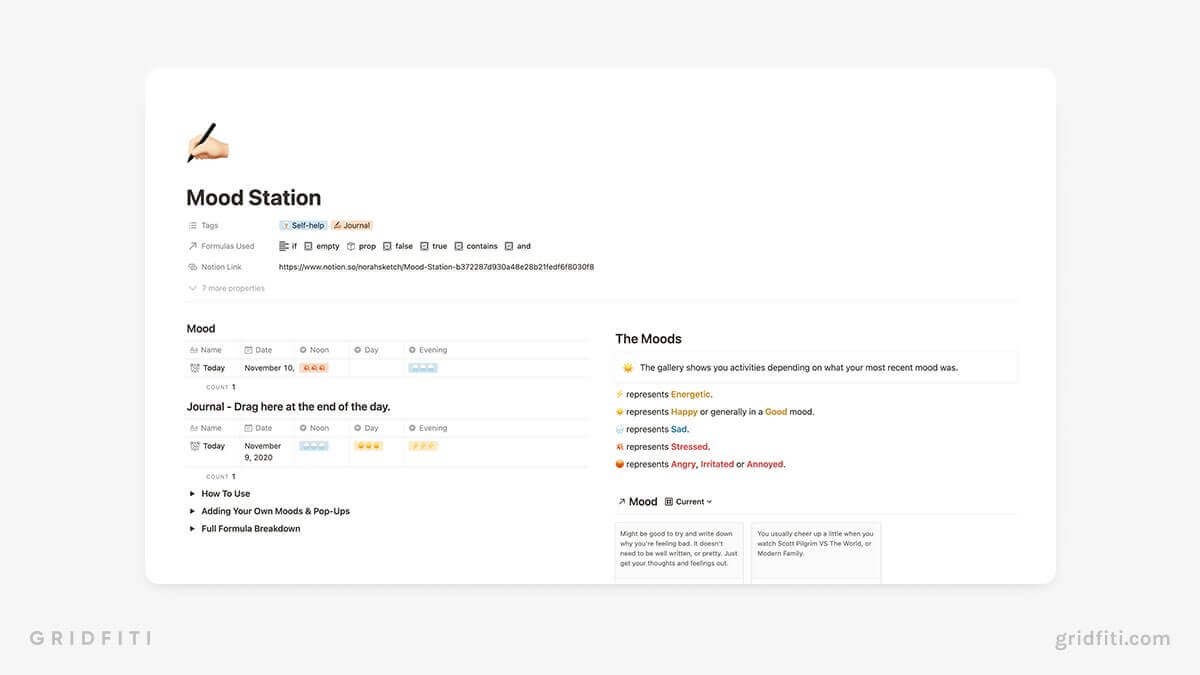 Template by @norahsketch
Gratitude Journal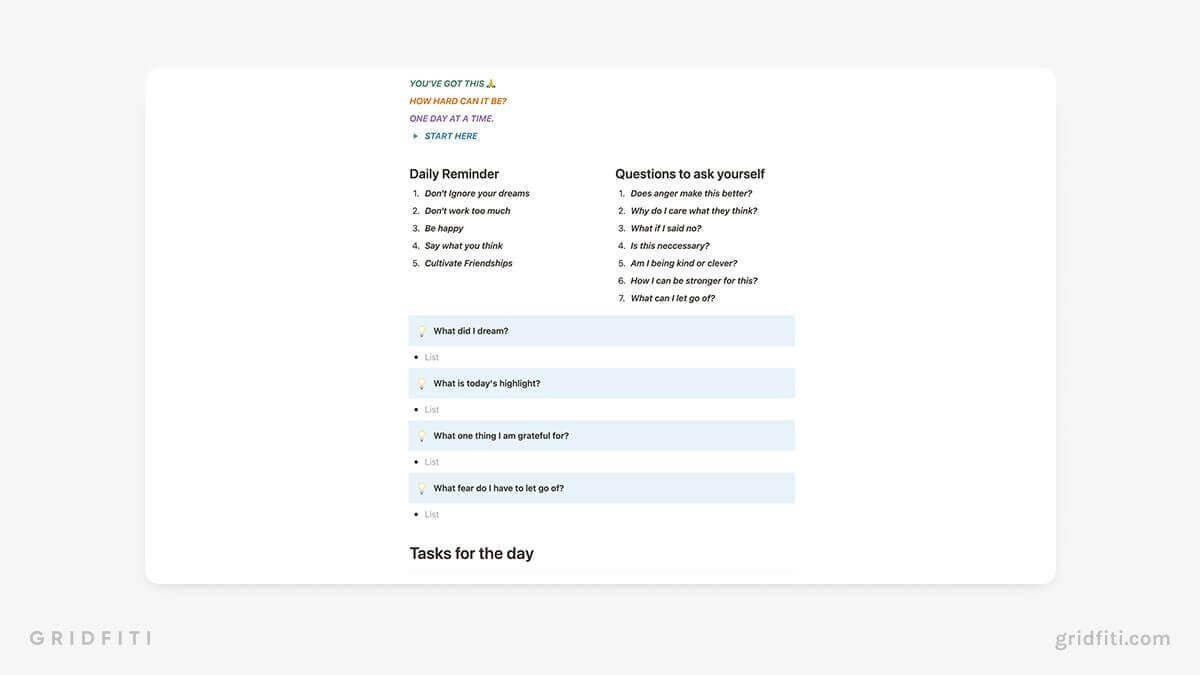 My Workout Habit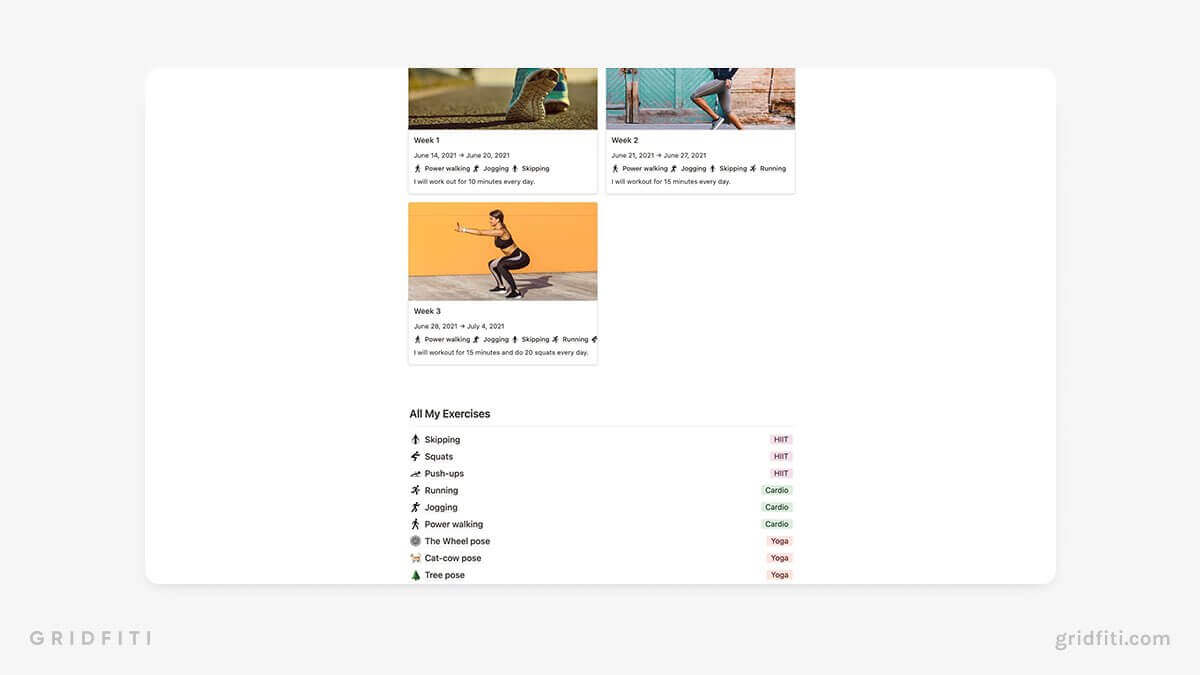 Template by Vensy Krishna
Workout Tracker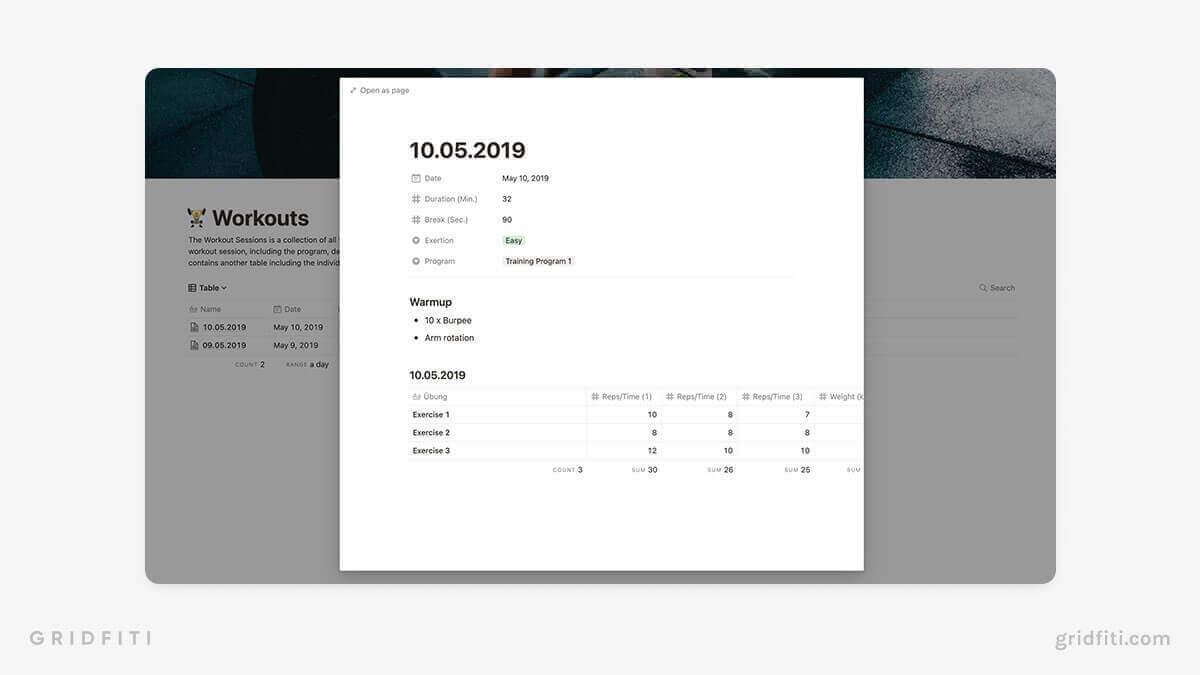 Template by @kogakure
Free Notion Templates for Business
Start, scale, and organize your business with Notion. Use these templates to map out your business plans and promote your brand. Heck, you can even get paid by invoicing your customers using Notion!
For more advanced templates, check out our full round-up of Notion templates for businesses:
Shopify Business Blueprint
The Shopify Business Blueprint template is designed to give any budding entrepreneur the tools, skills, and knowledge to start their own business. Developed with Gridfiti, the template is filled with insights and exercises tailored to help early-stage entrepreneurs go from ideation to execution. Take tangible steps to start your business with none other than the Business Blueprint!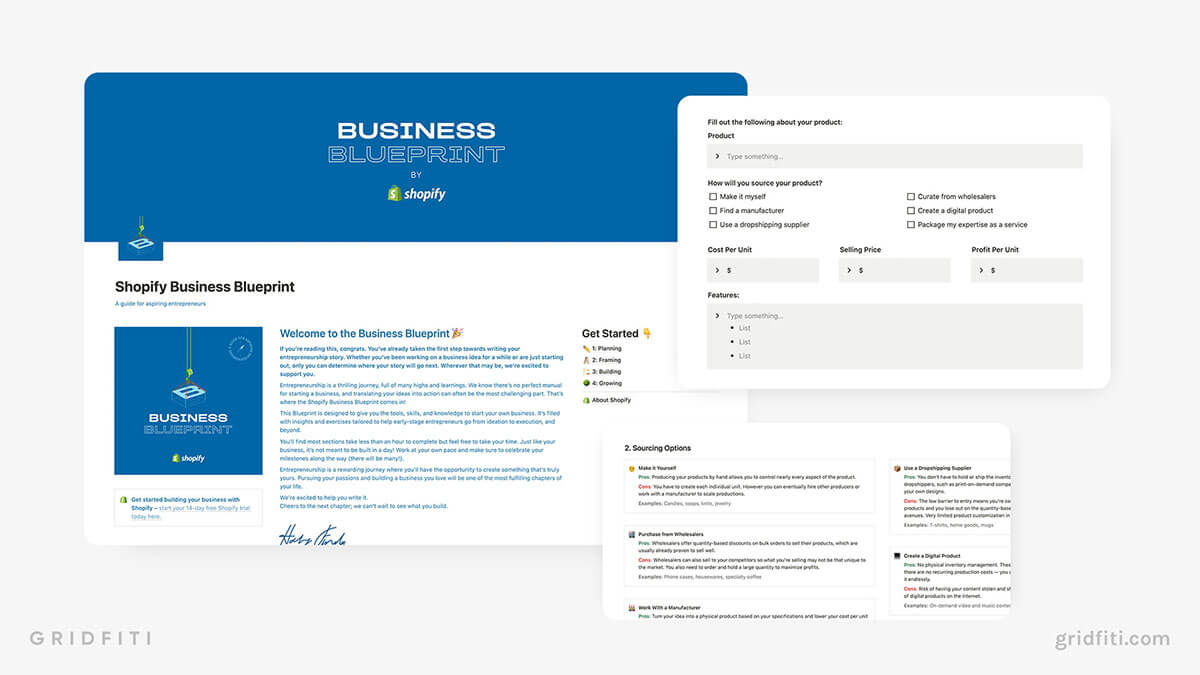 Side Hustle Template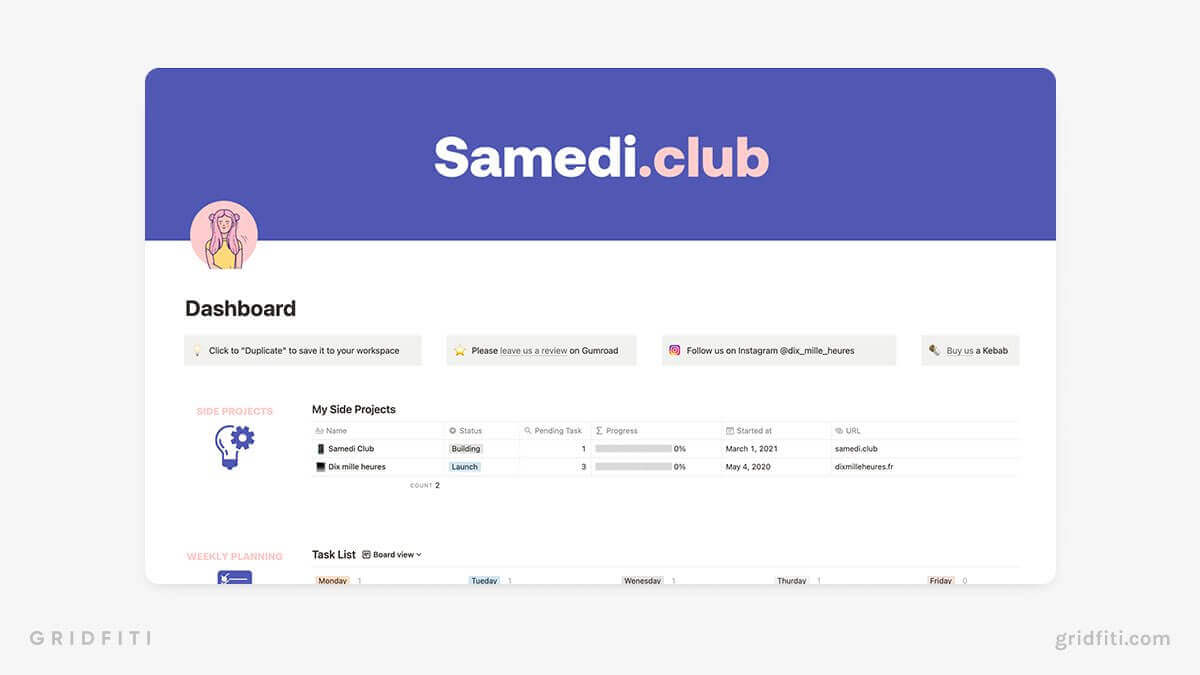 Template by @dix_mille_heures
Business Model Canvas & Lean Canvas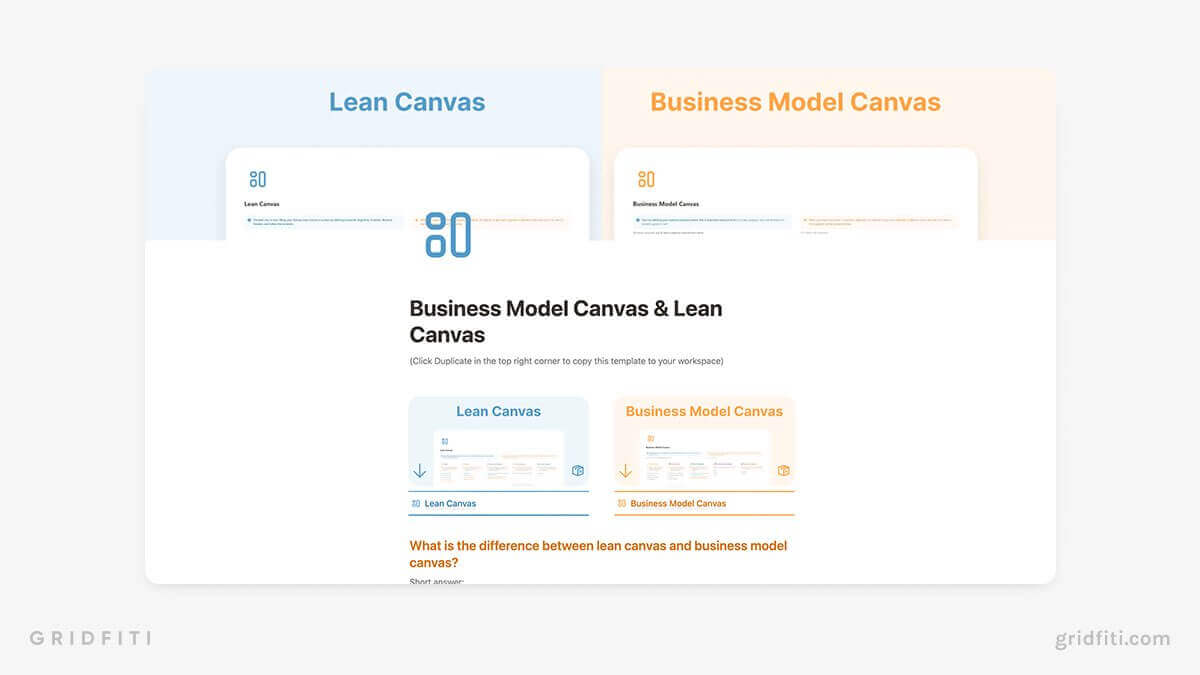 Template by Notion Startup
Notion Invoice Template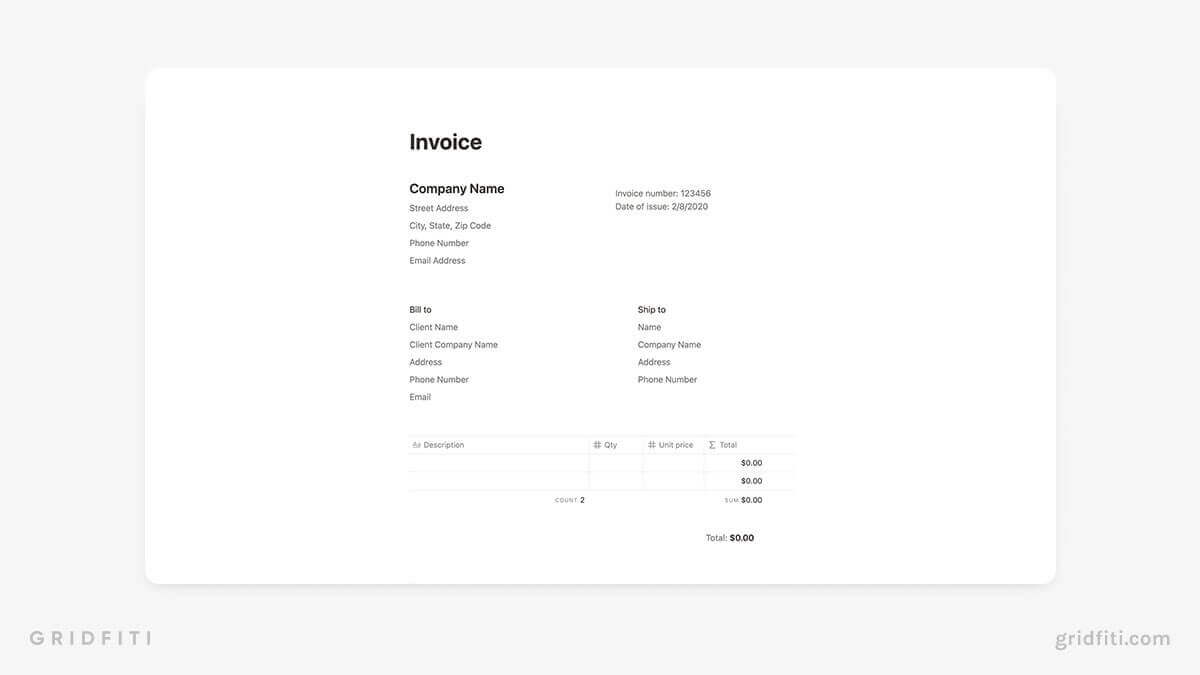 Template by Easlo
Business Billboard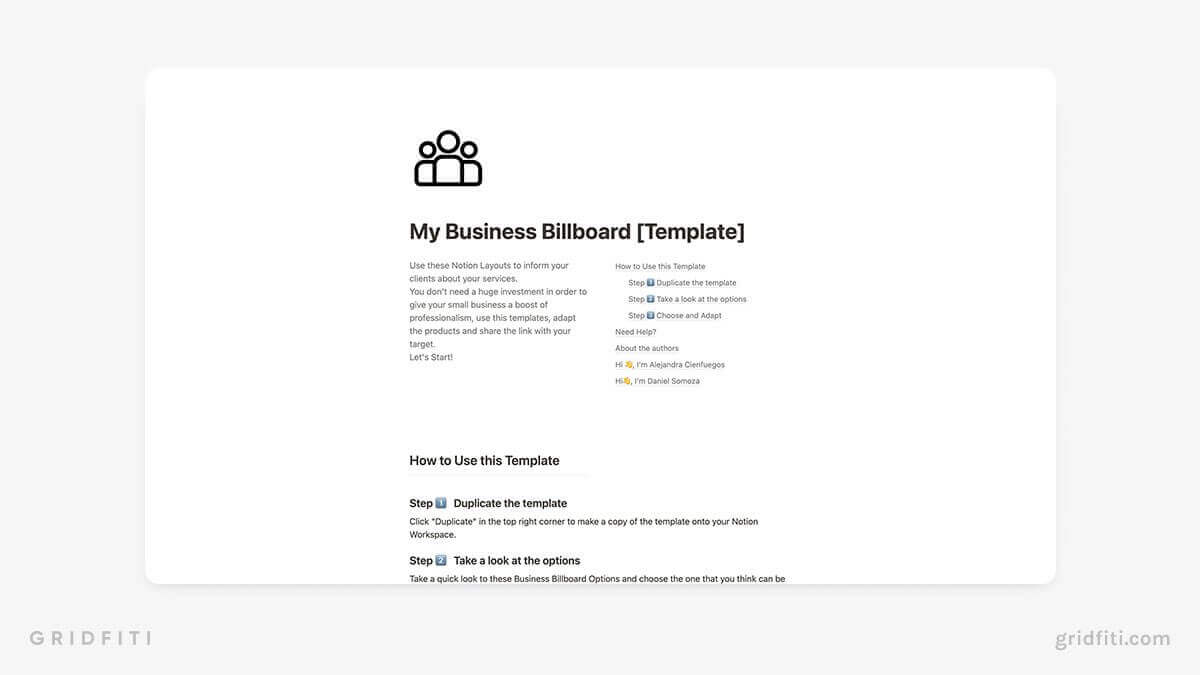 Template by Notionologia
Notion Template for Finances
Keep your finances and investments in check with one of these free Notion finance templates. Make sure your monthly budget is set, and your expenses are tracked and minimized! For more premium templates, check out our full posts on the best Notion finance trackers, stock trackers, and crypto trackers.
Budget & Personal Finance Manager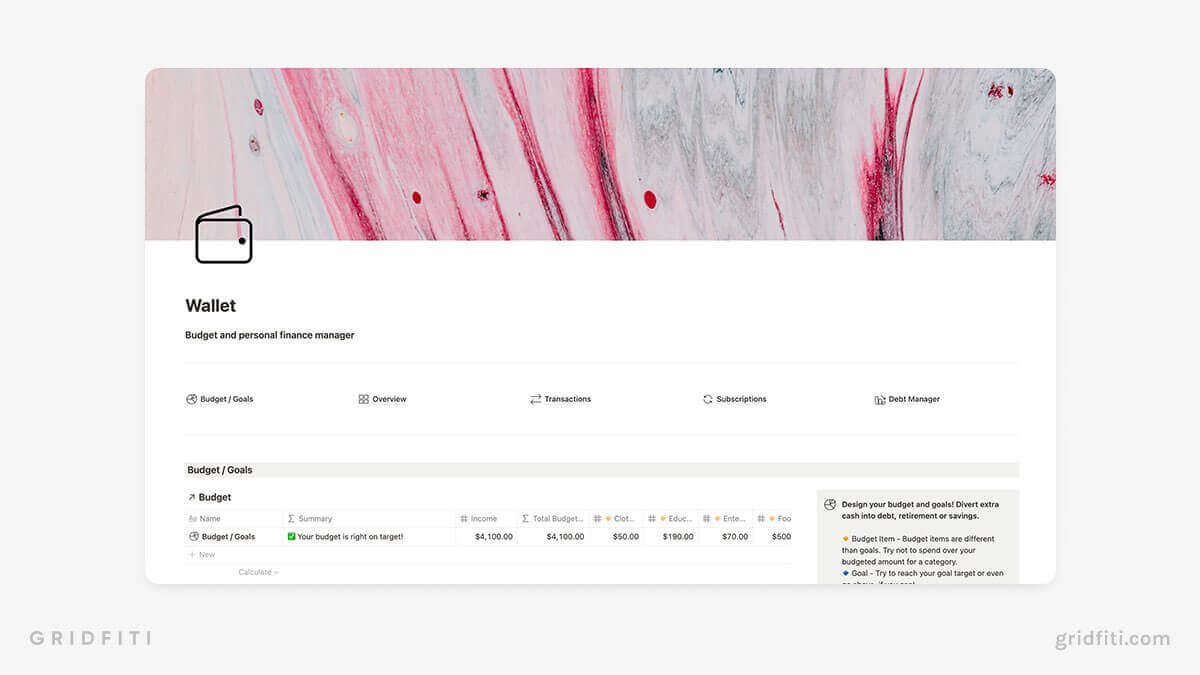 Template by Jamie Butler
Notion Investment Dashboard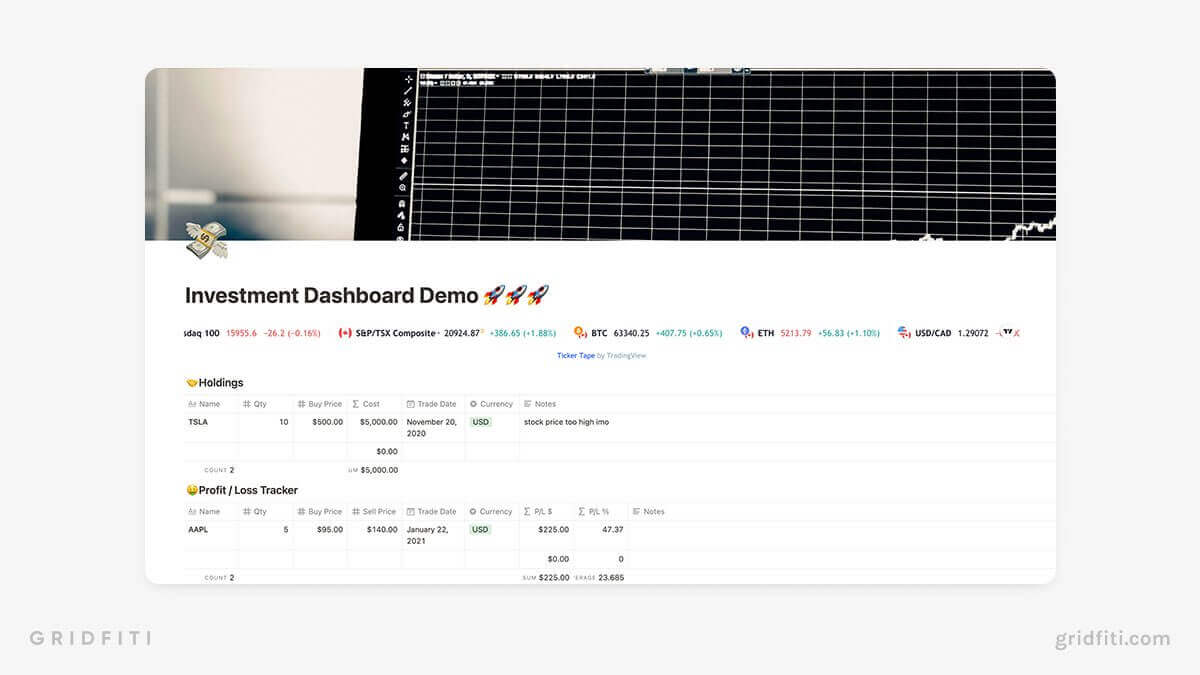 Template by Will Zittlau
Simple Finance Dashboard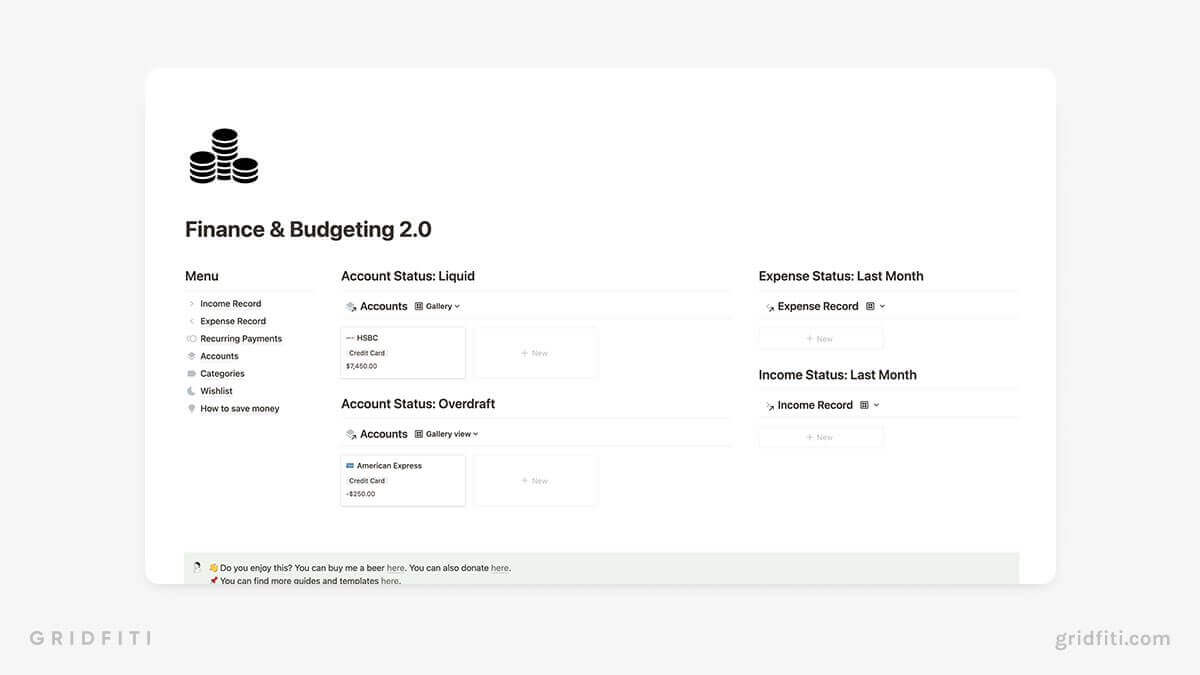 Template by @doodables
Free Notion Templates for Work & Career
Given Notion's versatility, you can use the app to organize your life both personally and professionally. Use these free Notion work templates to manage ongoing projects at your job, beef up your portfolio and resume to apply for new jobs, and even create a dashboard to track your job applications!
Resume & CV Template
For more Notion resume & CV templates, check out our full round-up post!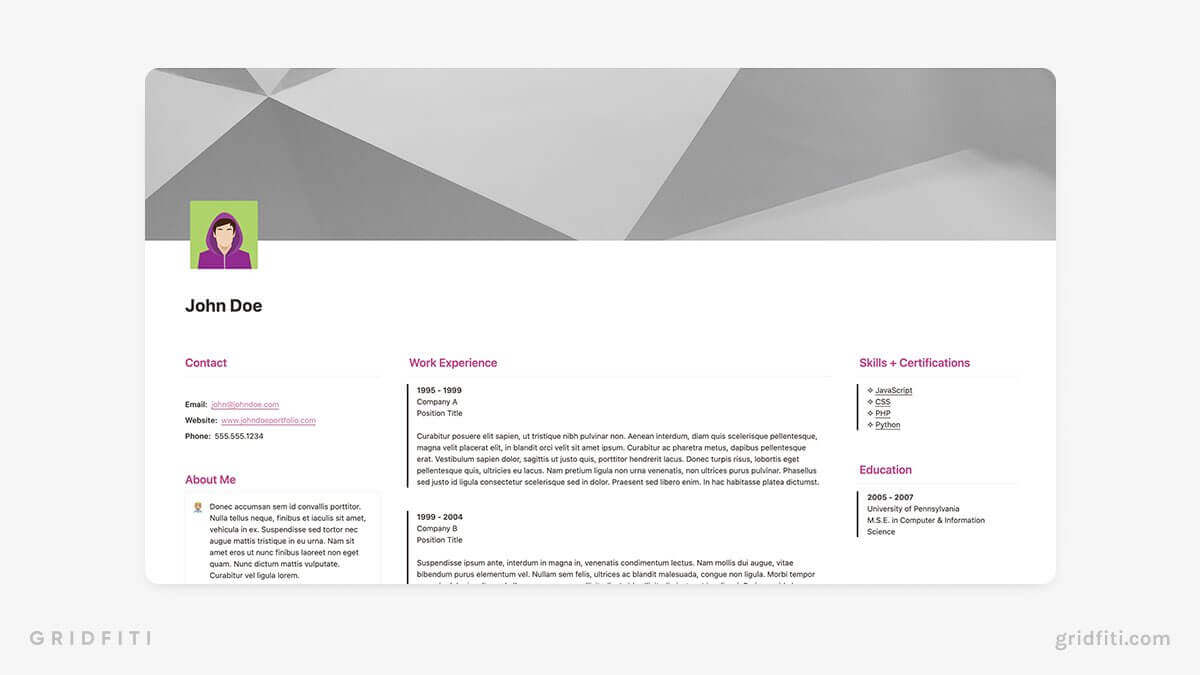 Template by Jamie Butler
Work Management Dashboard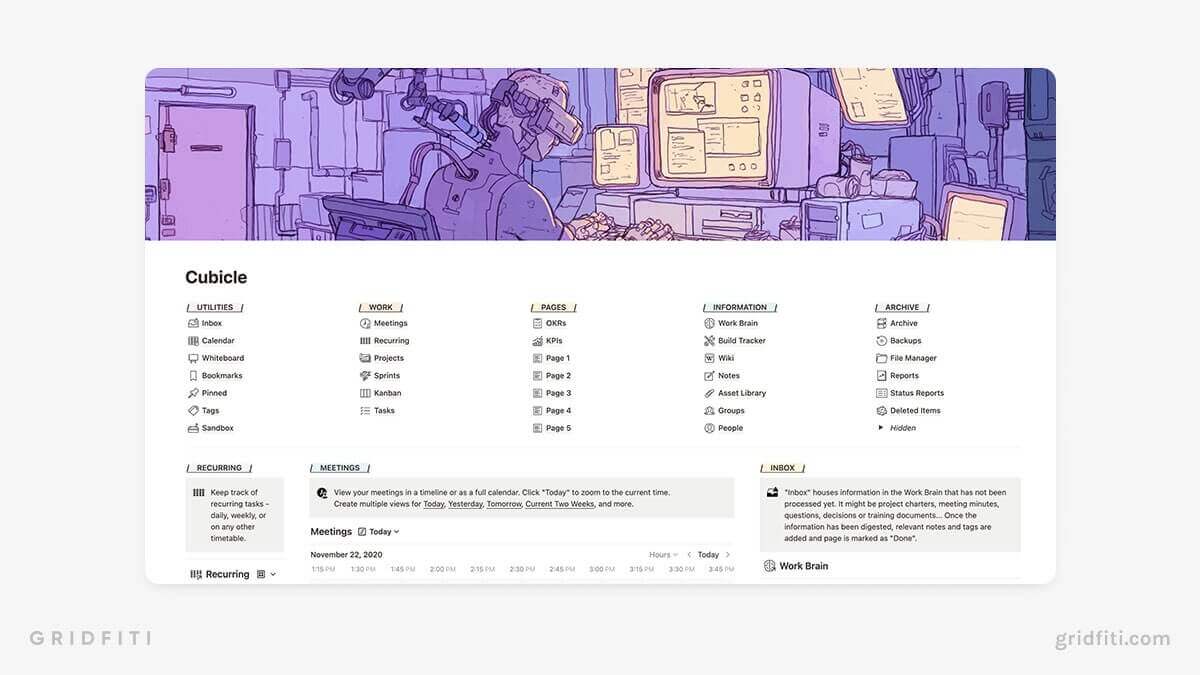 Template by Jamie Butler
Smart Notion Portfolio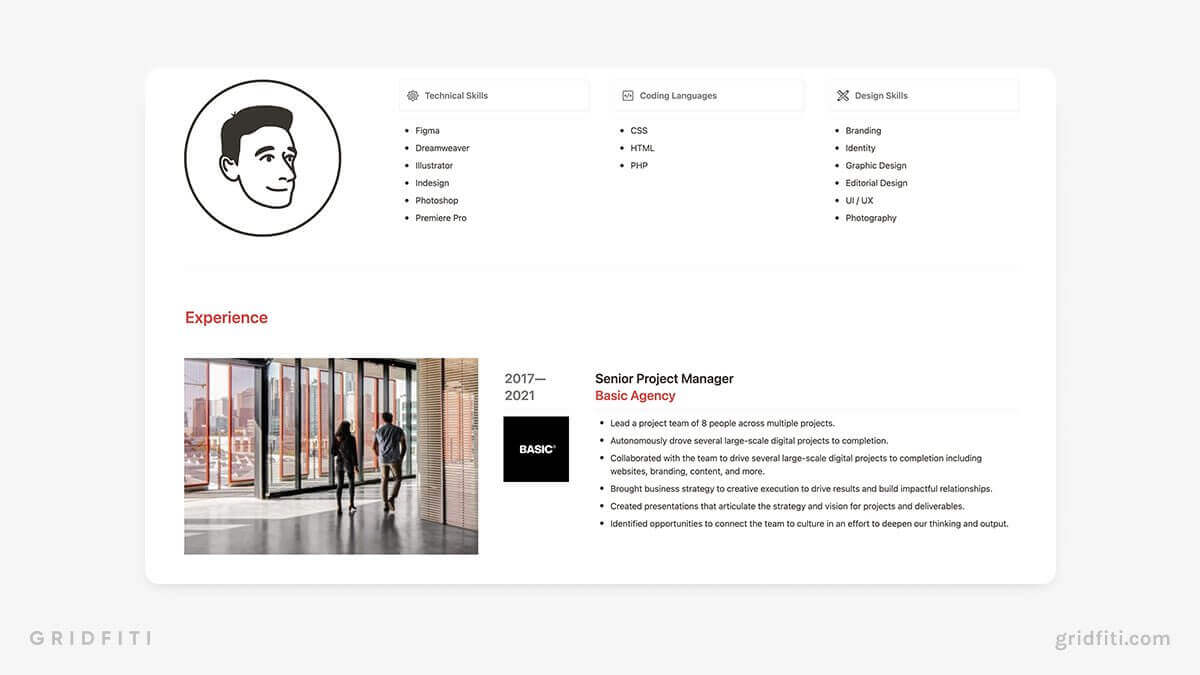 Template by @jackhentosh
Job Seeking Dashboard Template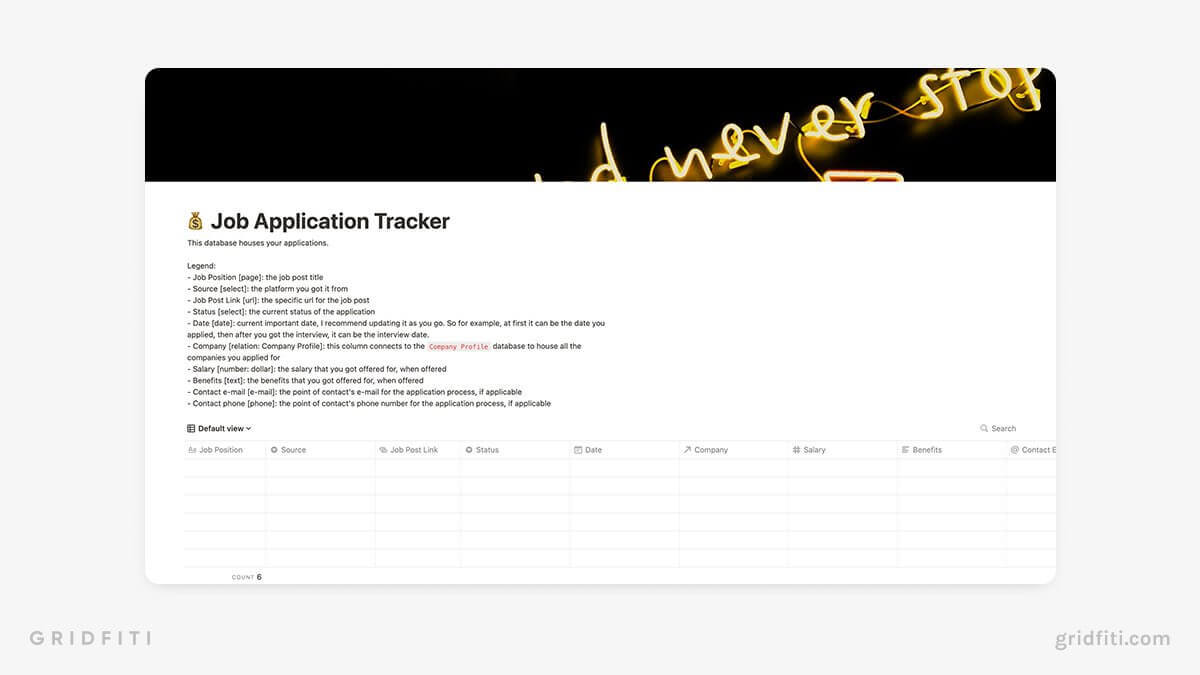 Other Free Cool & Unique Notion Templates
With Notion, you're never limited to what templates you can create or use. The great thing about this platform is that you can fully customize your workspace or any template to cater to your personal needs – no matter how unique that use case is. To give you some ideas, we've selected some other, maybe less expected, free Notion templates for you to pick from!
Resonance Calendar Template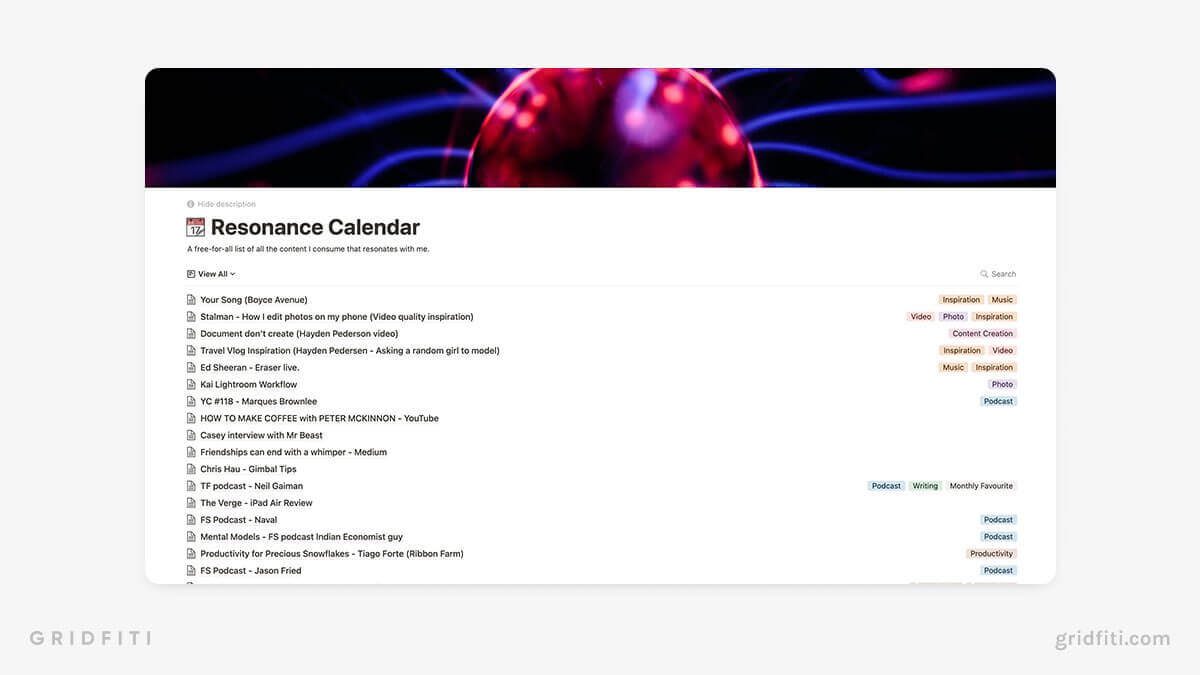 Simple Year in Review Template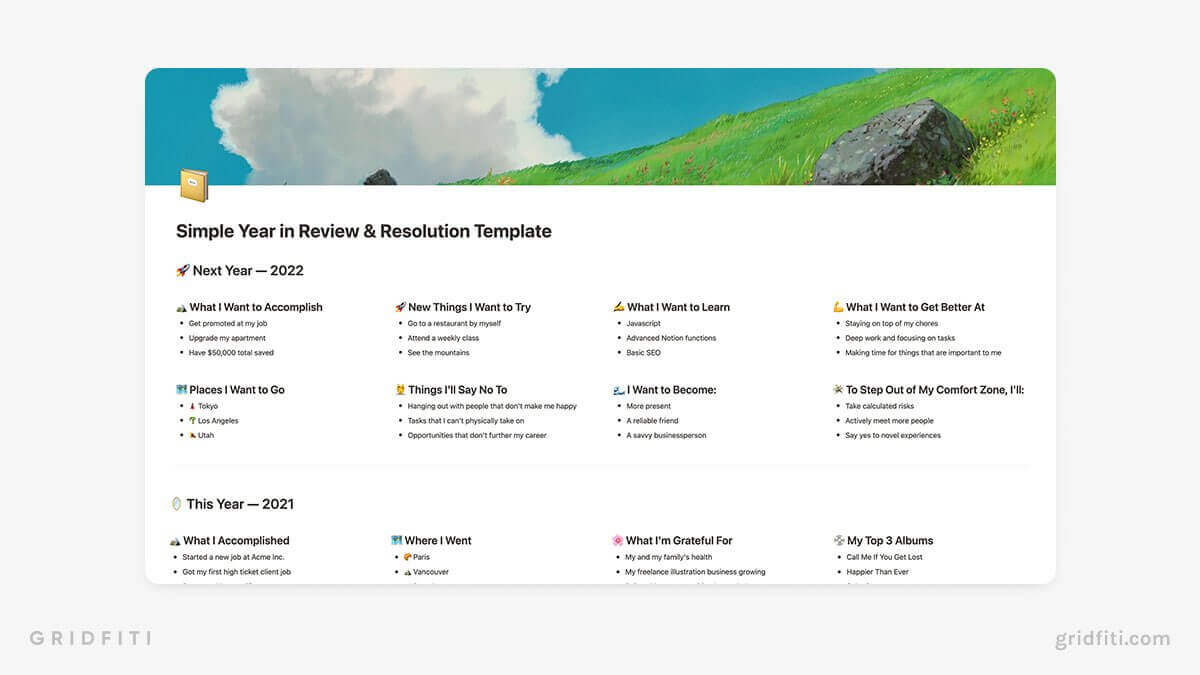 Family Hub Dashboard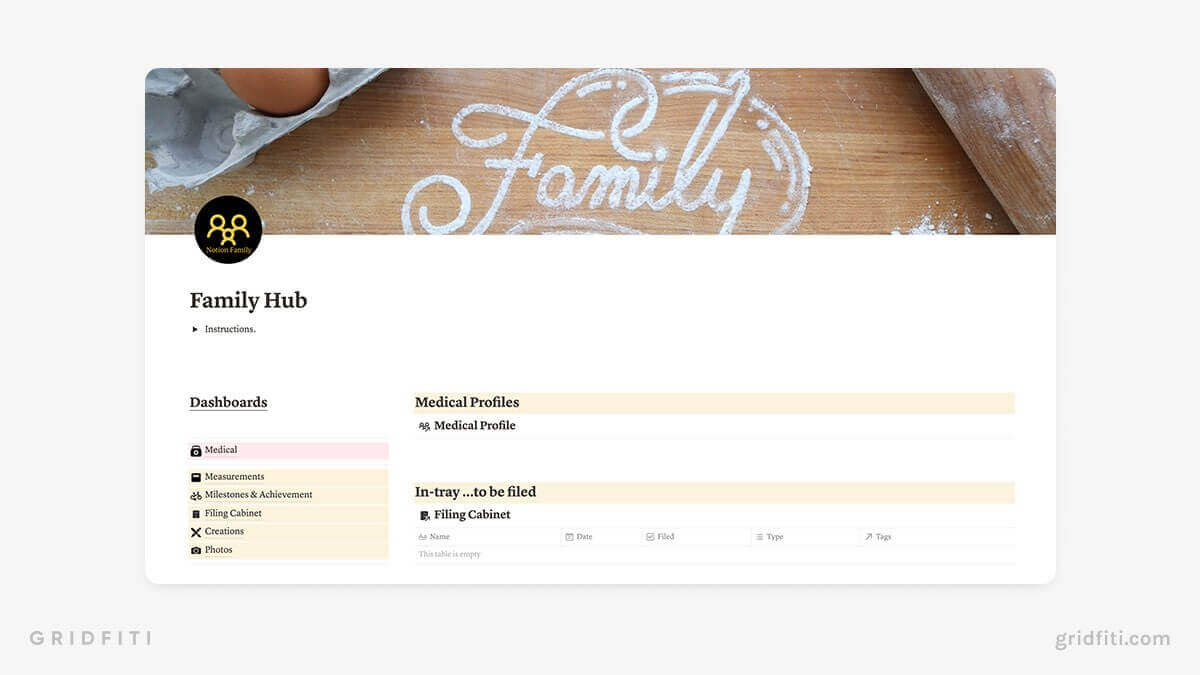 Template by Notion Family
The Learning Journal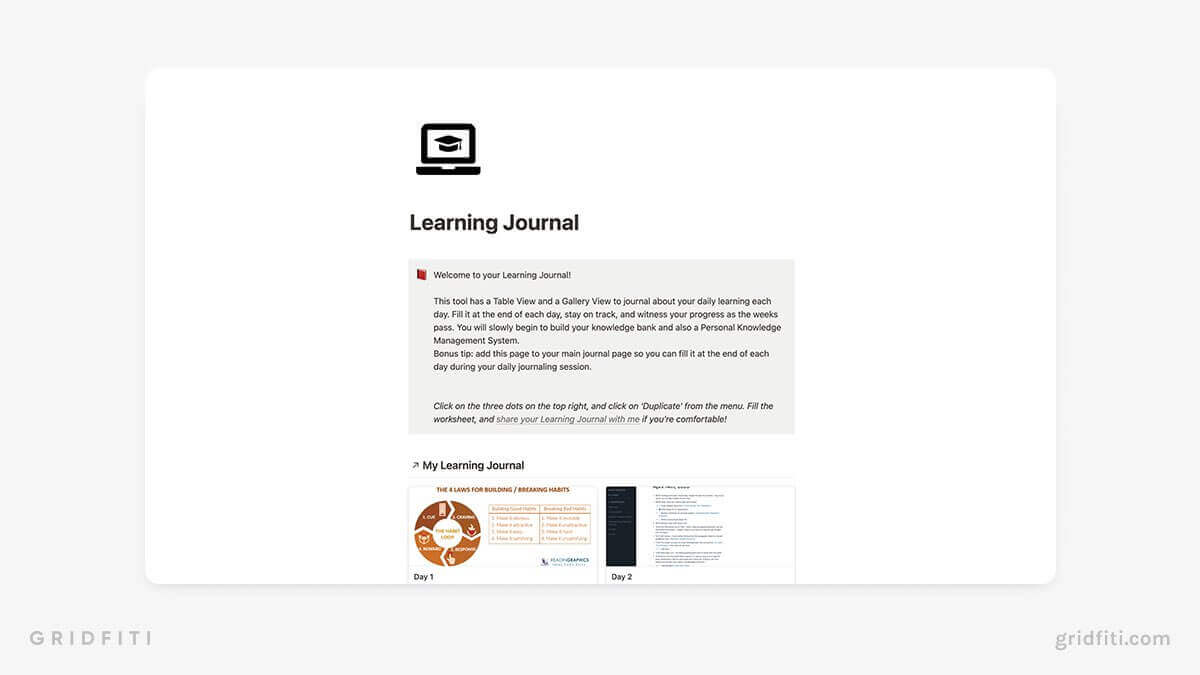 Template by GrowPro Labs
Duplicate All Free Templates
Love all of these templates and want to avoid duplicating dozens of templates at once? Get all of the above free templates in our master free templates round-up page here.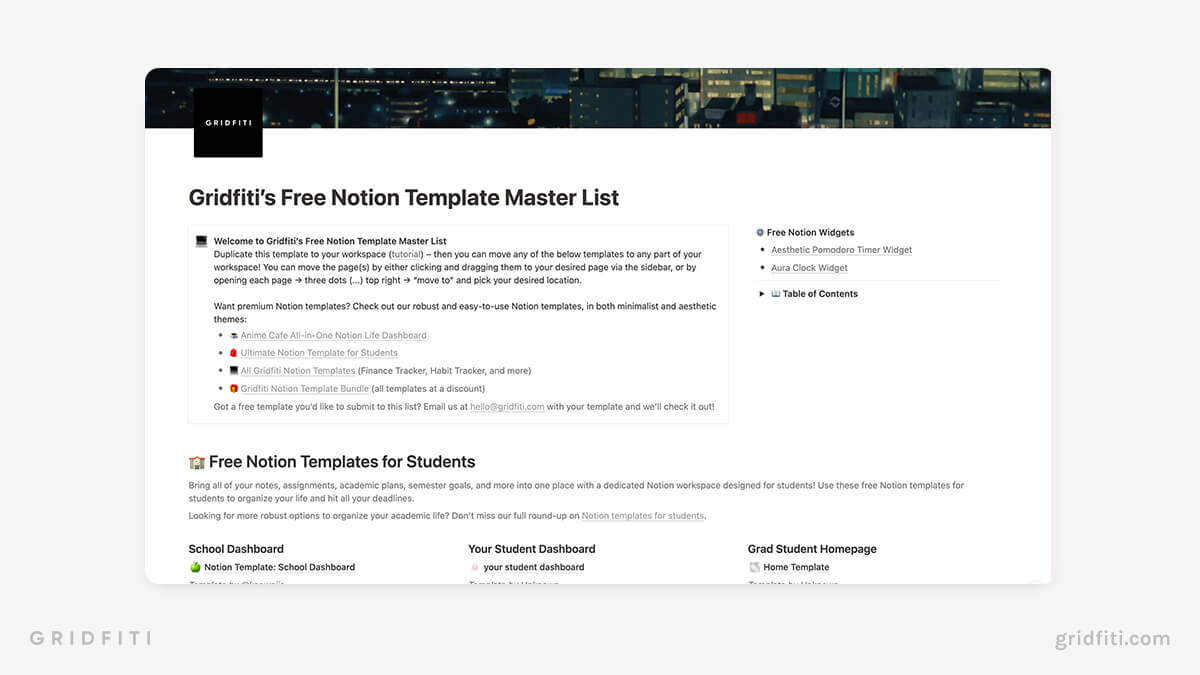 Which free Notion templates are you using? Do you have any other recommendations for free Notion resources for personal or business use? Let us know in the comments below!
Gridfiti is supported by its audience – when you buy something using the retail links in our posts, we may earn a small commission at no additional cost to you. We only recommend products we would use ourselves and recommend to our friends and family. Read more about our affiliate disclaimer.