DIYing a Notion setup that has all the features you need can be tricky, especially if you're a Notion newb. But with a prefab Notion template, you can get a jump start on increasing your productivity, organizing your life, journaling your thoughts, and so much more — all under one roof!
Creators in the Notion community have shared countless free Notion templates for just about any use case you could possibly dream up. From work, productivity, and travel to health, home, and finances, we've curated the best free Notion templates for every area of life!
Table of Contents
---
Looking for more productivity tips and tools? Subscribe to The Flow — our quick, snappy, value-packed focus and recharge newsletter. Also, don't miss our several other Notion template round-ups and guides!
---
Free Aesthetic Notion Templates
Notion's customization options make it the perfect place to design a workspace that matches your personal aesthetic. You'll find a ton of pre-fab themed templates out there, but here are a few of our faves. (Want more? Don't miss our full round-up of the best aesthetic Notion templates!)
Looking for templates that fit a specific aesthetic or vibe? Find them in our related posts:
(And for more tips and tricks, check out our full walkthrough on how to make your Notion aesthetic!)
1. Free Barbie Daily Planner Notion Template
With the Free Barbie Daily Planner Notion Template, you can make every day the best day ever! Custom Barbilicious headings and page covers make your Notion dash ultra-pinkified. Your Barbie daily planner comes with a calendar, to-do list, and task manager — never miss a rollerskating date with Ken again!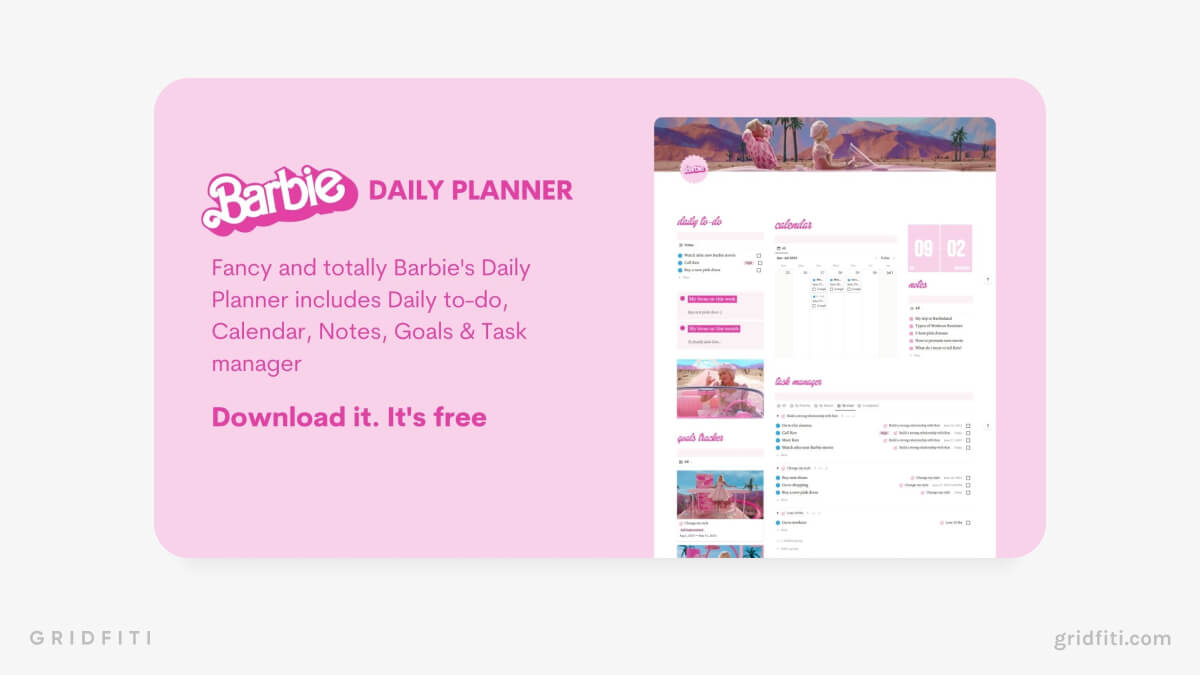 Template by Valeria Notion
2. Cute & Colorful Notion Homepage Dashboard
We're lovin' the warm, cozy vibes of this aesthetic template — complete with cute GIFs and a Spotify widget with a curated playlist built in! Perfect for fans of all things anime and kawaii.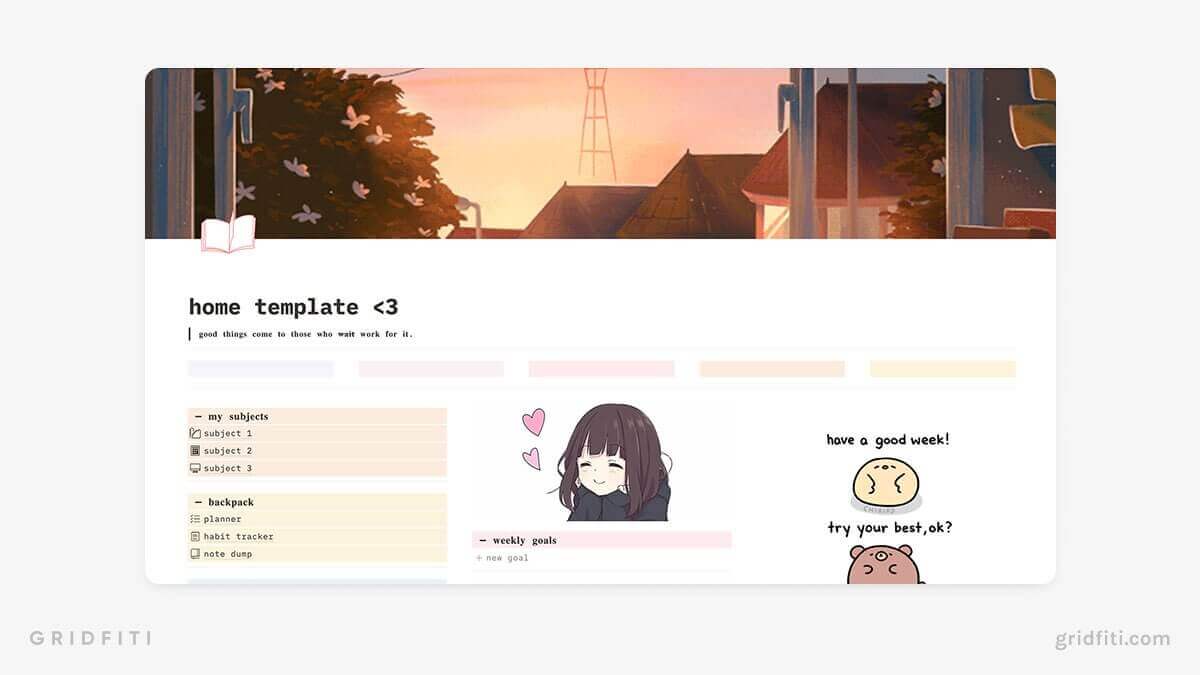 Template by u/Exact_Device_3569 on Reddit
3. Sticky Notes Dashboard
While Notion doesn't currently have its own sticky note blocks, you can DIY them with colored callout blocks! This unique template also includes a tasks database for seamlessly managing your to-dos.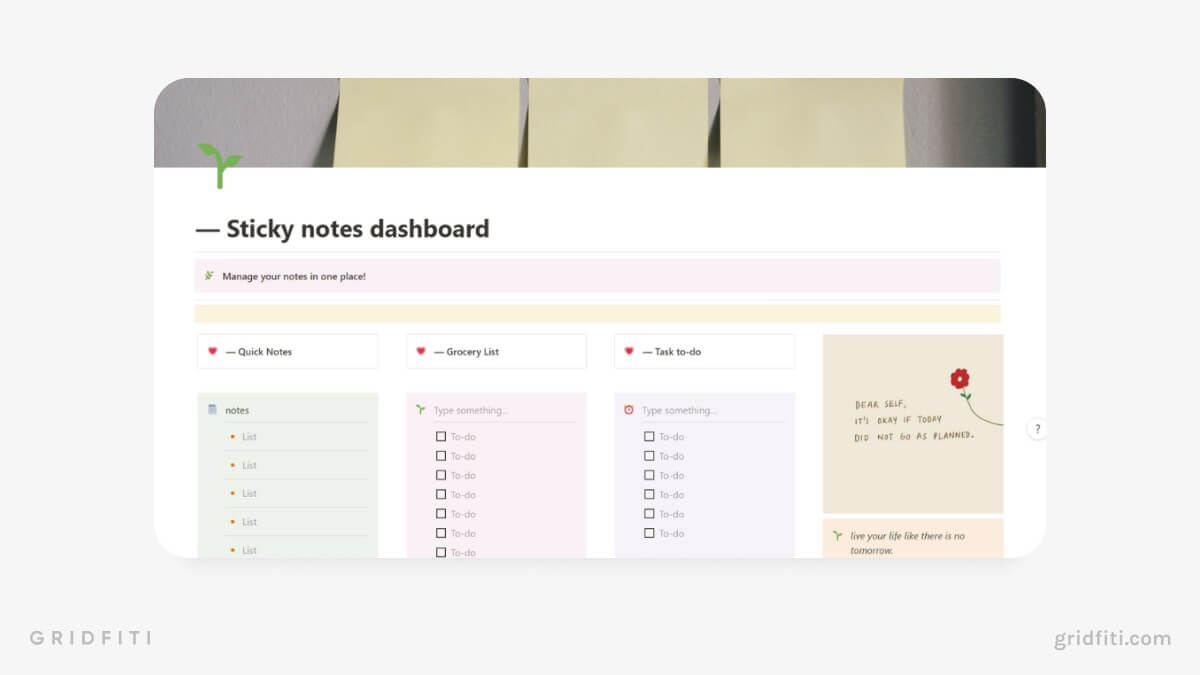 Template by Poonam Sharma
4. Pastel Aesthetic Semester Planner for Students
Ahh, how soothing is this planner to look at? Hopefully the soft pastel designs throughout will help you feel a little more relaxed about your coursework!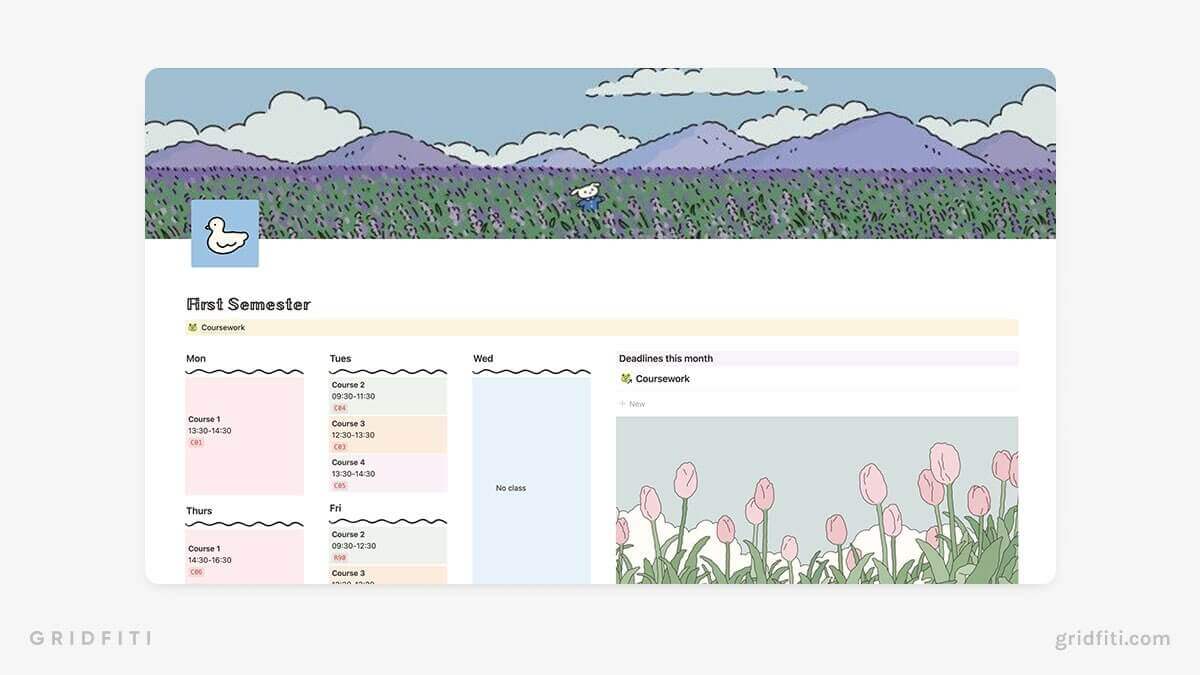 5. Yearly Planner and Organizer
We absolutely adore this anime-themed organizer template. Set your weekly schedule, take notes, plan creative projects, and even track your beauty regimen, with kawaii GIFs and pics of Molang for an extra personalized touch.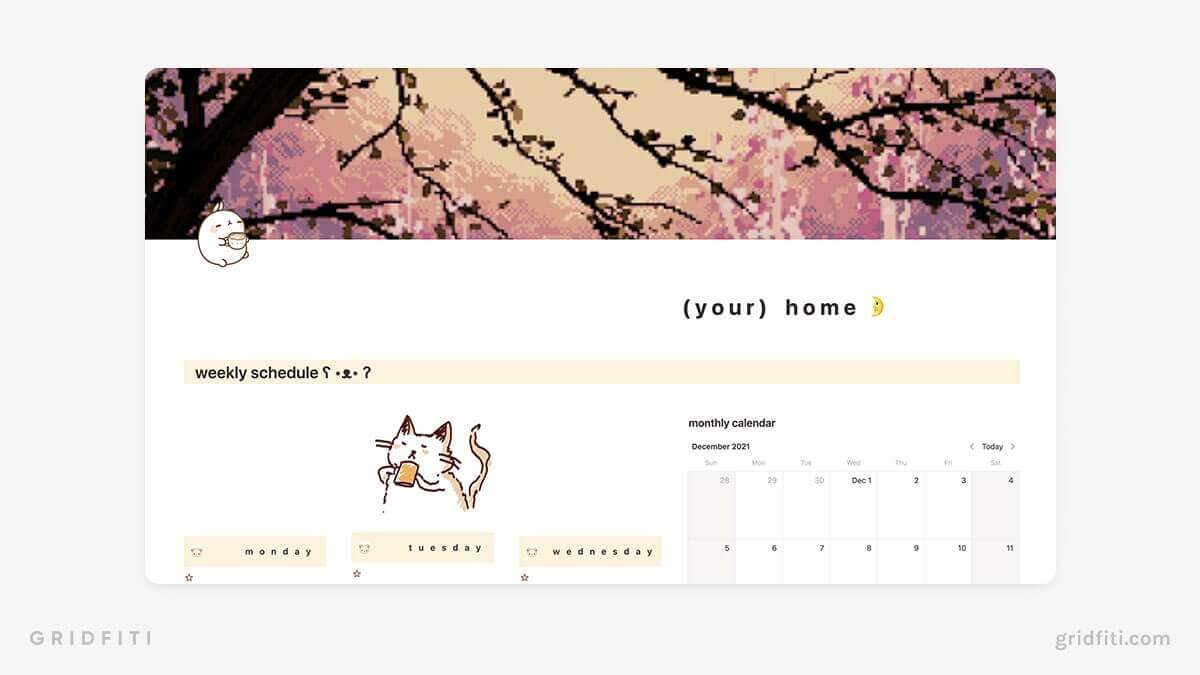 Template by u/redshibe4 on Reddit
6. Pastel Aesthetic Life Notion Dashboard
If you're the type of person who color-codes everything, you'll definitely vibe with this template — complete with pages for your tasks, projects, family matters, and more.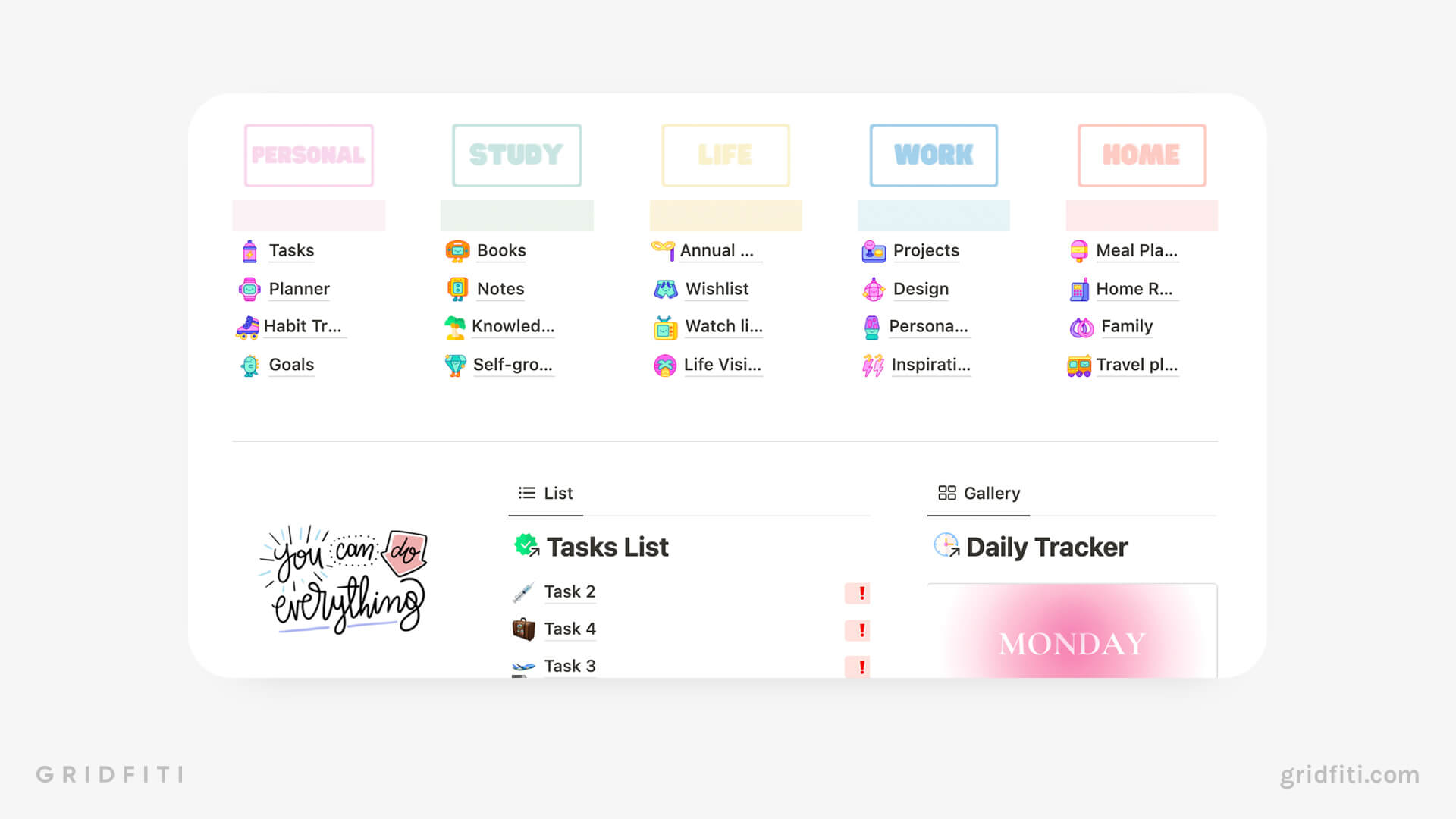 Template by Ella Li
7. Aesthetic Life Wiki
Custom page covers and icons with lots bubblegum pinks and baby blues make this free aesthetic life OS template a lot of fun. Prioritize your tasks, set and smash goals, outline your routines — these are just a few of the things you can do in this stunning setup!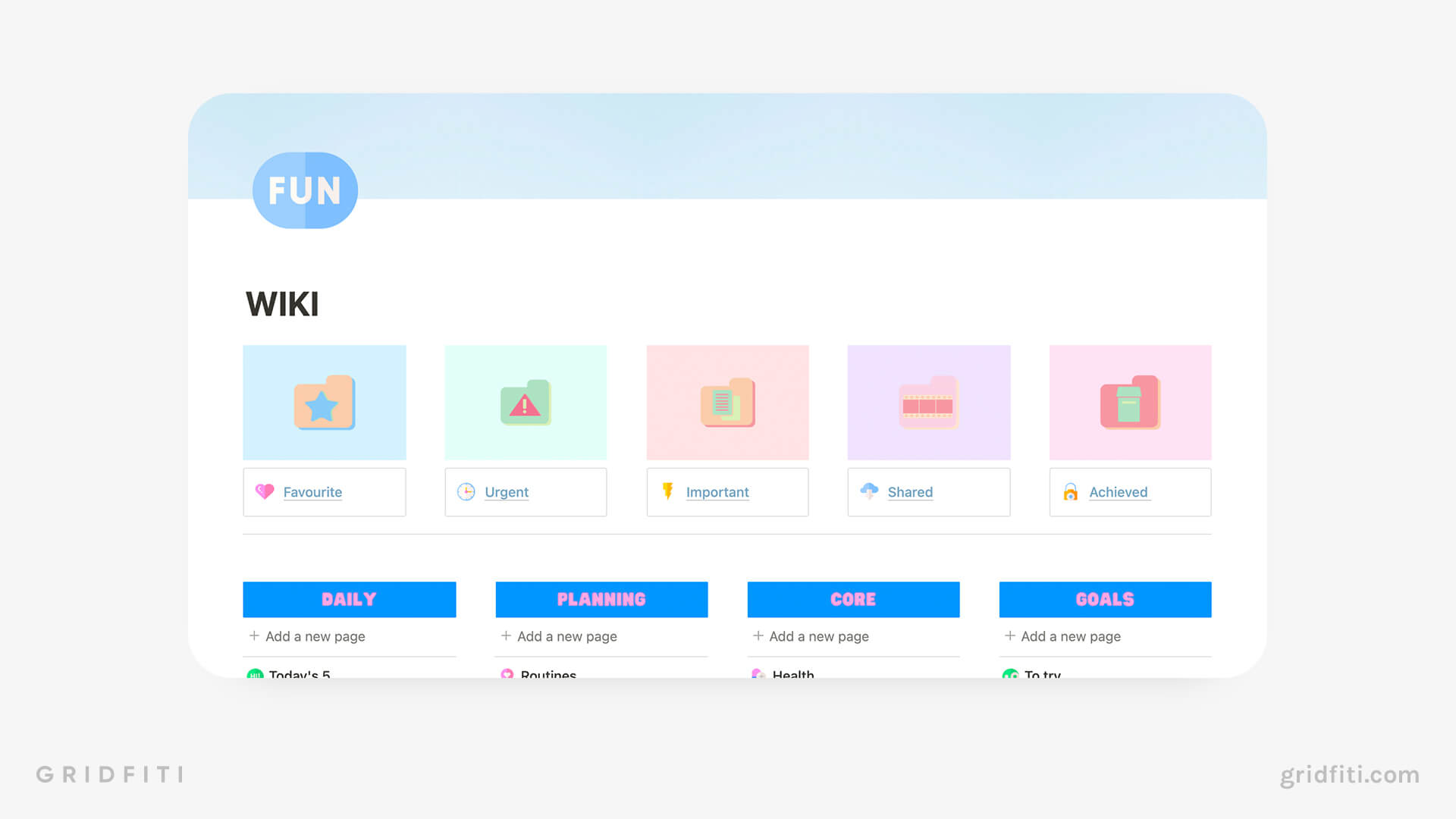 Template by Ella Li
8. Colorful Notion Dashboard
Make your days a little more vibrant with this bright and bubbly Notion dashboard template! Customize the Notion widgets (including weather, progress bars, motivational quotes, and more) with your favorite colors for the ultimate aesthetic dashboard that's uniquely you.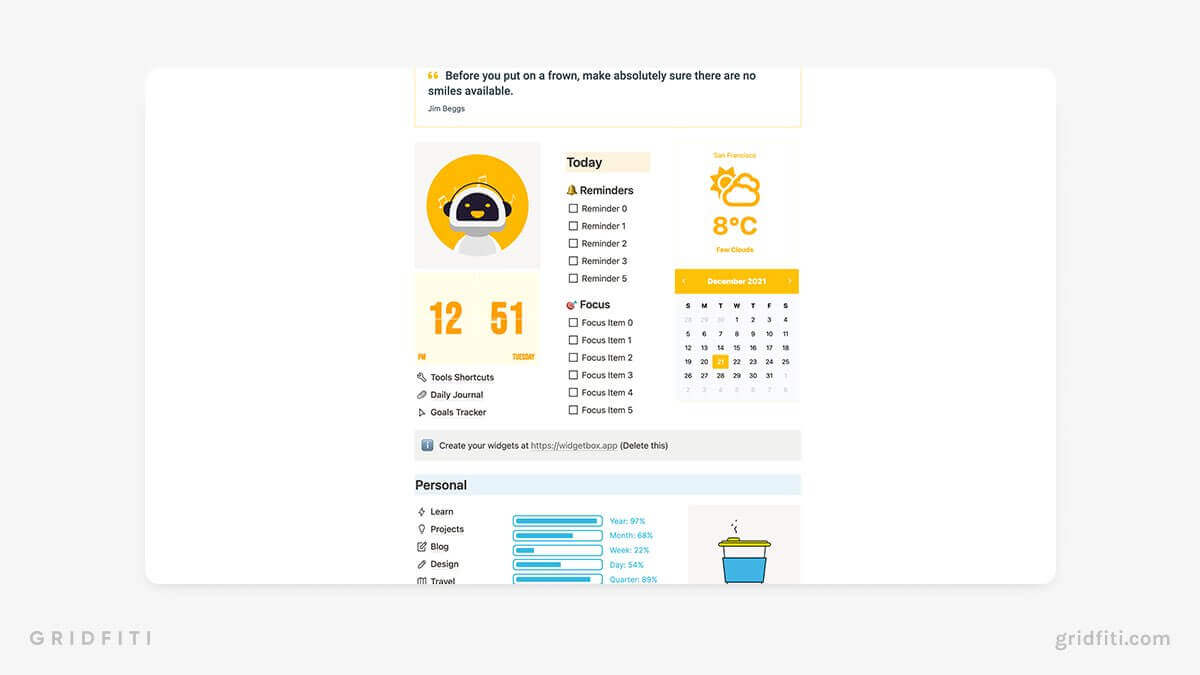 Template by Poonam Sharma
Free Notion Templates for Students
Bring all of your notes, assignments, academic plans, semester goals, and more into one place with a dedicated Notion workspace designed for students! Use these free Notion templates for students to organize your academic life and keep tabs on your deadlines.
Looking for more robust options to organize your academic life? Don't miss our full round-up of the best Notion templates for students. And check out our related posts if you're looking for something a little different:
9. School Dashboard
School Dashboard is a no-frills free notion template for students, complete with sections for your timetable, class notes, different subjects, and more!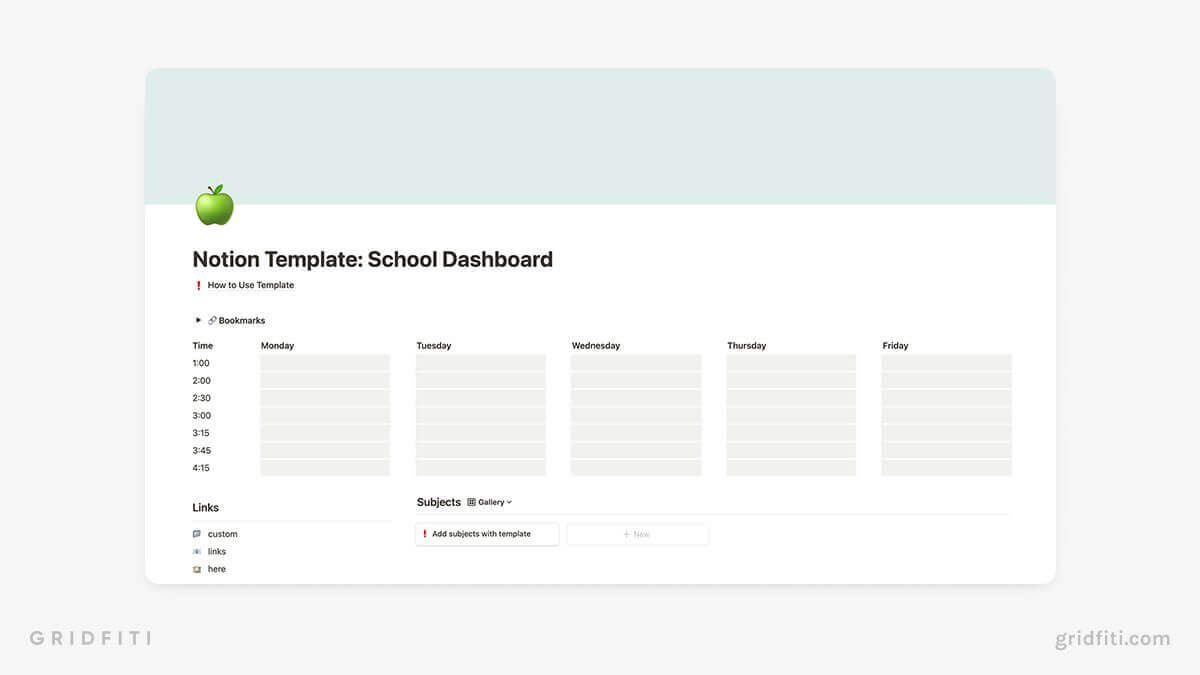 Template by @keewpiie
10. Pomodoro Study Template
Interested in being productive with Pomodoros? The Pomodoro Study Template is a good starting point with a built-in timer widget, daily summaries, and auto productivity ratings.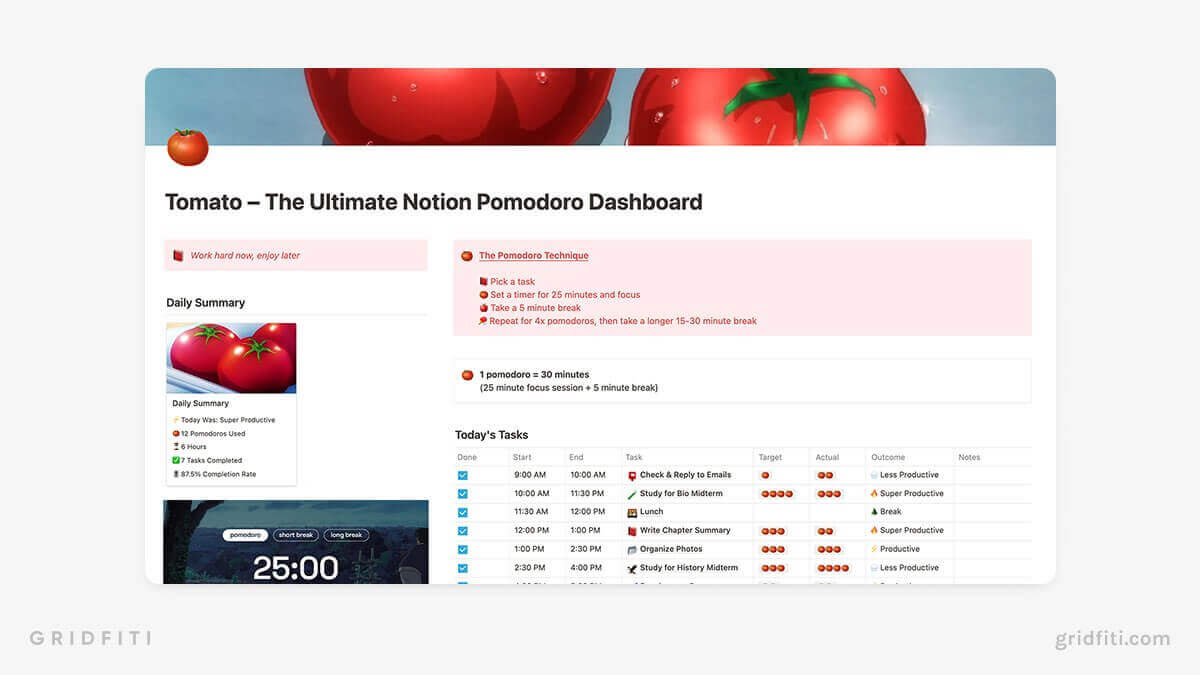 Template by Gridfiti
11. Aesthetic Student Life Dashboard
Aesthetic Student Life Dashboard is one of the top free Notion templates for students with pages for managing your uni work, reading lists, and to-dos — all from your lush, cozy dash!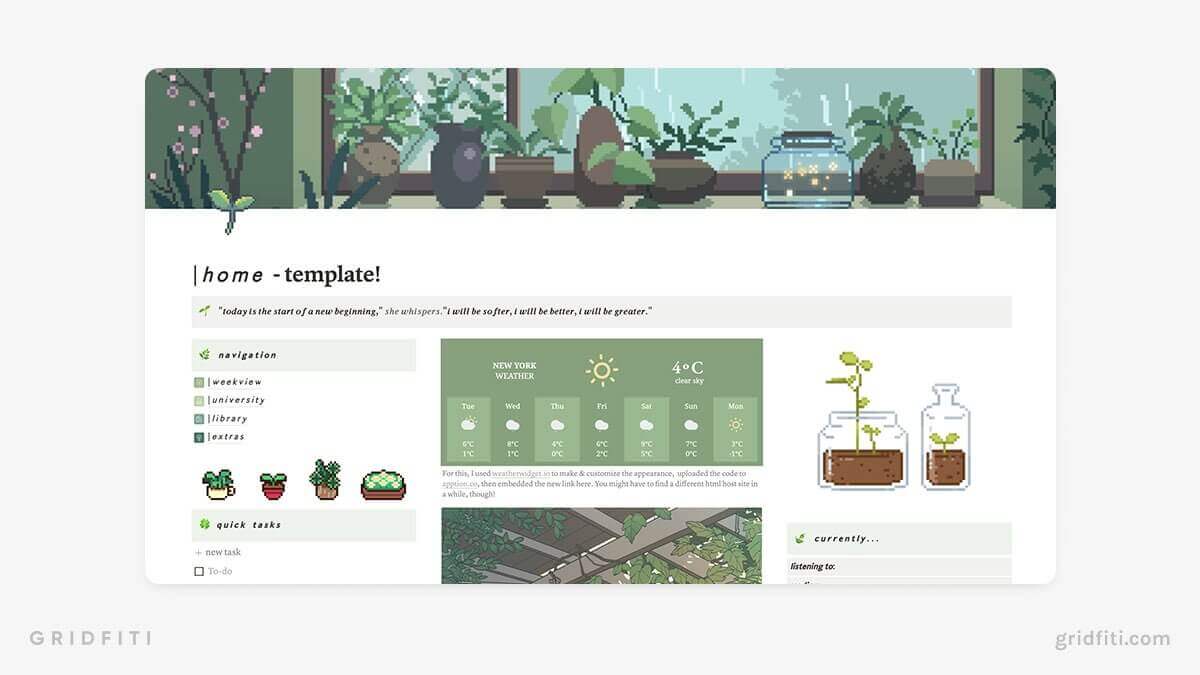 12. Study OS
Whether you're in high school or finishing up your master's, Study OS can help you prepare for success. Create study zones for each subject, devise your schedule, and add essential deadlines. Use ChatGPT to make prompts for active recall to ensure you're ready for your next big exam!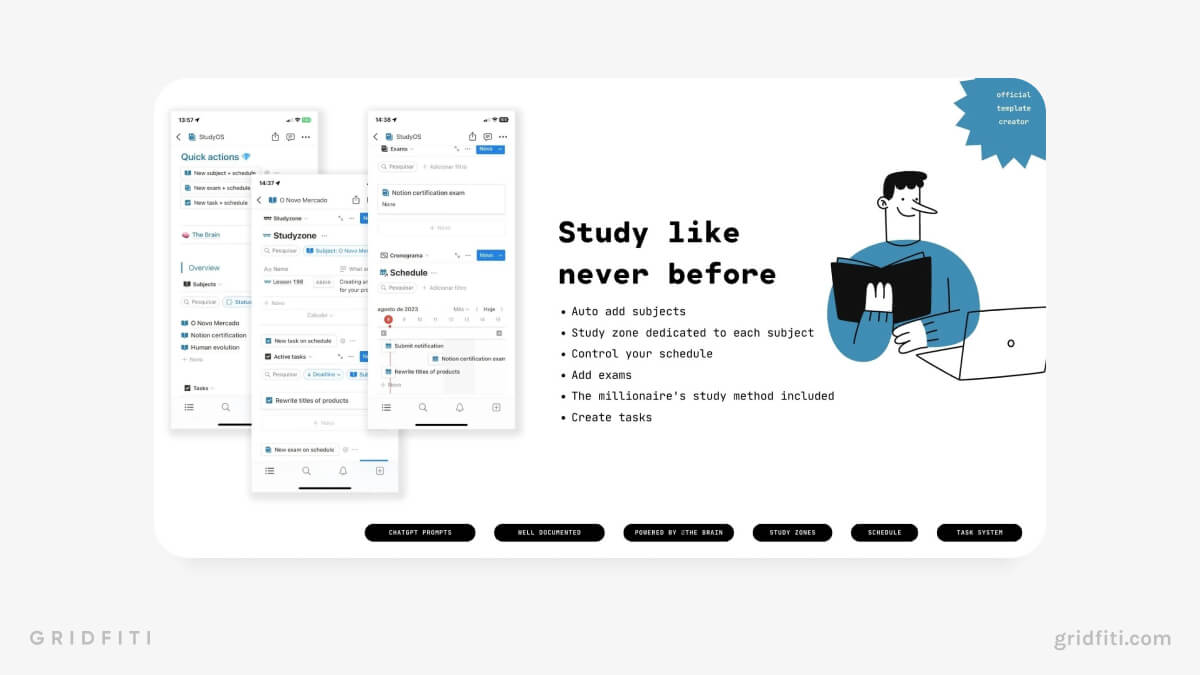 Template by Julia Pagani
13. Your Student Dashboard
As well as the usual spaces for your assignments, deadlines, to-dos, etc., Your Student Dashboard features a few fun extras like a retro clock, weather widget, and study playlist library!
14. Colorful School Hub
A vibrant layout and spaces for GTD, assignments, homework, and events make the Colorful School Hub ideal for testing out Notion for the upcoming semester.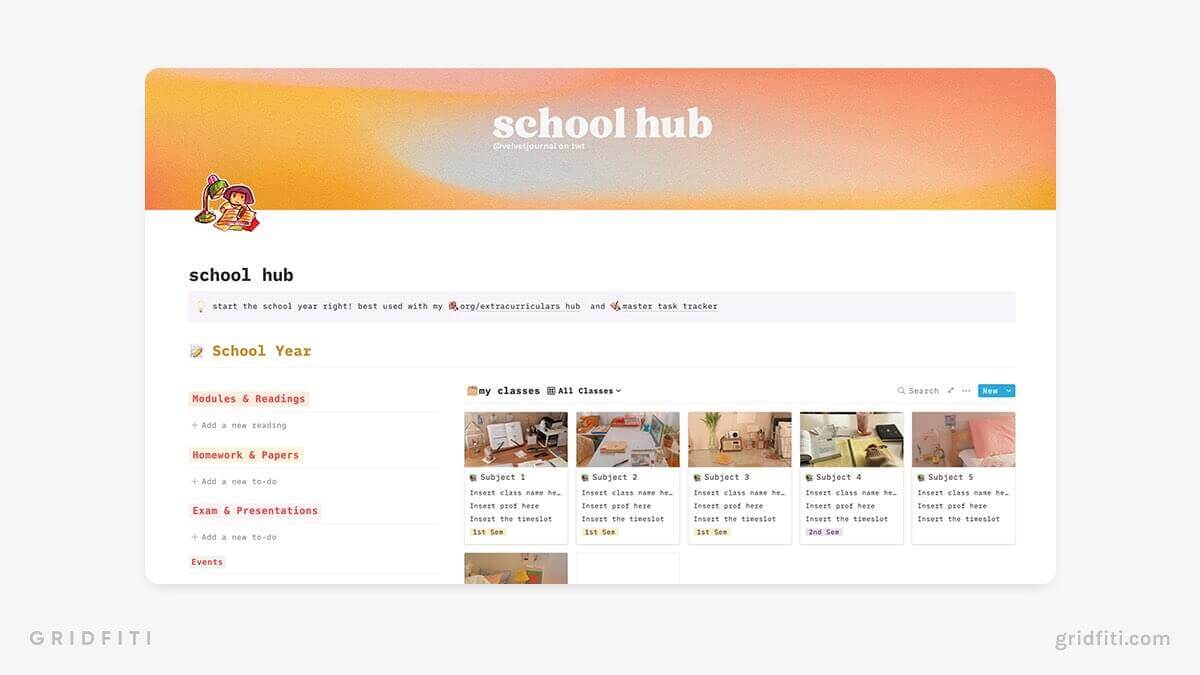 Template by @velvetjournal
15. Master Task Tracker for Students
View all your tasks in grid, calendar, and list view, and filter them by deadline and status — great if you're learning the ropes of how to work Notion!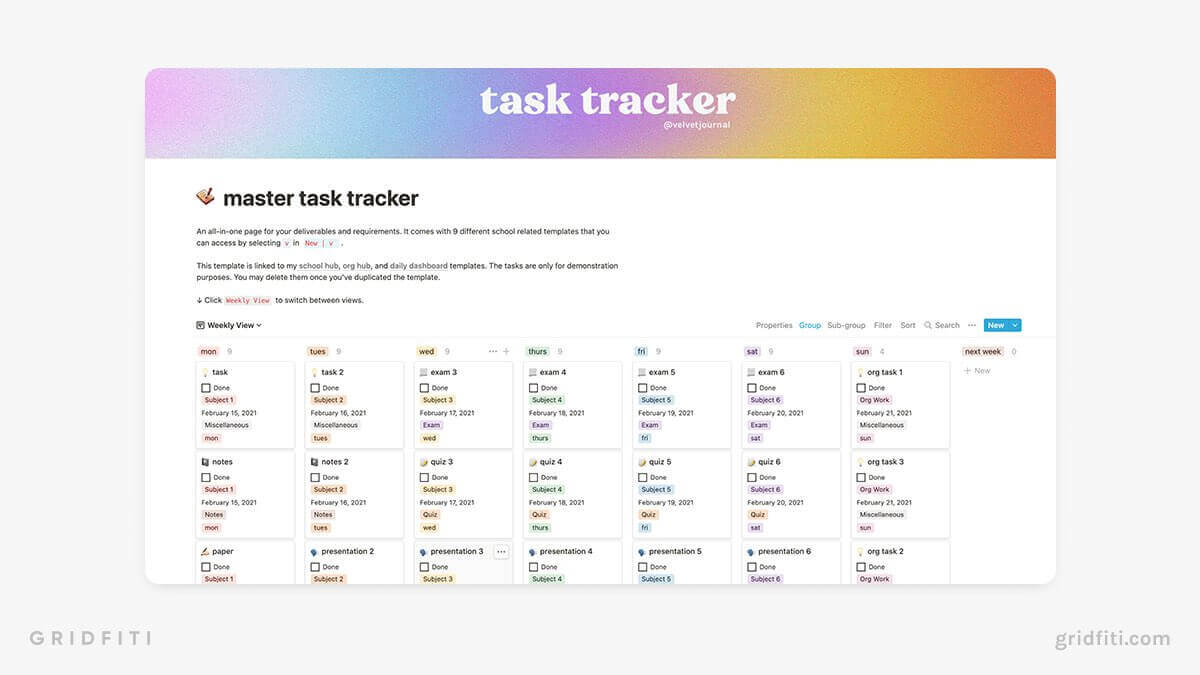 Template by @velvetjournal
16. Aesthetic Student Planner
With an aesthetic, customizable timetable and spaces for tracking your study sessions, semester, reading list, and assignments, the Aesthetic Student Planner is perfect for figuring out your ultimate Notion setup and style.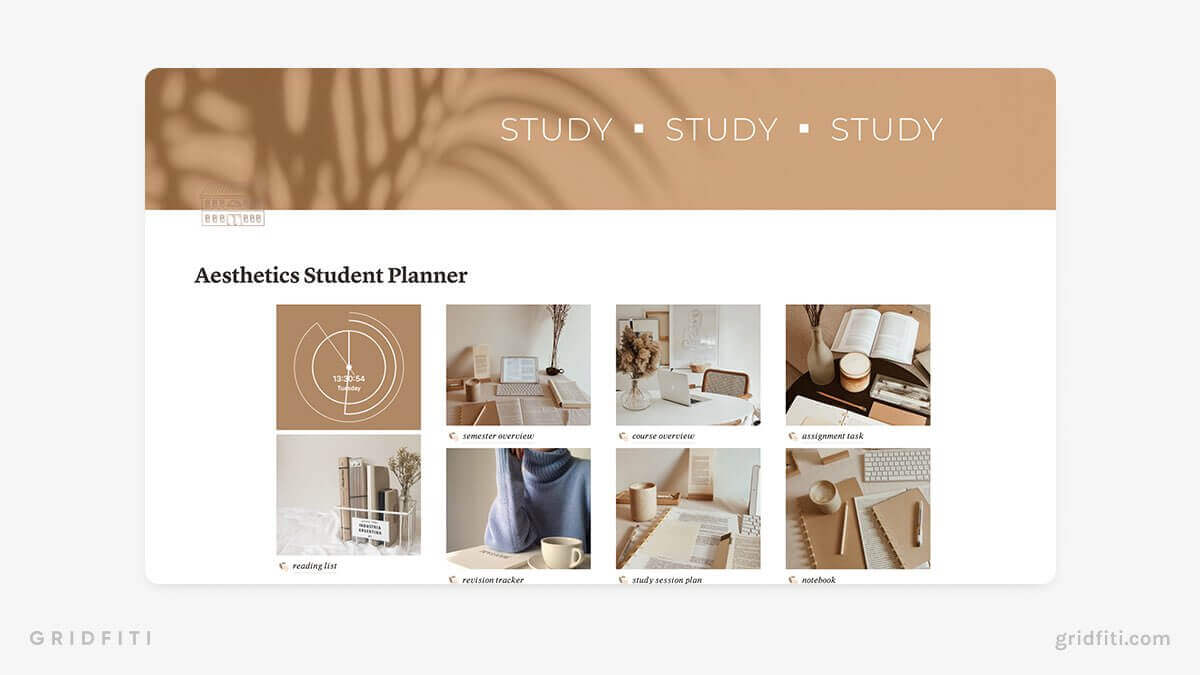 Template by Ella Li
17. Note-Taking Template
Get to grips with Notion note-taking thanks to this excellent free template from Thomas Frank. Different notebooks, a status dash, and an inbox provide the basics of managing all your important thoughts and ideas.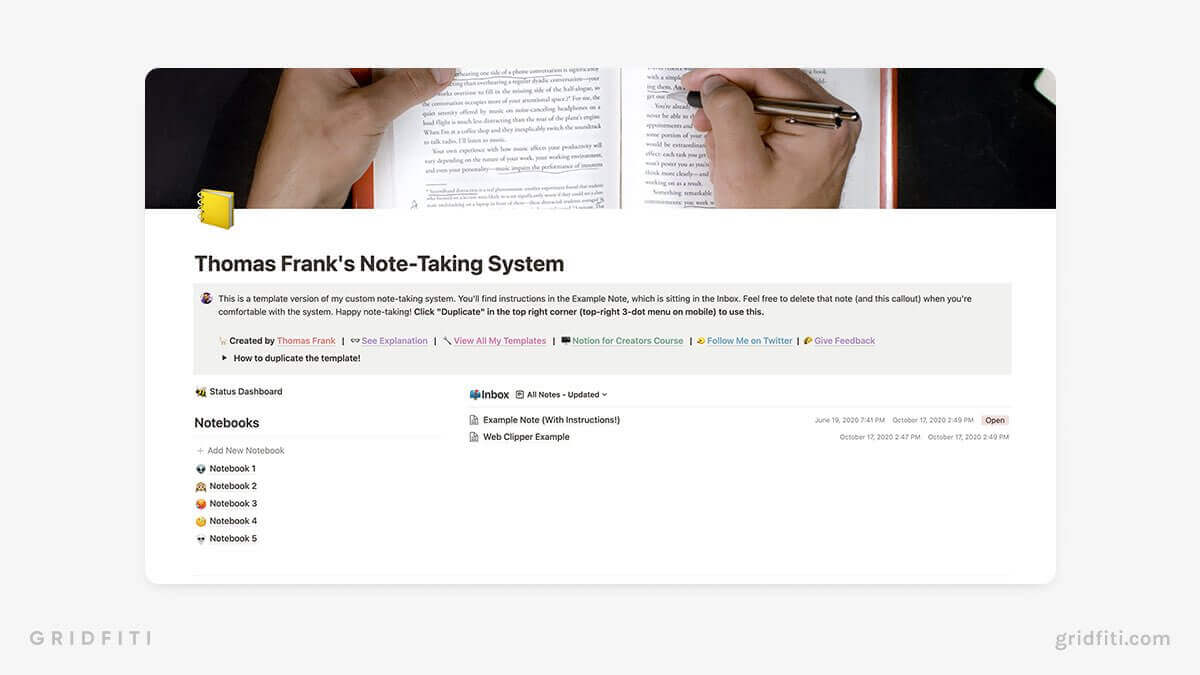 Template by Thomas Frank
18. Total Recall – Dynamic Spaced Repetition Learning
Keeping your memory sharp is essential, and the Total Recall template can help when it's time to cram for exams. Generate flashcards, quiz yourself, and prioritize topics you can't recall!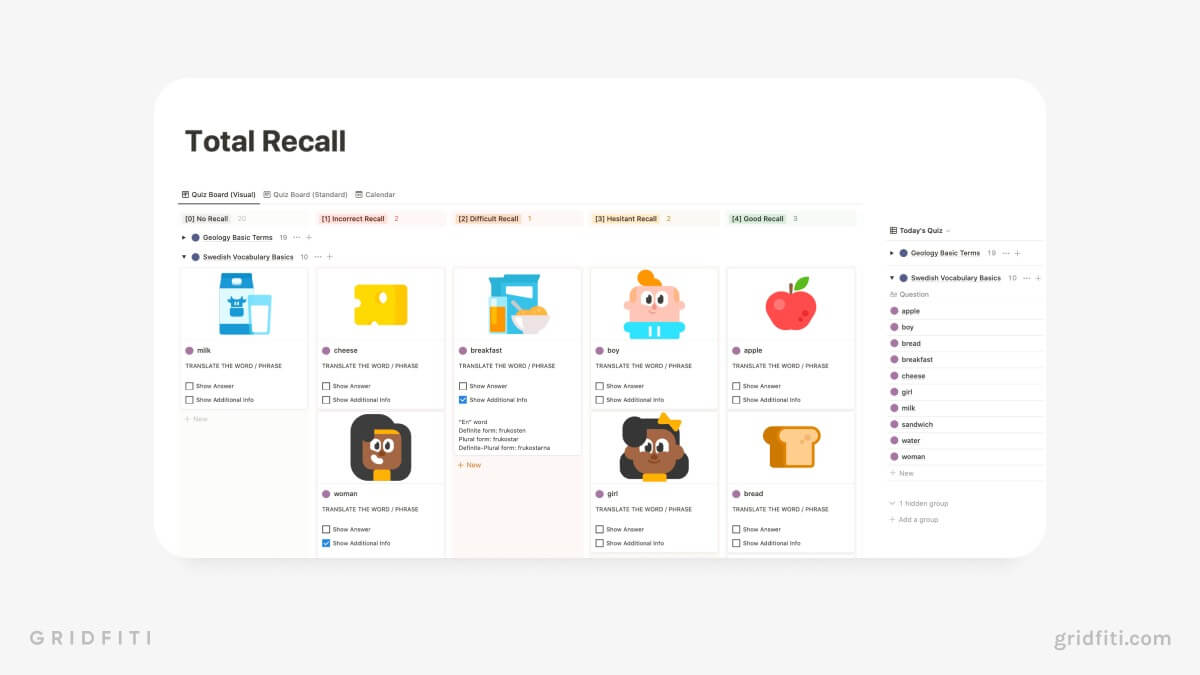 Template by Notion Things

Flocus is a free browser-based dashboard for both focus and ambience. Featuring aesthetic themes, personal greeting Pomodoro timer, and lots more!
Open Flocus in Browser.
Free Notion Templates for Productivity
No matter how proficient you are with Notion, a free template is a great place to start building your perfect productivity system.
We've curated a free template or two from each category in the list below — but if you want to explore more templates, hop over to our other roundups!
19. Free Notion Habit Tracker Template
Our very own Simple Habit Tracker delivers exactly what it promises. Simply create a new entry each day, then check off your habits as you complete them — easy peasy! The scorecard on the right shows you a total summary of your progress to help you stay motivated.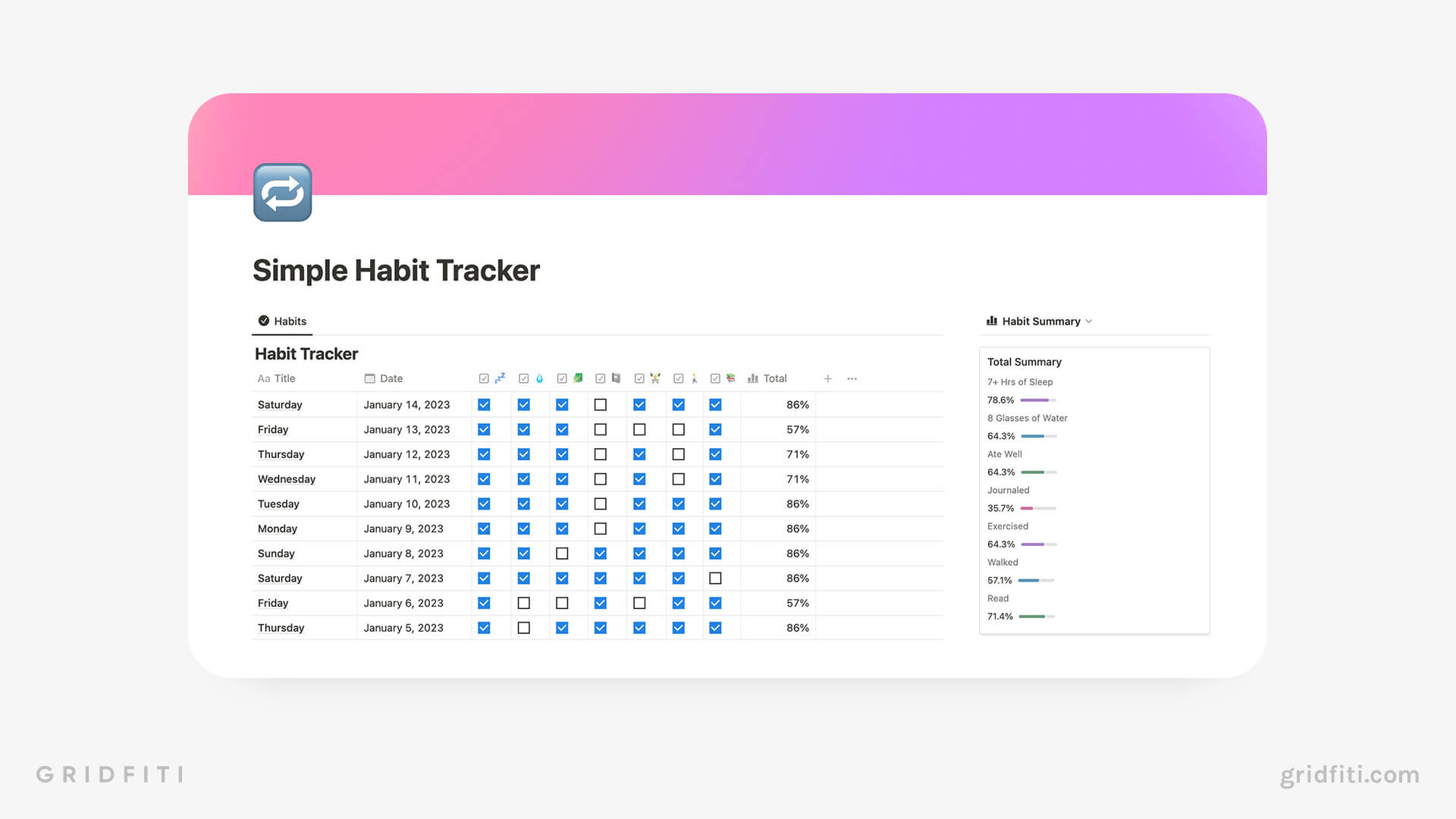 Template by Gridfiti
20. 100-day Level Up Challenge: Habit Tracking & Bullet Journaling
Develop lasting habits with the 100-day bullet journal challenge! Build daily checklists of all your habits and manage your reading lists. Built-in countdown, word counter, and reading streak widgets can help motivate you to stay on the right track!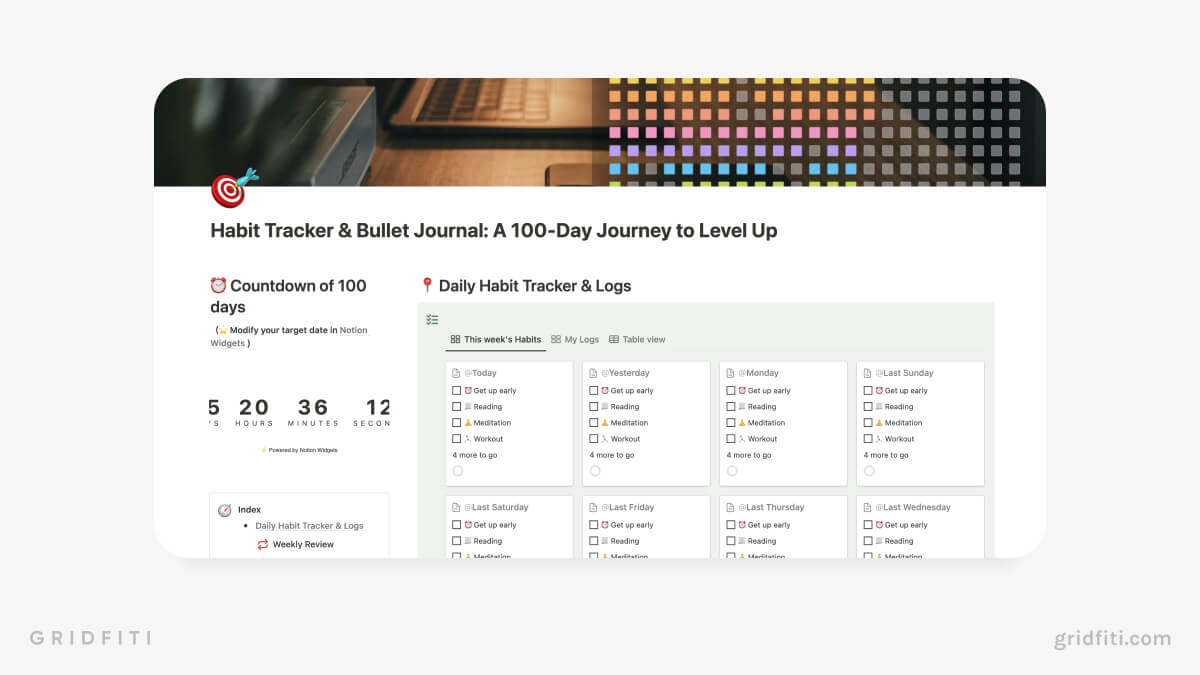 Template by u/Swimming-Weather-127 on Reddit
21. Productivity Weekly Planner
To do or not to do? The Productivity Weekly Planner is an excellent way to dip your toes into the Notion productivity pool, allowing you to sort tasks by due dates, priority, and assignee.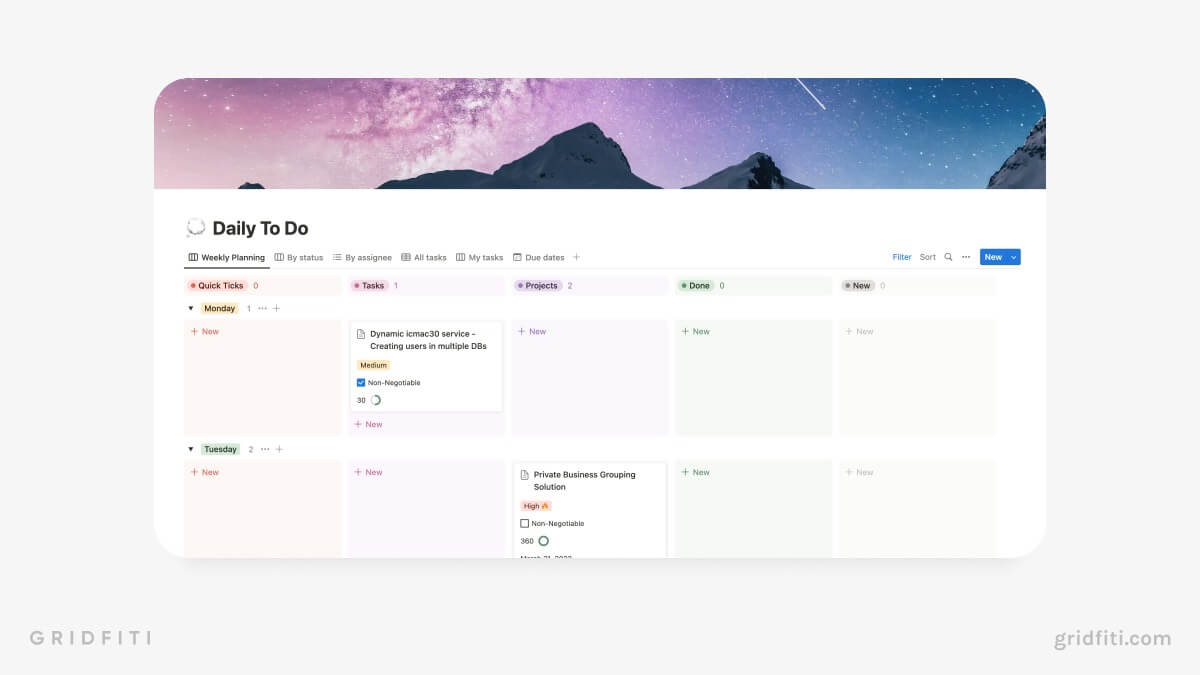 Template by Kadra Aden
22. Yearly Planner Template
This dreamy pastel yearly planner keeps things clean and simple with widgets, a manifestation planner, reflection board, vision board, and more.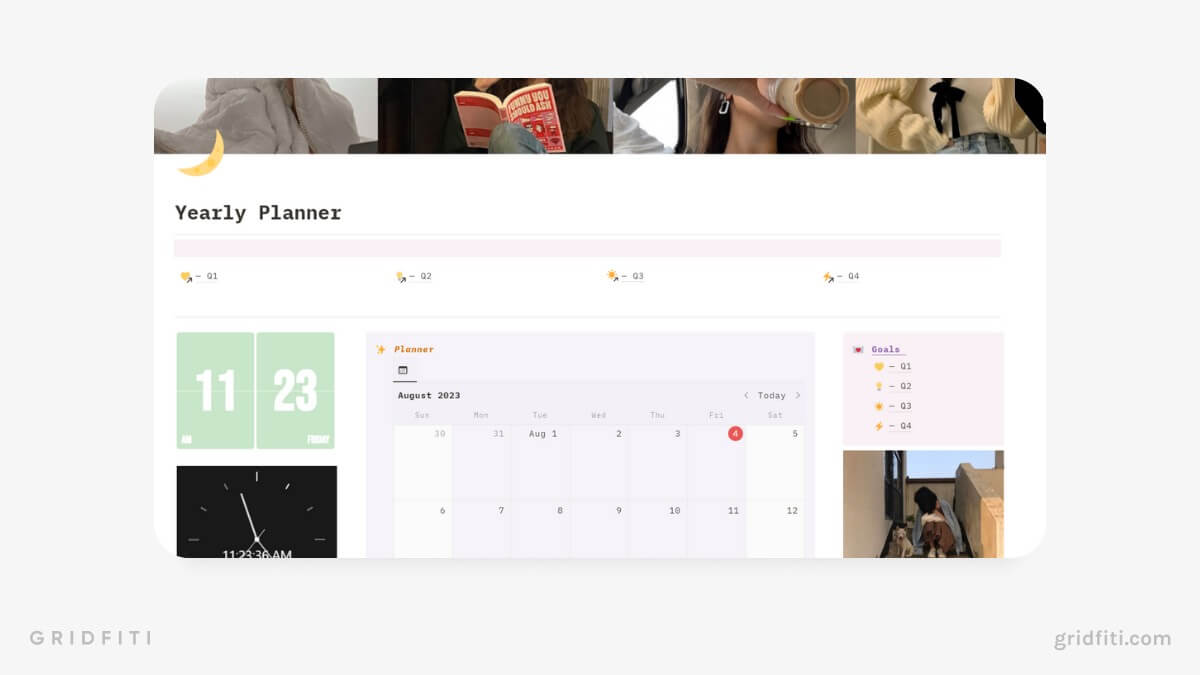 Template by Poonam Sharma
23. Journal Dashboard Template
How kawaii is this colorful journaling template! Aesthetic icons, widgets, and page covers are included for a seamless look, and the built-in categories for self-care, gratitude, and daily journaling are a nice touch.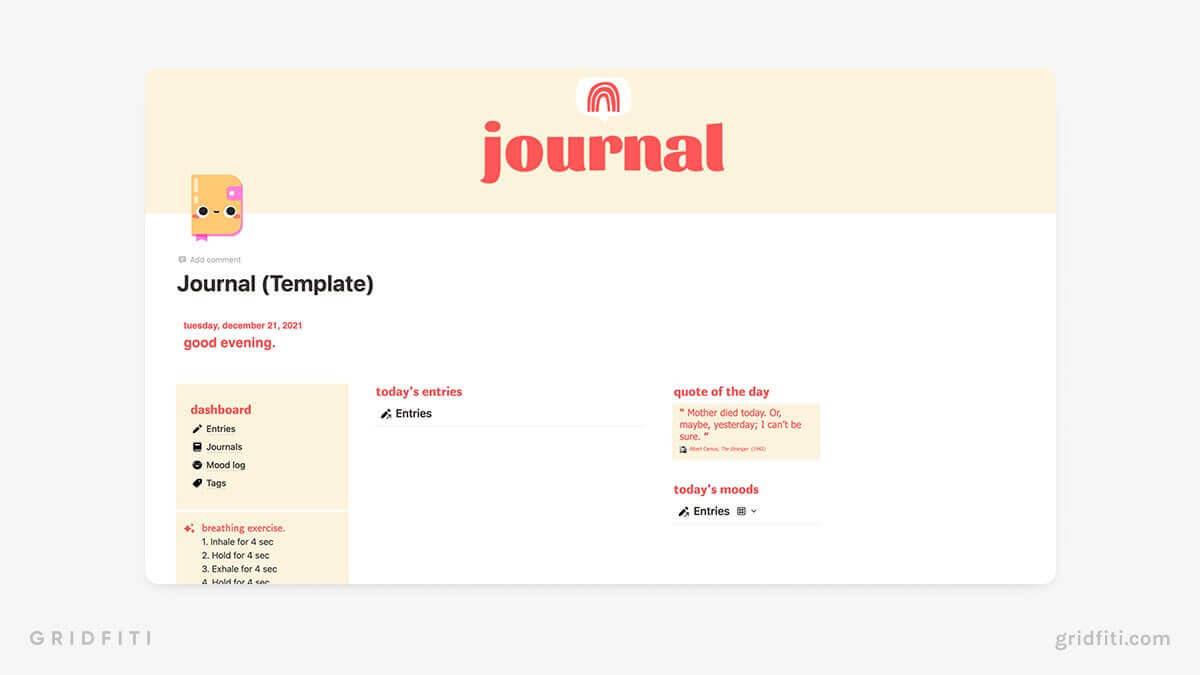 Template by u/EllieGons on Reddit
24. Daily Routines and Affirmations Template
This super simple template lets you use checkboxes to track and your chores and habits quickly. Add your favorite affirmations and create your perfect routine for some extra motivation!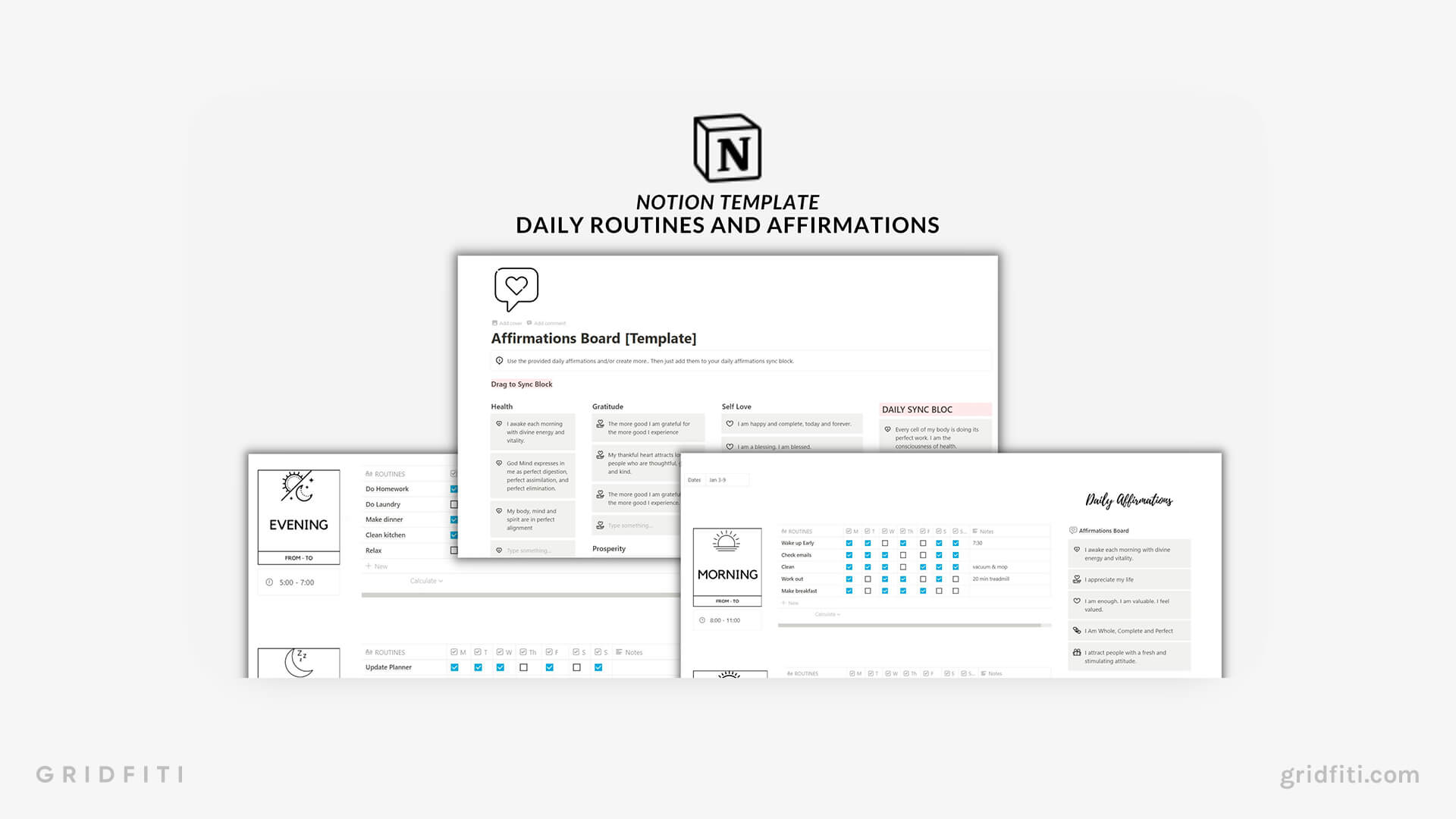 Template by Nellie Notion
25. Tasks & Project Management
If you're active in Notion circles on YouTube, you're undoubtedly familiar with Thomas Frank, Notion whiz and template builder. His task and project management template is super easy to navigate and use right out of the box. (We especially like the quick links for tasks on deck and in the inbox!)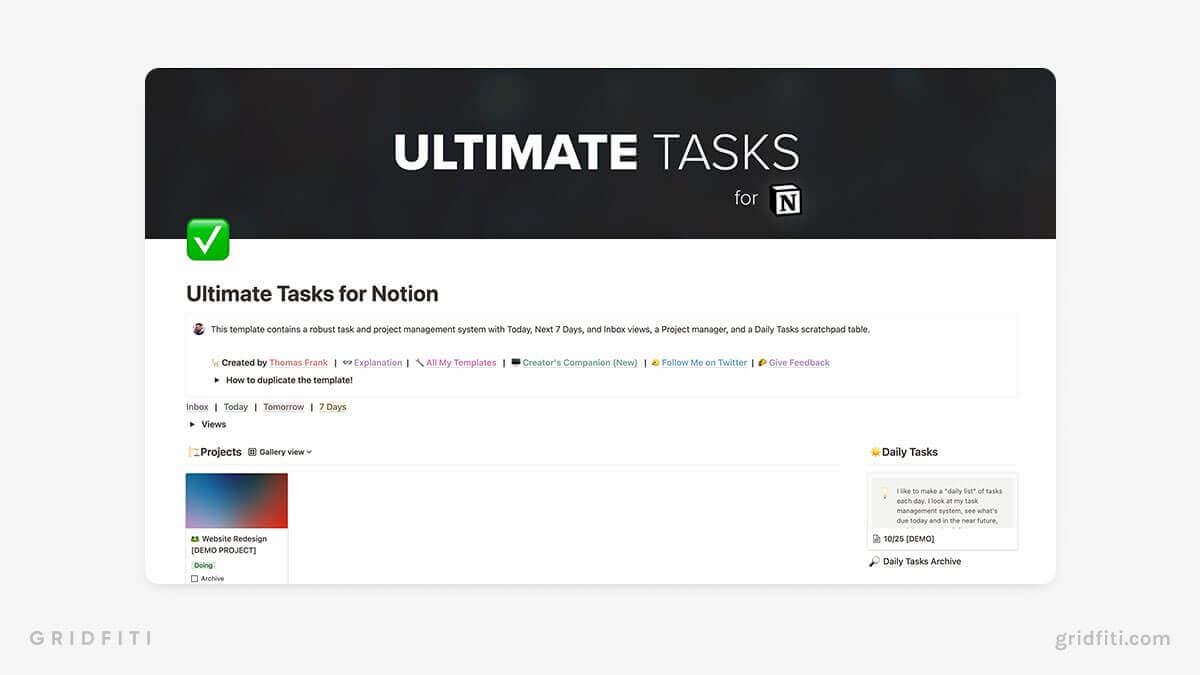 Template by Thomas Frank
26. Minimalist Notion Second Brain
We're obsessed with how sleek this second brain Notion template is! Includes setups for PARA, bookmarks, notes, and more, all laid out in a striking green theme designed for dark mode.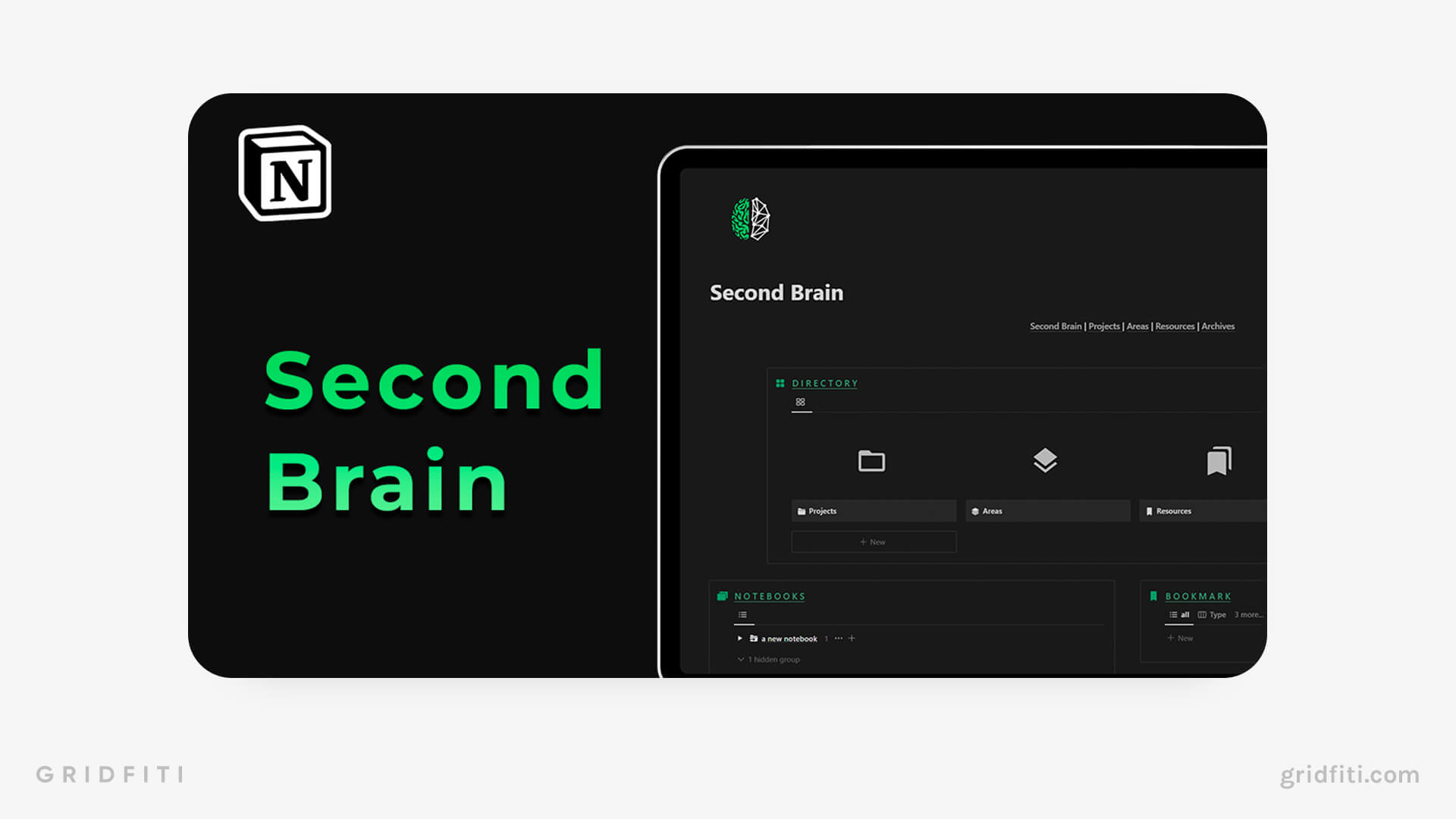 Template by Rosidssoy
27. Notion Goal Tracker for Free
Looking for a no-nonsense goal tracker? This template features minimalist trackers and to-do lists, complete with progress bars for visualizing your achievements. With quick actions, easy navigation, and calendar views, Notion Goal Tracker is a great free Notion template for beginners.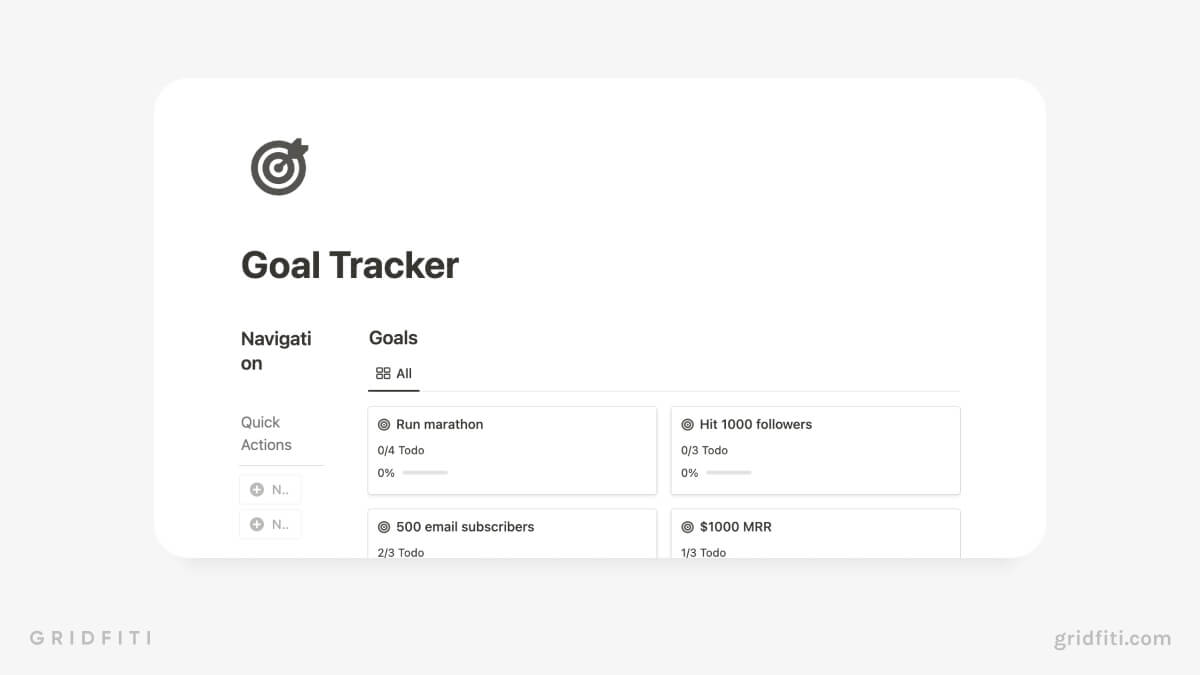 Template by Solt Wagner
28. Simple Year in Review Template
The free Year in Review Notion Template by Gridfiti (that's us!) makes it easier than ever to plan your big goals. Get a birds-eye overview of what you'd like to try and accomplish next year, places you want to go, what you want to improve, and so much more!
You also have space to review how the previous year went — not just in terms of productivity, but in every area of your life! From your favorite movies to your favorite memories, jot it all down here. With a simple column and list layout, you can keep your eye on what matters most to you and quickly assess your progress at a glance.
Related Post: Best Notion New Year's Resolution Templates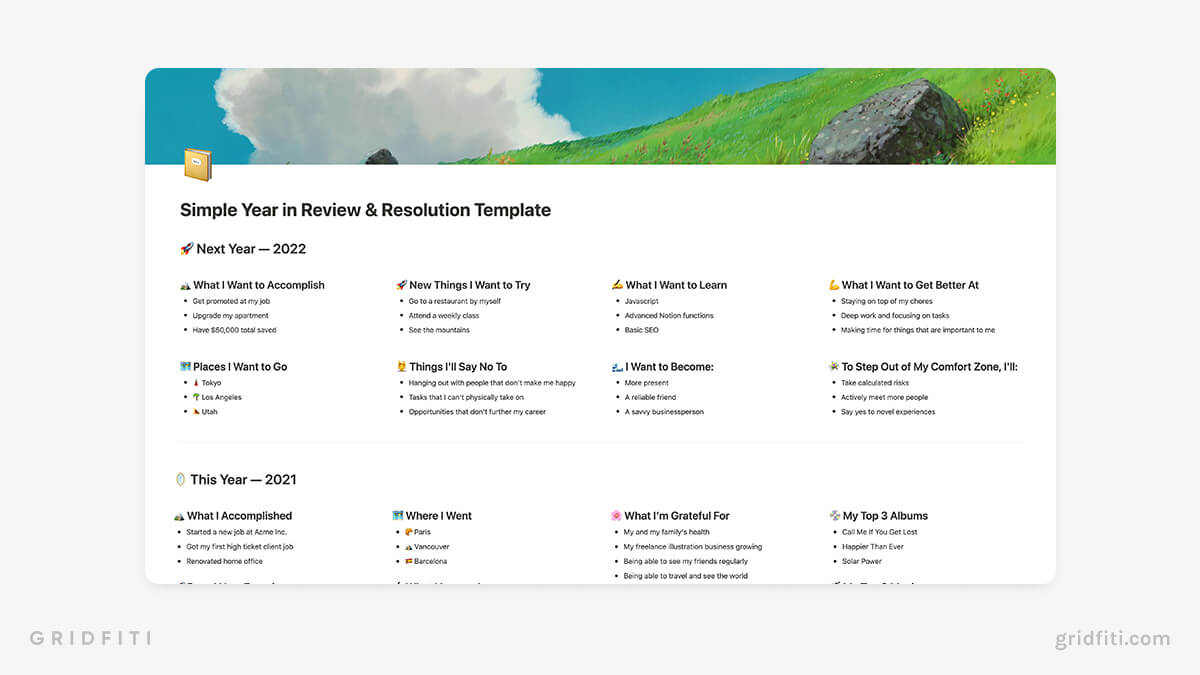 Template by Gridfiti
29. Free Time Scheduler
Spend less time managing your free time and more time enjoying it, thanks to the Free Time Scheduler. Automatically schedule time blocks for evenings and weekends for your hobbies and days out in the clear and concise calendar.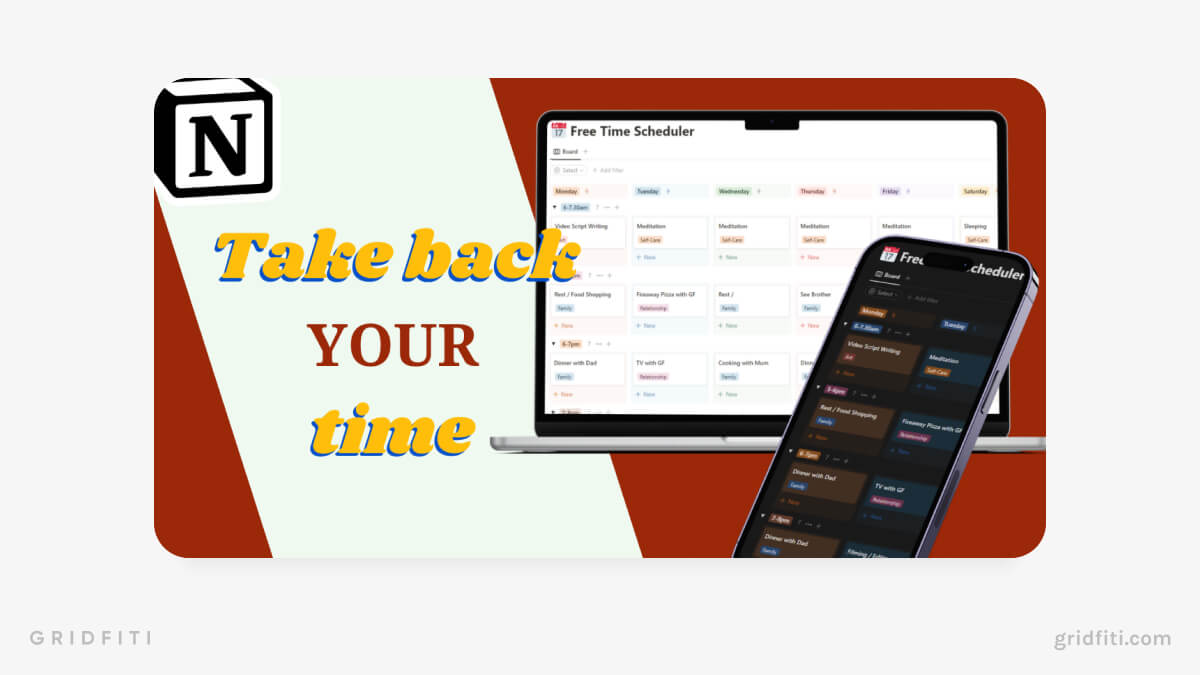 Template by The Notioneer
Free Notion Entertainment Templates (TV, Movies, Books & More)
Keeping up with all your favorite shows, movies, and other entertainment can be tricky if you work or attend school full-time. Stay on top of your ever-growing entertainment list with Notion!
We've cherry-picked our favorite free Notion entertainment templates for the categories below — check out our other roundups to see more:
30. Watchlist Tracker Template
Notion's powerful databases make it one of the best solutions for storing and organizing your media list. This simple watchlist template lets you organize your backlog, rate your faves, and quickly add new shows and movies with the click of a button.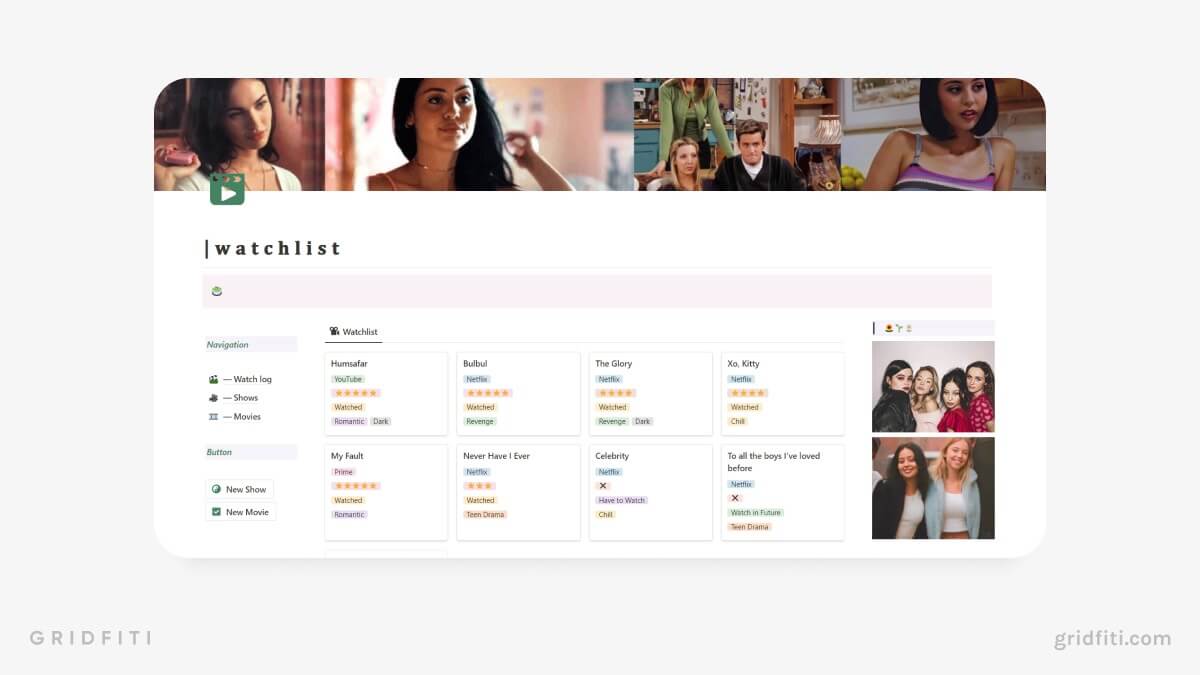 Template by Poonam Sharma
31. Simple Media Manager – Movies, TV Shows & More
All your shows in movies, now in dark mode! With dedicated pages for various media types — including podcasts, books, games, and more — this minimalist template does what it says on the tin.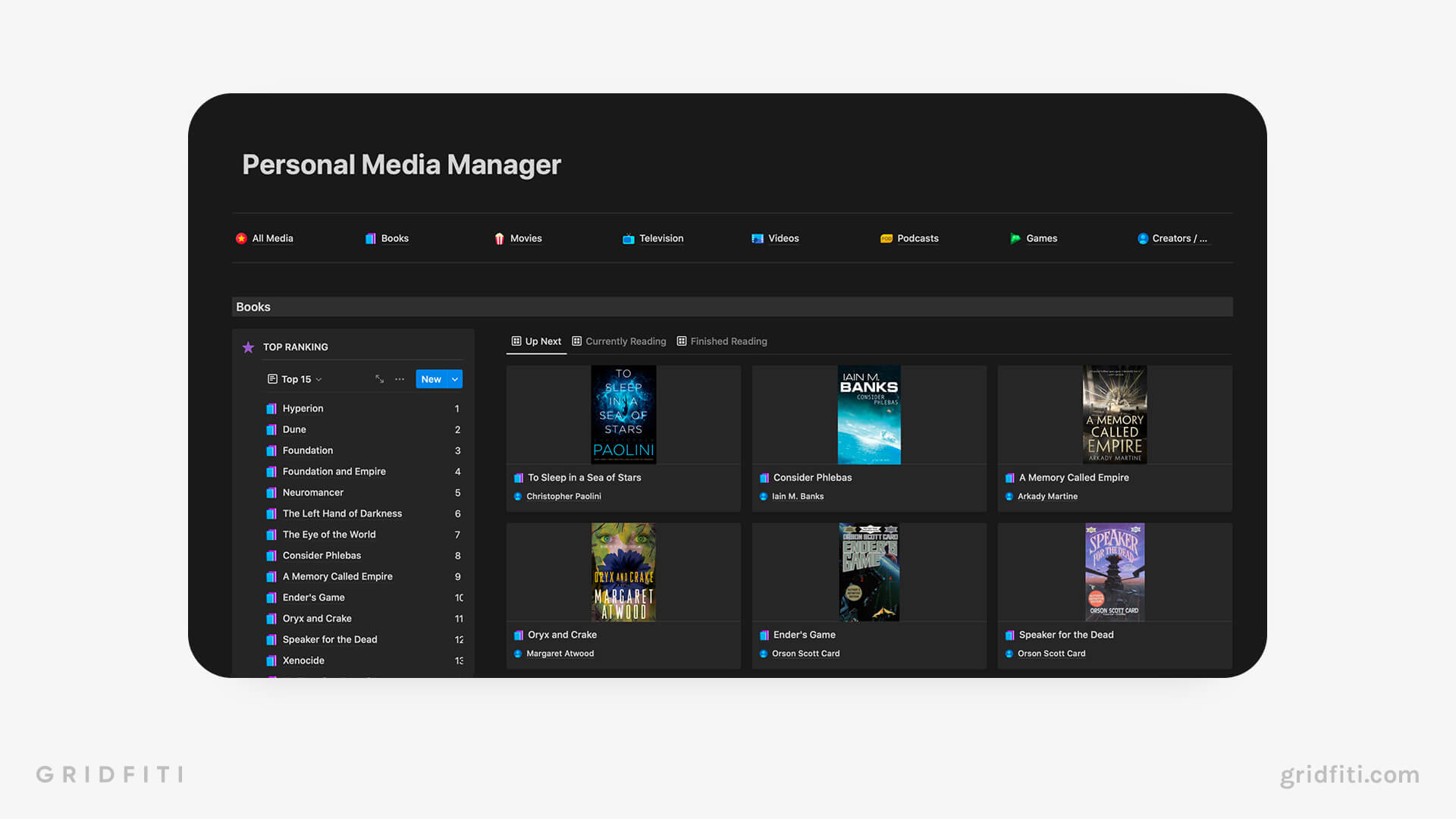 Template by Jamie Butler @ Notion Things
32. Notion Video Game Tracker Template
Whether you're a serious gamer or just want a better way to organize your library, this Notion template has all the functionality you need. Perfect for players with lots of physical game cartridges, digital downloads, and DLCs they've been meaning to complete!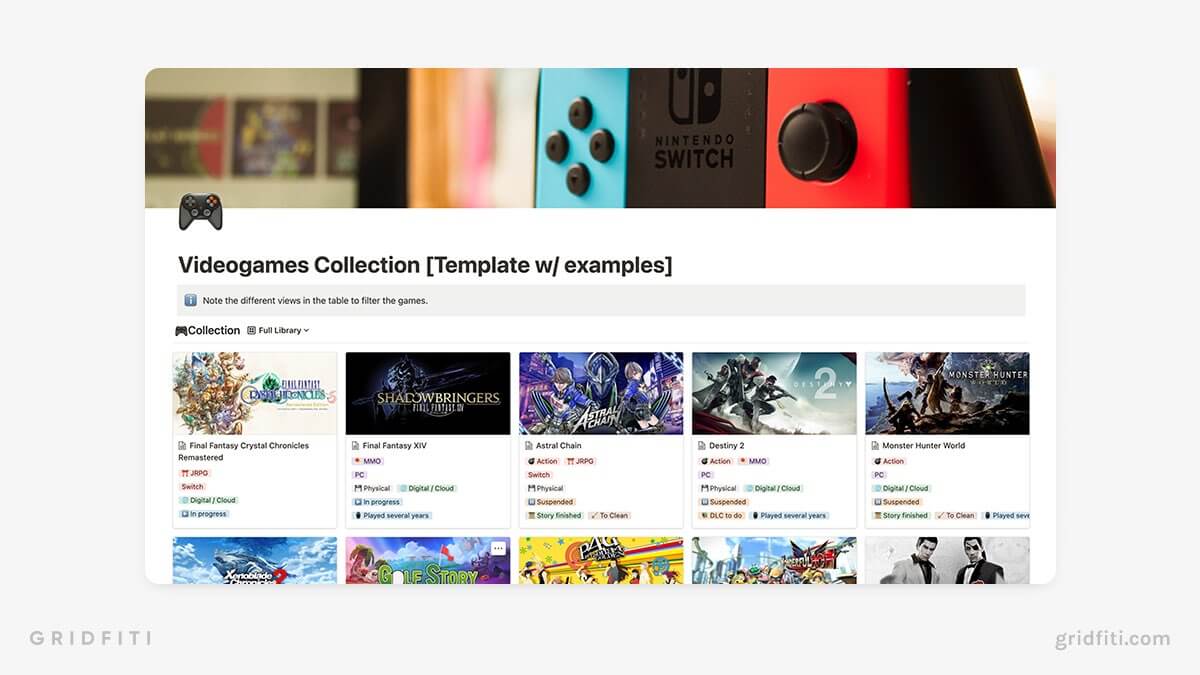 Template by Unknown
33. BookOS
Bookworms and bibliophiles rejoice! With BookOS, you can build an online library of current reading and wish lists. Sort your books by category, rating, and author, and capture notes and quotes from your favorite prose!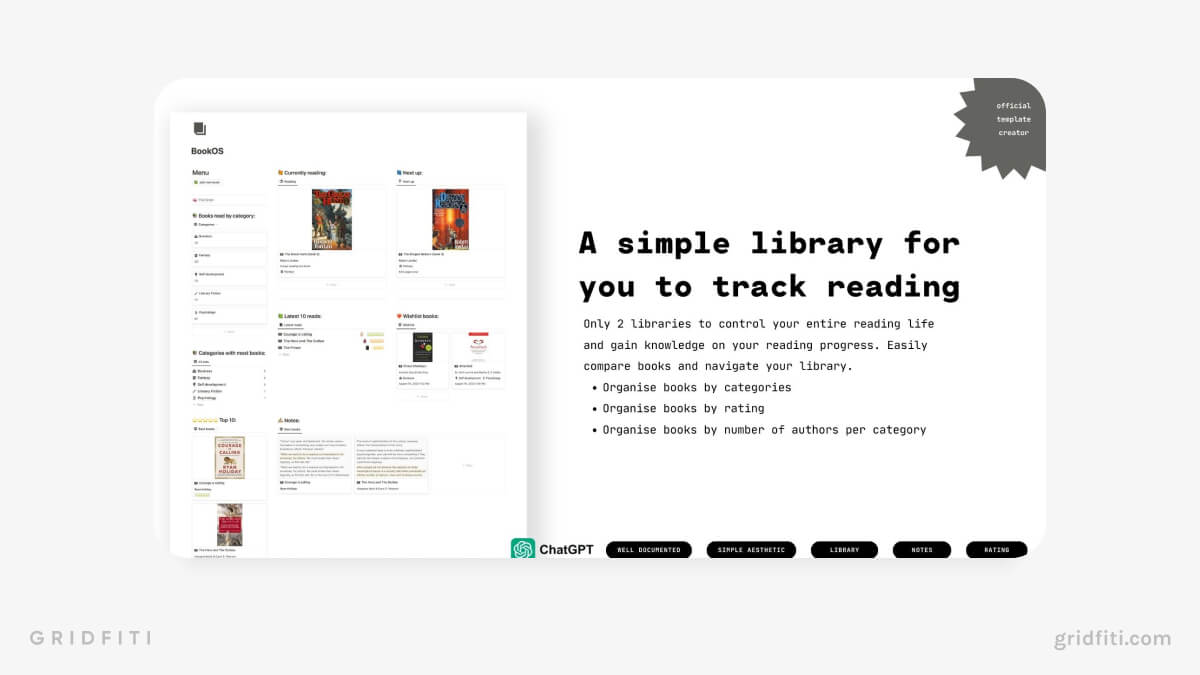 Template by Julia Pagani
34. Notion Bookshelf Template
Add a splash of color to your TBR list with this free aesthetic reading Notion template. There's even space for you to jot down your favorite quotes!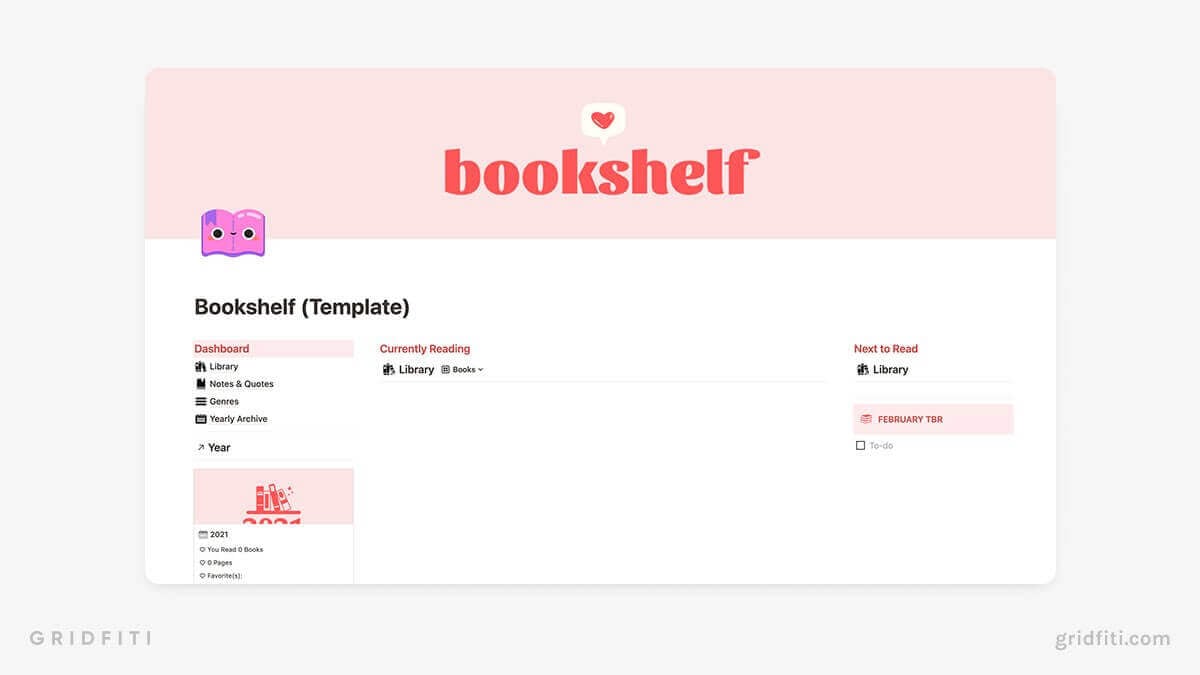 Template by Ellie
35. Knowledge Vault Template
Books, articles, courses, oh my! Tracking all your resources can be a challenge — but Notion lets you store and organize things like never before. Try out this free template to discover if Notion is the right home for your digital library.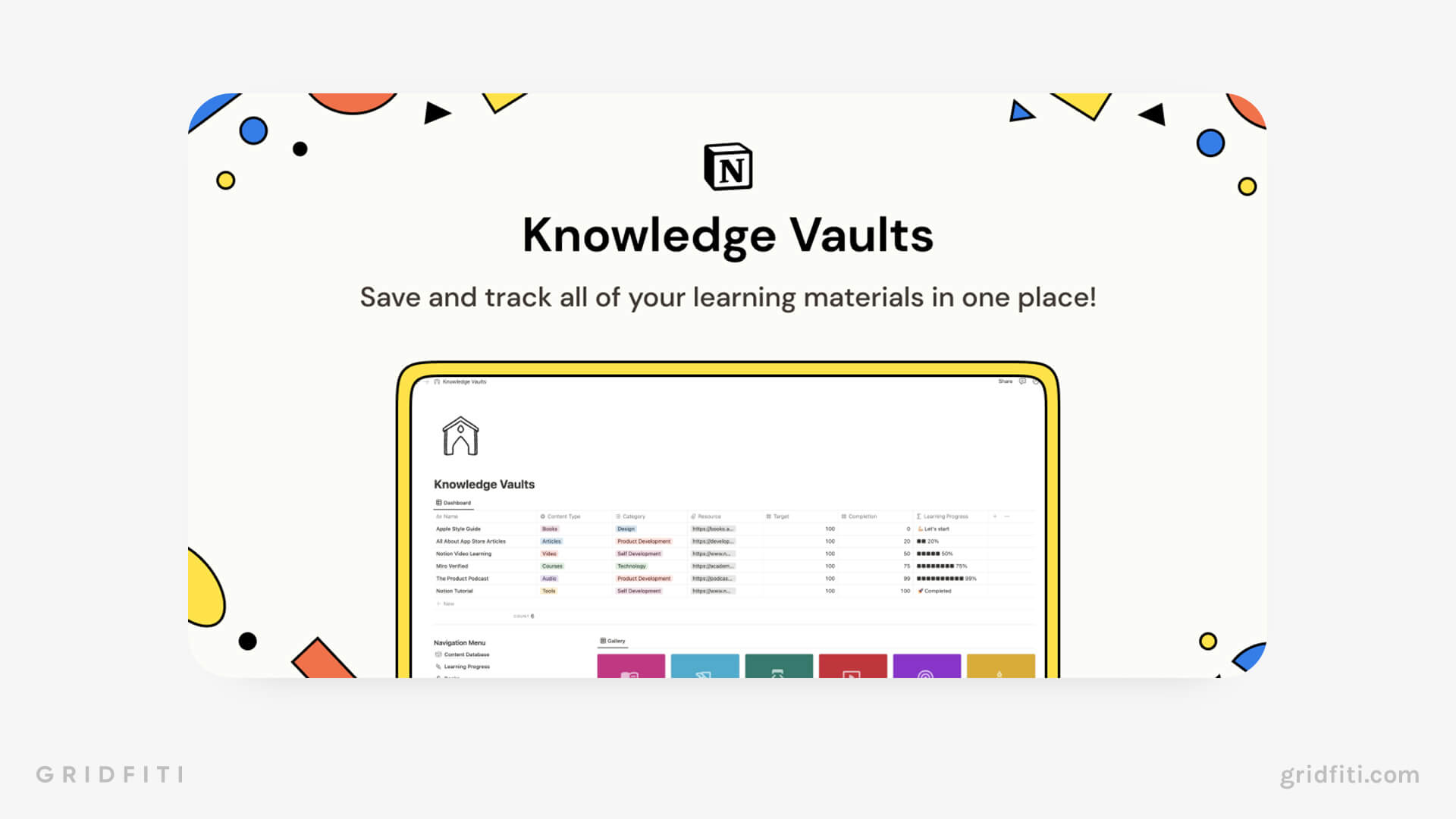 Template by Indra Kusuma
Free Notion Home Templates (Meal Planning, Cleaning & More)
Unleash your inner domestic deity with these free Notion templates for meal planning, cleaning, and other homely affairs!
Before you dive in, skim our list of related posts in case you're looking for something specific or want to browse more of our favorites!
Notion Cooking & Cleaning Templates
Miscellaneous Home Templates
36. Home Cleaning Database Template
Make your cleaning routine more aesthetic with this cute cherry-themed Notion template. Boards, calendars, and tables ensure this template works for your brain!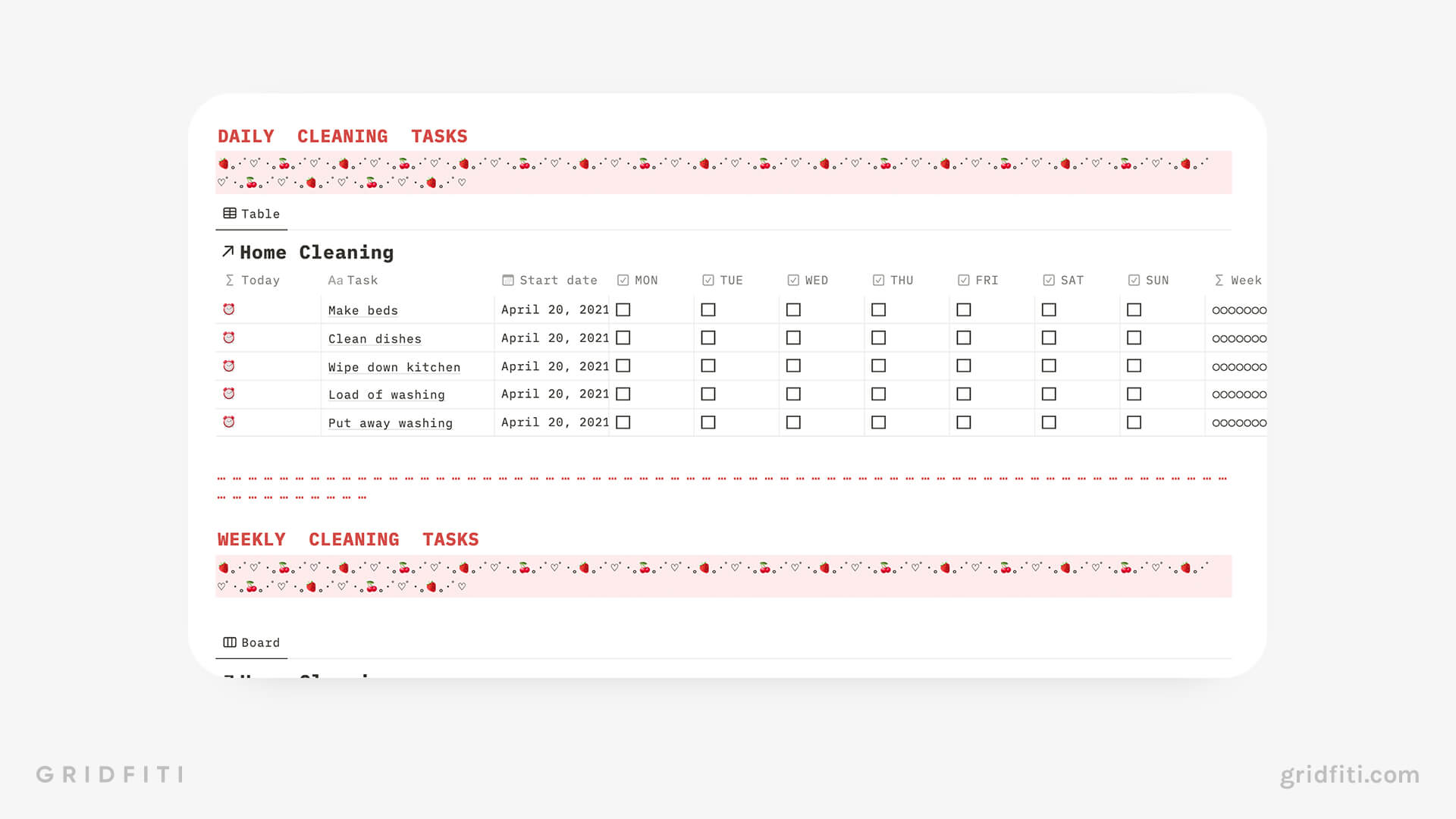 Template by Ella Li
37. Grocery List Template
If you're looking for a simple but aesthetically pleasing grocery list template, you've found it. All your grocery items are tucked away into toggles to keep things nice and neat! (We especially like the "Oh yeah, and" section, which is a great catch-all for those shopping items that don't quite fit into any other category.)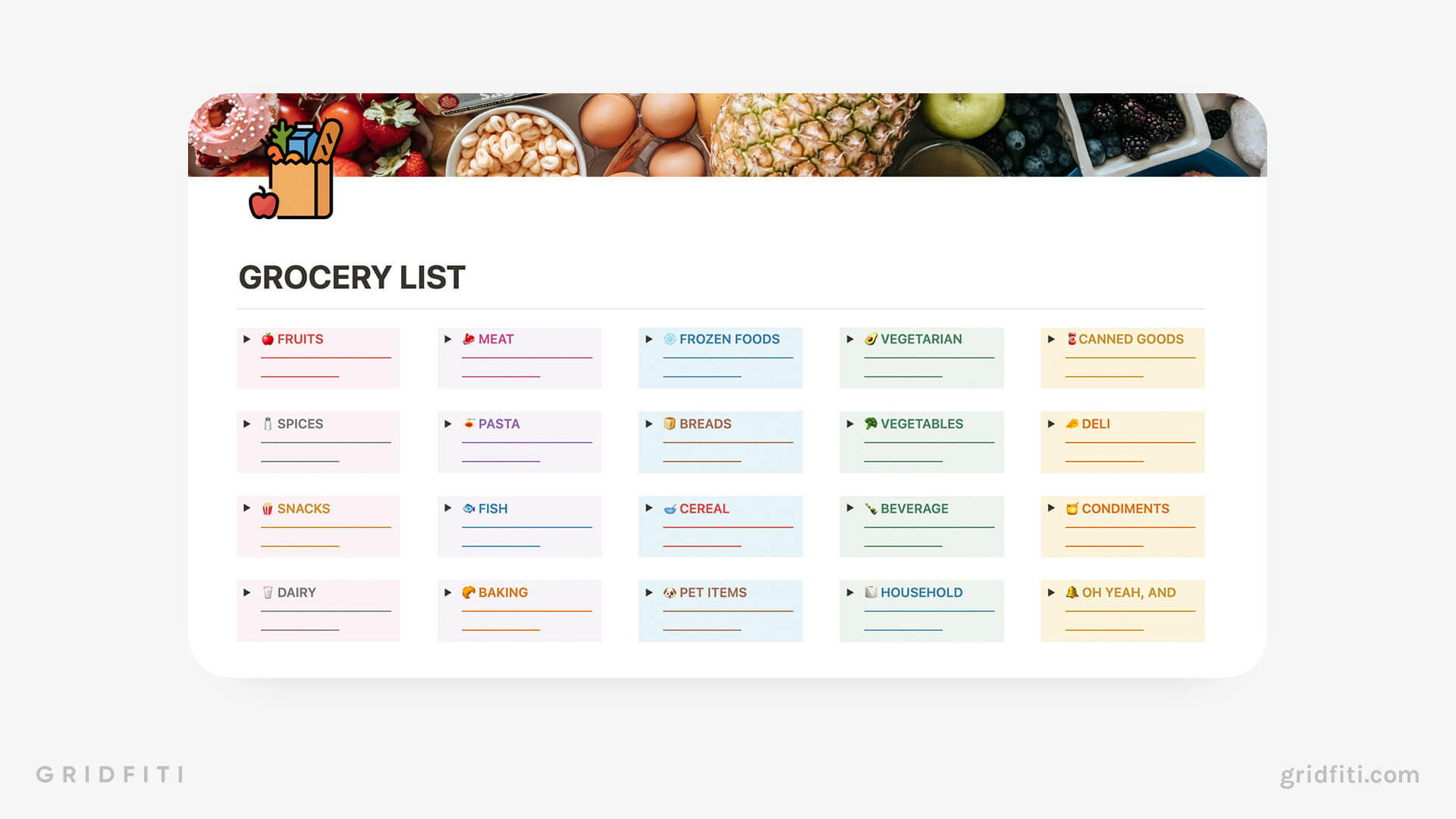 Template by Ella Li
38. Meal Planning Dashboard
Experimenting with Notion for planning meals, storing recipes, creating grocery lists, or other kitchen-related tasks? Check out this drag-and-drop meal planning dashboard to see the full potential of Notion for food planning and prep!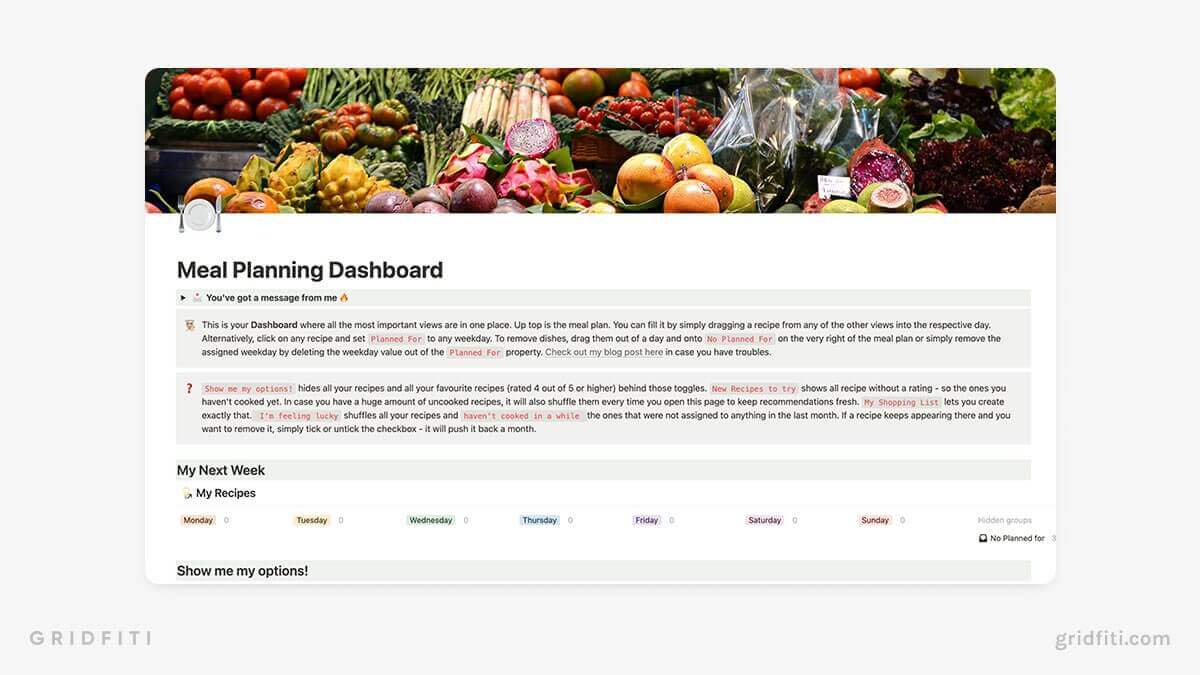 Template by Matthias Frank
39. Visual Notion Recipe Template
Let's taco 'bout getting all your recipes organized! The Visual Notion Recipe Template lets you create your recipe cookbook, which you can sort by your favorite meals and recipes you plan to make. It also features a unit converter and the ability to auto-adjust your ingredient quantity based on the number of servings.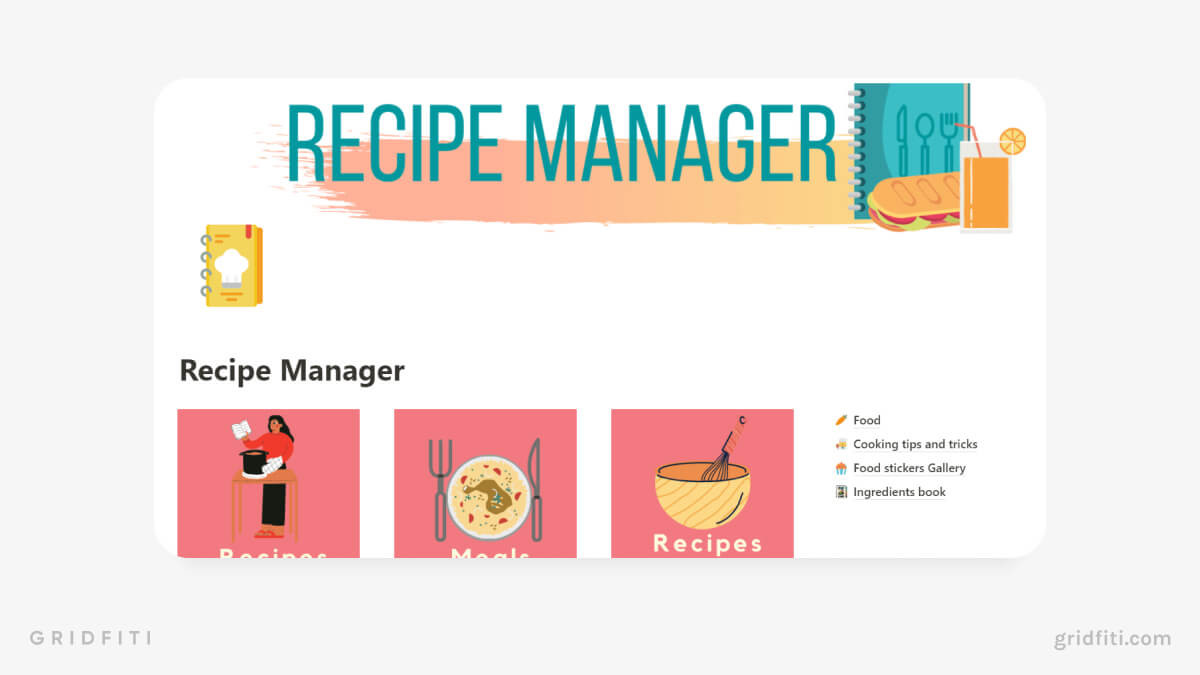 Template by Organizing Wonderland
40. Family Home Template
Keeping up with all your family activities is tough, especially if you have young'uns. The Family Home Template features a scheduler, calendar, and to-do list for all your family needs. Plus, you'll find sections for allergy/medication info, emergency contacts, and your fave nearby parks!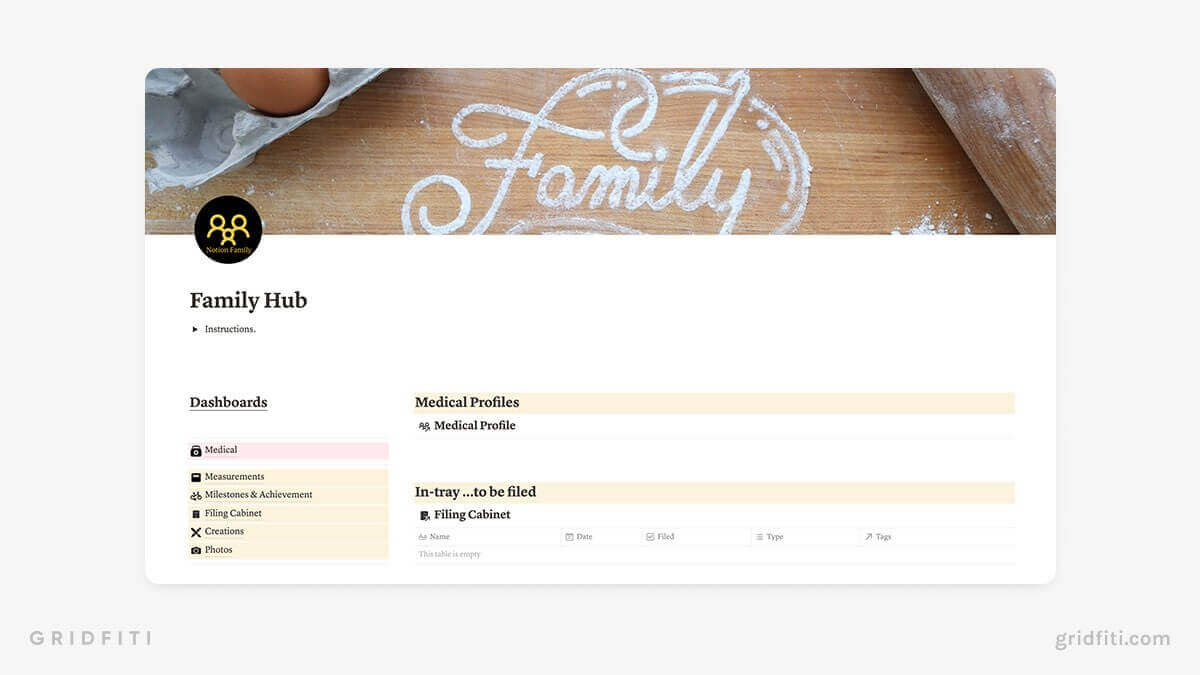 Free Notion Health & Wellness Templates
Gain a better understanding of yourself, track your habits, and fine-tune your behaviors to build a happier life — all with these free Notion health templates.
For more templates like these, explore our related curations!
41. Minimal Notion Fitness Planner
Minimal Notion Fitness Planner can help you stay fit with no fuss. In this free template, you'll find a workout planner, a meal planner, and a calendar for staying on top of your routine.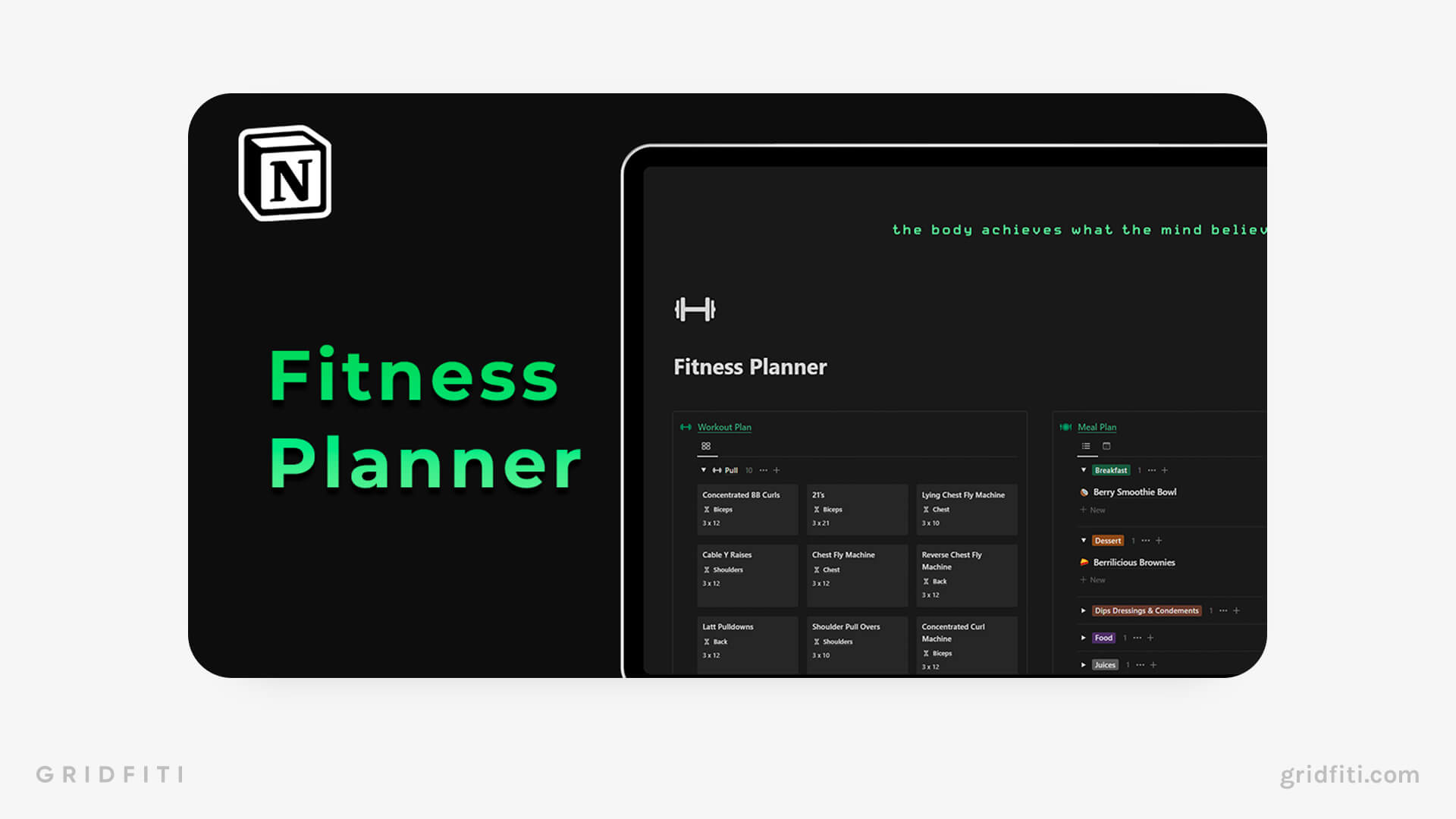 Template by Chris
42. Nutrition & Fitness Dashboard
A super cute free workout Notion template, the Nutrition & Fitness Dashboard features aesthetic icons and themes to keep you motivated. Use the calendar views to track your weekly meal plans and workouts. Make recipe lists, exercise lists, mindfulness practices, and more!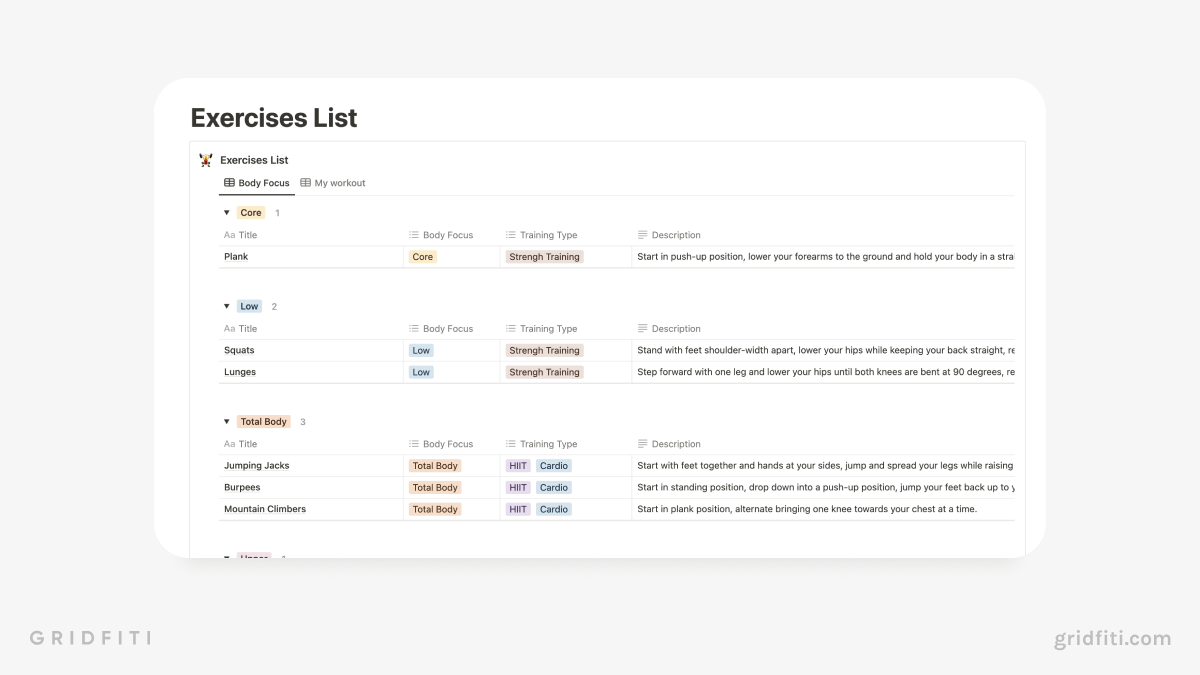 Template by Nicole D.
43. Mood Station & Mood Tracker Template
Reflecting on your mental health and tracking your mood is a little easier thanks to the Mood Station & Mood Tracker Template. Journal and track your daily moods using a selection of aesthetic emojis.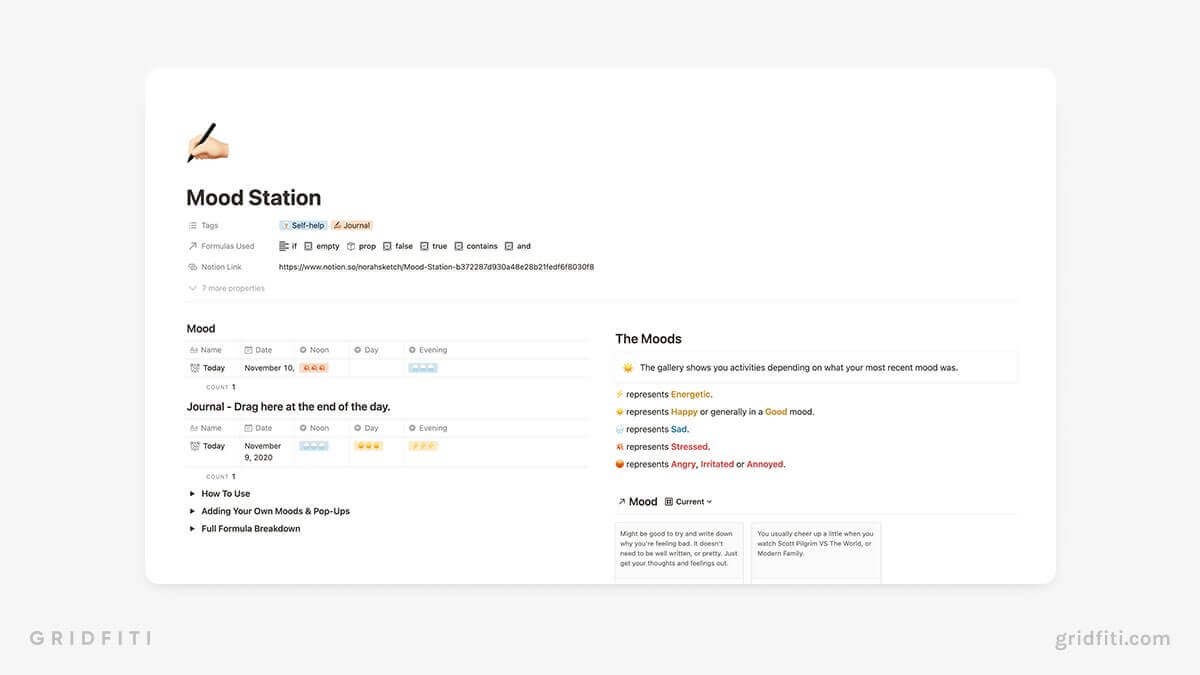 Template by @norahsketch
44. Gratitude Journal
What are you grateful for today? Ponder positively about your day by creating lists of your dreams, daily highlights, and ways to be more optimistic and productive.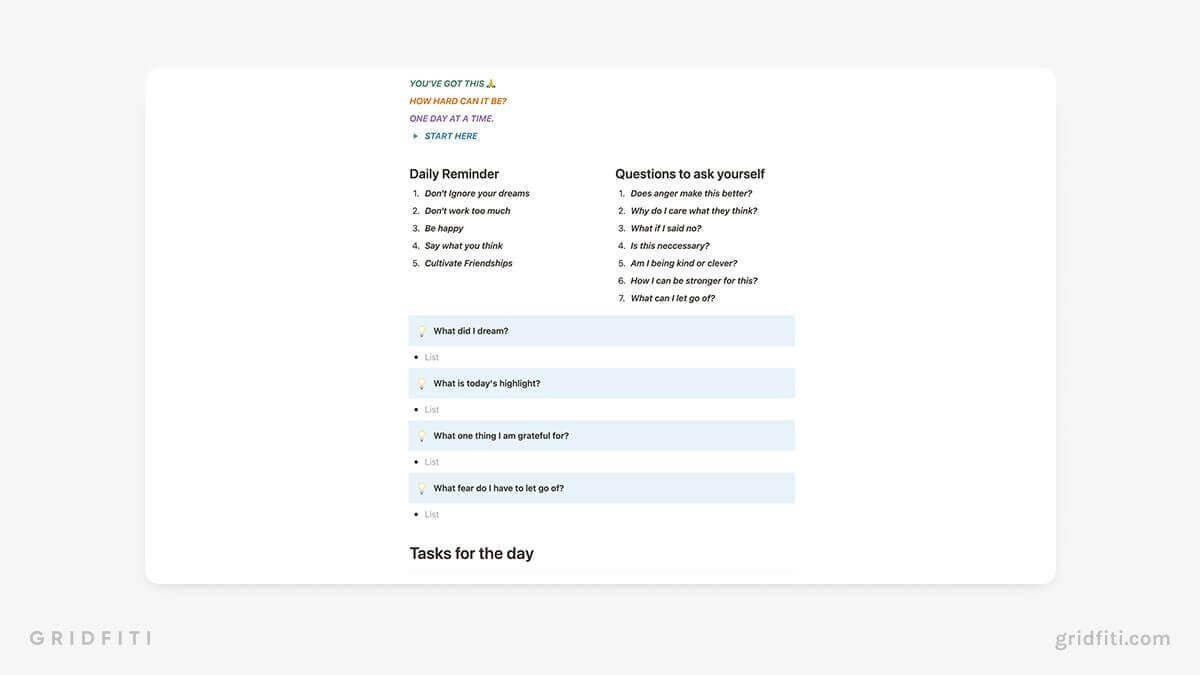 45. Sleep Tracker Template
See your sleep patterns through easy-to-interpret progress bars, rate the quality of your sleep, and gain personal sleep insights to improve the way you hit the hay!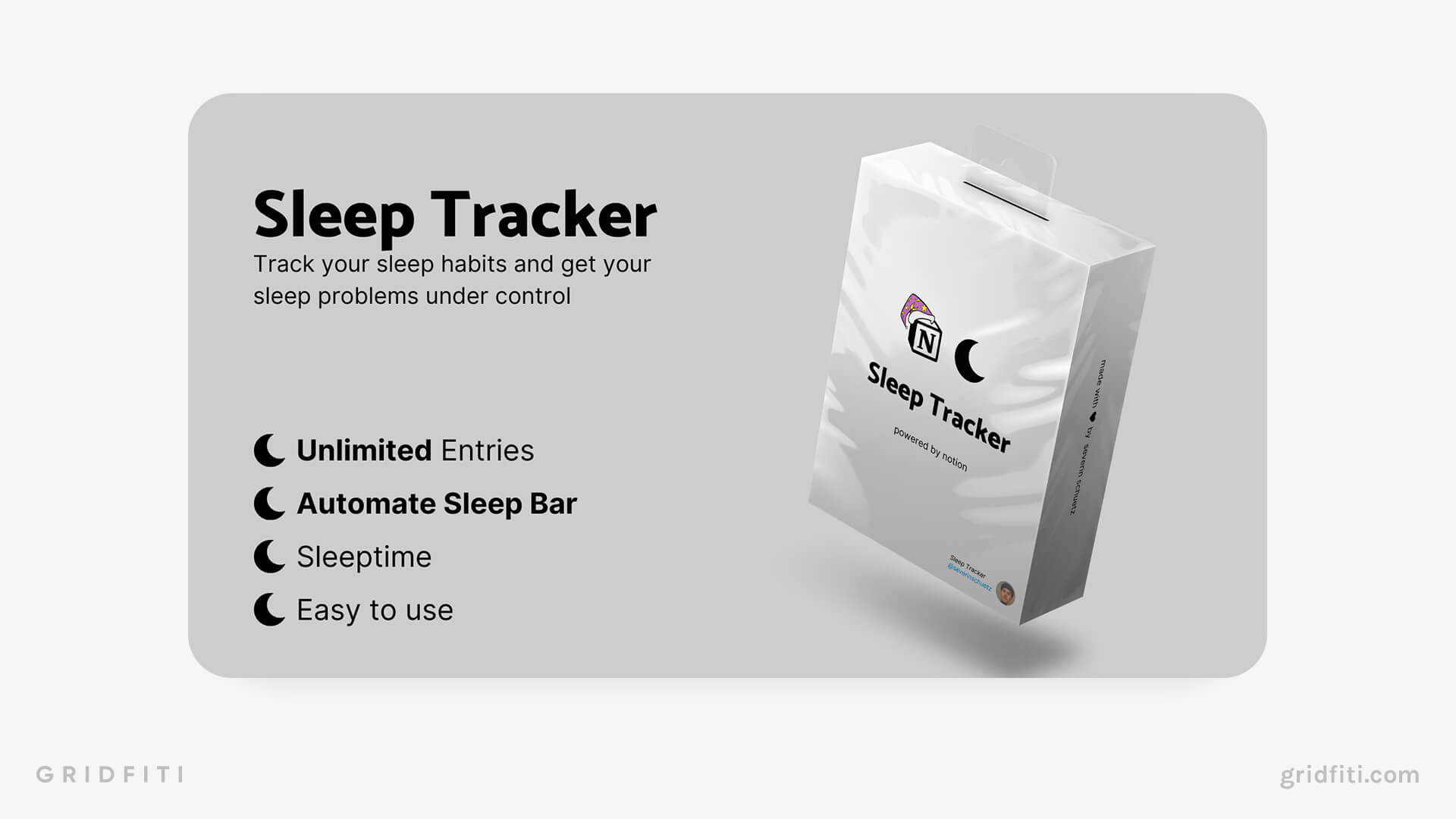 Template by Severin
46. Skincare Diary
You'll be positively glowing with the help of this free skincare Notion template. Add products to your "beauty shelf," rate their effectiveness, and detail your skincare journey by uploading pics on the Norton mobile app!
Template by The Notion Bar
47. Notion Period Tracker Template
Tracking your cycle is a cinch with their straightforward Noiton period tracker. With the latest 2.0 version, you can log birth control reminders, detail your fertility window, predict your yearly periods, and much more!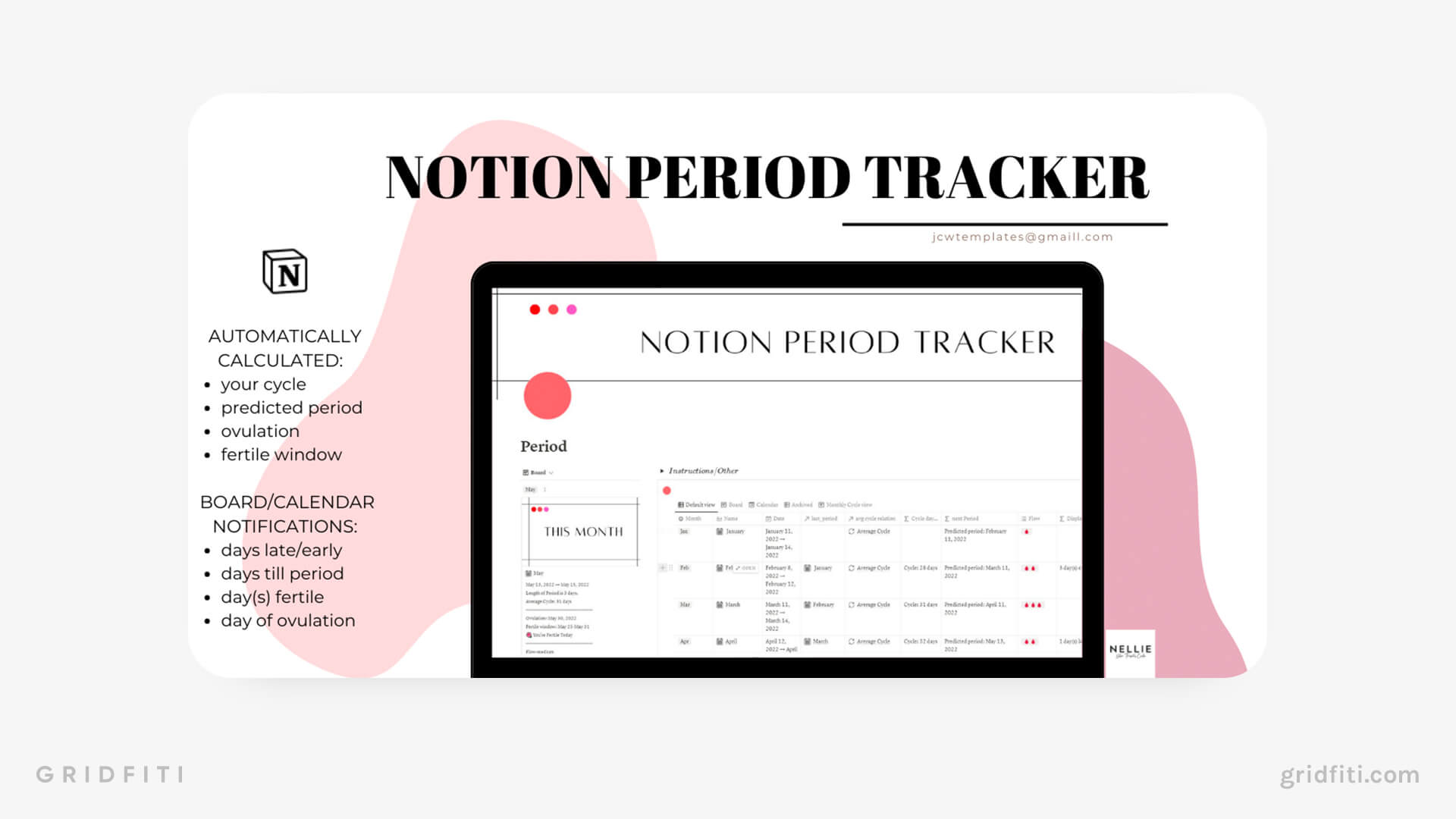 Template by Nellie Notion

Free Notion Travel Templates
When you use Notion to manage your vacation itinerary, you can set off in confidence.
Looking to organize your trips in Notion? Test the waters with these free Notion travel templates! And for more options, check out our related posts:
48. Notion Travel Packing Checklist
"Did I pack my passport!?" The Notion Travel Packing Checklist makes packing a little less hectic with customizable checklists for all your travel essentials, from documents to toiletries.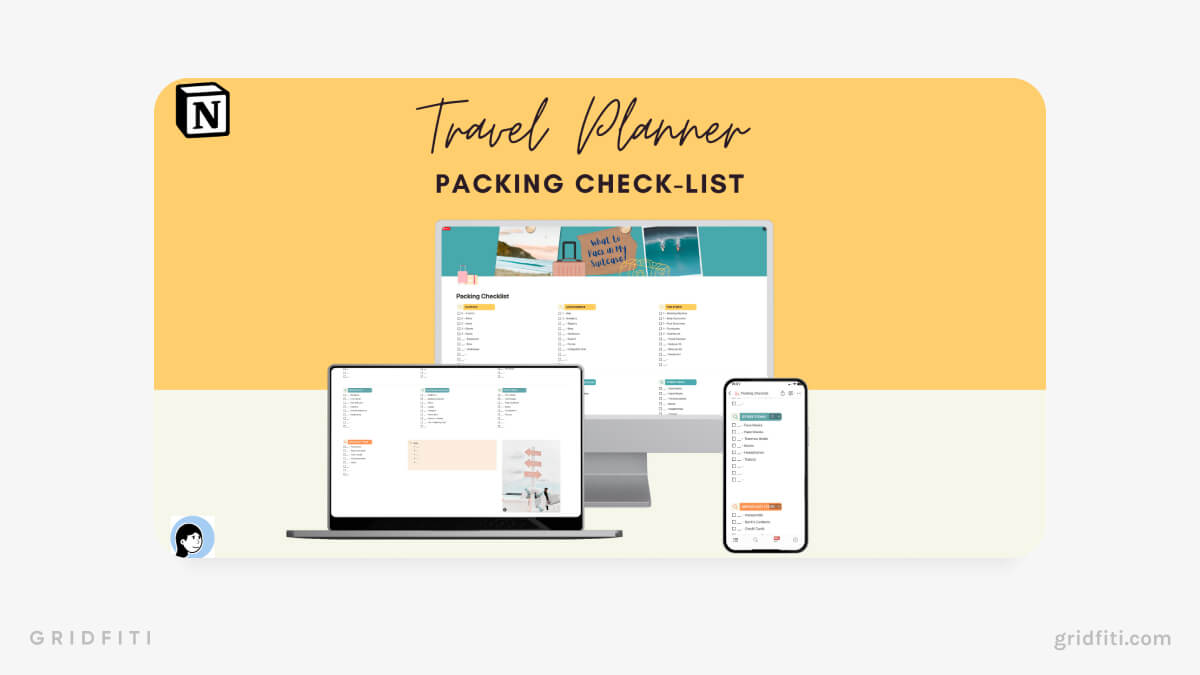 Template by Lamina
49. Simple Trip Planner – Minimal Notion Travel Dashboard
Minimal clutter and detailed databases make this one of the top free Notion travel templates. Access sections for packing lists, task lists, expenses, and local languages. From your dash, you can embed a custom Google Map of your destination to keep everything you need in one place.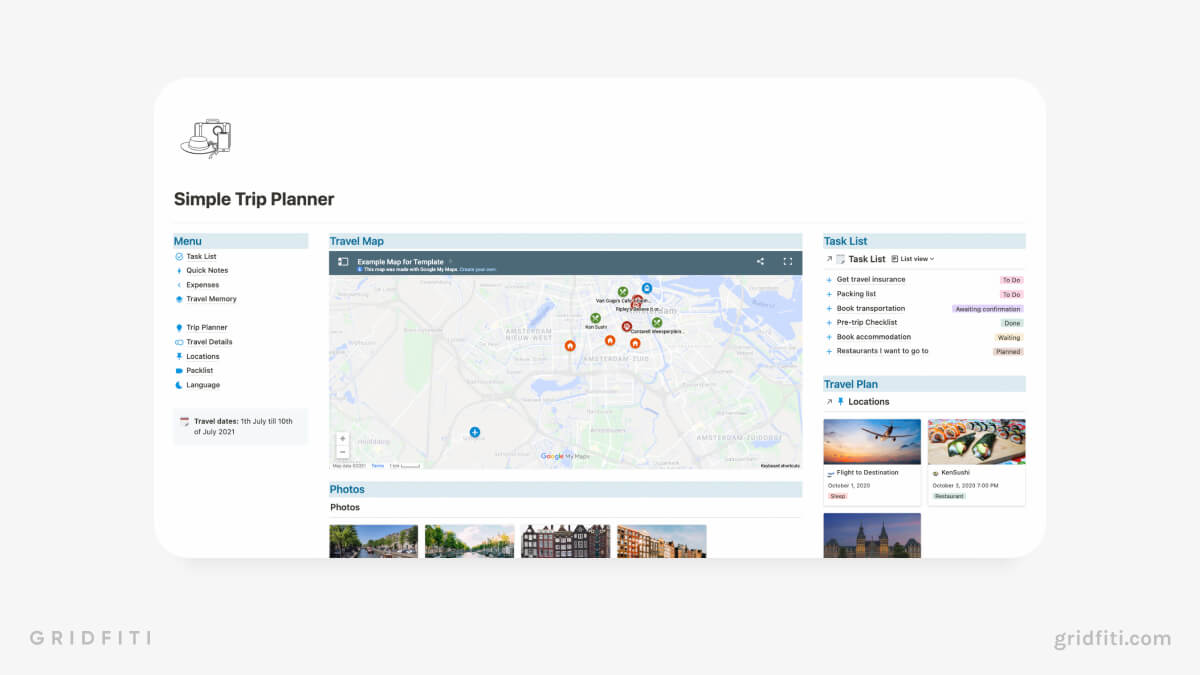 Template by Doodables
50. Yearly Travel Planner
If you're a frequent flyer, this is the Notion template for you. Get a breakdown of all your trips throughout the year, complete with travel dates, priority, duration, and remarks. Cross each country off your list that you've already visited and become the ultimate global traveler!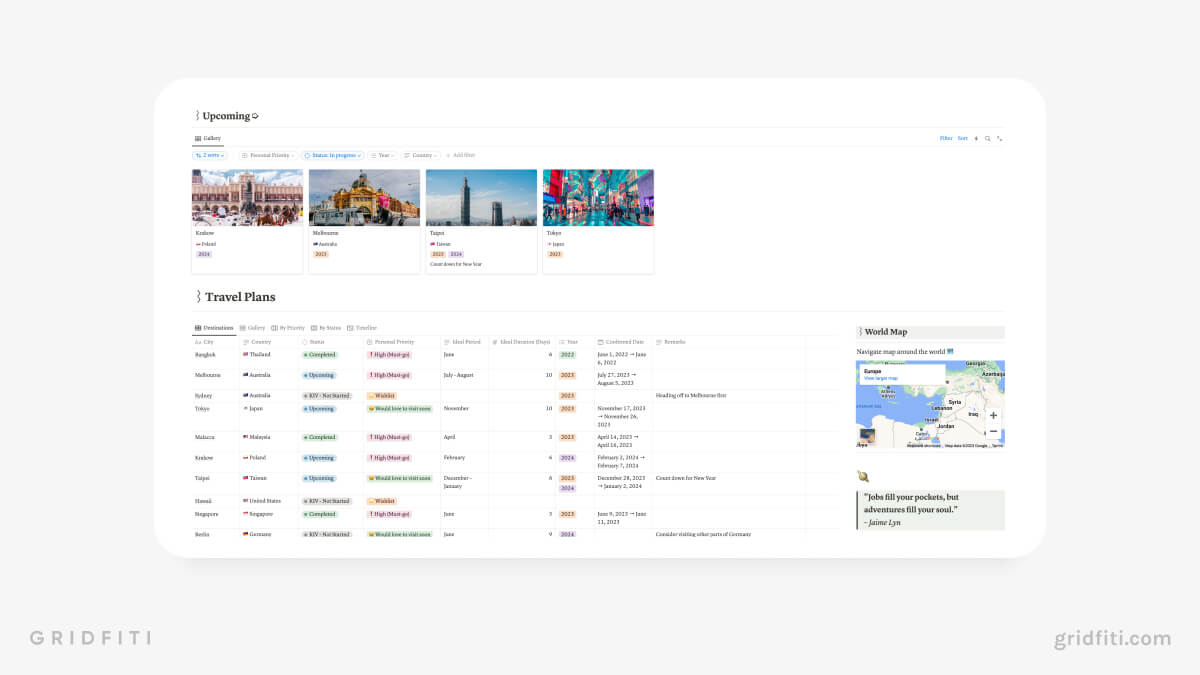 Template by @notionmolly
51. The Ultimate Travel Planner
This basic travel planning kit has what you need to organize your next trip. Store your notes, brush up on the local language, organize your packing list, and create your itinerary all in this simple dash.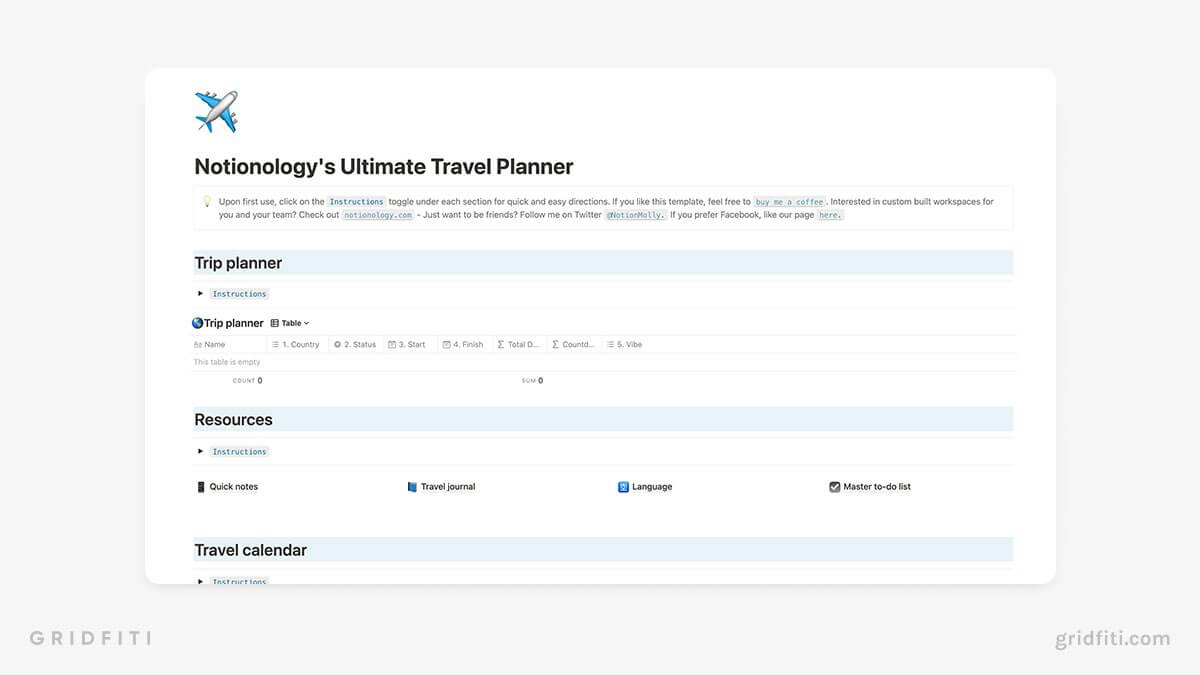 Template by Notionology
52. Travel Journal Template
This travel journal template is chock full of handy pages to plan your next great adventure. The map and weather widgets are especially helpful for planning your outfits and itineraries ahead of time!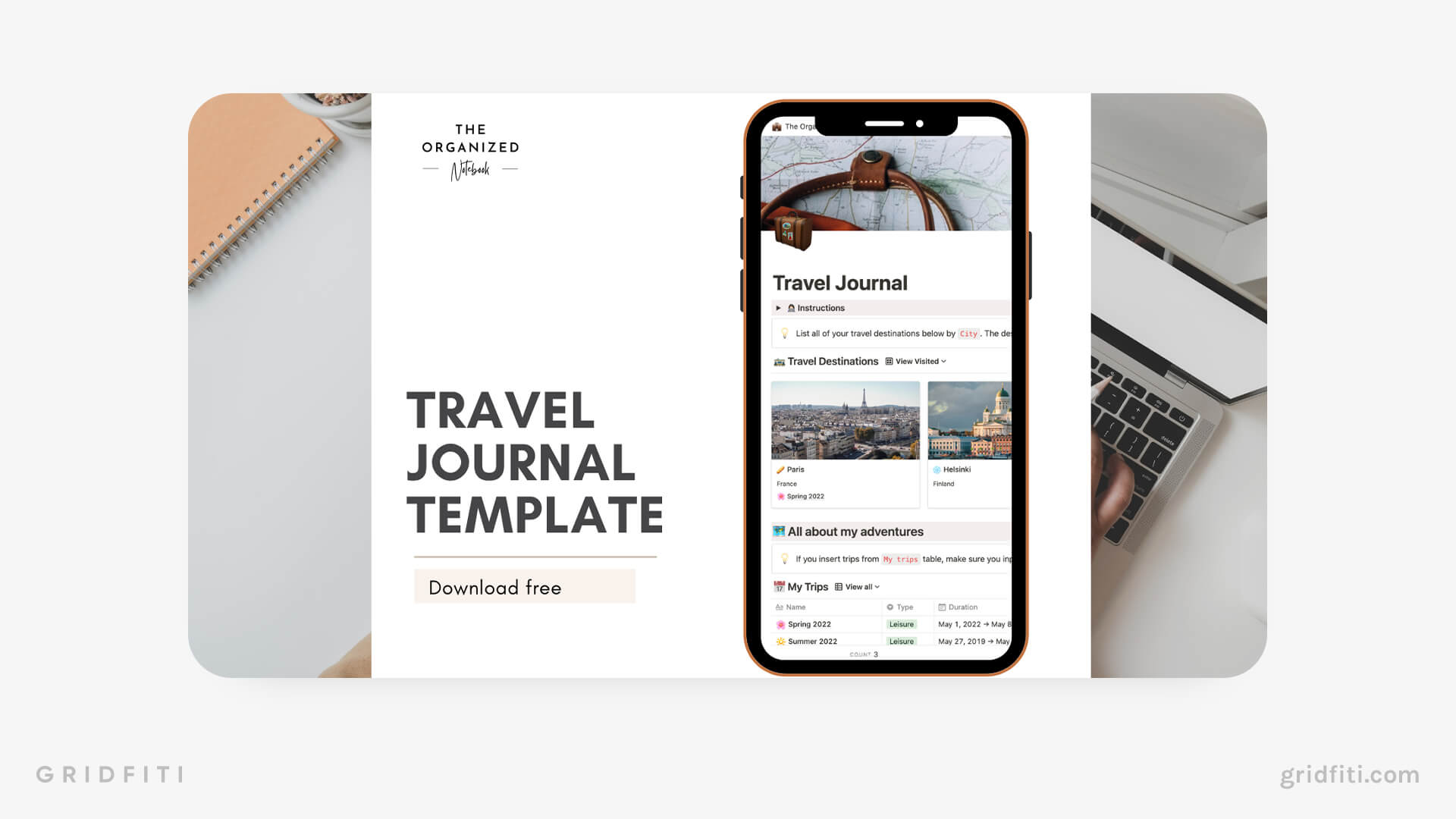 Template by The Organized Notebook
Free Notion Templates for Finance & Budgeting
Keep your budget, expenses, and investments in check with one of these free Notion finance templates. Searching for something specific? Find more templates in our related posts:
53. 50/30/20 Budget Tracker Template
Find out if the 50/30/20 method is a good fit for your budgeting brain with this free Notion finance template. Use simple databases to track your needs, wants, and debts while allocating your money accordingly.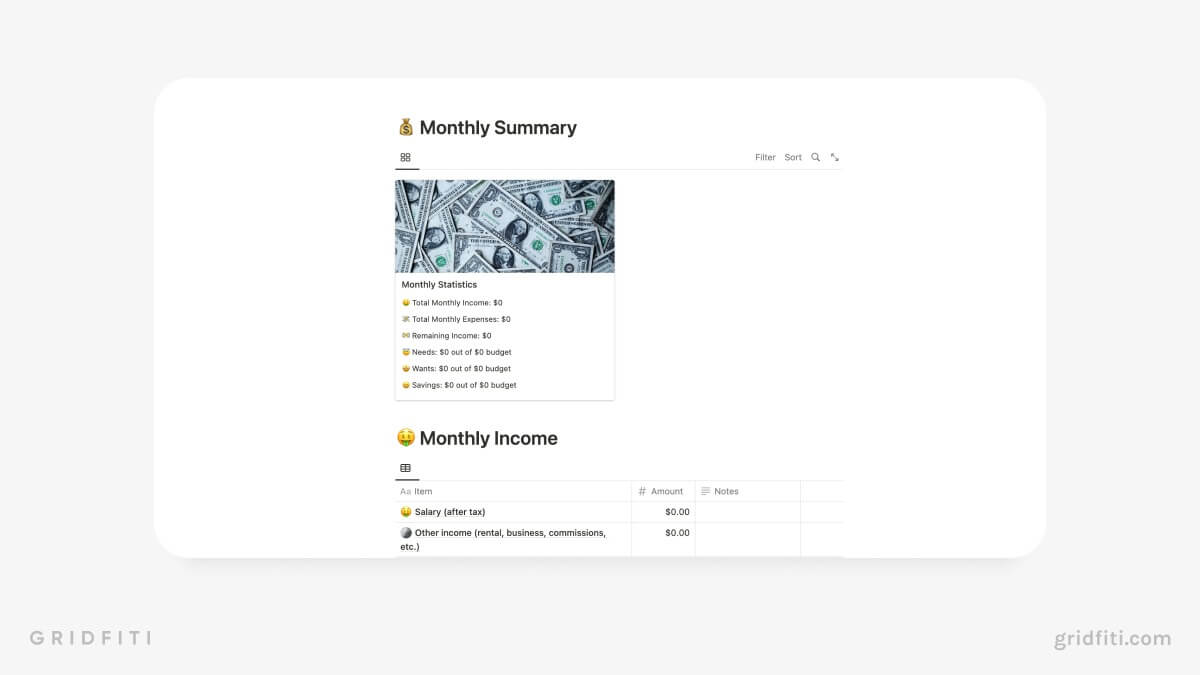 Template by Raiu
54. Subscription Tracker Template
Having trouble keeping up with your many monthly subscriptions? Check out the Subscription Tracker Template and create databases for your billing cycles, costs, and overall expenses.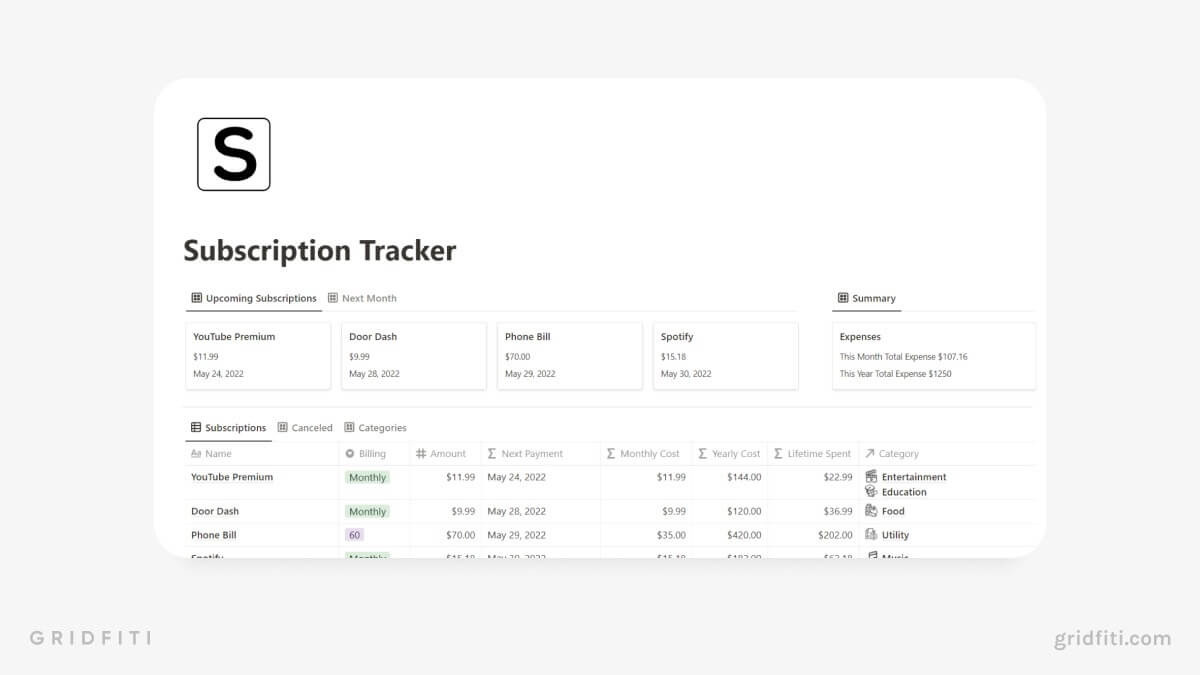 Template by Tony David
55. Notion Investment Dashboard
Never miss an opportunity to invest thanks to the Notion Investment Dashboard. Receive live updates from the stock market including latest market moves. Plus, you can track your current holdings and profits vs. losses.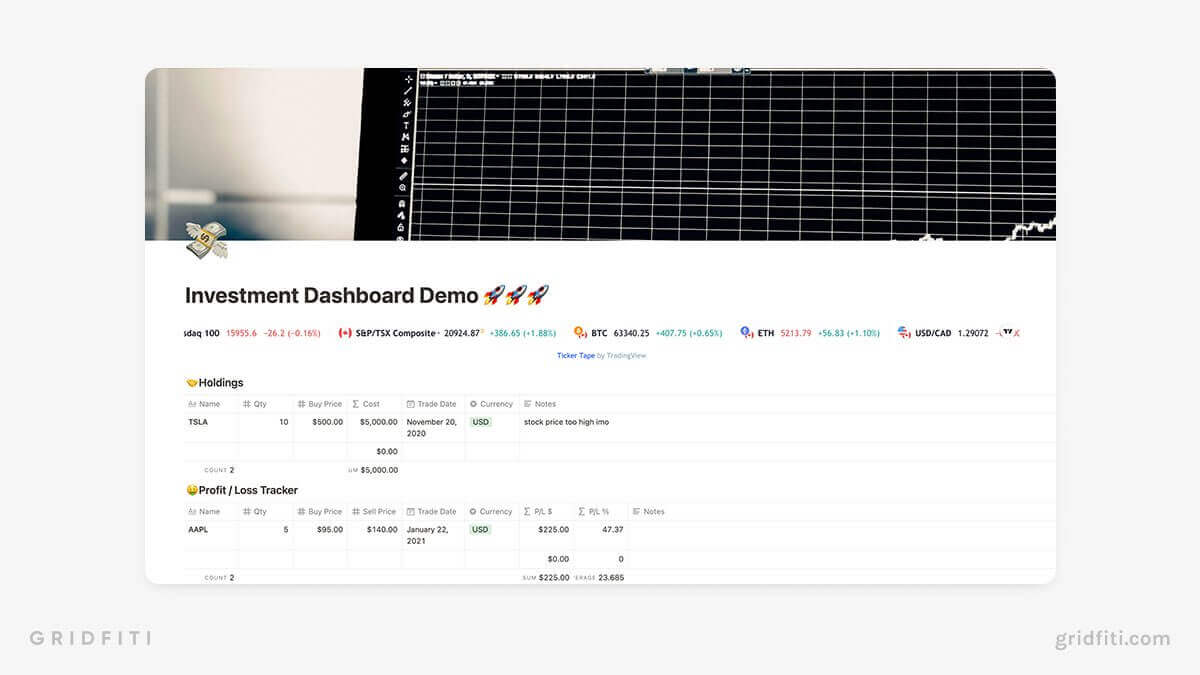 Template by Will Zittlau
56. Simple Finance Dashboard
No need to overcomplicate your finances — use the Simple Finance Dashboard for clear views of your account statuses, income reports, recurring payments, spending wishlists, and more!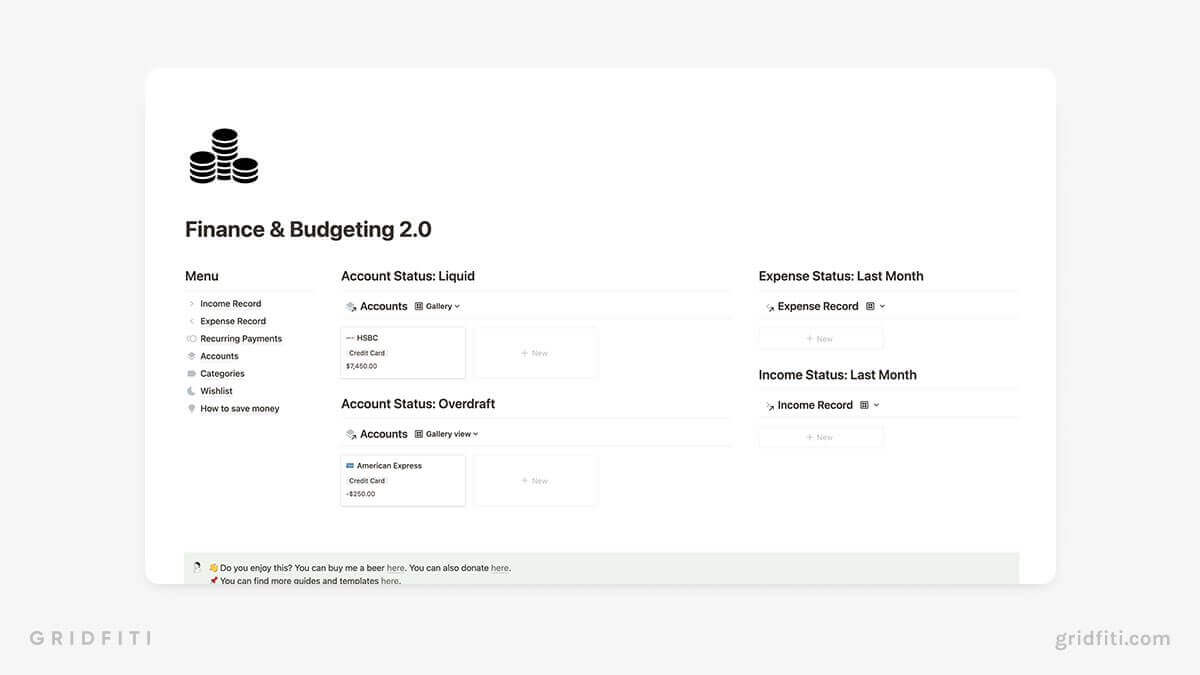 Template by @doodables
57. No More Impulse Spending: ADHD-Friendly Notion Finance Template
This free ADHD Notion template can help you focus on your finances by avoiding impulsive purchases and promoting mindful spending habits. Its color coding and vibrant icons assist in cutting through any digital clutter and staying on budget.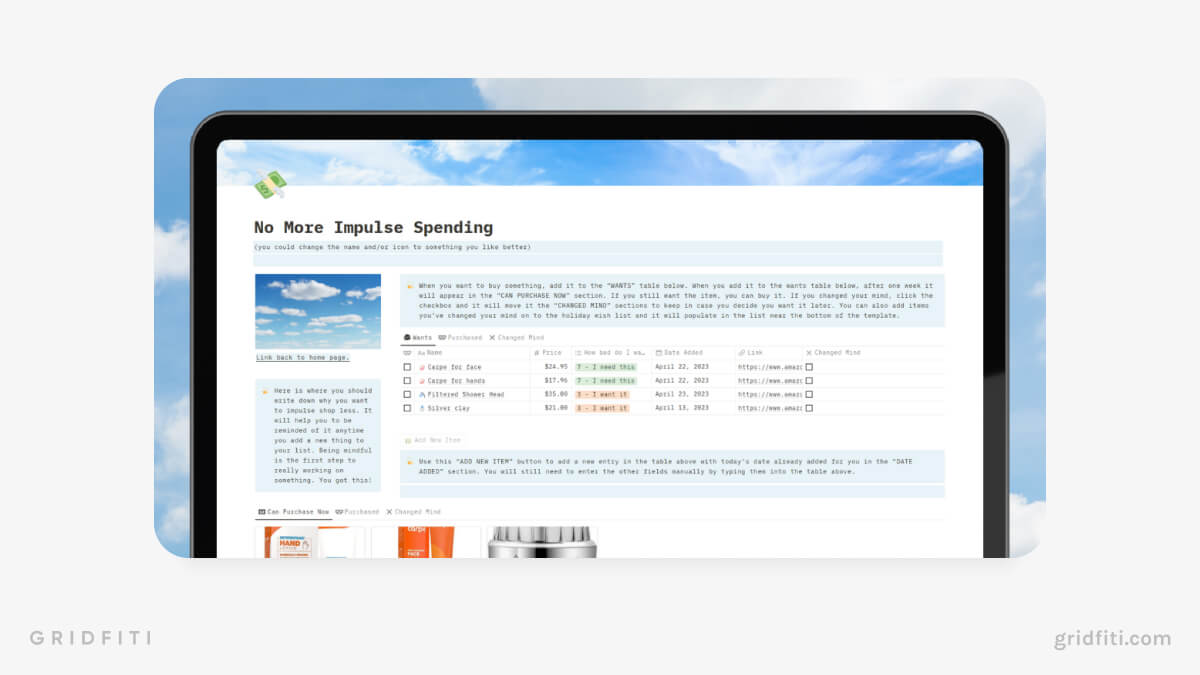 Template by Braelyn | Notion for ADHD
Free Notion Templates for Entrepreneurs, Freelancers & Startups
Start, scale, and organize your business with Notion. Use these templates to map out your business plans and promote your brand. Heck, you can even get paid by invoicing your customers using Notion!
For more robust templates, dig into our other posts:
58. Side Hustle Template
Keeping up with your side hustle and main gig can be tricky. The Side Hustle Template is a great starter template for your side biz, with spaces for your weekly plan, daily to-dos, and work overview.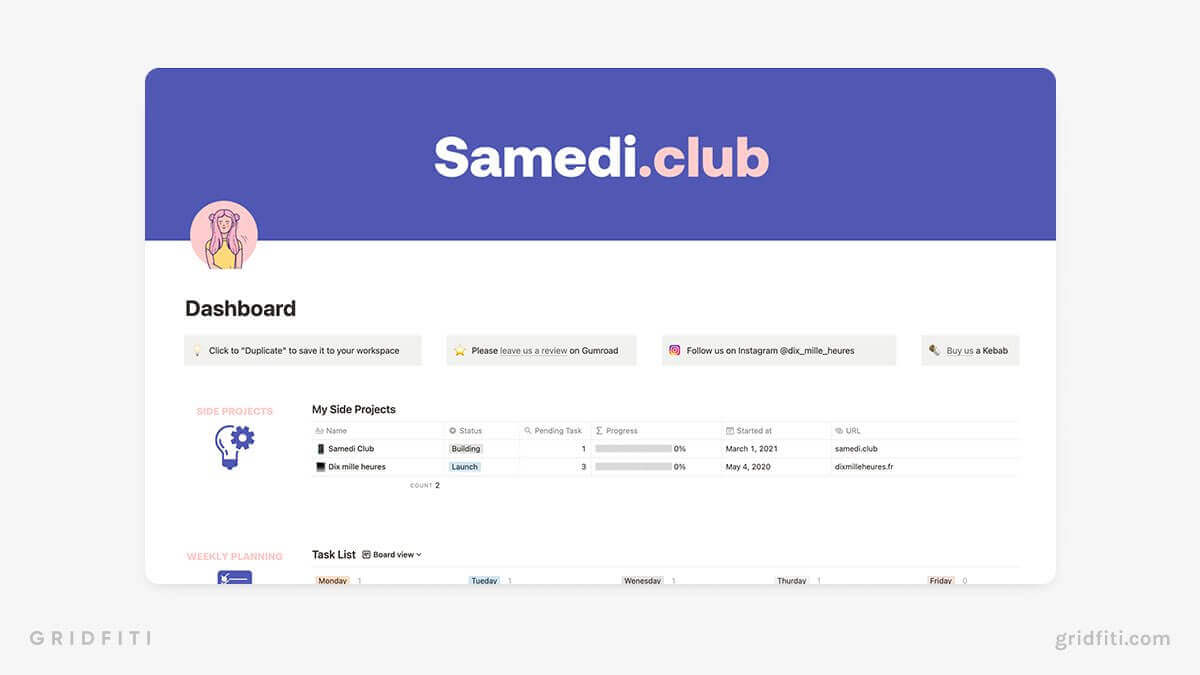 Template by @dix_mille_heures
59. Business Model Canvas & Lean Canvas
Whether you're a small start-up or a big business, Business Model Canvas & Lean Canvas is on hand to help. Solve your build customer relationships, store useful resources, and grow your revenue with this free Notion business template!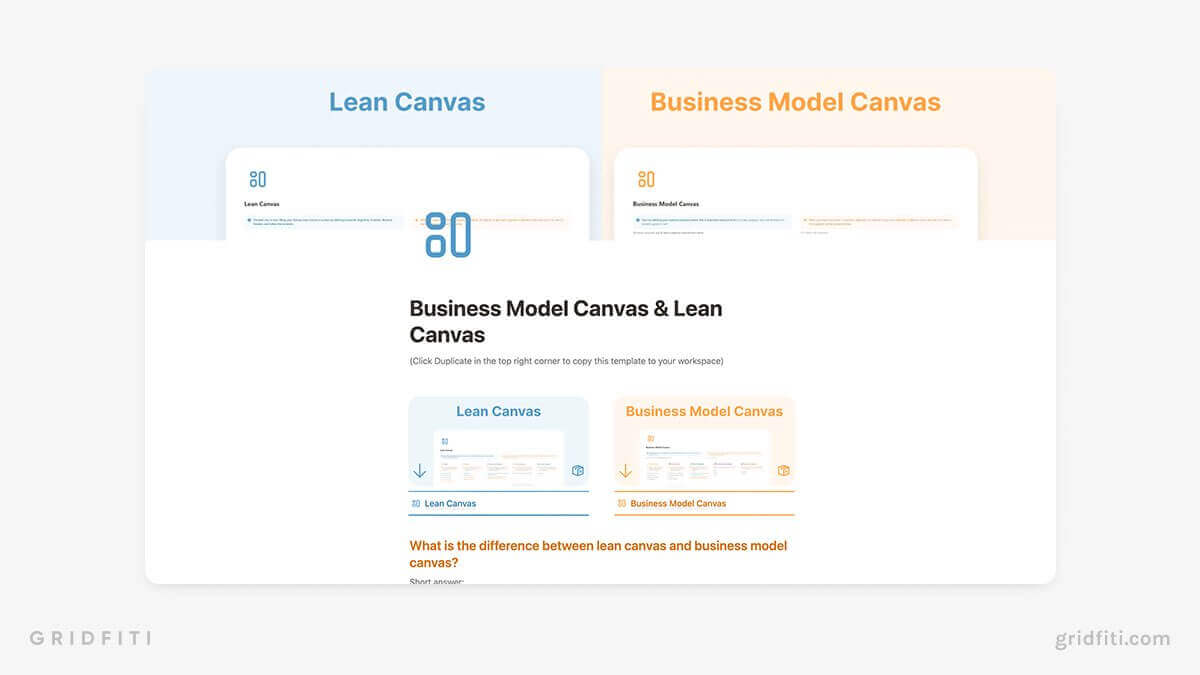 Template by Notion Startup
60. Notion Branding Kit & Mood Board Template
Try the Notion Branding Kit & Mood Board Template if you're playing around with Notion and searching for an aesthetic for your brand. Choose your brand colors using hex codes, pick the perfect font, and create a mood board in your brand's signature style.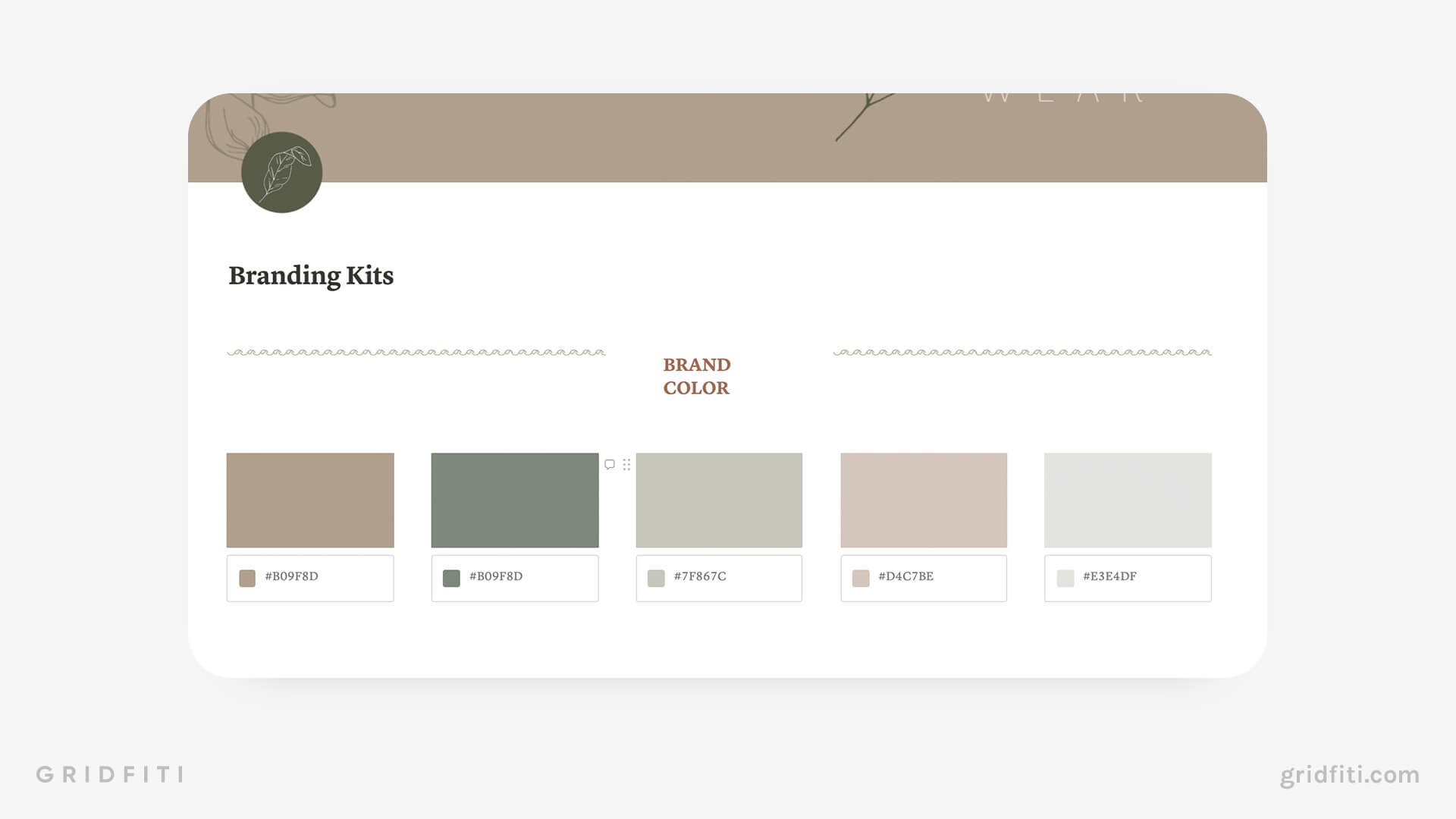 Template by Ella Li
61. Notion Freelance Portfolio Template
Thinking about using Notion to build your freelance portfolio? Check out this free portfolio template with a sleek layout and sections for your testimonials, bio, services, contact info, and more!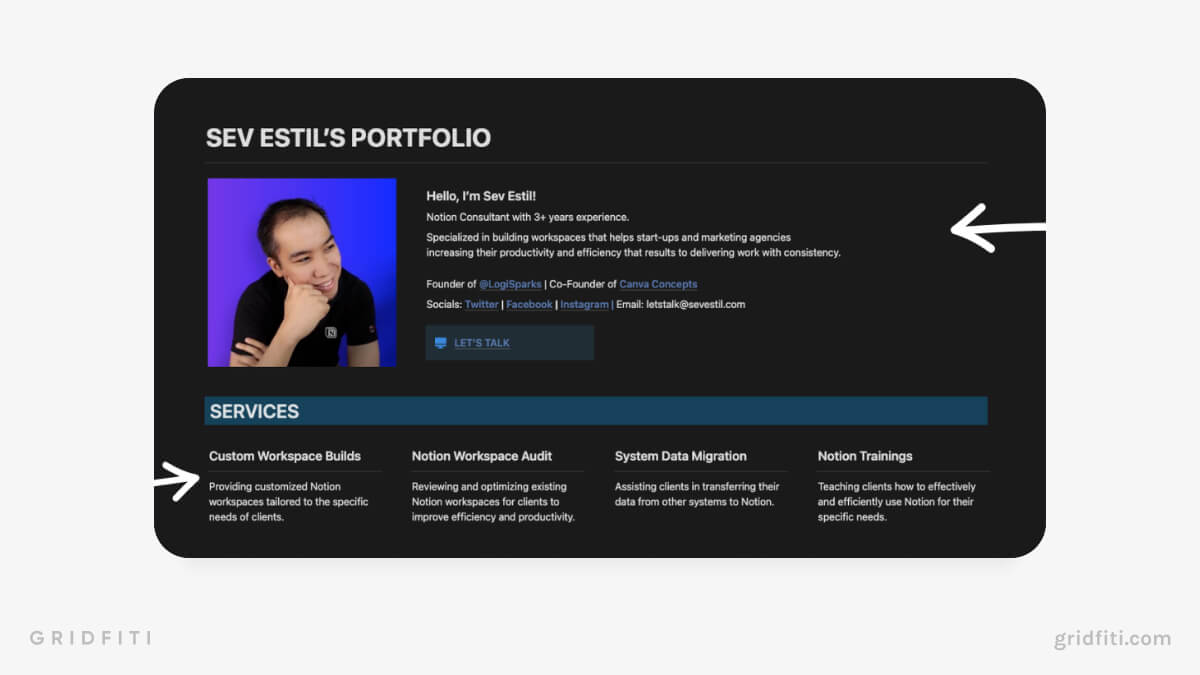 Template by LogiSparks
62. One-Page Marketing Strategy
With its block-based system and customizable views and graphs, Notion is ideal for devising marketing strategies. The One-Page Marketing Strategy features room for your 1-year goals, elevator pitch, core values, and target demographics to get your company moving in the right direction.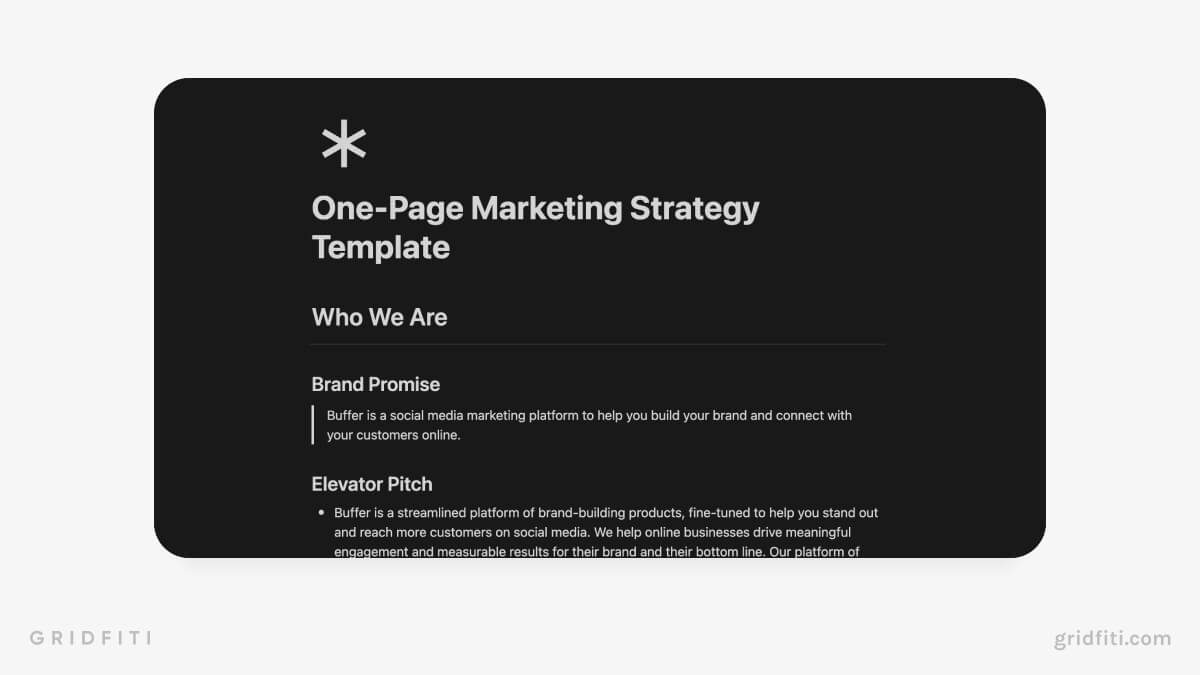 Template by Kevan Lee
Free Notion Templates for Work & Career
Given Notion's versatility, you can use the app to organize your life both personally and professionally. Use these free Notion work templates to manage ongoing projects at your job, beef up your portfolio and resume to apply for new jobs, and even create a dashboard to track your job applications!
Explore more templates in our full guide to the best Notion templates for work.
Related Posts:
63. Resume & CV Template
Craft a slick yet straightforward online resume, complete with your work experience, certifications, testimonials, past clients, portfolios, and more!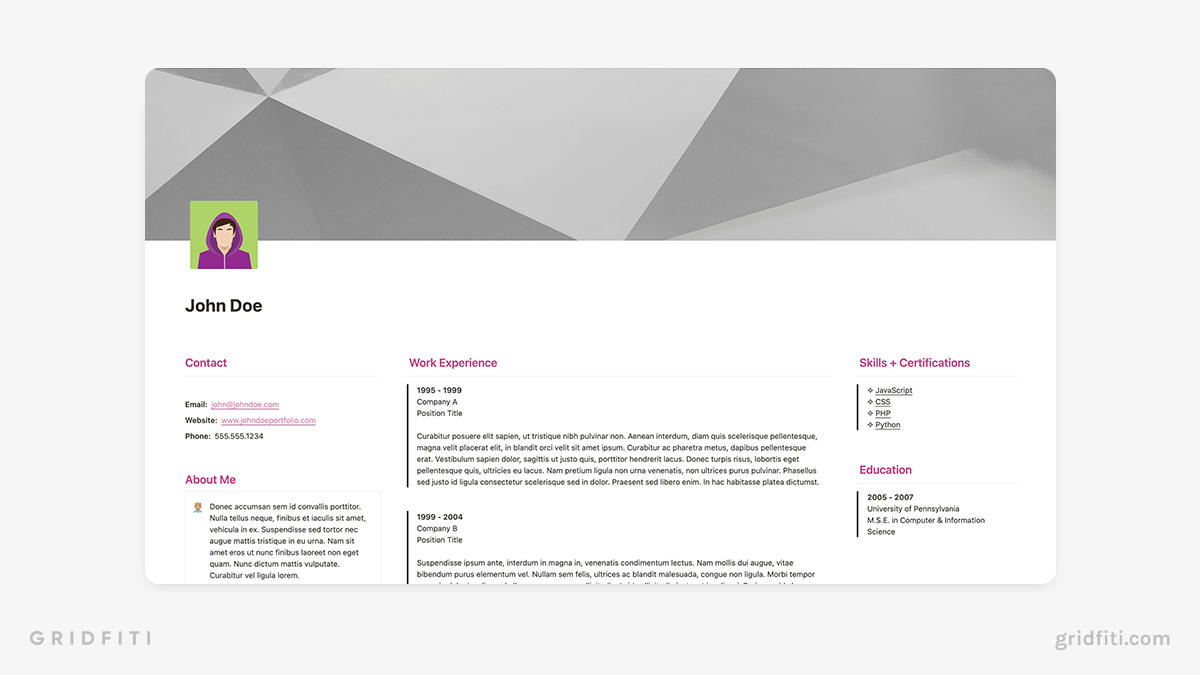 Template by Jamie Butler
64. Smart Notion Portfolio
Smart Notion Portfolio can be used as a portfolio, CV, or personal website. You'll find spaces for all your professional info, from projects to skills to a "contact me" section.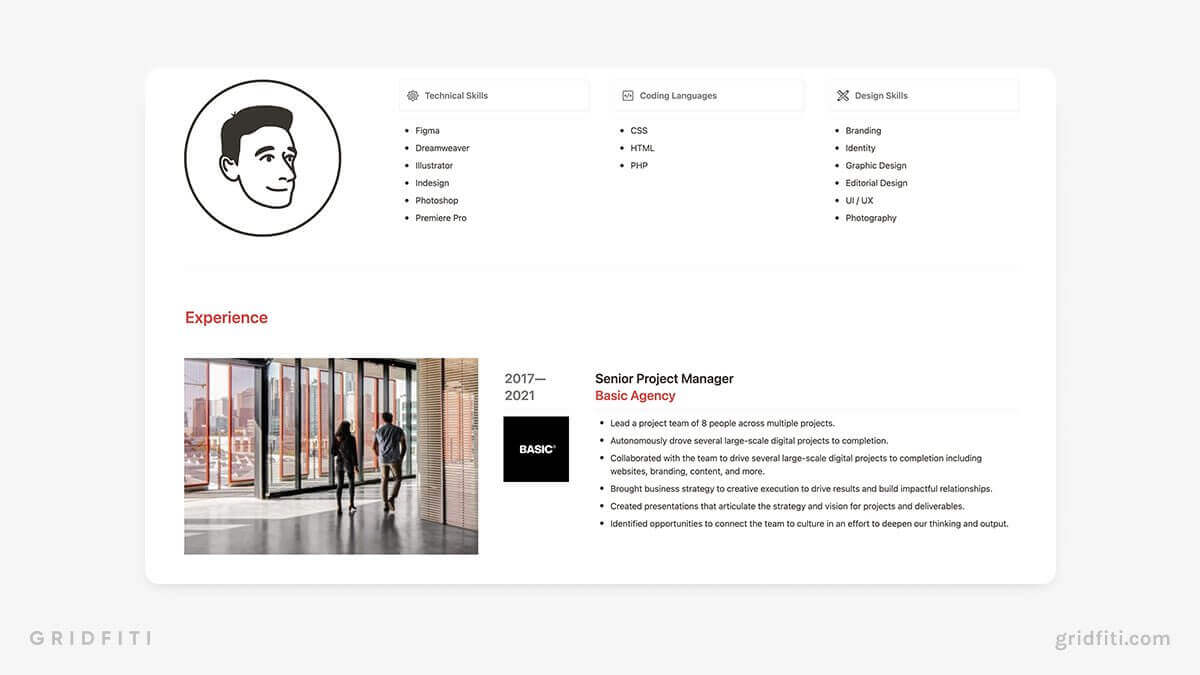 Template by @jackhentosh
65. Aesthetic CV Template
Keep things simple with this minimalist CV template. Display your technical skills as a progress bar, list your achievements, create portfolios, and more!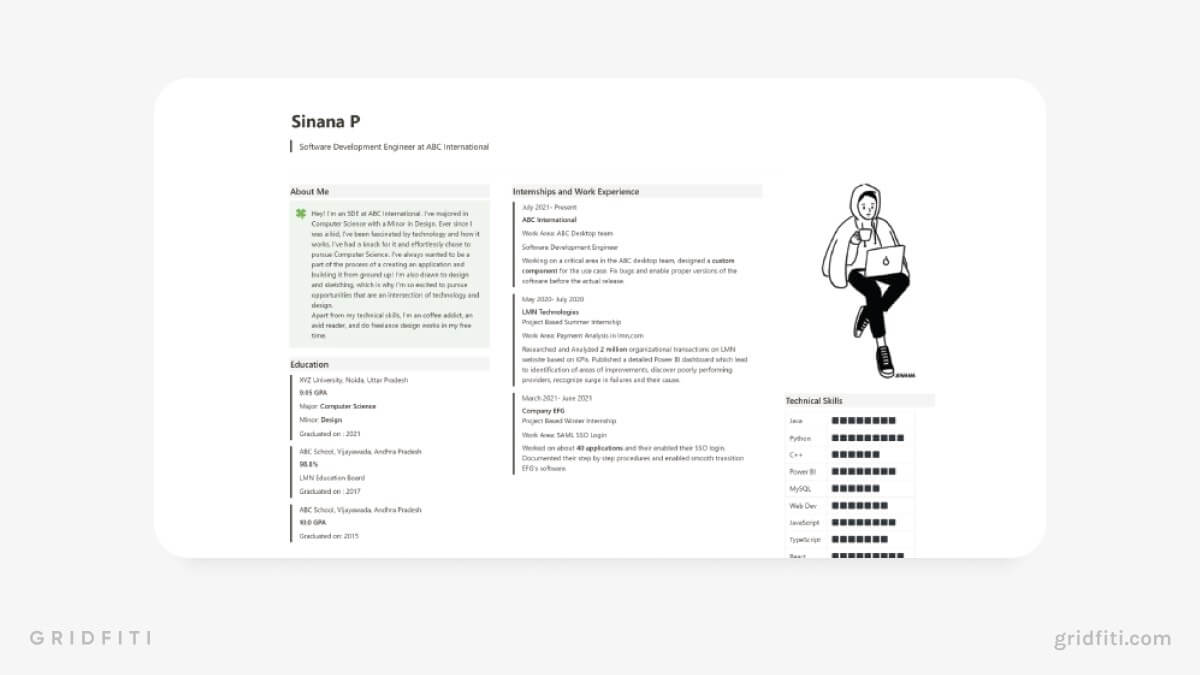 Template by Mounika
66. Simple Job Tracker Page
Organize the basics of your job search journey in one page — with an application tracker (complete with follow-up reminders), interview preparation and notes, and simple starter resume.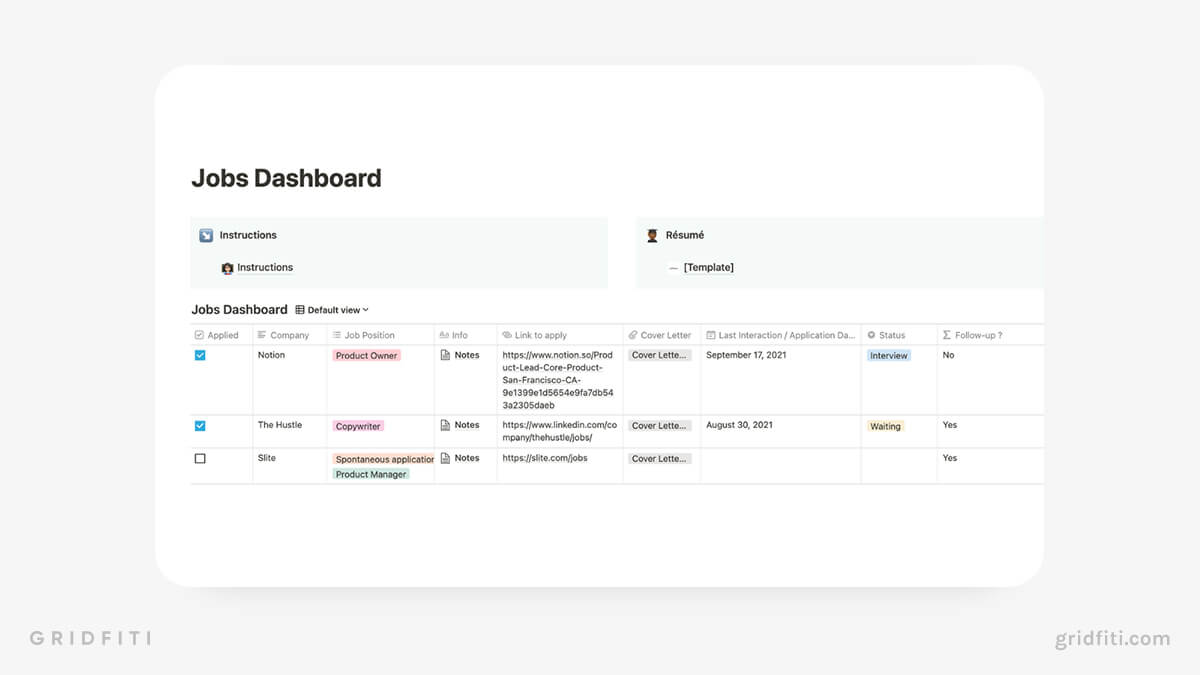 Template by Rames Quinerie
67. Notion Timesheet Template
Designed with entrepreneurs, freelancers and project managers in mind, Notion Timesheet Template can help you improve productivity and profitability through careful time management.
(Psst! For more templates like this, check out our full post on Notion time tracking and timesheet templates.)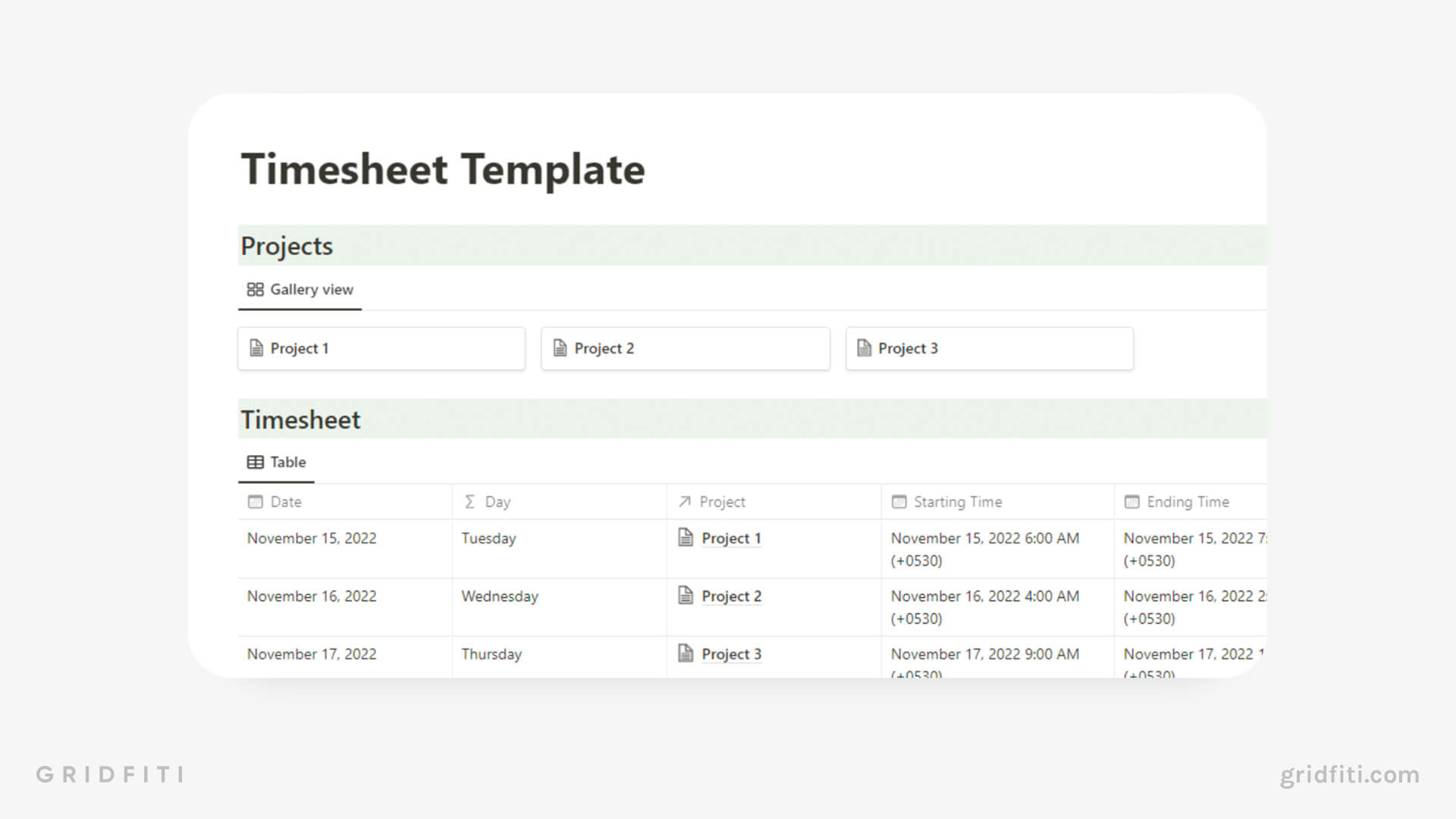 Template by Wispy
Free Notion Content Calendar Templates (Blog, Social, Video & More)
Notion is the best platform for managing every aspect of the content production process. (Speaking from experience here — we use Notion to organize every part of our content program!)
Let's dive into our favorite free Notion content templates, including blog, social, and YouTube.
On the hunt for something specific? Skip over to one of our related roundups:
Notion Content Planning Templates
Notion Website Templates
68. Basic Content Calendar
This free template from Notion HQ does what it says on the tin. This simple yet functional content planning database comes complete with calendar, board, and table views of all your content — duplicate and remix them with filters, sorts, and groups to learn your way around the app!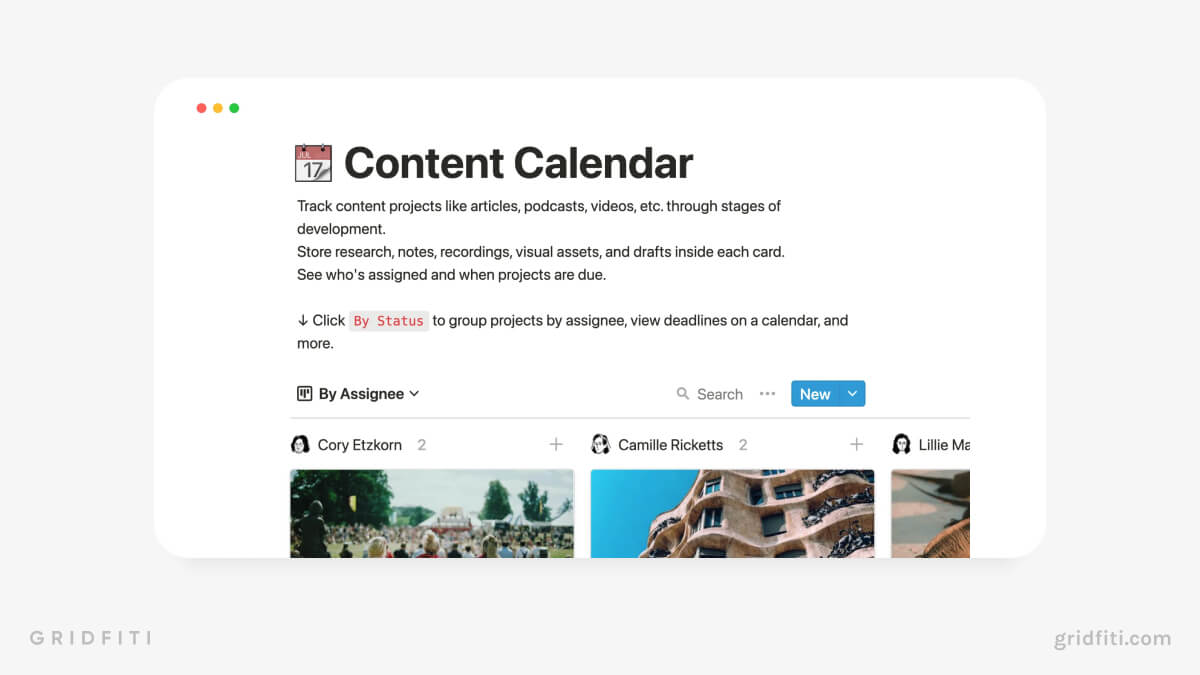 Template by Notion
69. Notion Blog Planner
For a free Notion blog planner template, this one by Temply doesn't skimp on features. Create your content calendar, set and review your posting schedule, and even track your metrics and KPIs.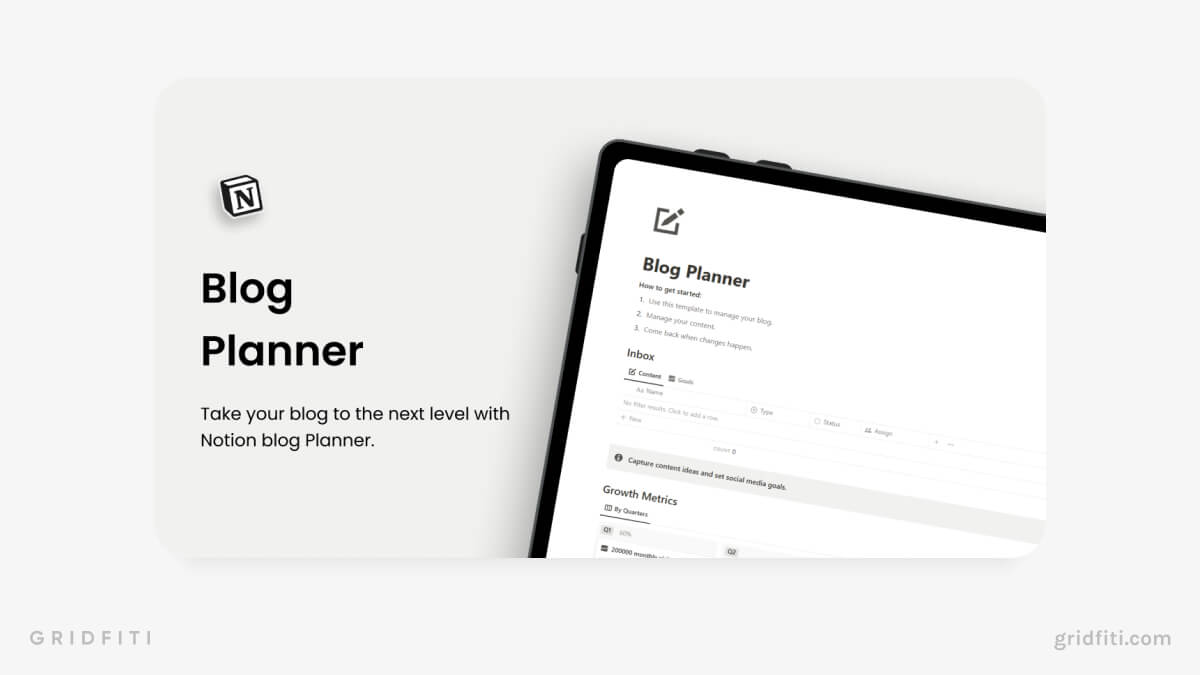 Template by Temply
70. Social Media Post Template
This social media post writing template is one of our all-time faves. This isn't a calendar template — instead, it guides you through the post-writing process and helps you connect with your target audience on a deeper level. Identify the conflict your audience is facing, what actions you want them to take, and how you can help.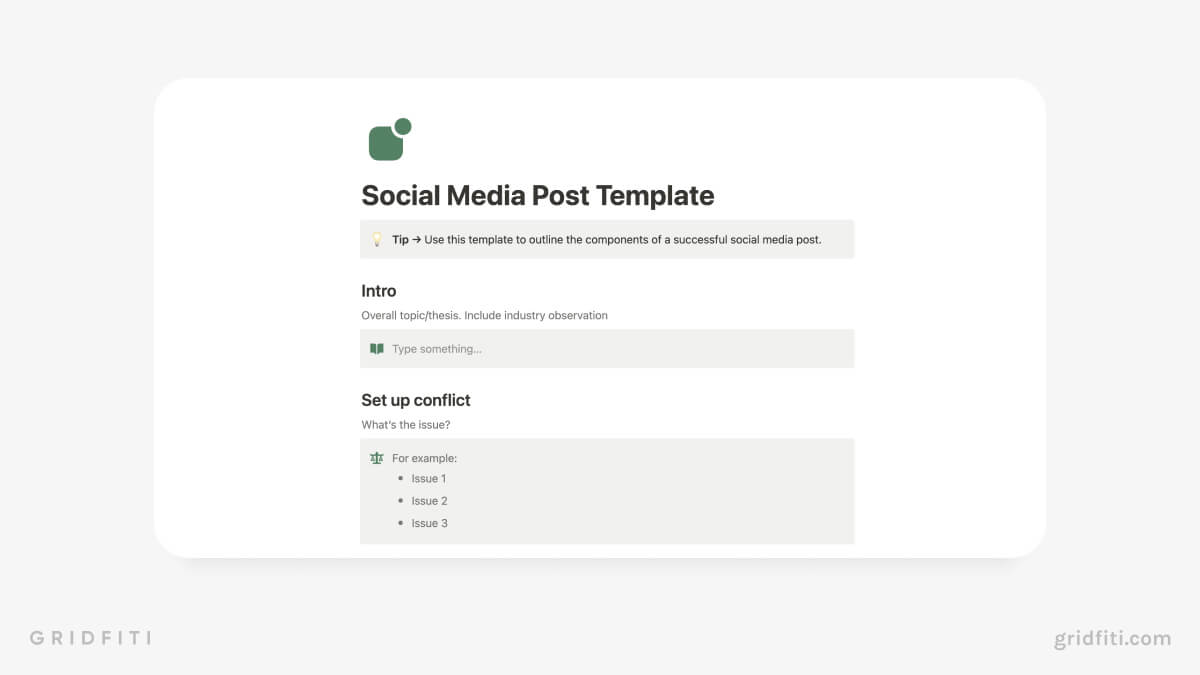 Template by Devin Reed
71. Newsletter Mastery
Looking to level up your email marketing game? This Notion newsletter template helps you learn new email marketing strategies, map out your onboarding sequences, and so much more!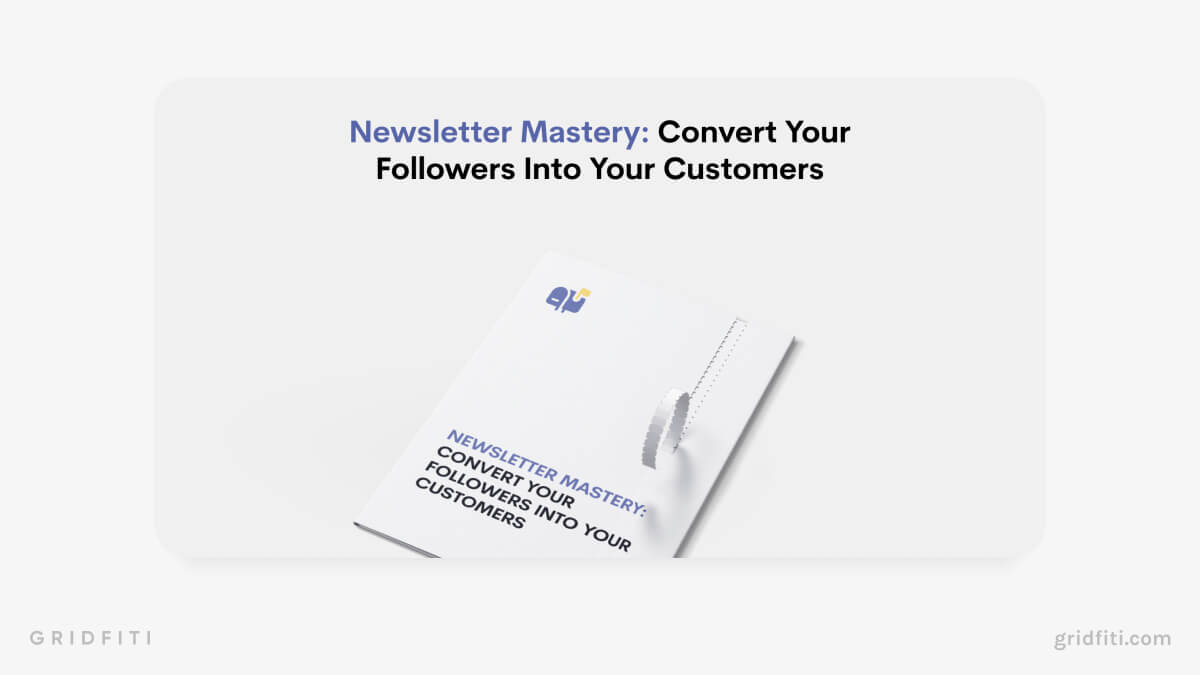 Template by Valeria Notion
72. Ali Abdaal's YouTube Video Template for Notion
This no-frills Notion video content template is the perfect starter template for Notion newbs. Brainstorm titles, upload your thumbnail, populate production checklists automatically, and more.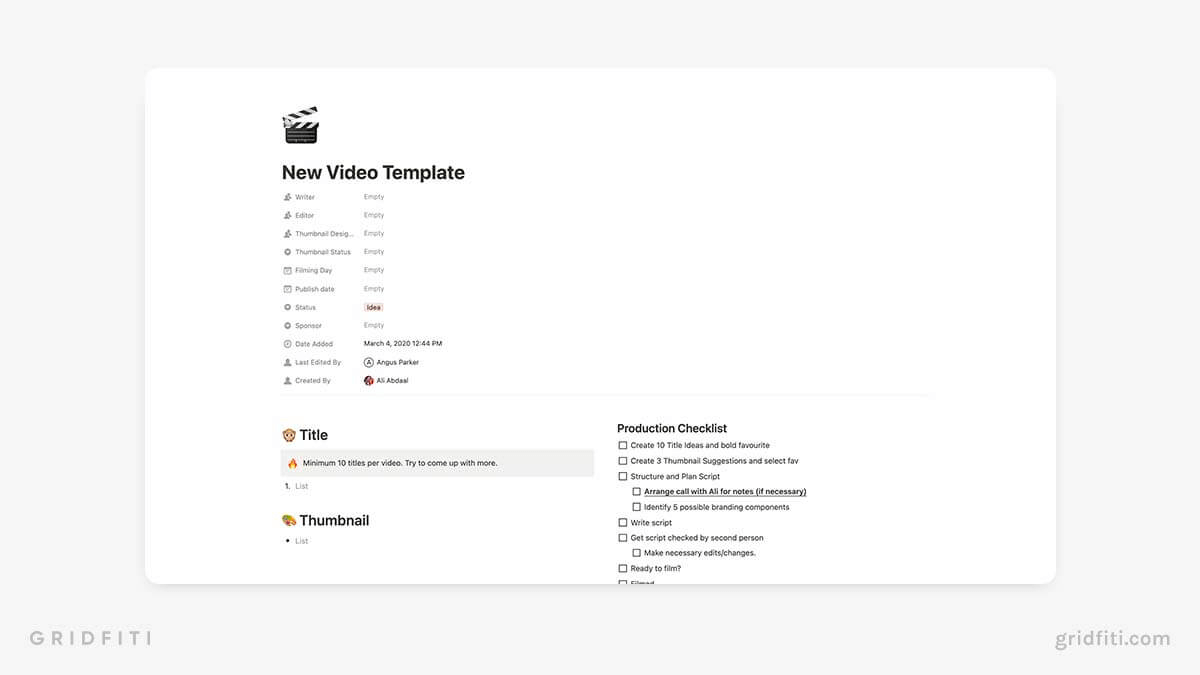 Template by Ali Abdaal
Other Free Cool & Unique Notion Templates
With Notion, you're never limited to what templates you use and what you can use them for. The great thing about this platform is that you can fully customize it to cater to your personal needs — no matter how unique that use case is.
To give you some ideas, we've selected some other, maybe less expected free Notion templates for you to pick from!
73. Concert Wishlist Template
One of the best free Notion templates for gig-goers, the Concert Wishlist Template lets you keep track of who you've seen live, how you rated their performance, and which acts you want to see next!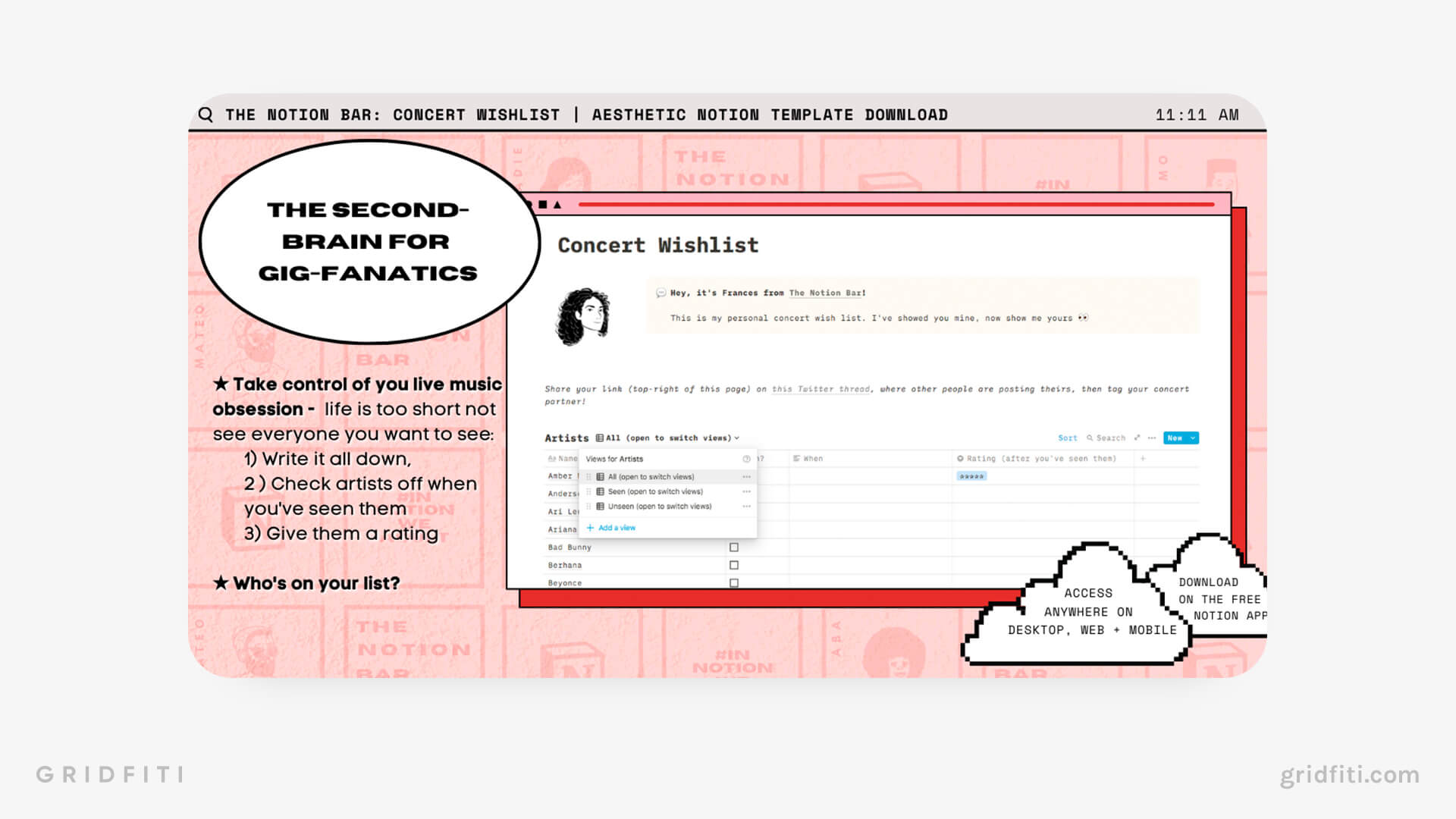 74. Notion Magazine Article Layout
Read all about it! Notion Magazine Article Layout is a magazine layout that gives a jumpstart on your next big publishing adventure!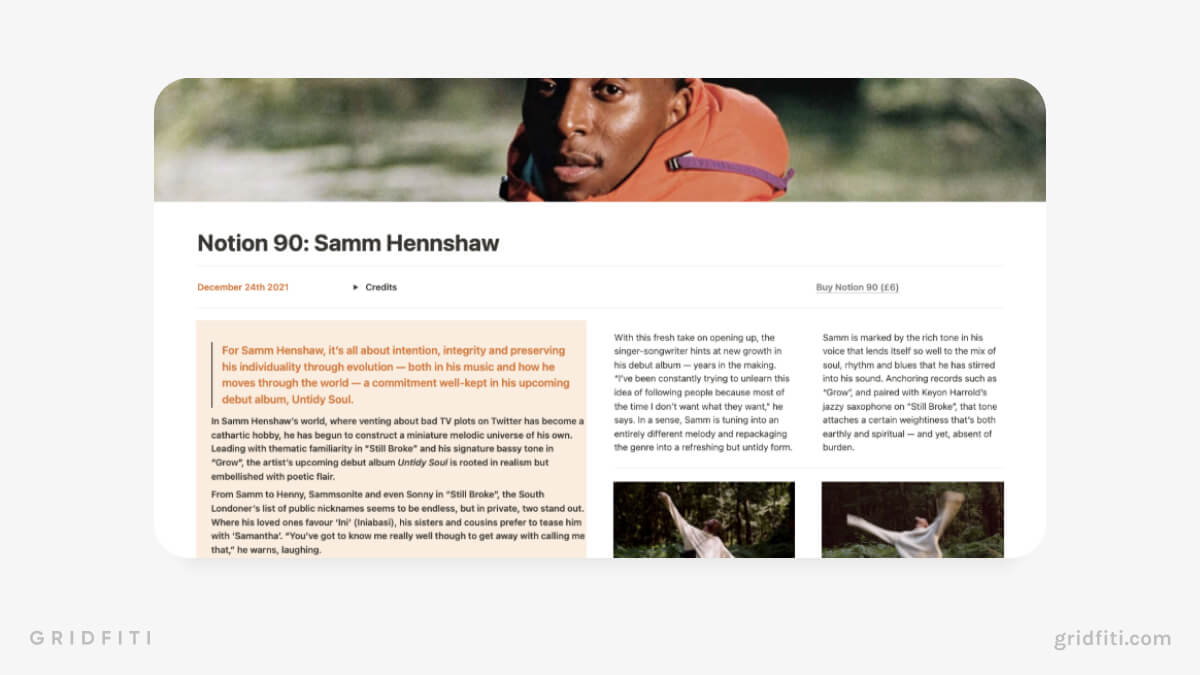 75. Coffee Tasting Log Template
Calling all coffee connoisseurs! This unique Notion template lets you track your tastings, rate your favorite blends, and even experiment with new brew methods on your quest to consume the ultimate cuppa.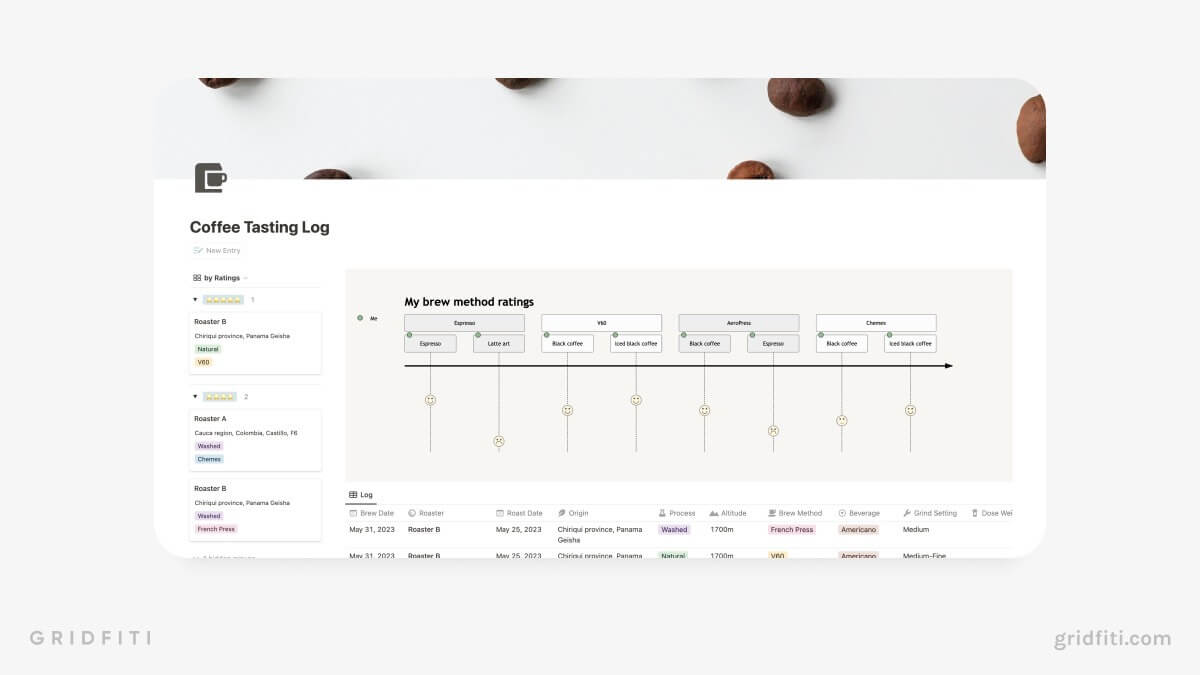 Template by Salthings
Additional Notion Resources
Now that you've had a browse through this behemoth of a list, level up your Notion skills with some of our fave resources!
Which free Notion templates are you using? Do you have any other recommendations for free Notion resources for personal or business use? Let us know in the comments below!
Gridfiti is supported by its audience – when you buy something using the retail links in our posts, we may earn a small commission at no additional cost to you. Read more about our affiliate disclaimer.