Job hunting is practically a full time job in itself. From finding the right role, to putting together the perfect resume, reviewing your network, monitoring all your applications, and preparing interviews, there are a ton of details to track and organize.
Thankfully, there are dozens of great Notion templates for job hunters, built to set you up for success and centralize everything involved in your job hunt!
From application trackers, to resume templates, interview prep databases, and so much more, we've rounded up some of the best Notion job search templates for you to use.
---
Looking for more productivity tips and tools? Subscribe to The Flow — our quick, snappy, value-packed focus and recharge newsletter. Also, don't miss our several other Notion template round-ups and guides!
---
Get a Job! – Notion Job Tracking & Interview Prep Dashboard
The aptly named 'Get a Job!' template is an all-in-one dashboard to house your job application journey! Track and manage each application in the kanban board, prepare great answers to standard interview questions, and store all your research for each company all in one place.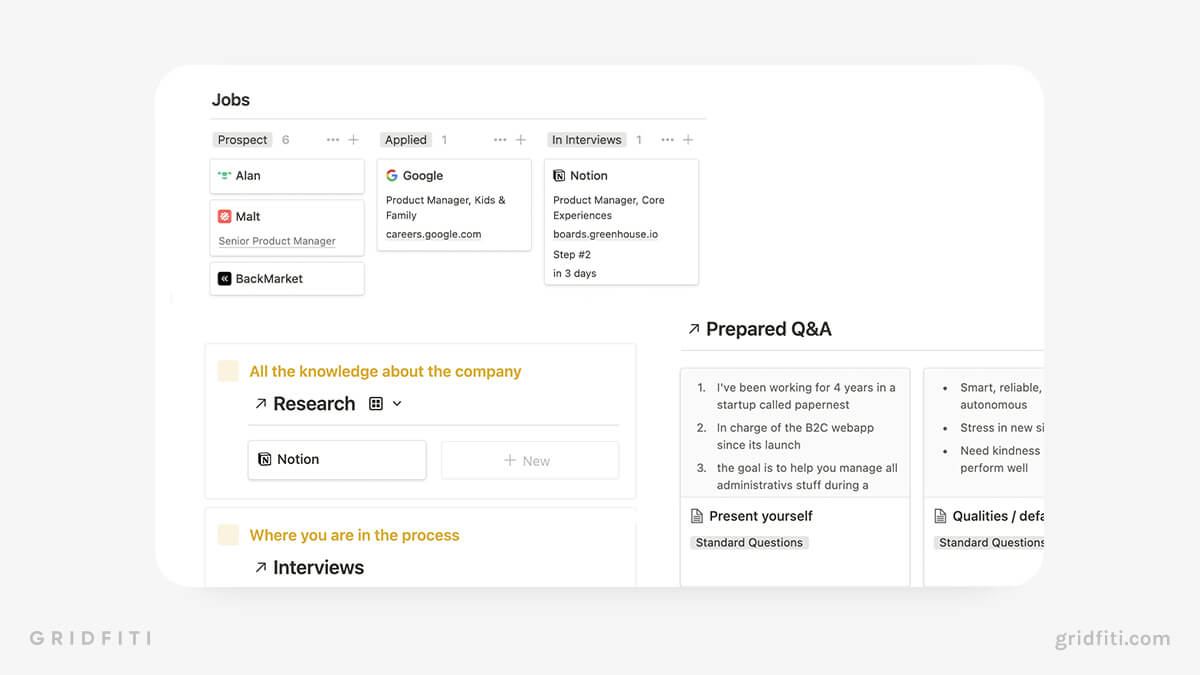 Resume & CV Notion Template Pack
Step one to getting a great job is having a great resume. With a standard and creative resume in over 48 variation options, the Essential Resume Template Pack by yours truly has something for everyone! Show off your skillset, past experience, awards, and more right in Notion with one of the many slick options.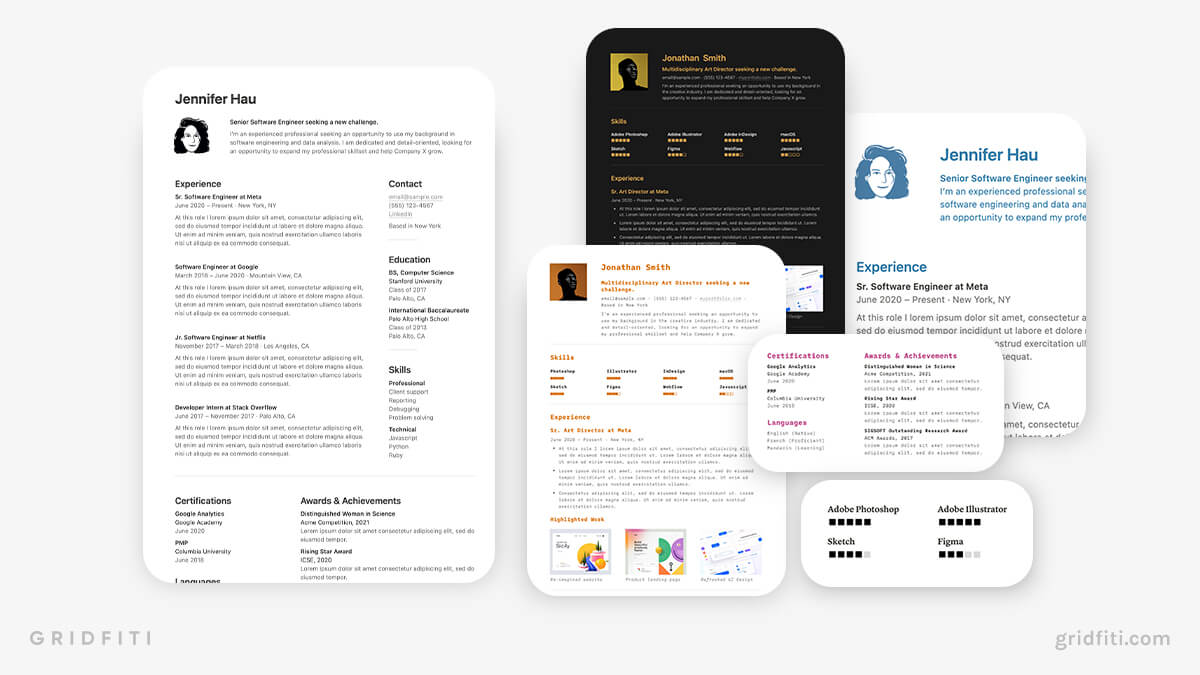 Job Application Dashboard
When you're applying for lots of jobs at once, it can be easy to forget where you're at with each application – along with details of the roles. With this job application dashboard template, track each application's role, company, application date, status, location, salary, and more!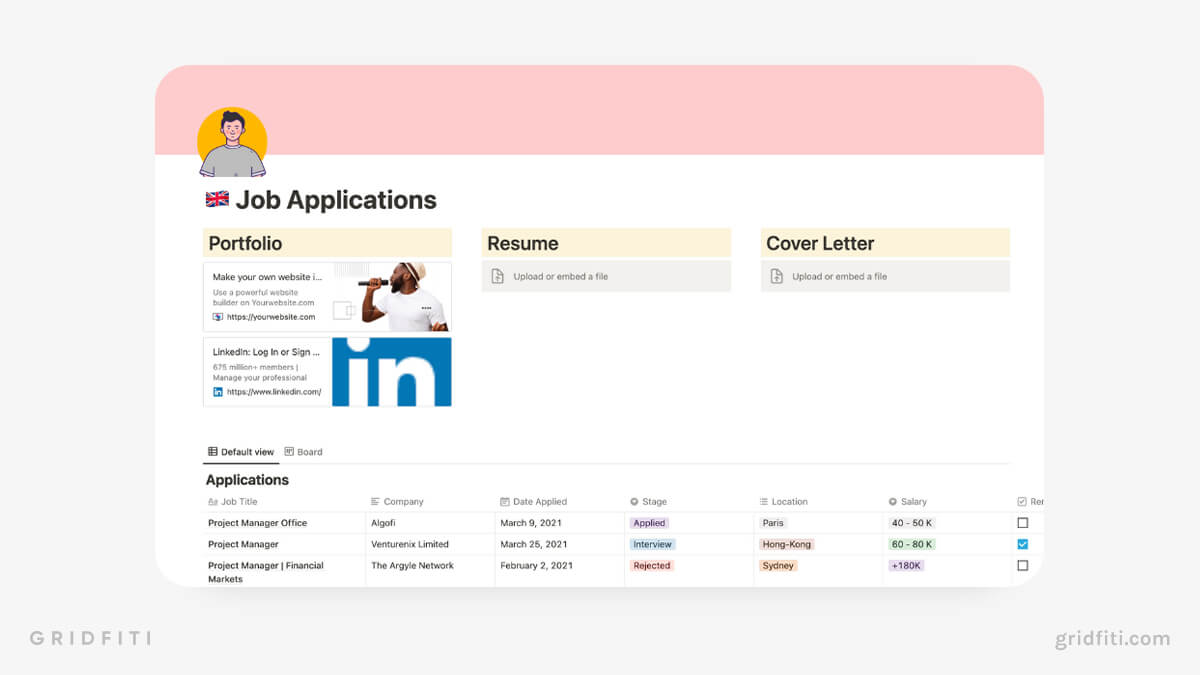 Career Operating System Template
CareerOS comes with over 20 tools and exercises to help you create your dream career! Find where your strengths and passions intersect with the job market, by developing your "whys" and motivations, conducting an energy audit, setting financial goals, creating a vision board, and more. From there, use the template's resume builder, LinkedIn profile checklist, personal website template, company tracker, CRM, outreach templates, and more to secure your next gig.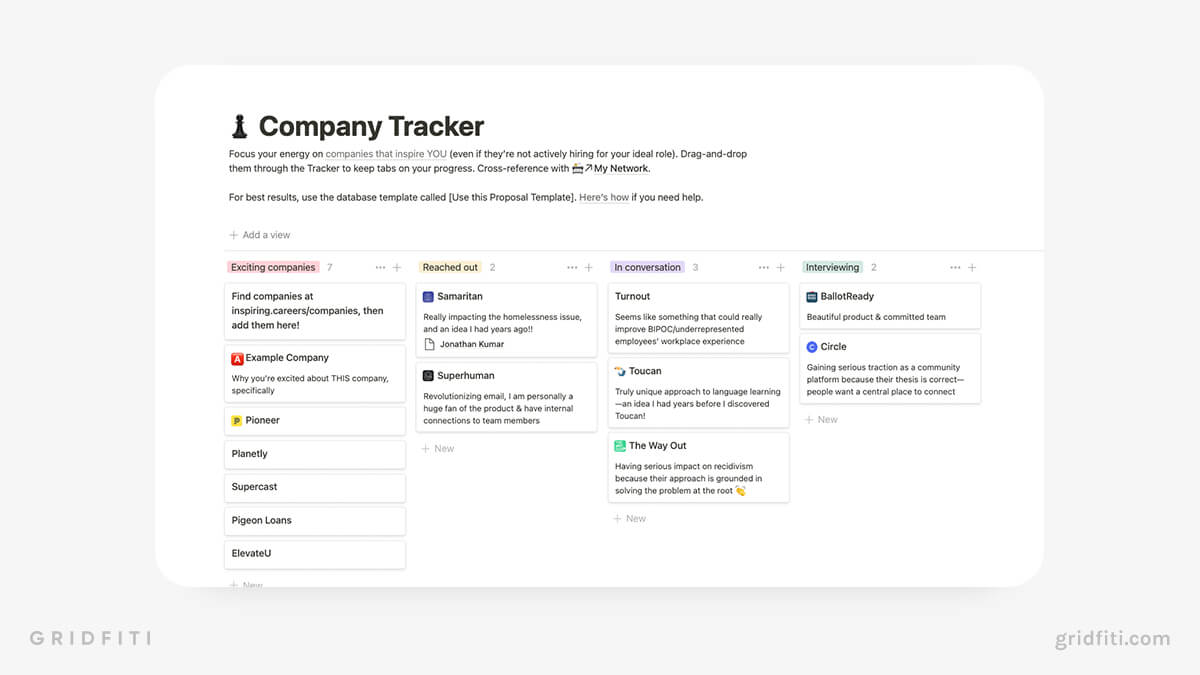 Super Job Applicant Pack Template
Become an all-star applicant with this template pack! Create a customized resume, build a simple portfolio to show off your best work, and track all of your applications (and conveniently save roles to your board with the Save to Notion extension) – all in one place!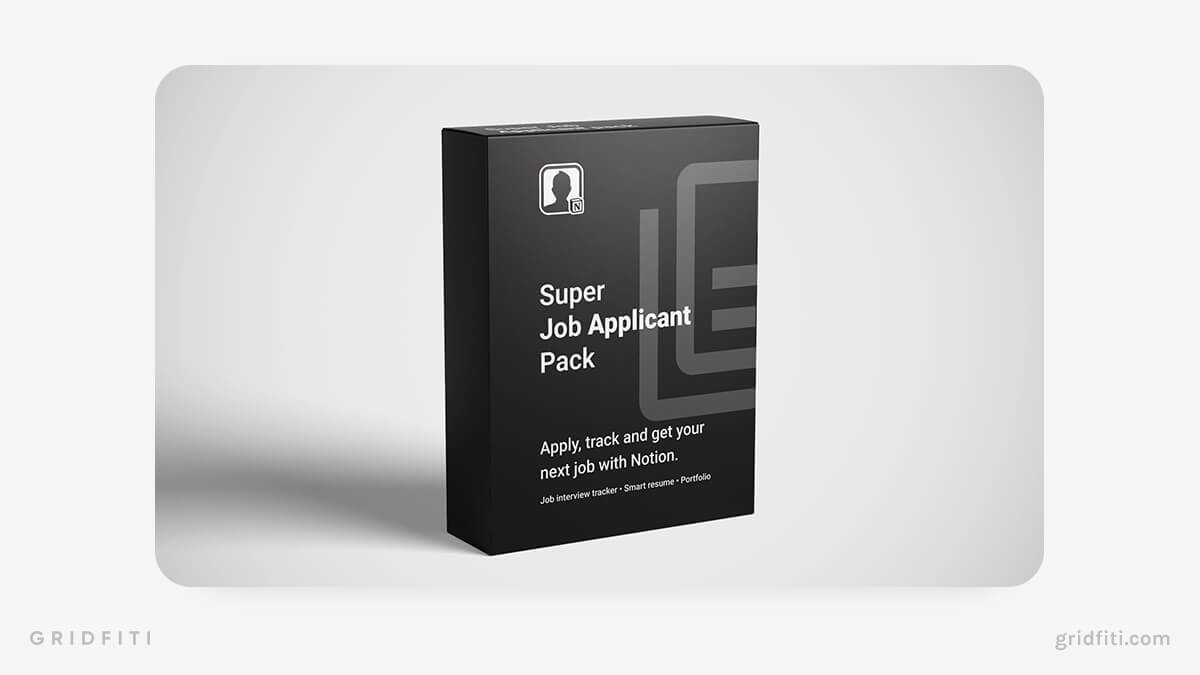 Simple Job Application Tracker Template
This simple job application tracker helps you monitor all of your past, current, and future applications! Organize your application by tagging it with several different properties, and have your resume, cover letter, and portfolio stored right in the page.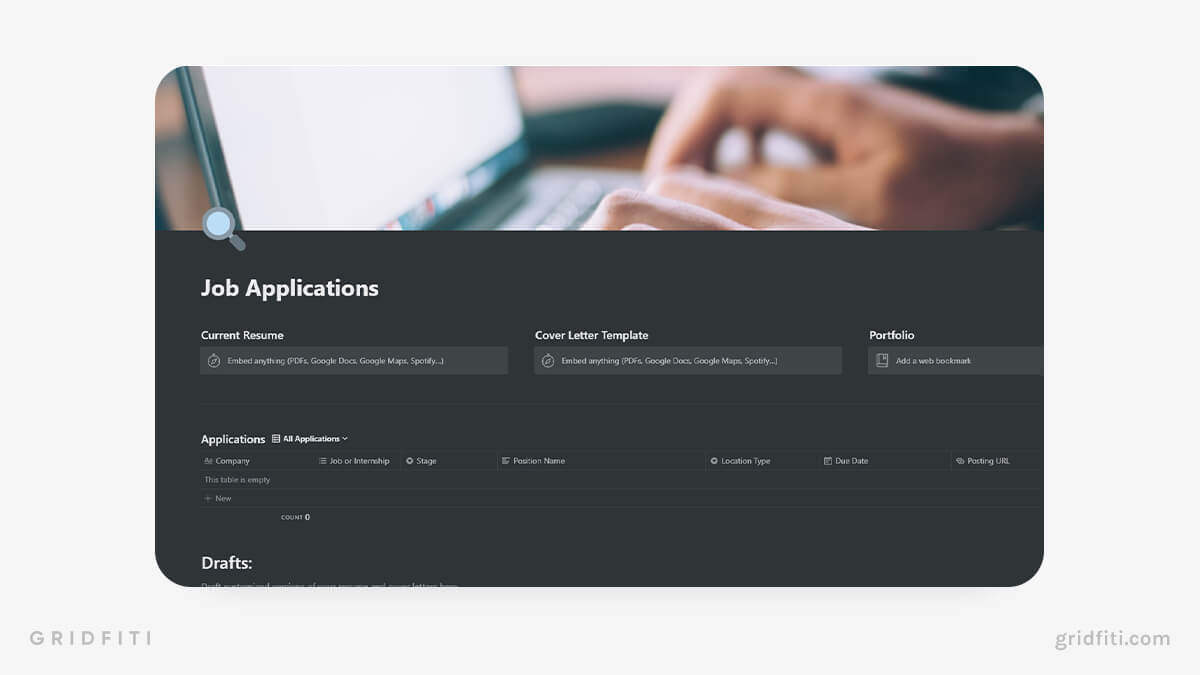 Consulting Interview Prep Notion Dashboard
Use the system created by an ex-McKinsey consultant to sharpen your interview chops! This prep template includes a case study tracker and notes section, interview tracker, behavioral tracker, networking notes, and more!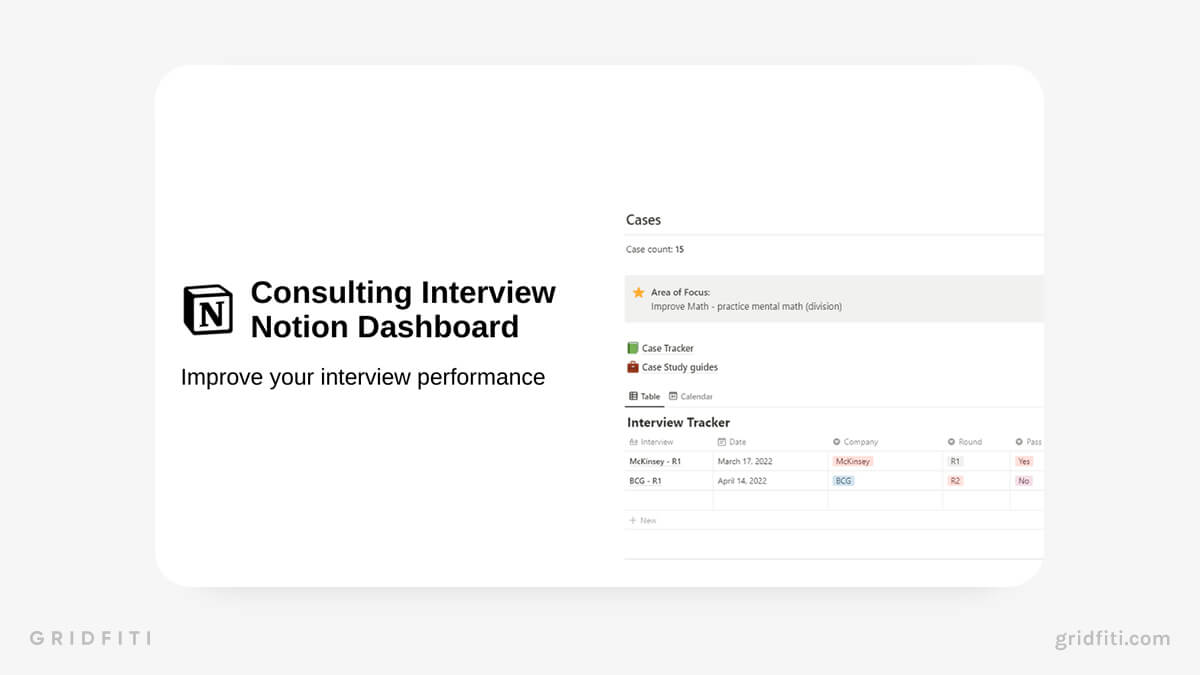 Notion Estate Jobs Tracker Template
Built by a household manager and personal assistant themselves, this template is perfectly tailored for job seekers working in the private service industry. Featuring a pre-built database of recruitment agencies, active jobs tracker, networking CRM, to-do list, resources section and more – this dashboard has it all for anyone looking for an estate job!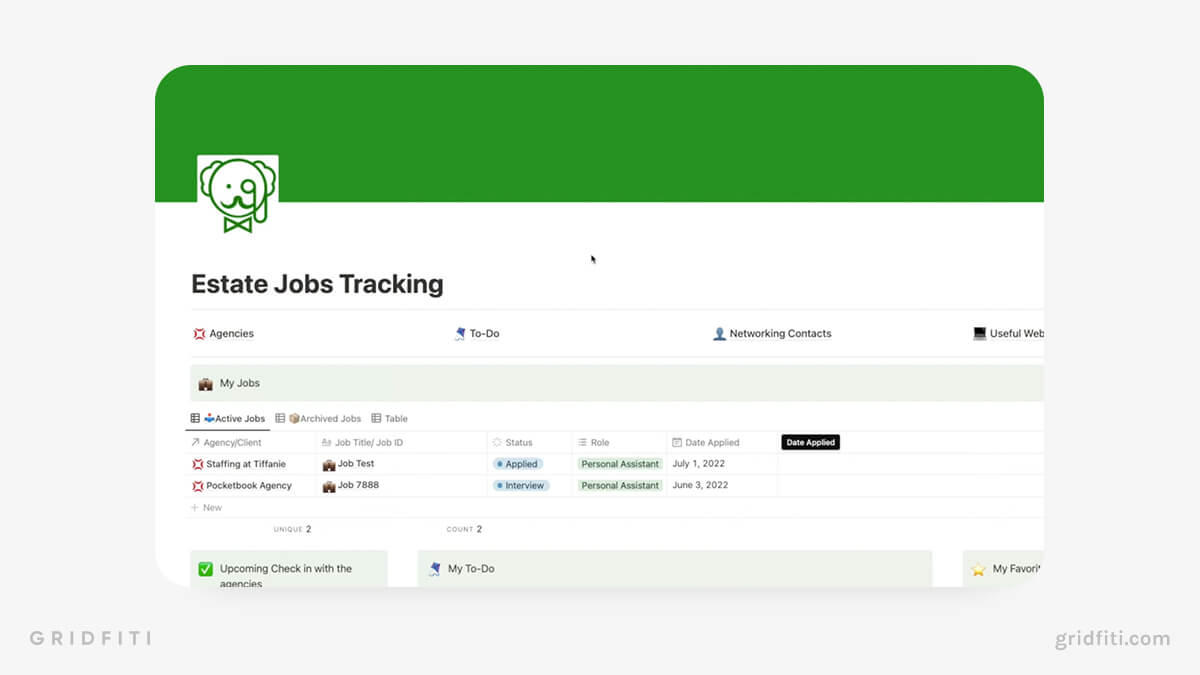 Notion Job Search Database Template
Whether you're casually browsing, or deep in the job hunt, this simple job search template houses job listings to apply to, companies you want to work for, and interview information to help you streamline your search.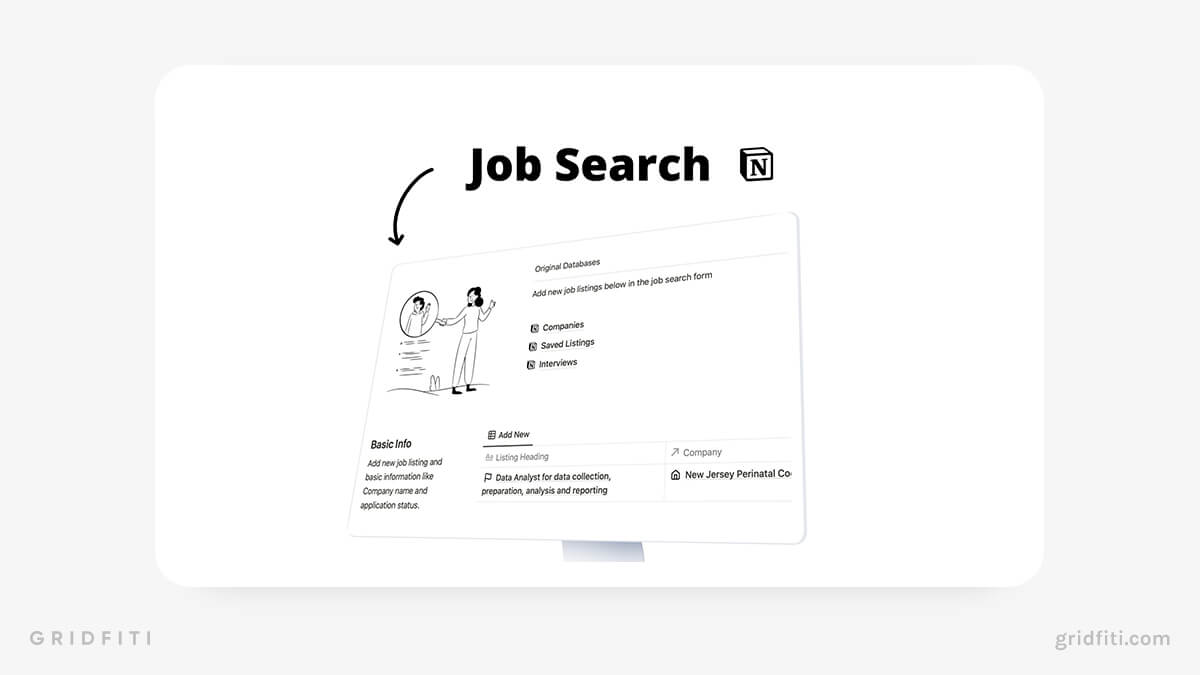 Notion Job Application Tracker Database Template
This application tracker template centralizes your search in one dashboard, with 3 main databases: Positions, Companies, and Contacts. With them, track your application statuses, score your position, store your networking contacts, get a kanban view with details of your applications, and more!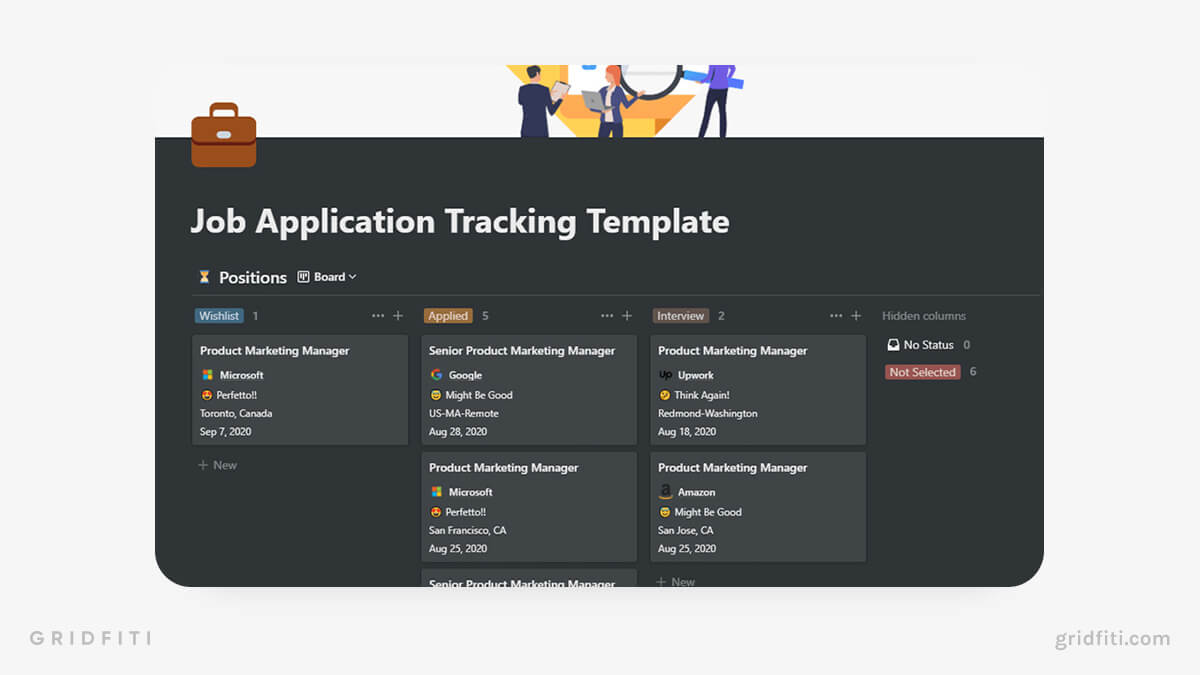 Simple Notion Job Tracker & Applications Template
Looking for a simple status board to get a bird's-eye view of your applications? This job tracker template is a great place to start.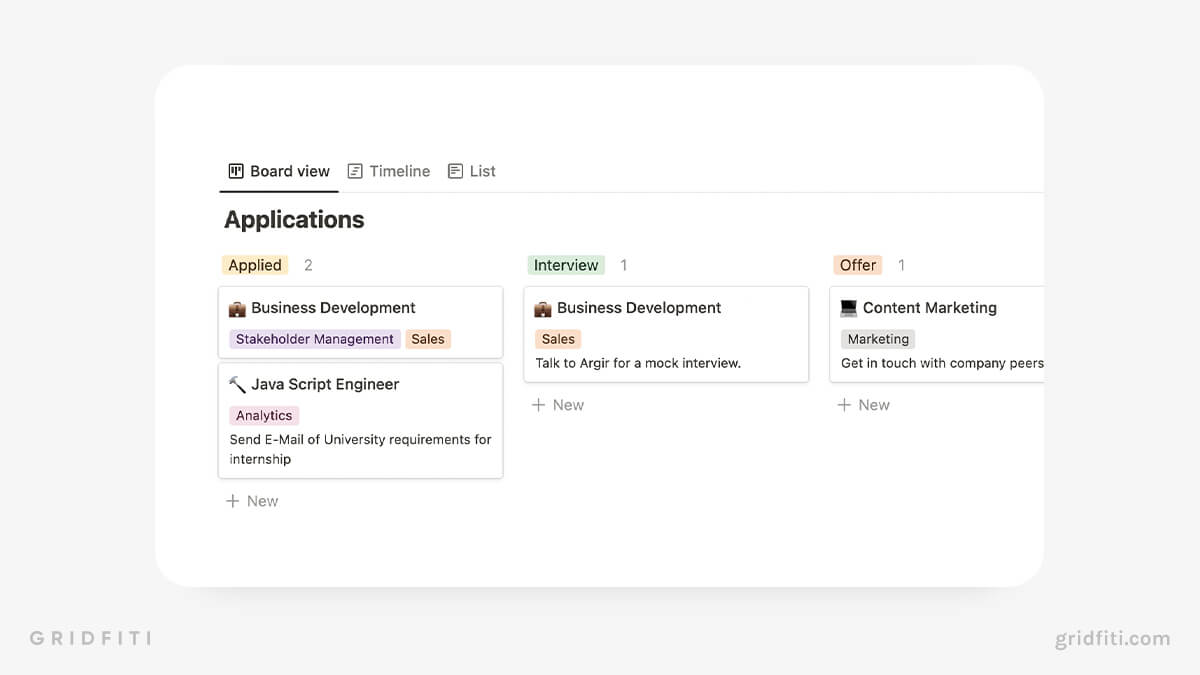 Notion UX & Product Design Job / Internship Tracker
Make your UX or product design job hunt a little easier with this tracker for Notion! Store your resume, cover letter, socials, prospective roles, and references all in one page.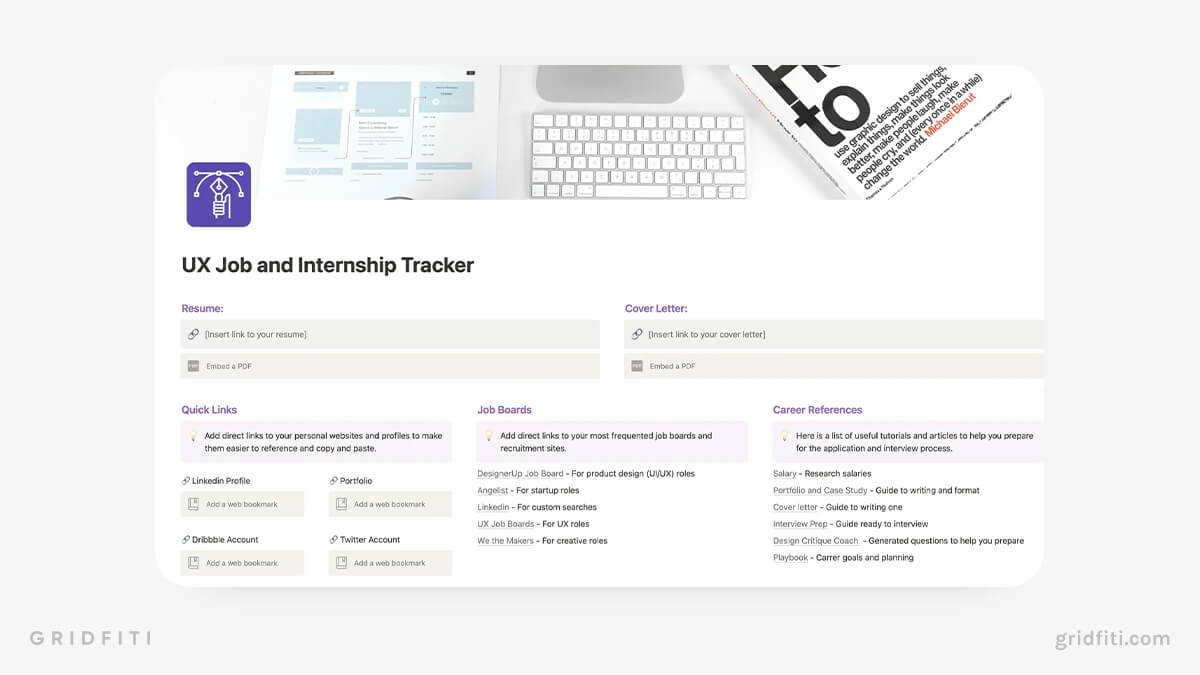 Simple Job Tracker Page
Organize the basics of your job search journey in one page – with an application tracker (with follow-up reminders), interview preparation and notes, and simple starter resume.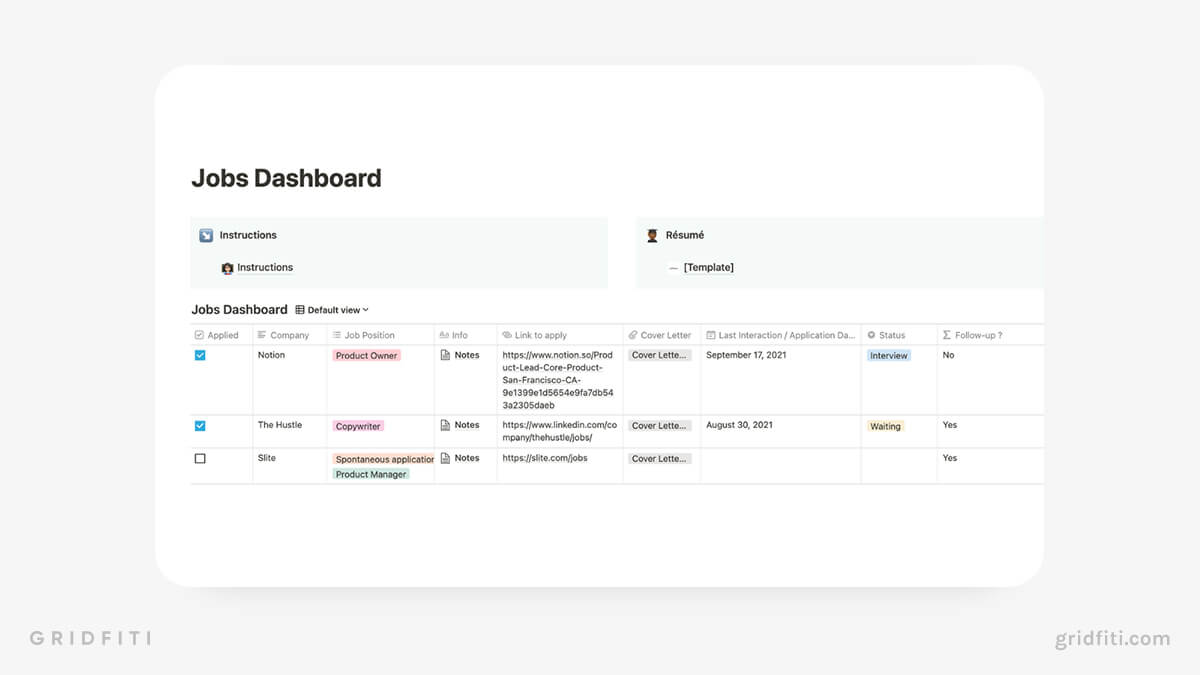 Which Notion job application template will you use on your next hunt? Any other Notion job search templates you'd recommend? Let us know in the comments below!
Gridfiti is supported by its audience – when you buy something using the retail links in our posts, we may earn a small commission at no additional cost to you. Read more about our affiliate disclaimer.