Notion is a must-have if you're a student in 2023. With how versatile the platform is, you can use Notion to do everything from planning out your semester, taking notes, tracking grades, organizing your extracurriculars, and more.
Starting a Notion workspace from scratch can be a time-consuming process, especially if you have a busy school schedule to begin with. To make your life easier, we've curated a list of the best Notion templates for students, that have already done the heavy lifting for you. Easily pick one that works best for your academic lifestyle and personal aesthetic!
Are you a teacher looking to streamline your semester in Notion? Check out our blog post featuring the best Notion teacher templates!
---
Looking for more productivity tips and tools? Subscribe to The Flow — our quick, snappy, value-packed focus and recharge newsletter. Also, don't miss our several other Notion template round-ups and guides!
---
Get the all-in-one Life OS template, the only Notion template you'll ever need — with over 25 integrated templates built in.
All-in-One Notion Student Dashboard Templates
Manage every aspect of your student life with a Notion student dashboard template, where you can plan out your days, prioritize your daily to-dos, manage projects, take notes, and lots more!
For more dashboard templates, visit our round-ups featuring the best Notion life OS templates and Notion dashboard templates!
Student OS: All-in-One Student Template
With over 15 templates in a centralized dashboard, Student OS by yours truly is the ultimate all-in-one workspace for everything you need for your academic career – both in and out of the classroom! Use the class planner, assignment and deliverables tracker, automatic grade calculator, study zone with flashcards, job and internship application tracker, reading tracker, and so much more to set yourself up for success for the next school year and for your whole degree.
Student OS template is available in two different themes, offering the same functionality: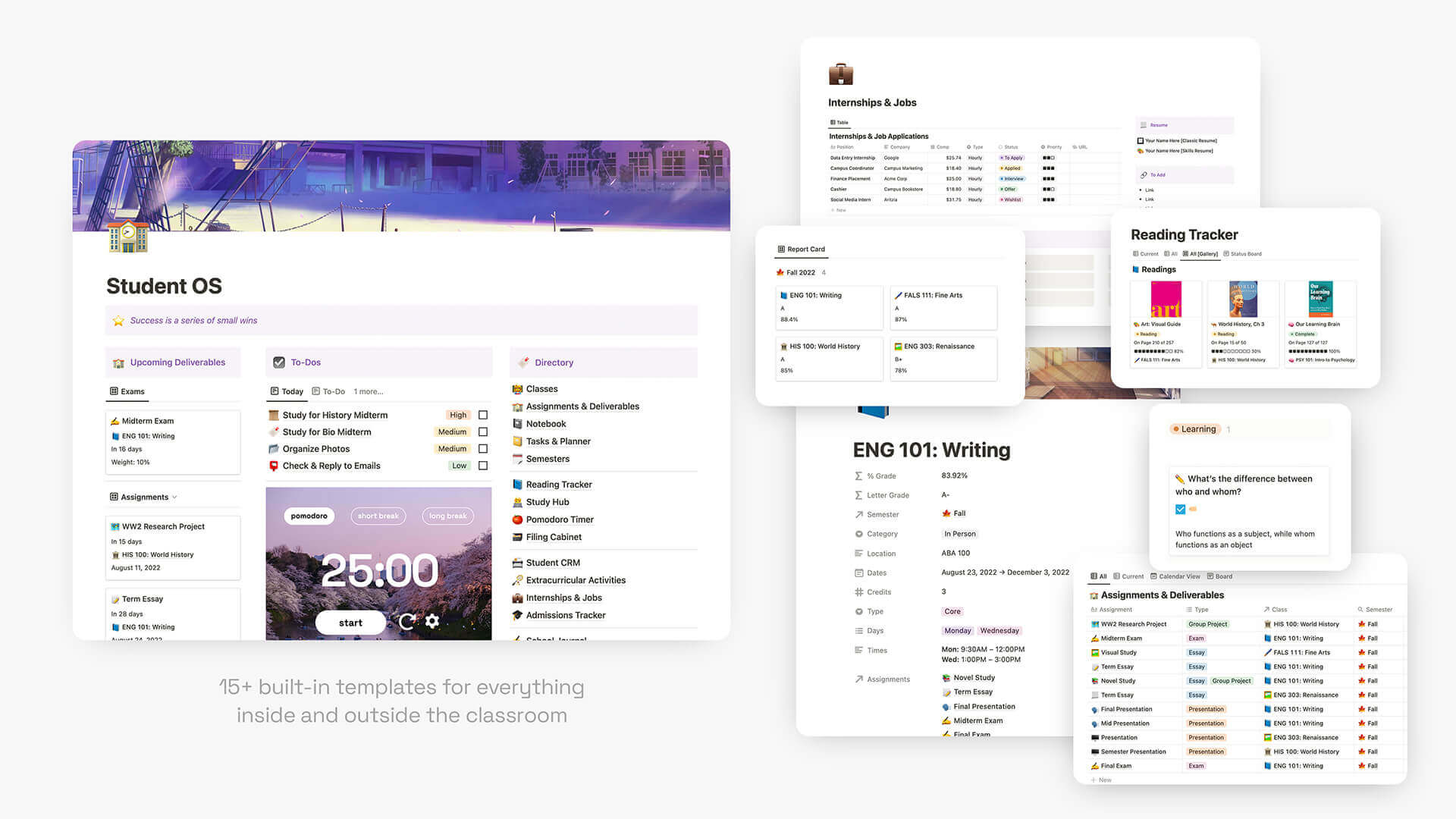 Advanced Student Dashboard & Knowledge Base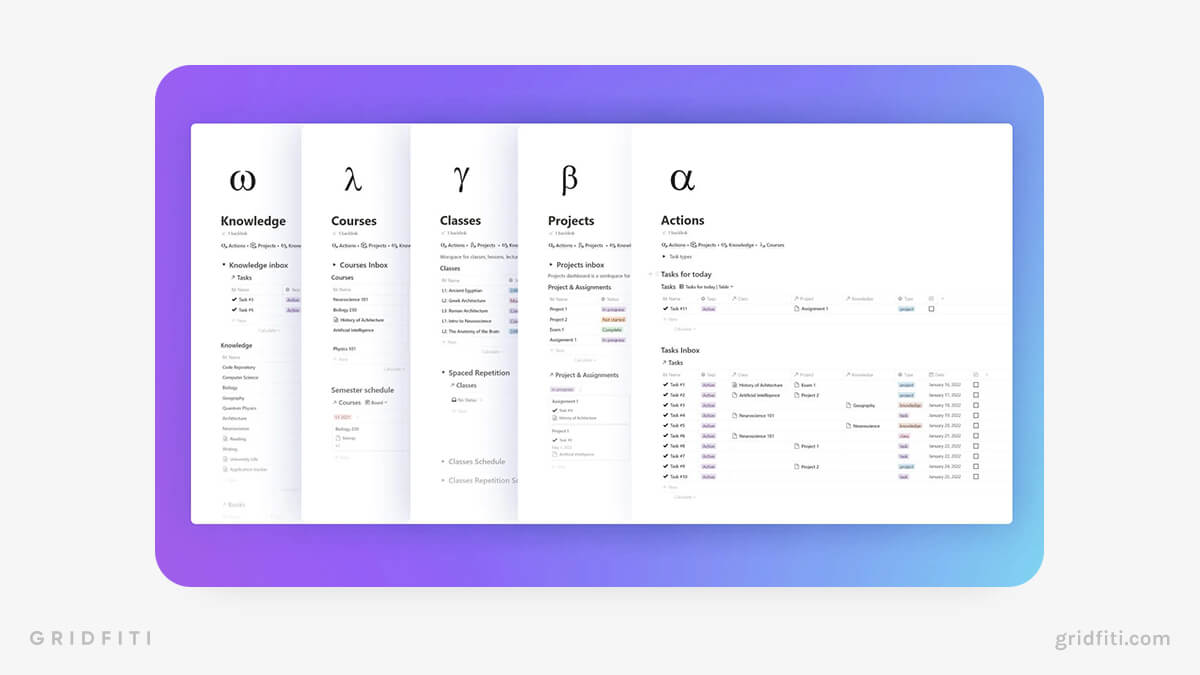 Notion Student Bundle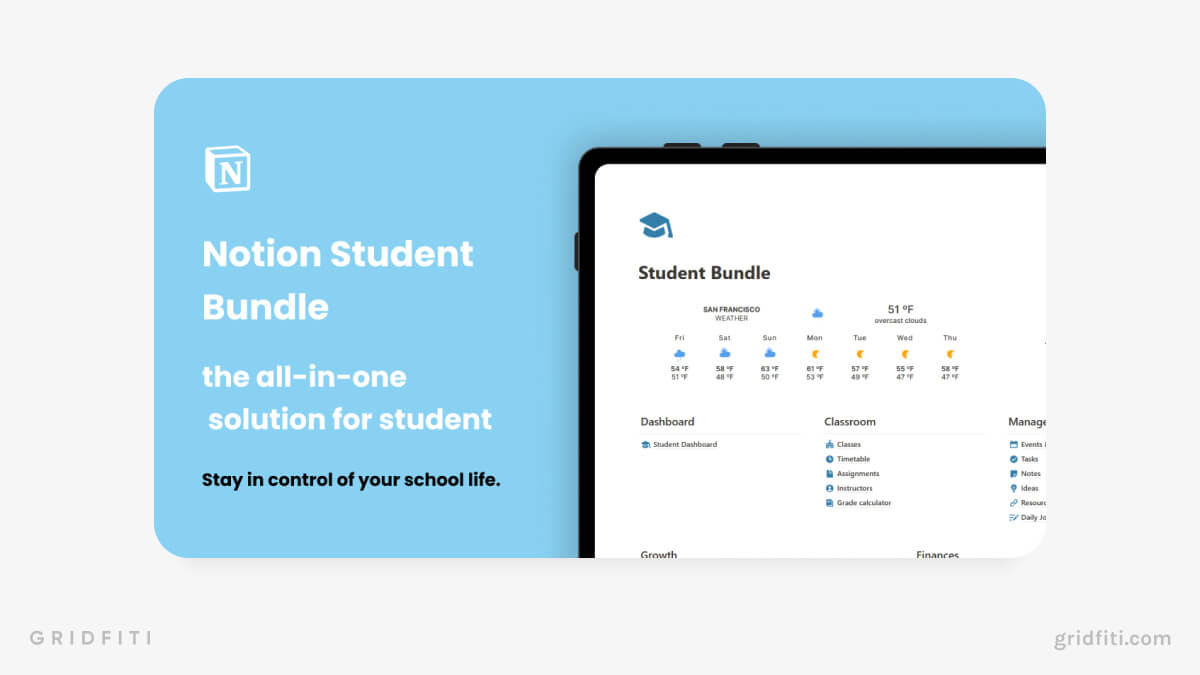 Green University Student Notion Dashboard Hub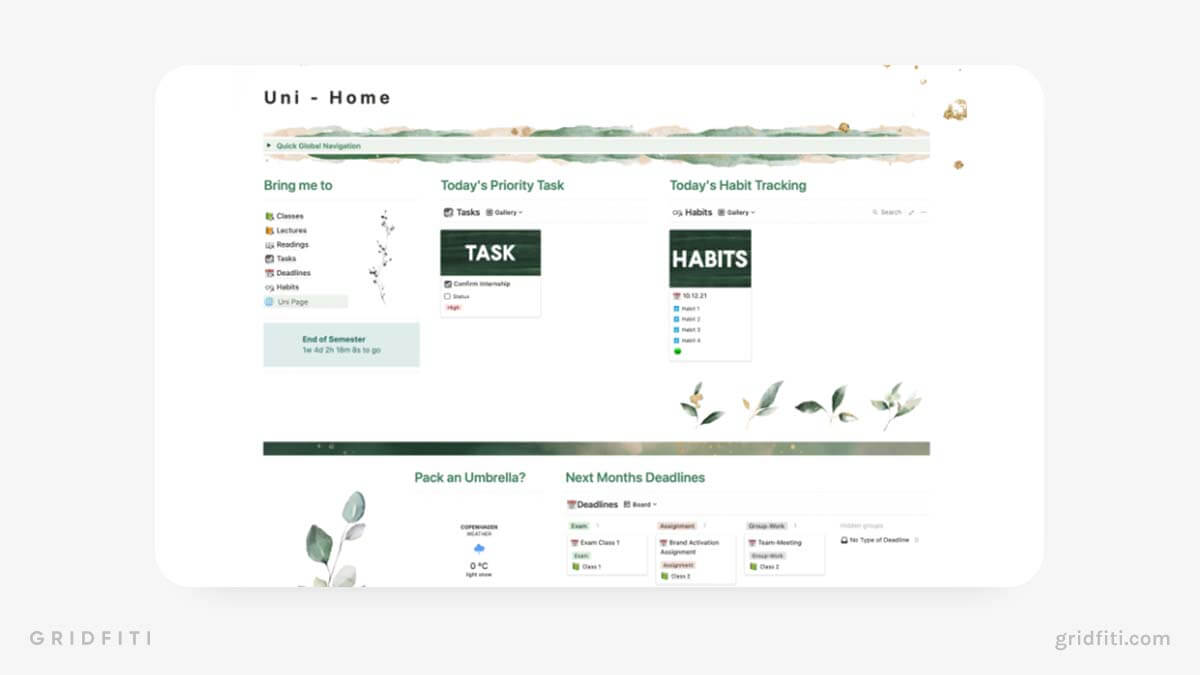 Academia – Academic Management System for University Students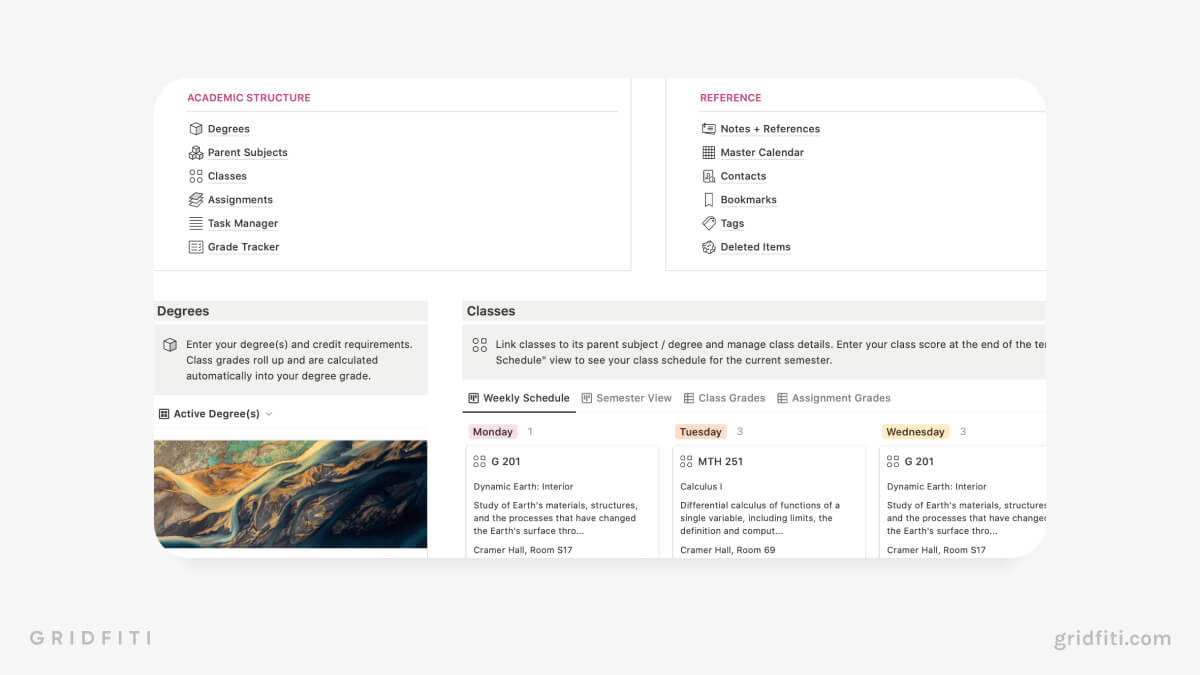 Aesthetic University Student Productivity Hub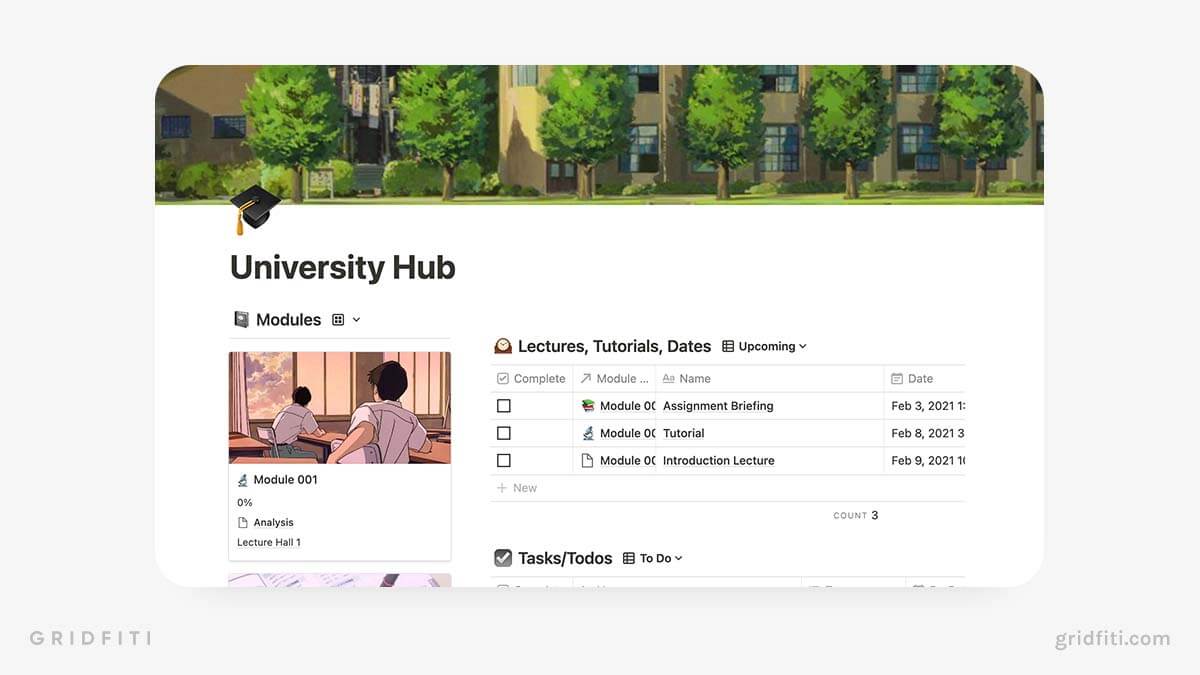 Notion Student Workspace Template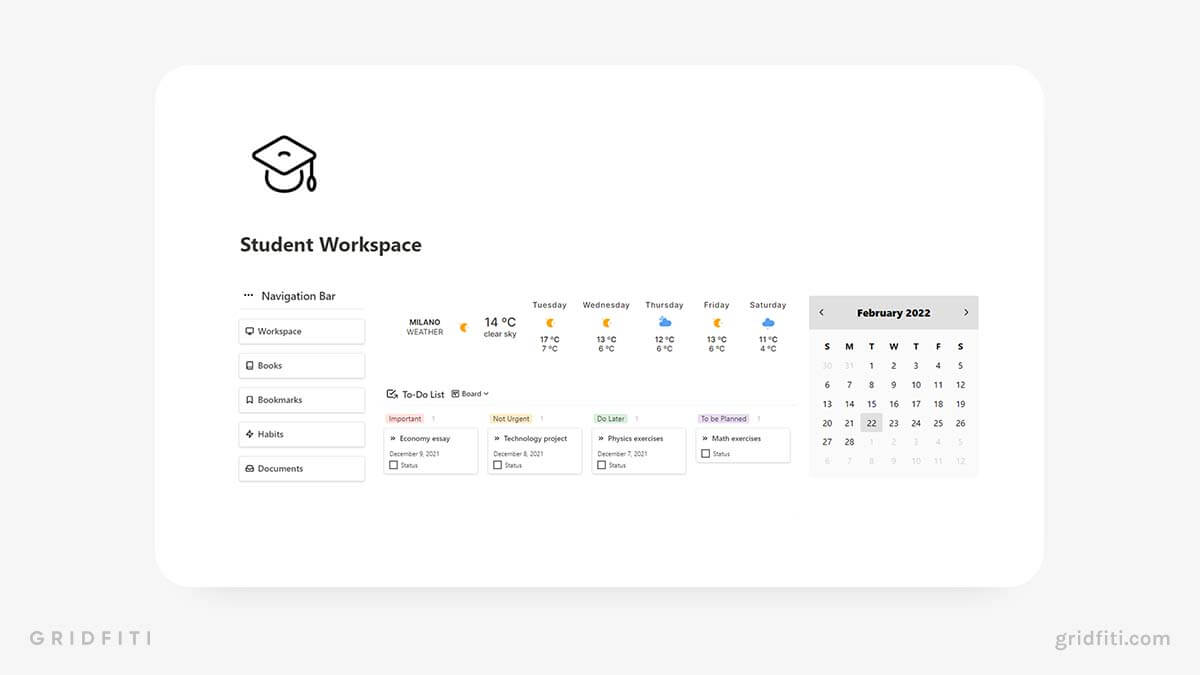 Notion for University Students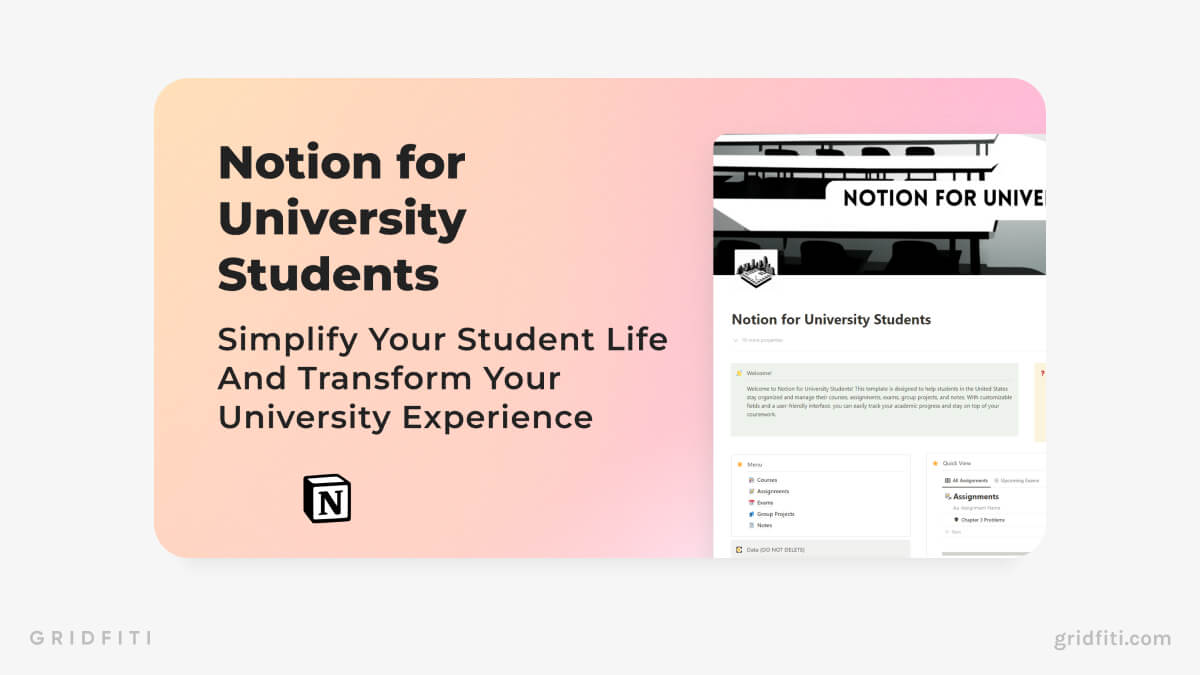 Student Planner Hub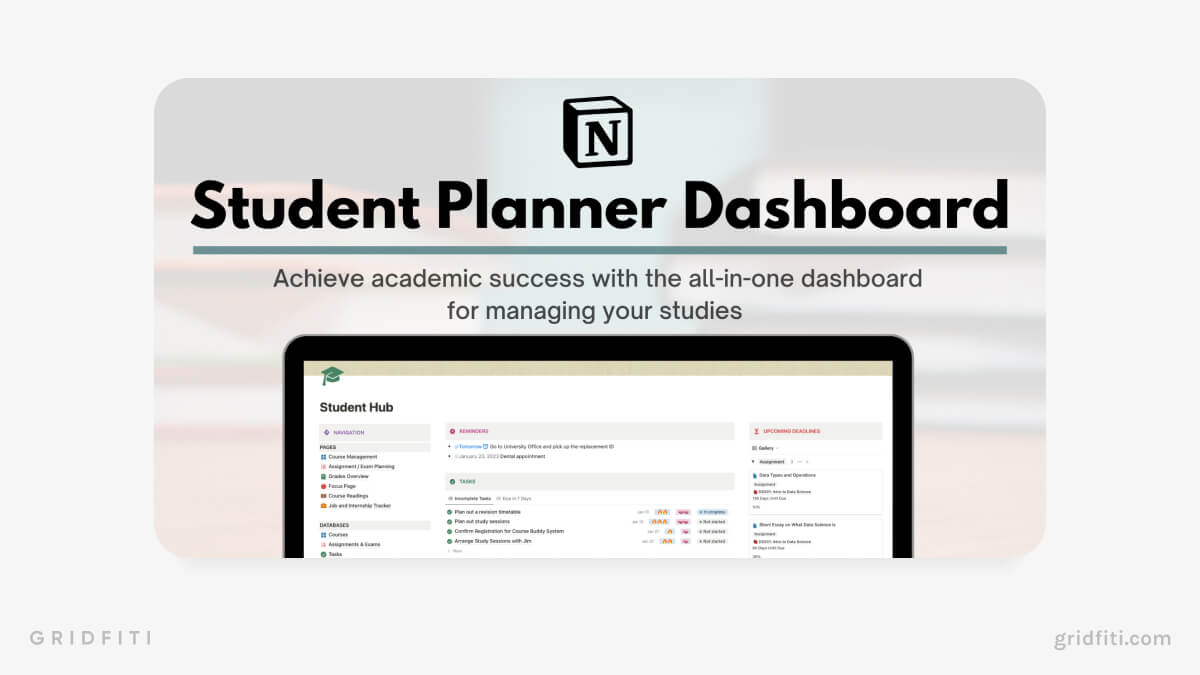 Ultimate Notion Template for College Students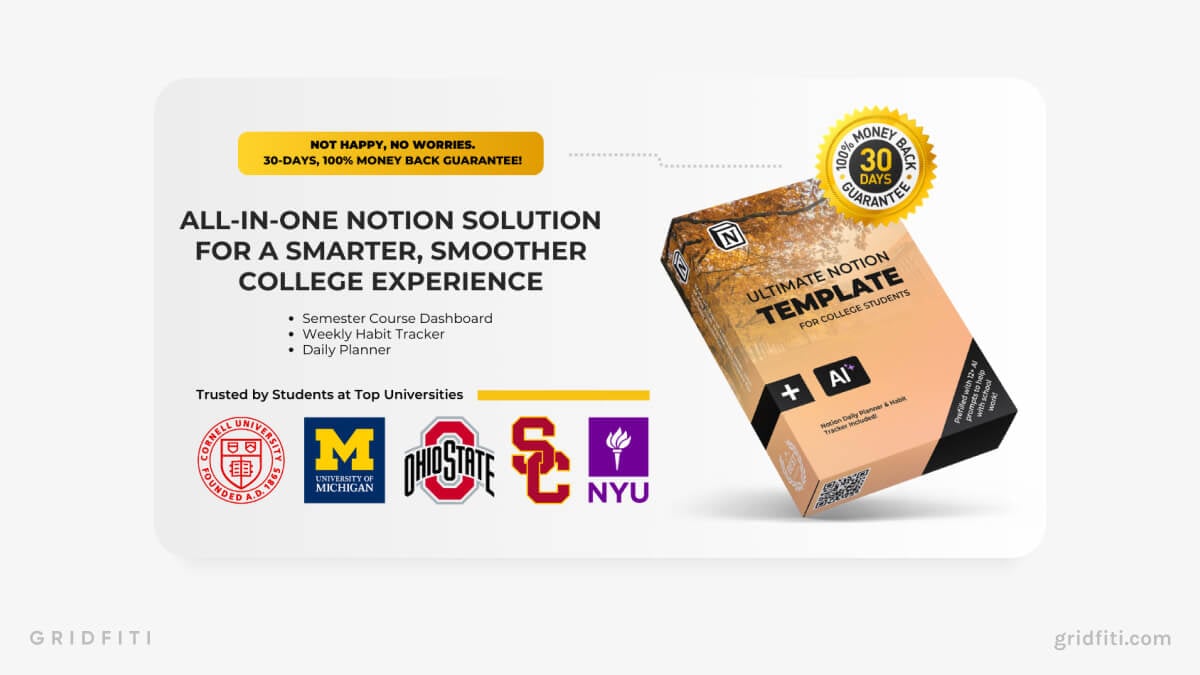 Students' Uni Hub Notion Template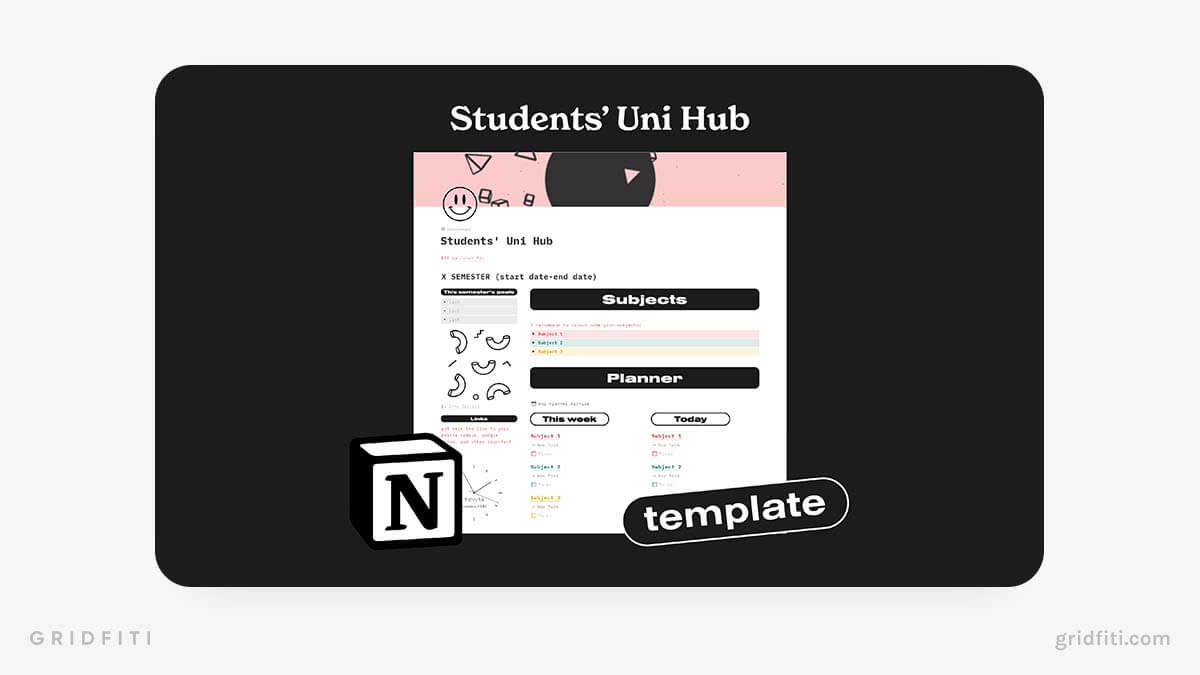 Notion Study Templates
Keep your focus and refine your study routine with a Notion study template. Create a healthy and efficient study routine with Notion, and ace your exams!
Tomato: The Ultimate Pomodoro Notion Template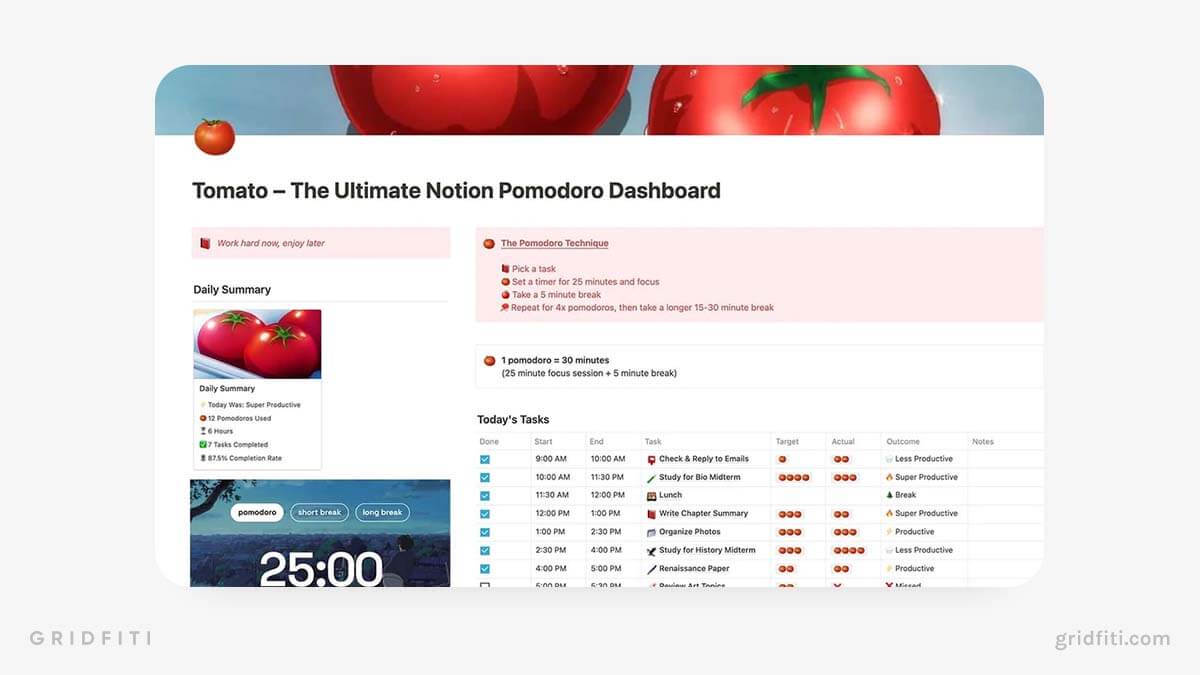 Notion Study Kit Template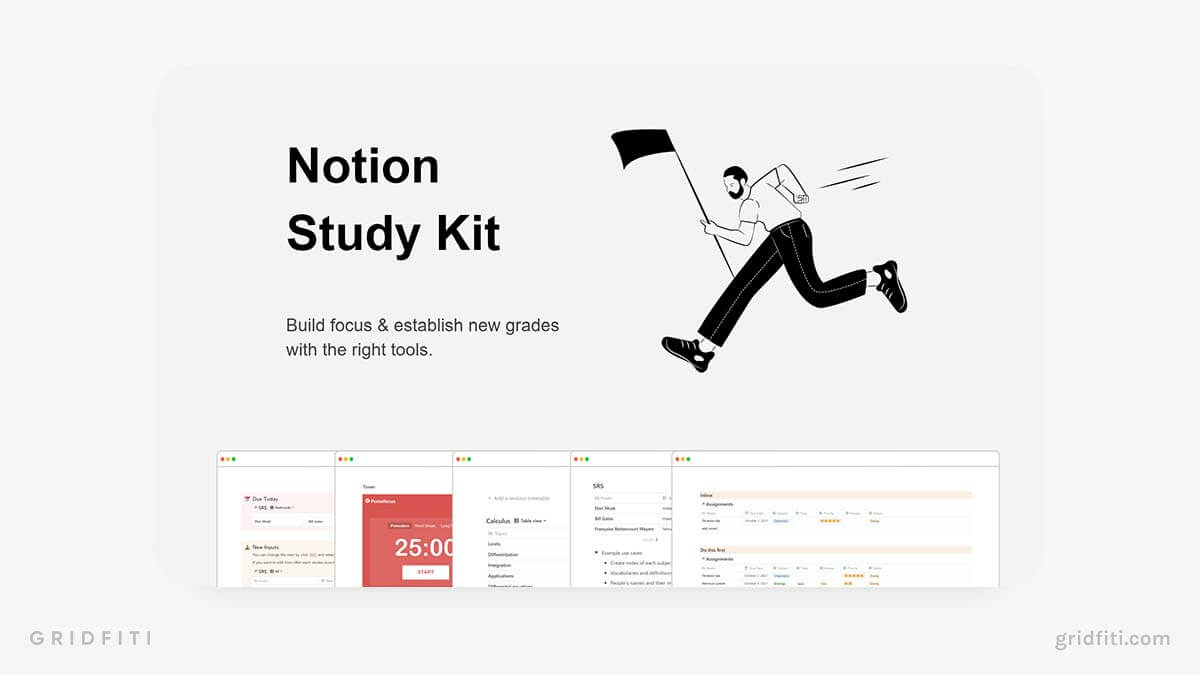 Notion Flashcard Template for Learning & Studying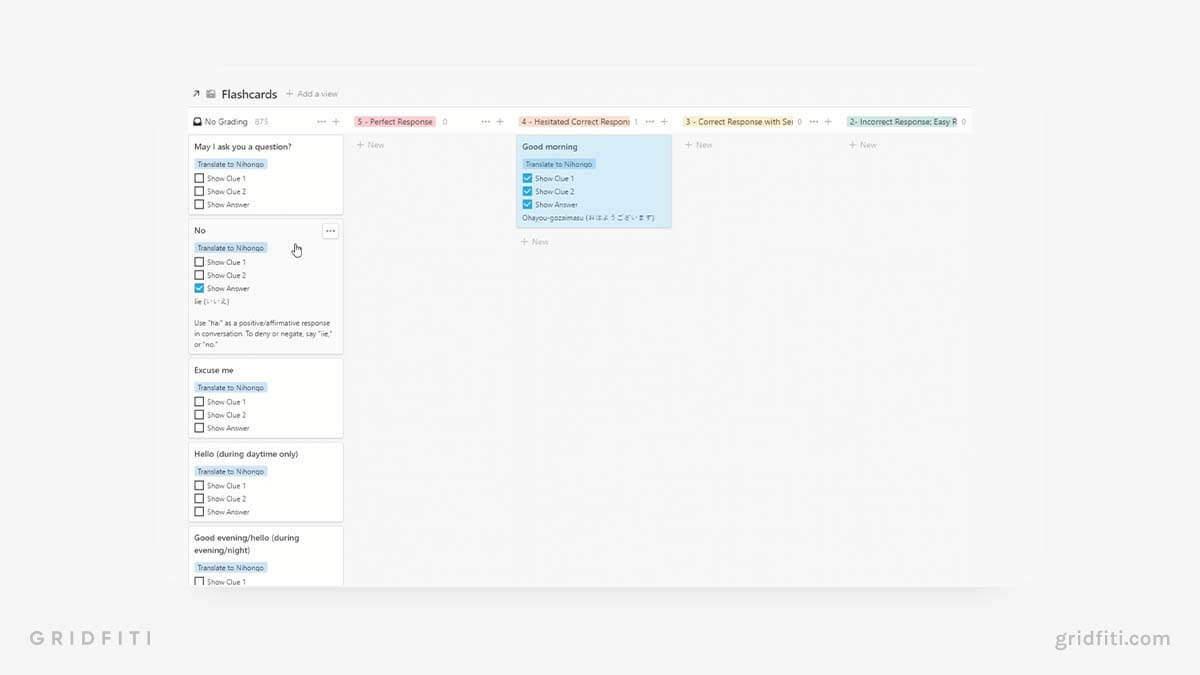 Flocus is a free browser-based dashboard for both focus and ambience. Featuring aesthetic themes, personal greeting Pomodoro timer, and lots more!
Get early access to Flocus here.
Notion Student Planner Templates
The balance between your social life, academic performance, and mental and physical wellness can be overwhelming during a busy semester. Use a Notion student planner template to help you organize your life and prioritize the things that need to be focused on first!
For more templates, check out our post rounding up the best Notion planner templates.
Notion Semester Planner & Tracker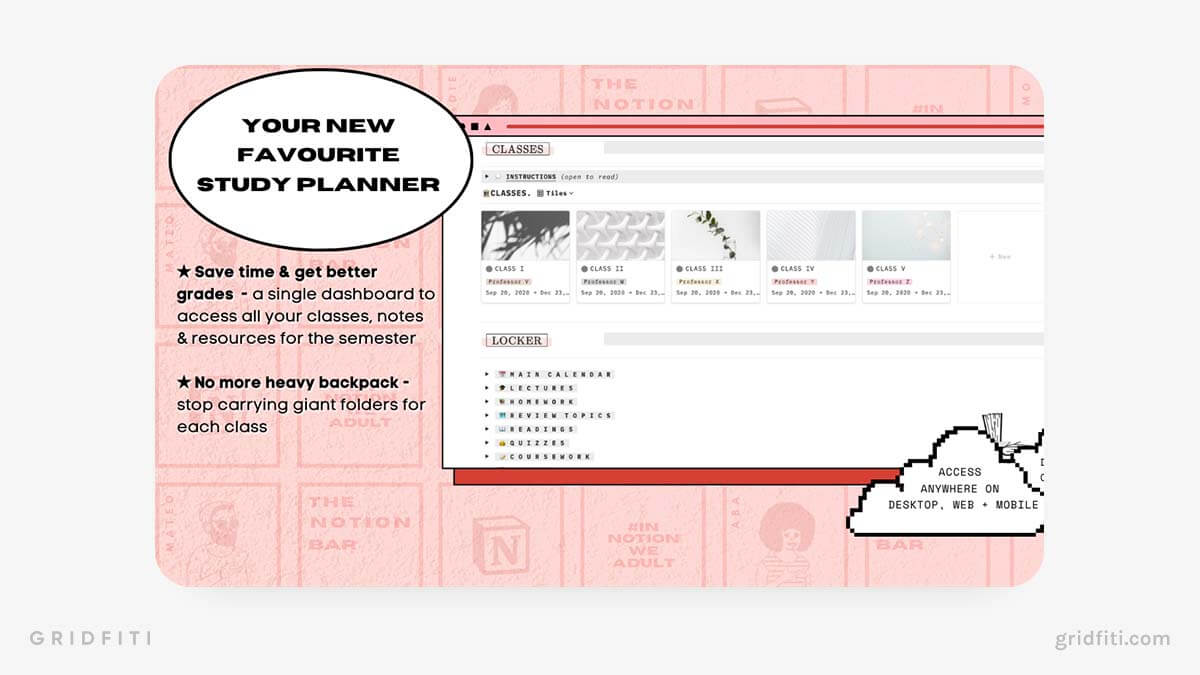 academia – Notion School Organizer Template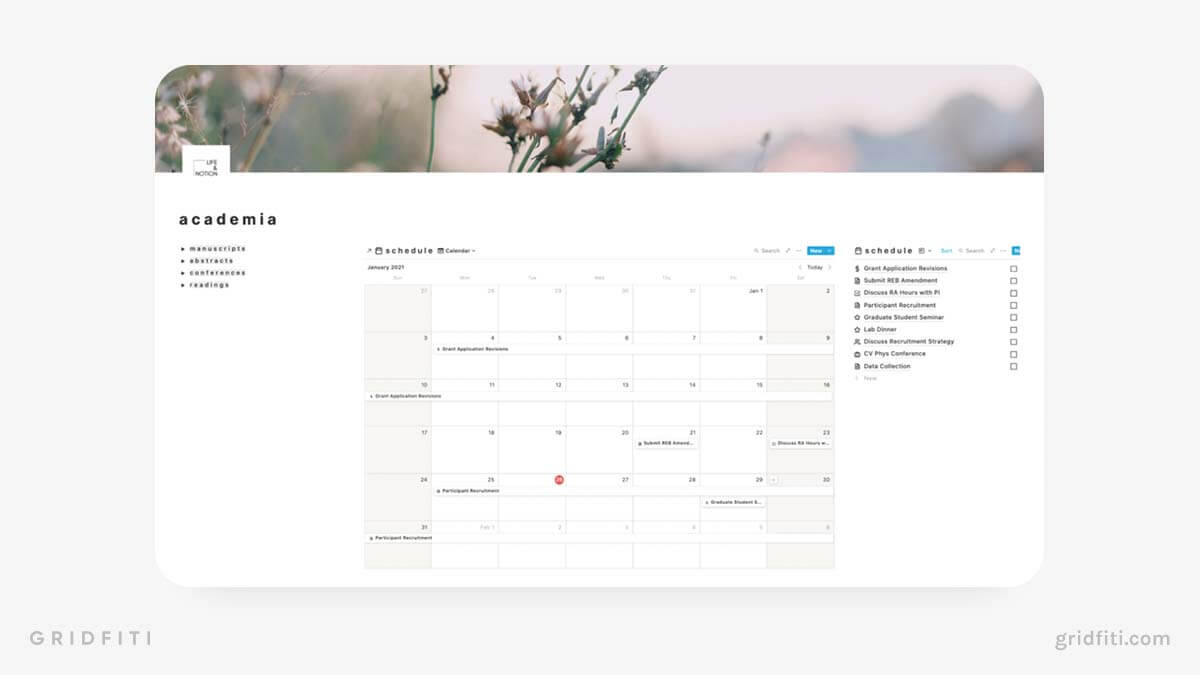 Simple Notion Course & Class Schedule Template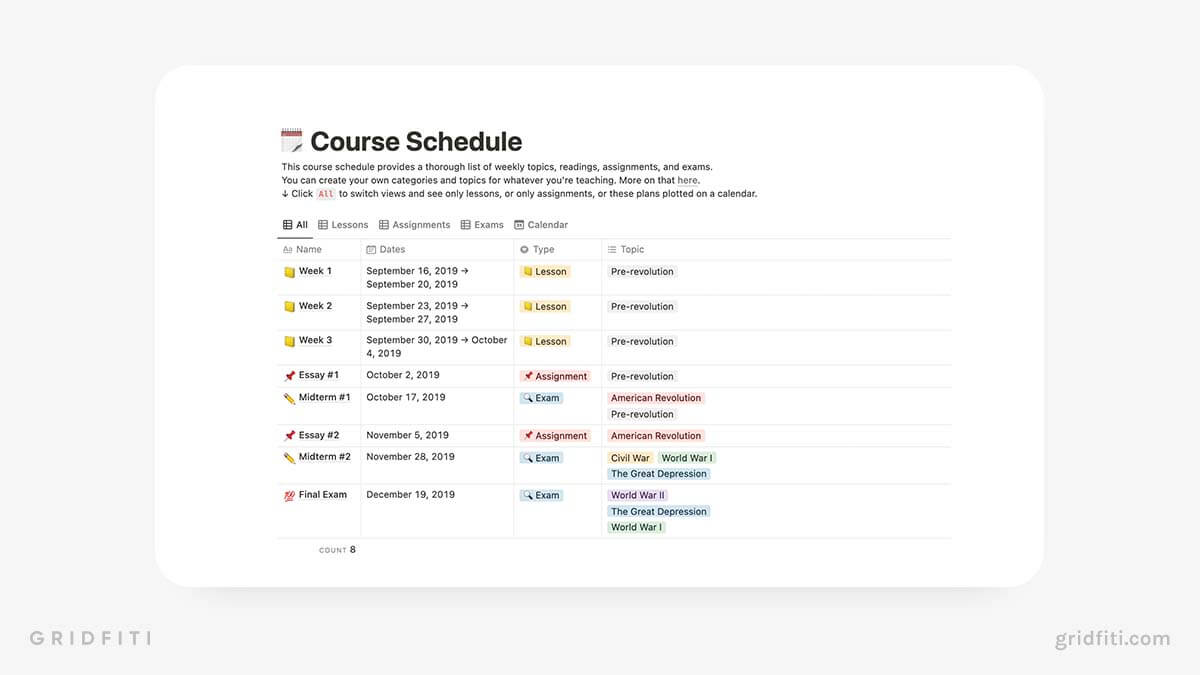 Simple Notion Thesis Planning Template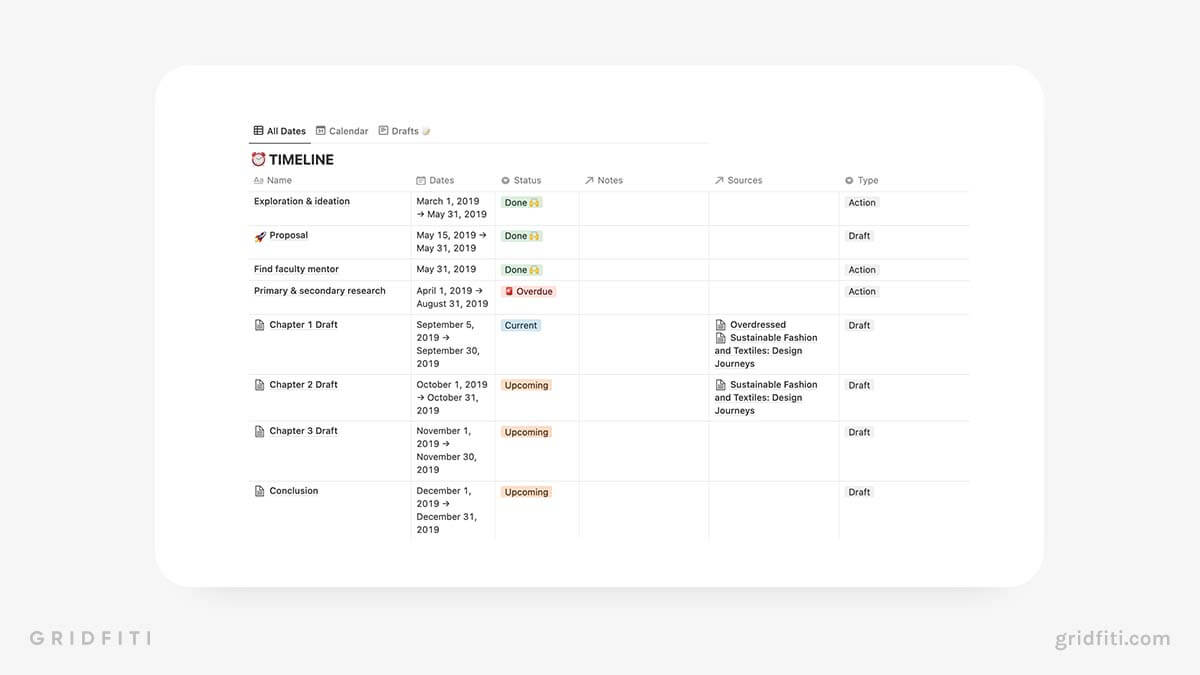 Notion Class & Assignment Templates & Trackers
It's tough to keep track of all of your deliverables when you have a full class schedule and a life outside of school to balance. Thanks to these templates, you can be sure you don't fall behind in class with Notion! Monitor your progress and stay up to date with assignments and marks with these templates.
For more templates like these, check out our full round-up of Notion assignment tracker templates!
Notion Courses Manager Template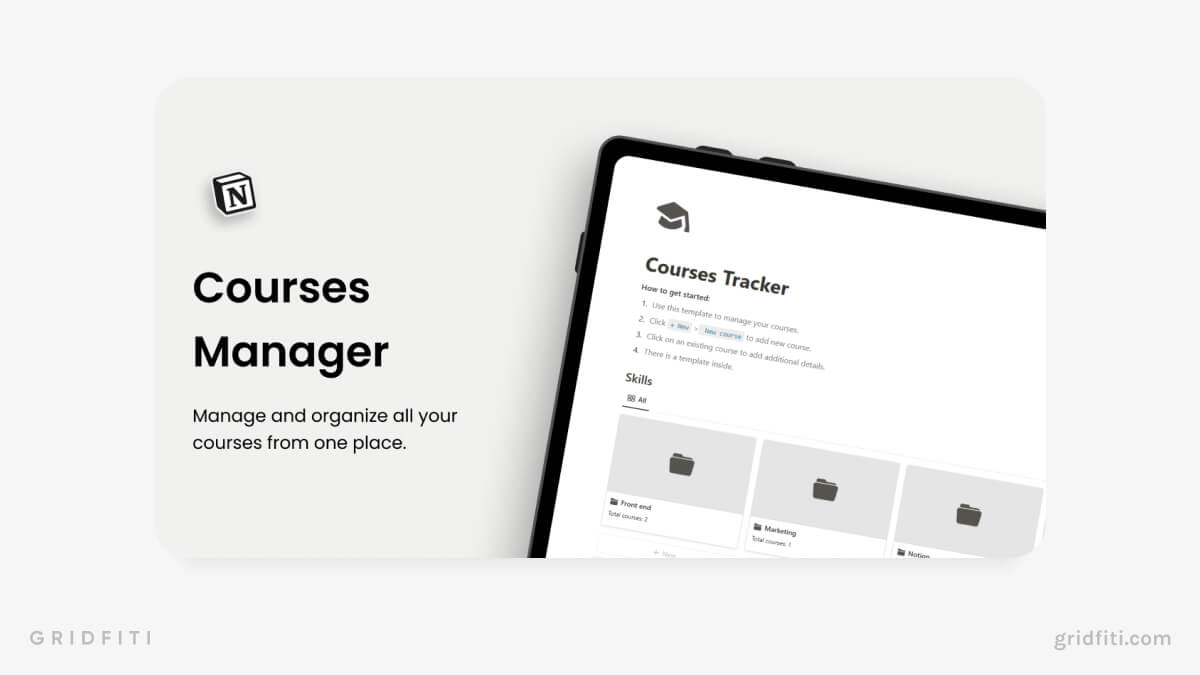 Notion Syllabus Template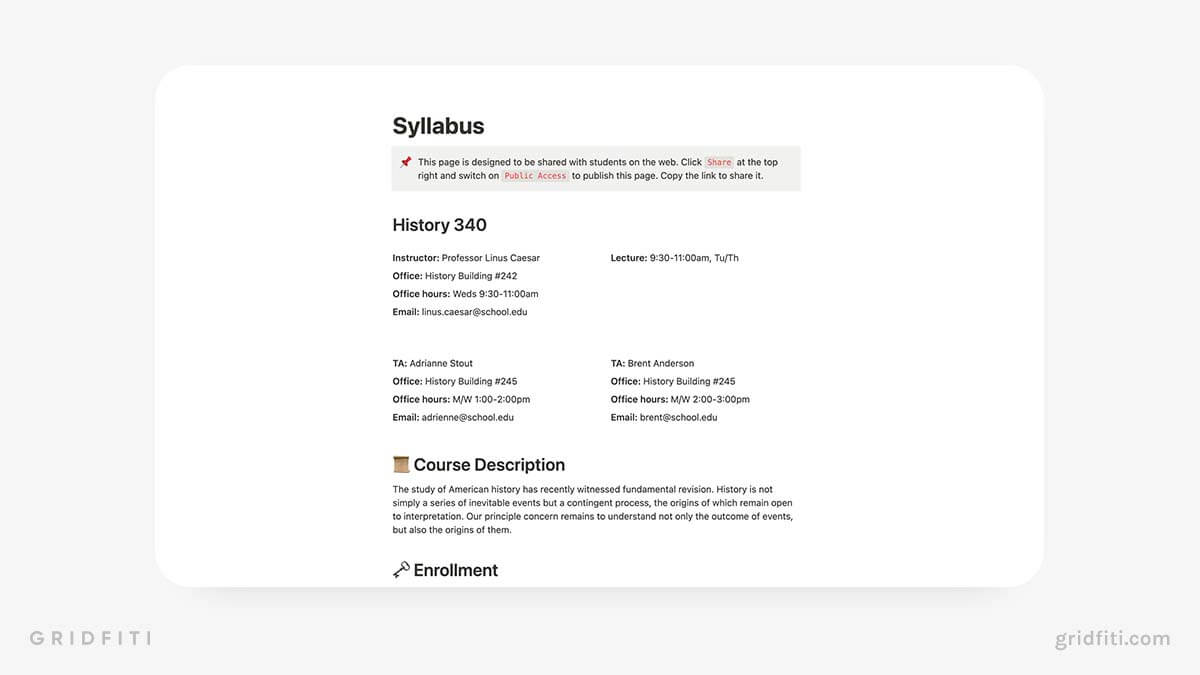 Notion Grade Calculator Template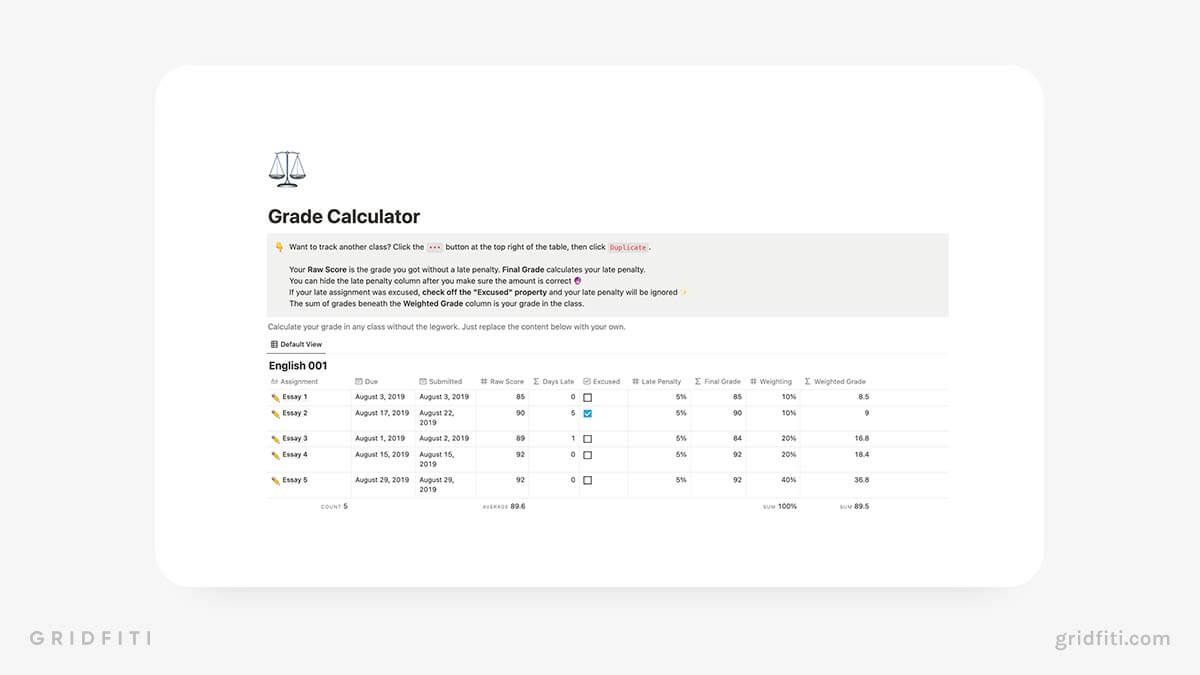 Notion Advanced Grade Calculator Template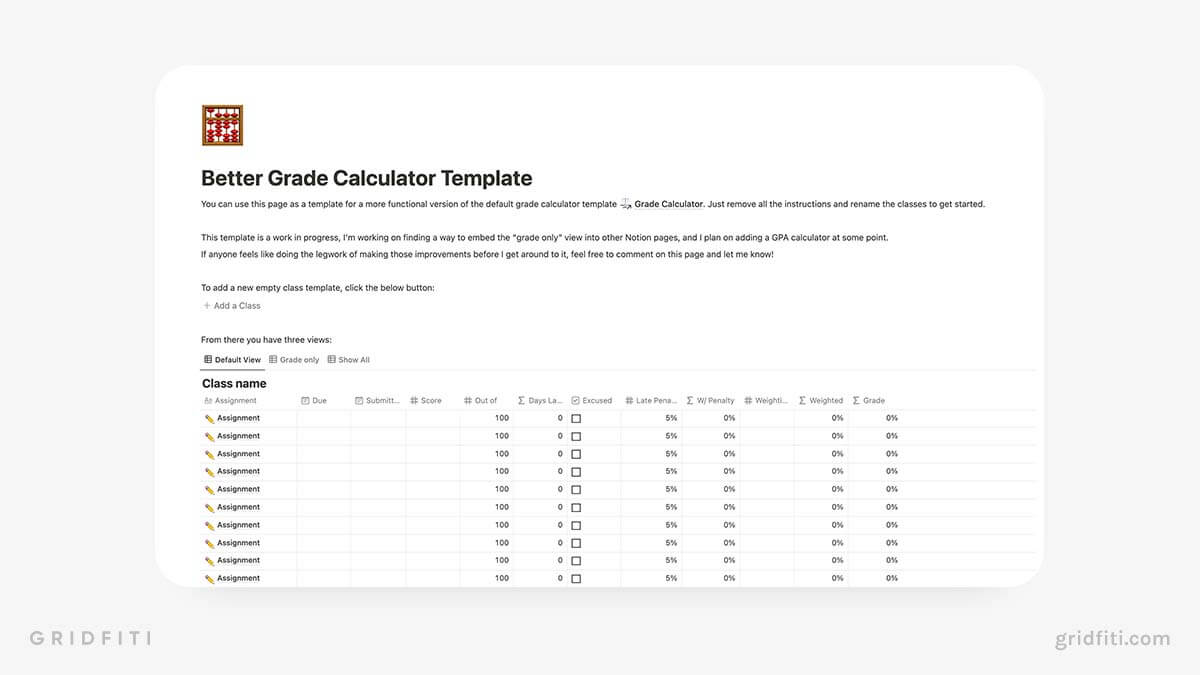 Notion Student Note-Taking Templates
Notion's beautiful UI makes it easy to jot down notes and organize your documents in databases so you can revisit information for each class easily! Depending on your note-taking style, here are some great Notion student note-taking templates that use beloved techniques such as Cornell, Zettelkasten, and more.
For more templates like this, check out our full round-up featuring the best Notion note-taking templates.
Notion Student Notes Index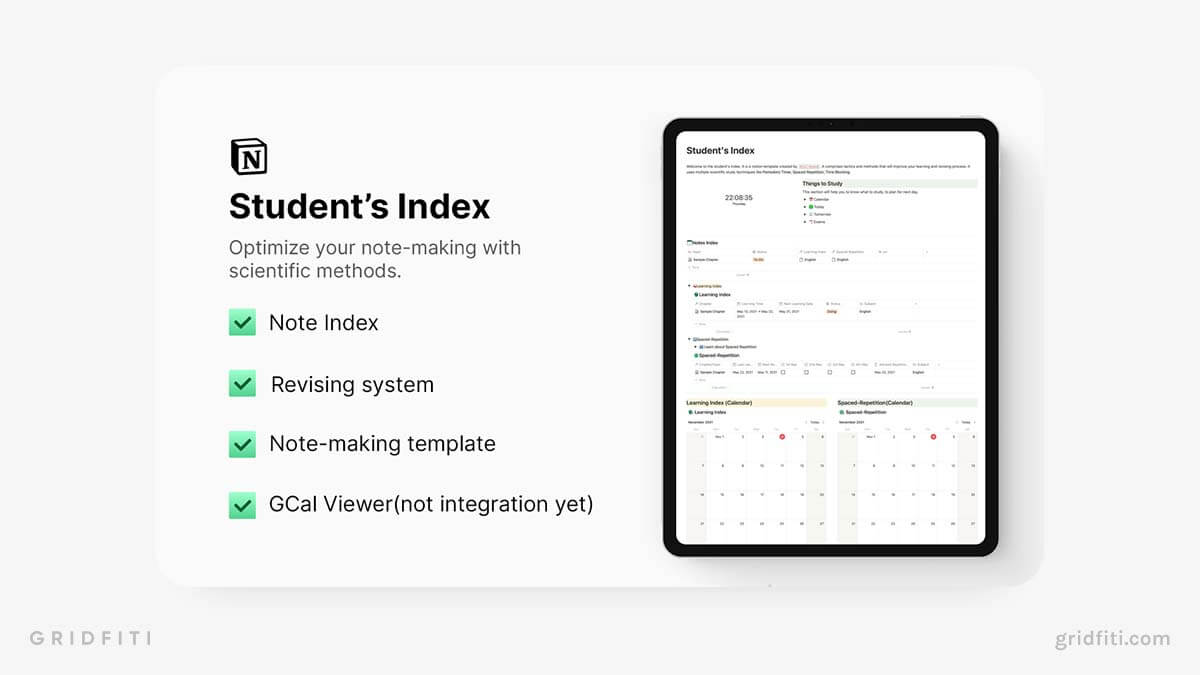 Academic Research Hub – Notion Research Template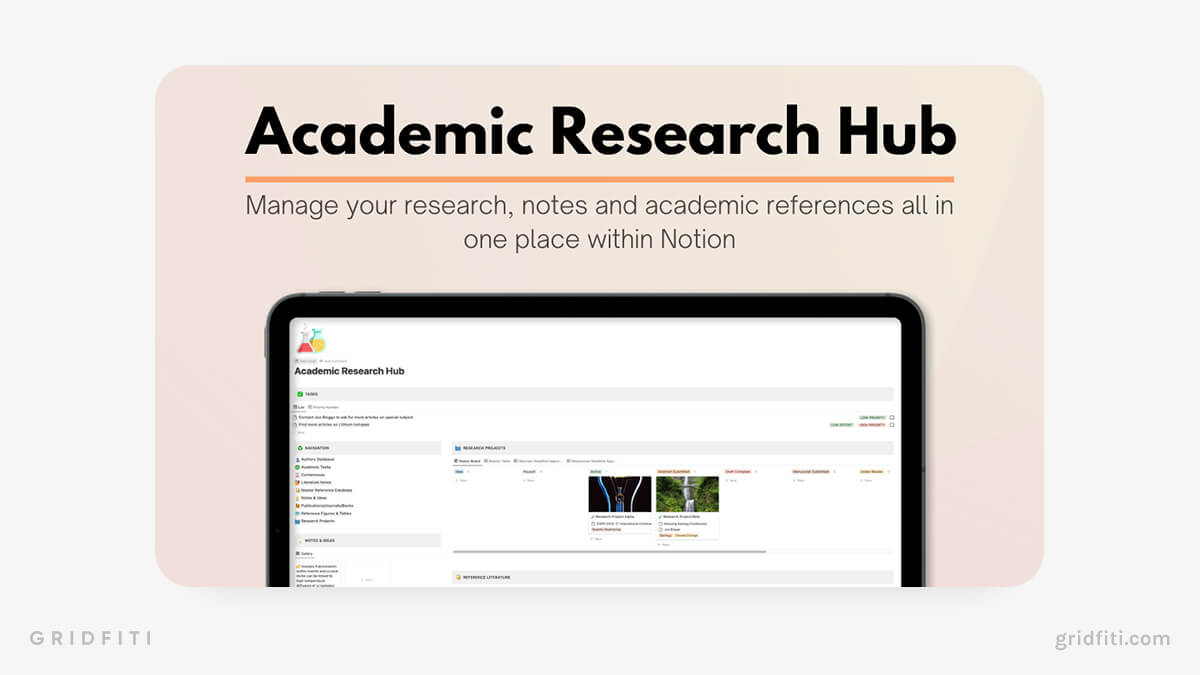 Zettelkasten for Notion – Personal Knowledge Management Template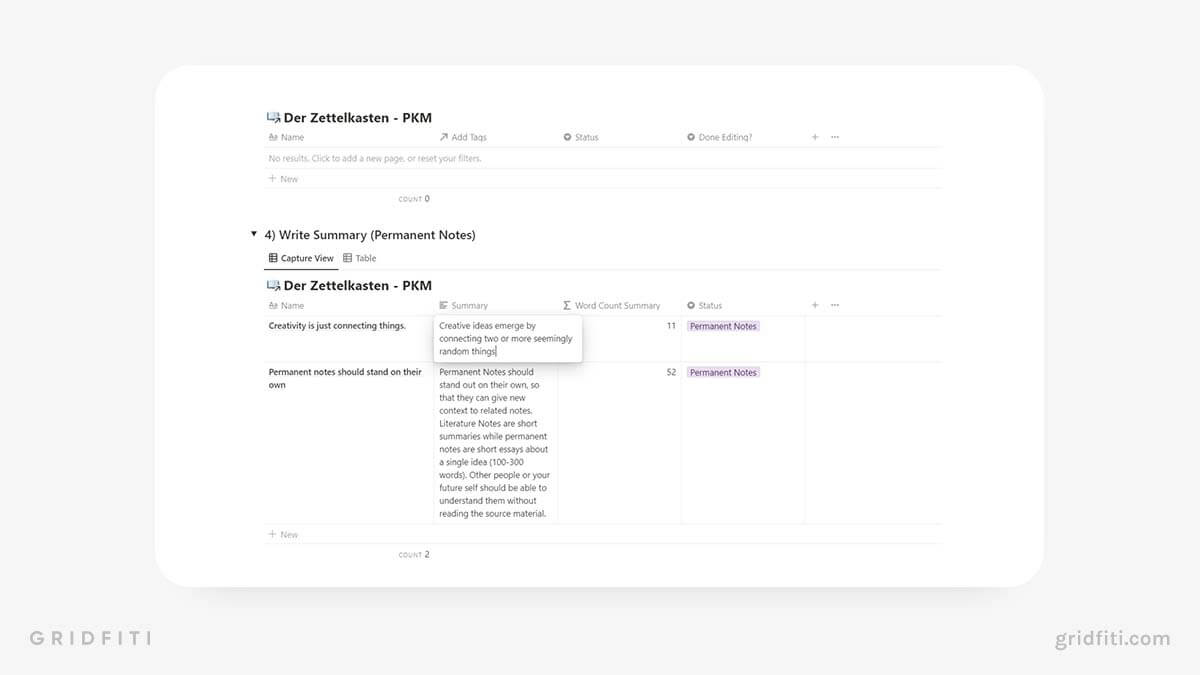 Notion Cornell Note-Taking Template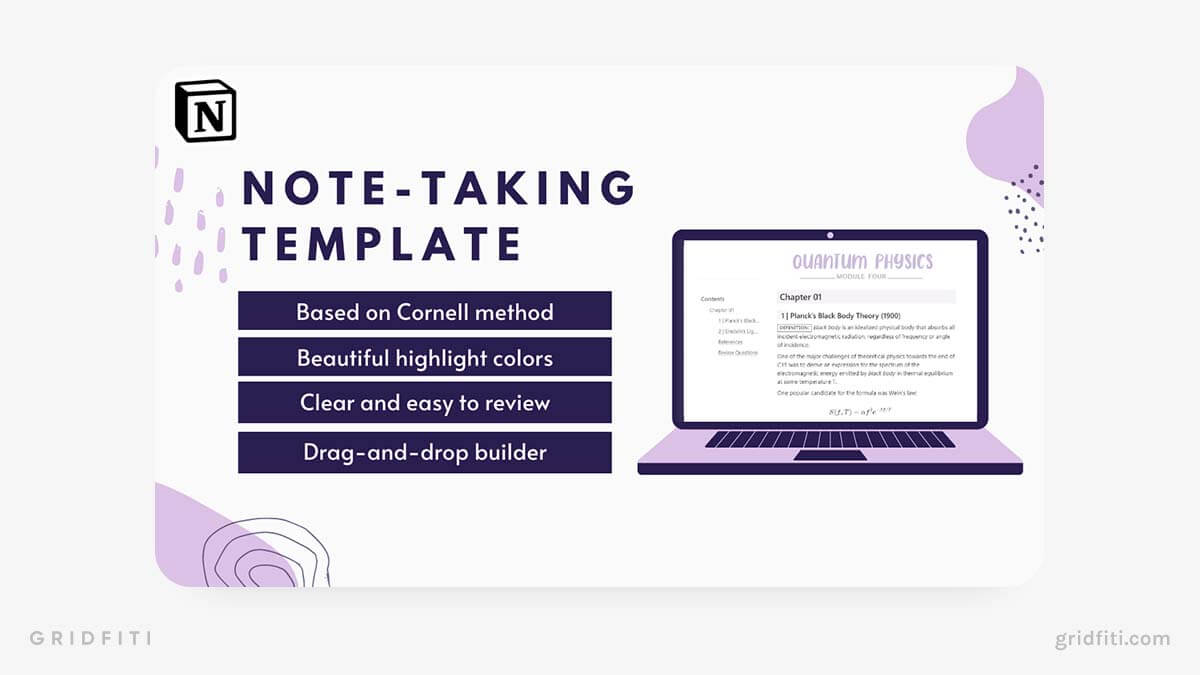 Simple Aesthetic Lectures & Class Notes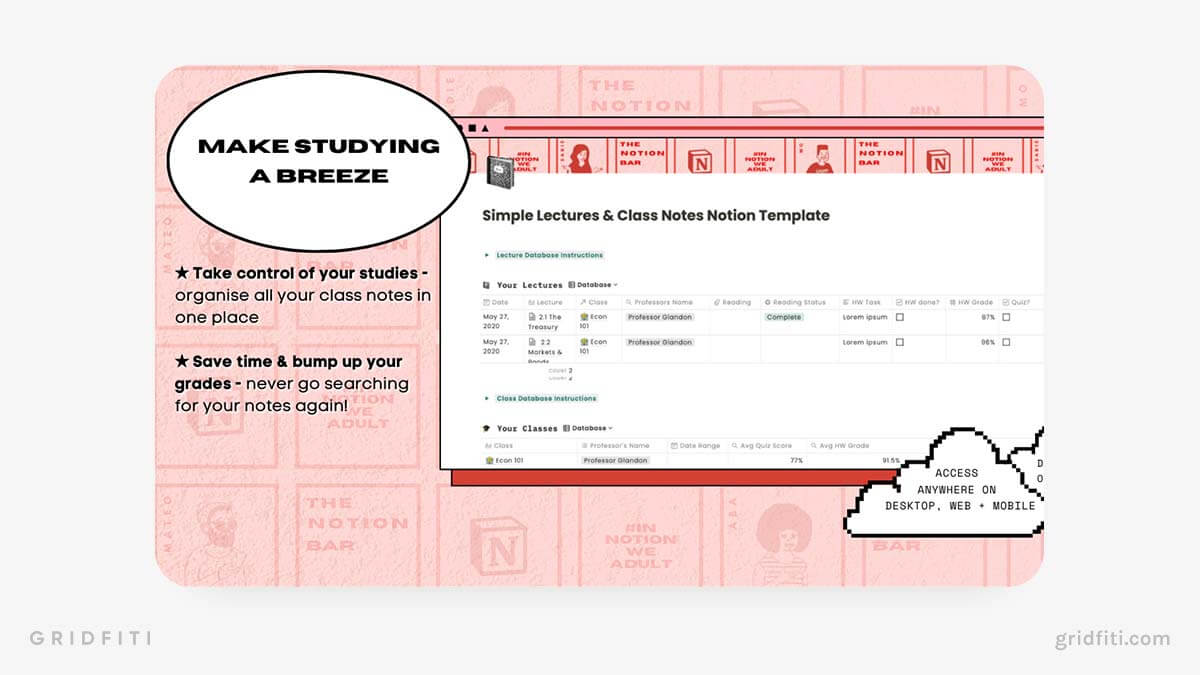 Smart Notes for Students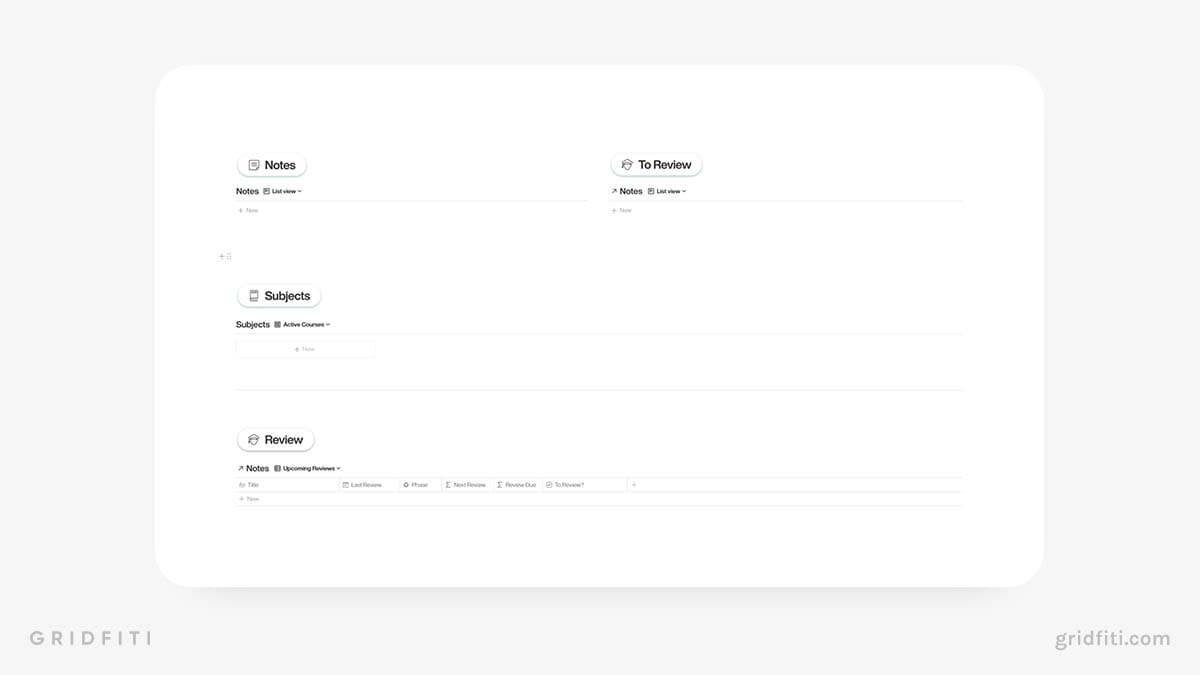 Notion Spaced Repetition Notes Template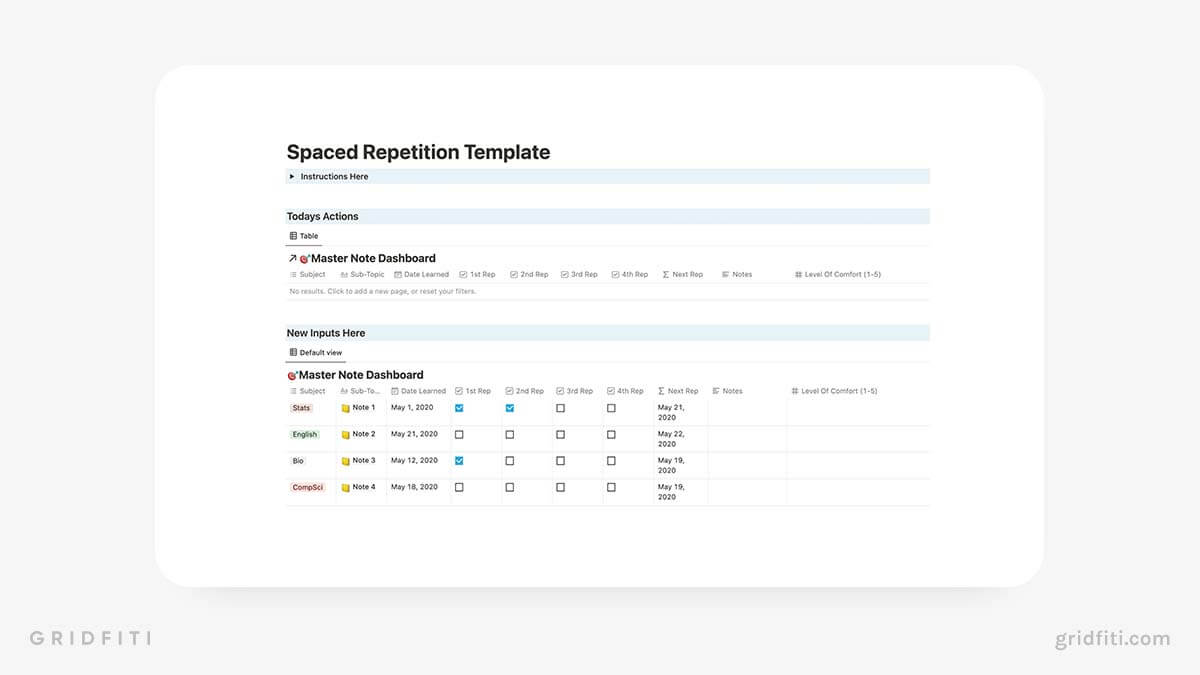 Synthetic Notes Template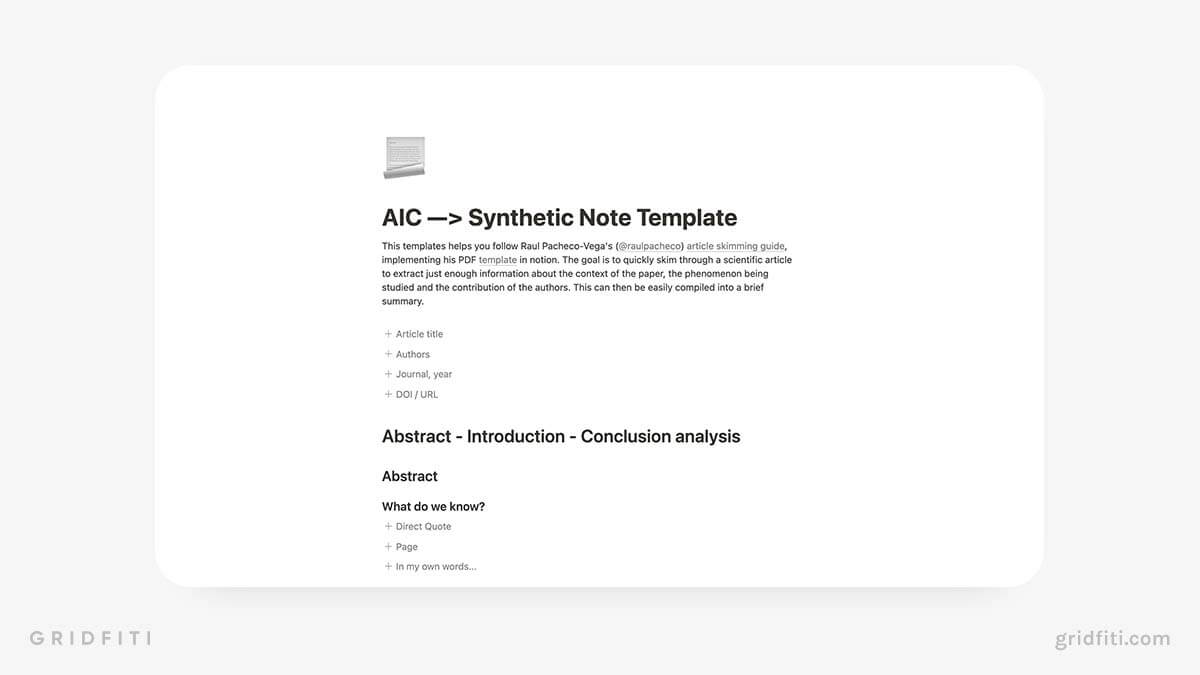 Basic Notion Class Notes Template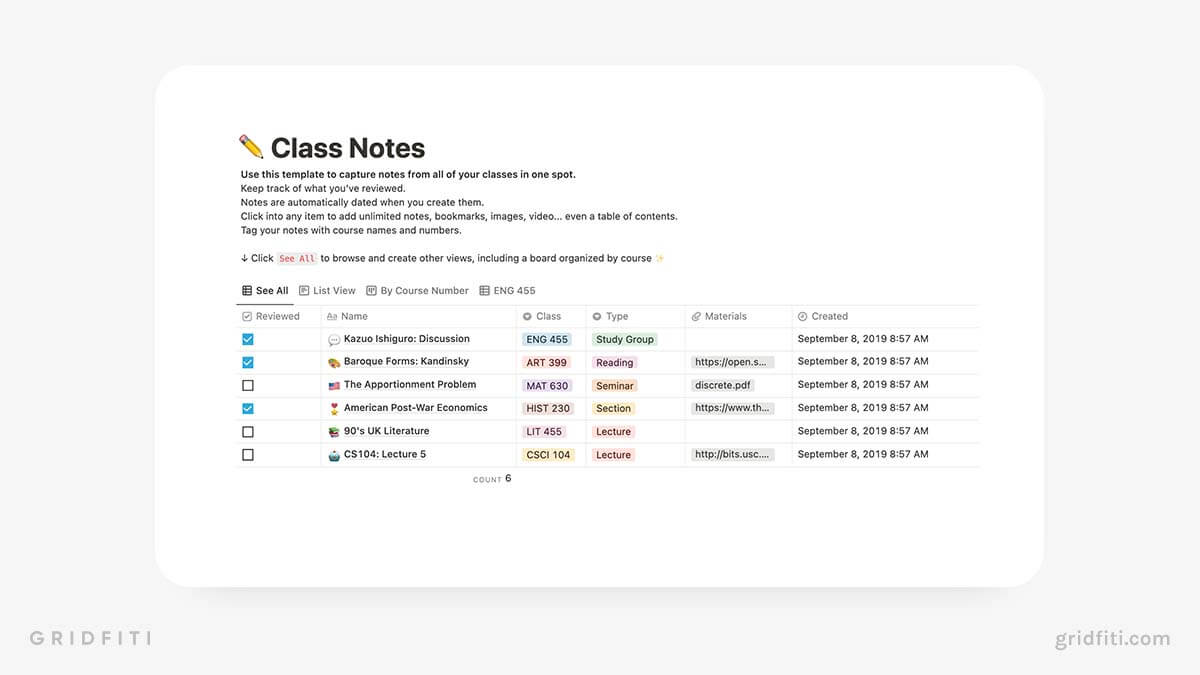 Notion Templates for Grad & PhD Students
There are some great Notion student templates out there, and some even go as far as creating solutions specifically for grad, post-grad, PhD, and master's students! Plan your thesis, set grad school goals, store notes, track your progress, and so much more with these grad school-ready templates.
Templates Available: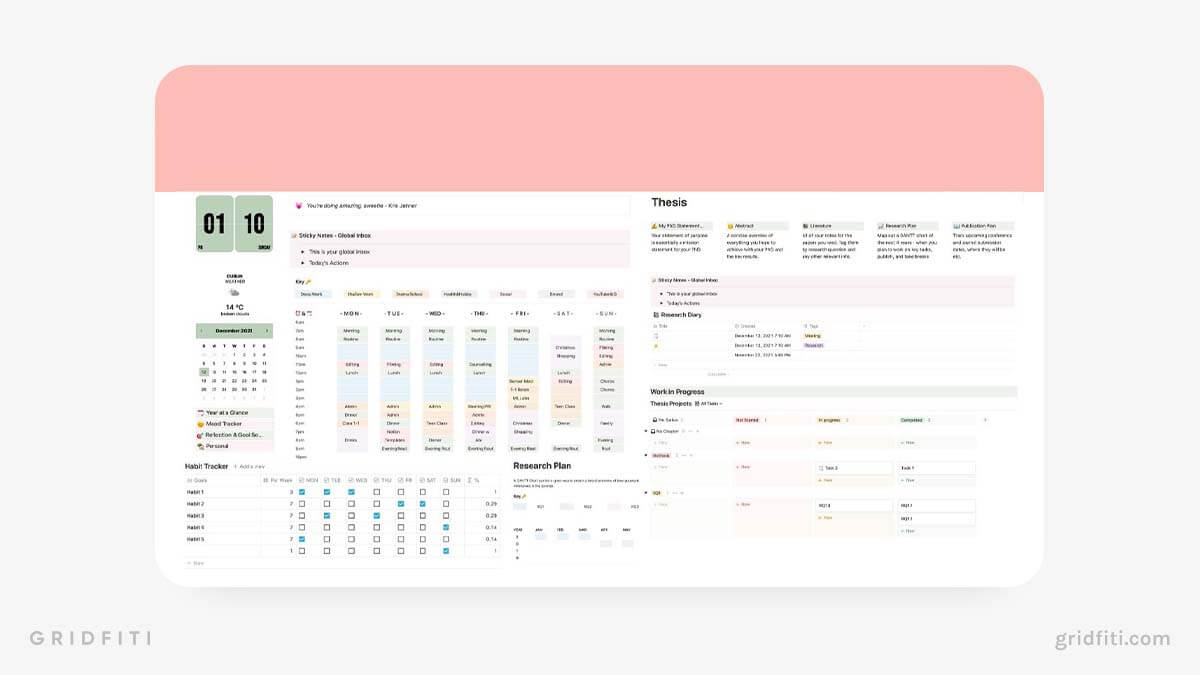 Notion Templates for Medical Students
If you're a med student, you know that between all the classes, resources, placements, exams, and everything else, life can get unwieldy. With the right Notion template, organize and centralize everything for your med school journey in one spot!
Check out our full round-up of the best Notion medical school templates for even more options!
Templates Available: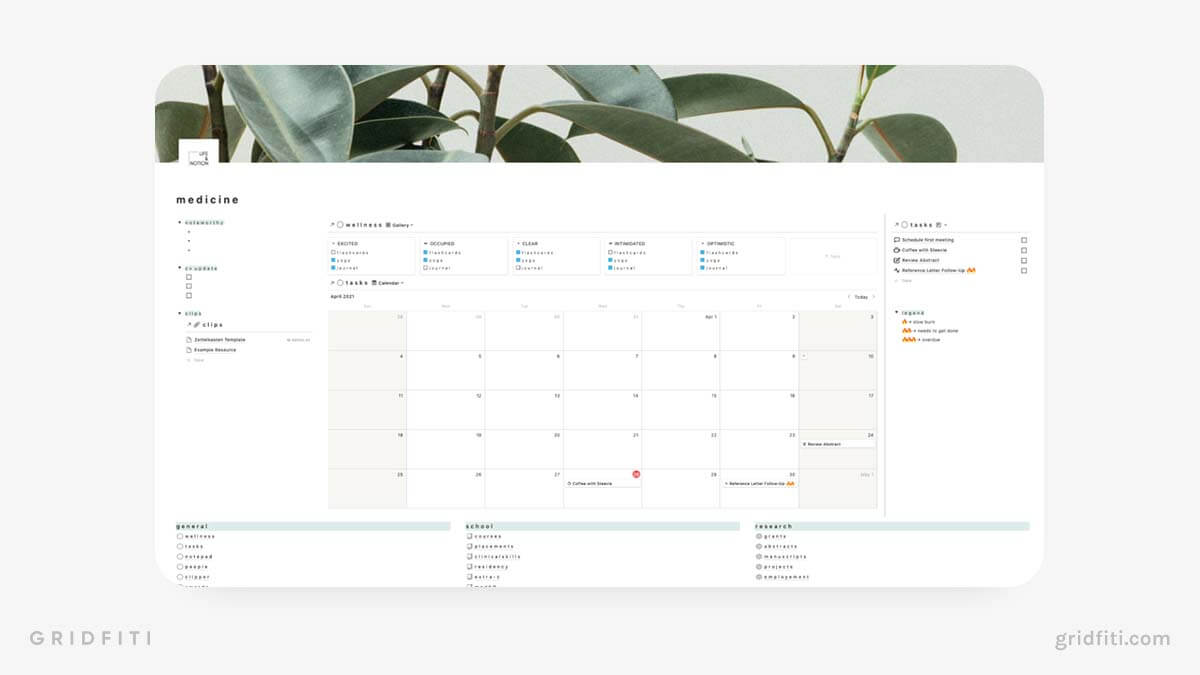 Notion Templates for Law Students
For the up-and-coming lawyers, these are the templates for you! Organize your law school courses, track firms you want to work at or have applied to, store the hundreds of resources and links you need as a law student, and so much more with these Notion templates for law students.
Templates Available: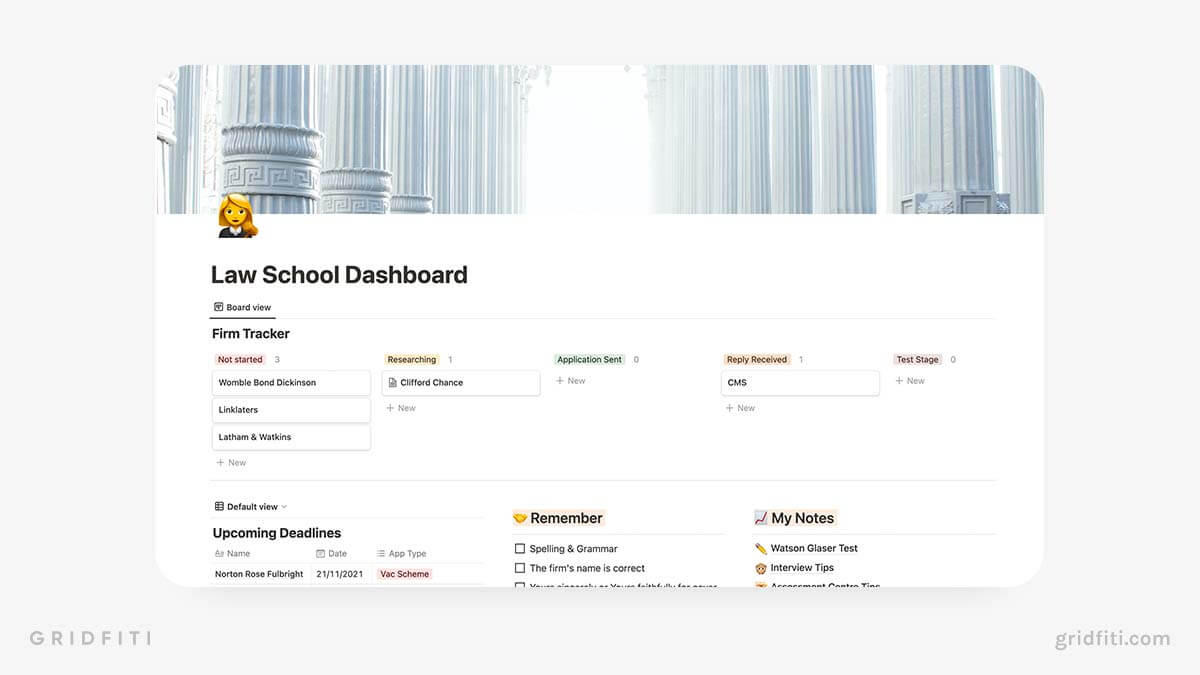 Free Notion Student Templates
If you're looking to use Notion for your studies, but don't have the extra coin to pay for templates, there are a ton of simple free Notion student templates to meet basic needs. Here are some of our favorites!
Looking for more free templates? Check out our full list of free Notion templates.
Bright & Airy Aesthetic Student Dashboard Template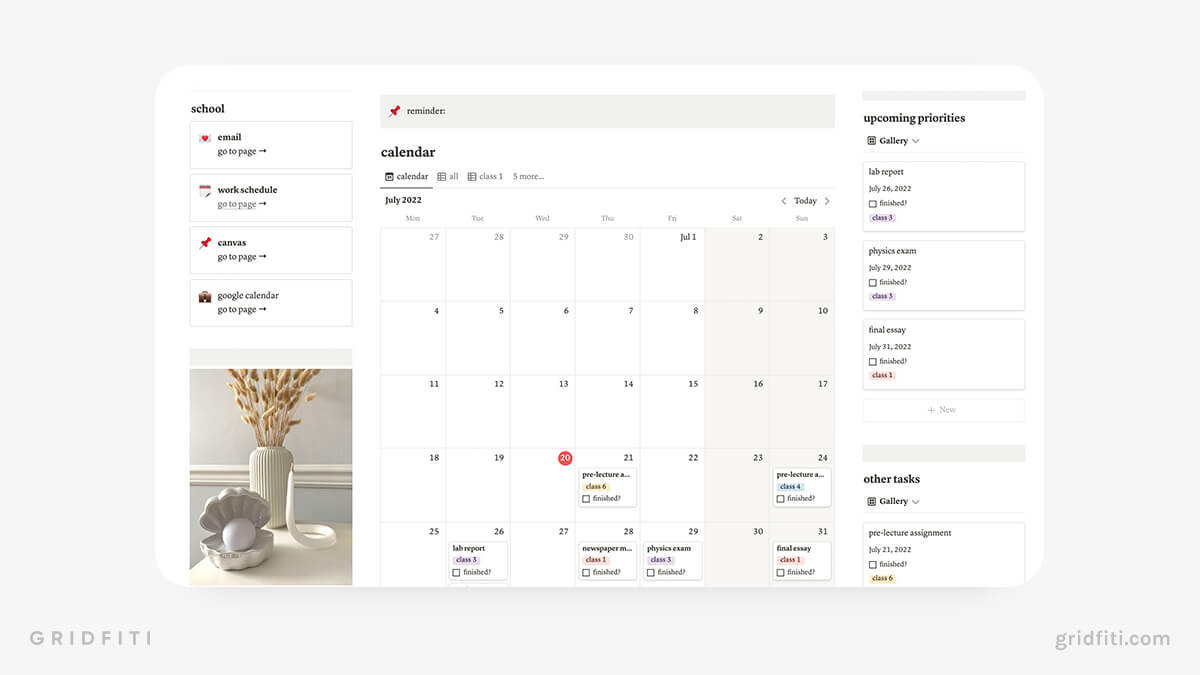 Simple Notion Student Homepage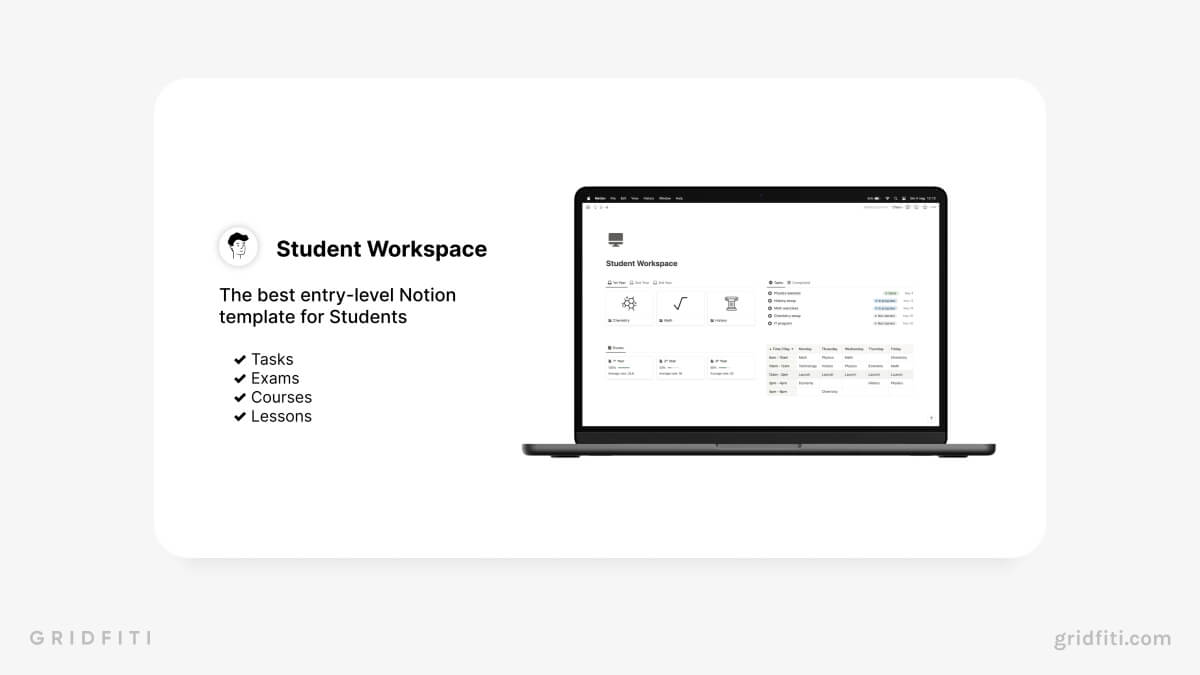 Notion Academic Dashboard Template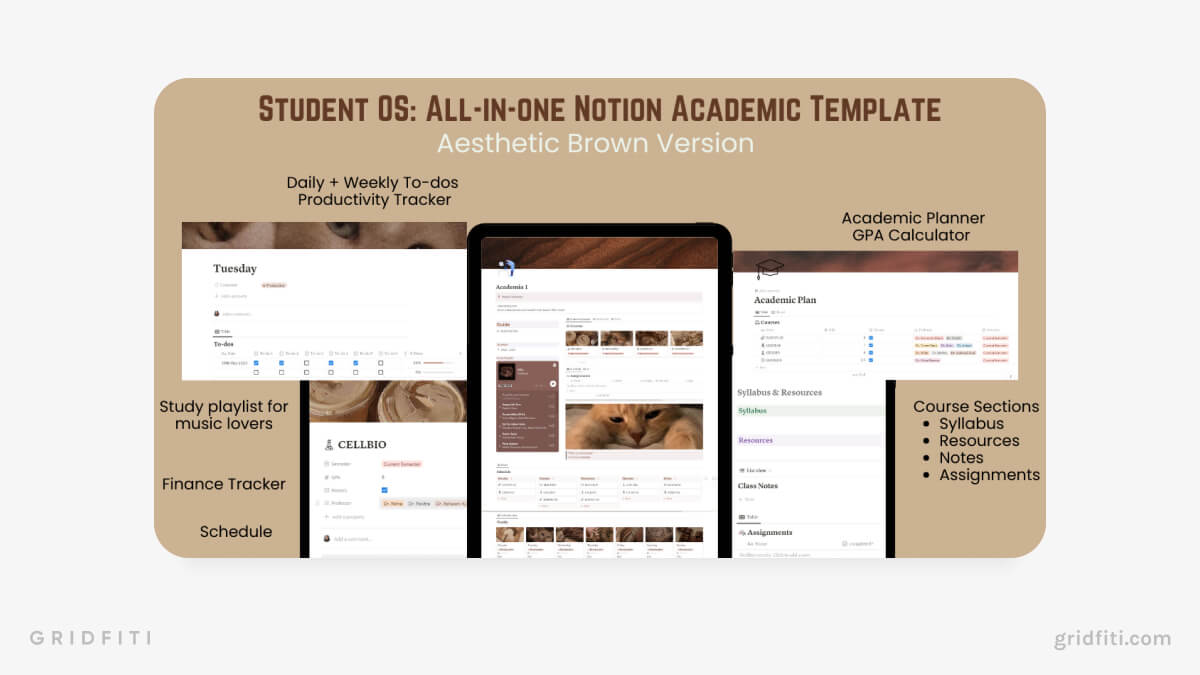 Aesthetic Minimal Academic Life Organizer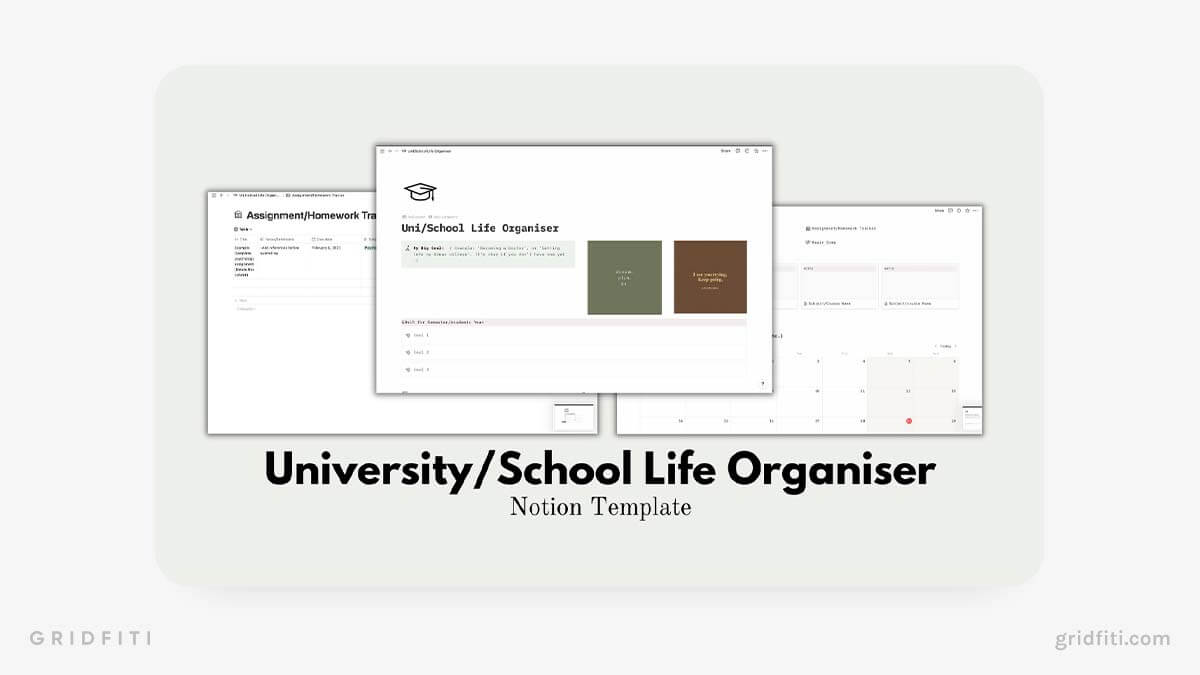 University Student Hub for Notion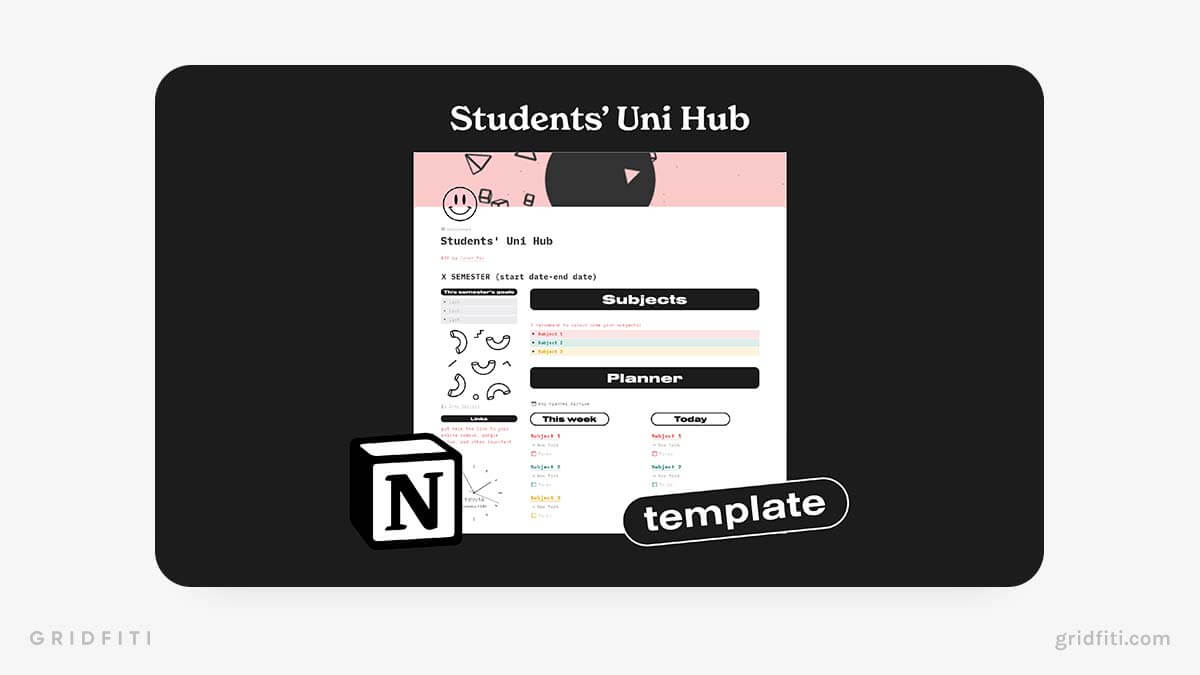 Notion University / College Hub Template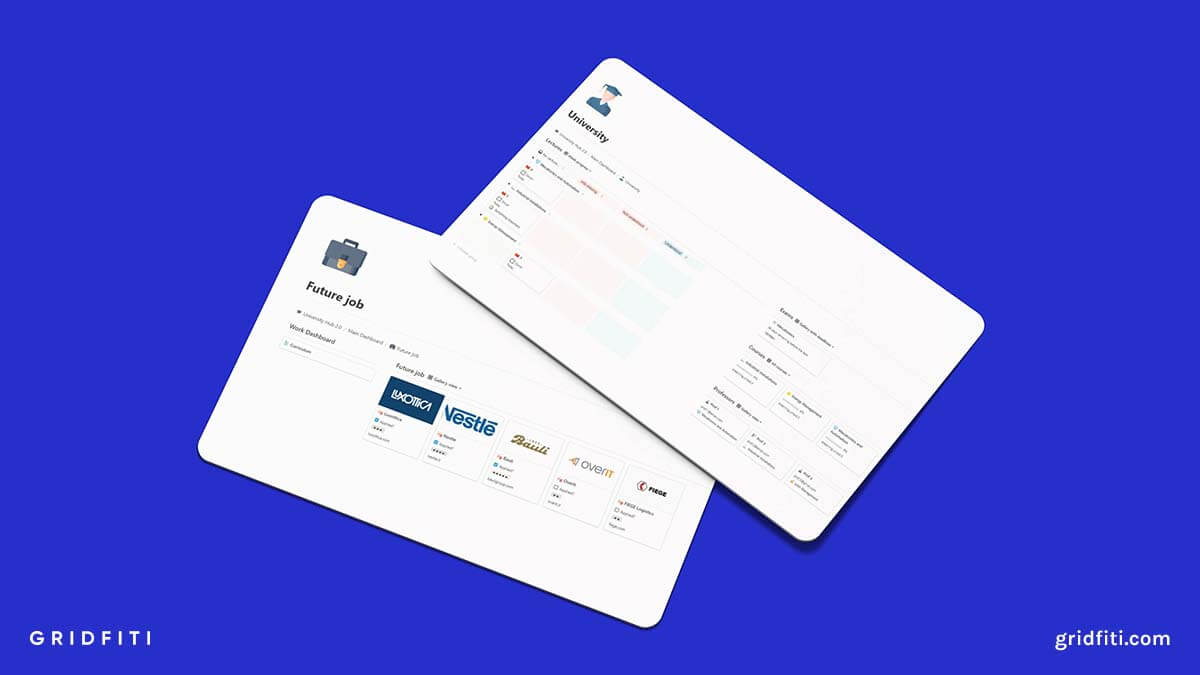 JaniceStudies Student Notion Dashboard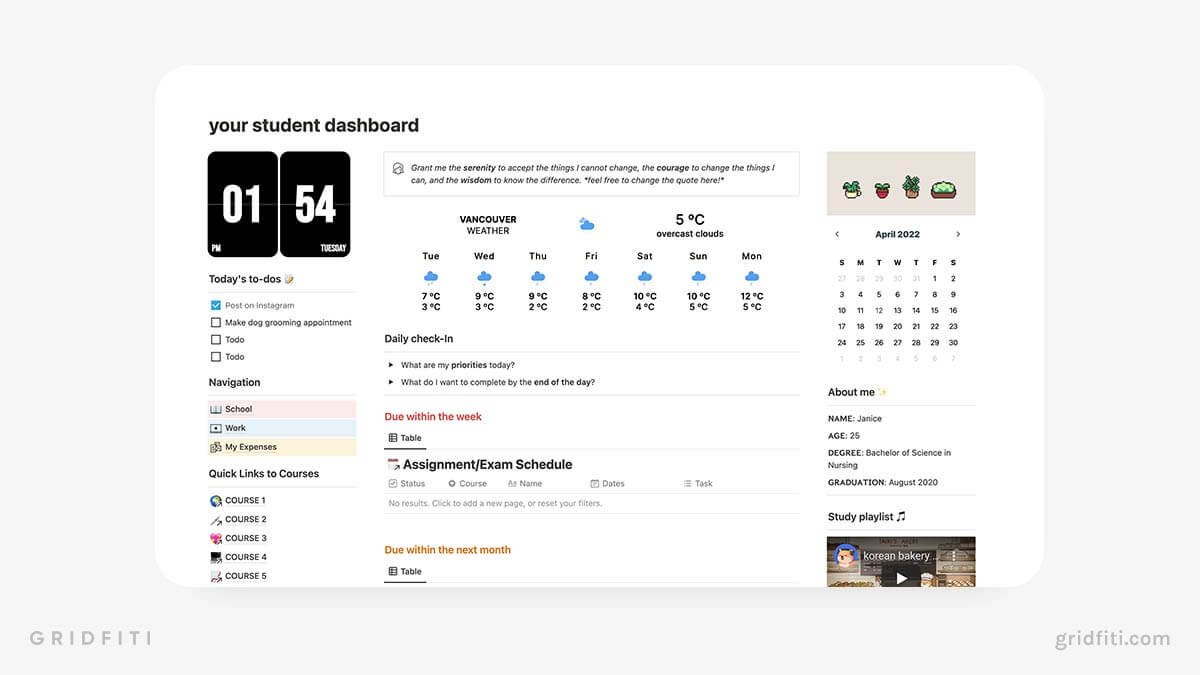 Minimalist Notion Template for Students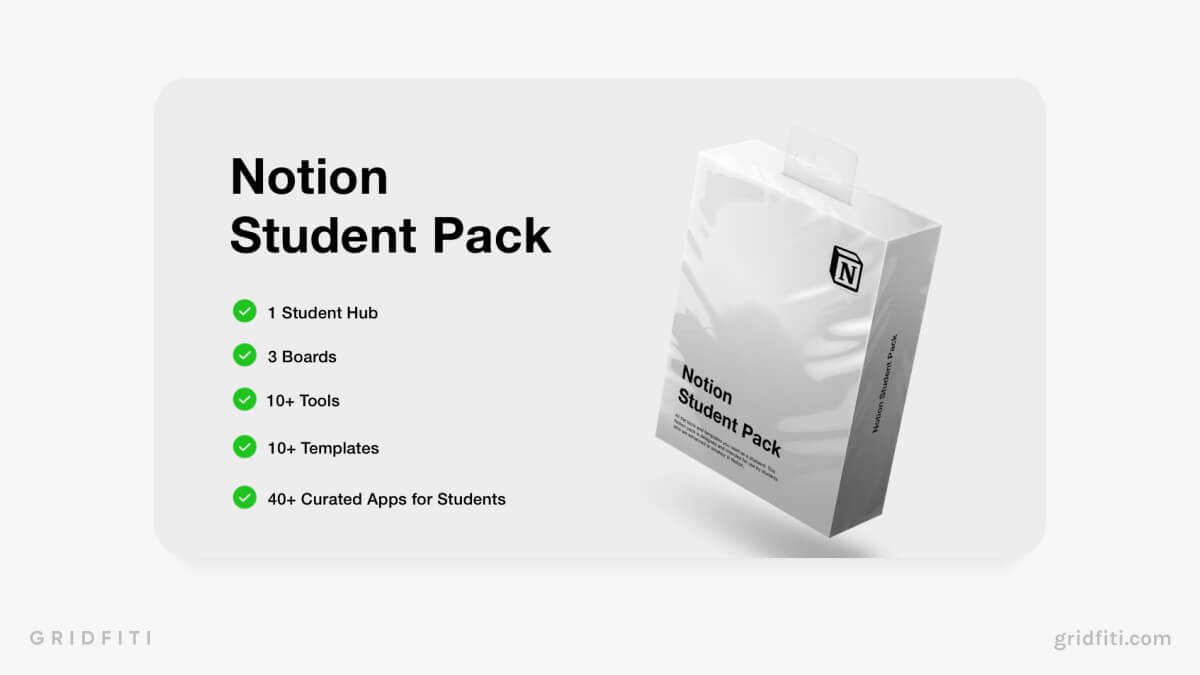 The Ultimate Notion College Hub Template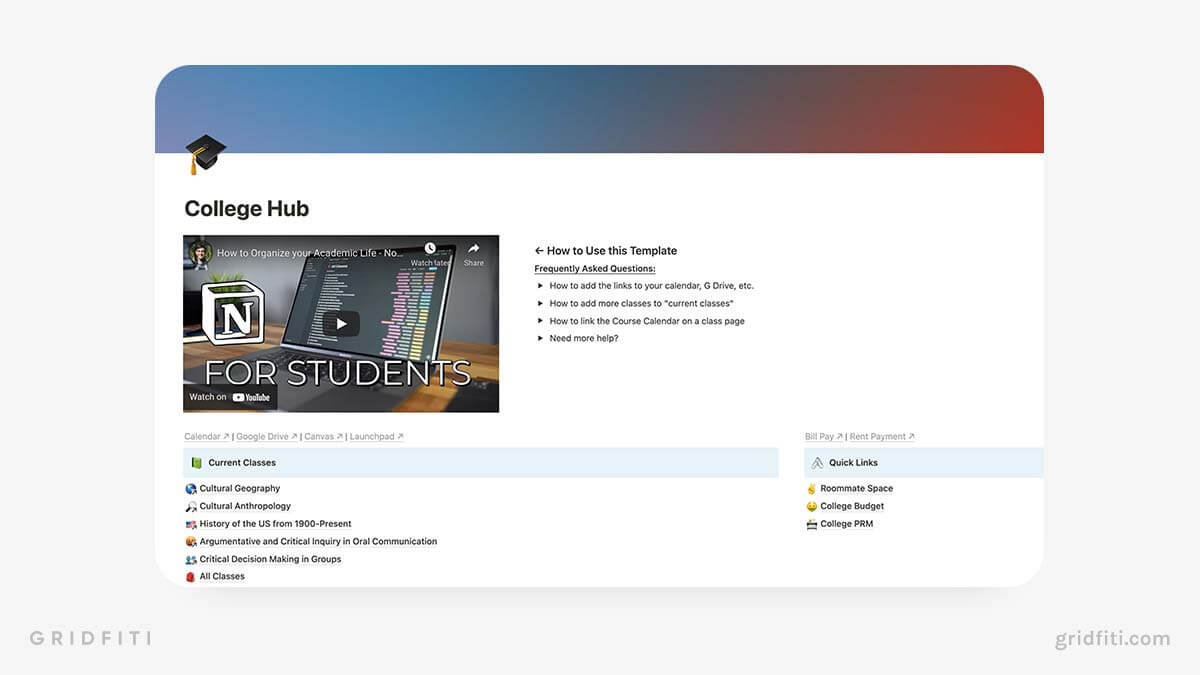 Notion Student Loan Tracker Template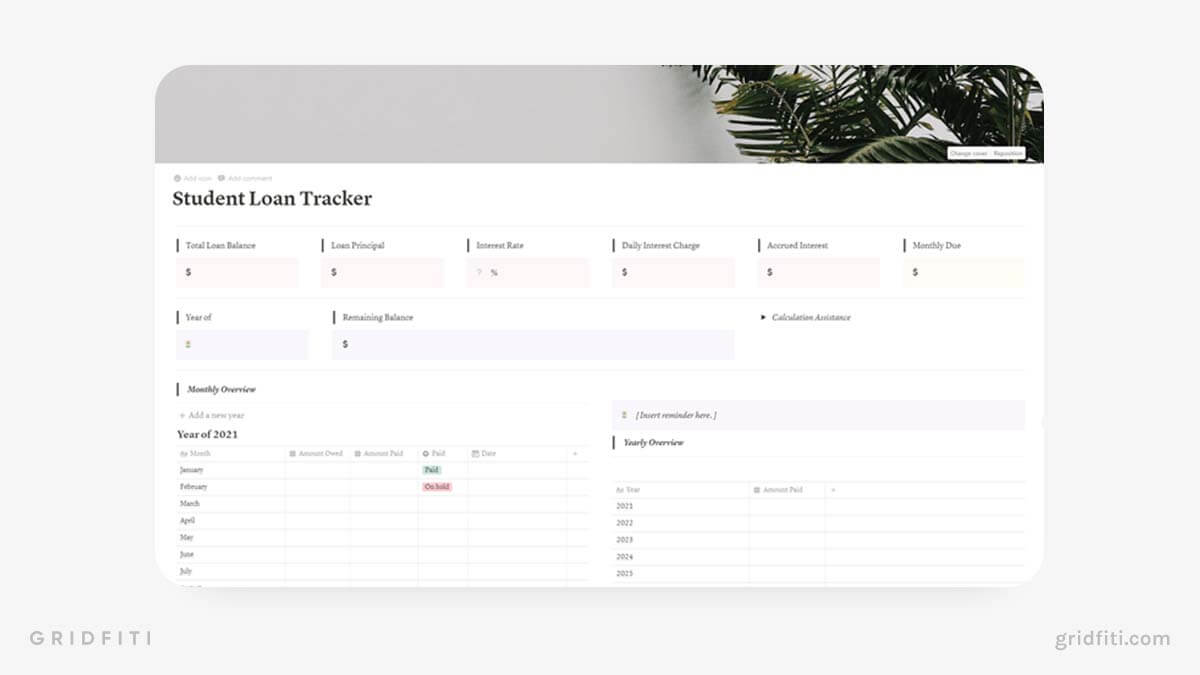 Notion School Dashboard Template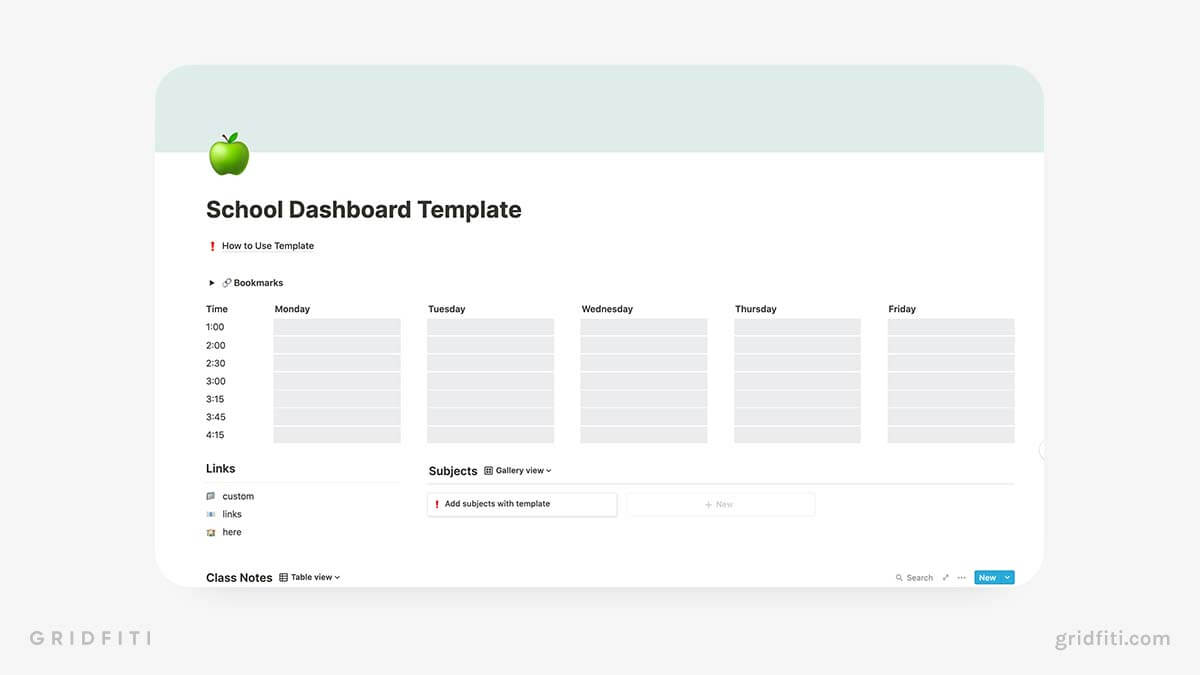 Notion Roommate Space Template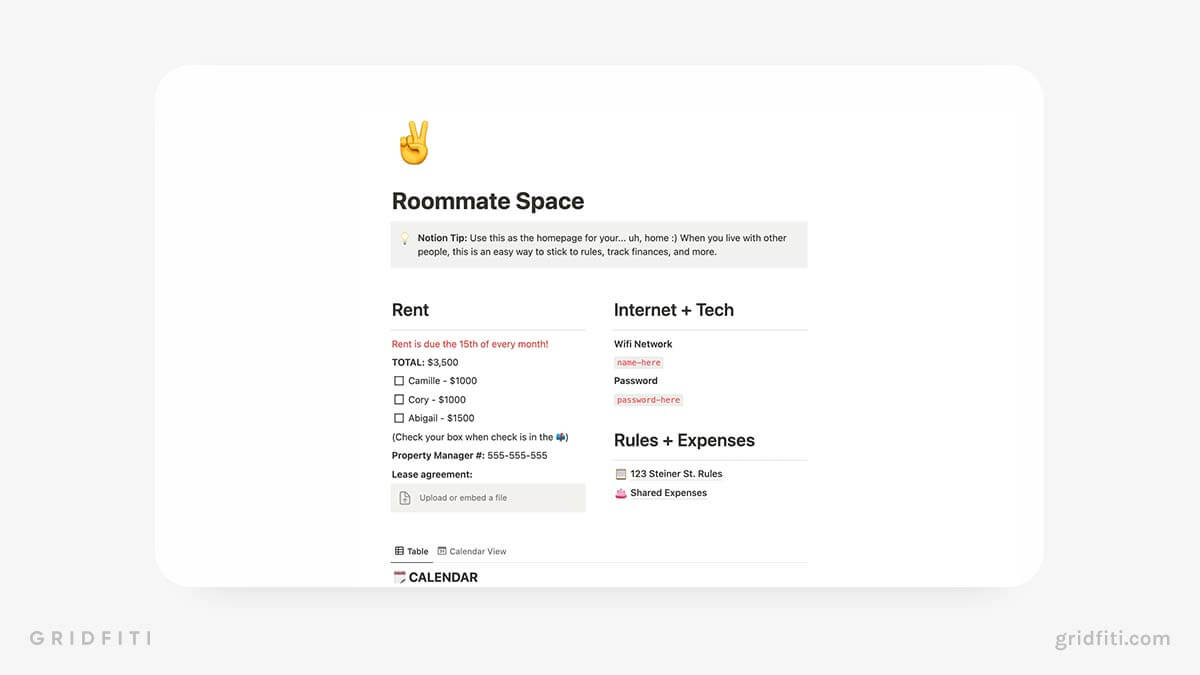 Aesthetic Notion Student Templates
The beauty with Notion is that you can personalize your student setup with your favorite visuals, colors, and themes! For inspo, check out these aesthetic Notion student layouts.
Interested in more aesthetic templates? Check out our detailed blog post showcasing the most aesthetic Notion templates!
Purple Aesthetic Notion Student Template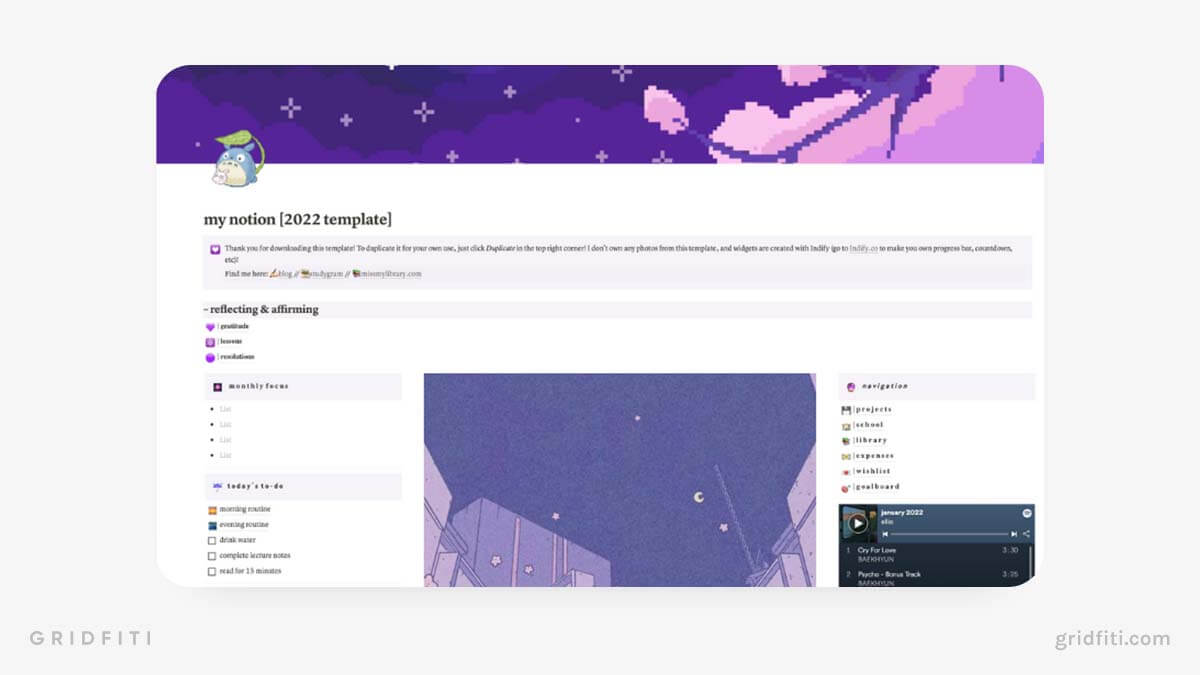 Sailor Moon Themed Student Dashboard for Medical Students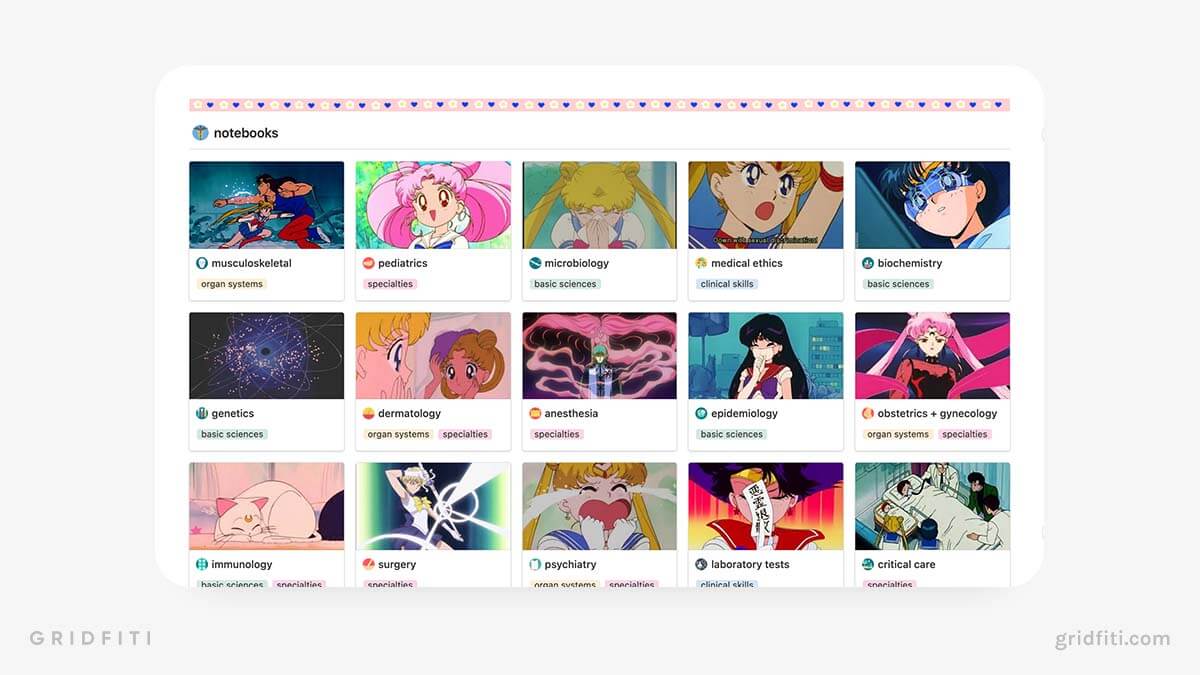 Which Notion templates for students would you recommend? Are there any Notion student templates that we're missing from the list? Let us know in the comments below!
Gridfiti is supported by its audience – when you buy something using the retail links in our posts, we may earn a small commission at no additional cost to you. Read more about our affiliate disclaimer.