Building habits and creating a well-rounded routine is so important to achieve your goals and get the results that you want.
What's equally important is planning out your days, weeks, and month to assure that your time is being maximized for your mental and physical well-being – the last thing you want to do is burn yourself out and be overwhelmed with things to do.
Using a Notion planner template, you can easily plan out your days, months, and even years. Map out what events, tasks, and goals you'd like to accomplish – and come back to them whenever you need a reminder.
We've curated a list of the best Notion planner templates that will help you map out your days and improve your overall lifestyle!
Want more Notion templates and updates? Join our Notion mailing list, and check out our library of several Notion template roundups!
Daily, Weekly & Monthly Planning in All-in-One Life OS
One of the most prominent parts of the all-in-one Life OS template is a comprehensive and easy-to-use planning and task management system — helping you stay organized and on top of all of your to-dos both at home and at work!
The planner offers daily, weekly, and monthly views, so you can plan and track your progress at the level of granularity that works best for you. The planner also comes with a variety of pre-built views, including a Kanban board, calendar, and list view, so you can customize it to fit your specific needs and workflow. Whether you're juggling a busy schedule or simply looking for a better way to stay organized and productive, the planner in the Life OS template is a valuable tool to have at your disposal.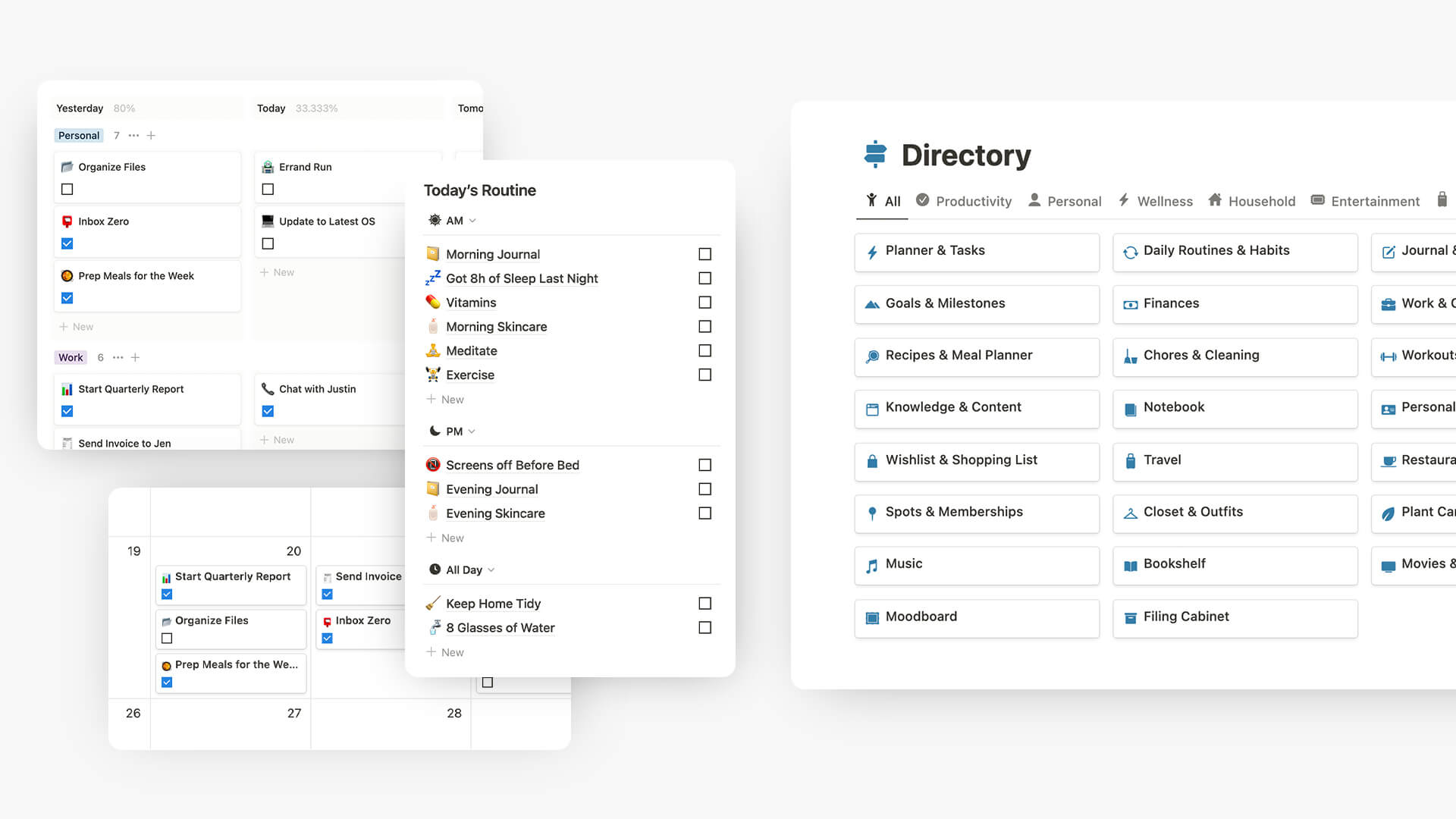 All-in-One Planner Dashboard Template
The Ultimate Planner Dashboard is a robust, yet easy-to-use, dedicated planning dashboard designed to help you get organized and live more intentionally! With two central databases, planner and tasks – plan your days, weeks and months, map out your tasks each day or week by time and priority, stay motived with automatic productivity summaries and ratings, monitor your efficiency with automatic task progress bars, track your daily mood and habits, set daily affirmations, and so much more. With the weekly and monthly views, you'll even get a high-level overview of how you're doing both productivity and mood-wise in a calendar and board view.
This template is all you need to plan your time and get more done!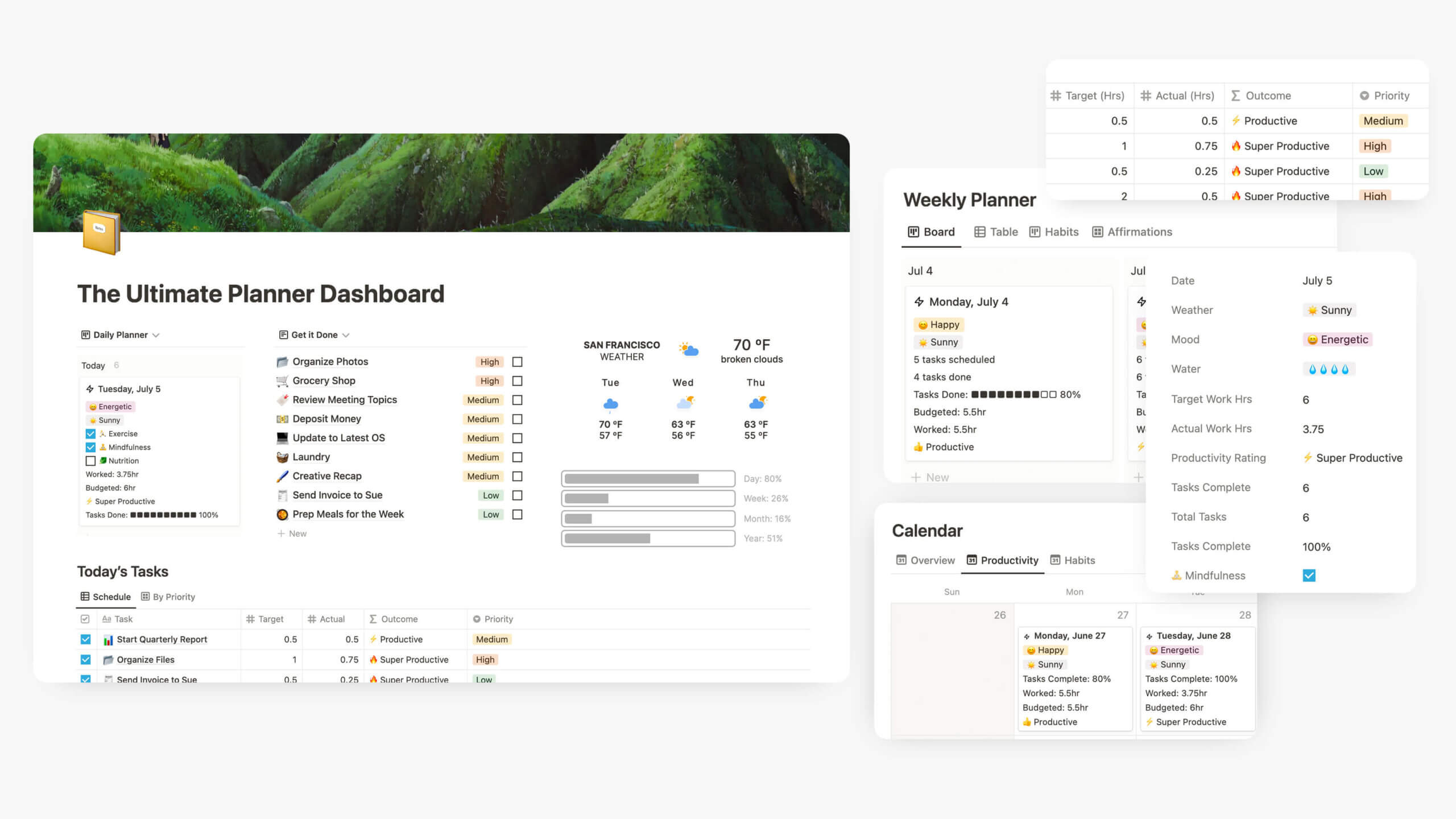 Odyssey: All-In-One Notion Planner for Digital Nomads
Being able to travel while working is a luxury enjoyed by digital nomads around the world, but when you're always on the go, it's not easy to stay organized. Use the Odyssey All-in-One Notion Planner template to plan your travels, personal life, and work life in a digital workspace – and stay productive while you're jet-setting around the globe!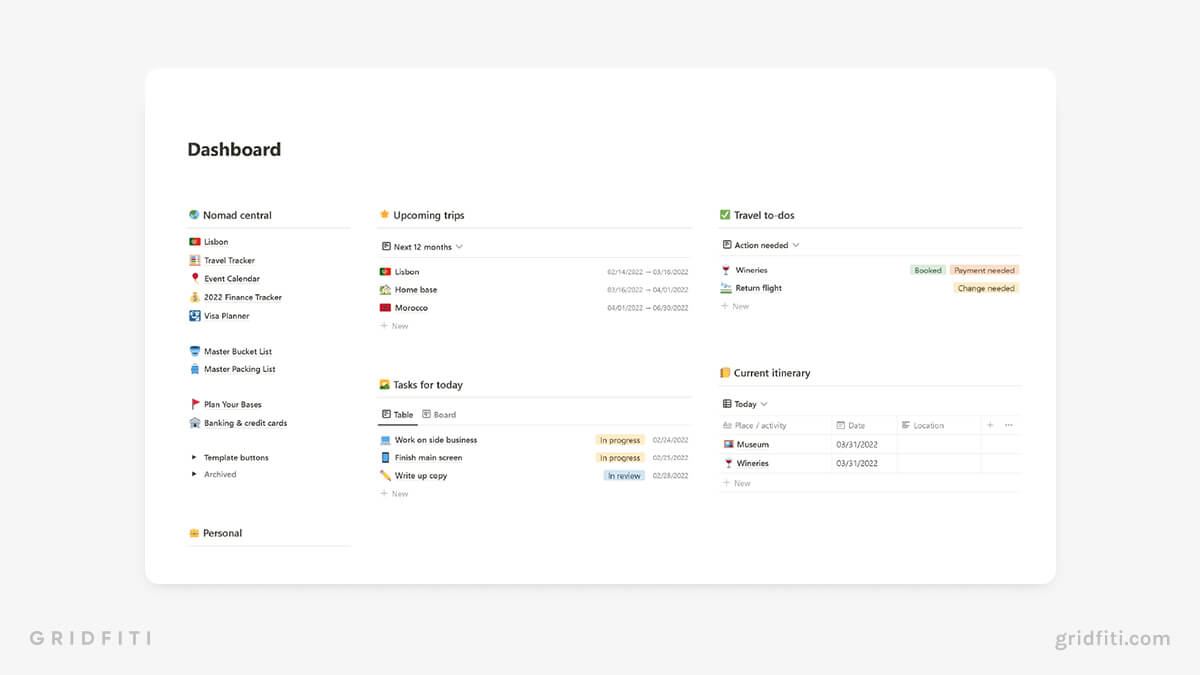 The Manifest Weekly Planner Template
Incorporating robust GTD and PARA methods, this template is designed to help you follow through on all of your weekly planning! With a daily planner, weekly/monthly/quarterly databases, a journal, areas of life, OKRs, action items, documents, resources hub, document organizer, and more – there's no shortage of value in this template!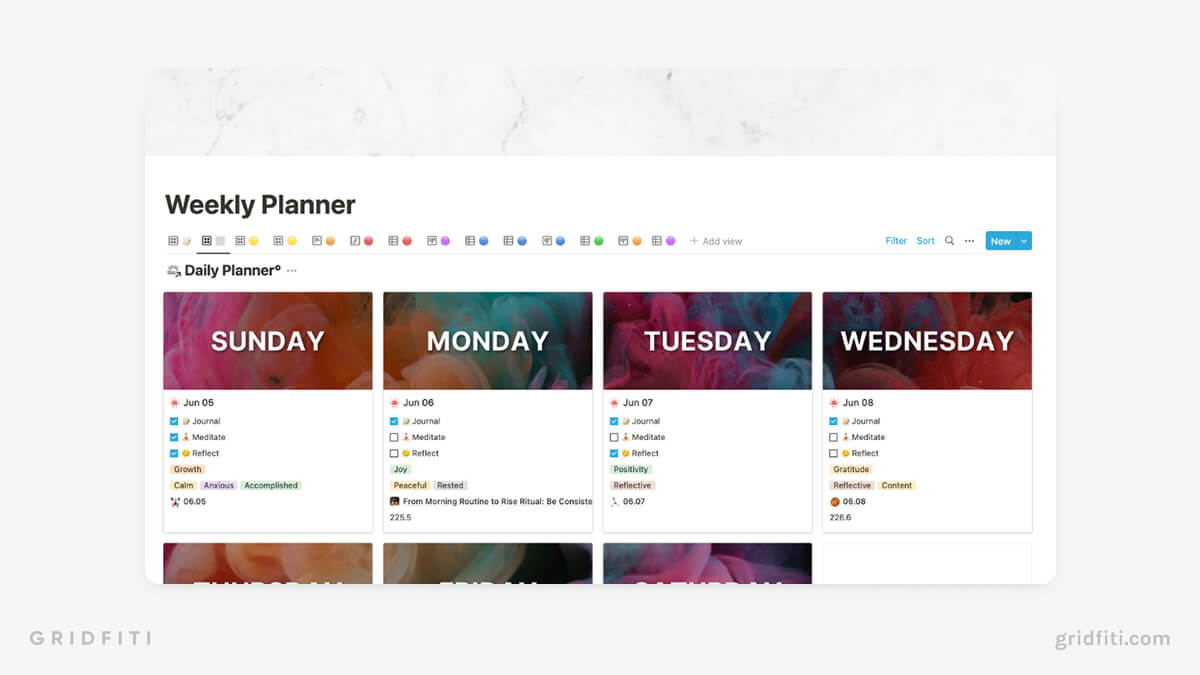 Simple Essential Planner Template Pack
This template pack has 3 separate planning systems in 1 to choose from based on your preferred planning style — by the day, week, or month! No matter which planning system you choose, this pack includes stylish minimalistic sheets ready to fill out with your schedule, prompts, intentions, and more. Add a new day, week, or month with the built-in template buttons.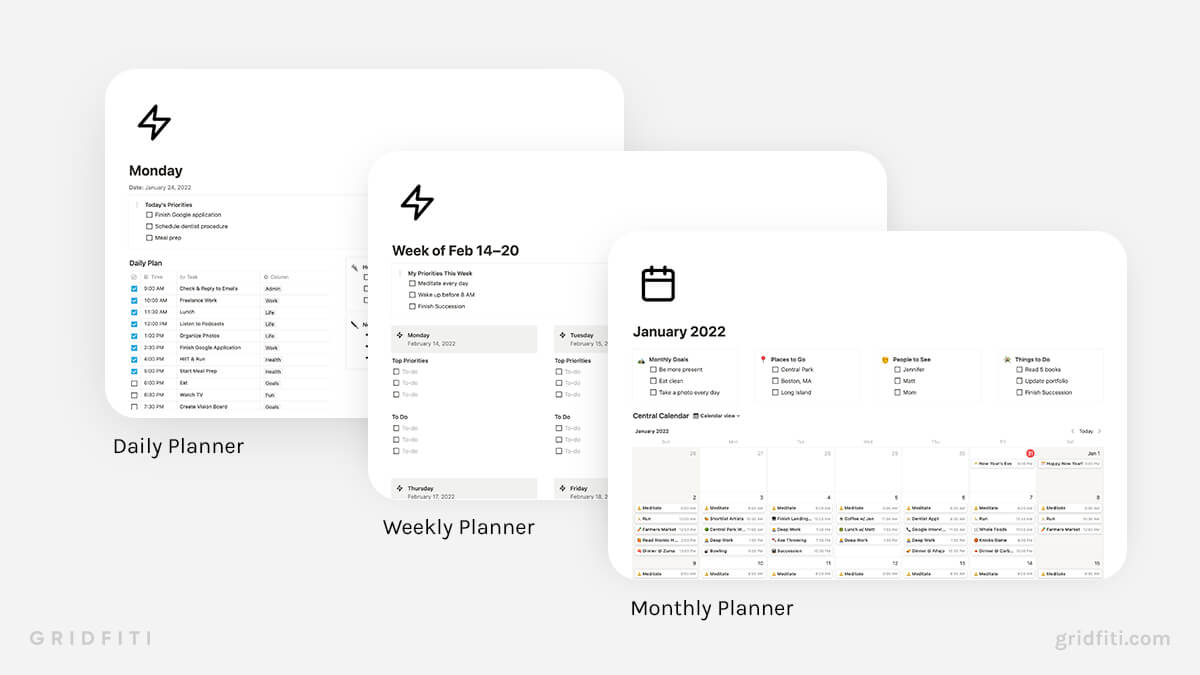 A Productive Life OS – Weekly Scheduling Template
Plan and manage both your personal and work life with the Productive Life OS template! Use this Notion template to streamline your workflow to get more things done each day. Use the weekly scheduling system to map out your days, and the yearly planner system to review your year and plan the next!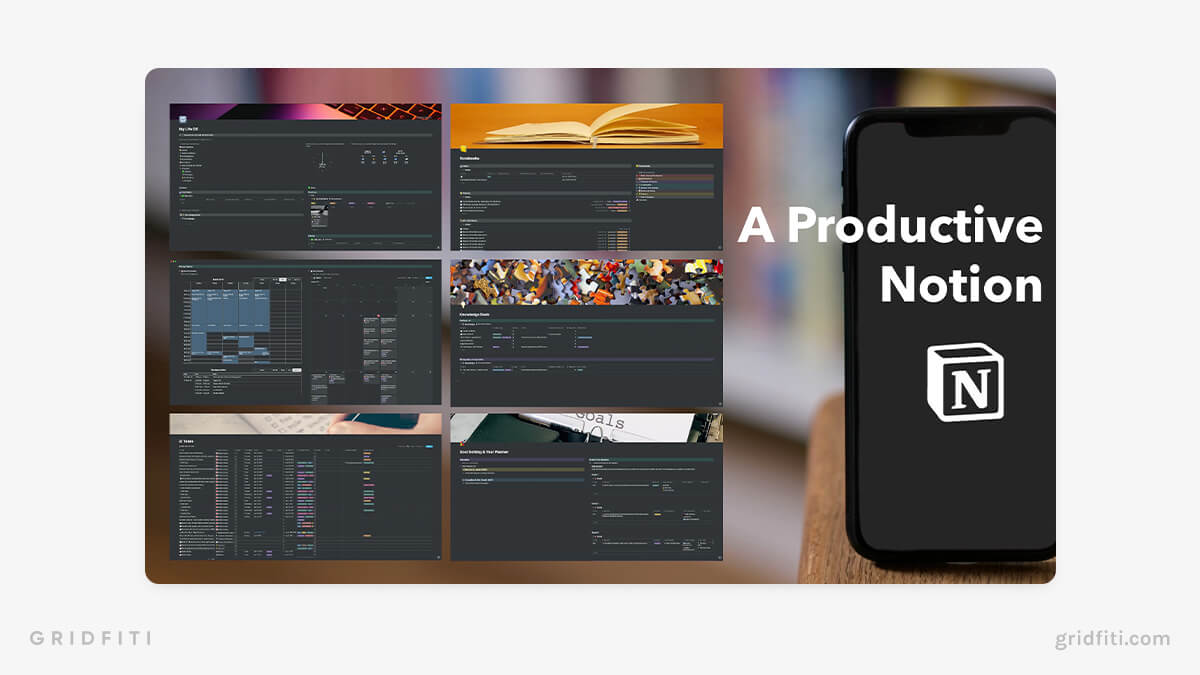 Aesthetic Personal Growth Planner Dashboard
Kickstart your self-development organize it all in one place with this aesthetic personal growth planner dashboard template! The all-in-one package includes a self-reflection journal, an automated purpose-driven Ikigai database, to-do list catered to your mood, and so much more!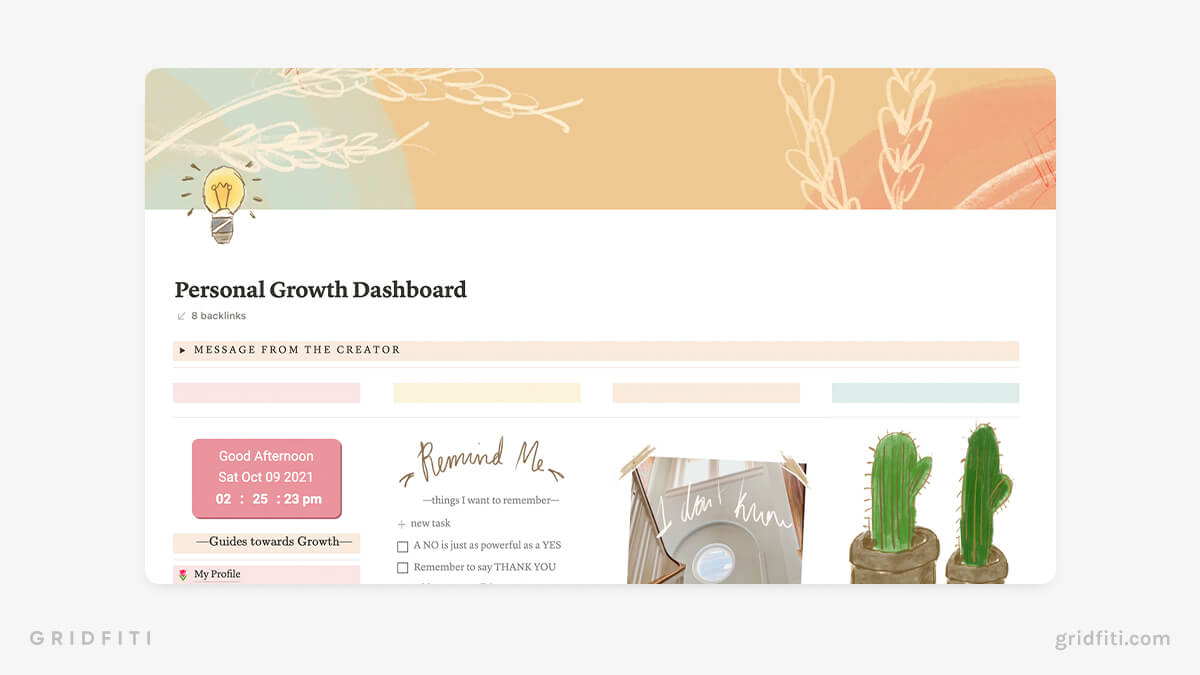 Ultimate Life Planner Notion Template
Schedule your months and bring several aspects of your life together with the Ultimate Life Planner template! With this template, create tasks, add notes, track your health, build travel plans, bookmark links, and more.
Related Post: Notion Life OS Templates & Dashboards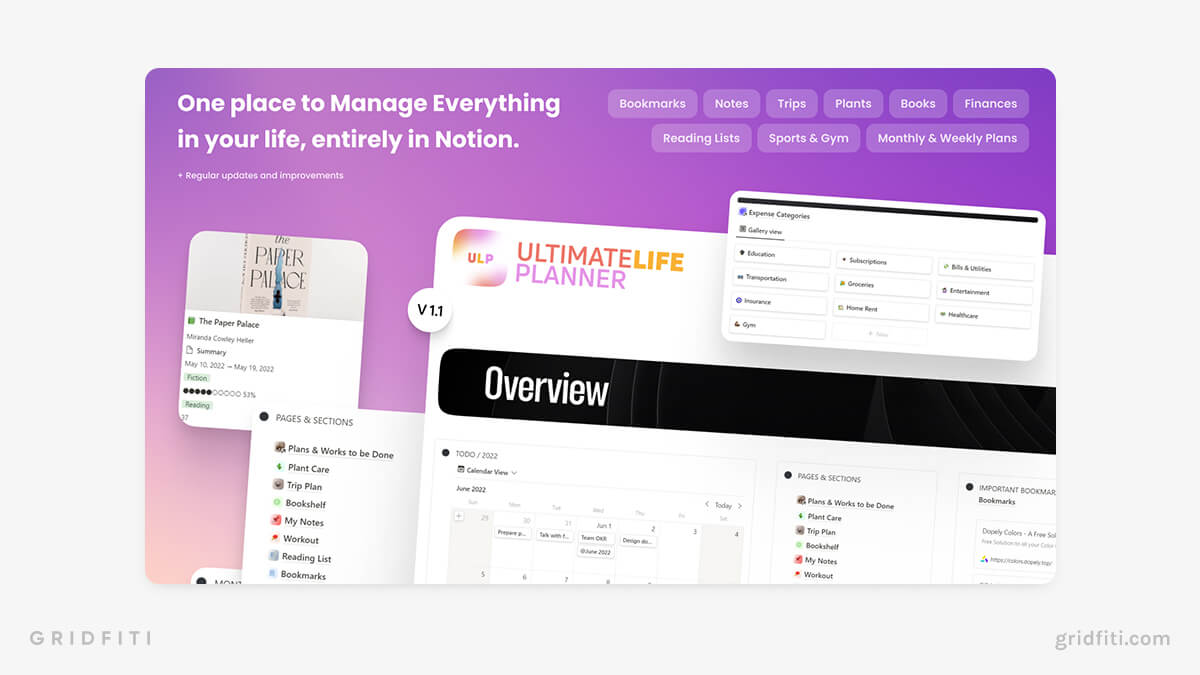 Notion Planning Template – Big Picture Planning
Big picture planning is really the goal of this Notion planner template – a planner where you start by outlining your vision, outline goals that align with your vision, and create projects and timeframes to achieve these goals. You'll also be able to create a startup routine to track your daily and weekly wins, along with weekly and monthly reviews!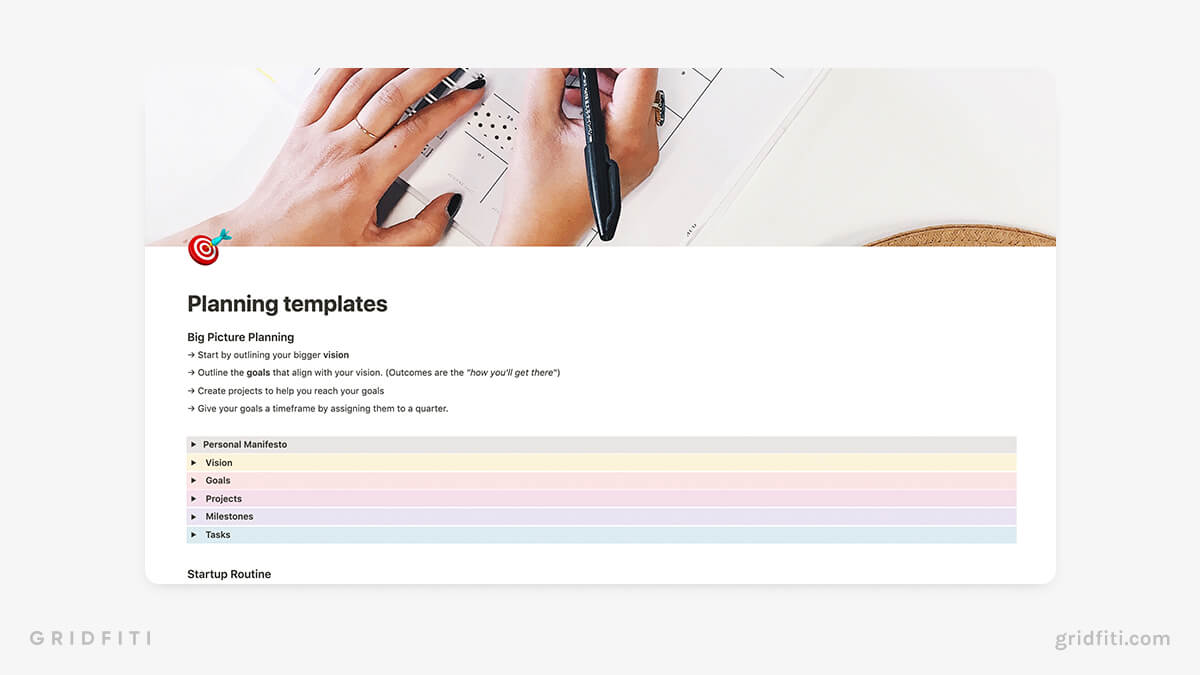 Aesthetic Student Dashboard – Semester Planner
If you're a student looking to get better grades by staying organized and planning out your semester, check out this student dashboard from The Notion Bar. It includes an aesthetic semester planner and tracker, so you'll never be caught off guard with an upcoming assignment or exam!
For more visually appealing template ideas, check out our roundup of the most aesthetic Notion templates, along with our curated list of Notion templates for students!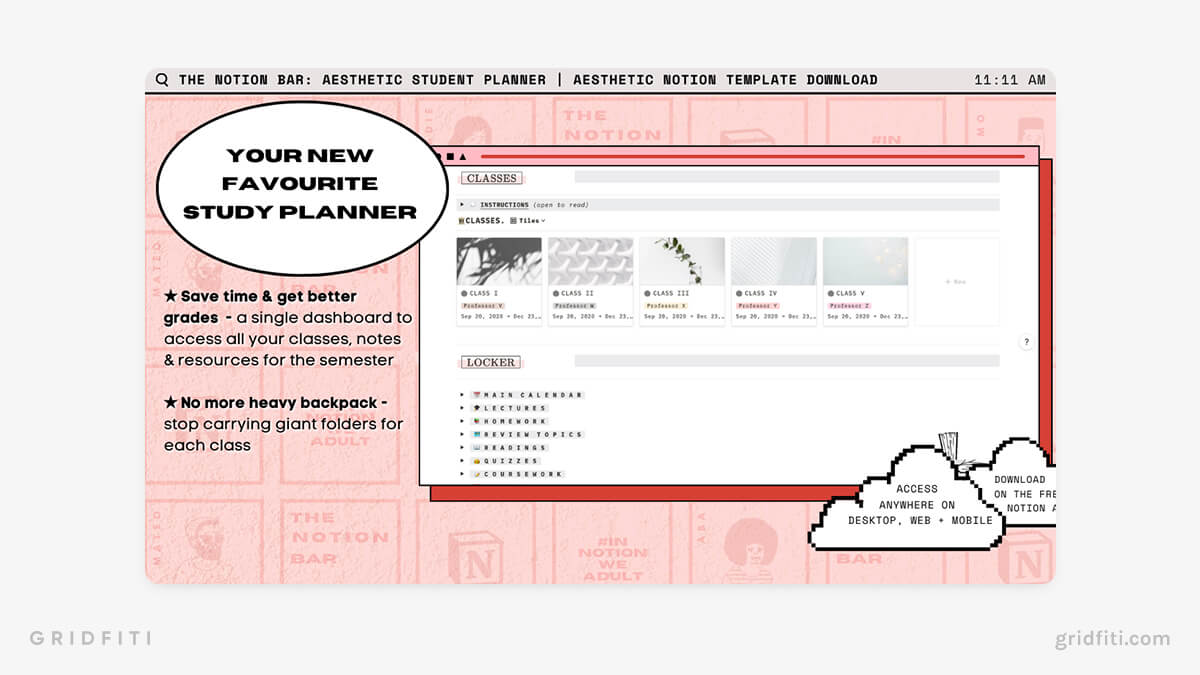 Get Productive Notion Planner Template
Step up your productivity with this Notion planner template that places different focus strategies in a Notion template to help you stay on task and get things done. In this template, you'll find a Pomodoro template, a time-blocking template, a Rule of Three template, and an "Eat That Frog" template – which are all productive strategies that will help you make better use of your time!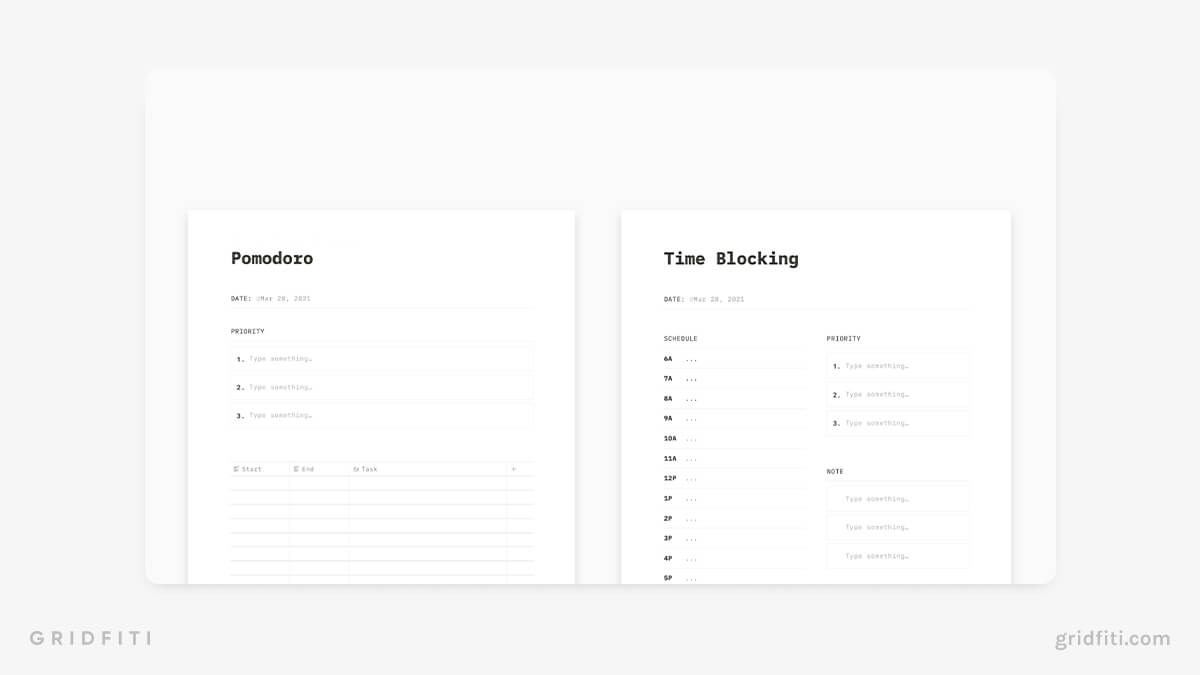 Which Notion daily planner template are you using? Do you have any other recommendations for Notion planners or agenda templates to use? Let us know in the comment section below.
Gridfiti is supported by its audience – when you buy something using the retail links in our posts, we may earn a small commission at no additional cost to you. We only recommend products we would use ourselves and recommend to our friends and family. Read more about our affiliate disclaimer.