GTD, short for "Getting Things Done", is a productivity system created by David Allen designed to help you, well, get things done! You can bring your favorite productivity system directly into Notion with a Notion GTD template.
To help you pick the right template for you, we've outlined the best Notion GTD templates to help you capture, clarify, organize, review, and engage your brain to tackle your to-dos!
---
Looking for more productivity tips and tools? Subscribe to The Flow — our quick, snappy, value-packed focus and recharge newsletter. Also, don't miss our several other Notion template round-ups and guides!
---
Ultimate Notion Template for Projects & Tasks
Projects and Tasks Template is a paid Notion GTD template with a minimalist design for easy navigation. View your tasks as a calendar or by priority — whatever makes the most sense to your brain. Need to jot down a reminder? Use the quick action buttons to create new tasks, projects, and references instantly.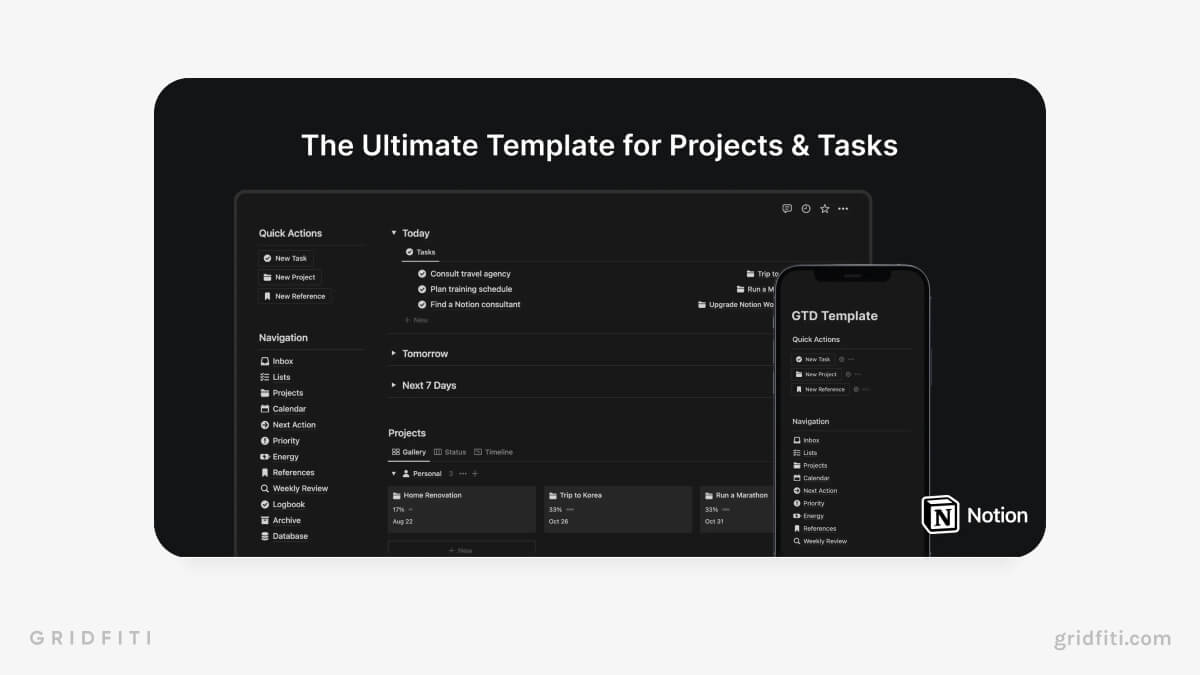 Notion x GTD System
Notion x GTD System features everything you need to keep a clear head. Use the task and project management systems to plan out your week or make notes in the logbook so you don't forget ideas when inspiration strikes. Track the progress of your accomplishments, and check the calendar view for upcoming appointments. Notion x GTD System's interactive dash means you can view all your to-dos and projects in one place.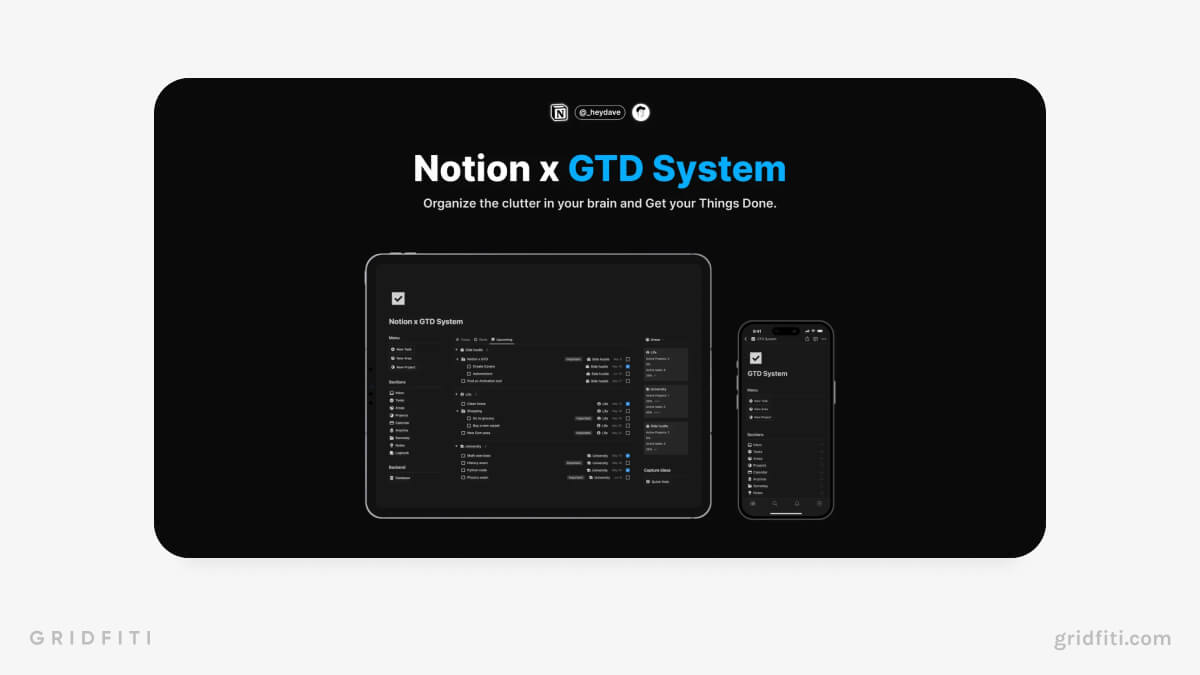 Notion Planner: GTD (Getting Things Done)
Notion Planner: GTD offers everything you need from a GTD Notion template, with some added features your inner Notion nerd will love. See all your goals as a progress chart so you can easily see how close you are to your targets. You'll also find a bookmark and resources database for storing essential info. Browse your GTD areas, make quick notes, and track your goals from your GTD dash.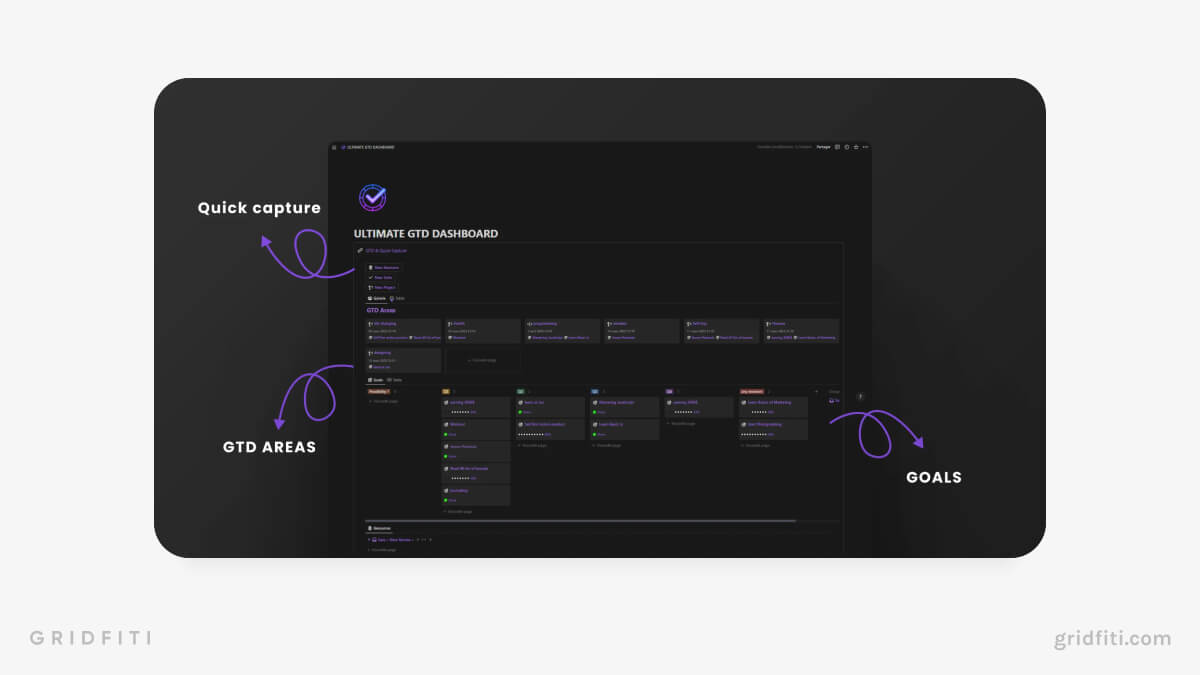 Life OS: All-in-One Notion Template
Check out the all-in-one Life OS template if you're searching for a comprehensive alternative to the GTD method. It boasts over 25 integrated templates for everything from mood tracking to plant care to meal planning to fitness. It's super customizable to match your Notion aesthetic and works seamlessly across devices so you can stay organized on the go!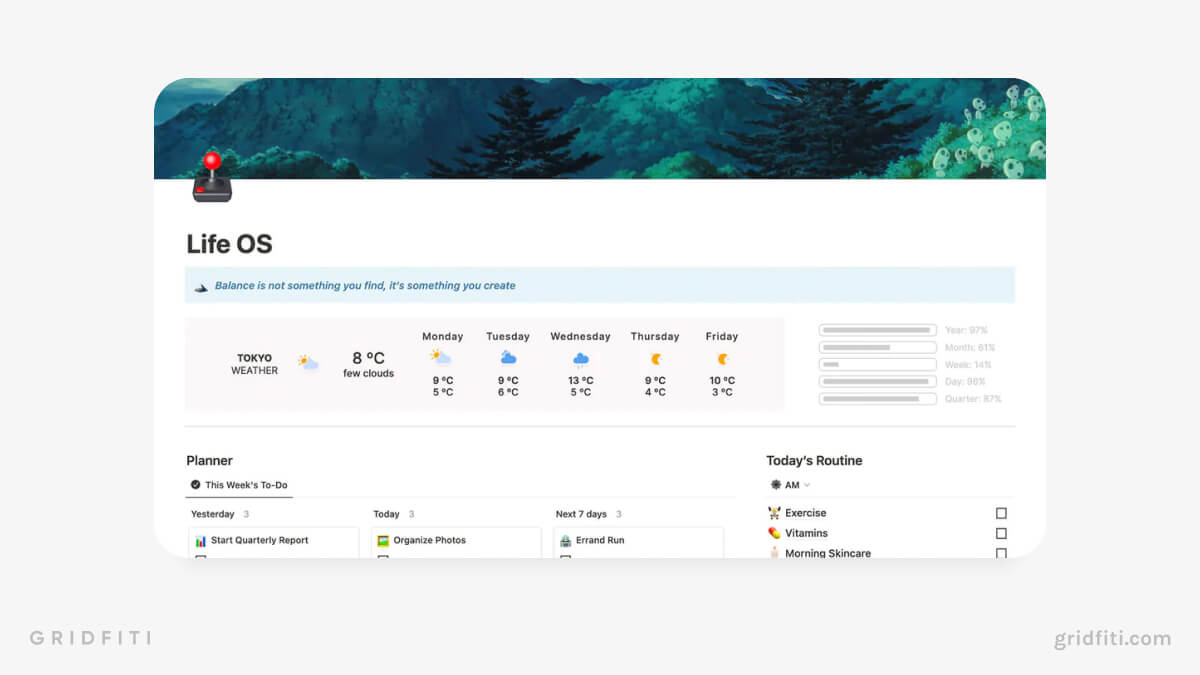 Balance OS – Integrated GTD Template
The advanced life management system that integrates GTD, PARA, and Notion goal-setting templates all in one Notion dashboard! Choose from a minimal or aesthetic template, and review your priorities through the Eisenhower Matrix — all linked from your GTD template. The updated version of this template includes Deep Work, 12 Week Year, and financial templates, giving you the tools and systems you need to max out your productivity.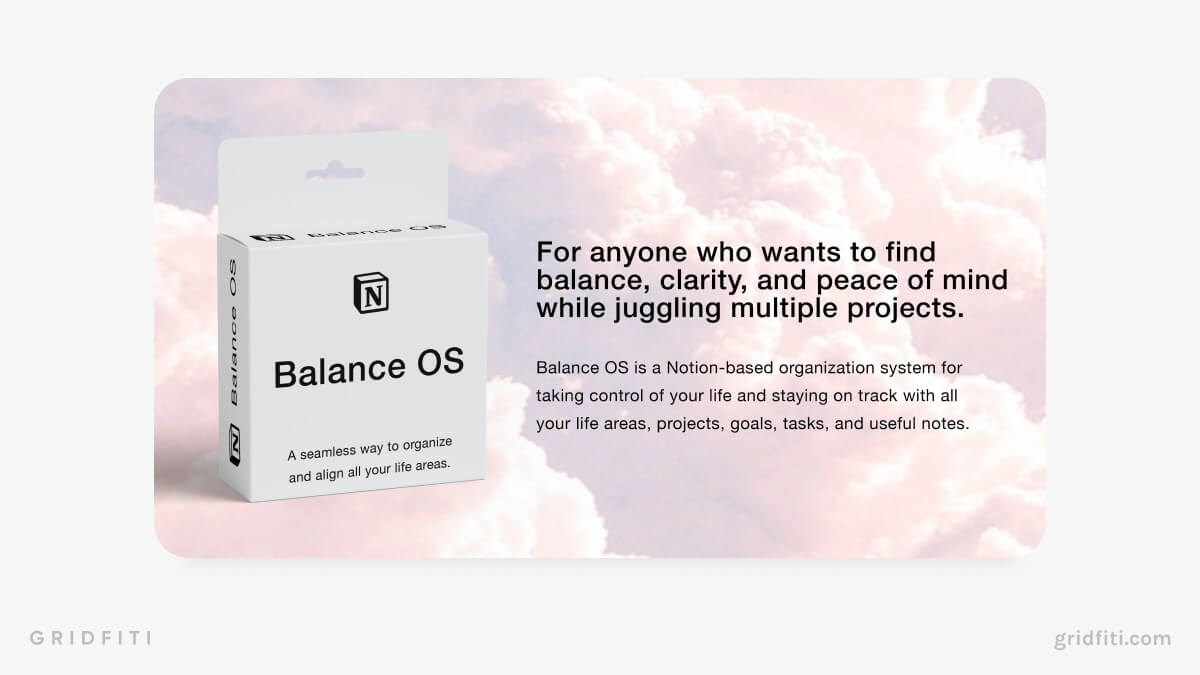 The Focus Hub: Daily GTD Management Notion Template
Having started with the GTD system, Ev eventually created this advanced Focus Hub template which encompasses a more evolved productivity system — and includes a Notion workspace designed to get projects done and move forward!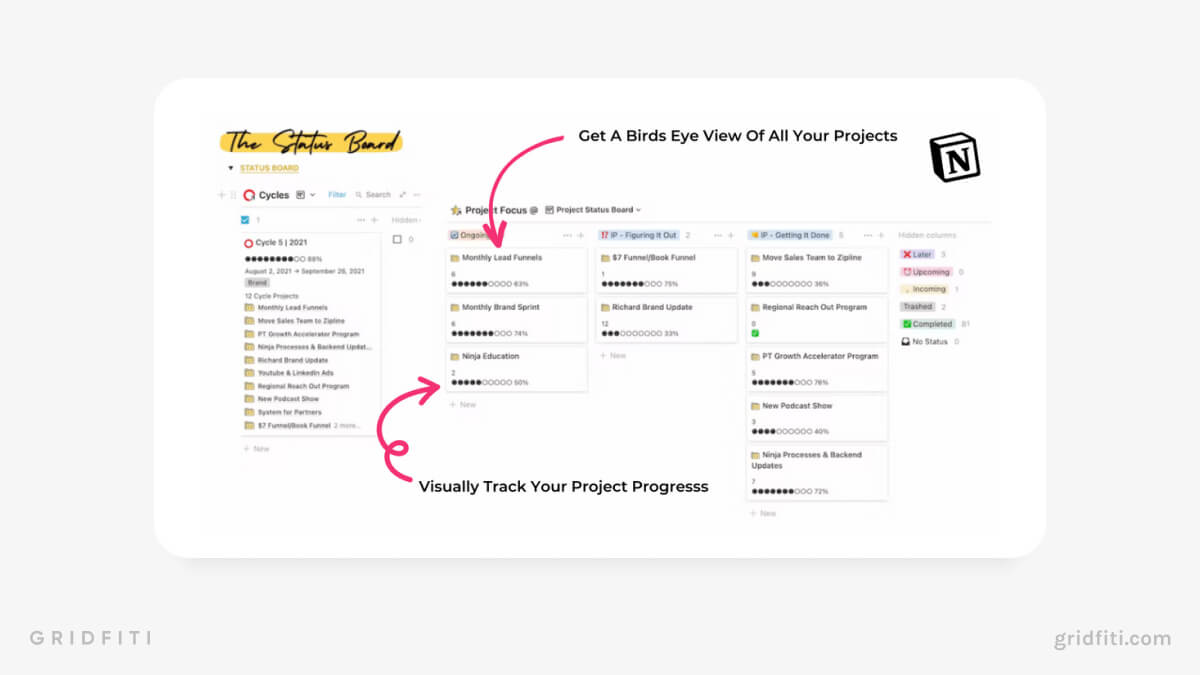 Flux OS – Second Brain for Notion
Flux OS is one of the best second brain templates for Notion. Using the PARA method, Flux OS can help you manage all elements of your life, with pages for your finances, spirituality, relationships, health, and more. Avoid getting overwhelmed with the archive feature, which hides completed tasks with just one click. Pages for habit trackers, notebooks, resource banks, and diaries can help you stay on top of your busy schedule.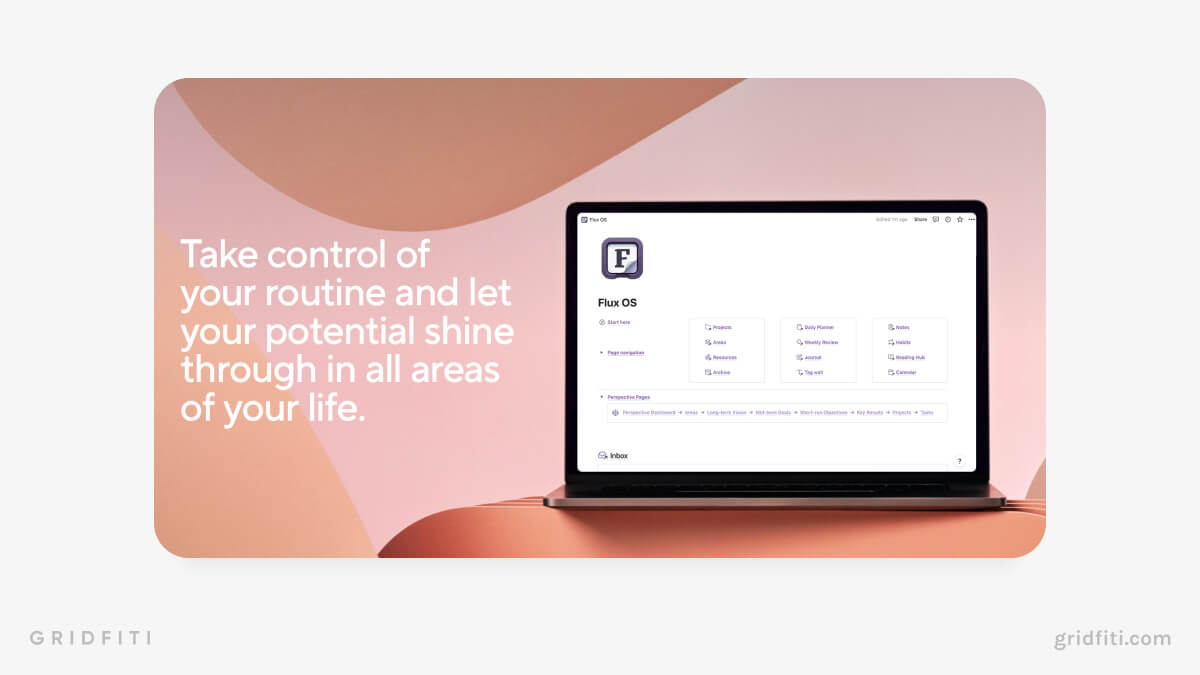 Minimalist GTD Dashboard
The Minimalist GTD Dashboard makes staying organized easier than ever. This no-frills GTD Notion template features an array of ways to categorize your tasks and projects, including to-dos that are overdue, tasks close to their deadlines, and how much energy a chore takes to complete. The calendar view lets you plan your days easily, and there's an archive page to declutter your dash.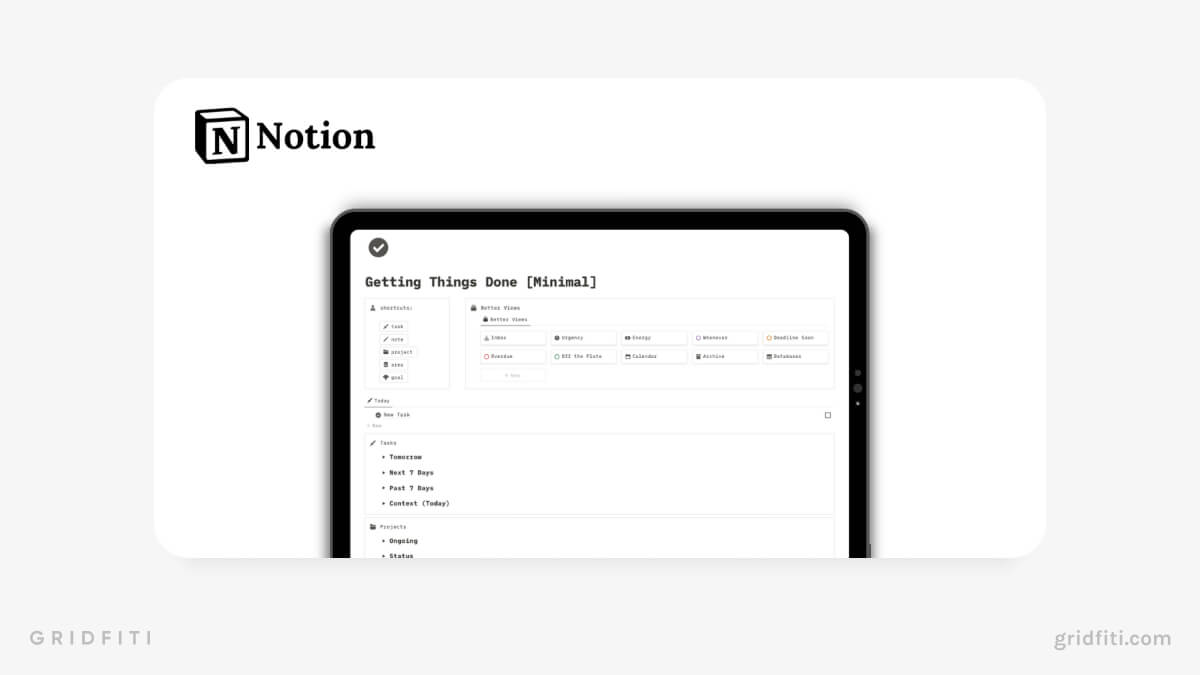 The Ultimate Time Management Tool
Containing 5 different time management systems, The Ultimate Time Management Tool can help you be as efficient as possible. Engage in deep work with the Pomodoro method. Or, tick tasks of your to-dos with GTD. Procrastinating on a difficult chore? Switch to the Eat the Frog method and get that tricky task out of the way! The Ultimate Time Management Tool is excellent if you want to try out different ways of organizing and completing tasks.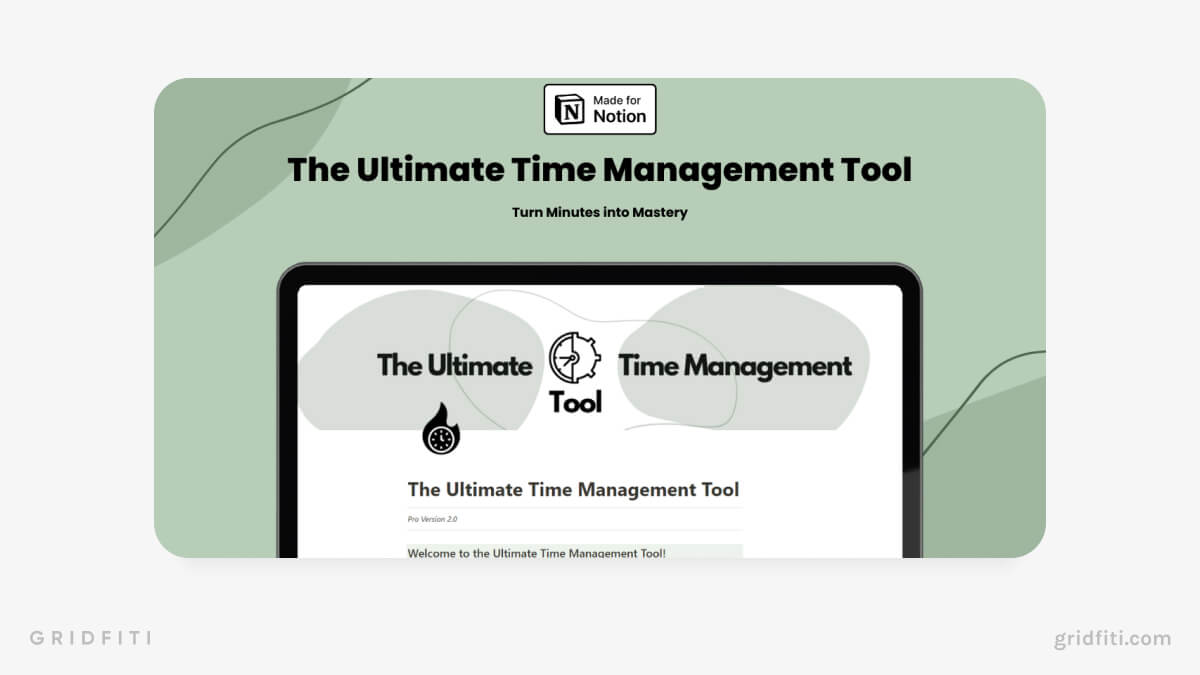 Ultimate GTD Notion Template
If you're looking to accomplish a goal, but you're struggling to figure out how, the Ultimate GTD Notion command center template will help track your project progress and keep you on track – it includes an all-in-one habit builder Notion template, too!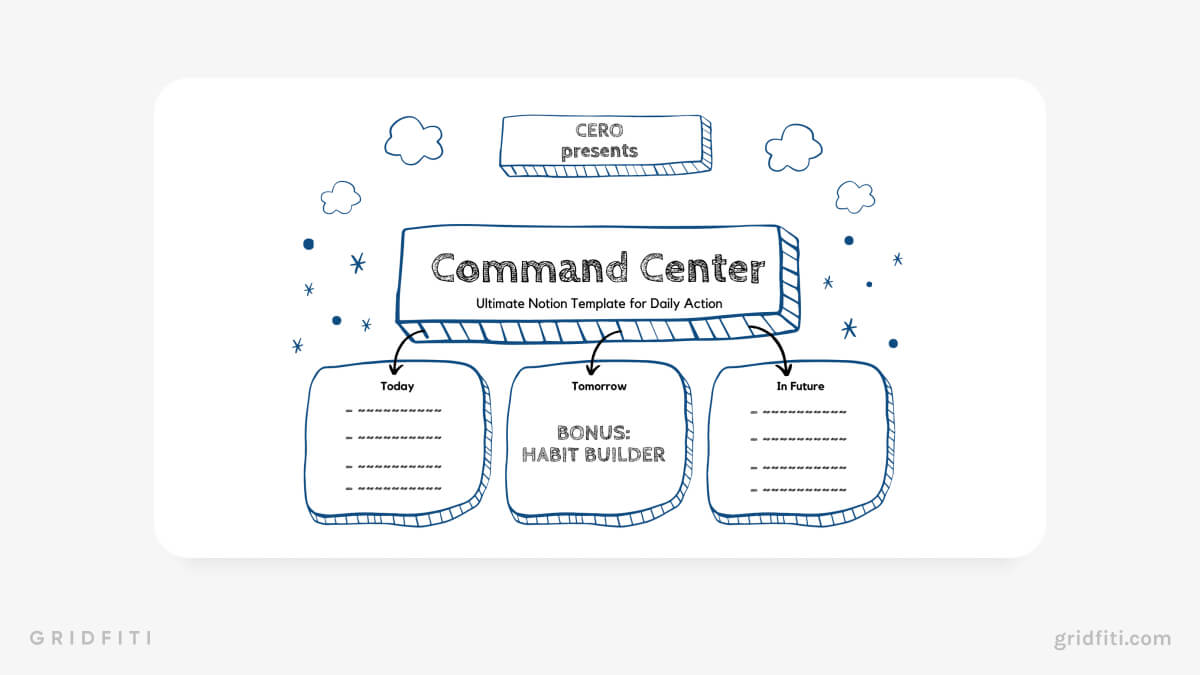 Notion GTD Task Management System Template
A GTD task management system that allows you to organize your tasks, ideas, and projects daily – proven to be more effective than a traditional to-do list template!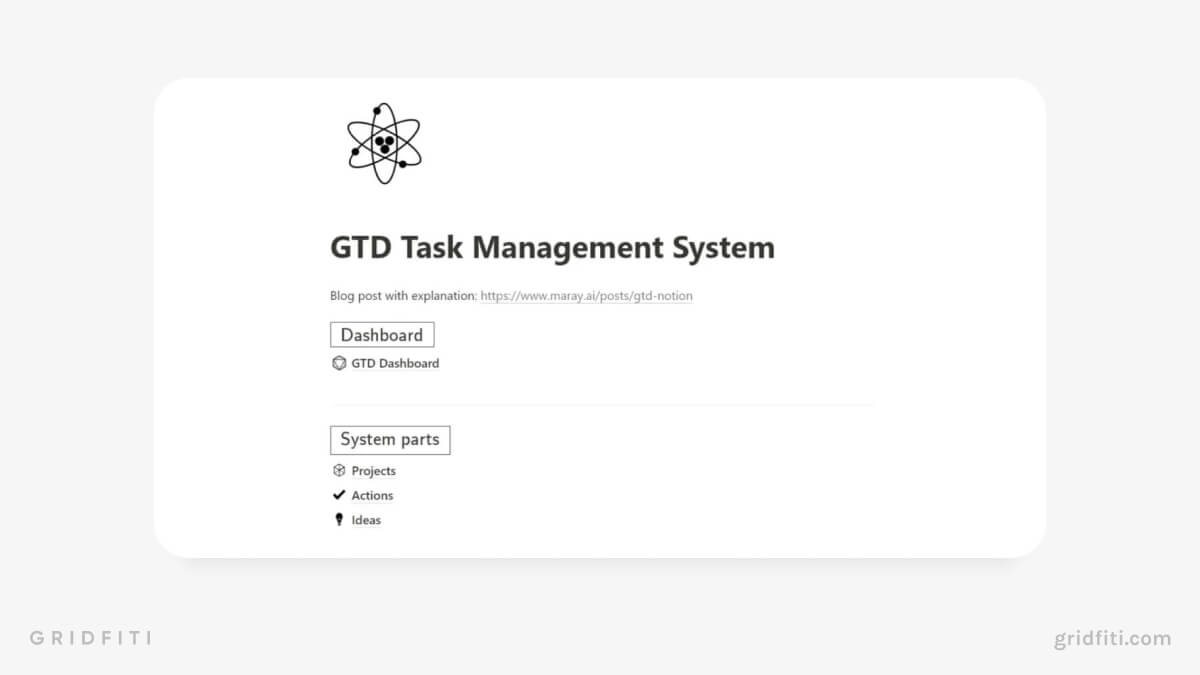 Free Notion GTD Templates
Thinking the GTD method might be right for managing your tasks and to-dos? Check out some of the best free GTD Notion templates below!
Project And Task Management (GTD)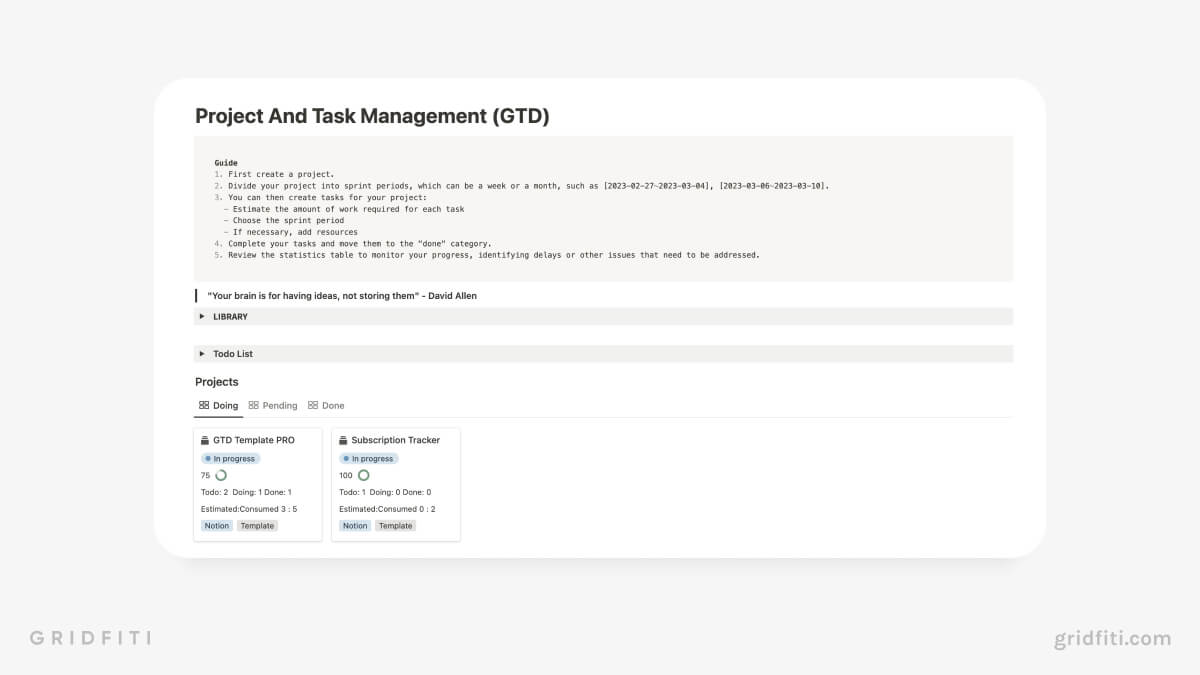 Template by Jayce
GTD Weekly Review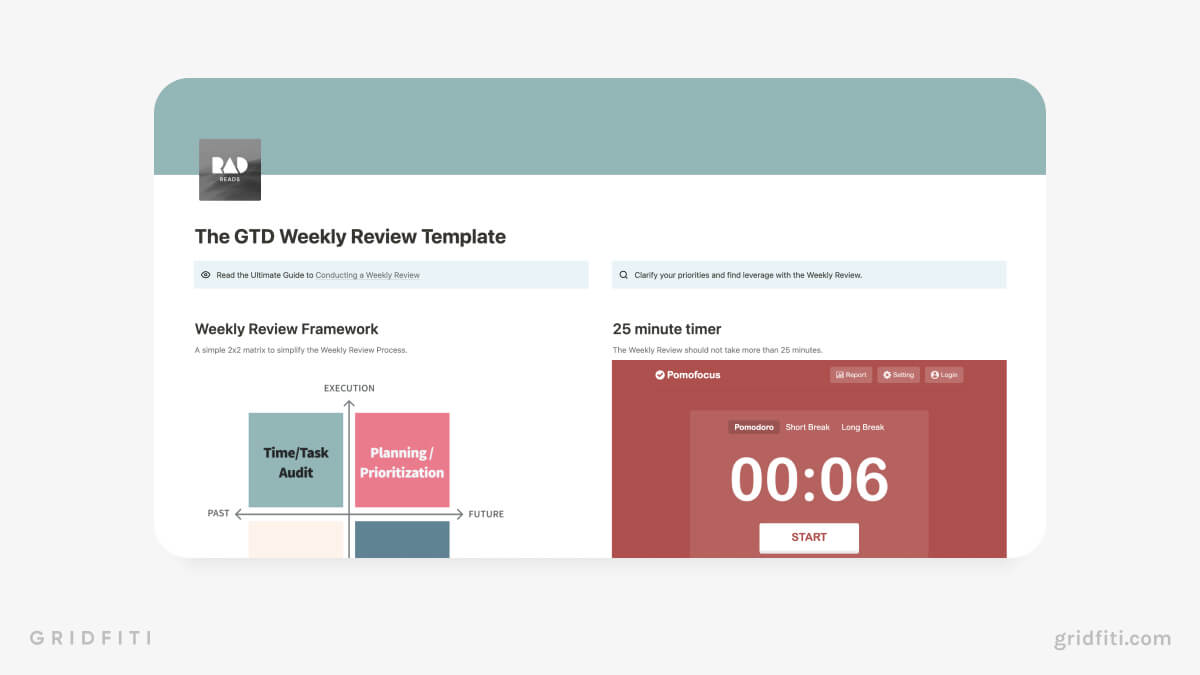 Template by Khe Hy
Simple GTD Based Task Database Template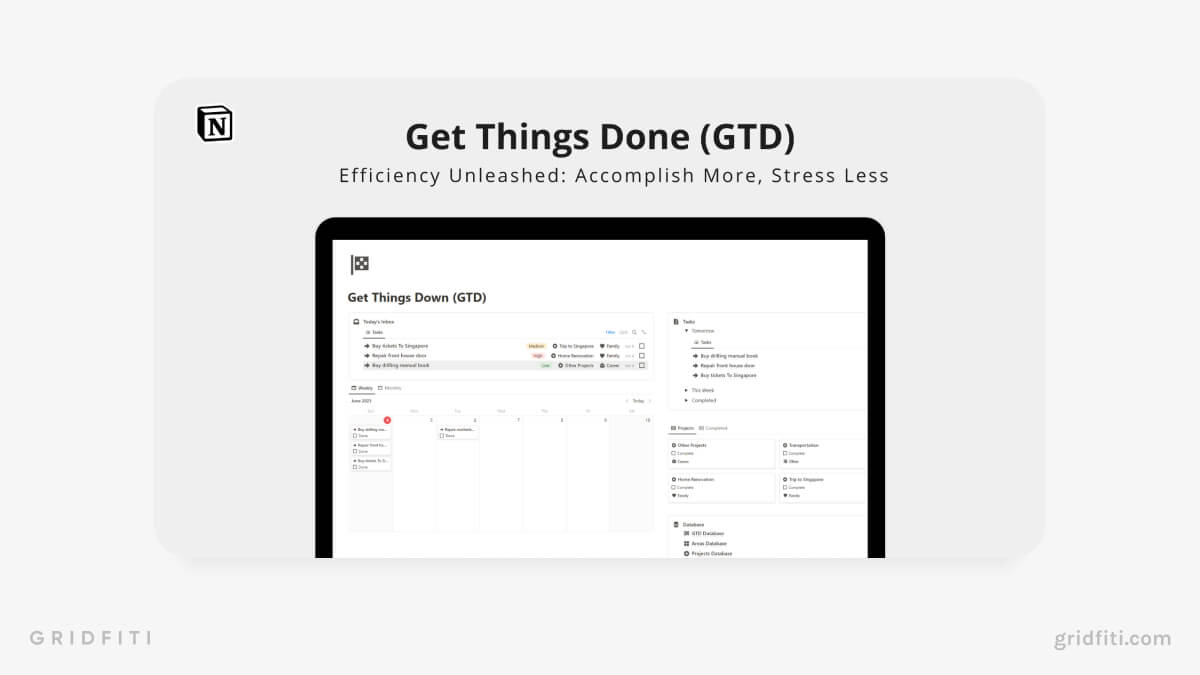 Template by Rosidssoy
GTD Timeline Template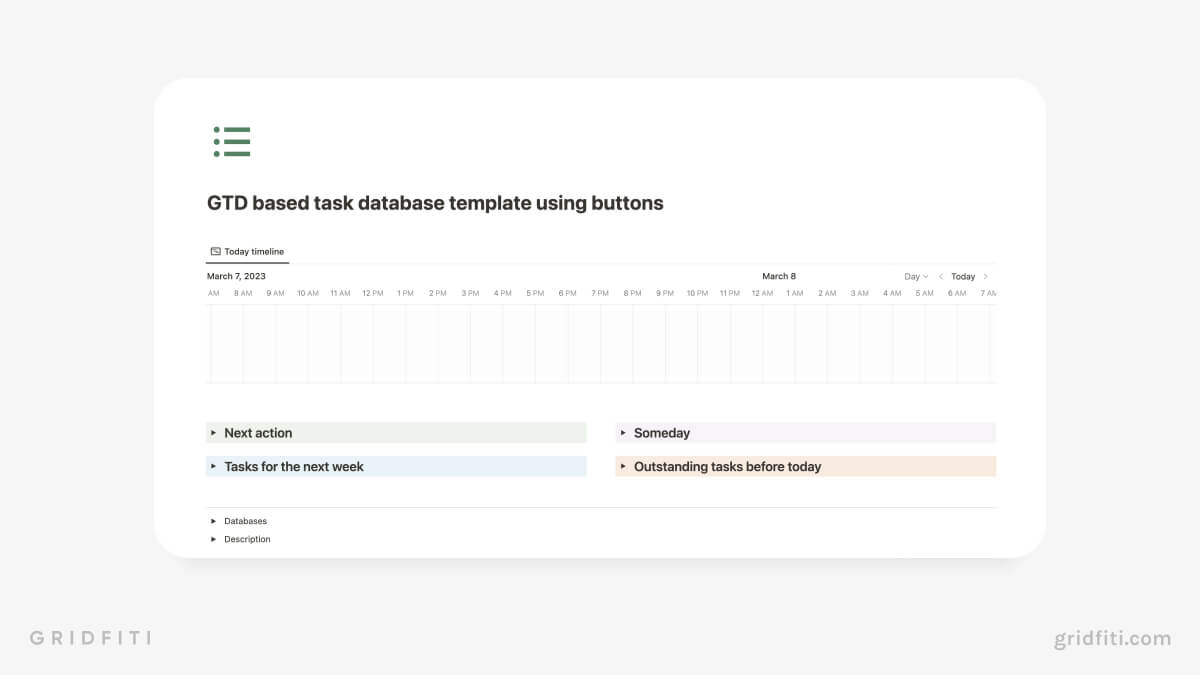 Template by hkob
Which Notion GTD template do you plan on getting started with? Do you have any other recommendations for more "Getting Things Done" Notion templates? Let us know in the comments below!
Gridfiti is supported by its audience – when you buy something using the retail links in our posts, we may earn a small commission at no additional cost to you. Read more about our affiliate disclaimer.