Get aligned with what exactly you want to achieve in the short-term, mid-term, and long-term with a Notion goals template. You can use Notion's powerful databases and customization options to track your goals, build your vision, reflect on your actions, and adjust your game plan to get what you want to get done, done!
To help you get started, we've selected the best Notion goals templates for you to pick from based on your objectives!
Looking for a template to track your OKRs? Check out our blog post showcasing the best Notion OKR templates!
---
Looking for more productivity tips and tools? Subscribe to The Flow — our quick, snappy, value-packed focus and recharge newsletter. Also, don't miss our several other Notion template round-ups and guides!
---
All-in-One Goals Dashboard Template for Notion
The Ultimate Goals Dashboard for Notion is designed by yours truly to help you map out and actually make your goals happen, by breaking them up into an actionable 3-tiered system! Set your high level goals, then easily break them up into macro and micro action items right in the template. Track specific metrics, deadlines, and to-dos per key results item, and watch yourself crush them!
The dashboard houses everything you need to keep an eye on your progress, with upcoming action items and goals due, progress bars, and more. The template also features a pre- and post-goal assessment with the SMART system to be intentional, an integrated vision board, 10 life categories, helpful onboarding tooltips, priority customer support, and so much more — designed to keep you accountable and help you take the small steps to accomplish big things.
Template Available Here | Get the Template Integrated with Life OS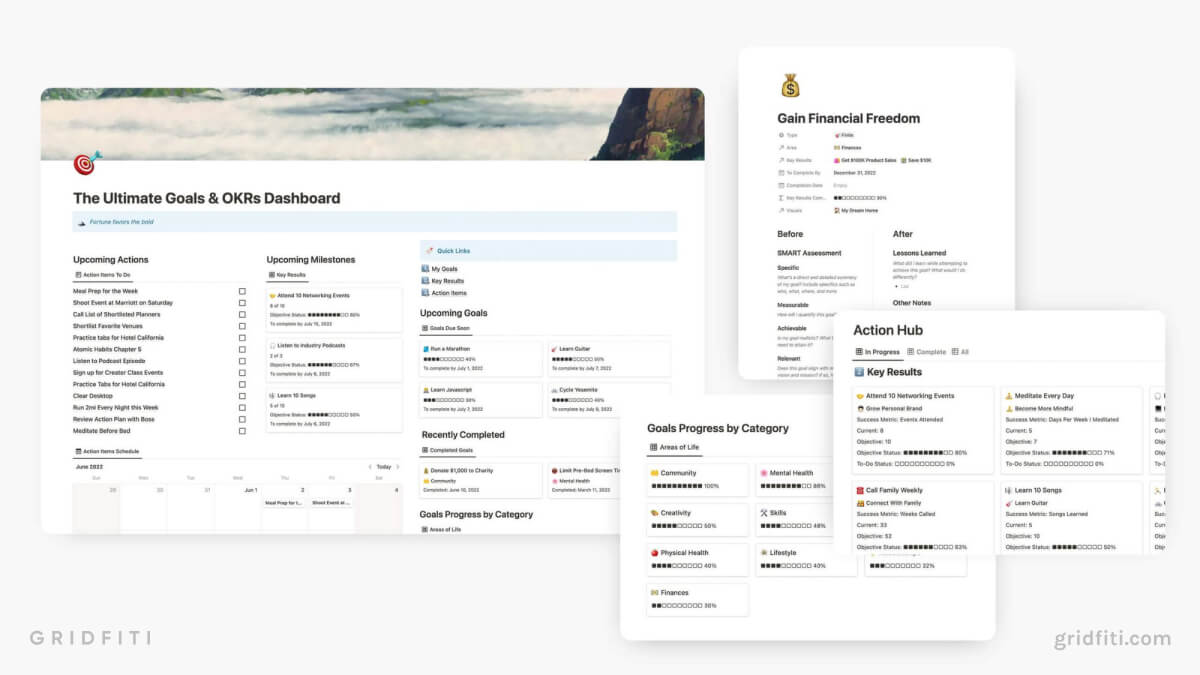 Moonshot – Resolution & Goal Management Board
No matter how big or small, reach your personal goals with a helping hand from Moonshot. One of the top Notion trackers for goals, Moonshot lets you keep tabs on 10 daily habits, complete with progress bars to track your actions. Set meaningful goals for your sleep, weight, and overall health using the Objectives and Key Results (OKR) method. Or, keep up with the simple stuff like your reading lists and upcoming meals.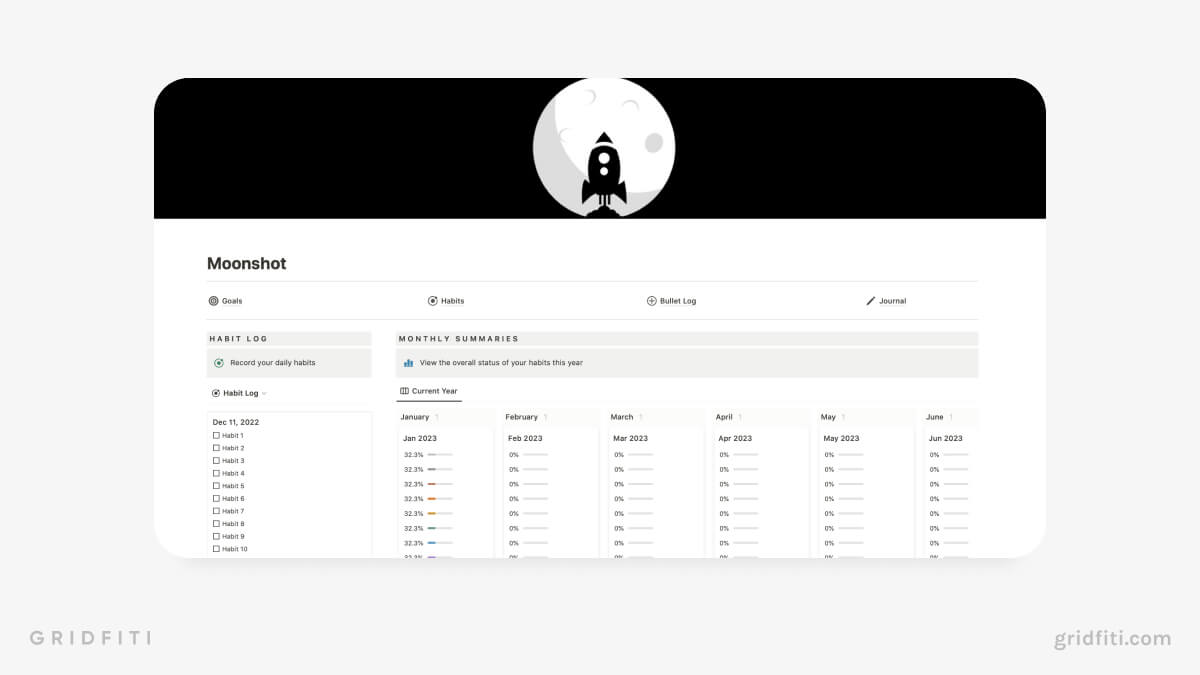 Quarterly Goal Planner
Make achieving your Q-by-Q goals a little easier with the Quarterly Goal Planner. With its 3-tiered planning process, breaking down your big goals into small chunks is super simple.
Stay on track with goal-setting journal prompts and filters to let you know what's up next. You'll get a snapshot of your big quarterly goals and progress straight from your dash. Plus, you get a vision board with 3 free Canva templates so you can keep an eye on the prize!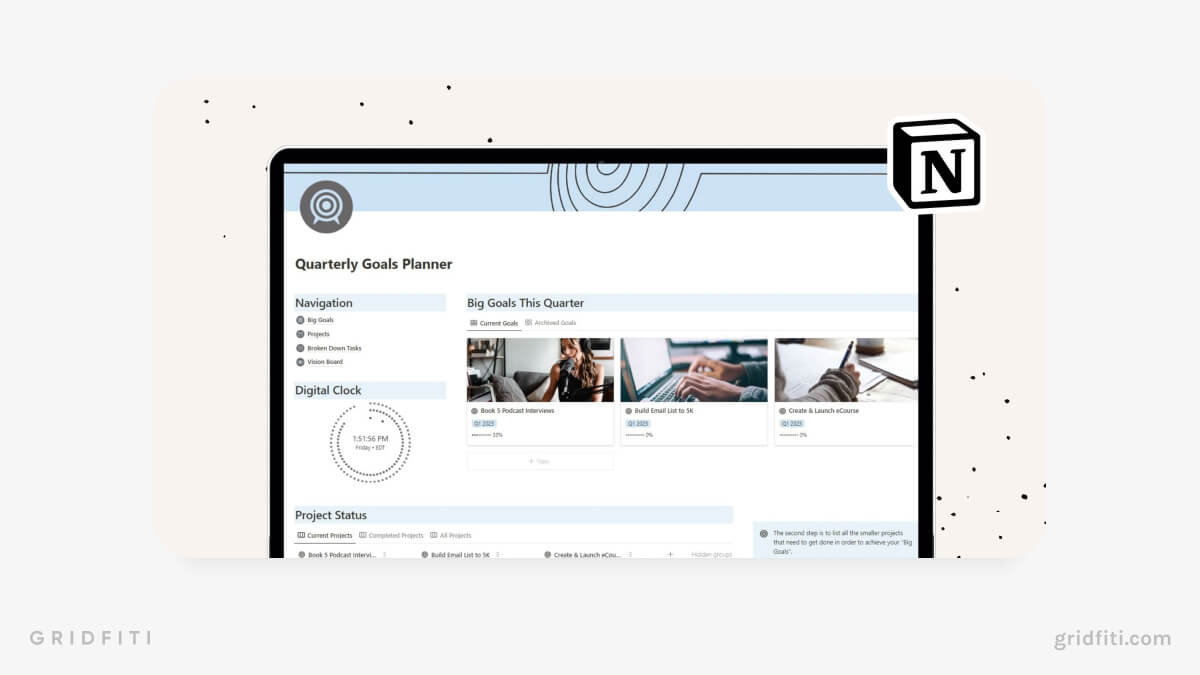 Notion Planner: Goals Tracker System
Goals Tracker System is a superb Notion goal-setting template if using charts to visualize your progress is helpful for you. Calendar views, progress bars, and line charts make juggling your grand goals a breeze. Outline your long- and short-term goals, and break them down into actionable steps to make them more attainable. Prioritize and categorize goals to stay organized and ahead of the game!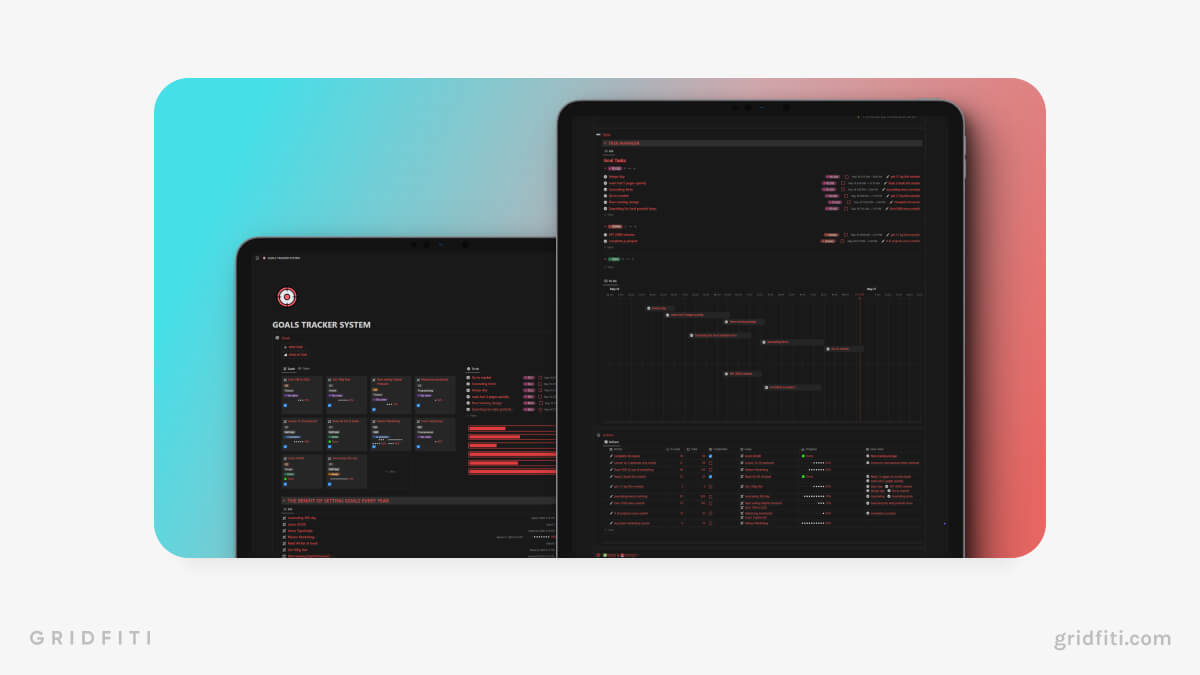 Notion Advanced Goal Tracker Template
Visualize your efforts, break down your goals into actions, and build habits aligned with your goals with the Advanced Notion Goal Tracker template! With an organized dashboard and minimal progress bars, you can easily visualize your progress and take the necessary steps to accomplish your goals.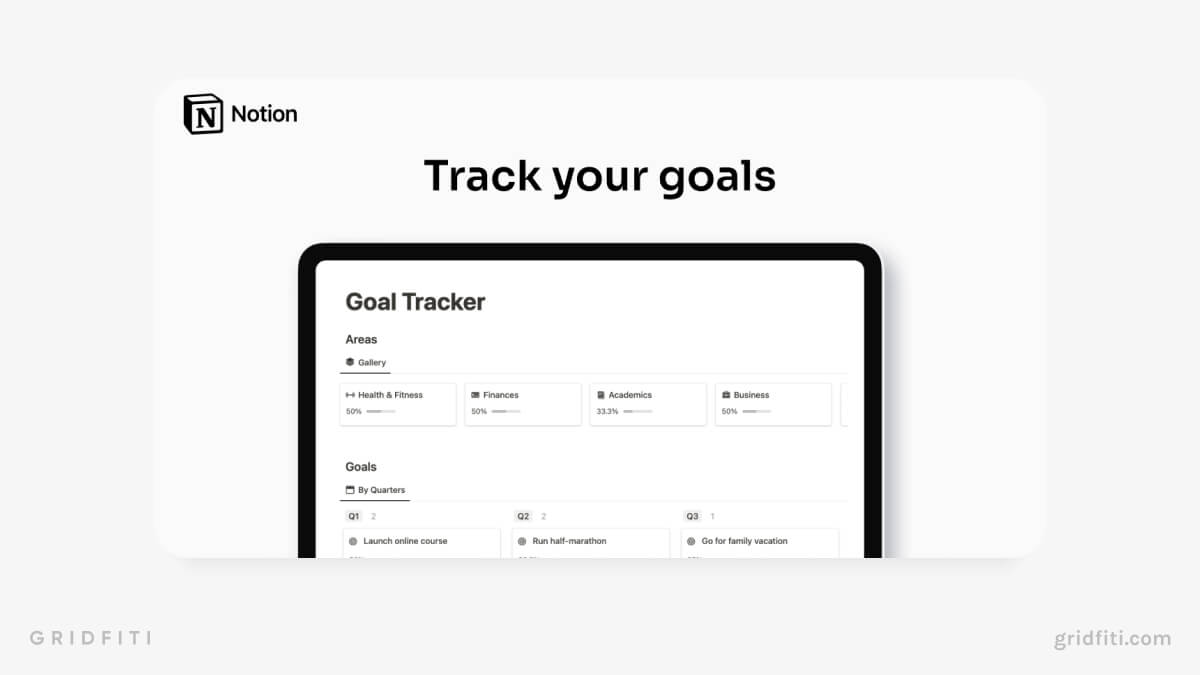 Goals Overview – Notion Goal-Setting Template
A Notion productivity template that integrates GTD, PARA, and goal-setting templates in a packaged management system to help you organize and align your life. Within this all-in-one template, you'll get an in-depth overview of your goals that can be broken down by the month, week, and quarter.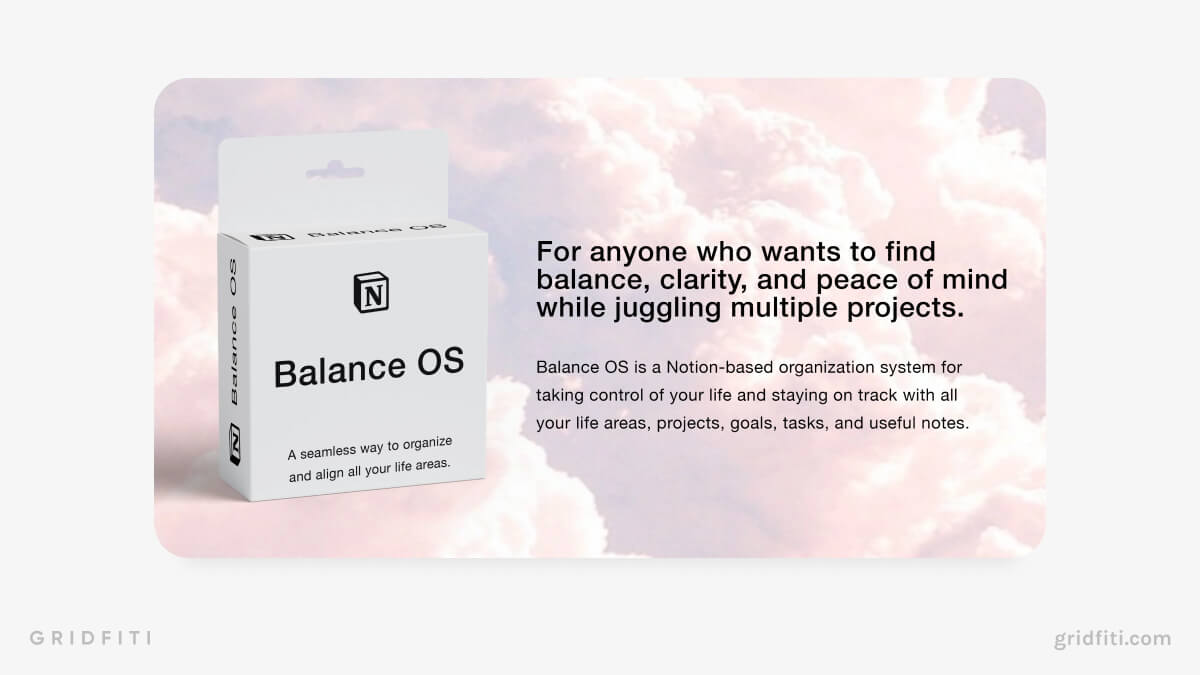 Life Compass – Notion Goal-Setting & Habit Tracker Template
Organize your day-to-day tasks and big picture goals with this full Life Compass Notion template. The template includes 4 main databases — pillars, goals, outcomes, and tasks — to help you keep your life in place. Keep tabs on everything from the control center, and as a bonus, you'll receive a habit tracker template with 2 connected databases.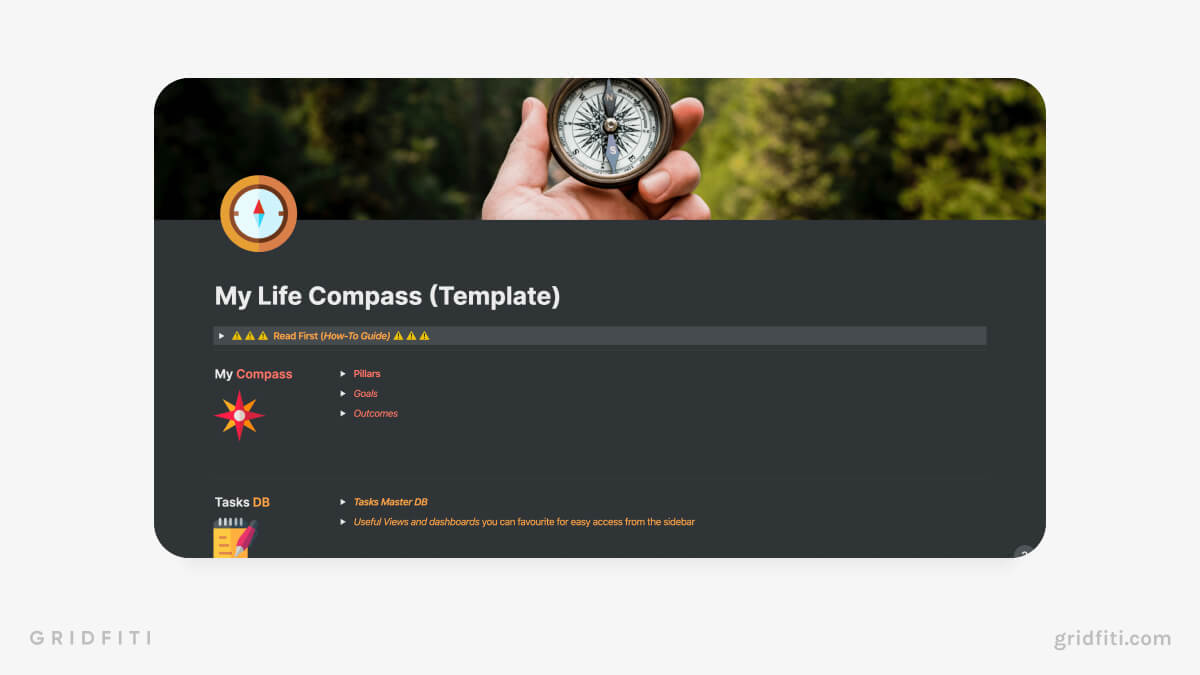 Notion Personal Goals Template – Barbie Edition
C'mon Barbie, let's GSD! This Barbie-themed is a fun Notion goal-setting template featuring a delightfully pink aesthetic that'll add some glamor to your goals. You'll receive a 3-month planner with weekly layouts to help you stay on point. To-do list templates for self-care and general tasks mean you'll never forget to text Ken or clean your dreamhouse!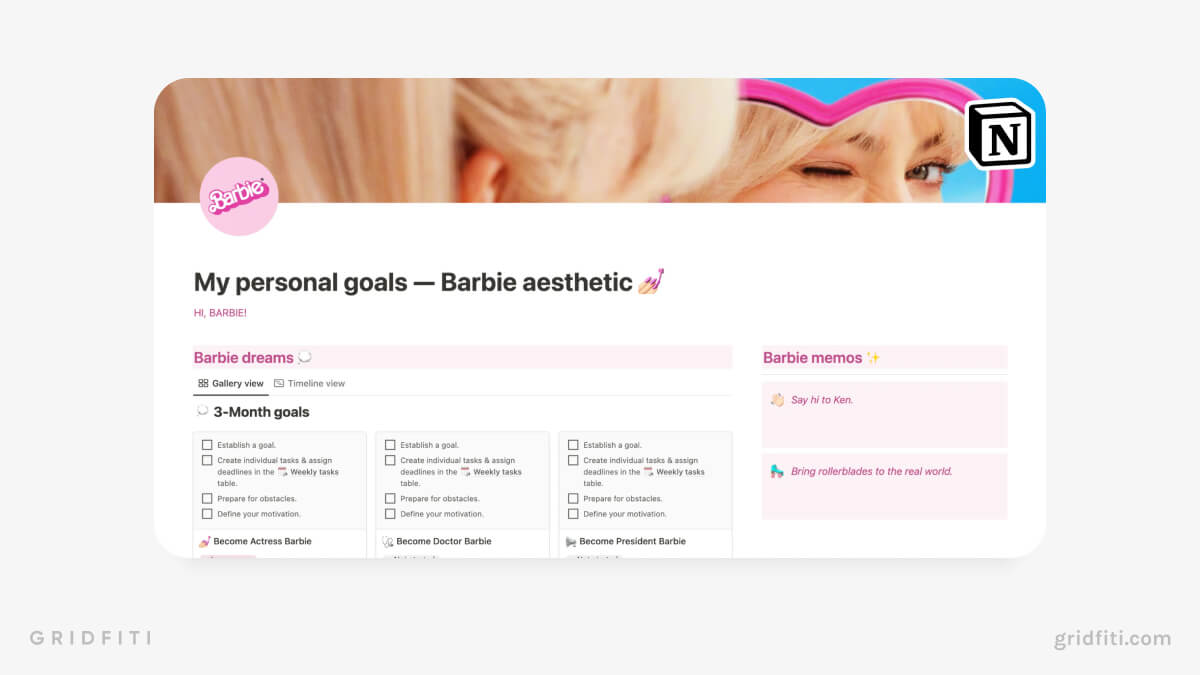 Notion Quarterly Goals Template
Create a comprehensive quarterly plan to manifest your visions with this Notion Quarterly Goals template. Using concepts from the 12 Week Year, the template helps you build your vision, connect with your "why", outline your plan, execute, and measure!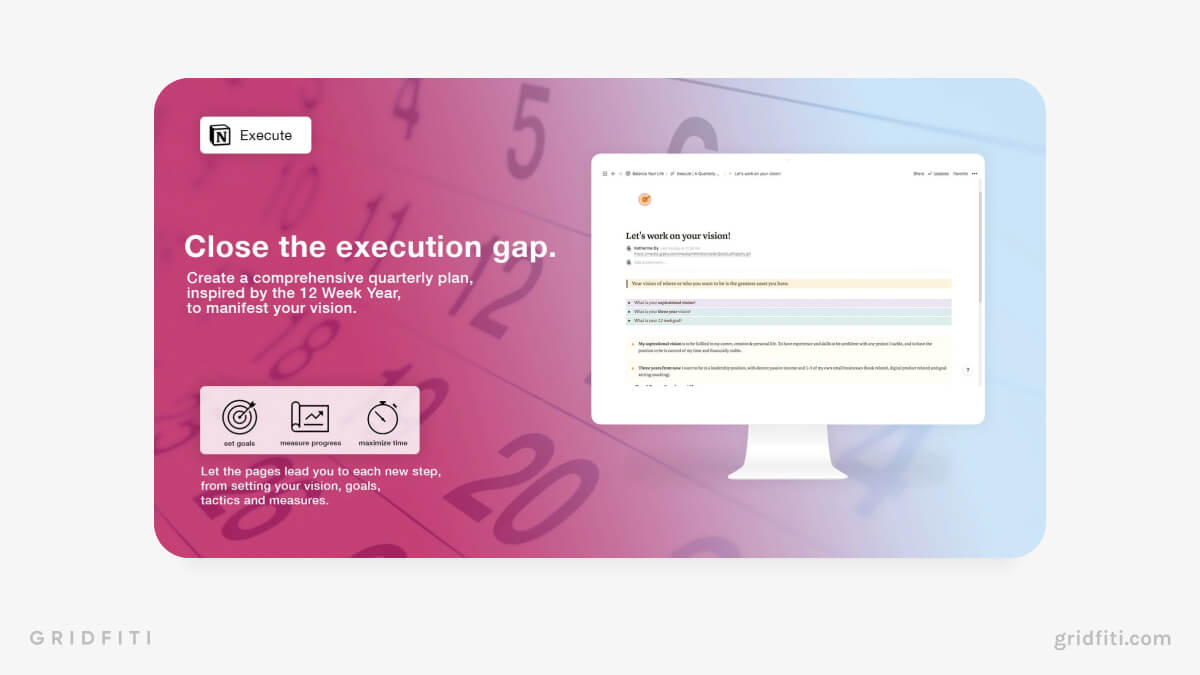 Goal-Setting Template for Notion (Monthly Goals & Daily Actions)
A Notion system to set, track, and act on your most important objectives and goals in life. Break down your goals into areas, lean into yearly goals, set-up monthly targets, and break the process down into milestones!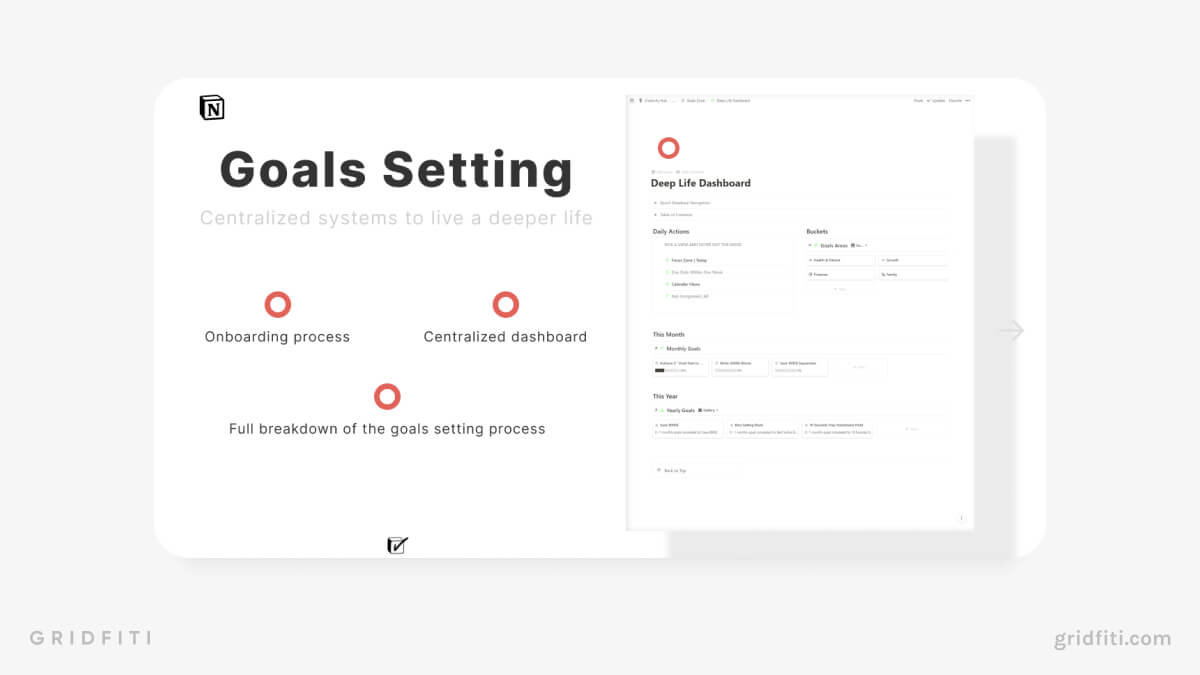 Free Notion Goals Templates
Thinking about using Notion to help achieve your dreams? Give the app a try with these free Notion goals templates!
Notion Goals Template – Goals Dashboard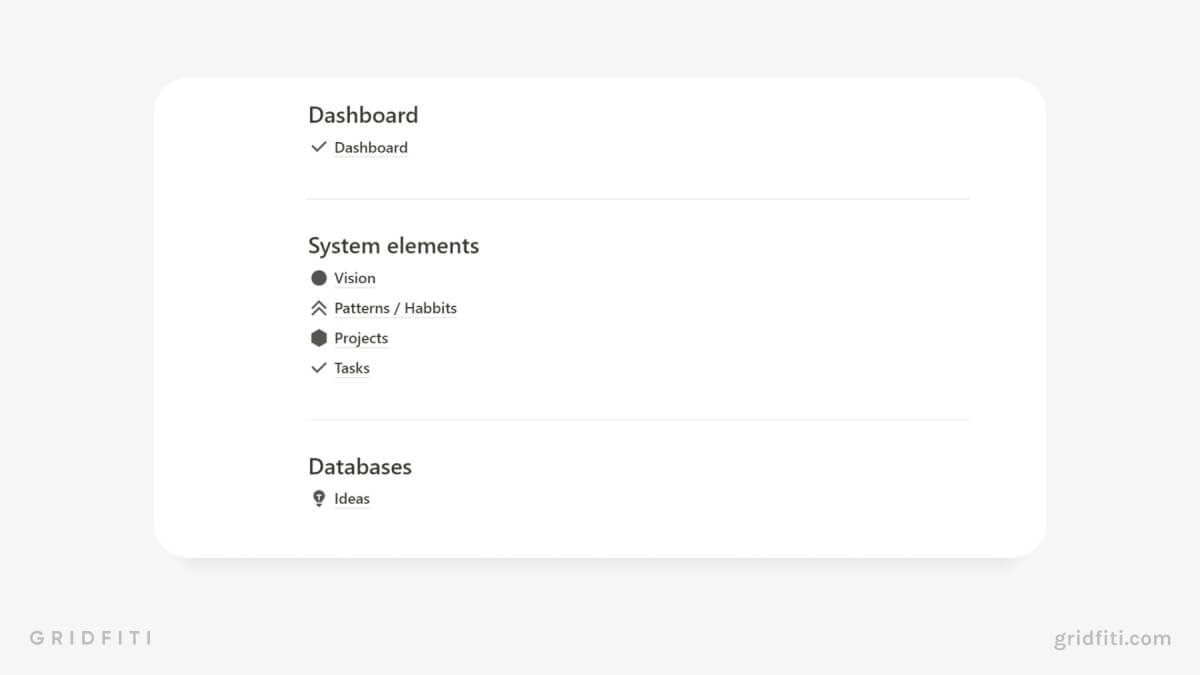 Template by Ayk Martirosyan
Notion SMART Goals Tracker Template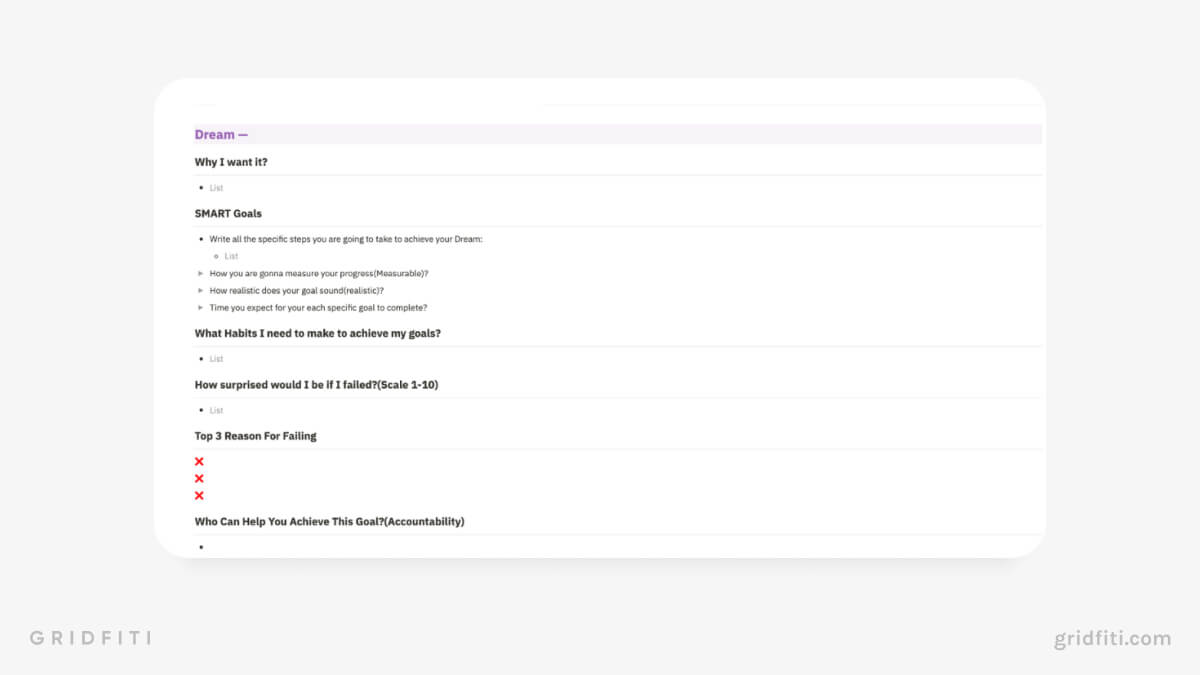 Template by Atul
Aesthetic Goals Tracker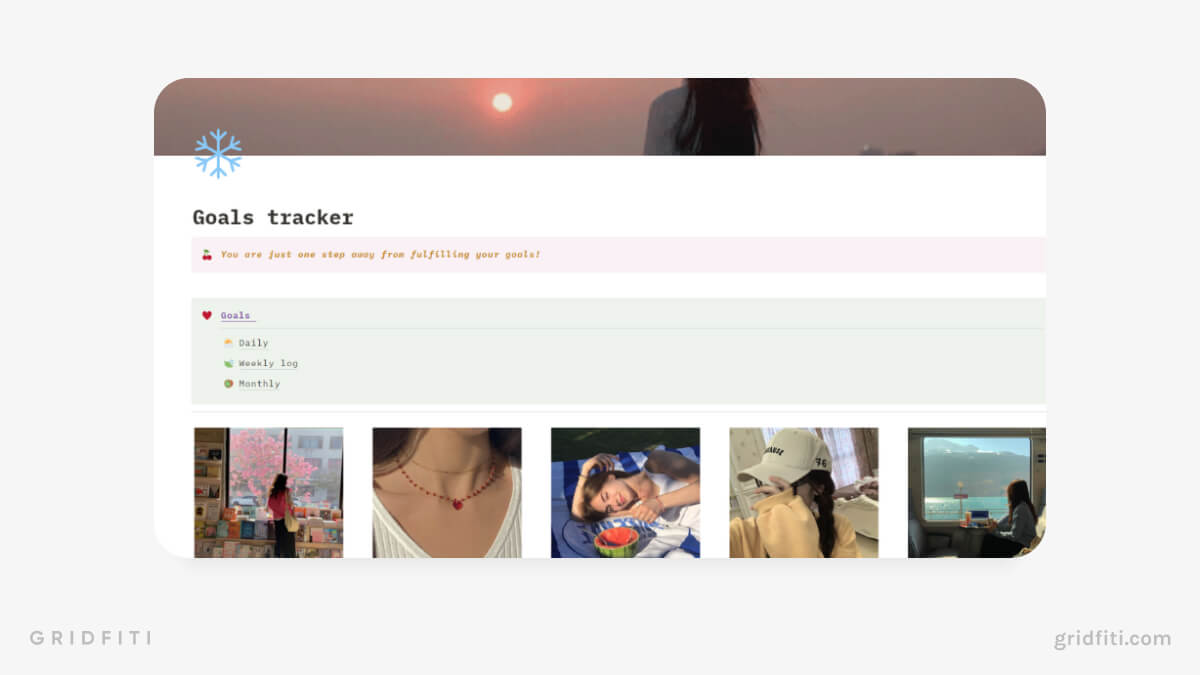 Template by Poonam Sharma
Green-Themed Goals Tracker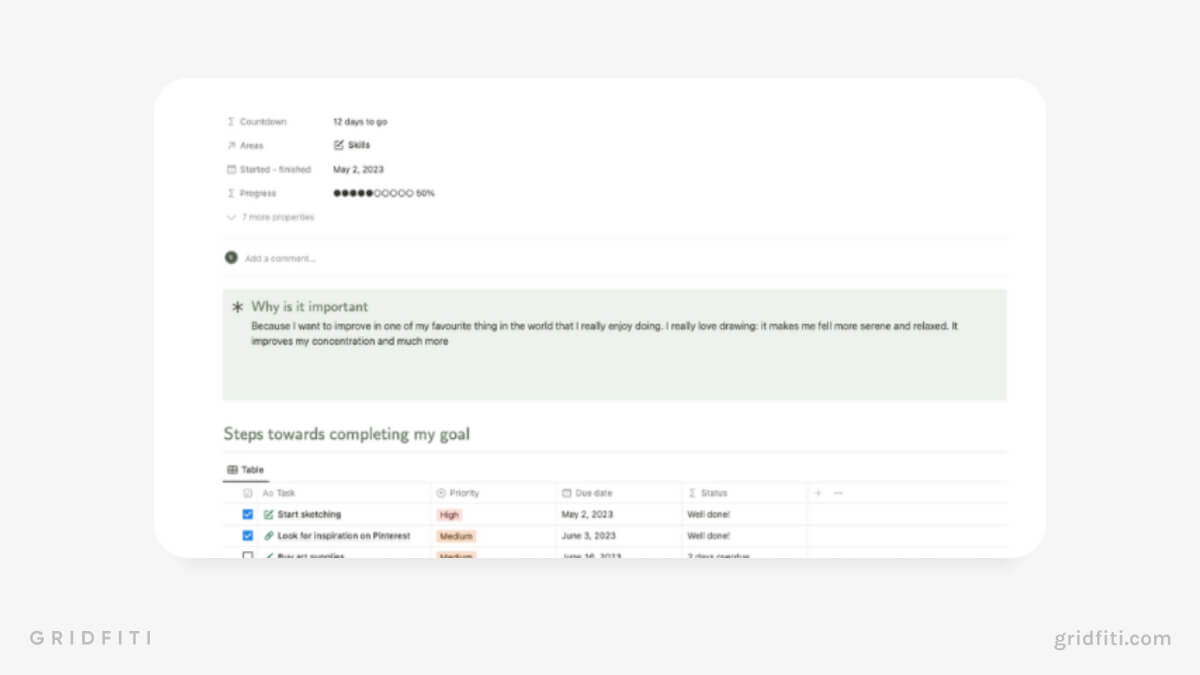 Template by Uyilo
Weekly Goals & Habit Tracker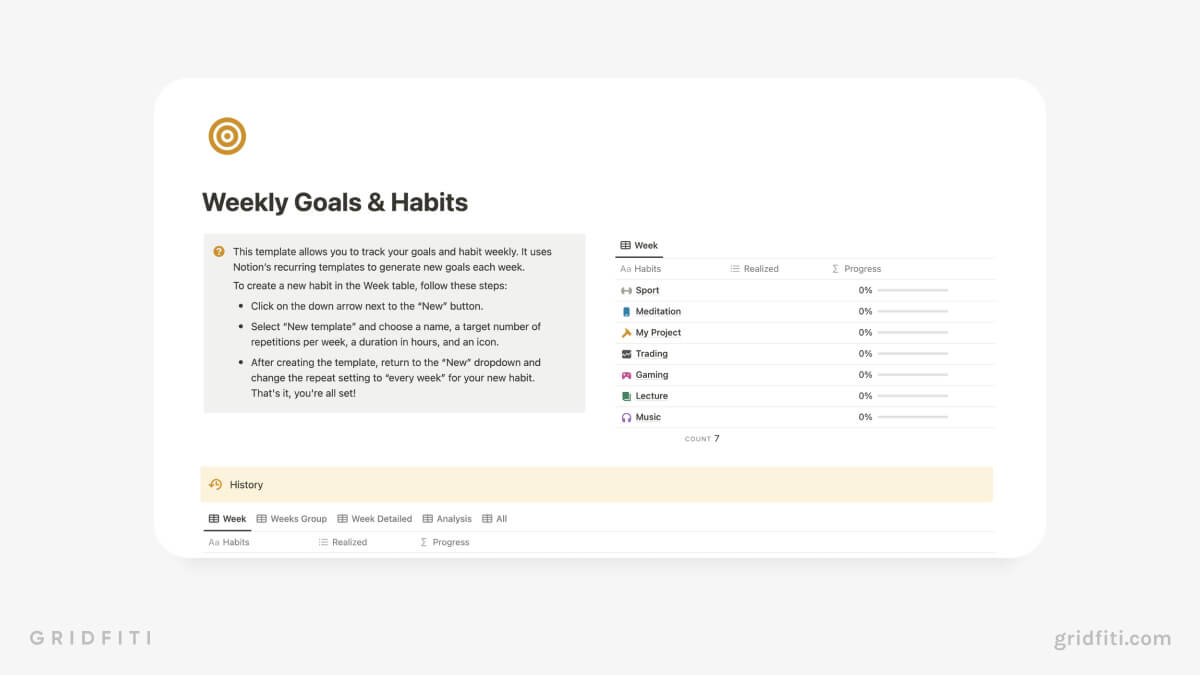 Template by Game Dev Tales
Company Goals Template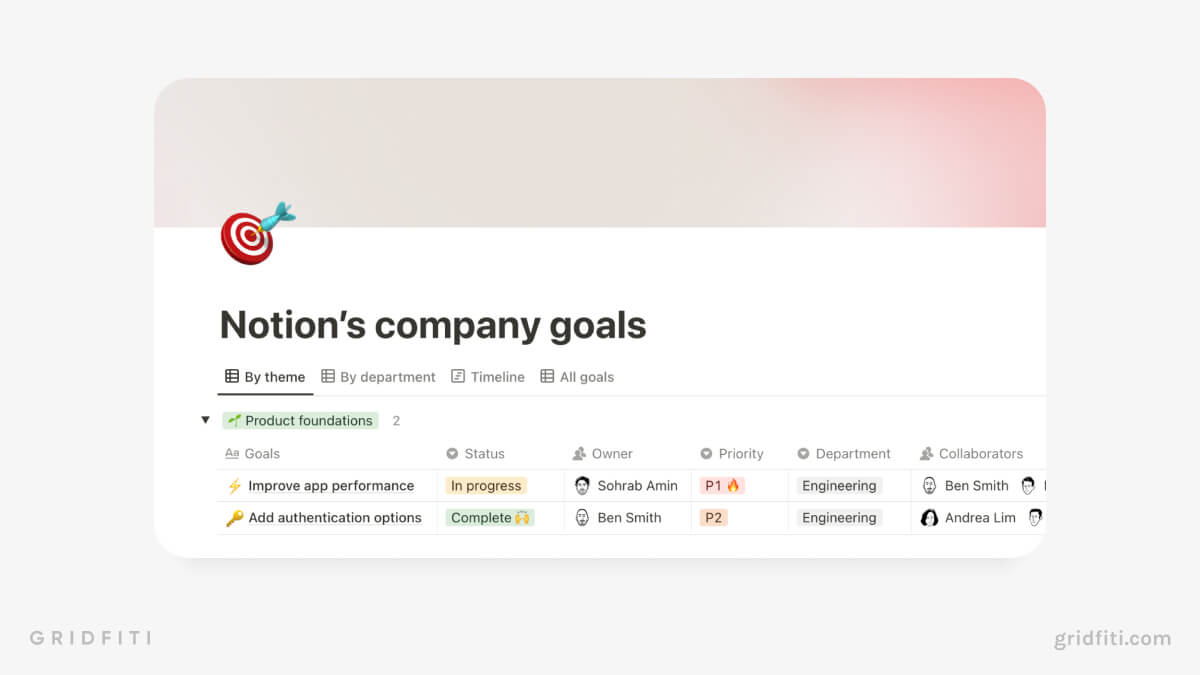 Template by Notion
Goal-Project-Tasks Template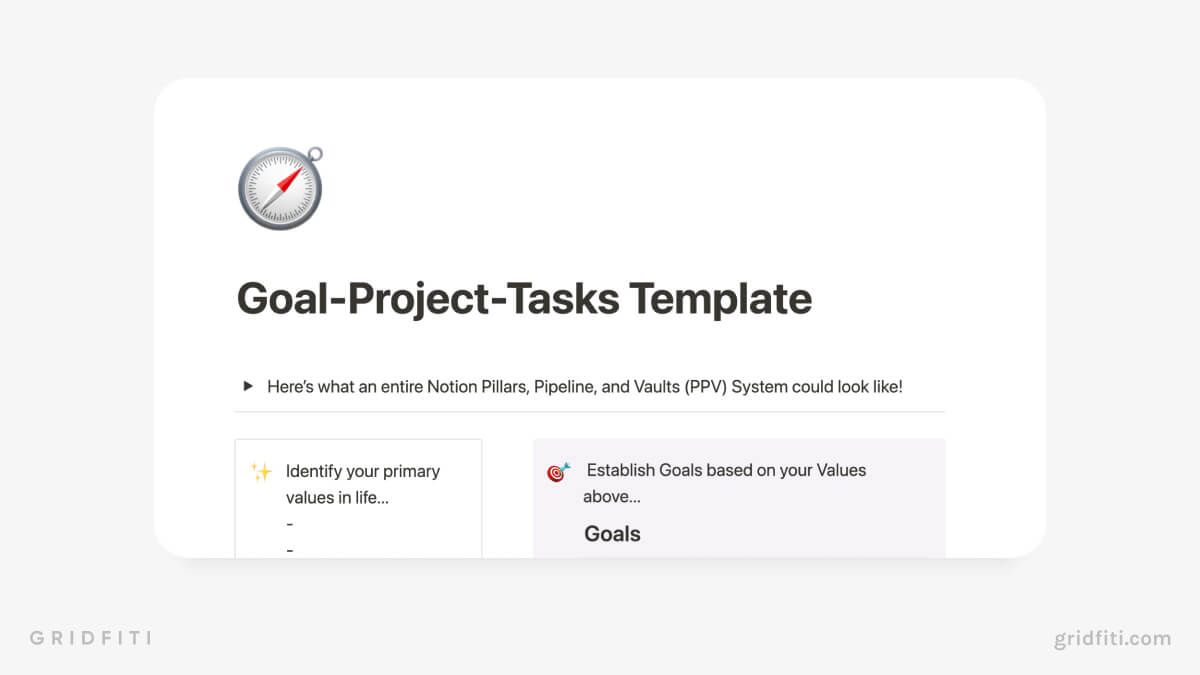 Template by August Bradley
Goal Tracker Dashboard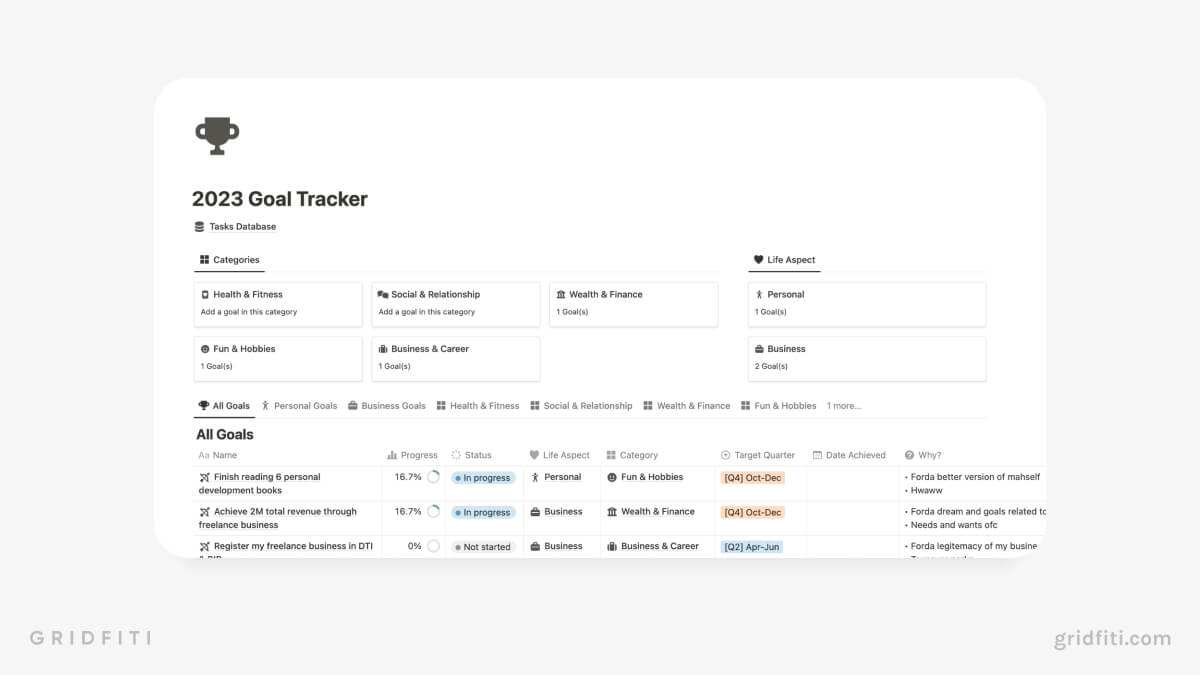 Template by Pau
30-Day Goal Planner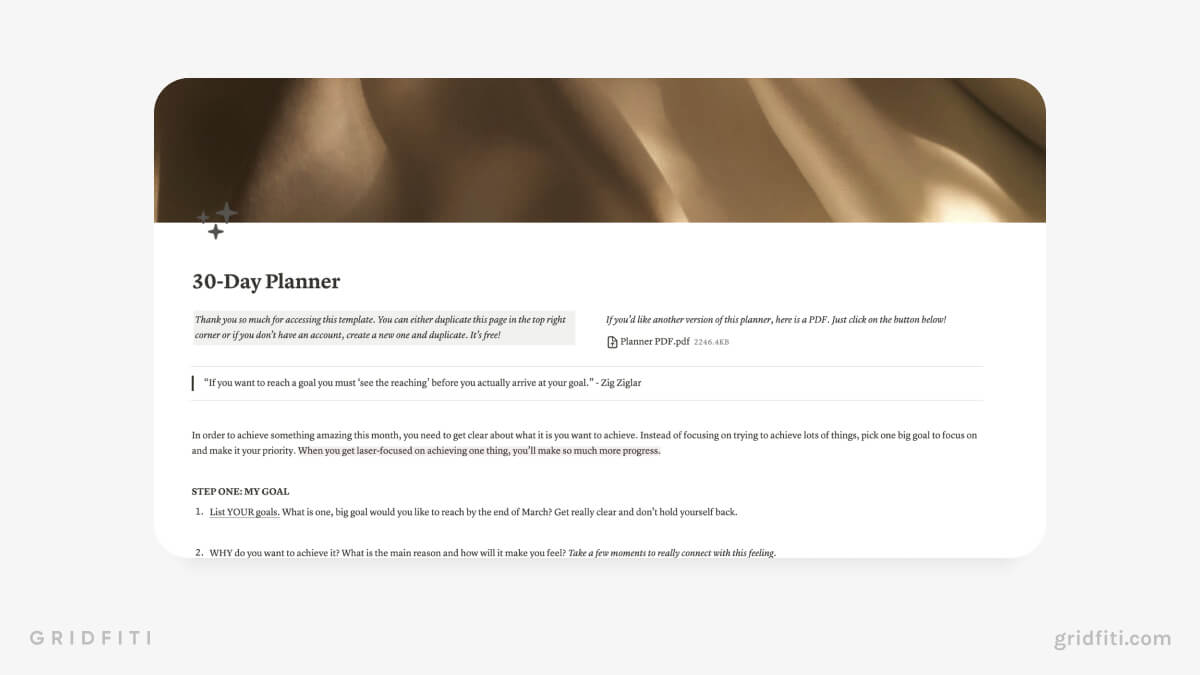 Template by landslide and co
Goal Setting & Tracker Board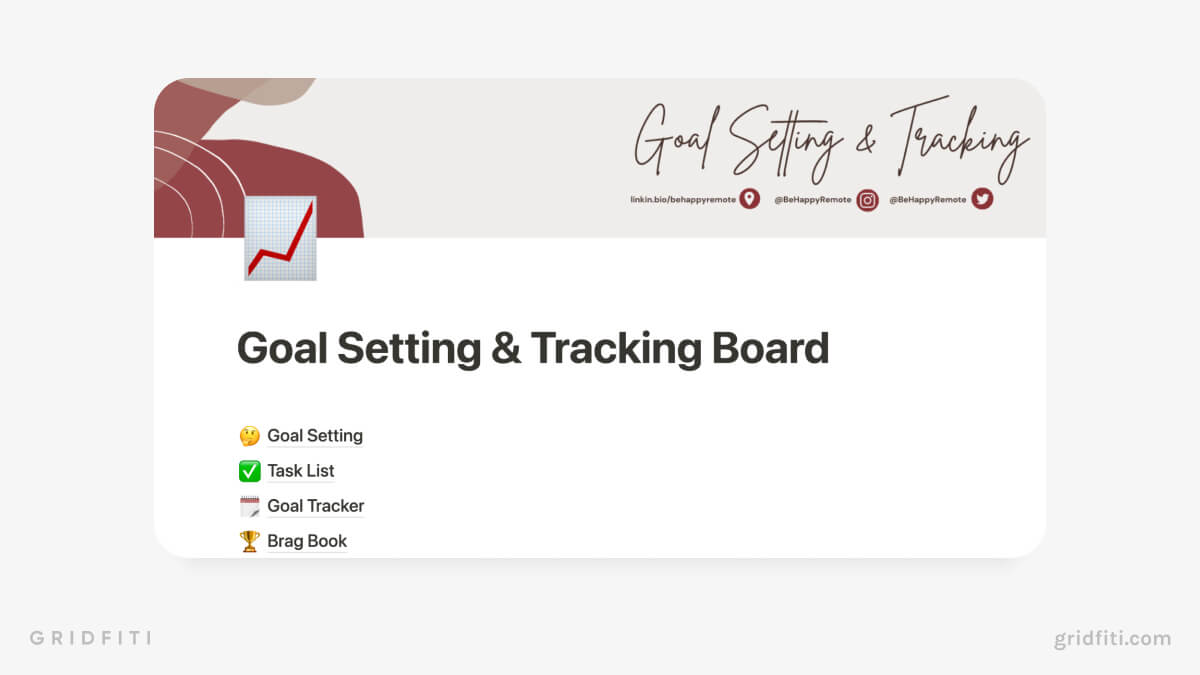 Template by Sam Roberts
What Notion goals template are you using? Do you have any other recommendations for goal-setting templates for Notion to use? Let us know in the comment section below.
Gridfiti is supported by its audience – when you buy something using the retail links in our posts, we may earn a small commission at no additional cost to you. Read more about our affiliate disclaimer.