Capturing your thoughts and collecting your learnings is powerful – especially when it's all under one roof in your Notion workspace. With a proper Notion note-taking template, you'll be able to organize your notes, easily fill out your pre-set prompts, filter and sort your documents, and so much more!
Gone are the days of shuffling through your bag to find a pen and paper – taking your notes in Notion allows you to bring your notes with you everywhere you go, whether it's on your phone, tablet, or laptop. All while offering more robust features than iOS Notes, or other stock notes apps on your device.
To help you choose the right template for your needs, we've selected the best Notion note-taking templates for you to pick from! Whether you're looking to take notes for school, meetings, and beyond.
Want more Notion templates and updates? Join our mailing list, and check out our several other Notion template round-ups! If you're a student, don't miss our full guide on Notion for students.
Note-Taking & Digital Notebook in All-in-One Life OS
Whether you're jotting down notes and ideas for your personal life, work, or school – the digital notebook section of the all-in-one Life OS template has you covered! Have your digital notebooks separated by areas of life, easily access them in a clean list view, and use the built-in Meeting Notes or Cornell note-taking templates to quickly have headings and bullets pre-populated in a single click. You can even tag a notes with your contacts from the built-in CRM!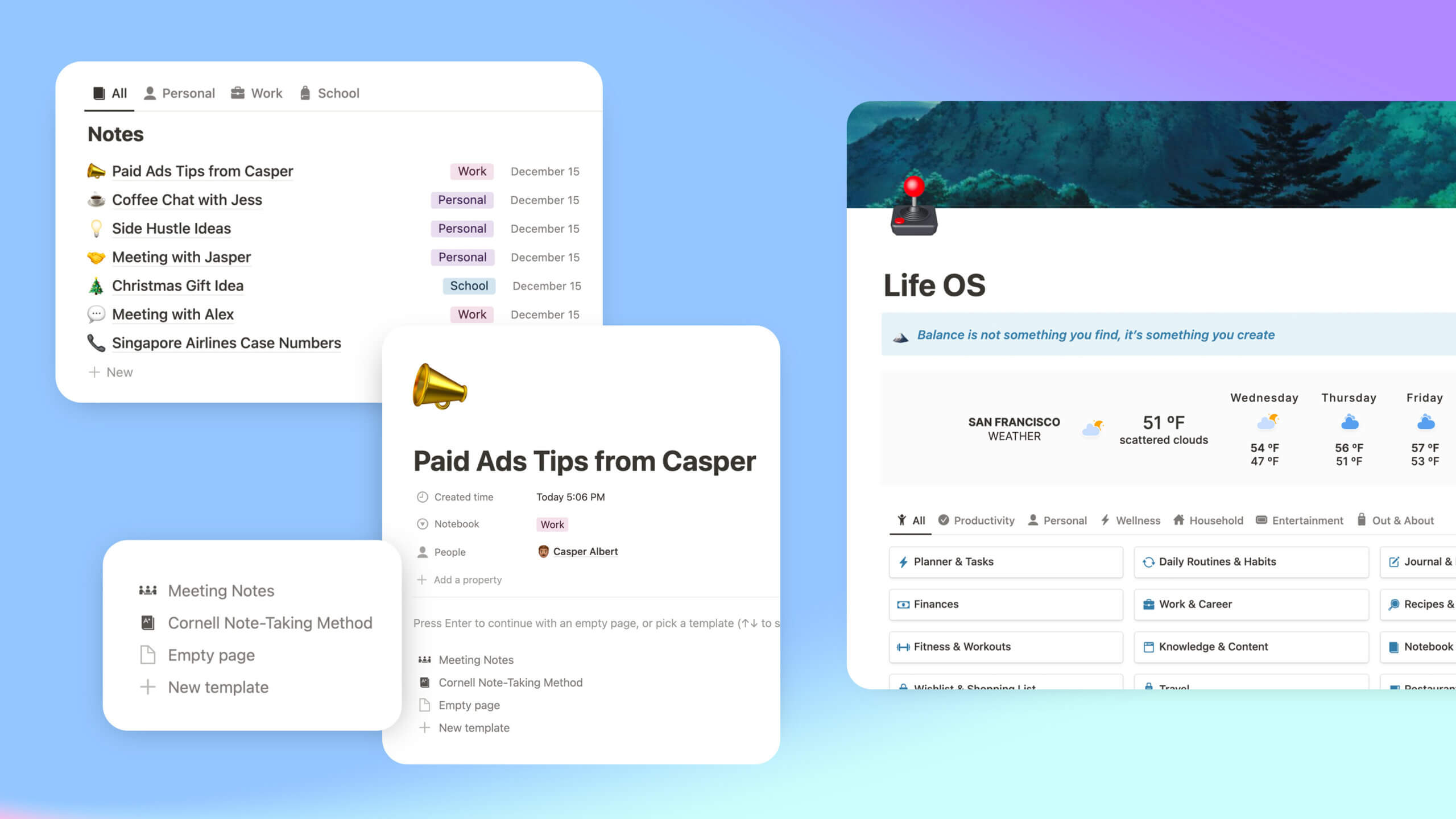 The Complete Notion Note-Taking Toolkit
With everything you need to start taking beautiful and effective notes in Notion, the Note-Taking Toolkit is built on the Cornell method to level up your notes game. This template includes drag-and-drop building blocks, KaTeX codes to colorfully decorate your notes, organized notebook collections, and 5 different template types depending on the notes you're taking: lecture, book, journal, article, grey literature – plus a bonus review sheet template!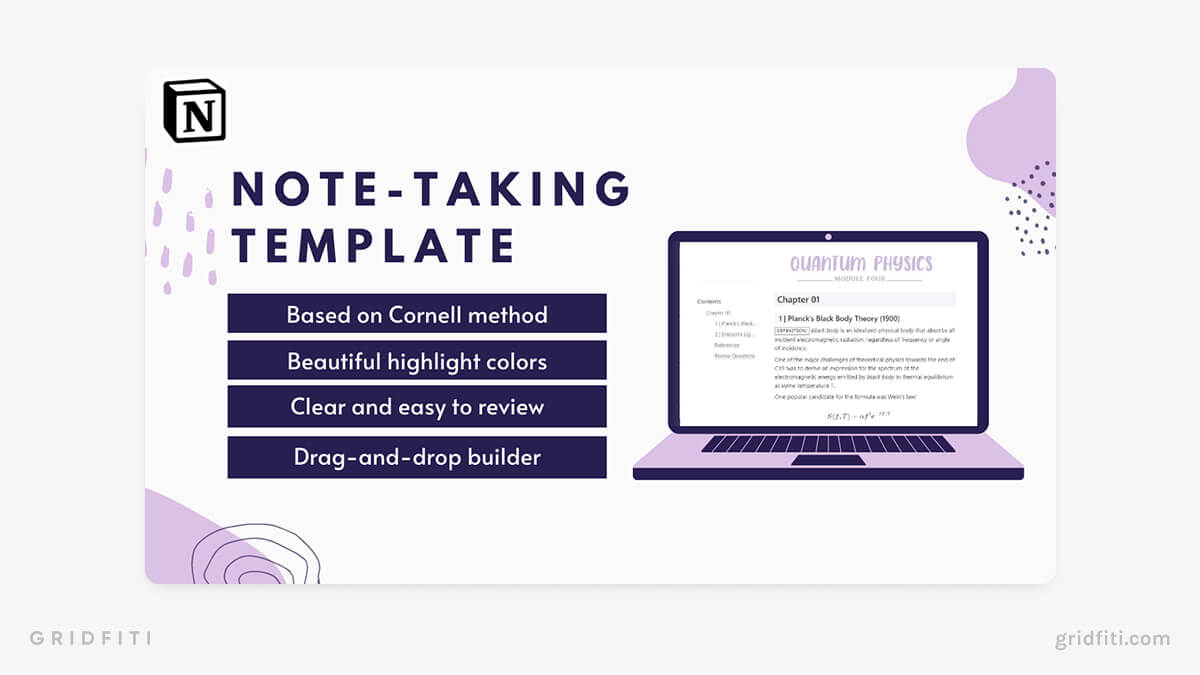 Notion Zettelkasten Template for Advanced Note-Taking
Designed for knowledge workers, the Zettelkasten method is powerful. Helping you organize and recall notes, this template acts as a second brain to process info and generate new ideas with more clarity. With three main buckets: Fleeting Notes, Literature Notes, and Permanent Notes, step up your advanced note-taking with this Zettelkasten Notion template!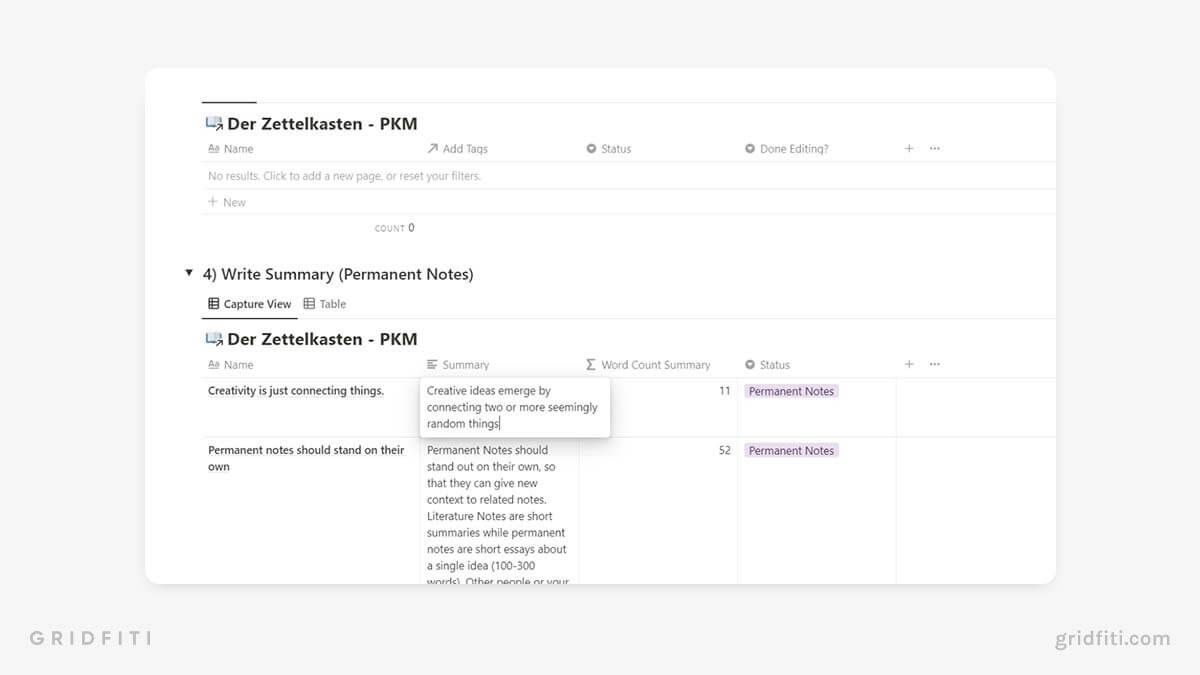 All-in-One Student OS with Cornell Note-Taking Template
Featuring 15+ templates in a centralized dashboard – including a fully integrated Cornell note-taking template – Student OS is the ultimate all-in-one workspace for everything you need for your academic career. Beyond planning your semester and tracking your deliverables, take notes for all your lectures and readings in one spot, and connect them to the Classes and Assignments databases.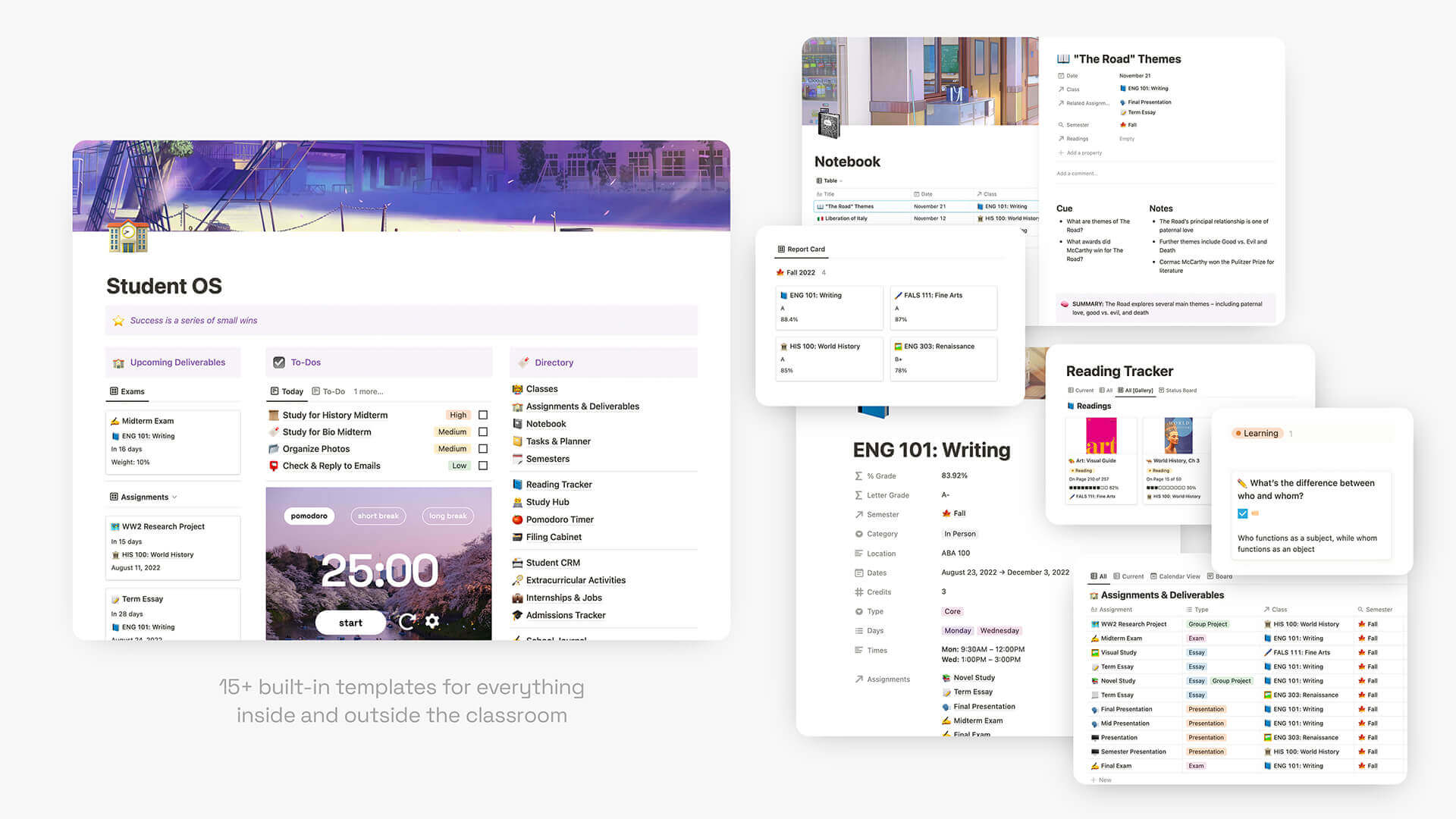 Cornell Notes Notion Template
If you use the Cornell note-taking system, you know it can be one of the simplest, yet effective, ways to jot down your thoughts and retain information. Thanks to prebuilt Notion templates, you can skip building out columns and sections every time, and go straight to taking your notes. You can even create new notes pages with the click of a built-in template button.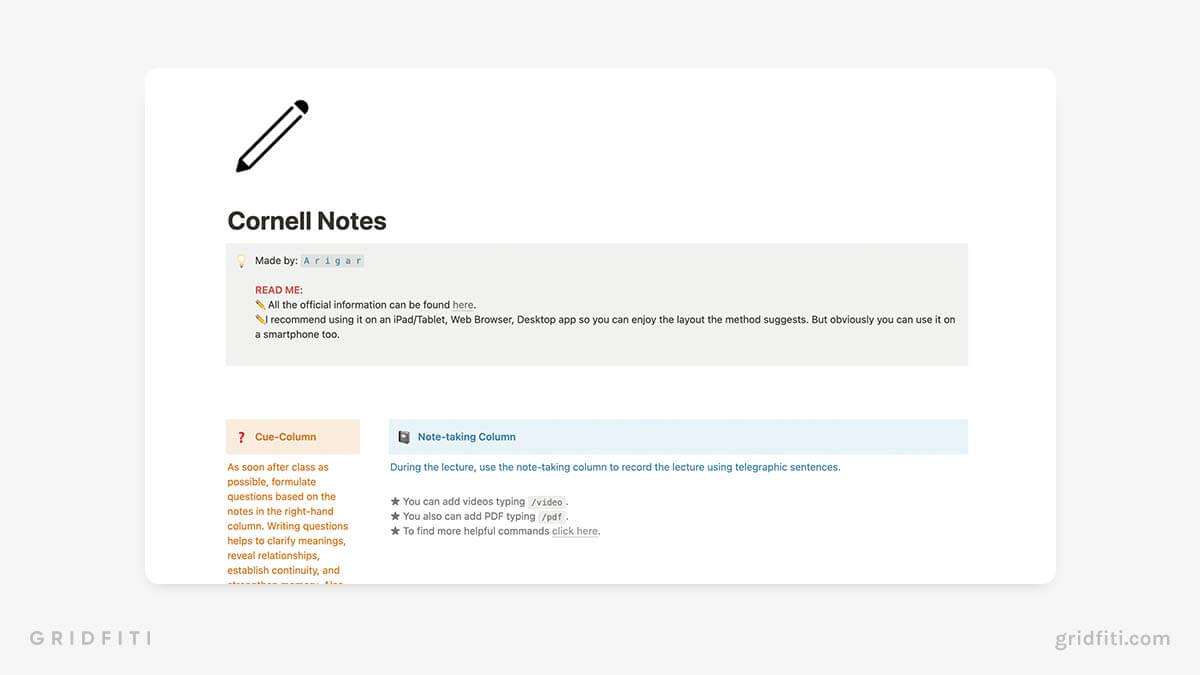 Notion Student's Index – Notes Index Template
The advanced Notion Student Index is a note-taking template that integrates proven note-taking methods such as spaced repetition, notes index, and learner's index! Along with an effective note-taking strategy, the template also includes a Notion planner and Google Calendar viewer to help you organize your academic life!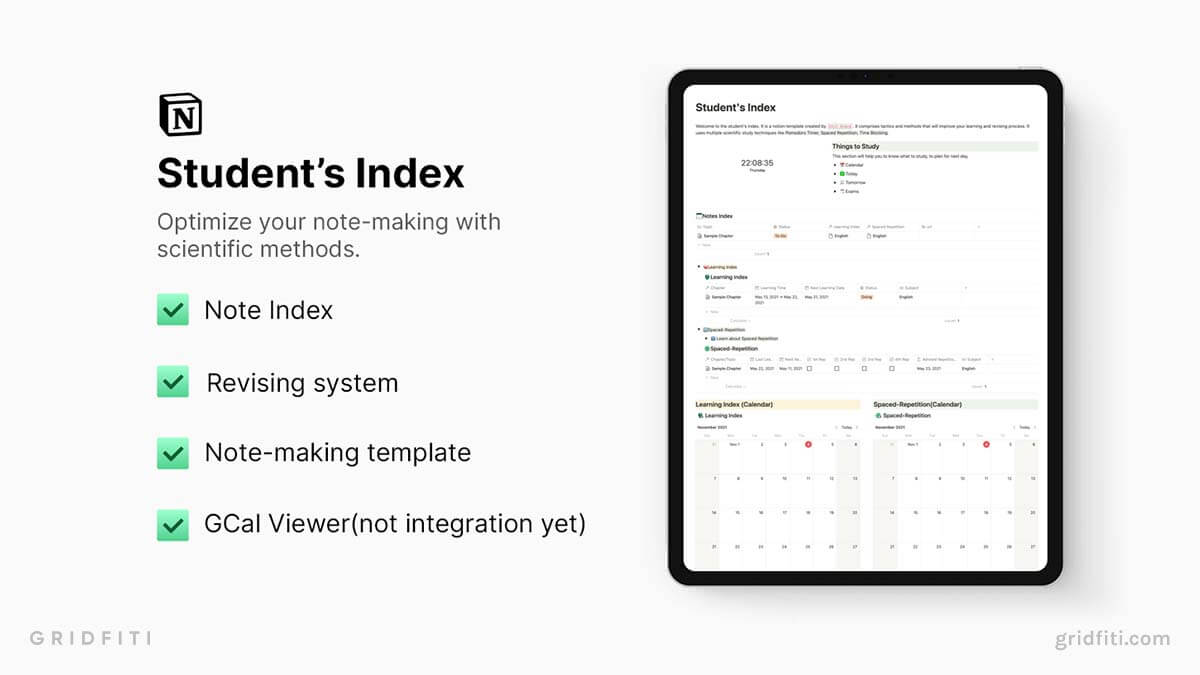 Smart Notes – Notion Note-Taking Template
The ultimate note-taking template to help you collect knowledge and keep it at top of mind – Smart Notes is great for students, knowledge workers, or any life-long learners looking to take more effective notes!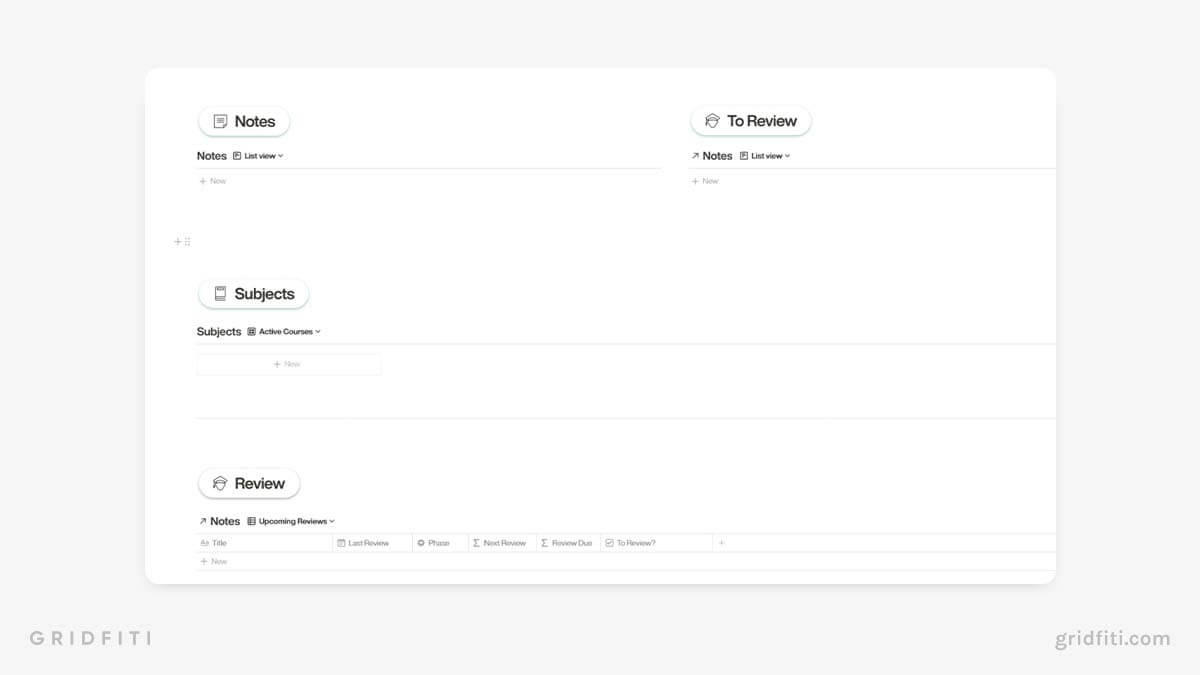 Notion Note-Taking Template – Simple Knowledge Management
Centralize all of your knowledge collection and notes in a single database. From here, you'll be able to organize your documents by project notes, fleeting notes, permanent notes, literature notes, and more!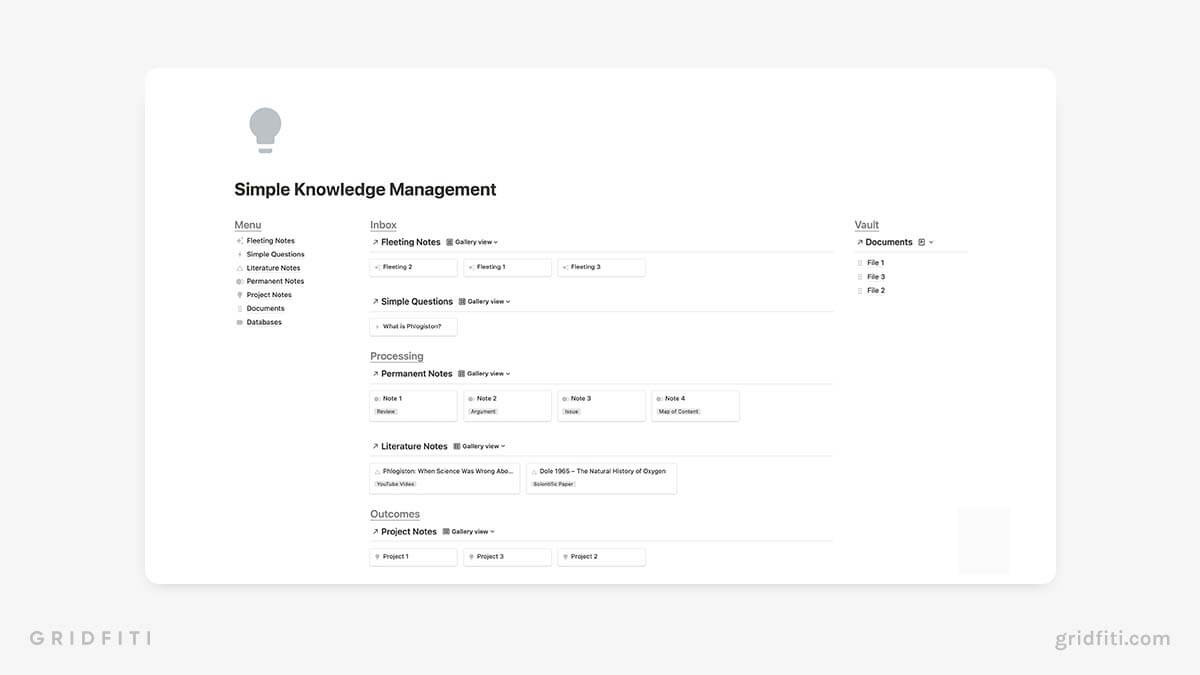 Simple Lecture Note-Taking Template for University & College
This template offers a simple way to capture lecture and tutorial notes for school. If you're looking for a basic Notion note-taking template to jot down important learnings in class, this is a template you'll want to add to your workspace.
Template Available Here | Video Tutorial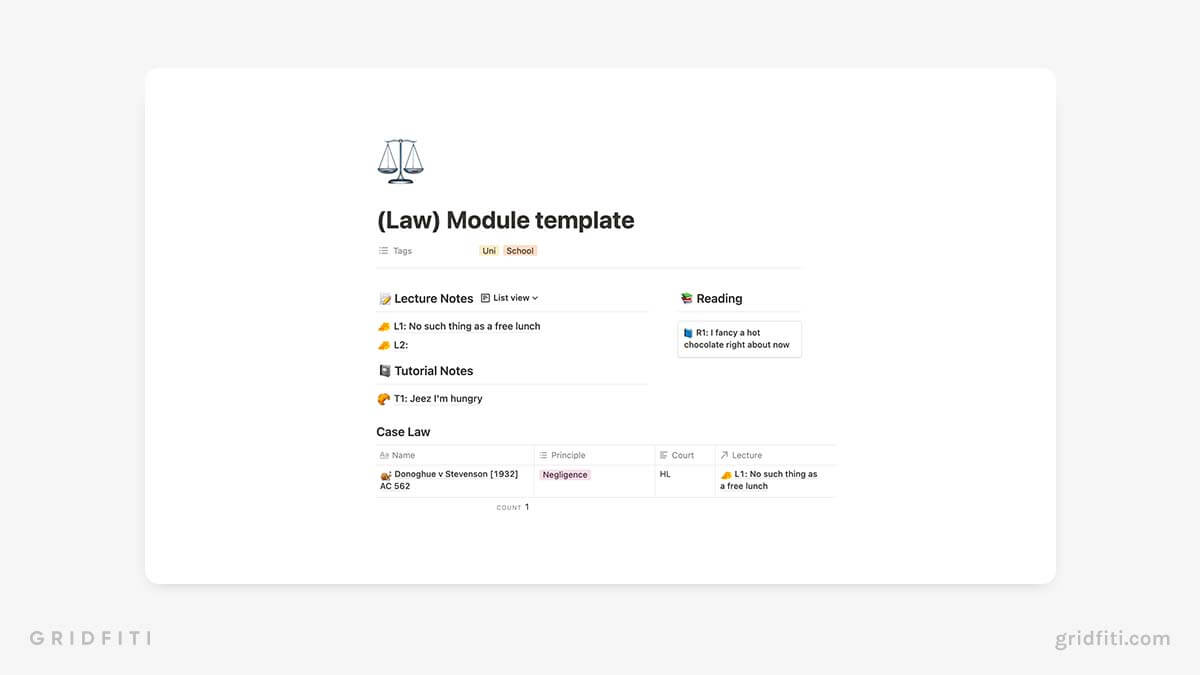 Basic Notion Meeting Notes Template
Looking for a quick way to jot down notes in a meeting, share notes with your colleagues, and create actionable items to accomplish? This is the Notion template for you! You can use this Notion meeting notes template to keep track of your meeting minutes, discuss what needs to be done now, and create an actionable to-do list to make sure it's all complete before the next meeting.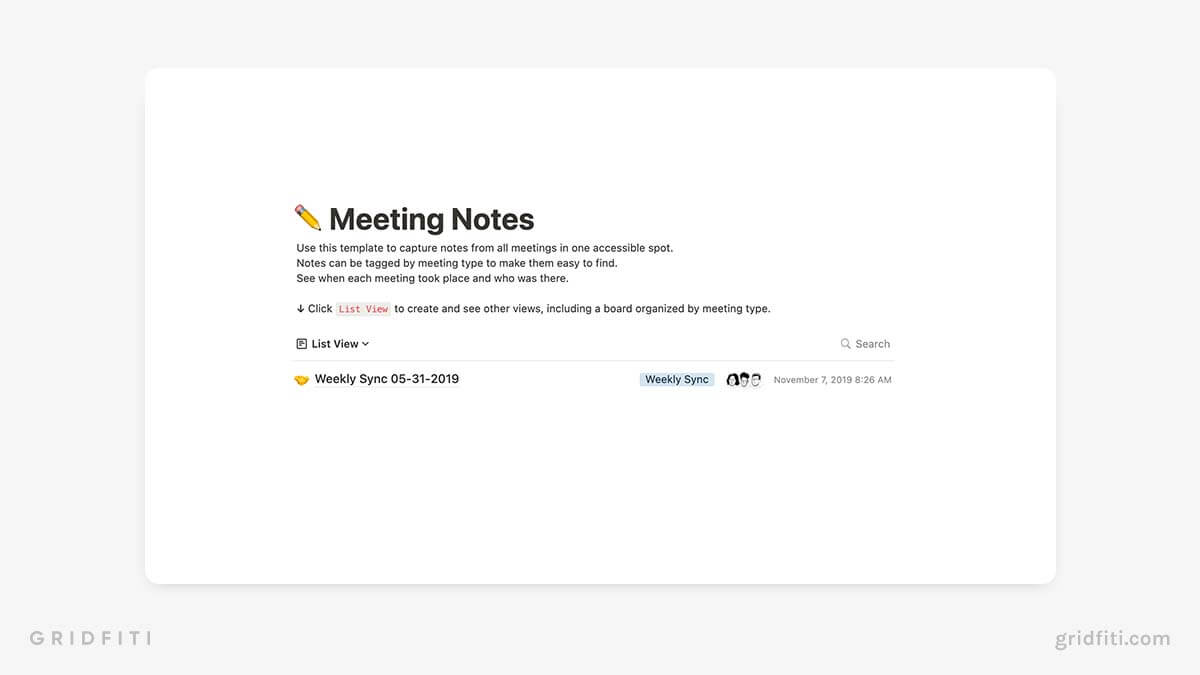 Notion Team Meeting Blueprint Template
Stay in the loop and never miss another meeting again with this Notion team meeting template! Use the blueprint to schedule meetings, capture meeting notes, create a Kanban board with actionable items, revisit archived meetings, and more!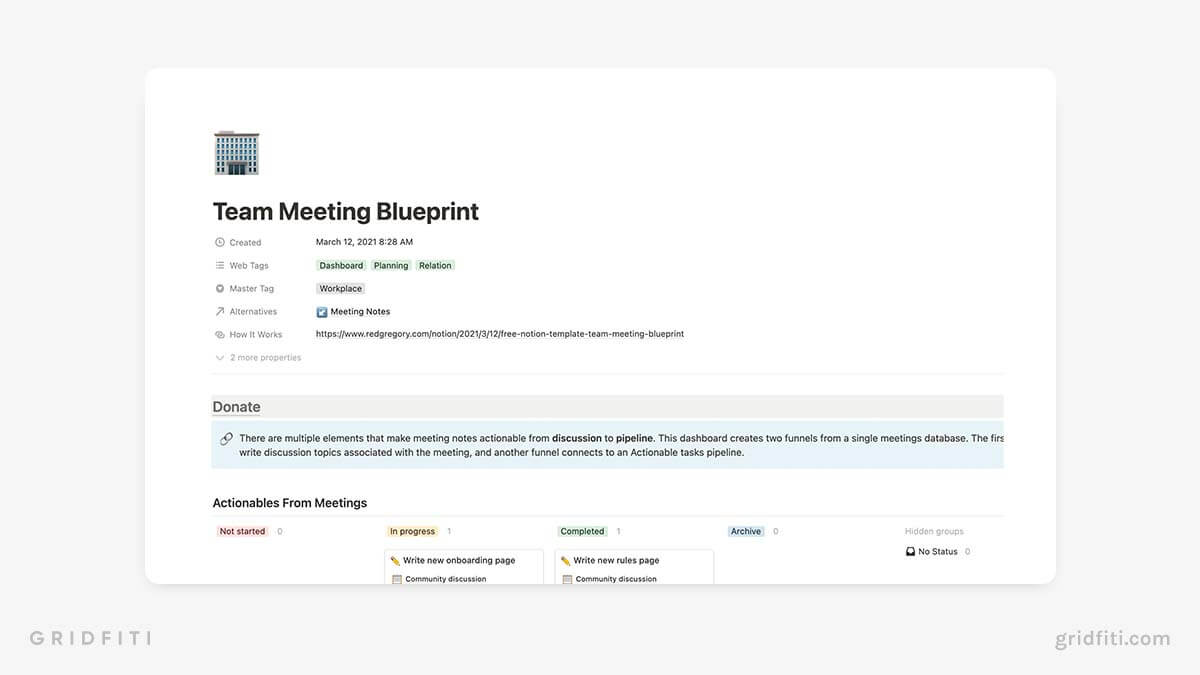 Weekly Team Meeting Note-Taking Template for Notion
Team meetings can be fast-paced, and it's easy to lose your train of thought especially during a long meeting. Use this weekly team meeting template to prepare talking points before the meeting begins, and check them off as you run through each point. After the meeting is done, take some time to process and reflect on everything that took place in the meeting and jot down actionable steps to accomplish them. Watch meetings get a lot more effective!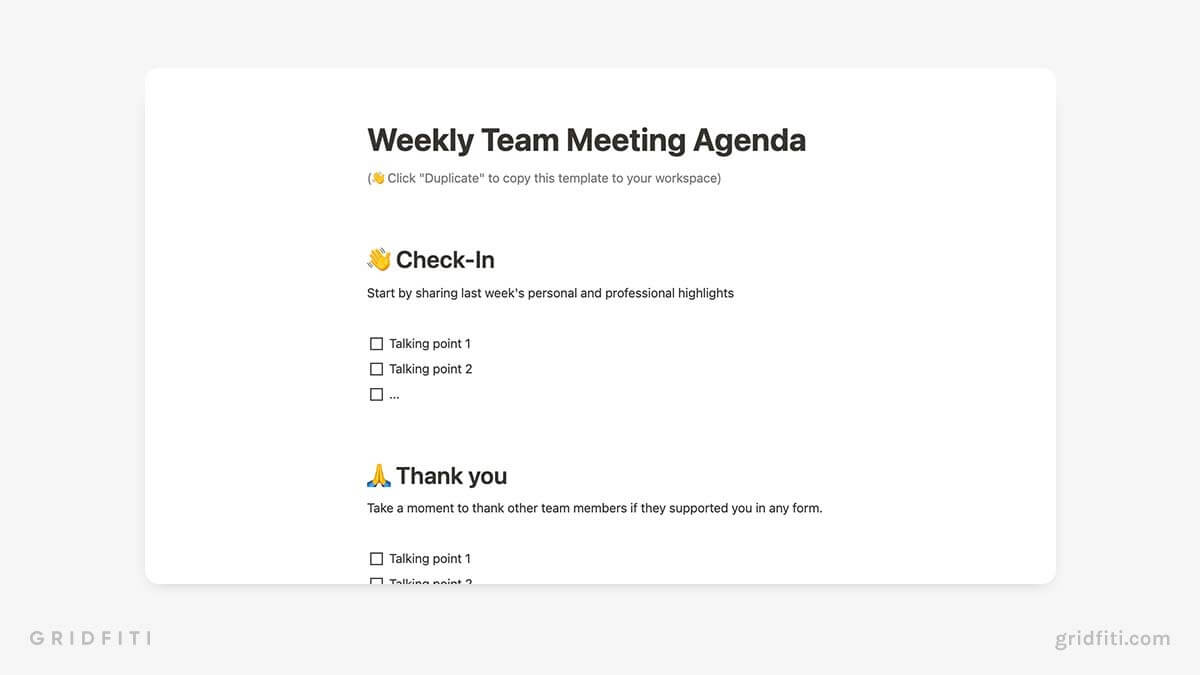 Thomas Frank's Note-Taking System
Organize your life into digital notebooks within Notion! Thomas created this simple note-taking system by taking components of Apple Notes and Evernote, while integrating some of Notion's most notable features to build this template.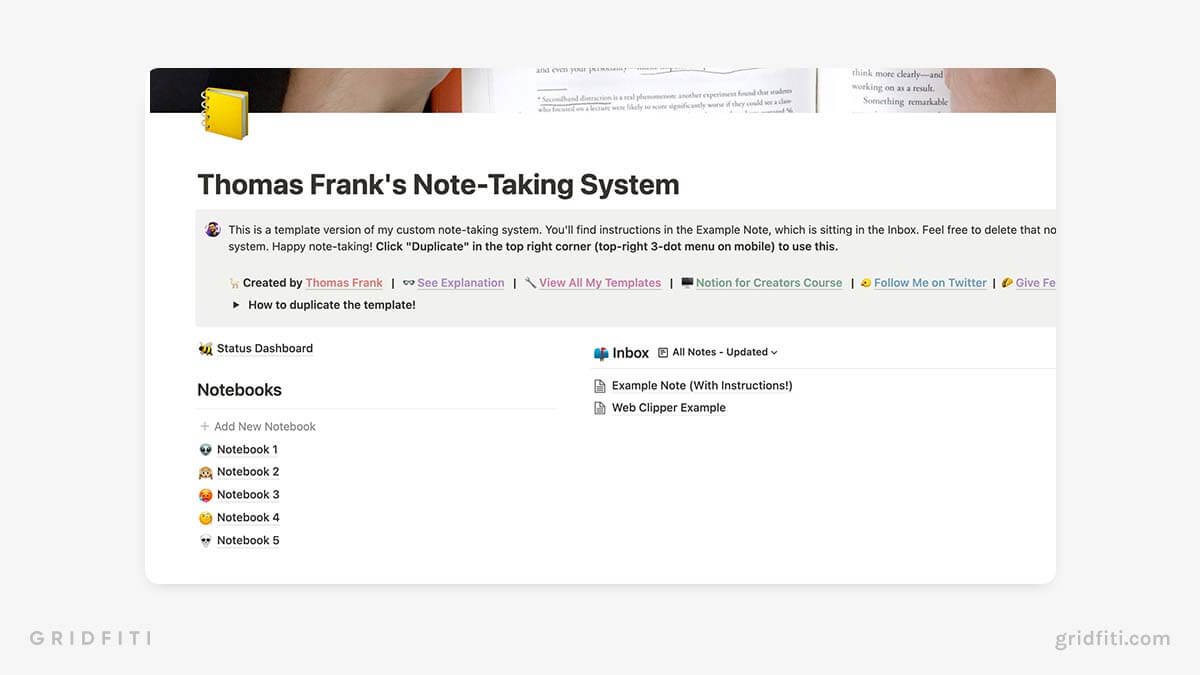 Which Notion note-taking templates do you use the most? Do you have any other Notion note templates to recommend? Let us know in the comments below!
Gridfiti is supported by its audience – when you buy something using the retail links in our posts, we may earn a small commission at no additional cost to you. We only recommend products we would use ourselves and recommend to our friends and family. Read more about our affiliate disclaimer.