Whether you're managing a content program, launching a new project, or just juggling your personal responsibilities, Notion AI can provide an efficiency boost to help you achieve your goals faster.
Generate content ideas, track investments, and even manage your reading list with Notion AI. Looking to level up your productivity? We've rounded up over 20 of our favorite Notion AI templates to simplify your work and personal life!
---
Looking for more productivity tips and tools? Subscribe to The Flow — our quick, snappy, value-packed focus and recharge newsletter. Also, don't miss our several other Notion template round-ups and guides!
---
AI-Powered Second Brain
Supercharge your second brain template with a helping hand from AI! The AI-Powered Second Brain includes templates for the PARA method and strategic annual planning, with AI on hand to improve efficiency and creativity. Notion AI can help you prioritize brain dump projects, provide prompts for resources, extract to-dos, and explain concepts, turning your second brain into a well-oiled machine.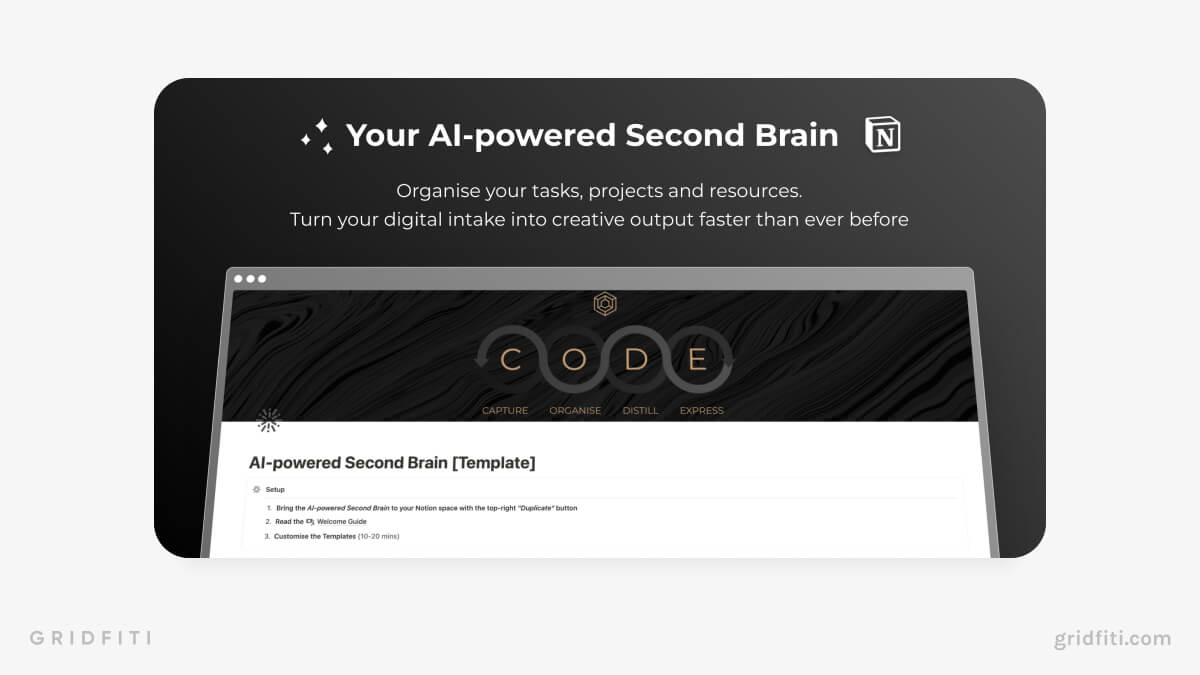 AI Content Generation Workspace
Thanks to The AI Content Generation Workspace, you can save time and money when creating meaningful content. Notion AI can generate on-brand email copy and social media posts with advanced algorithms to produce top-notch content. Plus, you'll have access to a bullet point generator — organizing your ideas has never been easier!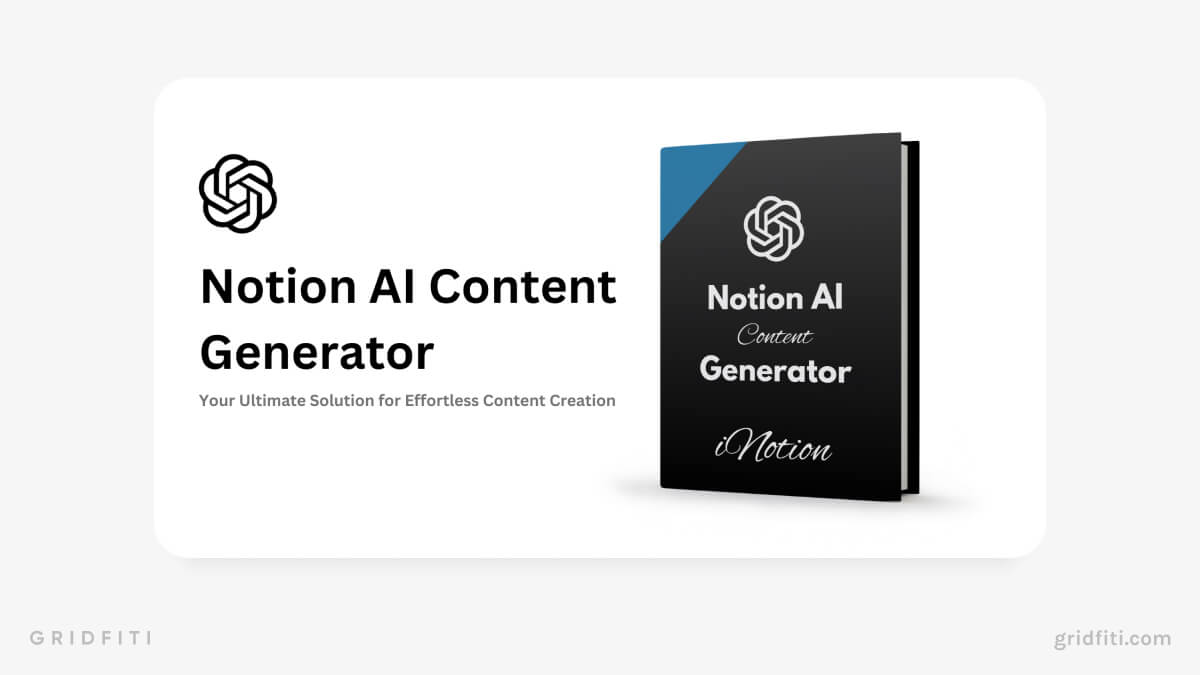 The Live Notion Investment Hub
Need assistance managing and maximizing your investments? The Live Notion Investment Hub is a Notion AI template that automates your investment portfolio tracking, curates useful stock resources, and organizes your assets into charts so you can identify trends and opportunities with ease. If you're new to Notion, don't fret — the Live Notion Investment Hub comes with a free onboarding guide and video call!
For more templates like this, check out our full post on Notion investment and stocks templates!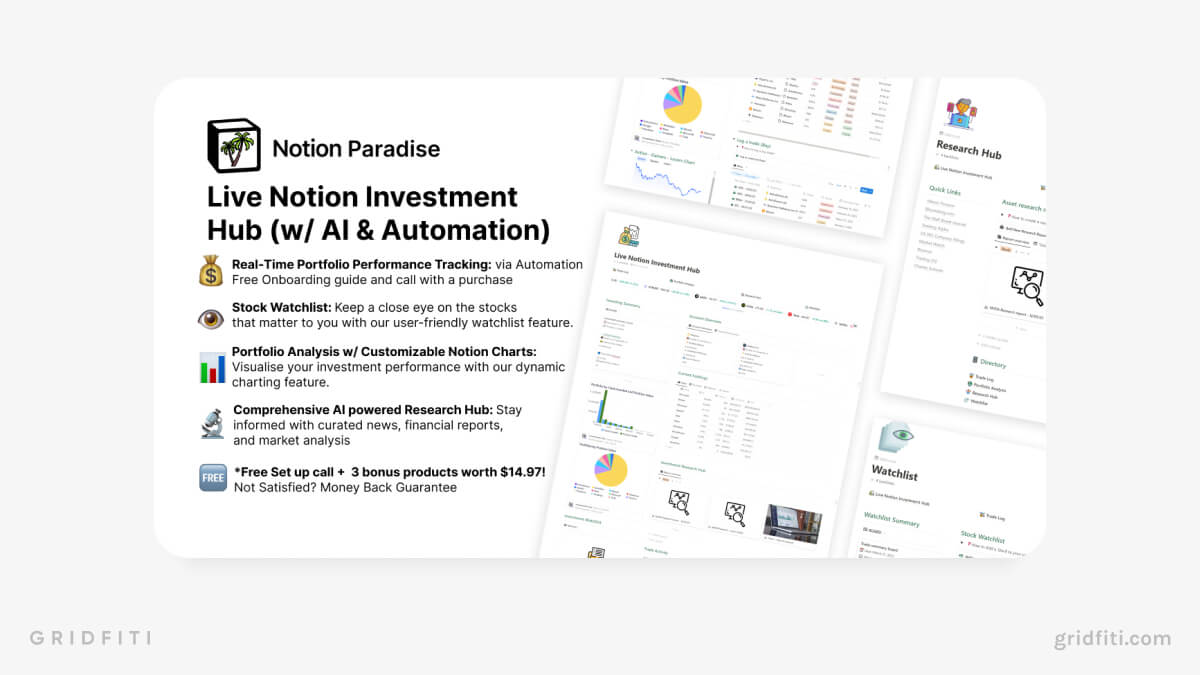 Blog OS
If you love Notion blog templates, you'll love Blog OS powered by AI. Blog OS can generate title ideas, help manage your blog, and even edit your work! With over 65 custom blog templates and over 30 SEO optimization tips, your latest WIP will rise to the top of Google's rankings in no time!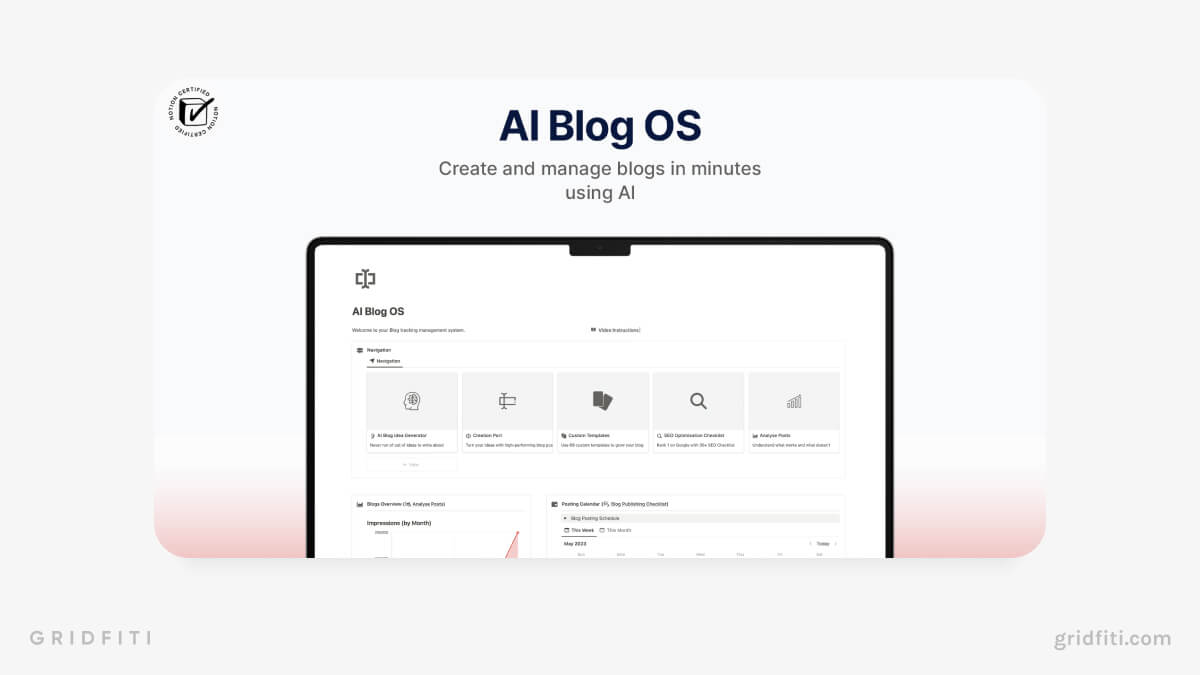 Virtual Assistant Dashboard with AI Prompts
The Virtual Assistant Dashboard with AI Prompts can help you organize your life faster than ever. Track your spending, schedule tweets, and manage your YouTube workflow with the Creator VA.
Or, create client invoices, sort through your portfolio, and manage your CRM with the Freelance VA. Finally, switch to the Life VA for habit trackers, task calendars, and bullet journals. Each VA comes with over 100 Notion AI prompts that'll make your life a little easier.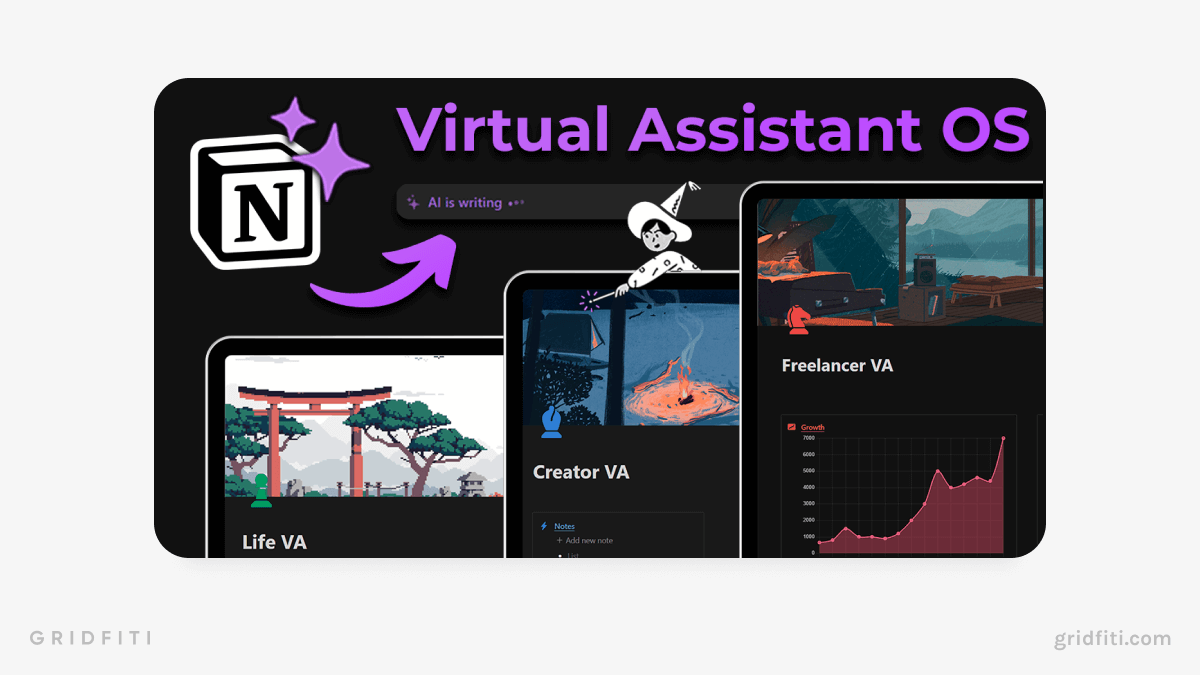 Notion AI for Product Marketers
Build a product launch from scratch in record time with Notion AI for Product Marketers. Use over 40 AI prompts to write product launch blog posts, turn ideas into copy, improve comms with your partners, and prepare customer interview scripts! Just provide Notion with basic details, and it'll generate useful content in seconds.
For more templates like this, check out our full round-up of Notion product management templates.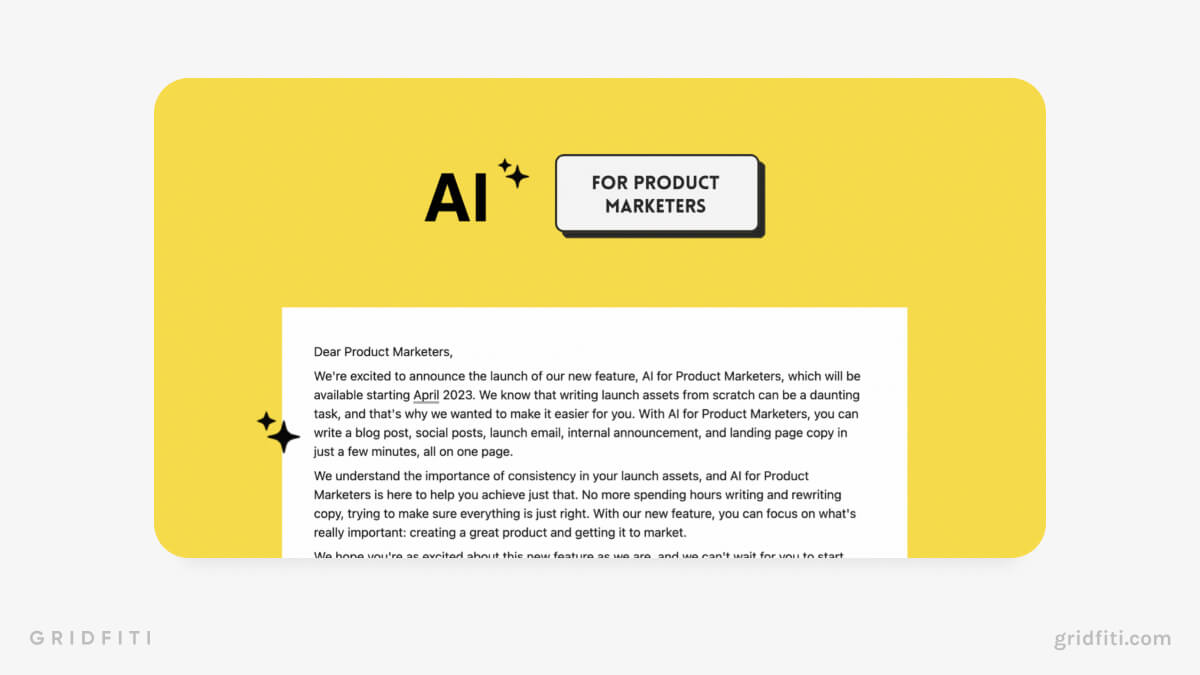 Marketing Copy OS
Whether you're looking to streamline your social media or optimize your copywriting business, AI Marketing Copy OS can come in handy. Provide keywords and product descriptions, and Notion AI will write engaging marketing copy. Plus, with an array of copy templates and style choices, you'll have no trouble finding a voice that matches your business model.
For more templates like this, check out our full round-up of Notion marketing templates!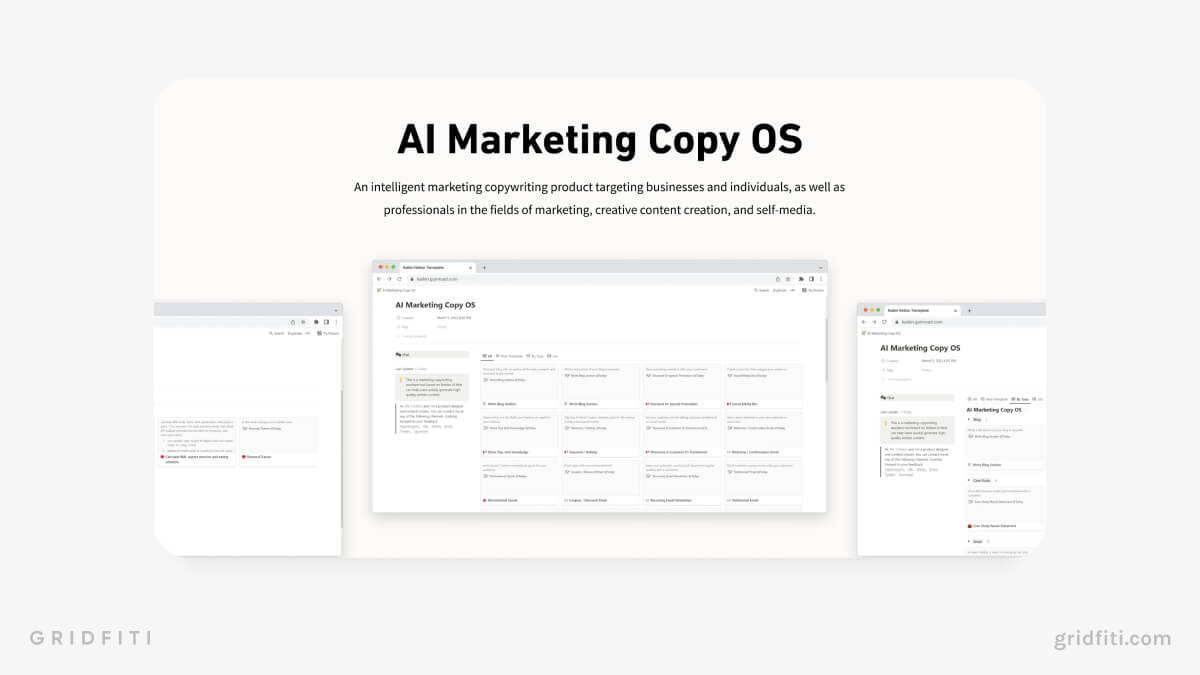 Mind Master
AI Mind Master can kick your productivity into the next gear, providing you with fresh ideas and inspiration. For personal and professional use, AI Mind Master can develop keywords and topics based on your thoughts, improve your understanding of subjects, and help you directly tackle tricky challenges.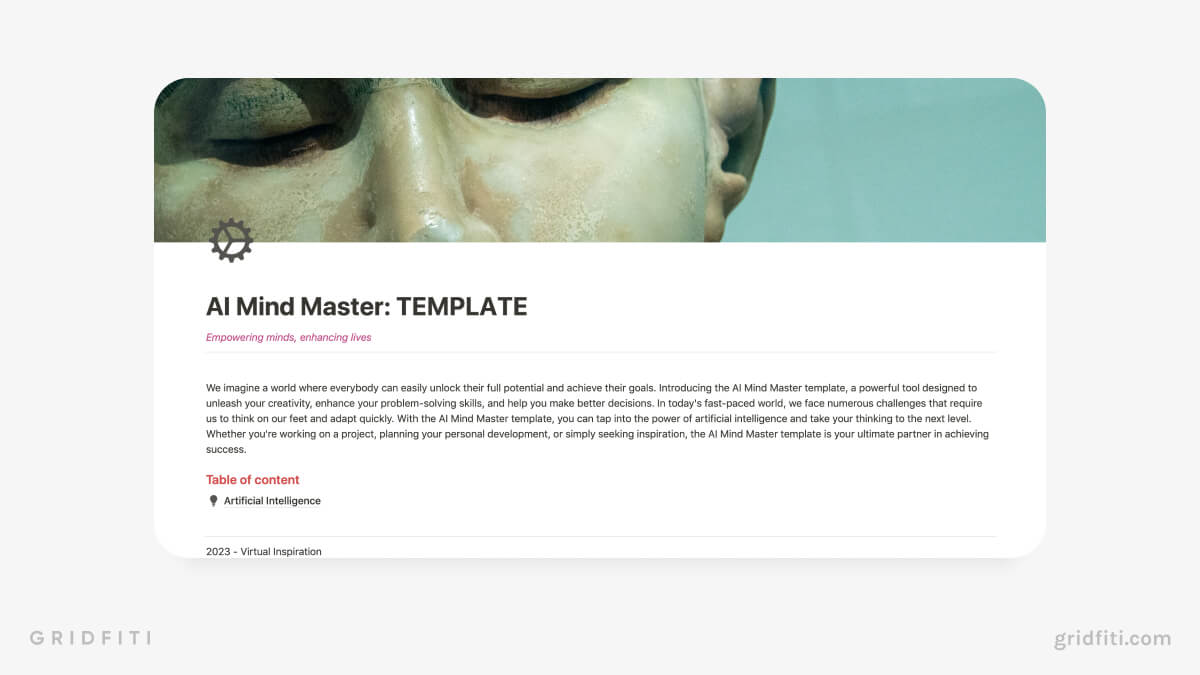 Writer OS
Searching for a Notion writer template with some extra oomph? Writer OS contains over 20 AI writing tools for 6 writing techniques, including blogs, email copy, social media, and business plans. Learn how to become a prompt engineer and AI writing in a way that suits your style. Writer OS uses the most up-to-date software and engineering principles to perform complex reasoning and produce the highest quality content possible.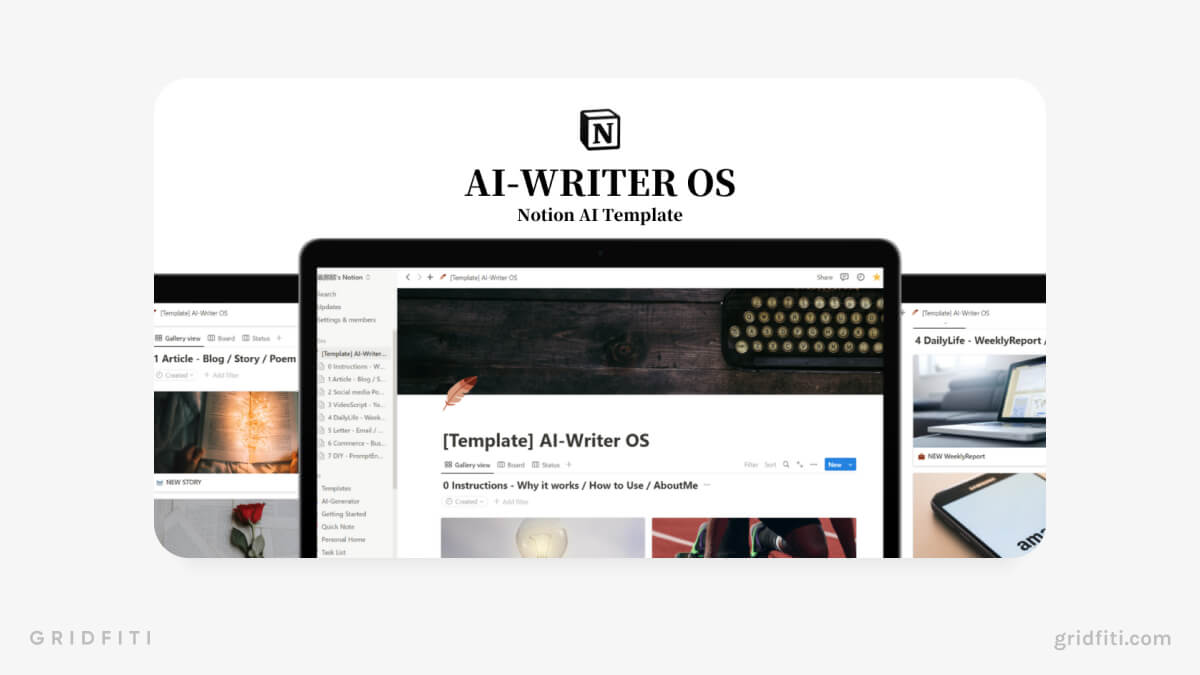 Ultimate Notion Book Tracker
Check out the Ultimate Notion Book Tracker if you're a bookworm struggling to keep up with your reading list. Organize your backlog into different bookcases, track your reading progress, and attach detailed notes to each book. Employ AI to source meaningful quotes and synopses and get book recommendations based on your book list.
For more templates like this, check out our full round-up of Notion reading list templates!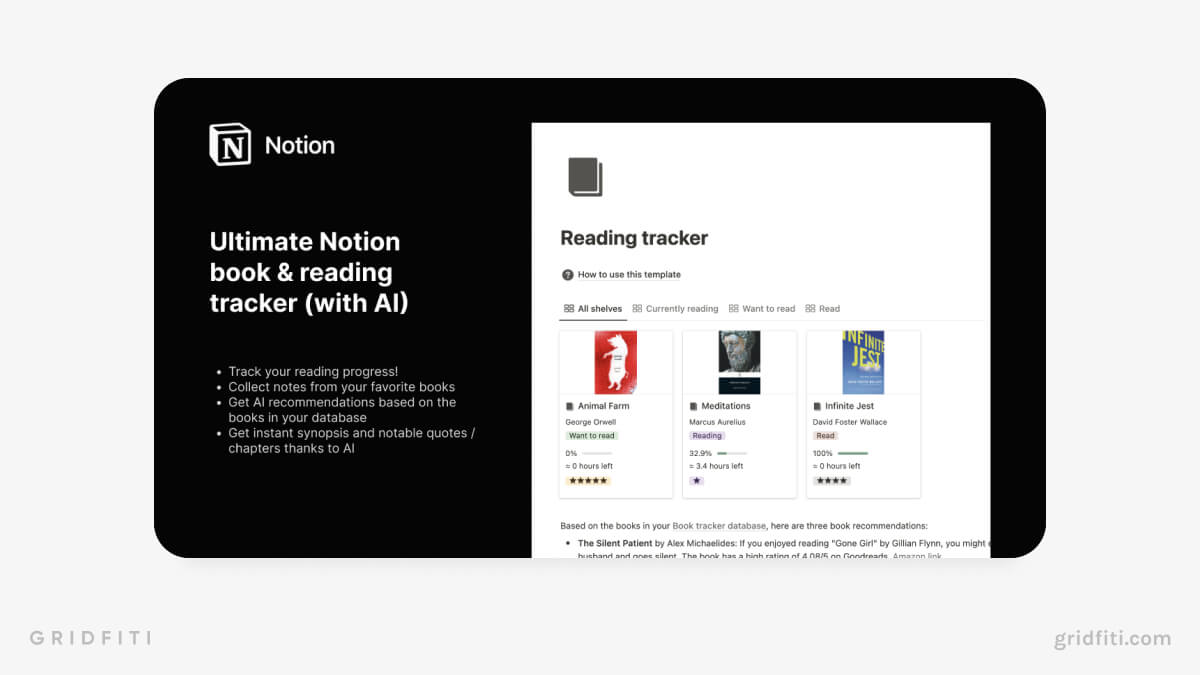 Notion AI Meetings Templates
Notion AI meetings templates can make your weekly syncs matter by highlighting the main topics for discussions, making lists of actionable items, writing icebreakers, and summarizing meeting overviews.
Check out these other Notion meeting notes templates for even more options.
Templates Available Here: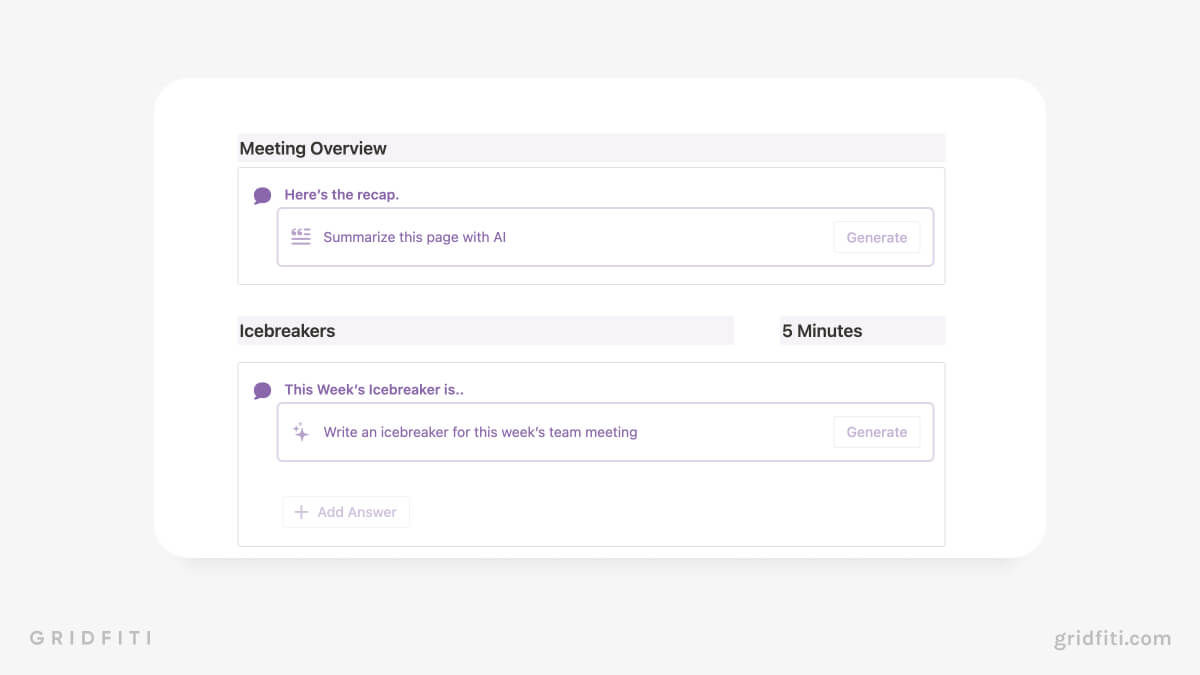 Notion AI Generator Templates
You can use Notion AI generator templates in a variety of personal and professional situations. Need help deciding what to cook? Plug your ingredients into the prompt for an instant meal plan. Trying to write a YouTube script in a tight timeframe? Get a video script in seconds using the prompt provided. Many of these templates are free — just duplicate them to your Notion and edit the prompt provided!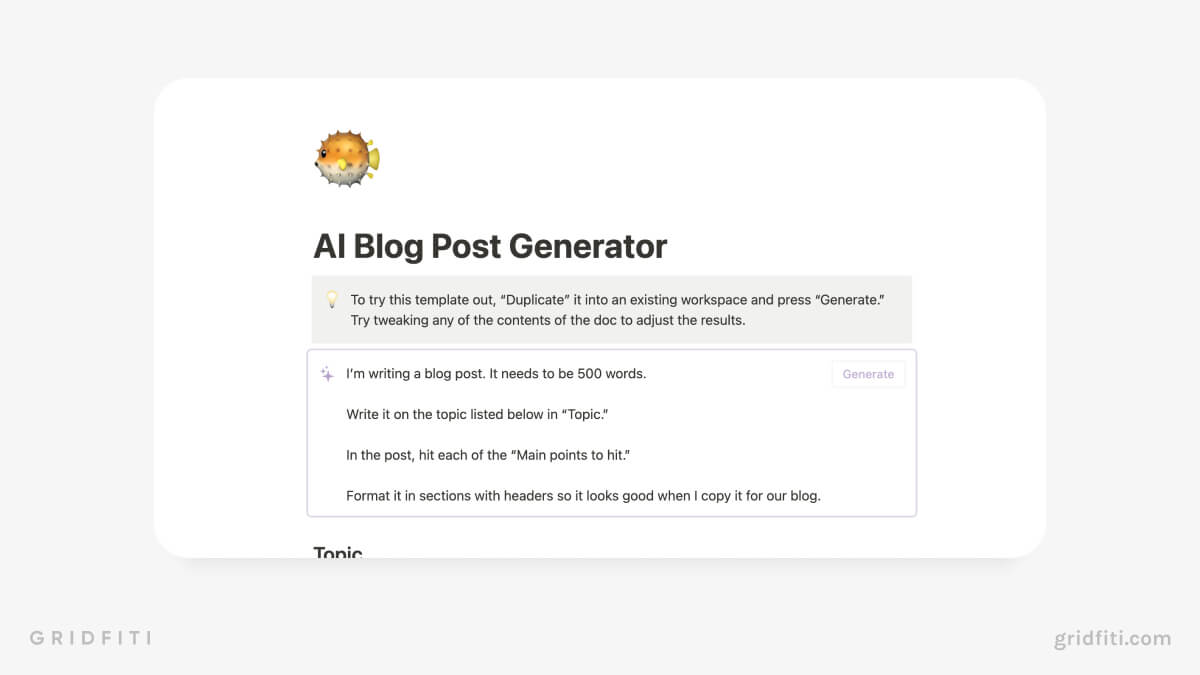 Which Notion AI template are you going to go with to level up your workflow? Let us know in the comments below!
Gridfiti is supported by its audience – when you buy something using the retail links in our posts, we may earn a small commission at no additional cost to you. Read more about our affiliate disclaimer.