Finding and adopting the right product management system can be a challenge, especially with so many options out there. Notion is one of our favorite places to house anything and everything productivity – and that doesn't stop at providing product managers and teams with some incredibly robust systems to get products shipped.
Skip the overpriced and overcomplicated software, and save time and money with the right system in Notion! We've curated some of the best Notion product management templates out there for you to weave into your workflow – let's check them out.
Related Posts:
Want more Notion tips, tricks, and templates? Join our Notion mailing list below and check out our several other Notion guides and round-ups!

Sign up for Notion here! Free for personal use, students, and educators.
Product OS – All-in-One Template
Created by an ex-lead product manager of a large startup, Product OS is an all-in-one product management command center for product and tech teams! Featuring team OKRs, problem-solving tools, sprint tracking, backlogs, documentation, key metrics tracking, and so much more, bring all of your product management needs under one roof in Notion with the Product OS template.
Related Post: Notion OKR Templates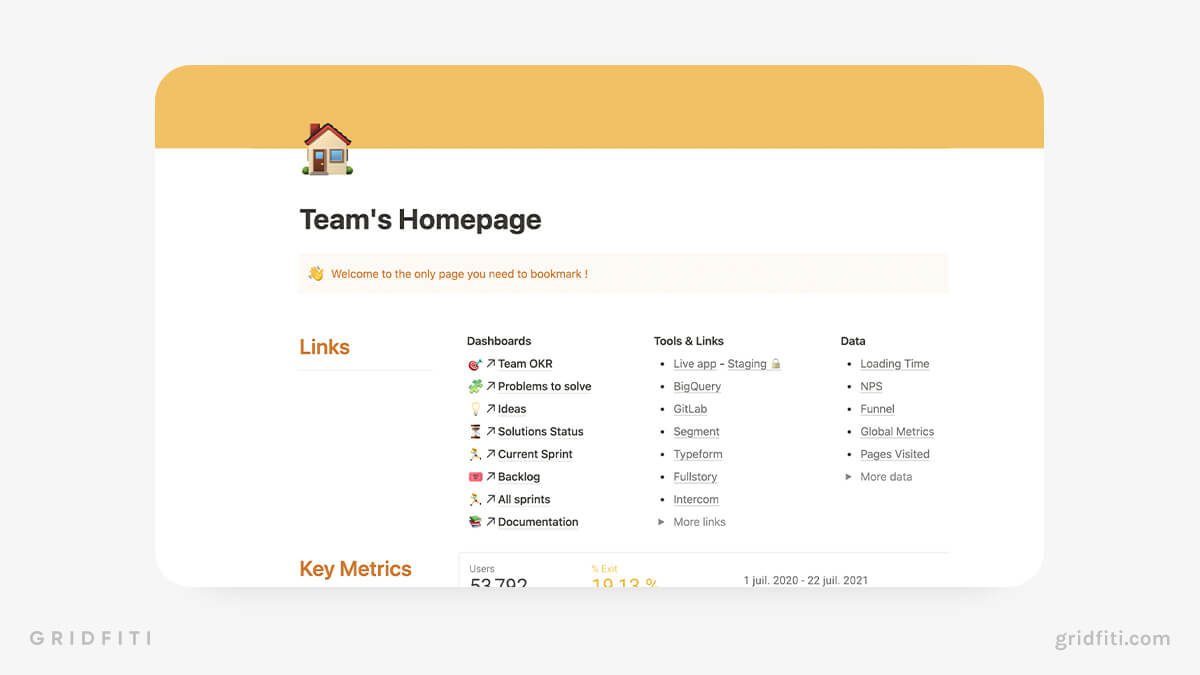 Product Notion: 100+ Product Management Templates
From product kick-off, to debrief, this jam-packed bundle includes over 100 Notion templates for all key stages of product management, product design, and user research! All templates inside are 1-click and ready-to-go, with systems for robust product roadmaps, status reports, risk logs, countdown timers, postmortem frameworks, and dozens of other must-have templates for any product team.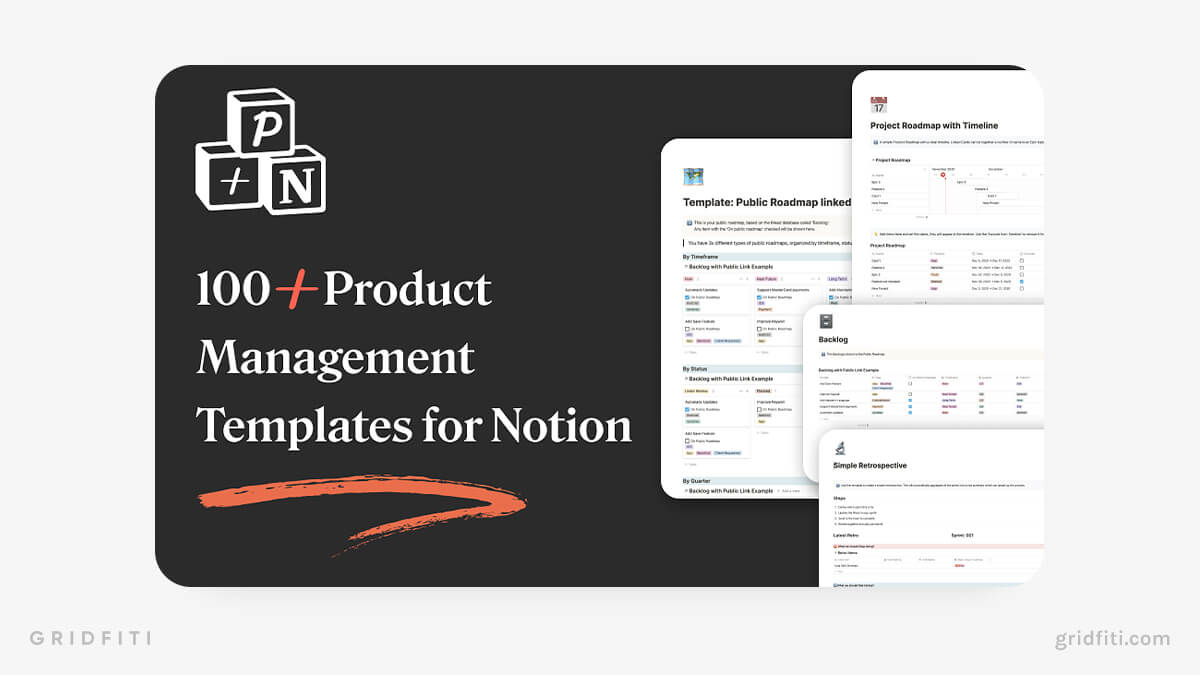 Product Discovery System for Notion
Finding your next winning product can be hard, and the Product Discovery System template is here to help! If you're feeling uninspired or in a product rut, this template is developed with 3 stages to help provide you with clarity and direction for your next product: Ideation, Screening, and Research. Each of these 3 pillars dive deep – with built-in systems for focus groups, customer visits, internal brainstorming, judges panel, criteria evaluation, proof of concept, and so much more. This template was made for anyone from beginners, to students, teams, entrepreneurs, and product vets.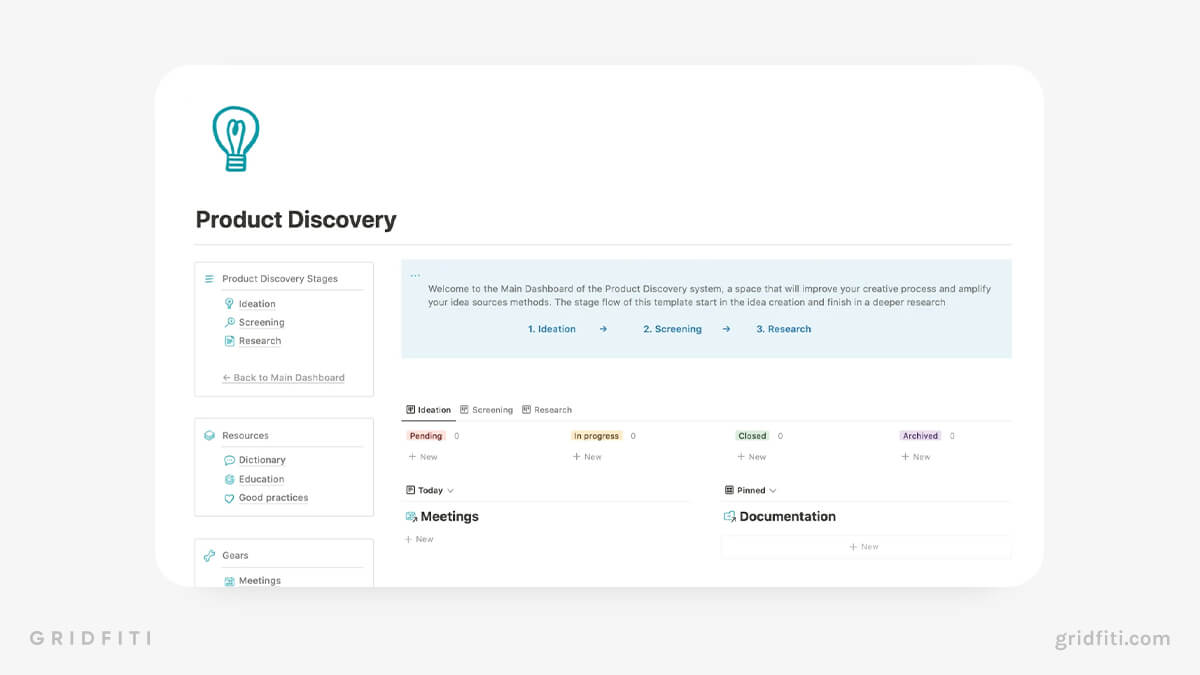 Notion Agile Scrum Product Dashboard Template
Through tried and true agile scrum methodologies the Notion Agile Dashboard will set you up for product success. With this template, create quality products, minimize your risk, track sprint progress, build a roadmap, track bug cases, and so much more. Compared to the traditional waterfall methodology, this dashboard was designed with the mission to help you ideate, build, and ship products better and faster.
Looking for more templates similar to this? Here's our blog post featuring the best Notion Agile & Scrum templates!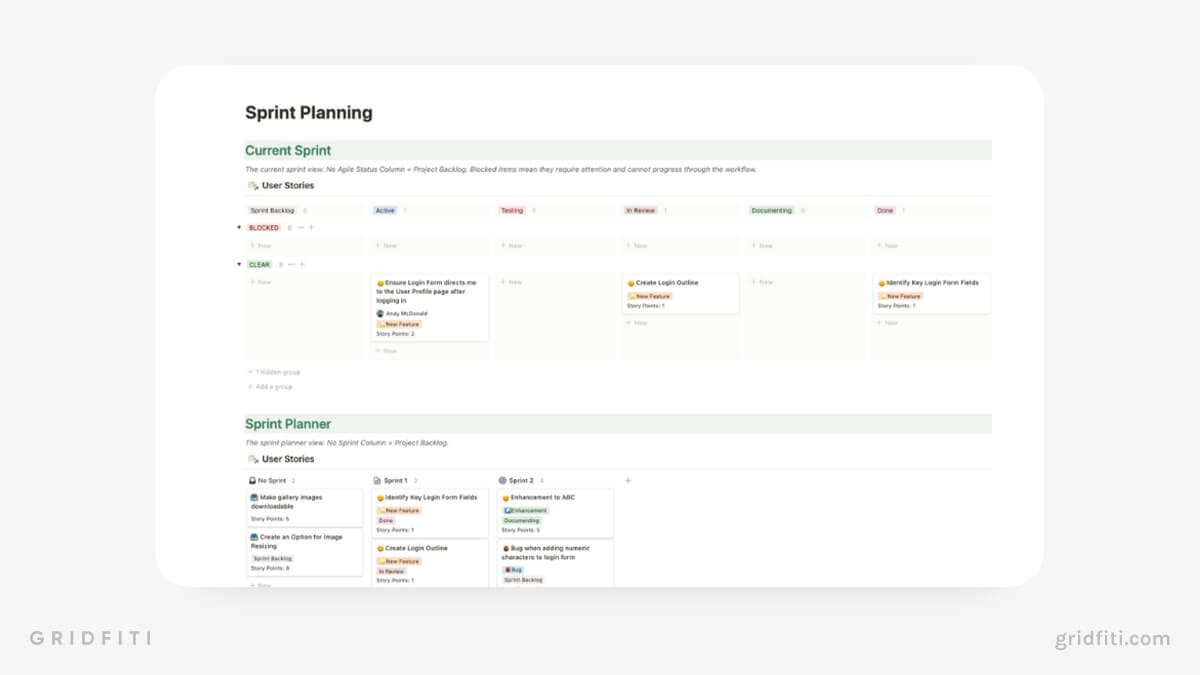 Product Planning Kit for Notion
This product planning kit includes 15 databases and 50 pages with resources to help you understand and nail your product planning. This system will help you create hypotheses and further understand user needs, get your team on the same page, level expectations with investors and stakeholders, a product vision board, roadmap, and so much more!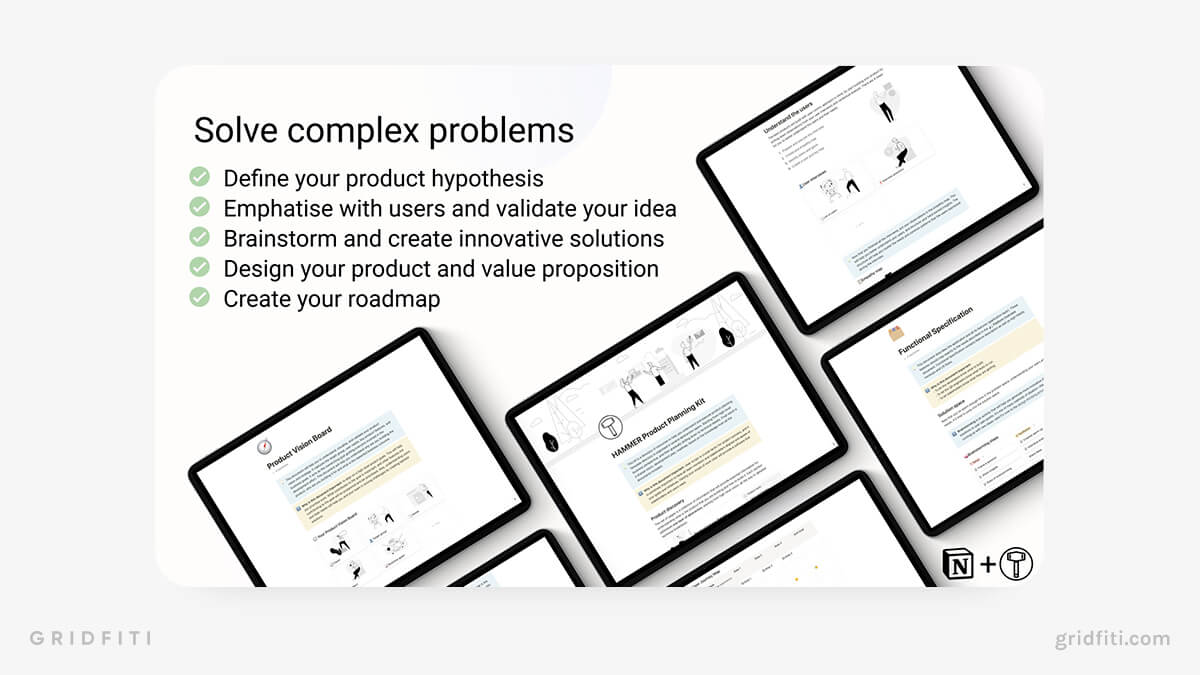 The Change Management Toolkit
Ship great products and projects, drive organizational change, drive your user base up, and so much more all with the Change Management Toolkit template for Notion! With risk assessment tools, impact assessments, communication plans, and so much more, this template is an all encompassing system to drive meaningful changes in your product team or organization.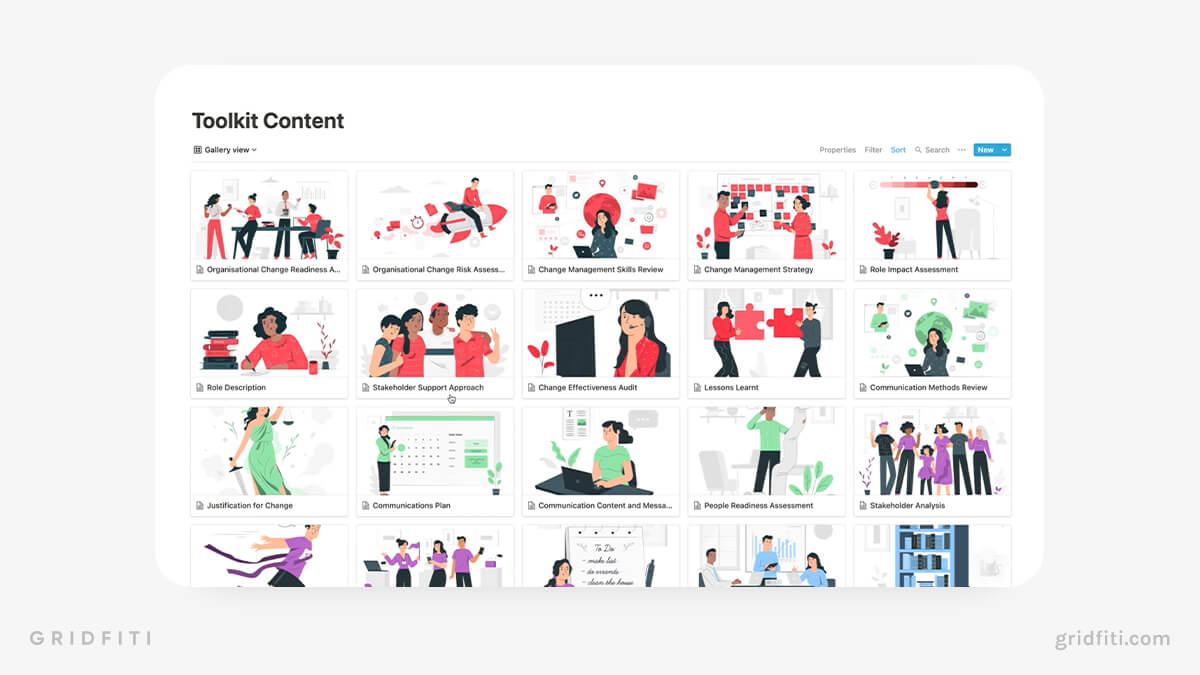 Build in Public Notion Journal
Anybody in the entrepreneur or creator space knows that building in public is a great way to share your journey with others, stay accountable, and ultimately, create better products. This simple Build in Public Journal, share your challenges, wins, product statuses, and more with the rest of the world!
For a more basic journal, we've curated a list of Notion journal templates & Notion bullet journals!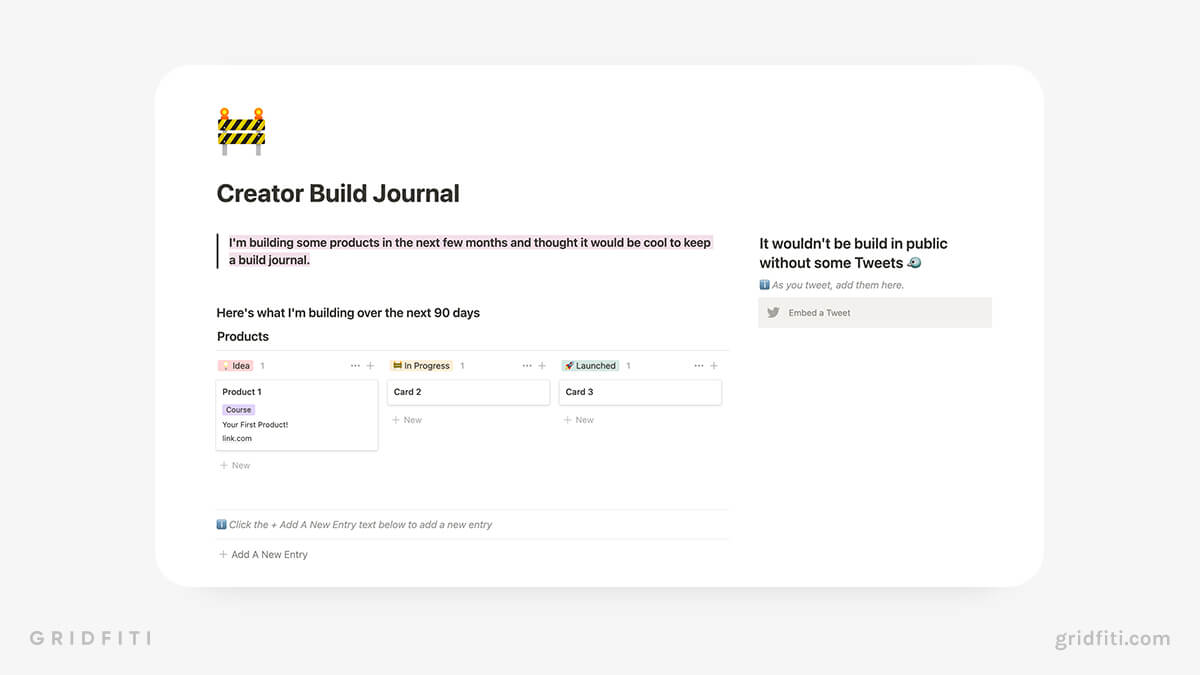 Product Landing Page Notion & Super Template
Hooray! You've finished your product, and now you want to share it with the world. Look no further than creating a beautiful landing page right in Notion. The Capsule template gives you the framework to design a slick landing page to promote your products, powered by Super. If you're familiar with CSS, you can customize your page for light and dark themes too.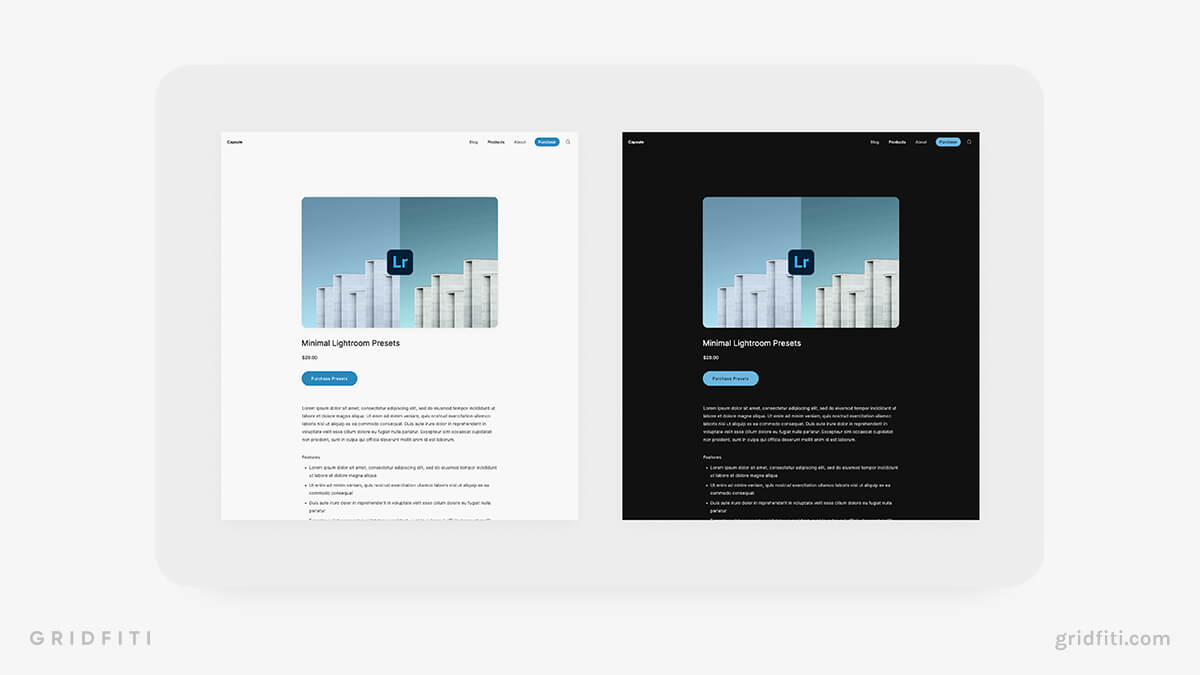 Product Hunt Launch Press Kit Template
Speaking of product launches, where better to share your shiny new product with the world than Product Hunt? As you may already know, the first step to getting on Product Hunt is finding a hunter – and to find a great hunter, you need some initial PR traction. This simple worksheet provides prompts to create a mini press kit for your product to share with journalists, bloggers, and hopefully, ultimately your next hunter!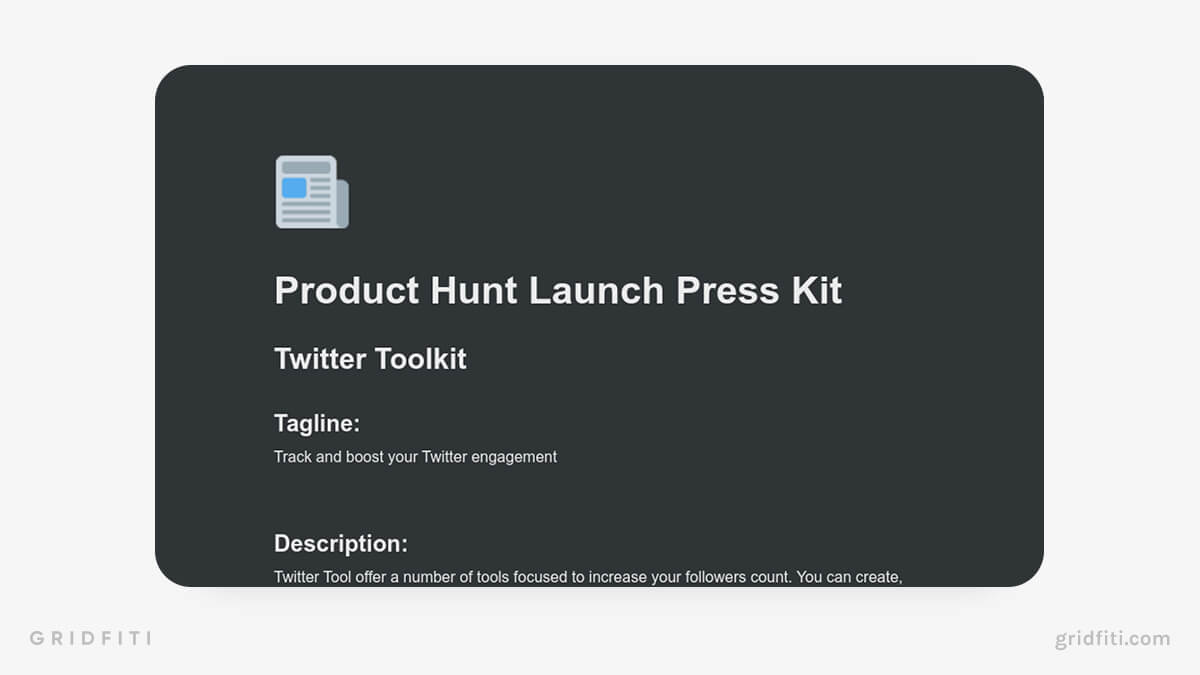 Which Notion product management template do you see yourself adding to your product workflow? Any other templates to recommend? Let us know in the comments below!
Gridfiti is supported by its audience – when you buy something using the retail links in our posts, we may earn a small commission at no additional cost to you. Read more about our affiliate disclaimer.