The sheer amount of tools and resources available for new and/or scaling startups is vast, yet, overwhelming. If you're like us and you're looking for an all-in-one platform to store ideas, create business models, launch your business, scale your startup, track performance, and more – Notion provides the flexibility to build custom dashboards that adapt to your startup's needs.
As a startup founder, the last thing you have time for is building a new workspace from the ground up. Thankfully, several creators have built robust, all-in-one Notion dashboards and templates for you to grow your startup – and we've rounded up the best for you to pick from. Let's jump in.
---
Looking for more productivity tips and tools? Subscribe to The Flow — our quick, snappy, value-packed focus and recharge newsletter. Also, don't miss our several other Notion template round-ups and guides!
---
UserBooster – Build Your Startup Launch Strategy
It's not easy to build a startup launch strategy and gain early traction – it requires lots of planning and preparation to find success. With the UserBooster Notion template, you can map out and prioritize your actions – and the startup dashboard will give you everything you need to acquire early users and scale your online community!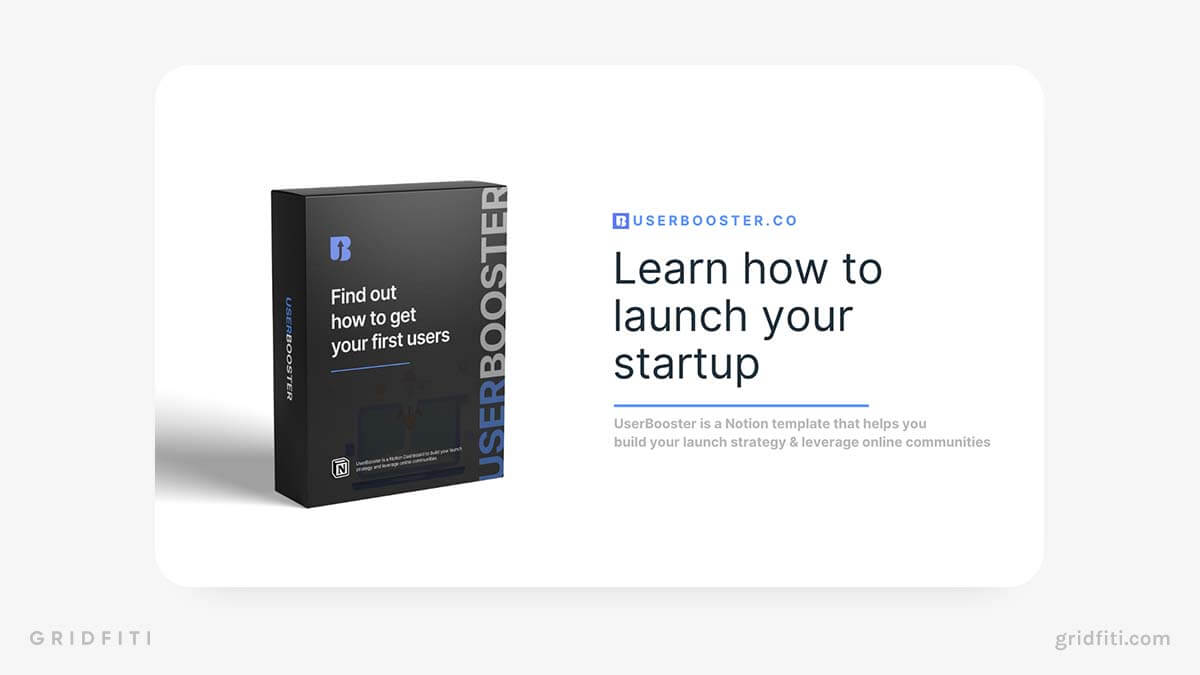 Notion Startup Growth Kit
With over 20+ templates, 50+ tools, and 100+ guides, the Notion Startup Growth Kit is a collection of valuable resources that will help you do just that: grow your startup. With this kit, you'll be able to launch on Product Hunt, Twitter, and Reddit seamlessly to gain traction from day one!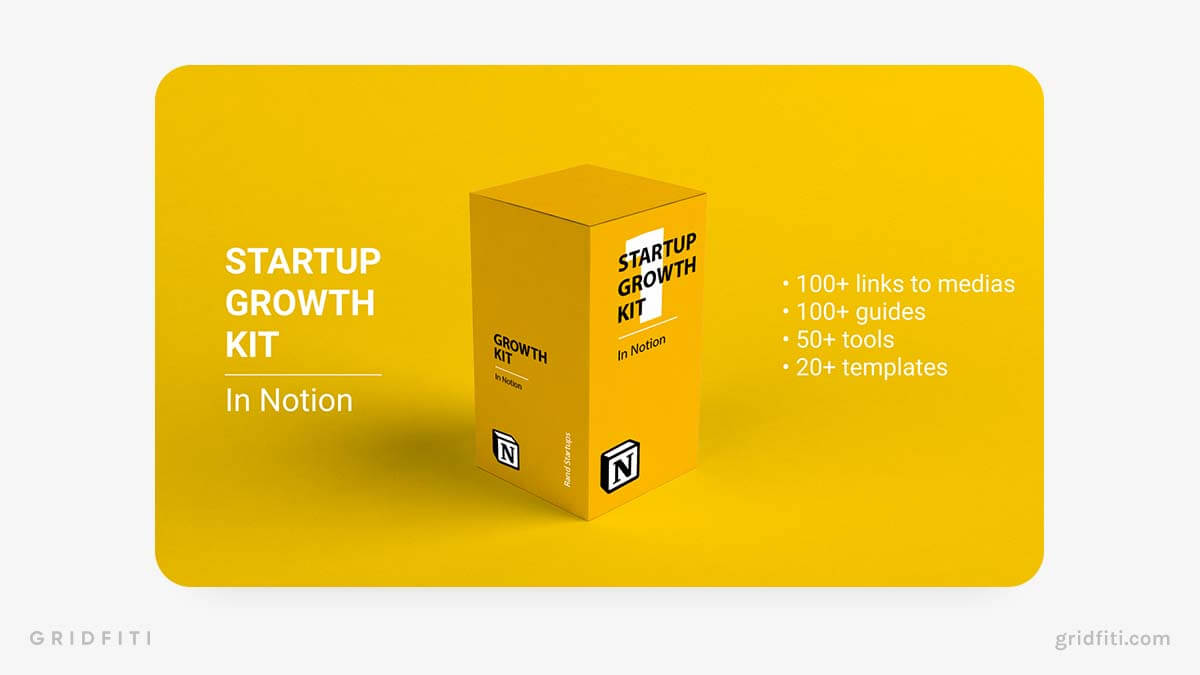 Notion Startup OS
Plan, launch, and grow your startup all in one place! With the Startup OS, you'll receive over 50 Notion templates – ranging from a company dashboard, to financial statements, company OKRs, and so much more!
Related Post: Best Notion OKR Templates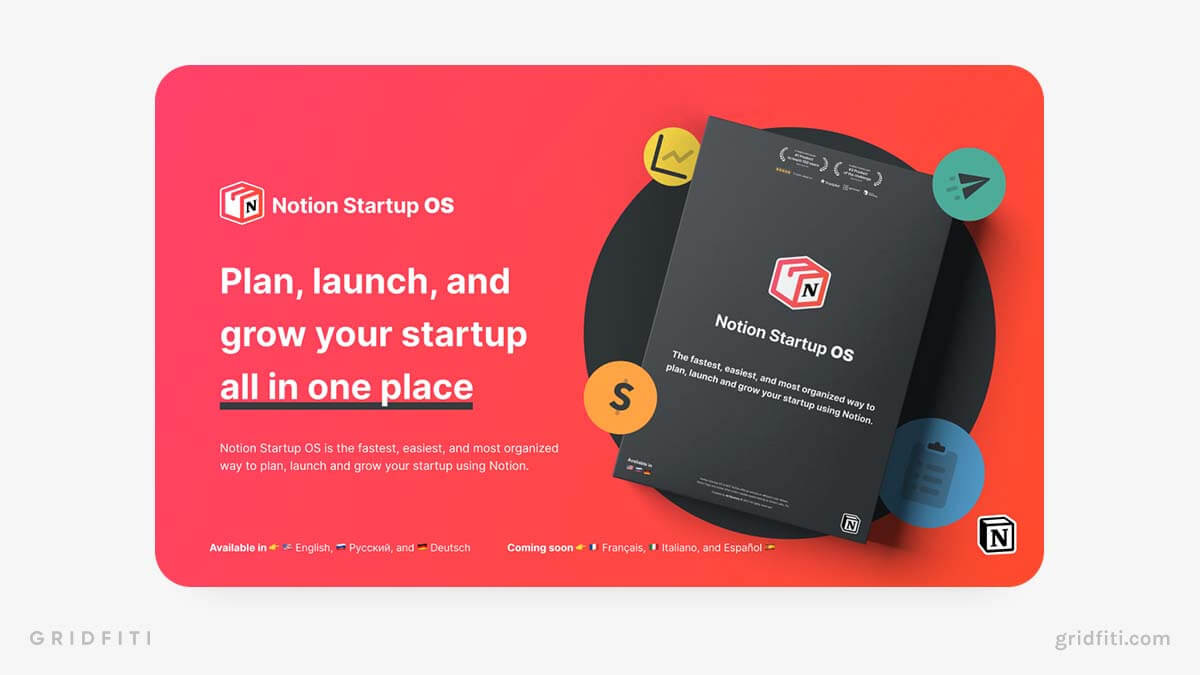 Bootstrap OS Notion Dashboard
You've found your idea? Great! Now it's time to bring it to life as a sustainable, growing business with the help of the Bootstrap OS Notion dashboard. This operating system is designed to help you progress through your business' life cycles systematically with the right templates and resources – all in a single Notion workspace!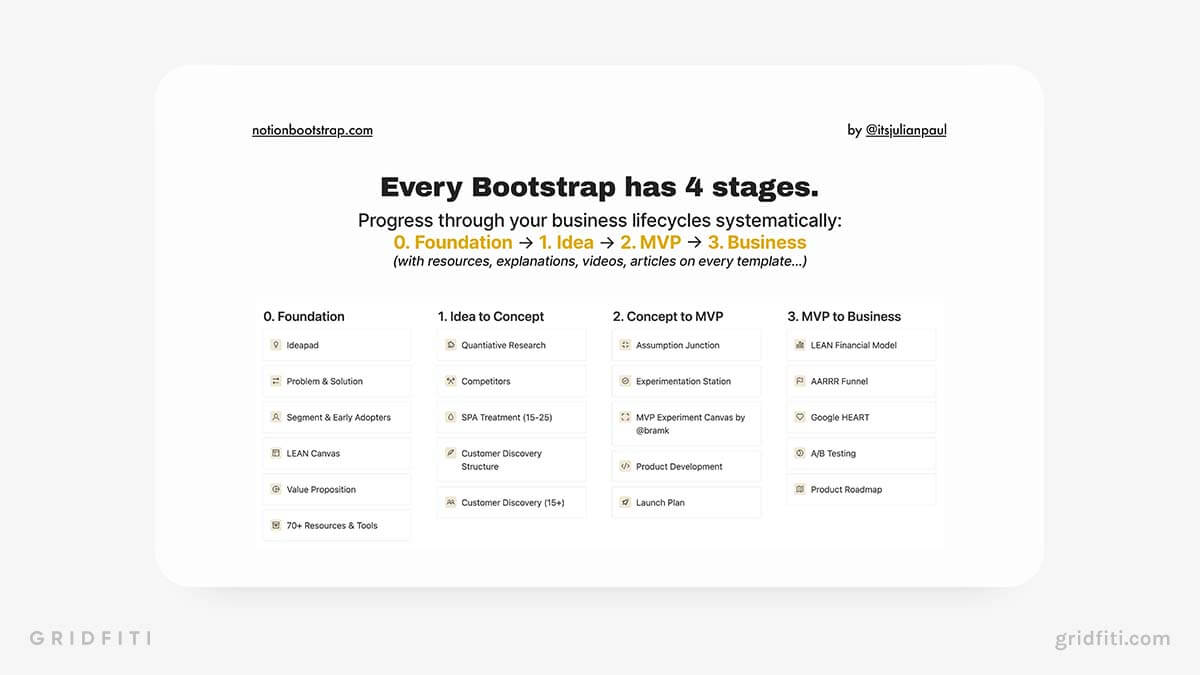 Product HQ Startup Dashboard
Ideate, design, and source your product in an actionable Notion dashboard – and watch your entrepreneurial dreams come to life! Streamline the process of designing your product, liaising with suppliers, purchasing large quantities, and more with the ultimate Notion Product HQ.
Related Post: Notion Product Management Templates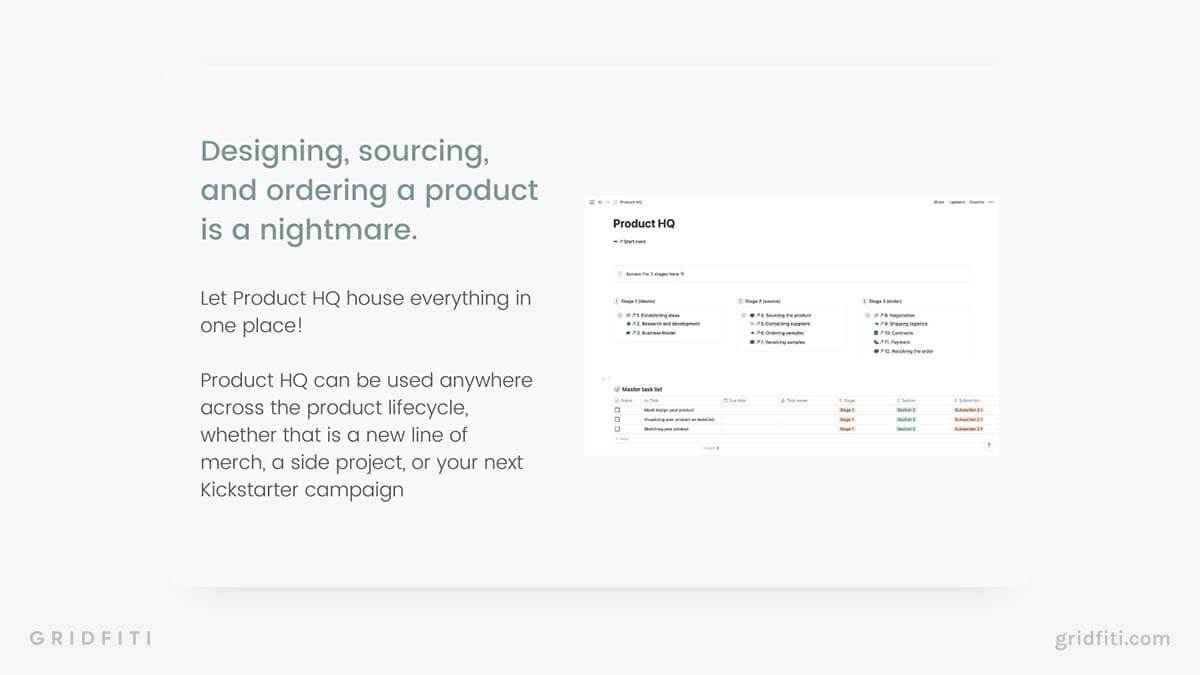 Remote OS – Notion Template for Remote Startups
Running a business remotely sounds like a simple concept, but it requires proper organization and management to make sure everything runs smoothly. The Remote OS Notion template does just that, with a streamlined dashboard that focuses on the core of your business with simple, easy-to-use templates!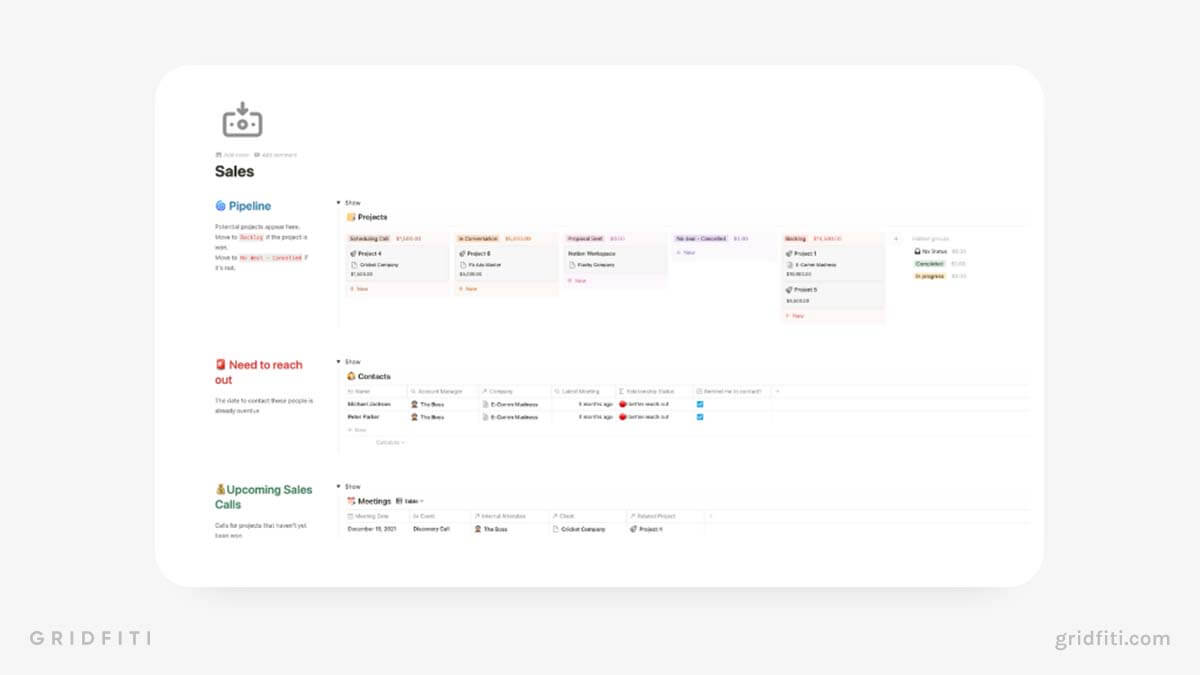 Notion Small Business Kit
Wanting to start that business you've always dreamed about? With resources online like the Notion Small Business Kit, it's easier than ever to start and manage your own company! Use its 40+ pre-built templates to bring your vision to life.
For more templates, check out our blog post rounding-up the best Notion business templates!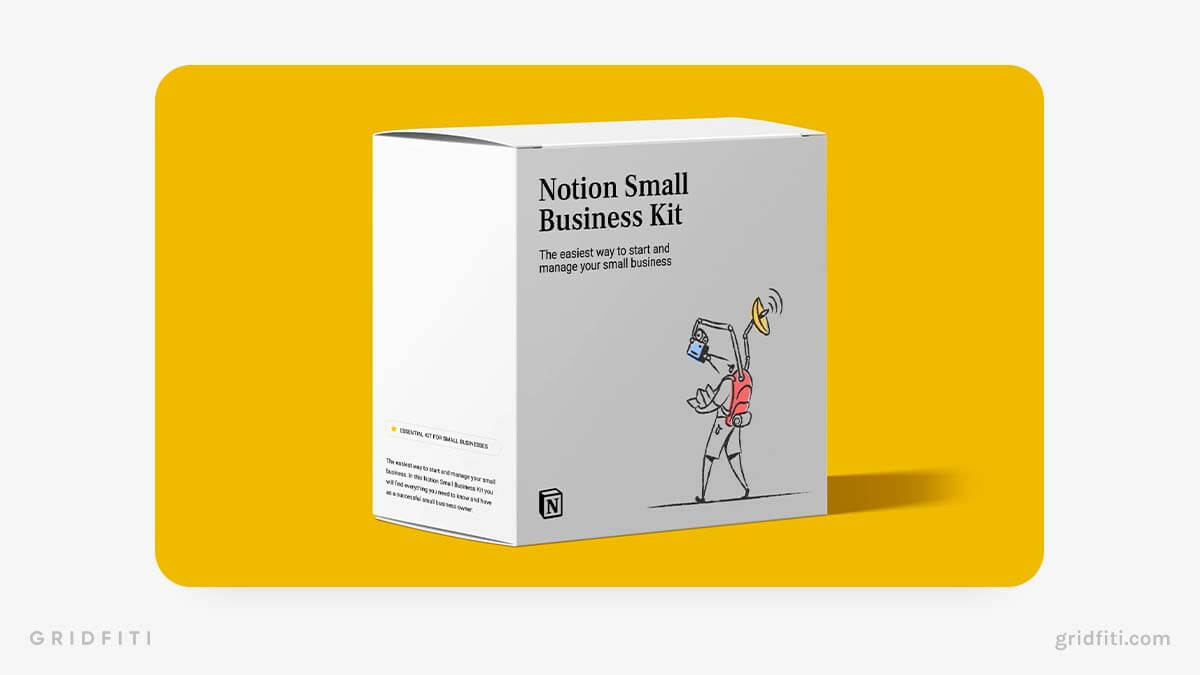 Notion Enterprise OS Template
Time is money, and as a founder, any hour saved can go towards growing your business. The Enterprise Notion OS is designed to help you save hours daily by streamlining your business' workflow in Notion, helping you make well-informed decisions based on all of the available info!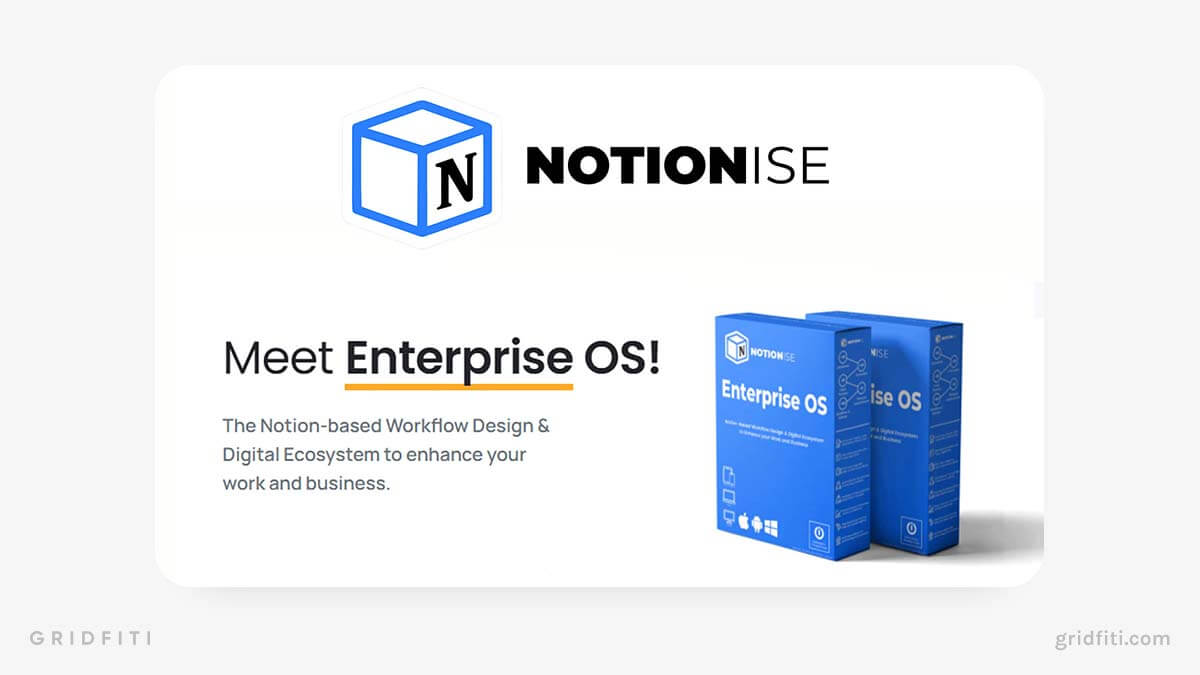 Product Discovery System
The Notion Product Discovery System will help you identify your next winning products and features. Organize your thoughts and insights into this Notion dashboard, with a robust system to capture and analyze ideas!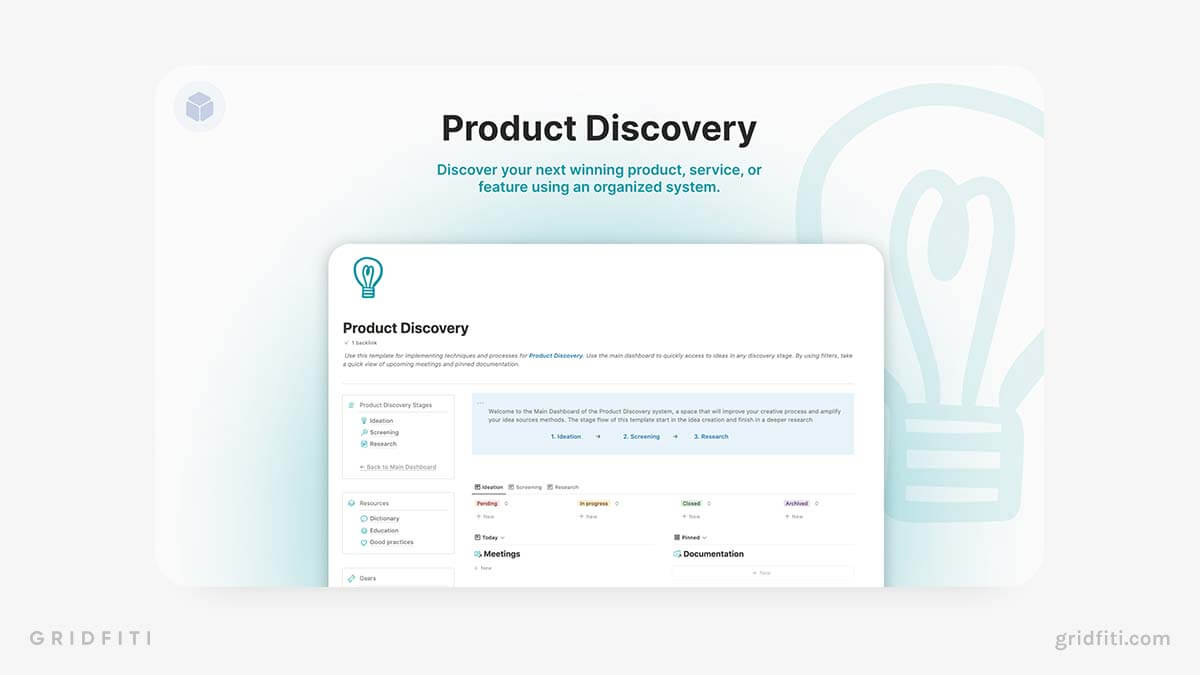 The Startup Fundraising Toolkit
Get the same Notion toolkit used to raise $12M in pre-seed, seed, and Series A funding at a fraction of the price of other fundraising resources. This template was built by Dan Hightower, who has started enough companies, and has raised enough capital, to bring you this premium Notion system! From investor CRMs, to pitch deck resources, founder profile templates, and more – you'll get everything you need to fundraise faster than ever.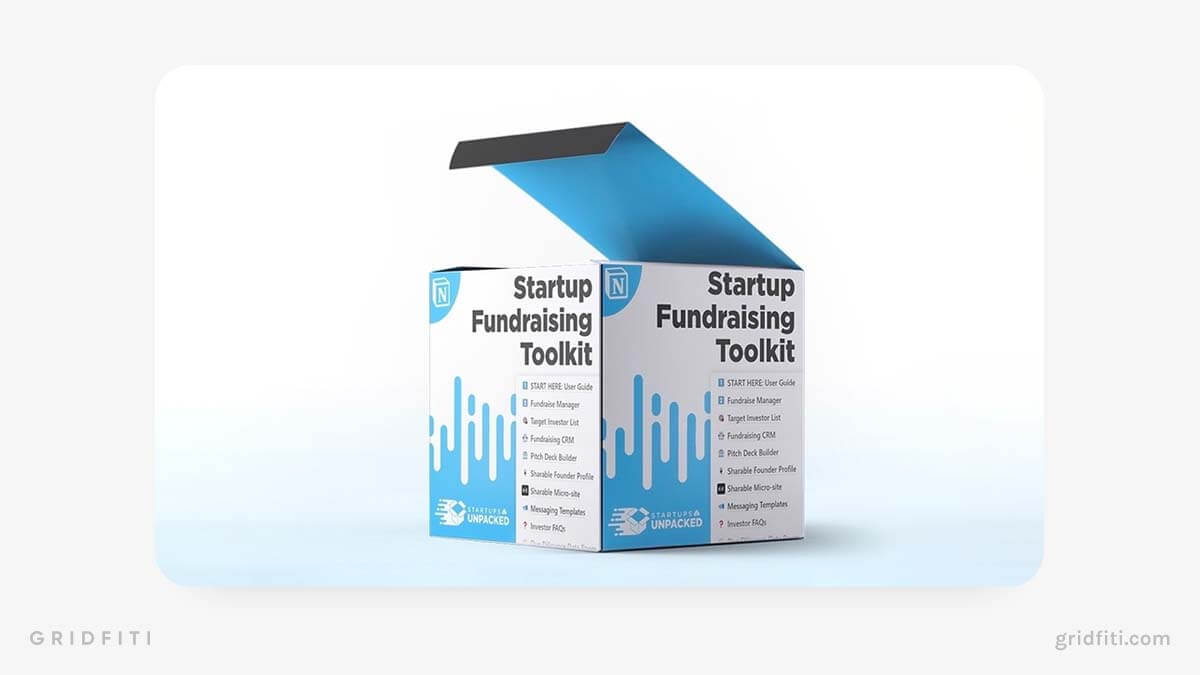 Side Project OS
Turn your 5 to 9 side hustle into your 9 to 5 with the help of Side Project OS. If you have a ton of ideas, but you're not sure where to start or how to best use your (limited) time, this Notion OS gives you everything needed to ideate, plan, manage, and track your side project!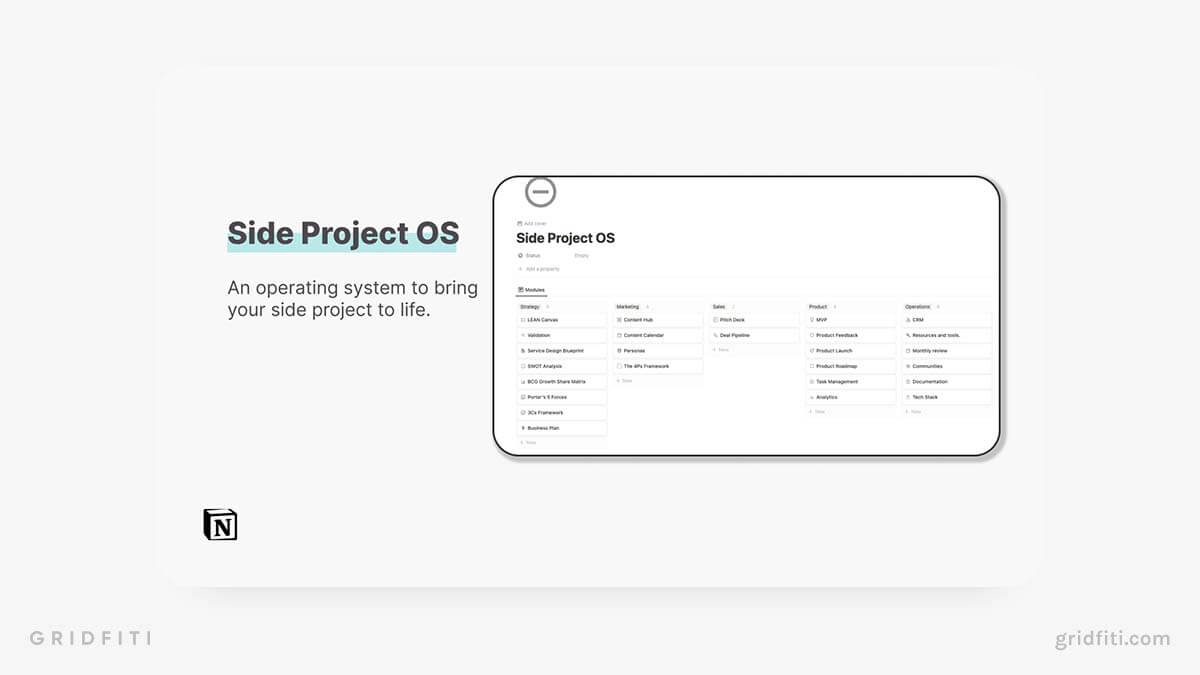 Lean Incubator Notion Template
The Lean Incubator isn't just any business model template – it's a work system template used to manage and incubate your ideas! The Command Center puts it all under one roof: OKRs, idea validation, to-dos, weekly planning, and lots more.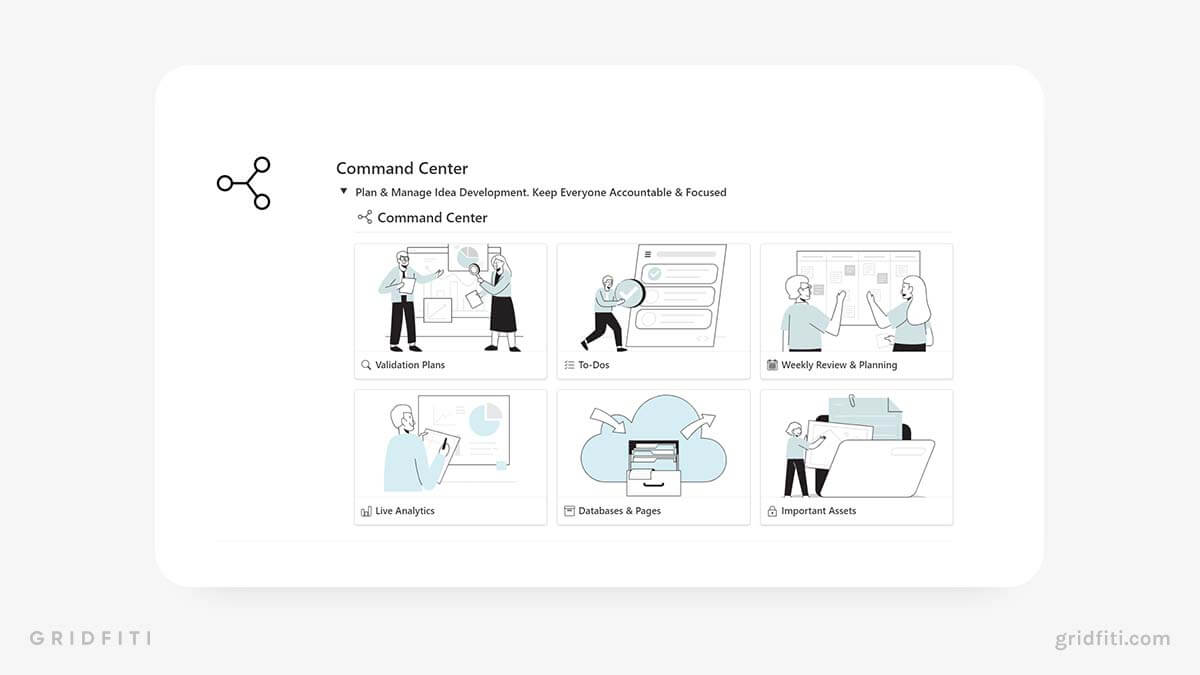 Notion Lean Canvas Template
Summarize your startup business model in minutes with the Notion Lean Canvas template! Using its prompts, easily build a one-page business model in no time.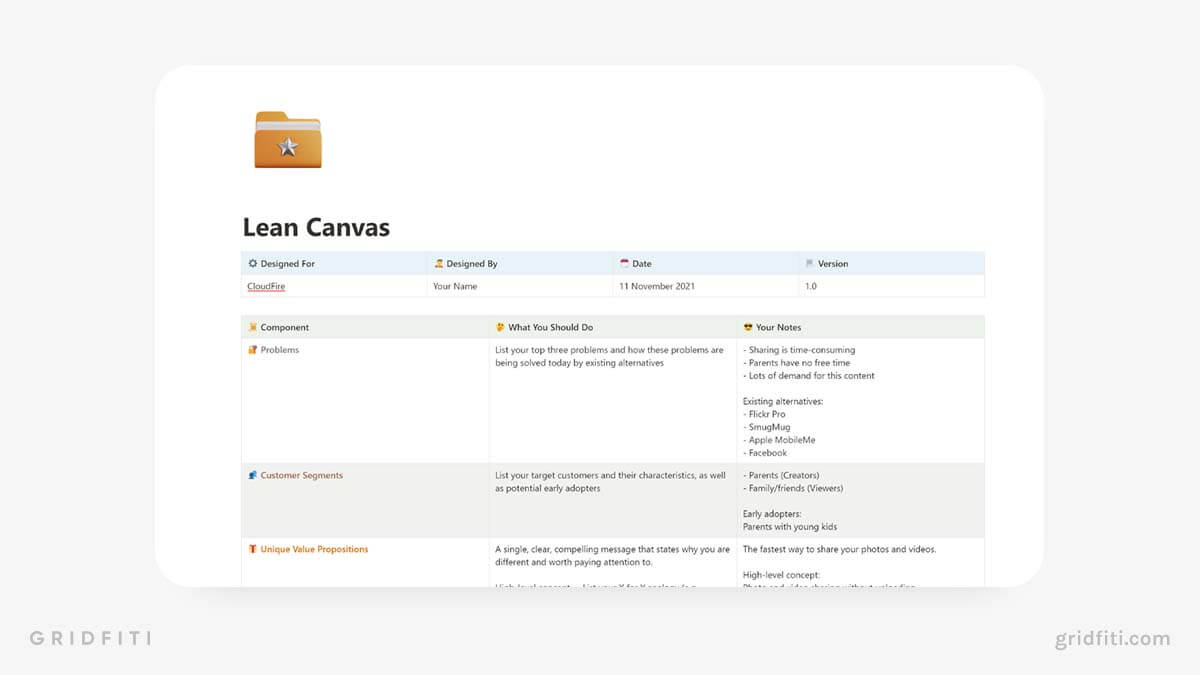 Notion Decision Journal Template
Modelled after the Farnam Street Decision Journal, the Notion Decision Journal is the perfect template to help you and your team members make – you guessed it – better decisions. Use Kanban boards, tables, databases, and more to make well-informed choices for your startup, and set reminders to never forget deadlines!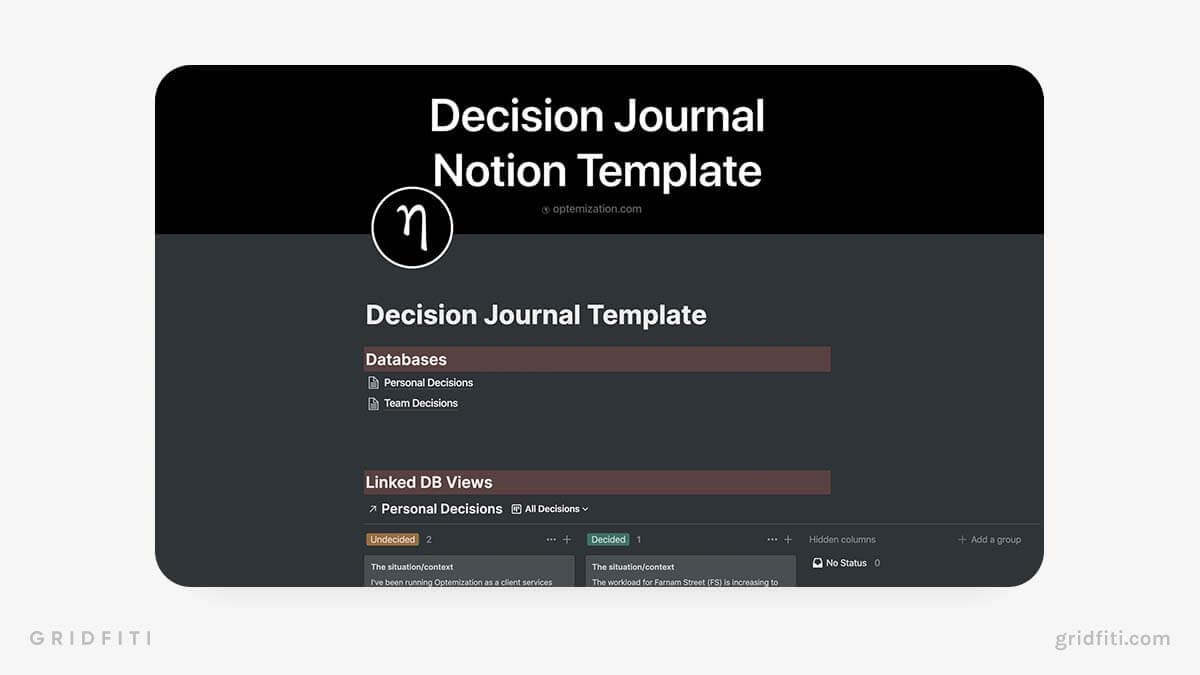 Notion Product Hunt Launch Kit
If you're familiar with the startup space, you've probably heard of Product Hunt and the importance of using it to launch any startup or product.
You can easily add your product to the community, but the key to success on the platform revolves around the product launch itself! Using the Product Hunt Launch Kit, you'll have access to customized post templates, a step-by-step guide to launching on the platform, access to a maker community, tips from pros, and more!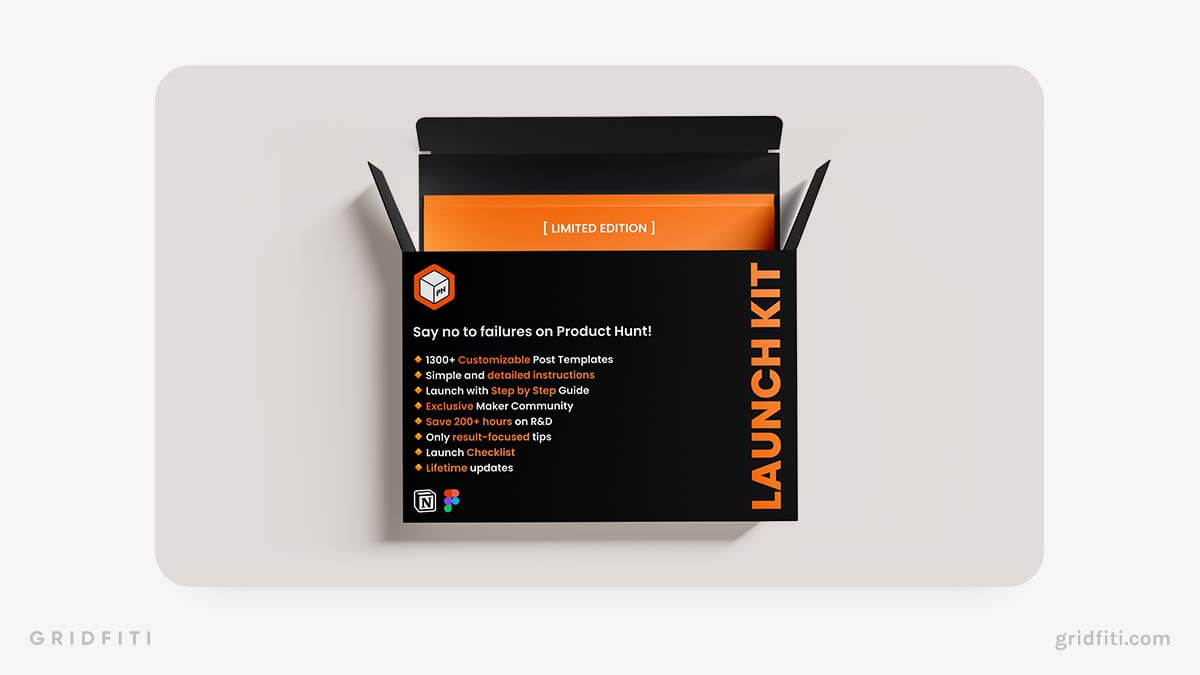 Are we missing any Notion startup templates? Do you have any recommendations for Notion templates for startups to use? Let us know in the comments below!
Gridfiti is supported by its audience – when you buy something using the retail links in our posts, we may earn a small commission at no additional cost to you. Read more about our affiliate disclaimer.