We all have goals, but the hardest part is putting a system in place to actually make them happen. The OKR system is a goal-setting framework based on Objectives and Key Results for people and teams to hone in and focus on milestones (key results) that contribute to a higher level goal (objectives).
This method is a productivity crowd favorite – and even used by many of the world's biggest companies. If it's good enough for Google, Spotify, Twitter, and Airbnb, it's good enough for us!
Notion is one of the best places to house all things productivity, and whether you're working towards business or personal goals, there are some amazing templates built on the OKR framework. We've curated all these templates into one place so you don't have to – let's check them out!
Related Post: The Best Notion Goals Templates
---
Looking for more productivity tips and tools? Subscribe to The Flow — our quick, snappy, value-packed focus and recharge newsletter. Also, don't miss our several other Notion template round-ups and guides!
---
All-in-One Personal Goals & OKRs Dashboard Template
This goal-setting and OKRs template by yours truly is designed to help you make your goals actually happen! Set your objectives, then easily break them up into macro and micro action items (your key results) right in the template. Add specific metrics, deadlines, and to-dos per key results item – and watch yourself crush them.
The dashboard centralizes everything you need to keep an eye on your personal goals progress – including a dynamic dashboard with upcoming OKRs at the forefront, a pre- and post-objectives SMART assessment, integrated vision board, helpful tooltips throughout, priority support, and lots more.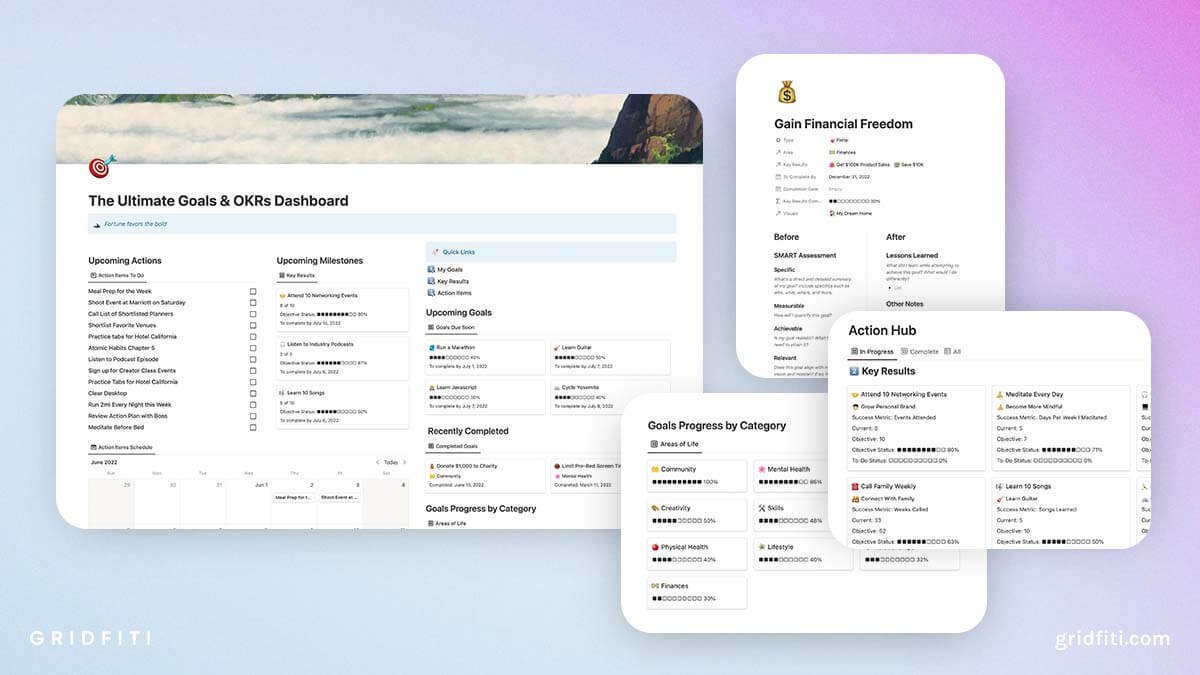 Company OKR Template for Teams
Inspired by the very system developed and made famous by Google themselves, this OKR template is a robust system for companies, adapted in Notion. Featuring team databases, KRs by team, KRs by individuals, and KRs by quarter and year, this template is perfect for any company looking to smash their objectives.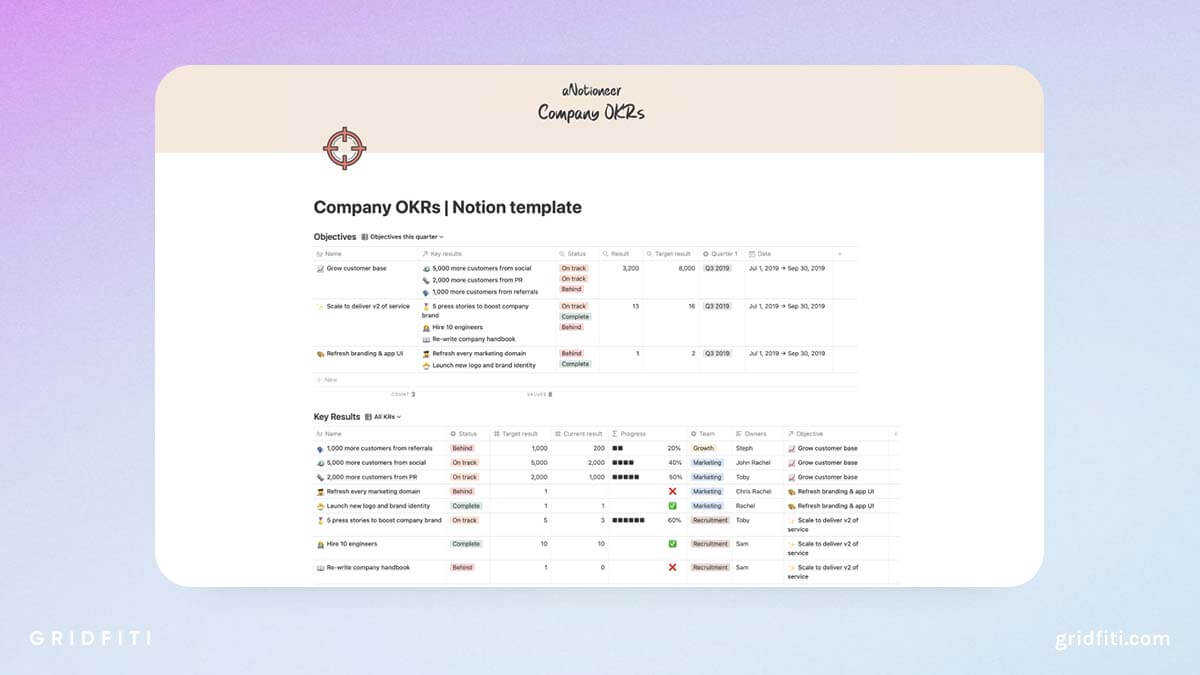 Notion OKRs Template for Companies & Personal
Designed to be adaptable and scalable based on your company's, or even your personal ever-changing objectives, this Notion OKRs template brings it all into one place. With a company dashboard, areas and departments view, quarterly objective system, and more – this is an advanced OKR template for any company to level-up their goal-setting (and hitting).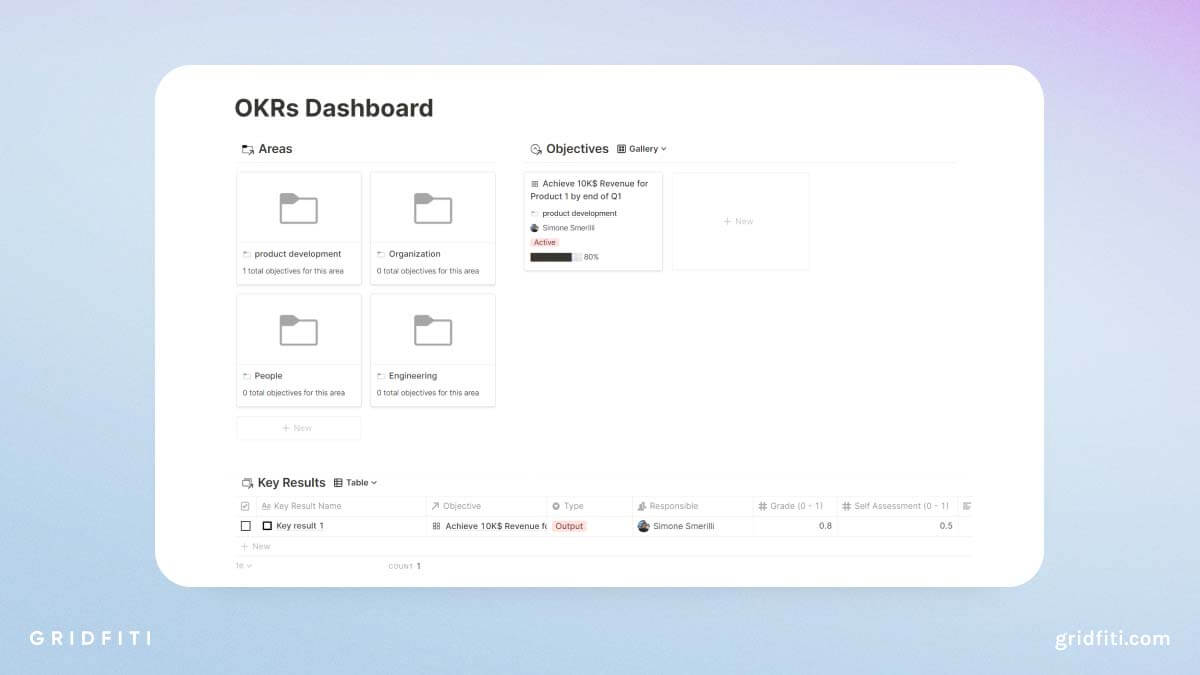 OKR Planning Hub in Notion Enterprise OS
The robust Notion Enterprise OS template is an all-in-one management system to help companies and teams reach their goals! The template has a dedicated OKR planning hub where you can keep your eye on the prize by aligning all your day-to-day actions with longer term goals.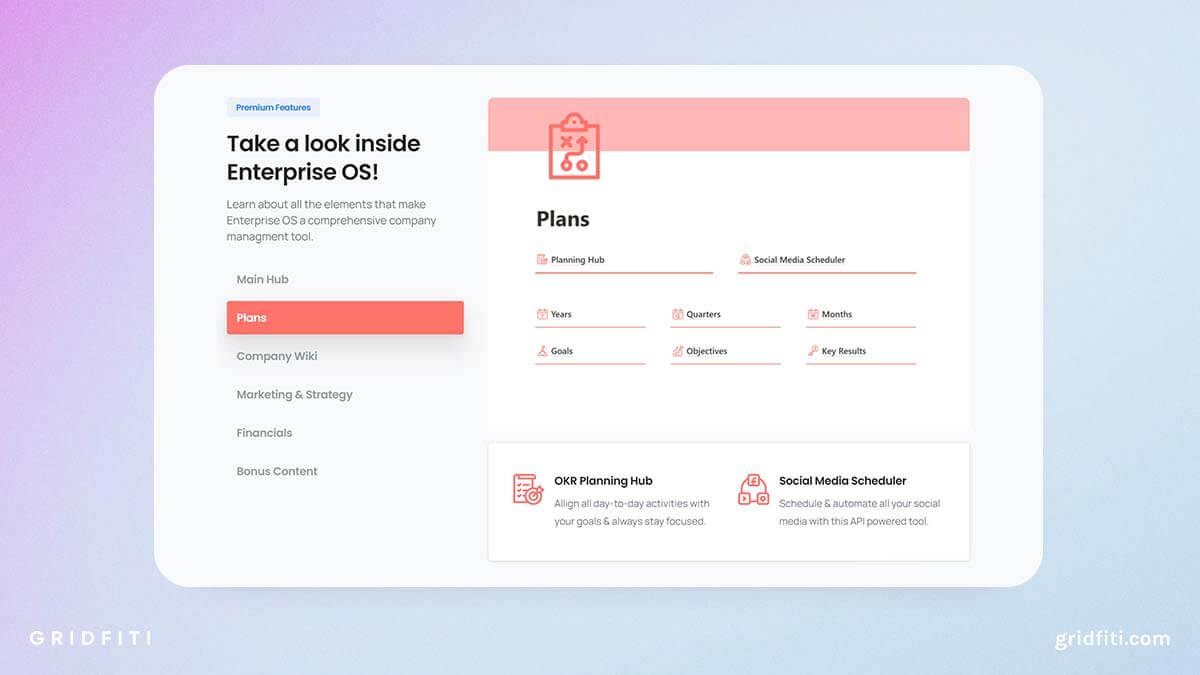 Manifest OS Productivity System with Personal OKRs
Manifest OS is an all-in-one life OS Notion template – and its OKR feature is what brought it to this very round-up! Take your larger, yearly goals and break them down into a roadmap to inform your short-term actions.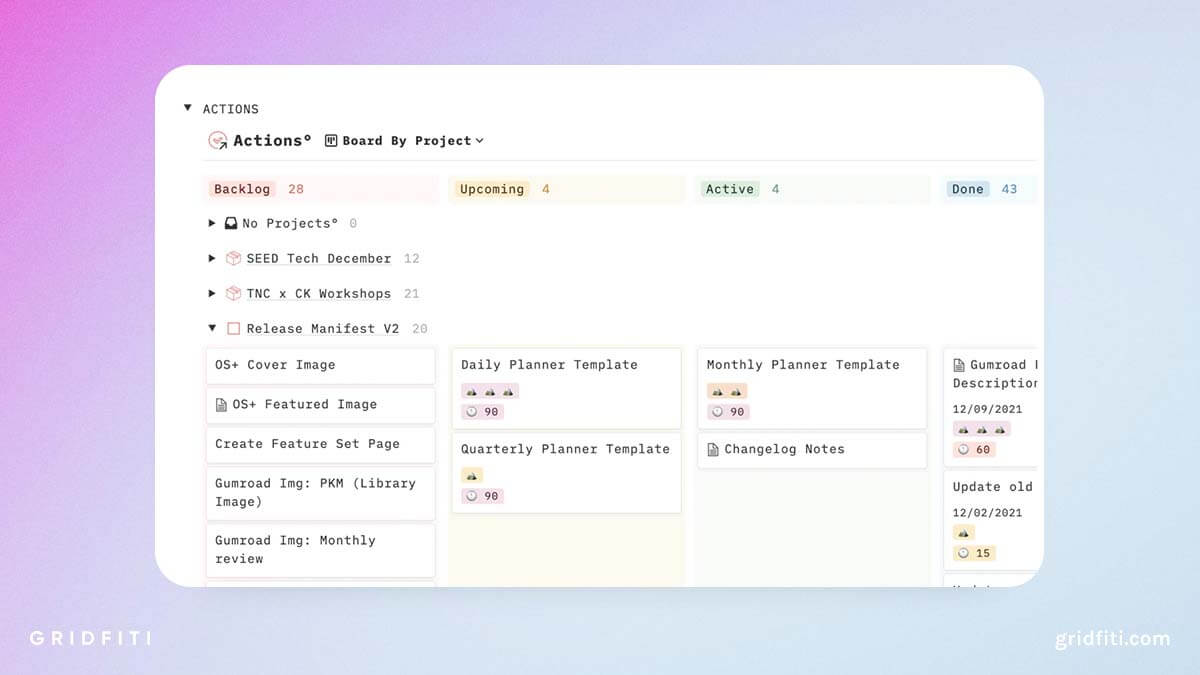 Goals Hub OKR Notion Template
With the Goals Hub, create and stick to an annual goals framework with quarterly objectives! Set out your high level objectives, key results, and peg different projects to your key results. Integrate different affirmations throughout the dashboard to keep your motivation high, and keep journaling along the way to keep your intentions clear.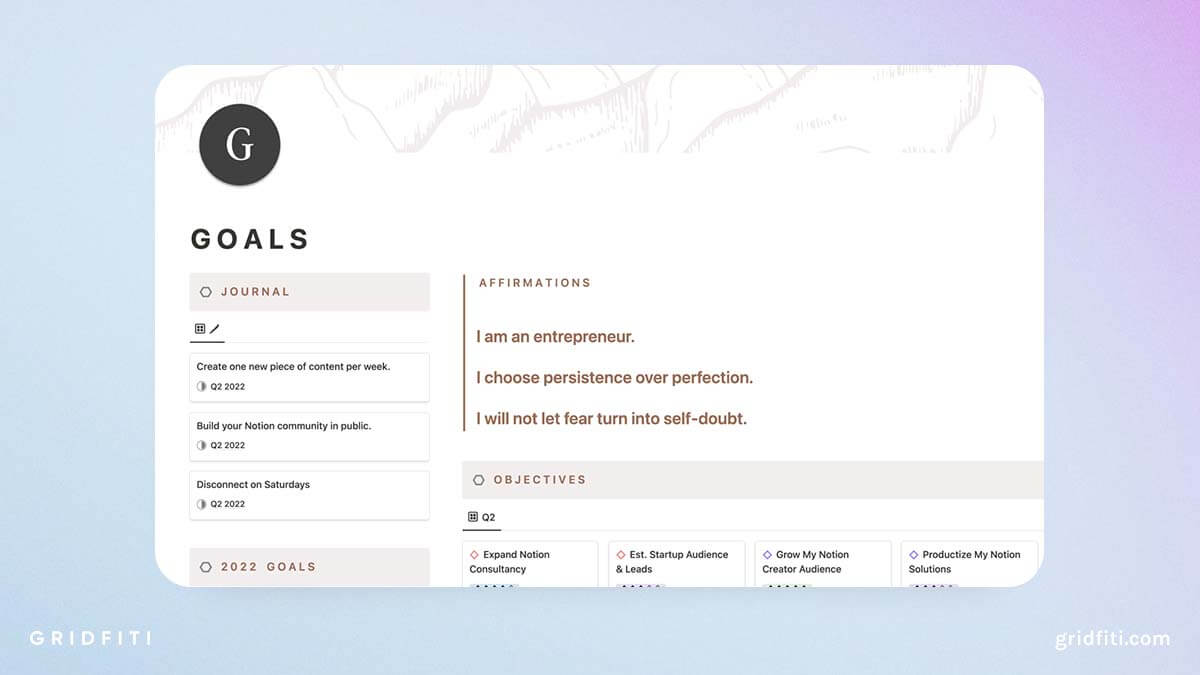 Product OS with OKR Management
Launching a product isn't easy, but with Product OS, get a complete workspace for you and your team to map out your journey in one place! With the built-in Team OKR feature, get a clear, concise picture of where you're at with your goals with progress percentages, problems, and quarterly deadlines.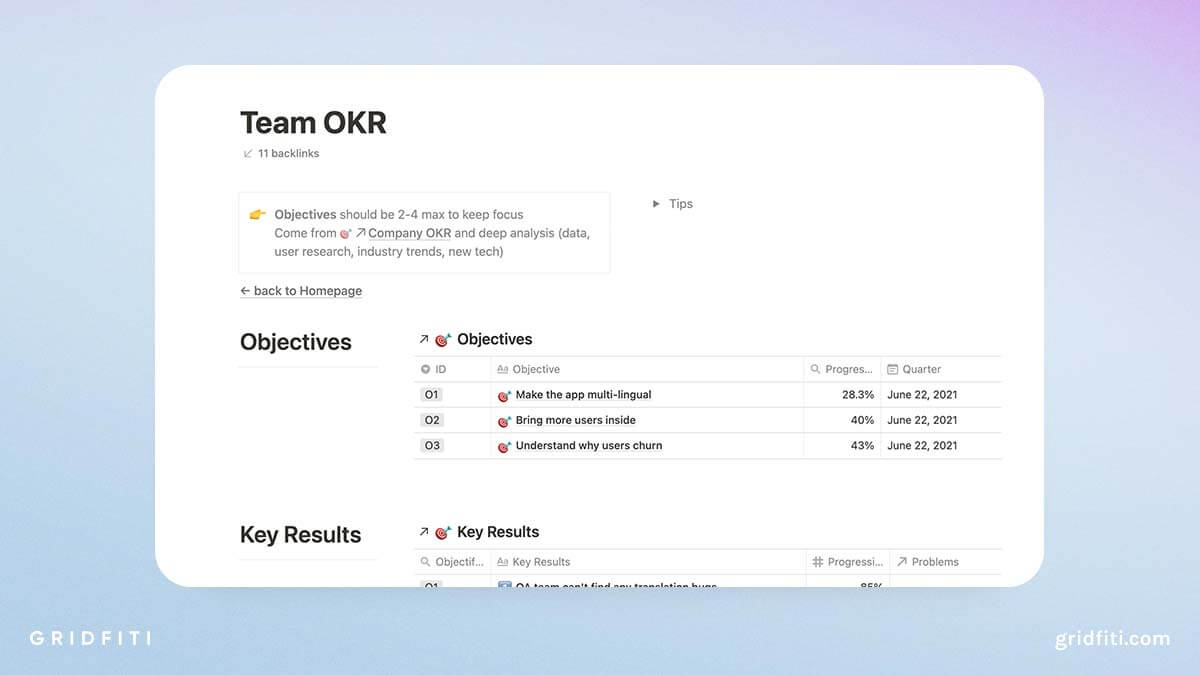 Notion OKR Suite for Companies
With the Notion OKR Suite, pick between 3 tiers depending on you and your company's needs. The core template includes the essentials: company OKR management, team management, and task management. If you upgrade all the way to Pro, take advantage of 40+ templates for OKRs: including a CEO dashboard, individual boards and templates, a full consult and setup call with the template creator, and more!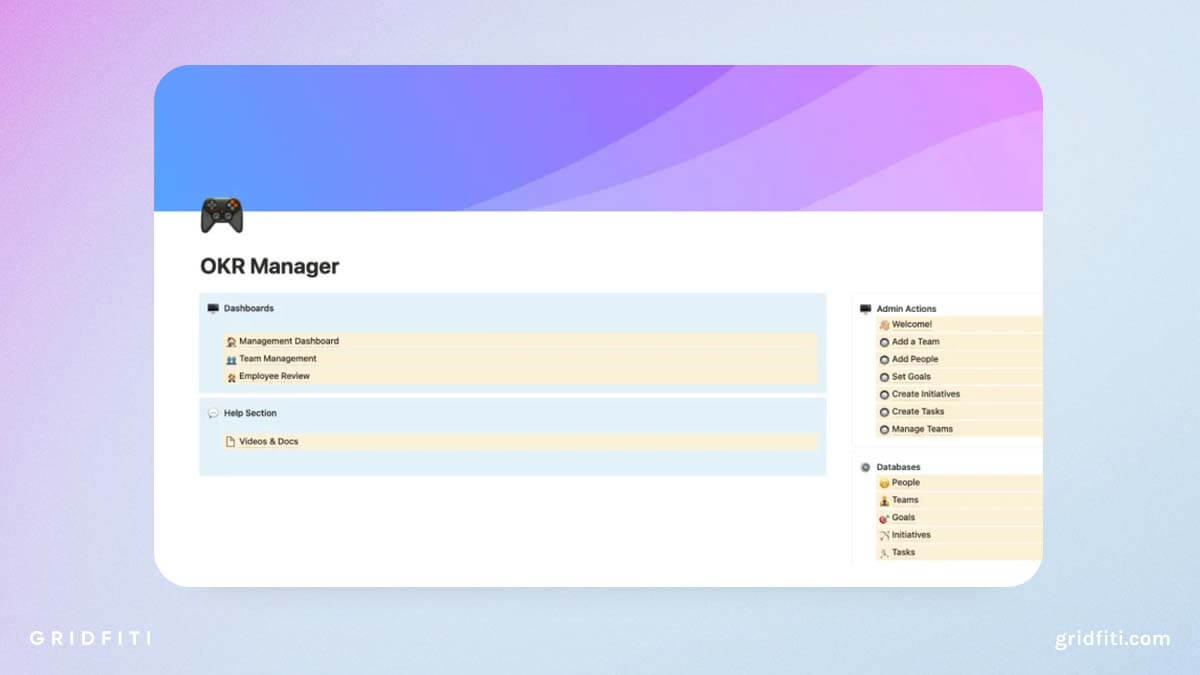 Simple Notion OKRs & Tasks Template
With this lighter OKR and tasks template, get a central page with just that: your objectives, key results and tasks – with progress percentages, statuses, and deadlines all in one place.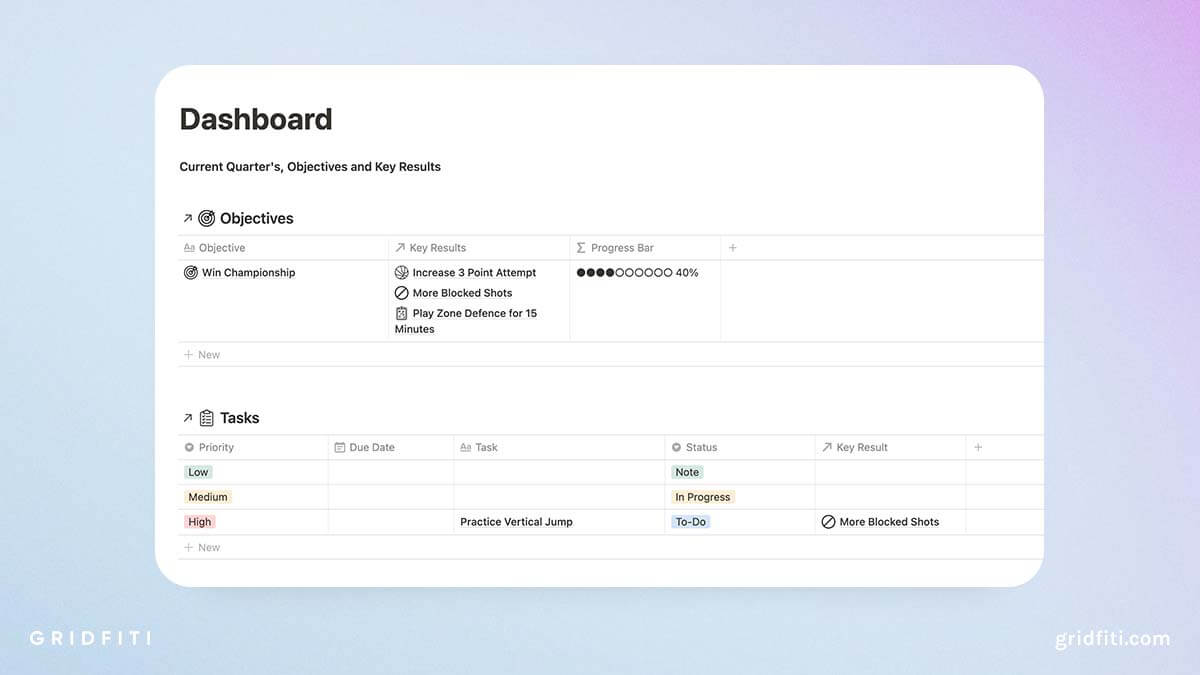 Simple Objectives & Key Results Page
With this OKR template, get a clear simple view of your objectives and key results by quarter – in a clean minimalist setup!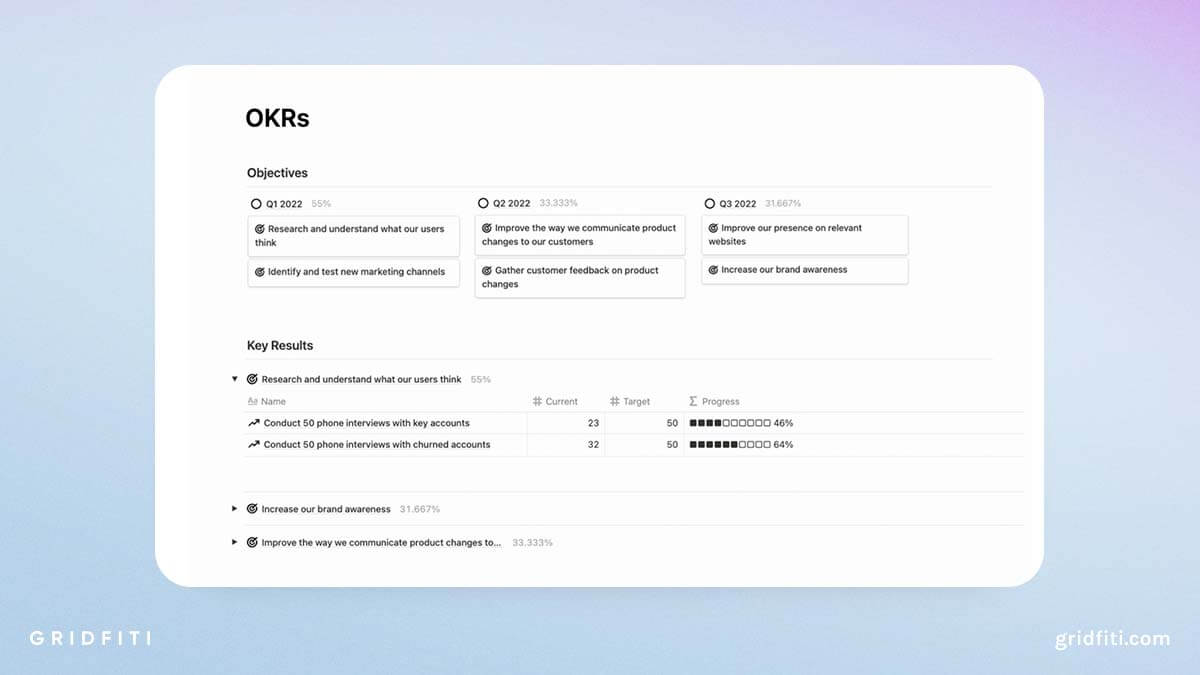 Which Notion OKRs templates will you use to hit your goals? Any other systems to recommend for business or personal objective-setting? Let us know in the comments below!
Gridfiti is supported by its audience – when you buy something using the retail links in our posts, we may earn a small commission at no additional cost to you. Read more about our affiliate disclaimer.