What happens when you bring together the convenience and accessibility of digital notebooks, with the tangibility and flexibility of writing in physical ones? Enter GoodNotes.
To take things to the next level, if you own an iPad, you can easily import a pre-designed PDF template into the GoodNotes app and create everything from journals, digital planners, budget trackers, habit trackers, to-do lists, and everything in between, to keep your life productive and organized.
With a sea of templates out there, we've curated an in-depth guide rounding up only the best, and most aesthetic, GoodNotes templates, digital stickers, and GoodNotes covers to choose from!
Save paper, space, and time with these convenient pre-built templates – with all the heavy-lifting already done for you.
Want more student resources, templates, updates and motivation? Join our mailing list!
Aesthetic GoodNotes Digital Planner Templates
Map out your days, weeks, months, and even year with an aesthetic GoodNotes digital planner template. Set goals and schedule your days to help you stay focused and keep your mind, and notebooks, clutter-free!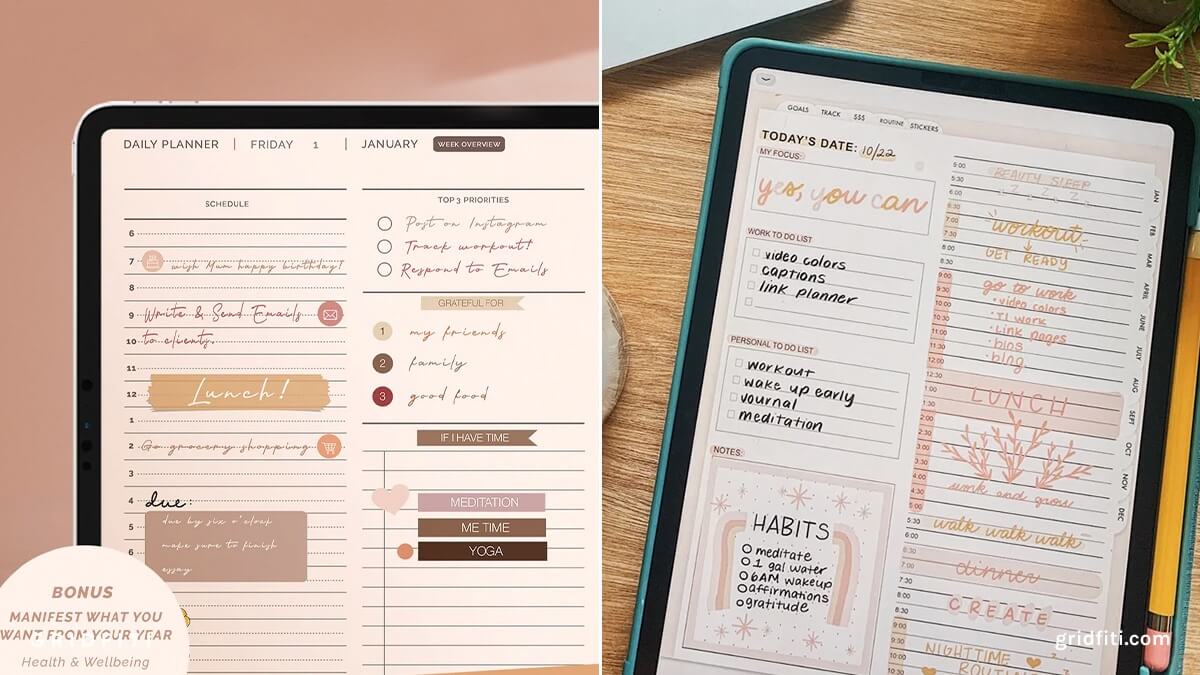 Images by MyFuturePlanner and flourishplanner on Etsy
GoodNotes All-in-One Digital Planner Templates
GoodNotes Daily Planner & Agenda
GoodNotes Weekly Planner & Agenda
GoodNotes Monthly Planner & Agenda
GoodNotes Content Creator Planner
Goal Setting Planner Templates
GoodNotes Aesthetic Journal Templates
If you overthink, write. If you under-think, read. With these aesthetic GoodNotes journal templates, you can do both! Put your thoughts and feelings to paper with these aesthetic daily journals, offering helpful prompts to free your mind. You can even use a reading journal template to log your reading list and keep your imagination running!
Images by JPSDigitalPages and flourishplanner on Etsy
Daily Digital Journal & Diary Templates
Bullet Journal
Reading Journal
Gratitude, Health & Self Care Journal
Aesthetic GoodNotes Templates for Students
Nowadays, an iPad is becoming close to a necessity for students – and the effectiveness of using GoodNotes for school is unmatched, whether it's highlighting notes, marking up papers, or anything in between (thanks to the Apple Pencil).
Using Notion and GoodNotes is the perfect one-two punch for students to organize their lives and semesters, all on the same device. Here are some of the most popular and aesthetic GoodNotes templates for students!
Images by SimpleDayPlanner and SmartPlanningCo on Etsy
Student Planner Templates for GoodNotes
Cornell Notes Templates for GoodNotes
Note-Taking & Digital Paper Templates for GoodNotes
GoodNotes Budget & Finance Templates
Staying on top of your finances doesn't need to be a bland task with these aesthetic budget templates! Stick to your budget and map out your financial future with the right GoodNotes personal finance template.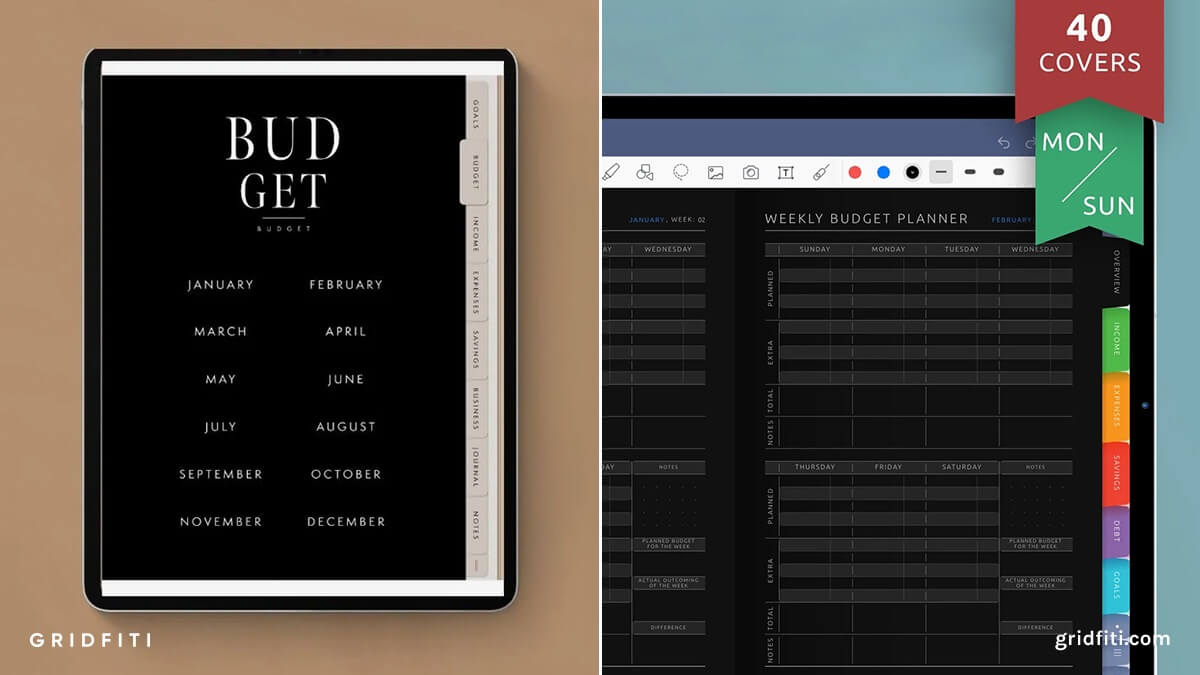 Images by PrettyBossDesigns and EvoPrintables on Etsy
GoodNotes Simple Tasks & To-Do List Templates
Cross off your daily to-dos both digitally and beautifully with an aesthetic GoodNotes to-do list and tasks template! Bring your lists with you everywhere, and don't let a lost piece of paper get in the way of a productive day.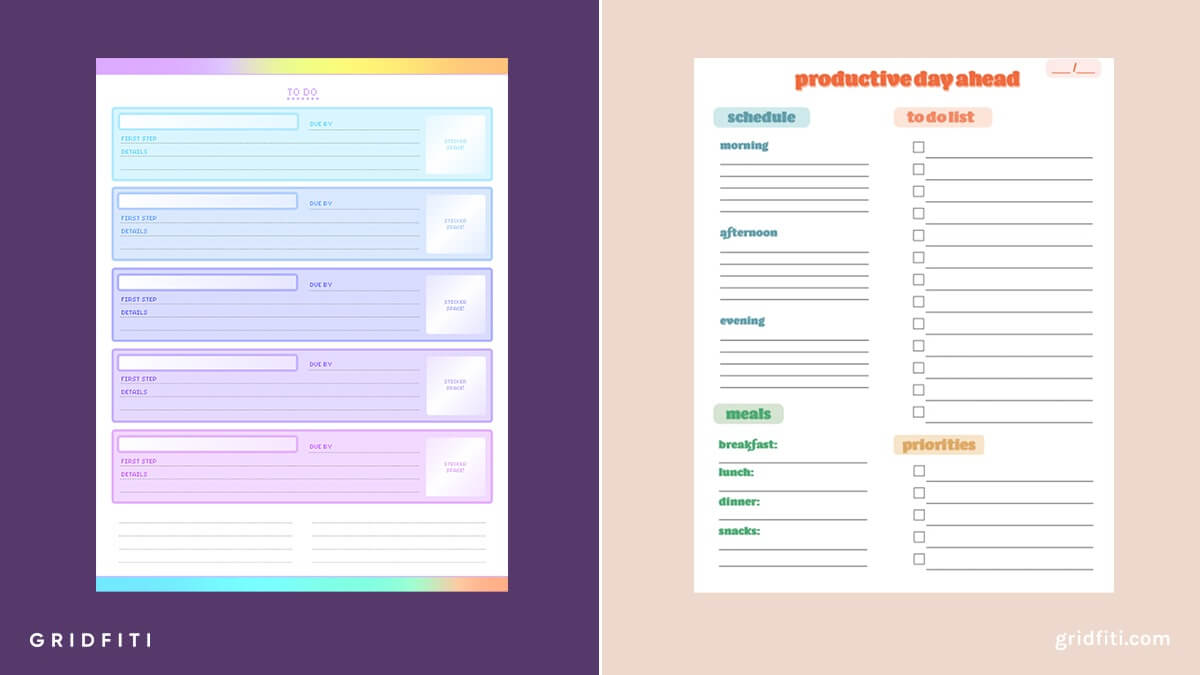 Images by suppyguppy on Gumroad and flourishplanner on Etsy
GoodNotes Habit Tracker Templates
Become the best version of yourself with a GoodNotes habit tracker template! Pre-designed to keep you in a proper routine, and make the small changes make a big difference.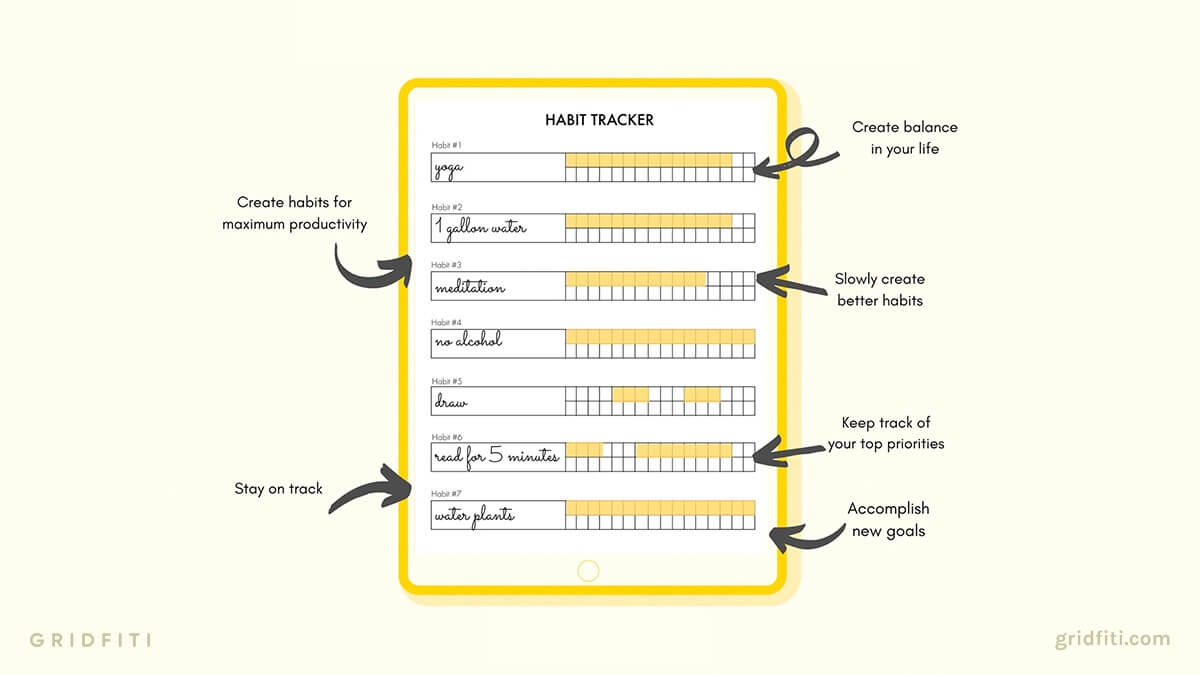 Image by flourishplanner on Etsy
Aesthetic GoodNotes Digital Notebook
Missing the feel of a notebook, but not so much missing the weight and waste? Get an aesthetic digital notebook template – or add an aesthetic GoodNotes notebook cover to your templates – to mimic the look an actual notebook for journaling and note-taking!
Aesthetic GoodNotes Notebook Covers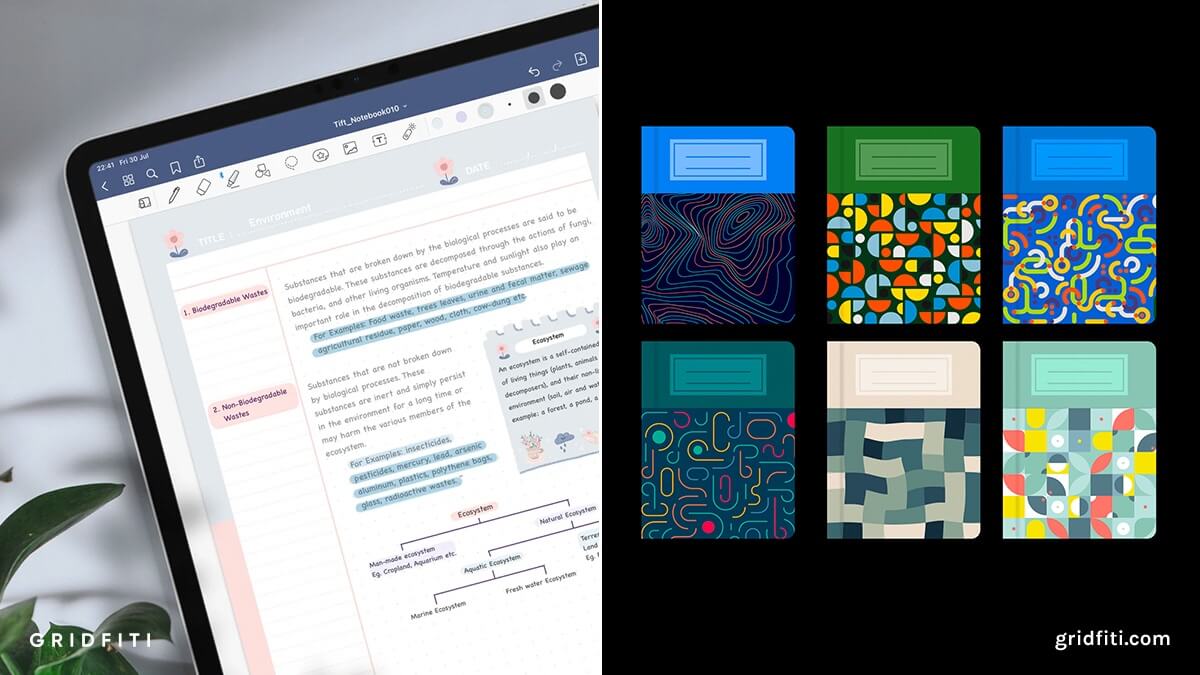 Images by TiftStudio on Etsy and TemplateStack on Gumroad
Aesthetic GoodNotes Digital Stickers
Did you know stickers could be digital, too? Now you do. Deck out your pages and make your notes aesthetic with beautifully designed digital stickers made for GoodNotes! Add these stickers to any new or existing GoodNotes pages to make them pop, and match your aesthetic perfectly.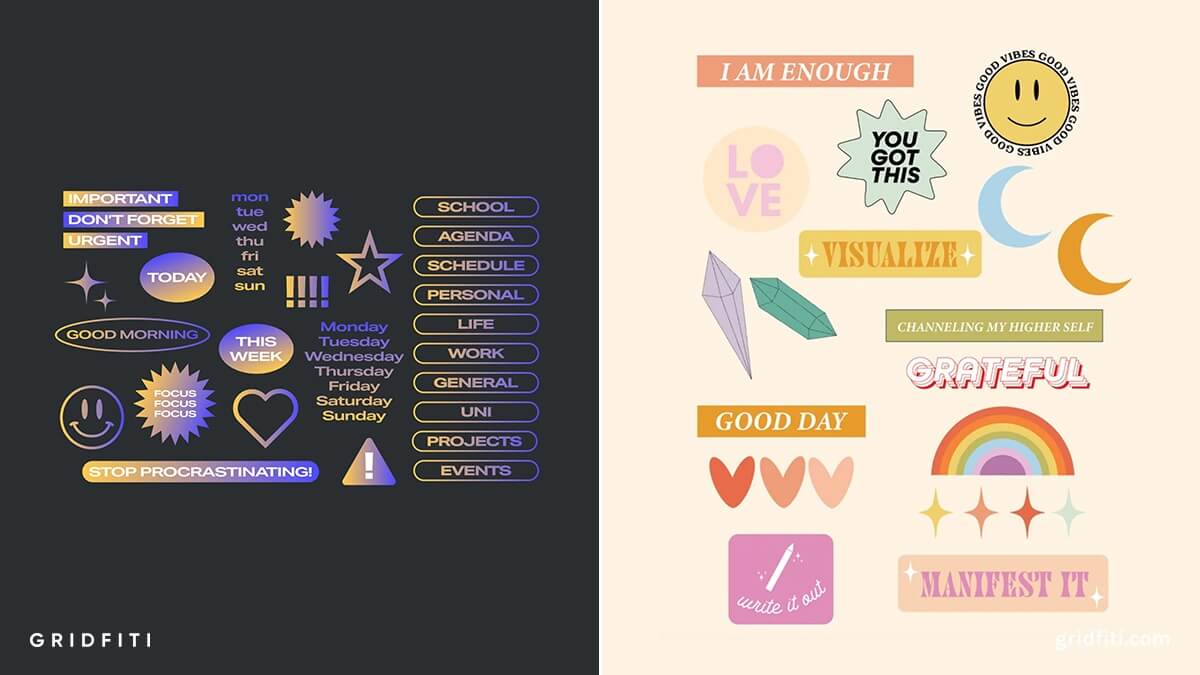 Images by Aoede Notion on Gumroad and flourishplanner on Etsy
Are we missing any aesthetic GoodNotes templates? Do you have any other GoodNotes templates or digital planners to recommend? Let us know in the comments below!
Gridfiti is supported by its audience – when you buy something using the retail links in our posts, we may earn a small commission at no additional cost to you. We only recommend products we would use ourselves and recommend to our friends and family. Read more about our affiliate disclaimer.