Taking aesthetic notes on your iPad is a fun way to add some color and pizazz to your classes and study sessions. Want to start using your iPad for note-taking but need help figuring out where to start? We've got you covered with tons of tips, tricks, and resources, from how to structure and color-code your notes to the best notebook and paper templates. Let's get to it!
Want more student resources and tips? Join our mailing list!
Table of Contents
Aesthetic Note-Taking Apps for iPad
First things first: You can't take aesthetic notes on your iPad without an app! Let's dig into a few of our favorite apps for taking both typed and handwritten notes on iPad.
GoodNotes
A fan favorite, GoodNotes is the crème de la crème of note apps for iPad. Complete with nifty features like flashcards, Apple Pencil configuration, customizable pen strokes, and more, GoodNotes is the one note-taking app to rule them all.
Notability
Next up is Notability. One of the cool things about Notability is that it offers notebooks, templates, and stickers as part of its subscription plan. Plus, you can check out templates from the community — perfect if you don't want to splash out on digital stickers from Etsy.
Not sure whether you should go with this app or GoodNotes? Check out our comprehensive comparison of GoodNotes and Notability to make the right choice for your needs.
Notion
Notion is one of our all-time favorite note-taking apps. While you won't be able to write or draw by hand in Notion with an Apple Pencil, you can still use it to take aesthetic notes. With minimalist text colors, useful features like headings and lists, and the option to embed web content, Notion is a productivity powerhouse.
If you're looking to get started, we've got dozens of posts on Notion tips and templates, you can check them all out here!
Zinnia
While this note-taking app isn't quite as popular as GoodNotes and Notability, it definitely deserves a mention. Zinnia offers more stickers, notebooks, covers, and templates than any other note-taking app out there. While this is a paid note-taking app, you can try it out for free for 7 days.
Freeform
Apple's whiteboard app is a great alternative to note-taking apps if you want something free and accessible. Its infinite canvas is perfect for people who prefer to go pageless, and Freeform's built-in sticky notes and stickers will make your notes pop.
Consider yourself a Freeform fan? Check out our guide to 14 creative ways to use Freeform!
Notes
Speaking of Apple's native apps, Notes is another useful app for note-taking. Notes offers plenty of handy features whether you're going typed, handwritten, or both. The iOS 16 update added watercolor and calligraphy pens to Notes, making it easier than ever to take aesthetic notes on your iPad without spending a cent on a third-party app.
OneNote
Although it's a Microsoft product, OneNote is a versatile note-taking app for iPad. You can create notebooks with unlimited, color-coded tabs, add tables and highlights, insert images and doodles, and more. OneNote is a free app, but some features are only available with a Microsoft Office subscription.
Hyperlinked Notebooks & Covers
If you're using a note-taking app like GoodNotes, Notability, or Zinnia, you'll need to find the perfect notebook for your style and needs. Let's dive into some of our favorite digital notebooks and covers to make your notes a little more "you".
Digital Notebooks
While some apps, like Zinnia, offer digital notebook templates, Etsy is the best place to find more if you want something different. Many digital notebooks contain hyperlinked pages and tabs, as well as a variety of paper templates, including blank, dotted, lined, grid, and Cornell notes.
The cool thing about digital notebooks is that you can copy a page template and paste it wherever you want in your notebook. This means you can basically have unlimited pages in a single notebook.
Here's a peek at some of our favorite digital notebooks, all of which include hyperlinked tabs:
Digital Notebook Covers
Just because you've bought a digital notebook doesn't mean you have to keep the cover it comes with. The most popular digital note-taking apps offer built-in covers, but you can also buy cover packs on Etsy.
We recommend switching up your covers for a cohesive look in the GoodNotes app — even if those covers don't necessarily match the rest of the notebook!
Don't miss our full round-up on aesthetic GoodNotes notebook covers for more.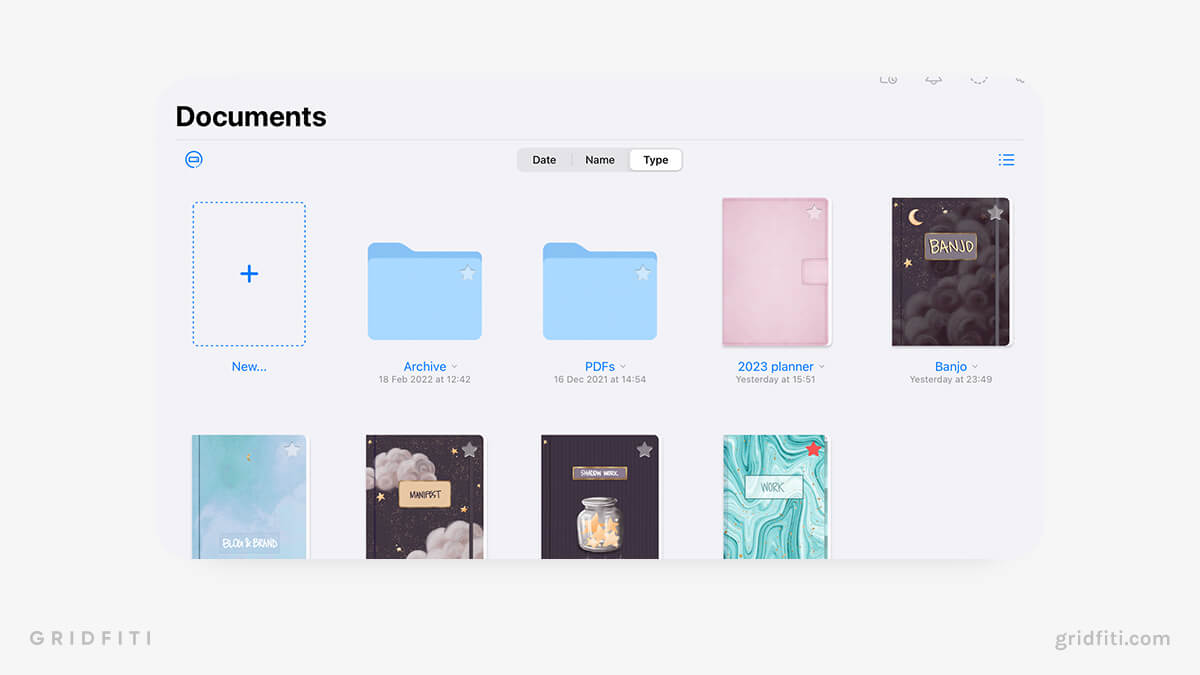 To change your notebook cover in GoodNotes:
Copy the page that contains the cover you want
Paste it at the very beginning of your notebook
That's it! Super duper simple.
Looking for some new covers? Check out some of our favorite aesthetic digital notebook cover packs on Etsy:
Paper Templates
Now that you've got your note-taking app and your digital notebook sorted, it's time to find the perfect page templates for your notes.
Many notebooks you'll find on Etsy include different types of page templates. In addition to the standard blank, lined, dotted, and grid pages, you'll also find other digital note paper templates:
Cornell notes
Priority matrix
Hexagonal
Columns
Circle trackers
Monthly and yearly grids
These types of paper templates are super useful, especially if your notes incorporate some level of planning.
Looking for more digital paper templates in addition to whatever's offered in your notebooks? Here are a few of our faves: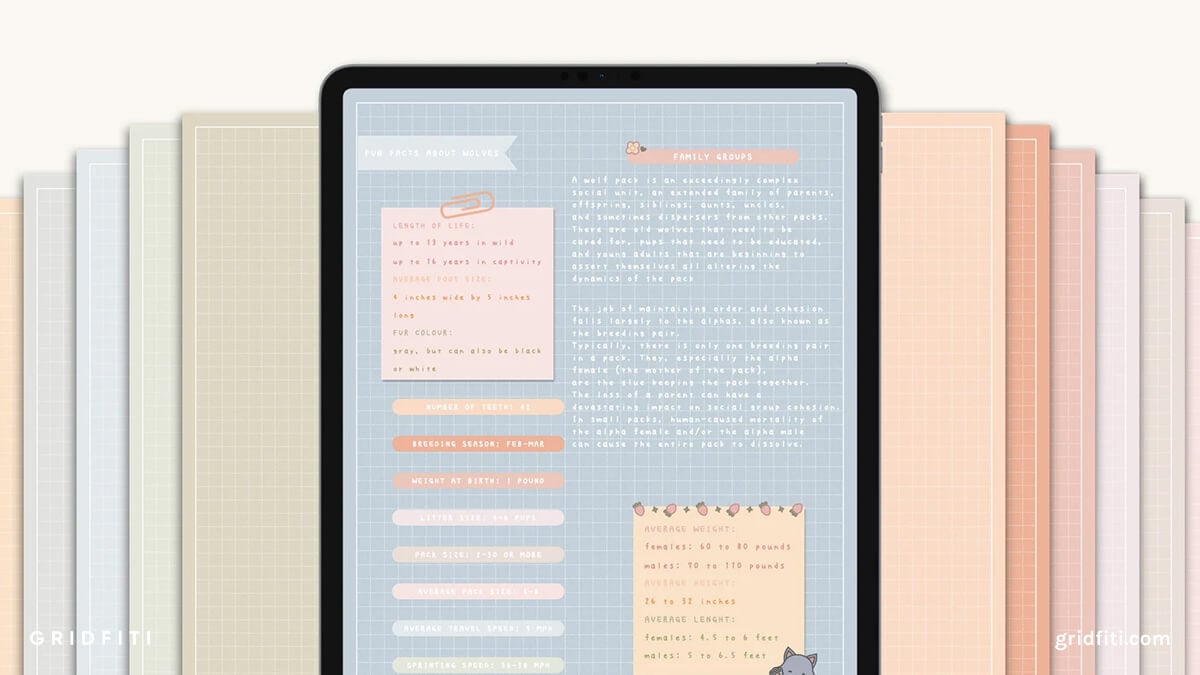 Color Scheme
Cool, so now you've got your notebook set up with your favorite page templates — which means it's time to start taking notes! But first, you'll want to choose a color scheme for your pens, text, and highlights.
The possible color palettes and schemes you can use for your notes are virtually endless. Need some inspiration? We've curated some of the best aesthetic color palettes for some of the most popular themes, like vaporwave, cottagecore, kawaii, and more!
Want to create your own palette for your fancy iPad notes? Here are a few ways to create the perfect color scheme.
Create a Color Palette in Coolors
Coolors is one of our favorite tools for generating cute color palettes quickly. In addition to creating custom palettes, you can also browse popular palettes from other creators. Or, shake things up and let Coolors generate a random palette for you.
To copy the HEX code from the Coolors generator, just click the code. You can also view the different shades of colors you generate. Just hover over a color and click the grid icon. Click any shade to copy the HEX. Easy peasy!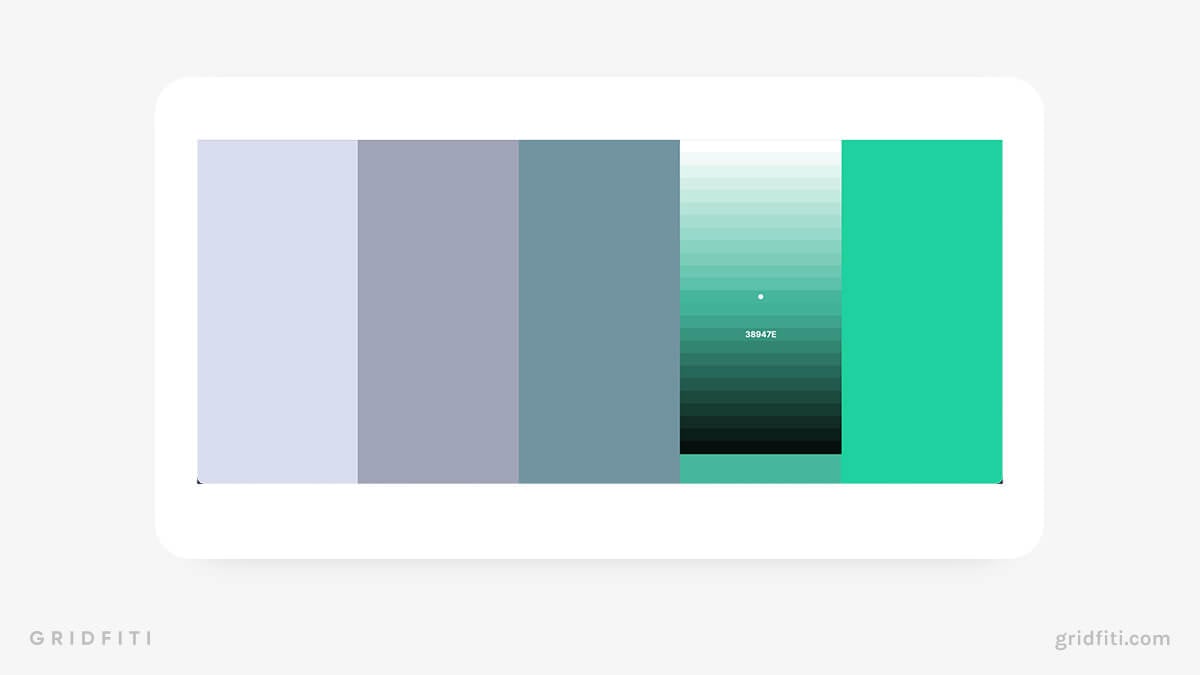 Grab the HEX Codes of Your Favorite Stickers
If you're decorating your notes with digital stickers, you can create a matching aesthetic by using the same HEX codes as your sticker colors for your text, handwriting, highlights, and more.
Many sticker sellers include the HEX codes of their sticker colors as part of your purchase. But you can also use Procreate or an eyedropper tool to quickly copy and paste the HEX code.
Use Procreate to Create a Palette From an Image
If you're taking aesthetic notes on your iPad, you've probably also downloaded Procreate. (And if you haven't, go check it out!)
In Procreate, you can quickly generate a color palette from an image. Here's how:
Open Procreate, then tap the plus sign [+] in the top right corner to create a new canvas. (Any size will do.)
Tap the color circle in the top right corner.
Tap "Palettes" at the bottom right of the pop-up menu.
Tap the plus sign [+] in the top right corner of the menu.
Tap "New from photos".
Choose the photo you'd like to create a palette from.
Tap the color you'd like to copy the HEX code for, then tap "Value" at the bottom of the pop-up.
Triple-tap the HEX code to select it, then tap the "Copy" icon on your iPad's keyboard.
From here, you can paste the HEX code into the color wheel of your favorite note-taking app. In most note-taking apps, including GoodNotes and Notability, you can save custom colors for your pens.
With this method, you'll need to copy individual codes one by one, which isn't ideal if you're using a lot of different colors for your notes. But it's a cool way to ensure your colors match your stickers and images!
Fonts
The right fonts will take your typed iPad notes to the next level. Let's take a look at where you can find free fonts, a few of our favorite aesthetic fonts, and how to pair fonts correctly to make your notes shine.
Where to Find Free Fonts for iPad Notes
Although premium fonts are super cute, they're not usually cheap. Luckily, there are tons of places that let you download thousands of aesthetic fonts for free, including:
Our Favorite Free Fonts for Aesthetic iPad Notes
We'll give you a sneak peek of our favorite fonts below — you can find free download links (and check out the full list) in our guide to the best aesthetic fonts.
Serif fonts: Cigra, New Romantics, Neuton
Sans serif fonts: Elegant, Euphoria, Angular
Decorative fonts: Keep On Truckin', Ribes, Streamster
Quick Guide to Aesthetic Font Pairings
To keep your notes visually appealing, try to stick with 3 main fonts. Choose a different font for:
headings and titles
body text
callouts or info you want to accentuate
If you'd like to follow typography best practices, use a bold but legible font for your headings and titles. A basic serif or sans serif font is great for body text. And finally, feel free to jazz things up with a decorative or novelty font for any callouts you create.
(Or, you could totally disregard this tip and just do your own thing. After all, they're your notes!)
Header Text & Body Structure
Adding headers to your notes is a great way to make them skimmable and keep them organized.
It's a good idea to make your headings bigger, bolder, or more noticeable than your body text. If all your notes are handwritten, adjust your pen thickness. And if you're typing, increase the font size or make your text bold or italic.
Alternatively, you can make headings stand out by placing them in text boxes or stickers, adding highlights, or using a different, eye-catching font.
You might want to create headings for:
Chapter titles
Units
Subjects
Key concepts
As for the body of your notes, how you format this is totally up to you. We're partial to the standard indented bullet point format. (And with a digital notebook, you can swap boring bullets for cute stickers!)
But you might want to use a note-taking system, like the Cornell Method, to help with retention and recall. Other popular note-taking methods include:
Outlining
Charting
Mind maps
Flow notes
Taking notes on presentation slides
How you structure your notes is totally up to you, but try a few different methods to see which works best for you.
Digital Stickers
We're digital sticker addicts. (Seriously, we've bought tens of thousands of them on Etsy. Whoops!) So we're super excited to share some of our go-to sticker packs for aesthetic notes and show you how to use them to make your notes extra fancy. Check them out!
Want more digital sticker picks? Don't miss our full round-up of aesthetic GoodNotes digital stickers!
Our Favorite Digital Sticker Packs for iPad
Stickers for Students
Digital Washi Tape
Sticky Notes
Aesthetic Sticker Packs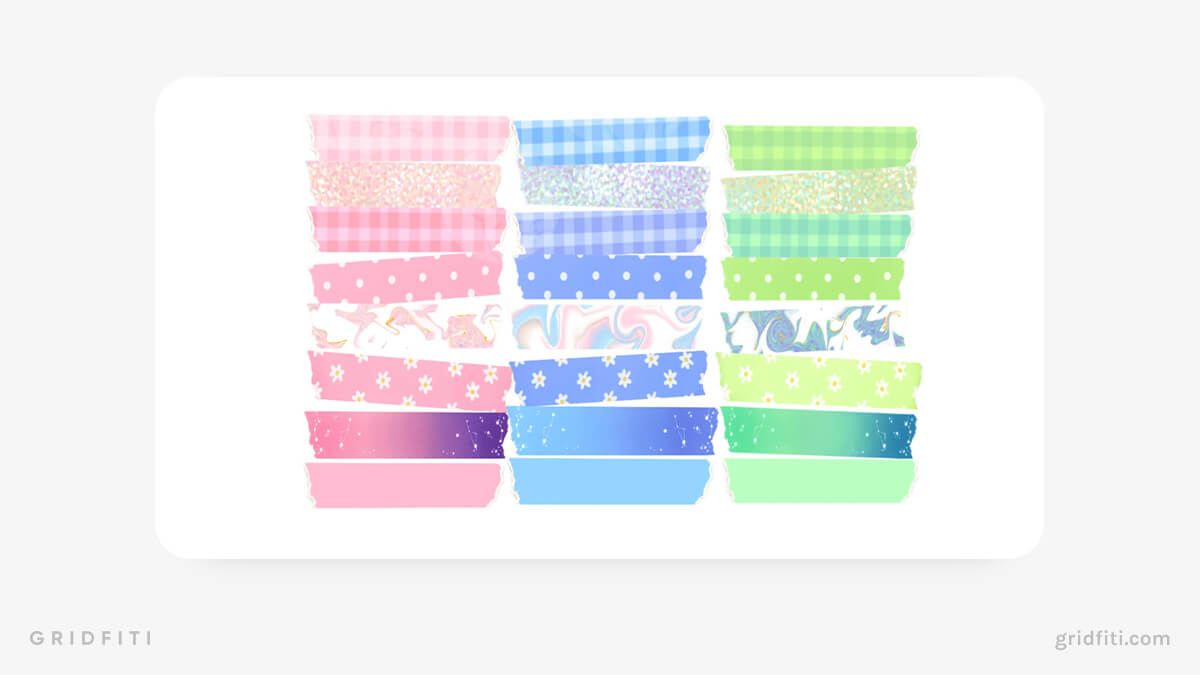 Ways to Use Stickers in Your Aesthetic Notes
When it comes to adding stickers to your notes, the only limit is your imagination. Here are a few ways you can use digital stickers to add some sparkle to your iPad notes:
Sticky notes: Calling attention to key concepts, keeping track of tasks and reminders
Icons and symbols: Replacing standard bullet points, finding key info at a glance
Tabs and washi tapes: Calling attention to key terms, decorating headings and titles
Diagrams and charts: Visualizing science and math concepts
Decorative stickers: Embellishing your notes to make them more fun to read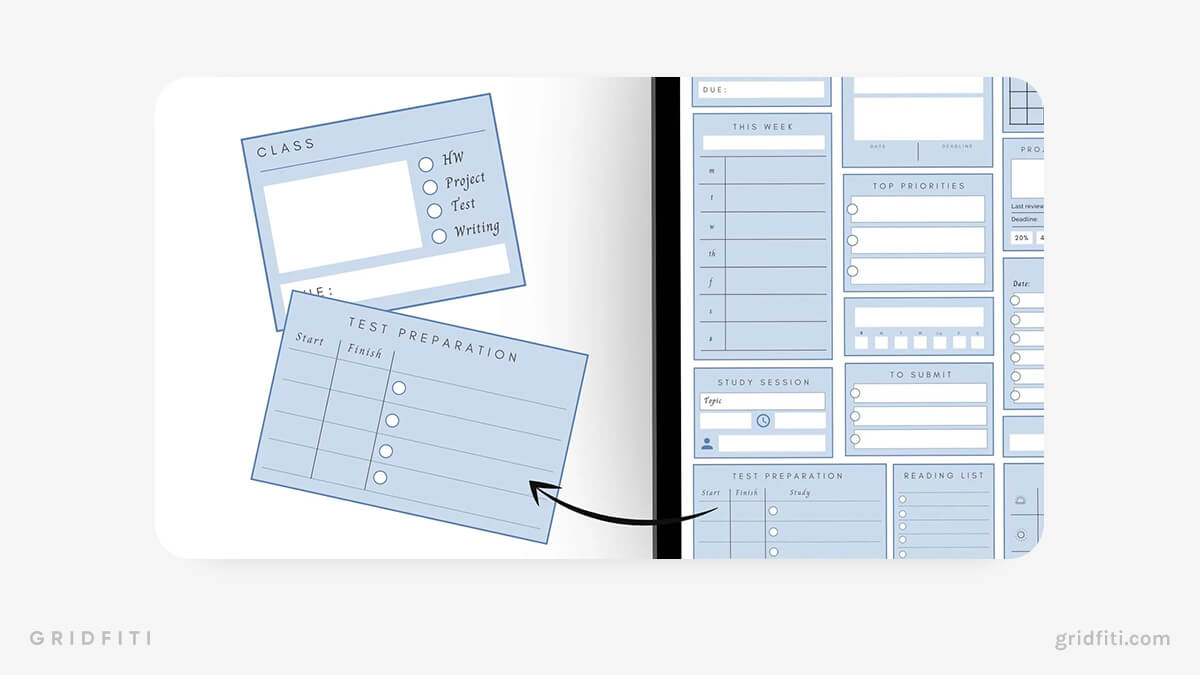 Color Coding Highlights
Highlights are super helpful for drawing attention to important terms and concepts. The cool thing about taking notes on iPad is that you can choose any color you want for your highlights. Plus, many note-taking apps (including Notability and GoodNotes) let you automatically create perfectly straight highlighted lines without a ruler.
No matter what you're taking notes on, it's a good idea to color-code your highlights. Before choosing your colors, create a key for the different things you might need to highlight in your notes. Here are some examples:
Terms
Dates
People
Places
Equations
Definitions
Titles, chapters, or units
Study strengths and weaknesses
Once you've chosen your categories, it's time to start choosing colors for each one. Most note-taking apps let you save custom colors to reuse for future highlights.
Need some ideas for your colors? Click here to jump back up to our color scheme section for some curated palettes, plus tips for creating your own.
Customized Pen & Pencil Strokes
If you're using an Apple Pencil with a note-taking app like Notability, GoodNotes, or Zinnia, you can customize the width of your pen strokes.
Instructions for customizing your pen strokes will vary depending on which app you're using. Typically, you'll see some sort of pen icon, which you can tap to change the stroke.
Quick Hack for Aesthetic Handwritten iPad Notes
A great trick for digital notebooks: writing things in Procreate using your favorite brushes, then copying and pasting into GoodNotes! This is especially great for headings that you want stylized.
In GoodNotes, you only get 3 pen styles: fountain pen, brush pen, and ballpoint pen. And even with those pens, you're limited to how thick or thin your lines can be.
Procreate is an amazing way to get around this. In Procreate, you can have unlimited brushes, which means more style customization options. You can also increase the streamline of any pens you use in Procreate, which makes for neater notes.
Compare the handwriting quality and pen stroke of these 2 versions: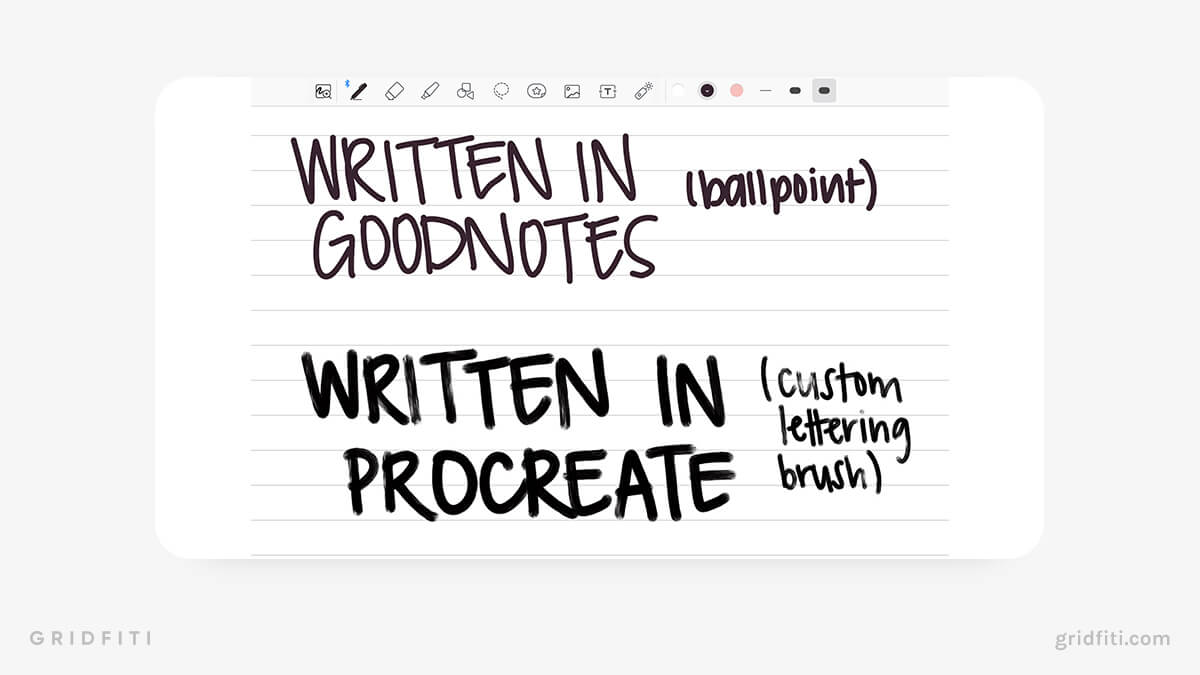 In this example, we've used a permanent marker lettering brush in Procreate, which added texture to the handwriting and came out way neater than the GoodNotes version.
Be sure to write your notes on a new layer in Procreate with a transparent background. When you're done, simply copy the layer and paste it into GoodNotes! (Or whatever note-taking app you're using.)
With this trick, whatever you've written in Procreate will paste into GoodNotes as an image. You won't be able to change the color like you can with pen strokes made directly in GoodNotes. But you can easily change the color in Procreate and paste it back into GoodNotes.
iPad Paper Screen Protectors
If you like the feel of pen and paper but prefer to take notes on your iPad, we've got some good news for you! Paper screen protectors make your iPad screen feel like the real deal. Plus, these screen protectors keep your iPad free of scratches and dings from your Apple Pencil.
Check out some of these paper-like screen protectors for iPad: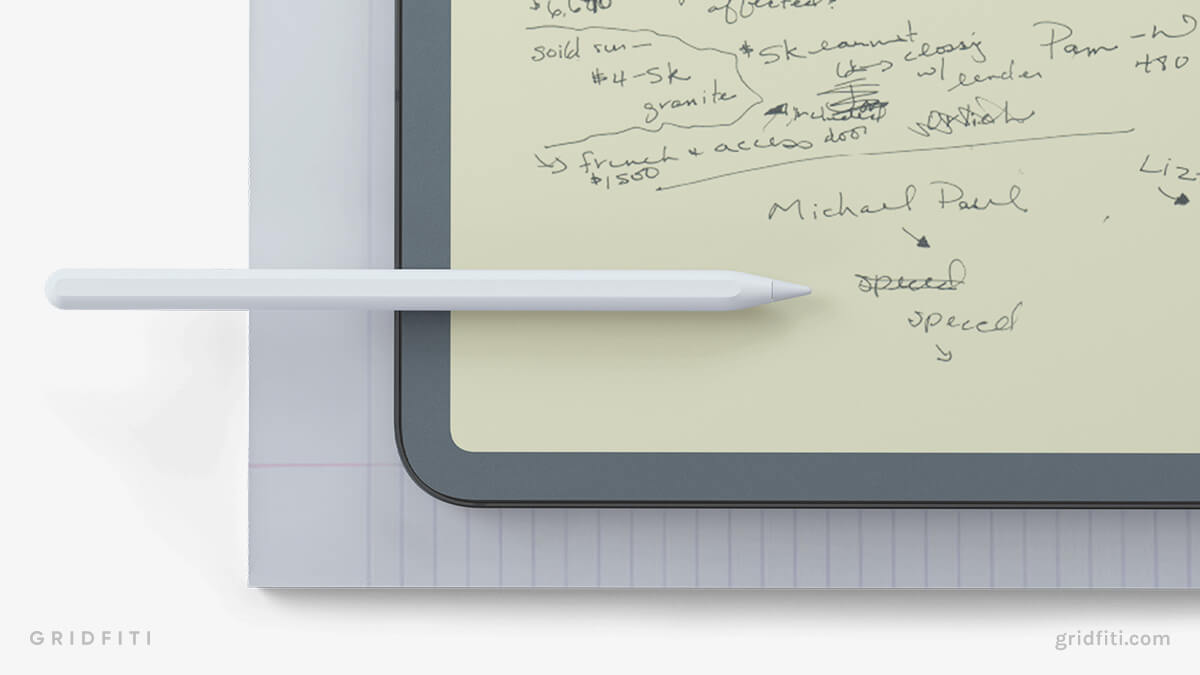 That's a wrap on our guide to taking aesthetic notes on iPad! Show off your notes or drop your favorite tips and tricks in the comments!
Gridfiti is supported by its audience – when you buy something using the retail links in our posts, we may earn a small commission at no additional cost to you. Read more about our affiliate disclaimer.