Whether you're looking for a cohesive red look or trying to highlight your red decor and outfits, or even create a collage of a few Valentine's pics – making the reds in your photos the focus can create a lovely and distinct look.
Check out our curated list of the best aesthetic red presets for Lightroom to transform your photos into lovely hints of velvety and rustic reds. Choose from presets that change the overall tones of your photos to red or presets that desaturate your photos, leaving red as the focal point.
Looking for other aesthetic color presets? Check out our posts with grey presets, pink presets, and green presets!
Want more preset guides and tips? Check out our several other preset blog posts, and join our newsletter below!
Red Velvet Preset Pack
From red decor to red outfits to red objects, this red velvet preset pack will elevate those red tones to make them the front and center focus in your photos. You get 13 simple presets for desktop and mobile to apply to photos that contain those red tones. There's a lovely fade added to the blacks with a warm, magenta color grade completed with some soft sharpening. Try it out!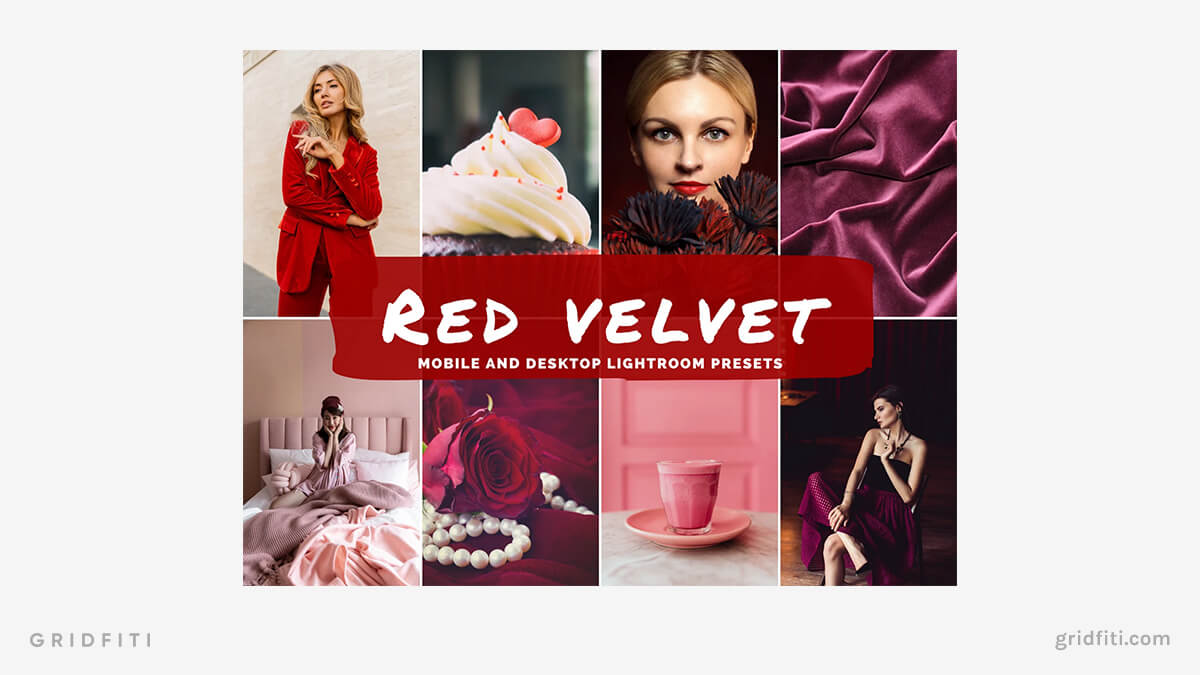 Rustic Reds Lightroom Presets
Bring the look of rustic reds to your photography! This preset pack includes 13 desktop presets that work to create a beautiful, cohesive red color grade for your photos. Whether you're a pro or a beginner, these presets should do the trick to take your red pics to the next level!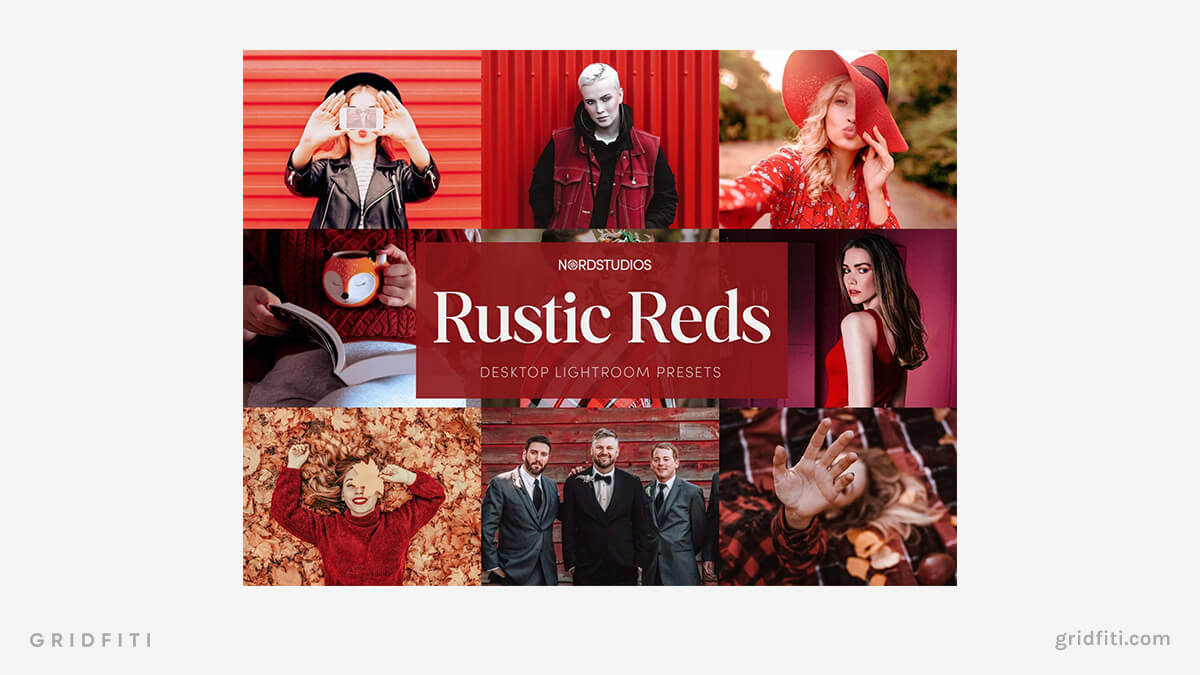 Red & White Lightroom Presets
Minimize the aesthetic of your photos down to reds and whites with a single preset for Lightroom Mobile. This preset works best with, you guessed it, photos of red objects or outfits on a primarily white backdrop. The saturation of the red is increased while the remaining tones are muted down, creating a lovely red-on-white contrasted look!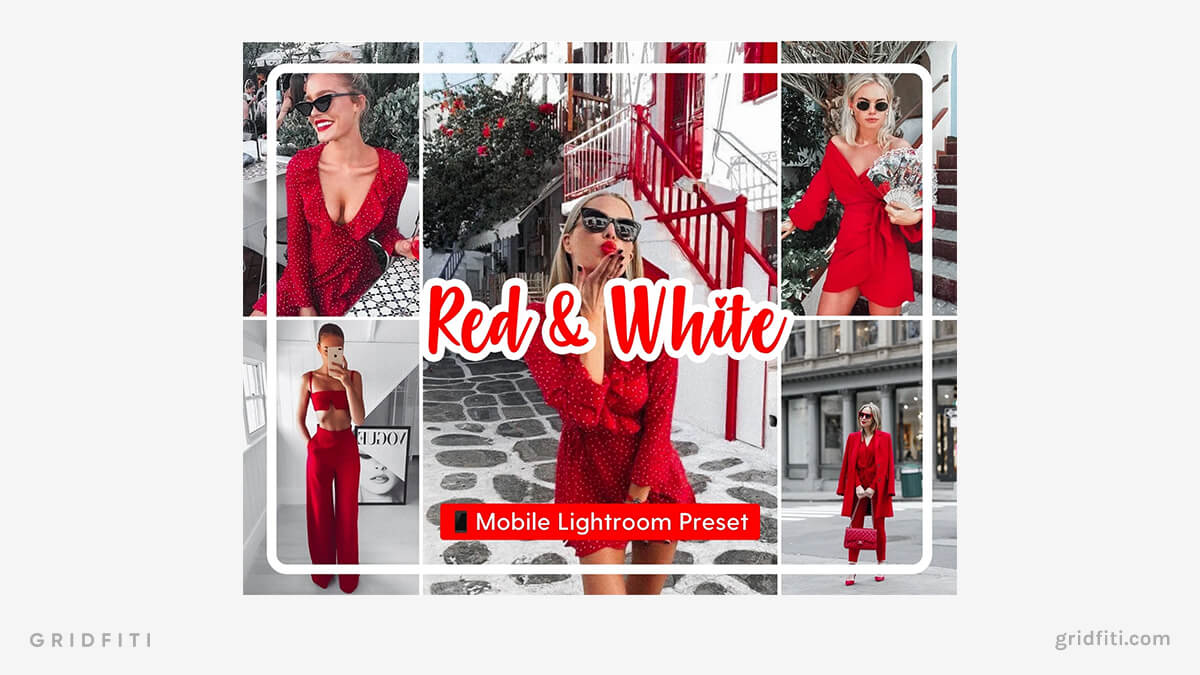 Love Story Red Presets
Add a rose-pink hue while accentuating the reds in your photos with the Love Story red preset pack! Use the 10 mobile and desktop presets to transform your bland photos into romantic scenes where exposure is lifted, texture is softened, and added hints of red and pink tie it all together.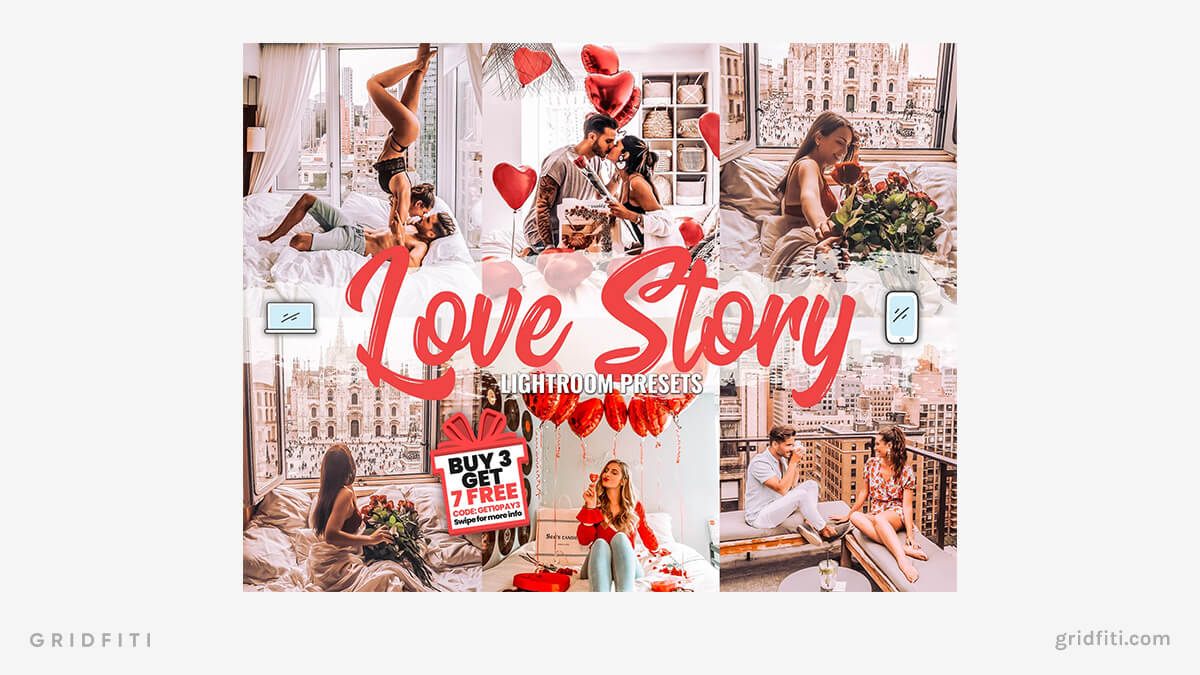 Valentine's Red Presets
Brighten up your photos with a soft, airy texture – and elevate the reds with these 5 Valentine's presets for desktop and mobile! These presets are designed to enhance your photos with a vibrant, bold red look against bright backdrops. Give them a try and see how they can take your photos to the next level!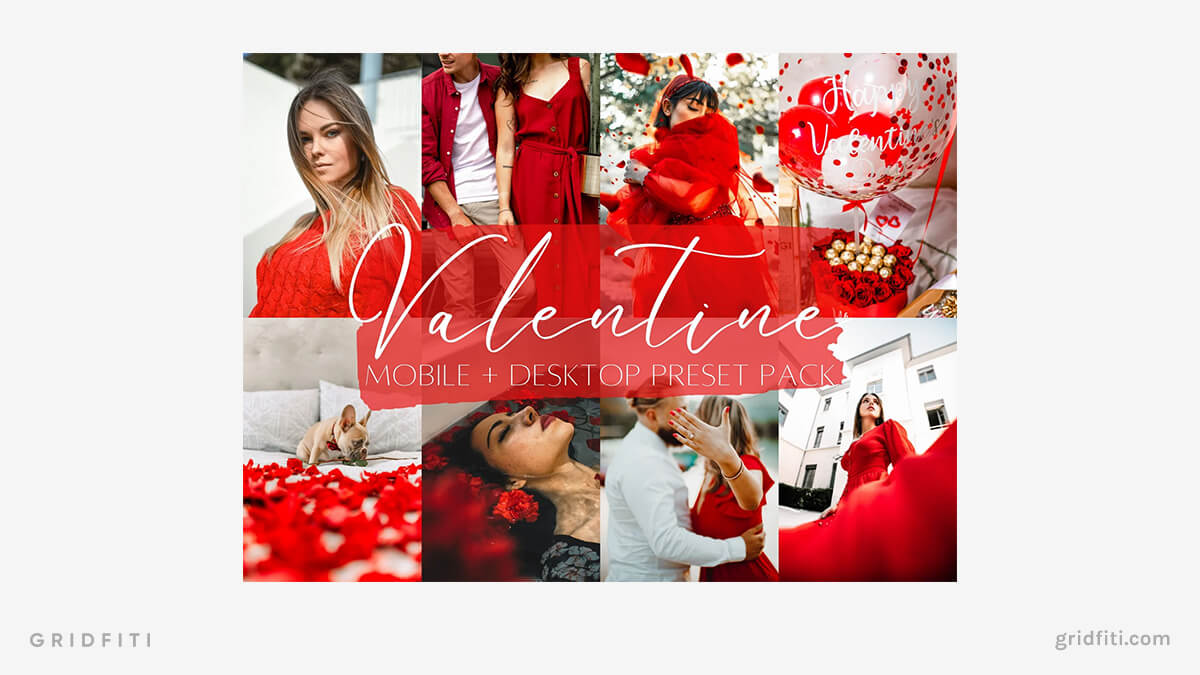 Red Velvet Blogger Presets
Add a cohesive look to your blogging photos with these 3 Red Velvet presets for desktop and mobile. We love the added mix of greys and beige tones to the non-red colors, while the reds themselves are enhanced with some added vibrancy. These presets are perfect for vacation photos, fashion shots, or any day-to-day shots where you want to accentuate your reds!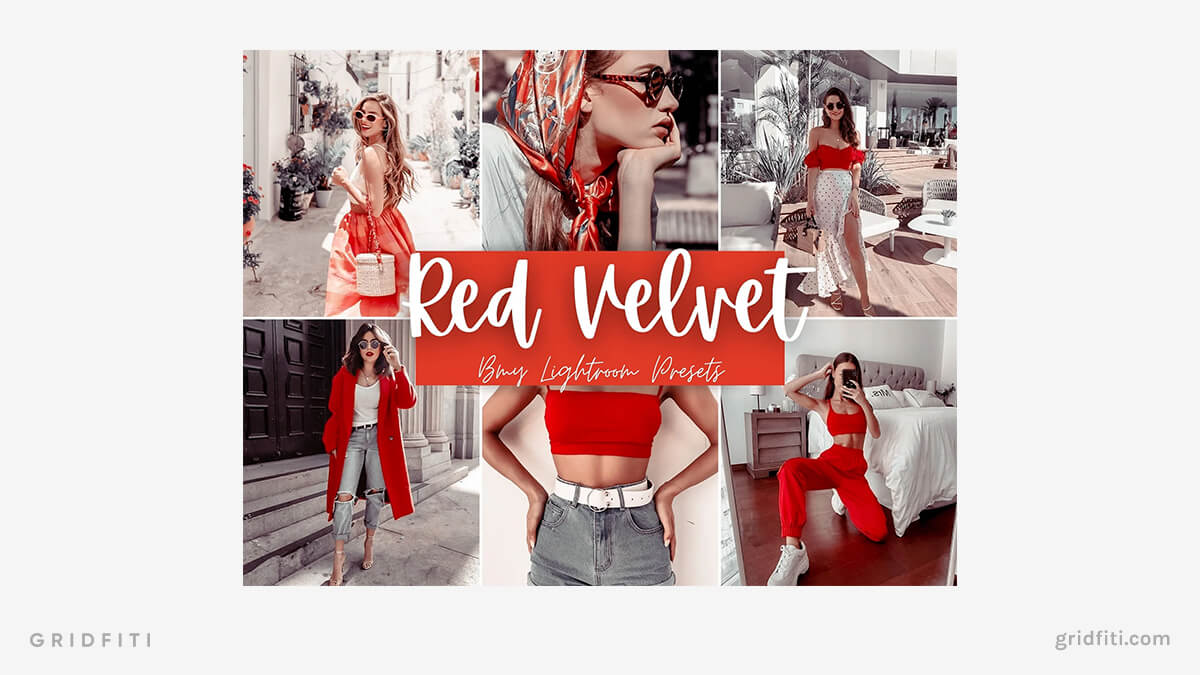 Red Presets for Mobile & Desktop
Add a moody aesthetic to your photos featuring red outfits, decor, or environments with these 15 presets for desktop and mobile. The trick is to create a stark contrast between the reds and the rest of the colors in your photos. Anything that isn't red is treated with some desaturation and hints of blues, while shadows are faded. The result is a lovely mix of greys and reds!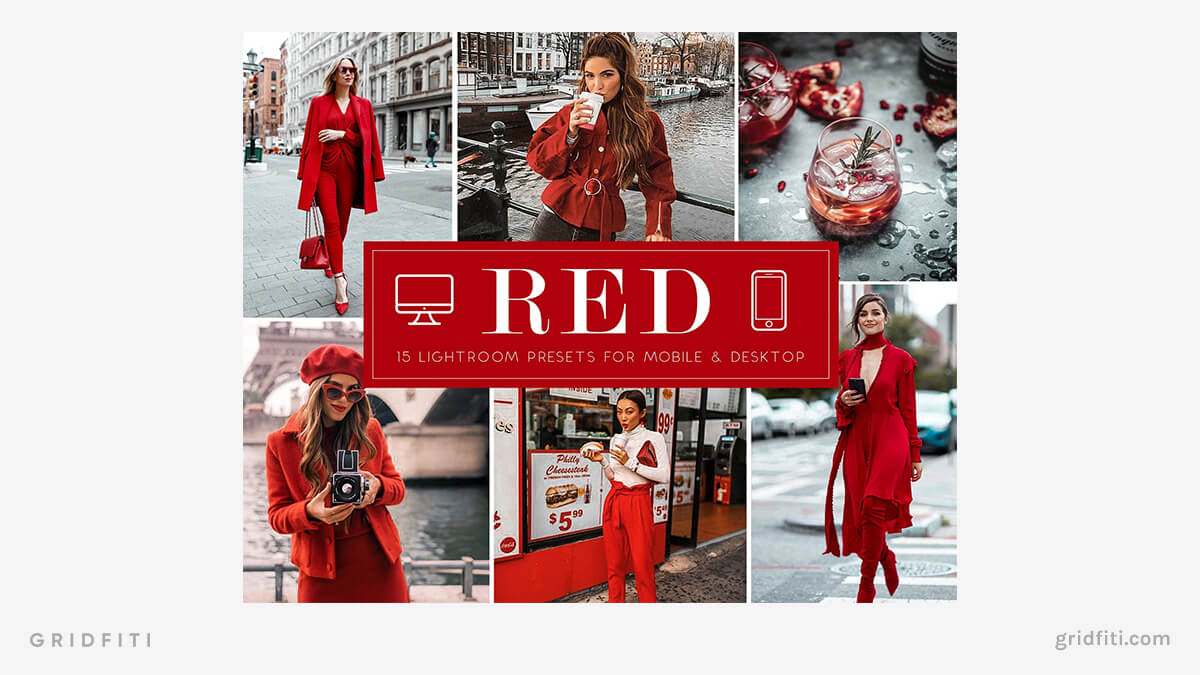 Infrared Red Presets
Put the 'red' in infrared with these unique infrared-style presets! Designed to enhance the reds in your photos and make that color the focus, these presets are inspired by infrared film stocks like Kodak Aerochrome. The color grading creates the look of infrared sensitivity where only certain tones come out saturated while the rest are desaturated – in this case, that's the reds of the photo!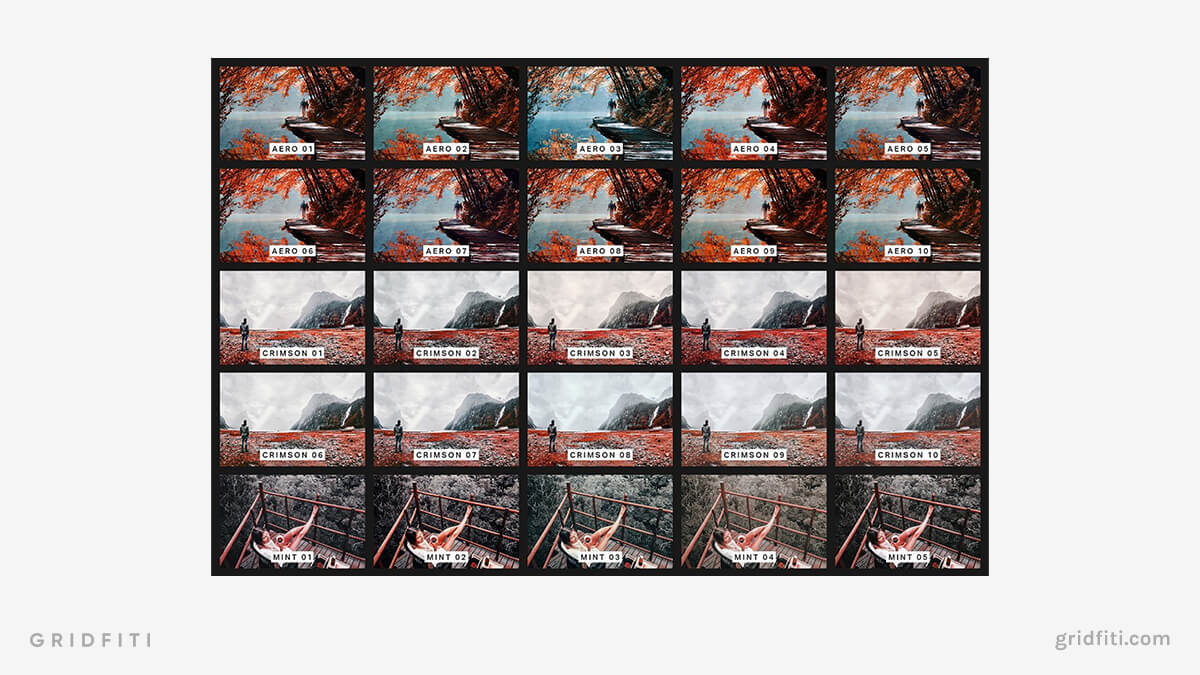 Free Red Presets
Committing to a red preset pack might be a little daunting so we've also put together a list of a few free red preset options! Check them out below to test your editing.
Free Vivid Red Preset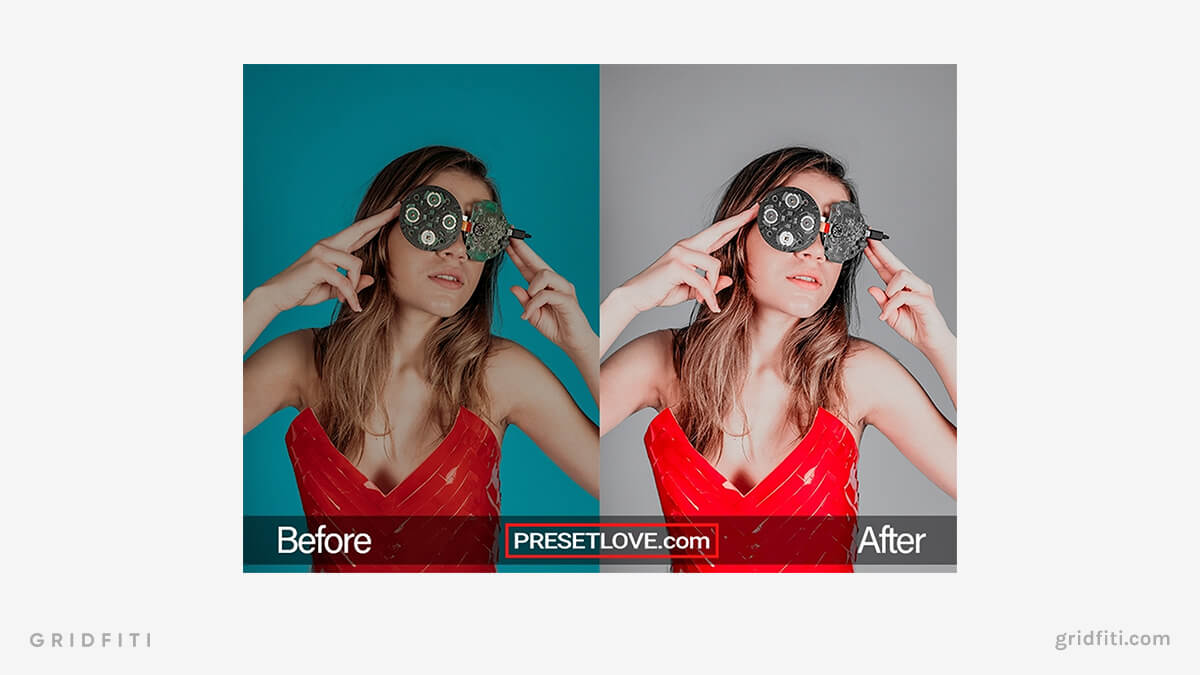 Free Red Dawn Preset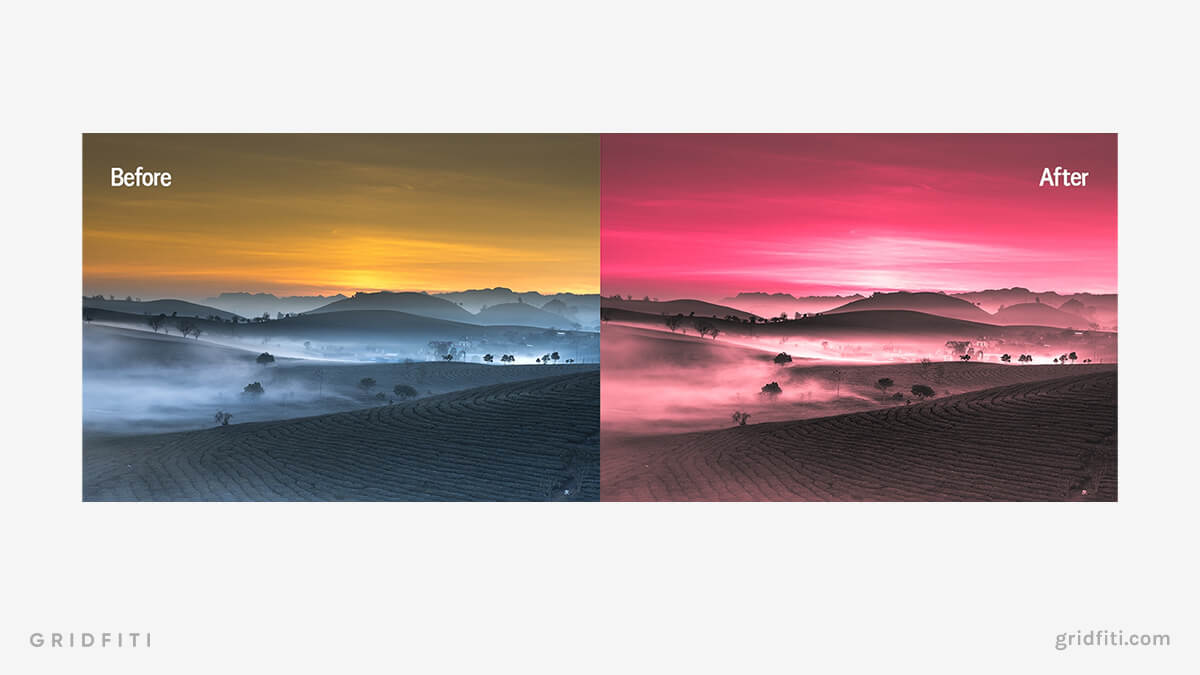 Which one of these red presets are you going to edit with? Are they for portraits, decor or something else? Let us know in the comments below!
Gridfiti is supported by its audience – when you buy something using the retail links in our posts, we may earn a small commission at no additional cost to you. Read more about our affiliate disclaimer.