Are you looking for a clean, green aesthetic for your photos? Whether they're photos of nature, objects, or overall green styling, it can be difficult to spend hours trying to achieve the perfect green hues. Look no further than our list of aesthetic green Lightroom presets to bring your vision to life!
This set of presets varies in use case, from nature shots, to interior shots, to overall styling of photos. From rich, dark greens to sage green, check out our favorite green presets to get started!
Look no further than our list of green Lightroom presets to bring your vision to life! This set of presets vary in use case from nature shots to interior shots to overall styling of photos. From rich dark greens to lighter sage greens, check out our round-up of green presets to get started.
Want more preset guides and tips? Check out our several other preset blog posts, and join our newsletter below!
Cinematic Greens Presets
This Cinematic Greens preset pack will have your photos looking like cutouts from a visually stunning film production. Made to use with the greenery of nature photos, this pack of 10 presets for desktop and mobile will help you color grade your nature photos to a crisp, clean cinematic look with the blue and yellow hues of your greens balanced to perfection. Give it a try with your nature shots to take them to the next level!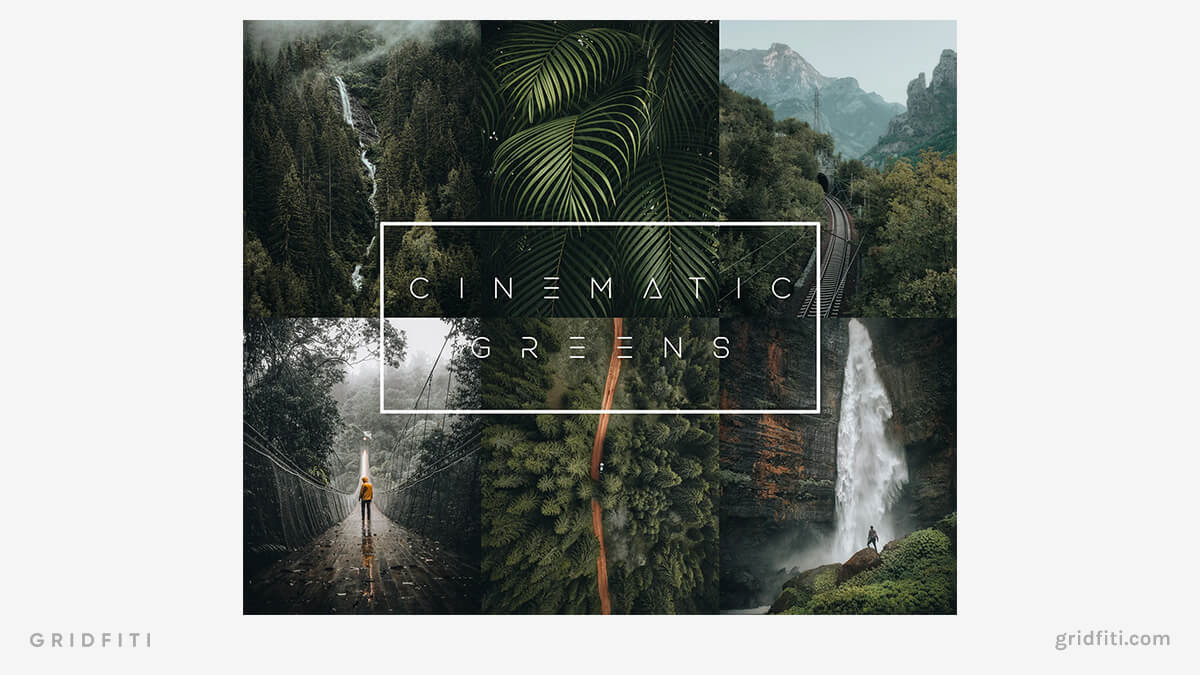 Moody Greens Presets
Take those nature photos of yours and darken them up a bit with these Moody Green presets. This pack includes 5 presets for mobile and desktop that take the tones down a notch with your greens leaning more towards a blueish hue and exposure turned down with added contrast and fading to the shadows. What you get is a moody green balanced look to your photos.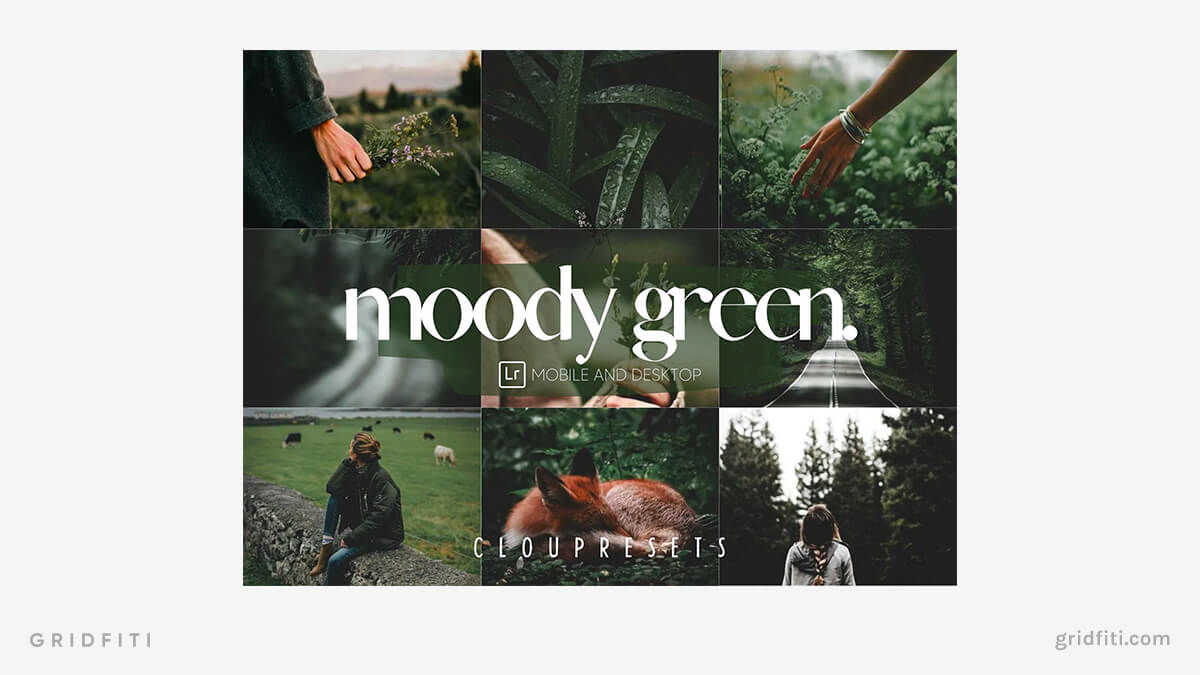 Sage Green Presets
Not all green presets need to be outwardly green with the greenest of greens. Sometimes a subtle approach with a light green and sage can do the trick. That's what this Sage Green preset pack is for! With 12 presets for desktop and mobile, apply the light and calming color of sage green to the overall look of your photos. They'll turn out brighter, slightly faded, softer in texture, and with a lovely color cast of sage and light green.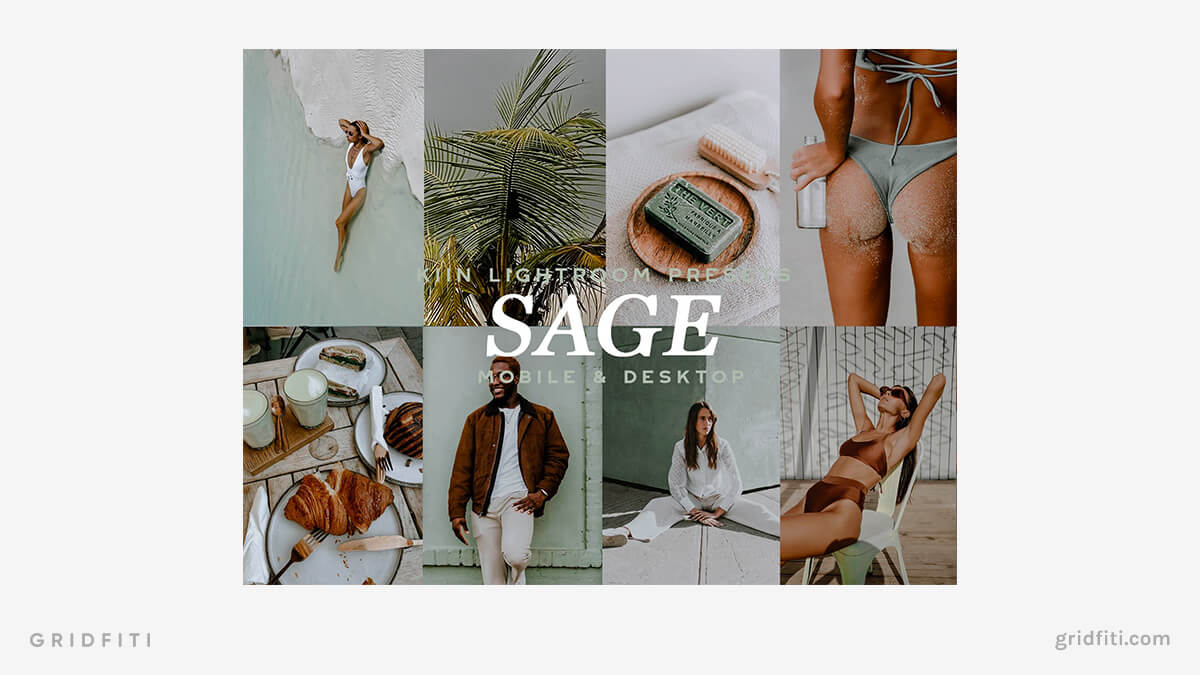 Nature Greens Presets
Of course, there needed to be a Green preset pack catered specifically towards nature pics. This Nature Greens preset pack comes with 8 presets for desktop and mobile. The presets here are made to work with a spectrum of colors found in nature, from greens to browns to blues. The obvious emphasis is on enhancing the green tones towards a blueish hue while the brown earthy tones and blue watery tones are balanced with the green hues.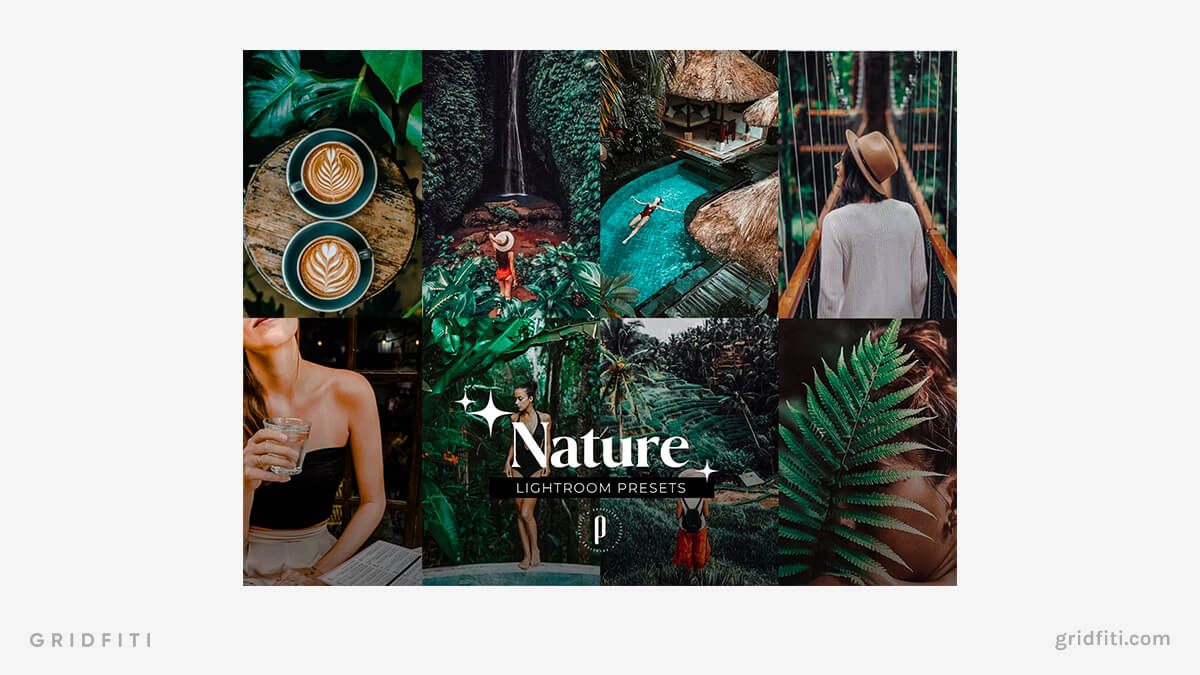 Deep Greens Presets for Mobile
This Deep Greens preset pack for Lightroom mobile will take the greens of your photos towards the lighter sage route. Perfect for photos where green is complimented by whites, beiges, and light yellows. From portraits to ruins to indoor shots, bring the look of deep greens to your mobile pics.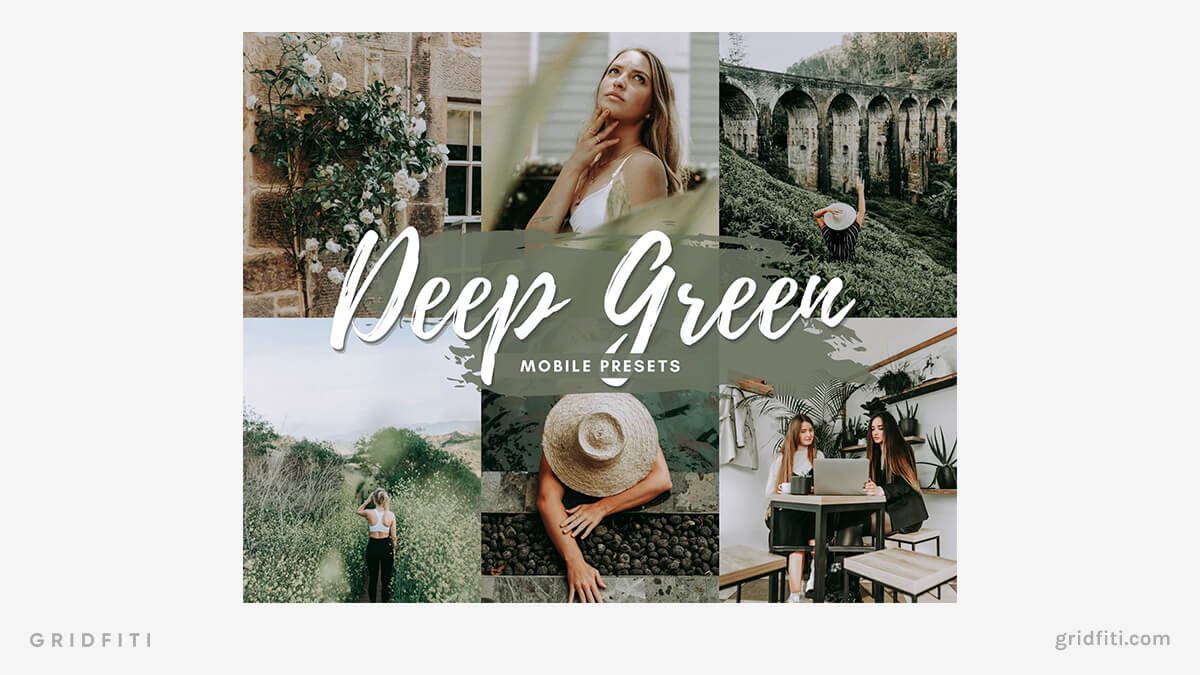 Evergreen Lightroom Presets
Reminiscent of light and airy Fuji film stocks, this Evergreen Lightroom Preset Pack comes with 10 presets for desktop and mobile. The saturation of the greens is lowered a bit while graded towards bluer tints. A soft fade is added while exposure and whites are pushed up creating this beautiful evergreen look for your photos!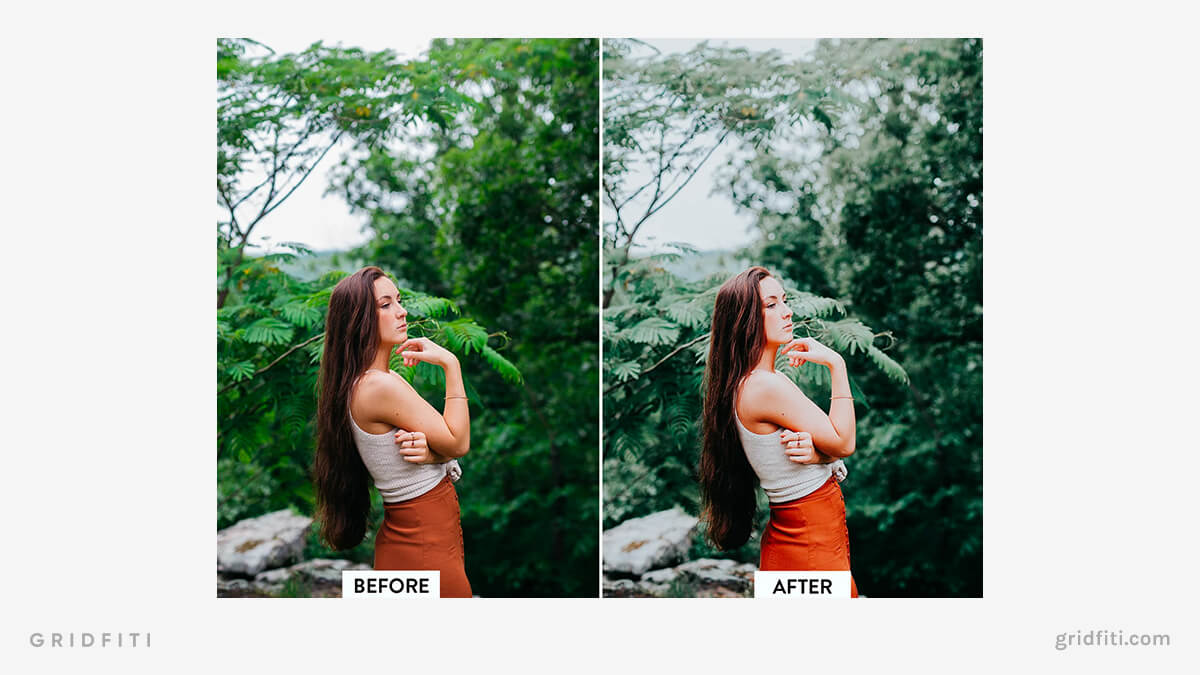 Cinematic Greens Signature Presets
Take your nature photos to the cinematic route with these Signature Green Presets. Packed with 10 presets in total, your photos of forests, waterfalls, fields, and anything with greenery will be transformed into cinematic clips of dark greens, subtle yellows, and balanced shadows with highlights. Give this preset pack a try on your nature photos.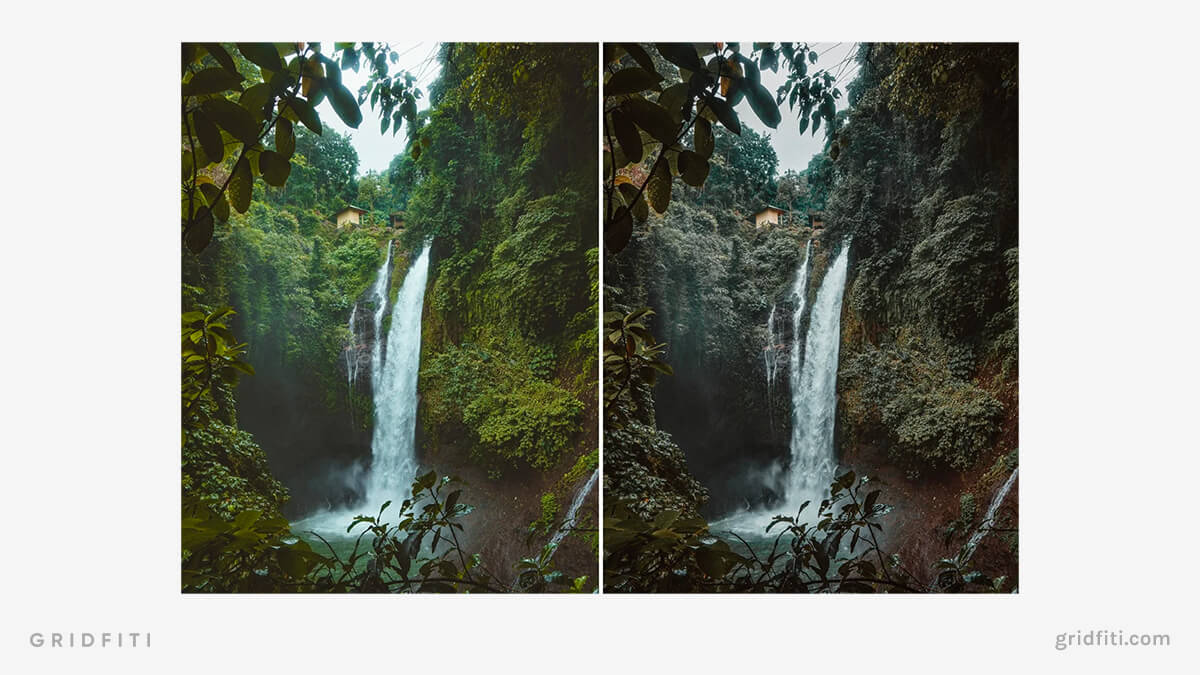 Free Green Presets
Are you looking for that green look on your photos without having to spend too much? Try out these free aesthetic green Lightroom presets to do just that to figure out how the editing styles work for you!
Free Green Effect Presets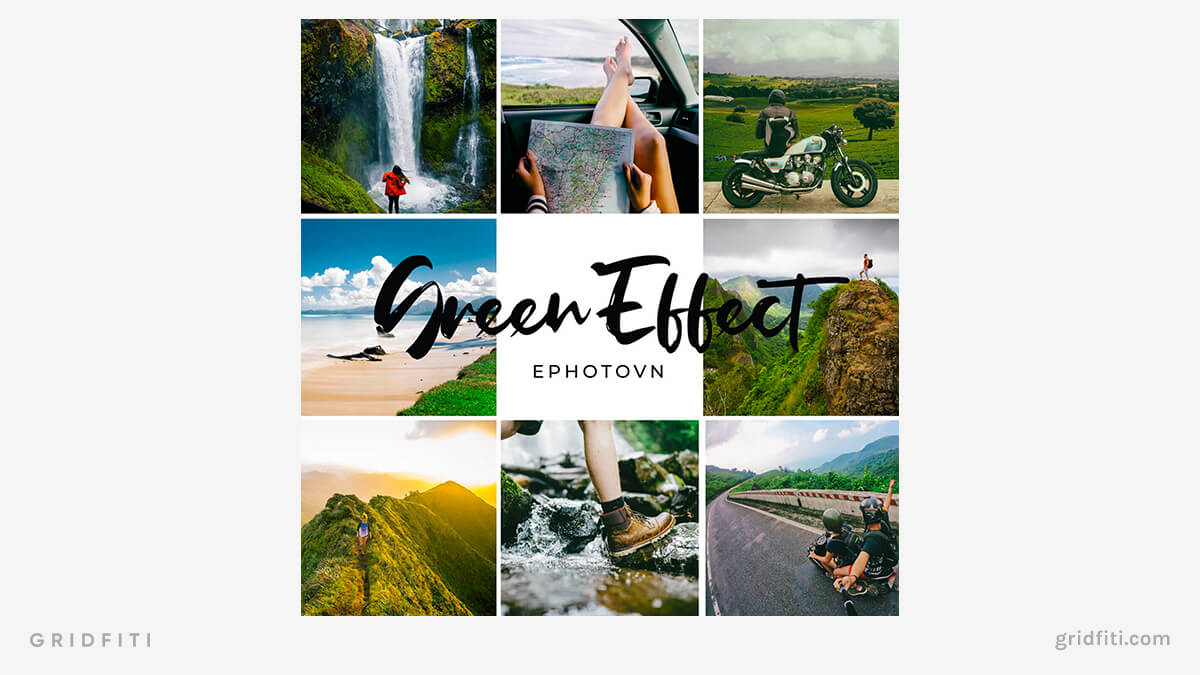 Perfect Green Free Lightroom Preset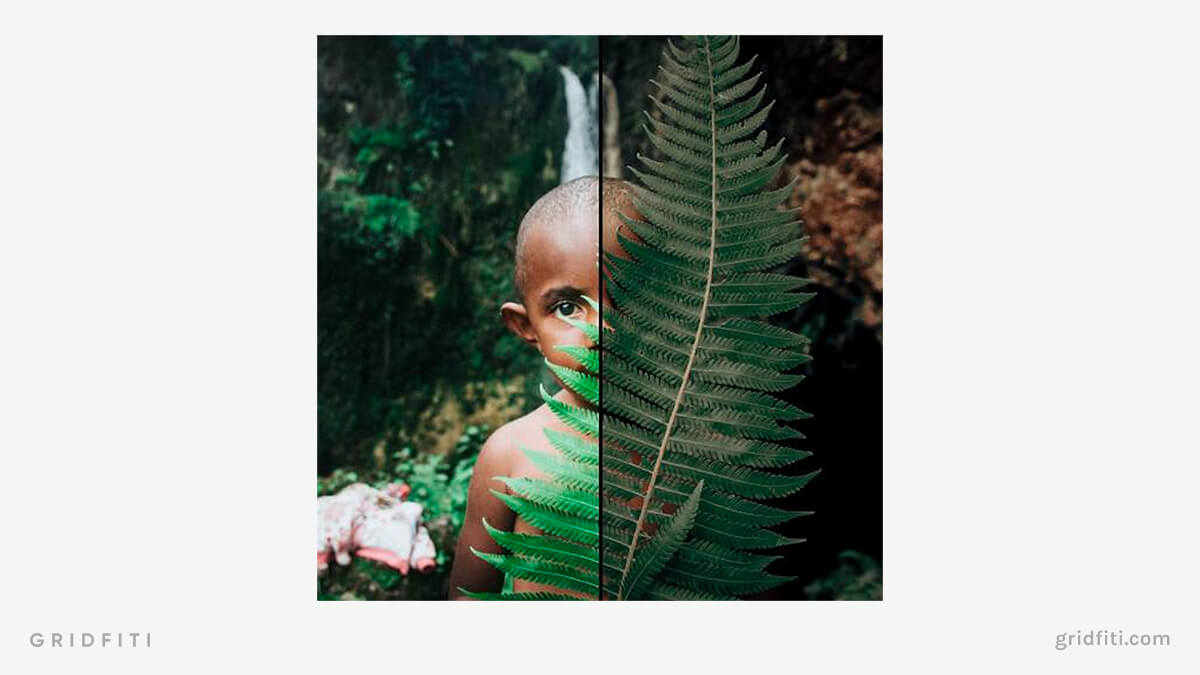 Which of these green Lightroom presets do you see yourself using? Are there any you think we should add? Let us know in the comments below!
Gridfiti is supported by its audience – when you buy something using the retail links in our posts, we may earn a small commission at no additional cost to you. Read more about our affiliate disclaimer.