It's important to showcase architectural work in the best light possible, whether you're an architecture, photographer, or both!
Our round-up of architectural Lightroom presets were picked to accommodate different editing styles to different variations in architecture. From clean and sleek white buildings to terracotta-roofed Mediterranean houses or geometric interiors, these presets will help you get started on your architectural editing.
If your architectural photography is focused on interiors, don't miss our full round-up on the best interior and indoor Lightroom presets!
Want more preset guides and tips? Check out our several other preset blog posts, and join our mailing list below!
Punchy Architecture Lightroom Presets
From spiraling stairs to intricate geometric patterns, this Aesthetic Architecture Lightroom preset pack will take your architectural photos to the next level. We love the variety of options these presets provide; catered towards white minimal architecture styles, warm, dark, or gothic – you name it! The editing capabilities of these presets are endless with your architecture shots. Give this preset pack a try with your photos.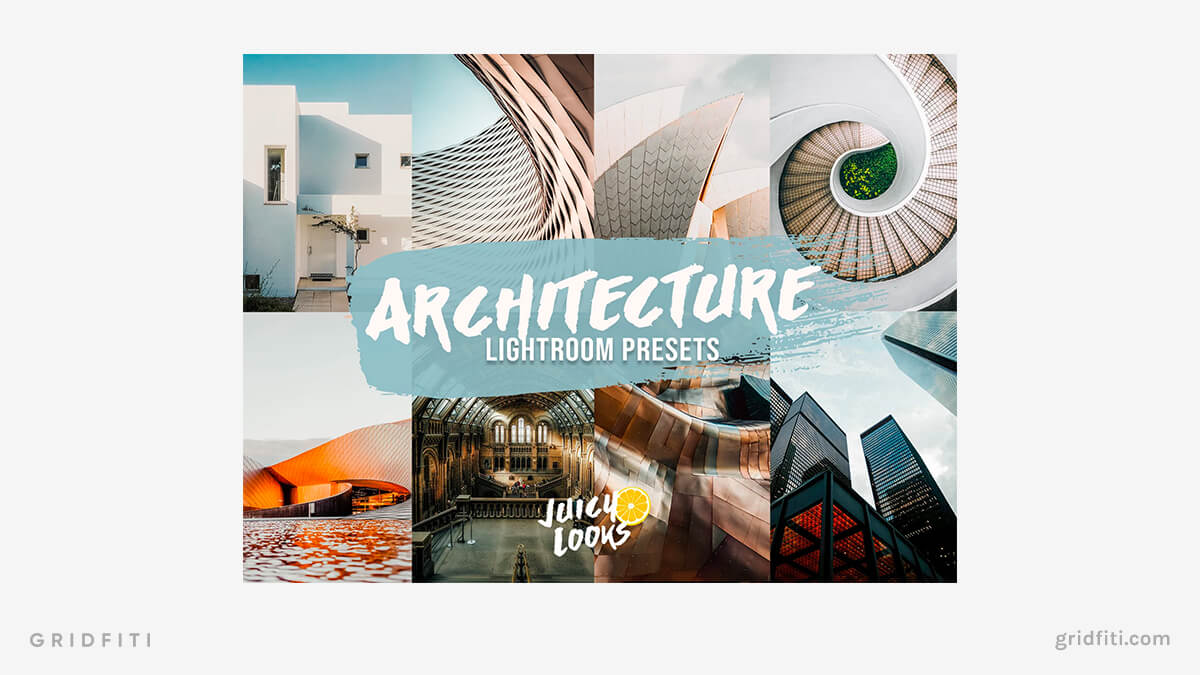 Clean Blue Architectural Lightroom Presets
Bring that clinical, sharp clean look to your architectural photos with this Clean Architecture Lightroom preset pack. Use it on photos of buildings at night, interiors designed to perfection, and everything in between. The common design theme of these presets is to sharpen up the photo with balanced color grading towards cooler blue hues.
Want more clean editing options for your other photos? Check out our list of clean Lightroom presets.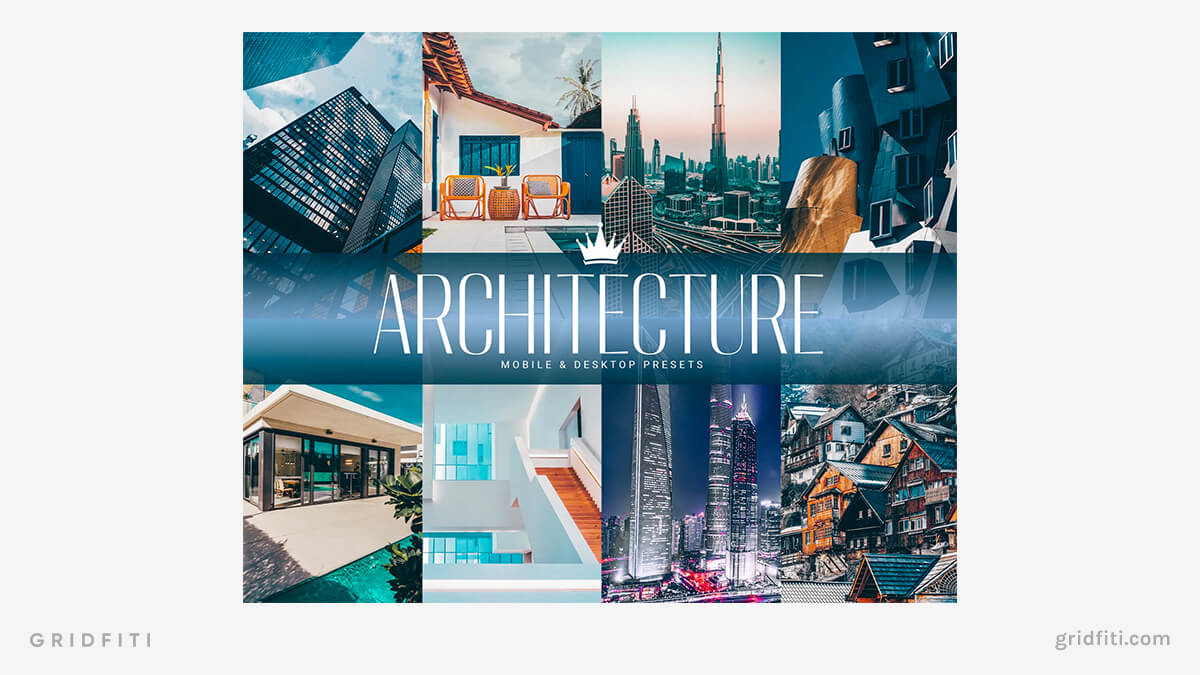 Rich Architecture Lightroom Preset Pack
To be used with grand architectural looks, from indoor to outdoor, this rich architecture Lightroom preset pack will have you in awe as you edit your photos to perfection. Sharpness is perfected with a subtle soft glow and colors are graded to accommodate the architectural environment and settings.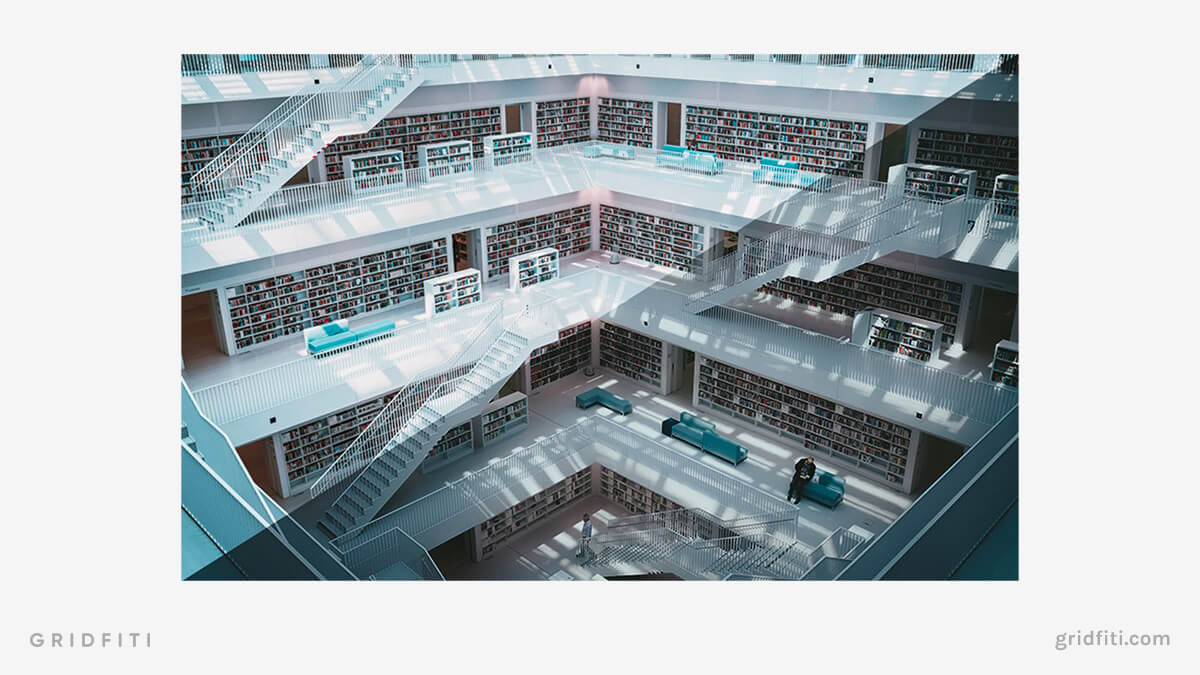 Architectural Lightroom Presets for Real Estate
Bring out the best of your home with this Lightroom preset pack designed for Real Estate photography! Whether you're looking to sell, rent, or even list on Airbnb, these presets will elevate your exterior and interior shots with expert color grading, enhanced exposure, and attention to detail. Bring the clean, architectural aesthetic to your home photography and make it stand out.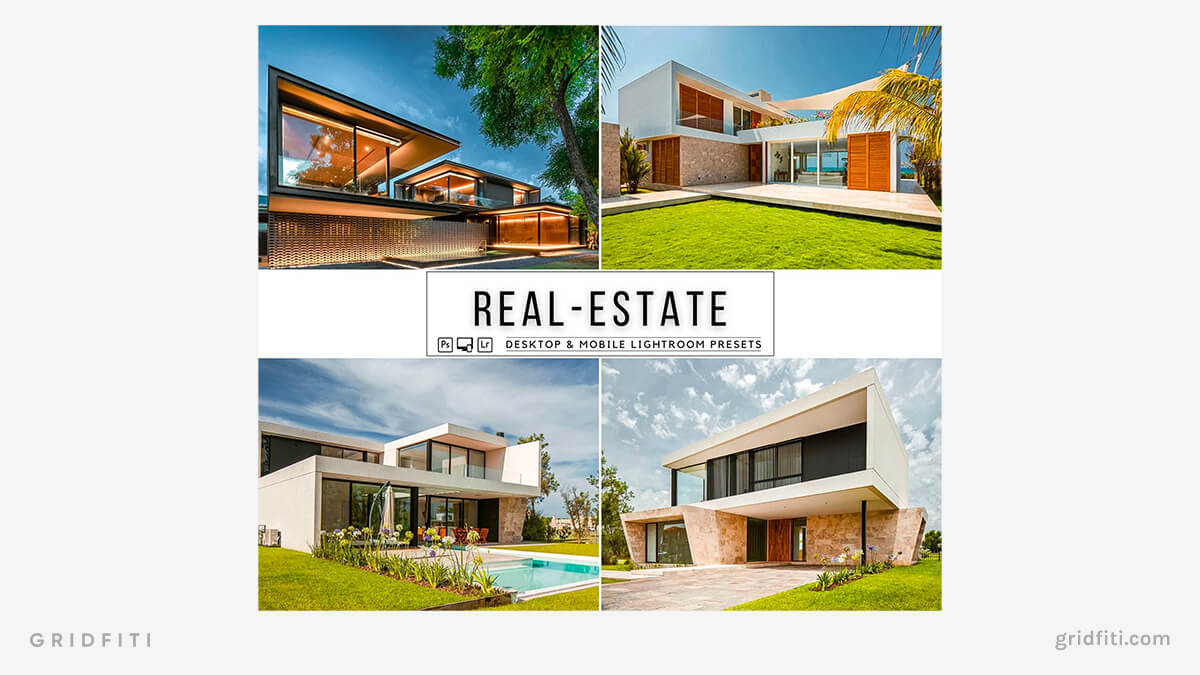 20 Architectural Lightroom Presets Bundle
Transform your exterior architecture photos into vibrant and dynamic images with this architecture Lightroom bundle designed for real estate photography. The pack contains 20 presets for both desktop and mobile, making it the perfect solution for enhancing your photos taken during the day, twilight, and night. Bring new life to bland, stock-looking images and try them out for yourself!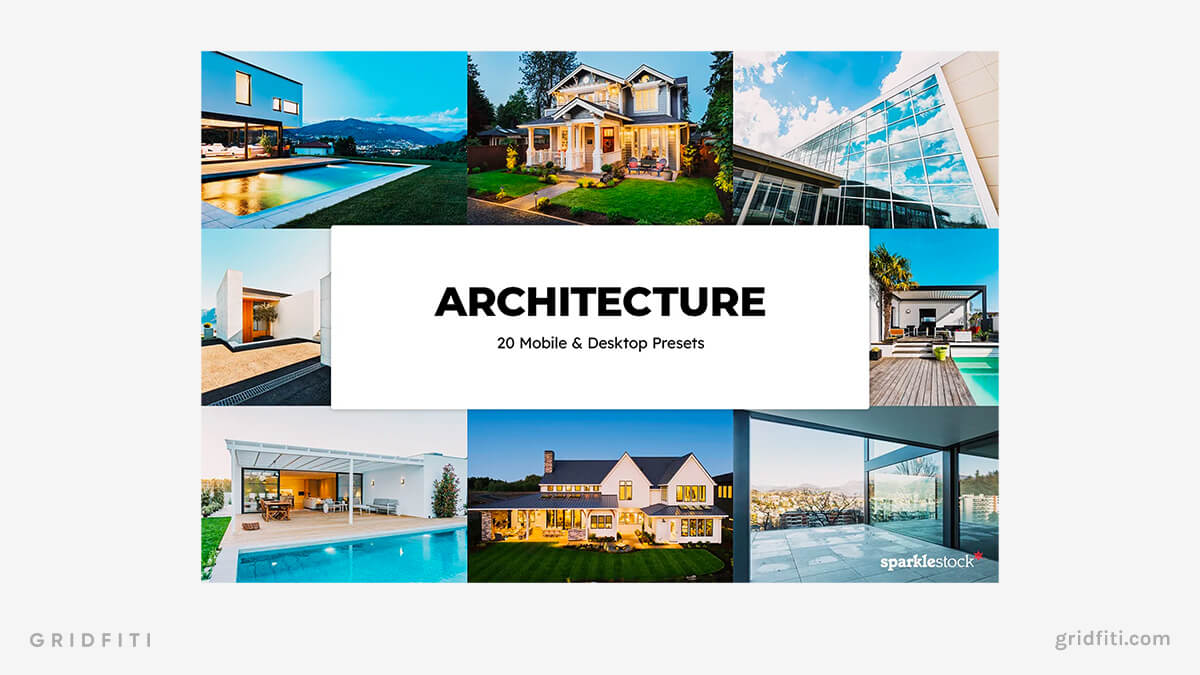 Architecture Real Estate Buildings Presets
Unleash the full potential of your minimalist architecture photos with this fully-loaded preset pack. With a focus on cooler tones, this pack includes 19 presets for desktop, mobile, and even Photoshop – giving you a wide range of editing options. Use it to enhance skyscrapers caught in fog, geometric stairs, aesthetic atriums and much more! Perfect for professional photographers and architectural enthusiasts alike.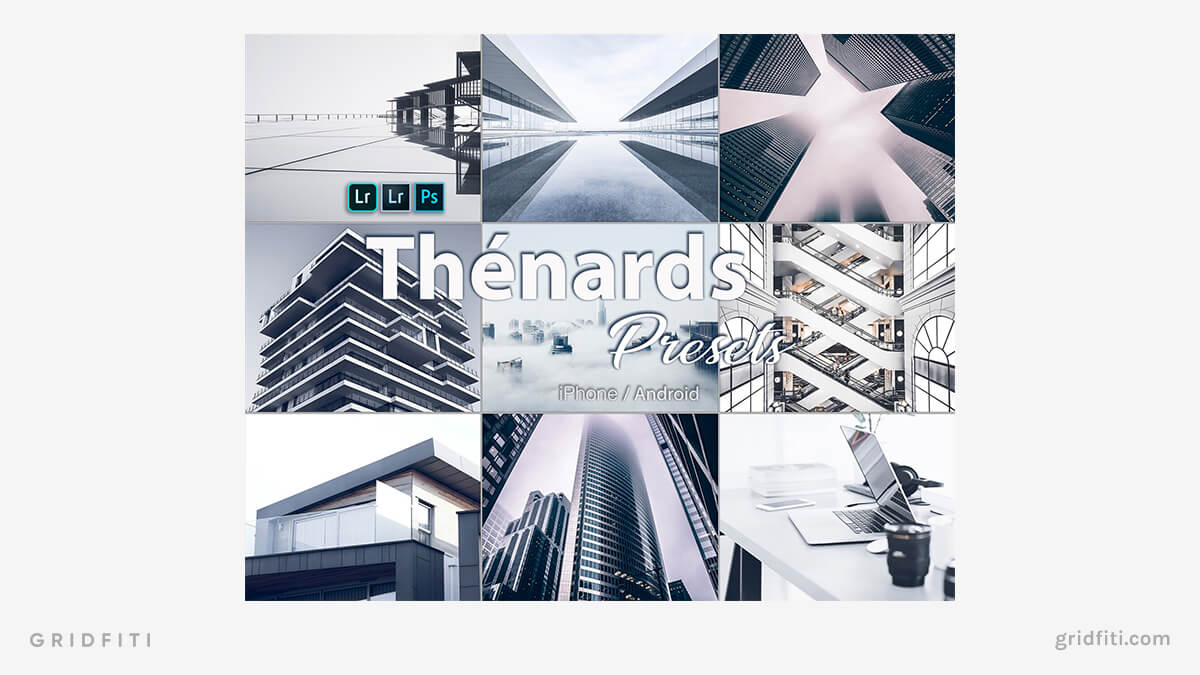 Landmark & Outdoor Architecture Lightroom Presets
From grand mosques to European courtyards, this architecture preset pack will enhance any photo you throw at it. Designed specifically for wider shots of outdoor architecture with white and earthy tones, choose from the 11 included presets to elevate your photos to the next level! Whether you're a professional photographer or an architectural enthusiast, these presets will give your photos that professional touch.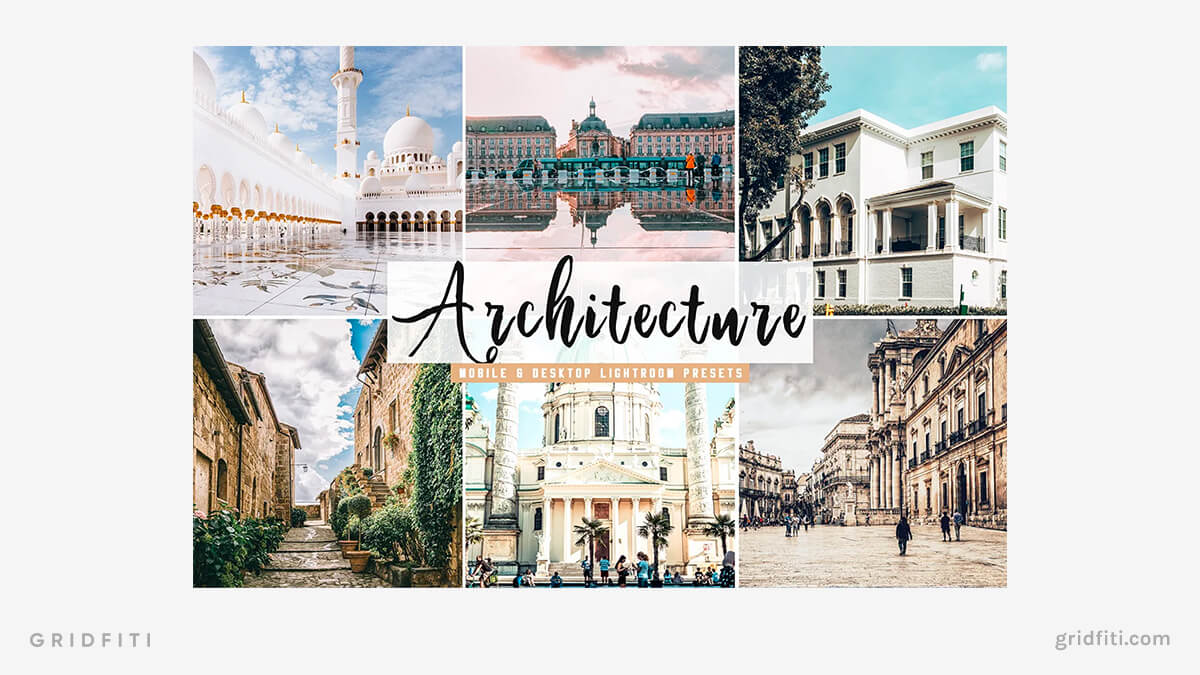 Megapolis Urban Architecture Lightroom Presets
A moodier and muted approach to architecture photography, this Megapolis preset pack contains 7 presets for both Lightroom desktop and mobile. They're designed for urban architecture, from old buildings, to modern glass and concrete skyscrapers. The beautiful balance of blues, whites, greys, and earthy tones are perfect for those urban exploration shots — check them out!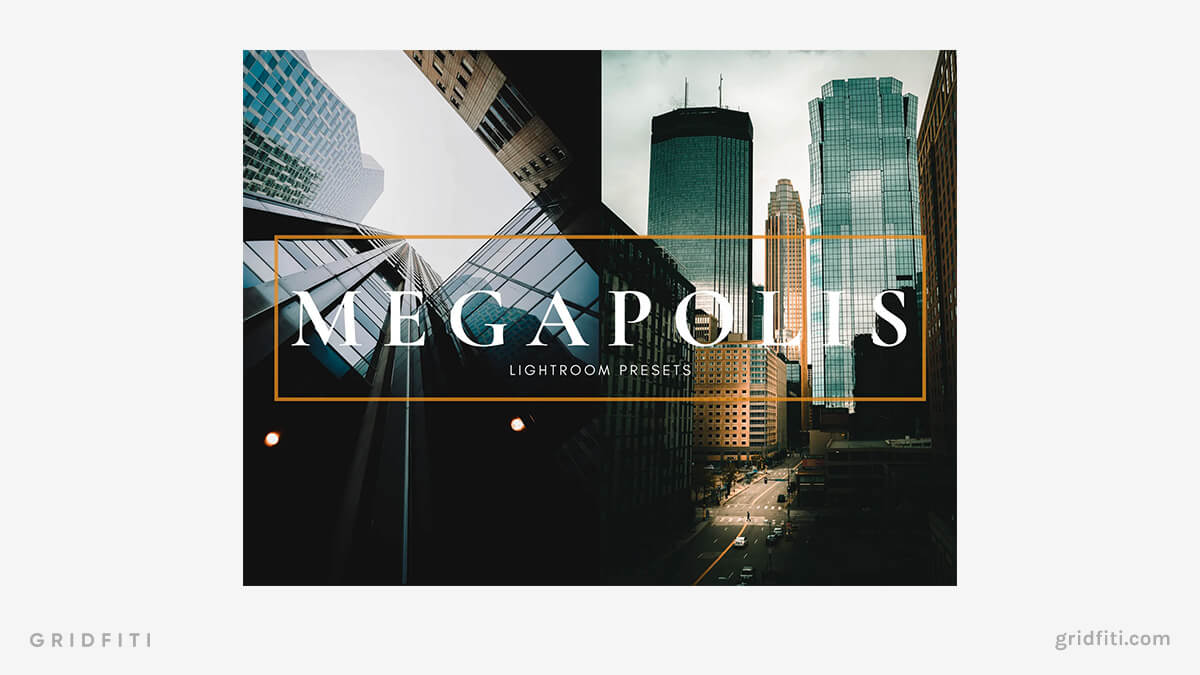 Free Architectural Lightroom Presets
Want to try taking your architectural photos to the next level before spending on premium presets? Give these free architectural Lightroom presets a try to see how you edit your pics!
Free Architectural Preset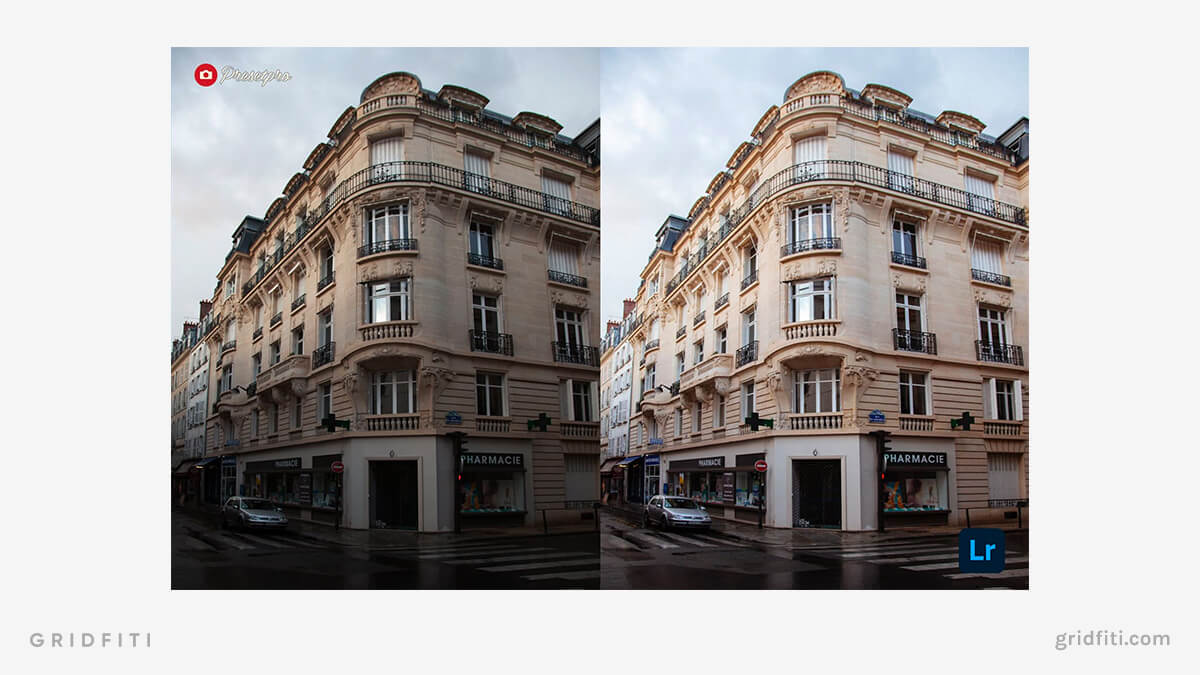 Vintage Architecture Preset Pack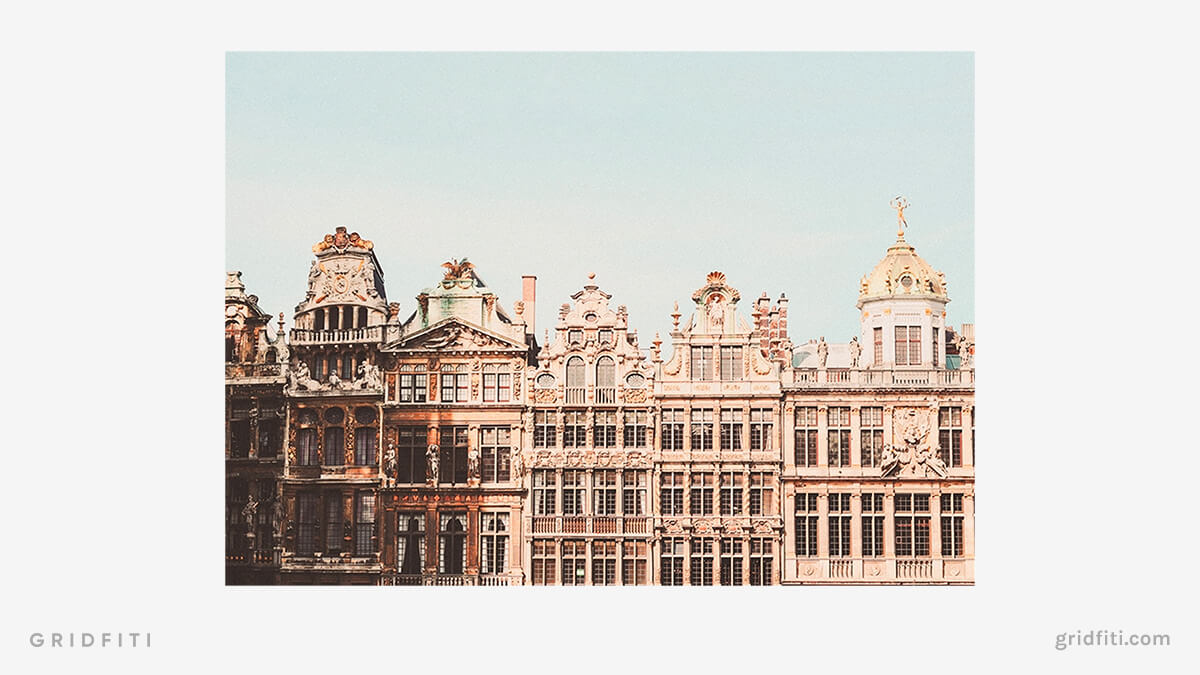 Which one of these Architectural Lightroom presets will you use? Are there any you think we're missing? Let us know in the comments down below!
Gridfiti is supported by its audience – when you buy something using the retail links in our posts, we may earn a small commission at no additional cost to you. Read more about our affiliate disclaimer.