Personalizing your Notion dashboard is nothing short of satisfying, and a great way to make sure your workspace is as functional and aesthetically pleasing as you'd like. Since Notion's infrastructure is web-based, it's incredibly fluid to embed custom widgets – opening a whole new world of functionality and aesthetics for your workspace.
You can add daily quotes, your city's weekly weather, your favorite Spotify playlist, and so much more. There are a ton of options out there, so we've curated the best Notion widgets to incorporate into your setup!
If you're looking for more ways to customize your Notion workspace, make sure to check out our other Notion guides, covering aesthetic templates, dividers, functional templates, Notion covers, and Notion icons!
---
Looking for more productivity tips and tools? Subscribe to The Flow — our quick, snappy, value-packed focus and recharge newsletter. Also, don't miss our several other Notion template round-ups and guides!
---
Get the all-in-one Life OS template, the only Notion template you'll ever need — with over 25 integrated templates built in.
Aesthetic Clock Widget
Keep track of time straight from your Notion dashboard with an embeddable aesthetic clock widget!
Aura Aesthetic Gradient Clock Widget
Add a splash of color to your Notion dashboard with the Aura Aesthetic Gradient Clock Widget! This vibrant gradient clock widget is available in all time zones and fits perfectly with any Notion aesthetic.
Get the Aura Aesthetic Gradient Clock Widget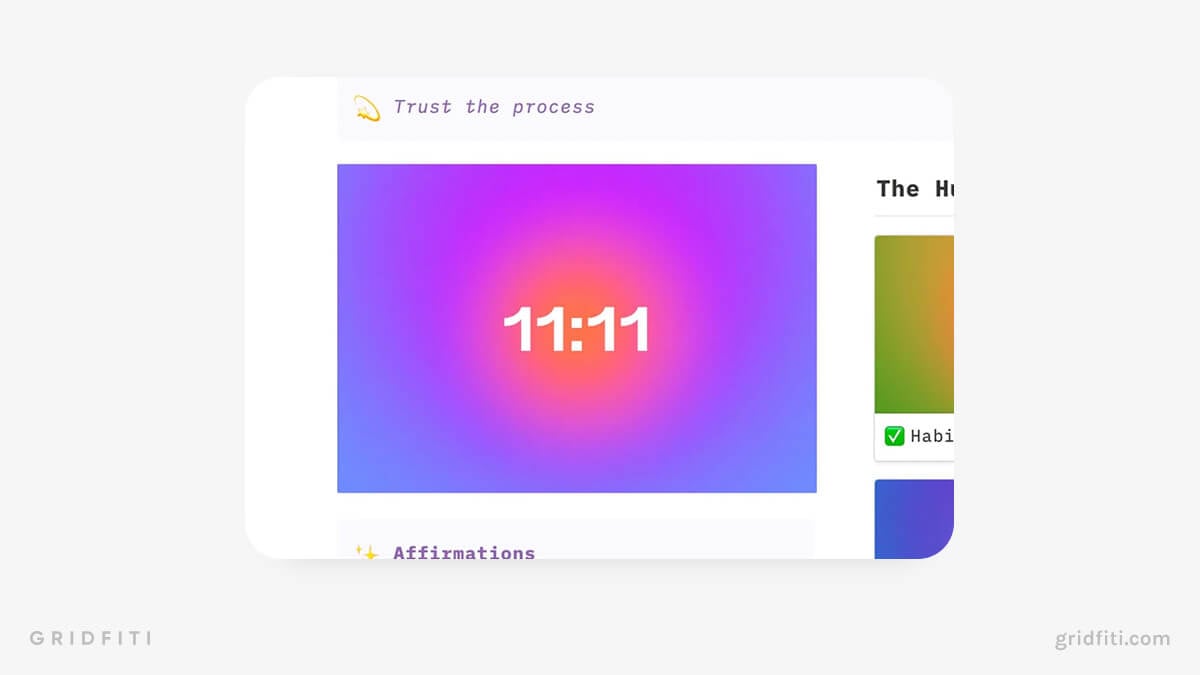 Analog & Digital Customizable Clock
Get a clock to match your minimalist aesthetic by downloading the Analog & Digital Customizable Clock widget. Available in six analog and two digital clock types with customizable clock and background colors!
Get the Analog & Digital Customizable Clock Widget
(note: must be logged into Indify)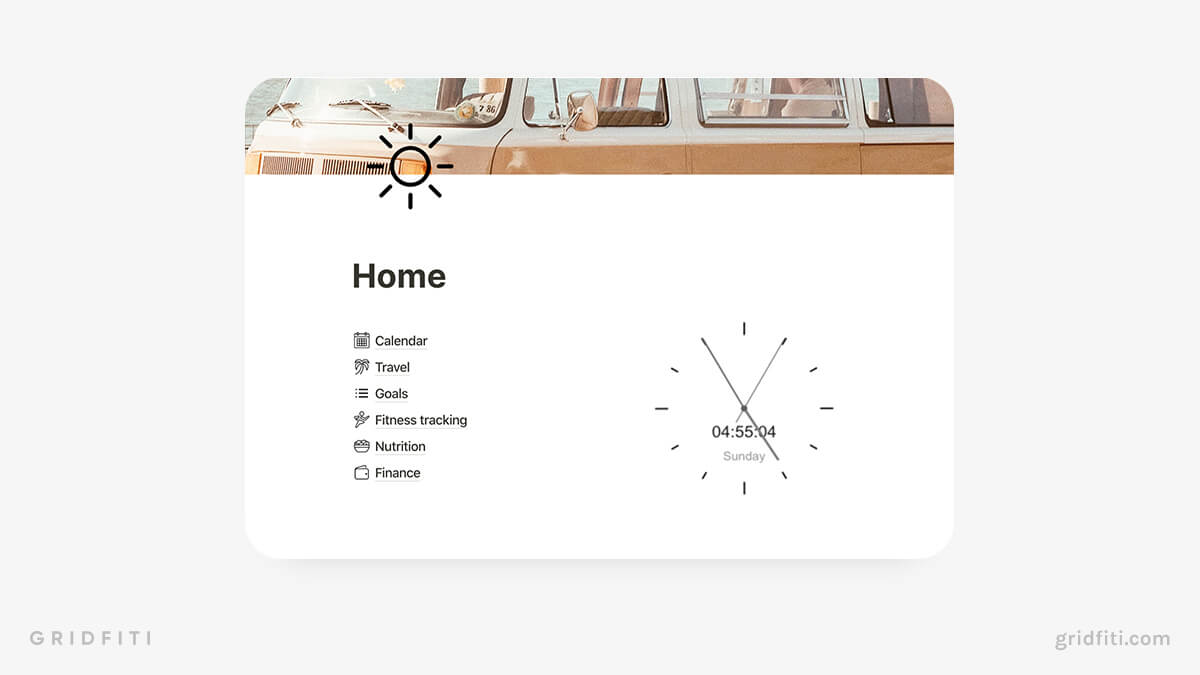 Flix – Aesthetic Flip Clock Widget
Download the chic aesthetic clock icon if you're feeling nostalgic in Notion. This classic flip clock design works on any Notion page and has an option for both dark mode and light mode.
Get the Flix – Aesthetic Flip Clock Widget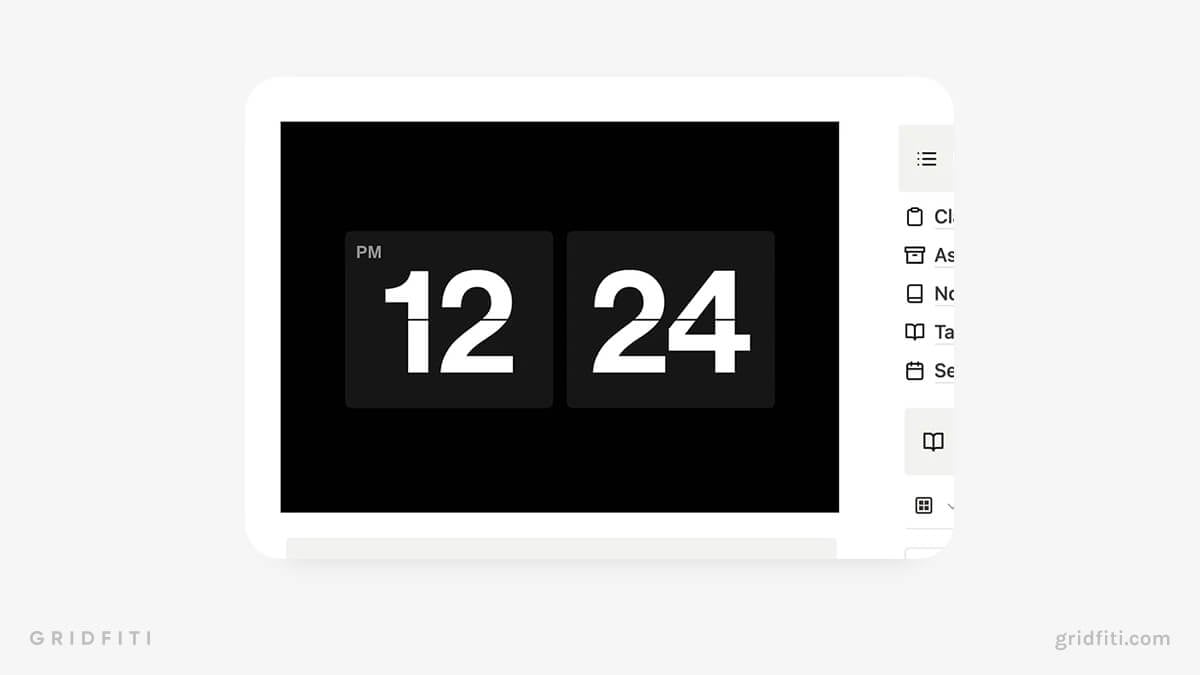 Notion Pomodoro Widgets
Maximize your productivity by embedding a Pomodoro timer widget directly into your Notion dashboard. These custom timers will match your Notion aesthetic and help you keep track of your next work or study session.
Looking for more? Check out our full round-up posts featuring the best Notion Pomodoro widgets and Notion Pomodoro templates!
Aesthetic Pomodoro Widget
Looking for a Pomodoro timer widget to make your setup both functional and beautiful? Check out the free Aesthetic Pomodoro Timer Notion Widget by our platform StudyWithMe!
Get the Aesthetic Pomodoro Timer Widget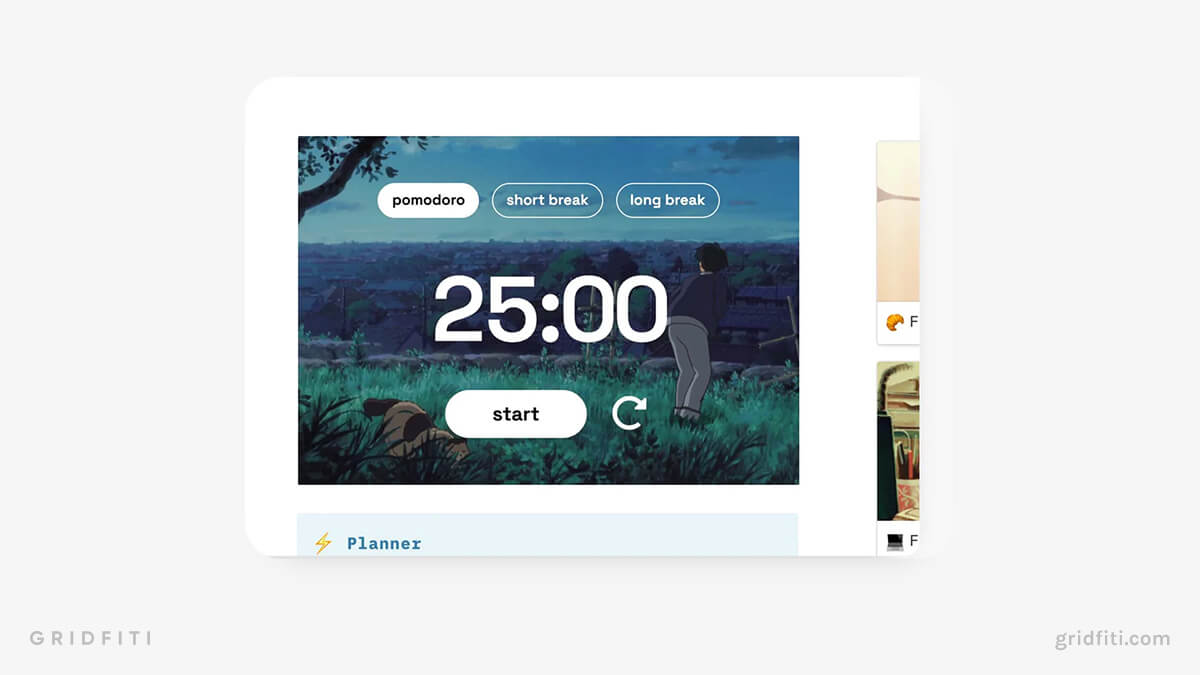 Flocus – Minimalist Pomodoro Widget
Find your flow and stay focused with the Flocus minimalist Pomodoro widget! Featuring several minimalist theme options, fullscreen capabilities right from Notion, and custom timer preferences – get more done with this Notion widget.
Get the Minimalist Pomodoro Timer Widget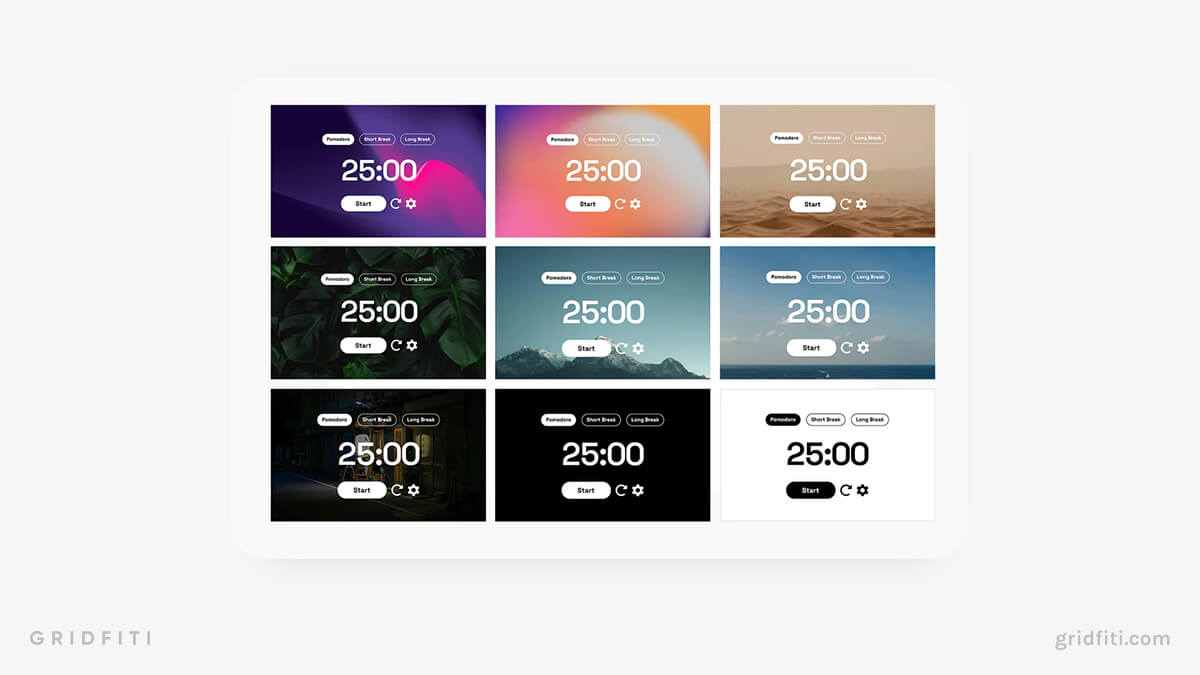 Pomofocus
Track your upcoming tasks and your Pomodoro sessions simultaneously with Pomofocus. View personal stats, your worldwide ranking, and more.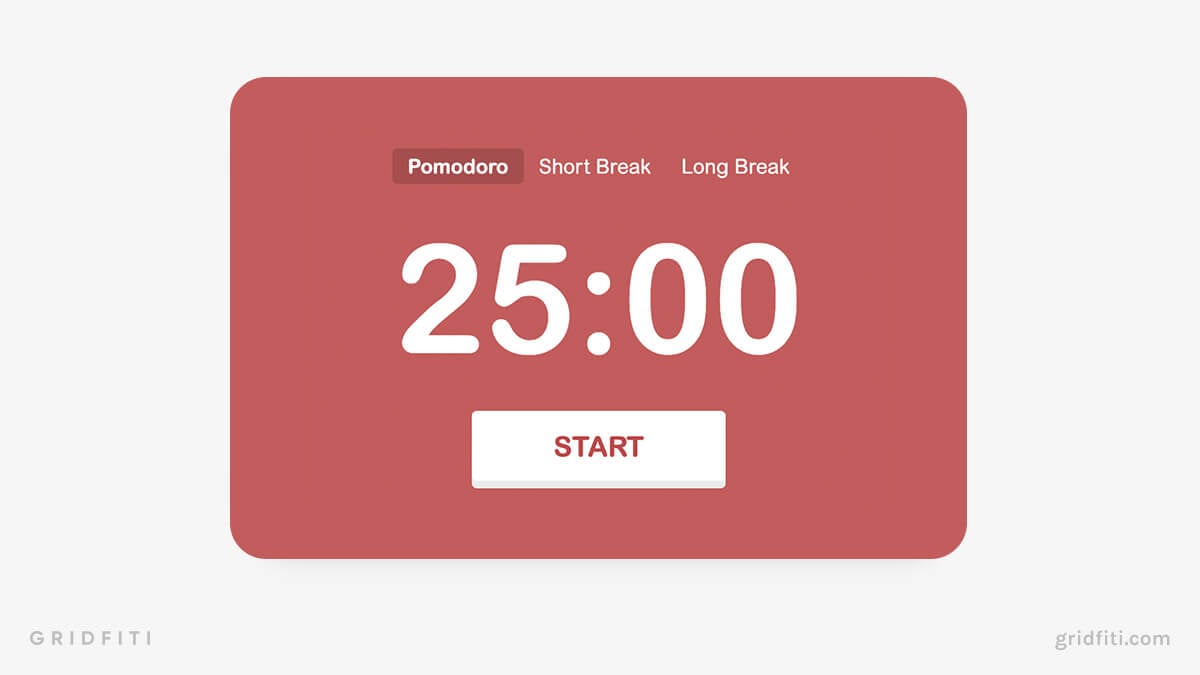 ACNH Music Work Timer/Todo List
Searching for a kawaii Pomodoro Notion widget? Look no further than the ACNH Music Work Timer/Todo List. Jam out to the classic Animal Crossing New Horizons theme while you complete tasks on a 5, 15, or 30-minute timer. You'll also have an adorable GIF of Isabelle falling asleep at her desk to keep you company.
Get the ACNH Music Work Timer/Todo List Widget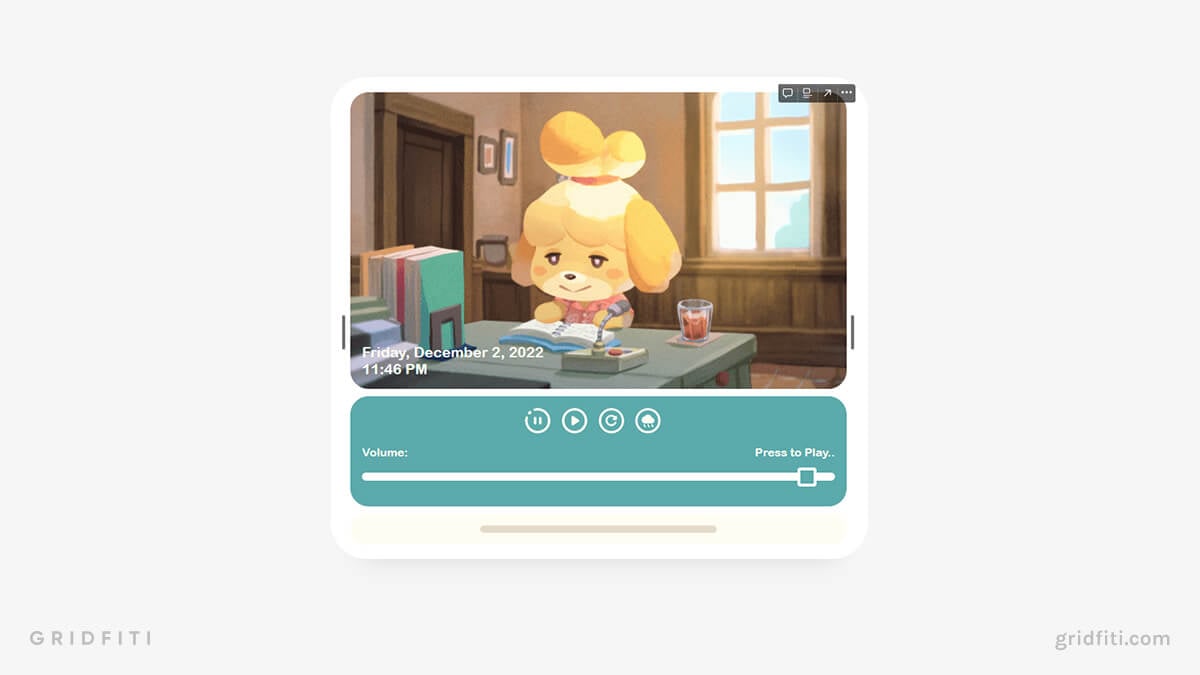 Flocus is a free browser-based dashboard for both focus and ambience. Featuring aesthetic themes, personal greeting Pomodoro timer, and lots more!
Get early access to Flocus here.
Calendar Widget for Notion
Keep hitting those deadlines thanks to a built-in calendar widget for Notion. If you want to integrate your schedule on Google Calendar, there's even a widget for that too!
Notion Widget: Calendar
This basic Notion calendar widget is perfect for keeping track of your day-to-day. Edit the calendar's code to change the color theme with hex codes.
Get the Notion Widget: Calendar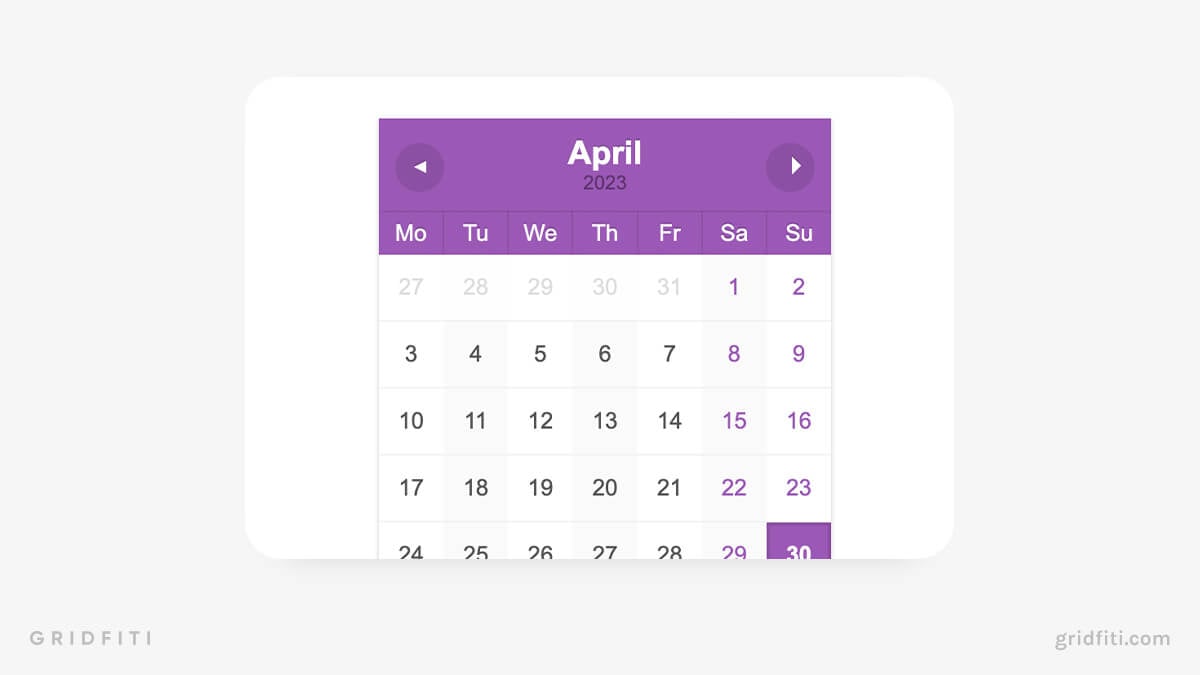 Google Calendar Widget
Integrate your Google Calendar and Notion with this Google Calendar Widget. View your schedule and upcoming events seamlessly without having to leave your dashboard.
Fancy making your Google Calendar aesthetic? Take a peek at our Aesthetic Google Calendar Tutorial for inspiration!
Get the Google Calendar Widget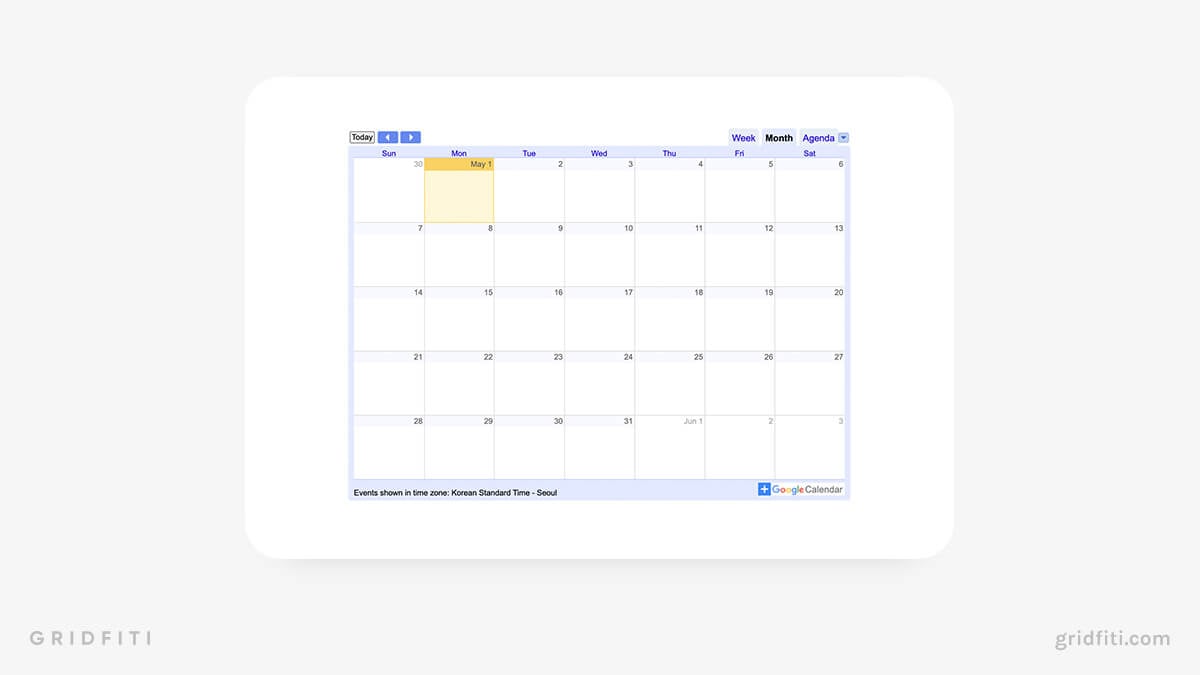 Notion Quote Widget
Get that extra boost of motivation with a Notion quotes widget on your dashboard. Pick from your favorite aesthetic themes and quote categories to truly customize your Notion workspace with some daily inspiration!
For more, check out our full post curating the best Notion quote templates & widgets!
Aesthetic Quote Widget
Motivate yourself through your Notion dash with the Aesthetic Quote Widget by Flocus. Choose from 10+ background themes, and enjoy daily quotes from multiple categories.
Get the Aesthetic Quote Widget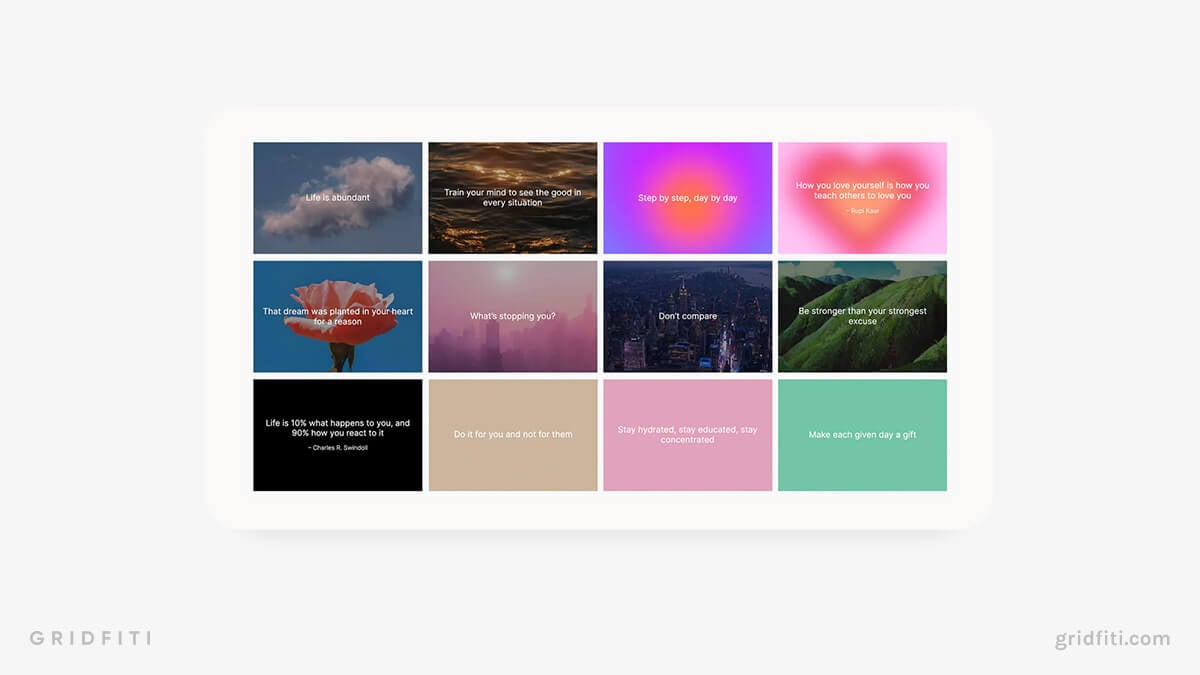 Indify Quotes
Receive quotes from five of inspirational Instagram accounts to your Notion dash with Indify Quotes. Each quote comes with its original Insta background, and you can add a personal touch and set your own colorful border.
Get the Indify Quotes Widget (note: must be logged into Indify)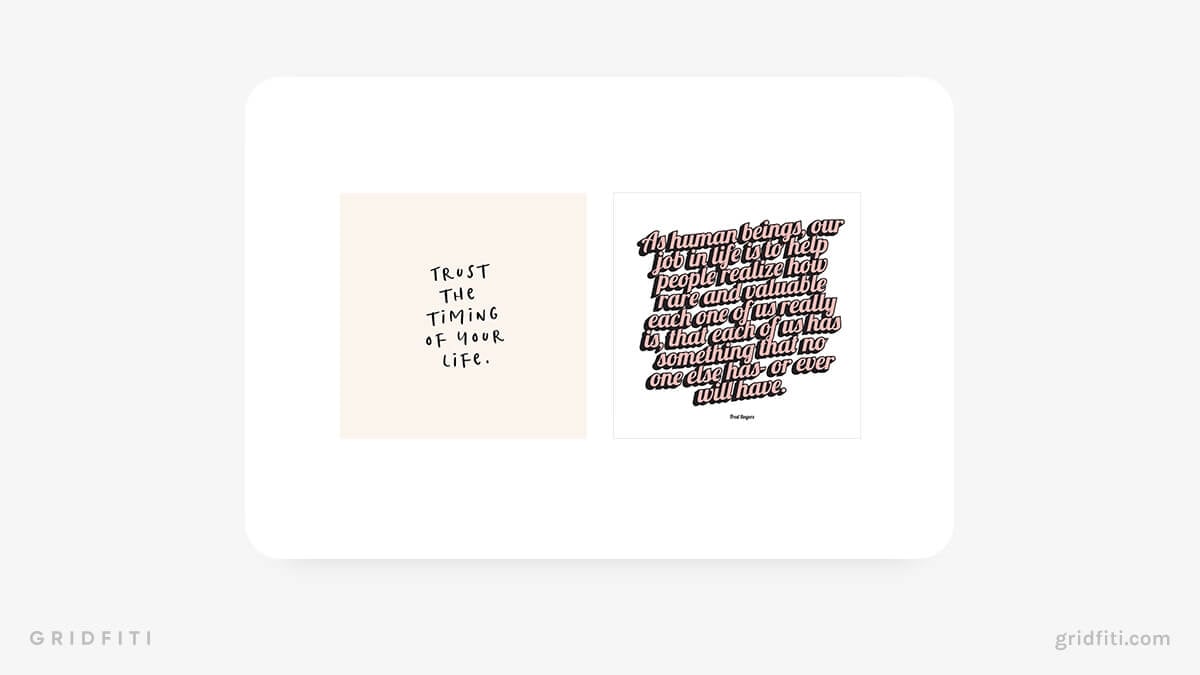 WidgetBox Simple Quotes
Keep it simple with this widget quote icon by WidgetBox. Choose background, text, and icon colors with hex codes, and pick from three font styles. Use pre-generated quotes, or inspire yourself with your own pearls of wisdom.
Get the WidgetBox Simple Quotes Widget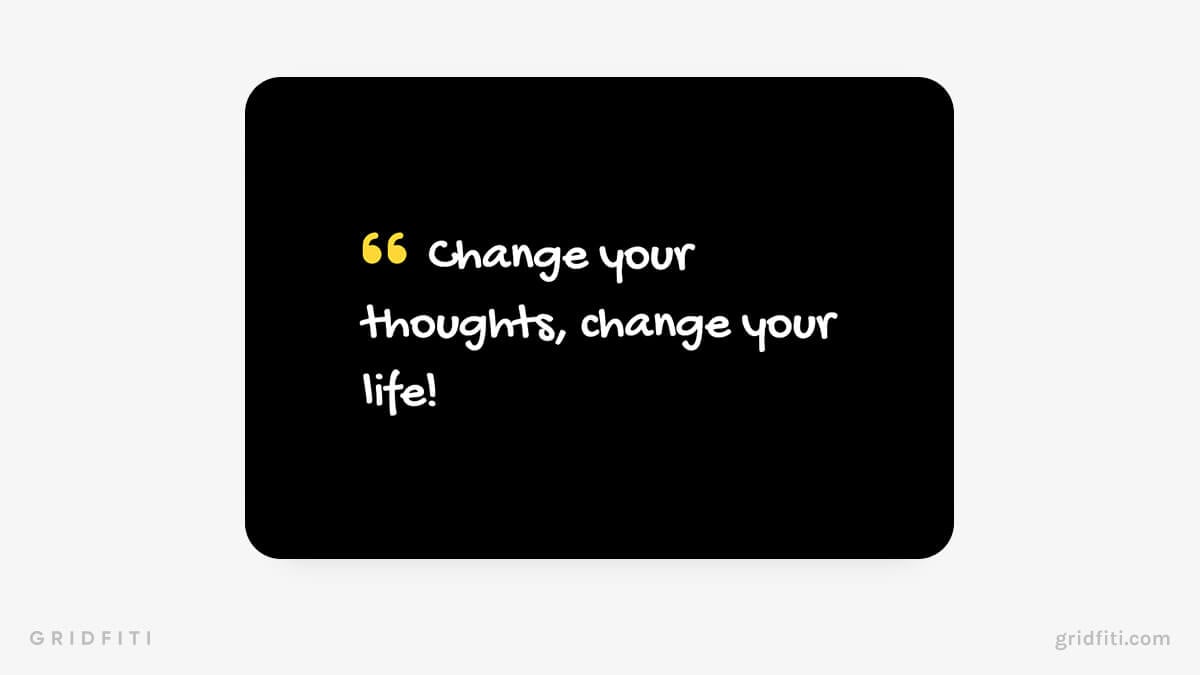 Minimalist Notion Quotes Widget
Bright color schemes and flashy fonts won't get in the way of your daily inspiration thanks to this highly accessible Notion quote widget. Notion Quotes Widget is a straightforward quote generator with four font sizes and a light and dark mode. Choose from five quote categories, including wisdom, technology, and friendship.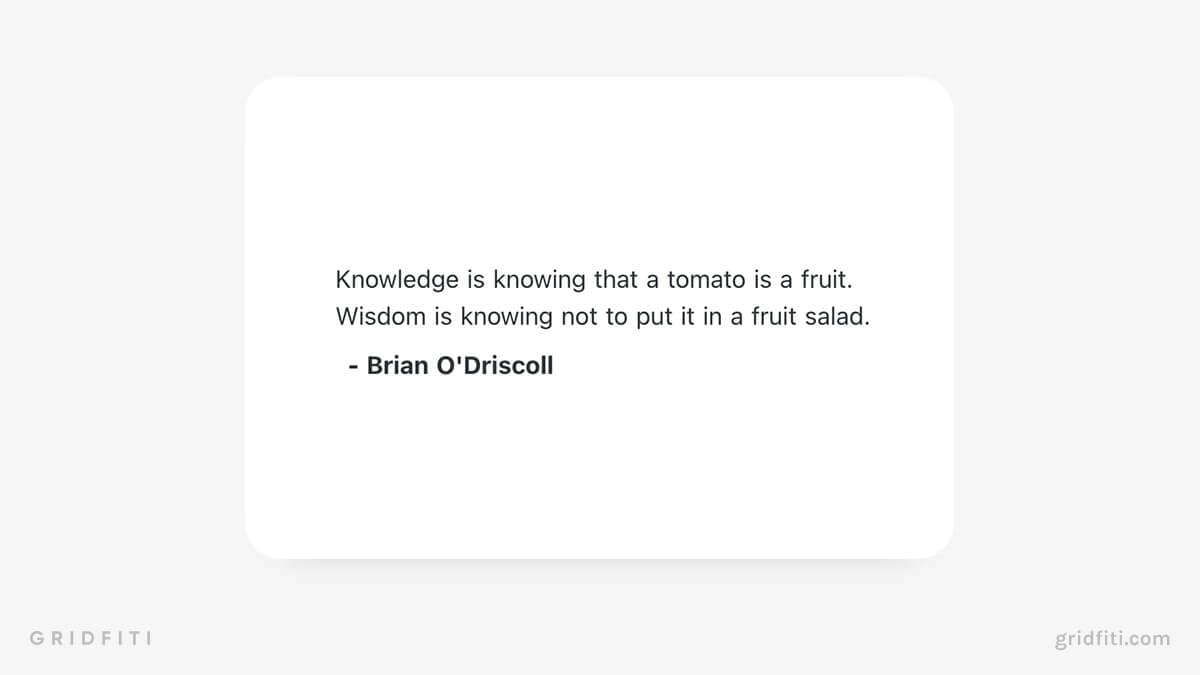 Weather Widgets
Who knew your Notion setup could be your meteorologist too? Embed an aesthetically pleasing weather widget on your dashboard to help you plan for the day, come rain or shine.
Related Post: The Best Notion Weather Widgets
Indify Weather
Prepare for whatever weather from your Notion dashboard with Indify Weather. Display the weather from anywhere worldwide in your preferred units. Select the number of days forecasted up to a week, and customize your widget's color scheme with hex codes.
Get the Indify Weather Widget (note: must be logged into Indify)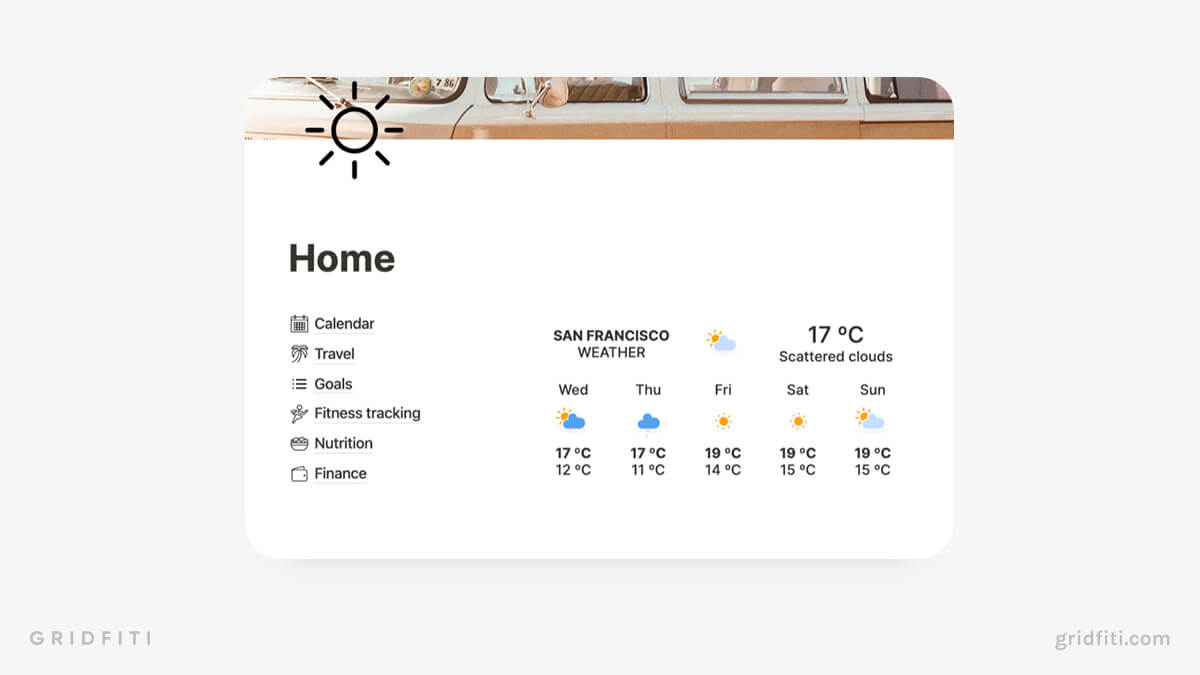 WidgetBox Weekly & Daily Forecast
WidgetBox boasts three different Notion weather widget designs. Get daily forecasts from their square and circle icons, or prepare for the week with their five-day weather widget. All widgets have customizable color schemes to fit your preferred palette.
Note: you'll need a WidgetBox pro subscription to access these widgets.
Get the WidgetBox Weekly & Daily Forecast Widget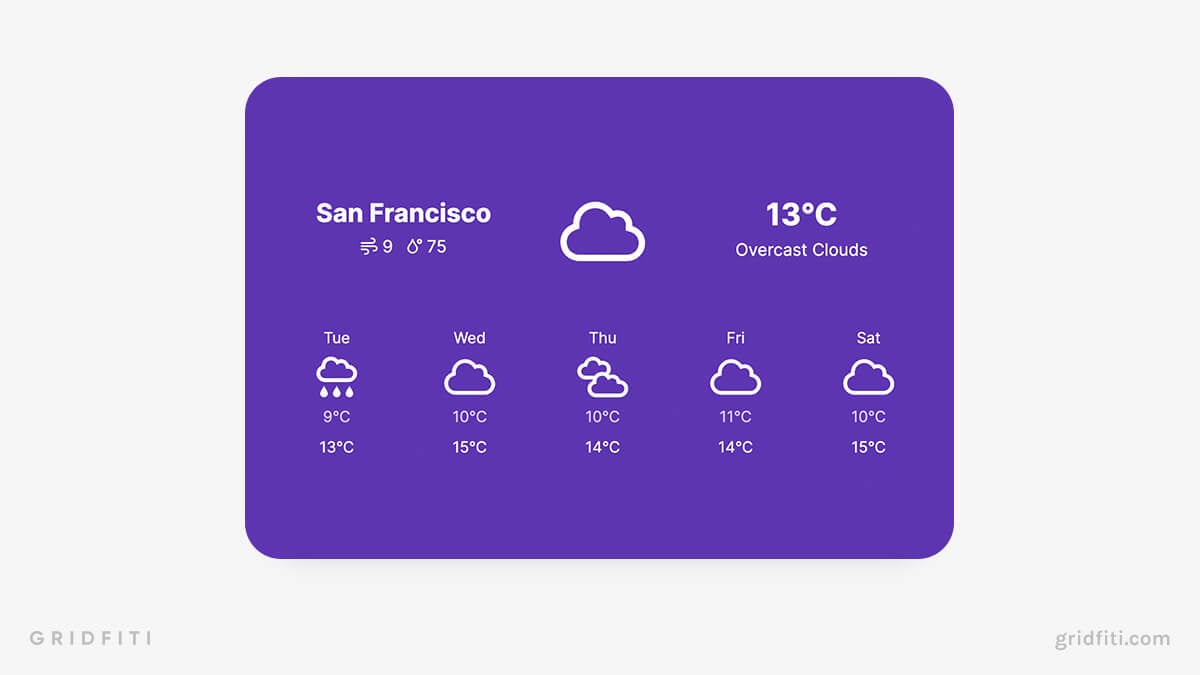 WeatherWidget.io
Available in 27 different languages, WeatherWidget.io is a comprehensive weather widget. WeatherWidget.io is highly customizable, with over a dozen themes, 20 font styles, and custom colorations of individual weather icons.
Get the WeatherWidget.io Widget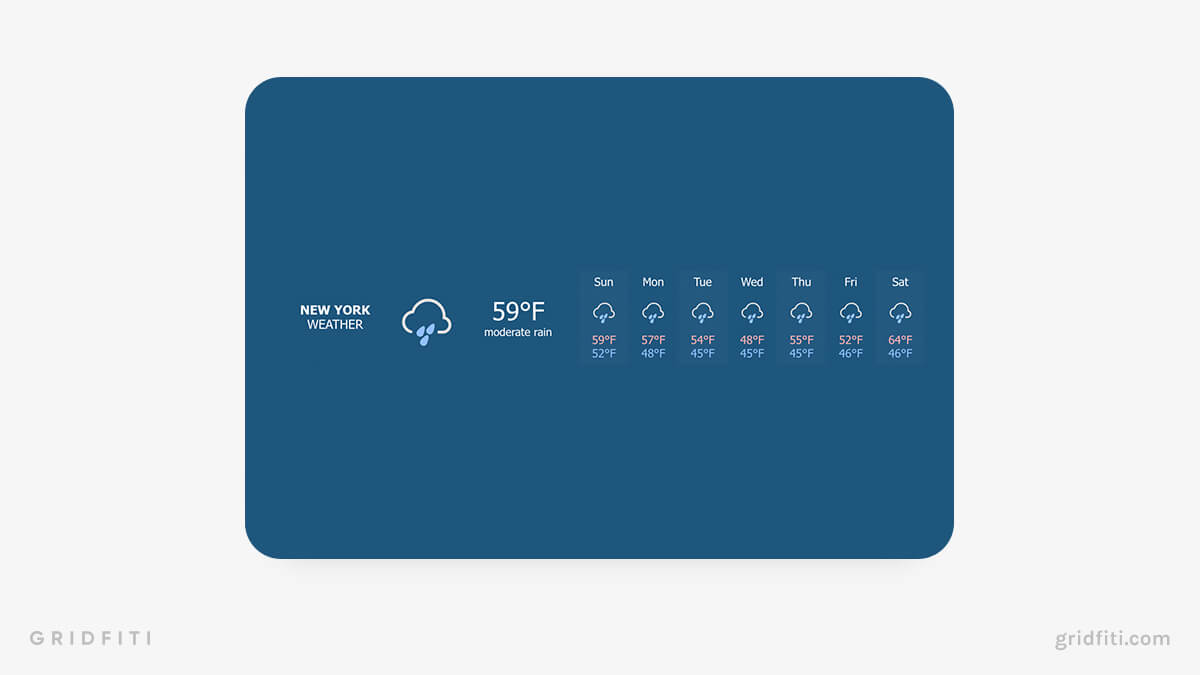 Countdown Widget
Can't wait for your next trip? Or that concert in a few months? Give yourself something to look forward to with a countdown widget right in your Notion dashboard.
Still on the hunt for more? Take a look at our Notion countdown widget post, showcasing a variety of alternative options!
Indify Countdown
Use the Indify Countdown Notion widget to create a straightforward countdown. Despite being a no-frills countdown widget, Indify Countdown has plenty of customization options, including changing the text, background, and accent colors using hex codes.
Get the Indify Countdown Widget (note: must be logged into Indify)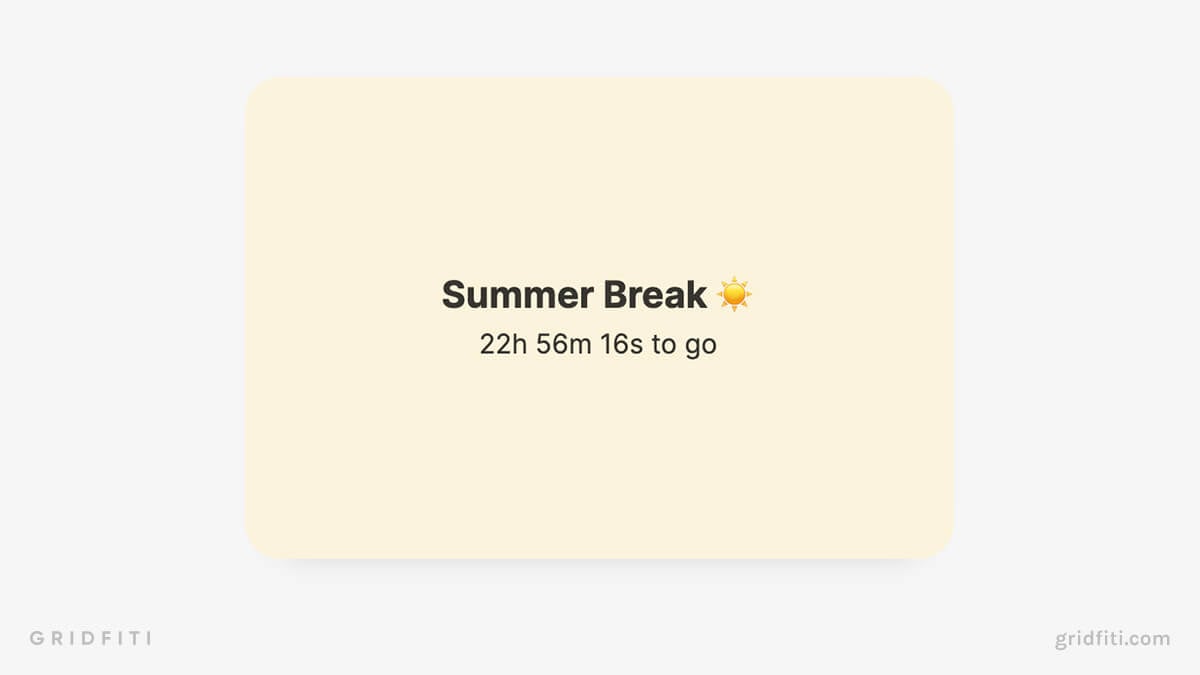 Simple Countdown
It might be called Simple Countdown, but this Notion countdown widget features cute colorful blocks that display a countdown to your next big event. Edit the widget's code to change each block color and the time left on the countdown.
Get the Simple Countdown Widget
Related Post: The Best Notion Countdown Widgets for Your Workspace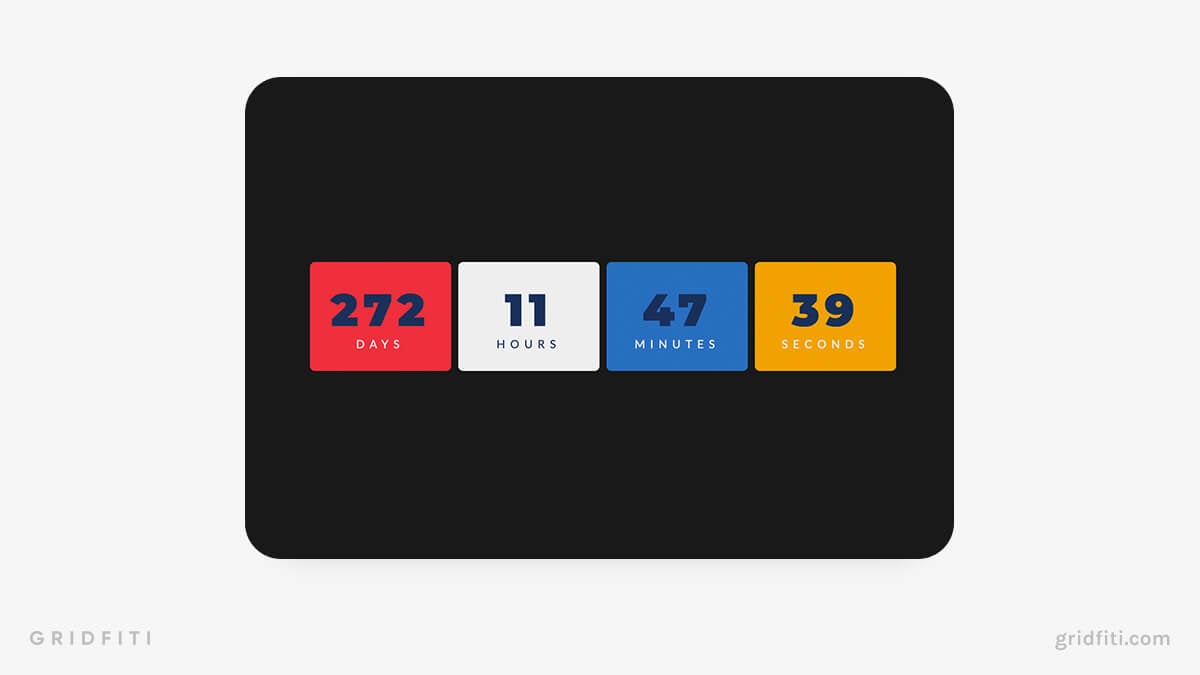 Personal Notion Widgets
Infuse some of your personality into your Notional dashboard with unique Notion widgets. From tracking your annual progress to admiring your favorite gif, here are a few widgets that add character to your dash.
Time Progress Bar Widget
Keep track of your progress and ensure you're making the most of your year with the Progress Bar Widget. This widget will help put time in perspective, and motivate you to keep your foot on the gas.
Get the Life Progress Bar Widget (note: must be logged into Indify)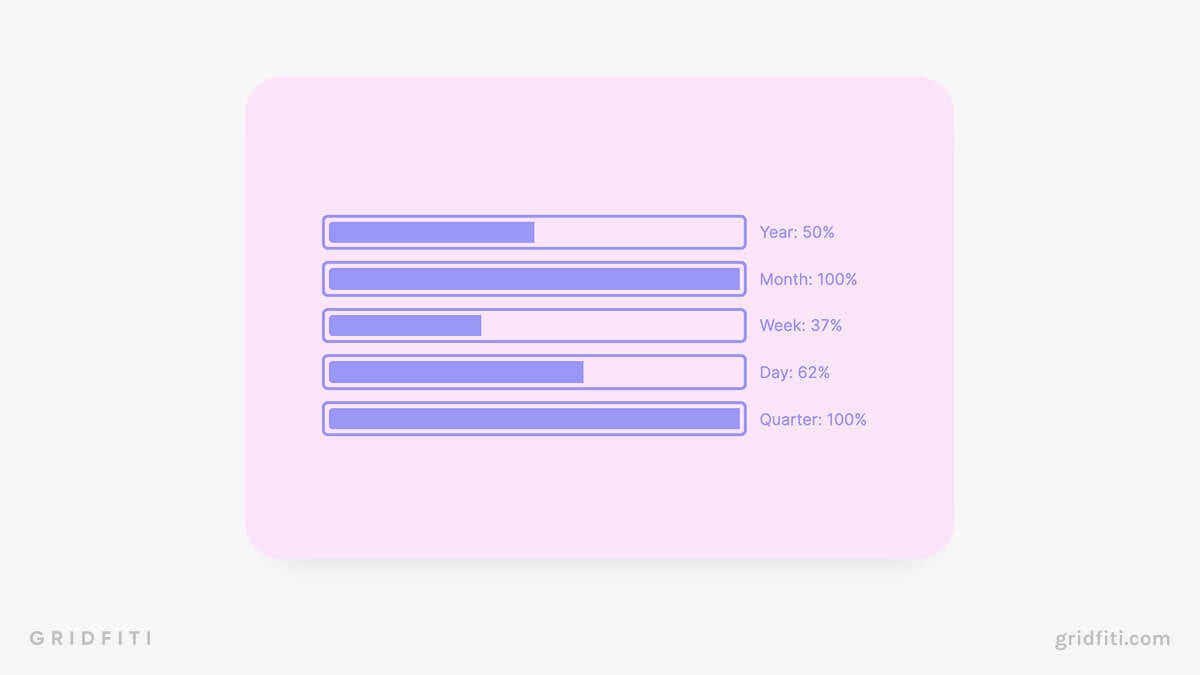 Image Gallery Widget
Get a revolving gallery of your favorite photos and images on your Notion dashboard. Personalize your image gallery by changing the color of the border, arrows, and more.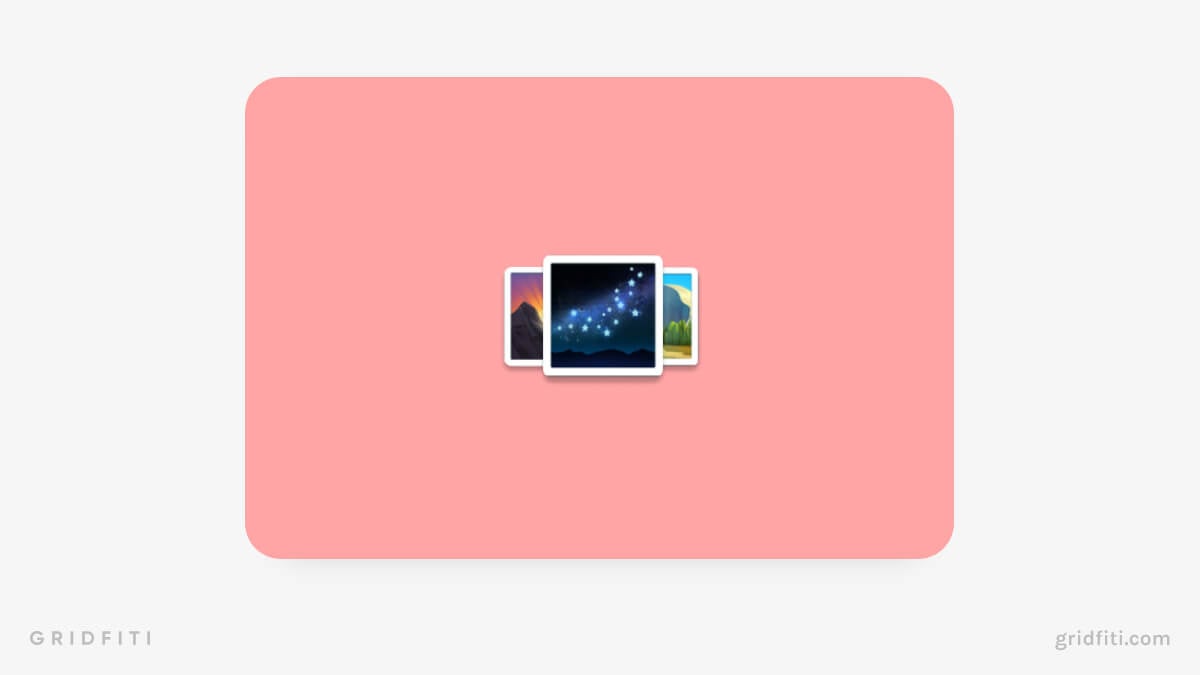 Blocs Notion Widgets
Blocs is a subscription service that provides some of the most beautiful Notion widgets available. Hydrate with the water tracker, create new habits with the habit tracker, and stay productive with Blocs Pomodoro.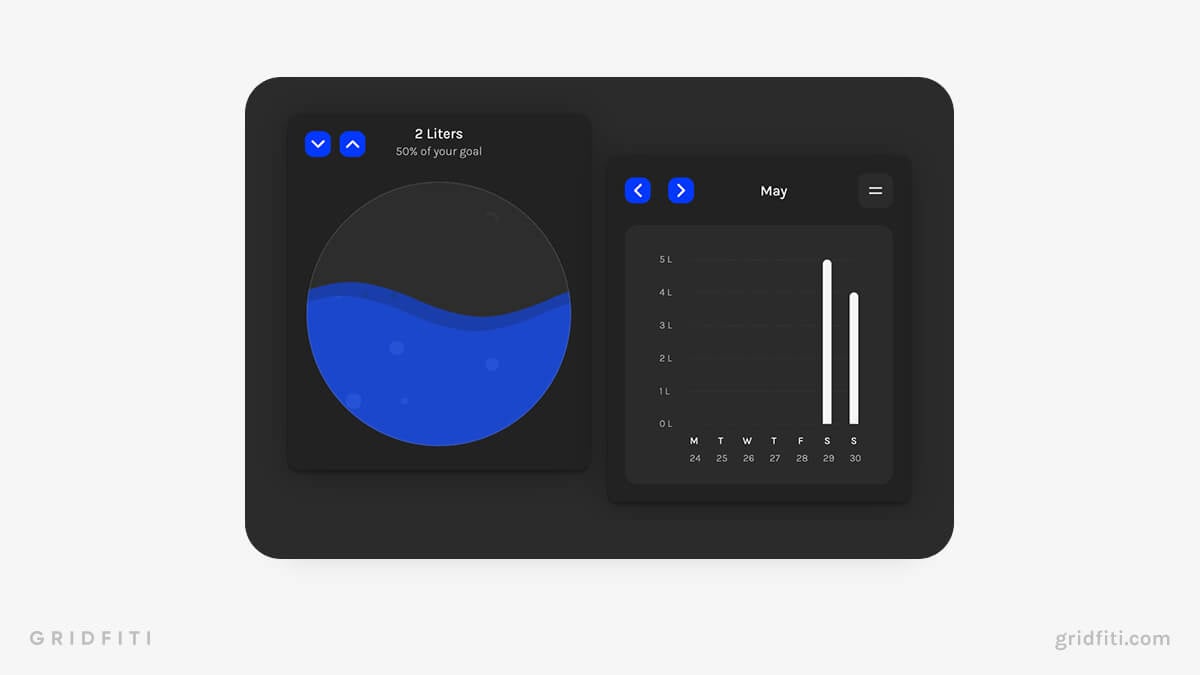 Giphy Notion Widget
Copy any gif you like to your Notion dashboard with Giphy. Pick your gif, generate and copy an embeddable URL, and type "/embed" on your Notion to add your favorite gifs.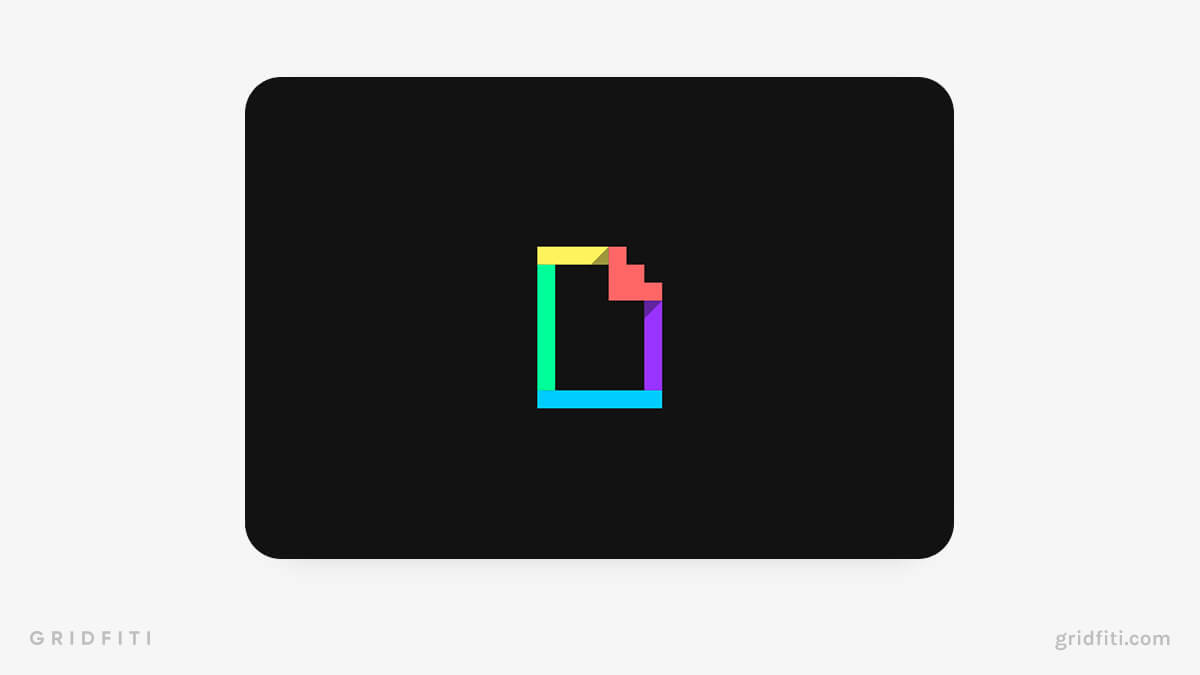 Spiritual Widget Bundle
Unlock your inner spirituality with the Spiritual Widget Bundle by Pascio. This bundle includes mantra, affirmation, and tarot widgets, each pre-filled with 30 entries.
Get the Spiritual Widget Bundle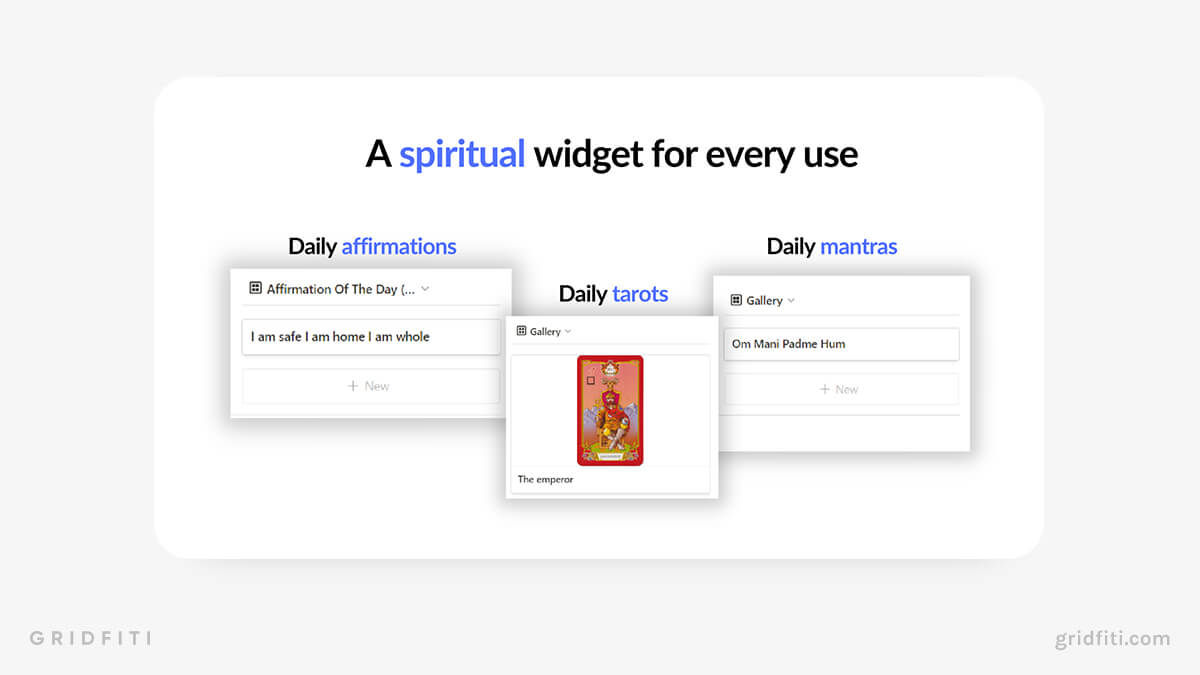 Moon Phase Today
Map the Moon's movements through Notion with Moon Phase Today. Customize your widget's color scheme and layout, and choose from seven moon designs.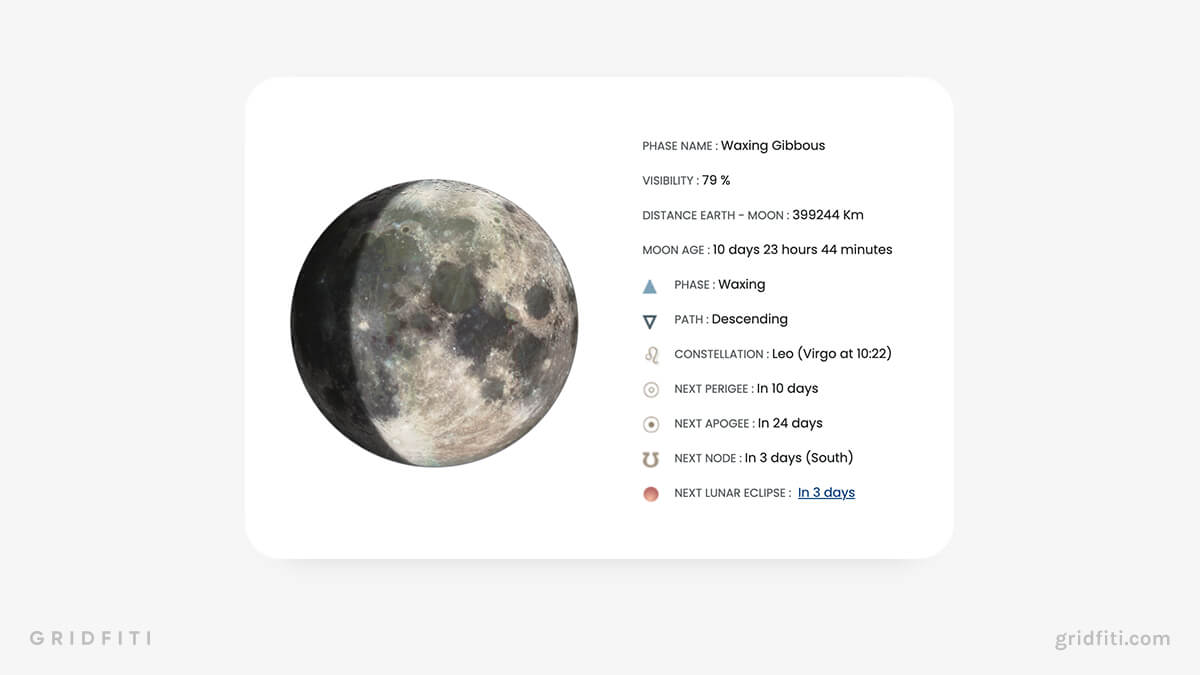 Notion Widgets for Students
Looking for the perfect study tools for your Notion workspace? Thanks to these handy widgets, you can add some fun to your study routine – from having an embeddable whiteboard to draw on, to setting a built-in Pomodoro timer for your heads-down study session.
Check out our guide on the best Notion templates for students for more!
Calculator Widget
Add some quick maths to your workspace with an aesthetic calculator widget. Now you'll never have to leave Notion to crunch the numbers.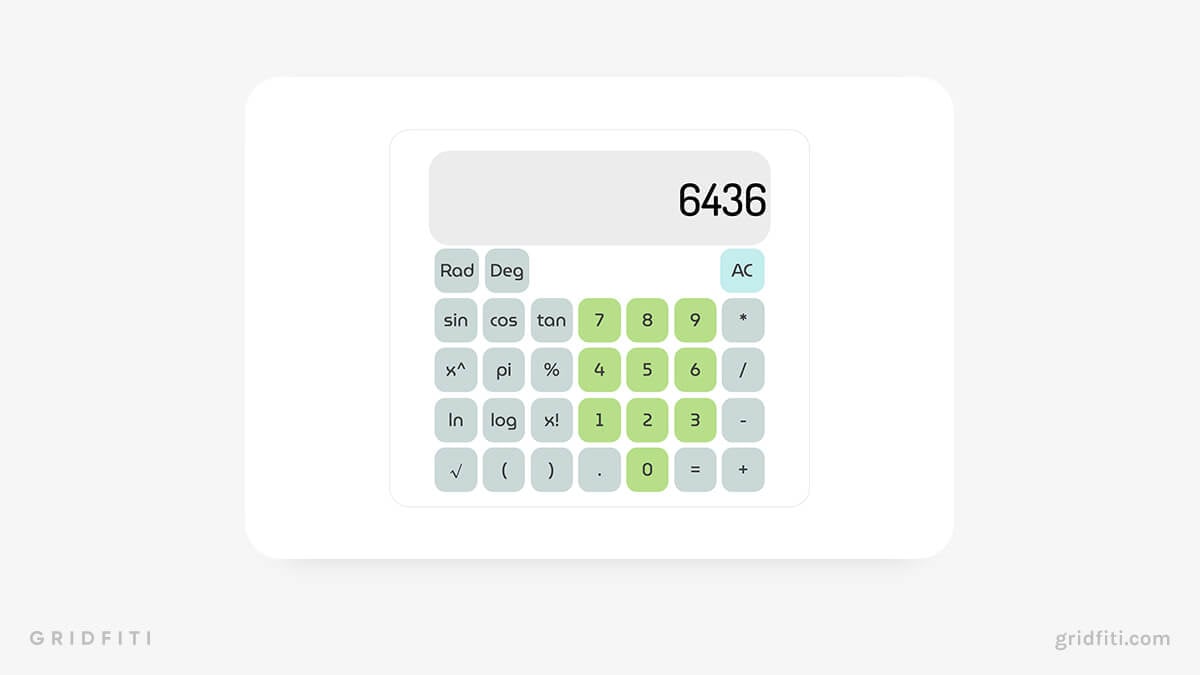 Whiteboard Widget
This Whiteboard Widget lets you imitate a classroom setting from your Notion dashboard. Embed this whiteboard widget on your Notion and draw freehand or input text. Use it to draw, make notes, or hash out complex equations.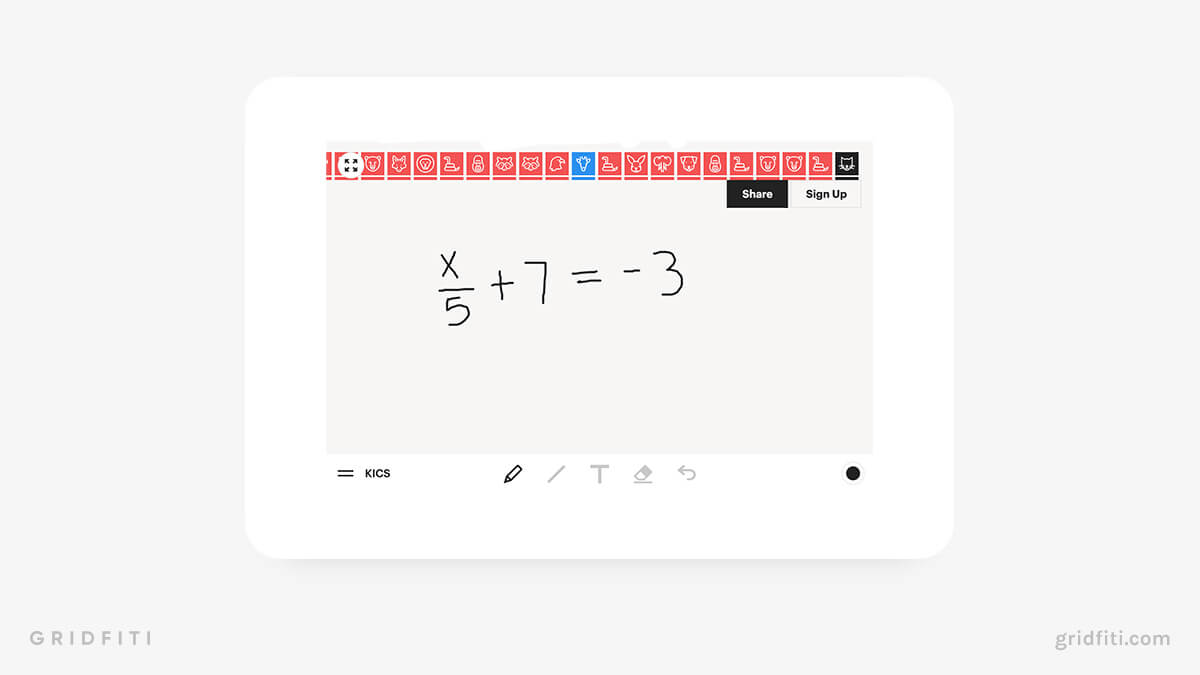 Schedule Builder Widget
Make tracking your school schedule easy by adding it to your Notion dashboard. Create color-coded time blocks throughout your week with descriptions and titles so you don't miss a single class or after-school activity.
Get the Schedule Builder Widget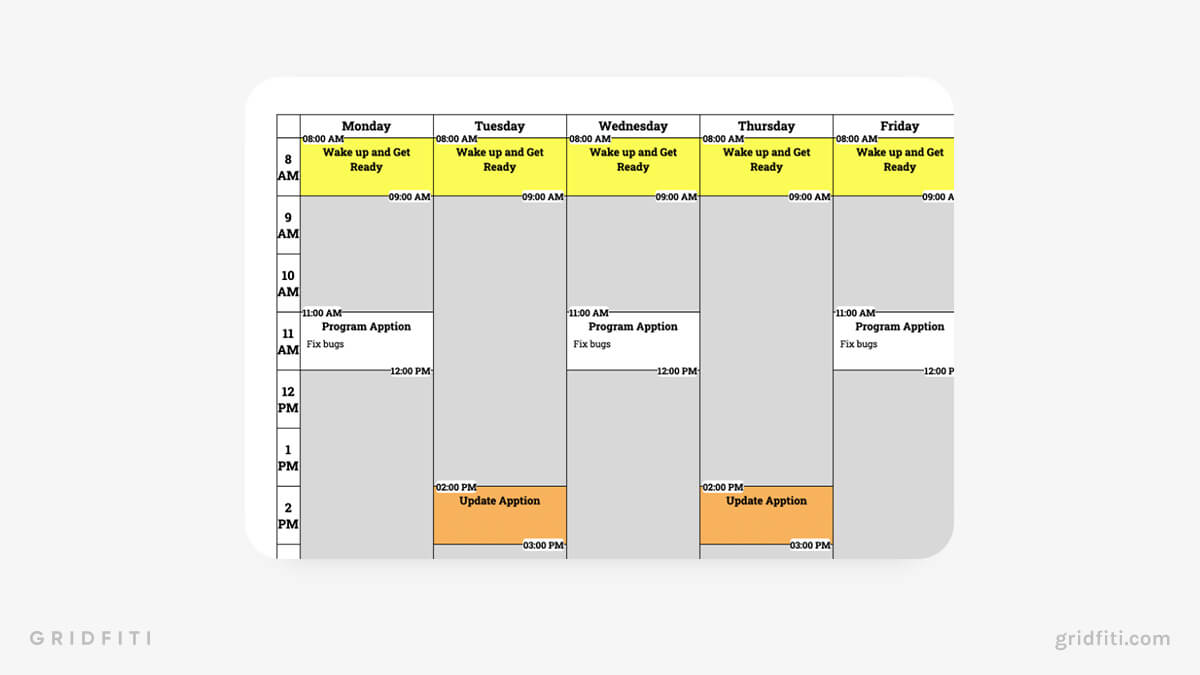 Media Player & Social Media Embed – Spotify, YouTube & More
If you're looking to embed your favorite study playlist, YouTube video, or even Twitter thread – conveniently, you can simply paste any media link directly in Notion, and select "Create Embed" to create your mini media widgets! No dedicated widget required.
This works for Spotify, Apple Music, Pinterest, Twitter, YouTube, and a ton more of your favorite platforms. It's worth noting that creating embeds for Apple Music and Spotify only makes previews of playlists/albums.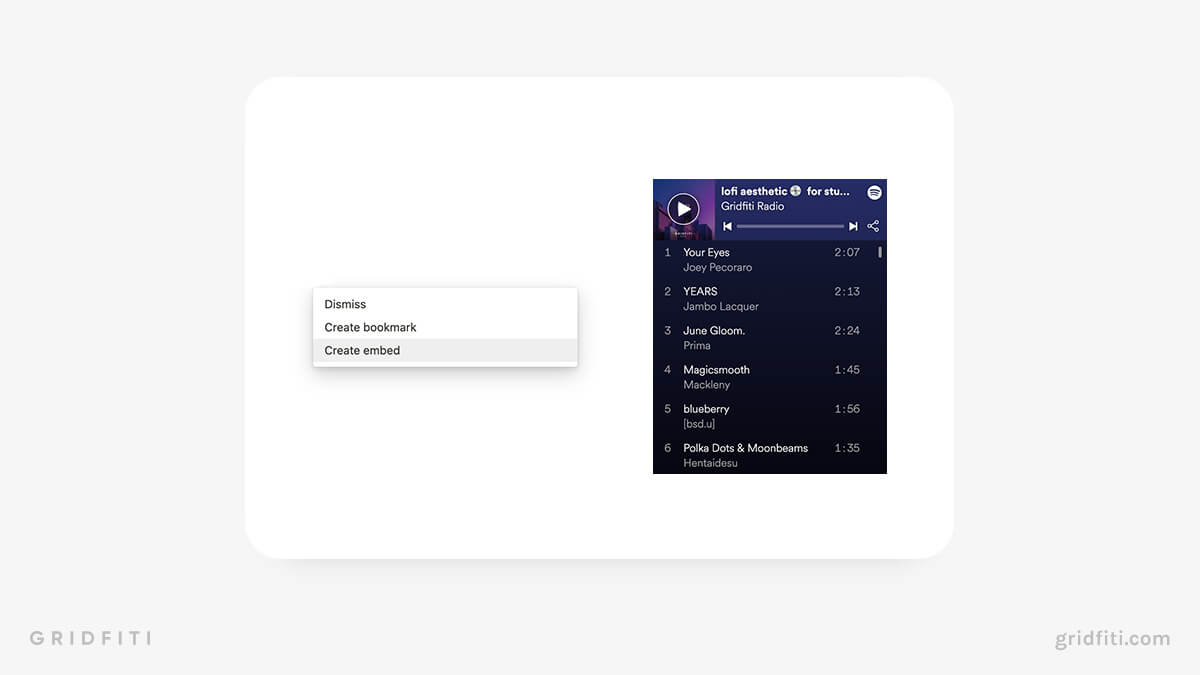 Any new Notion widgets that you're loving? Leave a comment down below with any other recommendations!