Creating a healthy and productive routine is one of the best things that you can do for yourself — and a healthy routine starts with healthy habits.
Picking up new habits takes time, but using a habit tracker to track, review, and adjust your goals makes it so much easier to stay consistent and implement these behaviors into your day-to-day. One of the best places to do this? In Notion.
We've curated a list of the best Notion habit tracker templates that will help you manage your habits and track them to improve your overall routine!
---
Looking for more productivity tips and tools? Subscribe to The Flow — our quick, snappy, value-packed focus and recharge newsletter. Also, don't miss our several other Notion template round-ups and guides!
---
Table of Contents
The Ultimate Habit Tracker Dashboard
Set your habits and stick with them with The Ultimate Habit Tracker Dashboard for Notion! Create and track your habits every week with an easy-to-use checkbox system and popular habits already built in. Set your intentions per habit, get an overview of your progress by habit and by category with progress bars, see how many days of a year you've stuck to your habit, set integrated daily AM/PM routines, and more with this robust habit tracker by yours truly!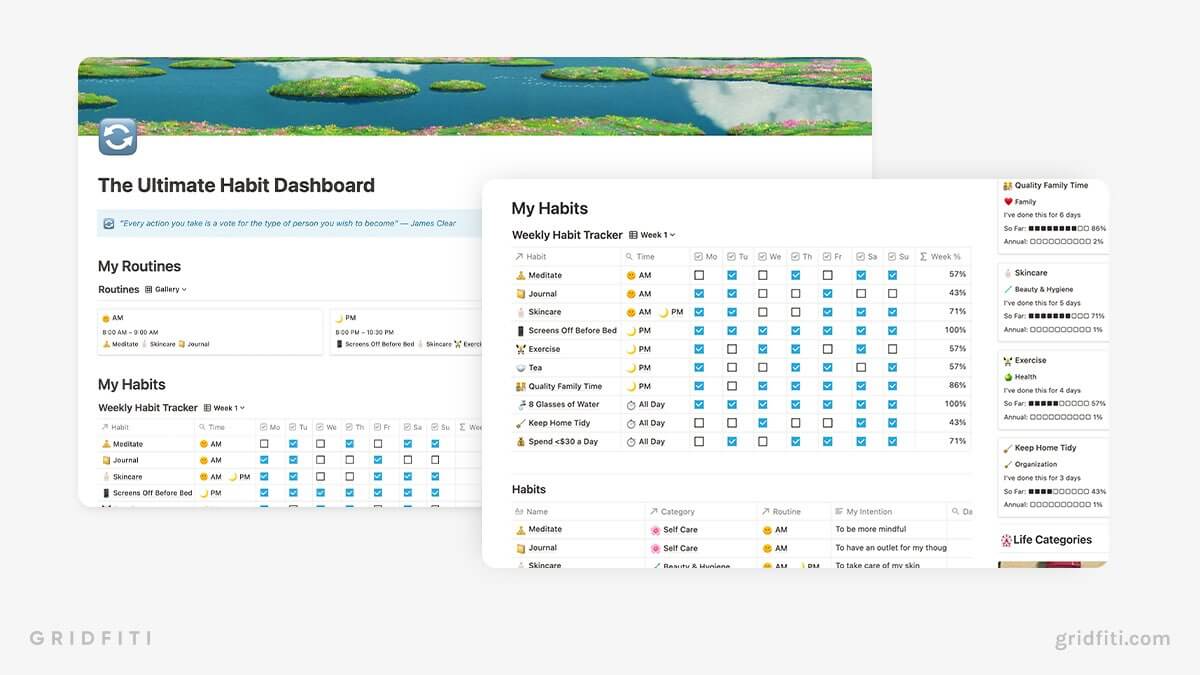 Notion Habit Tracker & Goal Setting Template
Simple, yet sophisticated and easily customizable — this Notion habit tracker template gives you the flexibility to customize your template with a proper onboarding process. No need for fancy formulas to add or remove habits. You can choose to track 10 habits or more at a time and view your habit goals in an aggregated, visually appealing table. Plus, automated guides make tracking your habits easier than ever!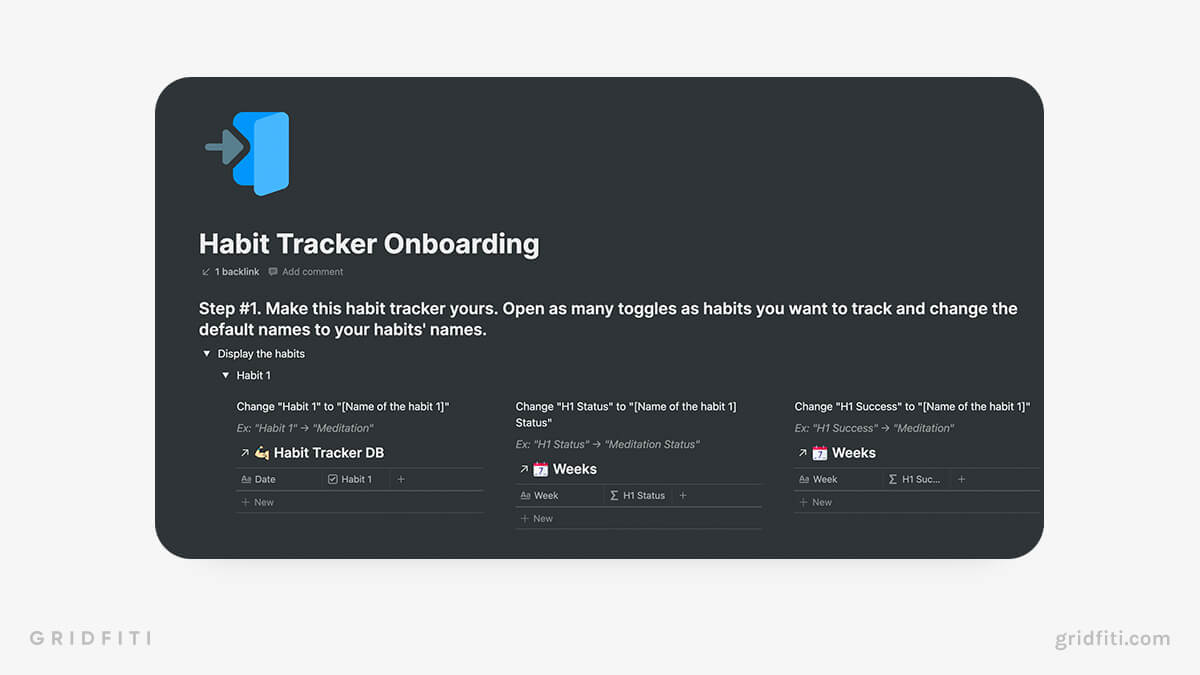 Aesthetic Habit Tracker & Routine Template
Out with the old and in with the new — the Aesthetic Habit Tracker & Routine Template is on hand to help you make positive changes in life! Keep tabs on your daily and weekly habits with auto-generated motivational messages to help keep you motivated. At the end of the week, the template auto-calculates your completed habits so you can gauge your success. Plus, you'll find spaces for journaling, morning affirmations, and saved exercises/meditation videos!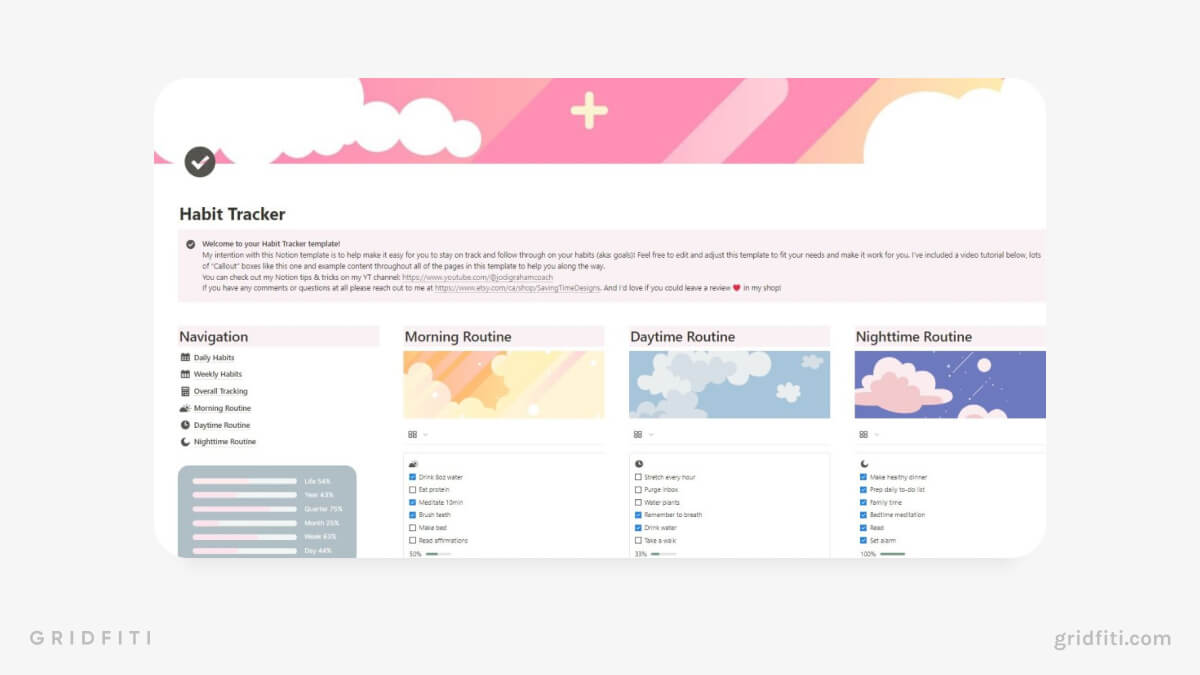 Advanced Habit Tracking Dashboard
Notion Habit Tracking Advanced provides you with 8 themed habit trackers, complete with progress bars, daily checklists, and a quick navigation bar. Month-by-month, year-by-year, and calendar views make keeping up with your habits a breeze. This Notion habit tracking template is also super customizable, with 20 color covers and over 65 month covers to match your aesthetic!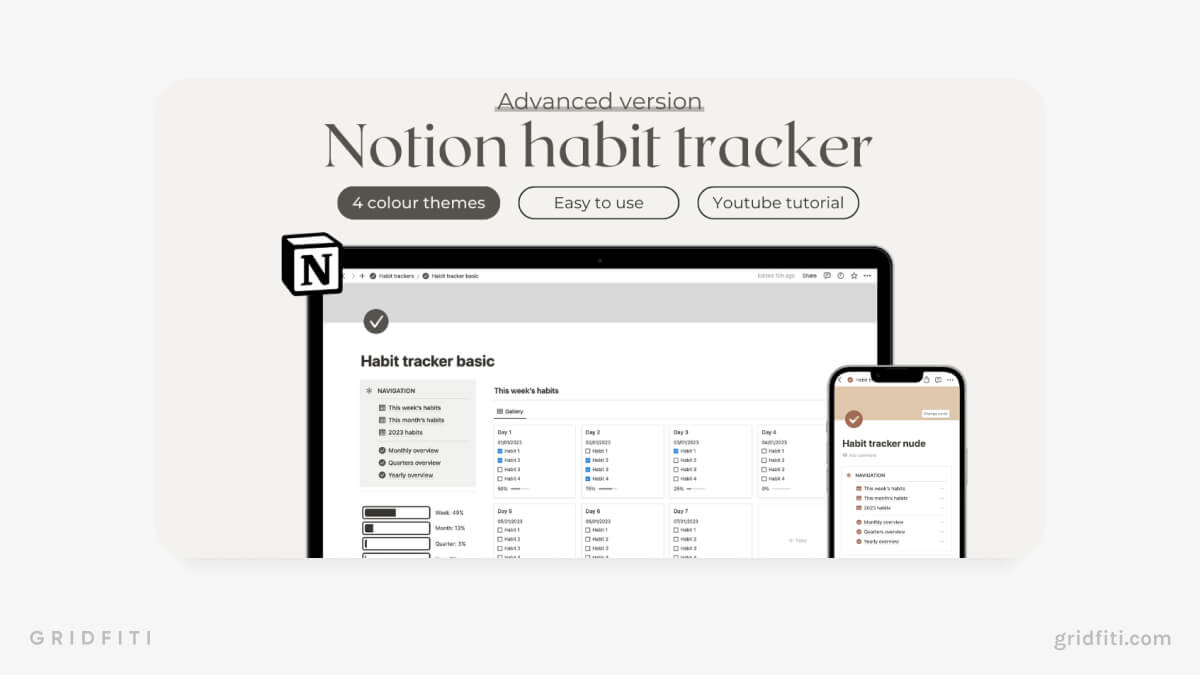 Habit Compass 2.0 — Notion Habit Tracker
The upgraded Habit Compass template is a total overhaul, setting you up for seamless success. Notion AI does a lot of the heavy lifting, providing new habit suggestions based on your goals. Notion buttons allow you to create new habit logs in just a few seconds. Using the weekly or daily overview, you can visualize your habit progress and ensure you're staying on track in a way that suits your brain!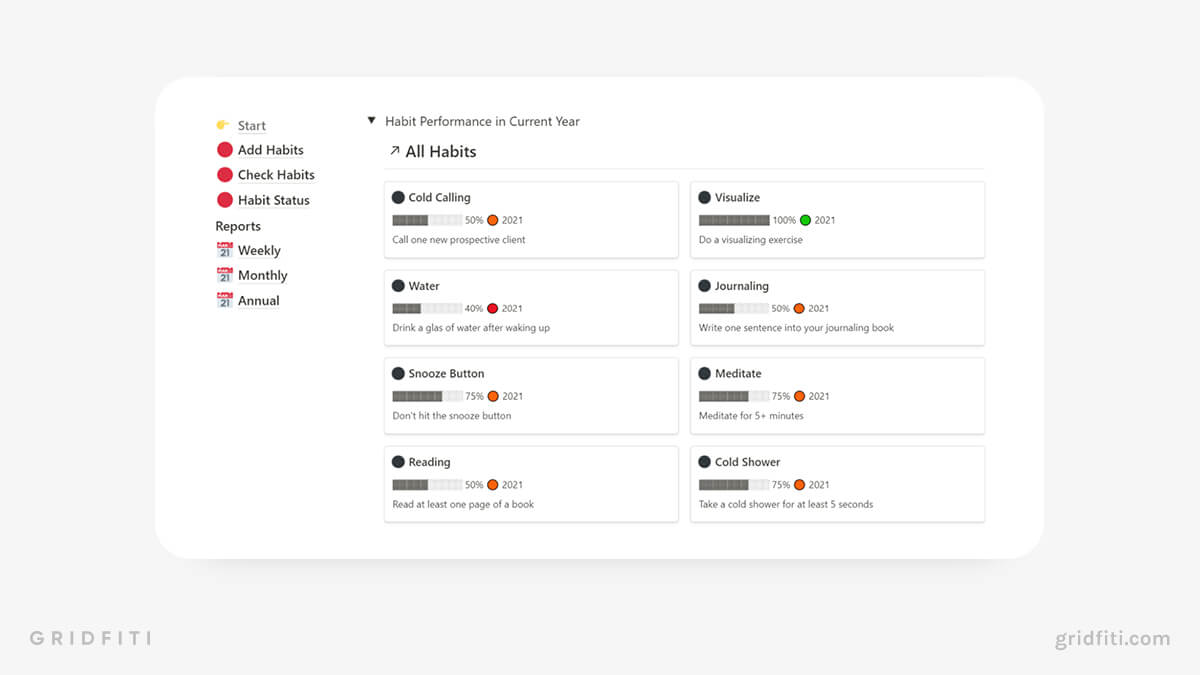 Balance OS – Habit Tracker & Scheduling Notion Template
Balance OS is a Notion-based organization system that helps you take control of your life with templates that help you stay on track with your goals, projects, tasks, and habits! Featuring both a minimal or aesthetic theme, you can use the built-in habit tracker and scheduling template to review your habit progress at a glance! As a bonus, Balance OS 2.0 has Deep Work, 12 Week Year, and financial templates to help you be more efficient than ever!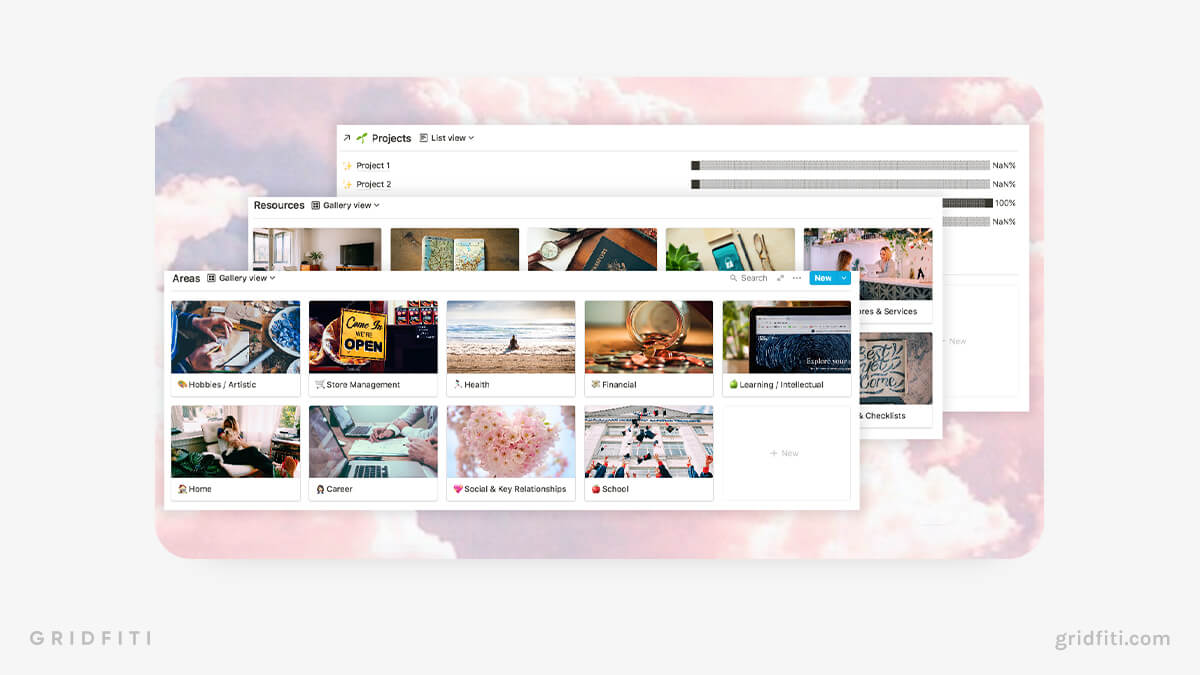 Notion Habit Tracking Template & Mini-Course
Not only does this template give you a solution to track your habits, but it also features a mini course with guided lessons too! Learn more about what you want, get clarity on what to focus on, and make a weekly plan to track your habits with the 4 databases.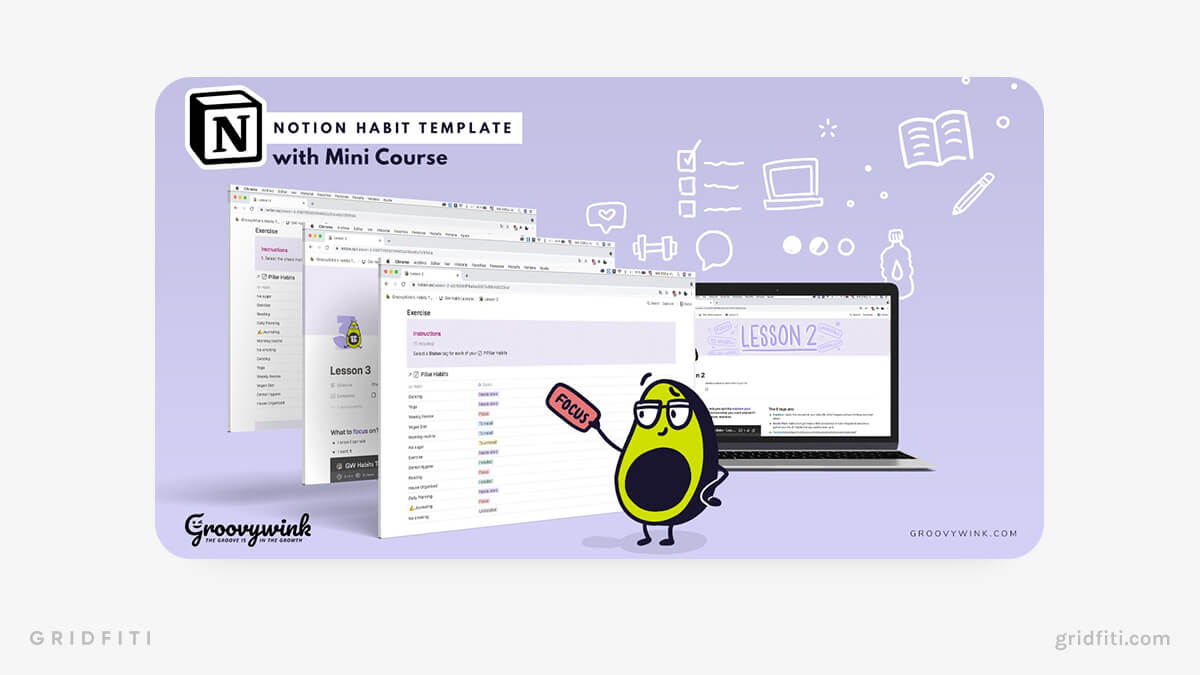 Bad Habit Tracker — Take Control of Your Life
Kick your vices to the curb with this Notion habit tracker template. The Bad Habit Tracker contains a dash for all your worst habits, where you can list the details, location, and consequences of your last relapse. It also comes with a "My Triggers" page to keep tabs on what makes you indulge in your bad habits.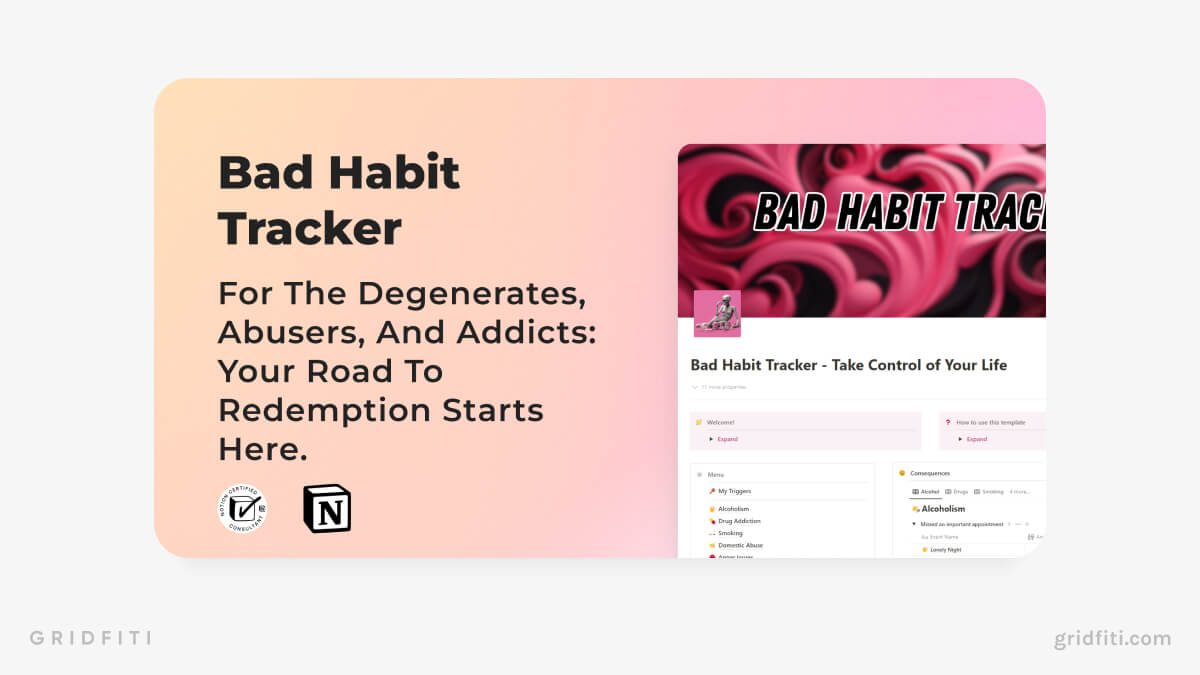 Chain of Habit
Establish habits that'll last a lifetime with Chains of Habit! Thanks to its sleek layout, Chain of Habit makes record-keeping and staying accountable easier than ever. Get an overview of your monthly habit achievements, and personalize your habits with info on goals, frequency, start dates, and more!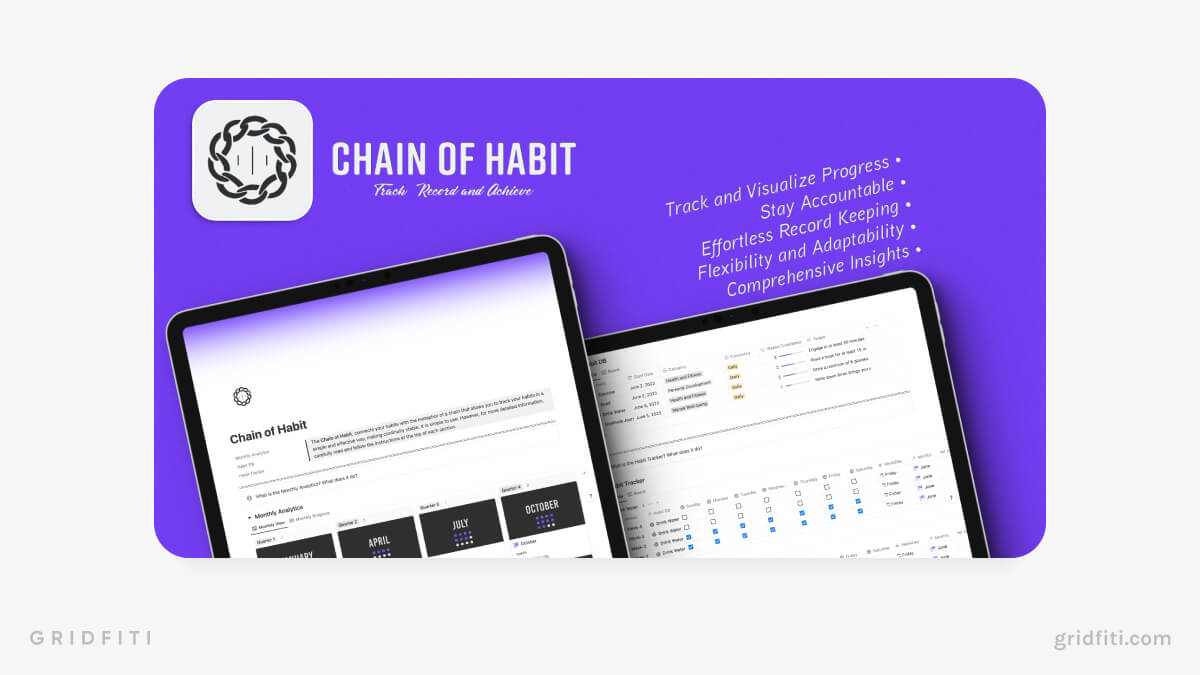 Habit Streak Tracker for Notion
Remove negative habits and implement positive ones with this template! Gamifying your habit tracking with 'streaks', The Habit Streak template was designed to help you regain control of your life and live it on your own terms by ensuring you're ticking the boxes each day.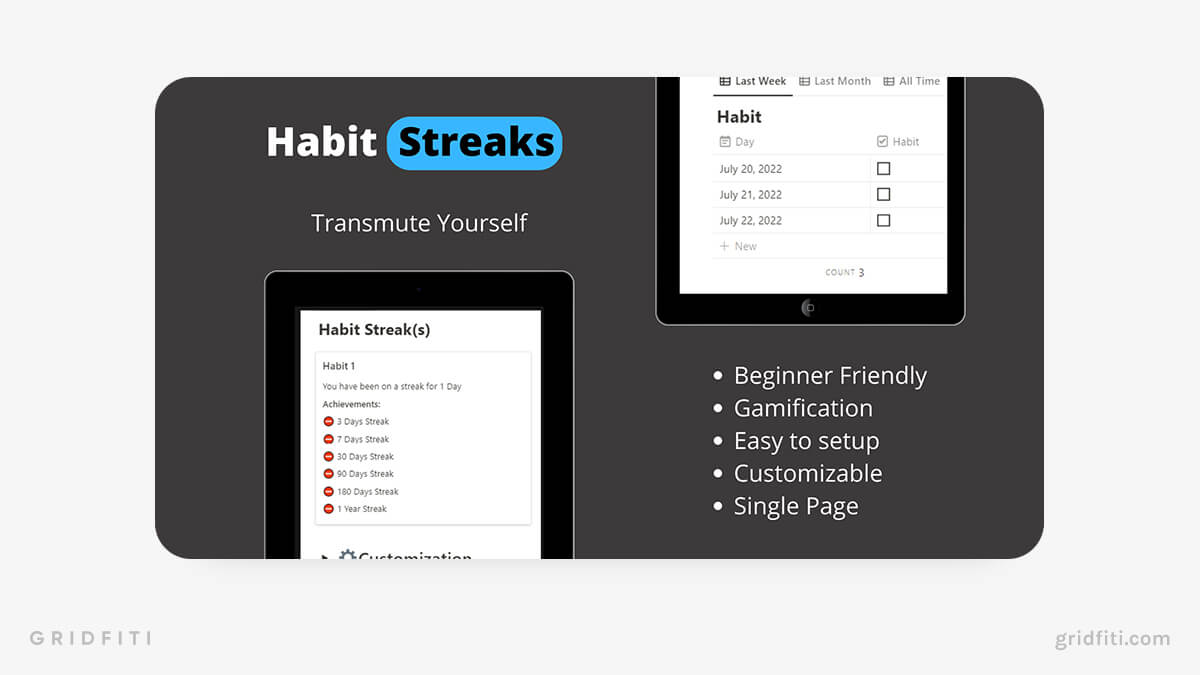 Habit Box Tracker
Habit Box is a powerful tool that helps you stay on track with your habits and reach your goals. With its easy-to-use tracking and visualization features, you can always see your progress and stay motivated to keep going! Whether you're trying to improve your productivity, health, or any other aspect of your life, the Habit Box Tracker is a great tool to help you stay on track and built positive habits.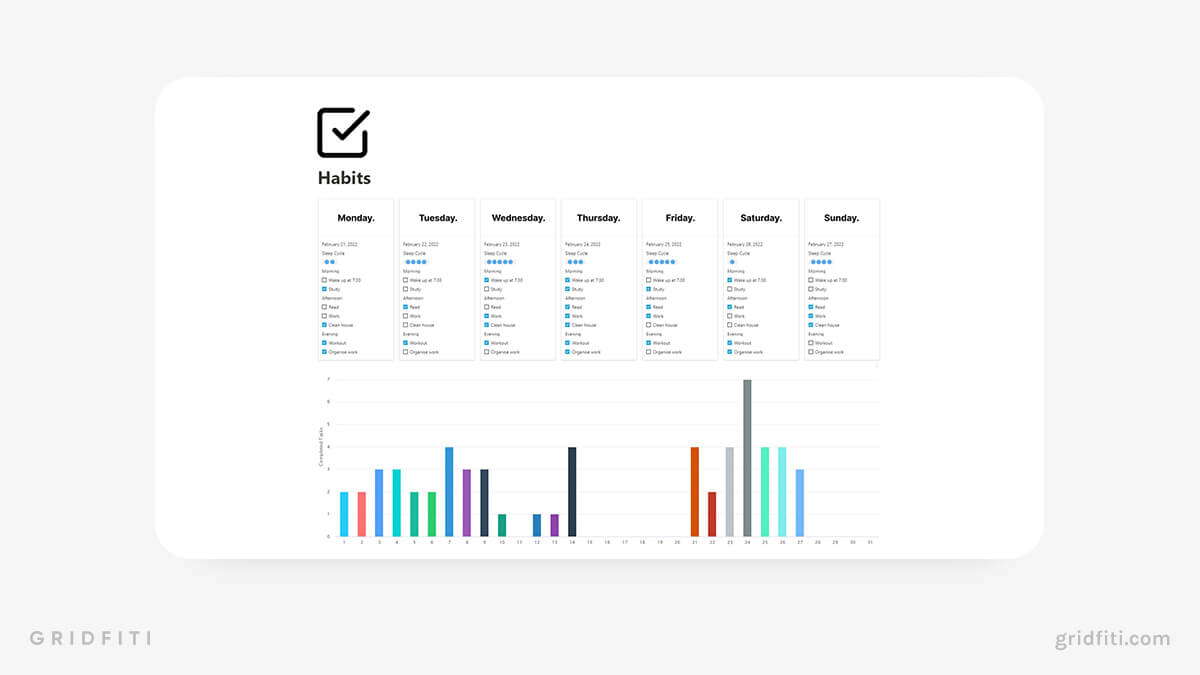 Ultimate Habit Tracker for Notion
The Ultimate Notion Habit Tracker is a simple template to help you build healthy habits and improve your life! With its range of features, you can easily track your progress and see how you're doing at a glance. Choose from a list of default habits, like reading, meditating, and exercising, or create your own custom habits. With a simple table view, you can see your progress and stay motivated to keep going.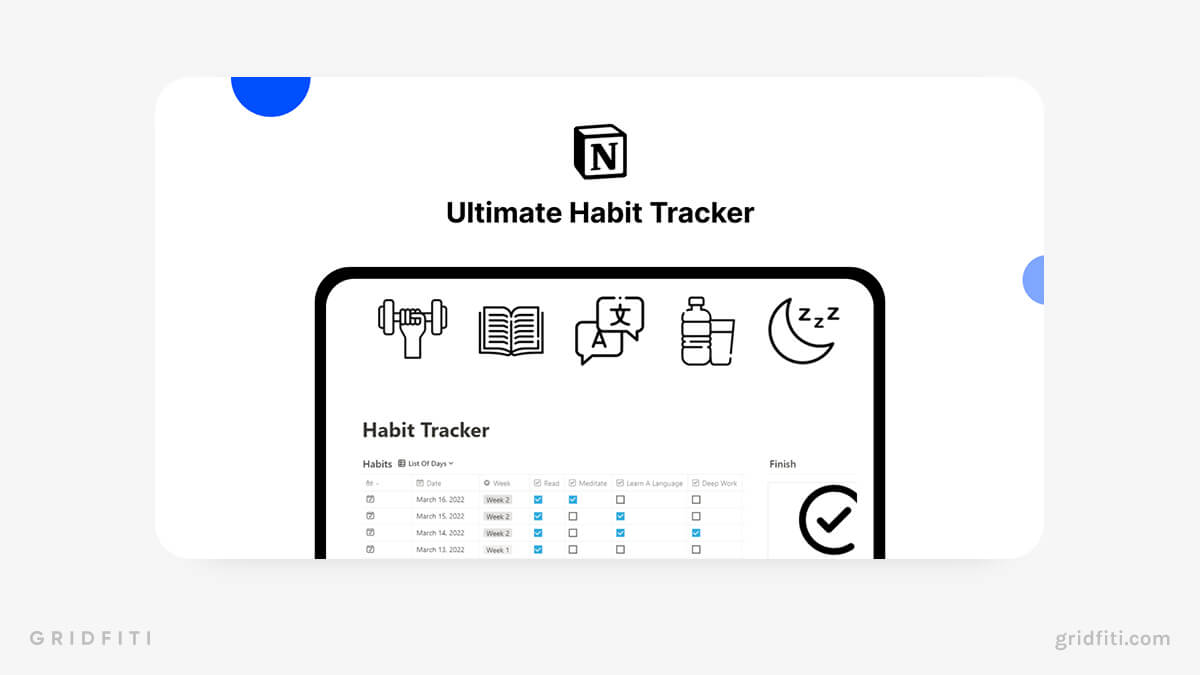 Free Notion Habit Tracker Templates
If you're looking for a cost-effective way to track your habits and reach your goals, then you'll love some of these free Notion habit tracker templates! These templates tend to be simpler and less feature-rich than their paid counterparts, but they're a great way to get started with tracking your habits in Notion and staying accountable.
Aesthetic Notion Habit Tracker Template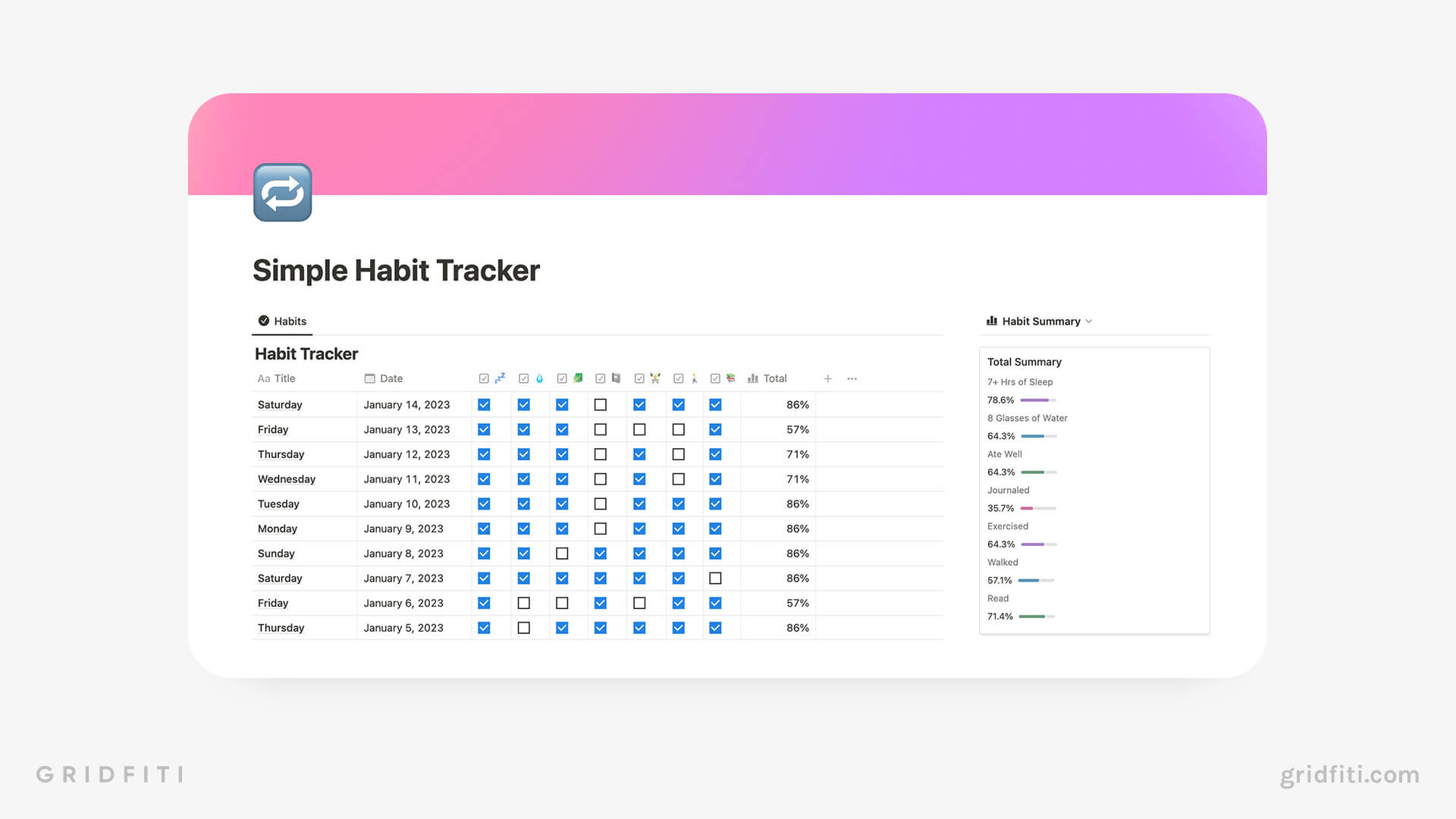 Good Habits — Weekly Habit Tracker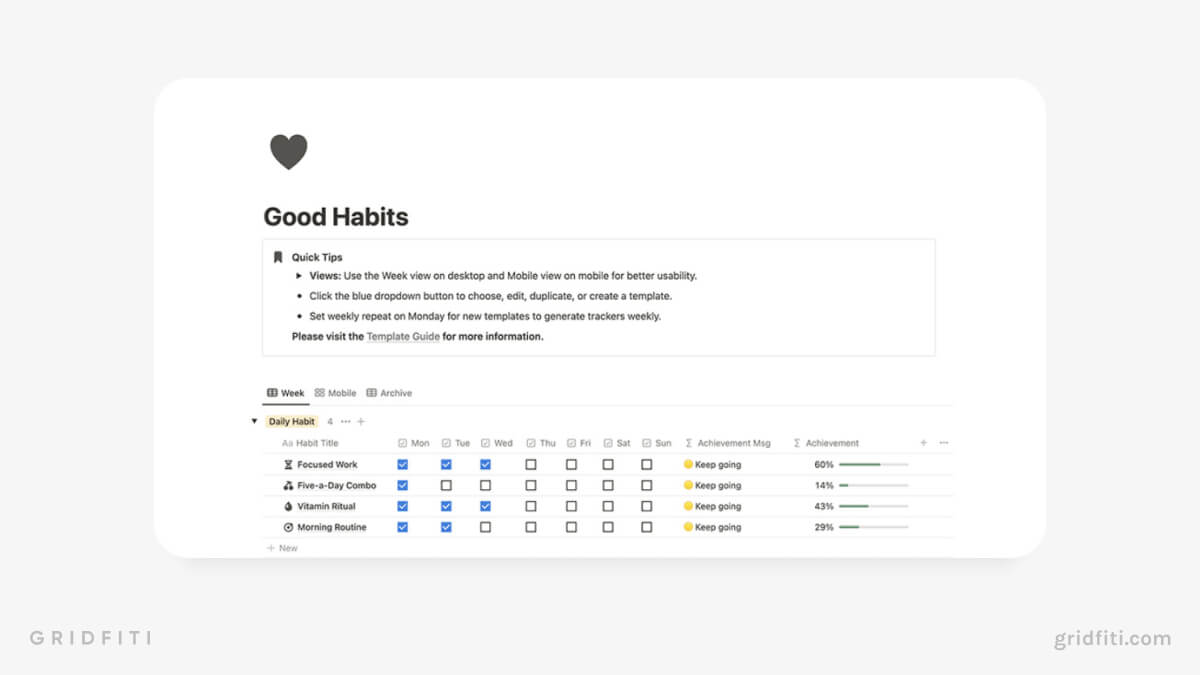 Simple Weekly Habit Tracker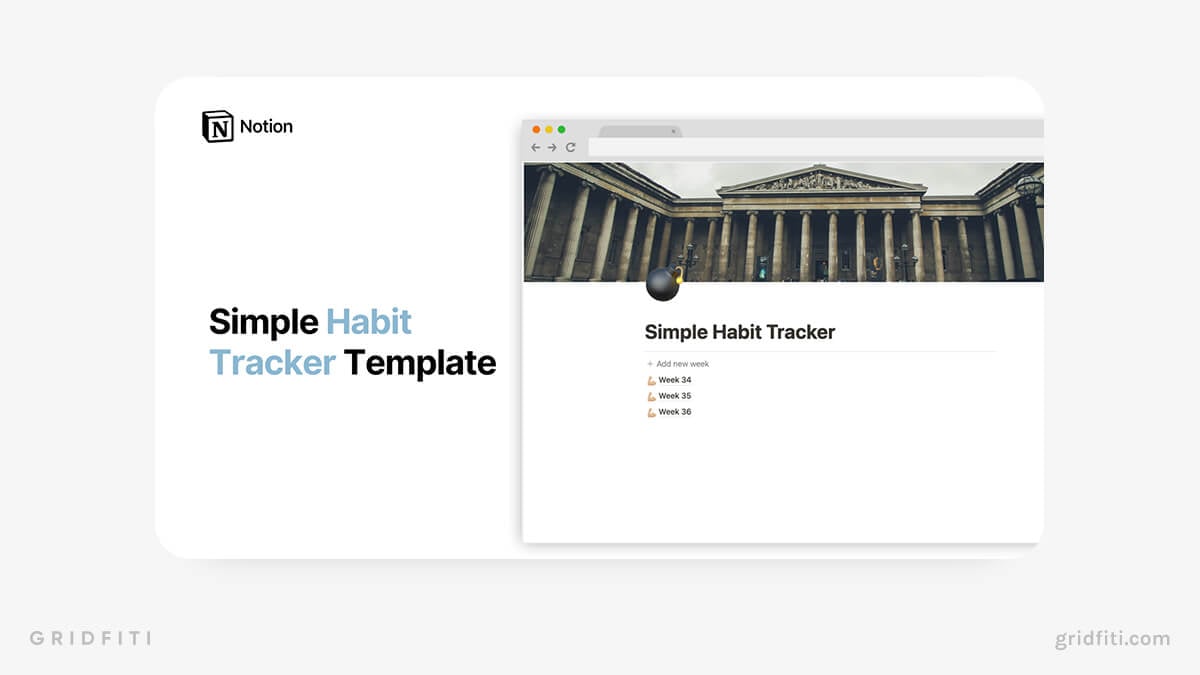 Health & Wellness Habit Log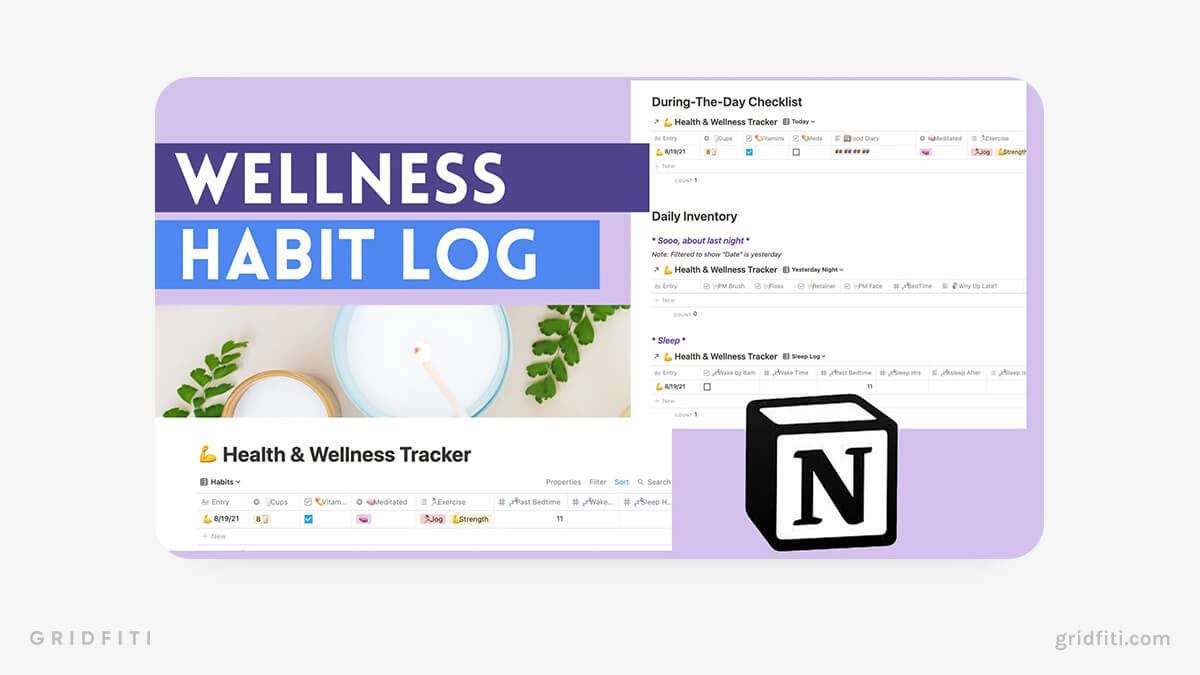 Weekly Habit Tracker Notion Template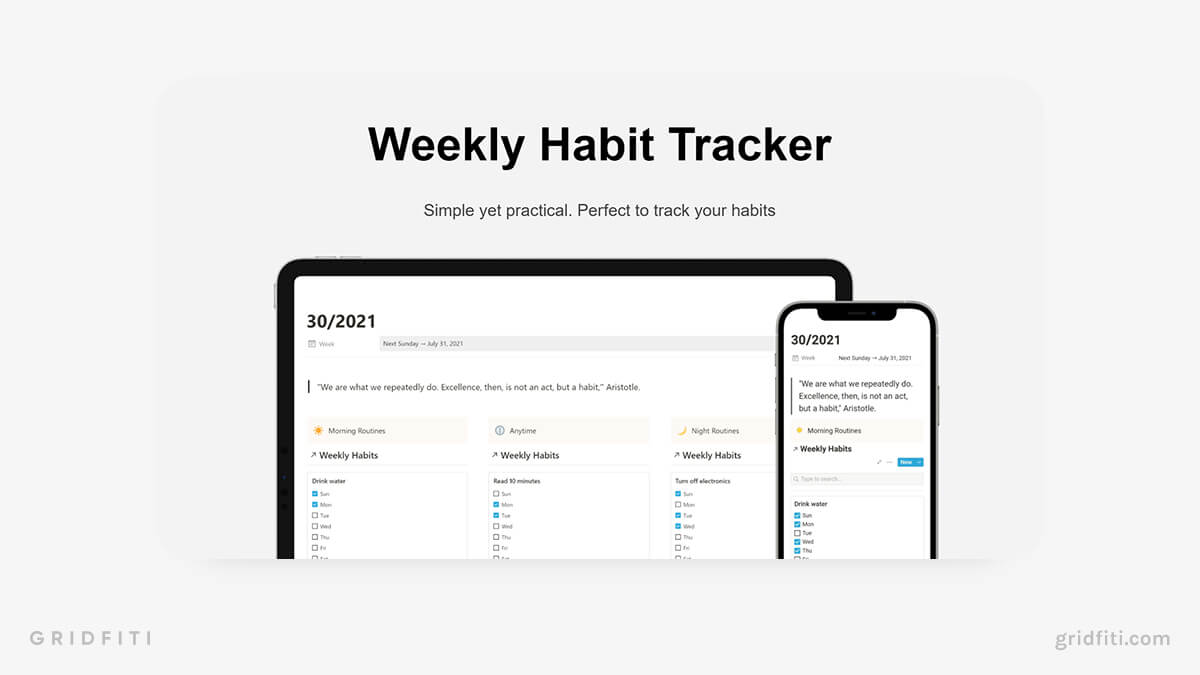 Habit Tracker With Weekly Summary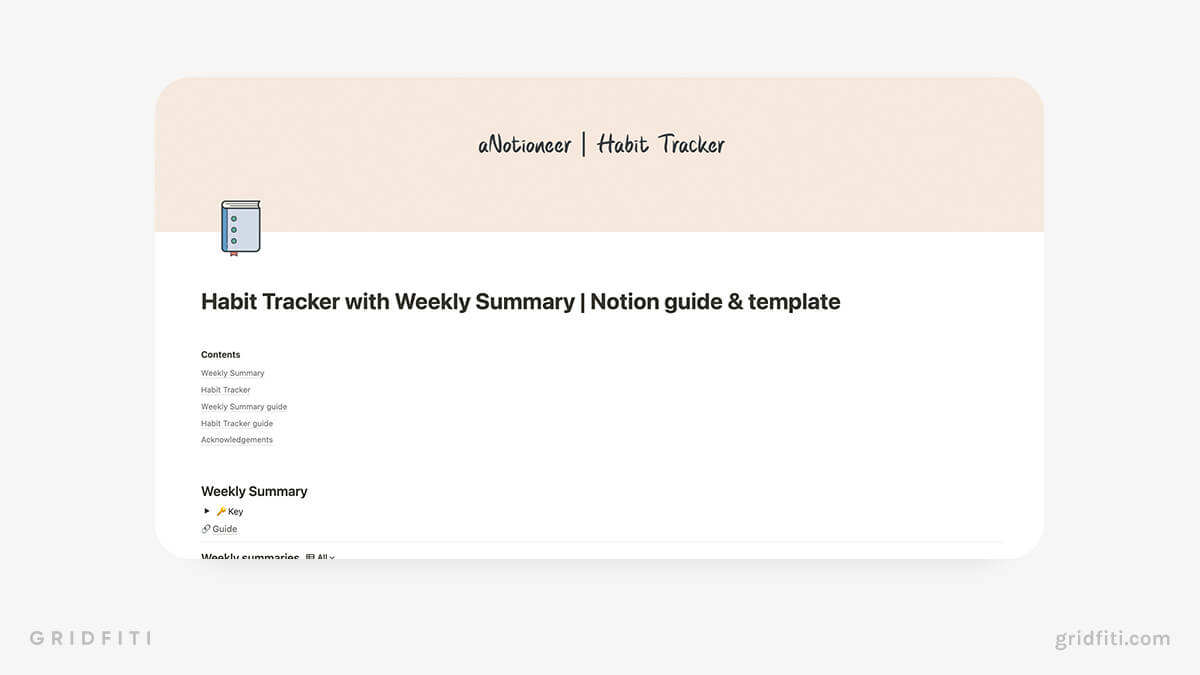 Simple Notion Daily Habit Tracker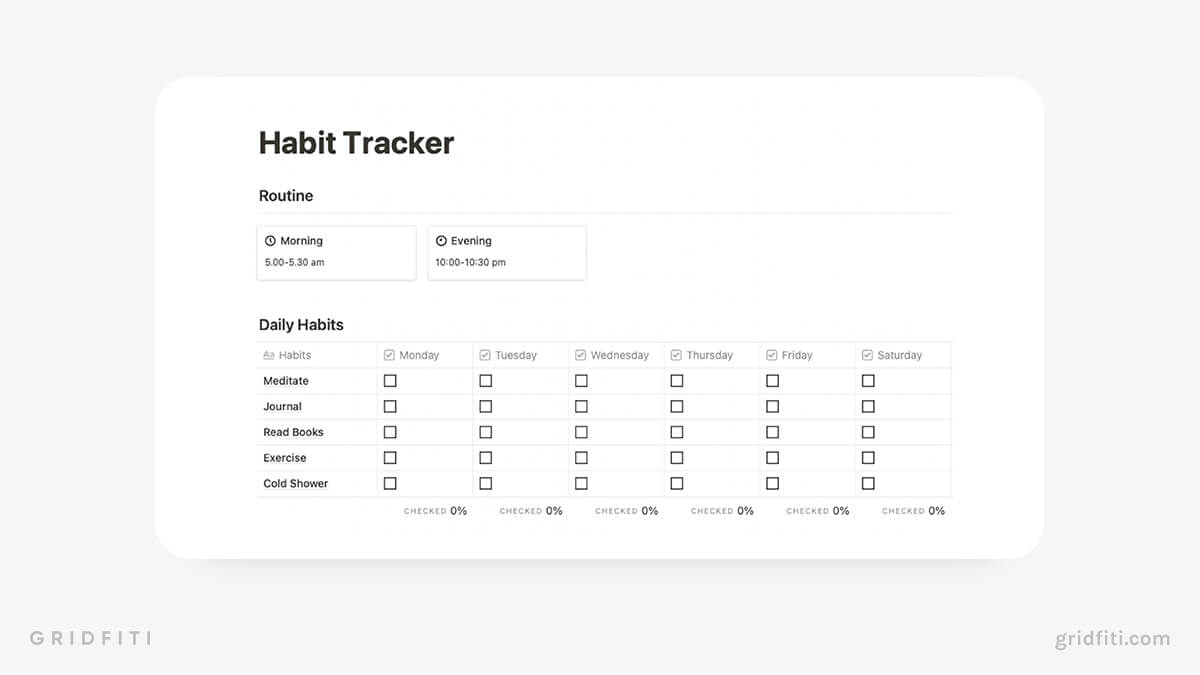 Notion Habit Building Dashboard & Tracker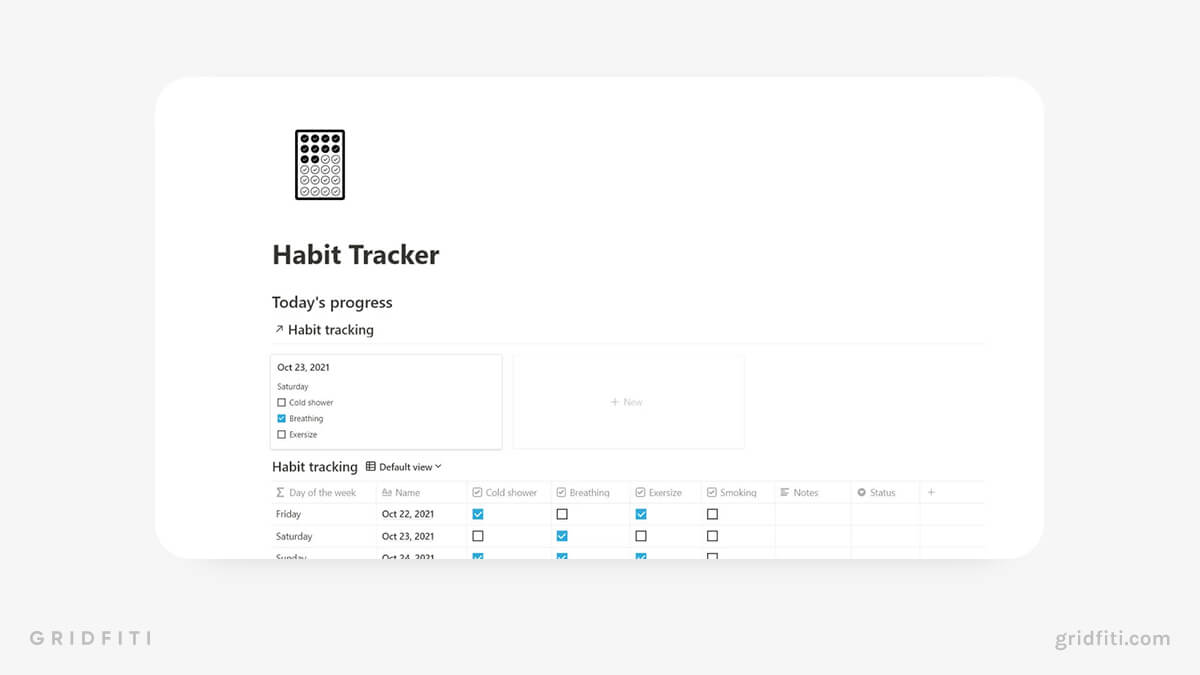 Simple Habit Tracker Notion Dashboard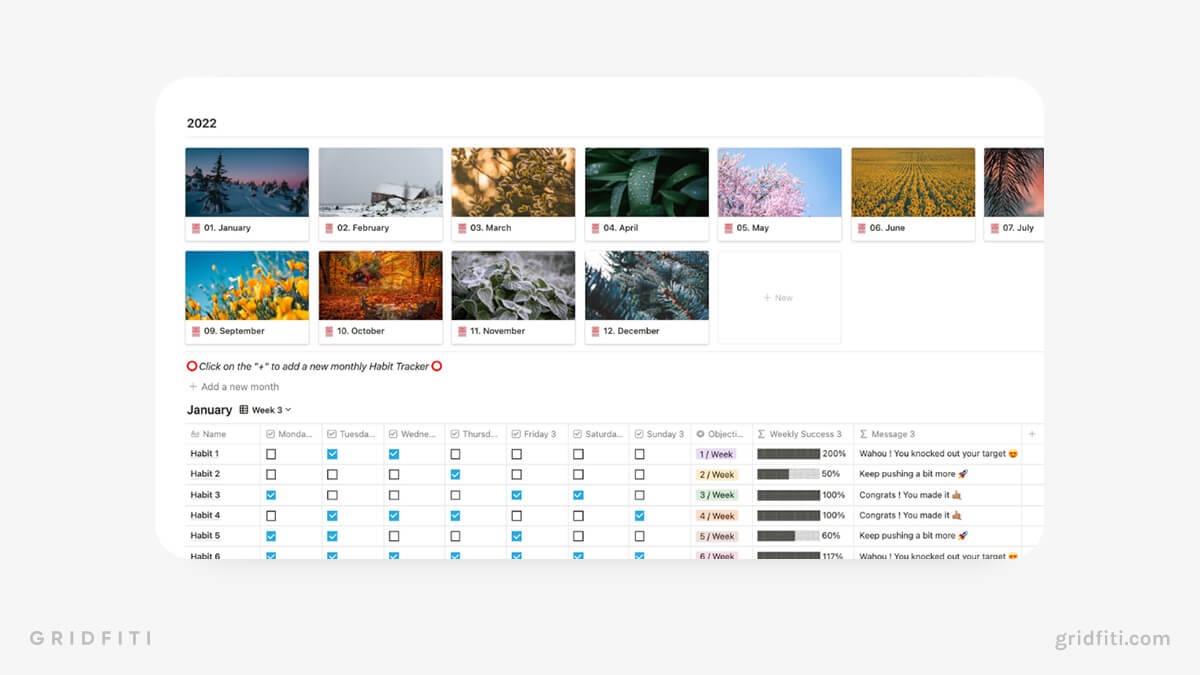 Basic Notion Habit Tracker Template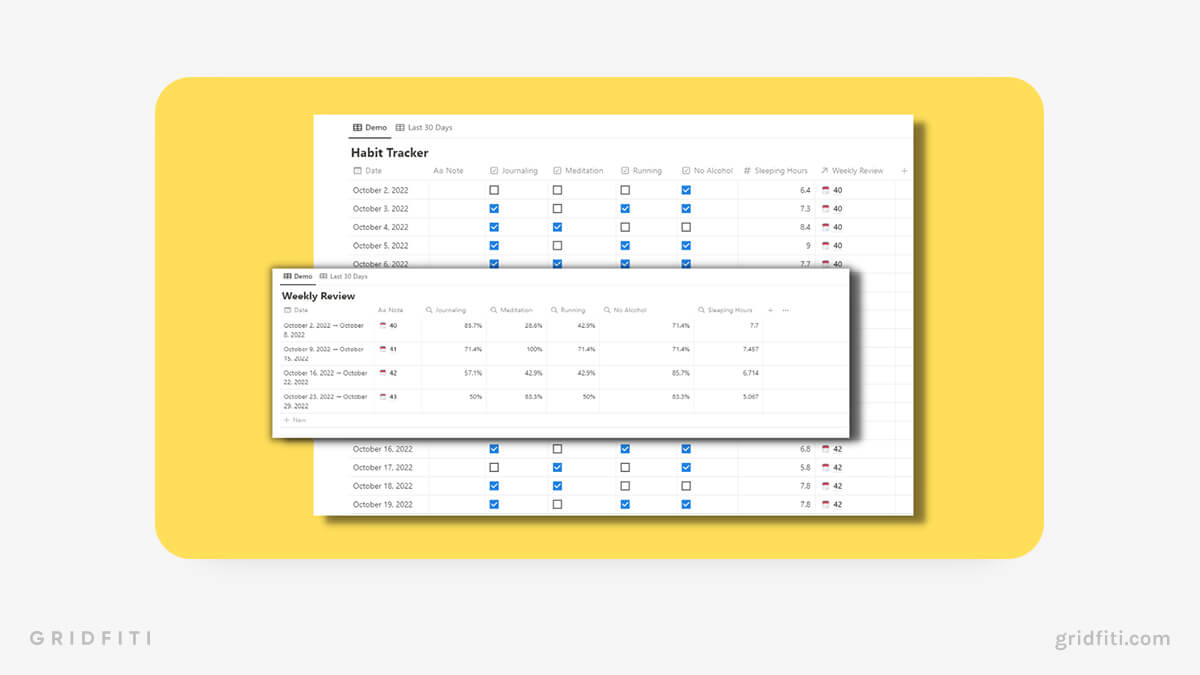 The Effortless Notion Habit Tracker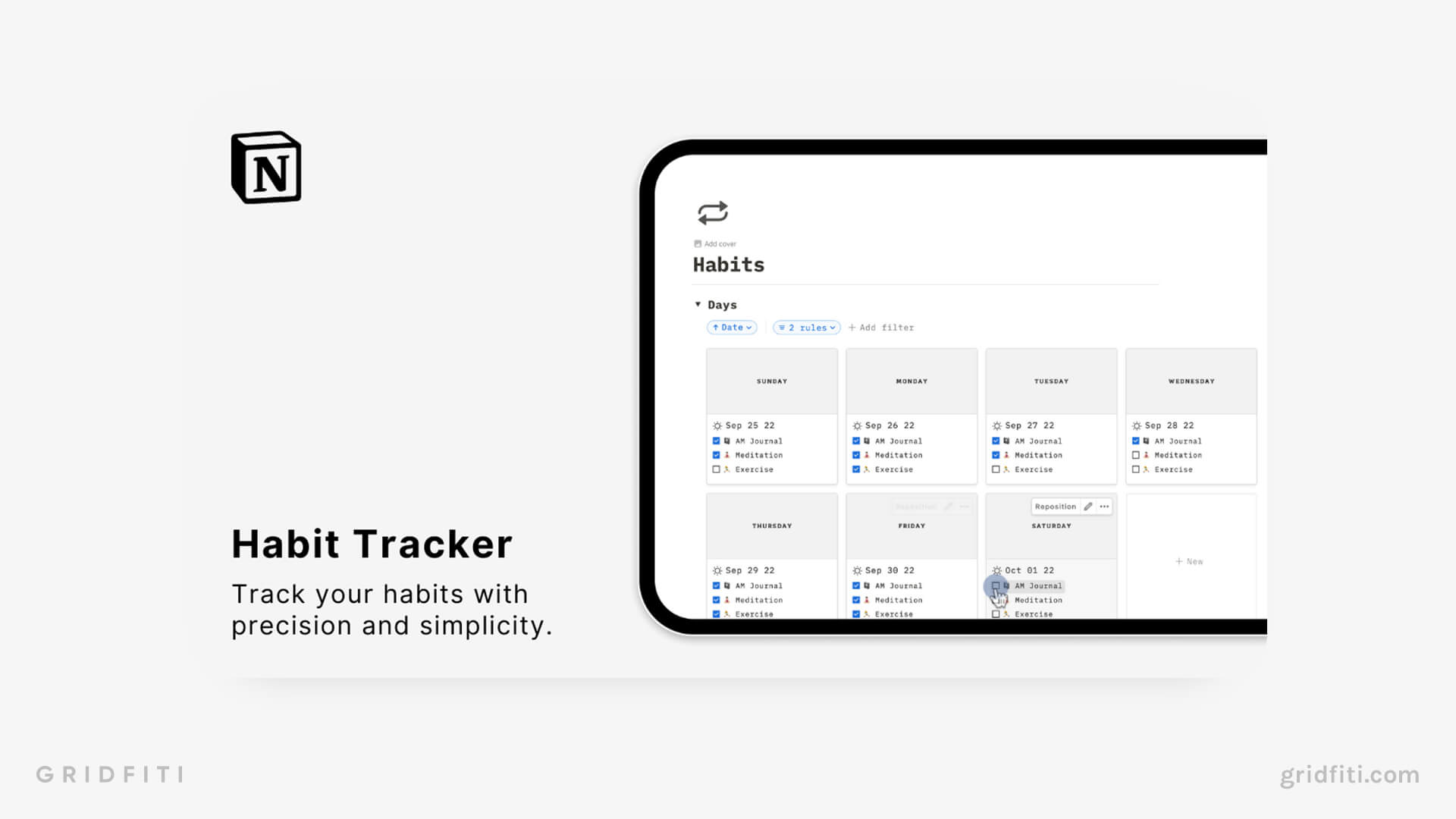 Notion Daily Habit Tracker Template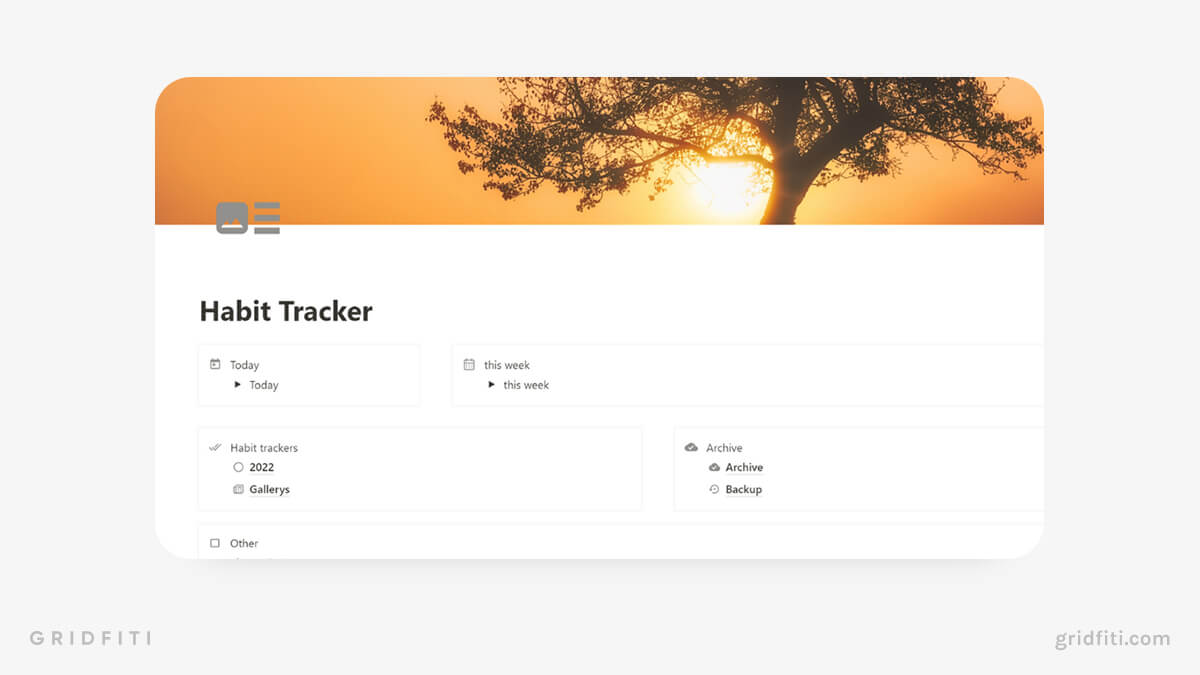 Minimalist Habit Pack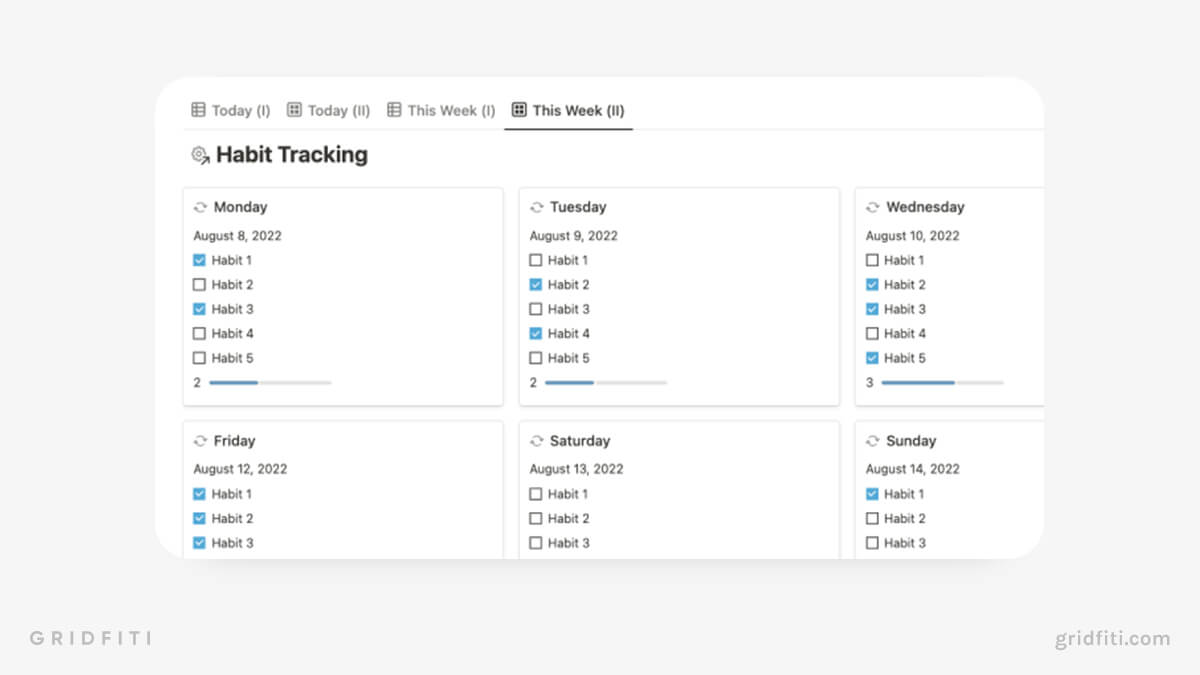 Dynamic Habit Tracker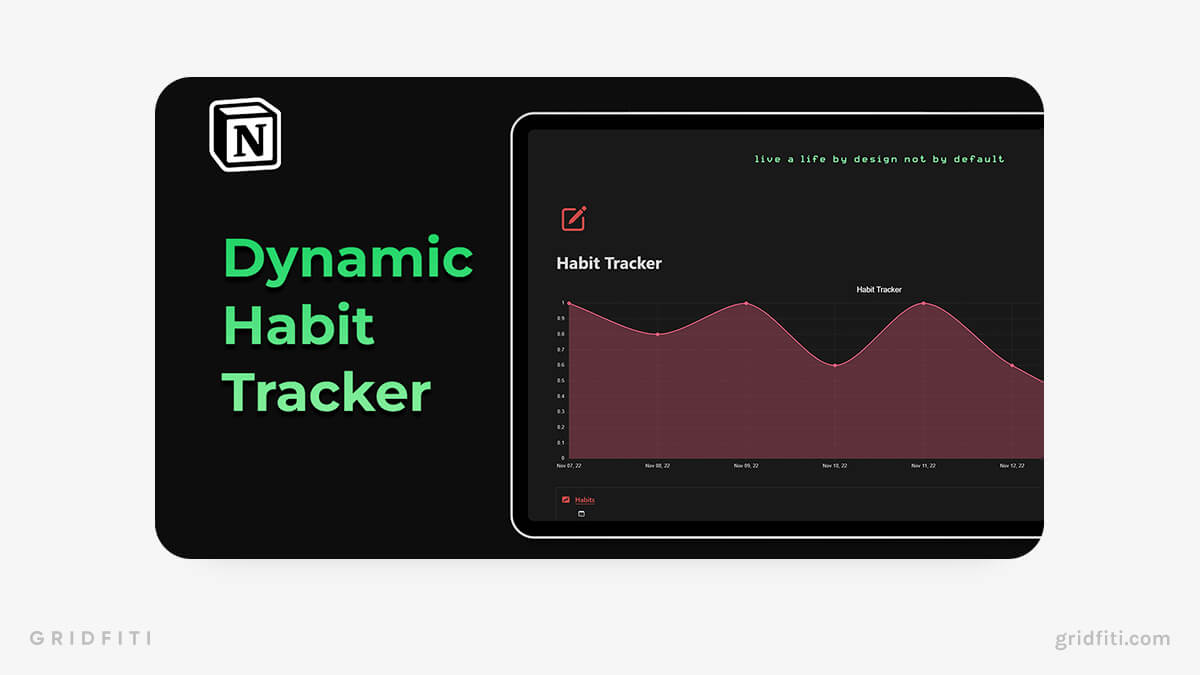 Minimal Dark Mode Habit Tracker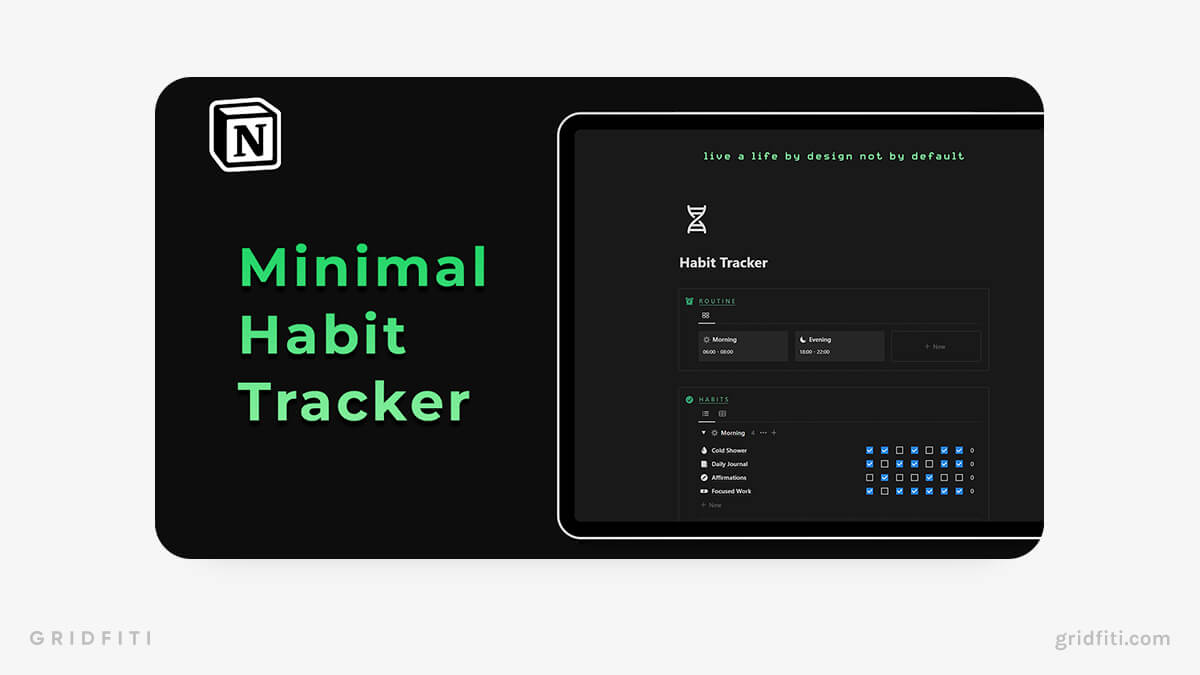 Analytical Habit Tracker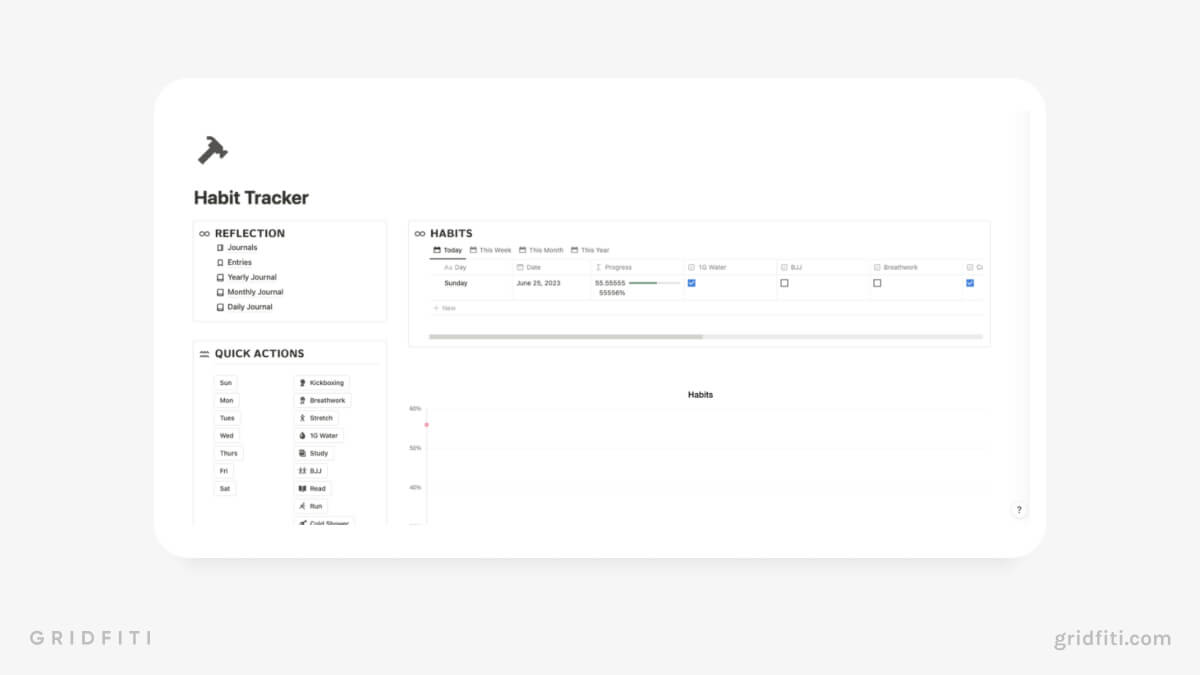 What Notion habit tracker template are you using? Do you have any other recommendations for Notion habit trackers to use? Let us know in the comments below.
Gridfiti is supported by its audience – when you buy something using the retail links in our posts, we may earn a small commission at no additional cost to you. Read more about our affiliate disclaimer.