Staying in the groove and making the most of your time while practicing self-care isn't easy during a lengthy study period. With study websites and virtual spaces, you can create a relaxing environment, drown out distracting noise, and focus on your mental health. Plus, you'll find dozens of extensions, tools, and project management apps that can help you level up your learning.
We've curated a list of the 34 best study websites, virtual spaces, online communities, and extensions to help you reach your study goals. Scroll and check out our top picks!
Want more productivity tips and tricks? Join our newsletter below!
Table of Contents
Ambient Study Background Websites
Having an online space that feels like your own and matches your aesthetic is a big plus when working through tricky topics. Check out these top ambient background websites for study!
Flocus: All-in-One Focus & Ambience Dashboard
Find your flow and a moment's peace with Flocus, an all-in-one dashboard. Flocus is a web app with a three-way toggle switch, flipping between your Home Dashboard, Focus Mode, and Ambient Mode.
Prepare ready for the day by reading dynamic greetings and inspirational quotes, or listening to your favorite Spotify playlists on your Home Dashboard. When you're ready to start the day, switch to Focus Mode, set up custom Pomodoro timers for deep work, and type your current focus for extra motivation. Taking a break? Escape the daily grind in one of over 10 original Flocus worlds, complete with serene themes and laid-back Spotify playlists.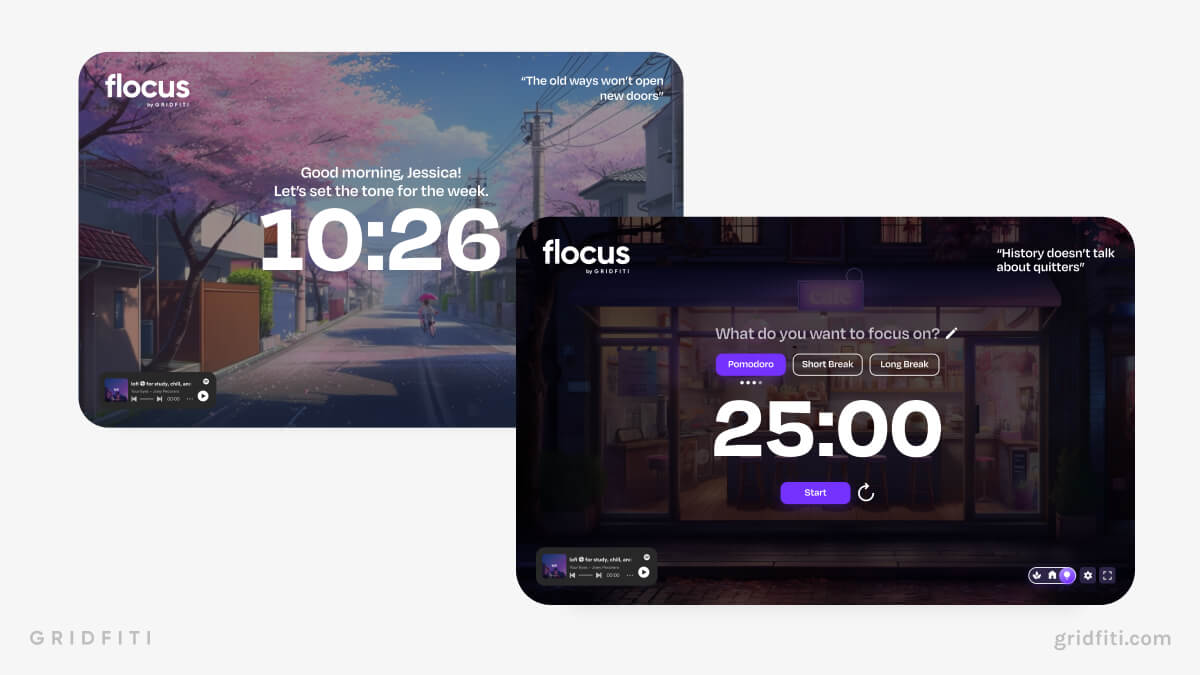 LifeAt – General Virtual Space
Craft the ultimate aesthetic workspace in LifeAt. Pick from over 100 gorgeous spaces, from lofi animations to hi-def nature scenes. Each space features soundscapes and music to match your vibe. Or, choose your own soundtrack with built-in media widgets.
LifeAt offers everything you need to engage in deep work, including notepads, to-do lists, calendars, and Pomodoro timers. Feeling overwhelmed? Reflect on your day with breathing exercises, or read your fortune. Share your spaces and video chat with your friends or coworkers for quick and easy collab sessions.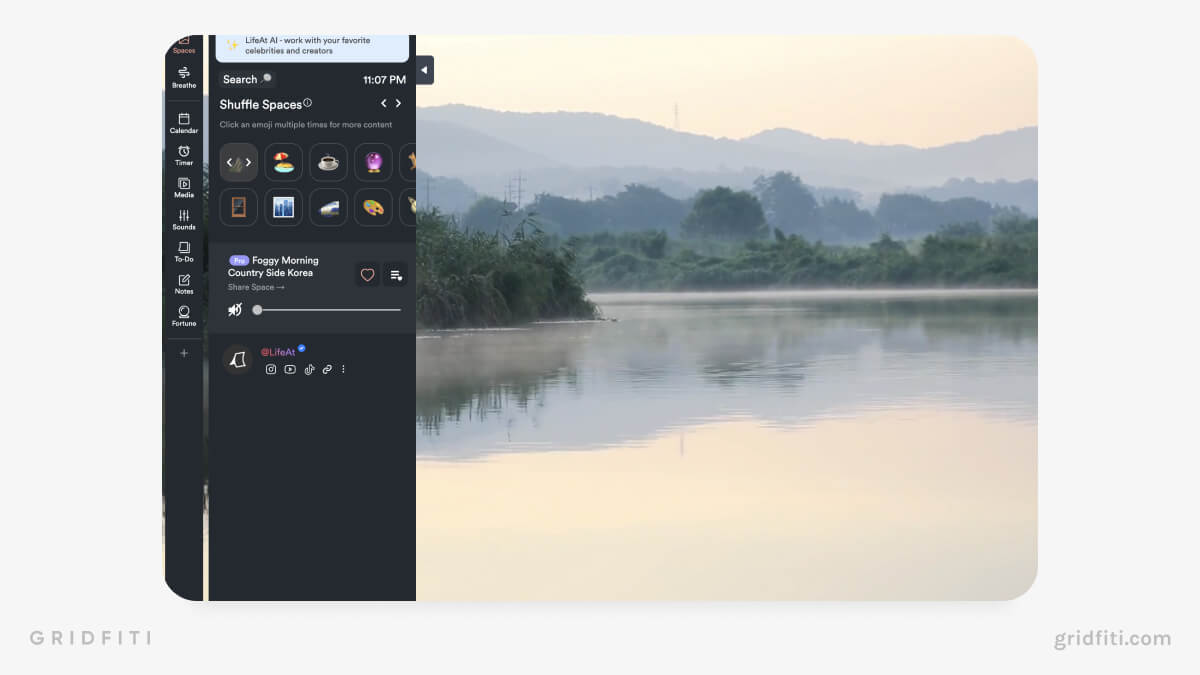 Drive & Listen – Driving Footage & Radio Website
Drive & Listen lets you take relaxing car rides around the world. Over 55 destinations are available for your virtual space, from Oslo to Mumbai to Hawaii. Jam out to local radio stations while you cruise around your chosen city.
Turn on a city's street noise for a truly immersive experience. Different car speeds are available, so you can explore cities in a hurry. Buckle up and virtually travel the world by car with Drive & Listen.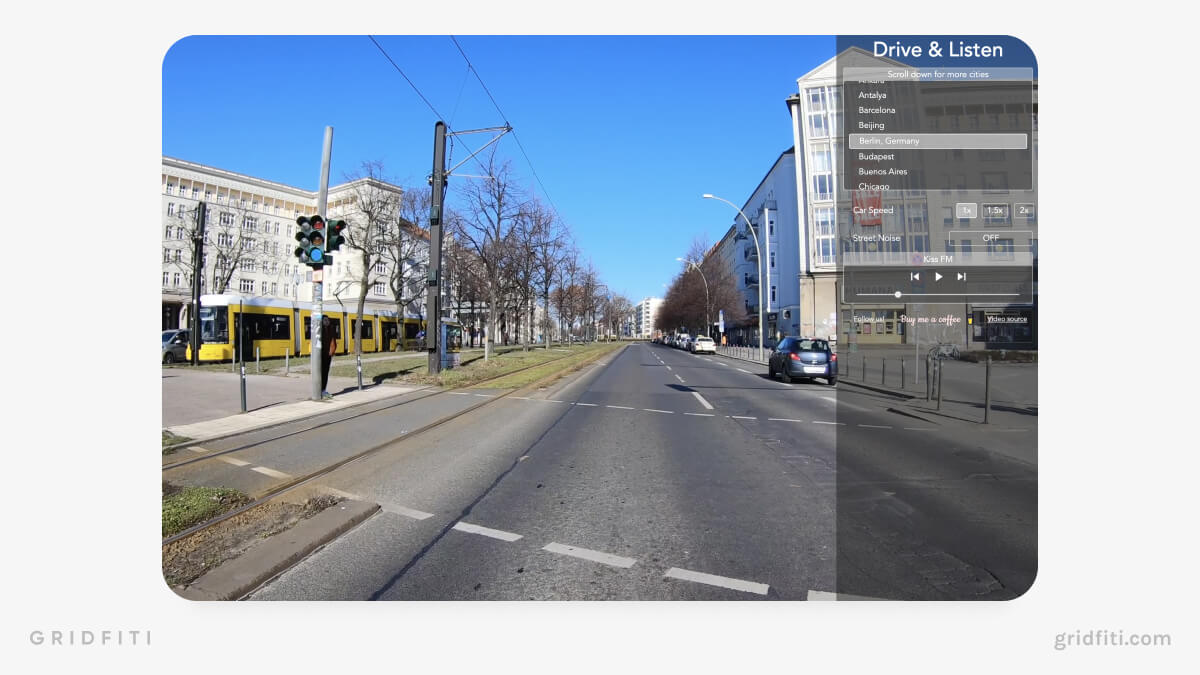 Lofi.co
Lofi.co lets you create the perfect anime-inspired workspace for any occasion. Select one of three modes depending on your mood: jazzy, chill, or sleepy. You'll find 40+ soothing animated scenes with Spotify playlists and 25+ soundscape sliders to help you get in the zone.
Drag-and-drop widgets for notepads, timers, PDF readers, and bookmarks give you everything you need to work, relax, or play. Save templates of your favorite sounds and scenes so you can hop back into tailored virtual study spaces.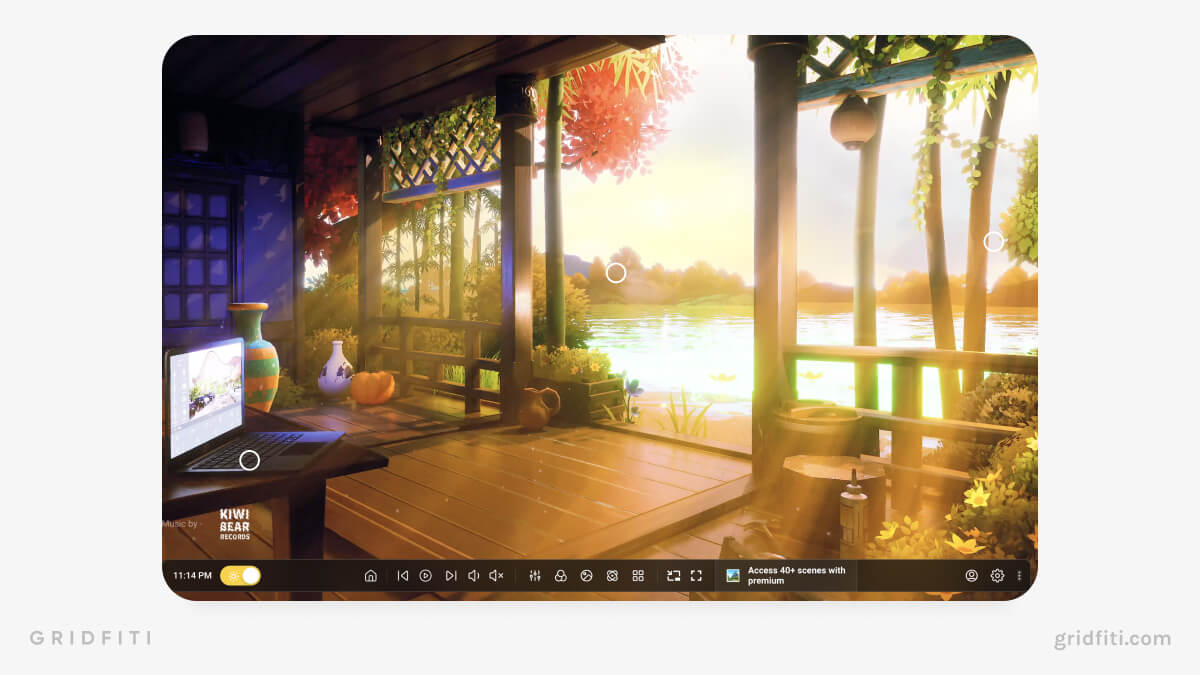 Lofi Cafe – Anime Loops & Lofi Hip-Hop Radio
Lofi Cafe's retro-futuristic TV channel-hopping aesthetic is a unique take on virtual study spaces. Cycle through visual loops like Lofi Girl, cyberpunk cityscapes, 8-bit animations, and more.
Tune into synthwave, lofi hip hop, and ambient radio stations for easy listening while studying. Get stuck into your work with a simple built-in Pomodoro timer. Change the visual loop and music from your keyboard with the touch of a button.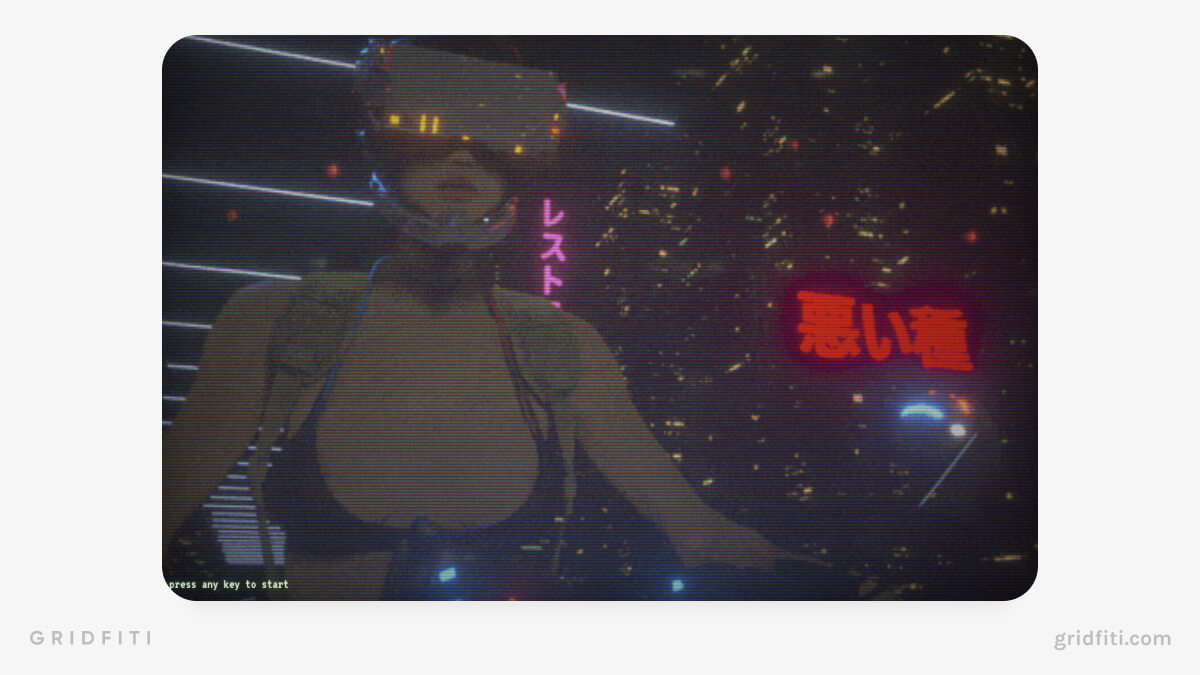 Magenta Lofi Player
Featuring nostalgic 8-bit visuals, Magenta Lofi Player lets you build your own custom music room by interacting with in-world elements! Click on each instrument or object in the room, and completely fine tune volume, tone, and patterns of each. The result — your very own, one of a kind virtual room to chill out to or have in the background while working!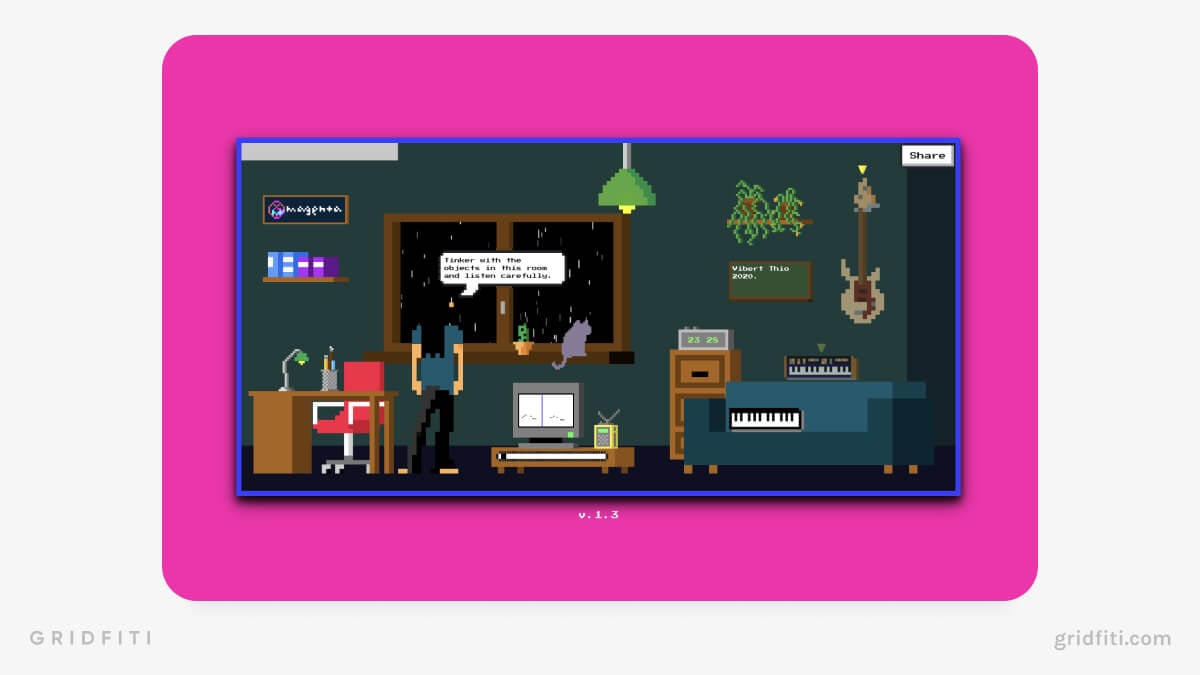 I Miss My Office
If your home workspace is too quiet, I Miss My Office might be the perfect solution. With an interactive floorplan, this ambient site mimics the hustle and bustle of an office environment – keyboard clatters, muffled chatter, and all. You can even increase or decrease your virtual colleague count depending on how much background noise you're looking for.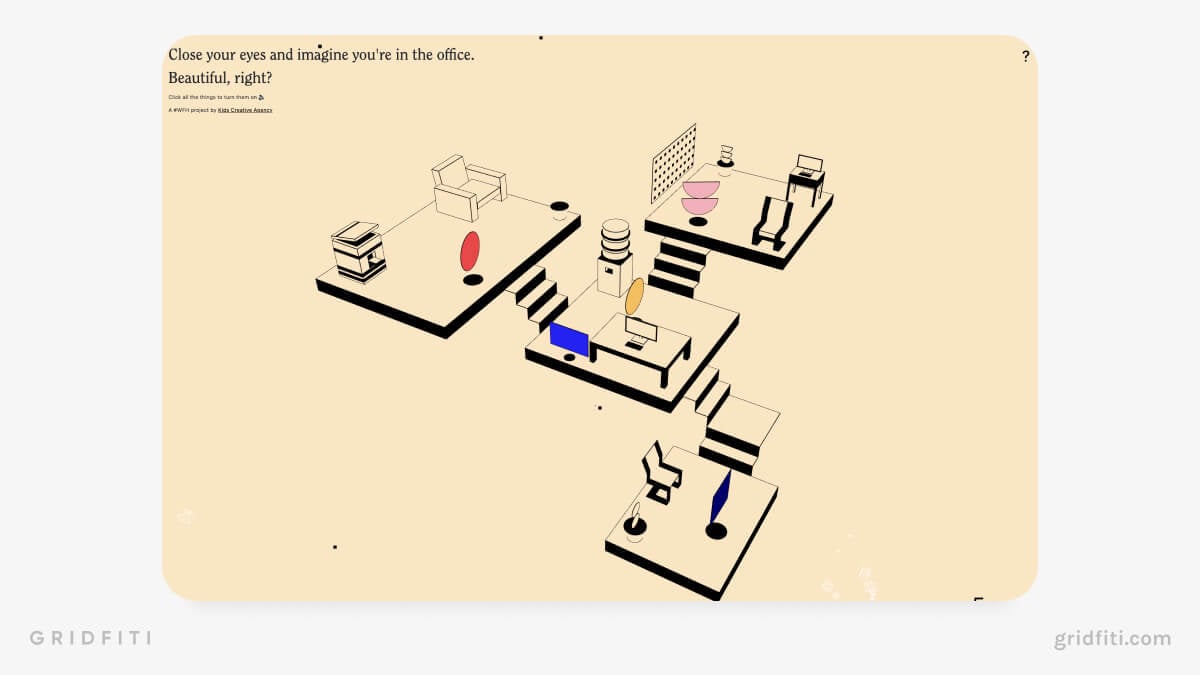 Virtual Cottage – Cottage Virtual Space
Cozy up in a custom cottage with this free desktop app for Mac and Windows! Virtual Cottage lets you live out your cottagecore dreams in your quaint cabin beside your browser. A built-in Pomodoro timer, ambient sound and music toggles, and real-time dynamic lighting, will help you get into a flow state while you work away at your to-do list.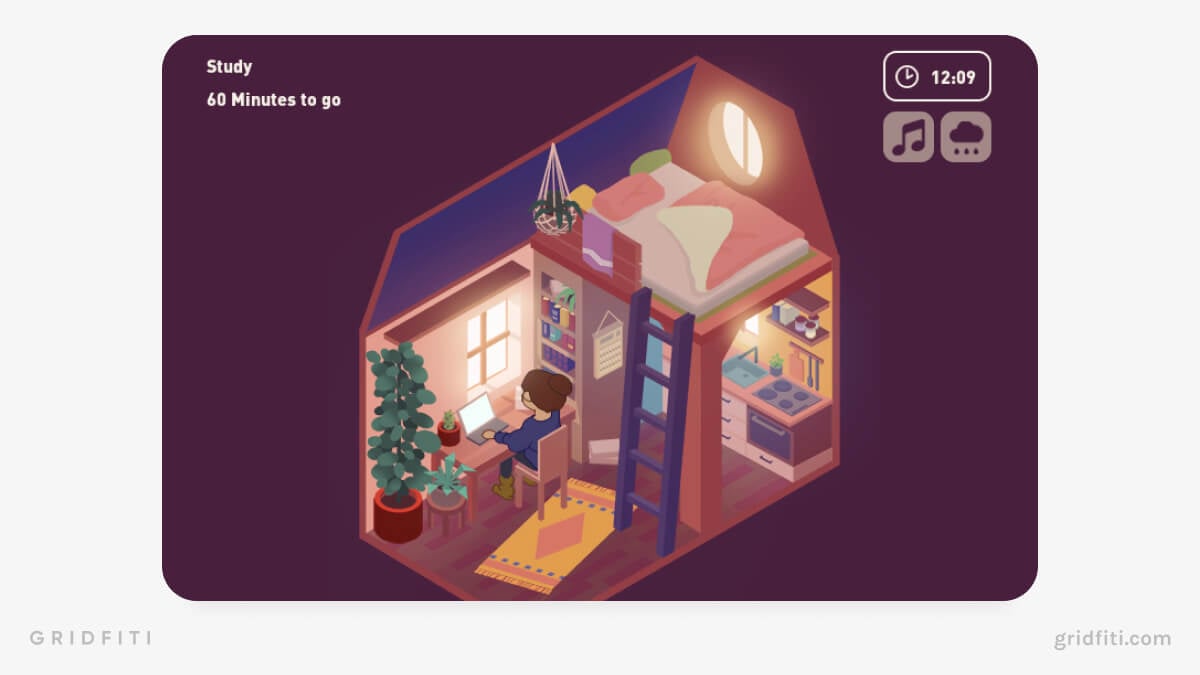 Lofi Girl YouTube Live Stream
The Lofi Girl YouTube Live Stream is one of the most popular YouTube livestream radio stations. Listen to endless lofi hip-hop tunes with the iconic Lofi Girl visual loop from Studio Ghibli's Whisper of the Heart. Plus, subscribers to the Lofi Girl channel can chat with other listeners while they work.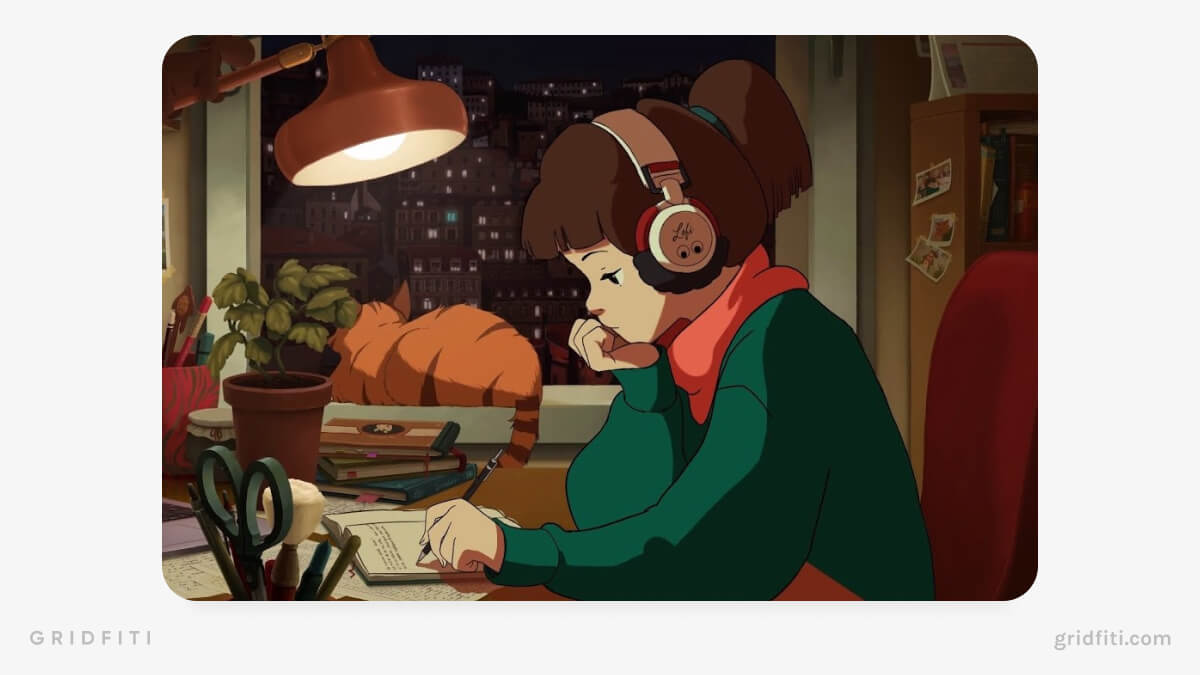 Study Timer Websites
Online aesthetic stopwatch and the Pomodoro timers can add structure to your study while keeping you motivated with beautiful backgrounds, lofi playlists, and valuable tools. Scroll down to view a few of our favorite study timer websites!
Flocus Minimalist Timer
Get back to basics with the Flocus Minimalist Timer. Set custom Pomodoro intervals and breaks with sseveral high-quality minimalist backgrounds to help you get in your work groove. Switch between four alarm chimes letting you know when to return to work or take a break.
Bop along to Flocus Radio with the built-in Spotify widget. Embed the Flocus Minimalist Timer in Notion, and create a free account to sync your settings across devices. Reduce distractions and maximize your productivity with this practical and aesthetic study timer.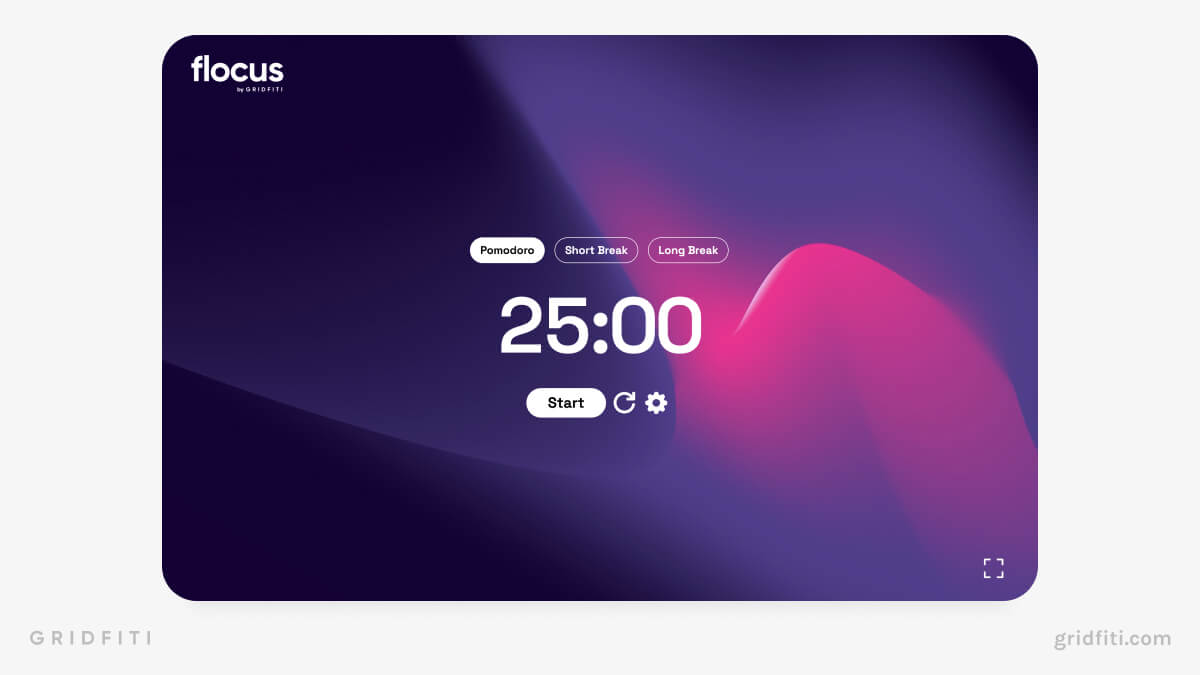 StudyWithMe.io – Aesthetic Study With Me Website
Prefer to match your Pomodoro counter with your workplace aesthetic? StudyWithMe.io features customizable Pomodoro timers with a dozen charming backgrounds, ranging from "Dark Academia" to "Tokyo Sakura."
Tune into Flocus Radio through the Spotify widget, and sync your settings across the devices with a free account. Plus, StudyWithMe.io is also embeddable, adding extra flare to your Notion aesthetic. Cram for your next big exam in style with StudyWithMe.io's aesthetic Pomodoro timer!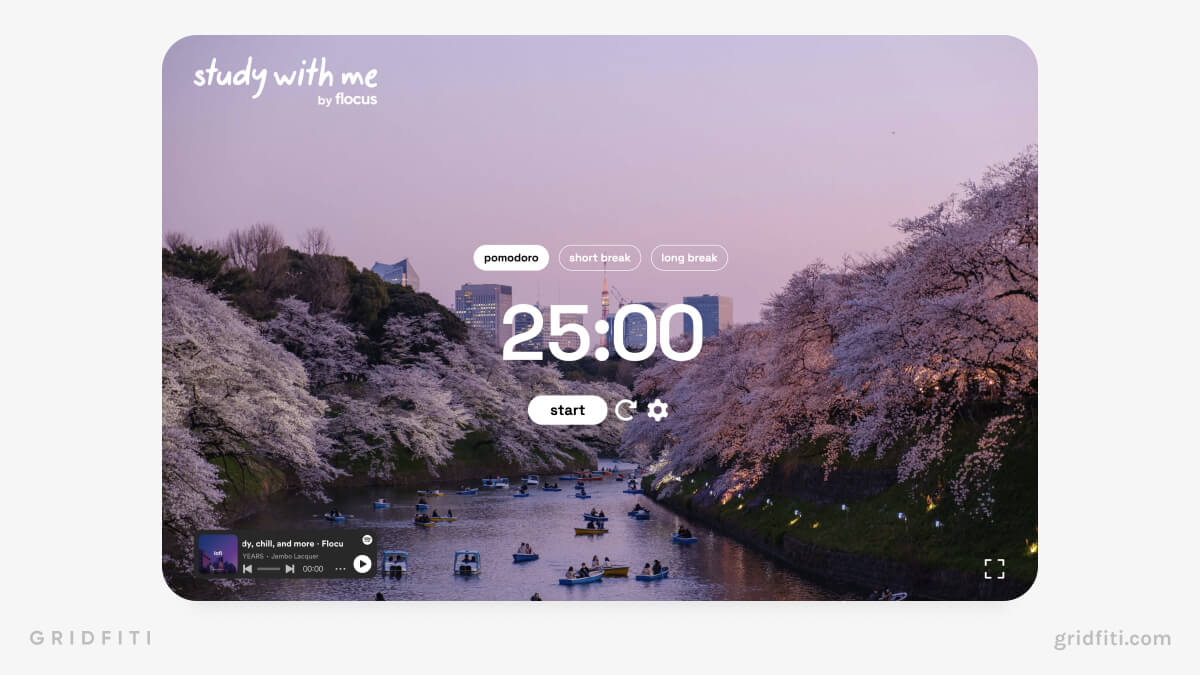 Tomato Timers
Study side by side with a hard-working kawaii tomato on Tomato Timers! Customize your Pomodoro intervals and breaks, and set loops to keep your streak going. Add items to your to-do list and mark them complete to stay up to date on your backlog.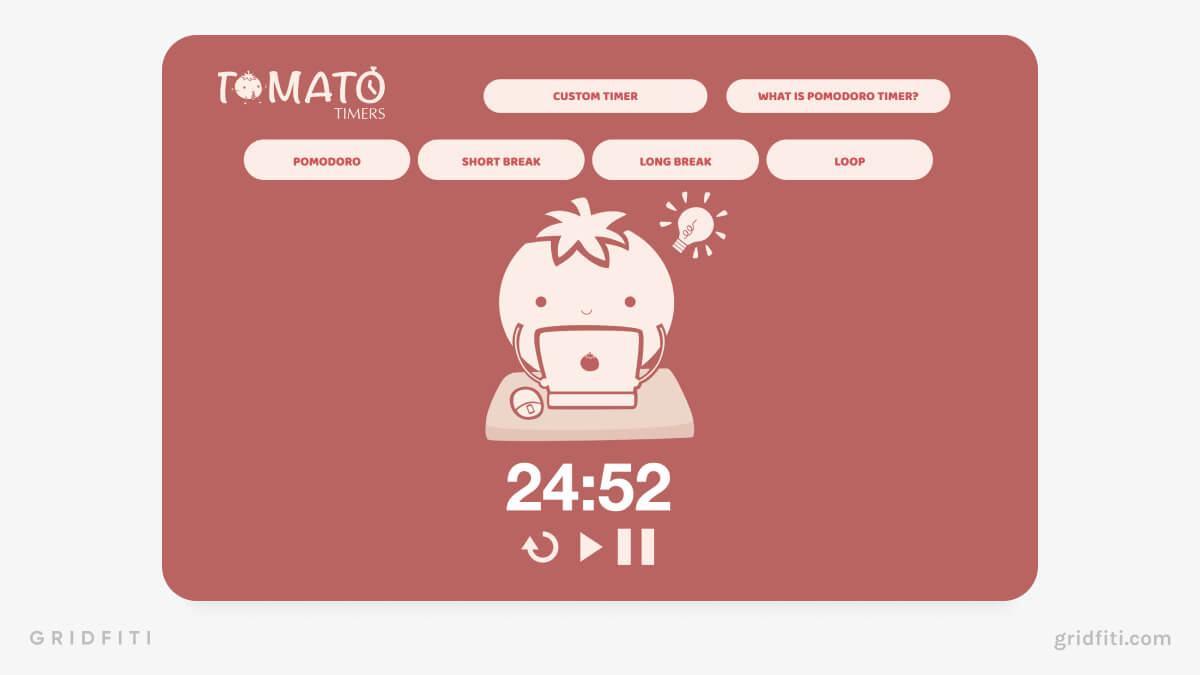 Animedoro Timer by Flocus
Do you spend your Pomodoro breaks catching up on your favorite anime? Then check out the Animedoro Timer! Motivate yourself for your next break by setting your timer background to one of eight anime-inspired backgrounds. The studio Ghibli-inspired "anime chill music" playlist from Flocus Radio on Spotify provides a fitting soundtrack to your Animedoro session.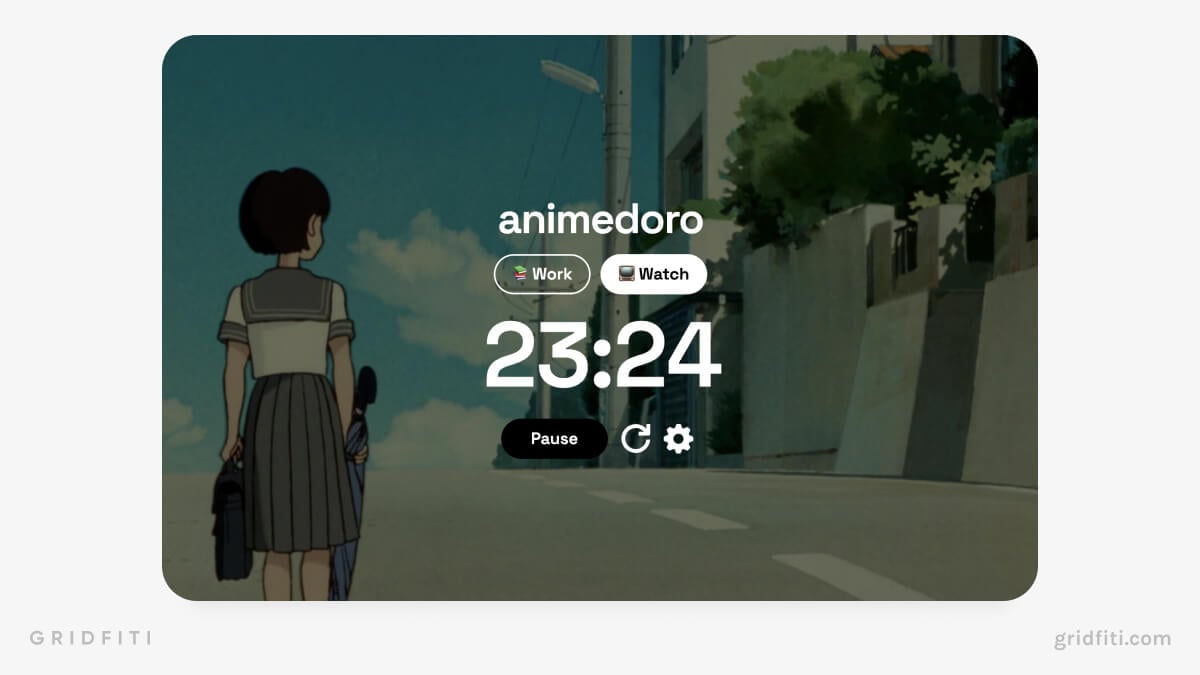 Background Noise Websites for Studying
Background noise websites are super handy if you find the hustle and bustle of others working motivating, or you're trying to drown out a noisy neighbor. Curate the perfect soundtrack to your study sessions with these background noise websites!
For more sites like this, check out our full round-up of ambient sound and background noise websites for studying.
I Miss My Cafe – Cafe Ambience Website
Set up your ideal cafe ambiance in your office with I Miss My Cafe. Use sliders to adjust the sound levels of eight cafe sounds, including talking baristas, whirring machinery, and a crackling fireplace.
Save your soundscape preferences and add your own Spotify playlist to match your mood. A built-in Pomodoro timer is there to help you engage in deep work. If you can't make it to your local cafe, you can now access one straight from your browser.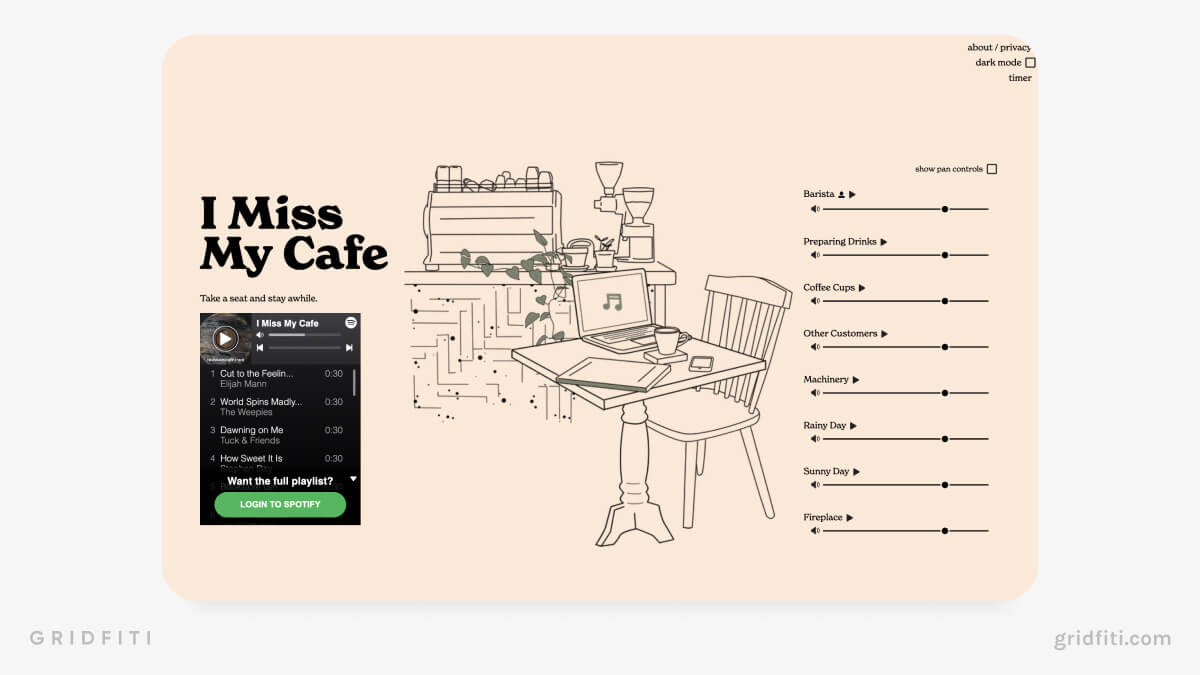 I Miss My Bar – Bar Ambience Website
Love a busy bar, but find it hard to concentrate in a crowded environment? I Miss My Bar lets you create a custom pub environment with weekly playlists and sound sliders for bartender noise, street noise, rain noise, and more!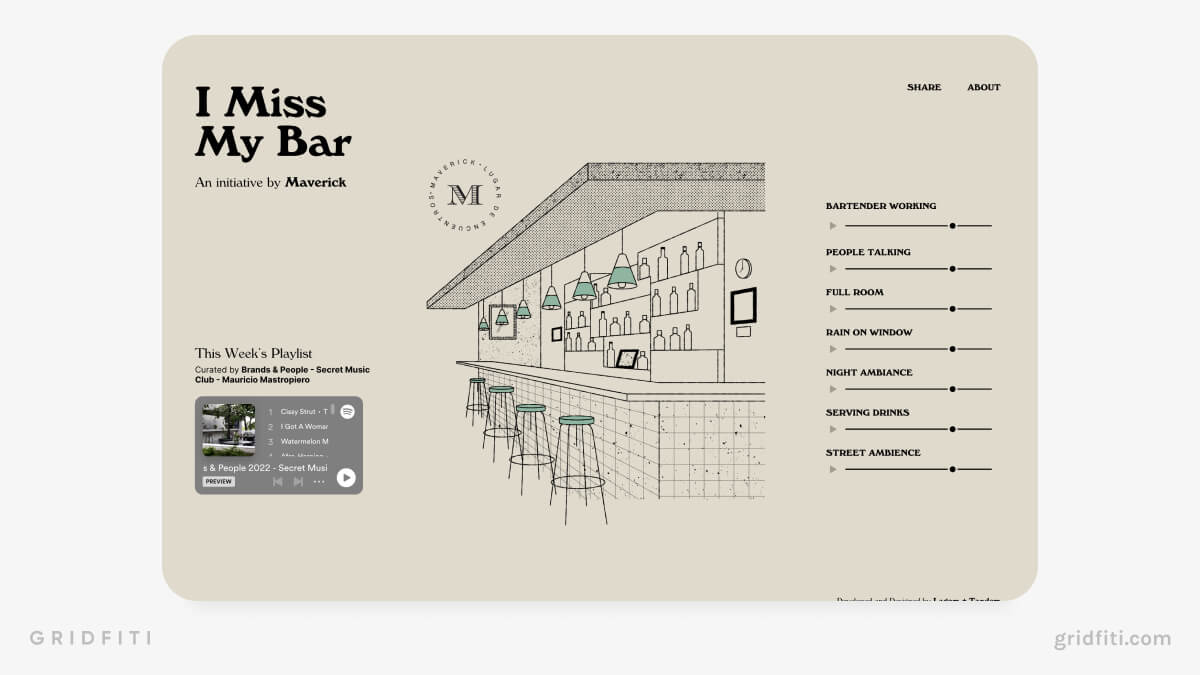 I Miss My Library – Library Ambience Website
Shh! Check out I Miss My Library if you find the sounds of a cafe or bar too distracting. Clacking keyboards and turning pages are soothing, familiar background noises for your virtual study environment. I Miss My Library also has a built-in to-do list so you can stay on top of your workload.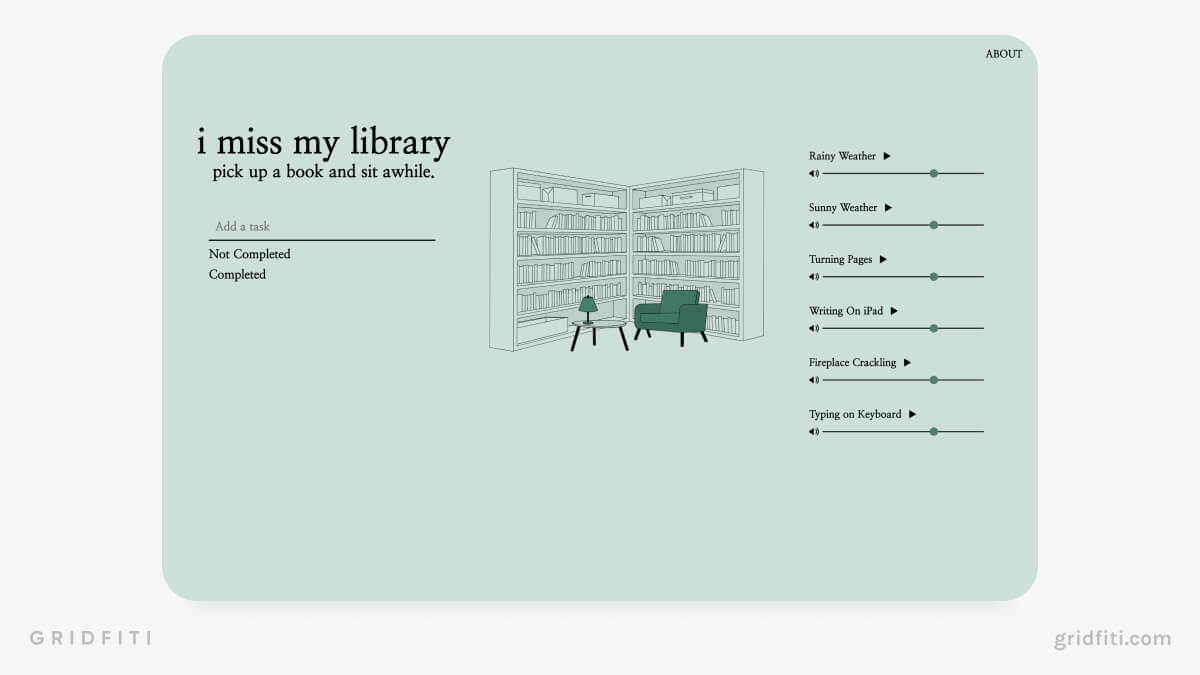 Noisli – Relaxing Background Noise
Noisli is a super-simple soundscape generator with 25+ premium background noises to mix and match. Just click a sound and adjust its volume with a slider.
Combine noises for a bespoke ambiance, and shuffle sounds at random. Or, access pre-curated playlists if you're looking for inspiration. Noisli's built-in timer and text editor are on hand to help you reach maximum productivity.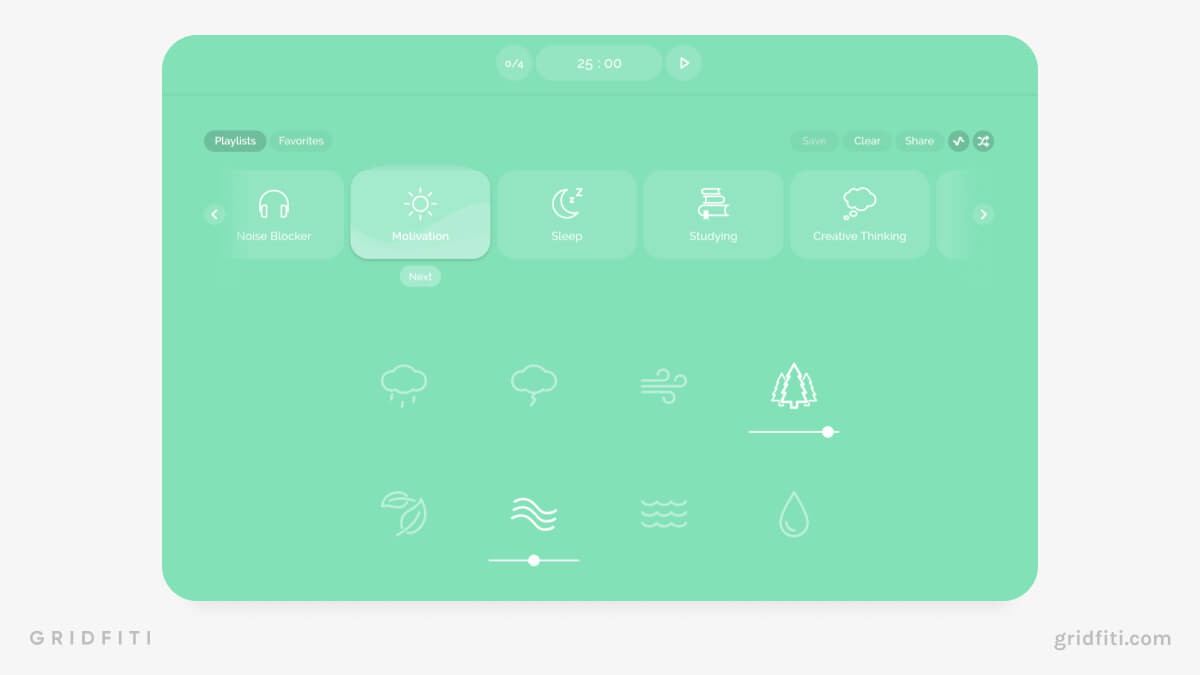 Rainyscope – Seasonal Virtual Space
Change the season with the click of a button on Rainyscope. Swap between the dog days of summer, snow storms, and overcast autumn days — whatever matches your mood. Set an hour-long timer to keep you motivated and focused on your current project.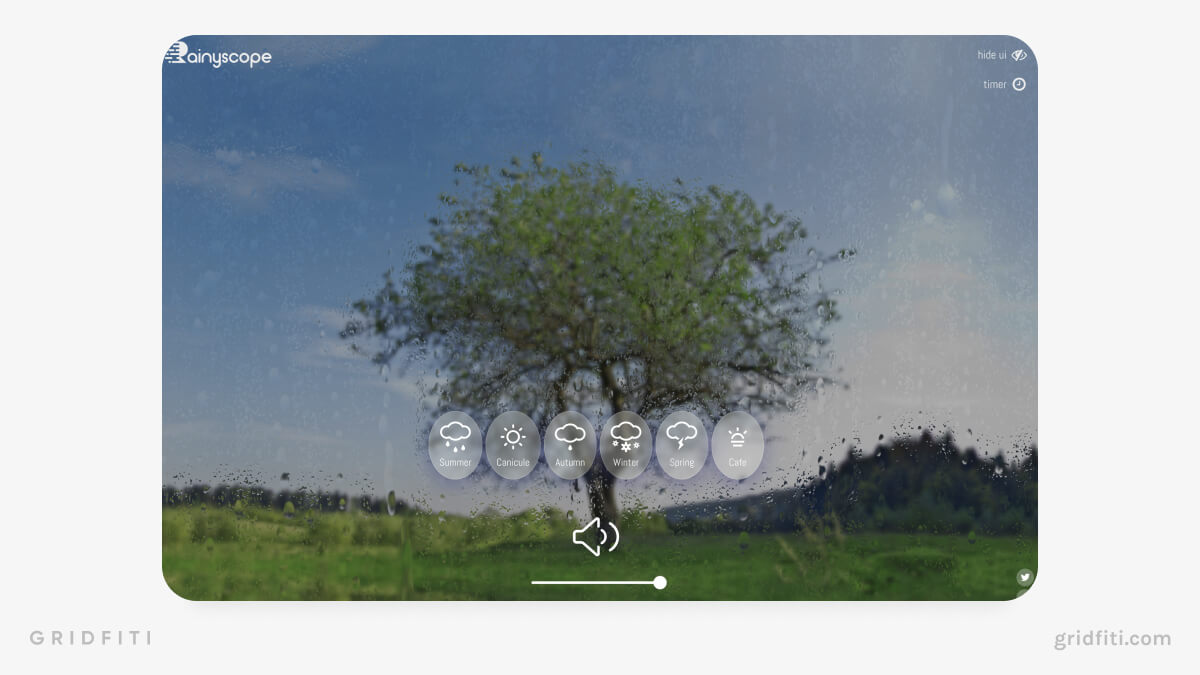 Noises Online
Curate your ideal background noise from 30 different sounds with Noises Online. Mixing a soundscape is easy — just click each sound button to raise or lower the volume. Adjust the tone and liveliness of your soundscapes, and save them for future listening.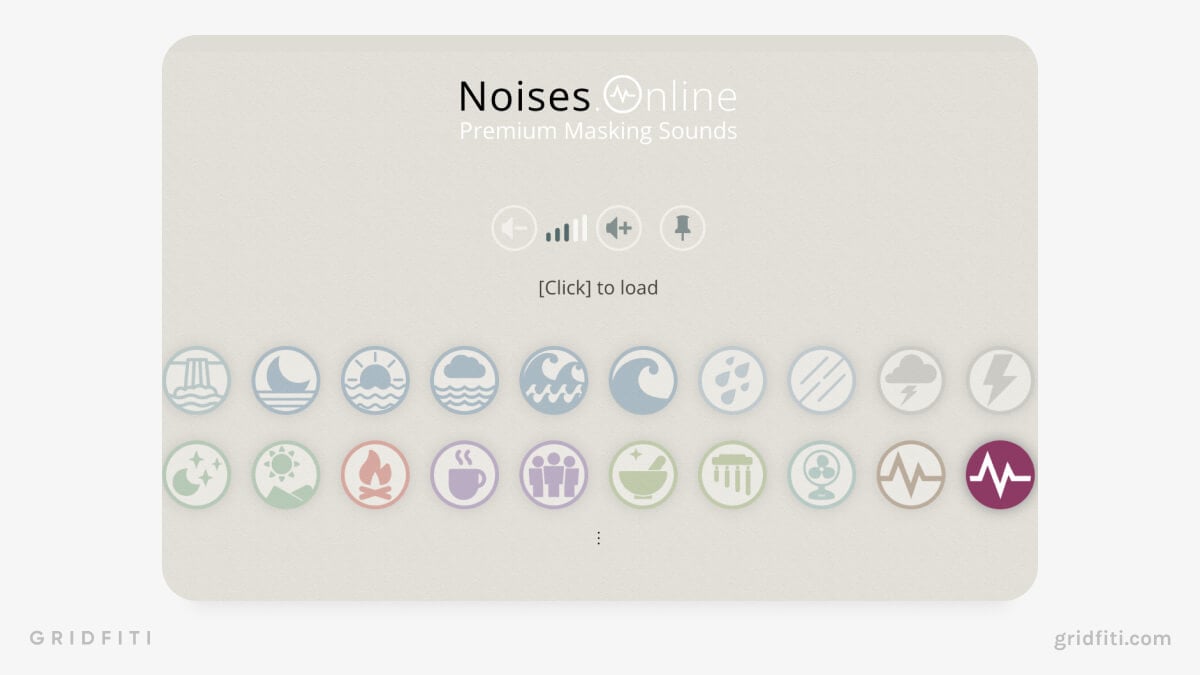 myNoise
The ultimate background noise website for studying, myNoise features hundreds of high-quality original recordings. Travel the world with recordings from Ireland, Japan, and the Sahara. Or, tune in to soothing arrangements like "Gregorian Chanting" and "Tibetan Bowls."
From tonal drones to restaurant hubbubs to acoustic performances, myNoise boasts sounds for every situation. All sounds are fully adjustable, too! Want more thunder in your "Stormy Weather" soundscape? Adjust the equalizer for the perfect audio.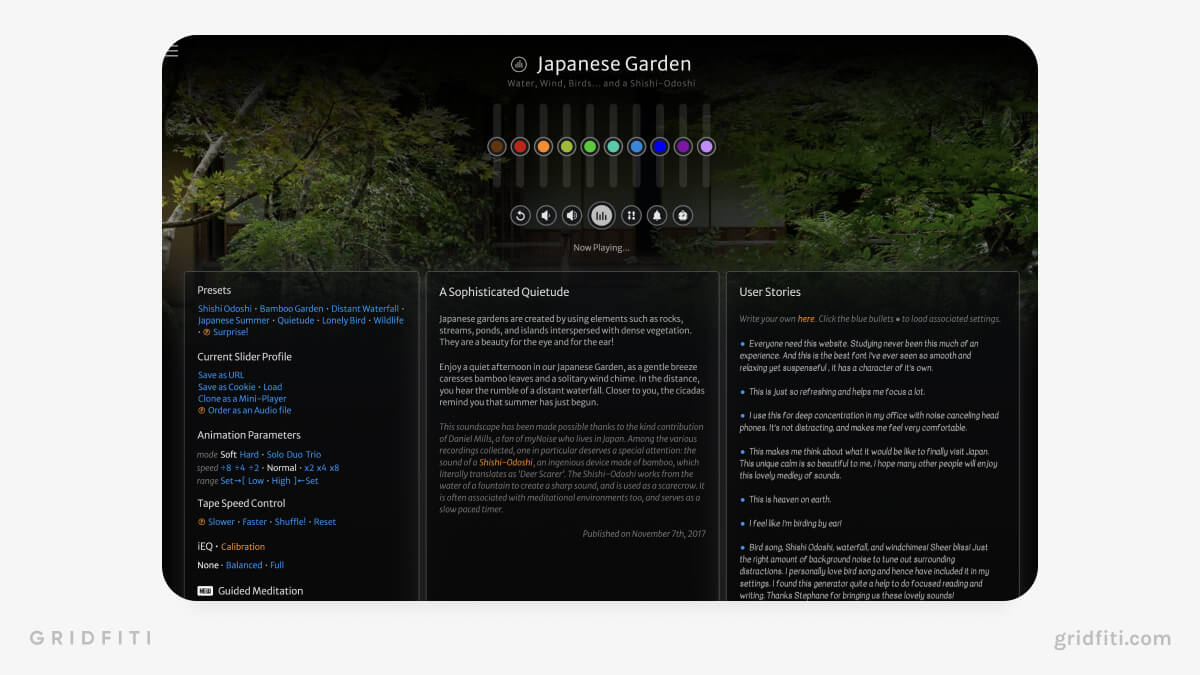 Noisekun
Immerse yourself in Noisekun's ambient sounds that are perfect for both focusing and relaxing between study sessions. Choose from an array of ambient noises in its minimalist grid — ranging from rain, to wind, fire crackling, airplane ambiance, and even underwater sounds. As you listen, enjoy the site's slow, relaxing hue shift that pairs perfectly with the ambient sounds.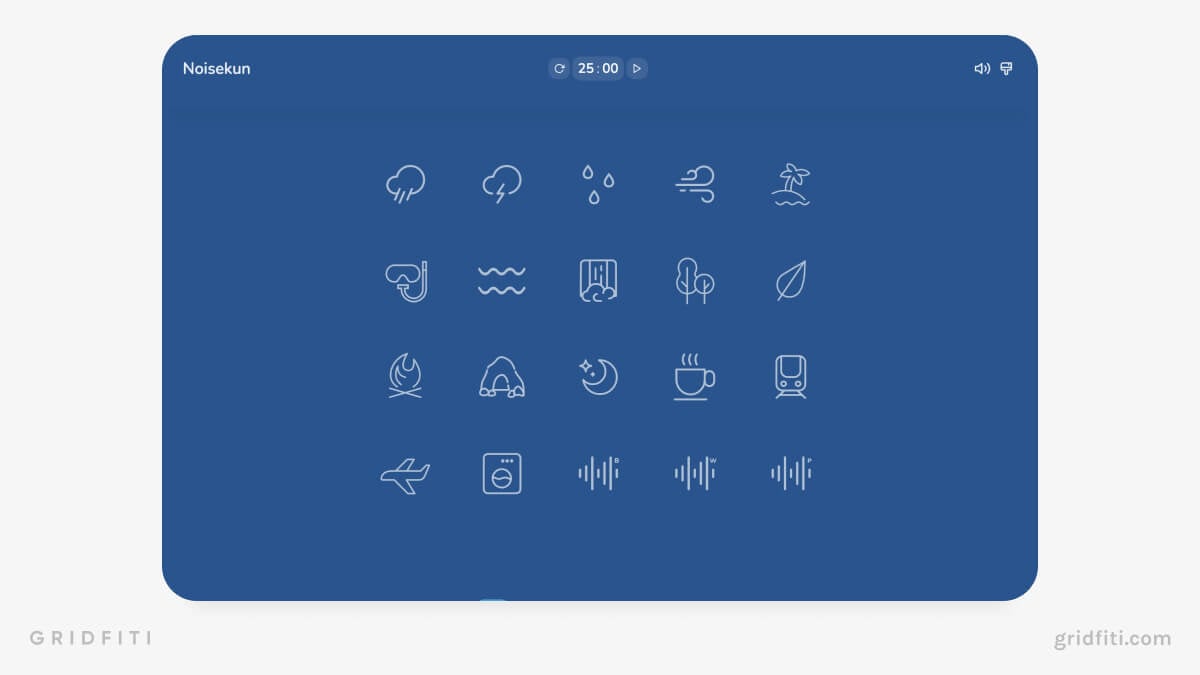 Virtual Group Study Spaces & Rooms
Work through tough topics together and find motivation from your peers by joining a virtual study space. Scroll to discover some of the biggest and best study communities on the web!
StudyStream Live
StudyStream Live lets you work alongside tens of thousands of your fellow students from across the globe! Create to-do lists, listen to your favorite study playlists, and track your Pomodoros while you chat and live stream.
Stay motivated by tracking your rank and daily streaks in the StudyStream leaderboards. Unlock perks and achievements to show off your dedication. Join events like fireside chats, journaling sessions, and focus rooms. Use the FocusBuddies feature to find study partners and build an online community!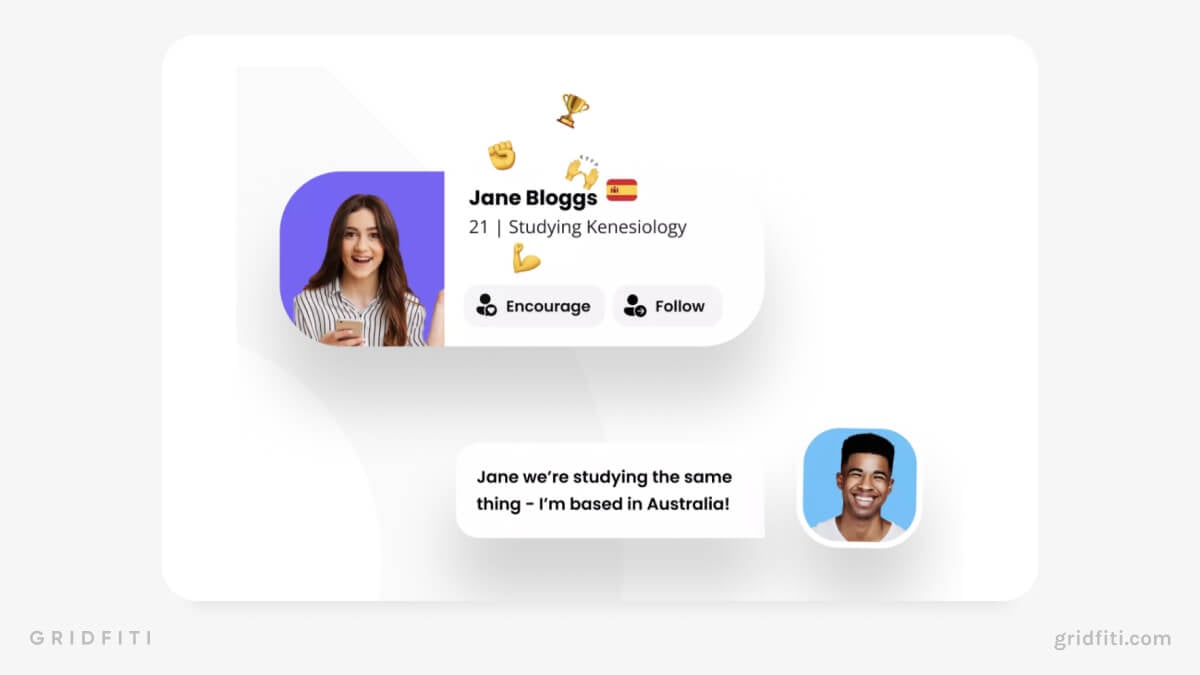 Study Together
Study Together is one of the world's largest virtual study communities, with over 1 million members. Find co-working sessions 24/7 with students from over 215 countries. Start by constructing your personal study space and choose from tons of stunning backgrounds and personalization options.
Join group study rooms, participate in community events, and even find tutors to help you with tricky topics. Practice mindfulness during your breaks with guided breathing and meditation exercises. Rise to the top of the community leaderboards and provide your peers with some healthy competition!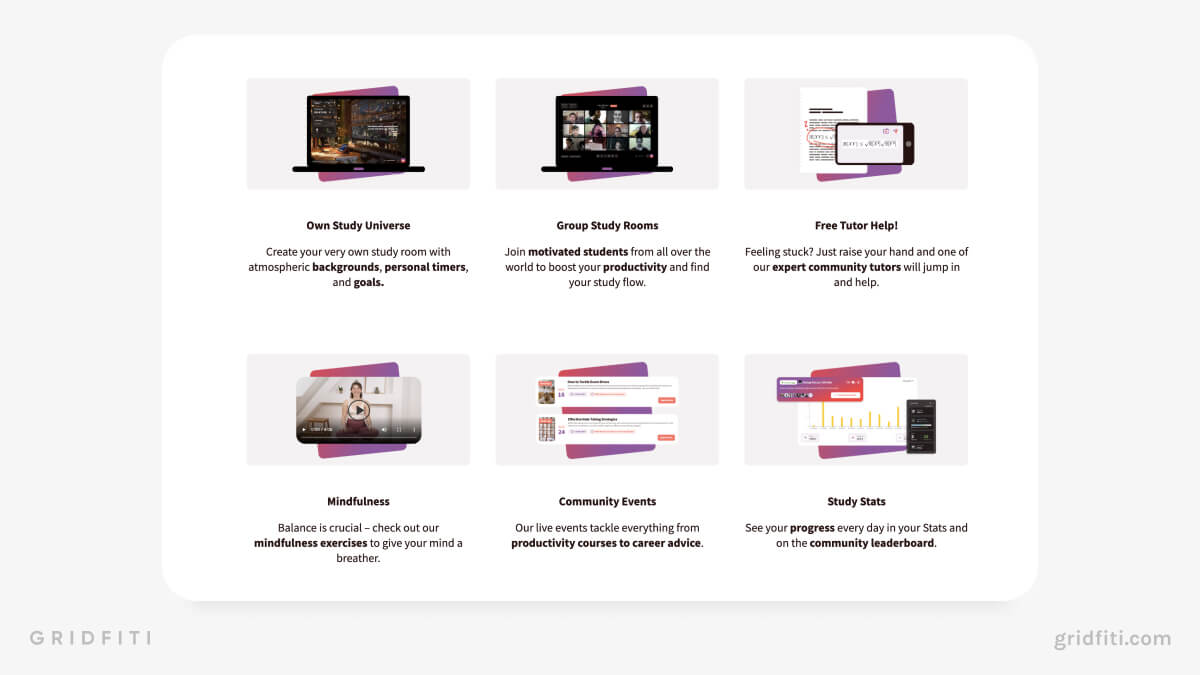 Flocus Discord Study Server
Join a community of over 16,000 members on the Flocus Discord Study Server! Chat with others about work, digital decor, productivity tools, and more! Not a native English speaker? Discover different language rooms and chat with students around the world.
Inspire others by sharing your daily goals, recent wins, and study hacks. Or find a study buddy and drop in on group study sessions. Level up your profile, earn rewards, and rise to the top of the Flocus rankings. During your downtime, join the #party-room and play classic games like Truth or Dare!
For more servers to join, check out our curated list of the best Discord study servers!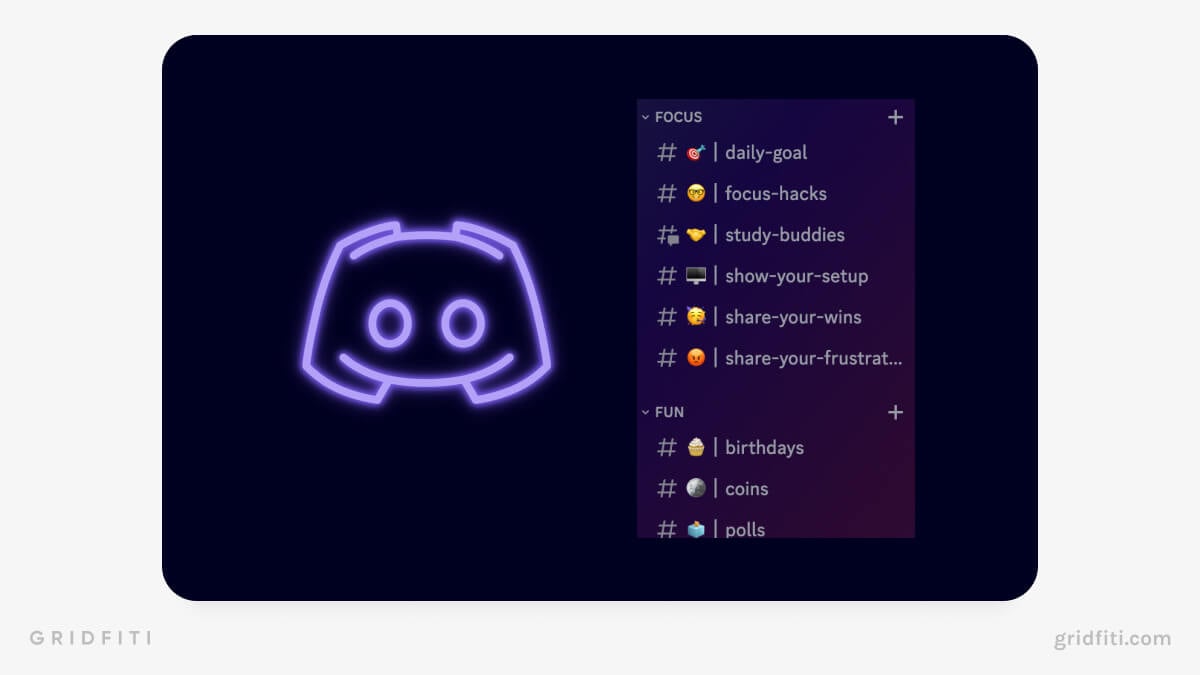 Online Notepad & Note-Taking Websites
Whether you're taking notes, writing an important paper, or collabing with others, online notepad websites are an essential study tool. Check out some of our favorite online note-taking websites!
Notion – All-in-One Productivity Website & App
Notion is a free all-in-one productivity platform — operating both as a website and app to run on your computer, tablet, or phone. Take notes, plan your semesters, study for your exams, track your assignments, and do so much more, all in one workspace. Utilize Notion AI to quickly summarize content, create tables, rework paragraphs, and more.
The best part? You can even personalize your workspace to fit your theme and embed timer widgets. There are several aesthetic, student, and free Notion templates to help you get started — even our all-in-one Student OS Notion template.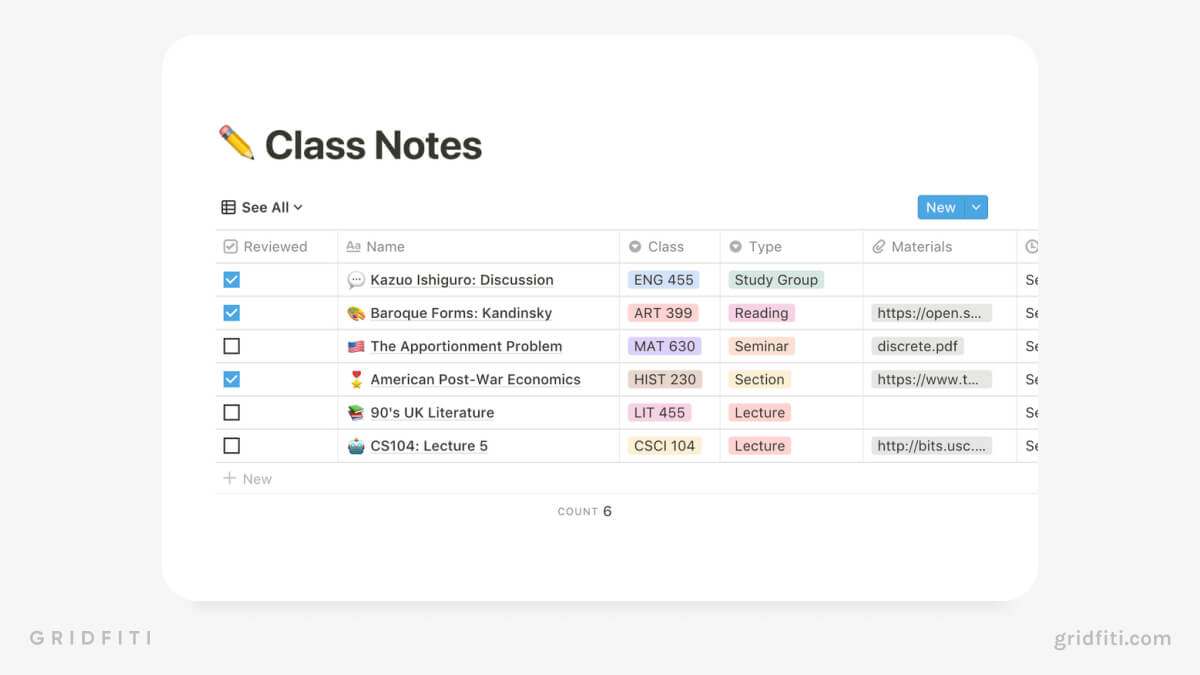 Calmly Writer
Check out Calmly Writer if you want a minimalist all-in-one note-taking site. Avoid distracting formatting options and intricate user interfaces with this simple white text editor. Use keyboard commands or highlight text to change the formatting.
Despite being straightforward, Calmly Writer provides everything you need from a word processor. Import documents from your local files or Google Drive, export files as PDFs, insert pictures, and more.
Enable "Focus Mode" to remove even more distractions from your Calmly Writer documents. Customization options include changing font size and color, toggling dark mode, and enabling smart punctuation.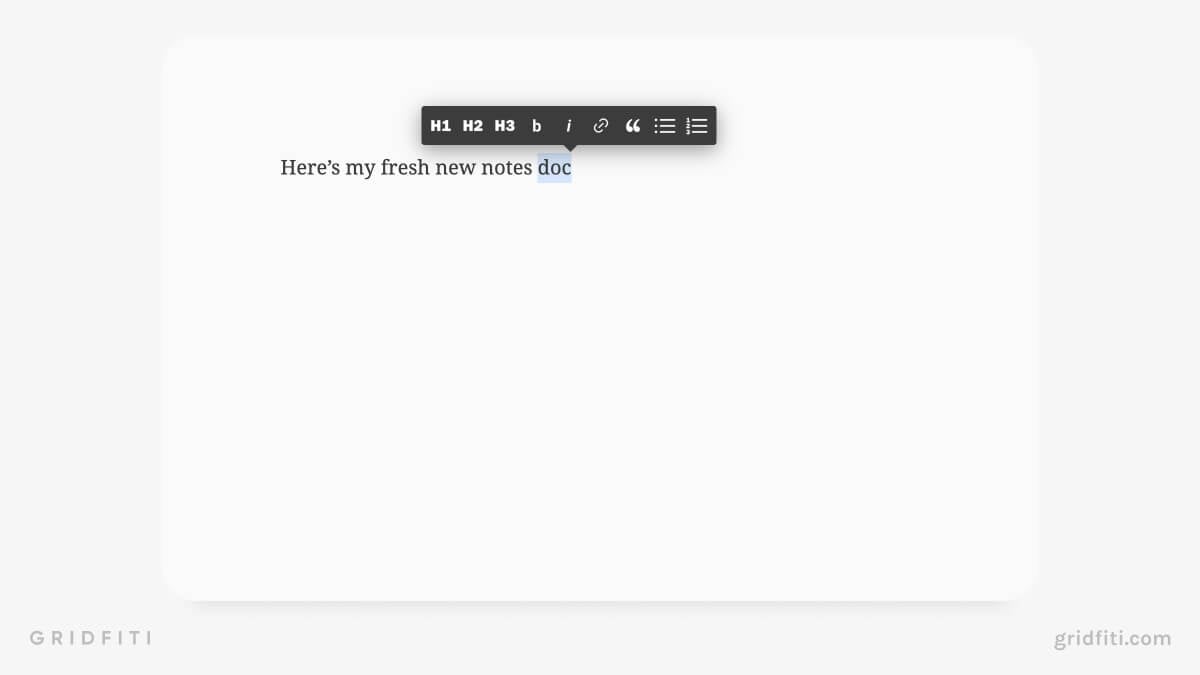 Craft
Craft is a project management and aesthetic note-taking app that will revolutionize how you build documents. Craft's Blocks allow you to move text around your documents seamlessly, while Pages make organizing your documents a breeze. Craft's built-in AI assistant speeds up your ability to flesh out new ideas.
Invite unlimited team members to collab on documents. You can access all your files offline and sync your Craft profile across devices — perfect if you're traveling. Craft is similar in function to Notion and is worth trying out if you're searching for a comprehensive note-taking app.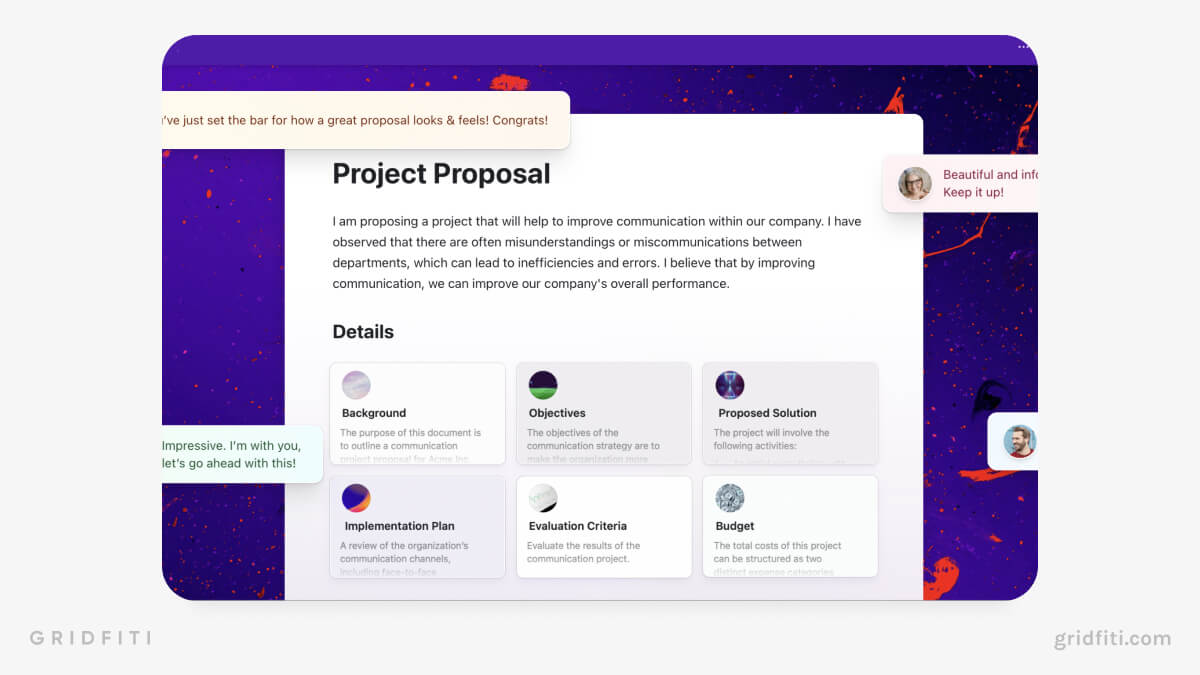 Google Docs
If it ain't broke, don't fix it. Google Docs is many people's go-to all-in-one note-taking word processor, with its familiar UI and personalization options. Download extensions like ProWritingAid, DocuSign, and Mailmeteor to make your daily grind a little easier.
Insert charts, download in Rich Text Format, translate documents, and a whole lot more. Share documents with anyone, anywhere, and anytime, by sharing a link to your latest WIP.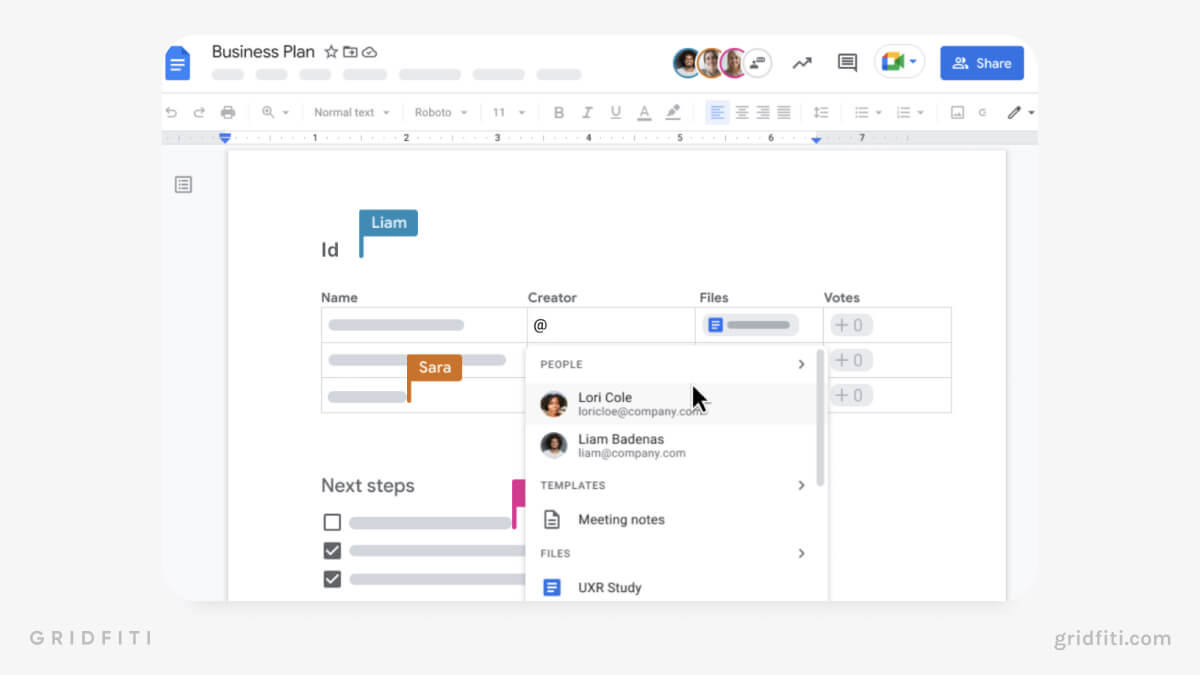 Breathing Exercise Websites for Students
Literally taking a breather during a study session will help you relax and reset for your next big push. Here's a few of the best breathing exercise websites for students!
Check out our full round-up of breathing exercise websites for more.
Calm Breathing Bubble
Get guided through a simple breathing exercise by the sound of a calming Tibetan singing bowl with Calm Breathing Bubble. Watch the bubble expand and contract as your worries wash away.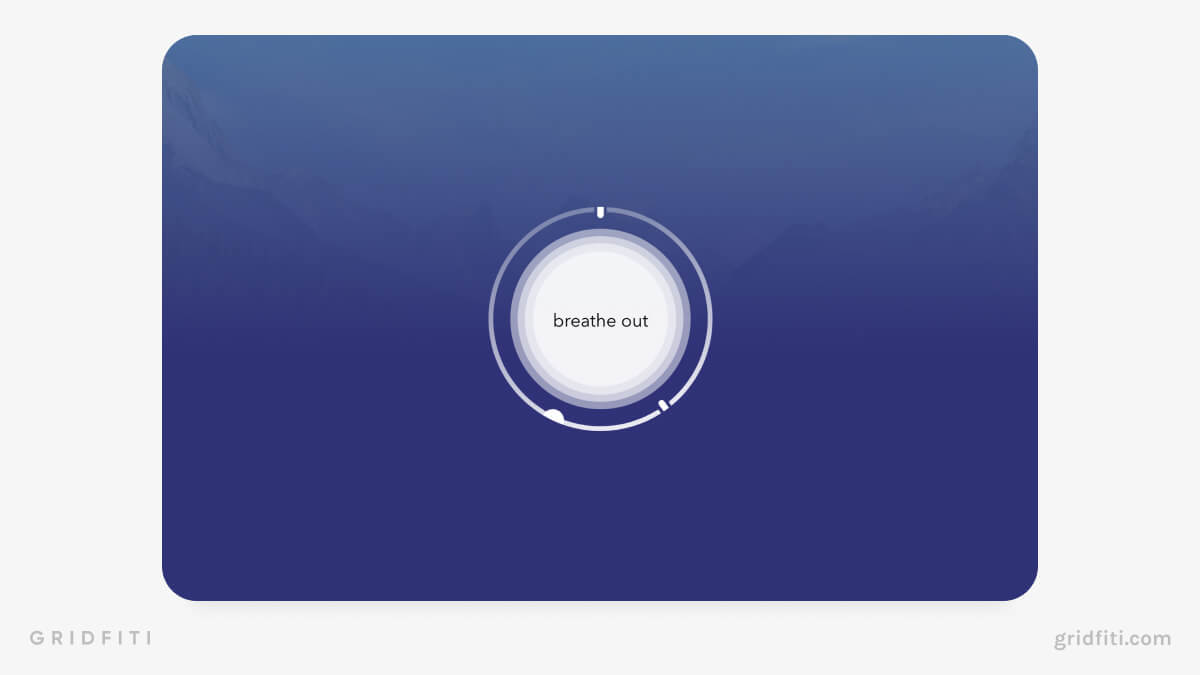 MindfulDevMag Breathing Timer
The MindfulDevMag Breathing Timer offers 4-7-8, 4-2-4, box, and HRV breathing exercises for meditation and relaxation. Toggle the sound on to help with deep meditation, and choose between two breathing animations. Download GIFs for each breathing exercise for use offline.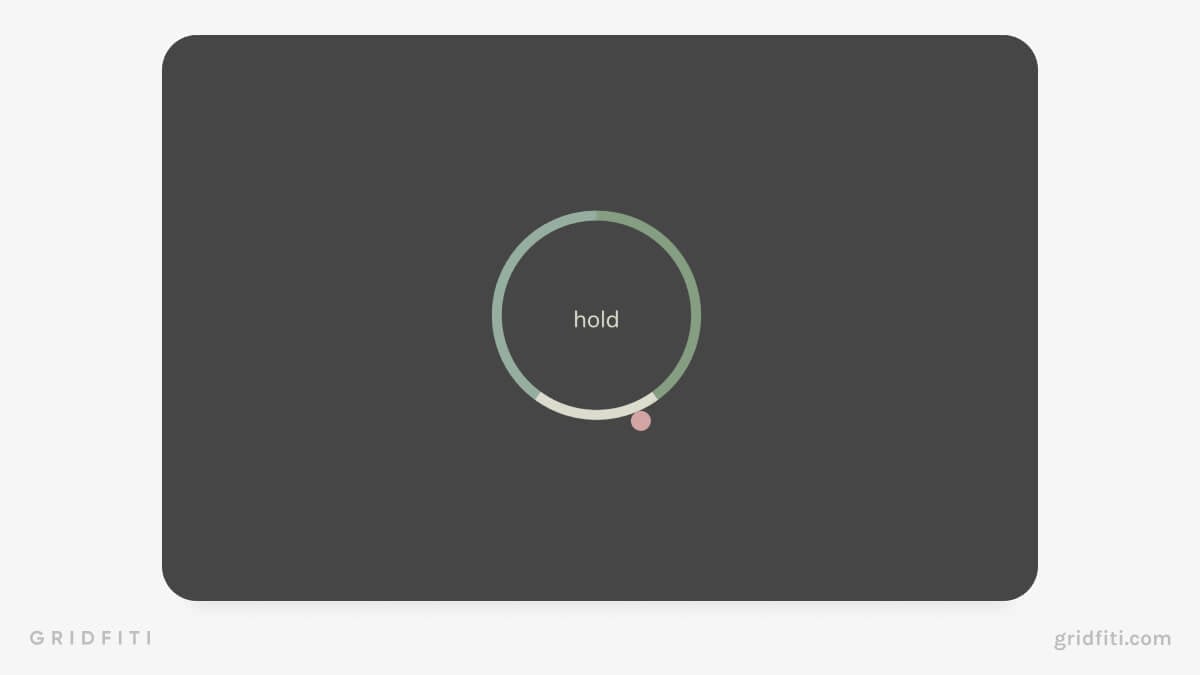 eXHALeR Web App
eXHALeR is one of the best breathing exercise websites for customization. Adjust the sliders to change how long you breathe in/out and hold your breath.
There are also four presets for popular breathing techniques like pranayama and ujjayi. Toggle day or night mode, and add audio guidance if needed.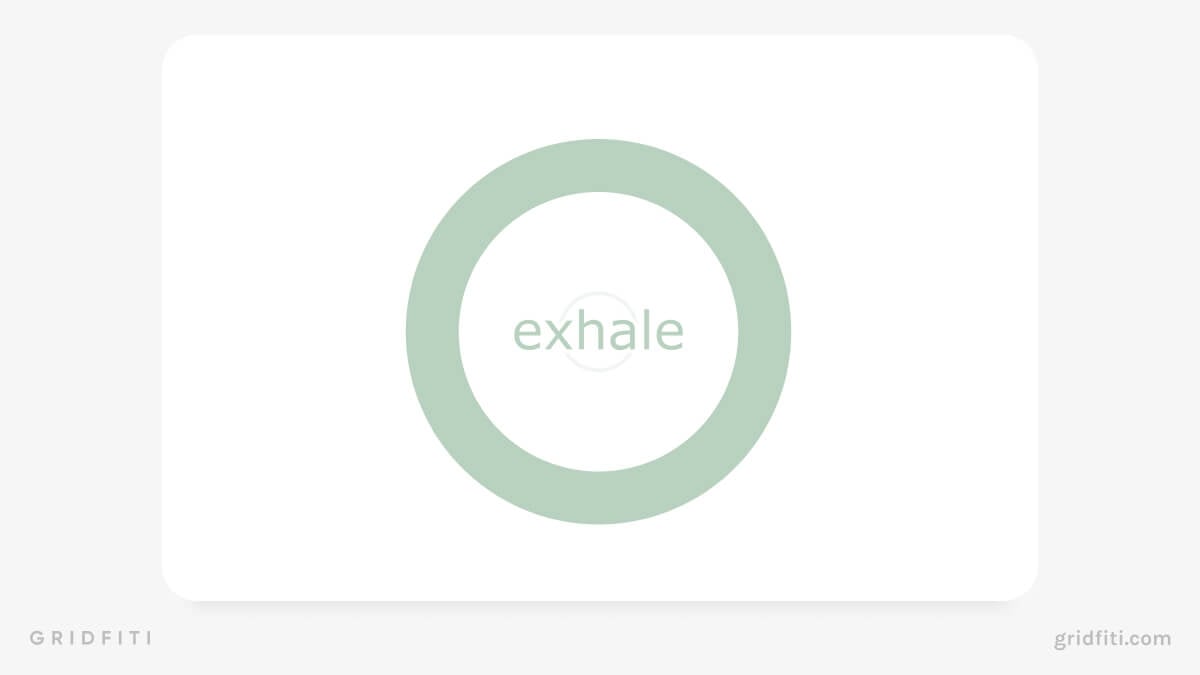 Aesthetic Chrome Extensions for Students
Whether you're tracking Pomodoros, blocking distracting websites, or monitoring your mood, Chrome extensions offer many uses for students. Here are a couple of our favorite Chrome extensions for students to download!
Looking for more Chrome extensions for your student life? Check out our full round-up featuring the best Chrome extensions for students!
Otto – Pomodoro Timer and Website Blocker
Let Otto, the adorable blue blob, encourage you to keep up with your Pomodoros! Otto's avatar lifts weights while you work and snoozes on your breaks.
Add websites to Otto's blocklist to remove distractions, or use the auto block feature to disable sites depending on how long you spend on a particular page. Gain insights into website usage and Pomodoro sessions for added motivation.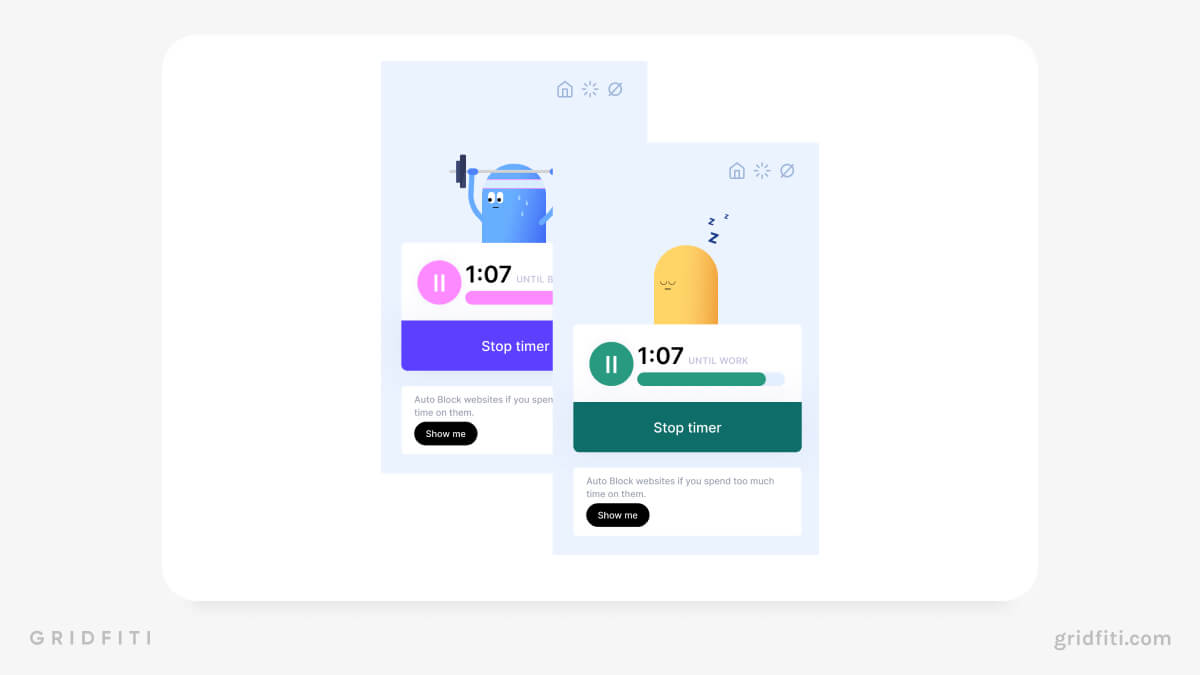 Thyself
Manage your mental health, monitor your mood, and have mindful moments with the Thyself Chrome extension. Throughout the day, Thyself will check in on how you're feeling with a wheel of emojis to help you decipher your current mood.
The Thyself dashboard shows your past moods, as well as journal prompts and a self-care to-do list. Take a breather and engage in a Thyself breathing exercise. Invite your friends and coworkers to your Thyself team and work together on your mental well-being.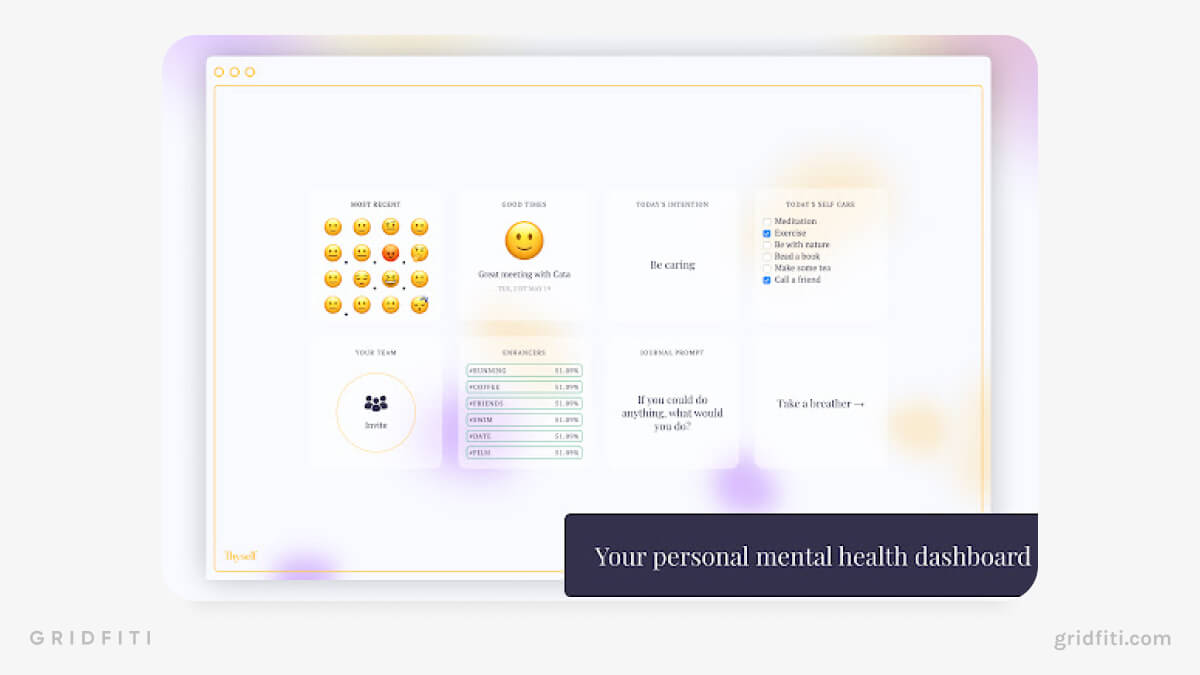 Coffeelings
Combine coffee and self-care with the Coffeelings extension! Each day, pick a different shade of coffee roast to match your feelings. View your moods on a coffee-theme palette calendar across the year. Attach notes to each day to remind yourself why you had such a fantastic (or terrible) day!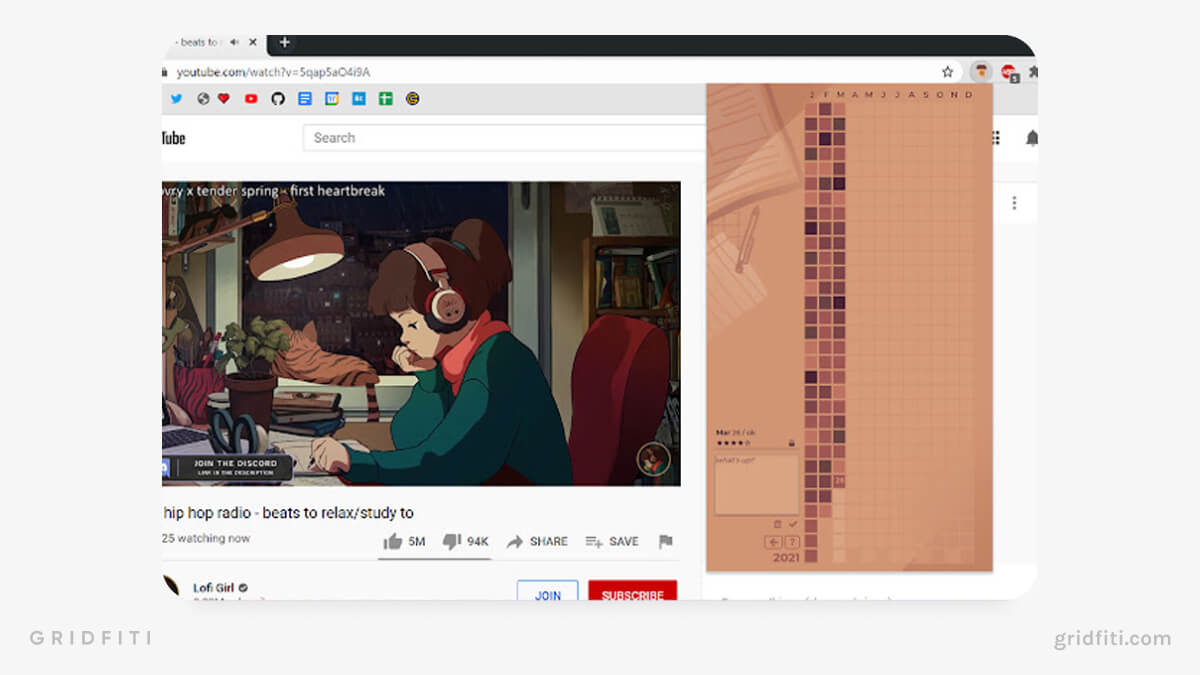 Are we missing any aesthetic study websites? Do you have any other virtual spaces to recommend? Let us know in the comments down below!
Gridfiti is supported by its audience – when you buy something using the retail links in our posts, we may earn a small commission at no additional cost to you. Read more about our affiliate disclaimer.