Notion has taken the internet by storm in recent months, allowing anyone and everyone to organize all aspects of life – from school, to work, and everything in between. Notion's got a ton of customizability, making options essentially limitless to create a setup that goes with your aesthetic.
Whether you want to download a plug-and-play template, or just get some ideas to apply your own way – get inspired by these aesthetic Notion templates and layouts.
Looking for templates that are function-focused, and more geared for productivity and business? Check out our roundup on the best Notion setups and the best Notion productivity templates. Make sure to check out these aesthetic Notion cover photos, Notion widgets, and Notion icon sets, too!
To install these templates, we've got a super quick guide on how to copy a Notion template to your workspace!
Best Aesthetic Notion Templates to Use
If you're wanting an easy, straightforward start to your Notion journey, save time and start with a template! Once you've got your template set up, take a peek further down for aesthetic theme ideas to make your Notion workspace beautiful, and truly yours.
Whether you're a student, avid traveler, or just looking to up your productivity game, subscribe to our Notion email list below to be the first to know about any new Notion templates we release 📮

Aesthetic Notion Templates for Students
Make sure to check out our full guide on Notion templates for students, including a detailed step-by-step tutorial for your setup!
The Ultimate Notion Student Template
With 15+ pre-built, easy-to-use templates and beautiful anime visuals on every page, this template is as functional as it is aesthetic.
Featuring everything from a study hub with pomodoro timer, class tracker, deliverables and assignments database, and virtual notebook, to a built-in grade calculator, extracurricular activities tracker, contact database, budget tracker, student packing list, and so much more – this template has everything you need for success this semester.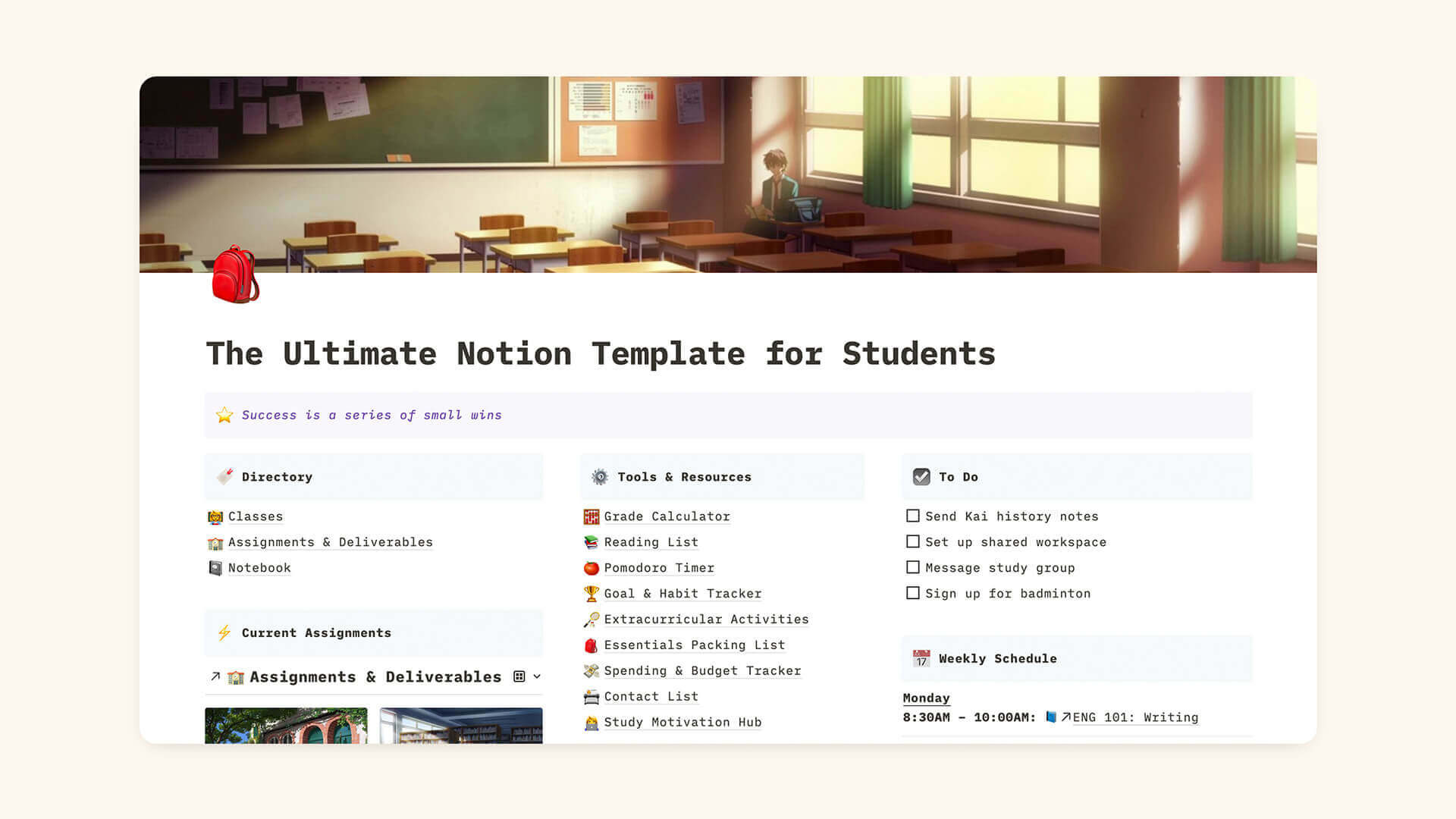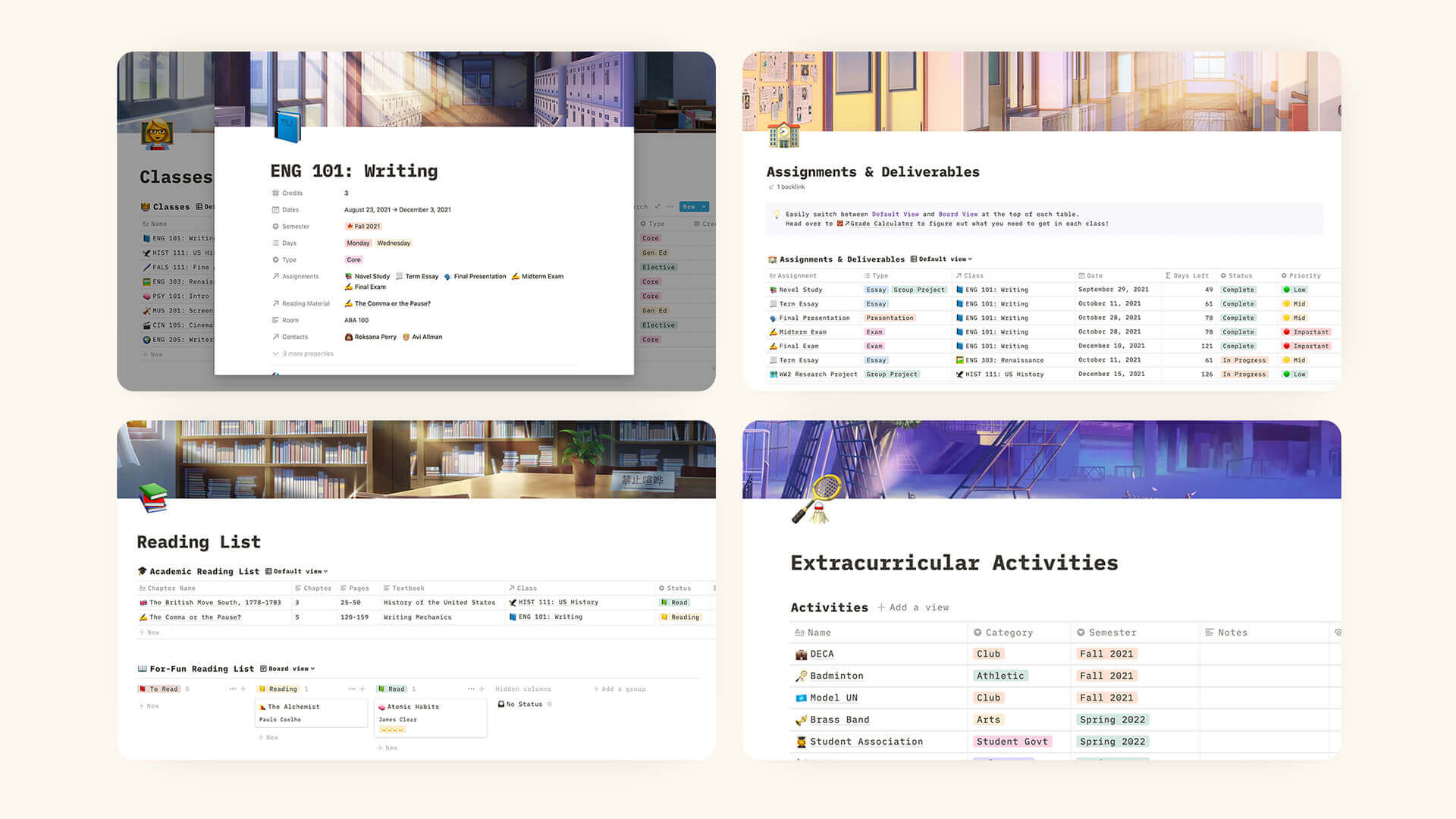 Aesthetic Student Semester Planner & Tracker
Organize everything you need in this digital locker! From lecture note templates, to a homework calendar and review topics, this template will have you passing with flying colors. Looking for more? Check out our full roundup on Notion planner templates!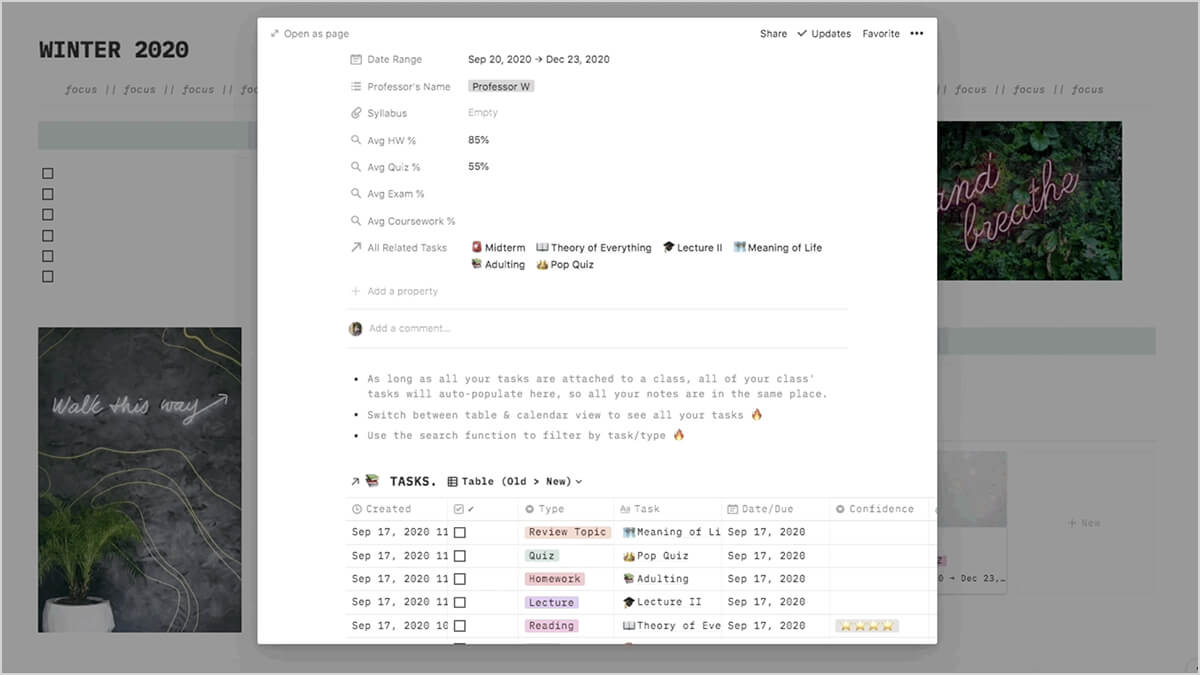 Aesthetic Movie, TV Show & Anime Watch List Template
The only watch list tracker you'll ever need, the Ultimate Movie Watch List Dashboard is simple to use, and will make tracking all your movies and show fun! Simply enter your items you've watched, want to watch, or are watching – and the template will do the rest of the work for you 🍿 Featuring robust automatic organizing and sorting displays.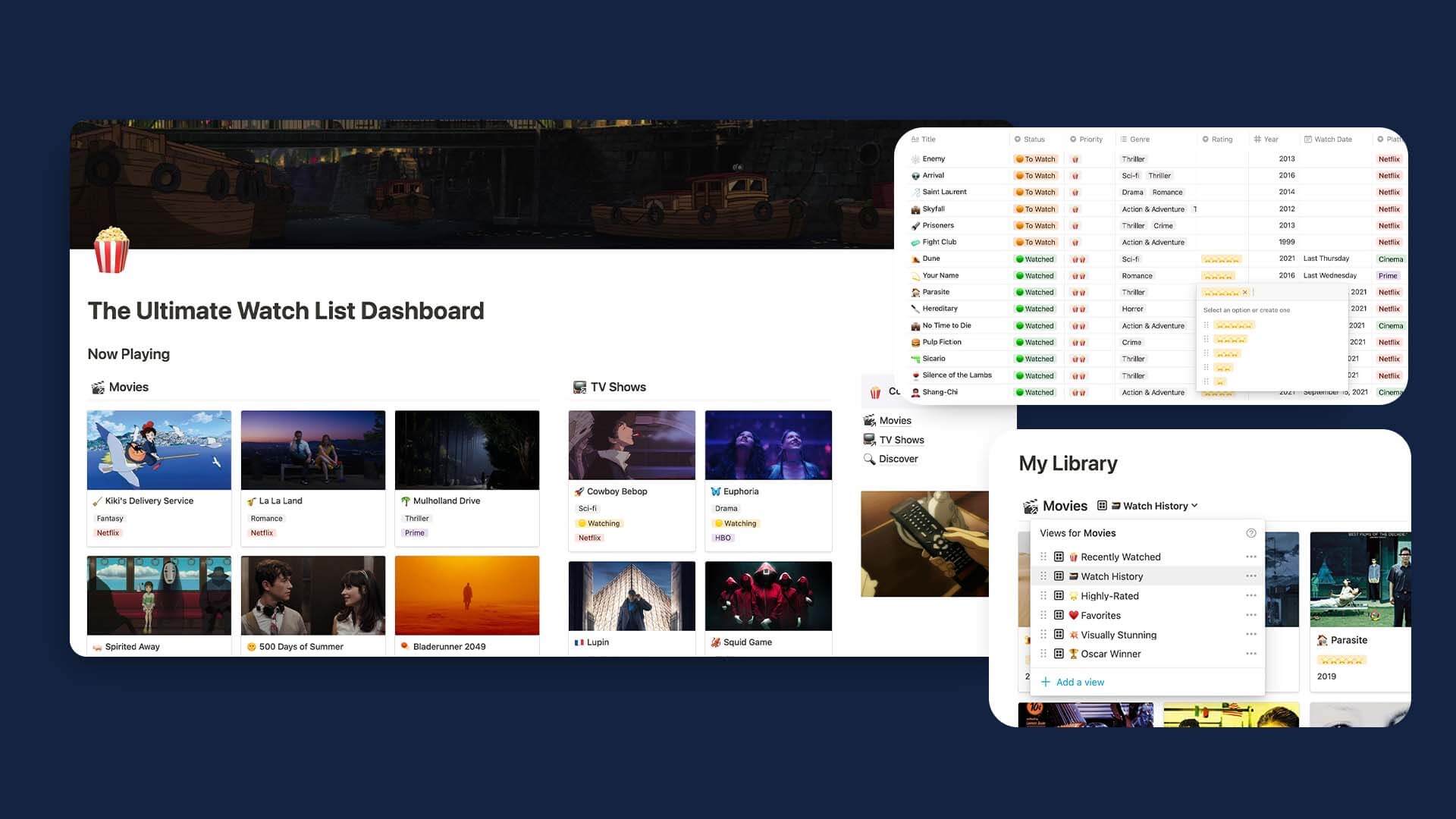 Tomato: Aesthetic Pomodoro Notion Template
Whether you want to conquer small or large tasks, Tomato will help you get it done! Tomato is an all-in-one pomodoro Notion template designed to be used daily, and maximize your productivity. It includes a daily to-do list to map out your tasks (with start/end time, # of pomodoros and more), automatic productivity rating per session, automatic daily recap, built-in pomodoro timer, and more.
For more task-based templates, check out our full roundup of the best Notion to-do list templates!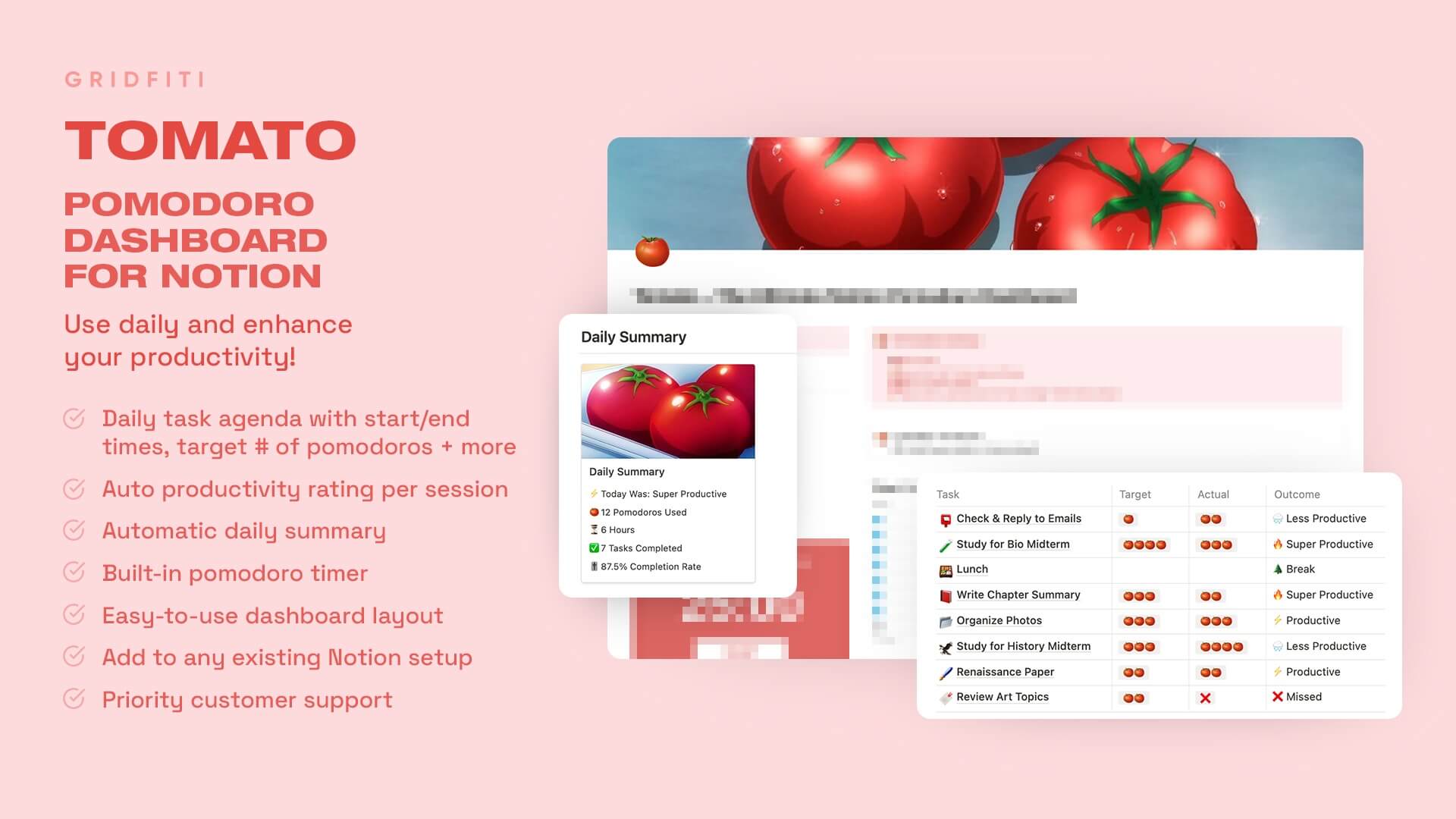 Student Productivity Hub – Anime Notion Template
This plug-and-play aesthetic anime template is incredibly robust, with all the features you need for success at school. Keep track of your schedule, calculate grades and GPA, build a professor directory, and so much more in this seamless setup. The creator, Georgia, has been tinkering with this template to perfection for months, and even made a video guide!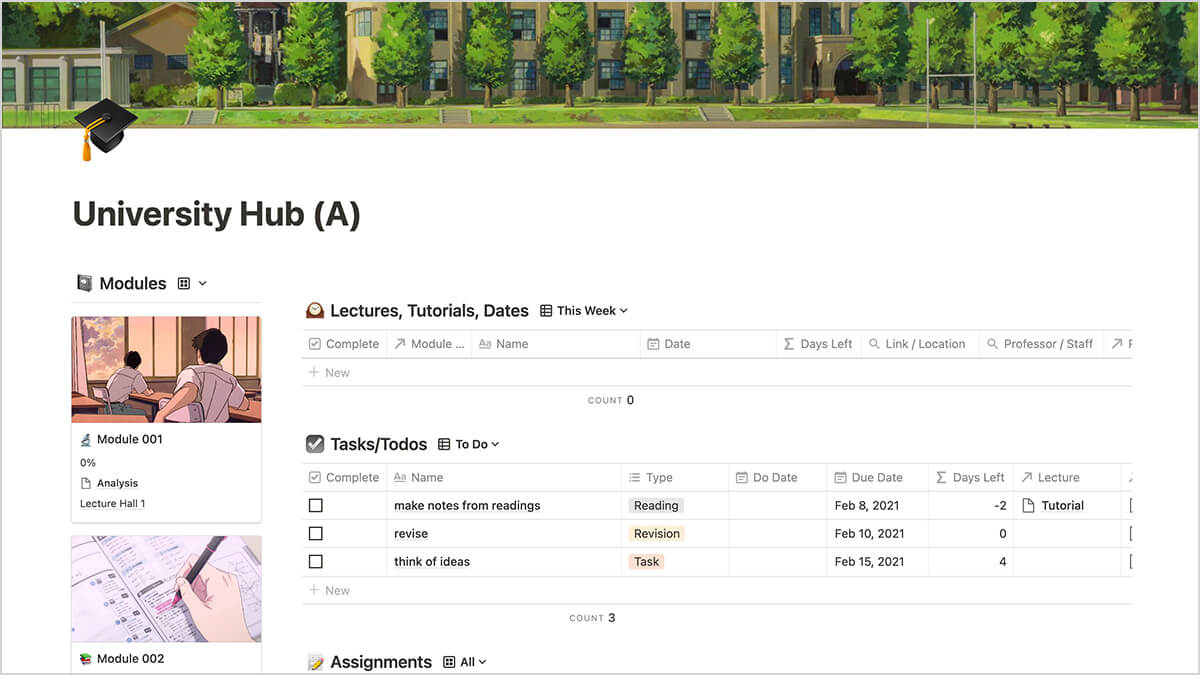 Simple College / University Student Lecture Notes Template
Easily access all your lecture notes and stay organized with this simple and easy-to-adapt template built by The Notion Bar.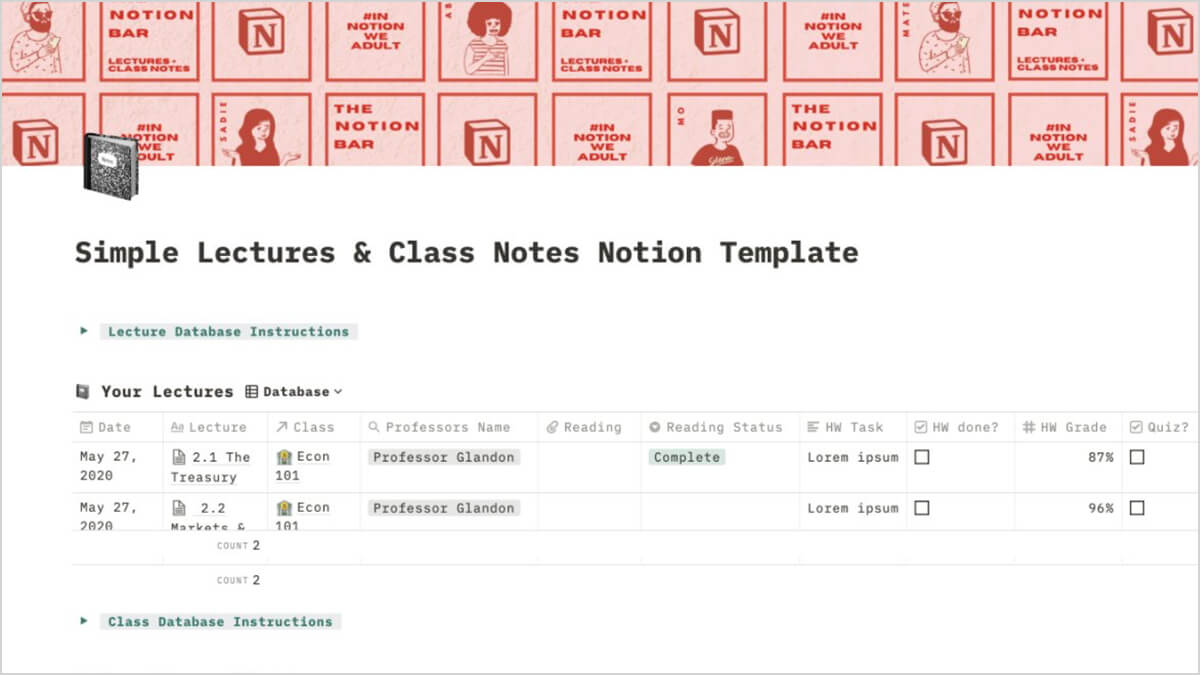 Personal Productivity Notion Templates
Anime Cafe Dashboard – The All-In-One Personal Hub
Have everything for your life in one place with the Anime Cafe Dashboard! Featuring 15+ pre-built templates from habit tracking and a daily journal, to a recipe planner, moodboard template, travel planner, watch list, study zone with pomodoro, and so much more – walk into your personal virtual cafe every morning for anything you need.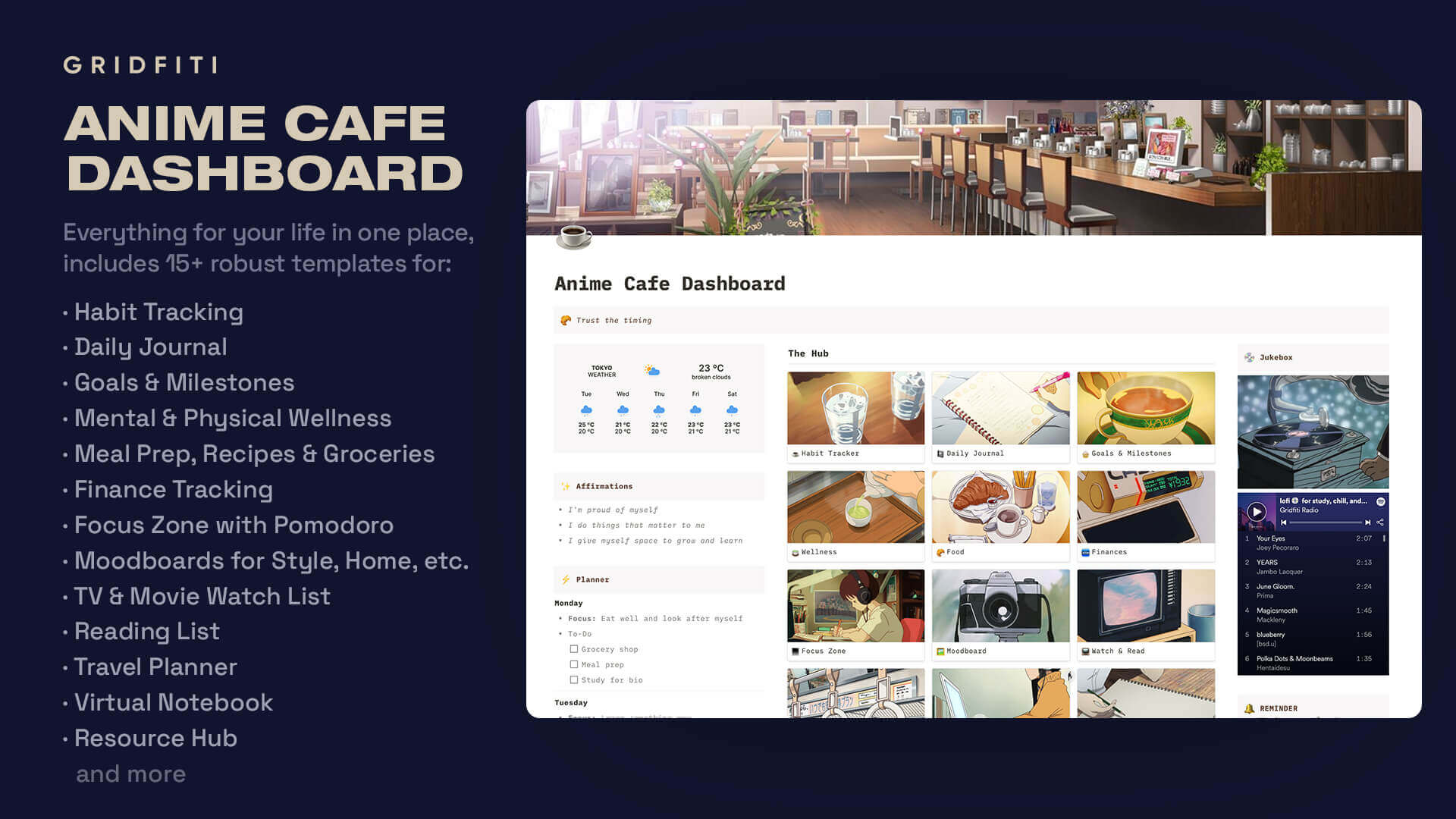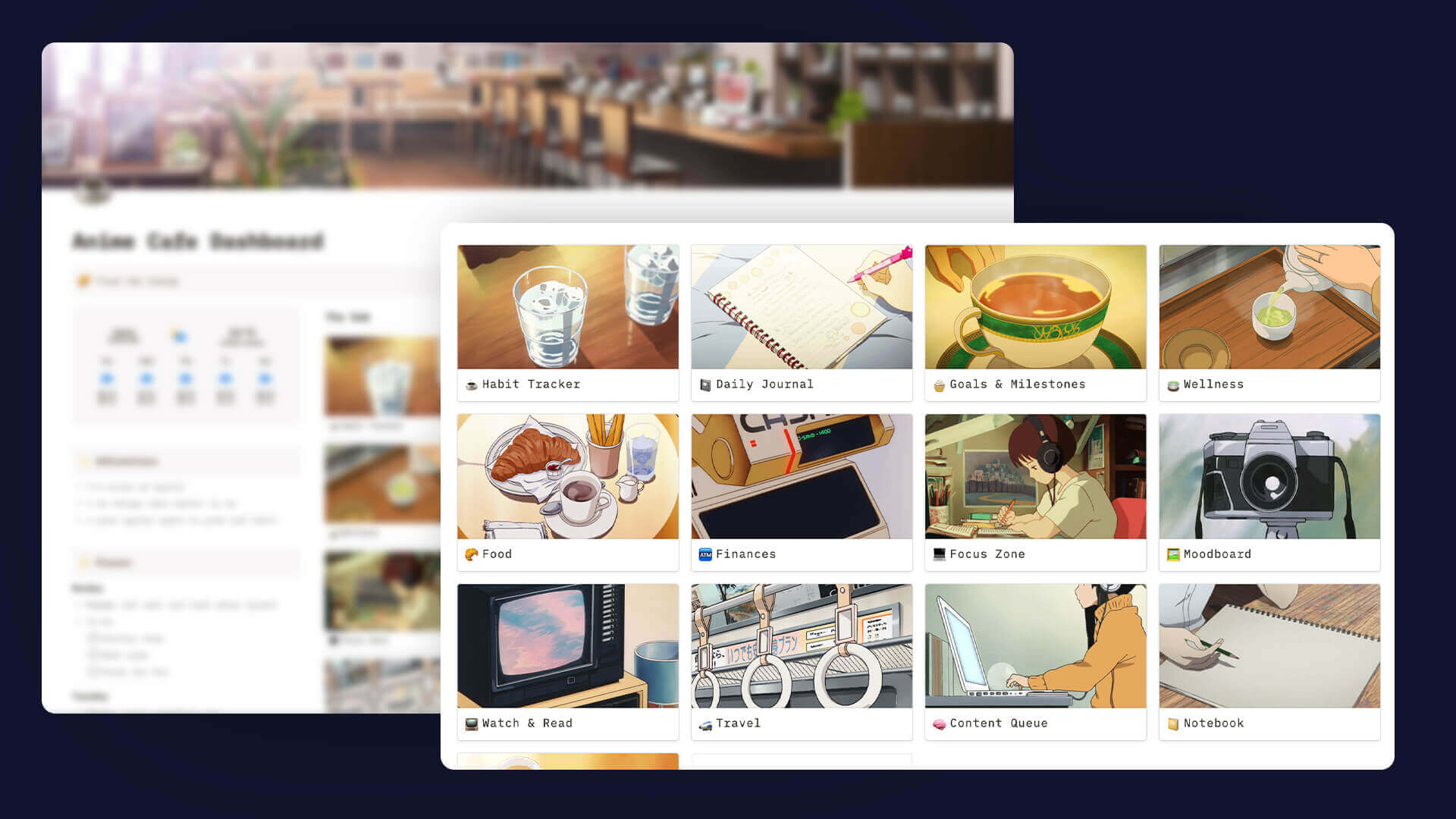 Aura Gradient All-in-One Notion Dashboard
Whether you love the TikTok-famous Aura Clock Screensaver or just want a beautiful, calming dashboard – the Aura Notion Dashboard includes 15+ pre-built templates for all aspects of life. This dashboard even includes a live Aura Clock widget to keep track of the time in the most aesthetically pleasing way.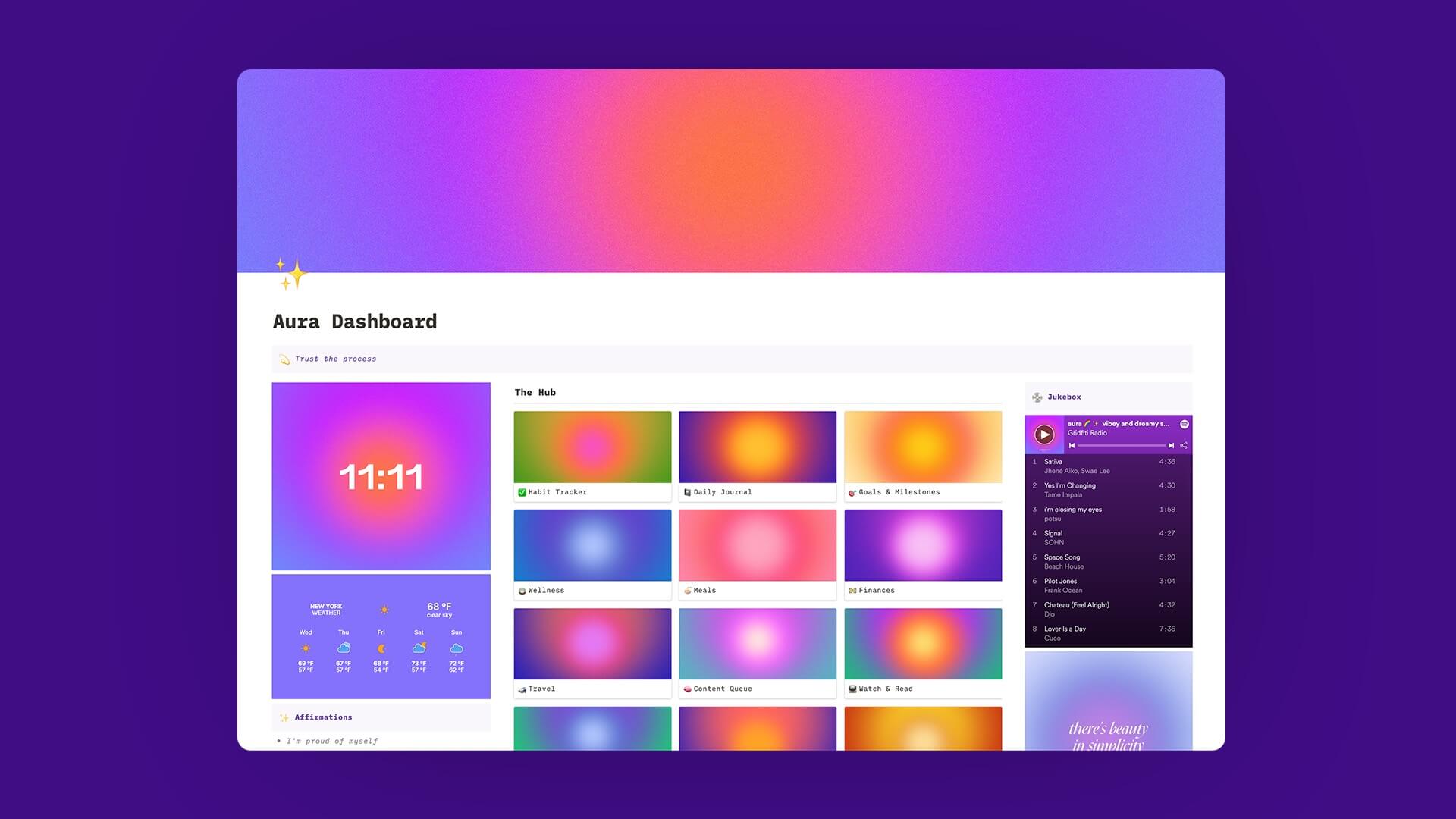 Ultimate Personal Finance Dashboard for Notion
Track your finances in the most pleasing way with the Ultimate Personal Finance Dashboard for Notion! This template boasts 10+ built-in templates and tools to have your budgeting and personal finances all in one place. Not to mention aesthetic visuals and priority customer support.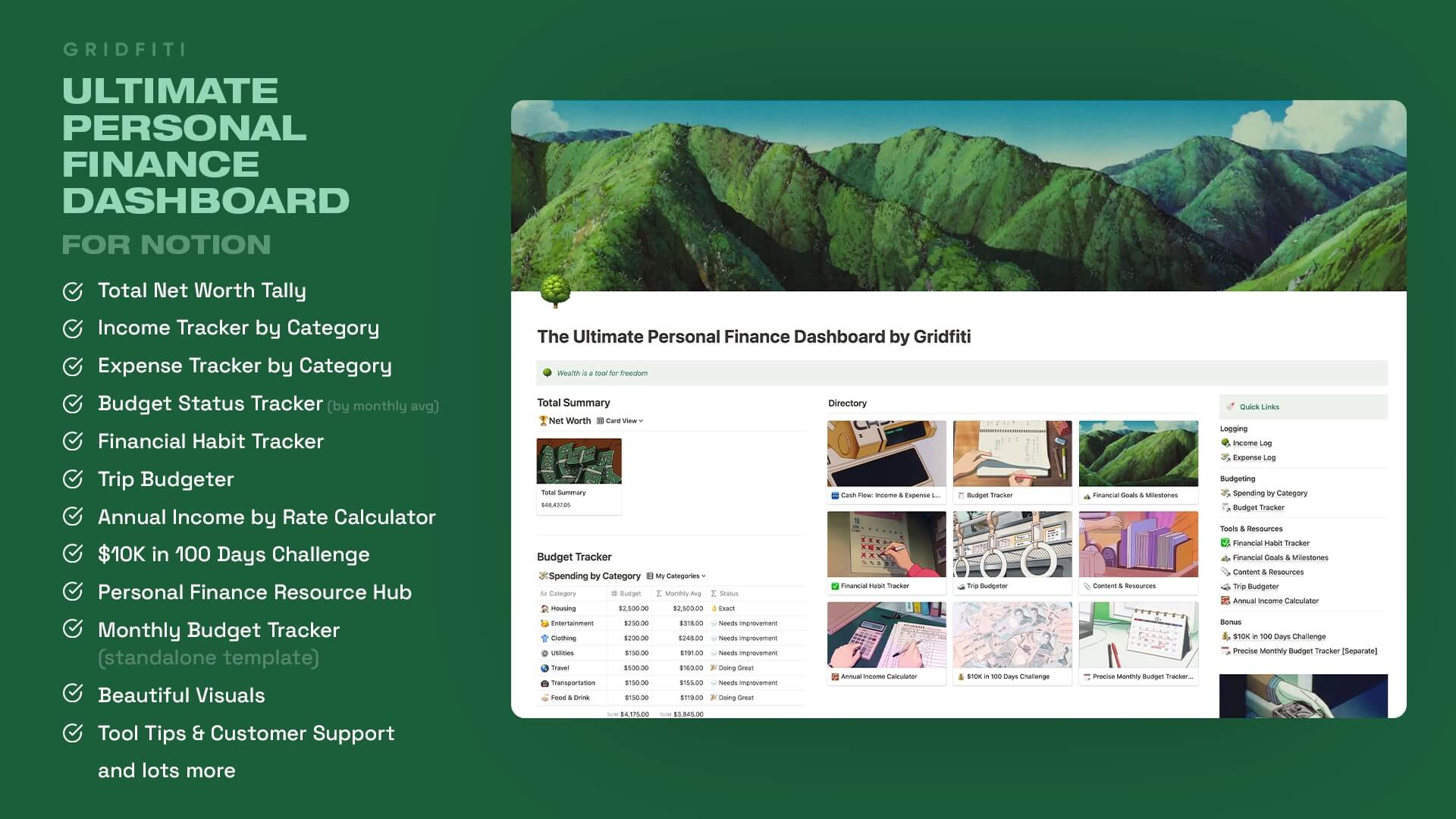 The Happiness Bar – Self Care & Gratitude Journal
This must-have gratitude and productivity journal will help you live with intention. It has built-in tools that will help keep you focussed on your personal wellbeing, set goals and habits, track progress, and even reflect on past memories like travel or shows you've binged!
Looking for more mood journals and trackers for Notion? Don't miss our curated list of the best Notion mood tracker templates!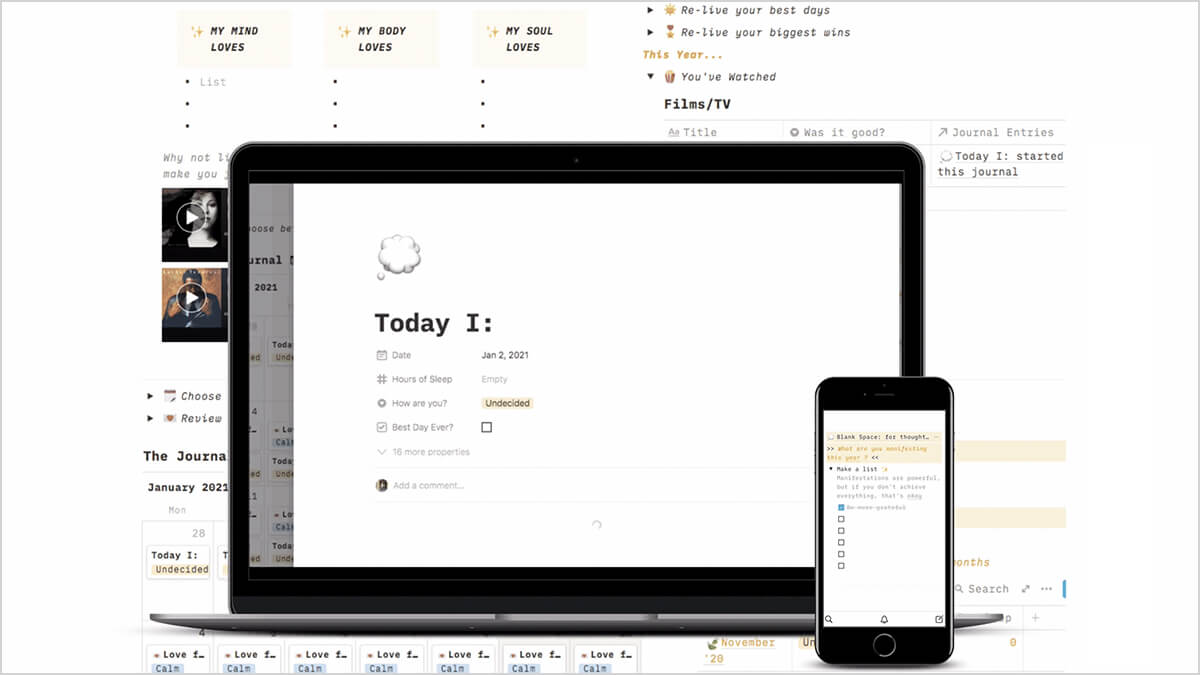 Startup Coding Projects Notion Template
Organize all your ideas for your coding projects in one place with this aesthetic template! This robust setup helps you keep track of resources for both current projects and online learning, project statuses, coding skills you have and skills you would like to learn, and more.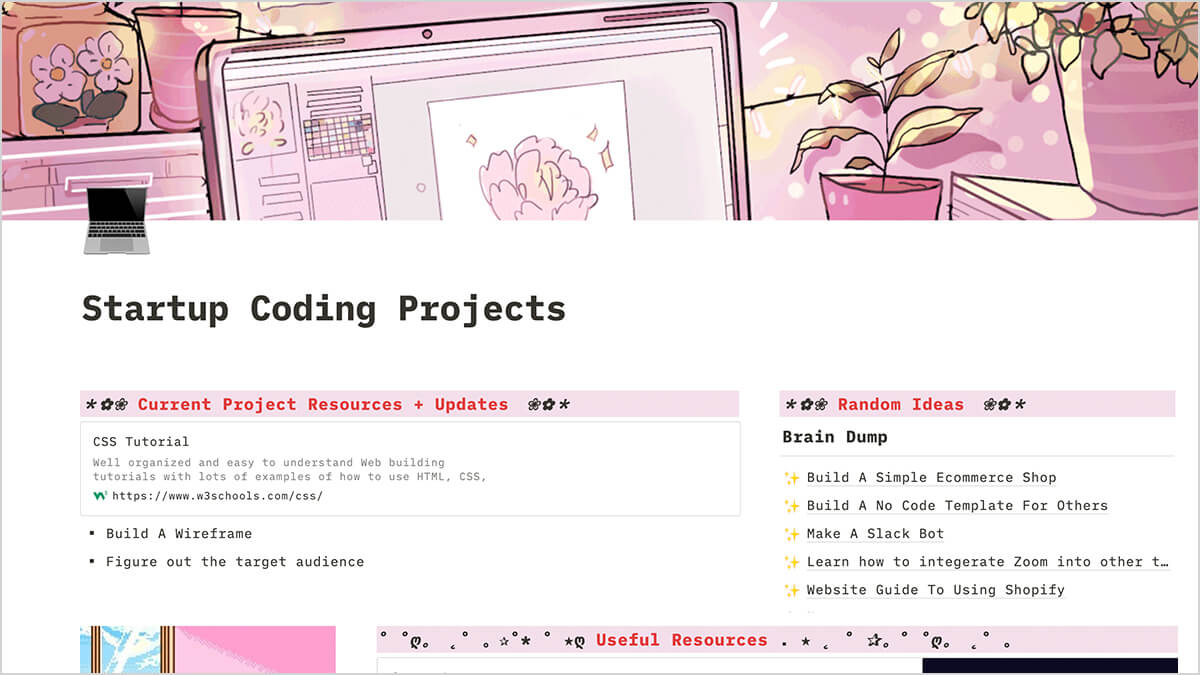 Digital Resume & CV Template
Impress your future employer in a clean, simple format thanks to this handy Notion template.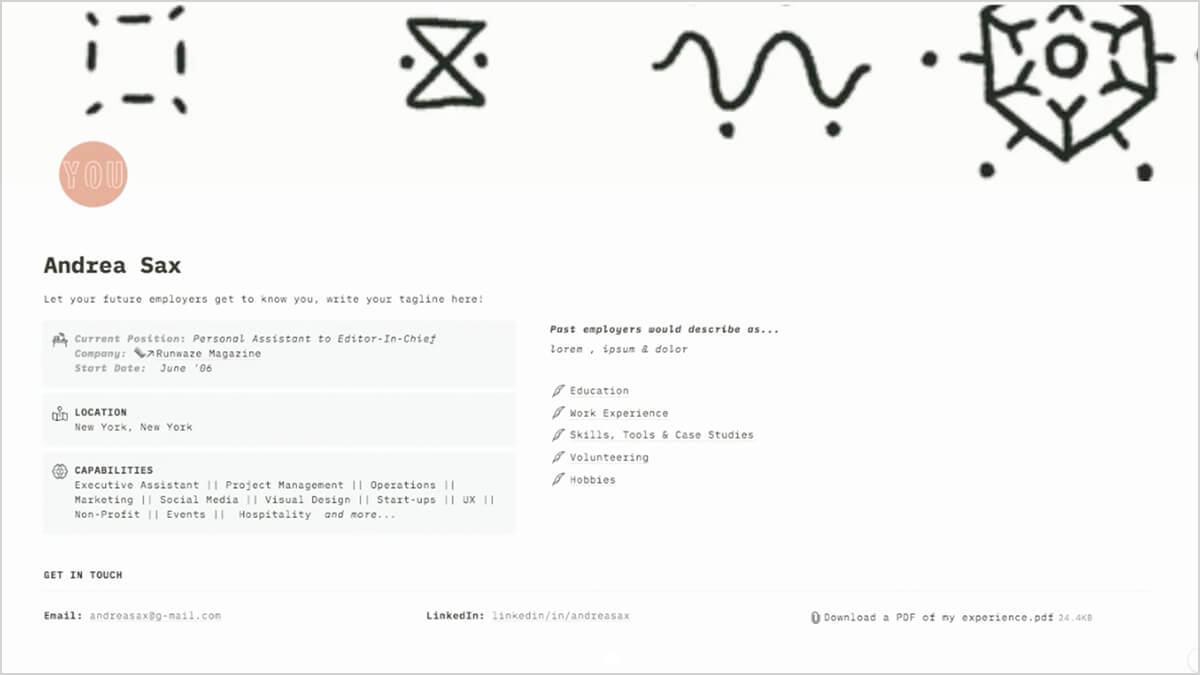 Notion Grocery List Template
Streamline your grocery shopping and meal prep with this simple-to-use Notion template! Once you've created your list on desktop, easily access it on-the-go while you're at the store with Notion's mobile app.
Looking for more shopping lists? Check out our full roundup of Notion grocery list templates!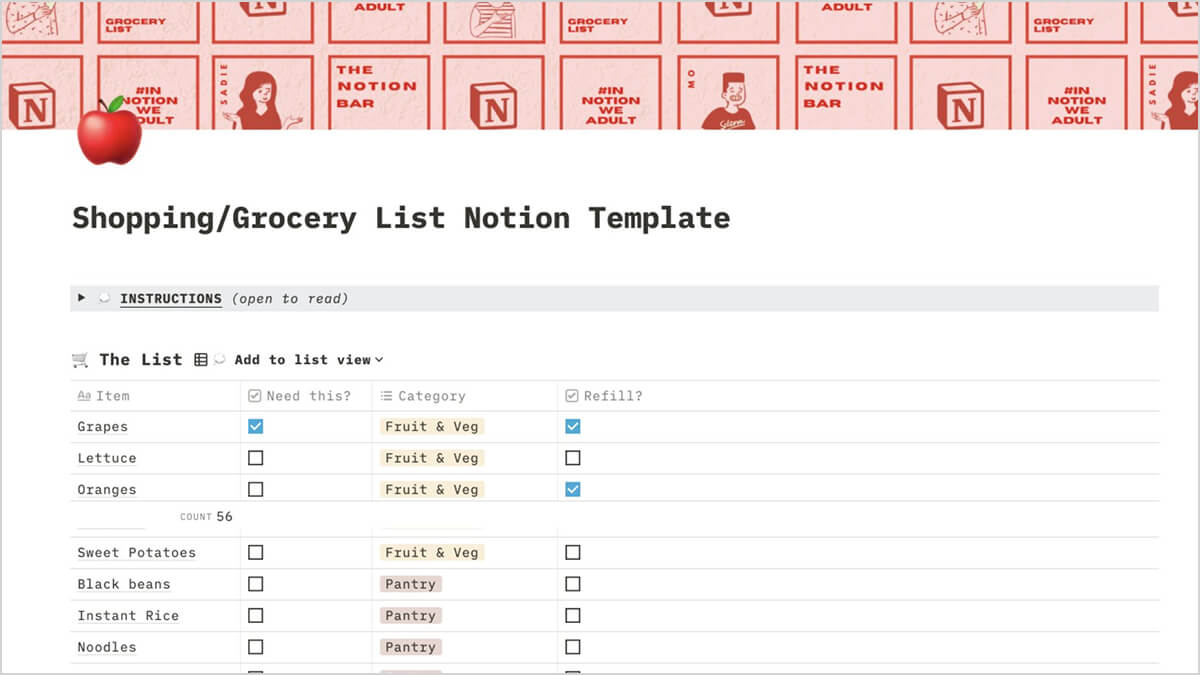 Gifting Guide & Tracker Notion Template
Be the friend everyone wishes they had with this gift guide and wishlist template! This setup features categories to organize your gifts, a tracking system of gifts to buy for friends and family, a birthday tracker, and even a setup to create your own wishlist.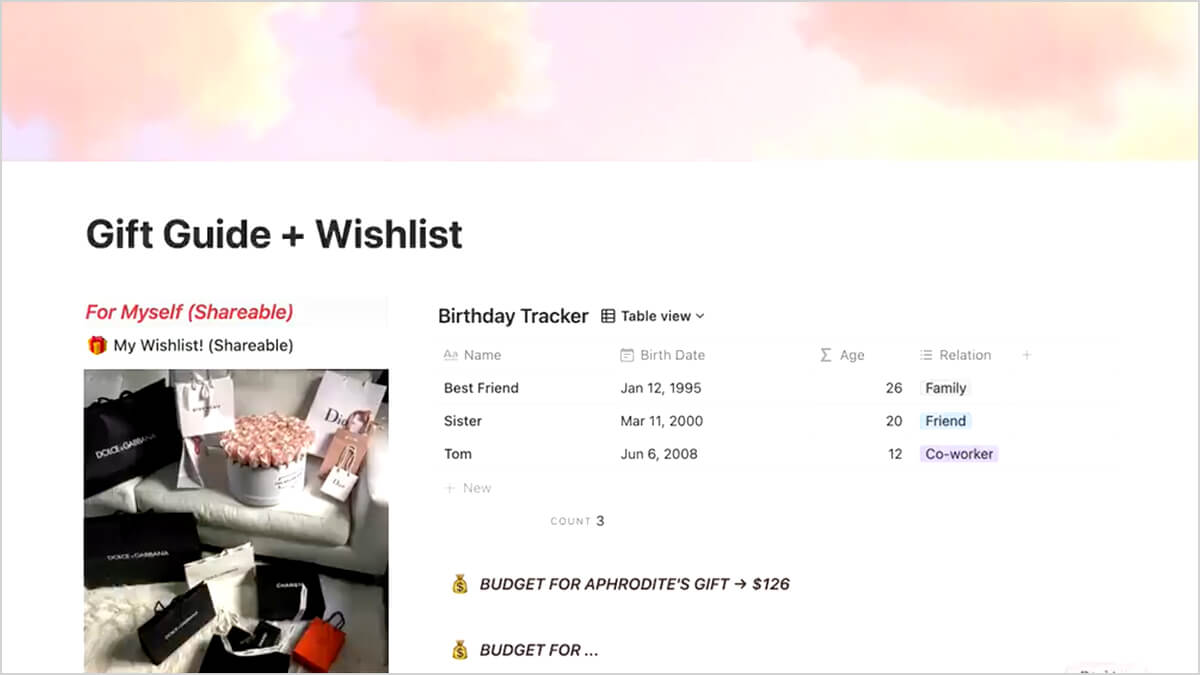 Aesthetic Notion Layout Ideas & Theme Inspo
Great, now you've downloaded a Notion template, but how do you customize your workspace to take it to the next level? Get some inspo from these aesthetic Notion themes!
Aesthetic Notion Themes for Students
Aesthetic Study Widgets
Make your setup both beautiful and functional by embedding aesthetic widgets ranging from clock widgets, to quote widgets, and even a Pomodoro widget!
Widgets Available Here: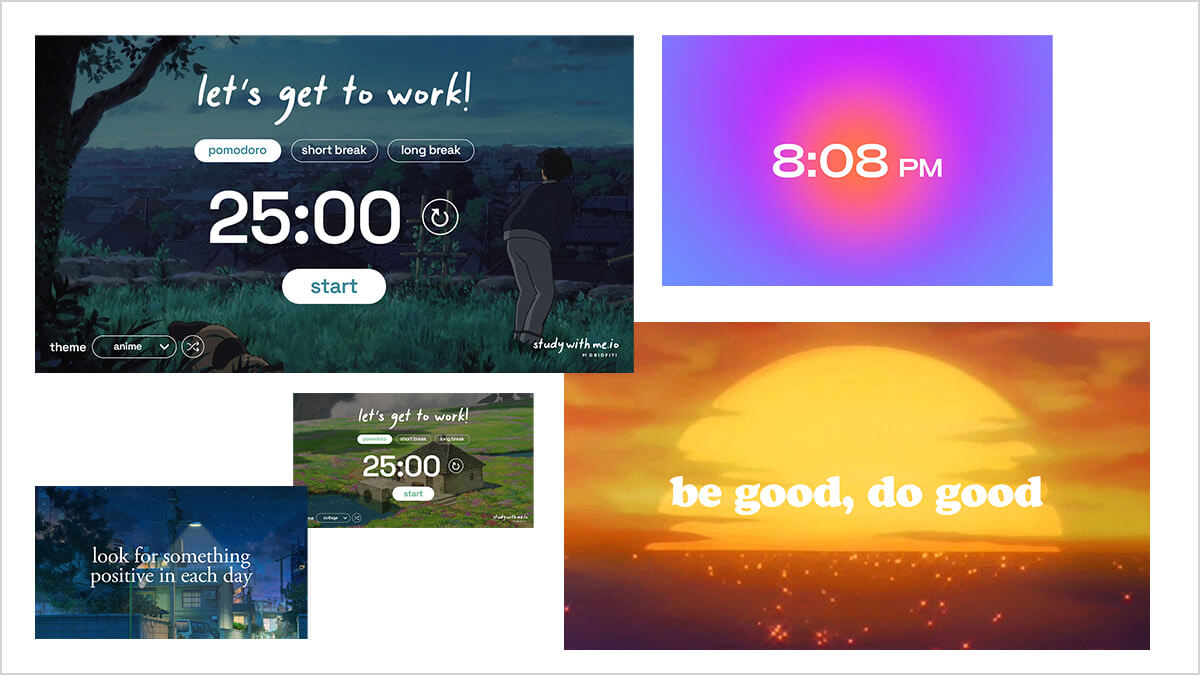 Courses Wiki & Grades Tracker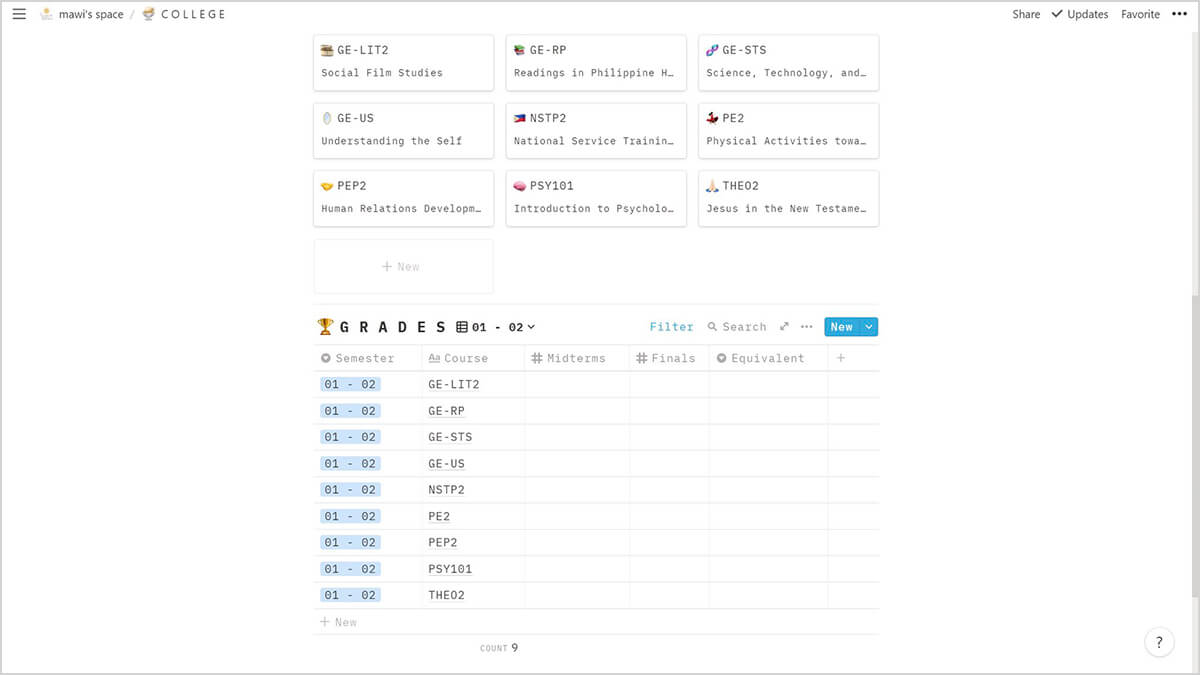 Setup by @mawistudies
90s Anime Aesthetic Notion Template for School
Deck out your student setup with your favorite 90s anime visuals!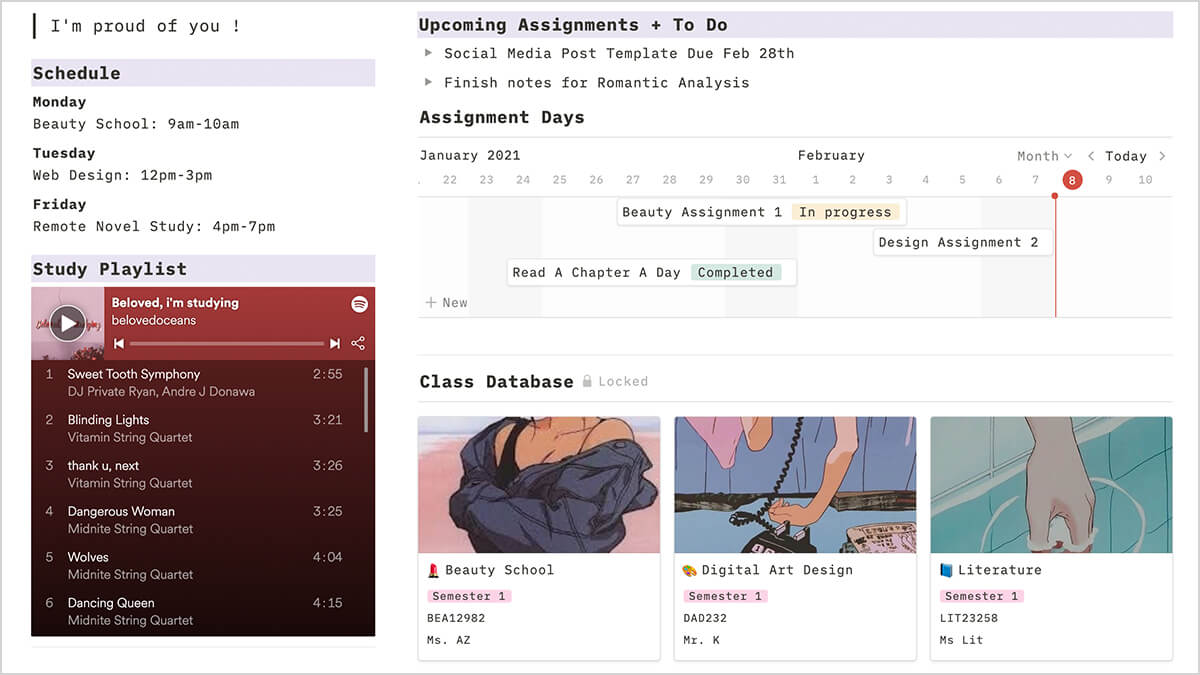 Setup by Beloved Ocean
Personal & Self-Improvement Notion Setups
Want ideas for how to organize your life in Notion beyond school and work? Get inspired by these layouts and personal wikis!
To-Do List & Routine Dashboard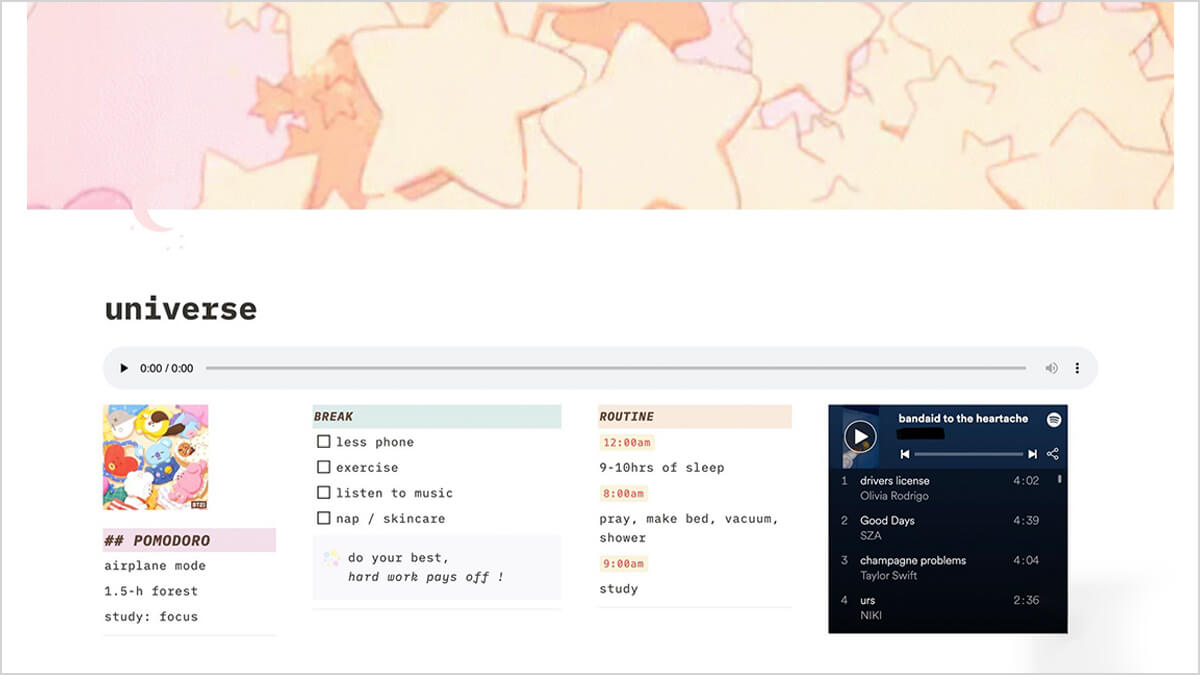 Setup by @strawberrui
Self Improvement Notion Setup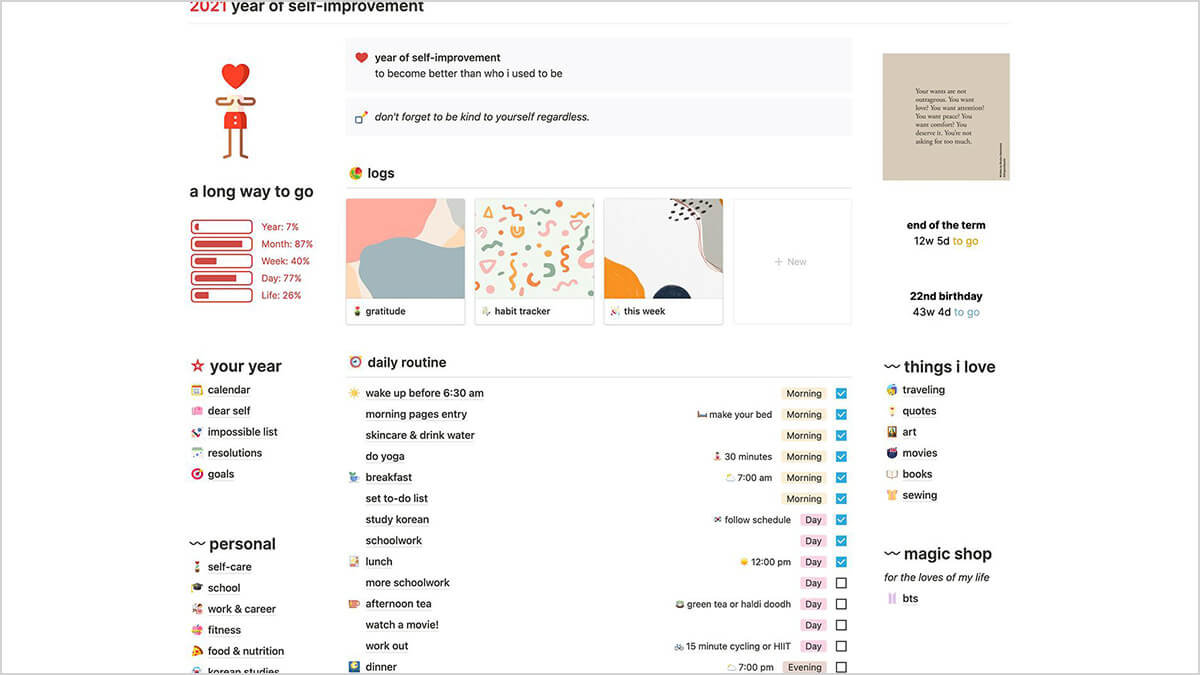 Setup by u/saeju29
Book List & Reading Journal Aesthetic Notion Layout
Looking for more book lists? Check out our full roundup of the best Notion reading list templates!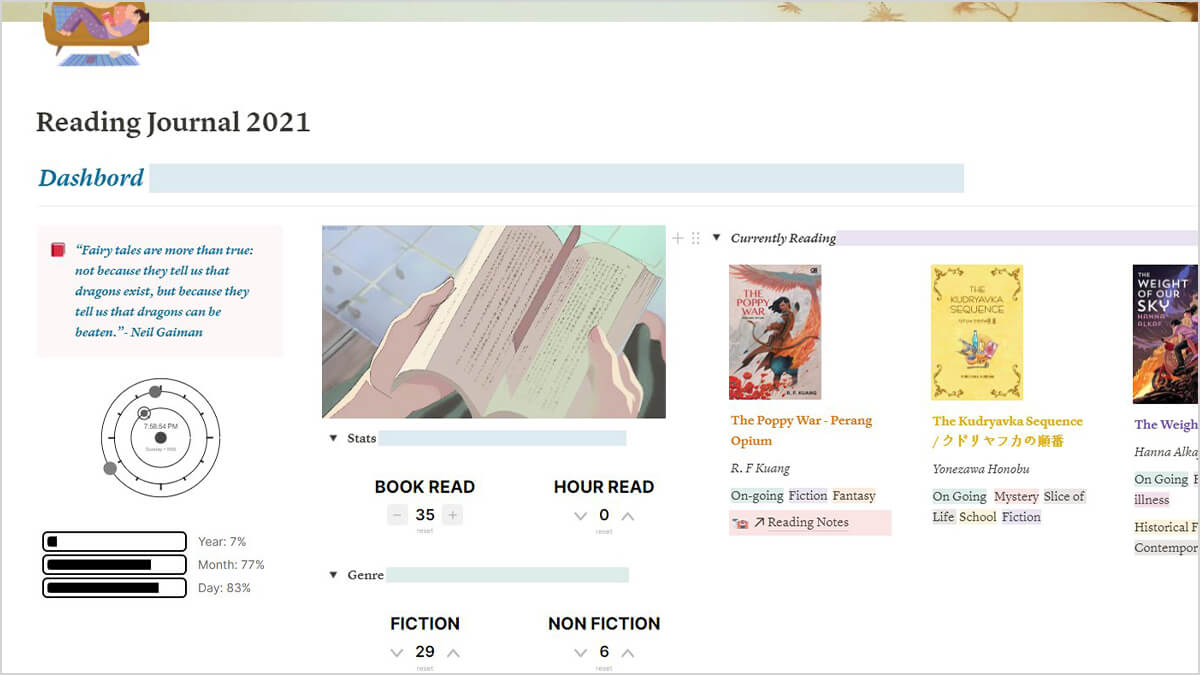 Setup by @papermanegarie
TV Series Watch List & Tracker
Looking for more templates to track your movies and shows? Check out our roundup of Notion watch list templates!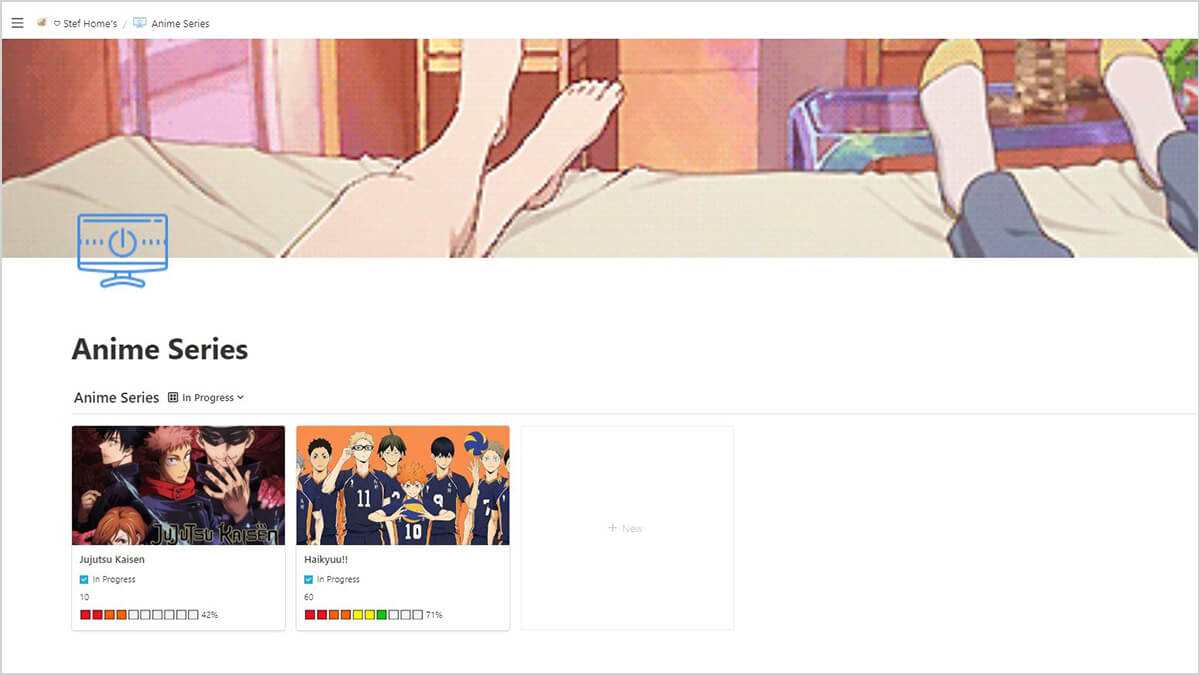 Setup by @papermanegarie
TV Show, Movie & Video Game Themes
Express your love for your favorite franchises with your Notion theme!
Sailor Moon Aesthetic Notion Theme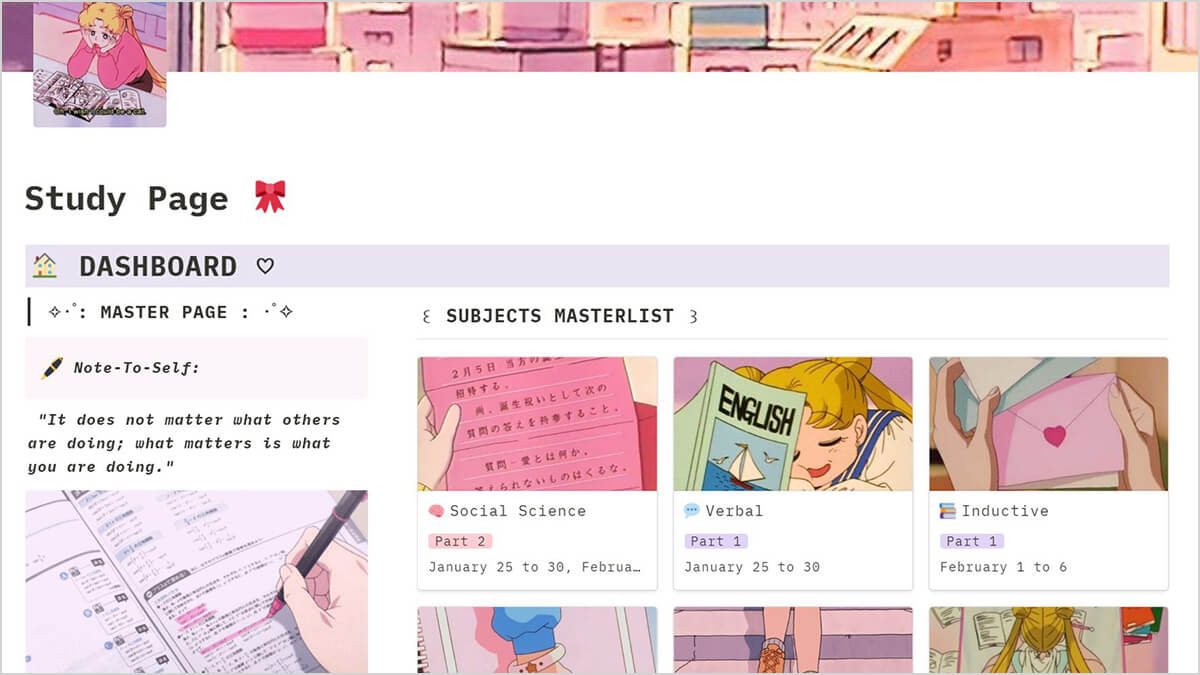 Setup by @daphnedi_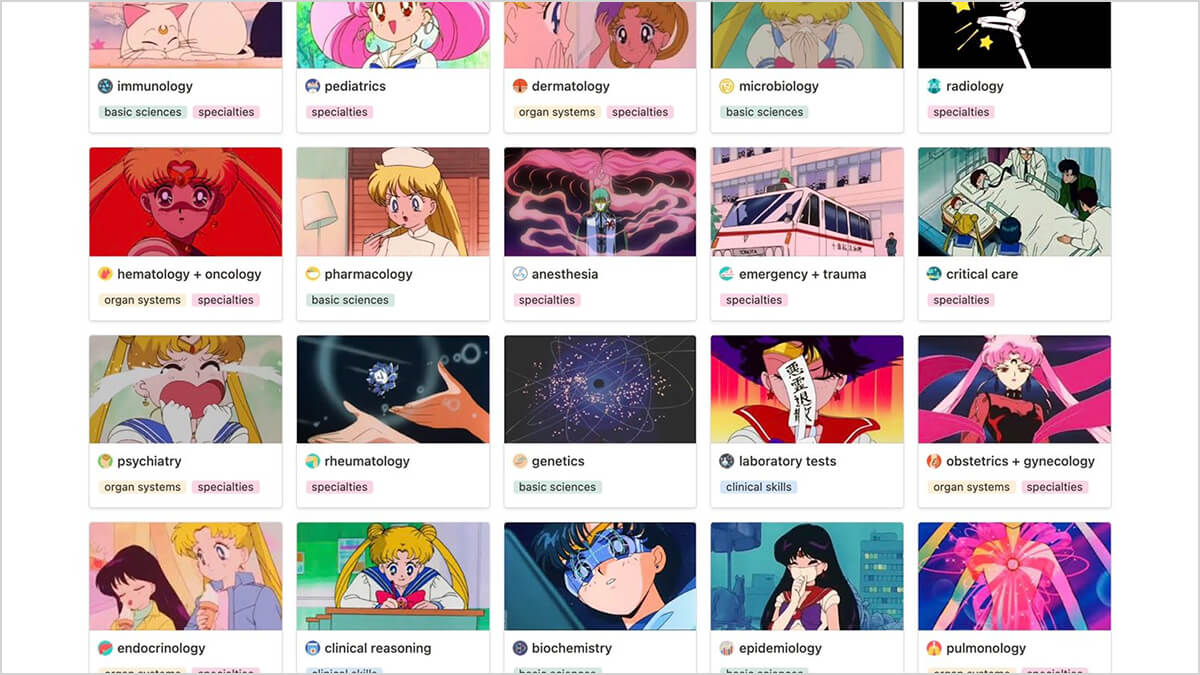 Setup by @nwghibli
Studio Ghibli Notion Theme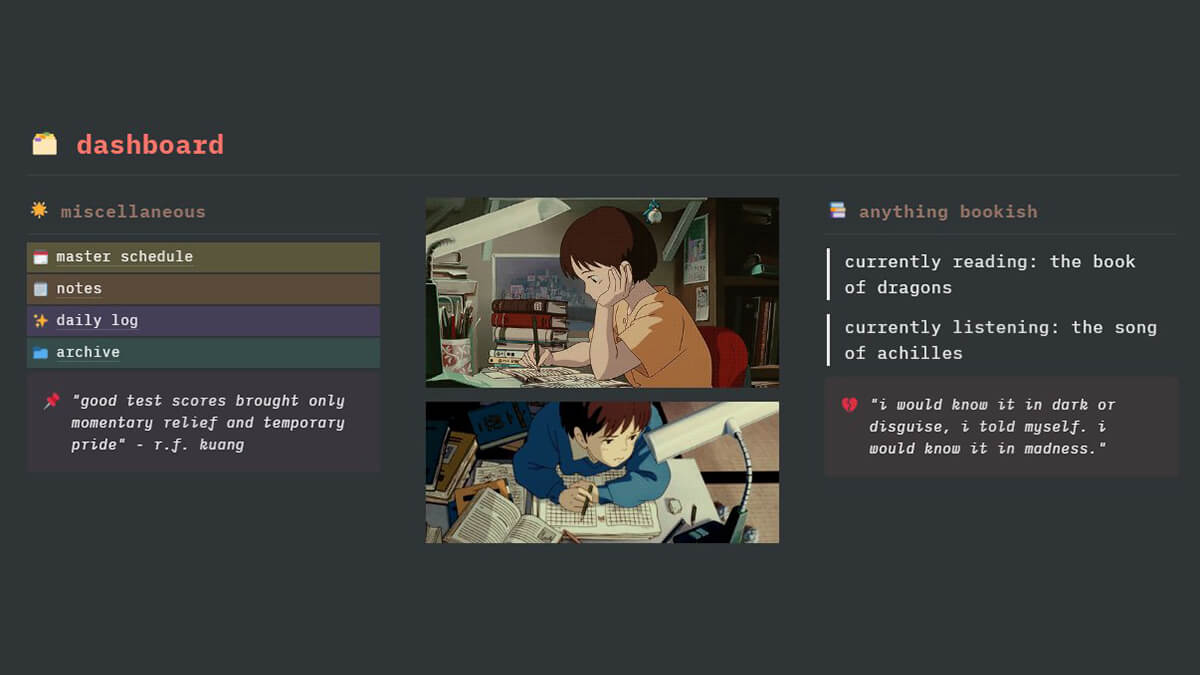 Setup by @bookdragonism
Stardew Valley-Inspired Notion Theme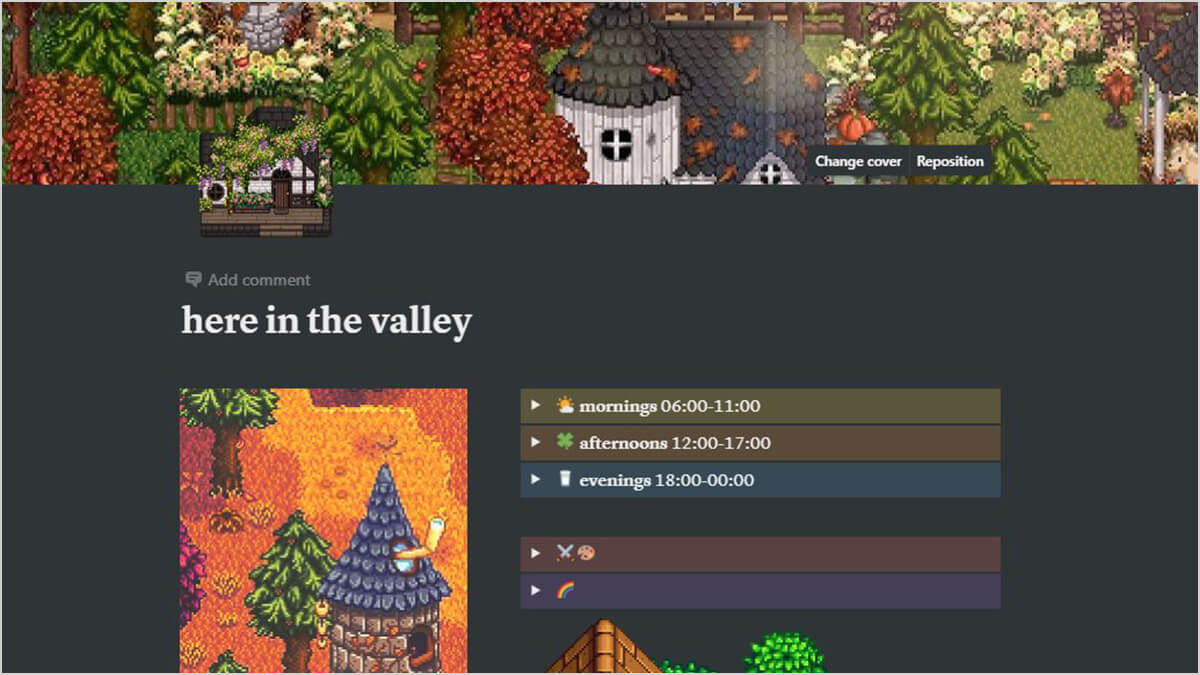 Setup by @moonmincake
Animal Crossing New Horizons Notion Theme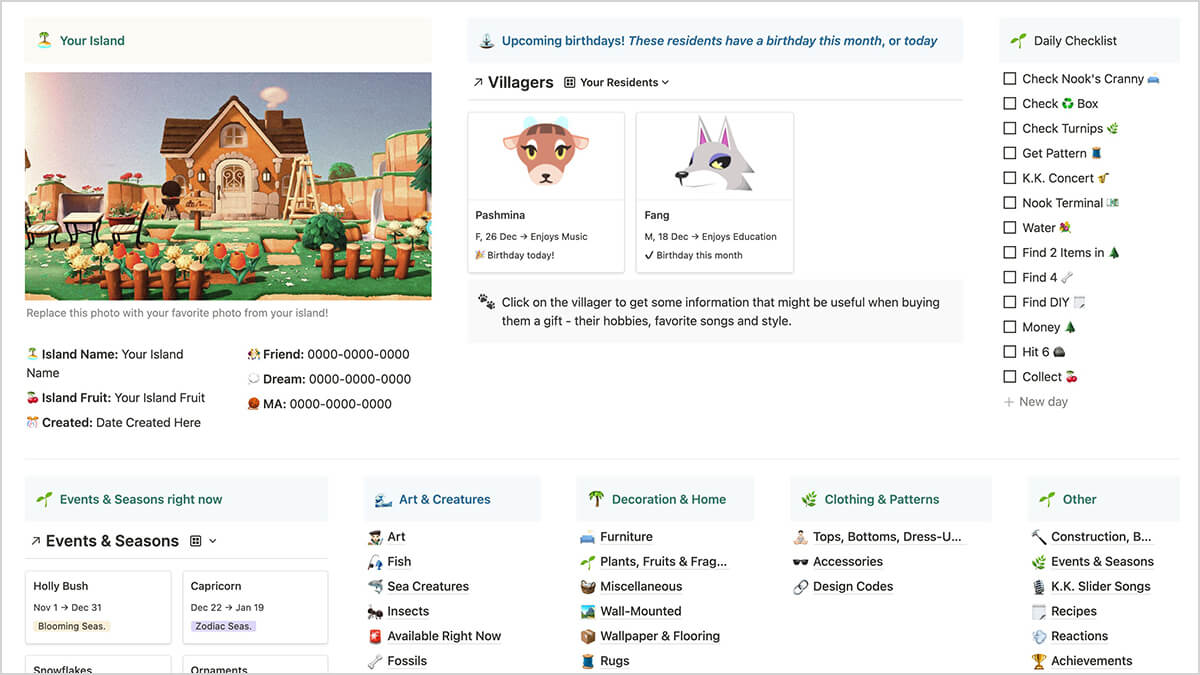 Setup by @norahsketch
Color Aesthetic Notion Themes
Want a simple way to make your Notion setup more visually pleasing? Just add splashes of your favorite color! If you're in need of some color inspo, check out our pre-built aesthetic color palettes.
Pink Aesthetic Notion Theme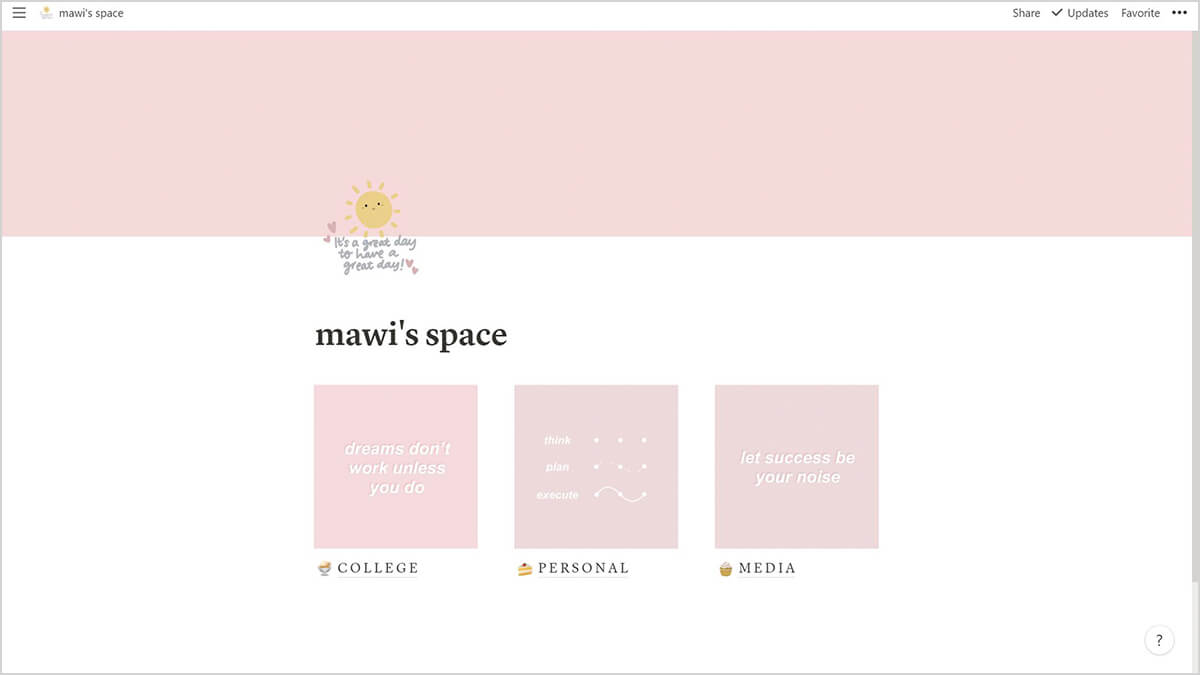 Setup by u/giraldibunny
Black & White Aesthetic Notion Theme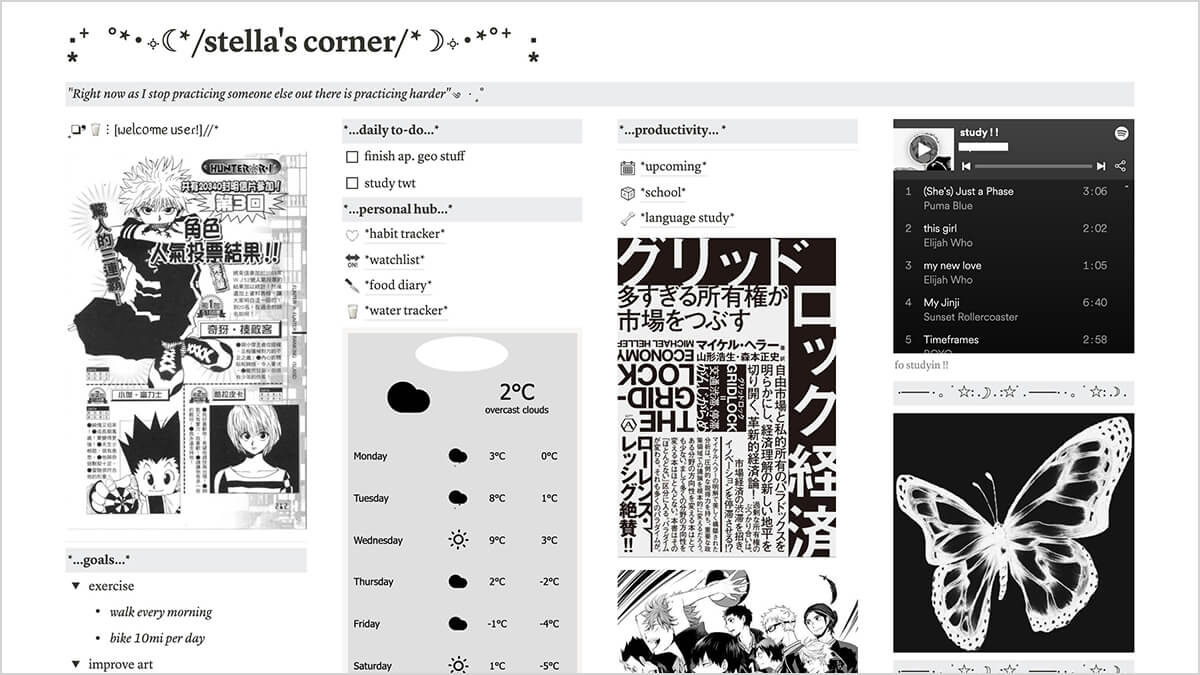 Setup by @apricotstudies
Blue Aesthetic Notion Theme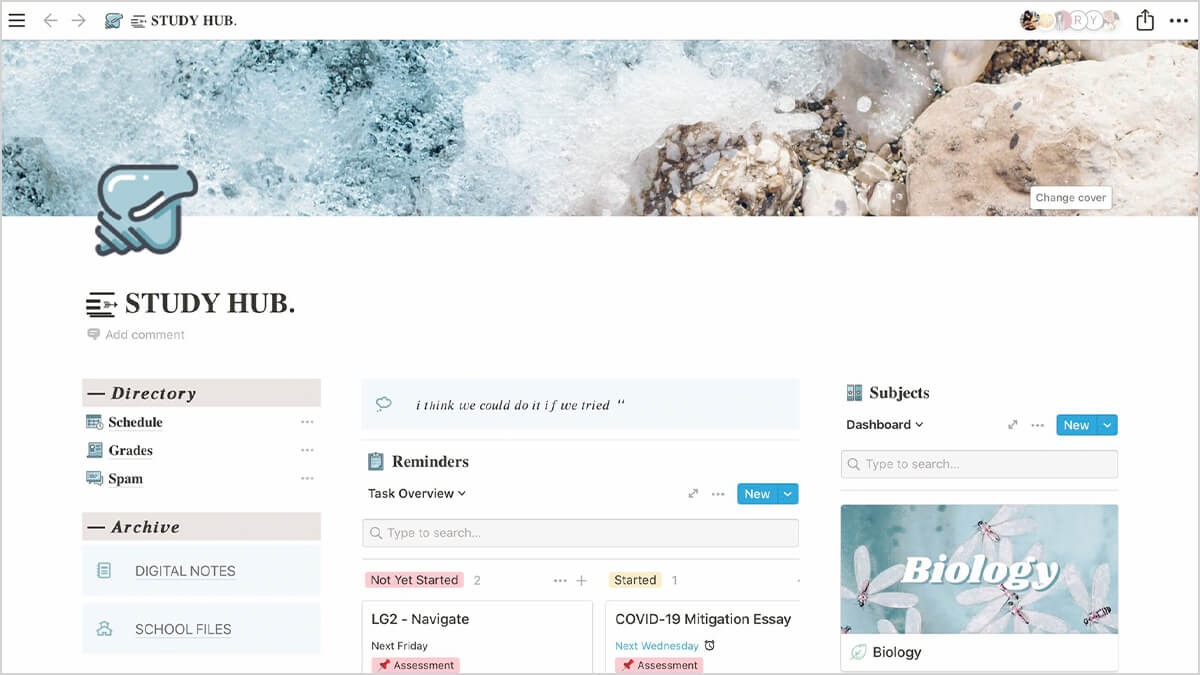 Setup by @indiskolar
Calming Gradient Aesthetic Theme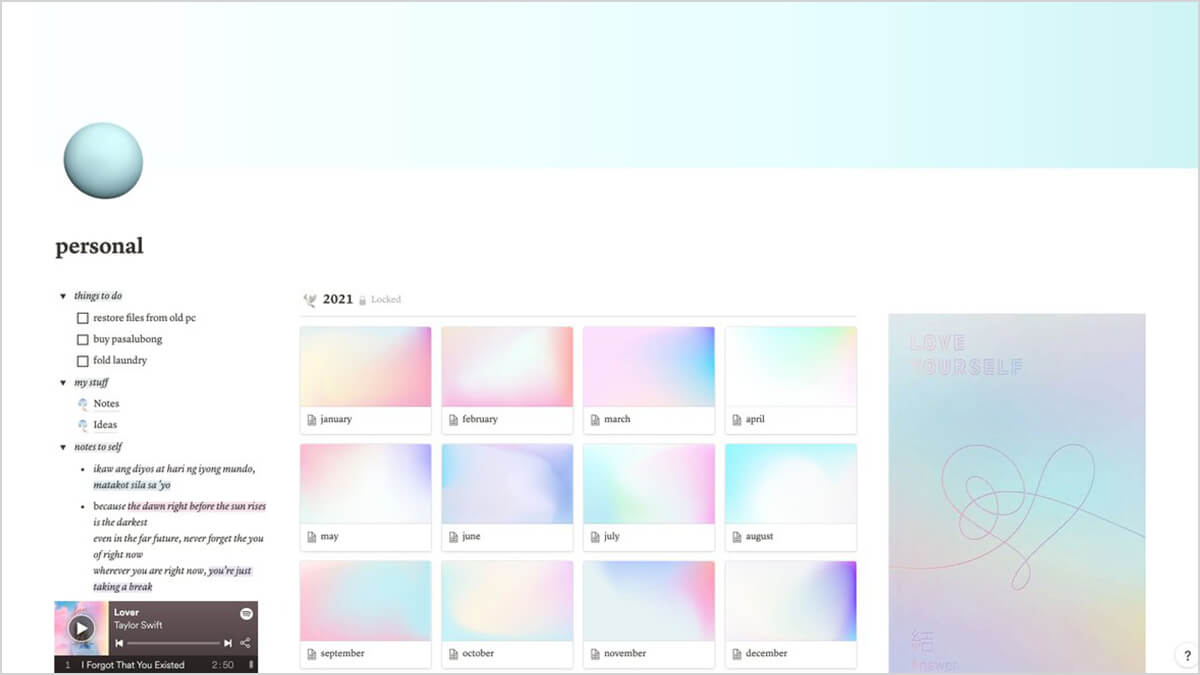 Setup by @ekonomiyaki__
Green Aesthetic Theme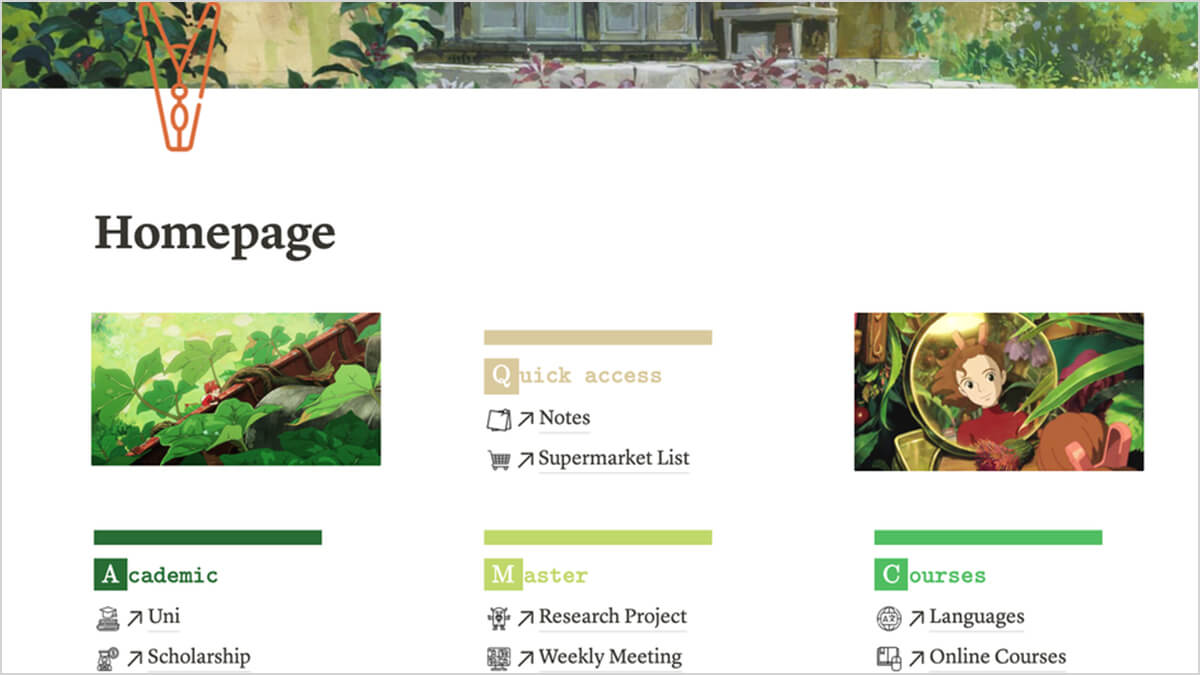 Setup by u/csergilo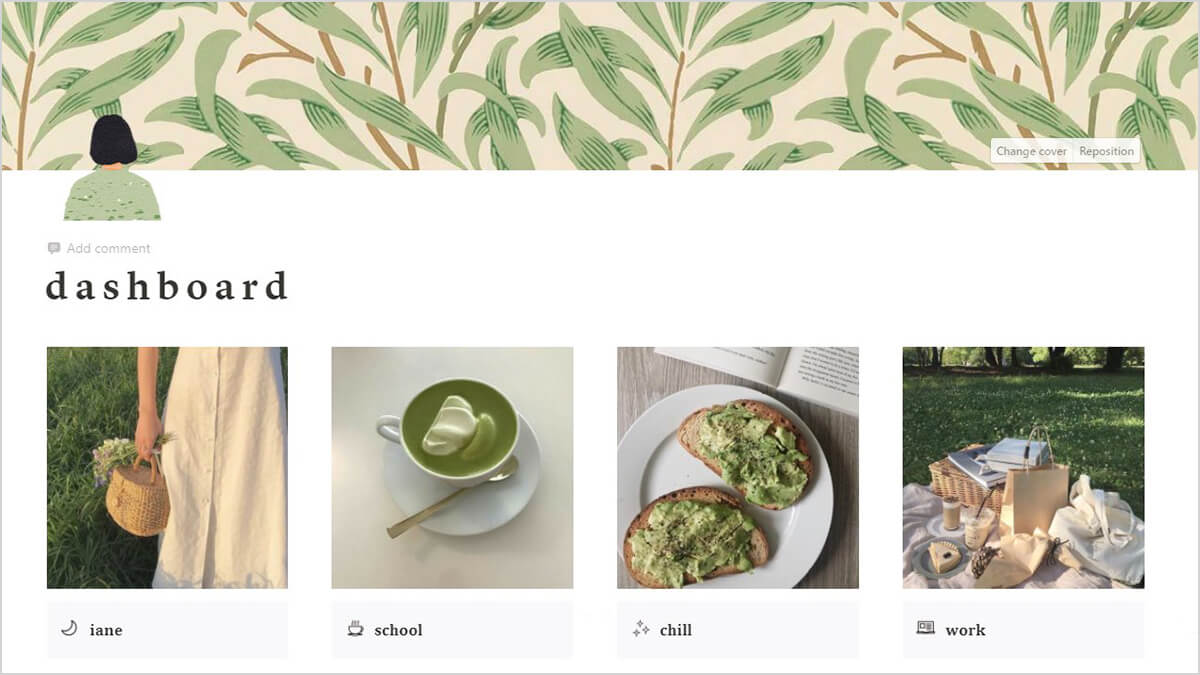 Setup by @xnthous
Colorful Pastel Pink Theme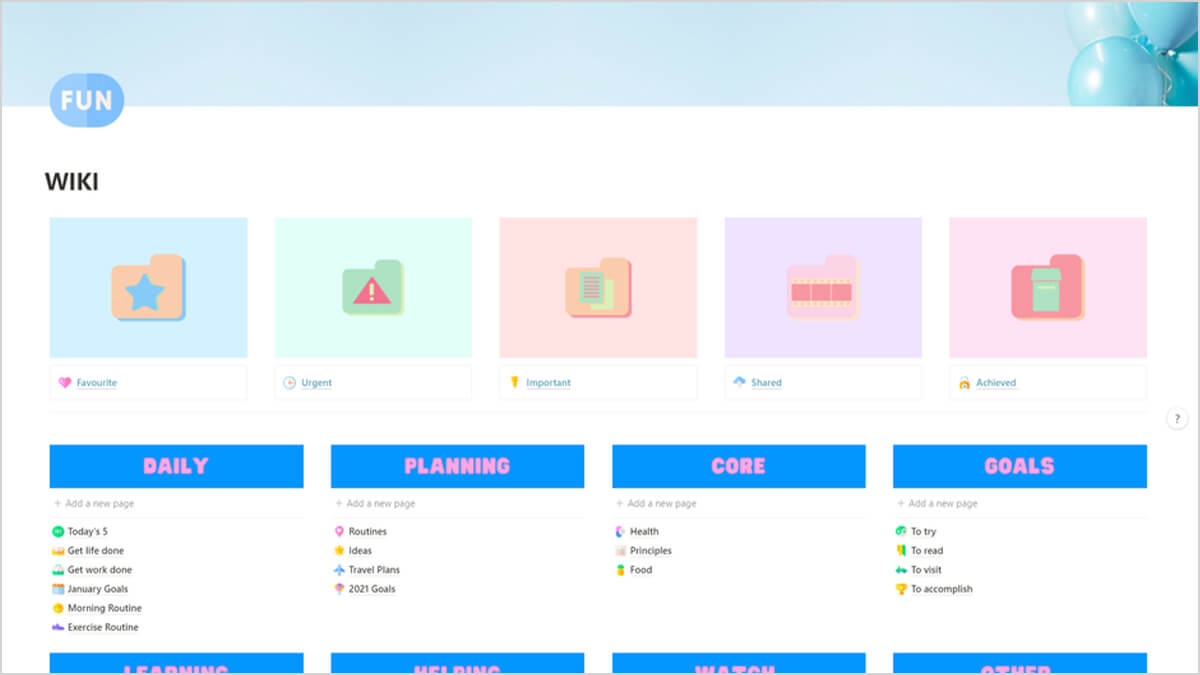 Setup by u/Ellllaa
Bright Pastel Aesthetic Theme
Setup by @dianapasgas
Minimal Pastel Pink Theme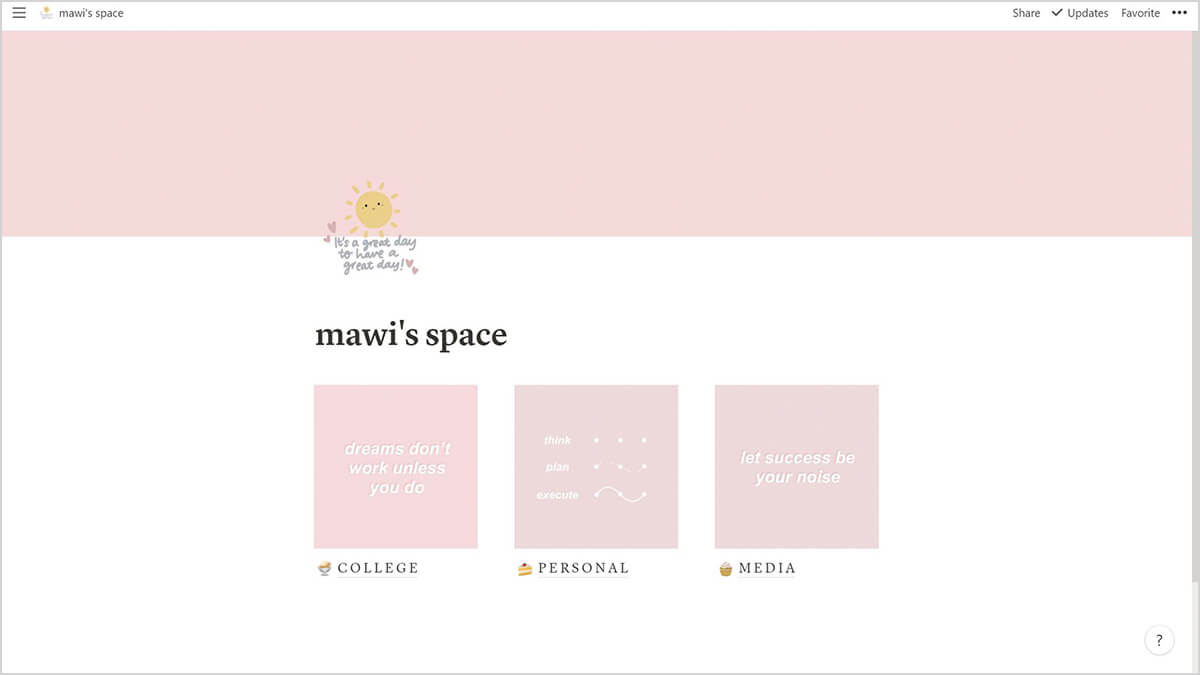 Setup by @mawistudies
Minimal Color Swatches Theme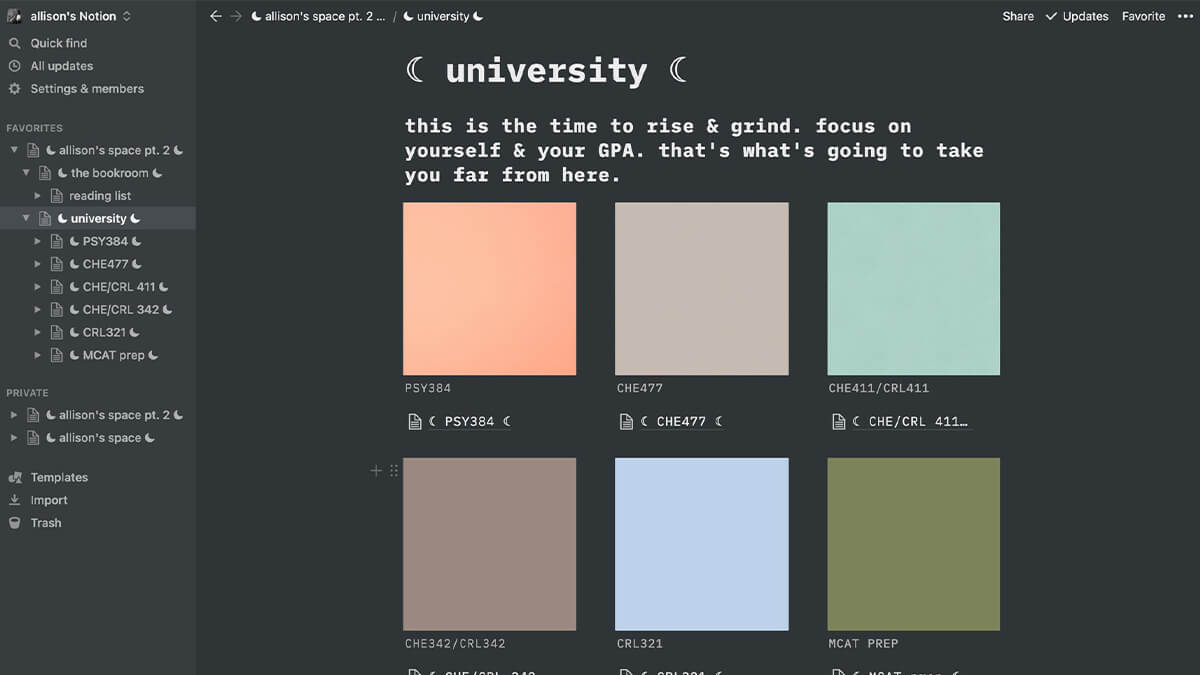 Setup by @neurostudiesx
Minimalist Notion Layouts
Sometimes less is just more. If you're a minimalist looking to keep things simple, get inspired by these clean setups.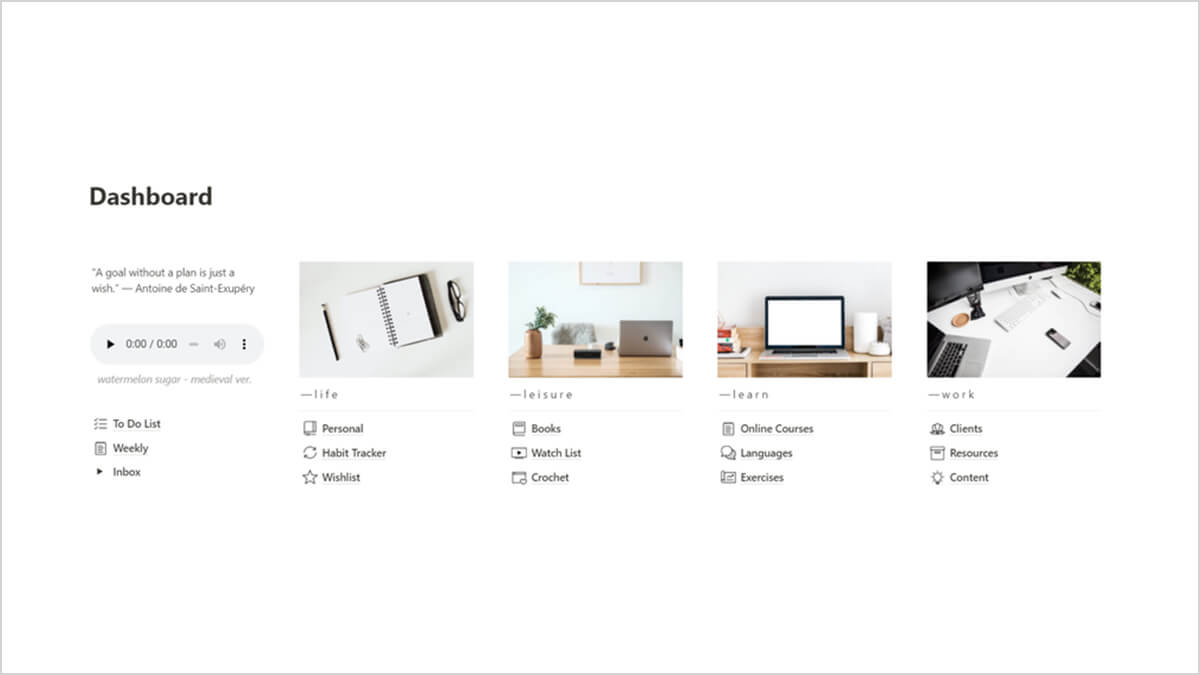 Setup by u/hyoseonnie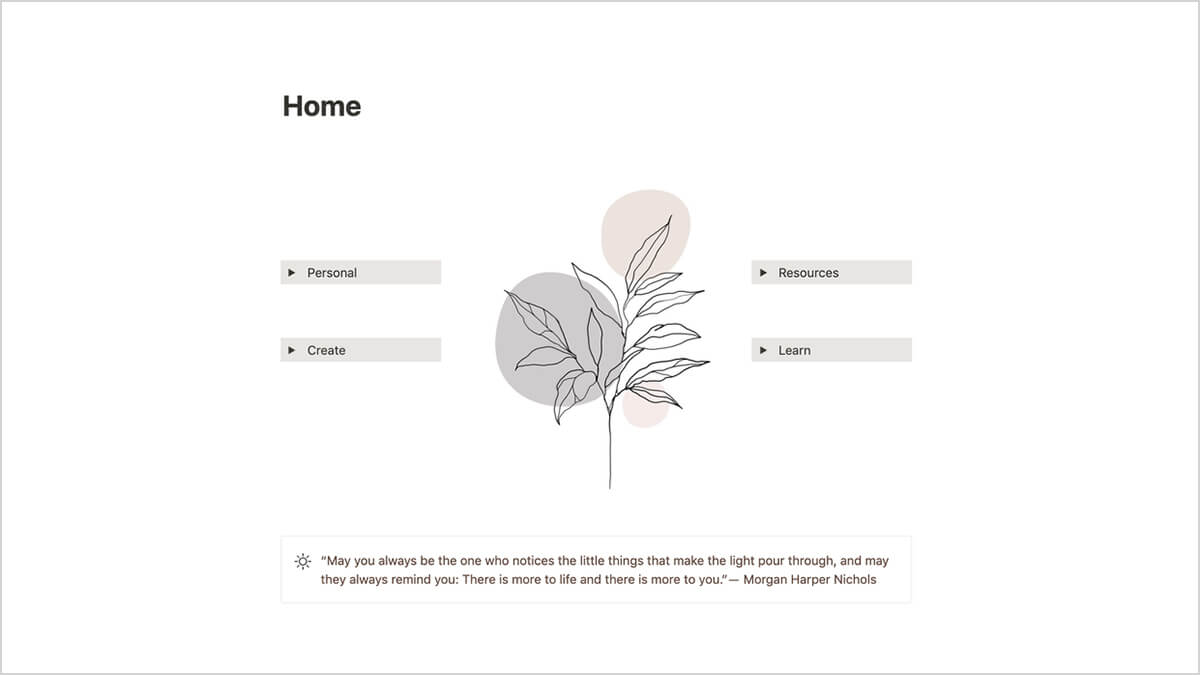 Setup by u/rchllt
Notion Layouts for Different Aesthetics
Does your aesthetic go beyond a certain color palette? Check out these Notion layouts that go the extra mile and dive deep into their respective aesthetic.
Cottagecore Aesthetic Theme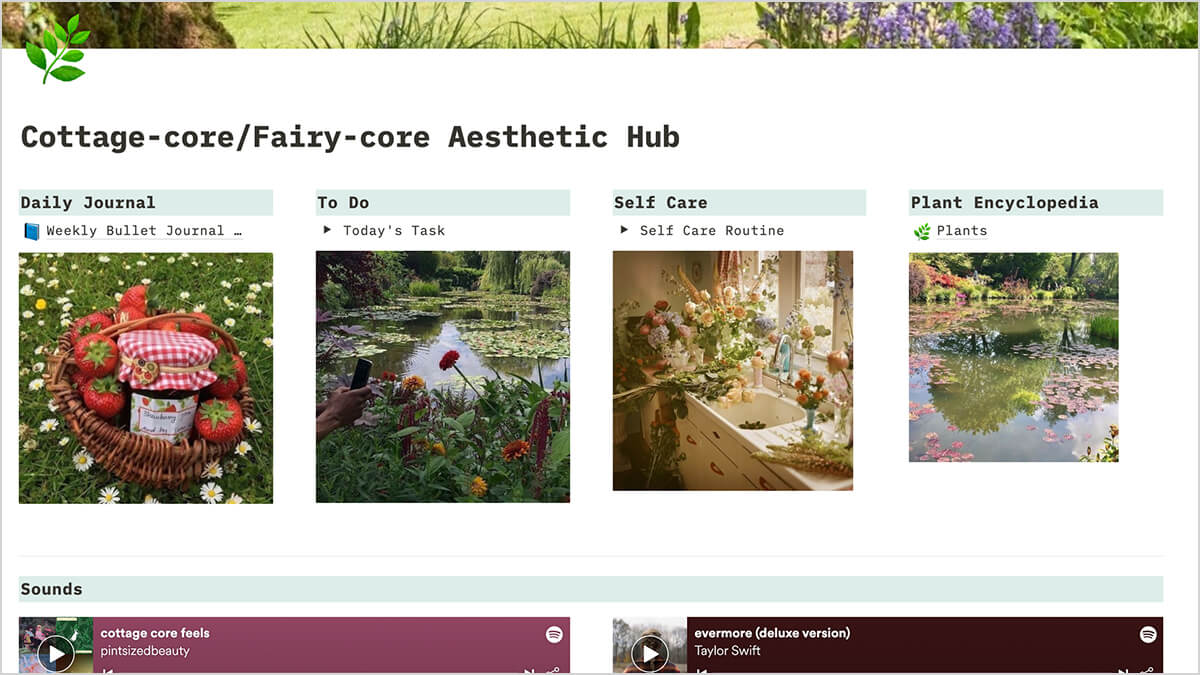 Setup by @belovedoceans
Dark Academia Aesthetic Theme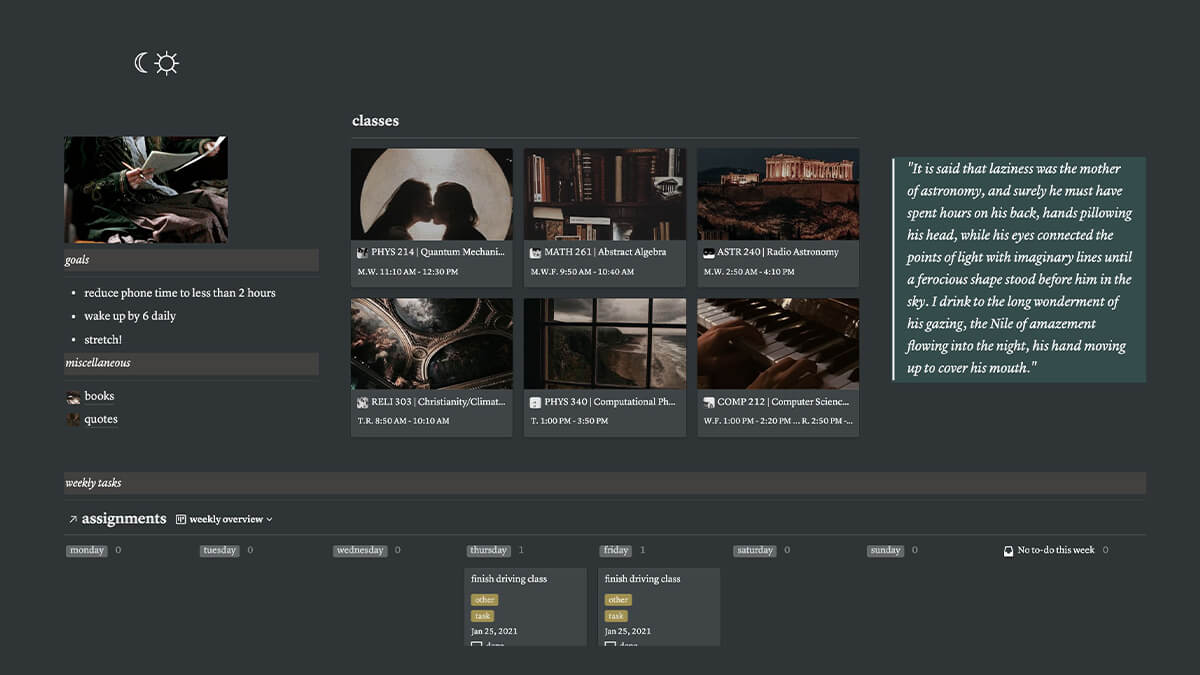 Setup by @lilyybriscoe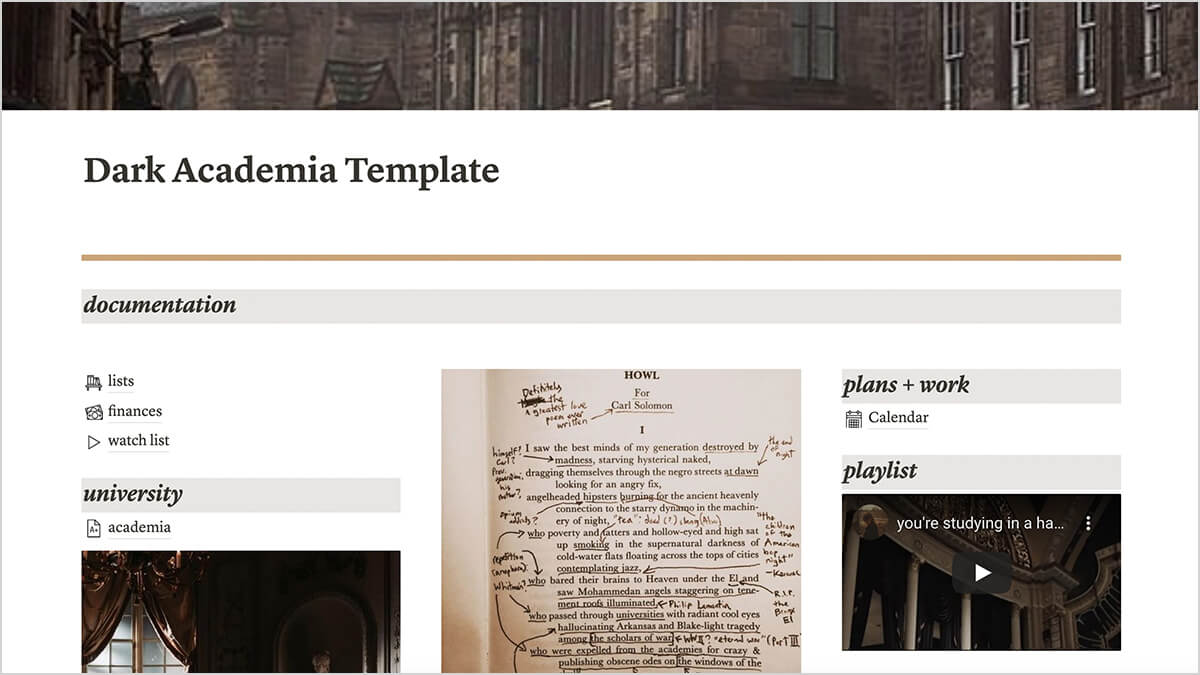 Setup by u/Royal-Stop-8171
Notion Pinterest Board
Follow our Notion Pinterest Board for the latest aesthetic Notion ideas and templates.
Which aesthetic Notion layout is your favorite? Any other templates that deserve a spot on the list? Let us know in the comments below or tweet us @Gridfiti!
Gridfiti is supported by its audience – when you buy something using the retail links in our posts, we may earn a small commission at no additional cost to you. We only recommend products we would use ourselves and recommend to our friends and family. Read more about our affiliate disclaimer.