Notion has taken the internet by storm in recent months, allowing anyone and everyone to organize all aspects of life – from school, to work, and everything in between. Notion's got a ton of customizability, making options essentially limitless to create a setup that goes with your aesthetic.
Whether you want to download a plug-and-play template, or just get some ideas to apply your own way – get inspired by these aesthetic Notion templates and layouts.
Looking for more Notion templates and content? Check out our several other Notion guides and round-ups, as well as our posts on aesthetic Notion cover photos, Notion widgets, and Notion icon sets!
To install these templates, we've got a super quick guide on how to copy a Notion template to your workspace here.
Table of Contents
Get the all-in-one Life OS template, the only Notion template you'll ever need — with over 25 integrated templates built in.
Best Aesthetic Notion Templates
If you're wanting an easy, straightforward start to your Notion journey, save time and start with a template! Once you've got your template set up, take a peek further down for aesthetic theme ideas to make your Notion workspace beautiful, and truly yours.
Looking for more Notion goodies? Check out all of our Notion templates and sign up to our mailing list 📮
Aesthetic Homepage & Dashboard Templates
A Notion dashboard or homepage is the perfect style of workspace to house all your pages and widgets in a centralized hub. Check out some of these aesthetically pleasing dashboard templates to get started! If you're looking for more homepage templates like these, check out our round-up on the best Notion dashboard templates.
Anime Cafe Dashboard – All-In-One Personal Hub
Have everything for your life in one place with the Anime Cafe Dashboard! Featuring 15+ pre-built templates from habit tracking and a daily journal, to a recipe planner, moodboard template, travel planner, watch list, study zone with Pomodoro, and so much more – walk into your personal virtual cafe every morning for anything you need.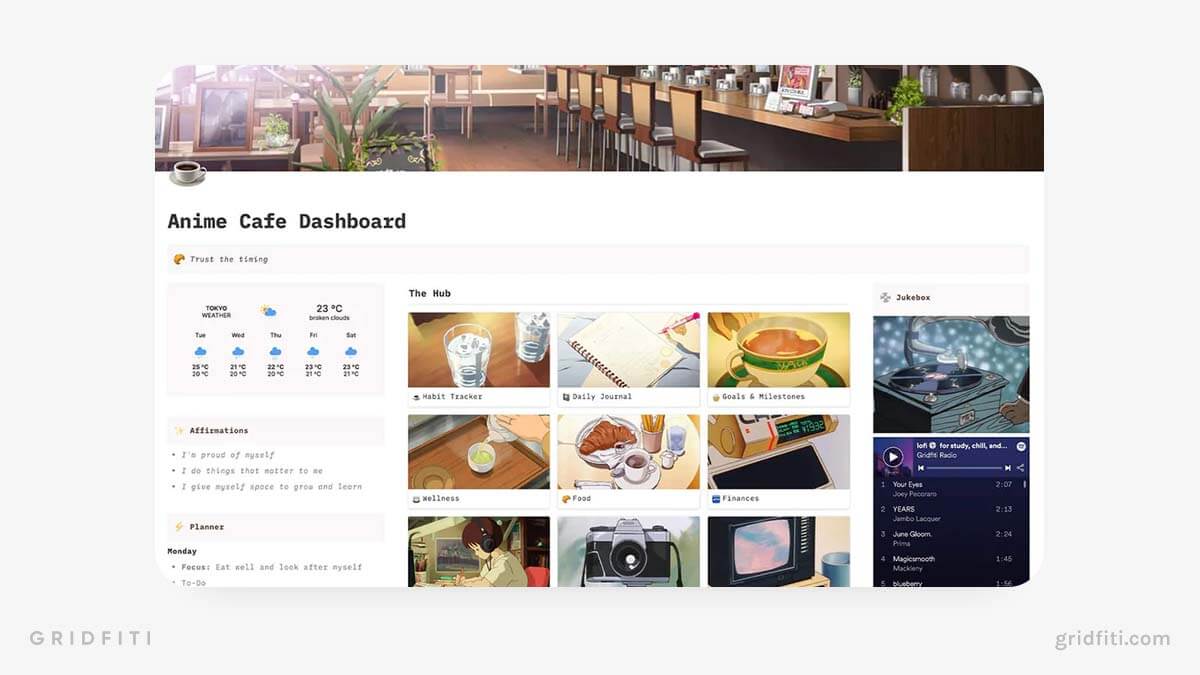 Retro Pink Life Dashboard
This retro pink dashboard is as practical as it is pretty! The template will help you systematically plan your tasks, goals, to-dos, and fitness – coming pre-decorated for any pink or analog aesthetic lover.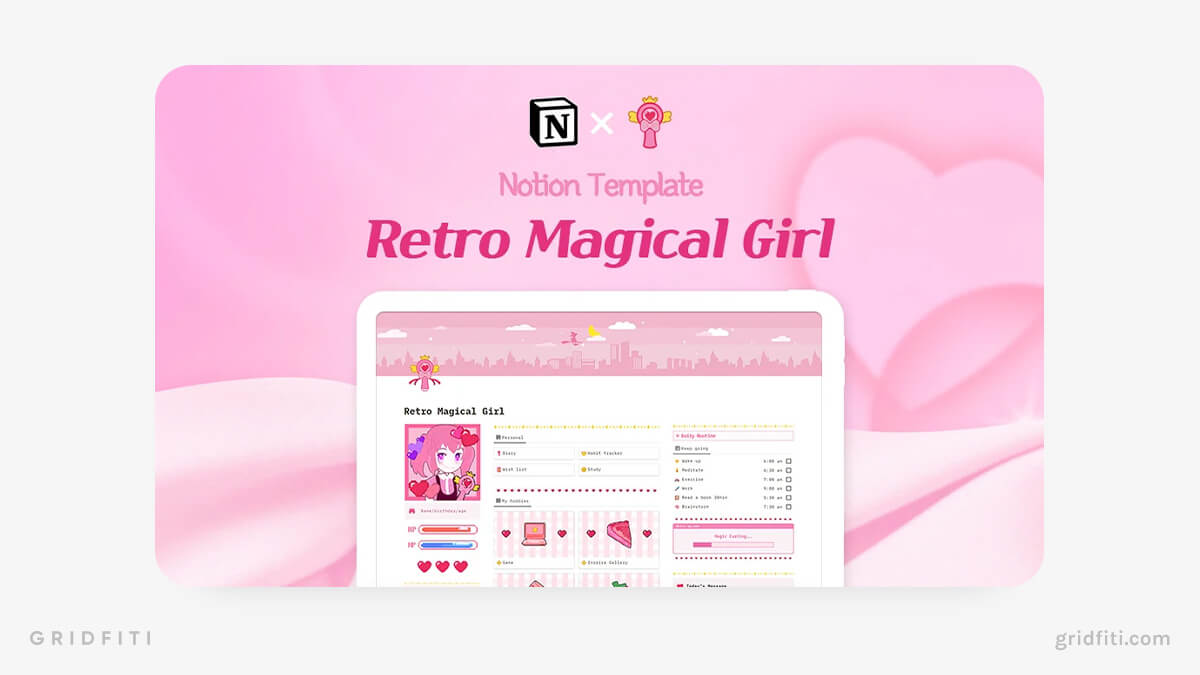 Notion Personal Growth Planner Dashboard
Take your personal growth journey to the next level in the form of an aesthetic Notion dashboard with this template! Bring together all aspects of your self-improvement journey – with a personal profile, self-reflection journal, to-do lists, mood playlists, and more!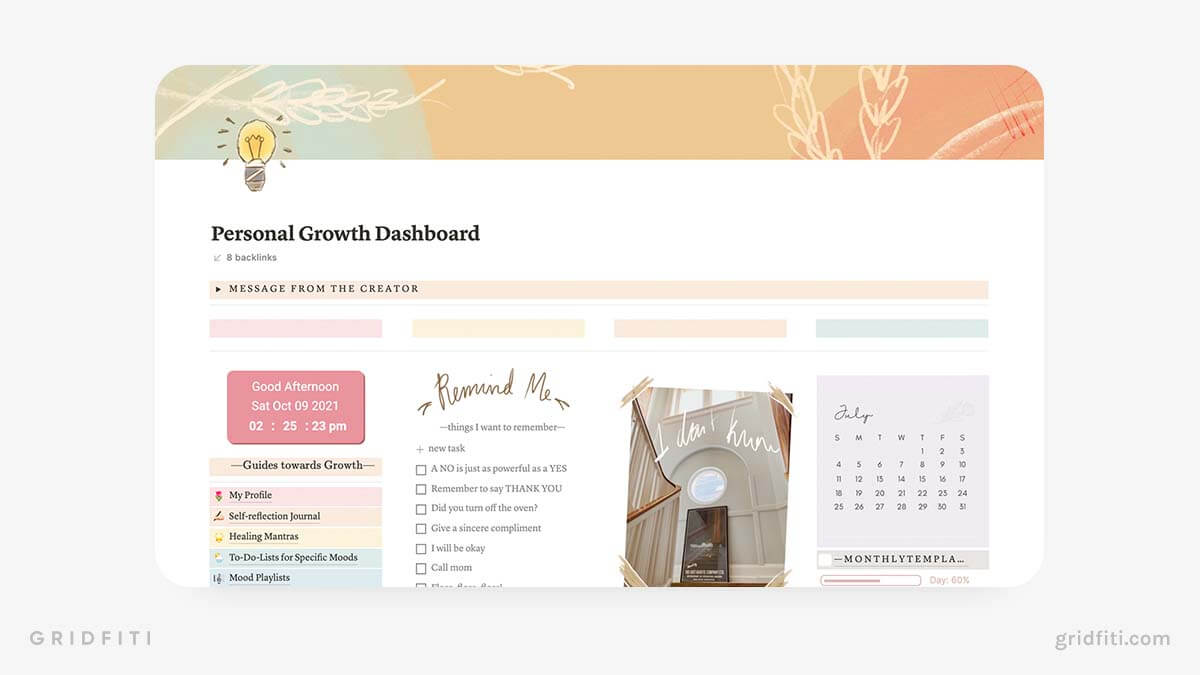 Notion Life Planner Dashboard
This Notion life planner sports a calming neutral and boho aesthetic – and it packs a lot under the hood. It includes a lifestyle planner, health and fitness section, gratitude journal, vision board, and so much more!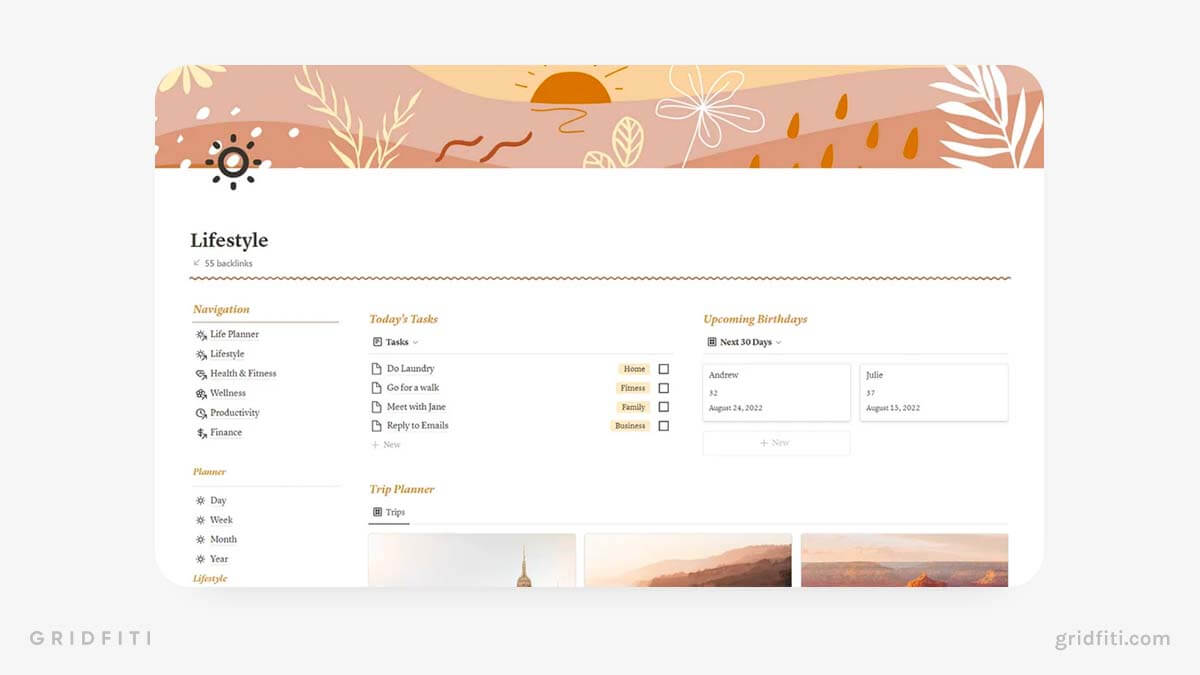 Aura Gradient All-in-One Notion Dashboard Template
Whether you love the TikTok-famous Aura Clock Screensaver or just want a beautiful, calming dashboard – the Aura Notion Dashboard includes 15+ pre-built templates for all aspects of life. This dashboard even includes a live Aura Clock widget to keep track of the time in the most aesthetically pleasing way.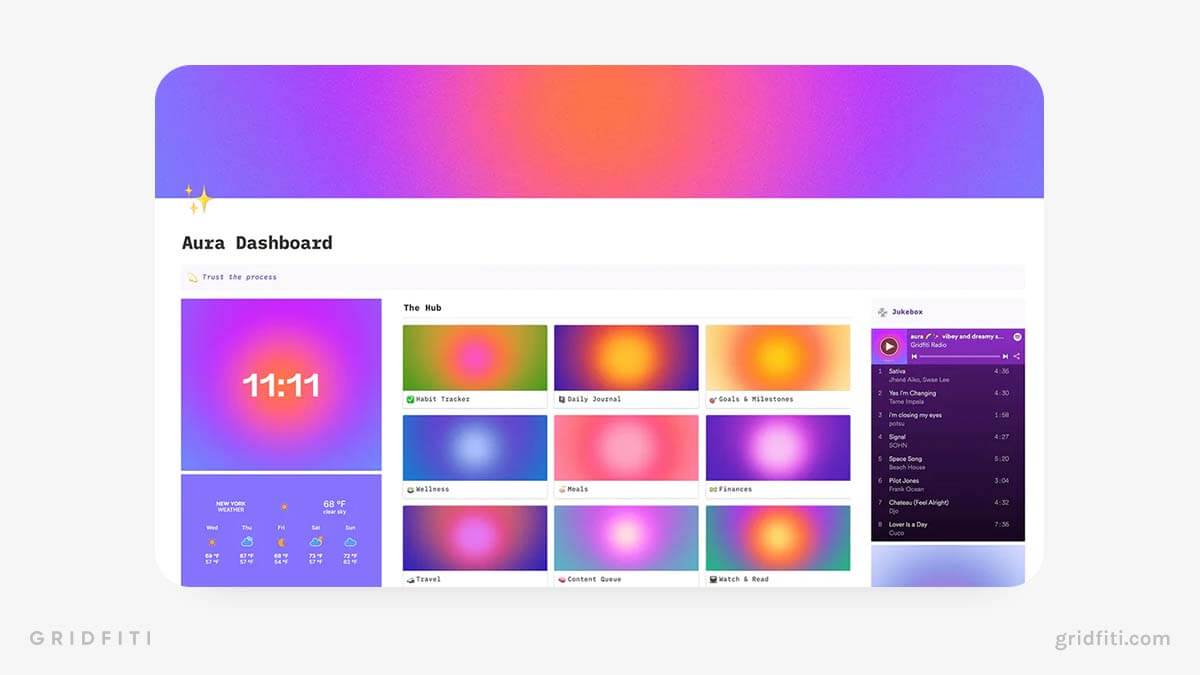 Level Up: Gamified Life Dashboard
Why not add some fun to your life dashboard? Literally level yourself up with this gamified life planner! This template features a reward system for completing tasks, projects, and goals – all in a gorgeous dark mode theme.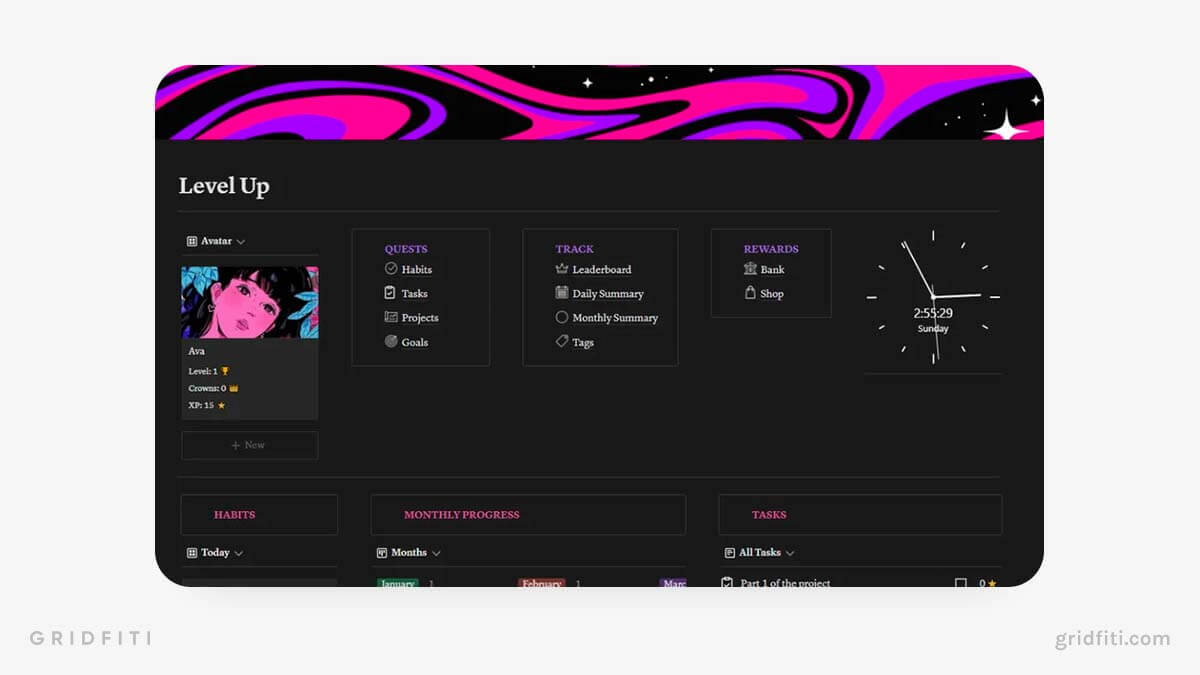 Simple Cyberpunk Pixel Aesthetic Dashboard
Looking for something simple to house bits and pieces of your life? This aesthetic cyberpunk-themed dashboard is a great place to start!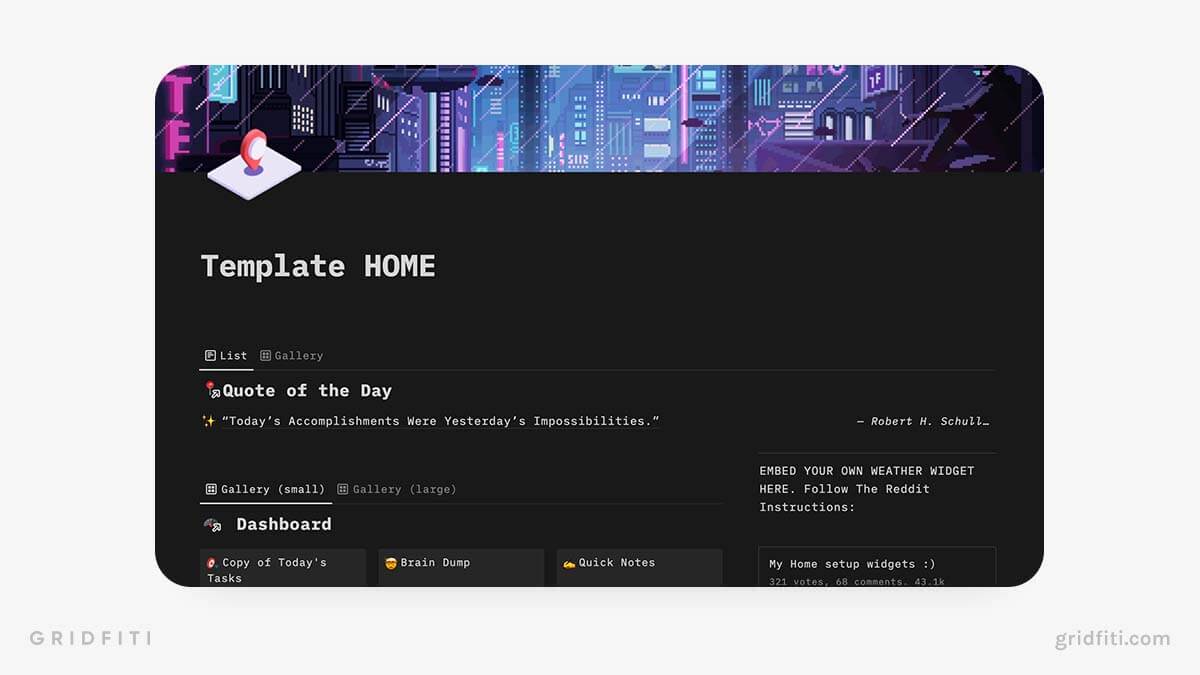 Aesthetic Student Templates
Make sure to check out our full round-up on Notion templates for students for more!
Student OS – All-in-One Student Dashboard Template
With 15+ pre-built, easy-to-use templates and beautiful visuals on every page, this template is as functional as it is aesthetic.
Featuring everything from a study hub with Pomodoro timer, class planner, weekly timetable, fully automatic cumulative grade tracker, deliverables and assignments database, virtual notebook, to an internship and job application tracker, resume template, college and university tracker, student CRM, extracurricular activities planner, spending tracker, student packing list, and so much more – this template has everything you need for success this semester.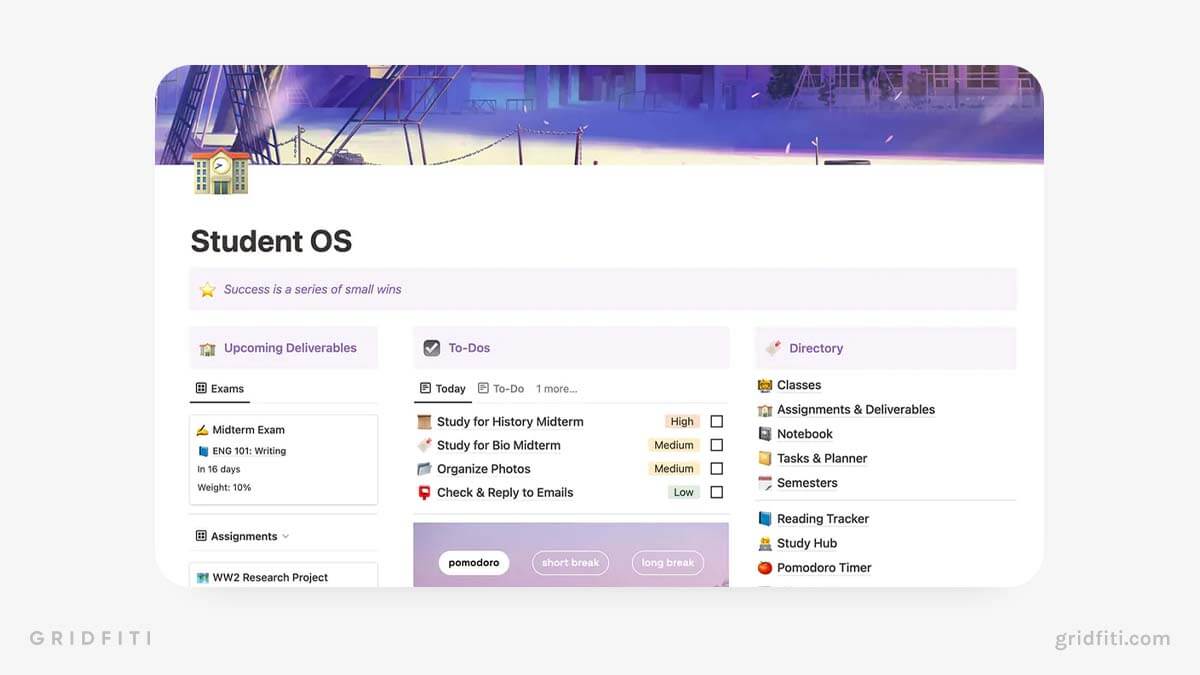 Aesthetic Student Semester Planner & Tracker
Organize everything you need in this digital locker! From lecture note templates, to a homework calendar and review topics, this template will have you passing with flying colors. Looking for more? Check out our full roundup on Notion planner templates!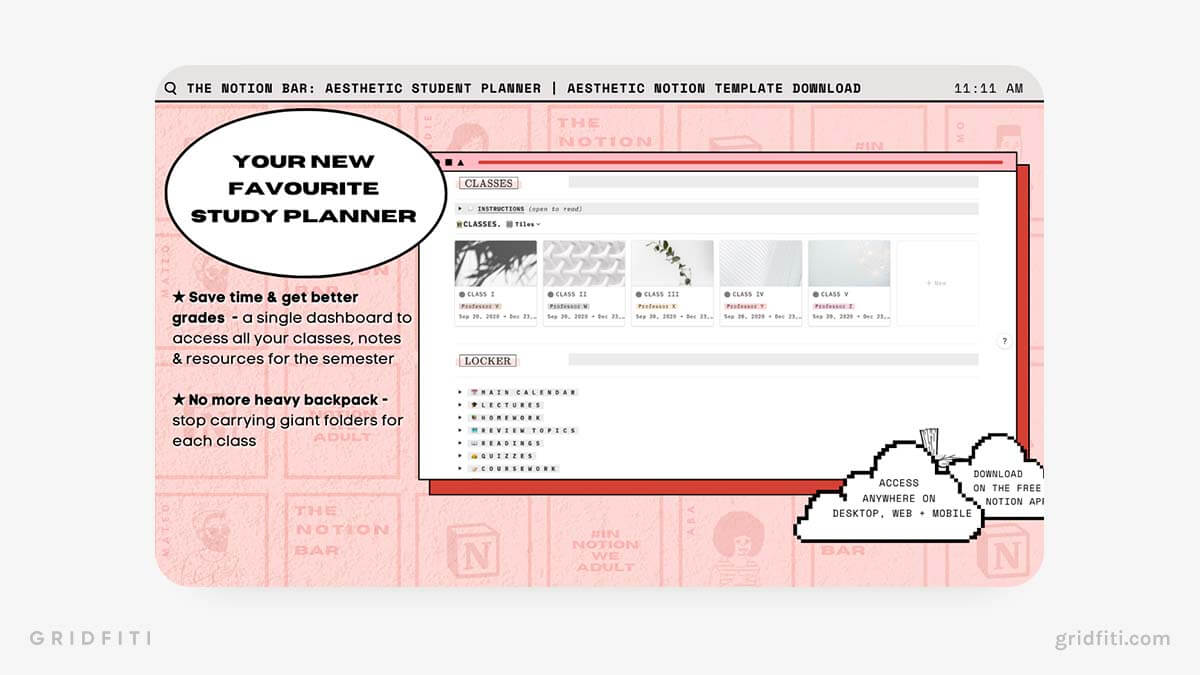 Student Productivity Hub – Anime Notion Template
This plug-and-play aesthetic anime template is incredibly robust, with all the features you need for success at school. Keep track of your schedule, calculate grades and GPA, build a professor directory, and so much more in this seamless setup. The creator, Georgia, has been tinkering with this template to perfection for months, and even made a video guide!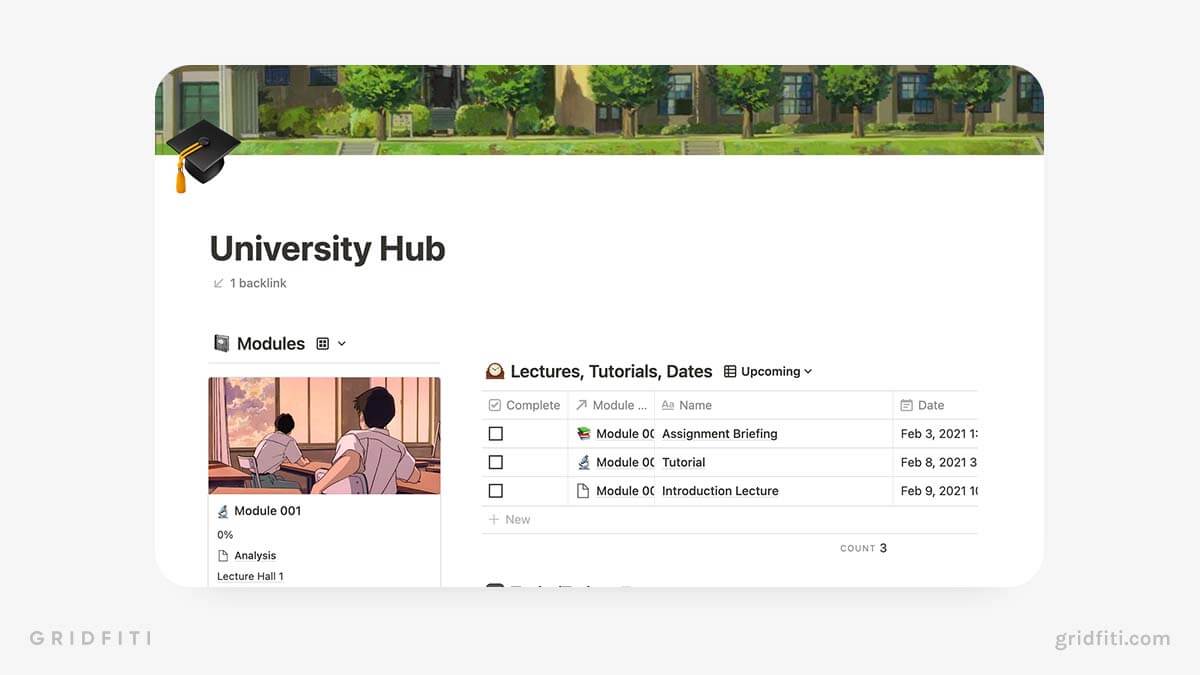 Tomato: Aesthetic Pomodoro Notion Template
Whether you want to conquer small or large tasks, Tomato will help you get it done! Tomato is an all-in-one pomodoro Notion template designed to be used daily, and maximize your productivity. It includes a daily to-do list to map out your tasks (with start/end time, # of pomodoros and more), automatic productivity rating per session, automatic daily recap, built-in pomodoro timer, and more.
For more task-based templates, check out our full roundup of the best Notion to-do list templates!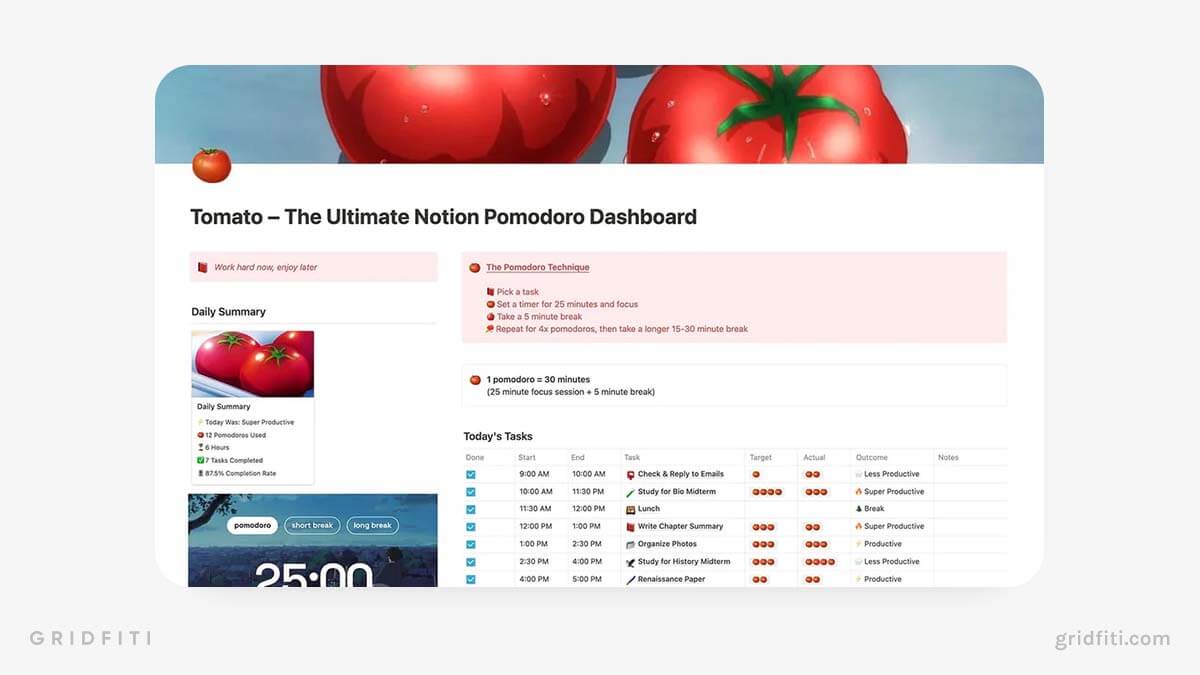 Aesthetic Planner & Calendar Templates
Keep planning fun and take your task and project management to the next level with an aesthetic planner or calendar template! For more, check out our round-ups on Notion planner templates and Notion calendar templates.
Ultimate Planner Dashboard – Daily, Weekly & Monthly Task Calendar
The Ultimate Planner Dashboard by yours truly is a jam-packed, yet easy-to-use planning dashboard designed to help you get organized and live more intentionally!
Plan your days, weeks and months, map out your tasks each day or week by time and priority, stay motived with automatic productivity summaries and ratings, monitor your efficiency with automatic task progress bars, track your daily mood and habits, set daily affirmations, and so much more.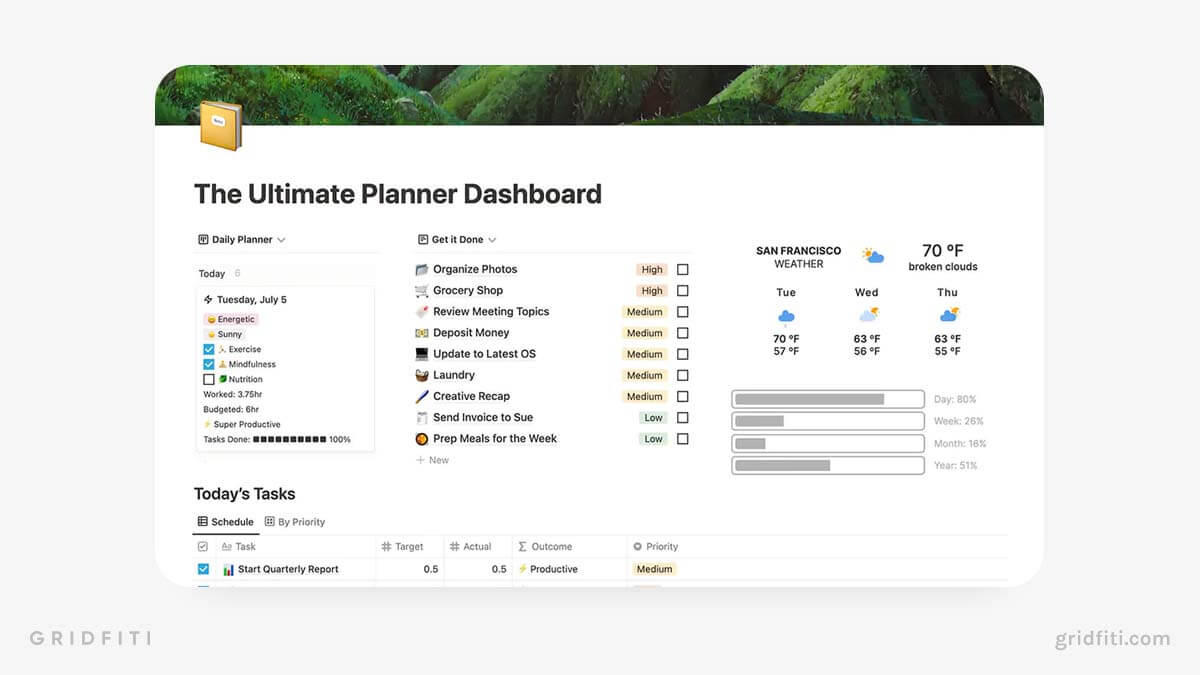 Simple Notion Daily Calendar & Journal Dashboard
This simple aesthetic template is a daily dashboard that allows you to track your mood, plan your days, and journal!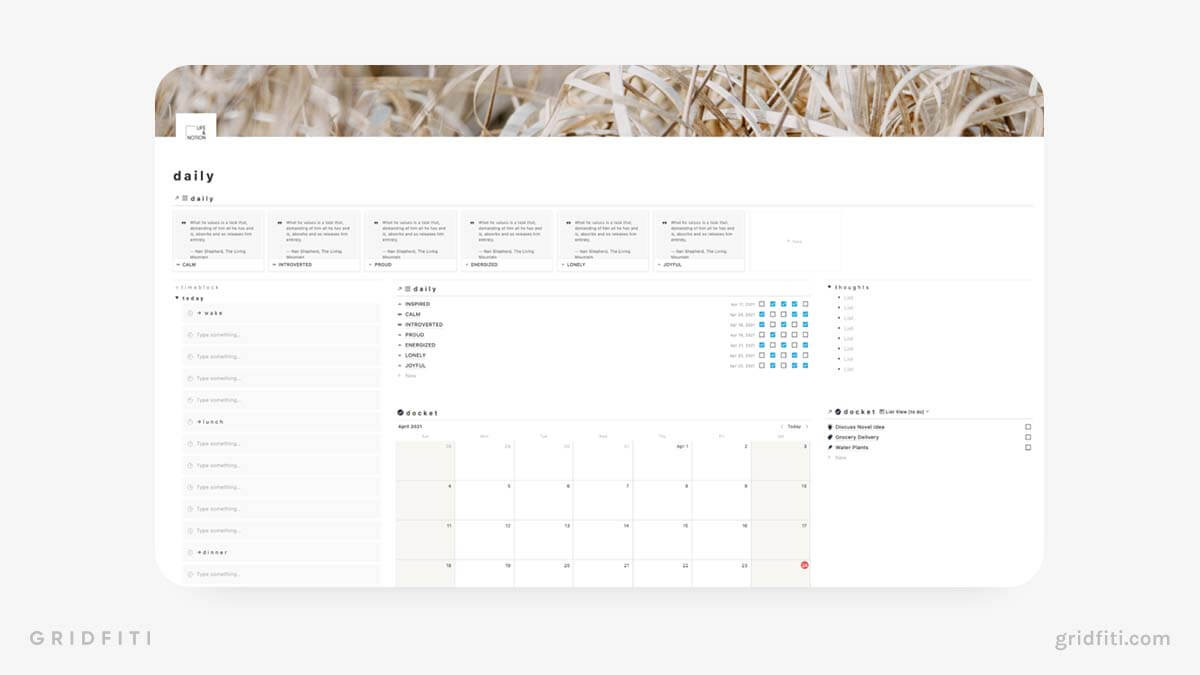 Notion Complete Life Planner
Design an organized life with the Complete Life Planner! Featuring a zen minimalist theme, put together a vision and goals planner, financial plan, fitness and wellbeing planner, nutrition planner, 5-minute journal, notebook, and so much more.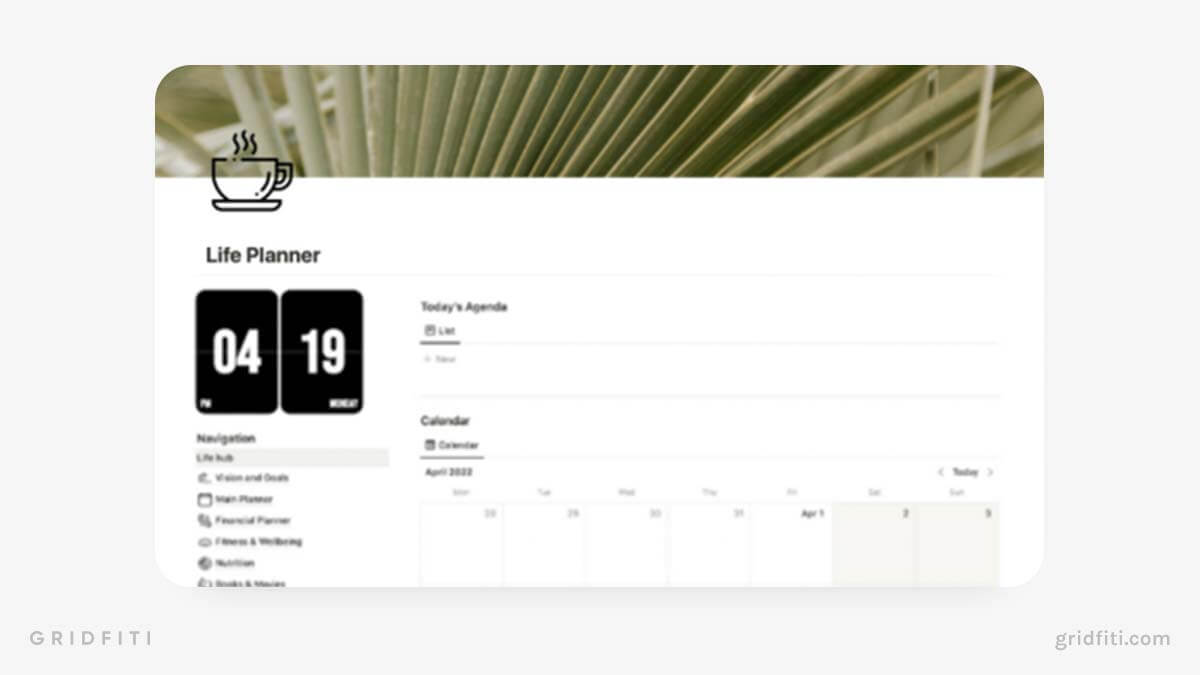 Aesthetic Journal Templates
Journal your thoughts and live more intentionally with an aesthetic journal template in Notion! For more templates like these, check out our posts on the best Notion journal templates and Notion bullet journal templates.
Notion Mood Journal Template
Check in with your emotions and your inner self with this aesthetic Notion mood tracker and journal template! With an overview of your daily moods across the month, this mood diary will help you become more self aware of your emotions.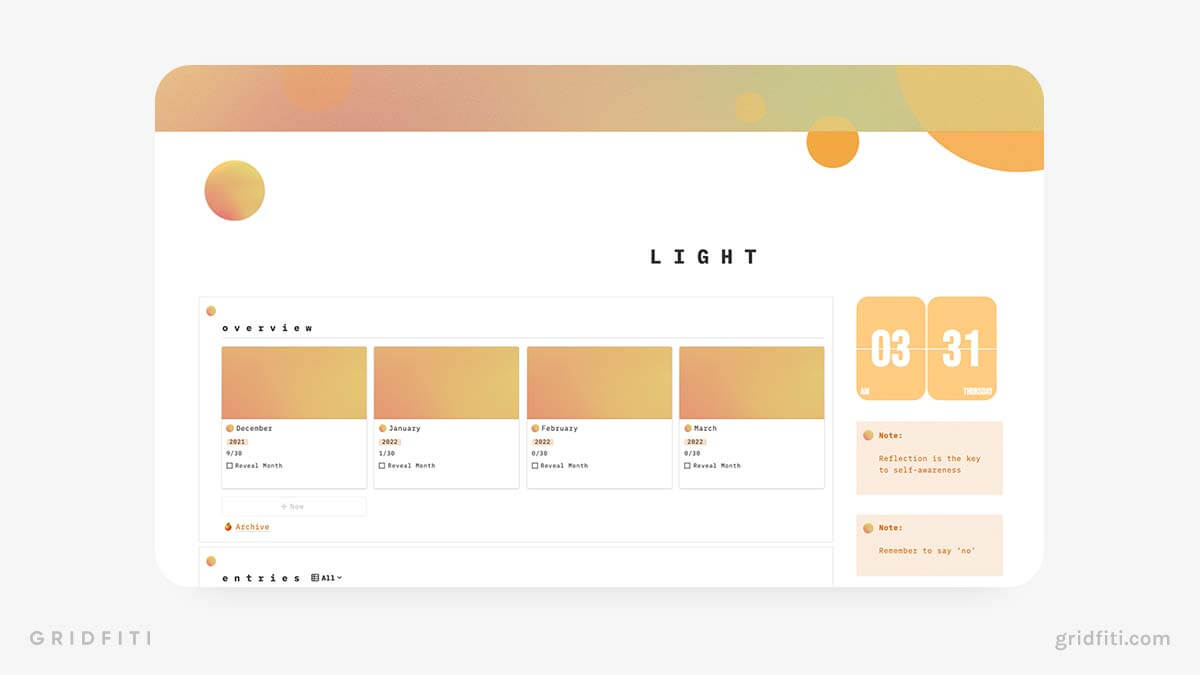 The Happiness Bar – Self Care & Gratitude Journal
This must-have gratitude and productivity journal will help you live with intention. It has built-in tools that will help keep you focussed on your personal wellbeing, set goals and habits, track progress, and even reflect on past memories like travel or shows you've binged!
Looking for more mood journals and trackers for Notion? Don't miss our curated list of the best Notion mood tracker templates!
Mindful Journal – Notion Diary Template
Be more mindful and live your days more intentionally with the Mindful Journal! Decked out in a minimalist yellow aesthetic theme, enter a tranquil setup every time you want to document your days and thoughts.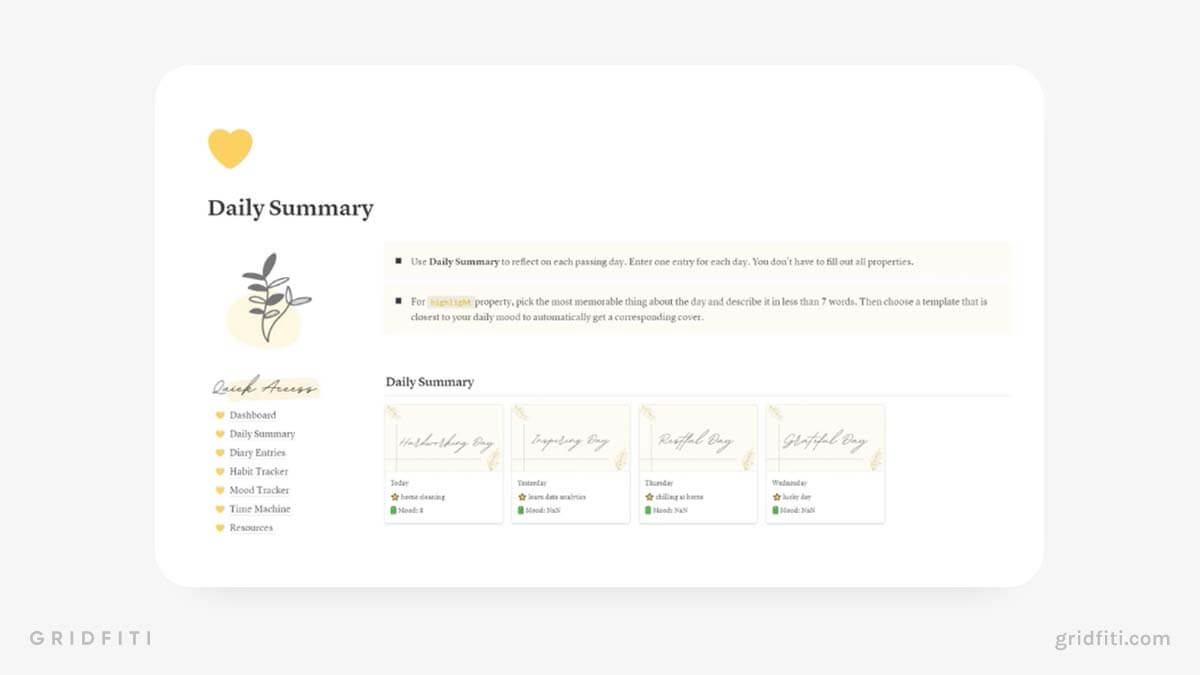 Aesthetic Templates for Personal Use
Beyond productivity and school life, what about the templates for leisure time? From read and watch lists, to closet organizers – check out these Notion templates for personal life!
Notion Watch & Read Template Pack
Looking for more templates to track your movies and books? Check out our roundup of Notion watch list templates and reading list trackers!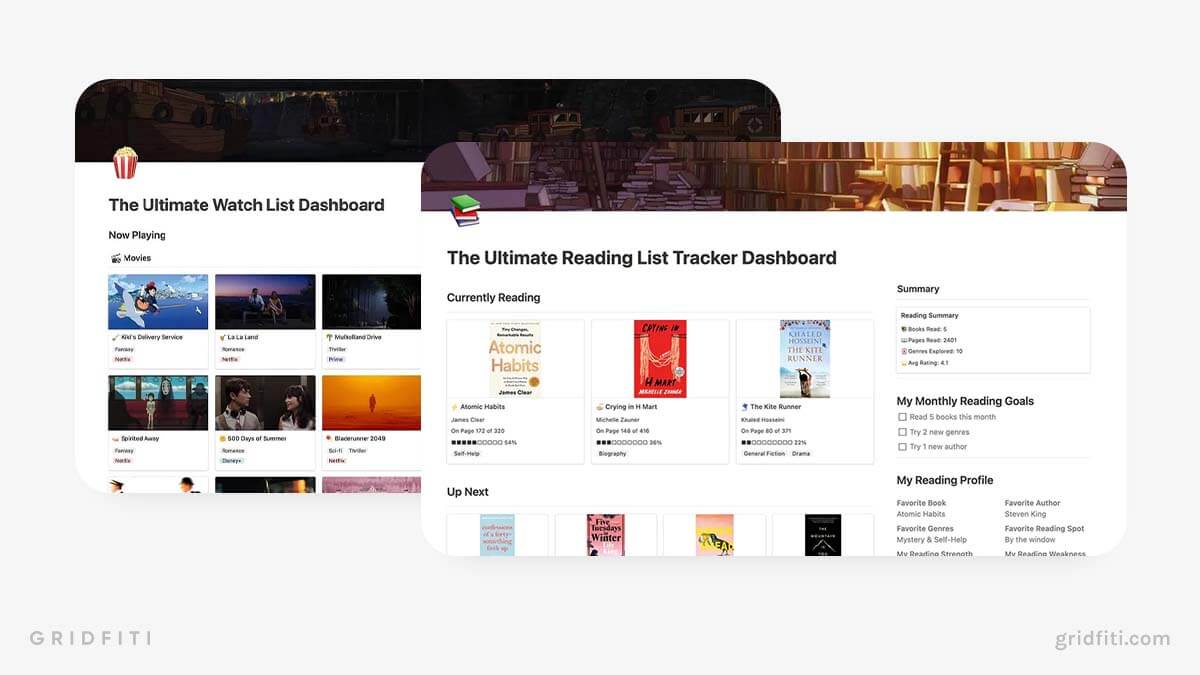 Aesthetic Wardrobe Organizer Template
Have one less thing to think about every morning and plan your outfits in advance in the most aesthetically pleasing way! This neutral-themed outfit planner template will help you digitize your closet and curate your favorite pieces.
Looking for more templates for your closet? Check out our full round-up on Notion outfit planners and wardrobe organizer templates.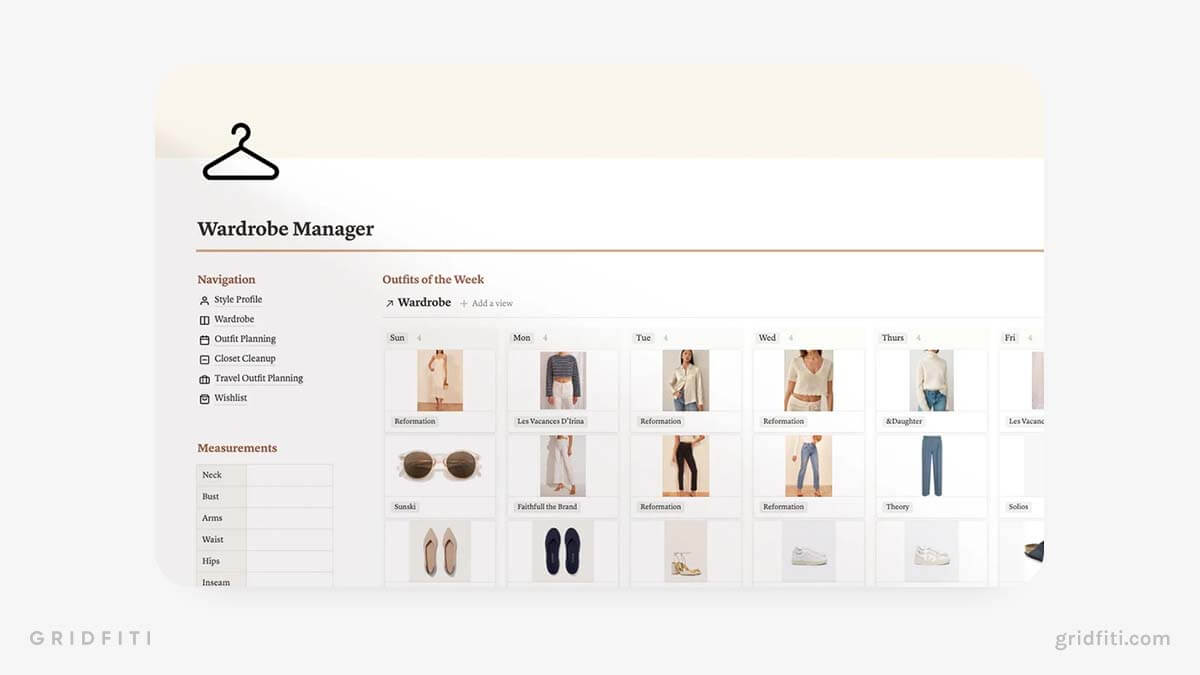 Aesthetic Notion Grocery List Template
Streamline your grocery shopping and meal prep with this simple-to-use Notion template! Once you've created your list on desktop, easily access it on-the-go while you're at the store with Notion's mobile app.
Looking for more shopping lists? Check out our full roundup of Notion grocery list templates!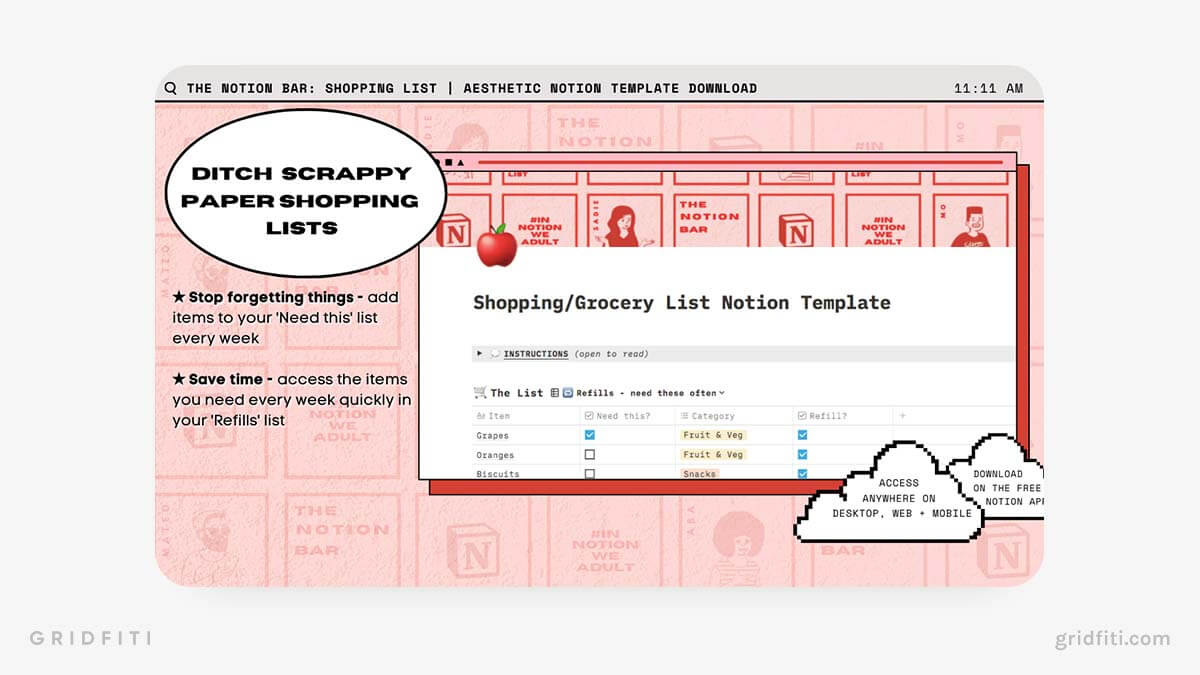 Aesthetic Work Templates
There are some great aesthetic Notion templates for personal use, but it doesn't stop there. Create an aesthetic, yet functional setup for your workdays with these Notion templates for work!
Aesthetic Instagram Content Planner Template
Looking for more templates like this? We've got a round-up with some of the best Notion social media and content creation templates.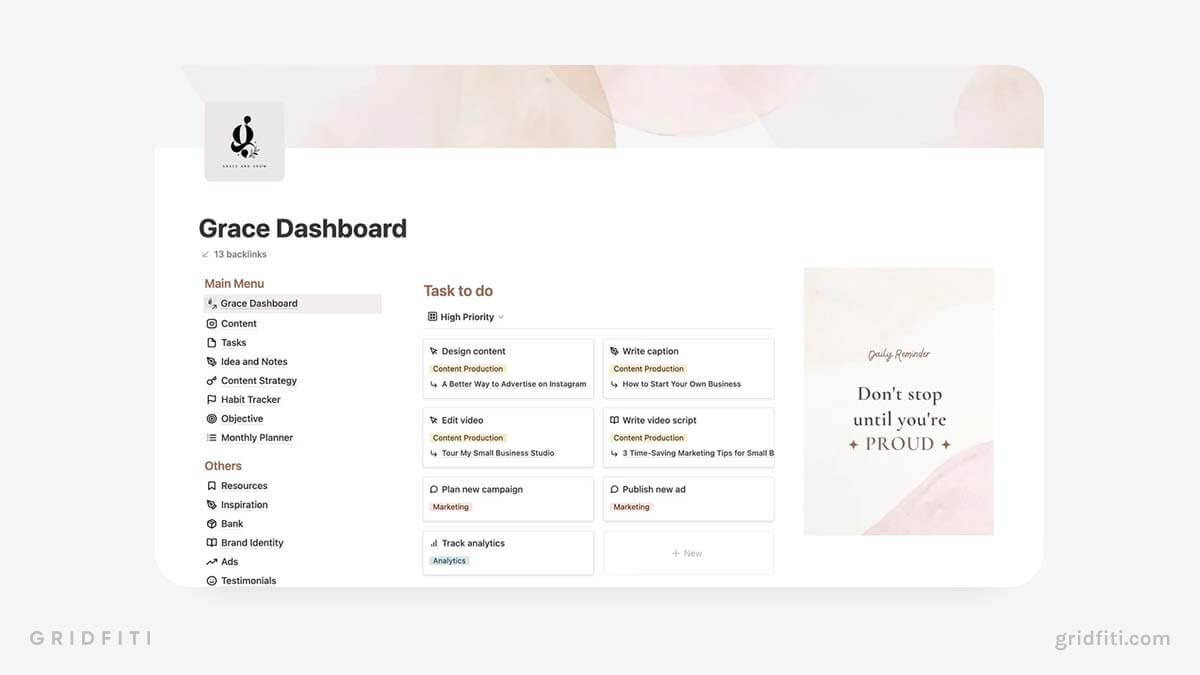 Startup Coding Projects Notion Template
Organize all your ideas for your coding projects in one place with this aesthetic template! This robust setup helps you keep track of resources for both current projects and online learning, project statuses, coding skills you have and skills you would like to learn, and more.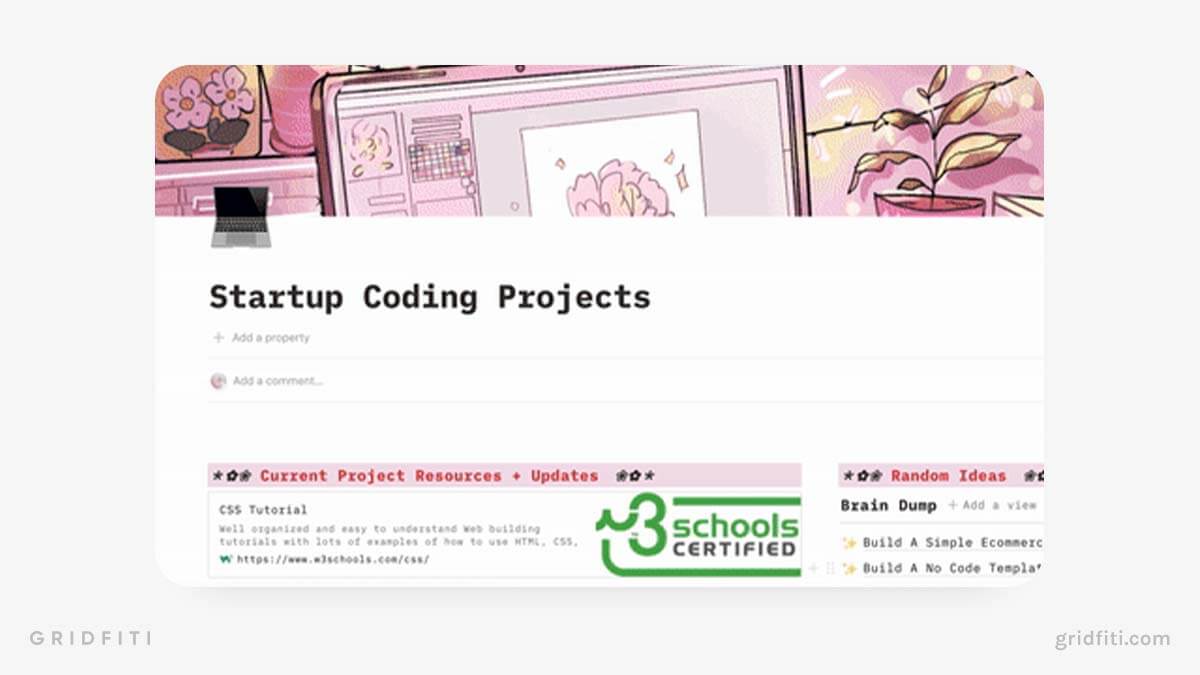 Digital Resume & CV Template
Impress your future employer in a clean, simple resume thanks to this handy Notion template. Looking for more templates like this? Check out our full round-up on Notion resume & CV templates.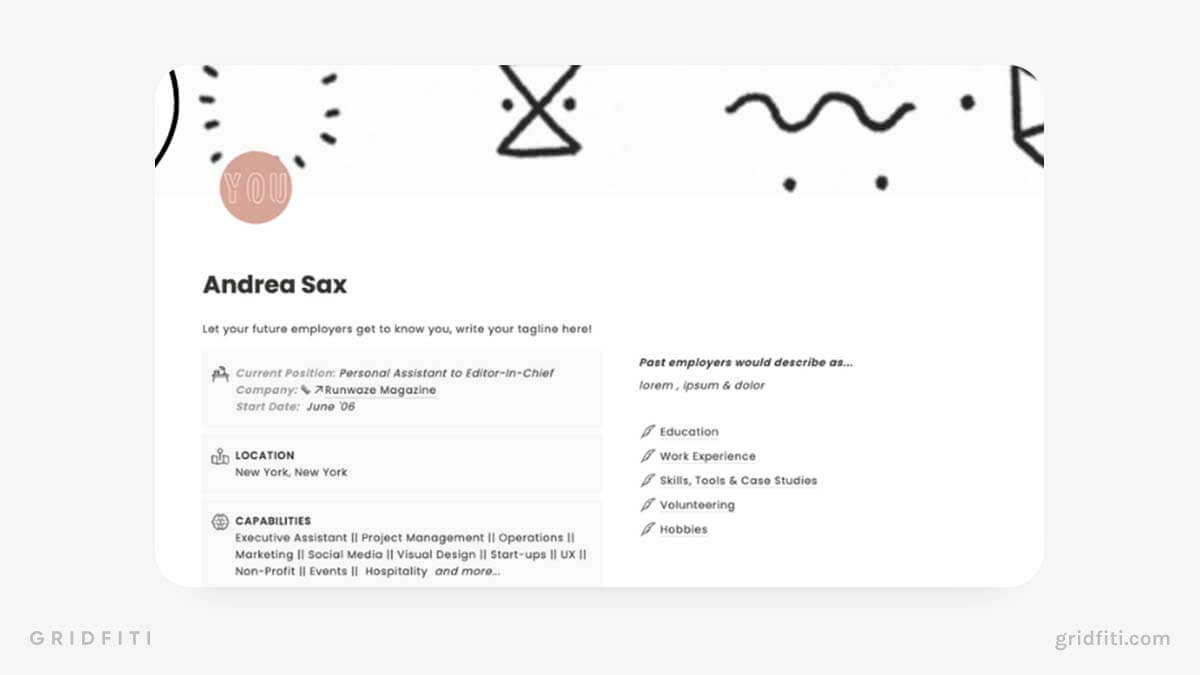 Aesthetic Personal Finance & Budgeting Templates
Want more templates for your finances? Check out our full curated list of Notion personal finance and budgeting templates!
Ultimate Personal Finance Dashboard for Notion
Track your finances in the most pleasing way with the Ultimate Personal Finance Dashboard for Notion! The template boasts 10+ built-in templates and tools to have your budgeting and personal finances all in one place. Not to mention aesthetic anime-inspired visuals and priority customer support.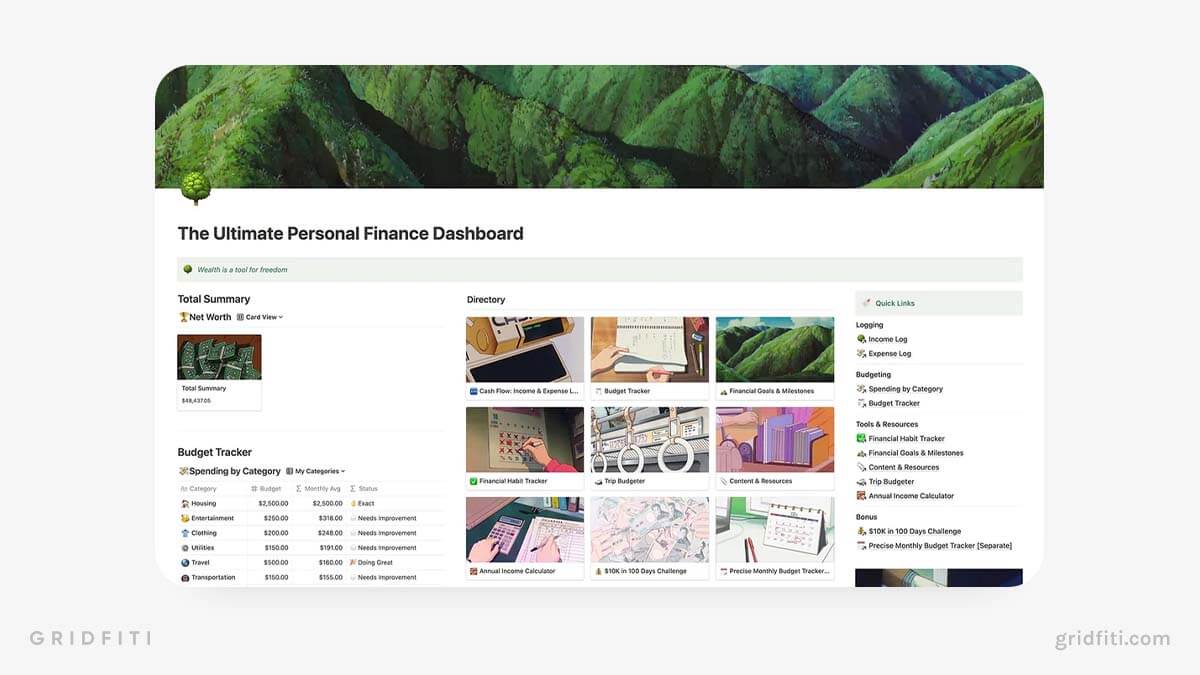 Coin – Simple Aesthetic Budget Template
Use this simple and airy aesthetic Notion finance template to track your monthly expenses, monitor your debt, journal your spending, and more!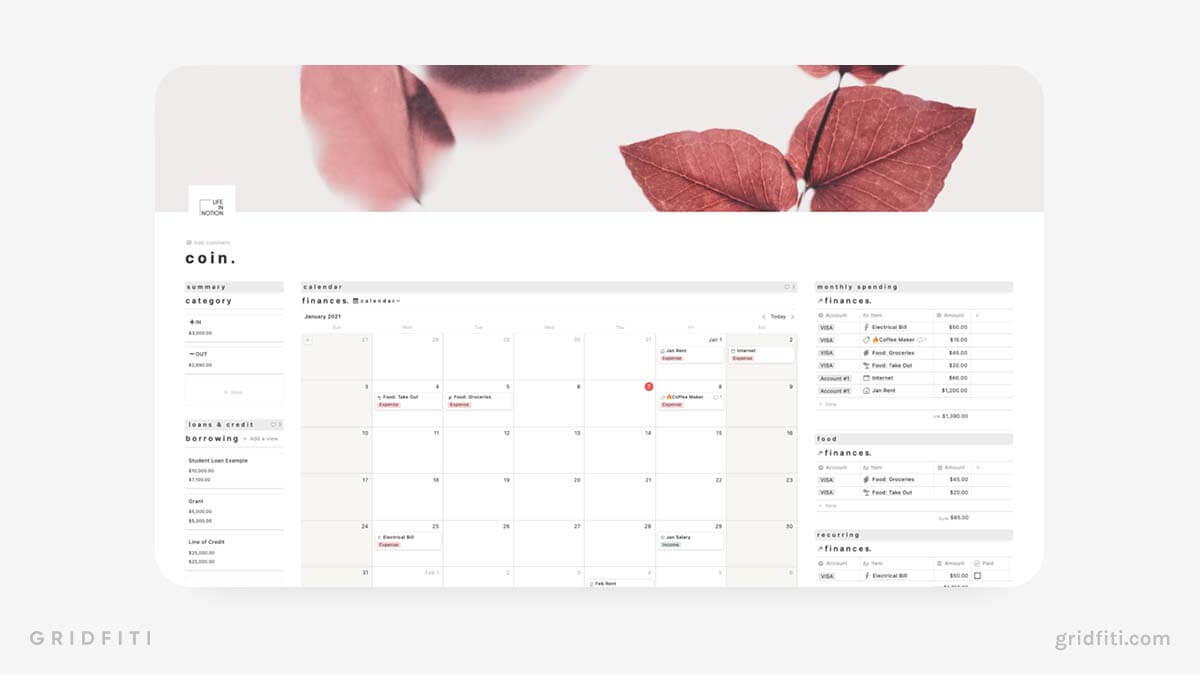 Simple Spending Tracker
Journal and categorize all of your spending month to month with the Simple Spending Tracker! Track your expenses with built-in spending categories, an emoji sentiment rating to reflect and spend more intentionally, and an end-of-month summary to see if you've gone over or under budget.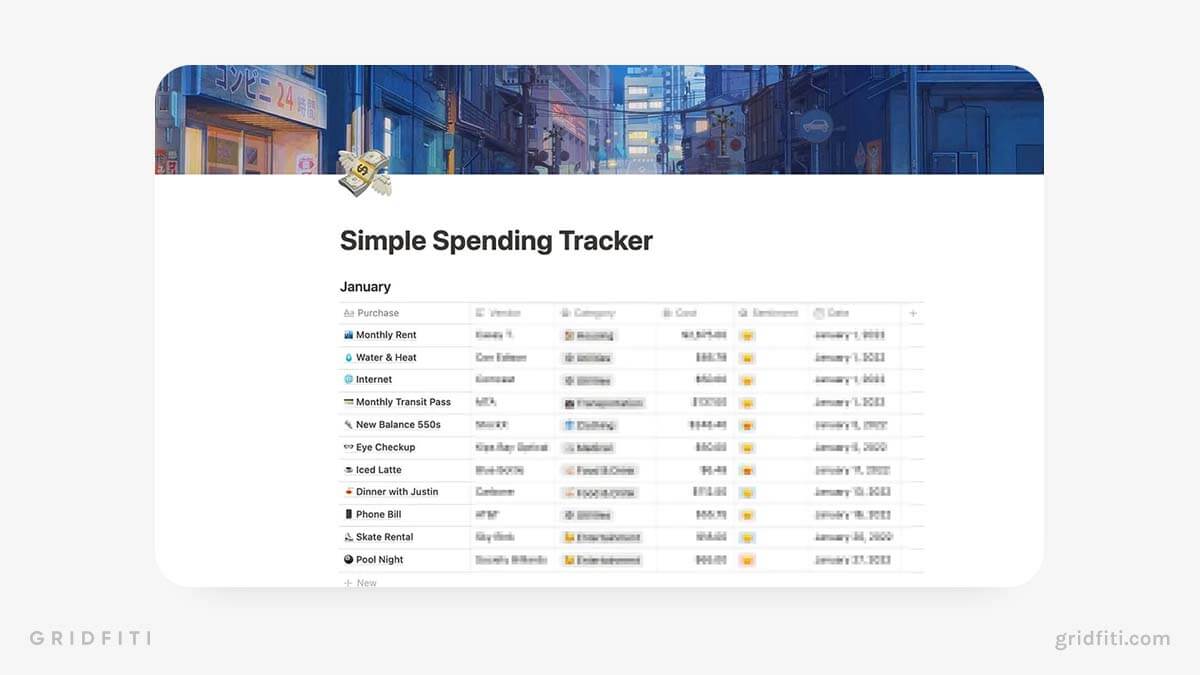 Aesthetic Minimalist Templates
Keep both your workspace and mind calm with the perfect aesthetic minimalist template. Whether you want a clean black and white theme, or a light and airy theme with negative space – we got you! For more options, check out our post curating some of the best minimalist Notion templates.
Aesthetic Minimalist Quote & Book Tracker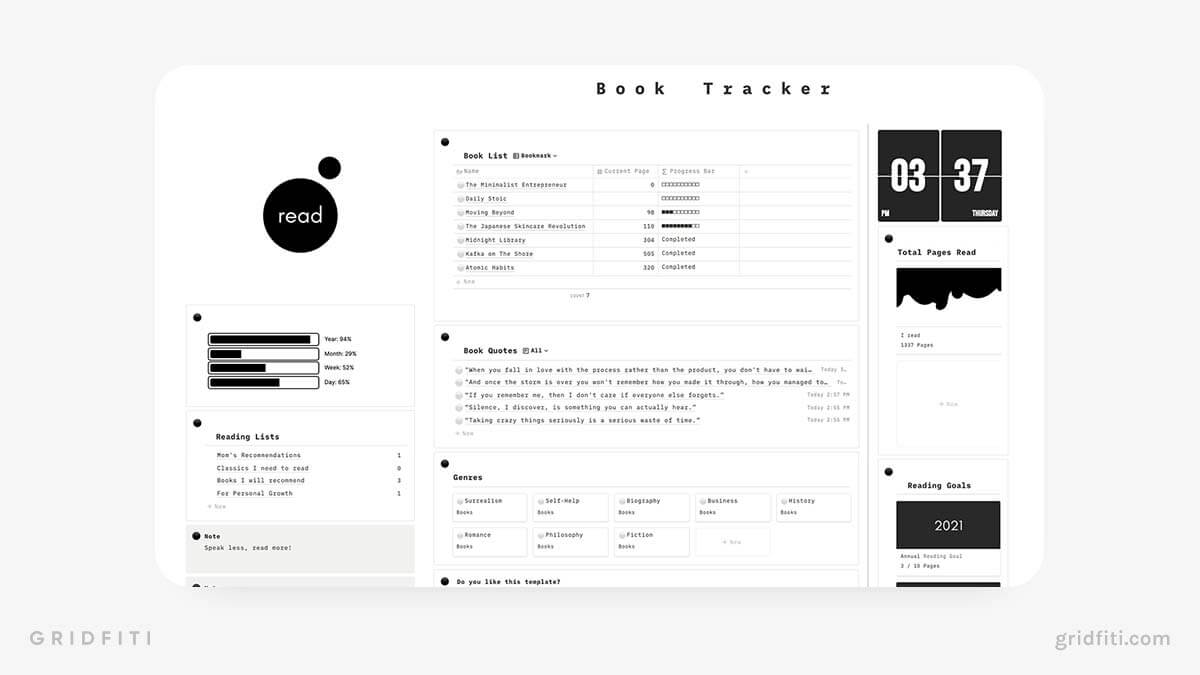 Aesthetic Minimal Life Planner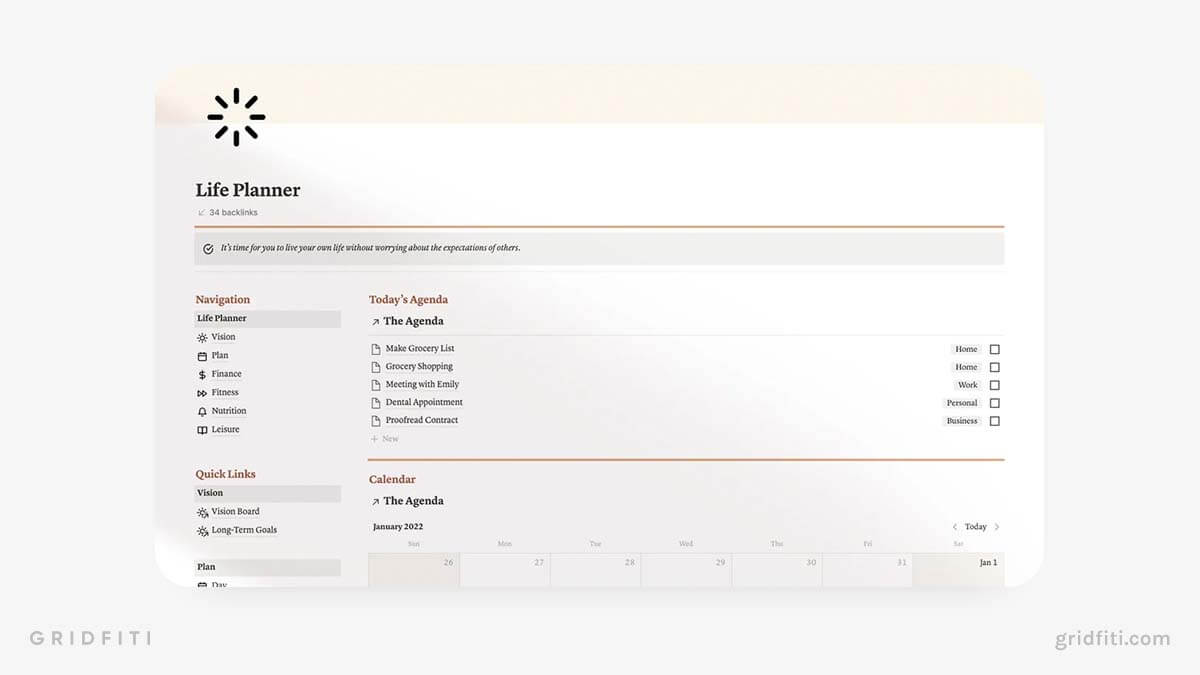 Aesthetic Minimal Notion Habit Tracker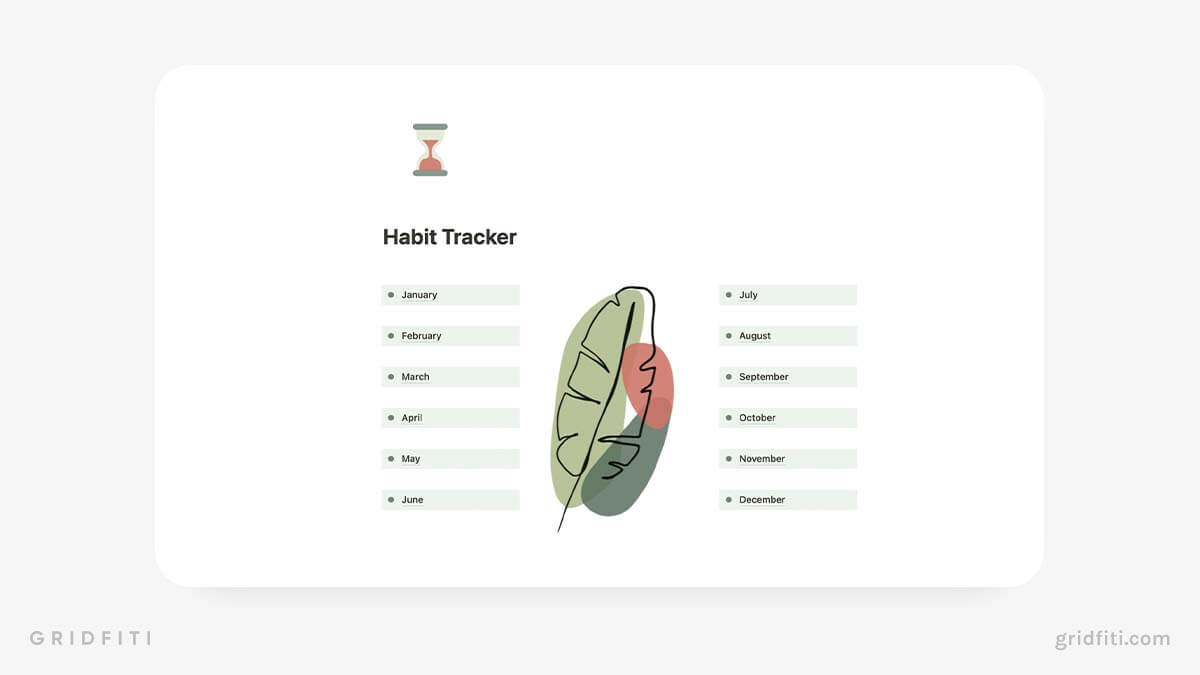 Aesthetic Light & Dark Academia Templates
Bring out your inner book nerd in the most aesthetic way possible with a light or dark academia Notion template!
Looking for more academia templates? Check out our round-up post featuring the best light & dark Notion academia templates!
Light Academia Template – All-in-One System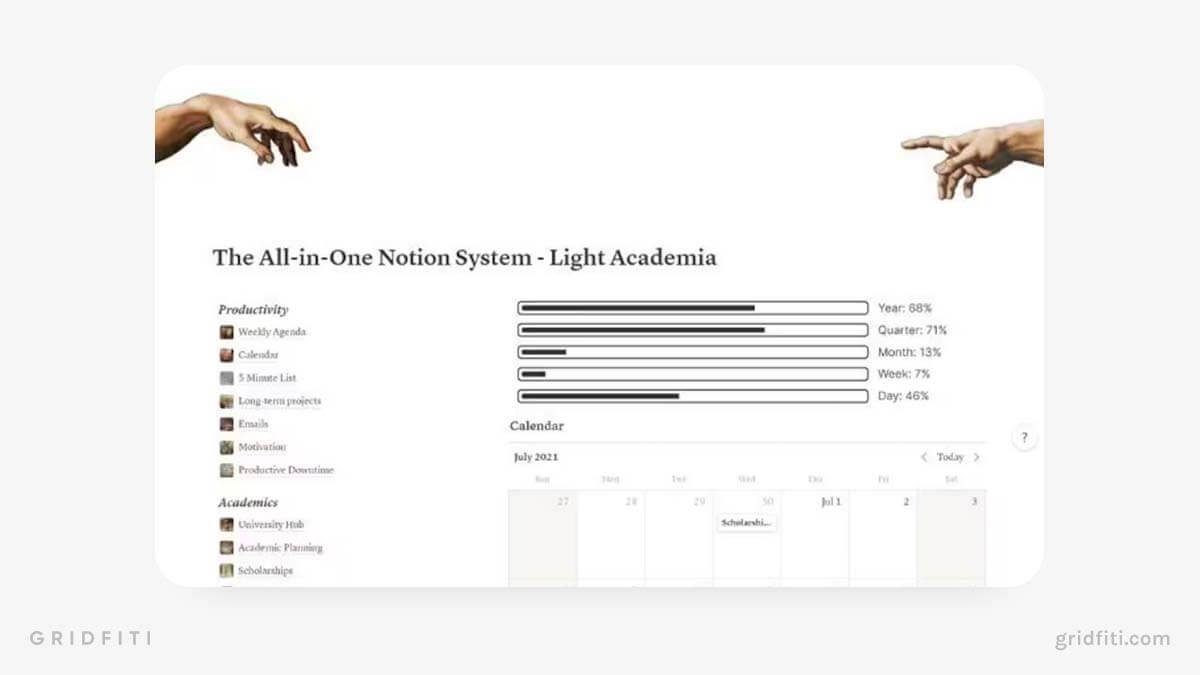 Dark Academia Dashboard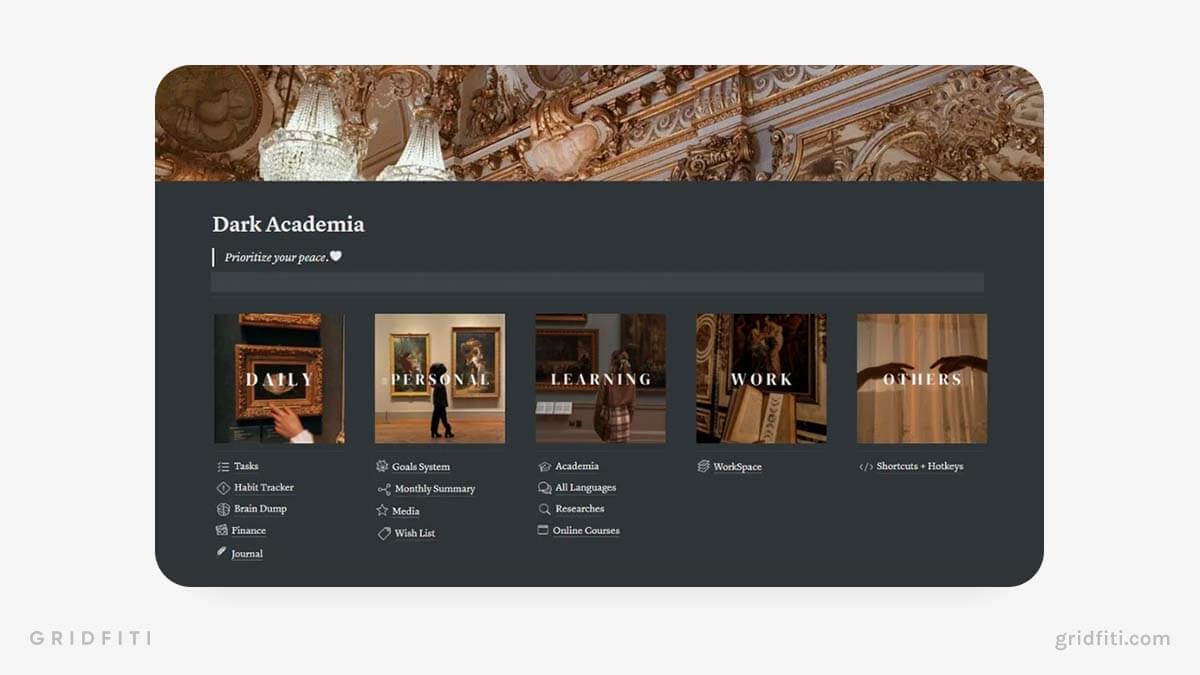 Dark Academia Planner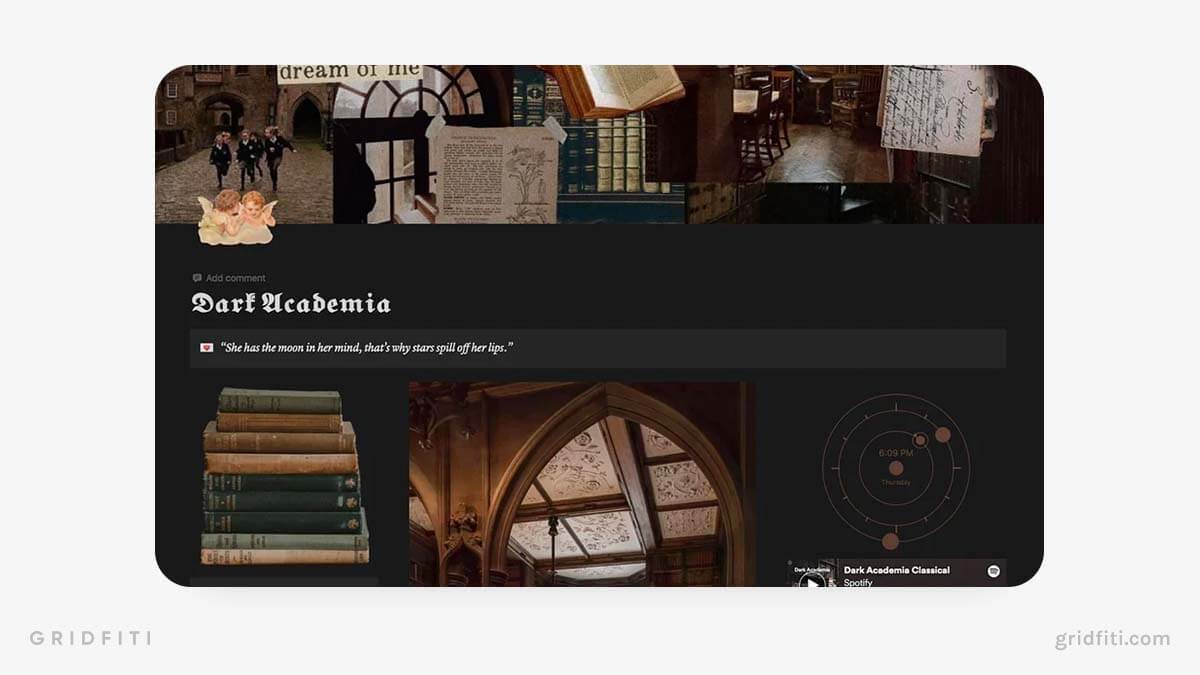 Aesthetic Anime Templates
Some of the most aesthetic Notion templates out there are anime-inspired – and here are some great ones to add to your workspace.
Want more anime templates? We've curated a blog post showcasing the best Notion anime templates!
Complete Studio Ghibli-Themed Productivity Template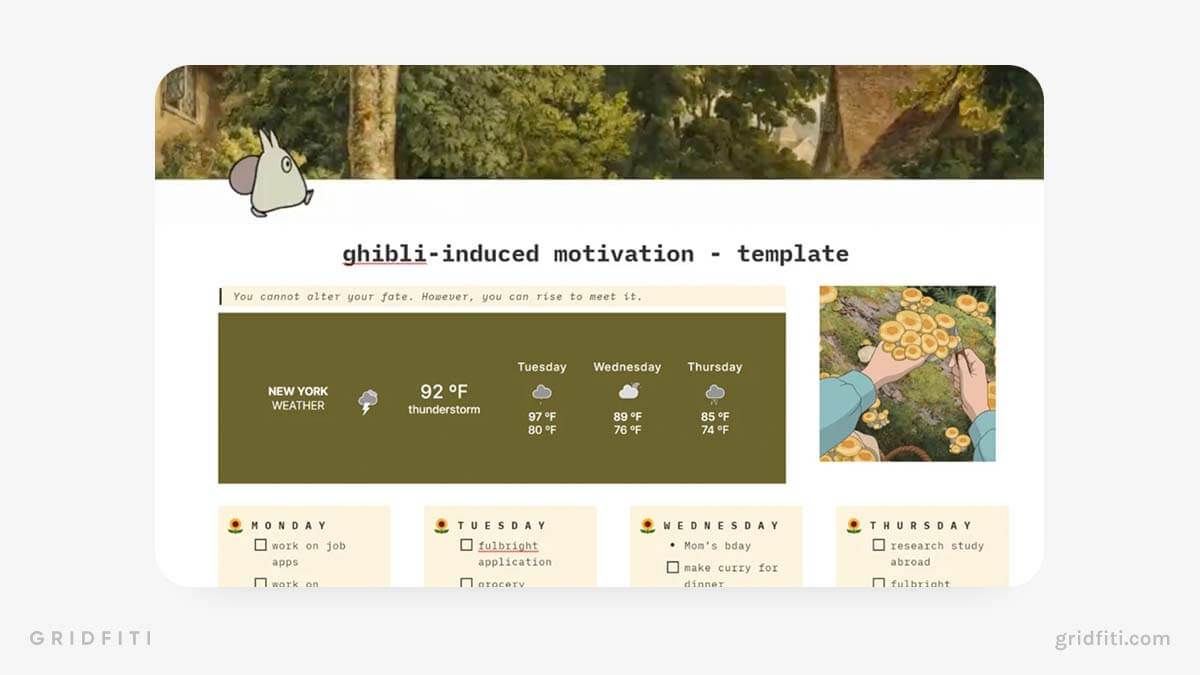 Anime Journal Tracker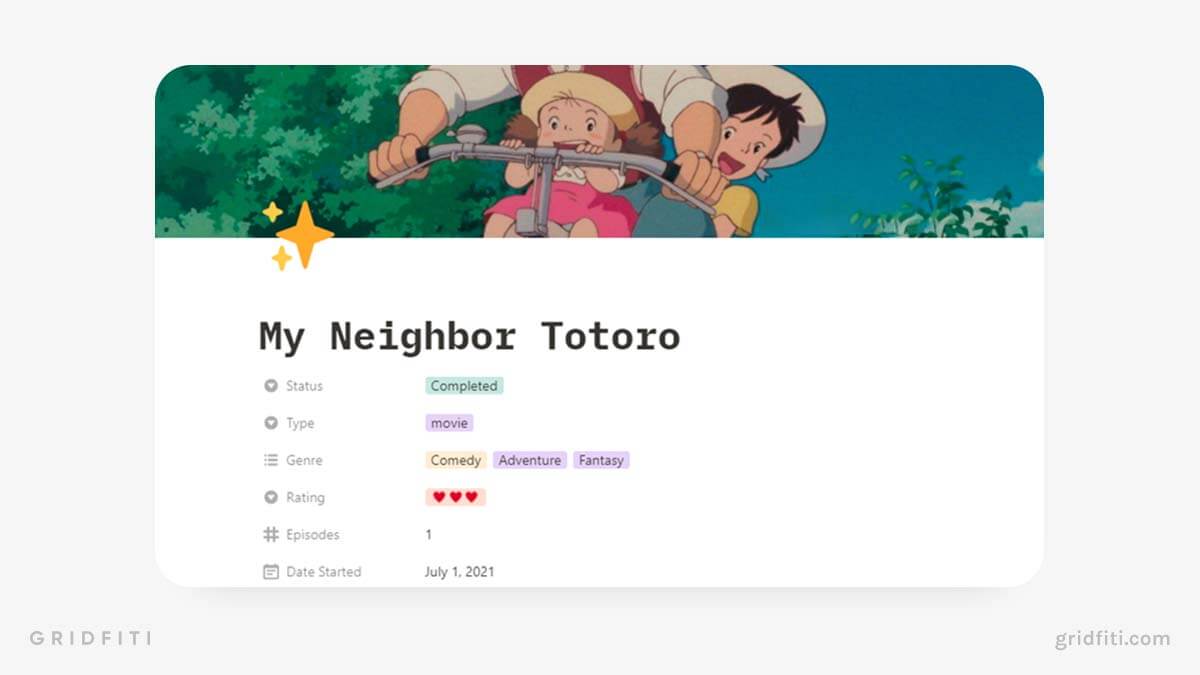 Studio Ghibli-Themed Class Organizer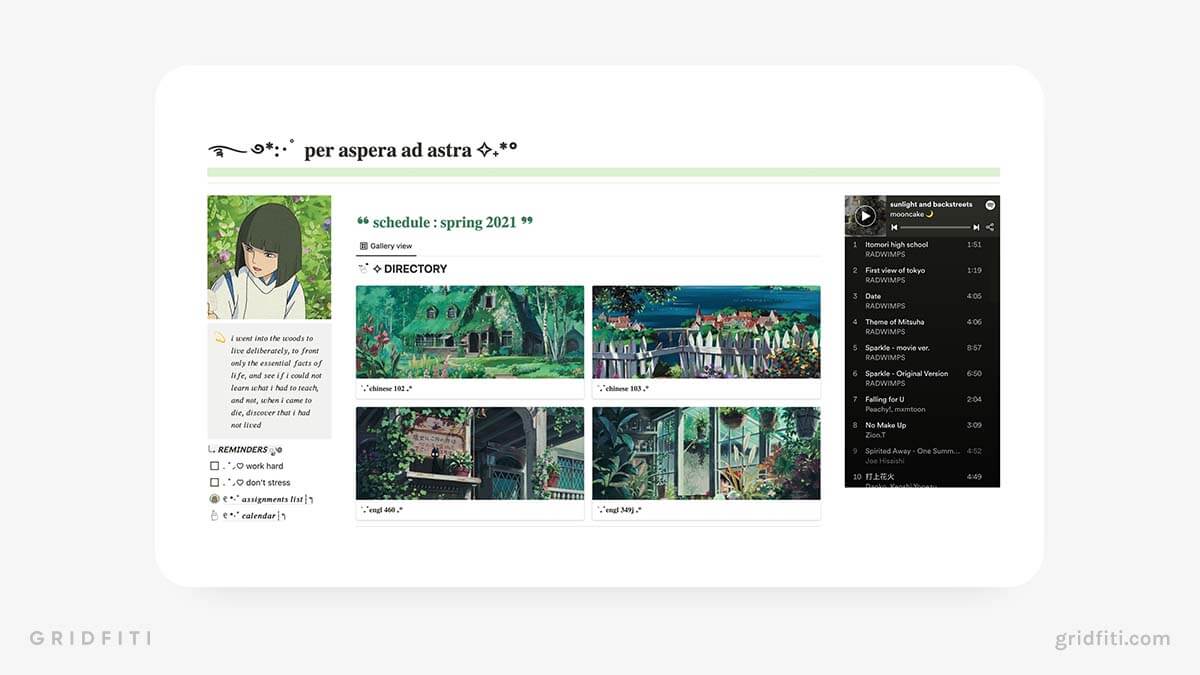 Aesthetic Cute & Kawaii Templates
Pretty up your Notion setup with these cute and kawaii templates! From cute animal characters to illustrated pink icons, there's no shortage of options out there. Want to bring some cuteness to your iPad or iPhone home screen too? Check out our round-up on cute and kawaii iOS app icons!
Cute Notion Dashboard & Client Portal Template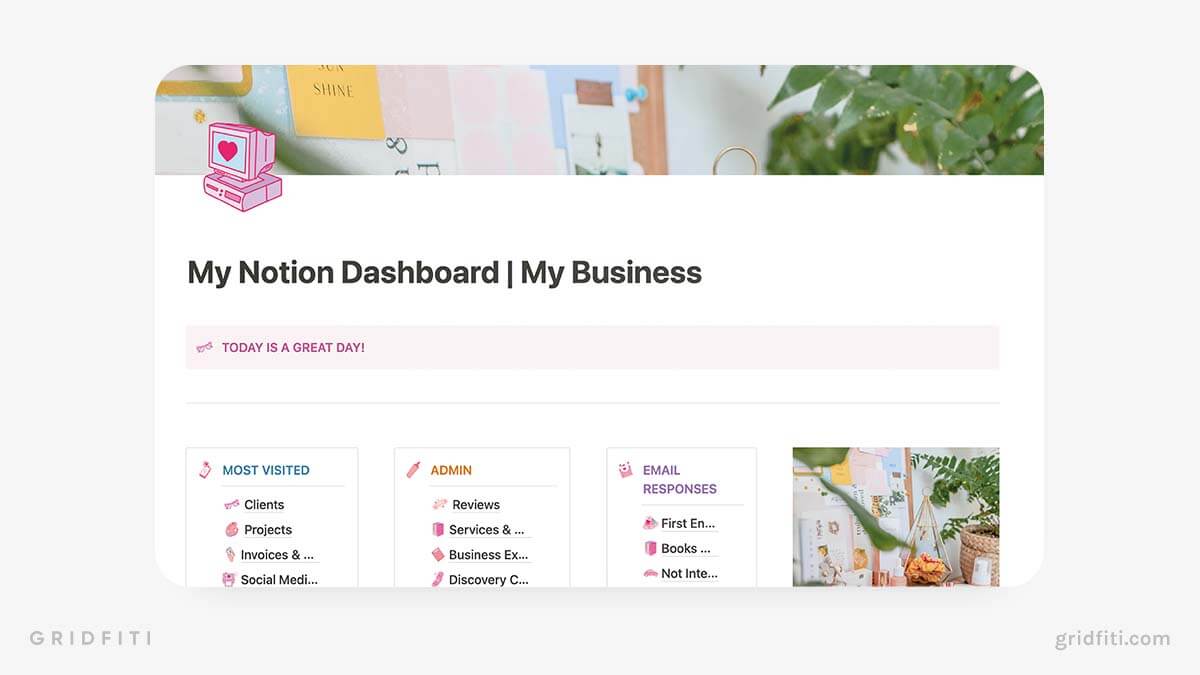 Sumikko Gurashi Notion Dashboard Template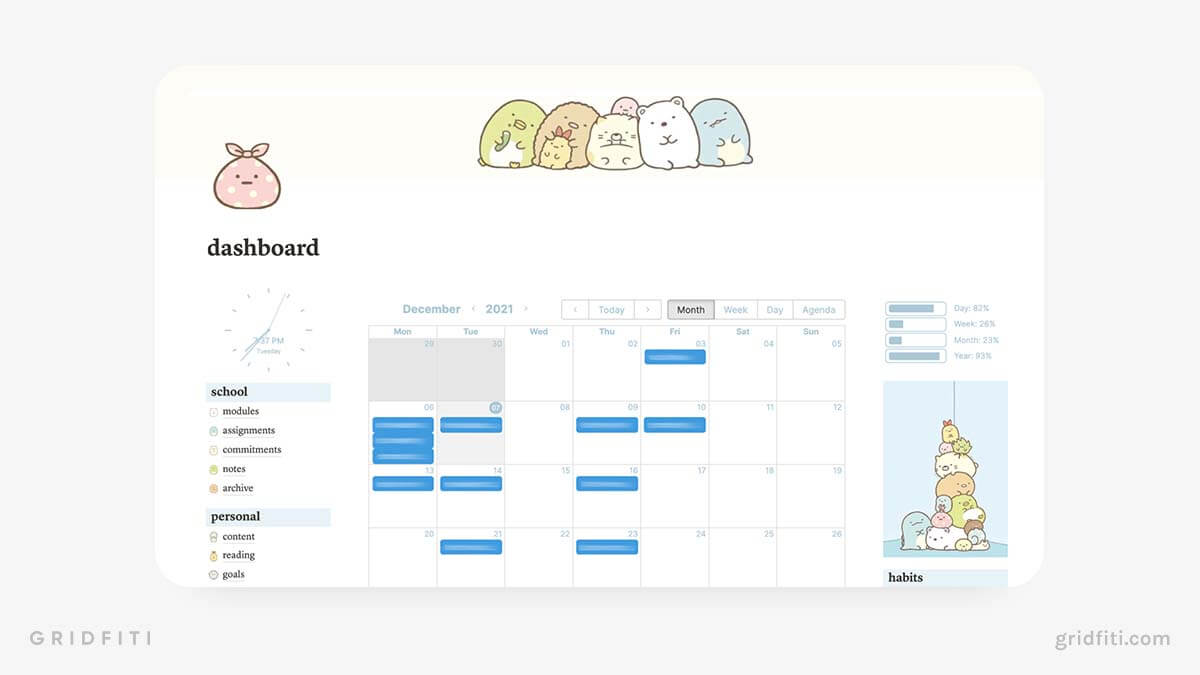 BT21 Notion Dashboard Template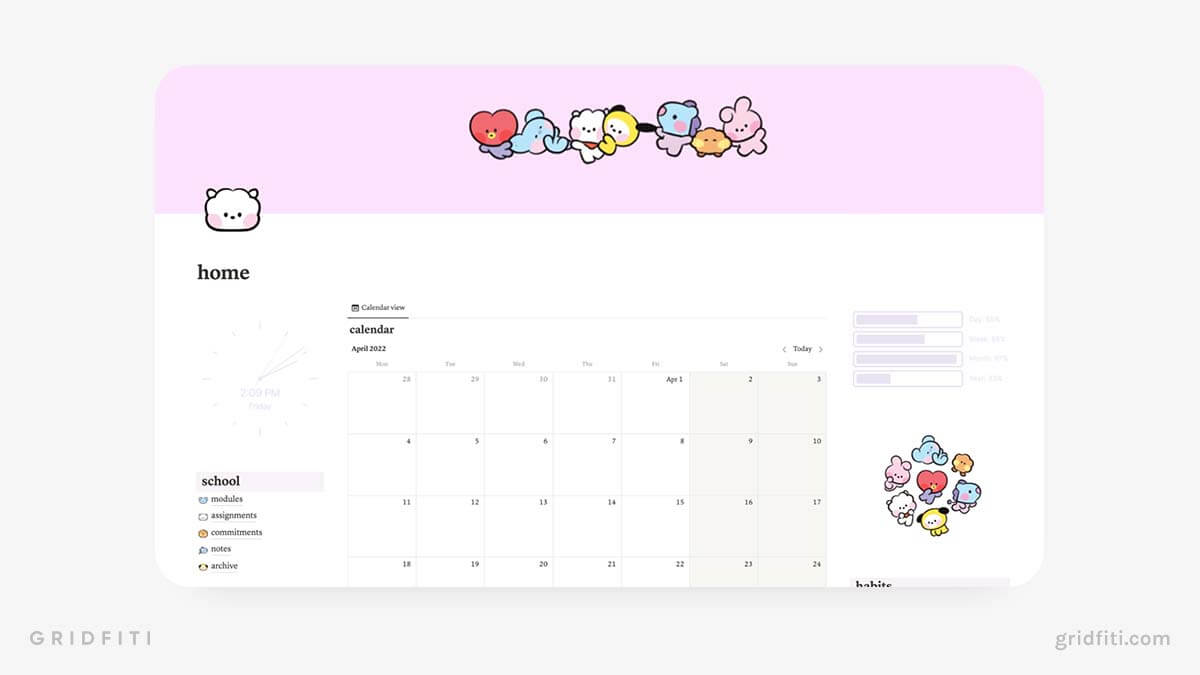 Pink Aesthetic Templates
If pink is your personality, these are the templates for you! Bring your love for the color pink into your Notion workspace with these pink-themed templates.
Pink Notion Nutrition Diary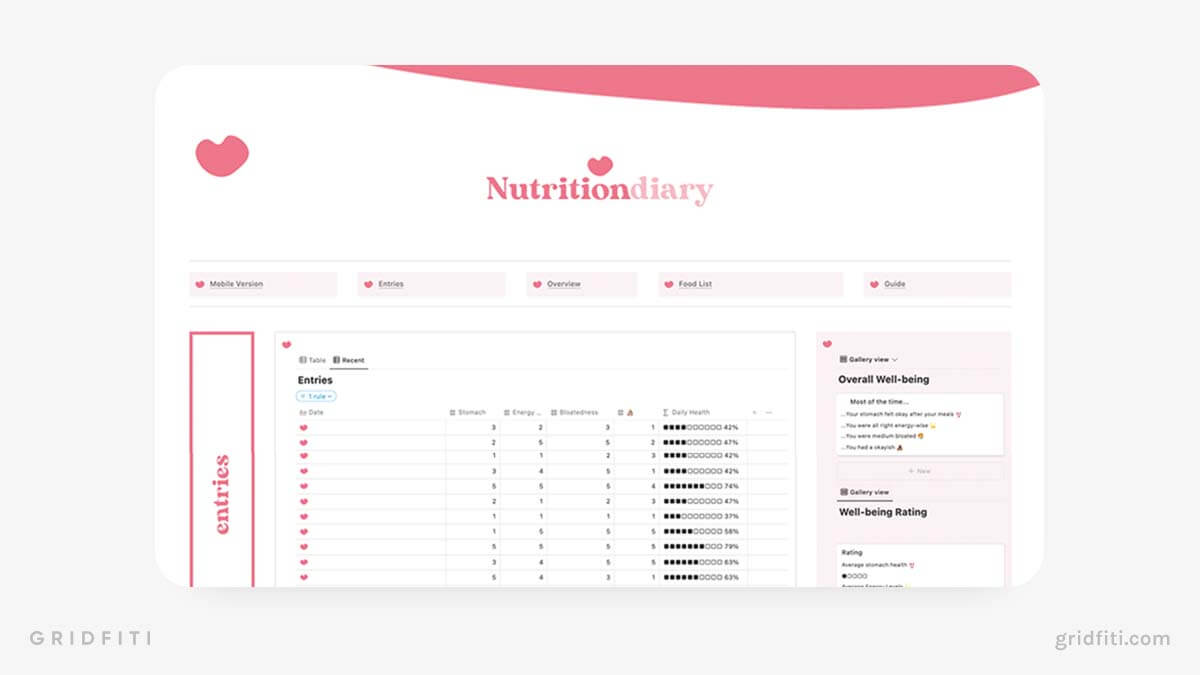 Pink Blossom Life Dashboard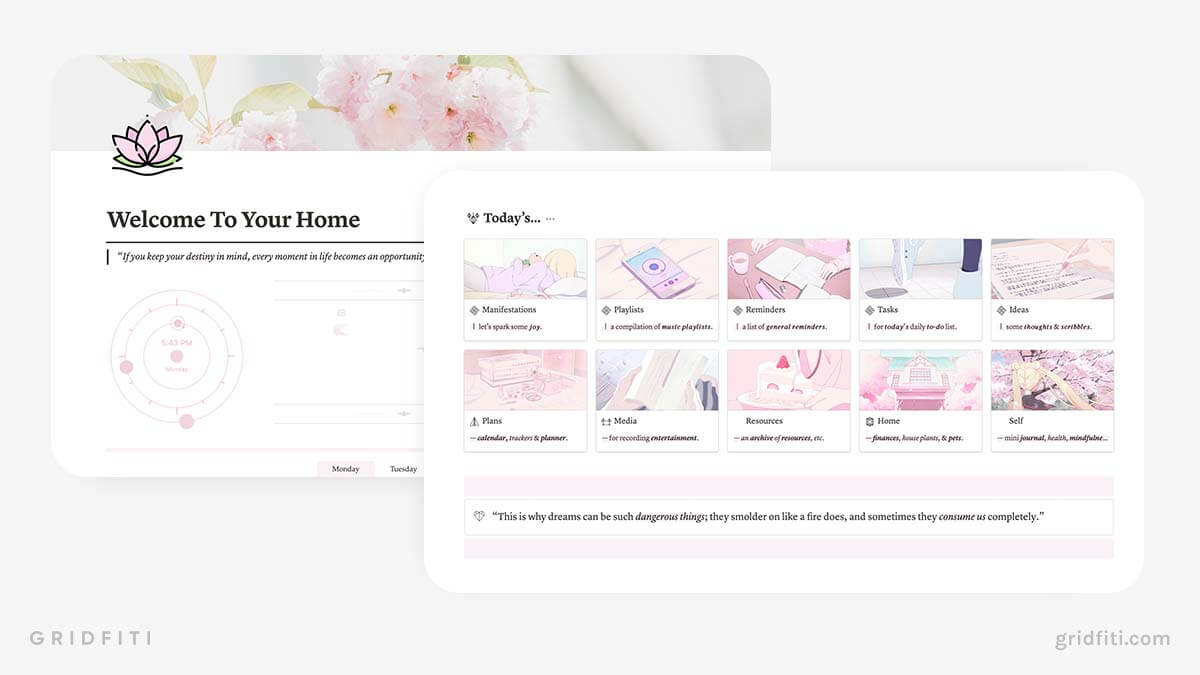 Pink Life Planner Template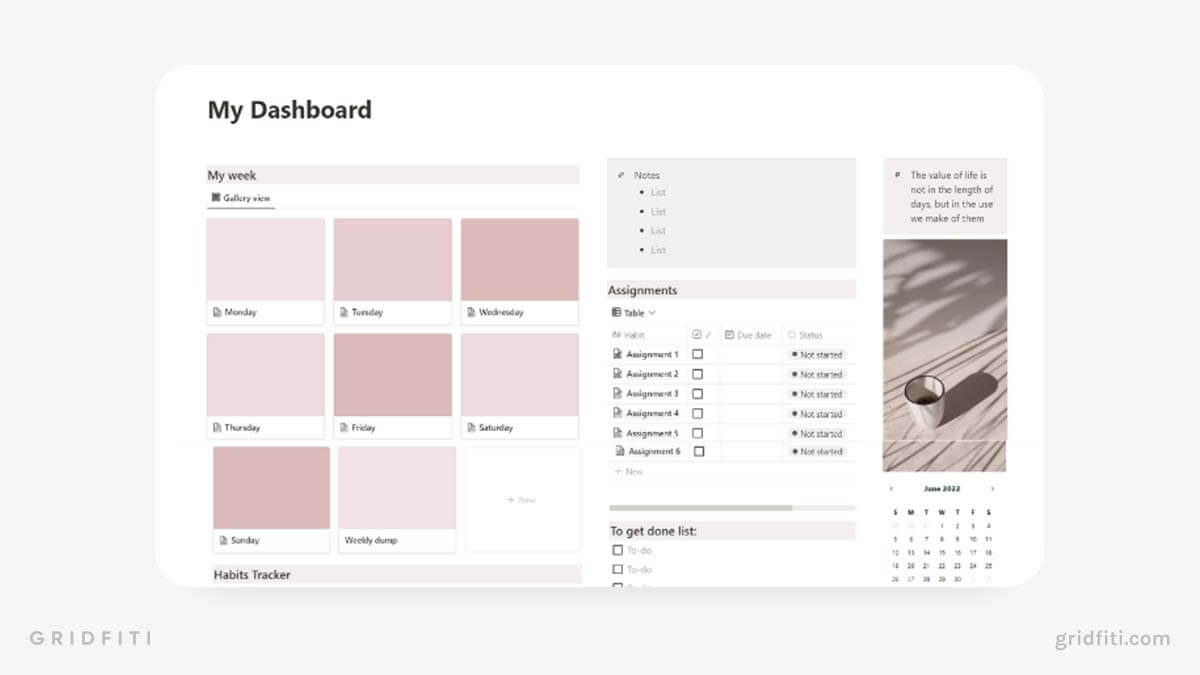 Green Aesthetic Templates
From lush Studio Ghibli scenes to green color palette themes, bring serenity and life to your setup with a green aesthetic Notion template!
Green Studio Ghibli-Themed Dashboard Template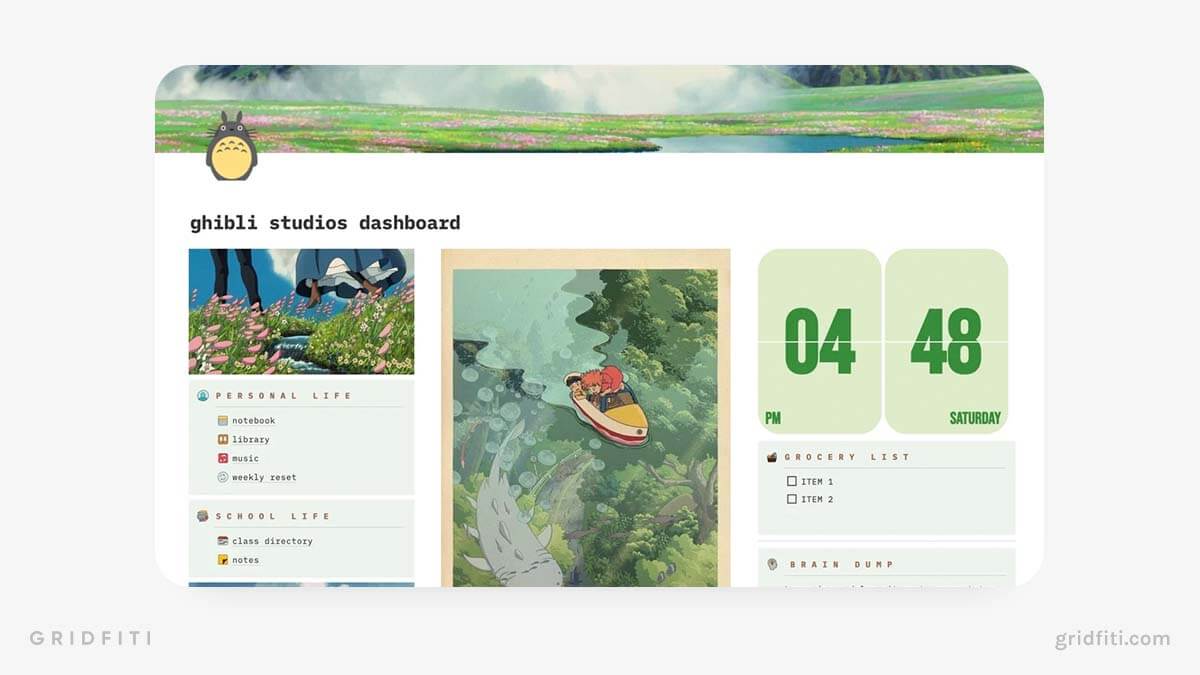 Green Life Planner Template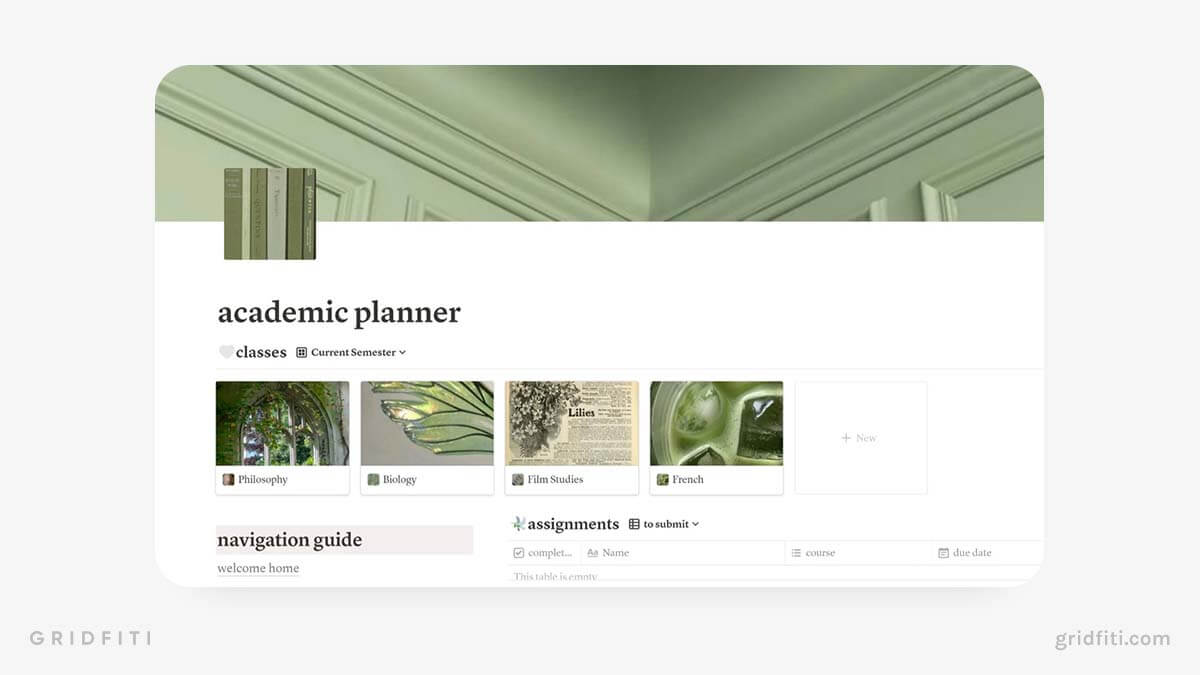 Green Notion That Girl Template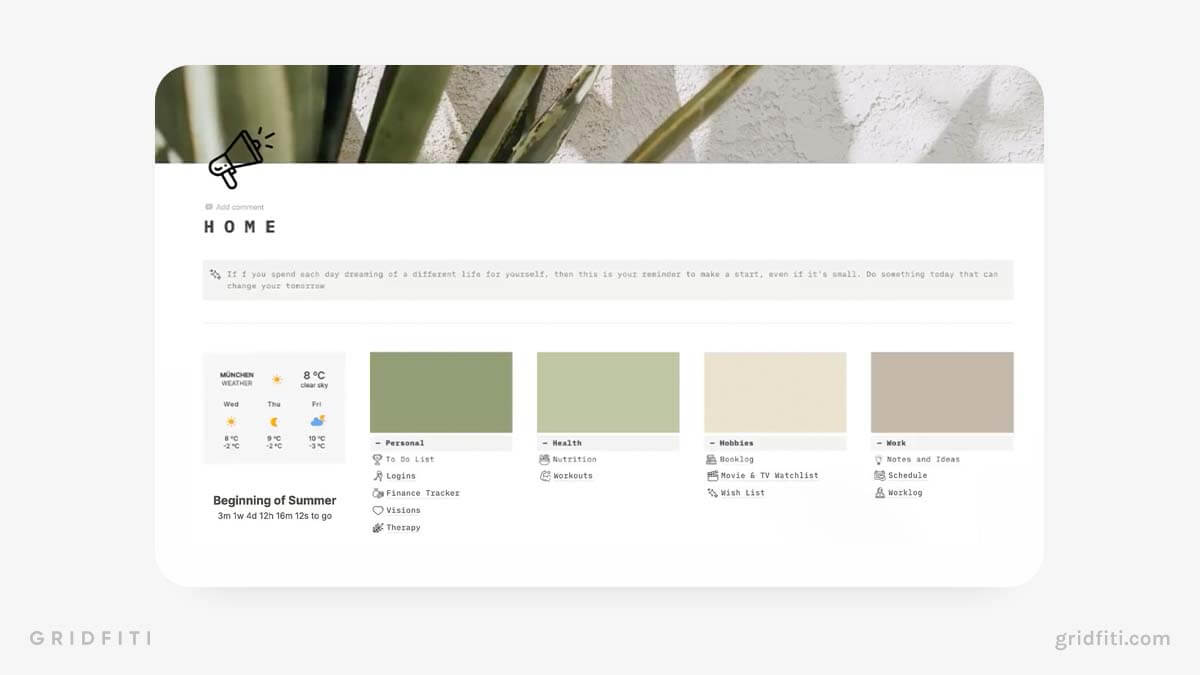 Simple Green Plants Dashboard Template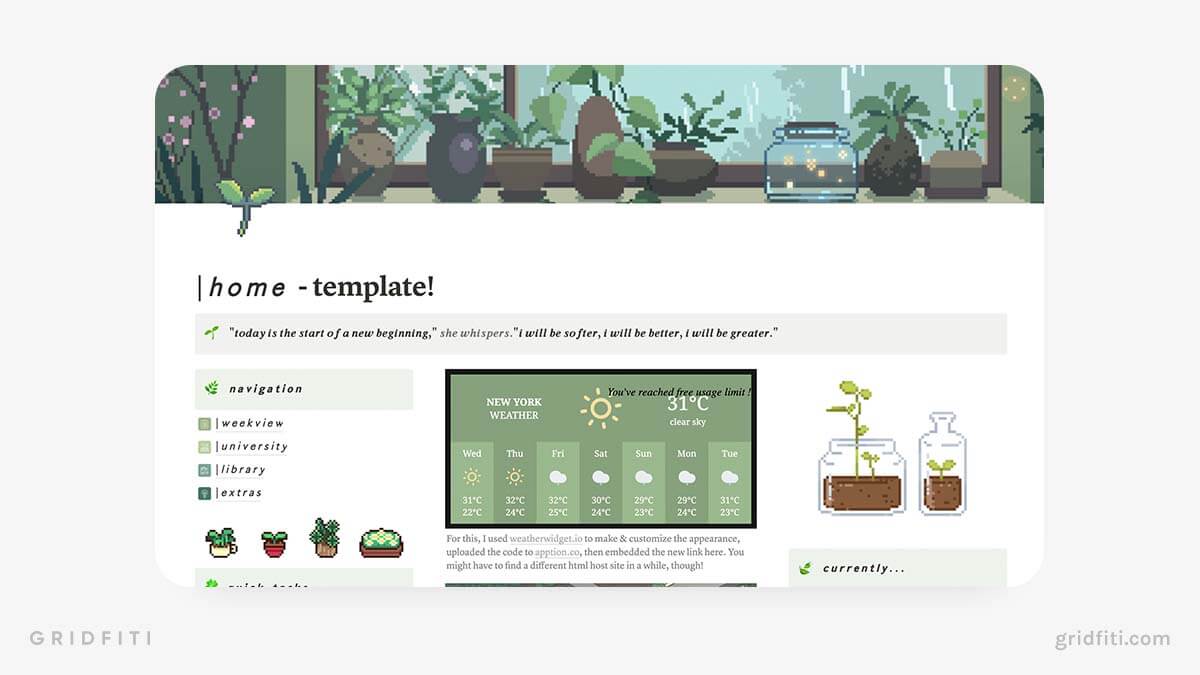 Free & Miscellaneous Aesthetic Templates
Check out these other great aesthetic templates for different Notion use cases! Check out our round-up on free Notion templates for even more options.
---
Aesthetic Notion Themes Ideas & Inspo
Great, now you've downloaded a Notion template, but how do you customize your workspace to take it to the next level? Get some inspo from these aesthetic Notion themes!
Aesthetic Anime Notion Theme Ideas
Whether you're a Studio Ghibli fanatic or Sailor Moon die hard, get inspired by these aesthetic anime Notion themes.
Looking for more anime ideas? Check out our full round-up post featuring the most aesthetic anime Notion templates!
Scenic Studio Ghibli Notion Theme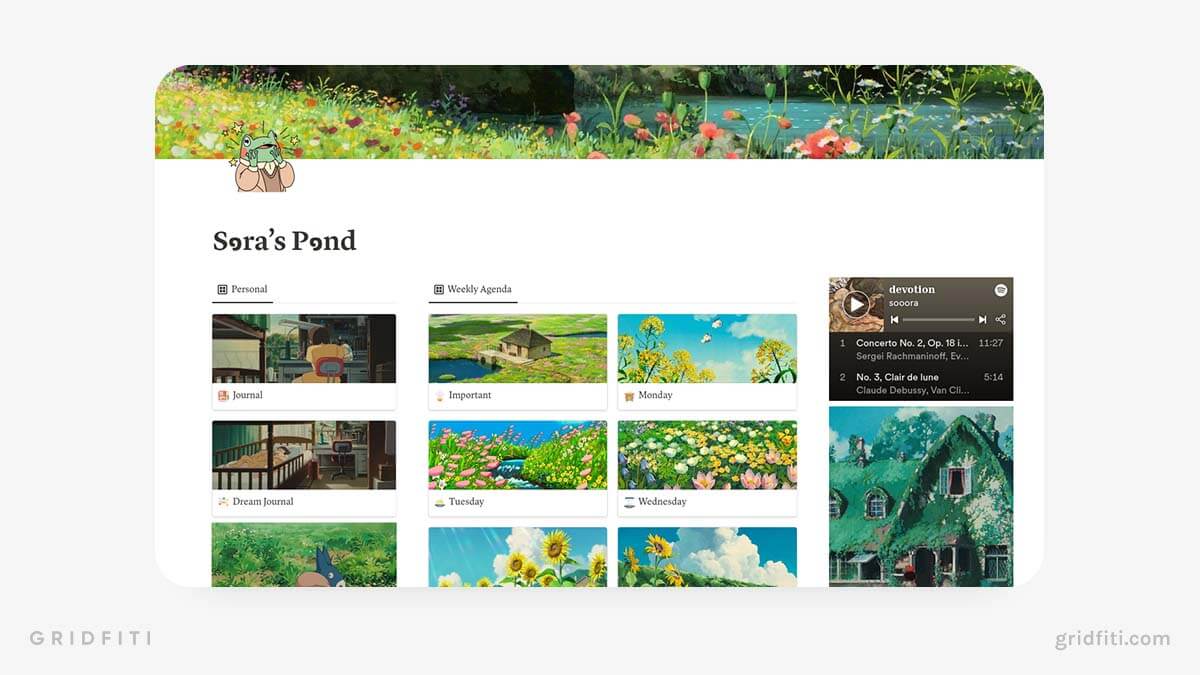 Setup by u/miivvii
90s Anime Aesthetic Notion Template for School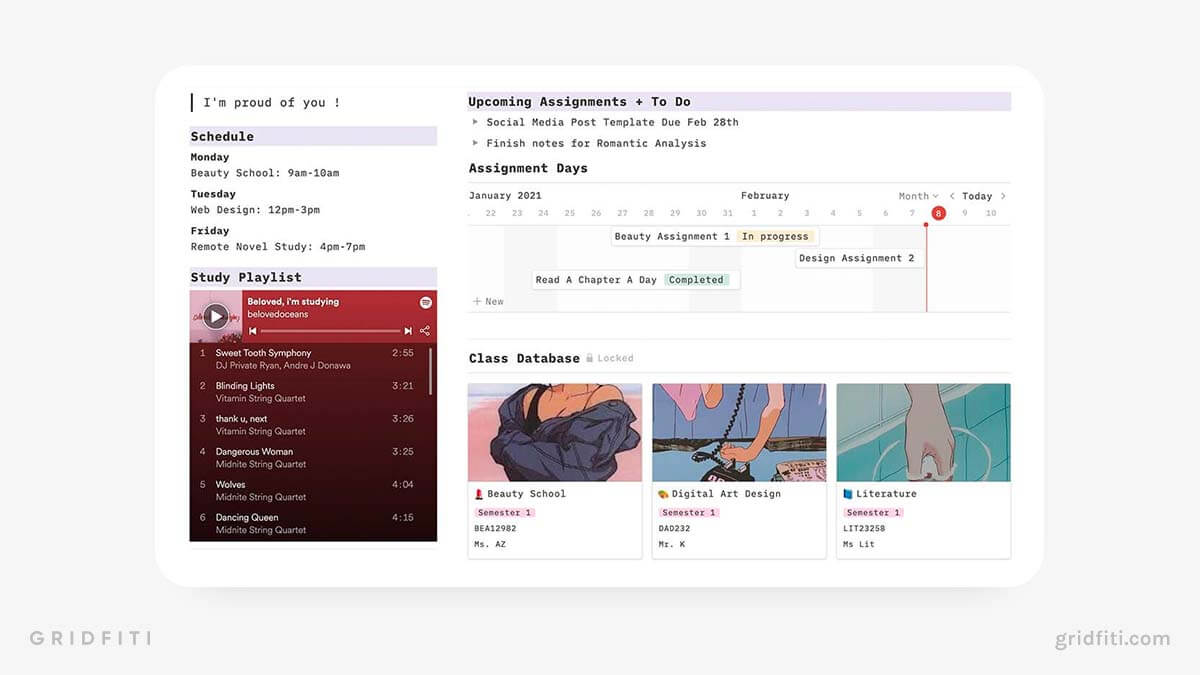 Setup by Beloved Ocean
Sailor Moon Aesthetic Notion Theme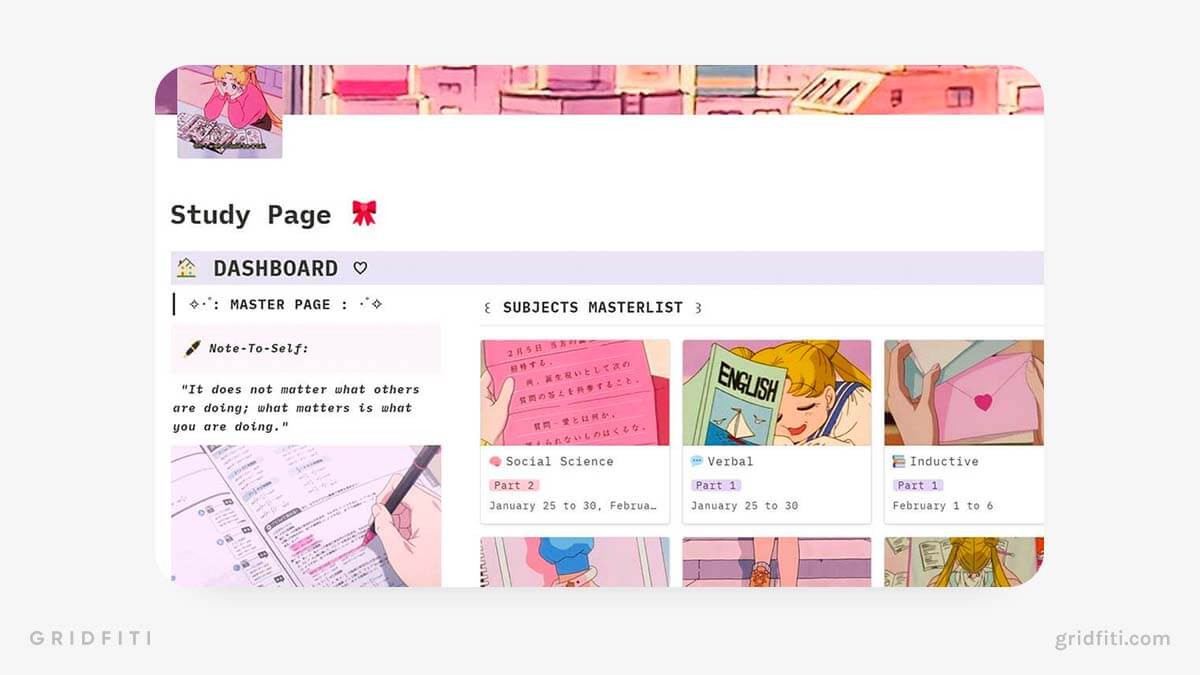 Setup by @daphnedi_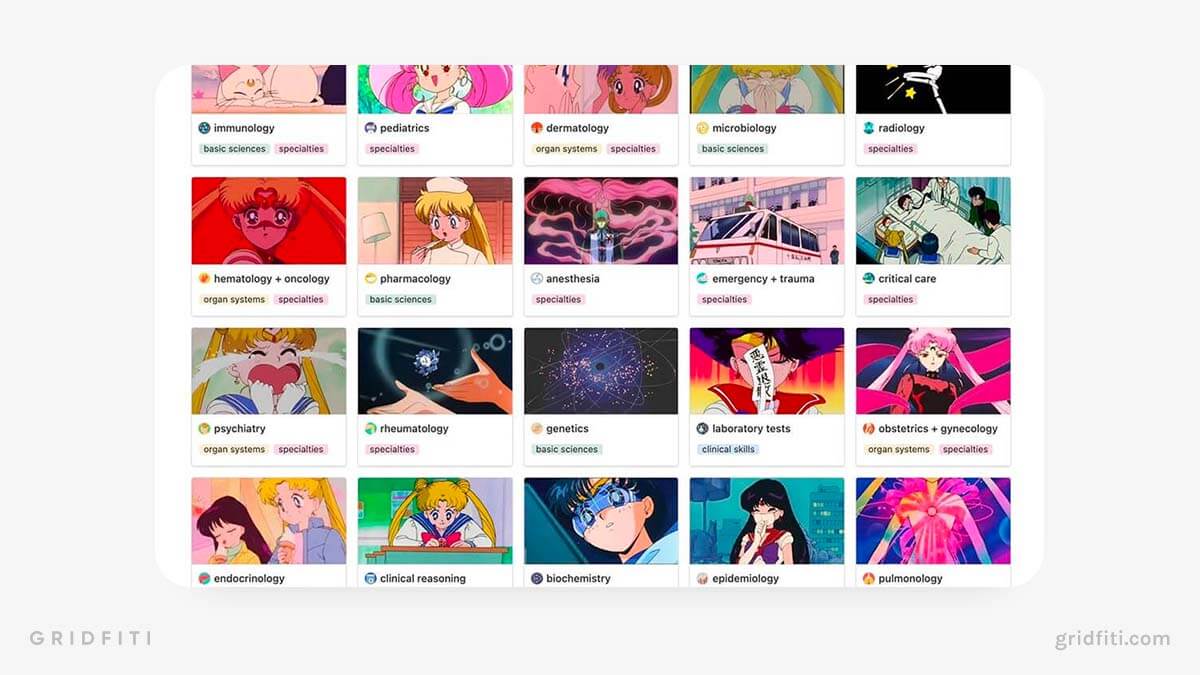 Setup by @nwghibli
Dark Mode Studio Ghibli Notion Theme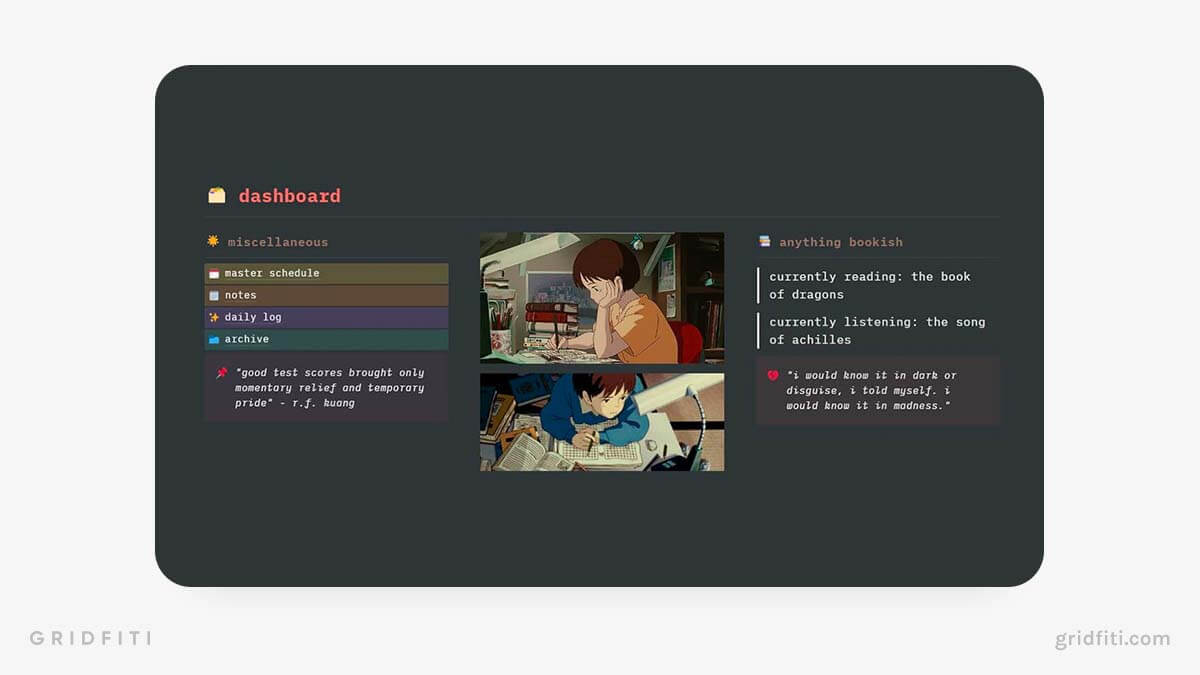 Setup by @bookdragonism
Mob Psycho 100 Aesthetic Notion Theme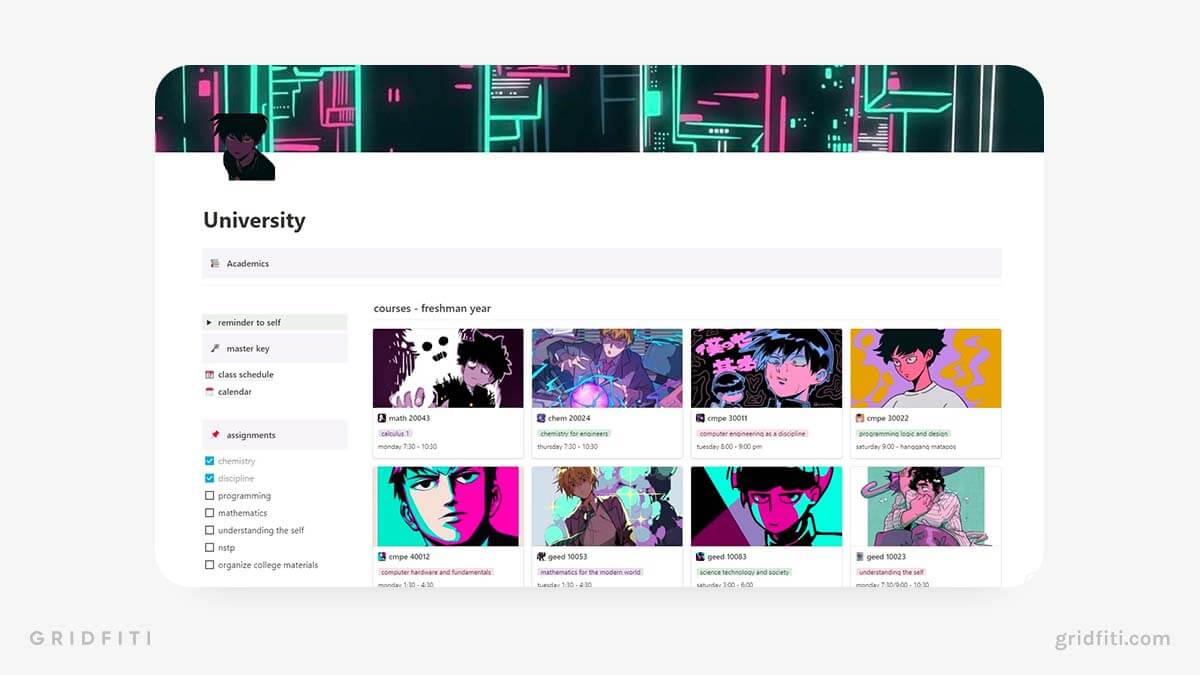 Setup by @nwghibli
Fandom & Gaming Notion Theme Ideas
Express your love for your favorite franchises with your Notion theme!
Slytherin Harry Potter Notion Theme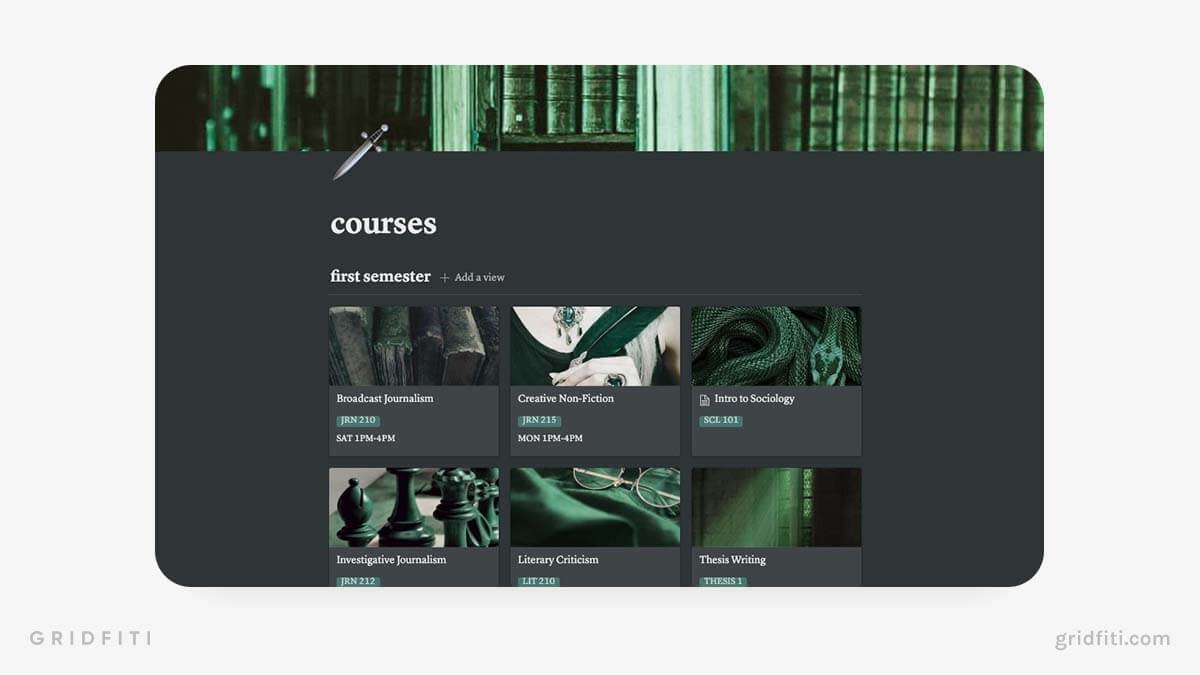 Setup by @quietmonday
Aesthetic KPop Notion Template Theme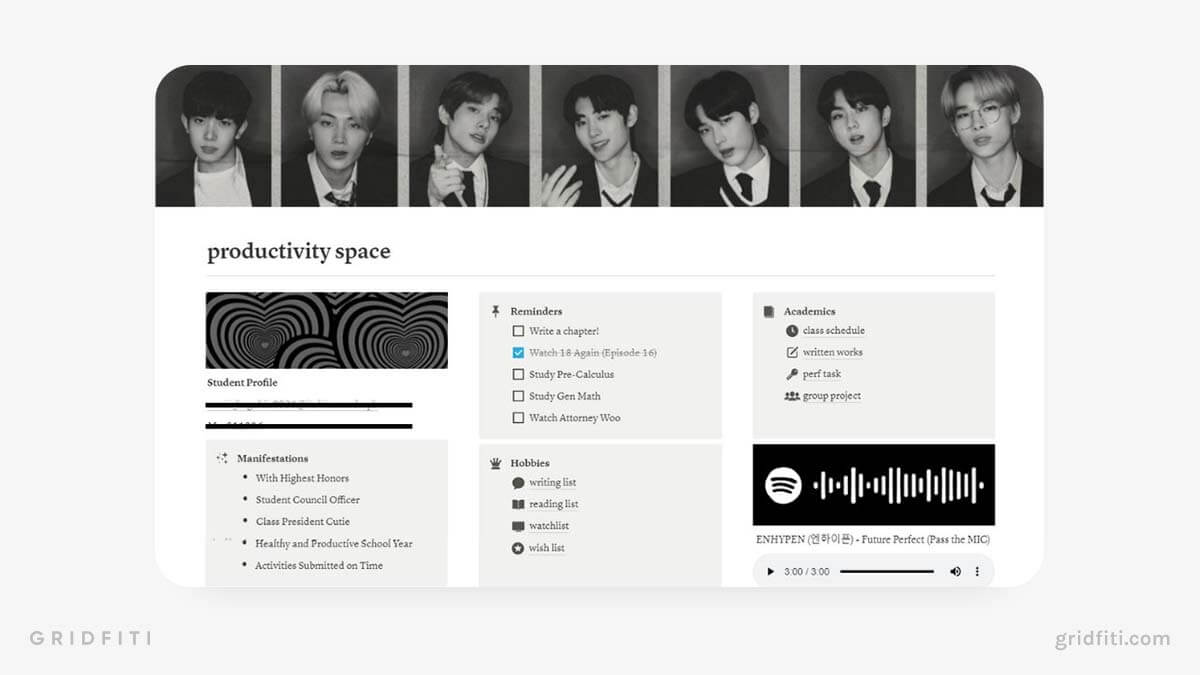 Setup by @mcyyybc
Stardew Valley-Inspired Notion Theme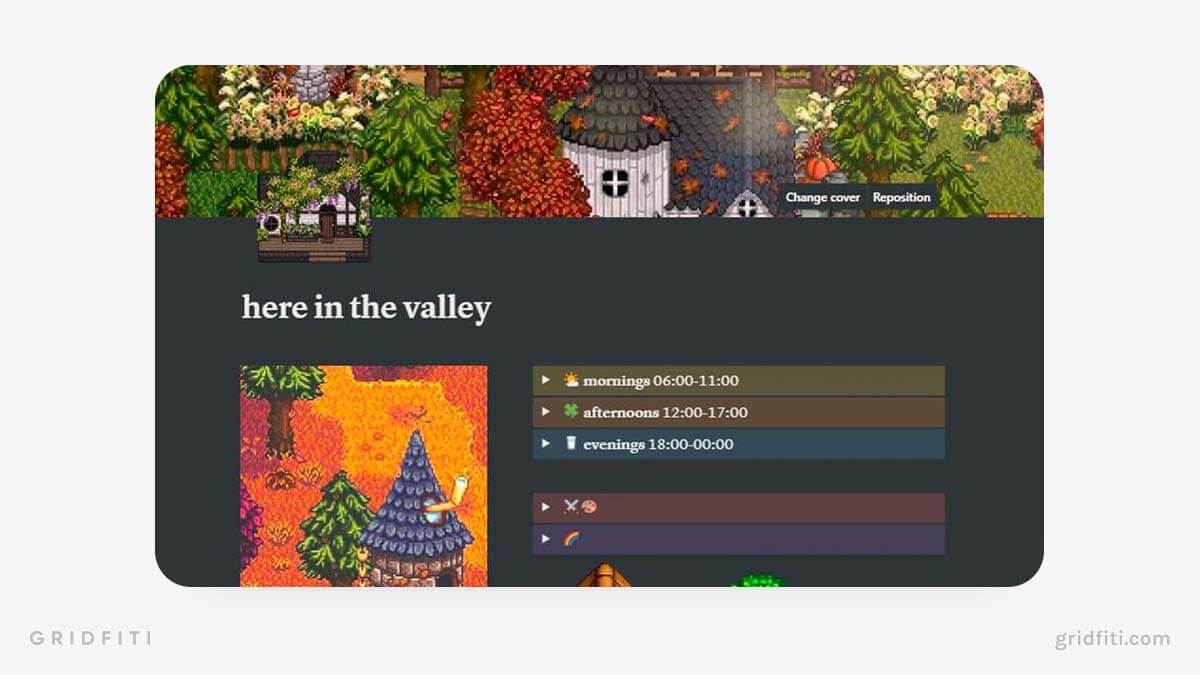 Setup by @moonmincake
Animal Crossing New Horizons Notion Theme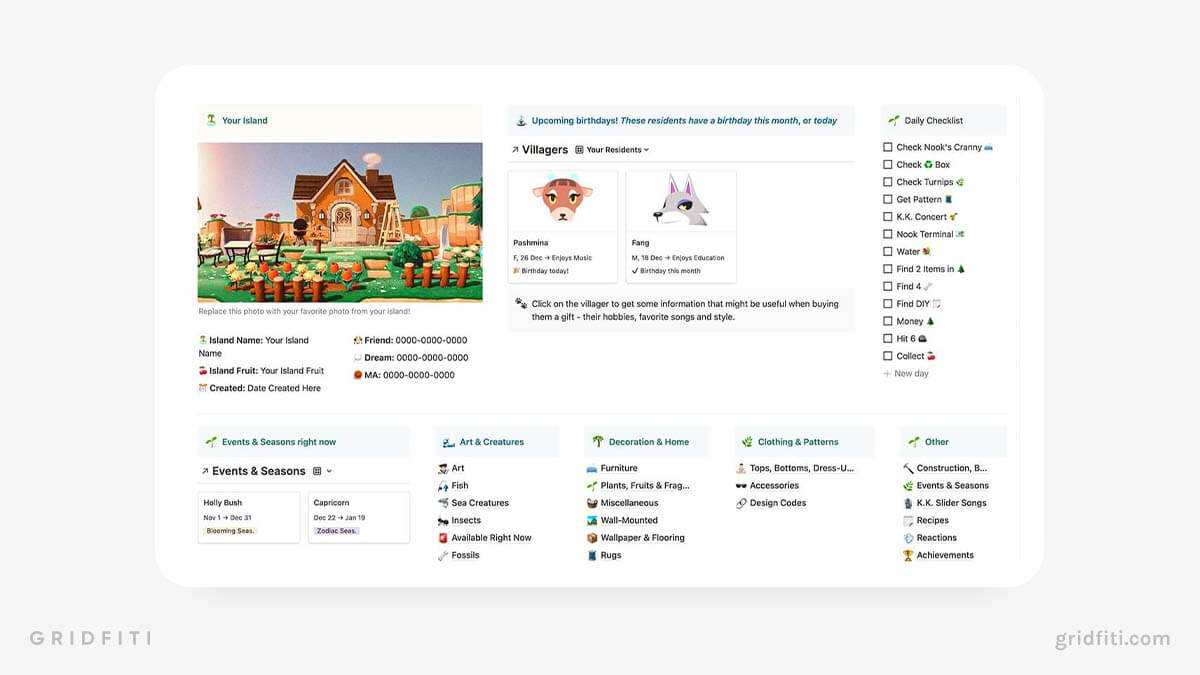 Setup by @norahsketch
Notion Themes for Different Aesthetics
Does your aesthetic go beyond a certain color palette? Check out these Notion layouts that go the extra mile and dive deep into their respective aesthetic.
Y2K Aesthetic Notion Theme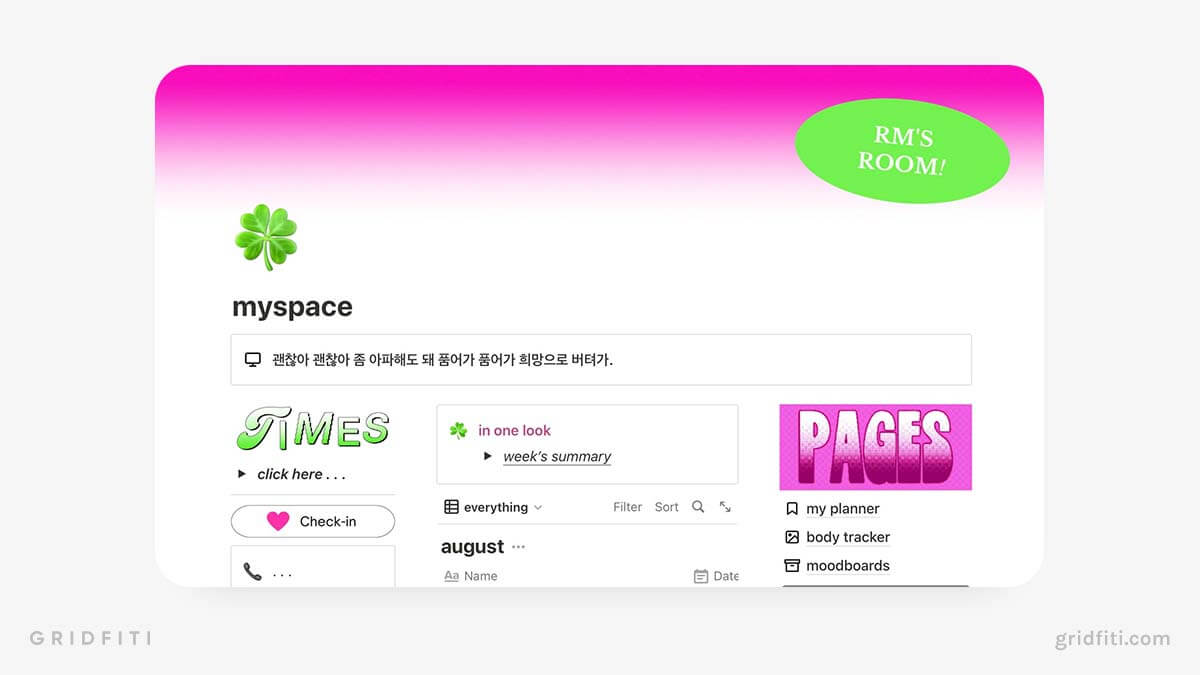 Setup by @diaevry
Soft Aesthetic Notion Theme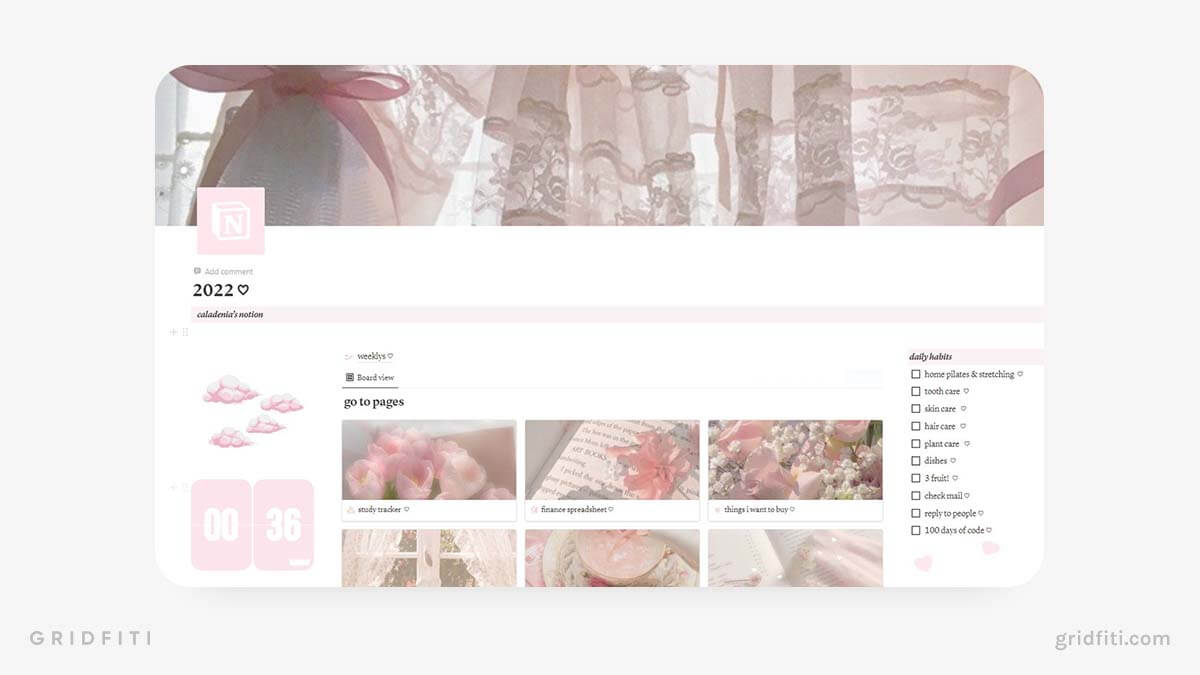 Setup by @notesofnumbers
Cottagecore Aesthetic Notion Theme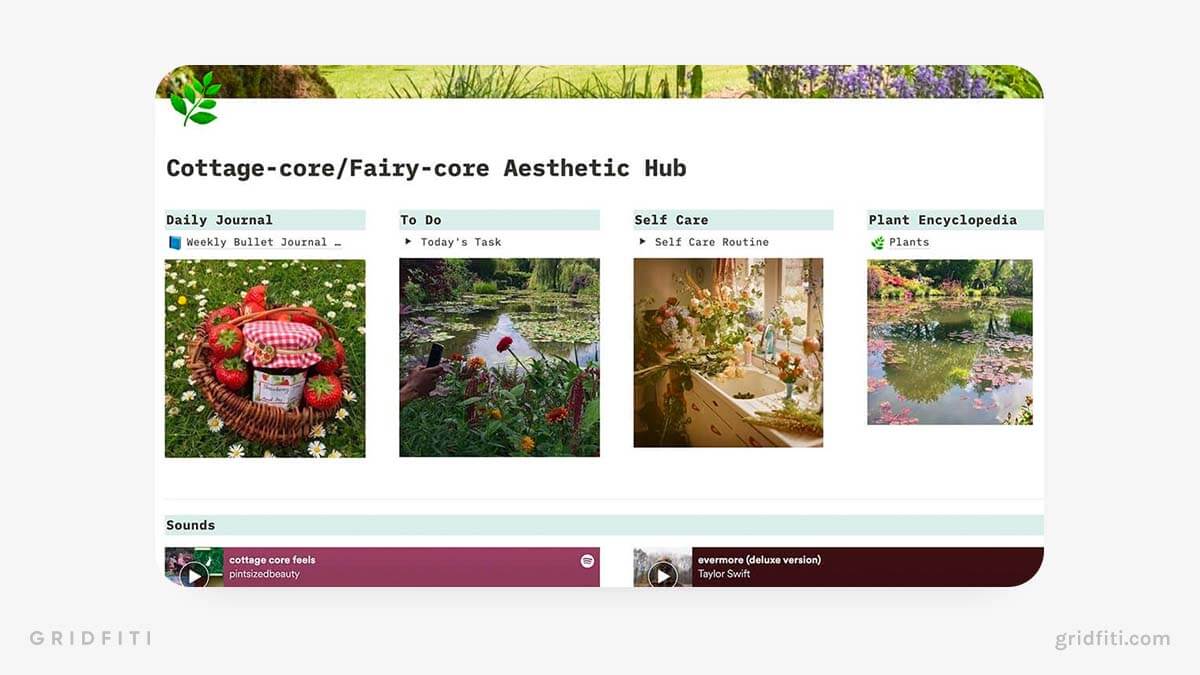 Setup by @belovedoceans
Soft Forest Watercolor Notion Theme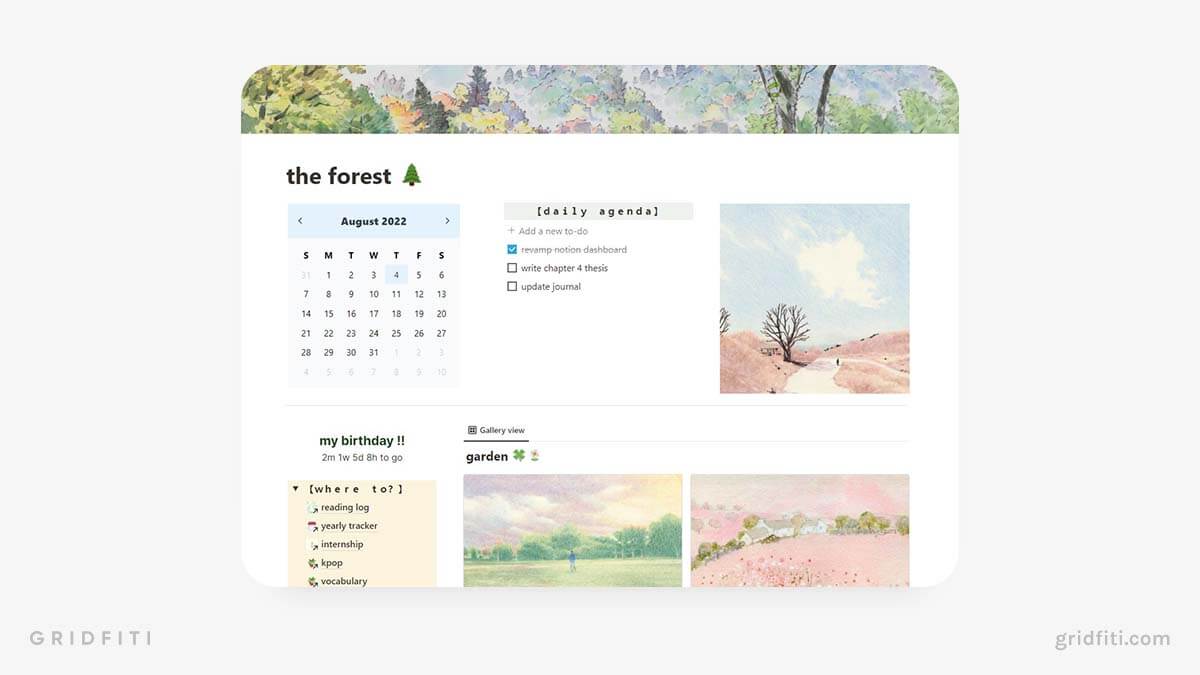 Setup by @ywzarchive
Dark Academia Aesthetic Notion Theme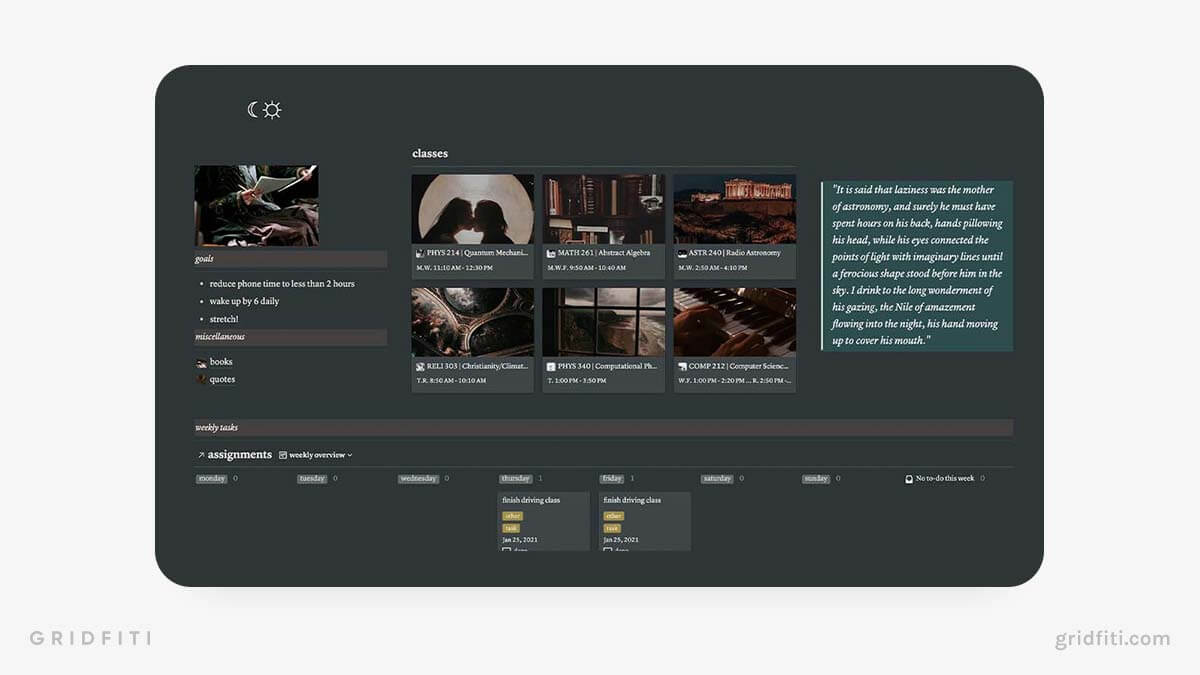 Setup by @lilyybriscoe
Color Aesthetic Notion Themes
Want a simple way to make your Notion setup more visually pleasing? Just add splashes of your favorite color! If you're in need of some color inspo, check out our pre-built aesthetic color palettes.
Pink Aesthetic Notion Themes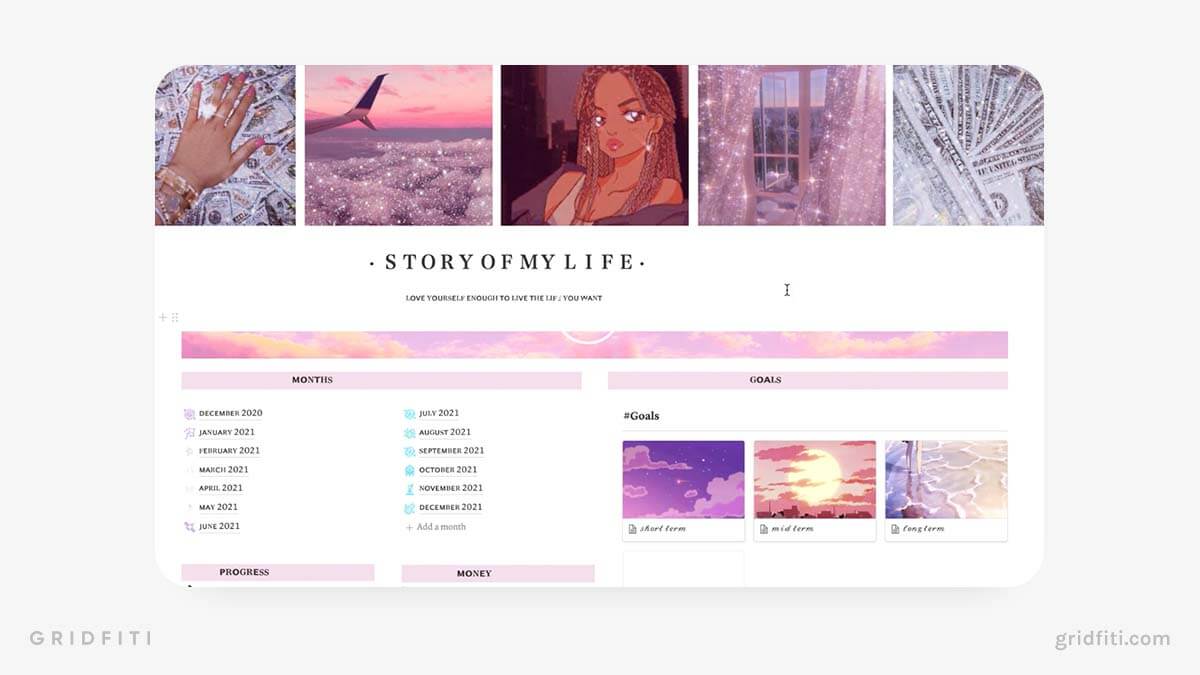 Setup by u/goodieebag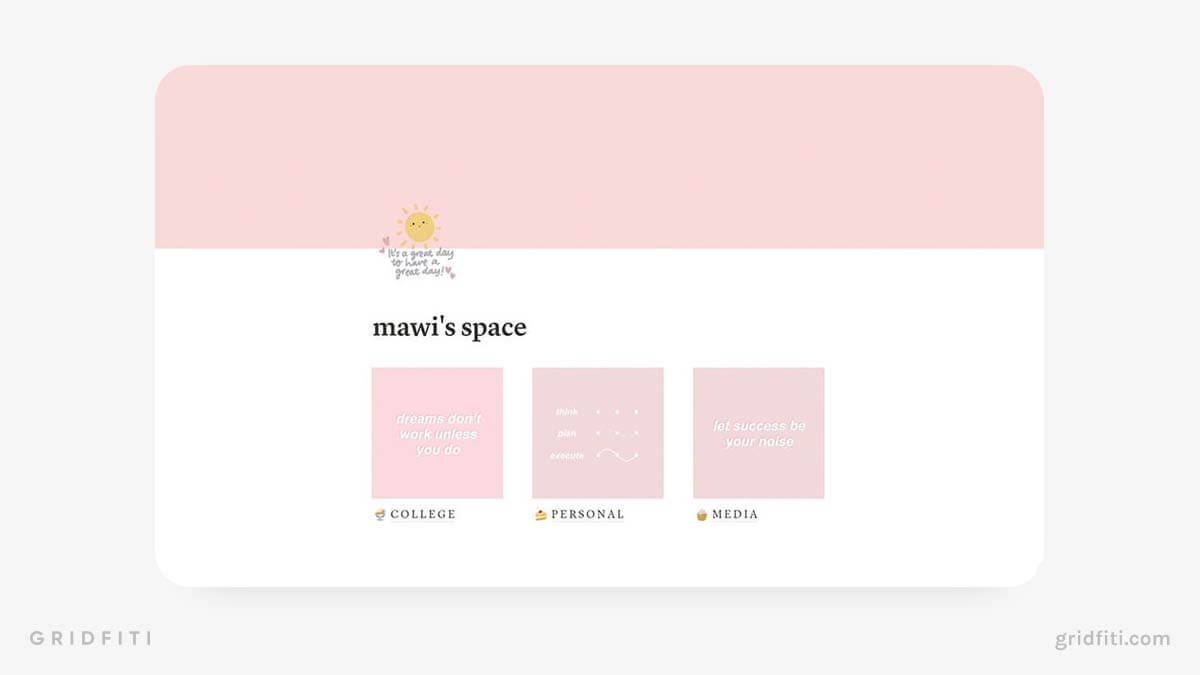 Setup by u/giraldibunny
Green Aesthetic Theme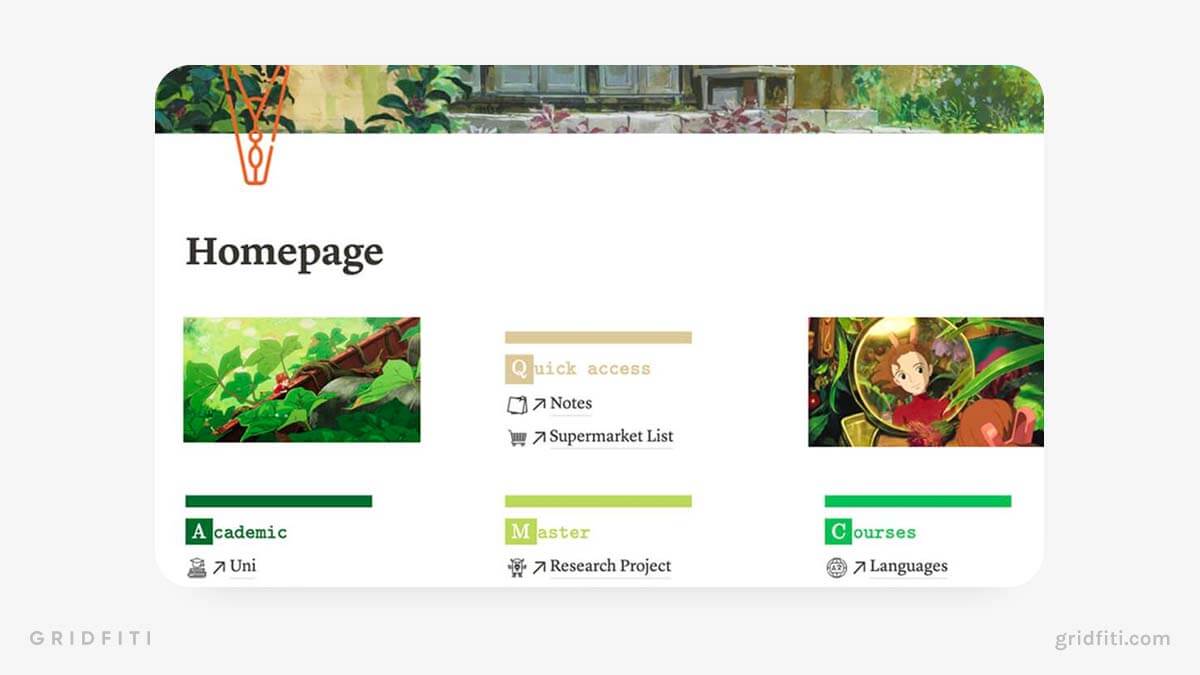 Setup by u/csergilo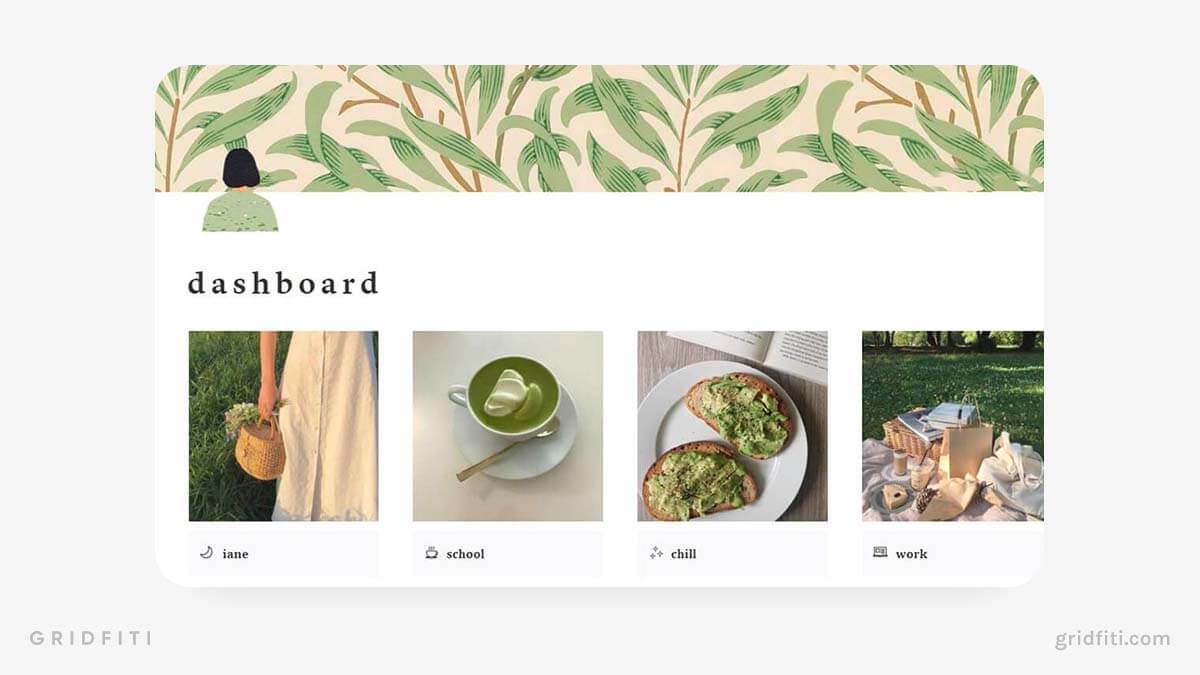 Setup by @xnthous
Purple Aesthetic Notion Theme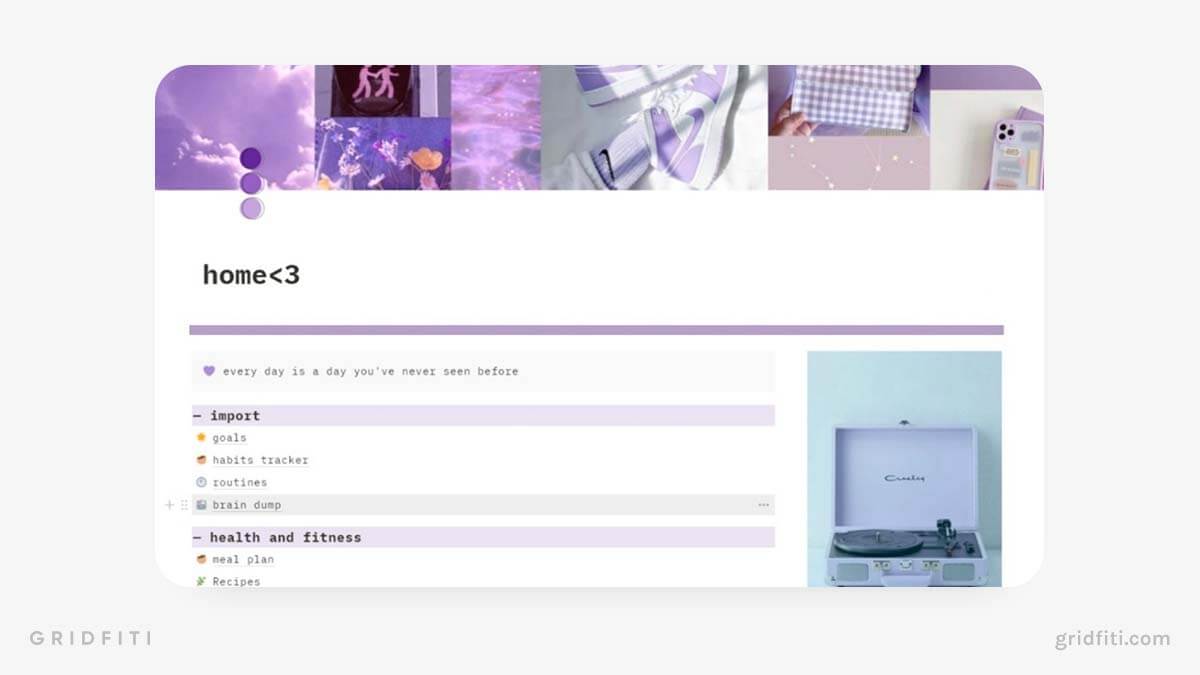 Setup by u/myh9i8
Yellow Aesthetic Notion Theme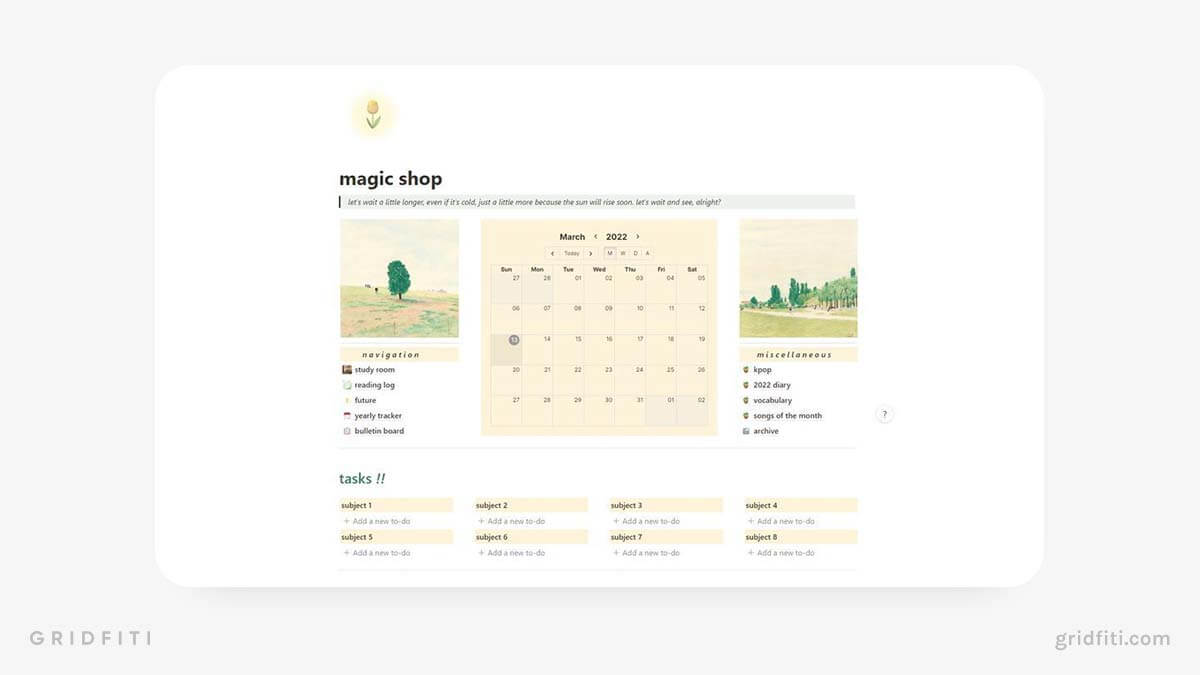 Setup by @ywzarchive on Twitter
Orange Aesthetic Notion Theme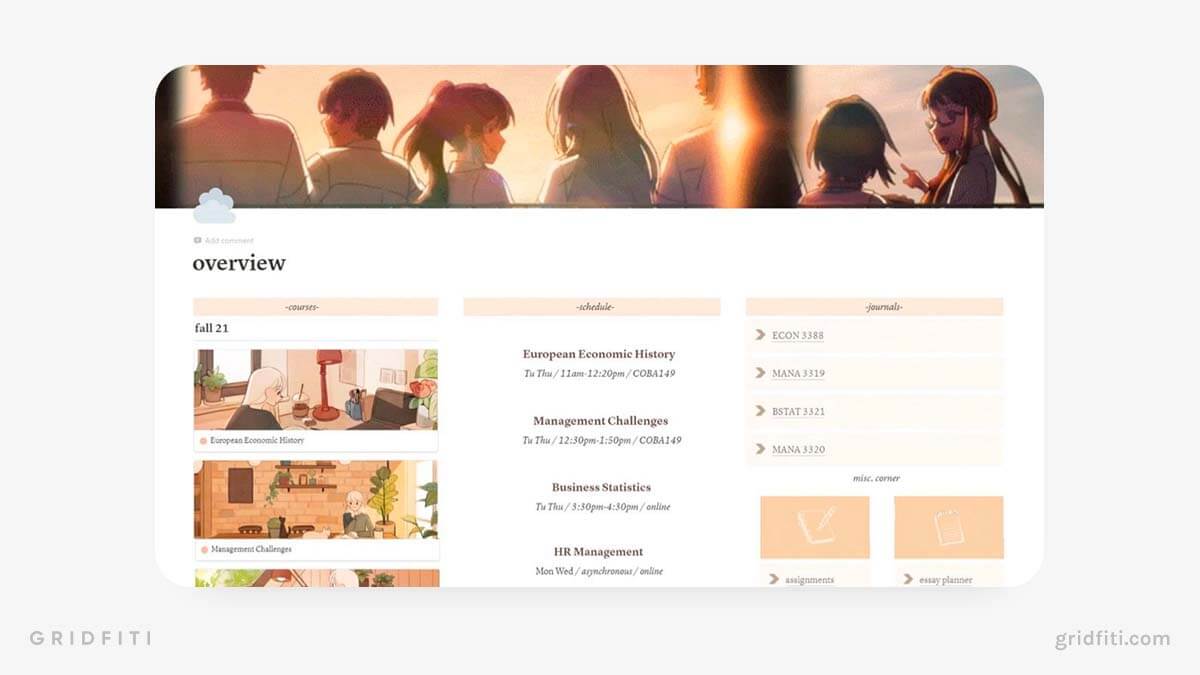 Setup by heartlyss on Pinterest
Black & White Aesthetic Notion Themes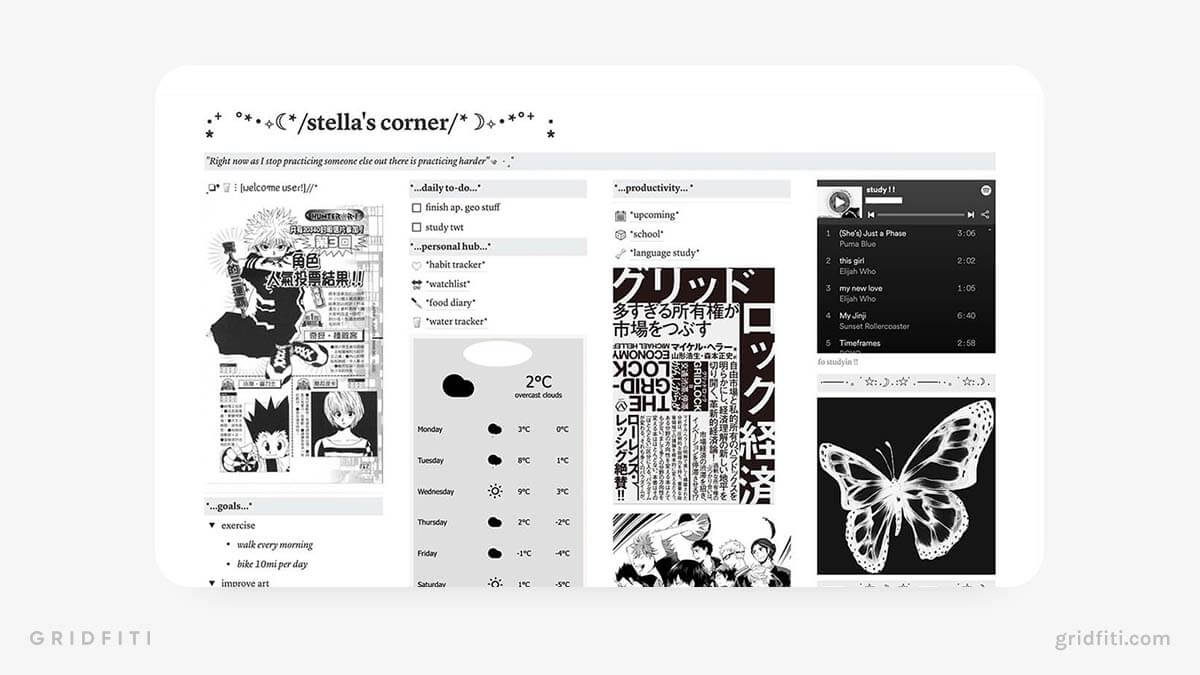 Setup by @apricotstudies
Blue Aesthetic Notion Theme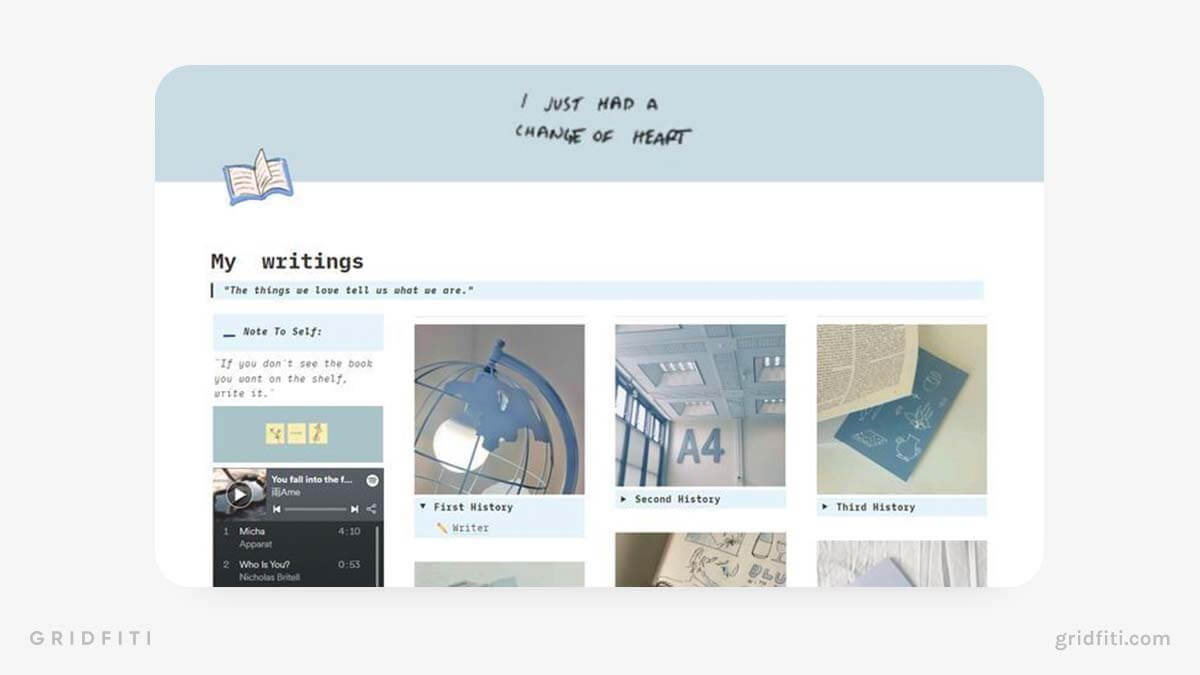 Setup by 雨Ame on Pinterest
Calming Pastel Gradient Aesthetic Theme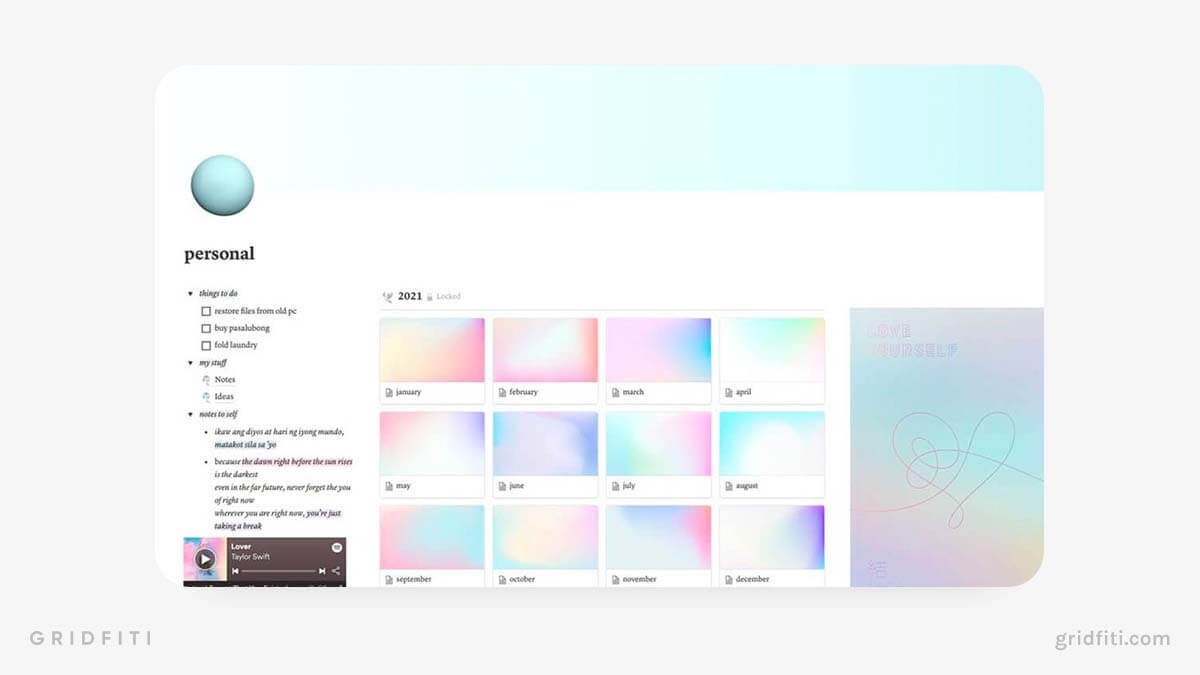 Setup by @ekonomiyaki__
Colorful Pastel Theme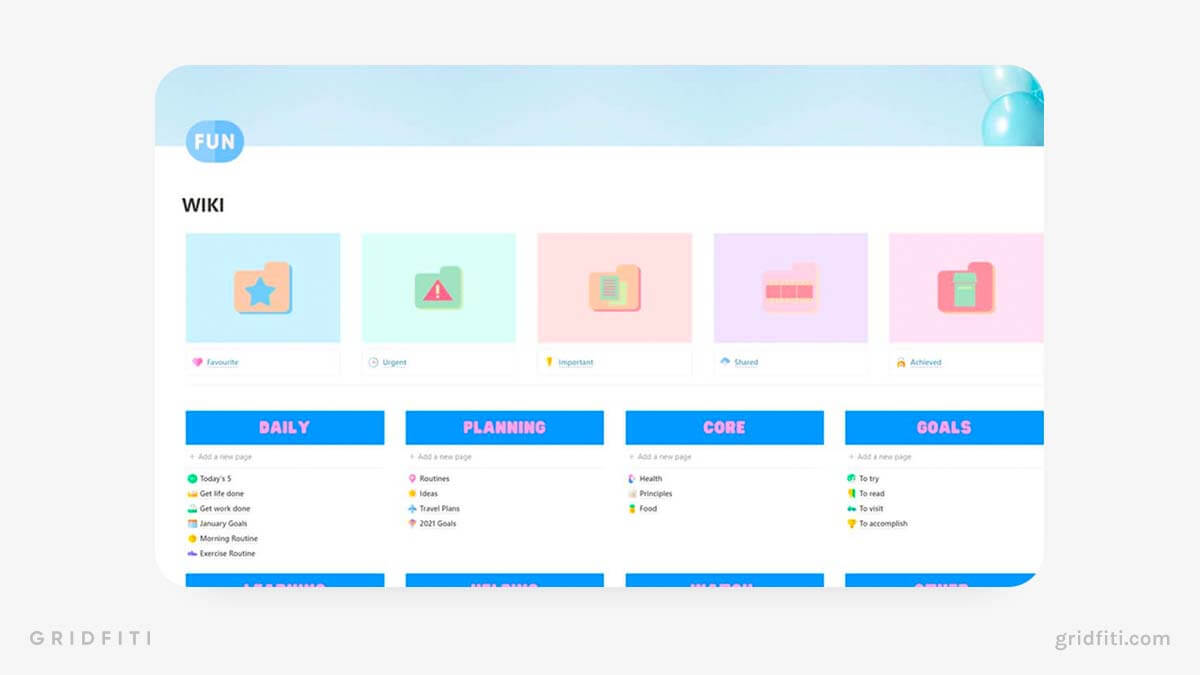 Setup by u/Ellllaa
Bright Pastel Aesthetic Theme
Setup by @dianapasgas
Minimalist Aesthetic Notion Themes
Sometimes less is just more. If you're a minimalist looking to keep things simple, get inspired by these clean setups.
Looking for more clean and simple templates? Check out our round-up with 20+ beautiful minimalist Notion templates.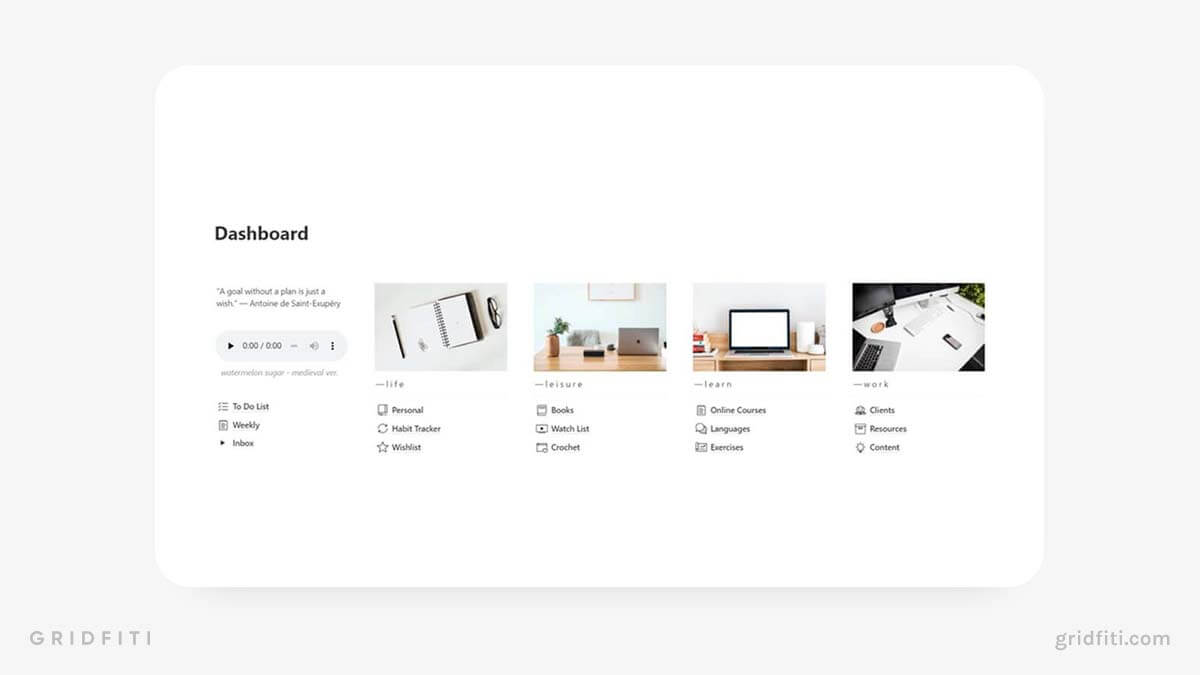 Setup by u/hyoseonnie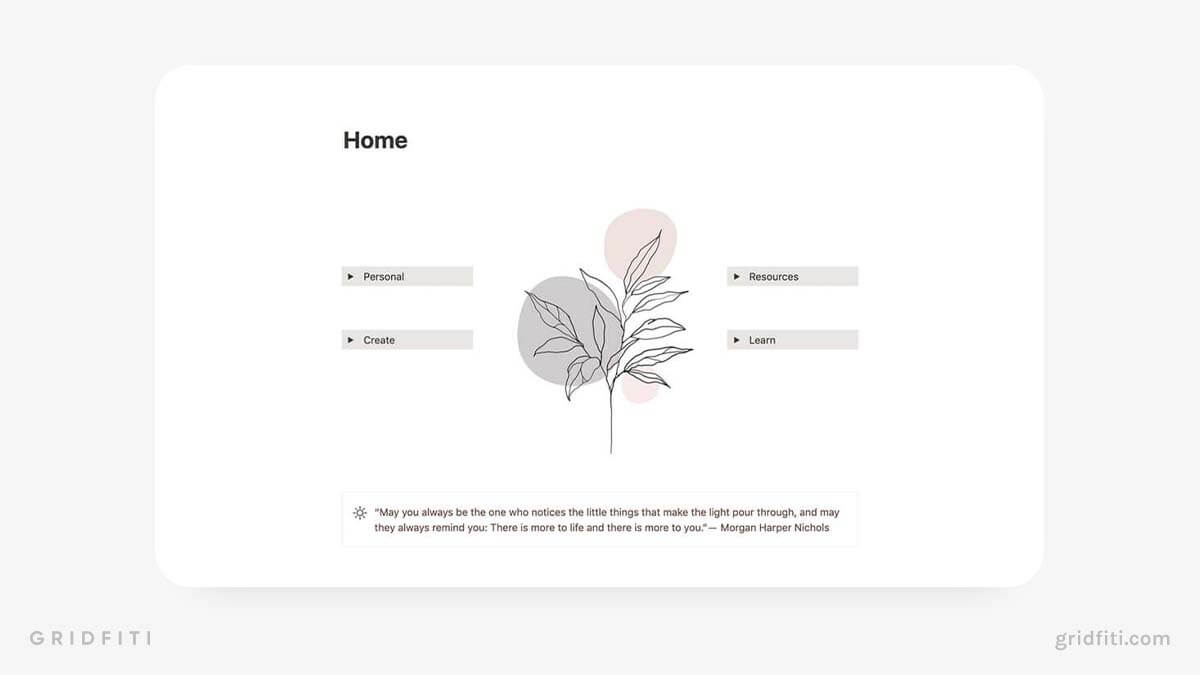 Setup by u/rchllt
Minimal Color Swatches Theme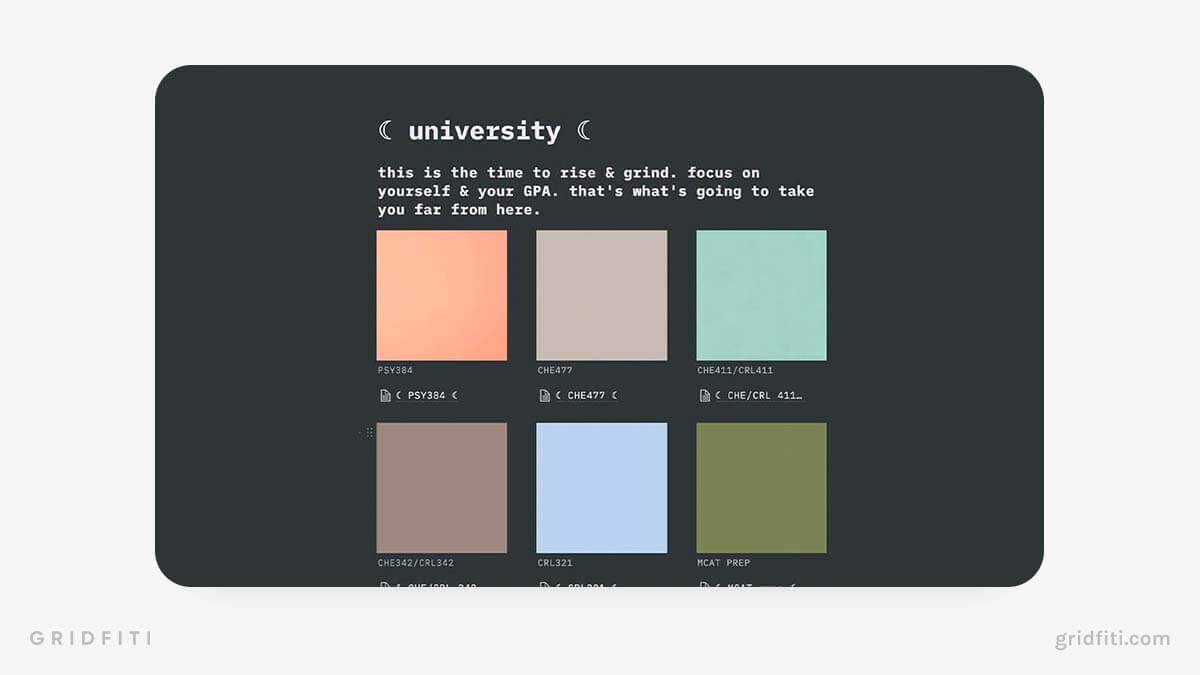 Setup by @neurostudiesx
How to Make Notion Aesthetic
With a few simple steps, you can turn your Notion workspace into a beautiful digital hub. The core elements of an aesthetic Notion page include: visually appealing widgets, simple cover images and GIFs, relevant Notion icons and emojis, and cute dividers!
To help you create the Notion dashboard of your dreams, here are our recommendations for elements you can add or change in your Notion page to make it more aesthetic!
Aesthetic Notion Widgets
Make your setup both beautiful and functional by embedding aesthetic widgets ranging from clock widgets, to quote widgets, and even a Pomodoro widget!
For more Notion widgets, check out our full round-up blog post featuring some of the best Notion widgets.
Widgets Available: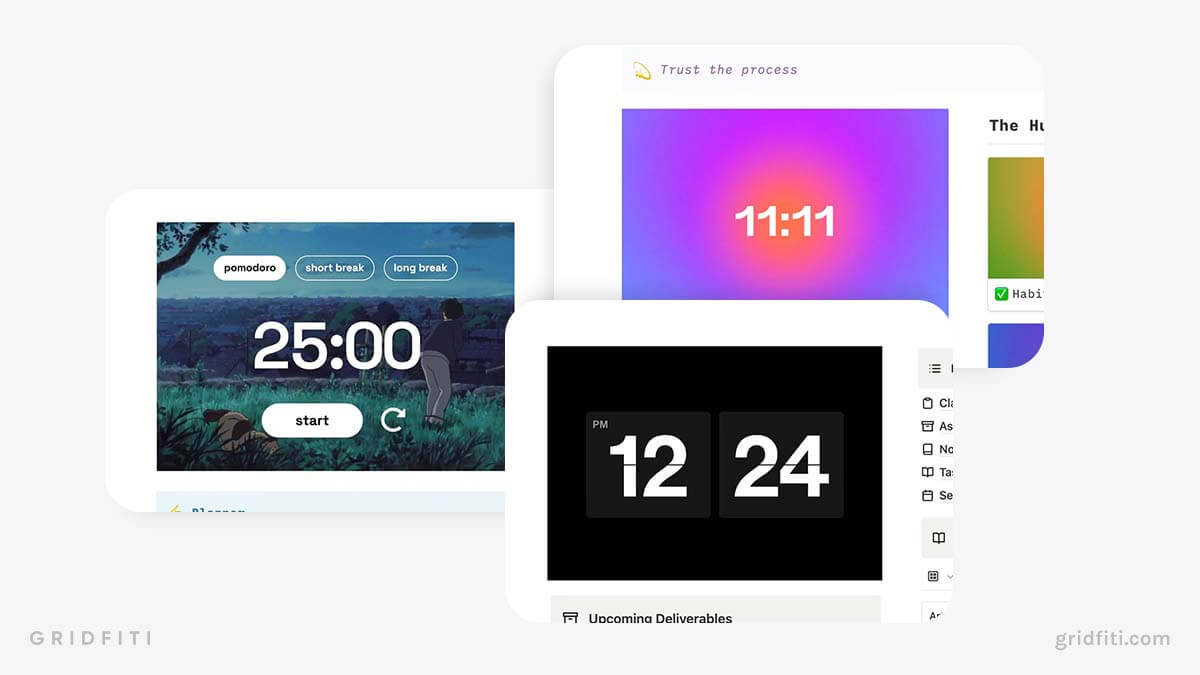 Aesthetic Notion Covers
Make your page stand out with the perfect Notion cover. For a more minimalistic look, keep it simple with a solid color, or use different images to create an overall theme for your workspace.
For more Notion covers, check out our post featuring the most aesthetic Notion covers!
Cover Photo Packs Available: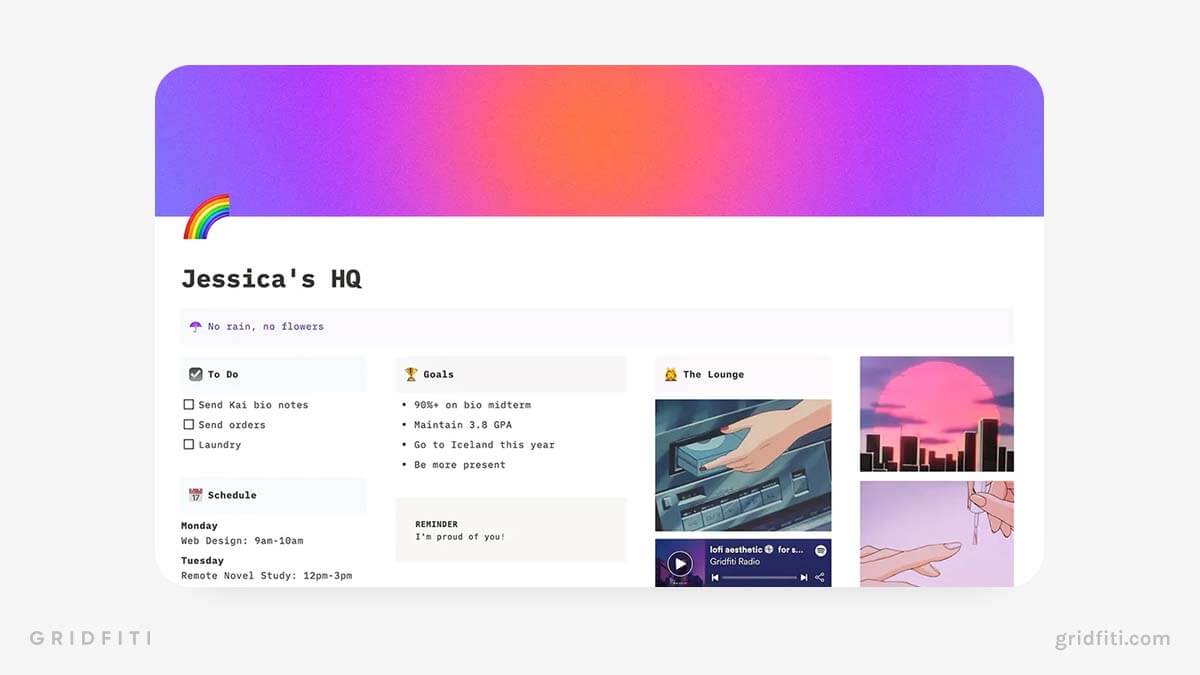 Aesthetic Notion Icons & Emojis
Adding icons to the pages in your dashboard is a great way to theme up your Notion workspace. Whether you want to use aesthetic folder icons, or cute animals – check out some of these aesthetic icon packs!
Looking for more options? Check out our blog post rounding up a full list of our favorite Notion icons!
Icons Packs Available: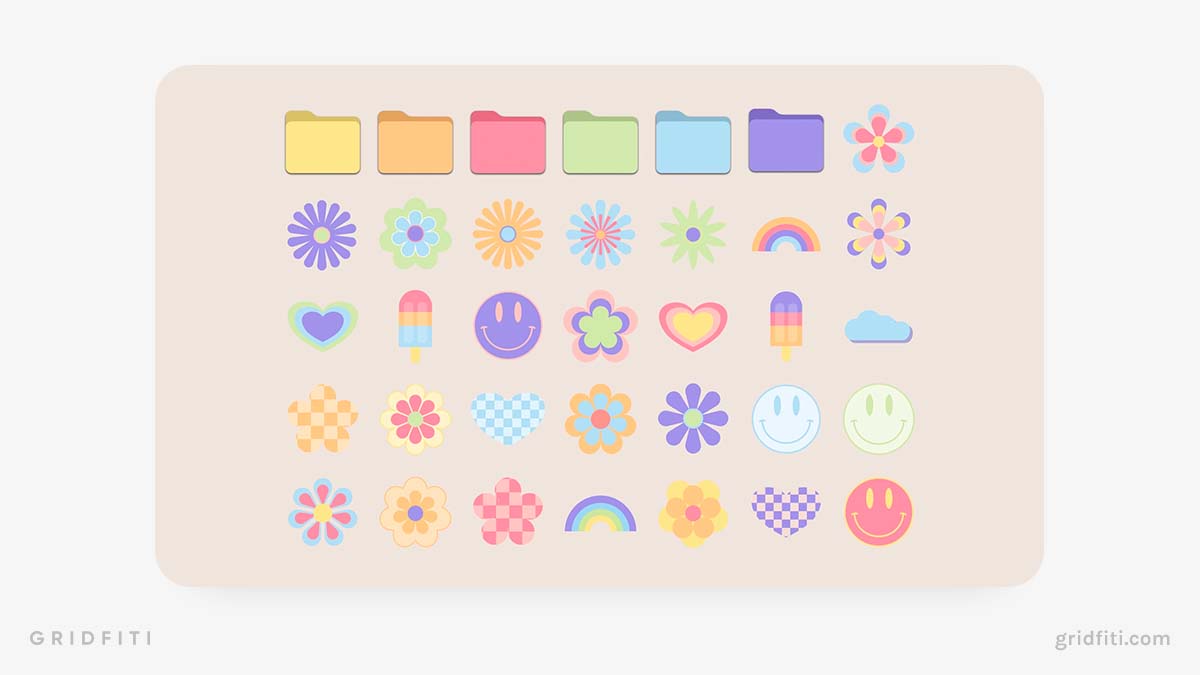 Aesthetic Notion Dividers
Whether you want to add more colors to your page, or create some visual hierarchy, Notion dividers are a great place to bring your Notion theme journey to the next level.
For a full guide on Notion dividers, visit our blog post outlining the best vertical and horizontal Notion dividers you can incorporate into your workspace!
Divider Packs Available: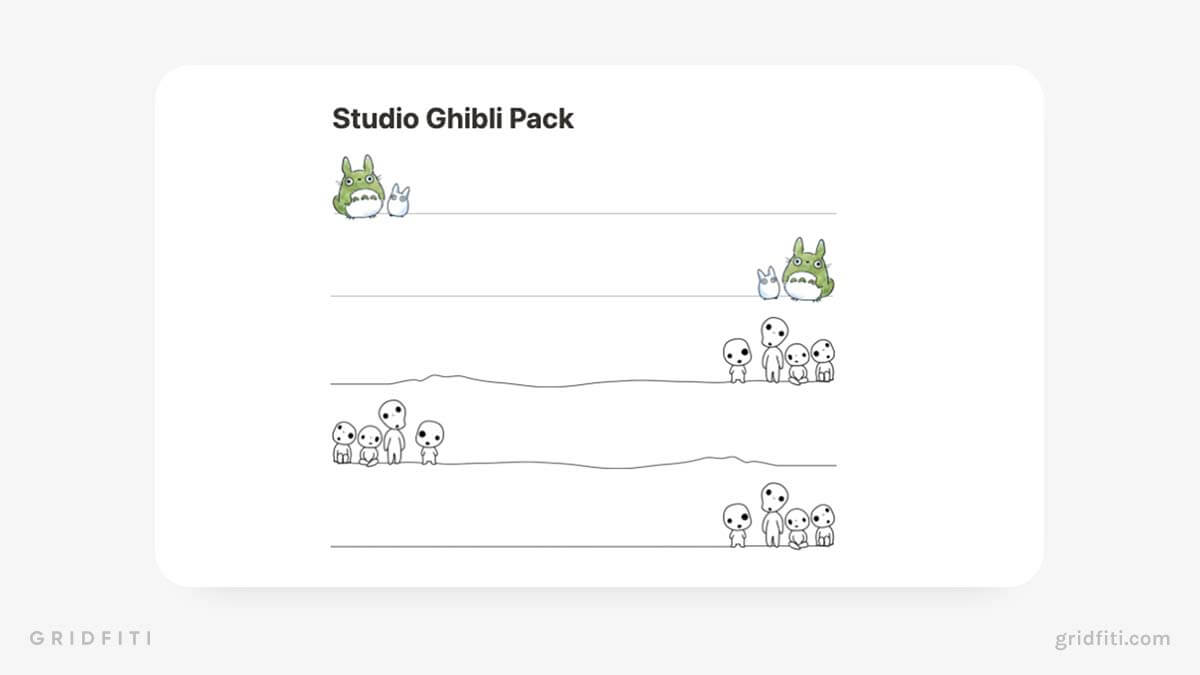 ---
Notion Pinterest Board
Want more inspo? Follow our Notion Pinterest Board for the latest aesthetic Notion ideas and templates!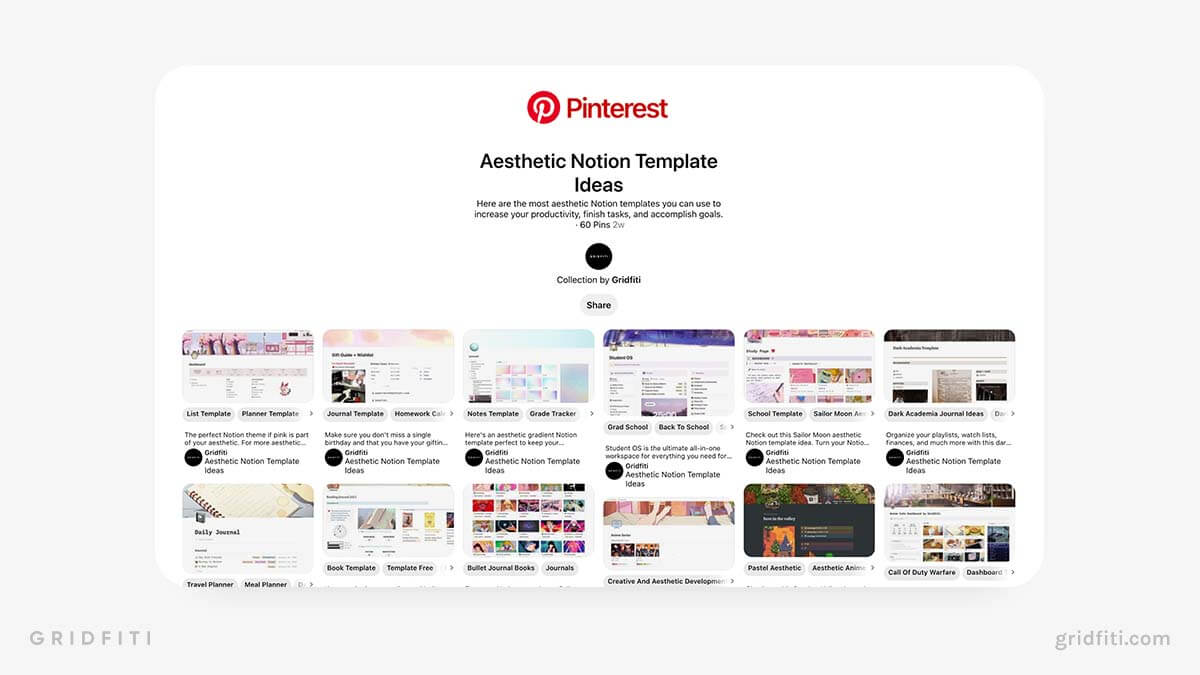 Which aesthetic Notion theme is your favorite? Any other templates that deserve a spot on the list? Let us know in the comments below or tweet us your Notion setup @Gridfiti!
Gridfiti is supported by its audience – when you buy something using the retail links in our posts, we may earn a small commission at no additional cost to you. Read more about our affiliate disclaimer.