Whether indoor or outdoor, plants add so much to our spaces and literally breathe life into them. However, while adding greenery to your home or garden is a no-brainer, it can also get tricky to remember and track your different plants' wants and needs: from the watering amount and frequency, to sunlight requirements, fertilizing, and more.
With a Notion plant tracker or garden template, never let your plants down again. Track every single detail of every single plant right in your Notion workspace – and in a sense, automate your workflow with features such as watering reminders. Here are some of the best Notion plant trackers and garden templates to incorporate into your day-to-day!
---
Looking for more productivity tips and tools? Subscribe to The Flow — our quick, snappy, value-packed focus and recharge newsletter. Also, don't miss our several other Notion template round-ups and guides!
---
Notion Plants Manager Template
This all-in-one plants manager template was thoughtfully created to keep your plant babies happy and healthy – whether you manage them on your own or with several people! At a glance, see what plants need watering with a calendar view, configure water amounts, get fertilizer reminders, note which plants need sprays, set up a photo album to track their growth, and even memorialize your dead plants with a virtual plant cemetery. You can even assign different plants to different rooms of your house, and see a scoreboard of all of your plants by different criteria: age, price, most water, least water, and more.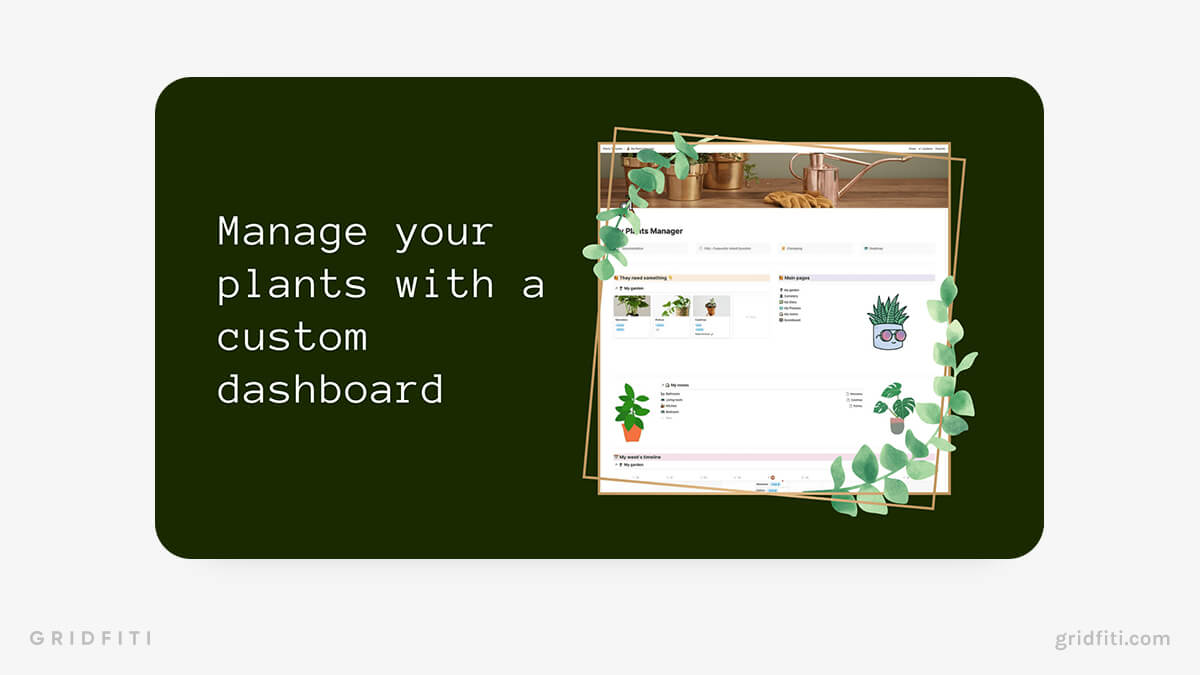 Life OS Template with Plant Care Manager
Looking to give your house plants the best care possible in the easiest way possible? The Plant Care Tracker integrated into the all-in-one Life OS template has you covered! Track all of your plants with all the information you need to know. Simply add details like each plant's watering requirements, room in your home, photos, ideal light and temperature ranges, and even the plants' "birthdays" — then get served up with automatic watering reminders right on your dashboard, even by room. The Plant Care Tracker makes it easy to keep your plants healthy and thriving – all in one convenient place.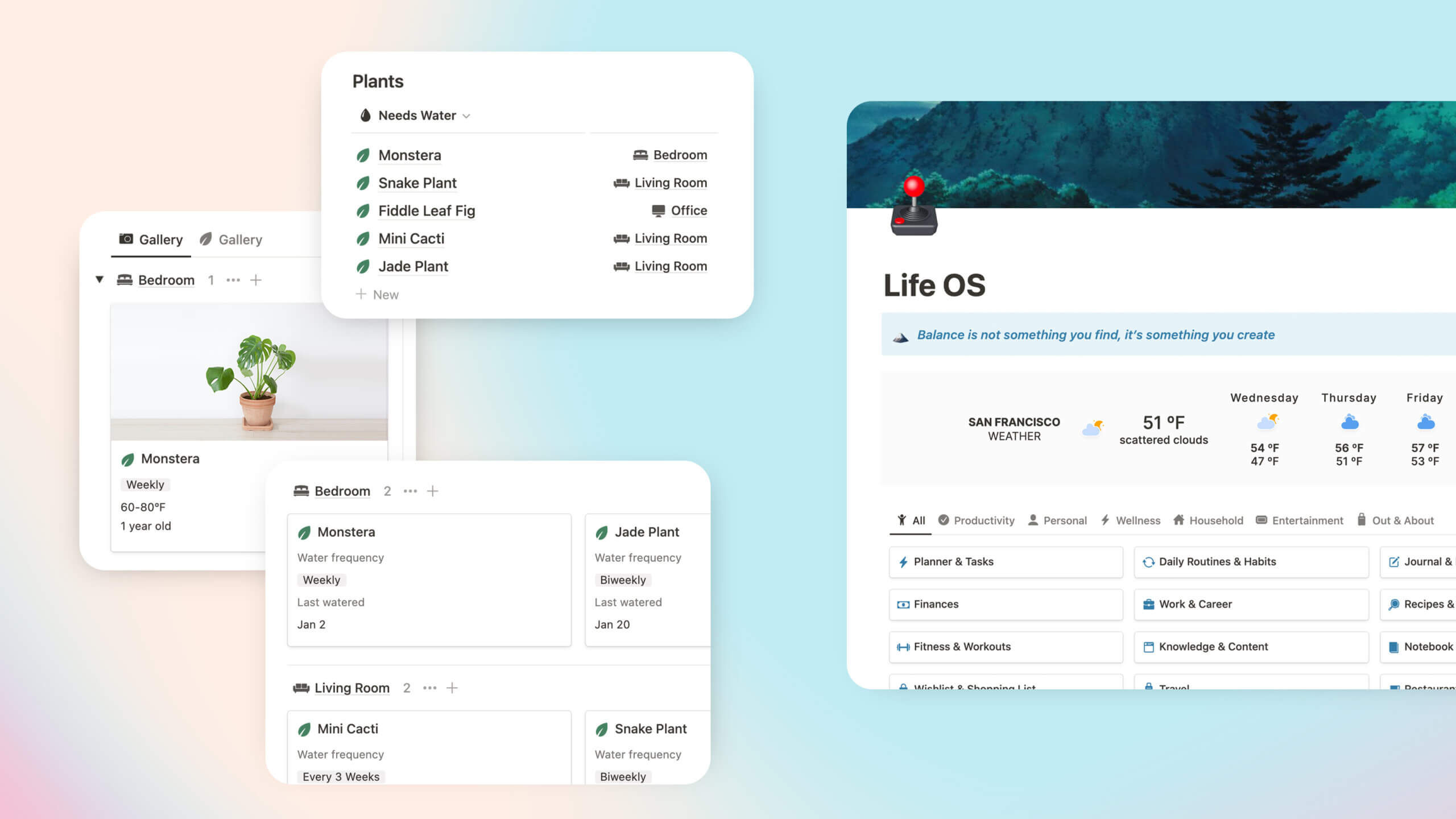 Notion Gardening Hub Template
This jam-packed Notion gardening template is a must-have whether you're a gardening beginner or veteran. Clearly organize your garden with an all-encompassing workspace, and effectively a knowledge base for your garden space. The template includes an encyclopedia, seed tracker, journal, task manager, plant expenses tracker, plant diseases database, inspiration section, material management, bed planner, and even a house plants tracker for your indoor plants.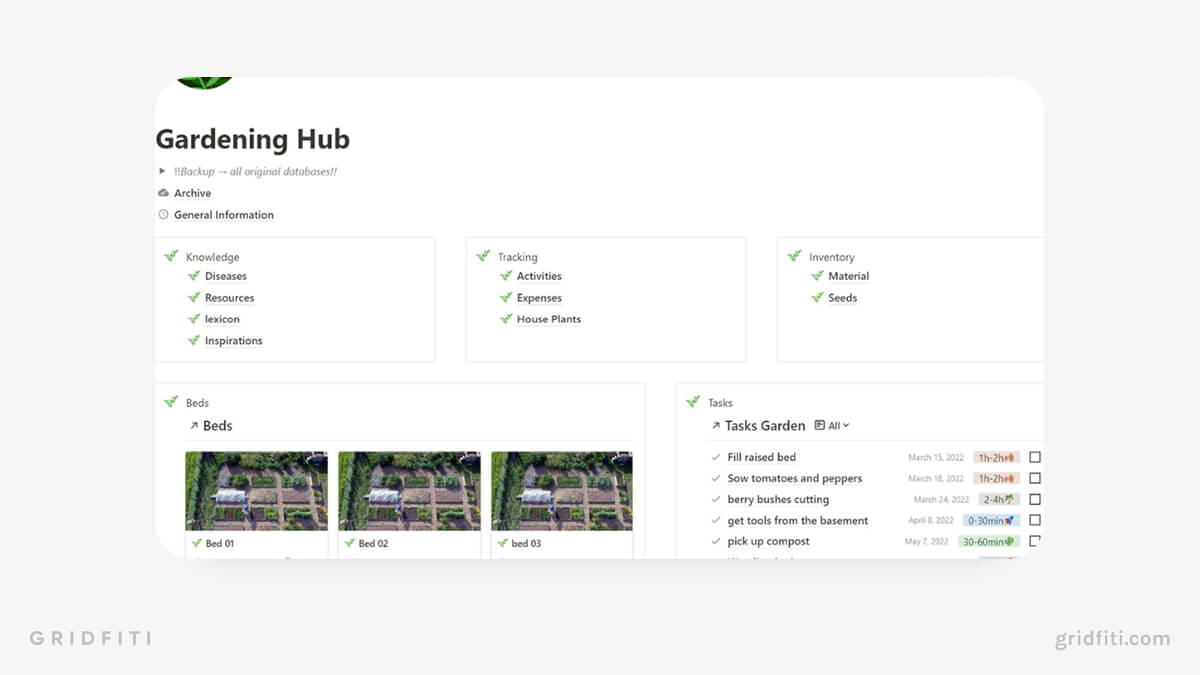 Notion Garden Dashboard Template
Created by avid gardeners themselves, manage your entire garden and stay aware of what you're planting and harvesting with this template! With 9 interconnected databases, track your vegetables', plants', and trees' health, history, shopping list, plots, harvest due dates, and so much more!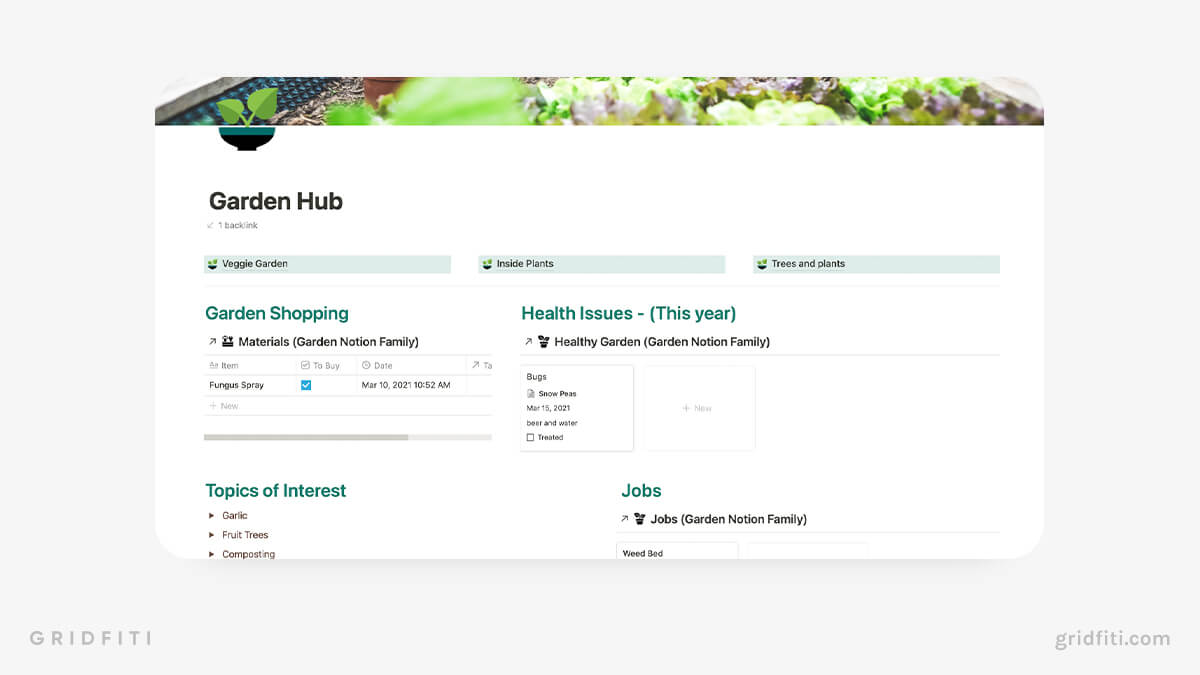 All-in-One Notion Plant Hub Template
The easy-to-use Plant Hub will help you track your indoor plants' needs. Add all your house plants to the central database – from water to temperature, light, soil and propagation – and get a dashboard with water reminders, indications on pet-safe (or unsafe) plants, a dedicated resources database, tracker of your plants' longevity, and even a R.I.P. section for your gone-but-not-forgotten plants.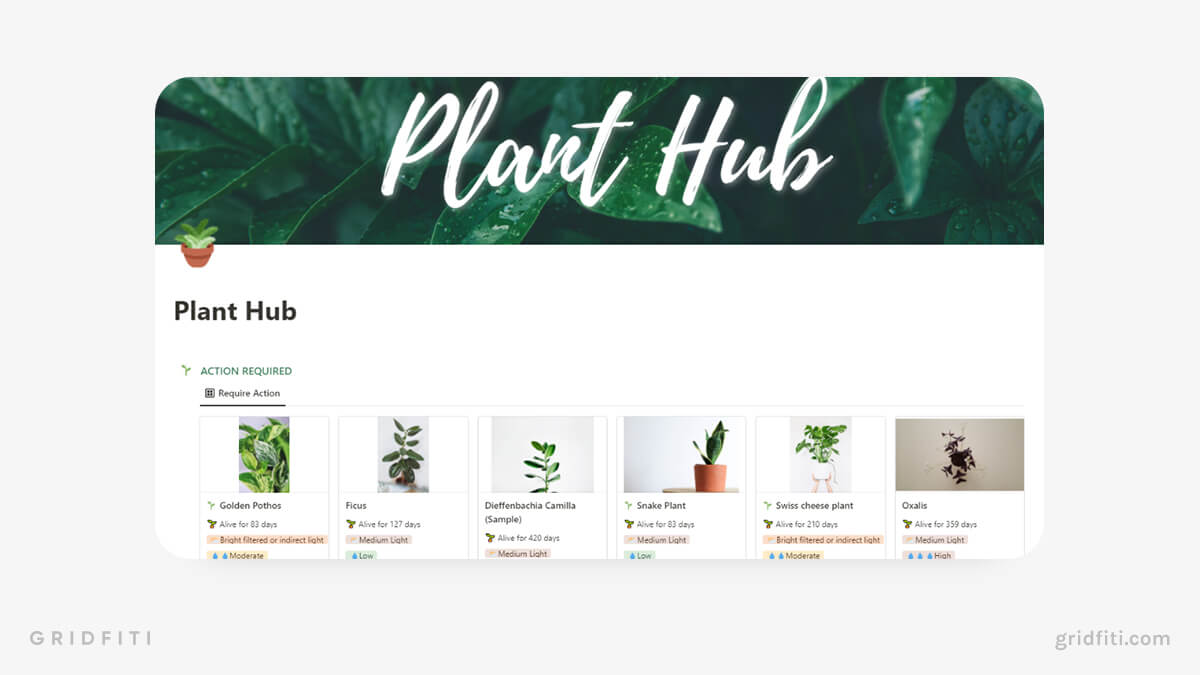 Notion Plant Care Template
With this plant care template, organize your plants by type, watering/feeding schedule and location in home, use the Notion Web Clipper to save future plant purchases, share the database with a plant babysitter to make their commitment easier, and even personalize the database with fun plant names, Latin classifications, and more!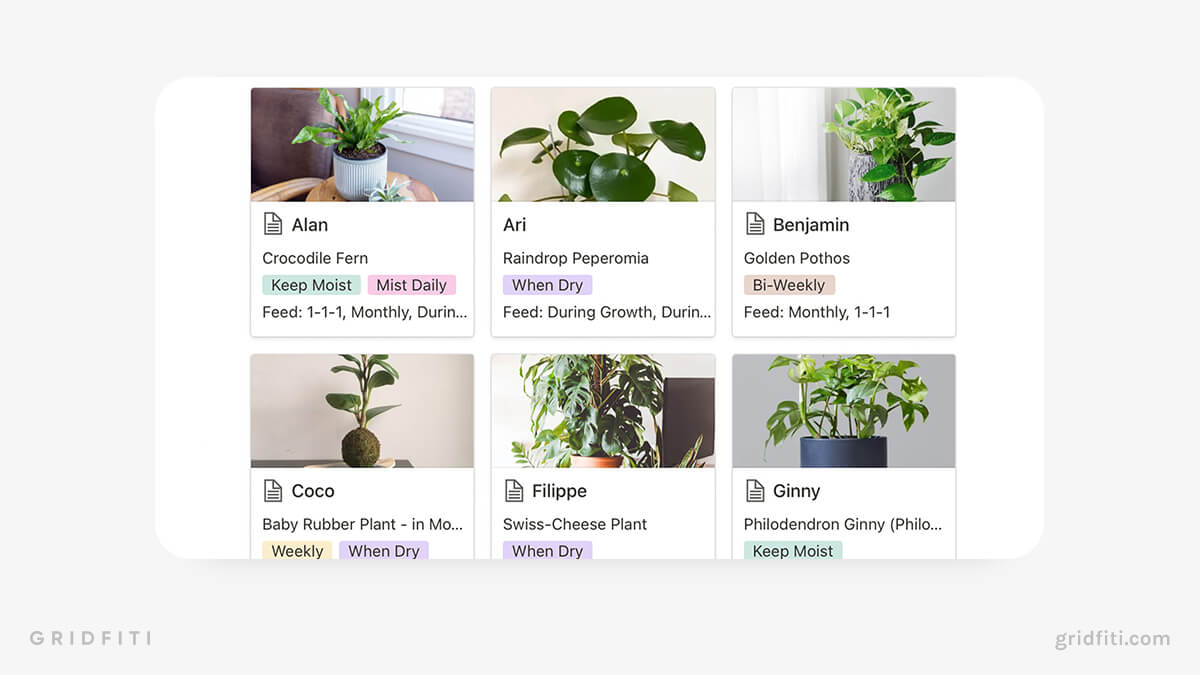 Simple Plant Planner Template
With this spreadsheet template, organize your indoor and outdoor plants in one space! Track water, light and fertilizer, make notes about propagation or discoveries, create a plant wishlist right in Notion of cool grail plants, and even put together a Pinterest-style garden inspiration board.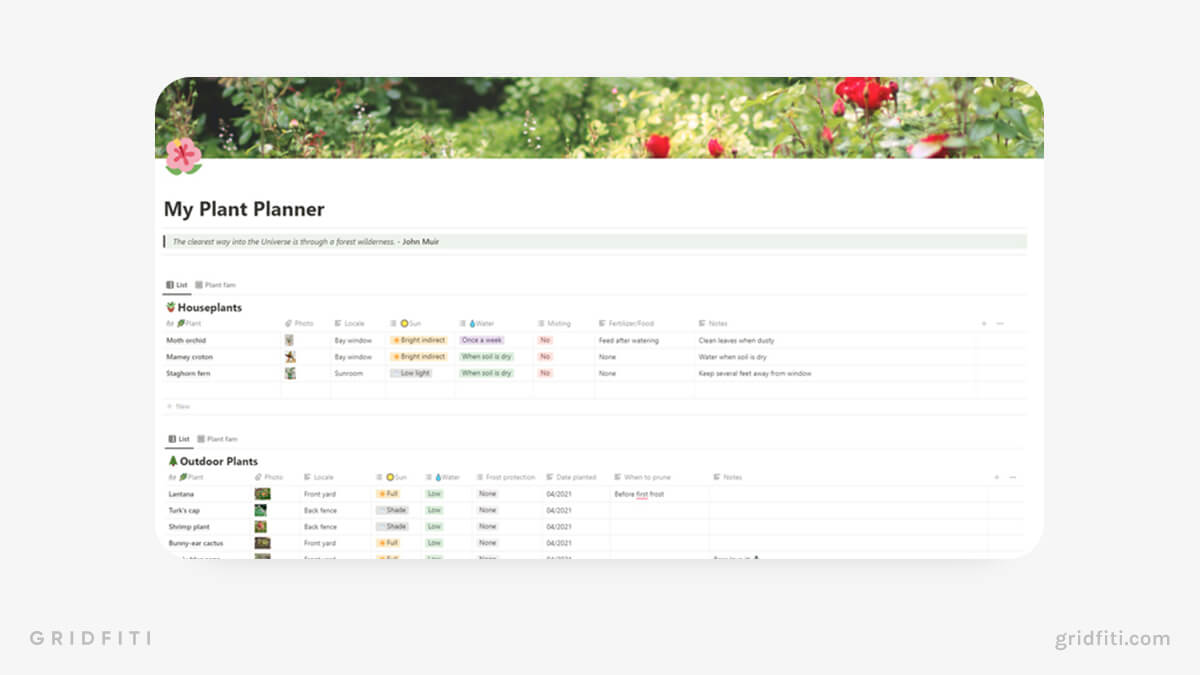 Simple Plant Manager Gallery
Made by the same creator of the earlier mentioned all-in-one plant manager template, this simple gallery-style template lets you track your plants' watering, spraying, fertilizer, and photos with simple tags!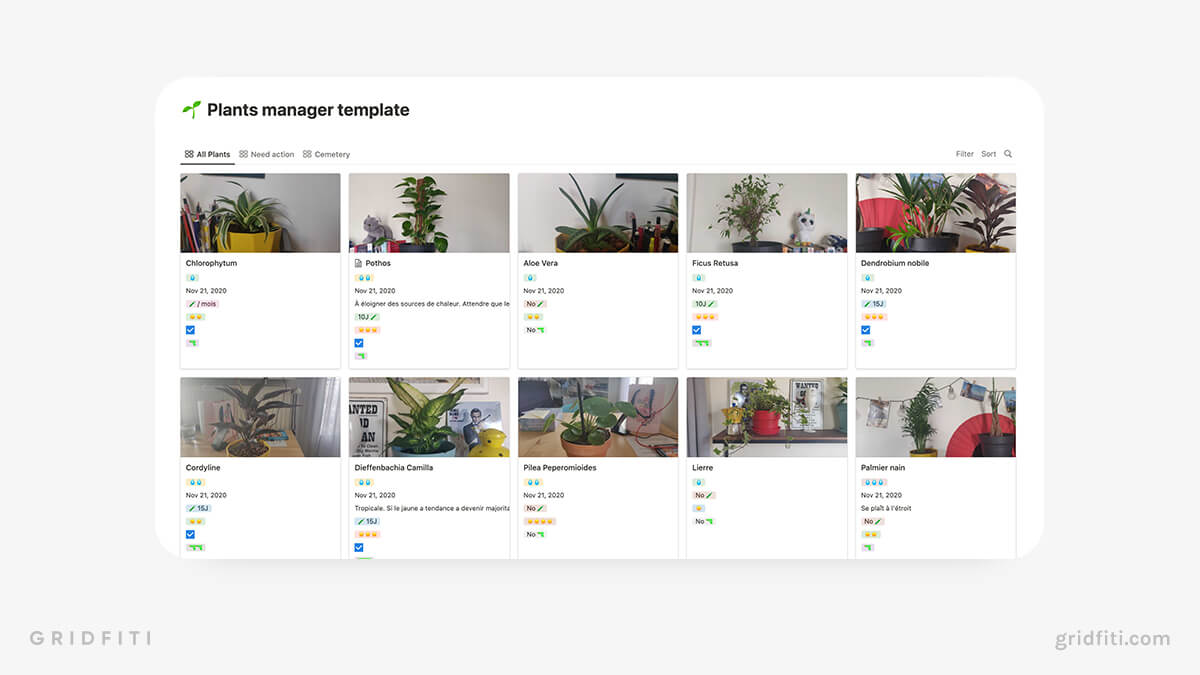 Bonus: Notion Plant Cover Photos
If you want some plant-themed imagery to pair with your new plant or garden workspace, check out this pack of several succulent and cactus-themed cover photos! For more Notion covers, check out our full post here rounding up aesthetic Notion cover photos.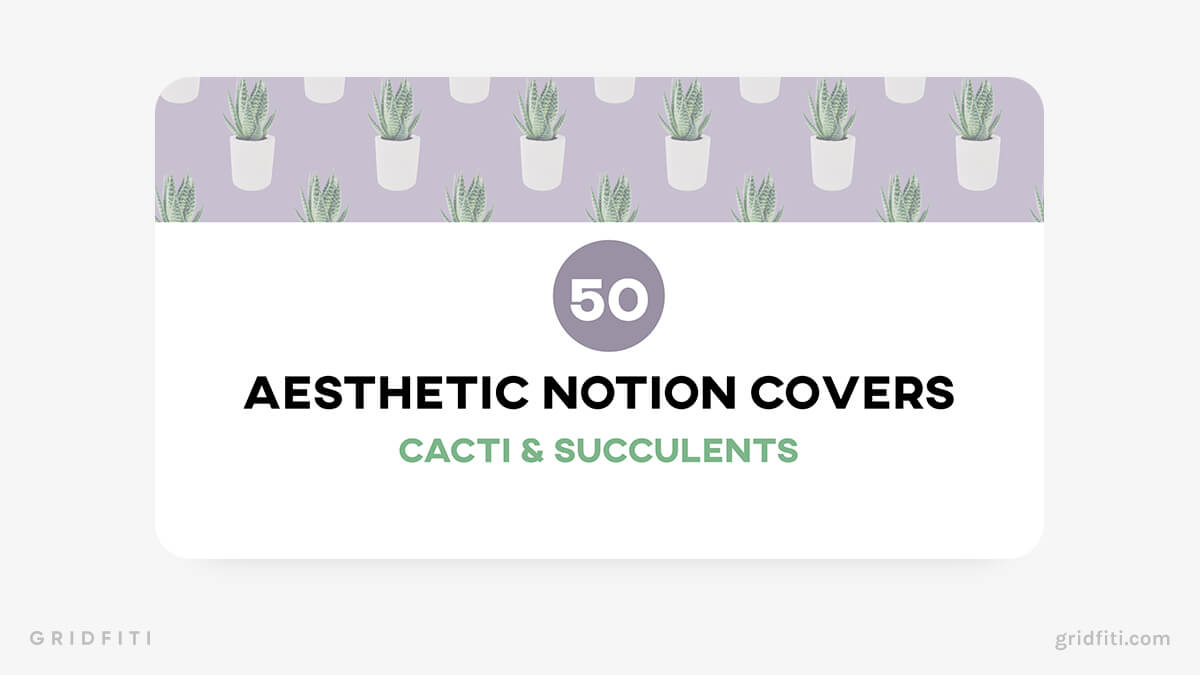 Are you looking after indoor plants, outdoor plants, or both? Which Notion plant template do you see yourself using to manage them? Let us know in the comments below!
Gridfiti is supported by its audience – when you buy something using the retail links in our posts, we may earn a small commission at no additional cost to you. Read more about our affiliate disclaimer.