Notion's customizability is one of the coolest parts about the beloved do-everything platform. You can add custom icons, completely alter page layouts, install functional templates built for any task, embed handy widgets – and the cherry on top: customize your Notion cover photos to suit your aesthetic.
To help you build out your dashboard, we've got a full guide on these covers, whether you're on the hunt for readymade cover packs to download, or want to take a stab at laying out your own and need a size guide.
Want more Notion digital decor ideas and templates? Join our mailing list to get the latest straight to your inbox 📮
Notion Cover Photo Packs
If you're looking for a turnkey solution for your Notion covers, check out these pre-designed packs to download for your workspace!
Aura Collection – Gradient Aesthetic Notion Cover Pack
The Aura Notion cover pack gives aesthetic gradients a whole new meaning. Bring calming and colorful vibes to your Notion setup with these covers.
Notion Cover Pack Available Here
Custom Notion Cover Illustrations
Fit the classic B&W, ultra human Notion aesthetic perfectly with these beautiful custom-illustrated covers by Notecandy.
Notion Cover Pack Available Here
Limitless Notion – Minimal & Quote Notion Covers
This Notion cover pack includes 60 minimal covers, 50 custom covers, and 30 quote covers! Not to mention a whole bunch of different icons and colorful dividers.
Notion Cover Pack Available Here
Notion Calendar Cover Images
Keep track of the months, days, and even quarters of the year with these form-follows-function covers!
Notion Cover Pack Available Here
Notion Color Cover Images
This pack's got you if you're looking for a simple solution to add a splash of color to your setup.
Notion Cover Pack Available Here
Aesthetic Plant Notion Header Images
Breathe some (plant) life into your workspace with these cacti and succulents plant cover images!
Notion Cover Pack Available Here
Notion Cover Photo Size & Image Dimensions
The best Notion cover photo dimensions to use are 1500px by 600px. If you're looking to custom design your own cover photos, Notion's covers are dynamic and are at the mercy of device and screen size – so because of this, there's no true safe zone that's completely free from cropping at all sizes. However, the these guides and safe areas below will help you stay as far away from the crop zones as possible!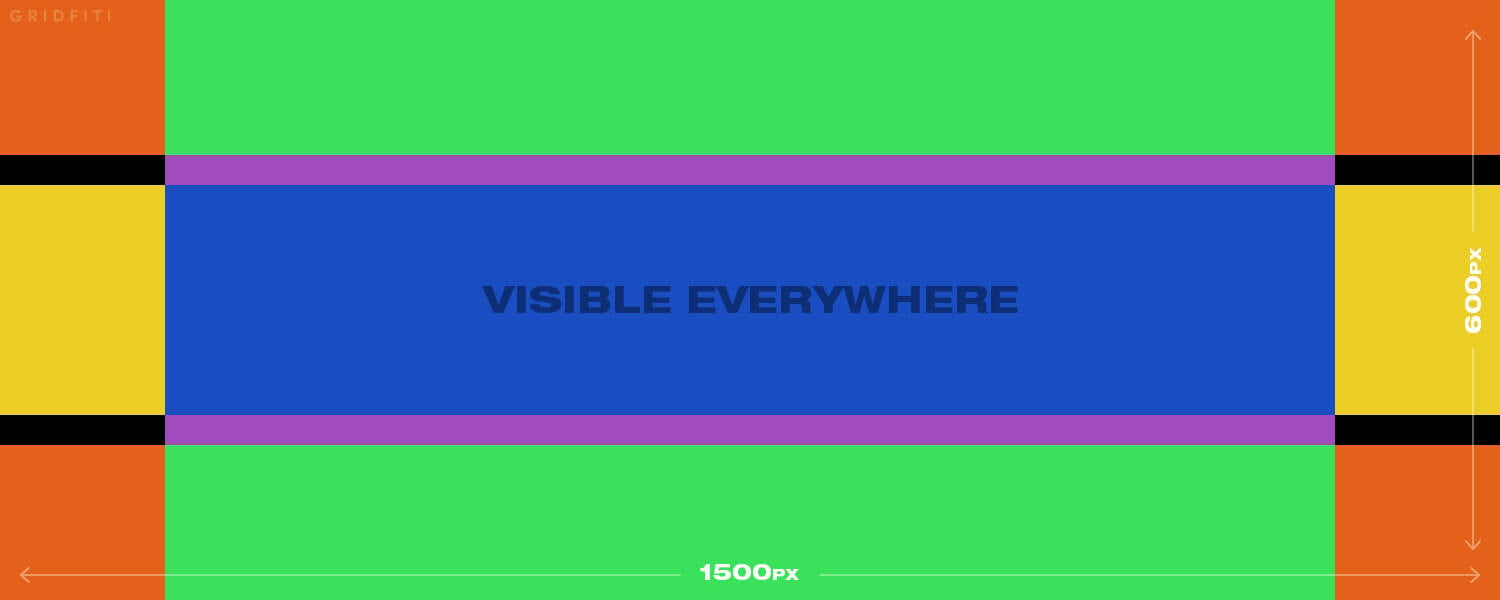 Here's how the cropping works:
On mobile, Notion cover photos are cropped on the left and right of the image.
On iPad, desktop, and mobile's landscape view – cover photos are cropped on the top and bottom, and cropped slightly more depending on whether or not your sidebar is enabled.
Here's what's visible on different devices!
Mobile: Blue + Purple + Green 🔵🟣🟢 (if you have a larger phone, you might see hints of orange, black and yellow!)
Desktop (with sidebar): Blue + Purple + Yellow + Black 🔵🟣🟡⚫️
Desktop & iPad Landscape (both without sidebar): Blue + Yellow 🔵🟡
iPad Landscape (with sidebar) & iPad Portrait: Blue + Purple + Yellow 🔵🟣🟡 (with hints of green and orange depending on your screen size)
TLDR: Blue is seen in all viewports, orange is rarely seen.
Diagram Specs
🟠 Orange (full canvas): 1500×600
🔵 Blue: 1170×230
🟣 Purple: 1170×30
⚫️ Black: 165×30
🟡 Yellow: 165×230
🟢 Green: 1170×155
Notion Cover Image Ideas
Whether you decide to download a pre-built cover photo pack, or create your own, last but not least, here are a couple Notion cover photo ideas to get you inspired!
Minimalist Notion Cover Photo
Image by Tommy Barav
Anime-Themed Notion Cover Image
Image by @jumistars
Aesthetic Notion Cover Photo
Image by Beloved Ocean
Have any other Notion cover photo ideas? Let us know in the comments below! Make sure to tag us on Twitter @gridfiti with your Notion setup!
Gridfiti is supported by its audience – when you buy something using the retail links in our posts, we may earn a small commission at no additional cost to you. We only recommend products we would use ourselves and recommend to our friends and family. Read more about our affiliate disclaimer.