Being able to personalize your Notion workspace is one of the best features of the go-to all-in-one app. From widgets, icons, dividers, page names, and cover photos, you can deck out your digital workspace with any theme your heart desires.
To help you design the perfect Notion banner, here's a quick guide on the best Notion cover image size and safe zones, so your Notion workspace is the most visually appealing it can be!
For ideas on what banner visuals to use, check out our round-up featuring the most popular Notion covers!
---
Looking for more productivity tips and tools? Subscribe to The Flow — our quick, snappy, value-packed focus and recharge newsletter. Also, don't miss our several other Notion template round-ups and guides!
---
Get the all-in-one Life OS template, the only Notion template you'll ever need — with over 25 integrated templates built in.
Notion Cover Image Size & Header Dimensions
The best Notion cover image dimensions to use are 1500px by 600px. If you're looking to custom design your own cover photos, Notion's covers are dynamic and are at the mercy of device and screen size – so because of this, there's no true safe zone that's completely free from cropping at all sizes. However, the these guides and safe areas below will help you stay as far away from the crop zones as possible!
Here's how the cropping works:
On mobile, Notion cover photos are cropped on the left and right of the image.
On iPad, desktop, and mobile's landscape view – cover photos are cropped on the top and bottom, and cropped slightly more depending on whether or not your sidebar is enabled.
Here's what's visible on different devices!
Mobile: Blue + Purple + Green 🔵🟣🟢 (if you have a larger phone, you might see hints of orange, black and yellow!)
Desktop (with sidebar): Blue + Purple + Yellow + Black 🔵🟣🟡⚫️
Desktop & iPad Landscape (both without sidebar): Blue + Yellow 🔵🟡
iPad Landscape (with sidebar) & iPad Portrait: Blue + Purple + Yellow 🔵🟣🟡 (with hints of green and orange depending on your screen size)
TLDR: Blue is seen in all viewports, orange is rarely seen.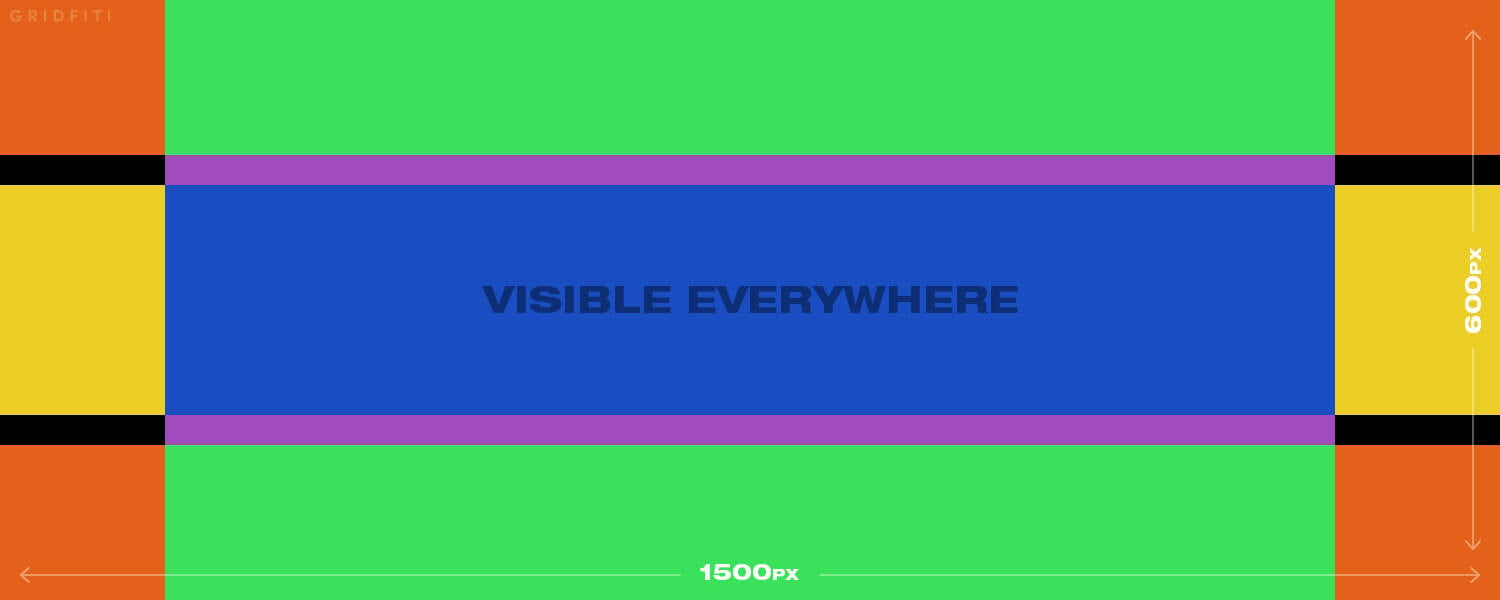 Diagram Specs
🟠 Orange (full canvas): 1500×600
🔵 Blue: 1170×230
🟣 Purple: 1170×30
⚫️ Black: 165×30
🟡 Yellow: 165×230
🟢 Green: 1170×155
Have any other Notion cover image size tips? Let us know in the comments below! Make sure to tag us on Twitter @gridfiti with your Notion setup!
Gridfiti is supported by its audience – when you buy something using the retail links in our posts, we may earn a small commission at no additional cost to you. We only recommend products we would use ourselves and recommend to our friends and family. Read more about our affiliate disclaimer.