For anyone wanting to create beautiful designs, without daunting design programs, Canva is a beloved go-to for a reason. It's easy to use, web-based, and free – but the best part? There are thousands of gorgeous templates out there for you to get a head start!
With so many options out there, sometimes there are too many options – but fret not, we've curated the best and most aesthetic Canva templates for dozens of use cases. Whether you're looking to create a presentation, design new business cards, plan your social media posts, start a new journal, or anything in between, we've got a template here for you! Let's jump in.
Want more aesthetic template inspo? Check out our round-ups on aesthetic Notion templates, GoodNotes templates, and Notability templates – and join our design mailing list below!
Canva Planner & Journal Templates
You might already use GoodNotes or Notion for all your digital planning needs – but what if you want more customizability, or something more graphics-forward? Check out these planner and journal templates made just for Canva!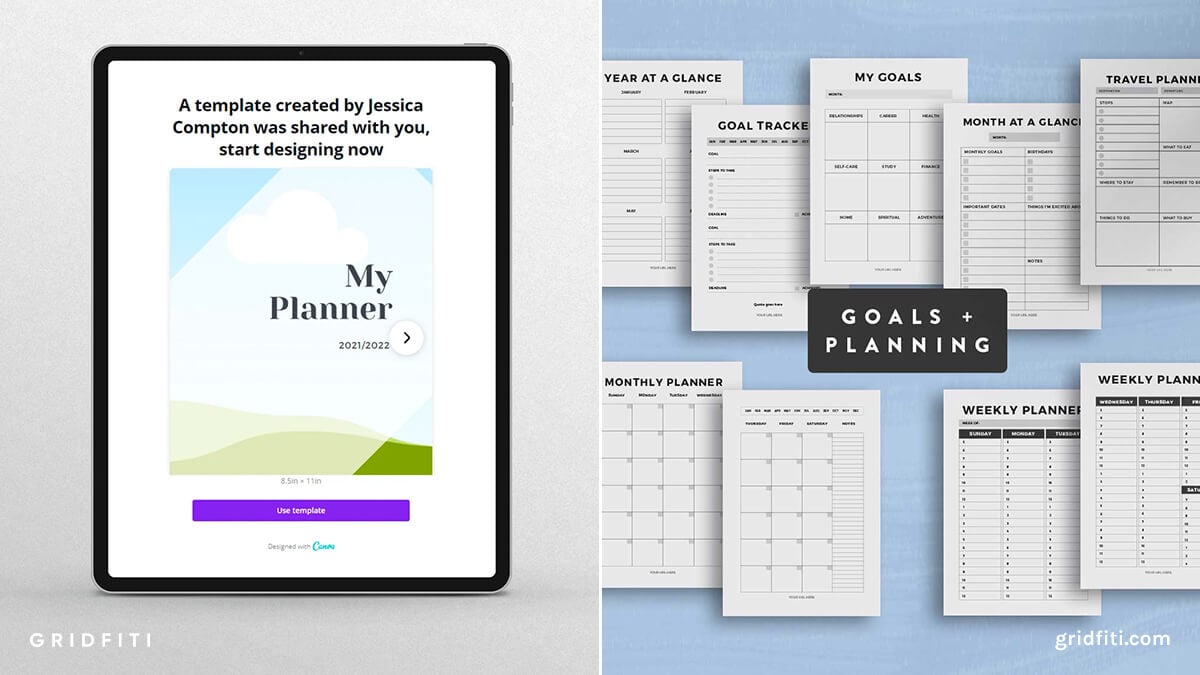 The Ultimate Canva Planner Template Toolkit
Editable Pro Planner Template Pack
The Ultimate Canva Planner Bundle Pack
Pink Canva Productivity Planner Pack
Self Care Canva Template Bundle
Self Care Planner Canva Template
Neutral Minimalist Editable Undated Planner
Savvy Editable Planner/Journal Templates
68-Page Editable Planner Toolkit
Colorful Planner Templates
Canva Social Media Templates
Build a cohesive feed, attract new followers, and increase engagement with these pre-made Canva templates for social media. Choose from a variety of different aesthetics and styles – such as minimal, neutral, pastel and lots more, and step up your Pinterest and Instagram game!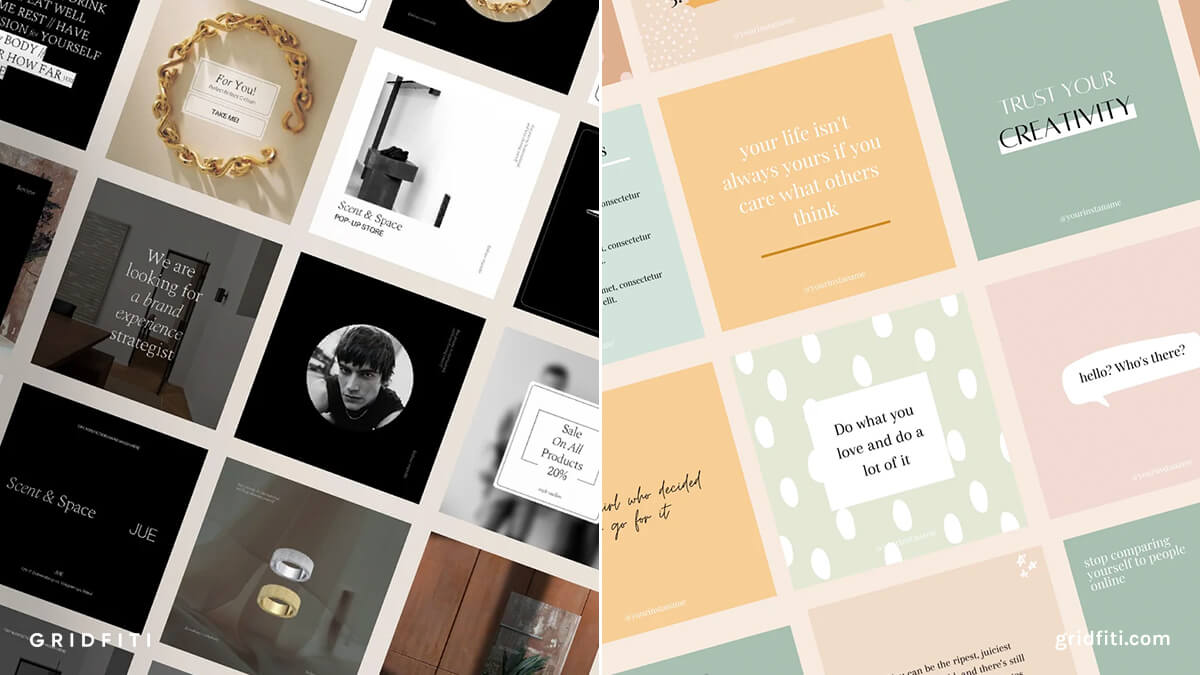 Minimalist & Elegant Social Media Kit
500 Canva Templates for Social Media
Blanche – Canva Instagram Story Templates
Canva Instagram Posts & Stories Pack
Gen Z Instagram Post Templates for Canva
300 Neutral Instagram Post Templates
100 Instagram Canva Posts for Photographers
80+ Colorful Boho Instagram Posts
Pastel Colorful Canva Quotes Designs for Instagram
Rose Gold Pink – Instagram Post Templates for Canva
Black and White Instagram Post Templates
36 Pretty Pinterest Pin Templates
Pinterest Templates for Canva
40 Customizable Pinterest Templates
Canva Business Templates
Who says business has to be boring? Break the corporate mold and make your brand stand out with aesthetically pleasing Canva templates catered for business. Whether you're starting up your business and need to map out a plan, or get some business cards done – or, if you simply want to freshen up your promotional materials, there's a template here for you.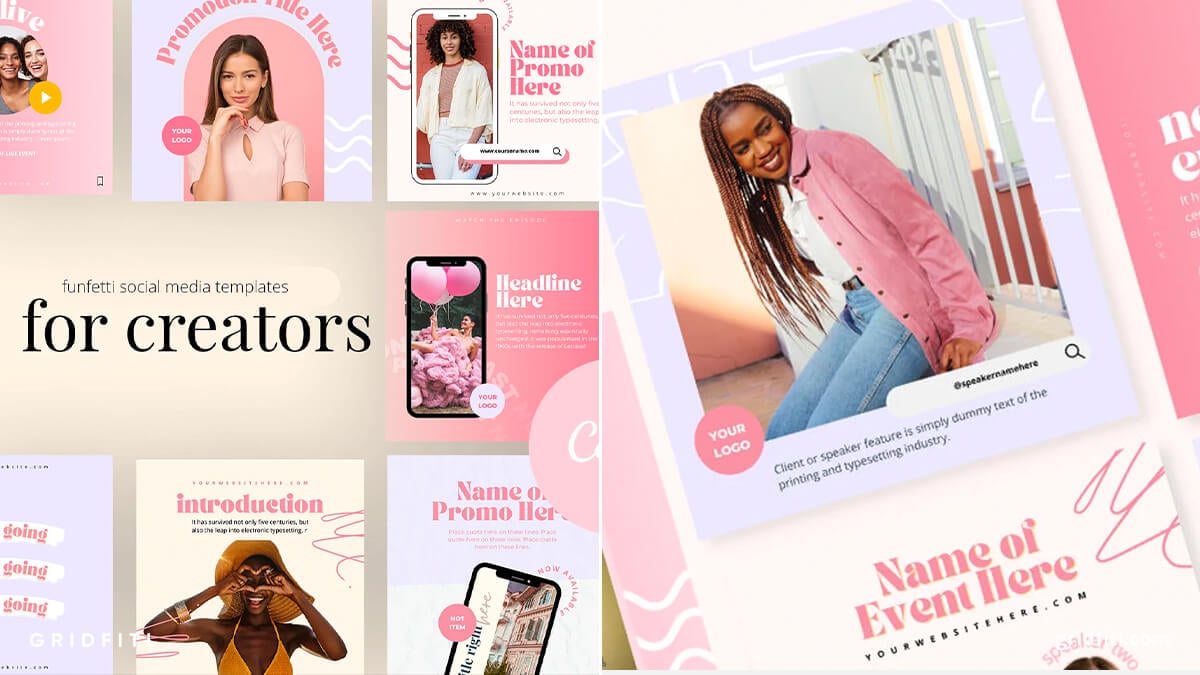 Canva Promo Pack for Products, Events & More
Canva Business Card Template
Canva Email Marketing Template
Canva Business Plan Templates
Small Business Planner Template
Canva Business Plan Template
Canva Annual Report Template
Canva Invoice Template
Canva Rate Sheets & Pricing Templates
Freelancer Rate Sheet & Price Guide Template
Template Available Here
The Calligrapher's Rate Book Template
Template Available Here
Canva Branding Templates
Blanche – Canva Brand Guide Creator
Template Available Here
Brand with Confidence Toolkit
Template Available Here
YouTube Branding Kit – Banners, Intros, Outros & Thumbnail Templates
Template Available Here
Boho & Neutral Canva Branding Kit Templates
Template Available Here
Editable Brand Boards Canva Templates
Template Available Here
Canva Media Kit Templates
For any creator, a media kit is as important as a resume, and how it looks is almost as important as what it says. Share more about yourself, show off your stats, go over your services and rates, and ultimately lock in more brand deals with a snazzy media kit template – easily customizable right in Canva!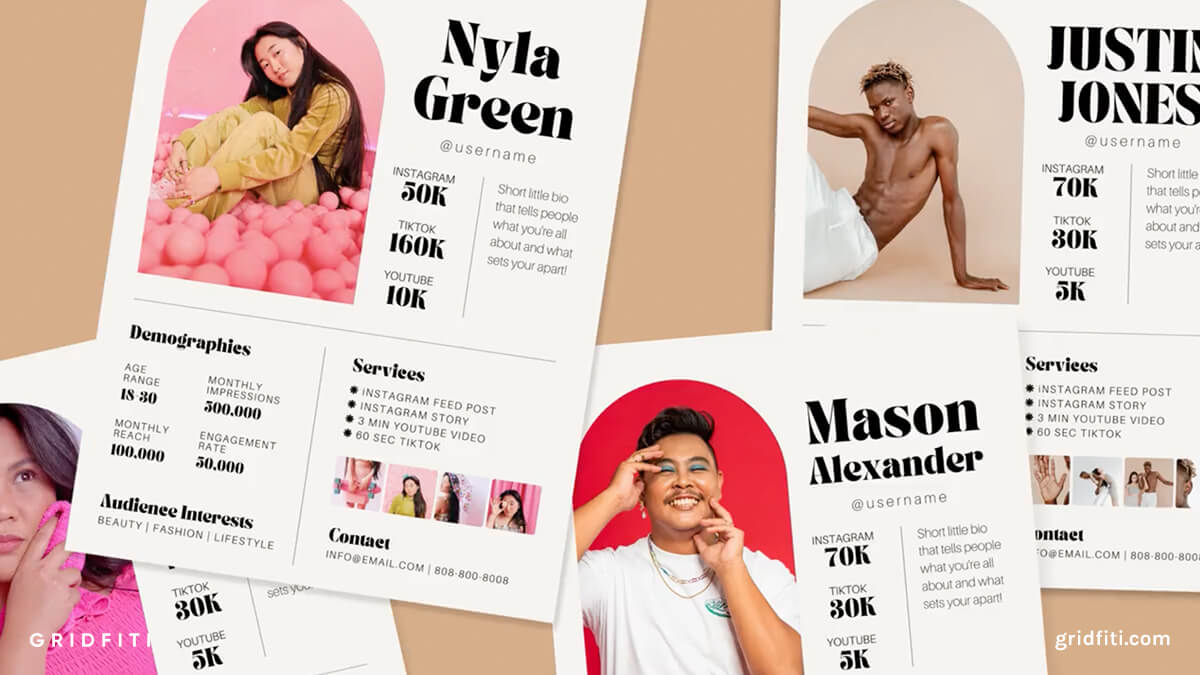 1-Page Media Kit for Influencers
2-Page Media Kit & Rate Sheet Canva Template
5x Canva Media Kit Template Bundle
Minimal Aesthetic 1-Page Media Kit for Influencers
Neutral/Beige 1-Page Media Kit Template
Canva Resume Templates
Leave an unforgettable first impression and impress any hiring manager with a beautifully-designed resume – made right in Canva! If you're not ready to jump into Adobe InDesign or any other more advanced design programs, build an aesthetically pleasing resume in Canva and secure your next role with one of these templates.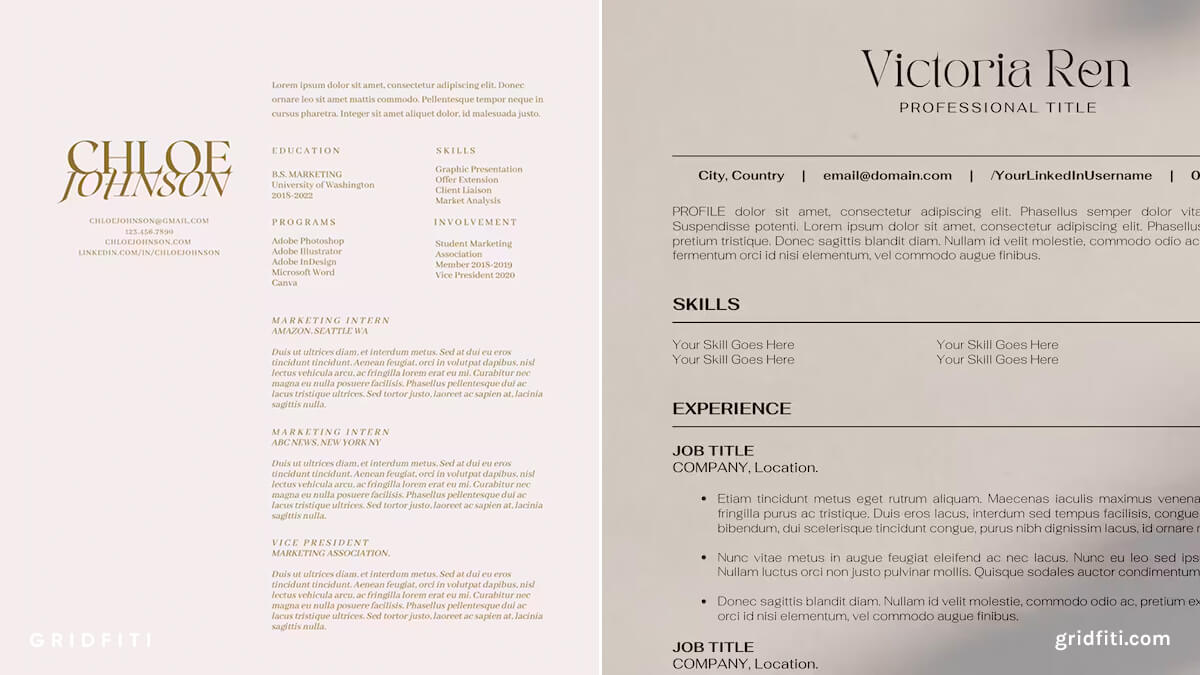 Simple ATS-Friendly Resume Template for Canva
Minimal Modern Resume Template for Canva
Clean & Creative Resume Template for Canva
Minimal Aesthetic Resume Template for Canva
Aesthetic Sorority Resume Canva Template
Blush & Gold Aesthetic Resume & Cover Letter Template
Bold Resume & CV Template for Canva
Canva Presentation Templates
There are only so many templates in Powerpoint and Keynote that are worth using, and even fewer that are aesthetically pleasing. Especially if you're in a creative industry like marketing, interior design, and beyond, it's important your decks are as bold as your work – and with these templates, you can do just that!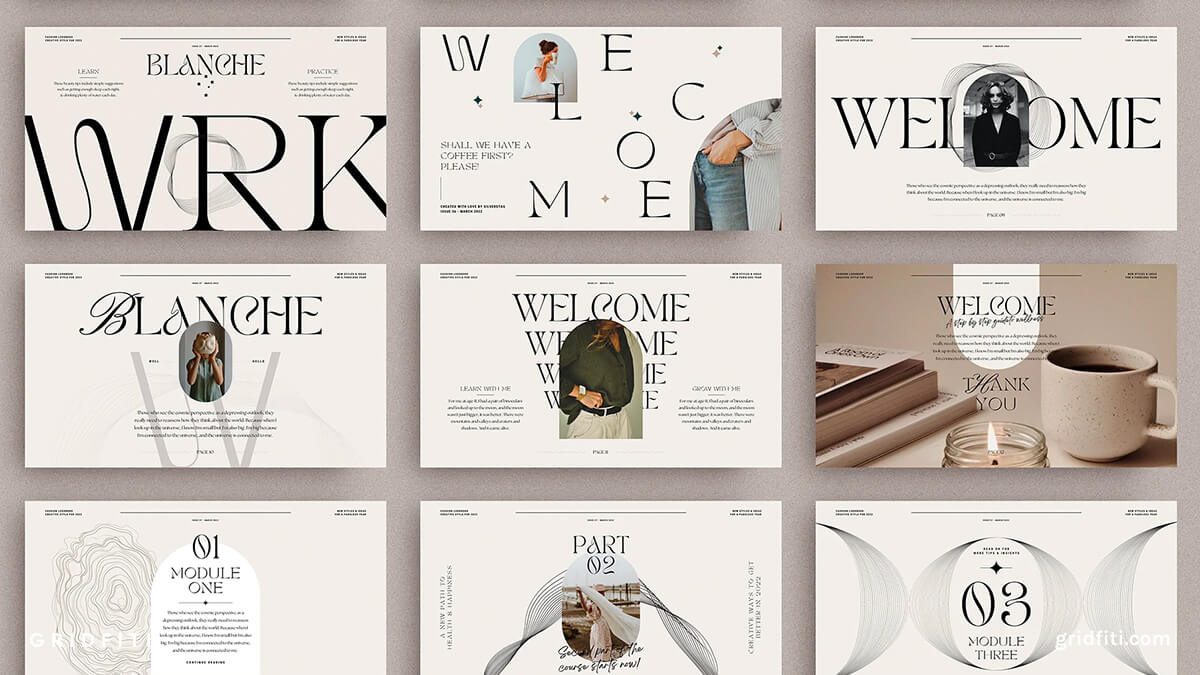 Blanche – Canva Presentation Creator
Virtual Design Client Presentation Templates & Design Board
Canva eBook & Lead Magnet Templates
Make sure your lead magnets have magnetic design. Whether you're promoting a new workbook, or want to share tidbits with your audience, Canva's one of the easiest platforms to create eBooks and lead magnets to that are as stunning as they are functional.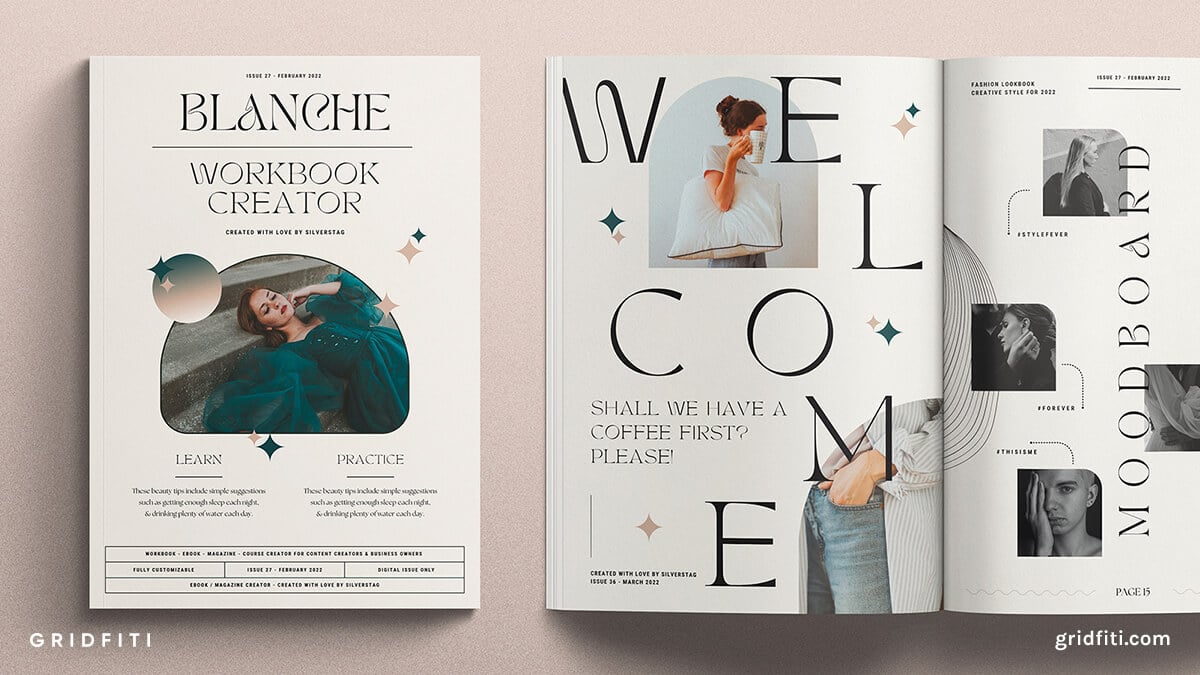 Ultimate Blush Pink Canva eBook Template
Calming & Serene Canva eBook Template
Canva eBook Template Bundle
Blanche Canva eBook & Magazine Creator Template
Course Creator eBook Workbook Canva Template
Simple Drag and Drop Canva eBook Template
Canva Mood Board & Vision Board Templates
Whether you're creating a vision board for the new year, a mood board for a decor overhaul, or an aesthetic collage wallpaper for your phone or laptop, Canva's one of the easiest places to get it done. With these Canva mood board and vision templates, you can even add flairs like color palettes, borders, type, and more!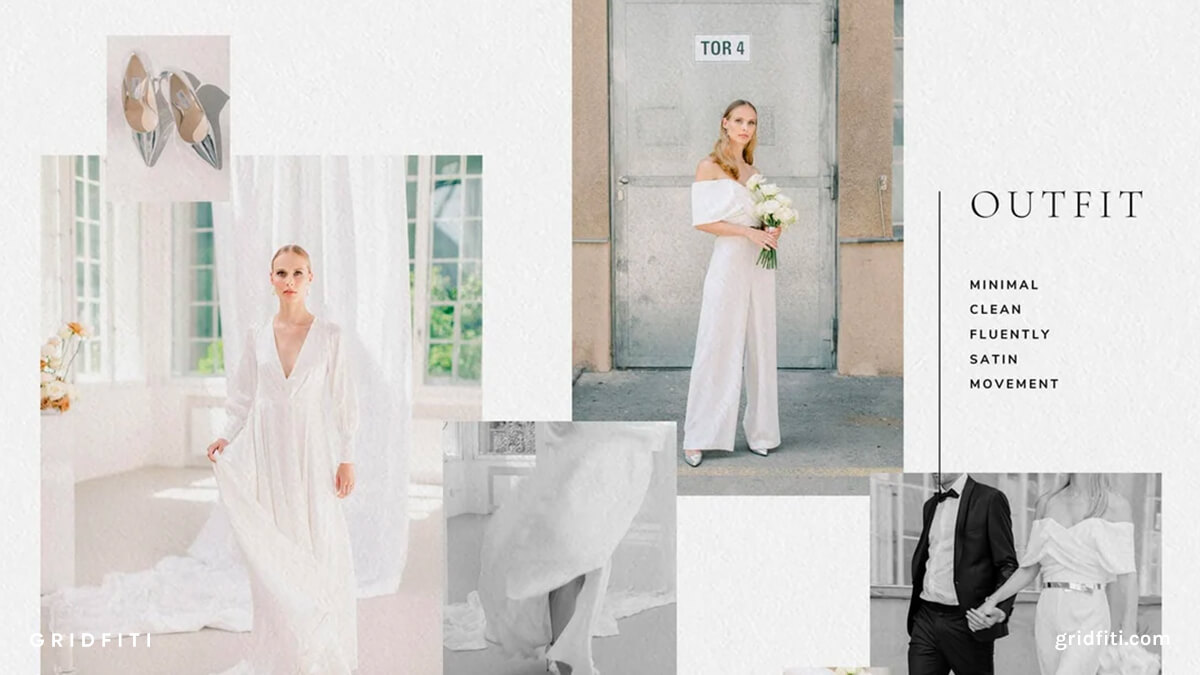 Mood Board Template for Interior Designers
Canva Wedding Photography & Styled Photo Shoots Mood Board Template
Universal Canva Mood Board Templates
Photography Mood Board Templates
Aesthetic Canva Font Bundles
From handwriting styles, to retro-inspired picks, and more – there are so many font options for Canva beyond what comes by default. Skip the compromises and check out these aesthetic Canva font pairings and font bundles!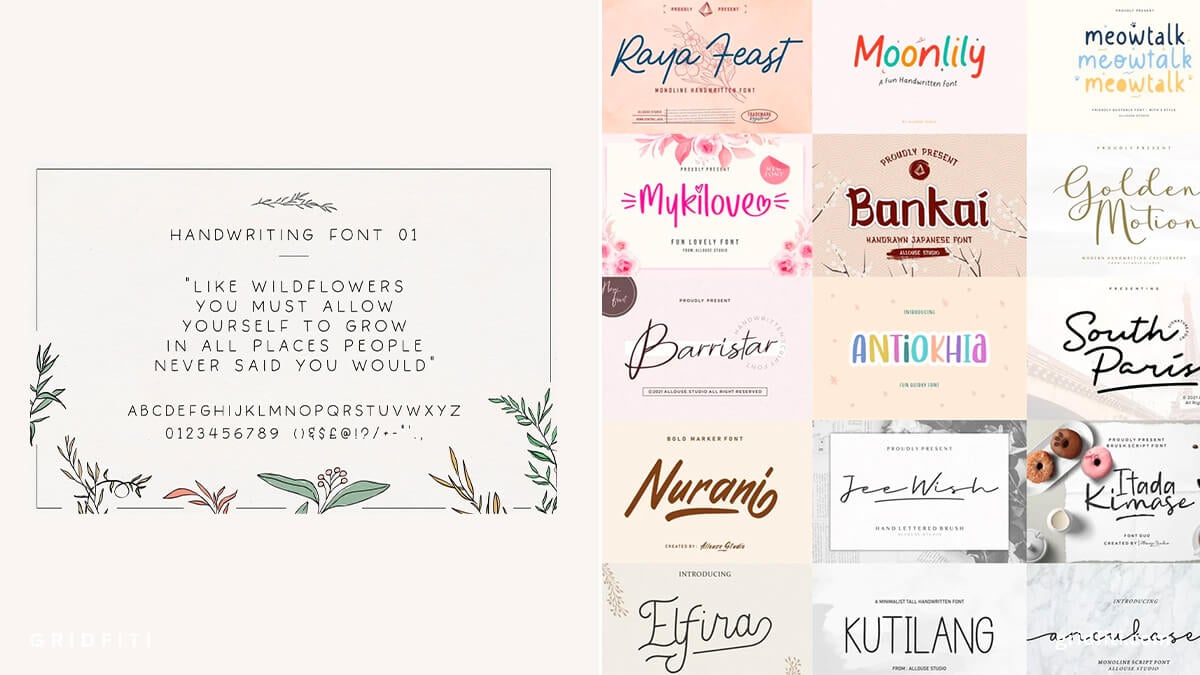 Aesthetic Handwriting Fonts for Canva
Font Bundle Collection for Canva
Calligraphy Font Bundle for Canva
Modern Font Bundle for Canva
Wedding Font Bundle for Canva
Free Canva Templates
We get it – sometimes you just want to try things out without commitment, or you gotta stick to your monthly budget. Thankfully, dozens of template creators have dropped lighter, free Canva templates for you to check out and use! Here are some of our favorites.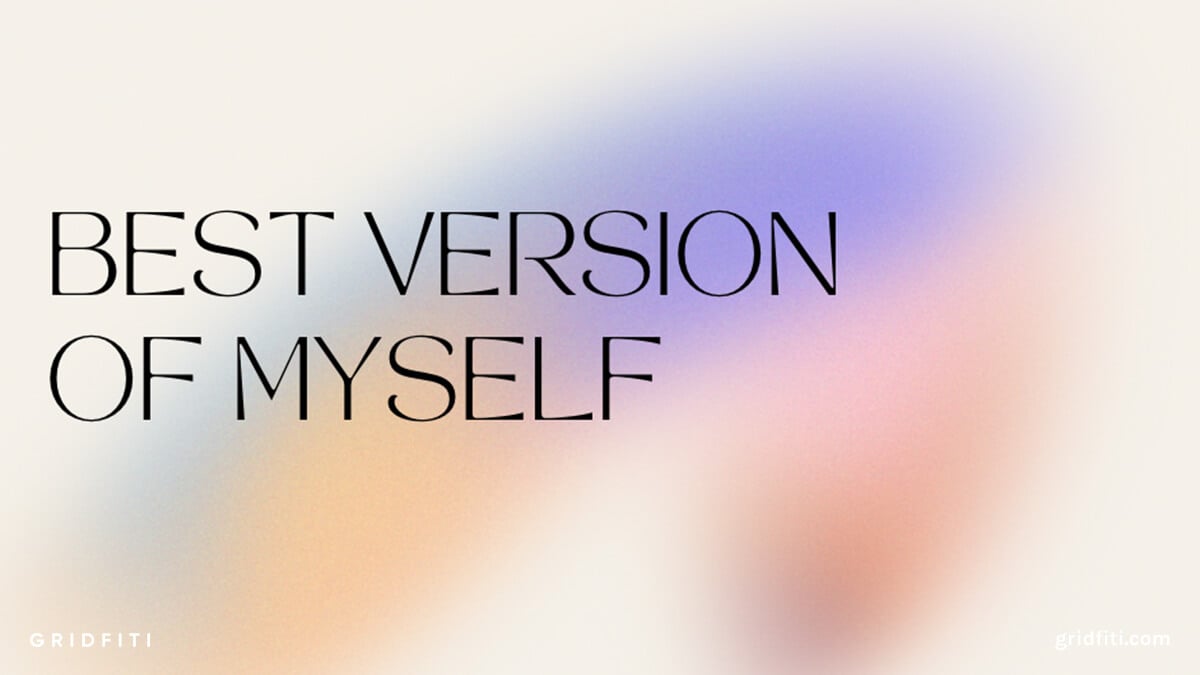 Aesthetic Life Blueprint Template
Canva eBook Template
Free Carousel Canva Templates
Instagram Carousel Canva Templates
Canva Templates for Notion Mockups
#InstaCreator Canva Posts & Stories
#InstaWriter – Free Canva Post Templates
Canva Treasure – Elements & 5 Templates
Free Feminine Pinterest Template (15-Pack)
Which Canva templates from the list are your favorites? Are there any other aesthetic Canva template picks that we're missing? Let us know in the comments below!
Gridfiti is supported by its audience – when you buy something using the retail links in our posts, we may earn a small commission at no additional cost to you. Read more about our affiliate disclaimer.