Google Calendar is an easy-to-use planner that keeps our day-to-day lives organized – but while it's one of the best calendars around, it also looks and feels a bit bland.
The standard Google Calendar with nothing but white squares filled with reminders and tasks isn't exactly aesthetically pleasing. Luckily, there are plenty of ways to customize your Google Calendar, from custom backgrounds to browser extensions to curated color palettes.
Do you use Apple Calendar? Here is a full guide on how to make your Apple Calendar aesthetic!
Want more tips and tricks for customizing your digital decor? Check out our other setup posts, and join our mailing list below!
Introduction: How to Customize Your Google Calendar
Google Calendar is highly intuitive — it'll take you no time at all to learn the basics of customization. Here are a few of the simple ways you can customize your Google Calendar – we're going to dive into all of this:
Decluttering with recurring tasks
Adding multiple calendars with custom calendar labels

Customizing calendar item labels with emojis and fancy text
Naming events and calendar items

Changing color schemes and palettes

Recurring Tasks
Recurring tasks are tasks that repeat at regular intervals. Setting up recurring tasks in Google Calendar is a great way to save time when creating events. Not to mention that recurring tasks and events customized with colors and emojis contribute to the overall aesthetic of your calendar.
Google Calendar gives you the following options for setting up recurring tasks:
Daily (repeats at the same time each day)
Weekly on the same day of the week (repeats every Monday)
Monthly on the same day and week (repeats every second Monday of the month)
Annually on the same day (repeats every October 10th)
Every weekday (repeats daily Monday through Friday)
Monthly on the same day (every month on the 10th)
You can also set a custom interval. Let's say you wanted a task to repeat every quarter. When creating a new recurring event in Google Calendar, you'd click "Custom", then set your interval to "month" and update the number field to "3". From this pop-up window, you can also choose when your recurring tasks end.
Adding recurring tasks to your calendar is easy. Here's how to do it:
Toggle the calendar where you want to add your recurring event in the bottom left under "My calendars".
To create a new event, either click "Create" → "Event" in the top corner of left-hand sidebar. Or, click a cell or date in the Google Calendar.
Set the time and date of the first instance of the recurring event.
Click the drop-down arrow next to "Doesn't Repeat" to set up recurring events.
Choose your interval.
Fill out any other fields you'd like included in the event, like a description or location.
Save your event.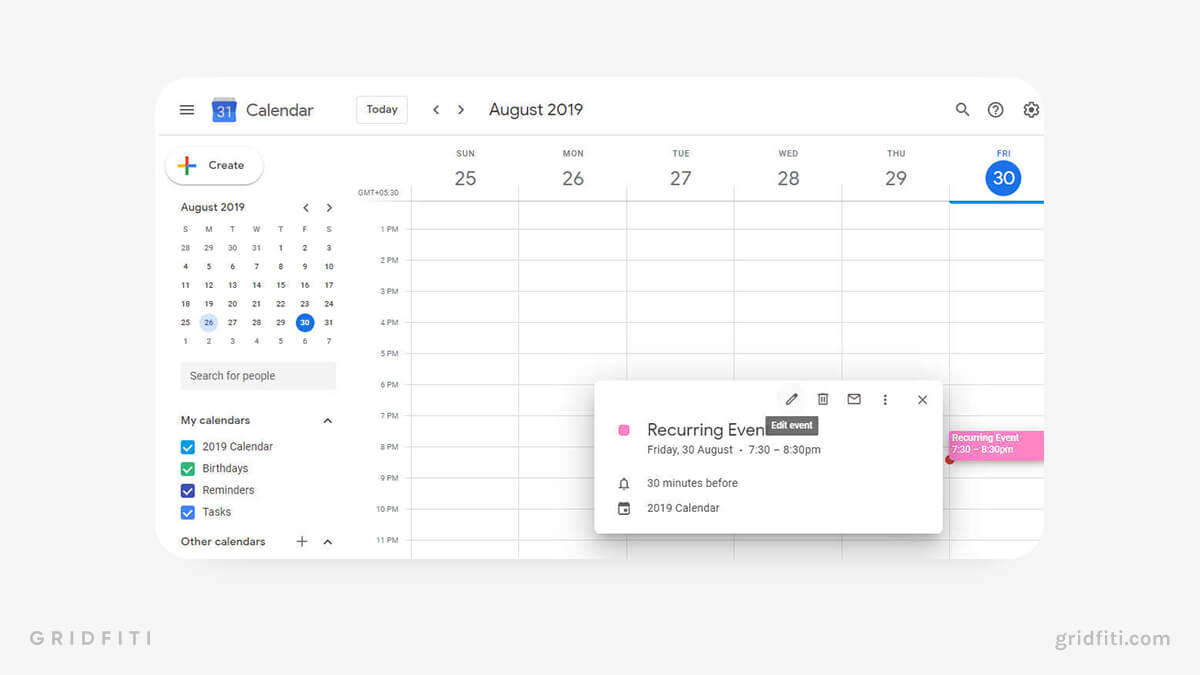 Custom Google Calendar Labels
Using Aesthetic Text
You can input different fonts by copying and pasting them from another source, like a fancy text generator. If you want to stick with the default font, we recommend using all-lowercase for your calendar label names.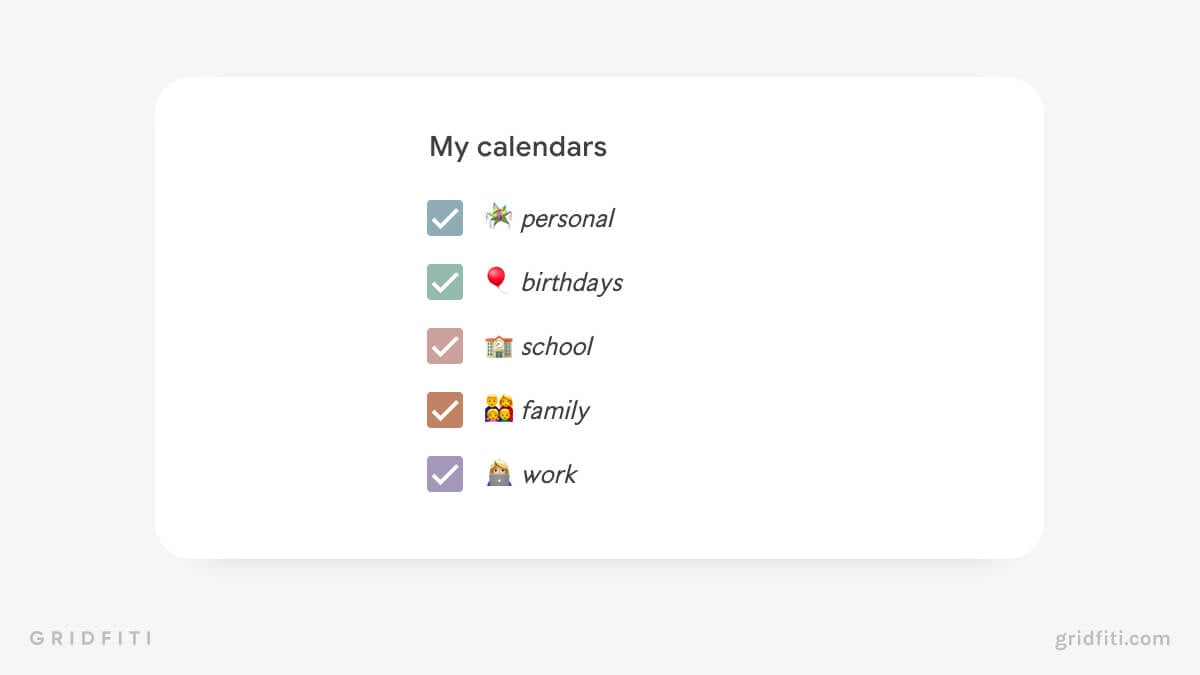 Aesthetic Emojis & Combinations
Use emojis with aesthetic text in your Google Calendar events to spice up your calendar. If you want to add emojis to an event, you'll need to type them in using your device's emoji keyboard or copy them from another source.
Here are some curated themed emoji combos for you to get started with – just copy and paste, or mix and match!
Pink Emoji Combo 💕 🧠 🌸 🩰 🎀 💓 🐷 🦩 💗 🌷 👛 🎟️
Yellow Emoji Combo 💛 🌻 🍋 ⭐ 🟡 ✨ ☀️ 🐤 📒 🌙 🍌 🐥 🧀 🔆 🌟 🐱 💫 🧈 🧽
Blue Emoji Combo 🦋 🐳 🌊 🏙️ 🐬 🧊 🫐 💙 🌀 📘 💎🚰 💠
Green Emoji Combo 🌿 💚 🌱 🍀 🐸 🐢 🍏 🍃 🥑 🌳 🟢 🌵 🥝 🍵 🐉 ☘️ 📗 🍐 🥦 🦎 🎋 ☘ 🐍 🥬 🌲 🥒 🐛 🎄 🔋
Purple Emoji Combo 💜 🧞‍♀️ 🎆 🔮 🍇 👾 ☂️ 🟣 🟪 💟 🦄
Red Emoji Combo 🎈 🍓 🍒 🍄 🌹 ❤️ 🏓 📌 💄 💋 🧲 🍷 🔴 🏮 ❤️‍🔥 👺 ♨️ 💮 🌶  🧰 🥊 🦞 ☎️ 🍅📍💢
Orange Emoji Combo 🦊☄🍊 🎃 🏀 🥕 🍁 🥧 🍑 🥮 🧡 🌇
Brown & Neutral Emoji Combo 🤎 🚪 🧸 🍂 🍪 ⏳ 🏹 🙈 🦇 🟤 🍗 🪵 🐿 🥔 🥜 🍞
Black Emoji Combo 🖤 🕷 🐈‍⬛ ♠️ ♣️ 🏴 ⚫ ✒️ ♟️ 💣 🐃 🦨 ⌚ 🕋 🎱 🐧
White Emoji Combo 🤍 ☁️ 🕊️ 🥡 🏳 🌧️ 🤍 📃 ⚪ ❔ ❕ 🎧
Gold Emoji Combo 🏆 🔑 🛎 🔱 🪐 🍺 🎷  📀 👑 🍯
Gray & Monochrome Emoji Combo 🐘 🦾 🌪 🪙 📃 ⚓ 🎧 🐻‍❄️ 🌫 🦏 🪨 🐀 🕯 🎙️ 💿
Changing Color Schemes & Palettes
Change your calendar's color schemes by clicking the three dots next to each calendar under "My calendars." You can choose from 24 standard colors, or you can click the + icon to pick a custom HEX color. This color will be applied to all events in the calendar.
The color of your calendar will determine the color of all the events in that calendar. Sadly, Google Calendar does not let you set custom colors for individual calendar events. If you want to change the color of an event, you have to choose from Google's pre-set colors, unless you use a third-party browser extension.
Read on for some copy-paste hex code combos and themes you can use to make your Google Calendar feel a little more unique!
Google Calendar Color Schemes & Palettes
Pick a bespoke palette for your Google Calendars with hex codes. Need some ideas? Check out these unique Google Calendar color schemes and palettes!
For more color ideas, we published a blog post curating our favorite Google Calendar color schemes with HEX codes!
Pastel Color Scheme
Hex Color Codes:
#BEDAE3
#C4E9DA
#FED5CF
#F1B598
#D3C7E6
Inspired by our Aesthetic Pastel iOS App Icon Pack.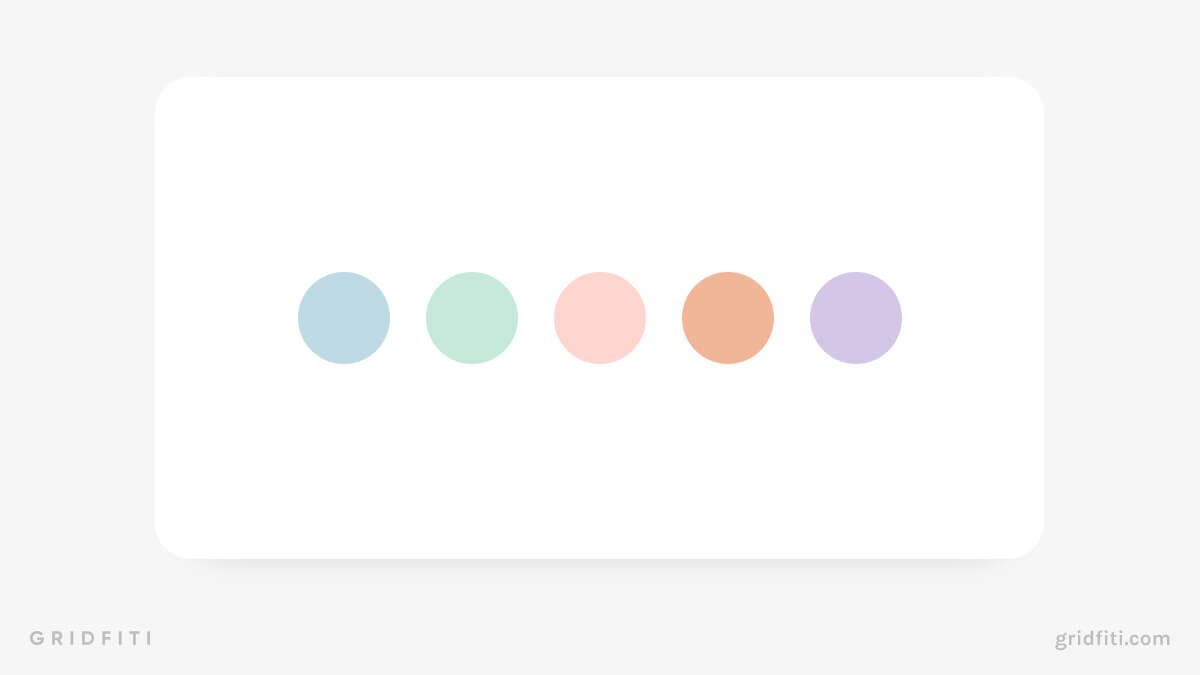 Aura Hearts Color Scheme
Hex Color Codes:
#FBC5E2
#CC3859
#F82A8A
#8E4FFB
#CB4CDE
Inspired by our Aura Hearts Screensaver Pack.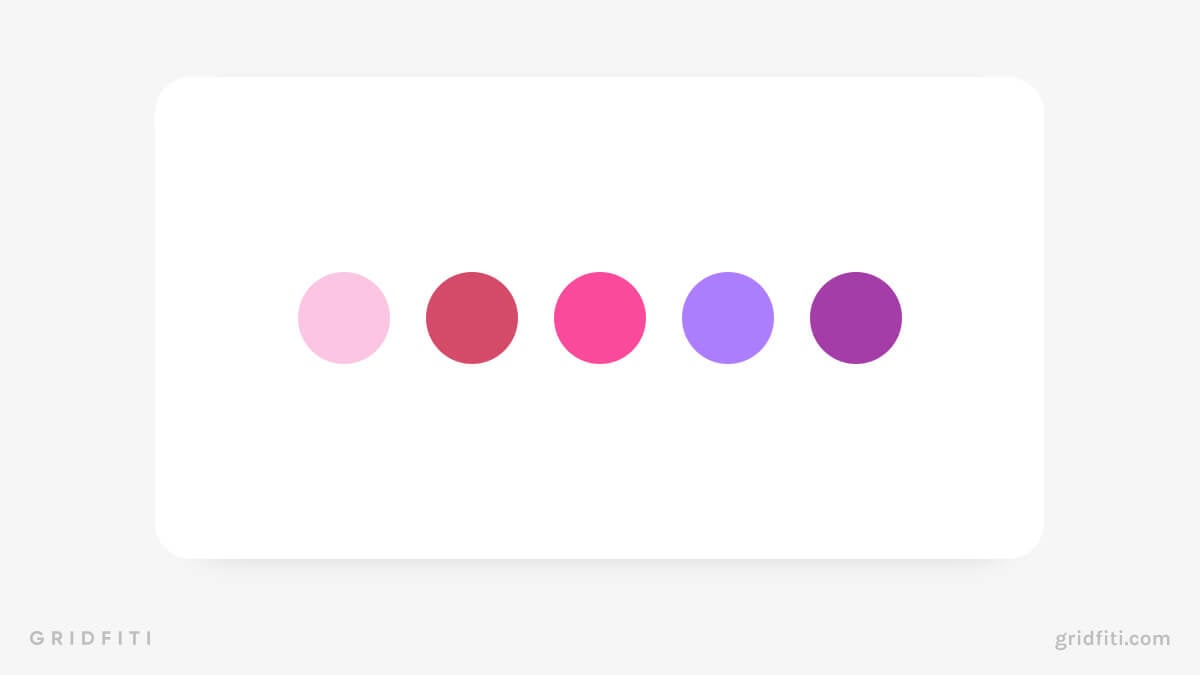 Purple Color Scheme
Hex Color Codes:
#D699FF
#A557FD
#8113E2
#964BBF
#5B2485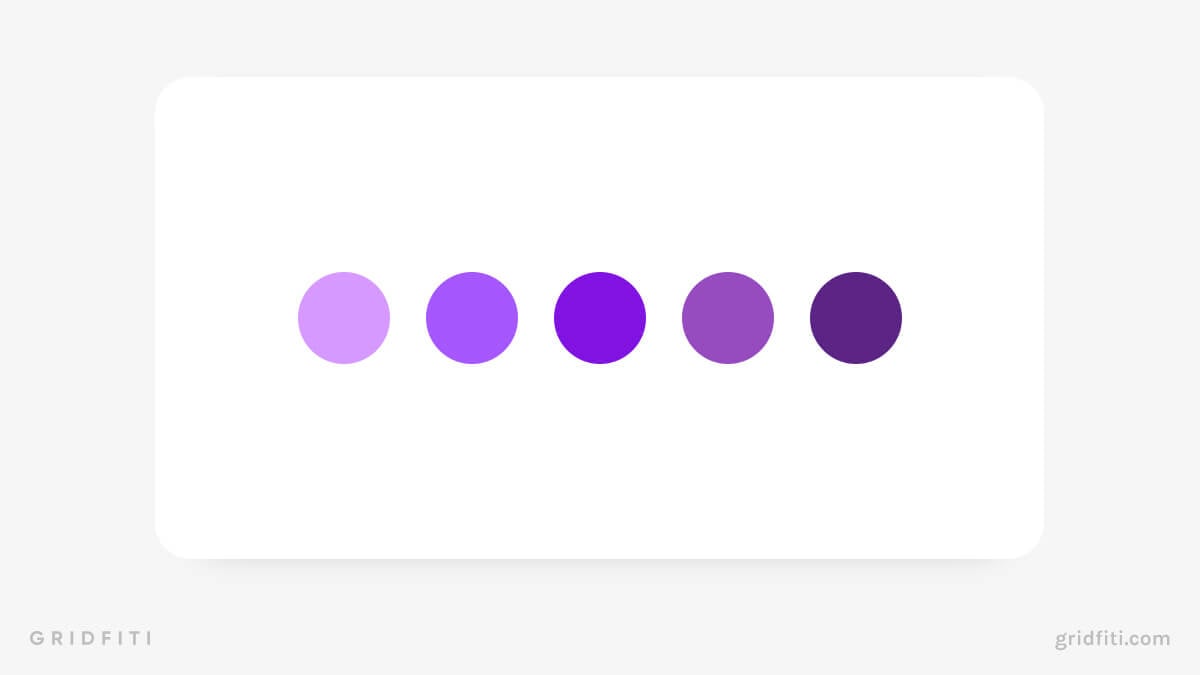 Fall Color Scheme
Hex Color Codes:
#892E2E
#C24D0E
#335C67
#D58936
#F2F3AE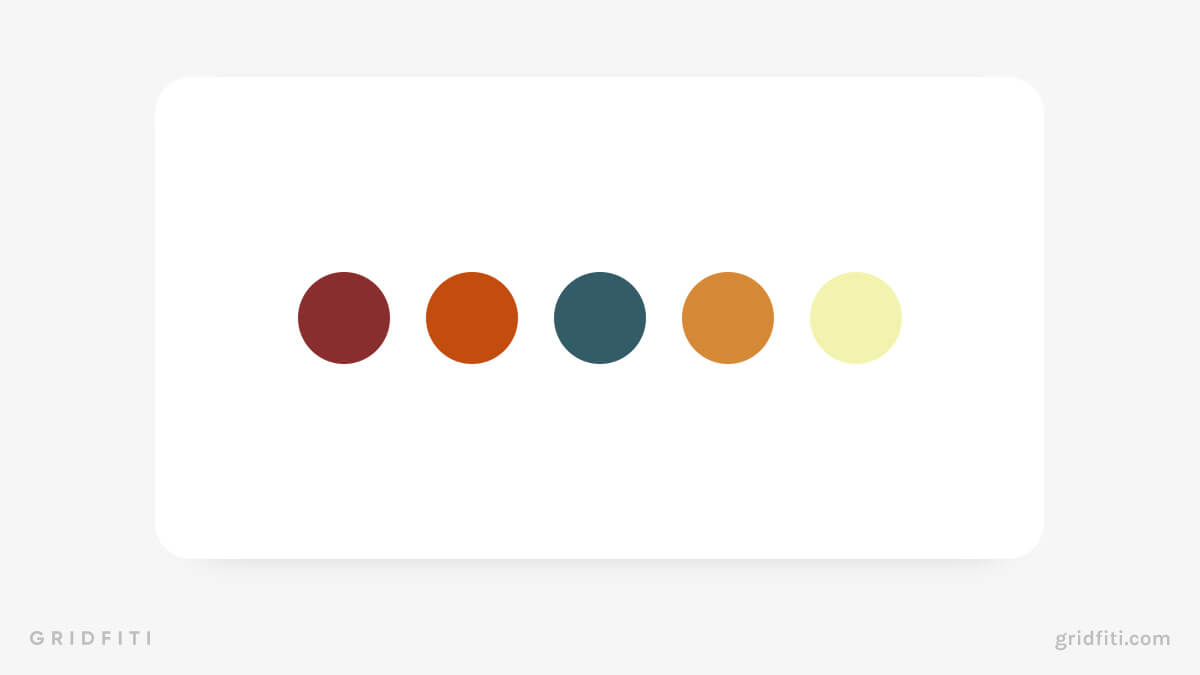 Monochrome Color Scheme
Hex Color Codes:
#CDCBCB
#B5B3B3
#908E8E
#7C7979
#676565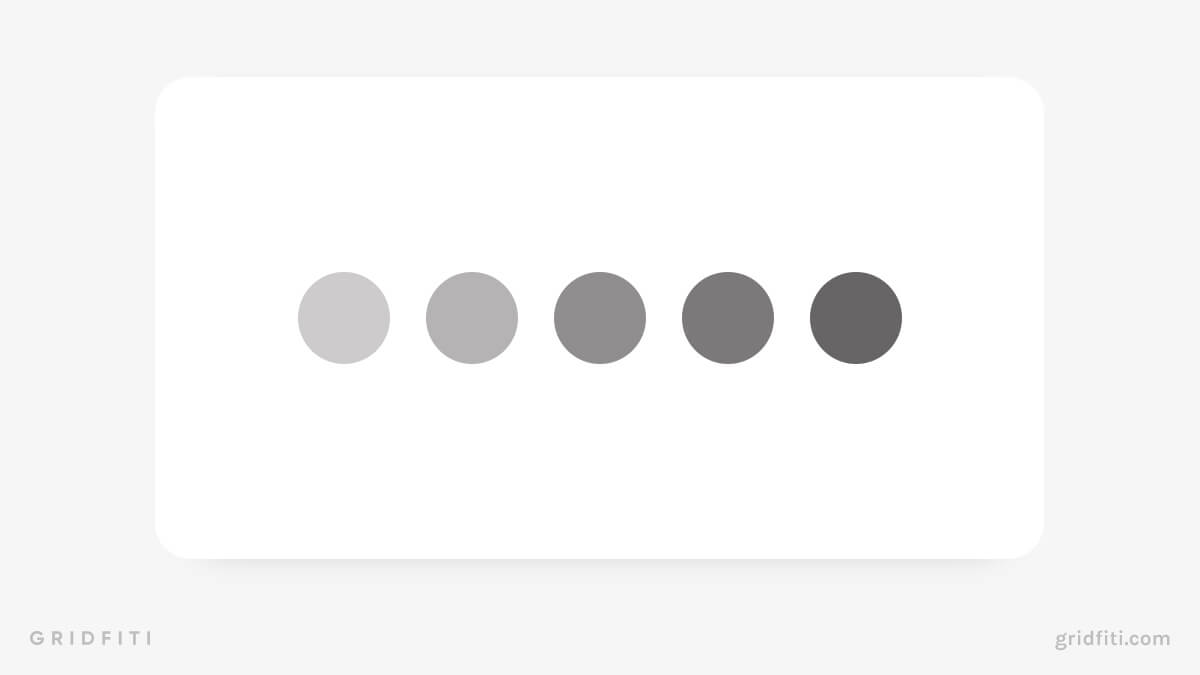 Looking for more color palette inspo? Check out our full round-up of aesthetic color palettes!
Aesthetic Google Calendar Backgrounds
With Google Labs now a thing of the past, you'll need to download a third-party Google Chrome extension to change your calendar background. Popular Google Calendar background extensions include:
Stylish
Stylish is a paid browser extension that lets you customize the appearance of any website, including Google Calendar. This one might be more suitable for pro users.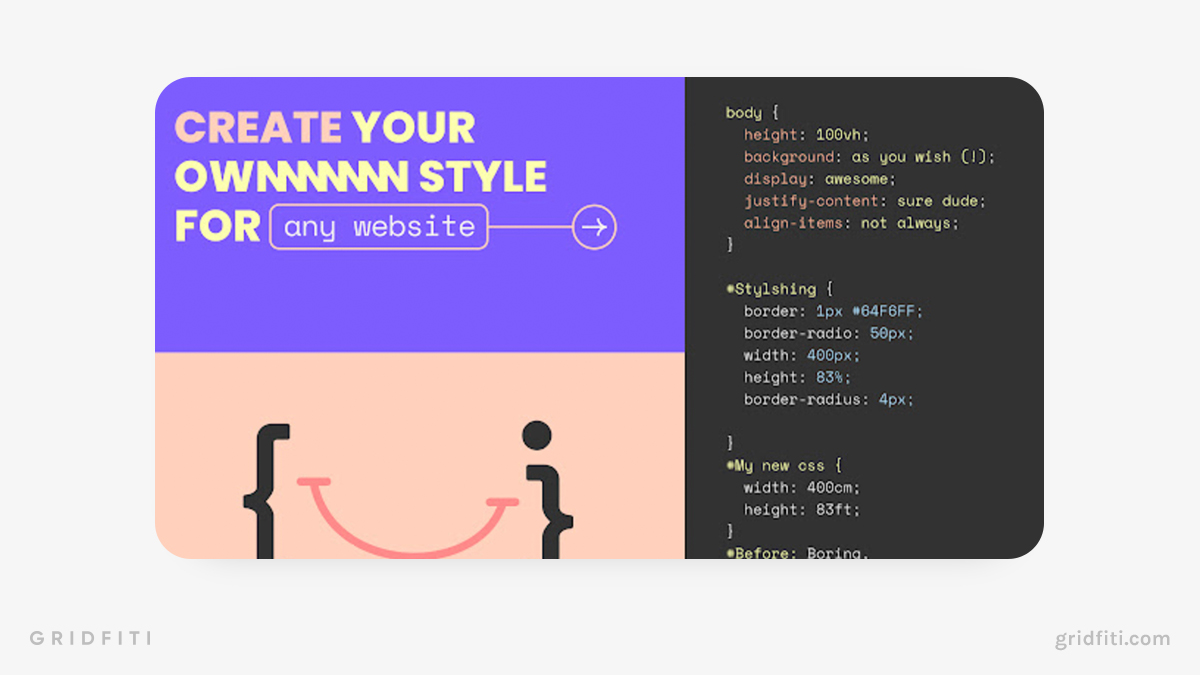 Custom Calendar Background
For a more user-friendly option, try Custom Calendar Background, an essential Google Calendar background extension. Simply paste in a URL ending in ".png" or ".jpg", then click "Save" to add your custom background!
Get Custom Calendar Background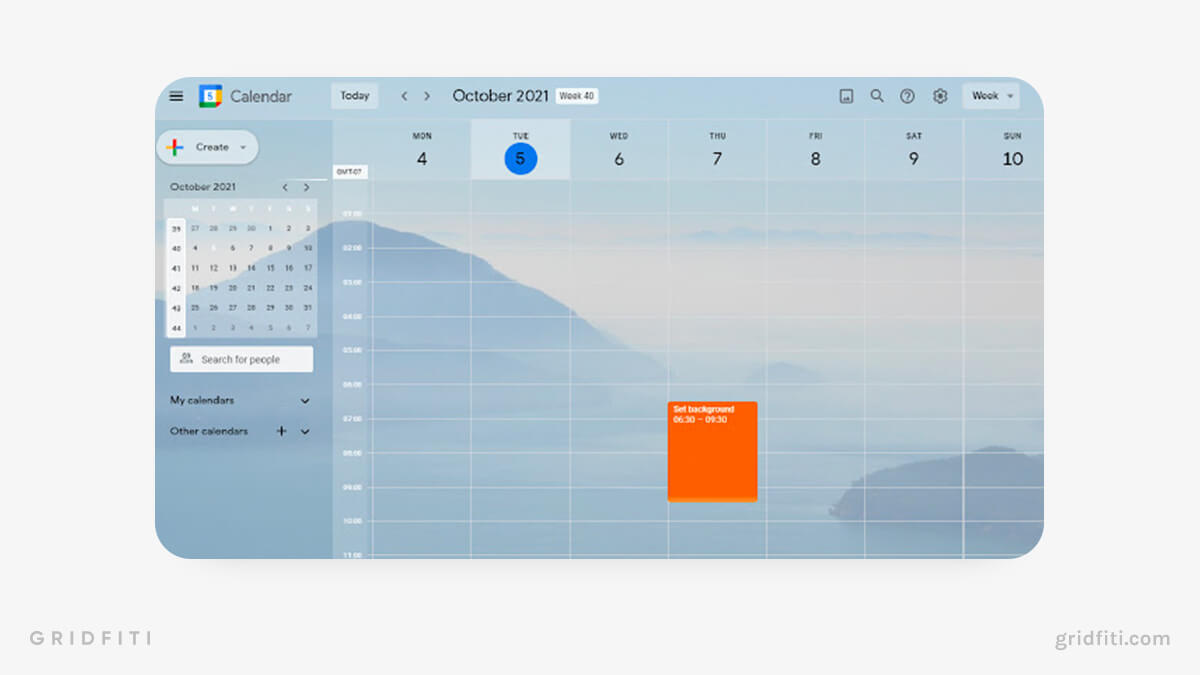 To change the background, click the extension in Google Calendar, go to "Options," and paste the image URL you want to use. You can set the extension to use a single image or monthly images.
Aesthetic Google Calendar Extensions
You'll find dozens of extensions for Google Calendar that'll help you streamline the daily grind. Whether you're looking to make weekly meetings more manageable or you need some help staying on top of your hectic schedule, here are a few of the best Google Calendar extensions.
Meeting Notes for Google Calendar & Meet
Looking for ways to simplify note-taking during meetings? Meeting notes for Google Calendar & Meet by Meetric is a simple Google Calendar extension that lets you take notes during a Google Meet.
During a Google Meet call, click the Meetric icon on the lower right of the screen, which will open up a side panel where you can take notes. Once your meeting is over, email the notes to yourself and others, or revisit them at any time by clicking the Google Meet link.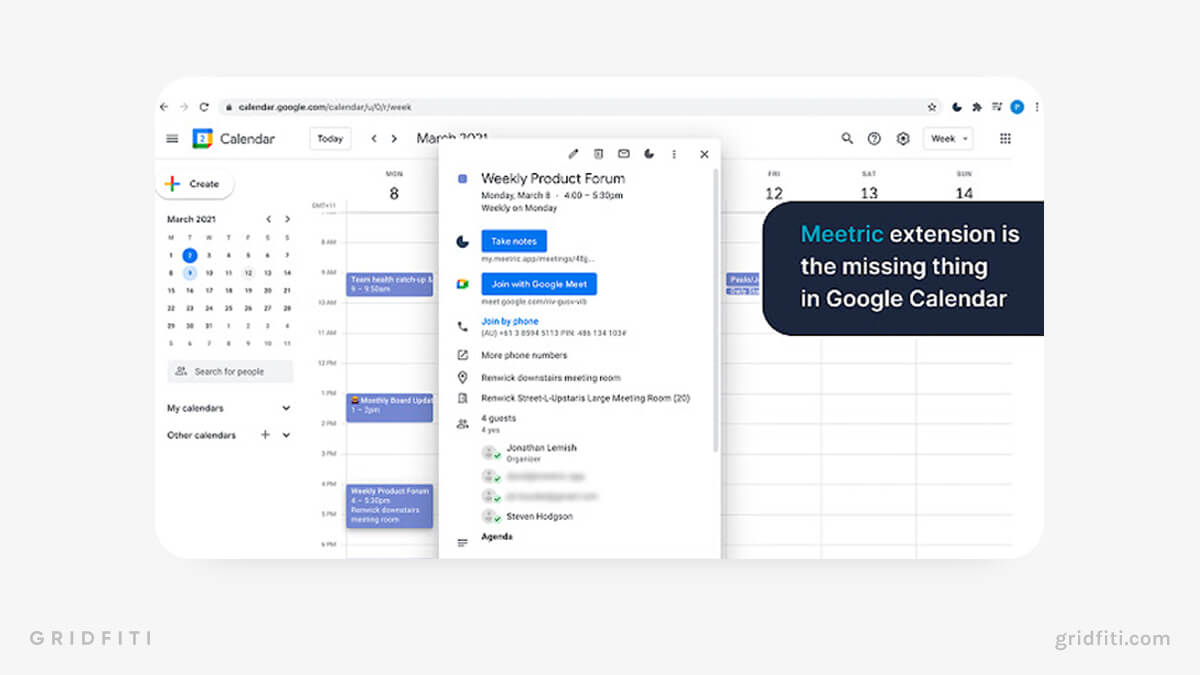 Event Merge for Google Calendar™
Event Merge for Google Calendar does exactly what it says — it allows you to merge events on different calendars so they show up together. For example, if you have an event called "team picnic" in both your personal and work calendars, you can sync the event together so it shows up in both calendars.
This Google Calendar extension is excellent for keeping your calendar looking neat and preventing double bookings and other scheduling mishaps.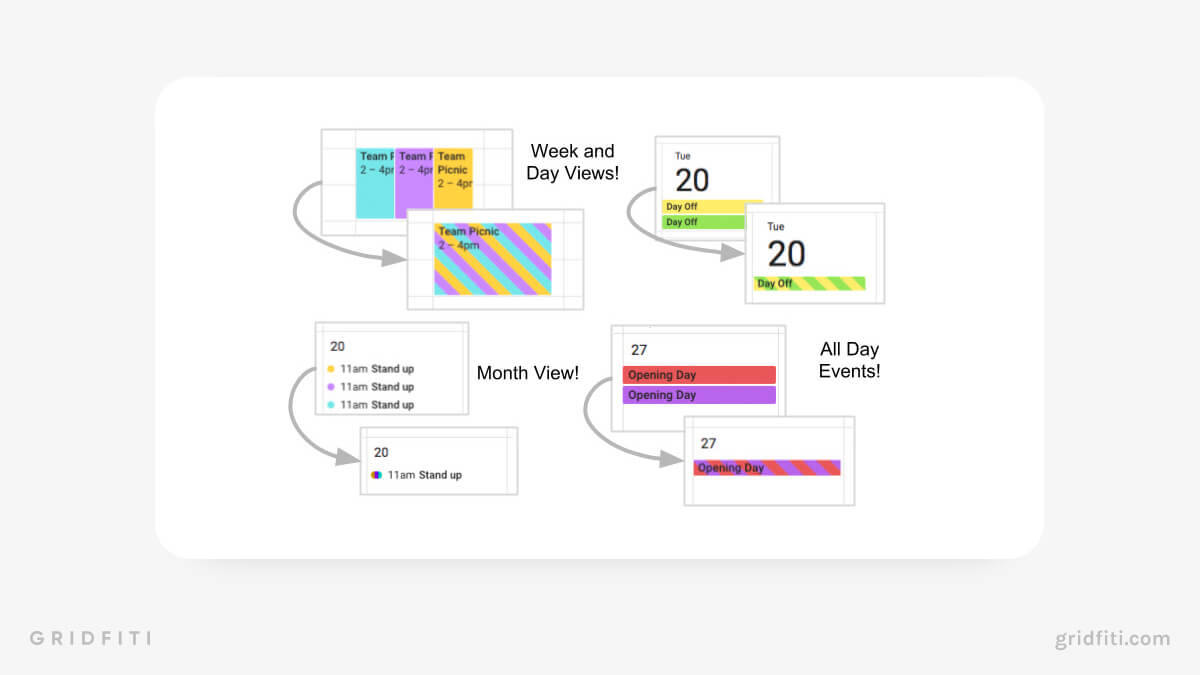 More Colors for Calendar
Check out More Colors for Calendar if you're looking for different ways to add a splash of color to your dull Google Calendar. This handy extension lets you pick custom colors for your events.
Create or edit an event, click on the color selection, press the + sign, and input the hex color code you want to use. More Colors for Calendar is ideal if you want to add brand colors to events (or just love color coding).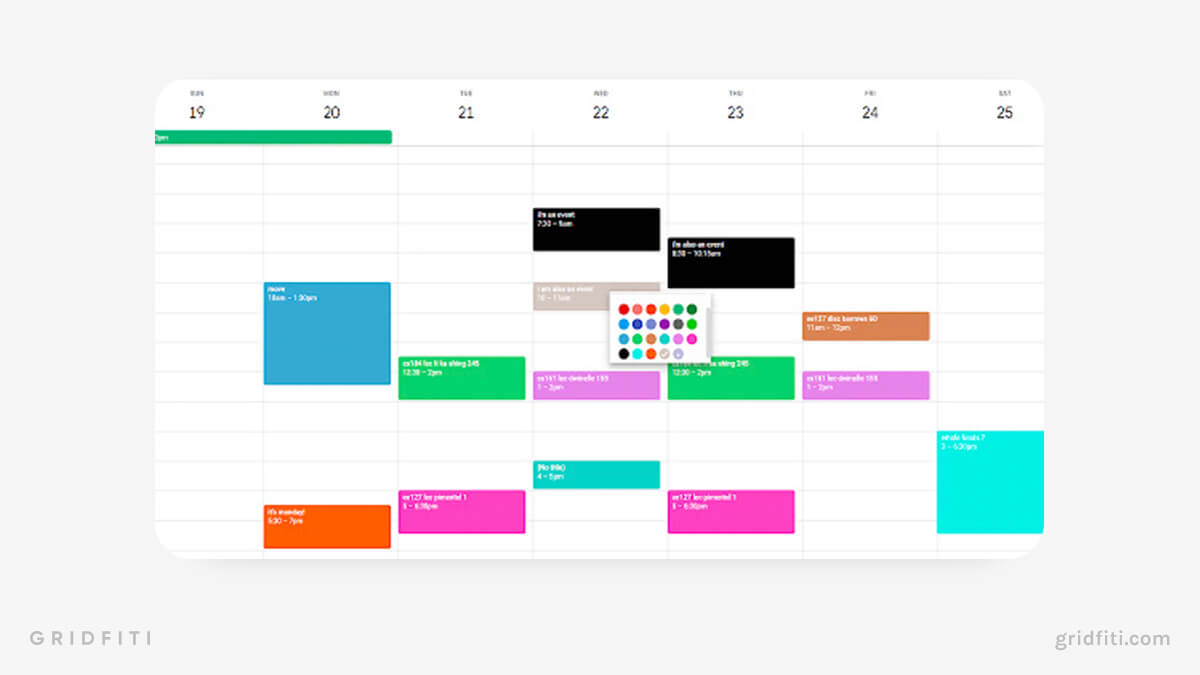 Toggl Track: Productivity & Time Tracker
Toggl Track: Productivity & Time Tracker is a great time-tracking extension for freelancers, CEOs, and everyone in between. Toggl's integrations let you track time right in Google Calendar, Notion, and dozens of other apps.
With Toggl, you can track time spent on individual tasks, budget for future projects, assign clients, and more. Toggl also provides analytics so you can review your productivity and how well you spent your time.
While there are monthly subscriptions for Toggl, it's free for up to five users on one account.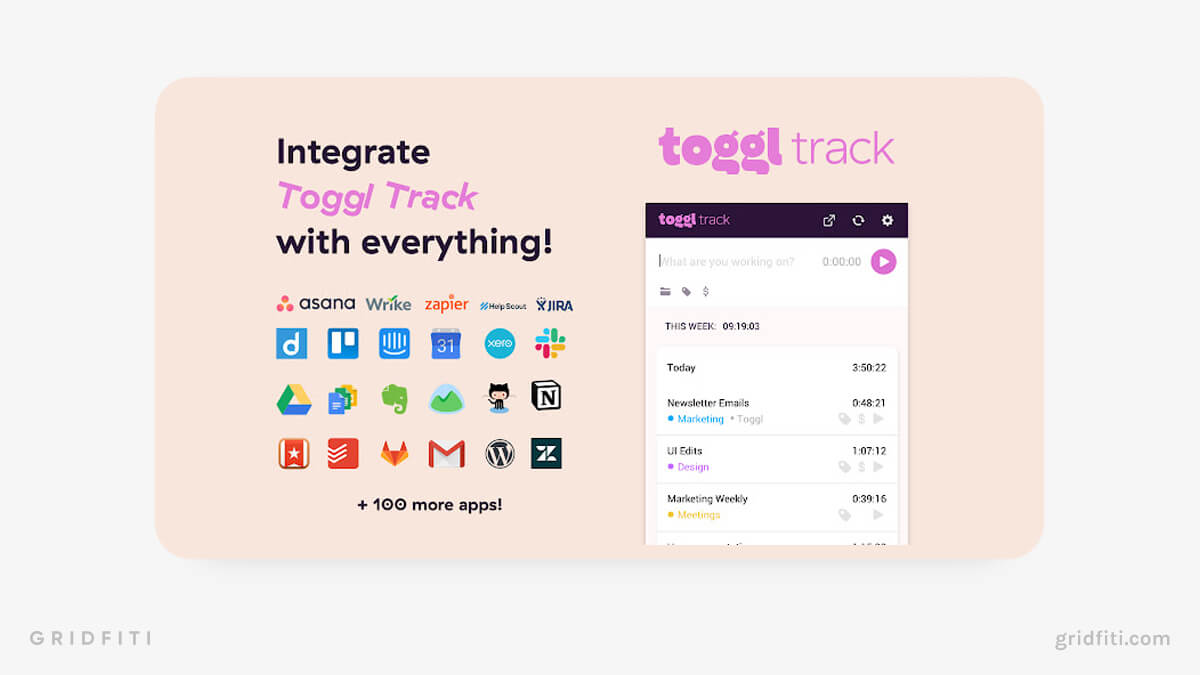 What are your favorite aesthetic Google Calendar hacks? Got any Google Calendar customization tips and tricks of your own to share? Let us know in the comments below!
Gridfiti is supported by its audience – when you buy something using the retail links in our posts, we may earn a small commission at no additional cost to you. Read more about our affiliate disclaimer.