When running a business, regardless of the size of your company, having a proper picture of your inventory is critical. Especially as a small business owner, with so many hats to wear and tasks to juggle, inventory management can get unwieldy – especially when there are drastic changes in demand while trying to appease new and existing customers.
With a Notion inventory template, you can completely centralize all things inventory management, planning, and tracking – and always keep the perfect balance between supply and demand. We've gathered some of the best Notion inventory management templates to get started with. Check them out!
Want more Notion tips, tricks, and templates? Join our Notion mailing list below and check out our several other Notion guides and round-ups!
Advanced Notion Inventory Management Template
This all-in-one, easy-to-use template dedicated solely to inventory management is jam-packed with everything you need to stay on top of your stock. Coming complete with a detailed video tutorial, manage all your products and their variations, track suppliers, PO orders and sourcing, get an overview of all your warehouses and stock entries, monitor sales orders, store a customers list, and even manage all your account payables and receivables.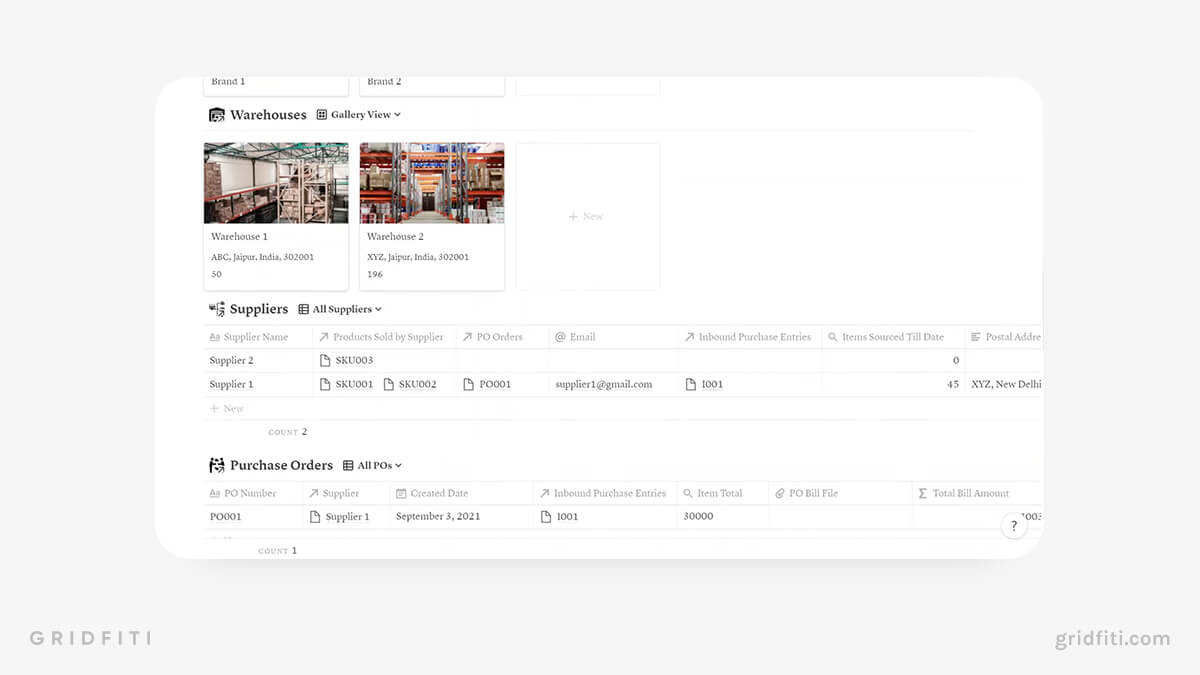 Notion Ecommerce Business Kit with Inventory Management
Run your entire business from a singular dashboard with the Notion Ecommerce Business Kit! Among its 30+ templates included, from finance tracking to social media management, manage your company's entire inventory.
For more templates like this, don't miss our full round-up on Notion ecommerce templates!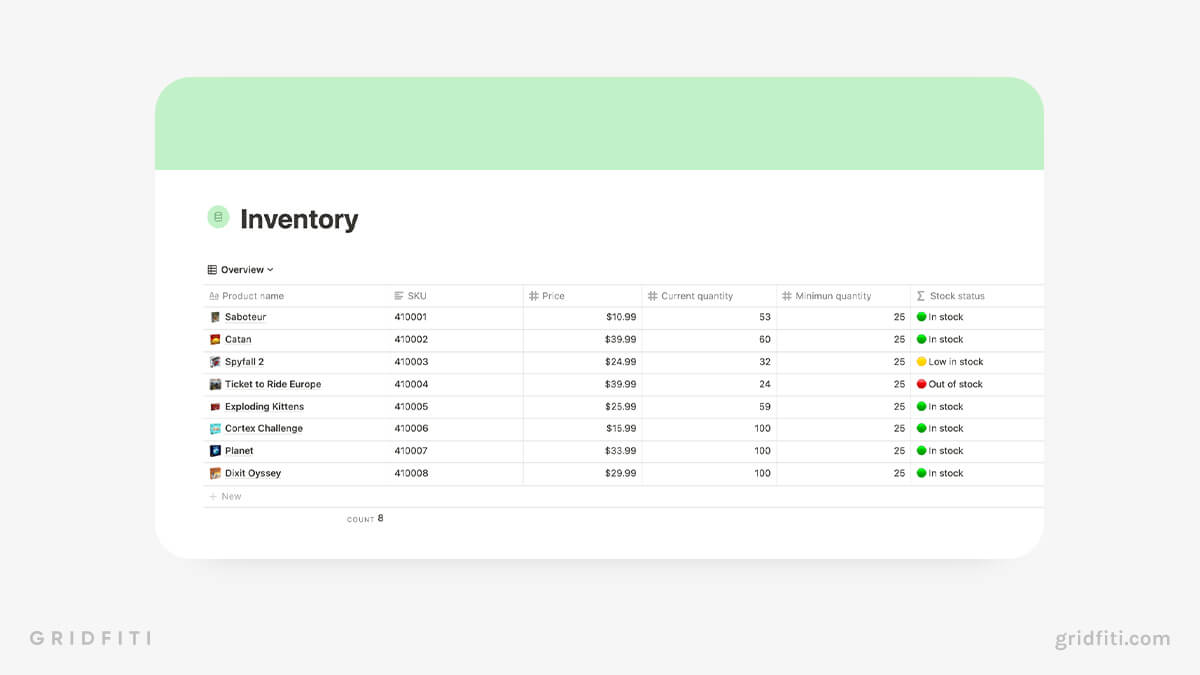 Ecommerce OS with Inventory Tracking
This all-in-one ecommerce operating system workspace has several built-in templates to run your online business – and of course, an inventory tracker! Beyond tracking your customers, sales, invoices, accounts, and more, stay on top of your inventory and stock while using an integrated system to run the rest of your business.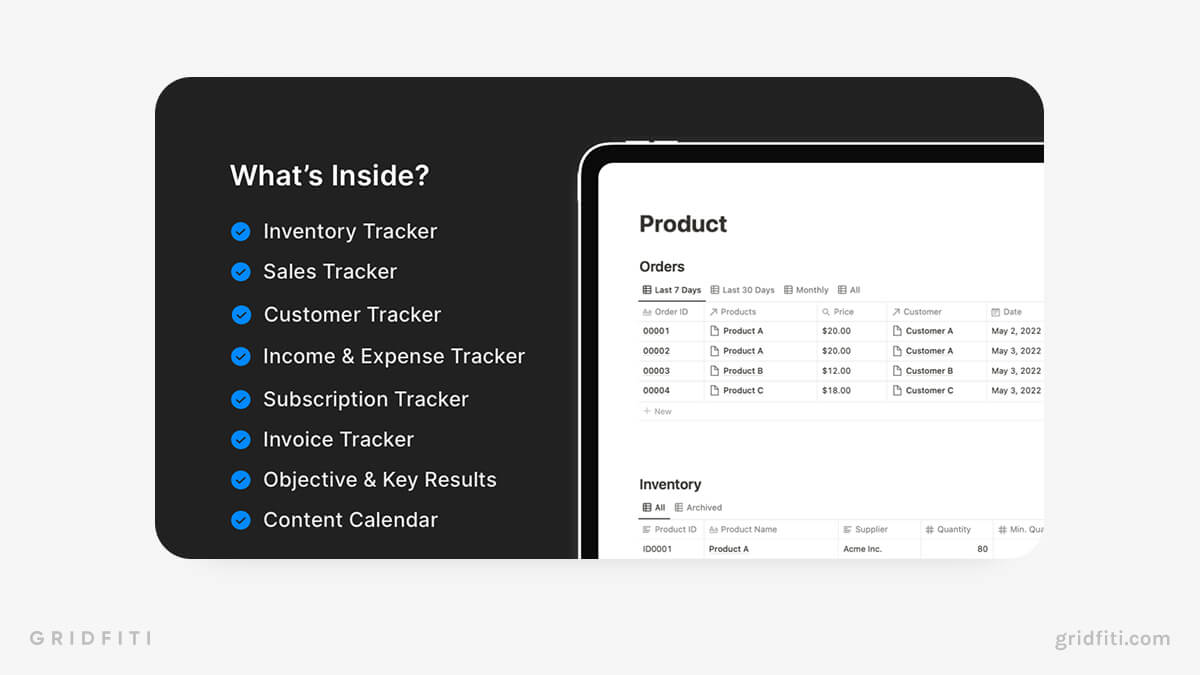 Simple Small Business Inventory Template
This simple small business template is functional as it is aesthetically pleasing! If you're just getting started and are looking to run your small business without the bells and whistles, this template is the one for you. It includes a basic inventory page for logging products you want to sell, how much they cost to produce, and how much you want to sell them for, to ultimately track profit margins.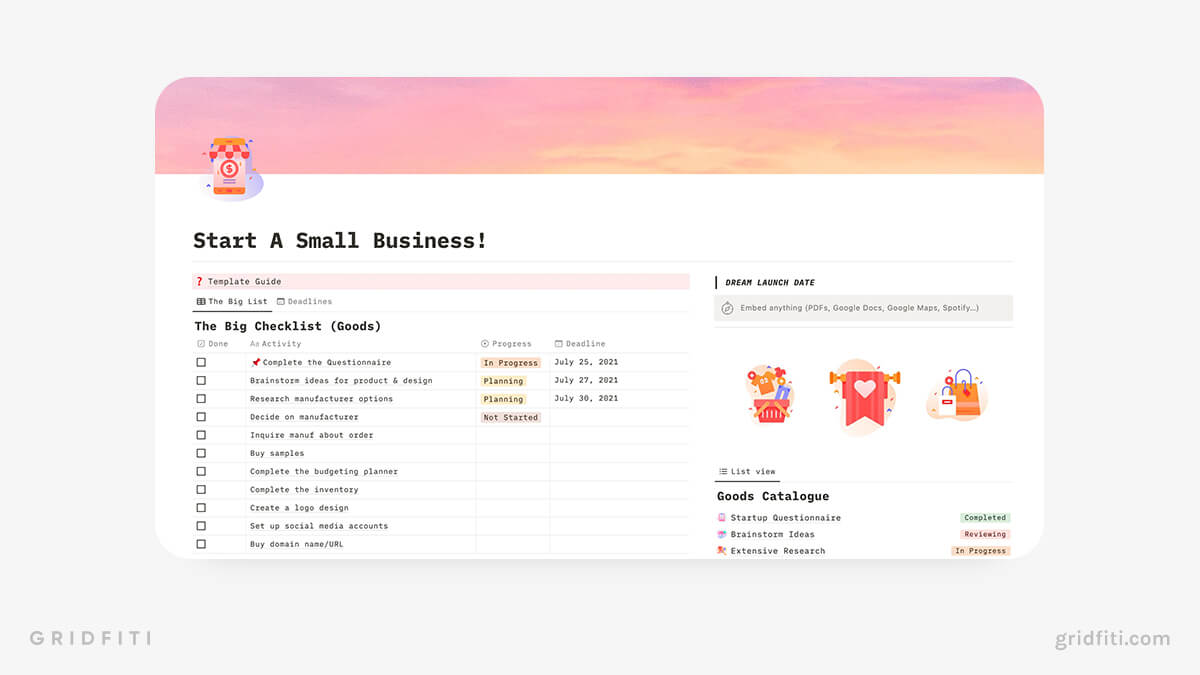 eBay Seller Inventory Template
With this inventory template page, keep track items you're sourcing and selling on eBay with a detailed spreadsheet! Using the eBay's API, tracfk your SKUs, sources, costs, eBay numbers, list dates, and whether an item is BIN or auction. There are also sections for adding eBay fees, list amount, sold amount, and shipping fees – which will all together automatically calculate your profit per item. For more information on how to use the API importing, check out the creator's Reddit post.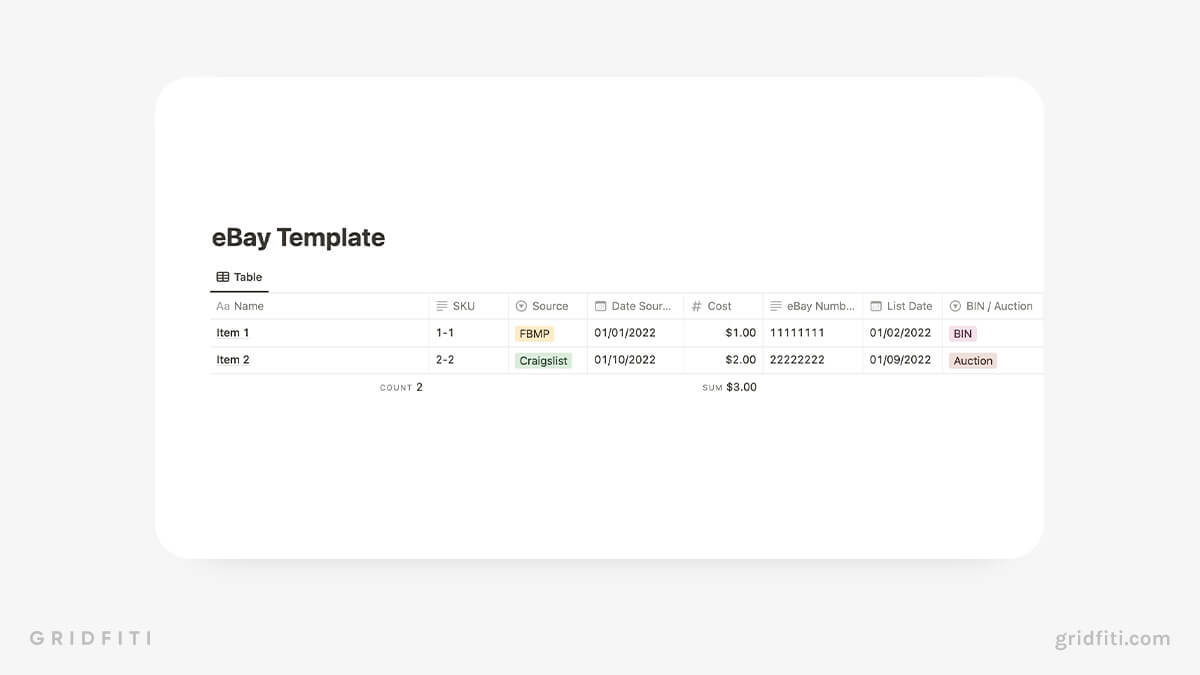 Simple Inventory Management System for Retail
With this simple template designed for retail environments, track your products along with their ID, zone of the store, rows, racks, and shelves. With this information, the template automatically produces a string of text to find your products in-store!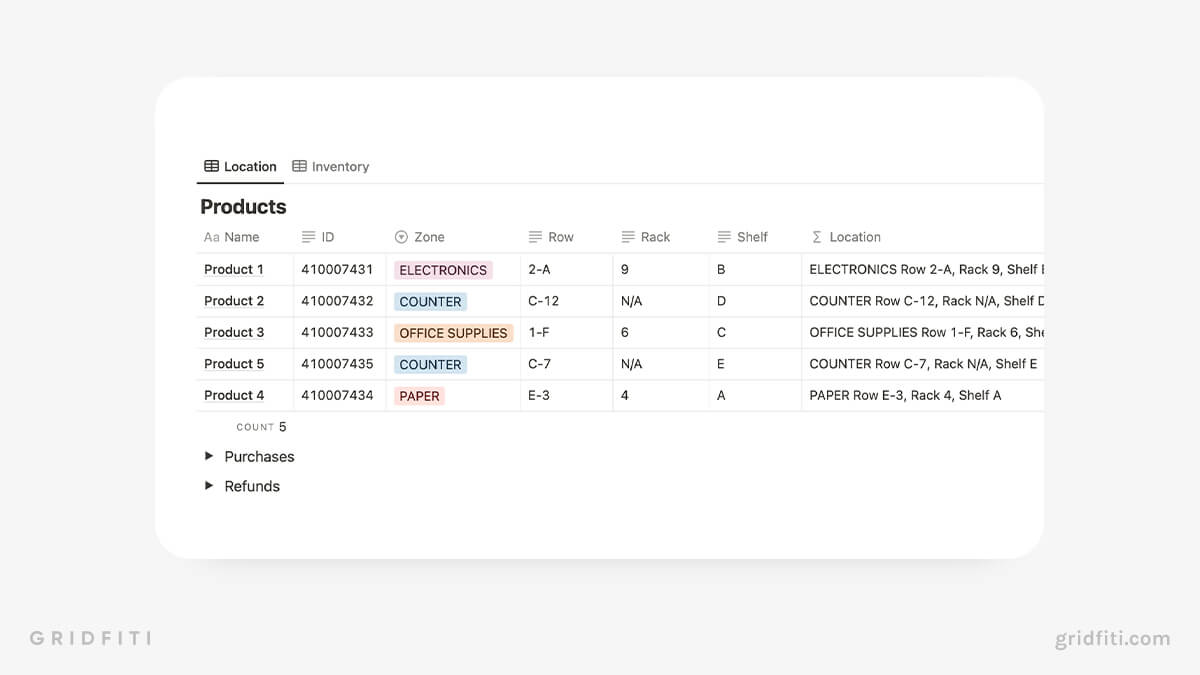 Simple Inventory Template for Perishable Goods
With this simple inventory management template, with produce filled in as a sample, track your stock, quantity, unit price, purchase price, expiration date, SKUs, and more.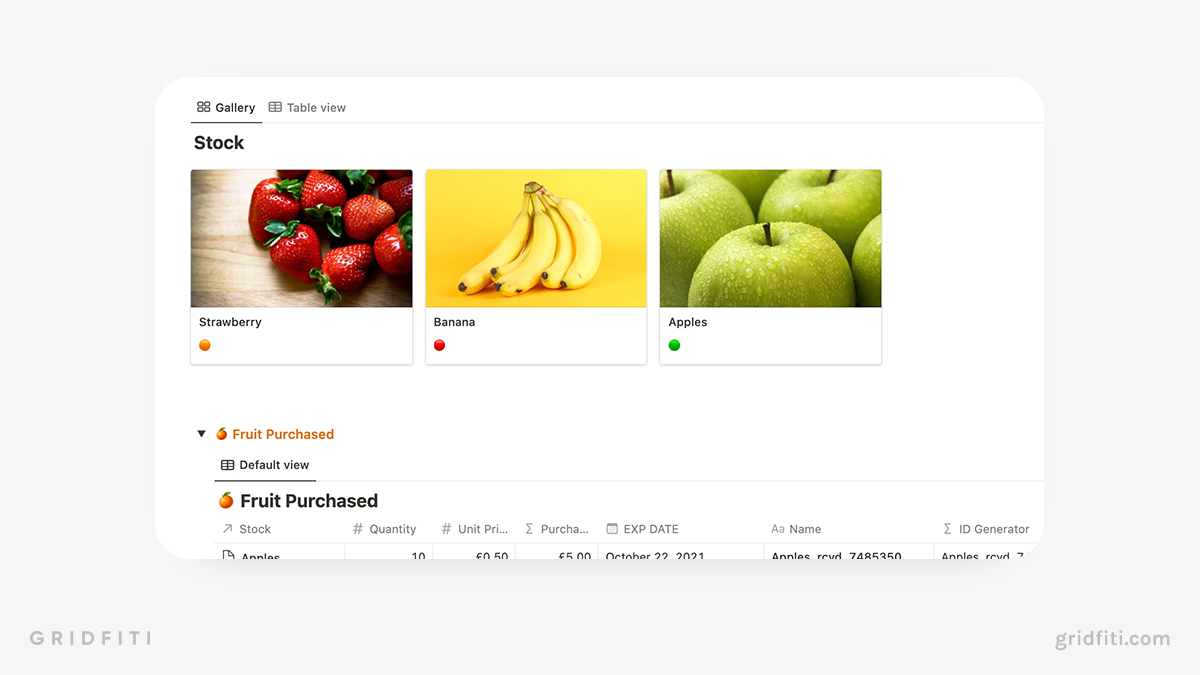 Beginner Inventory Management Template
Another simple inventory template to get started, this page runs off of two main databases: receiving and dispatch, and inventory. Track your products' order numbers, in and out statuses, quantities, minimums, suppliers, and notes all in the spreadsheets!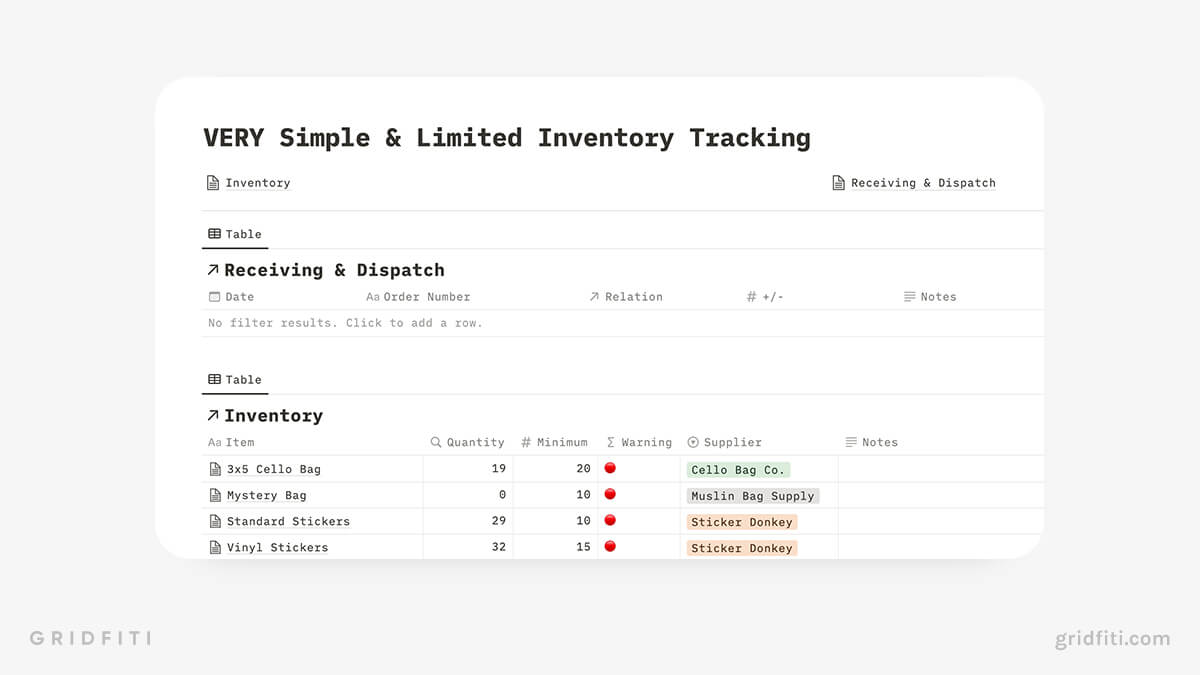 Bonus: Notion Home Inventory Templates
We've gathered some of the best Notion inventory templates for managing your business' stock and supply, but there are some great templates out there for inventorying all items in your home too! Check out these templates to put together an organized database of your home's inventory.
Limitless OS's Home Inventory Notion Template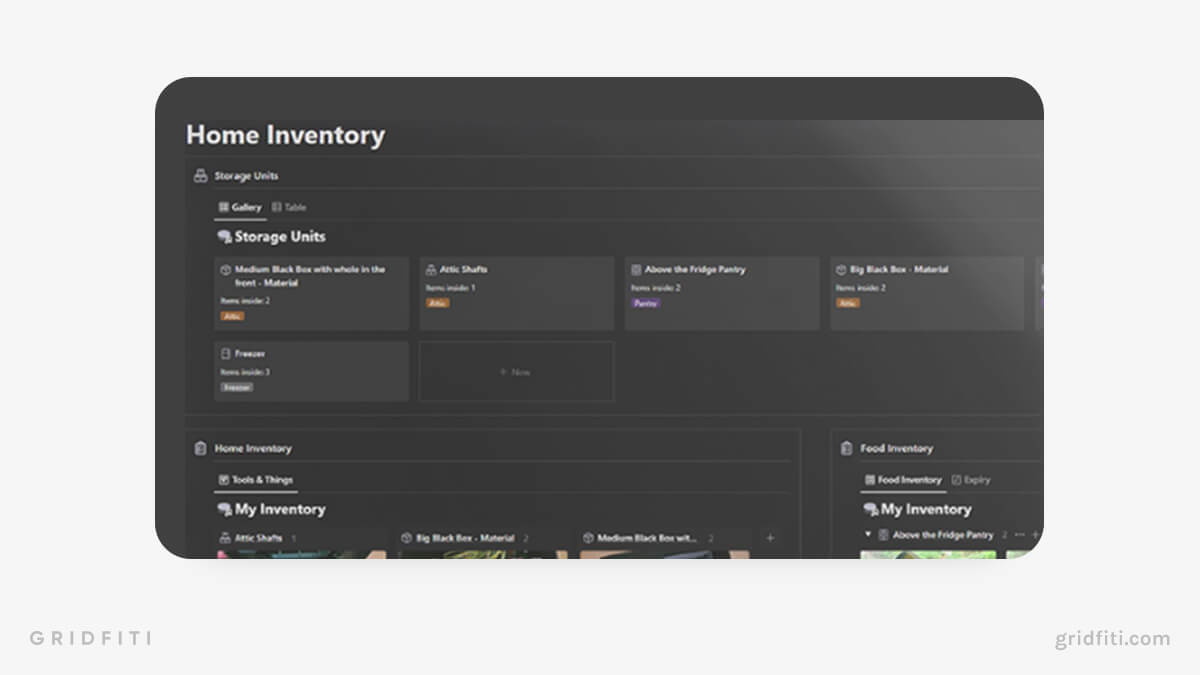 Bodie's Home Inventory Template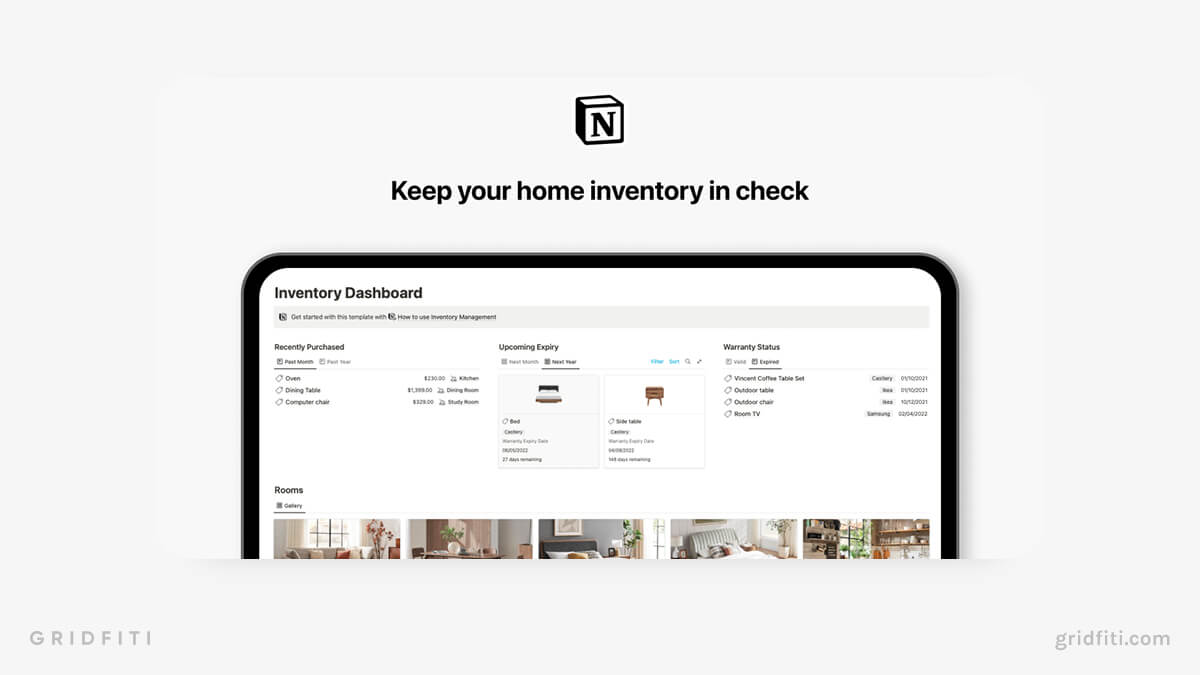 Alejandro's Home Inventory Template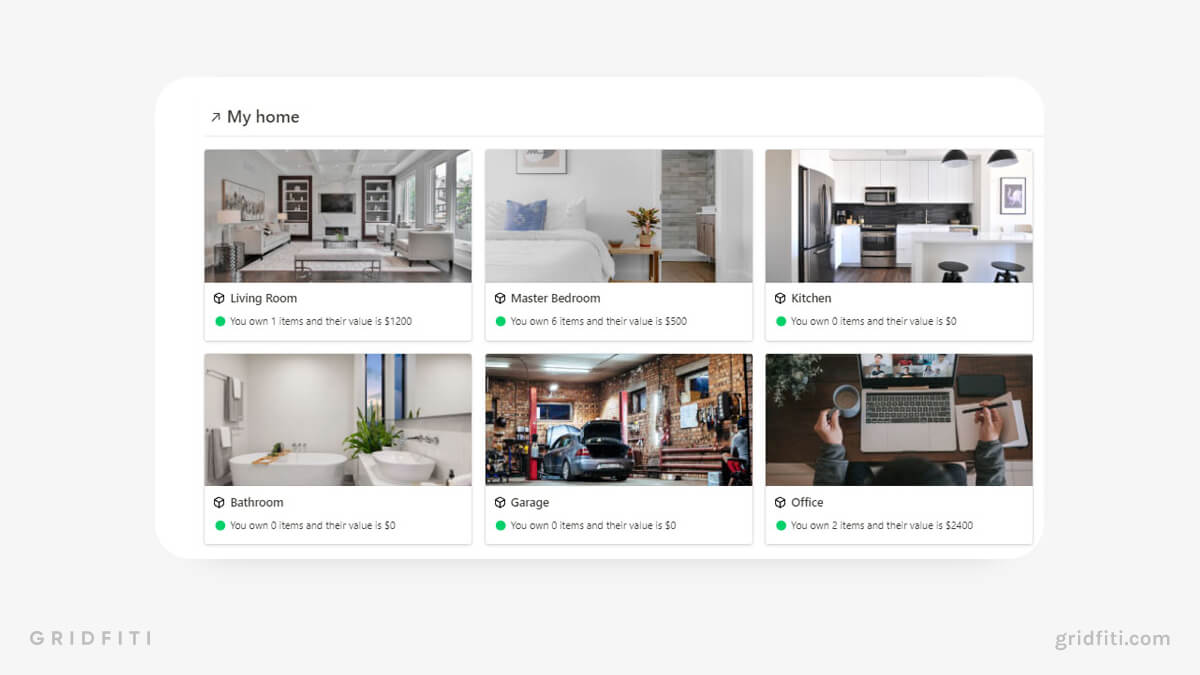 Which Notion inventory template do you see yourself using? Are there any other inventory management templates for Notion that we missed? Let us know in the comments!
Gridfiti is supported by its audience – when you buy something using the retail links in our posts, we may earn a small commission at no additional cost to you. Read more about our affiliate disclaimer.