Have you ever wanted to start an online business, but were struggling to figure out where exactly to start? As easy as it is nowadays to start an ecommerce store, there are a ton of things you need to map out and optimize before starting a successful online shop.
To help you organize and manage your online storefront, we've rounded up the best Notion ecommerce templates for you to get started!
For more Notion templates to run your company, don't miss our round-up on the best Notion business templates and Notion templates for startups!
---
Looking for more productivity tips and tools? Subscribe to The Flow — our quick, snappy, value-packed focus and recharge newsletter. Also, don't miss our several other Notion template round-ups and guides!
---
Notion Ecommerce OS
Easlo's Notion Ecommerce OS is an all-in-one toolkit to manage your online business! With this robust template, you can track your inventory, customers, orders and sales, invoices, accounts, important OKRs, content, and so much more – all in a simple, minimalist theme.
Related Post: The Best Notion Inventory Management Templates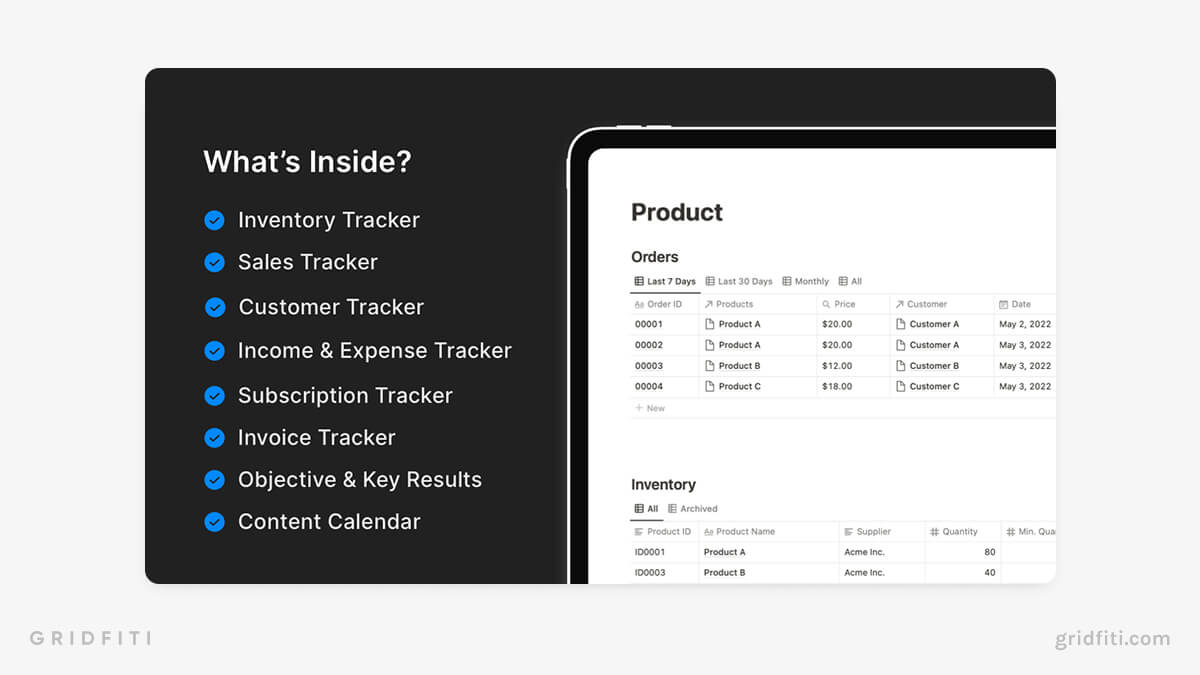 Notion Ecommerce Business Kit Template
Manage your entire ecommerce business from one place with the easy-to-use Notion Ecommerce Business Kit! With more than 30+ templates to help you manage your finances, customers, inventory, social media presence, tasks, notes, and lots more, get everything you need right out of the box.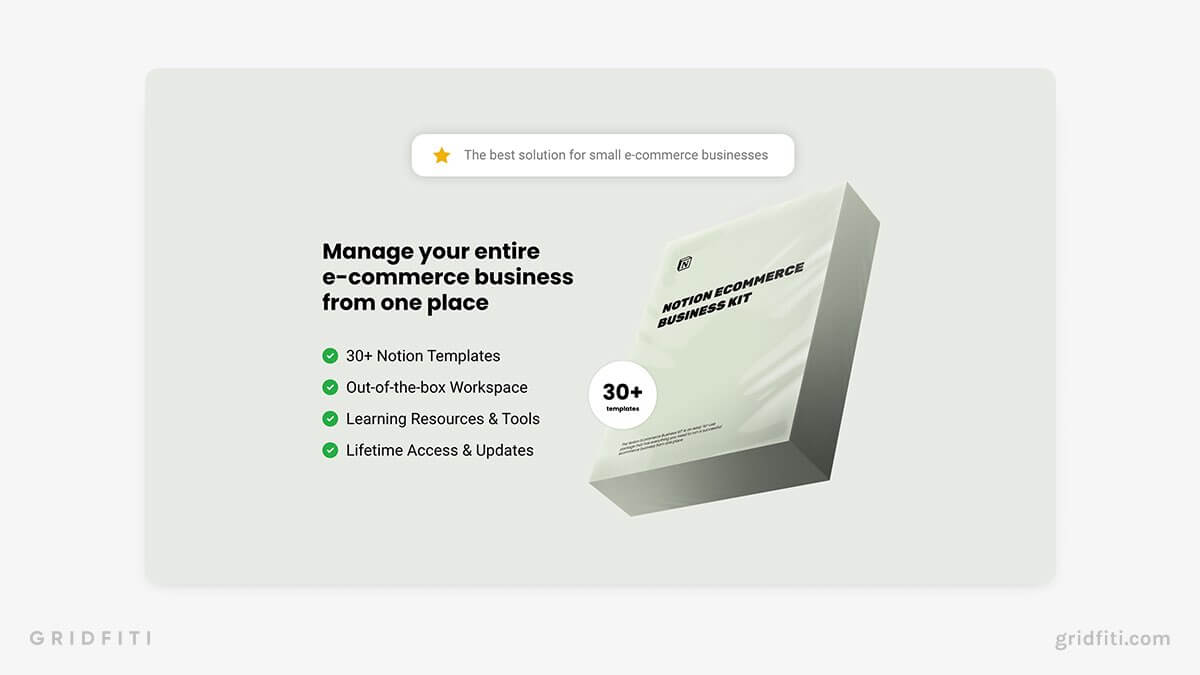 Shopify Business Blueprint – for Early-Stage Entrepreneurs
Who better to have by your side while building your ecommerce business, than ecommerce giant Shopify?
Chances are, if you're building a business and selling products online, you're doing it on Shopify – and their Business Blueprint template will guide you every step of the way – even if you don't have your business idea figured out yet! The Shopify Business Blueprint is designed to guide you through the process of building your business from ideation to execution, featuring interactive exercises and checklists.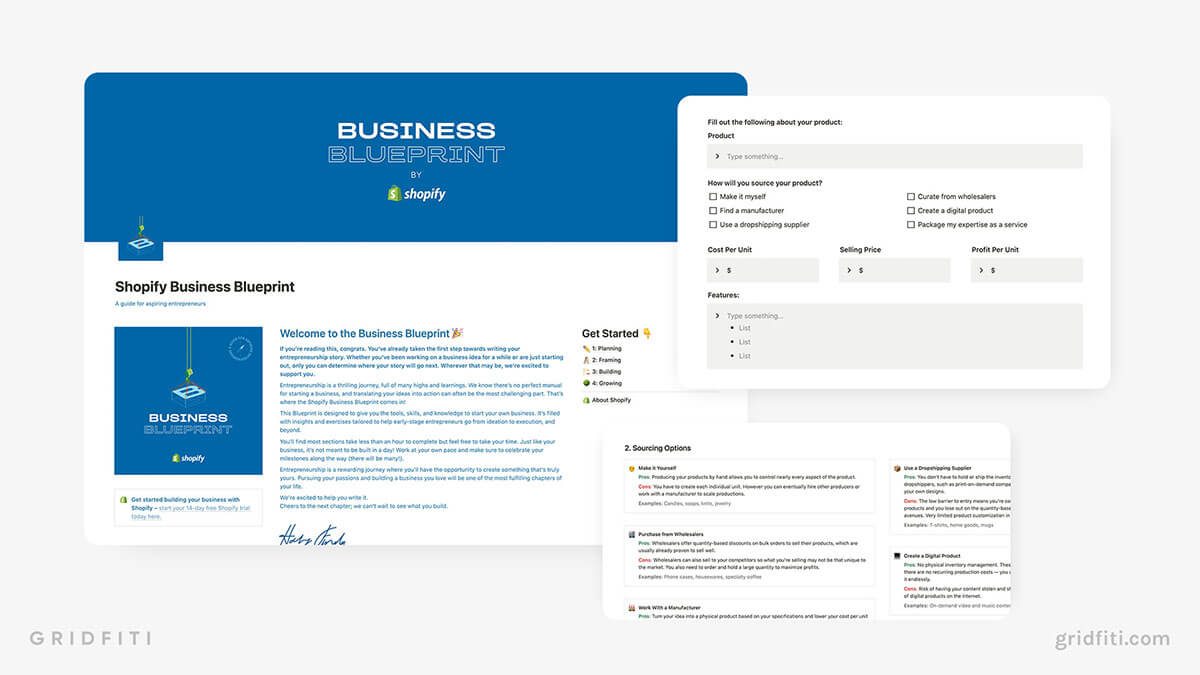 Product HQ – A Notion Product Dashboard
One of the most difficult parts about starting an ecommerce business is designing, sourcing, and ordering a product — but the Product HQ Dashboard is here to guide you through the process with actionable tasks every step of the way!
Related Post: Notion Product Management Templates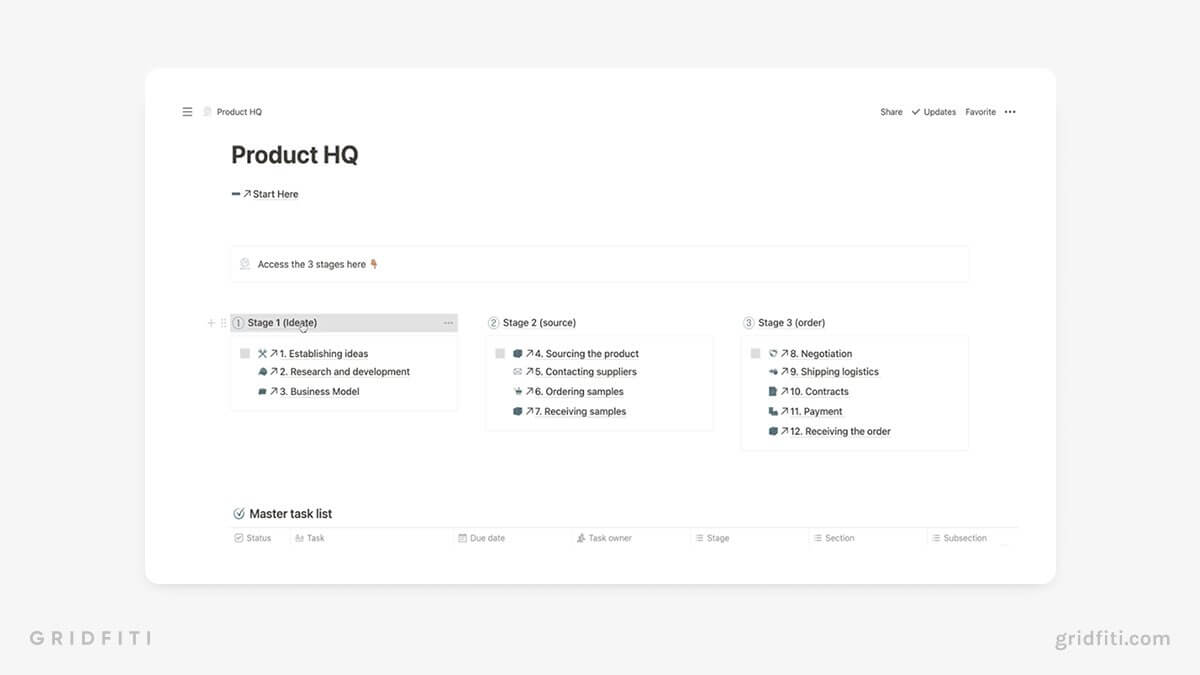 Print-on-Demand Store OS Notion Kit
A Notion operating system full of resources to build and grow an online print shop and apparel store – the POD Store OS for Notion is for content creators, graphic designers, solopreneurs, and even current print-on-demand shop owners to organize and build a well-oiled print on demand store – and ultimately sell more products!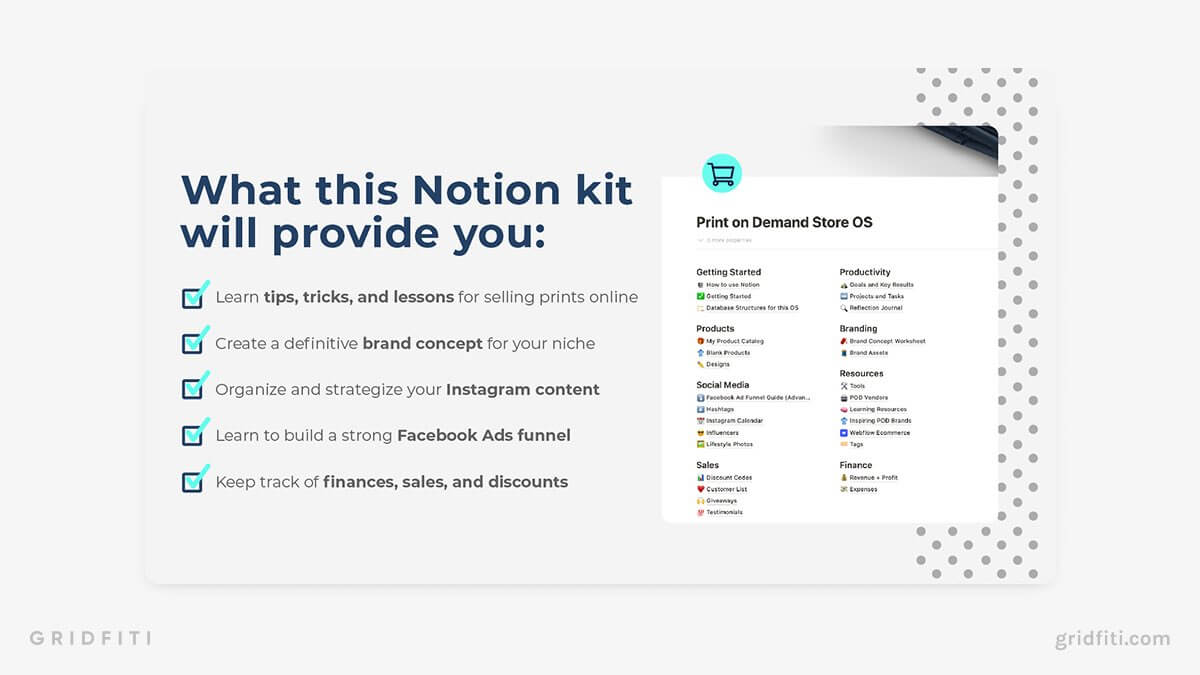 Simple Notion Checklist for Ecommerce Businesses
Building an ecommerce business can be a lot of fun, and with all the resources available, you can easily create an online storefront in less than a day. To help make sure you're taking the right steps towards building a successful store, this checklist template will make sure no step is forgotten.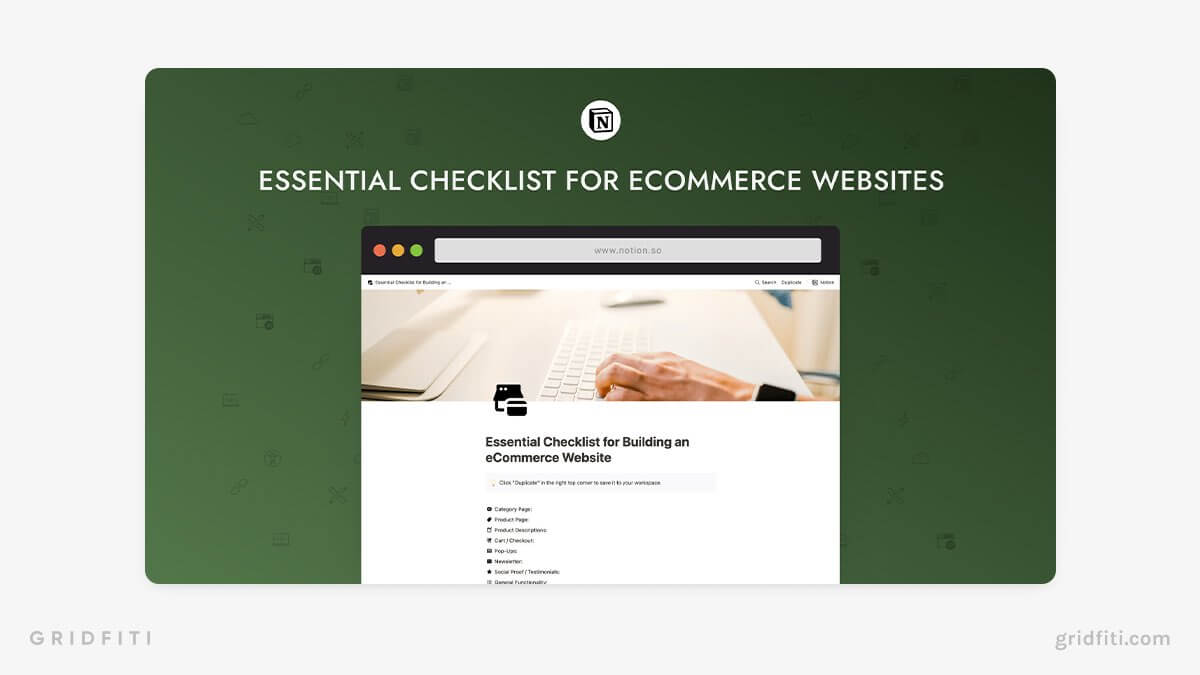 Notion Ecommerce Dashboard
Track your sales, inventory, customer database, marketing efforts, team management, and more with the Notion Ecommerce Dashboard! Use this dashboard to always have an overview of your online storefront, and to study the metrics around your ecommerce store for future refinements.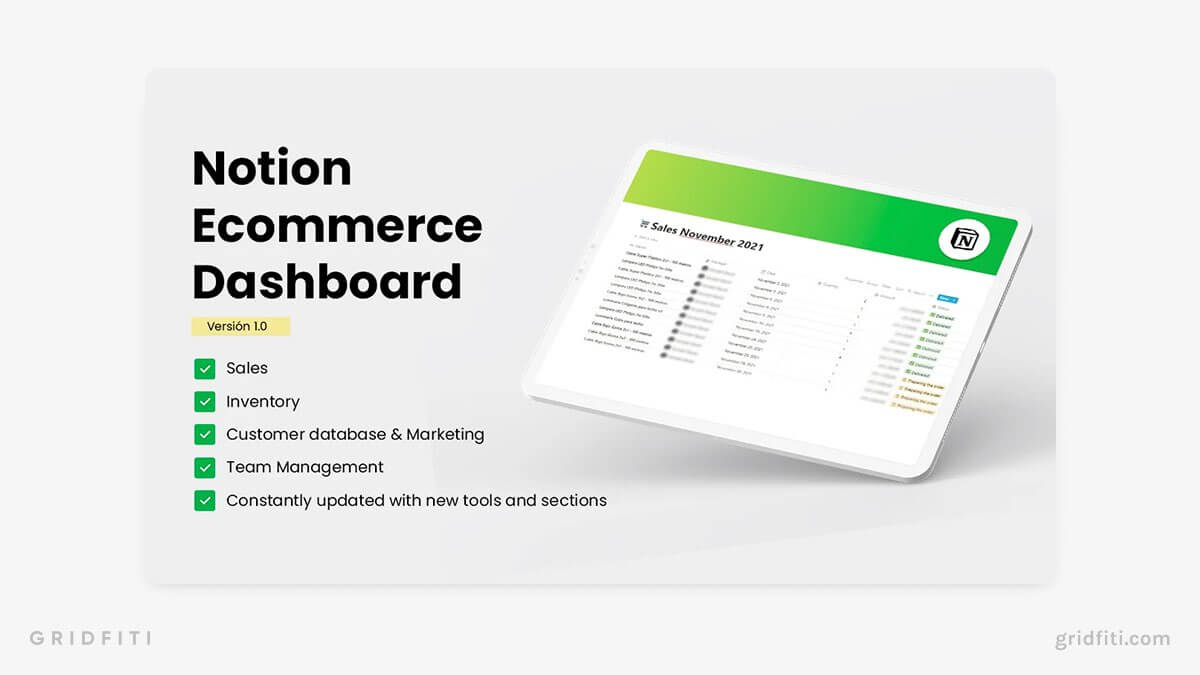 Which Notion ecommerce template are you using? Do you have any other recommendations for other ecommerce templates for Notion? Let us know in the comments below.
Gridfiti is supported by its audience – when you buy something using the retail links in our posts, we may earn a small commission at no additional cost to you. We only recommend products we would use ourselves and recommend to our friends and family. Read more about our affiliate disclaimer.