The automotive world's influence on design and culture is inspiring the very decor and accessories we use to outfit our home offices. From iconic Porsche 911 outlines, to livery color patterns as unforgettable as Martini and Gulf Oil race cars, and even racetrack from all corners of the globe in the form of neon or vinyl outlines – there's no shortage of car-themed decor to deck out your space.
Setting up a desk themed around cars can seem like a daunting task, but worry not, as there are a ton of artists, creators, and decor outlets making the perfect pieces to put together your home office. Check out these car-themed desk accessories and automotive office decor pieces to get you off the line!
Want more automotive desk and decor ideas? Join our automotive mailing list 📮
Car Wall Art Prints & Posters
The car world and car community have spoiled us with gorgeous car wall art to accent our car-themed desks. From beautiful graphic pieces from racing teams, artist renditions of their favorite cars in whatever way they please, to vintage car ads and racing posters, there are so many pieces to decorate your walls and rep your love for all things auto. Check out these car wall art pieces that are sure to level up your car-themed desk setup!
Where to start: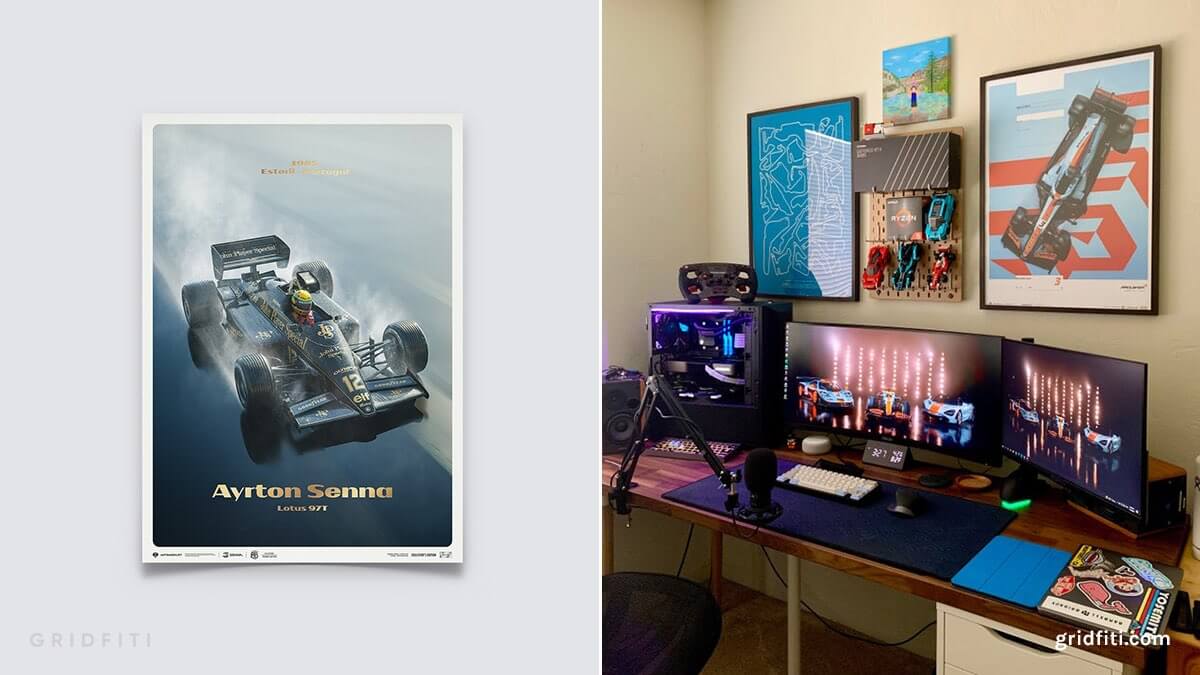 Image by Automobilist and jiheonham61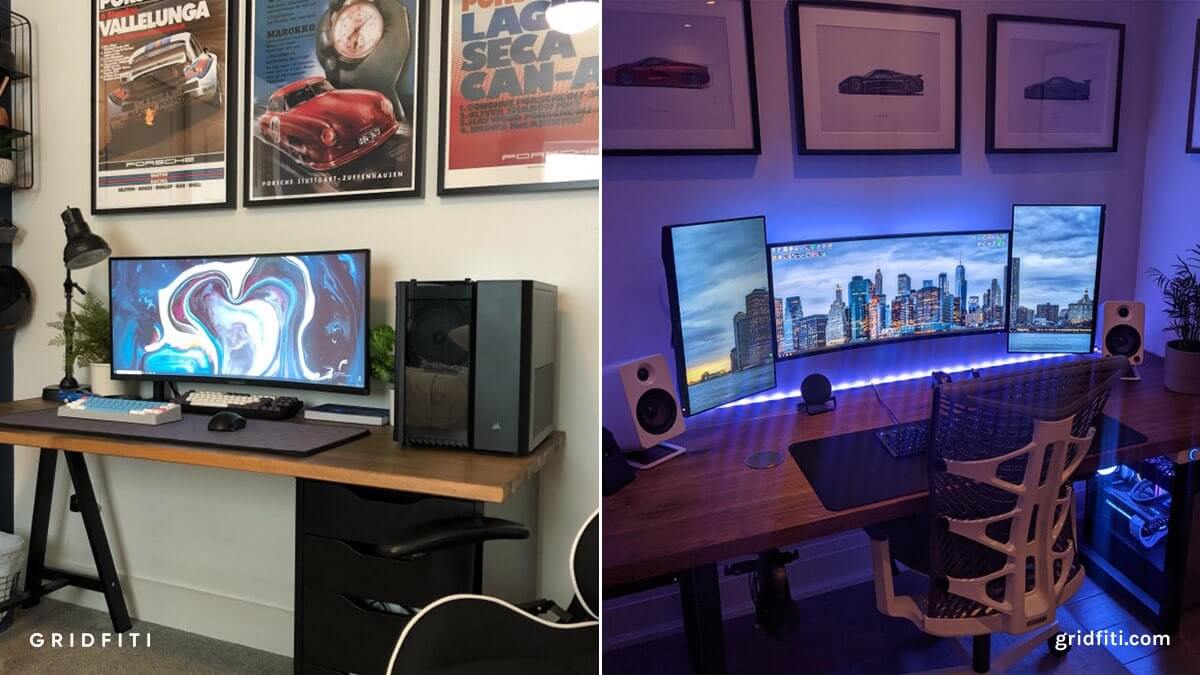 Images by grady and AlarmedDealer
Model Cars & Toy Cars for Desk
What's a car-themed desk without some model cars and miniatures to decorate it? Car-themed desk enthusiasts have peppered in some model car gems – Lego Porsches, assortments of Hot Wheels within wall casings, your ol' faithful diecast model cars, and so much more. Check out these model cars and miniatures to complete your car-themed desk setup.
Where to start: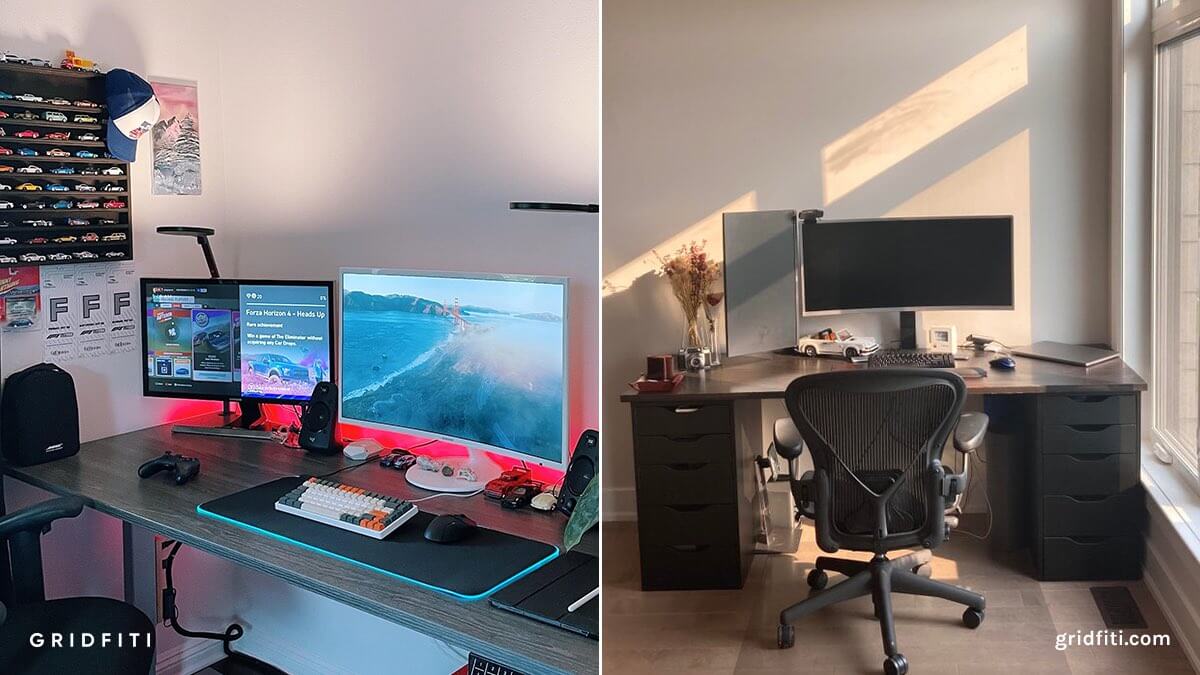 Images by Trogzard and chewwii123
F1 Grand Prix Track Neon Lights
F1 fans (who also happen to be artisan neon light builders) are taking it upon themselves to sculpt these lovely neon light fixtures for your setup! Racetracks from around the globe, and neon light colors to match your desk aesthetic – need we say more?
Where to start: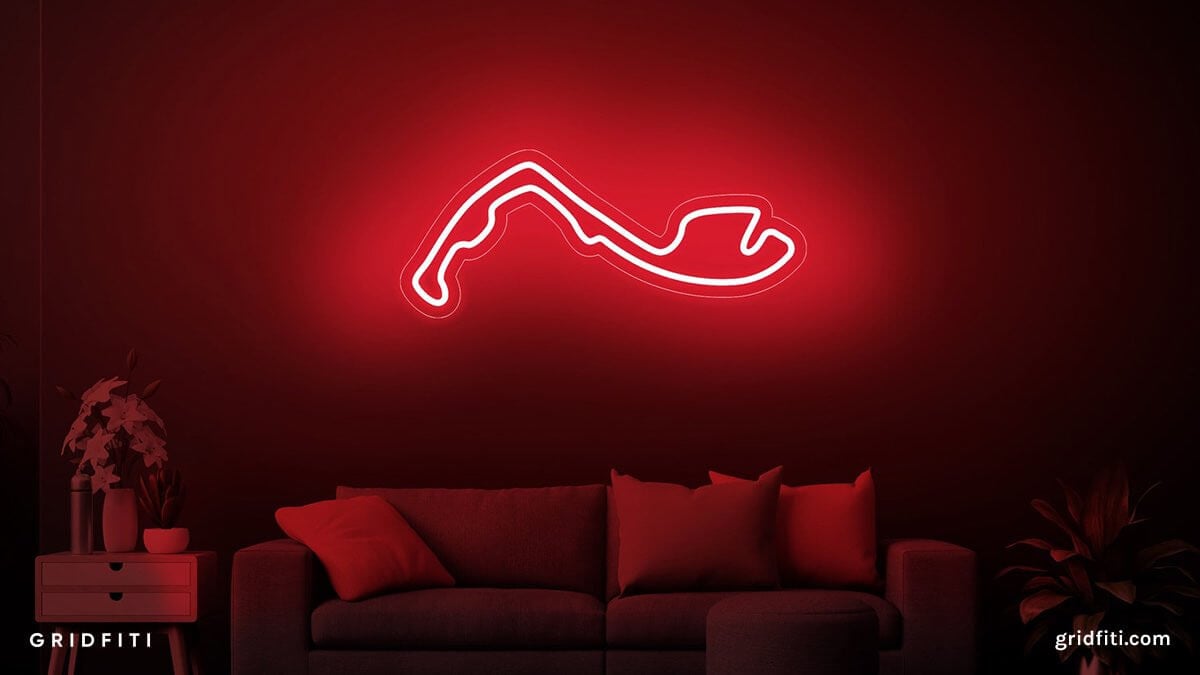 Image by LabNeon on Etsy
F1 Racetrack Wall Art
Take your love for racetracks up a notch and hang these aesthetic, minimal racetrack wall fixtures in your home office. From Monaco to Nurburgring to COTA to Suzuka, and from any size you choose – Etsy's got you covered! Check out some of our picks below.
Where to start: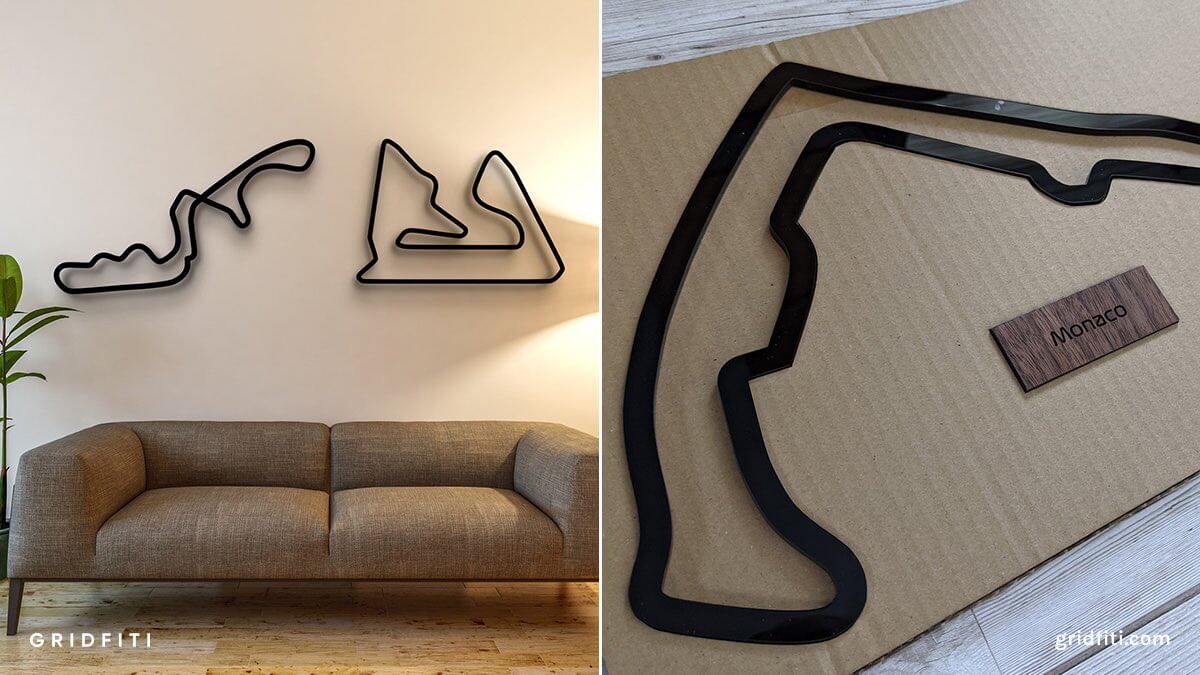 Images by RoRCrafts on Etsy
Car-Themed Mechanical Keyboards & Keycaps
Showcase your love for cars right on your keyboard! With aesthetically pleasing mechanical keyboards and keycap options, you can truly nail your car-themed desk setup down to the design of your board. Take inspiration from famous racing liveries like Martini and Gulf Oil, or adopt a sleek keyboard that emulates the look of automotive materials – such as carbon fiber, steel, and more.
Where to start: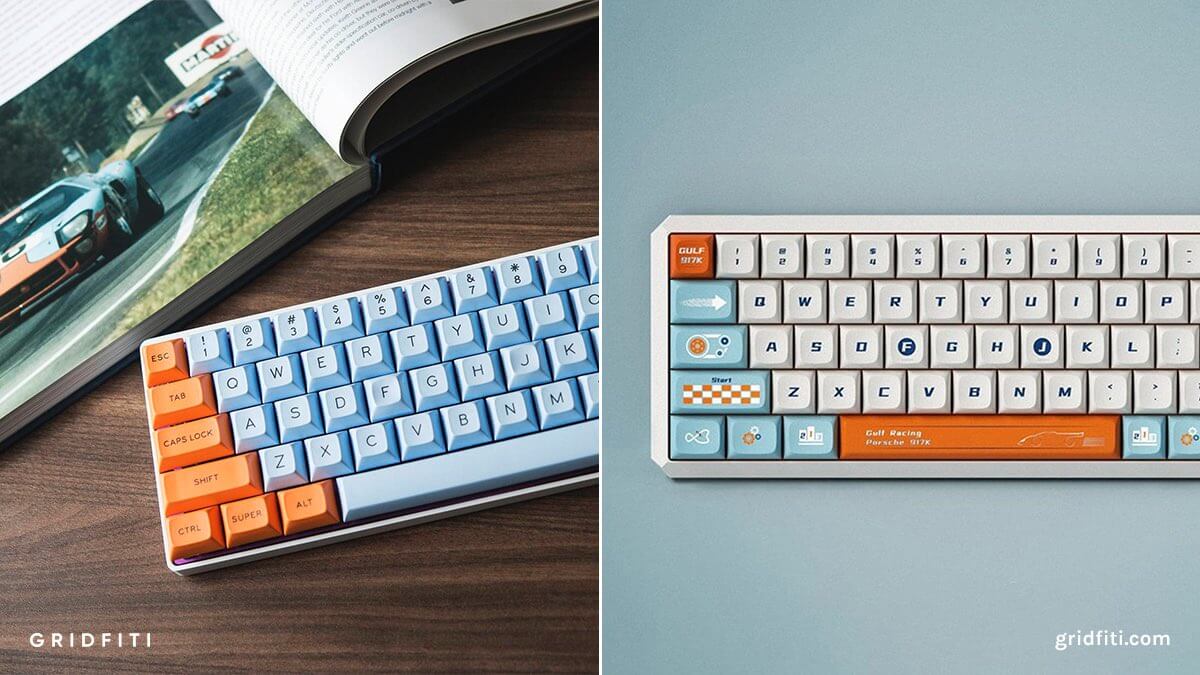 Image by Kenykeycap on Etsy
Car Backgrounds & Wallpapers
Once you have that car-themed setup ready to go, the next step is decking out your car-themed digital decor! Make sure your monitor is sporting the sharpest, crispest, most beautiful car wallpaper, too. From vector illustrations, to gorgeous car photography, check out these options for all your car background and wallpaper needs.
Where to start: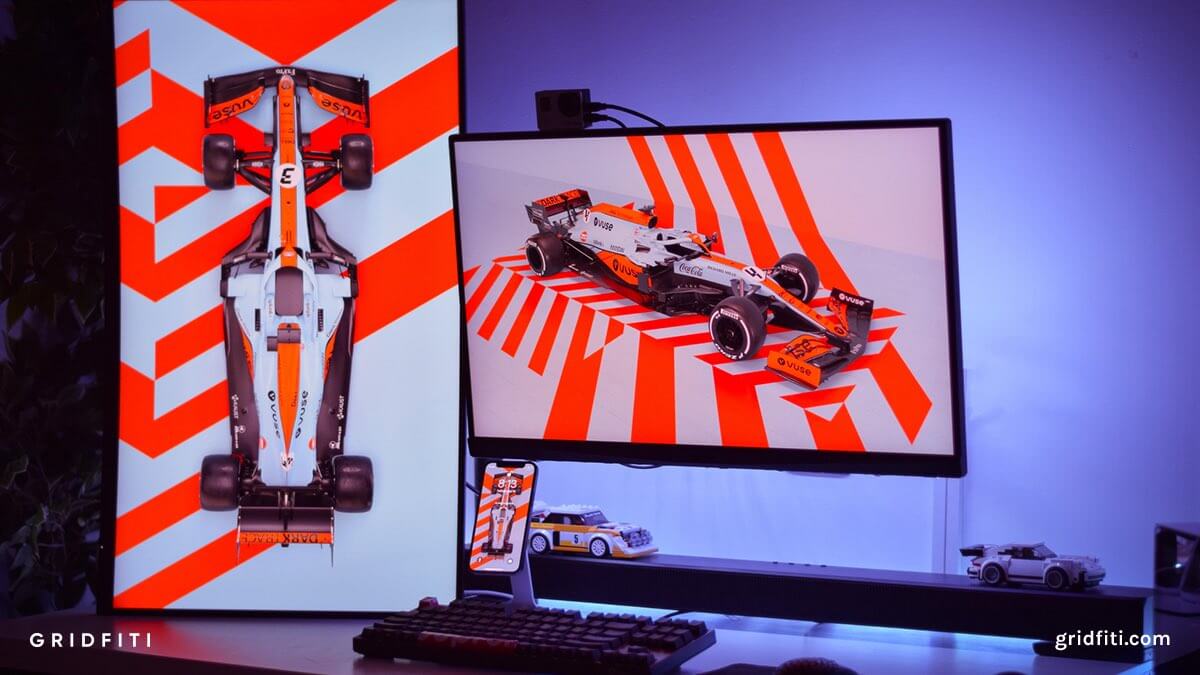 Image by tew4
Car Skateboard Wall Art
One of the latest and greatest forms of unique wall art is skateboard wall art – and there's no shortage of decks to outfit your car-themed setup! JDRACING on Etsy produces premium automotive-themed wood boards made in the USA.
Where to start: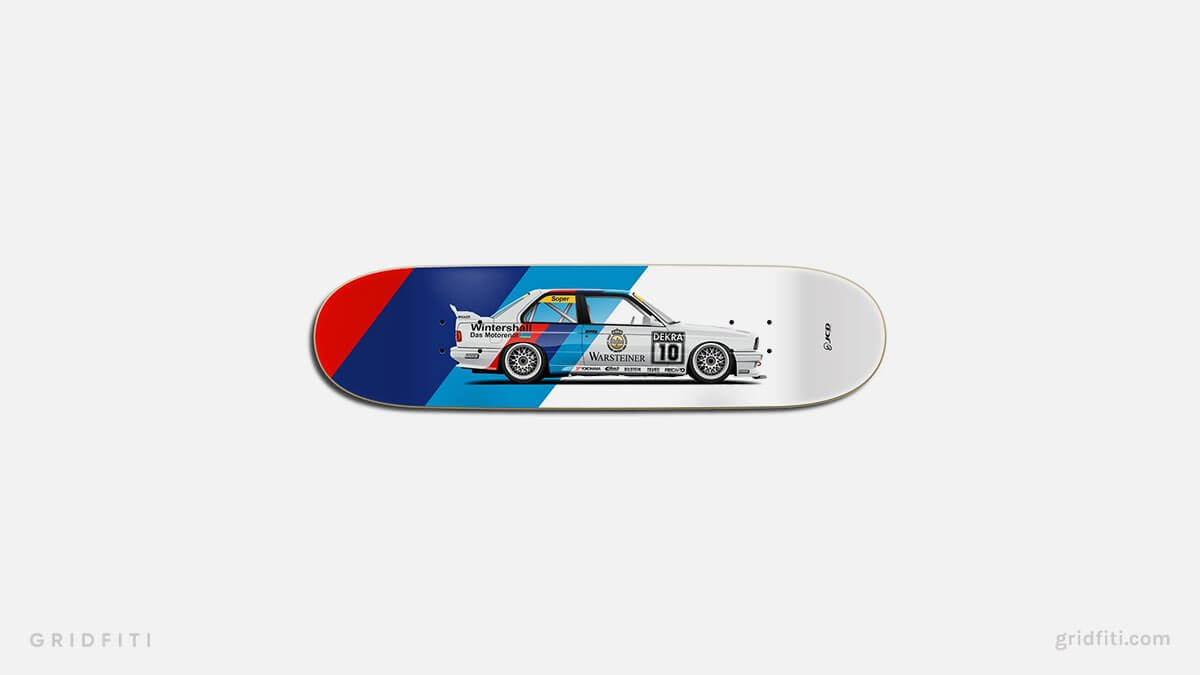 Image by JDRACING on Etsy
Car-Themed Desk Pads
Besides protecting your desk, adding texture, and creating a more comfortable surface for your wrists – your desk pad can showcase your love for cars, too! From desk pads made from materials similar to that you'd find in car interiors, to color-themed picks to match your favorite racing team, check out these car-themed desk pads.
Where to start: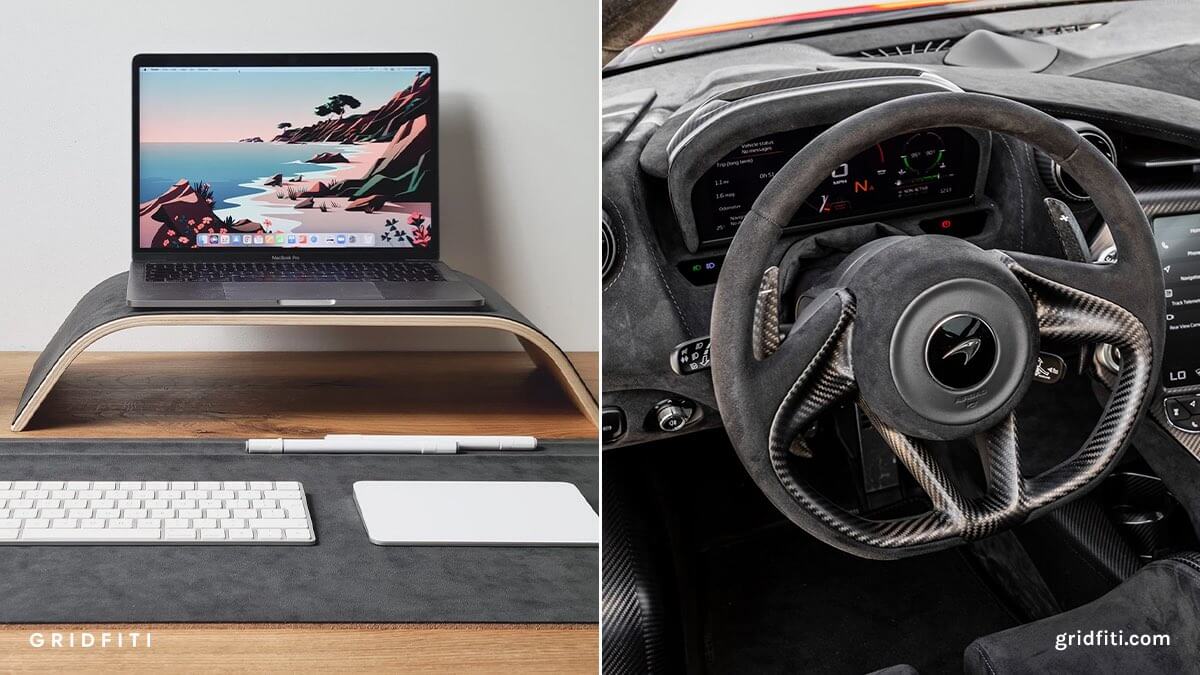 Images by WorkPerch on Etsy and McLaren
Automotive Office Decor Setup Ideas & Inspo
Got your wall art, racetrack fixtures, and everything else you need? Check out these complete automotive office decor setups that car lovers and desk aficionados have put together for some inspo to get started!
Minimal Desk With Racetrack Wall Art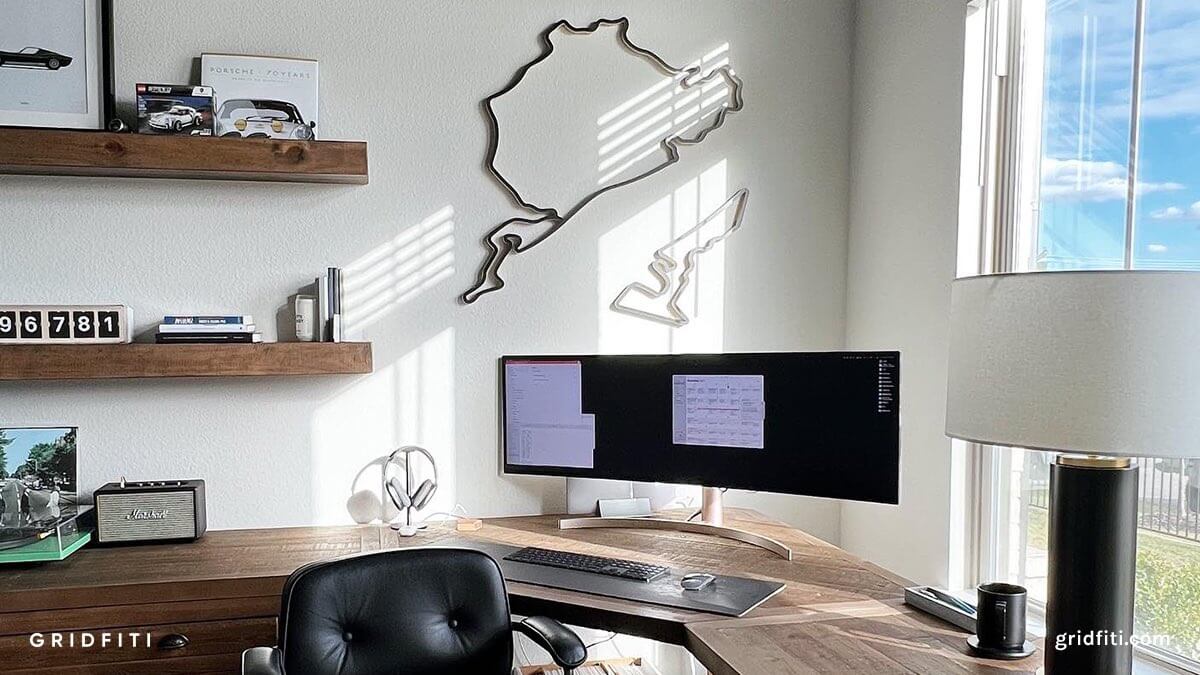 Image by @marshal
Dark Themed Car Desk Setup
Image by Michael Soledad
Racing Sim Desk with Vintage Racing Wall Art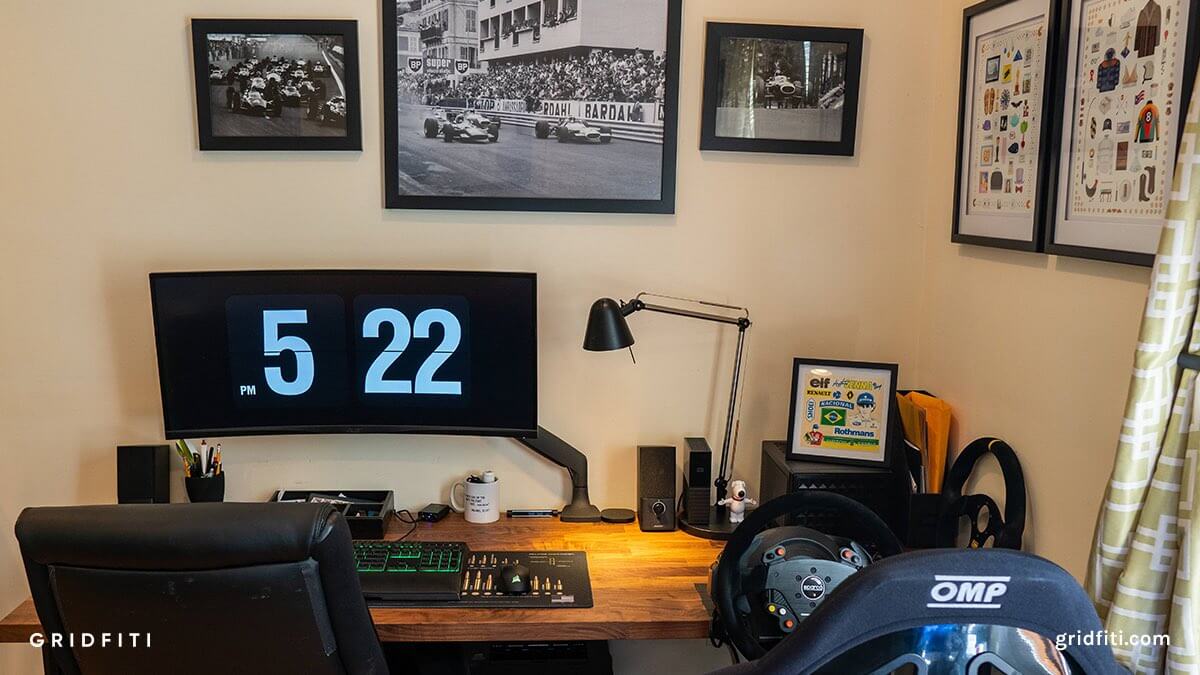 Image by droppoint44
Papaya McLaren Themed Desk Setup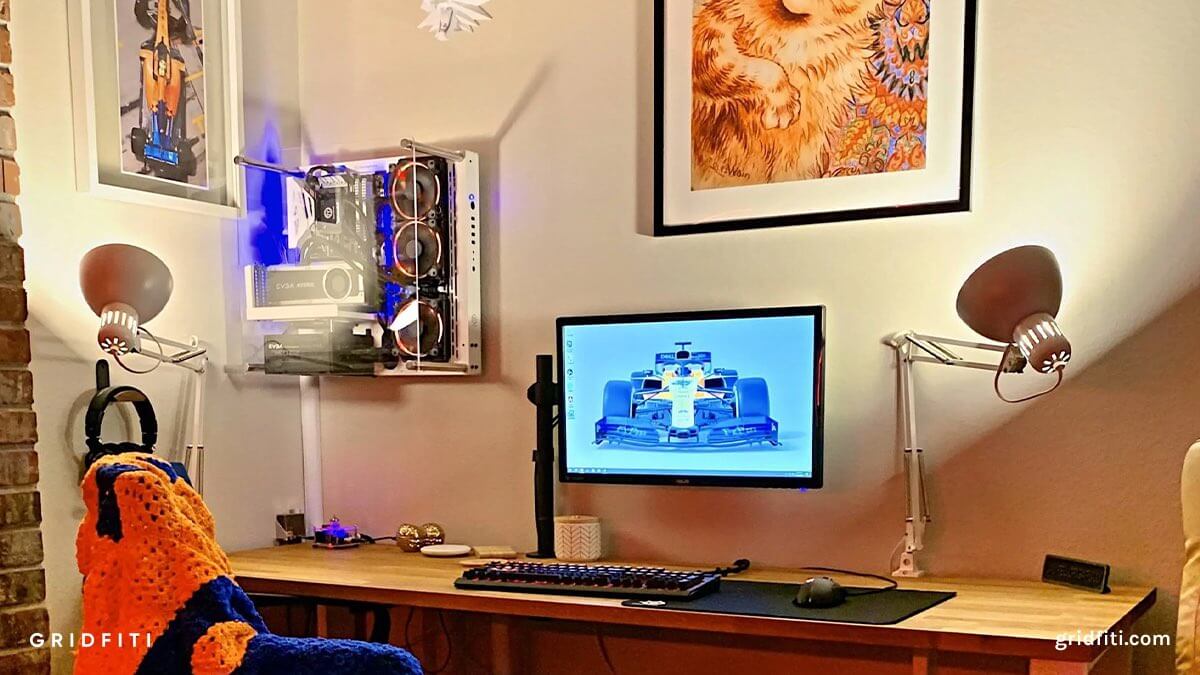 Image by GypseyBagelHands
Orange and Black Carbon BMW M Desk Setup
For more BMW accessories, we just published a post rounding-up the best BMW decor ideas!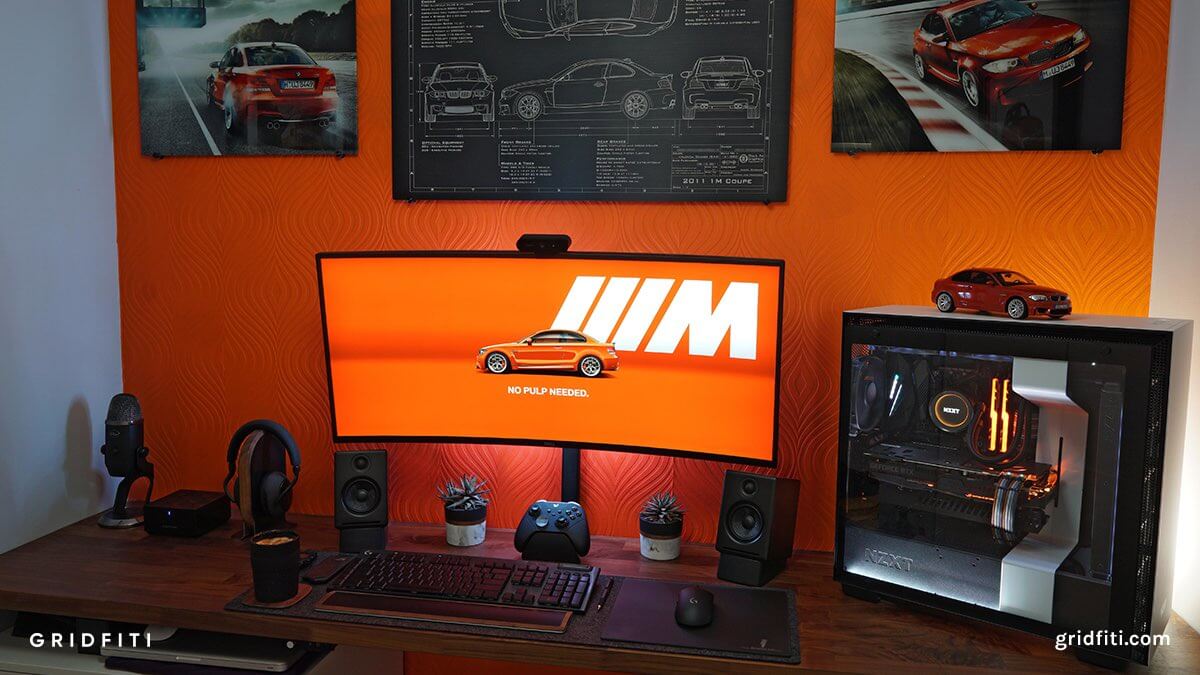 Image by znivra
Neon Desk Setup with Racetrack Wall Art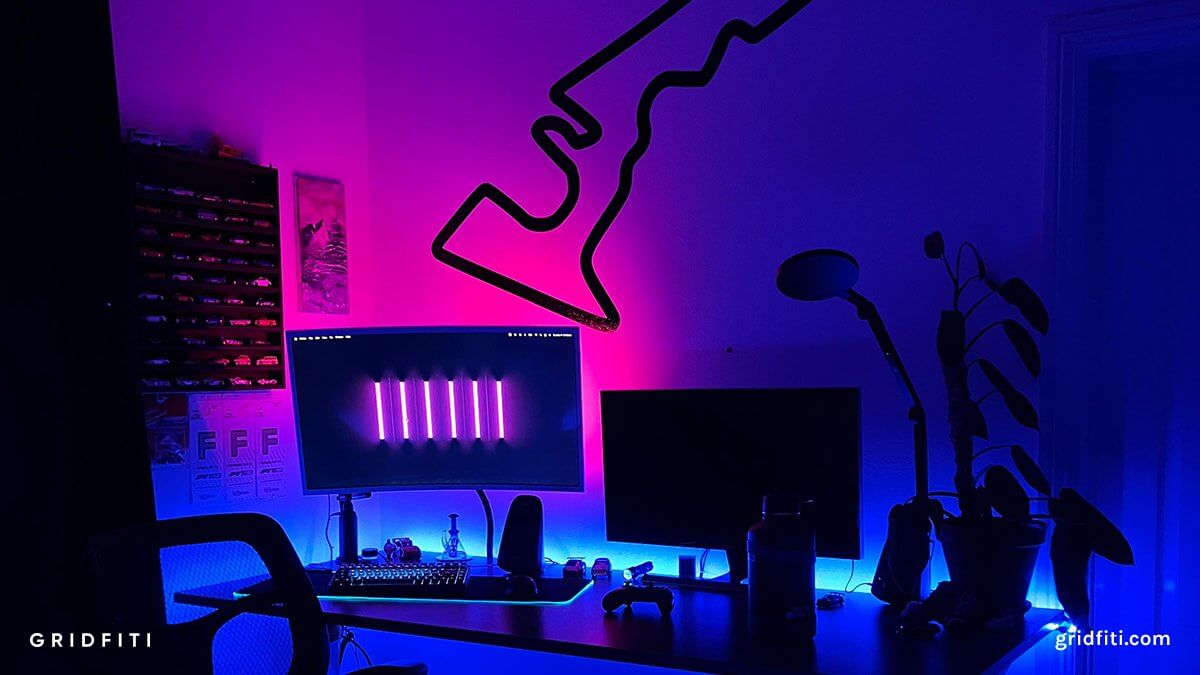 Image by Trogzard
Porsche-Themed Desk Setup
For more inspo, check out our full round-up of the best Porsche decor ideas!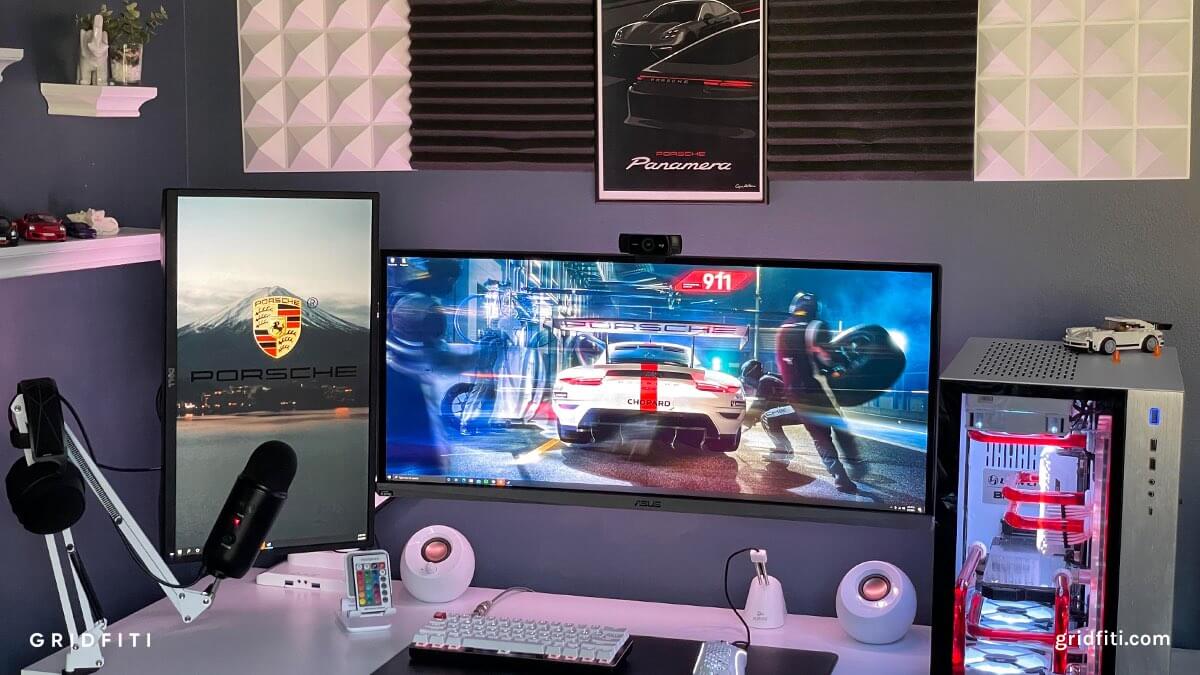 Image by BlueSake21
What's your favorite car-themed desk setup? Are there any other car desk accessories and car decor pieces you think we're missing? Let us know in the comments, and show us your car desk setup by tagging us on IG @gridfitiauto.
Gridfiti is supported by its audience – when you buy something using the retail links in our posts, we may earn a small commission at no additional cost to you. We only recommend products we would use ourselves and recommend to our friends and family. Read more about our affiliate disclaimer.