The desk cover is one of the most underrated accessories when it comes to having the best desk setup. A desk mat is a simple desk accessory that helps add character to your office space, while providing great value. I personally use my mat as a desk protector so that I don't get any scratches on my table, but some users use it as a desk writing pad, a desk calendar, and much more.
There's several different types of covers you can purchase, but it's important to get the best desk pad for your needs by looking at what different options are available on the market. In this article, I'm going to show you the best desk cover ideas, along with different pad options that you can find for an affordable price. I've been through this process before, so I can provide some great insights on the niche world of desk mats.
There's no specific criteria to narrow down the absolute best desk pad and it also varies based on your own personal preference. We all have different uses for our desk mats, so it would be unrealistic to have a one size fits all desk pad. Here are some of the most reviewed table mats and some ideas to help you decide!
1. Black Leather Desk Pad from Amazon
This black leather desk pad from VineCreations is one of the highest rated mats on Amazon and I can see why. It comes in two different sizes (24″ x 17″ & 36″ x 20″) to fit your needs and it's also made from high quality material. What I love about these leather desk pads is that they're super easy to clean and they're waterproof and oil proof so that you're not smudging the surface when working at your desk. This is my first pick because of it's price point, quality, and how well thought out the design is.
2. Brown Leather Desk Pad
The brown leather desk pad from Yikda is in my opinion the nicest looking desk mat. The color is very versatile. It can work well with a black, white, or even wood desk and still adds such a stylish touch to any home office. The rounded edges are a nice detail and Yikda actually provides this desk pad in various color variations such as black, navy, dark brown, mint green, and pink. It is 31.5″ x 15.7″ so it is very large in size and should cover the majority of your table space.
3. Ultra Thin Writing Desk Cover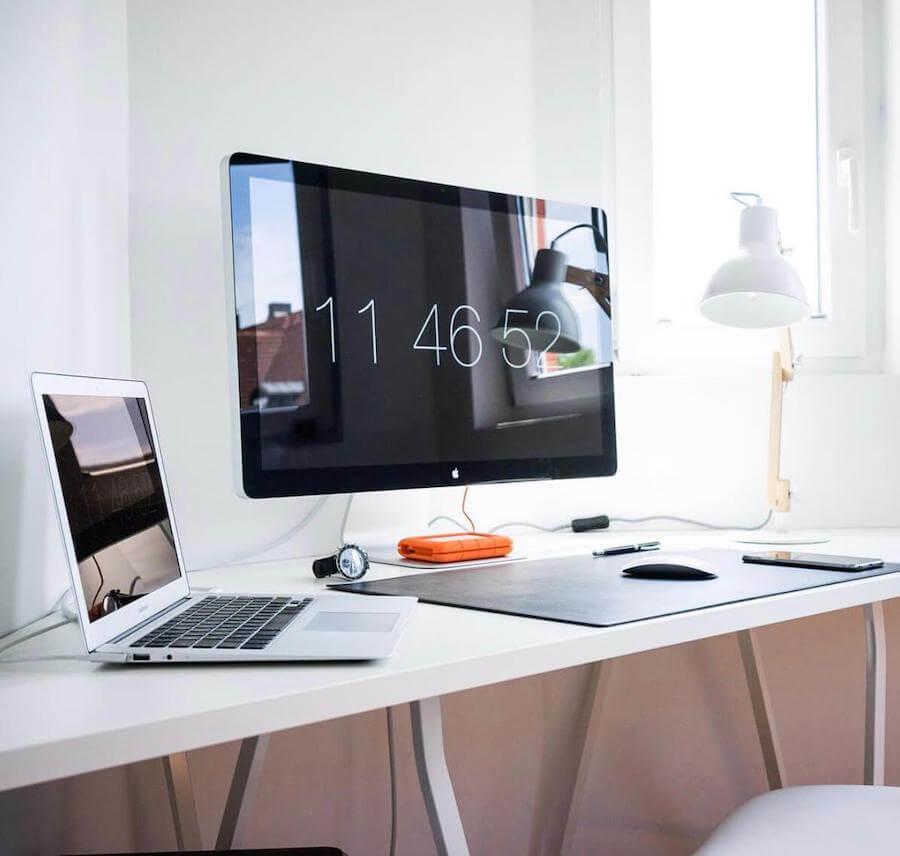 This is a 31.5″ x 15.8″ desk writing pad that comes in various colors as well. If you're more of a writer and typically do a mix of writing and laptop work during your day-to-day, this might be the best desk pad for you. It's waterproof and has a reversible design so you can use both sides of the desk mat. What I like about this pad is that it's ultra thin at 2mm so it has a very light and minimalistic feel on your desk. This makes it easy to roll up and put away when necessary.
4. Rissla IKEA Desk Edge Pad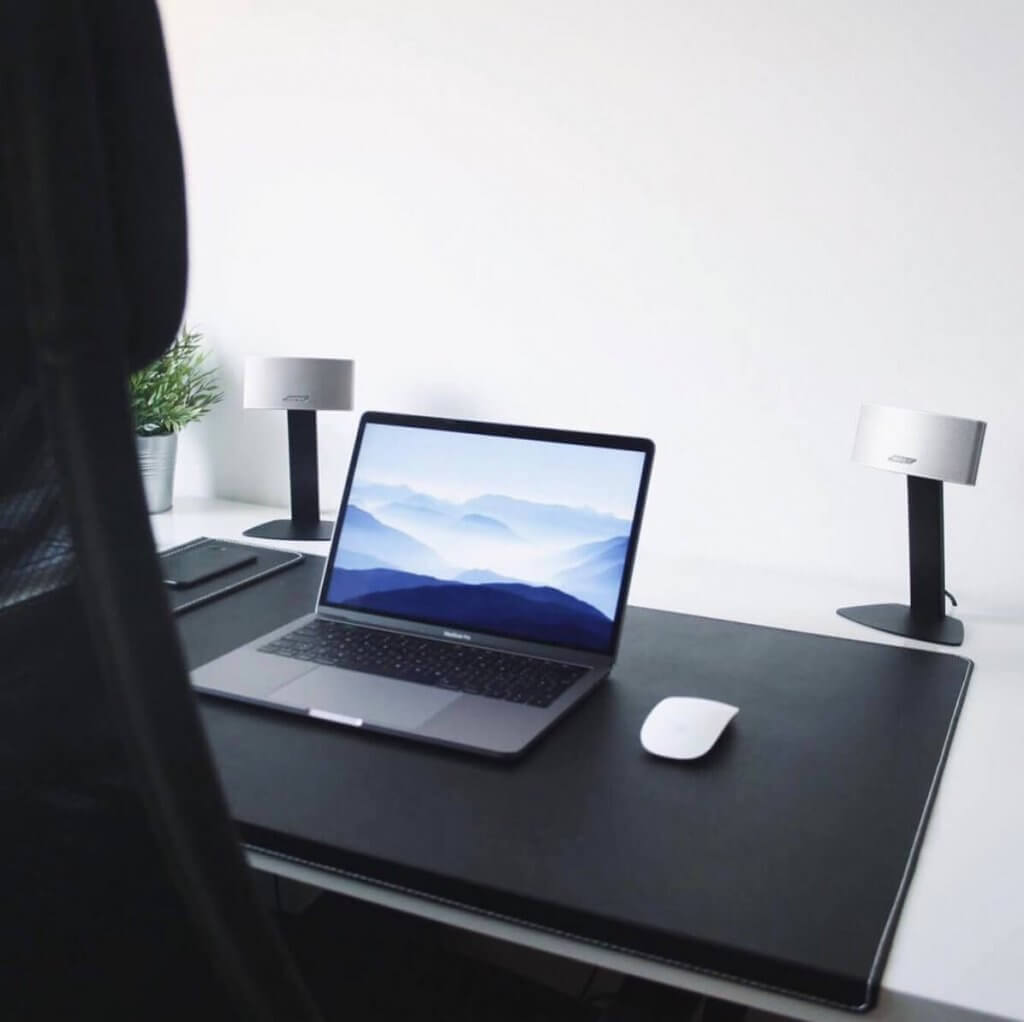 This Rissla IKEA desk pad is a very popular table mat amongst home offices because of how neat the design is. The Rissla is a desk edge pad, which covers the top of the table and has a bent front edge which holds the pad in place on the desk. It's a fairly large design and is meant for larger desks at 33 7/8″ x 22 7/8″. If you have an IKEA desk, this pad is mainly meant for the IKEA Galant series desk. I have the Linnmon table top and use the Yikda desk mat.
5. Gaming Desk Pad
There's quite the need for gaming desk pads and this desk mat from Amazon is the perfect gaming pad. It's a large desk cover with the dimensions 35.4″ x 15.7″ and what makes it the best gaming desk pad is the material and design of the mat. The full desk cover is basically an extended mouse pad with stitched edges on double weaved fabric. This makes for a soft surface and a comfortable fit when gaming at your battle station. The desk cover is fairly inexpensive and comes in several cool designs as well as a minimalistic black fabric!
6. Waterproof Colorful Desk Pad from Amazon
This colorful desk pad is a fun yet functional mat for your setup. It comes in different pastel colors as well as the common black and brown. This is more of a cute desk pad if you're looking for a nice contrast in color. It's has pretty standard desk pad sizing at 31.5″ x 15.7″ and is also dual sided with the choice of silver or yellow on the other side depending on which one you choose. Knodel even offers a larger version of the desk mat with the dimensions 35.4″ by 17″ which should be a nice full desk pad for most standard sized desks.
Different Types of Desk Cover Ideas
The six desk pad recommendations that I've suggested are some of the highest reviewed products and I've seen used by several other individuals around the internet. They are some of the best desk accessories for the price, but there are so many different types of desk mats that I haven't included. The best desk pad for you, will be one that matches your personal preference. Take a look at some of the other full desk covers offered by some reputable brands.
Felt Desk Mat
A close runner-up to the leather desk pads are the felt desk pads offered by Grovemade and the ULX Store. I love the way these felt desk pads look and they're typically in light grey / dark grey. If you design your workspace right, these felt desk covers make your setup look so much nicer and they're extremely comfortable to work on. I've included an example of the felt desk mat in the inspiration section further down in the article.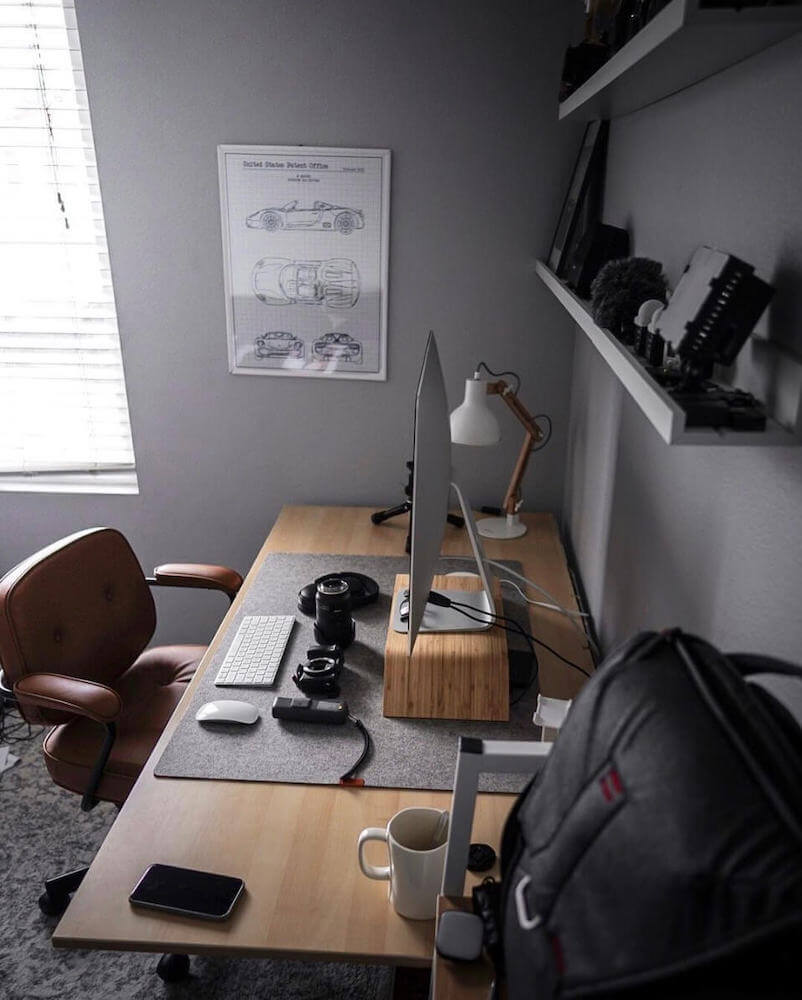 This is an awesome workspace by user @michesoledesign. I love the look of the grey felt on the lightly colored wood and it makes the setup look super clean. The price tag is a little steep, but it's a quality pad with a reputable brand behind it.
If you're looking for a felt desk mat alternative, the ULX store also has one. I would check it out if the Grovemade felt desk pad doesn't fit your needs.
Leather Desk Cover
The leather desk mat is by far the most popular pad. I personally have one and love how easy it is to clean and how nice it looks on in my workspace. I've included a couple leather pads in my initial recommendations, but here are some alternatives which might be expensive, but the quality justifies the cost.
Dacasso has a few variations of leather covers, but they're steeper in price: Purchase from Amazon
Plastic Desk Mat
Some people prefer a plastic desk mat. I typically find that a plastic or acrylic desk pad is a bit uncomfortable for my liking and isn't as nice looking as the other ones offered on the market. But if you do like plastic desk covers, here is a fairly popular one.
Clear and transparent desk pads are also popular covers amongst desk owners. Clear mats act as a nice protector for your desk, while not taking away from the table design and color. Here is a 36″ x 20″ transparent desk pad that you might like: Purchase from Amazon
Calendar Desk Pad
Another home office trend I've seen is the use of a large calendar as a full desk cover. These calendars are basically yearly desk covers where you can mark this down and write on. Each month you can rip off each piece of paper and plan out a new month, while having a nice pad to protect your desk. Etsy has several different options for more customized calendar desk mats.
Curved Desk Pad
If you have a curved desk then you might want a curved desk mat. Although, you're pretty limited in options and a regular desk cover would work fine, here is a curved alternative I found on Wayfair.com.
Elbow Rest Desk Gel Pads
An addition to a pad for your desk is an elbow rest gel pad. Since the covers are so thin, they don't add much support for your elbow, so I find having these inexpensive gel pads are game changers. When you're spending hours on hours at your desk, it's so worth it to invest in your comfort. These elbow rest desk pads are 100% worth the investment and your arms will thank you later!
Desk Pad Inspiration & Ideas for Desk covers
There's desk setup inspiration and there's desk mat inspiration. Here are some of my favorite home offices that use a desk mat. Take a look at these desk pad ideas which will help you create and design the workspace of your dreams.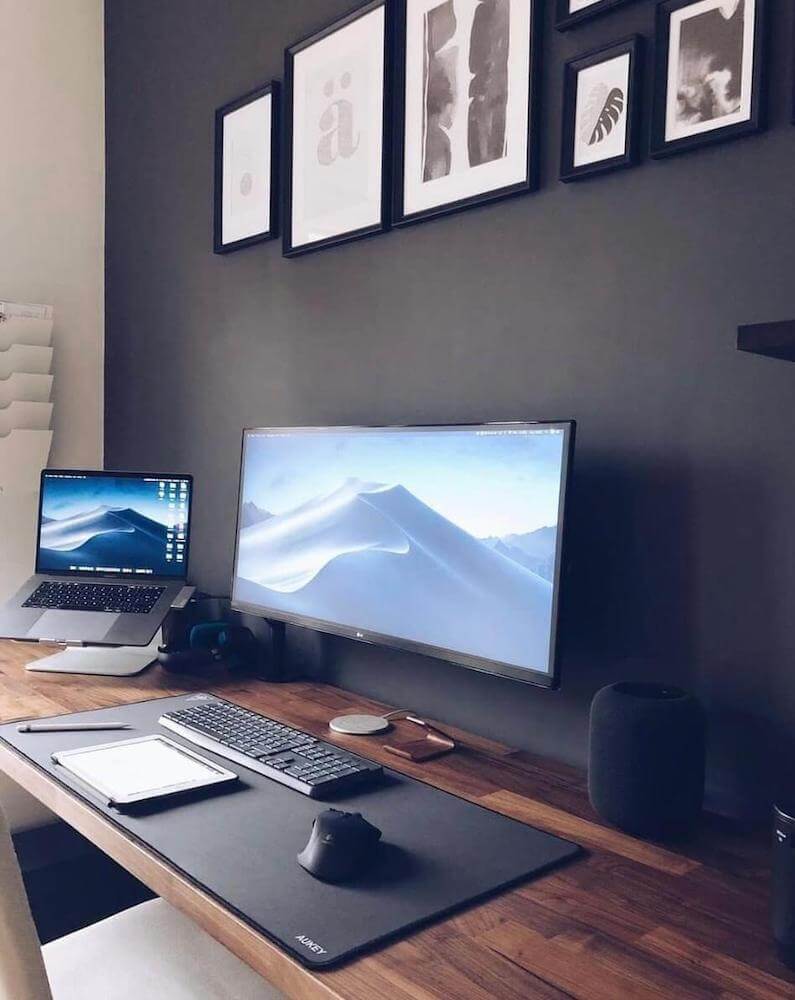 This Aukey desk pad office setup is by @mo.k4. The Aukey cover is another one that I haven't mentioned yet and is a great alternative. I've used Aukey products before and they are some of my tech bag essentials, so I trust that the desk mat would be just as reliable.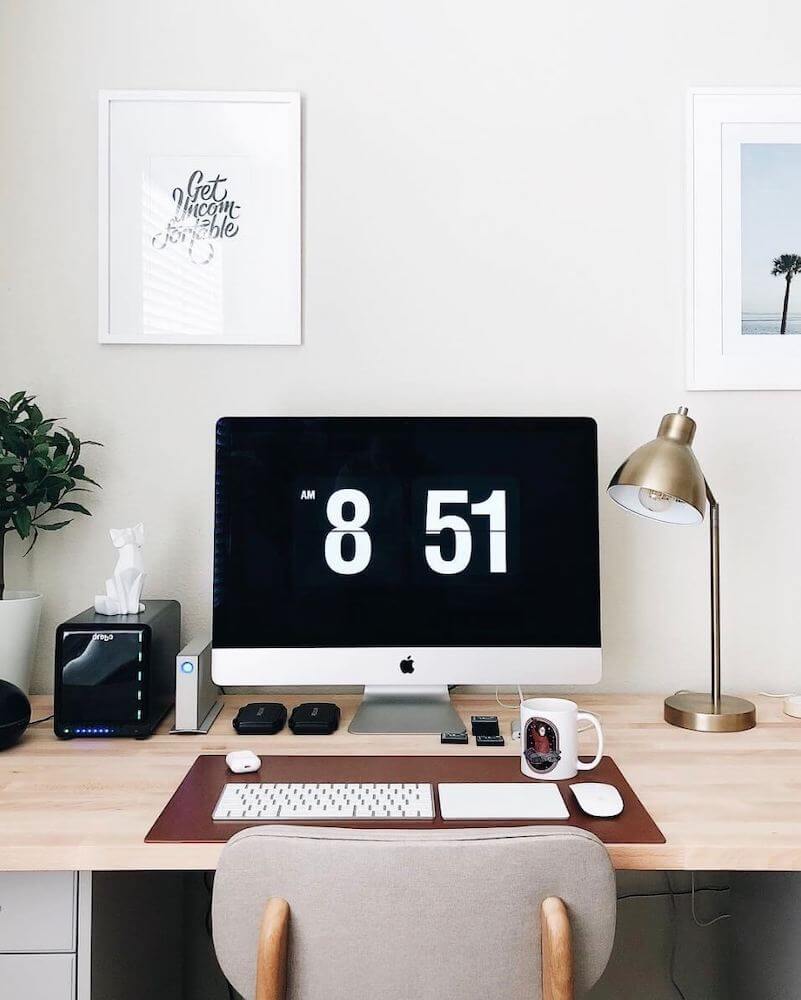 Here is a brown leather desk mat from user @brianschindler. The dark brown leather compliments the light wood wash well and looks great with all of the natural light coming into the office.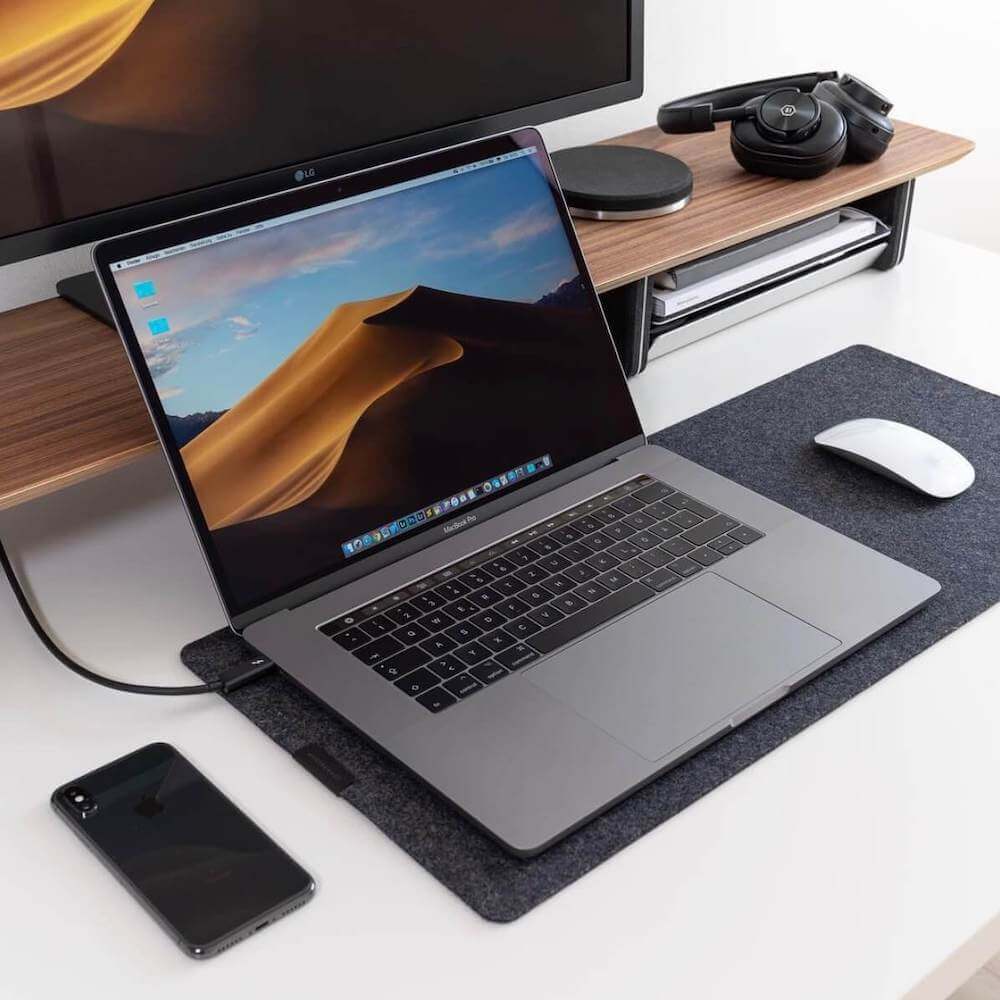 This dark grey felt desk mat is another awesome Grovemade product. It's not as large in size as the other mat covers, but it looks great and is the perfect size if you have a smaller desk. This setup is by user @nicolay.t.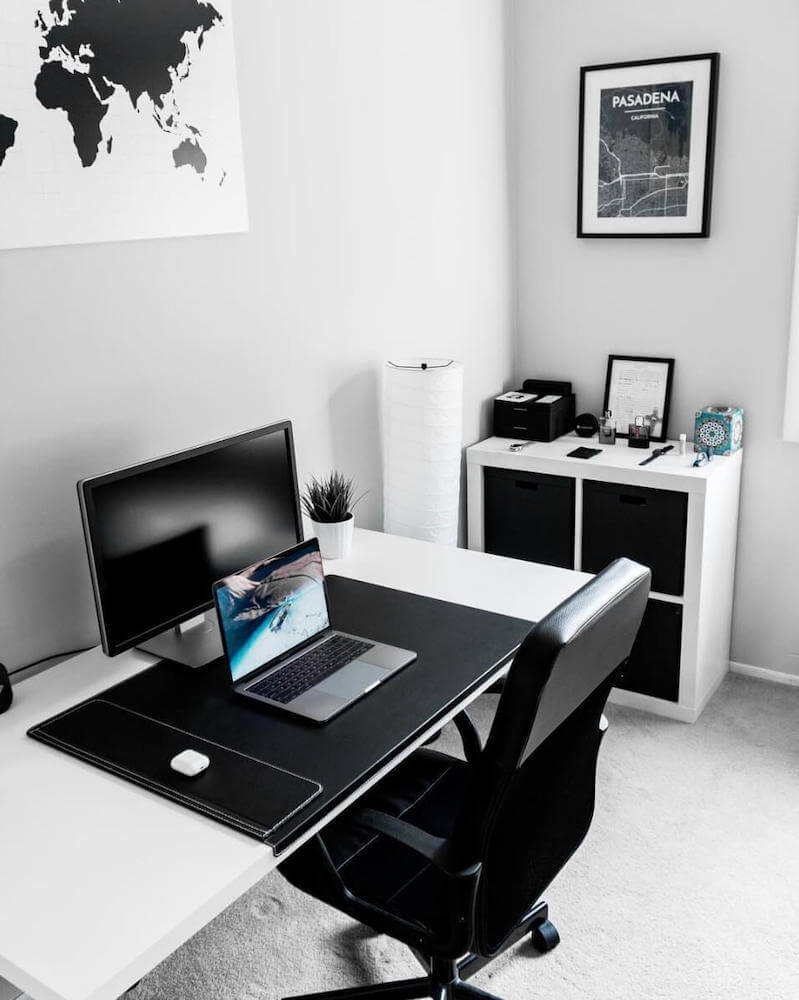 The IKEA Rissla is a great desk edge pad and is the perfect size for larger desks. I like the detailing in this desk cover and the white stitching which is not typically seen in the other leather desk pads. This home office setup is by user @kevinbhagat.
Final Thoughts
The best desk pad varies based on your personal needs. What you do at your desk is important to consider when choosing the right desk cover for your office setup. If none of these full desk mat options are right for you, it might be a good idea to invest in a regular mouse pad. I personally enjoy a full desk cover for protection, but if that's not a concern for you, there are several mouse pads out there that will work for you.
Having the proper desk mat will go a long way and it is one of the most underrated desk accessories. If you're looking to add some protection or to add some character to your table setup, I recommend getting yourself a desk cover!
Do you have any desk cover ideas or recommendations? Would you be interested in a proper desk pad review? Let me know in the comments below!