If you're looking to keep your workspace minimal and compact, a great place to start is with 60% keyboards. As the name implies, 60% keyboards give you a 40% reduction in size and keycaps from your standard 104 or 105-key keyboard.
A 60% keyboard holds 61 keys and contains several benefits for its reduced size. Some reasons that you might consider purchasing a 60 percent keyboard:
You want to create more desk real estate (more room for your mouse, and better ergonomics)
You're looking for a portable compact setup for travel, work, and more
You don't need or value a number pad
You don't like taking your hands off the main position to reach for keys
You enjoy having more with less, and are all about the minimal aesthetic
If this sounds like you, then a 60 percent mechanical keyboard could be the perfect addition to your setup. There are hundreds of options out there – but we've narrowed it down to a list of the eight best 60% keyboards for your desk setup.
Want more desk setup and tech accessory ideas? Subscribe to our mailing list to get inspo straight to your inbox 📮
Anne Pro 2 – Dual-Mode 60% Mechanical Keyboard
Offered in both a black or a white frame, the Anne Pro 2 is considered one of the best dual-mode mechanical keyboards on the market. The AP2 is known for its great build quality, custom RGB backlight, Bluetooth capabilities, and much more at a reasonably low price point.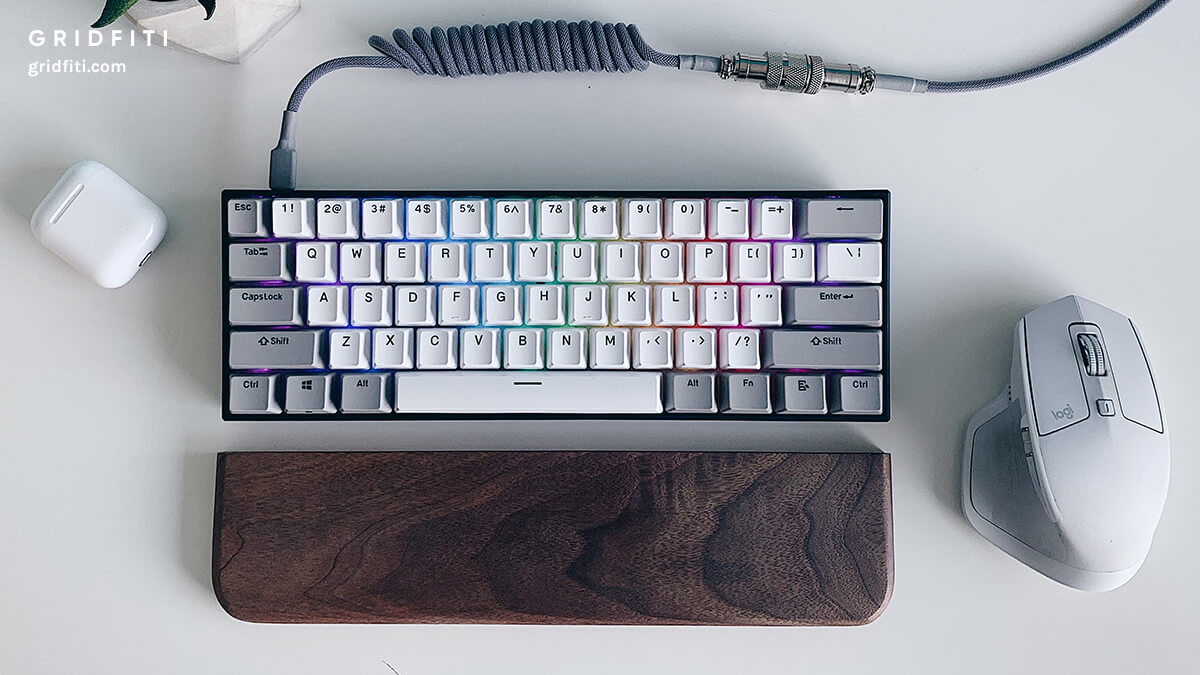 Image by u/Albertadude8392
Ducky One 2 Mini – Minimal 60 Percent Keyboard
The Ducky One 2 Mini is slick with its white-on-white design and petite bezel, but don't be fooled – it packs a punch. From Cherry MX key switches, to PBT double-shot seamless keycaps, USB-C connectivity, RGB backlighting, and more – it's hard to go wrong with this minimal 60% keyboard.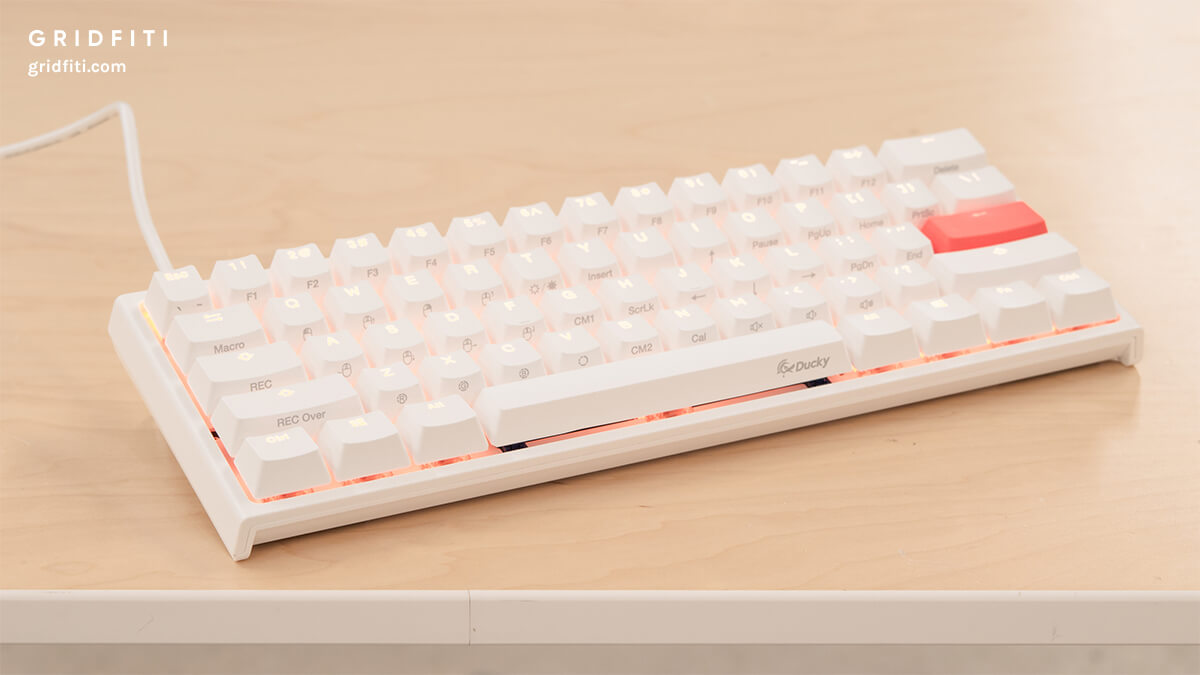 Image by RTINGS
Razer Huntsman Mini – 60% Gaming Keyboard
The Razer Huntsman Mini is a 60% keyboard geared for gamers, offering the Razer-famous quality and functionality in the most sleek and compact form possible. The huntsman Mini is perfect if you're looking to simplify your gaming setup, without sacrificing quality of your mechanical keyboard.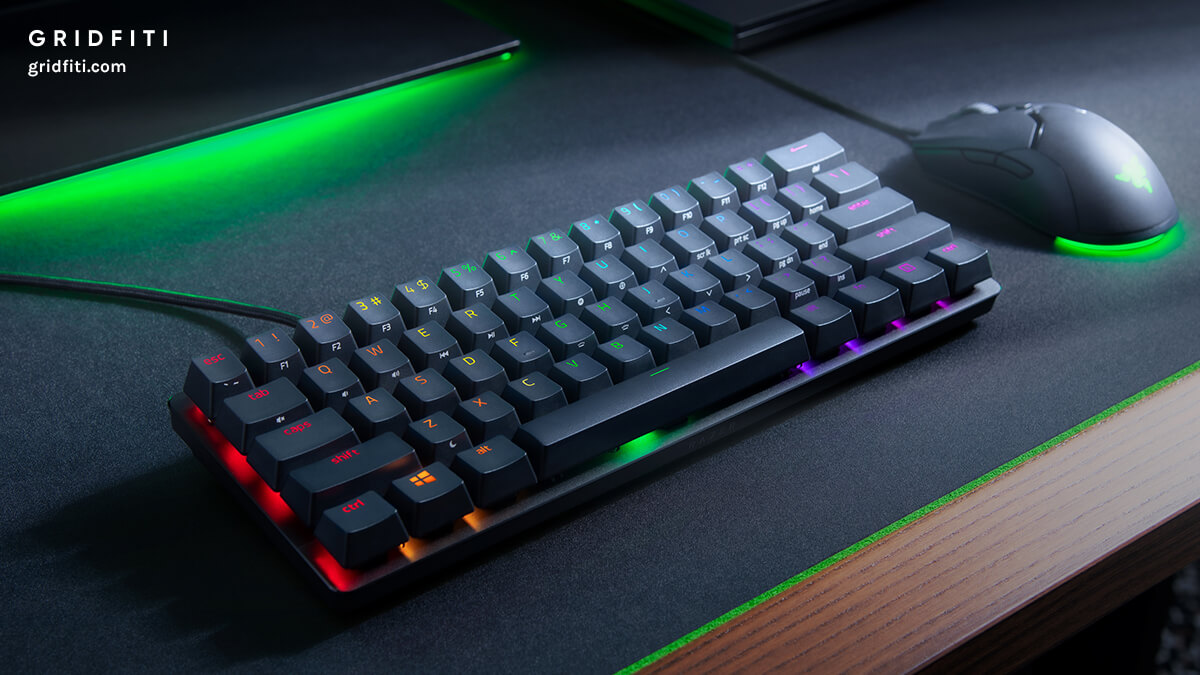 Image by Razer
Vortex Poker 3 (Pok3r) – Metal Casing
The Poker 3 is highly touted all across the web for several reasons – but most notably durability, thanks to its metal casing. This 61-key keyboard also offers customization for the 3 most popular keyboard layouts: QWERTY, Colemak, and Dvorak.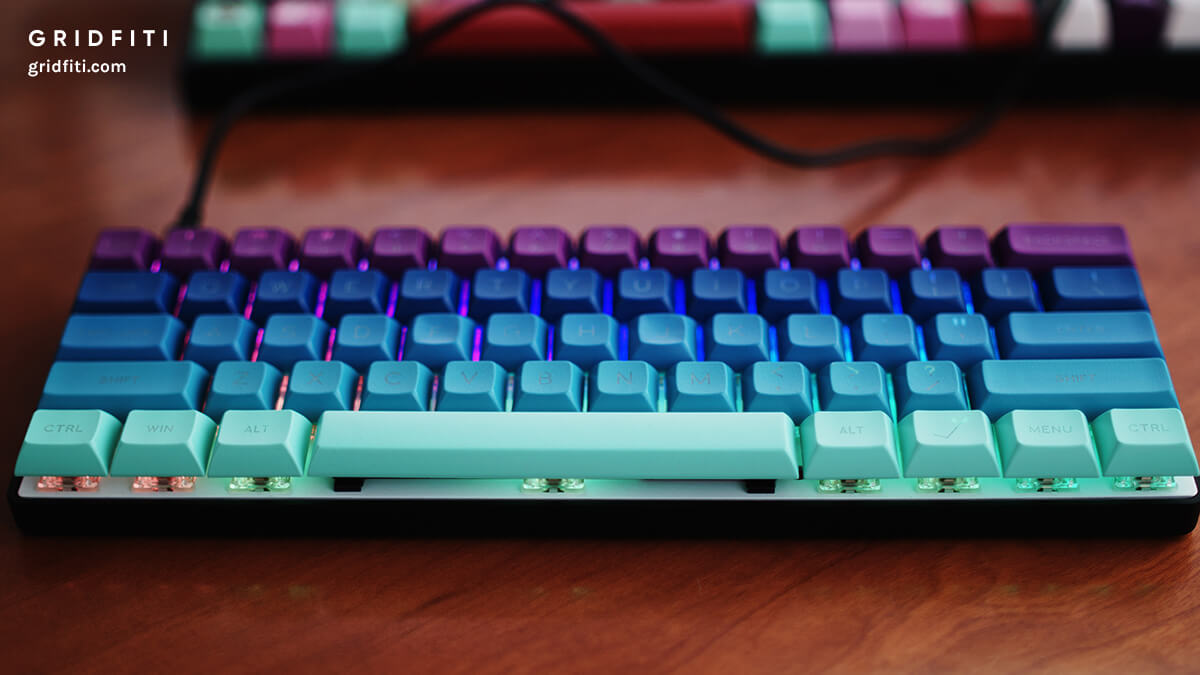 Image by oghma
KBParadise V60 – Aesthetic Keyboard Colors
The V60 is the most aesthetic compact keyboard on the list – offered in purple dream, deep ocean blue, dolch, and vintage colorways. It's the perfect pick for any vaporwave or retro aesthetic lover. Also, if you're looking for a quieter keyboard, you can opt for the Matias Quiet Click switches, which reduces the sound of each keycap tap.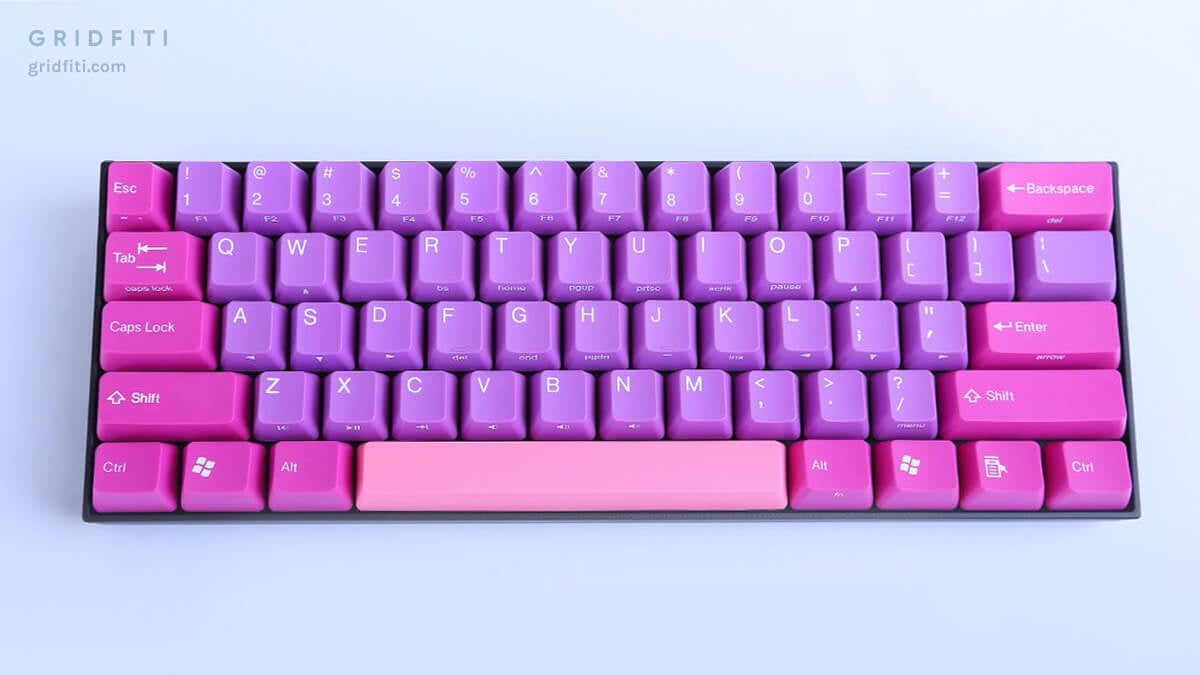 Image by @DanielL13672563
GK61 Mechanical Gaming Keyboard – 61 Keys Multi Color RGB Illuminated LED Backlit
As one of the best budget 60 percent keyboards out there, this GK61 mechanical keyboard is wired and offers numerous RGB backlight color combinations – like aurora, rainbow, gradient, and much more. Gateron optical switches also allow you to hot-swap your keys easily, without soldering or desoldering.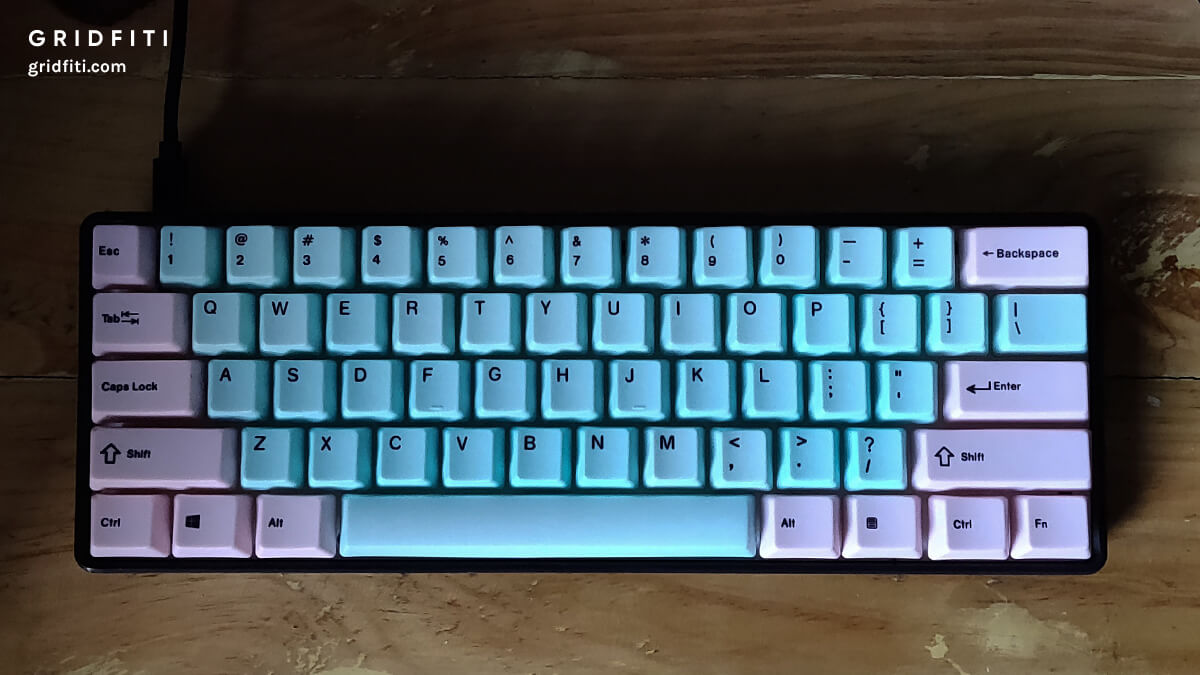 Image by u/Turnip_12
RK ROYAL KLUDGE RK61 Wired/Wireless 60% Mechanical Gaming Keyboard
The RK Royal Kludge mechanical gaming keyboard is offered in both a clean white or black design, making it perfect for any minimalist desk setup. Looking under the hood, the Gateron Red Switches make for a "smoother", "faster" and "quieter" experience, according to Royal Kludge, making it a great option for gamers. Its 8º ergonomic angle can also help alleviate wrist strain.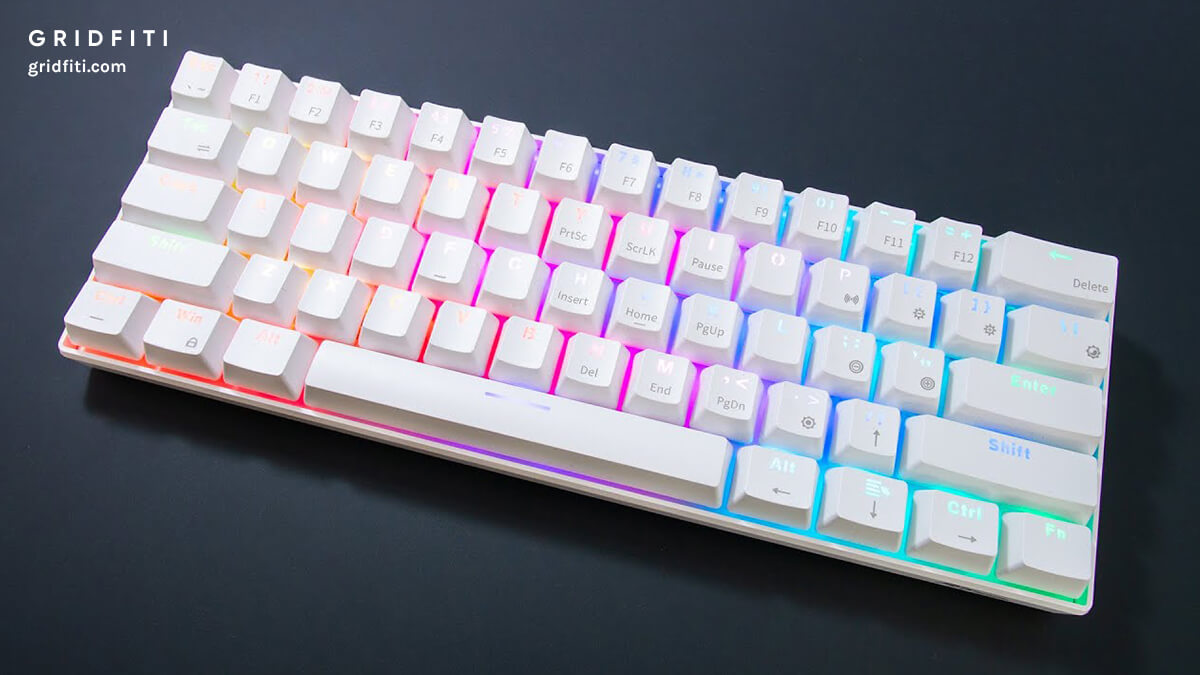 Image by minimalistik
Redragon K530 Draconic 60% Compact RGB Wireless Mechanical Keyboard
Last but not least, the Redragon K530 is another great option for gamers seeking value. It sports both wired and wireless capabilities with dual modes switch, 3-device switching, easy-to-read side printing, and 13 RGB illumination presets.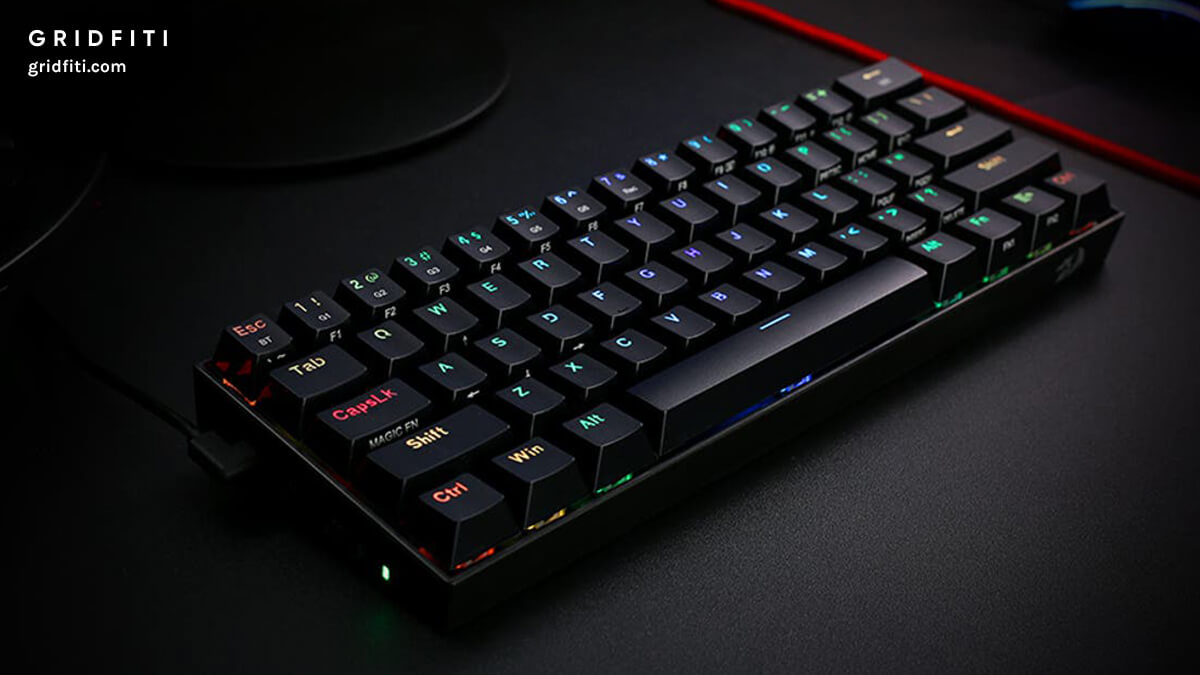 Image by Redragon
60% Mechanical Keyboard Alternatives
If you're looking for a compact keyboard with a little more function (like arrow keys), here are a few of our favorite recommendations for 65% keyboards.
Keychron K6 Wireless Mechanical Keyboard – 65%
The Keychron K6 is an incredibly popular 65% keyboard that's a treat to look at and has Mac-friendly keycaps – but also sports a high-quality build, and hot-swappable keycaps that allow you to customize your keys with ease. Overall, a reliable keyboard that's great for the home, office, and casual gaming.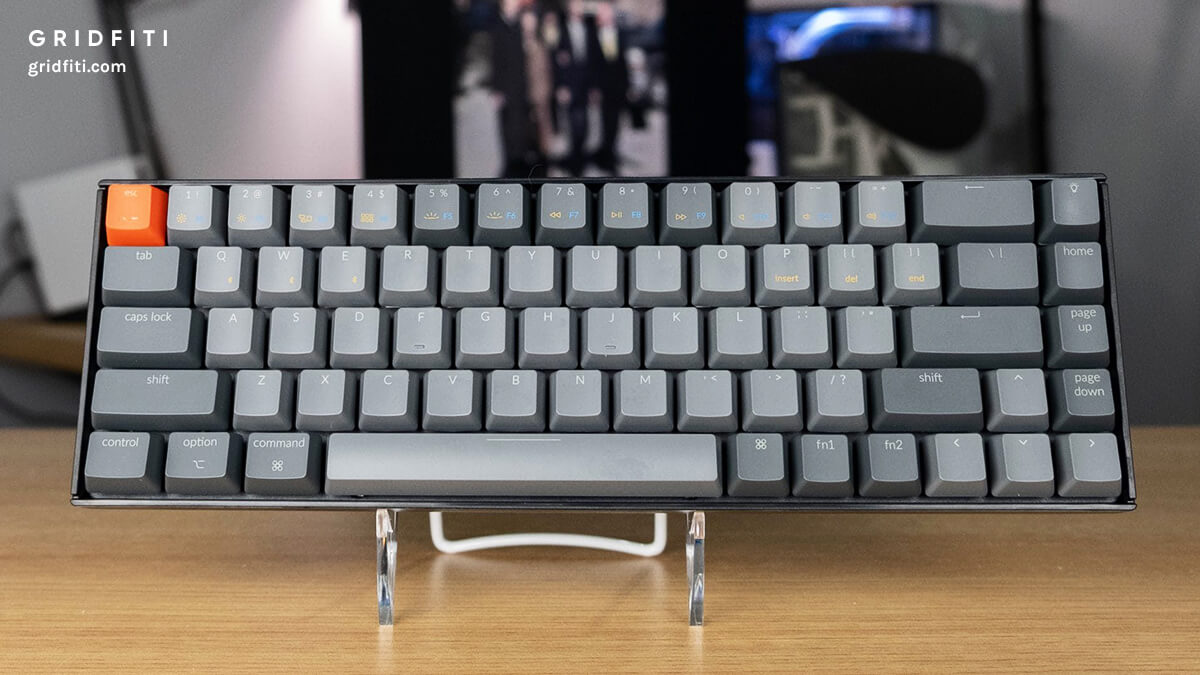 Image by Keychron
Drop ALT/CTRL – Floating 67 Keycaps Design
At just over a foot in size, the Drop Alt mechanical keyboard is a great choice for something compact with a little more function. The "floating keycap" design makes the board look unique, and you can easily swap keycaps to suit your personal color aesthetic.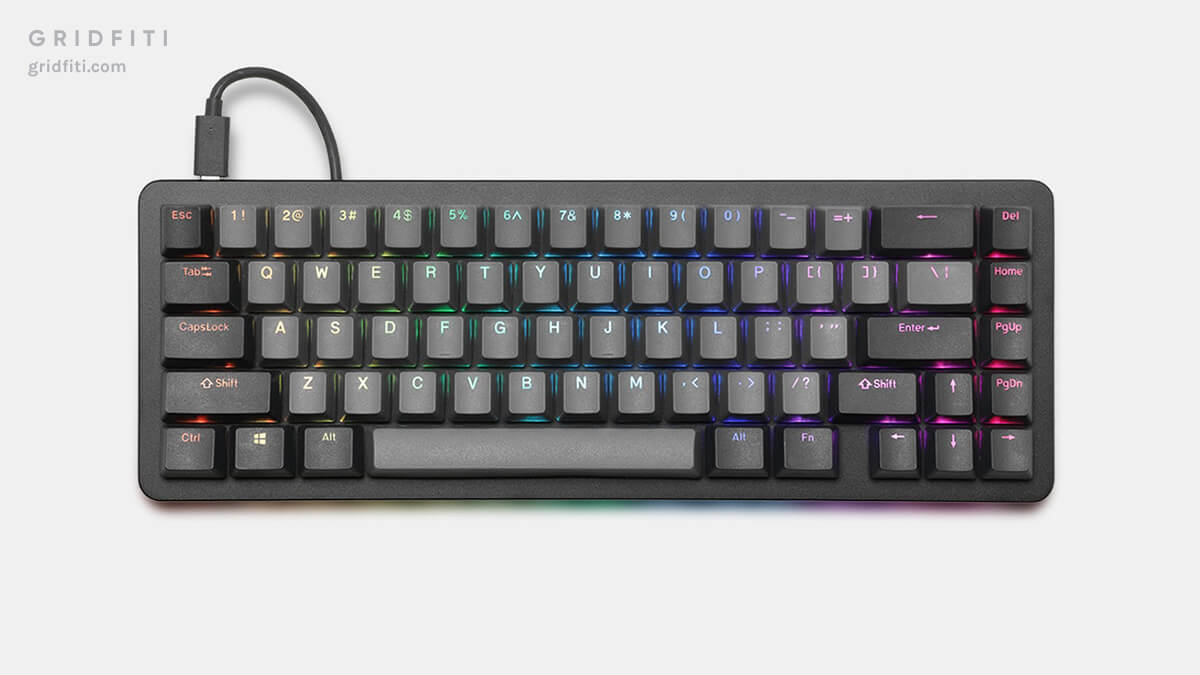 Image by Drop
Leopold FC660C Topre 65% Mechanical Keyboard
A great topre keyboard that has a high-quality build and feel. Being a topre keyboard, the ability to customize keycaps is much more difficult. However, if you'd rather top quality performance over keyboard aesthetics, then this might be the mechanical board that you're looking for.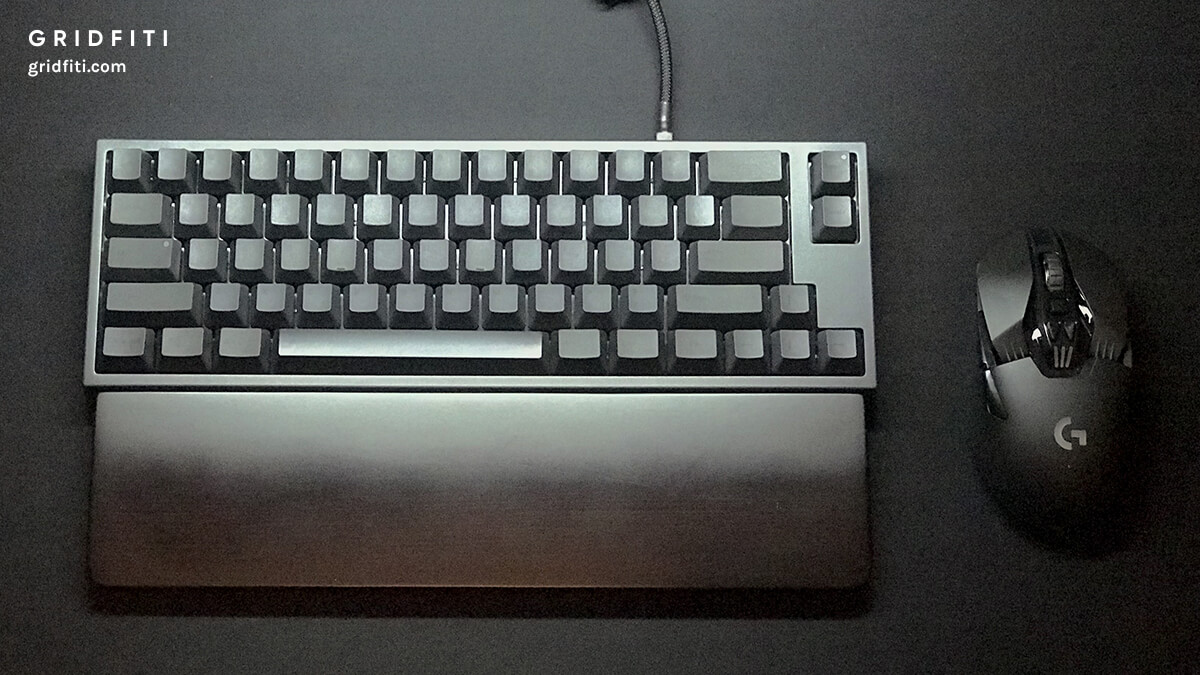 Image by u/Fink41
MAGICFORCE 68-KEY Mini Mechanical Keyboard
If you're looking for a Leopold FC660 alternative that's equally equipped with a ton of functionality – the Magicforce 68-key keyboard is a great pick. Another standout is its variety of keycaps to choose from, including a typewriter-inspired circular keycap design – ideal for that vintage aesthetic.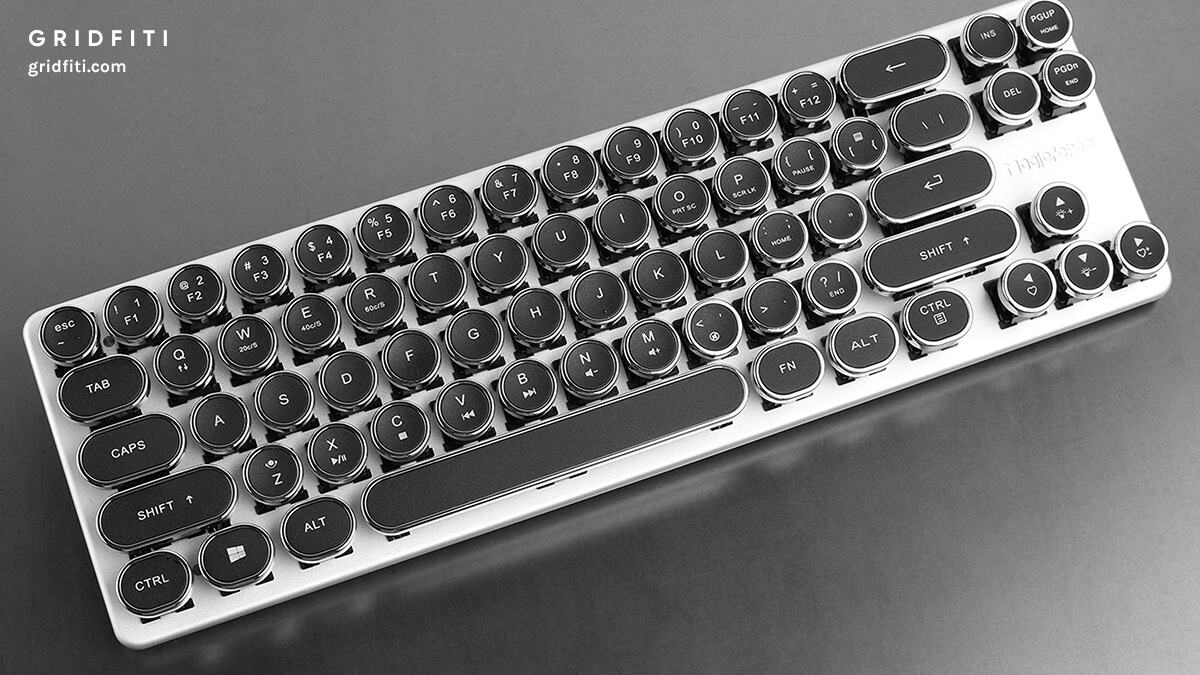 Image by Drop
Which one of these mechanical keyboards is your favorite? Have any more recommendations for the best 60 percent keyboards on the market? Let us know in the comments below.
Gridfiti is supported by its audience – when you buy something using the retail links in our posts, we may earn a small commission at no additional cost to you. We only recommend products we would use ourselves and recommend to our friends and family. Read more about our affiliate disclaimer.