As photographers, we're always looking for new ways to incorporate props and capture shots that stand out from the crowd. A crystal ball (also known as a lensball) will help you do just that. These glass balls create a distorted effect, refract light, and really open up a whole new world of composition.
Whether you're picking up a lensball for the first time, or are wanting to get back into it with more composition ideas, check out our guide on crystal ball photography!
Want more photography and gear tips? Join our mailing list! 📮
The Best Crystal Balls for Photography
Before we jump into the types of creative shots you can get with a crystal ball, let's look at the best ones to use. The best vendor to buy a crystal ball from is Lensball themselves! Besides being the household name for photography crystal balls, they specialize in making the highest quality glass photography balls, and make sure they're well-packaged to make it to you safely.
If you end up grabbing a lensball, don't forget to tag them on Instagram – they feature a ton of creators on their feed!
What Size Lensball Should I Buy for Photography?
Torn between the 80mm vs 60mm? The larger lensball (80mm) is the more versatile option, capturing more in-frame through the infraction. The smaller 60mm lensball is nice for travel, but if portability isn't the priority, go for the 80mm. Or if you have the capacity, get both to have one for each use case!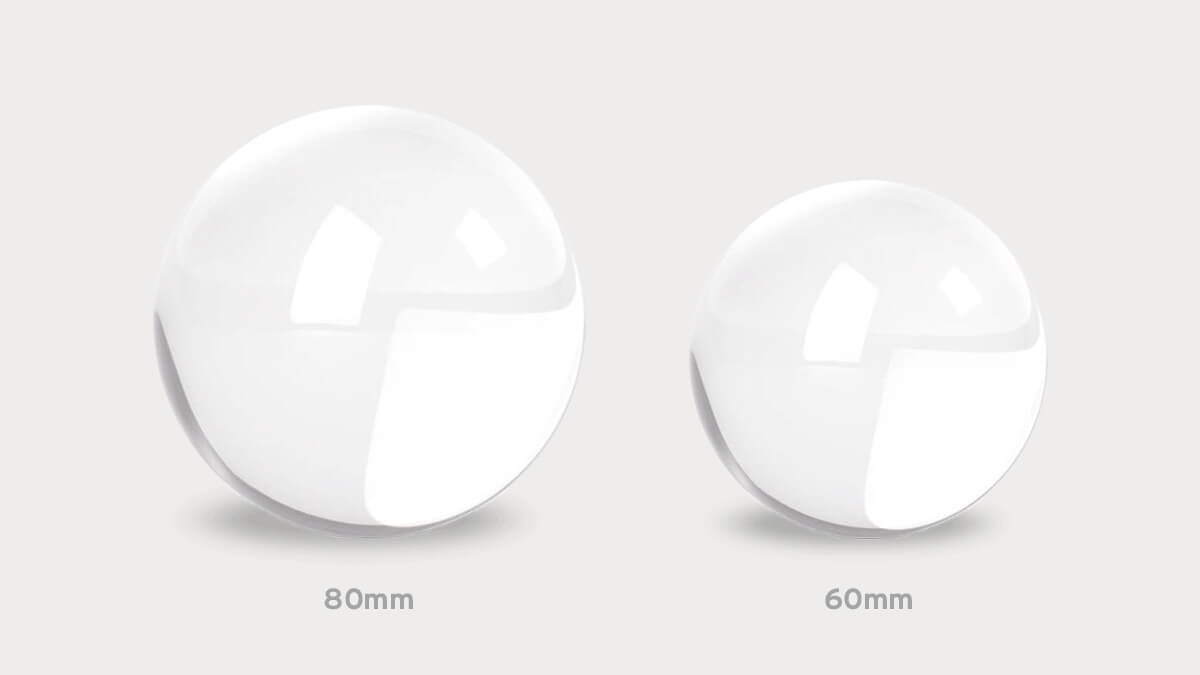 How to Use a Crystal Ball for Photography
The lensball is super simple to use, but first, let's run through the camera settings:
These settings will get your lensball sharp with a shallow depth of field, so the focus stays on your subject! Keeping your shutter speed high will also help avoid any motion blur while holding the lensball out in front of your camera (which can get surprisingly heavy after long periods of time)! As always, it's best to go through some trial and error depending on your location and lighting.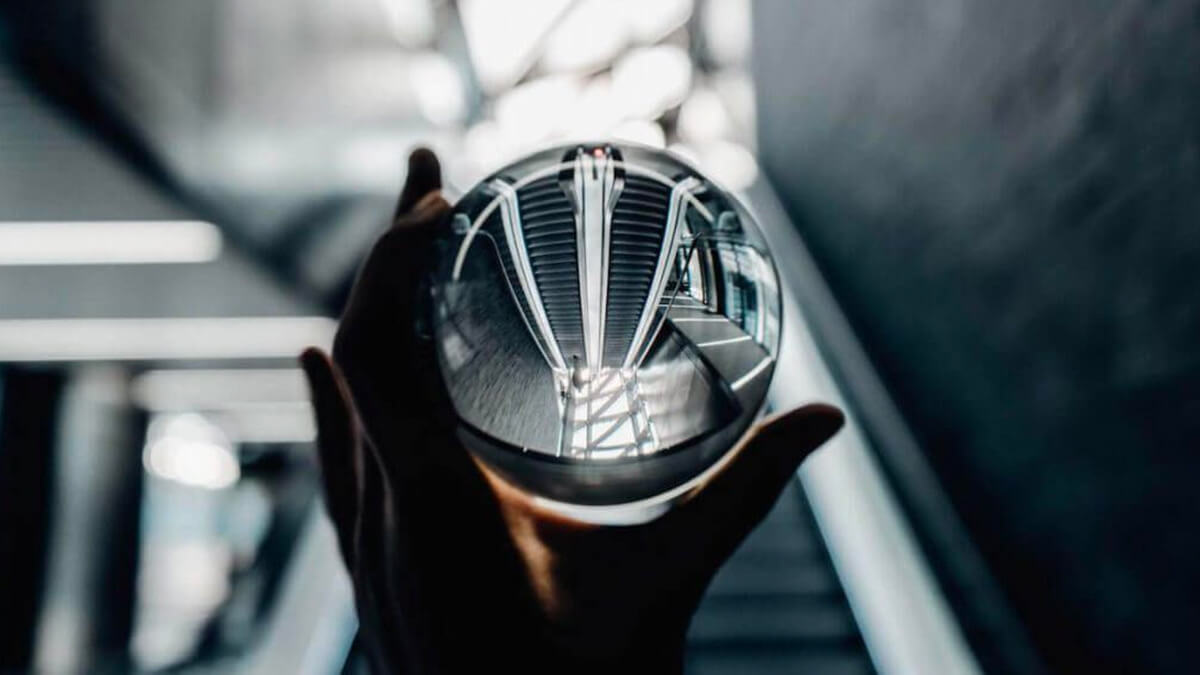 Crystal Ball Photography Ideas
Now that we've gone over the basics of crystal ball photography, let's jump into creative ways to use it!
Crystal Ball Water Reflection
Create some reflection inception. Picture this: you've laid your lensball on a reflective surface (it can be a still puddle or a glass surface) and everything in front will be reflected on that surface, which will then be reflected (yet again) and flipped within the lensball. Confused yet? Check out these samples: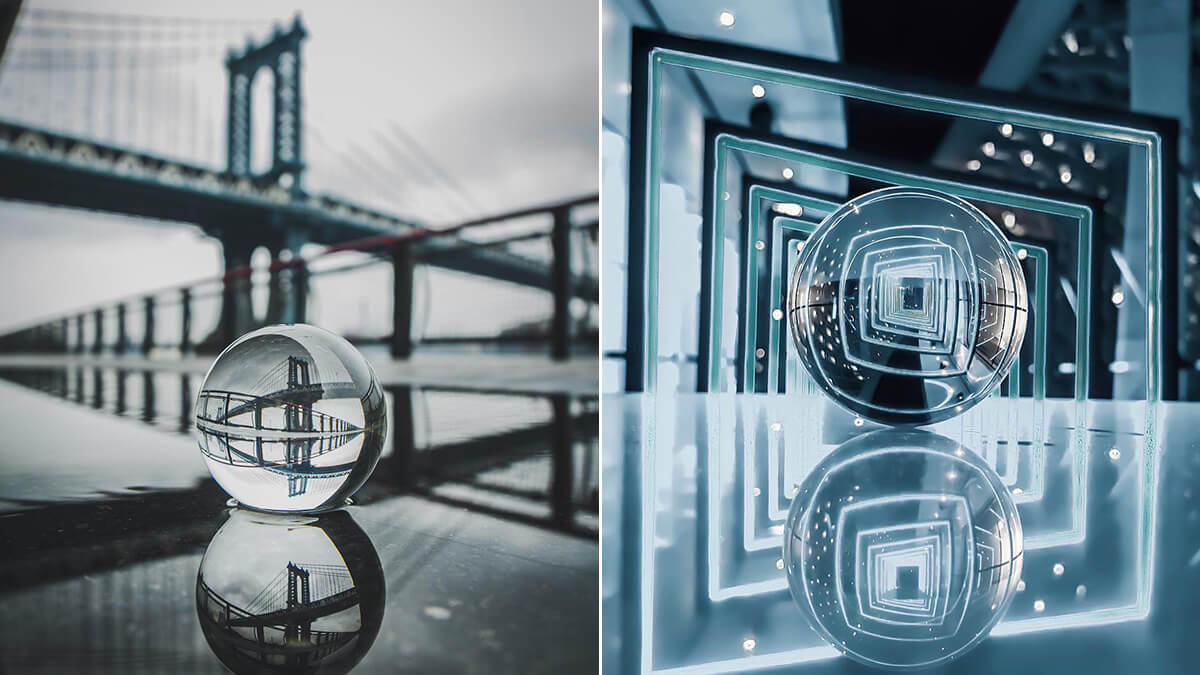 Images by @ssubstantial and @cjshoots_
Handheld Lensball
This is as classic as it gets. All you need to do here is lift the glass ball up with your hand (or you can get someone else to do it for you), set a manual focus on it, and adjust your camera distance from the lensball! Think of the glass ball as a secondary, wide angle lens to capture more of what's around you.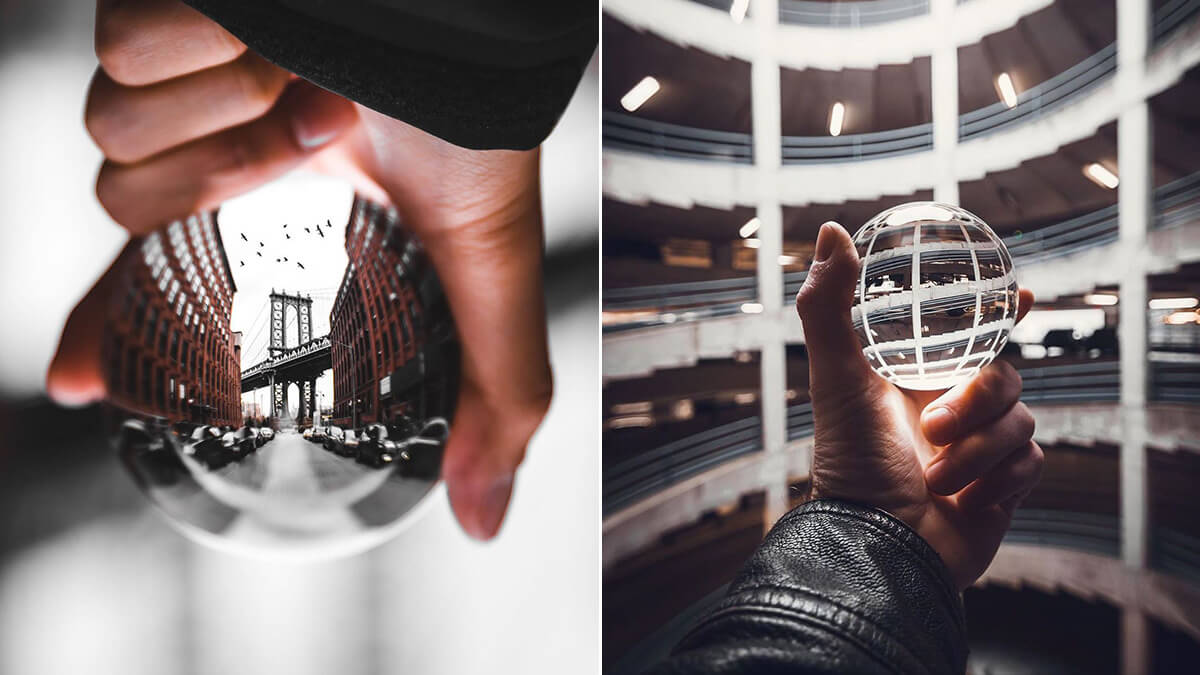 Images by @marvinlei and @dantevncmp
Crystal Ball Photography from Below
As I mentioned before, the crystal ball acts as a wide angle lens so you can capture some amazing architecture. If the architecture or shot is up high, you can take a shot from below the glass ball to get a cool wide angle shot upwards. The lensball should capture most of the architecture or landscape since it's so wide. Circular structures also look very cool with the glass ball because of the way that it distorts the image. Makes for a pretty cool photo.
Images by @timwah and @kremdela
Crystal Ball Photography with Fairy Lights
Create a magical vibe with your lensball shots by simply incorporating fairy lights! If you're looking for more tips, make sure to head over to our fairy lights photography guide.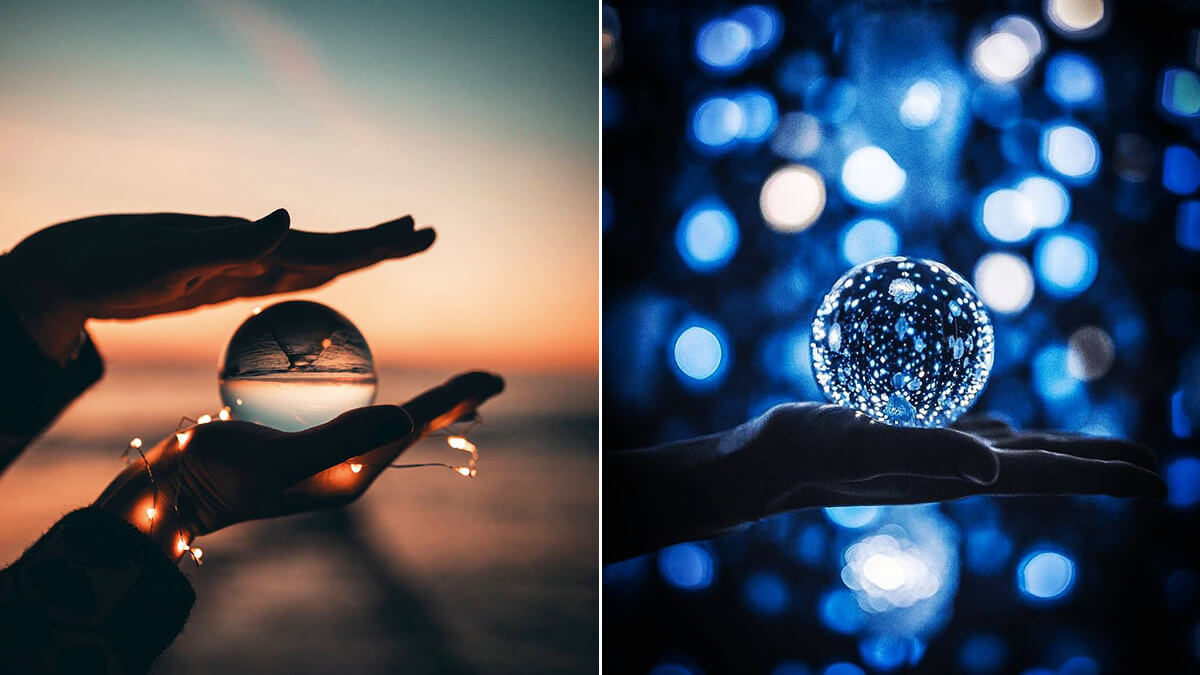 Images by @francesco_sgura and @cjshoots_
Dynamic Portraits Using Crystal Ball
Create standout shots of your models by working the crystal ball into your portrait shoots! Adjust the distance of the ball away from the model's face, and adjust your focus accordingly. Remember, you want to frame the subject within the glass ball first before moving onto framing the shot through your camera.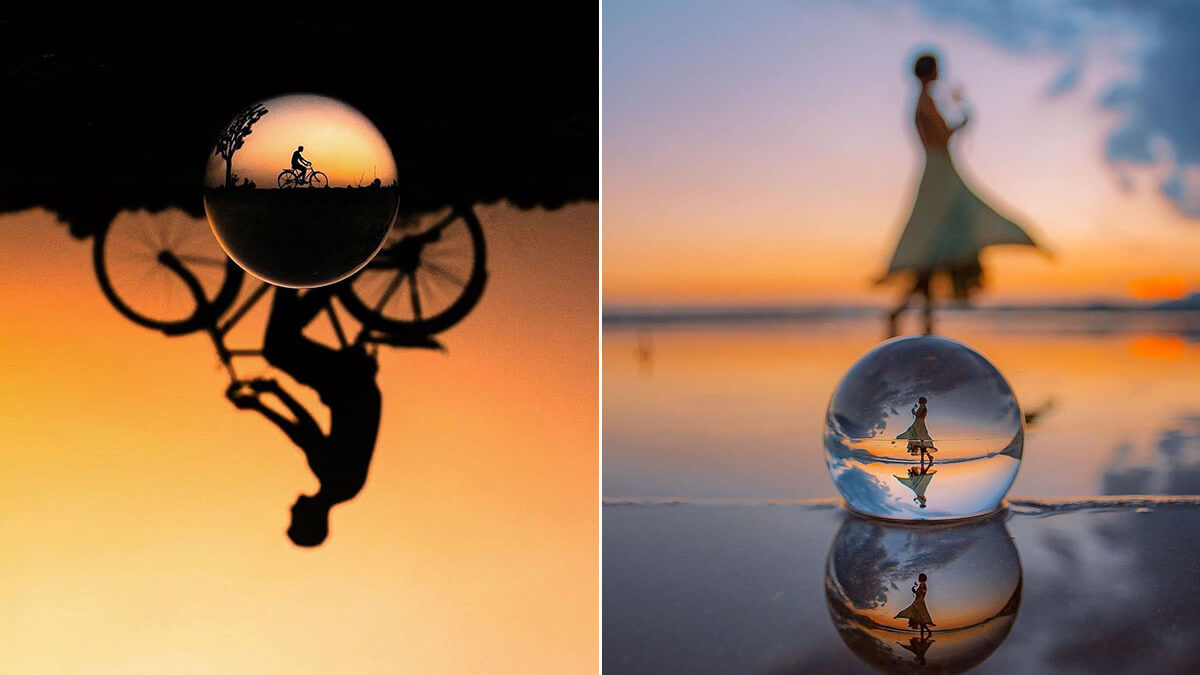 Images by @_incredibleshots and @itsreone
Photoshop Your Crystal Glass Ball
If you're familiar with Photoshop, you'll have endless creative options with your lensball – whether it's making it levitate, creating a Thanos-like shatter effect, or wherever your imagination takes you!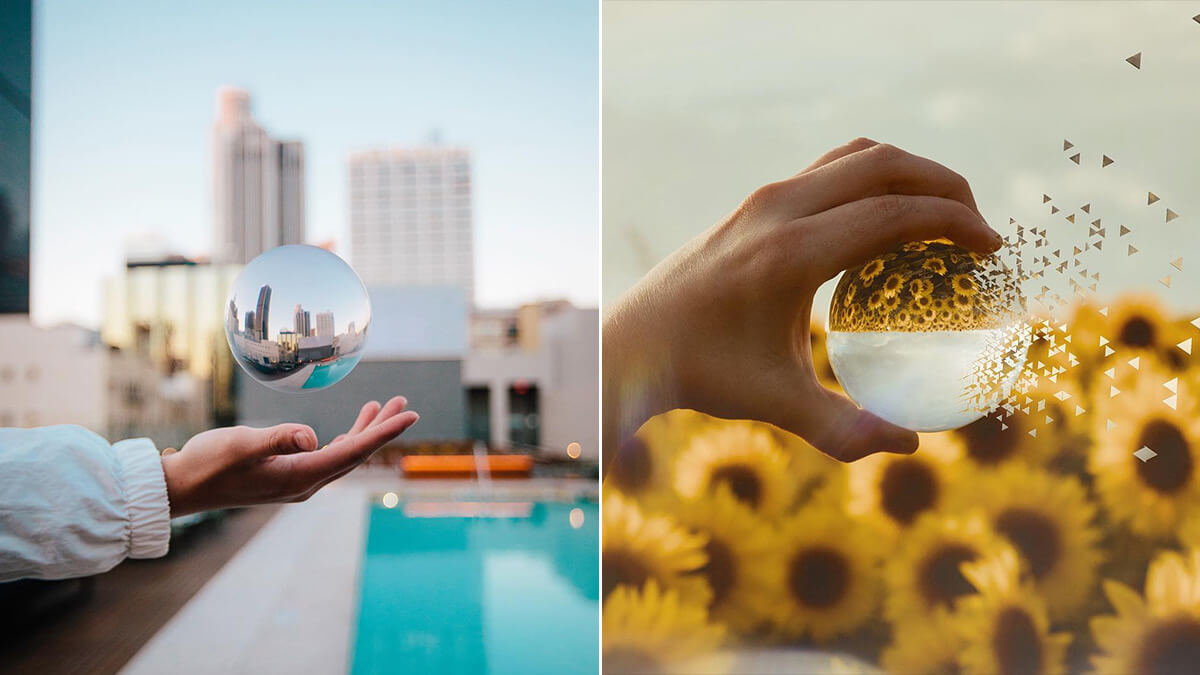 Images by @edirenzo and @cfunk44
Using Creative Props with Crystal Ball
From ice cream cones, to picture frames working some sub-framing magic, use secondary props to get creative with your lensball shots! You'll find handheld and reflection lensball shots all over the web, but ultimately what will make your lensball photos stand out from the crowd are fresh ideas that are uniquely yours. To get your creative juices flowing, try out one of these concepts below!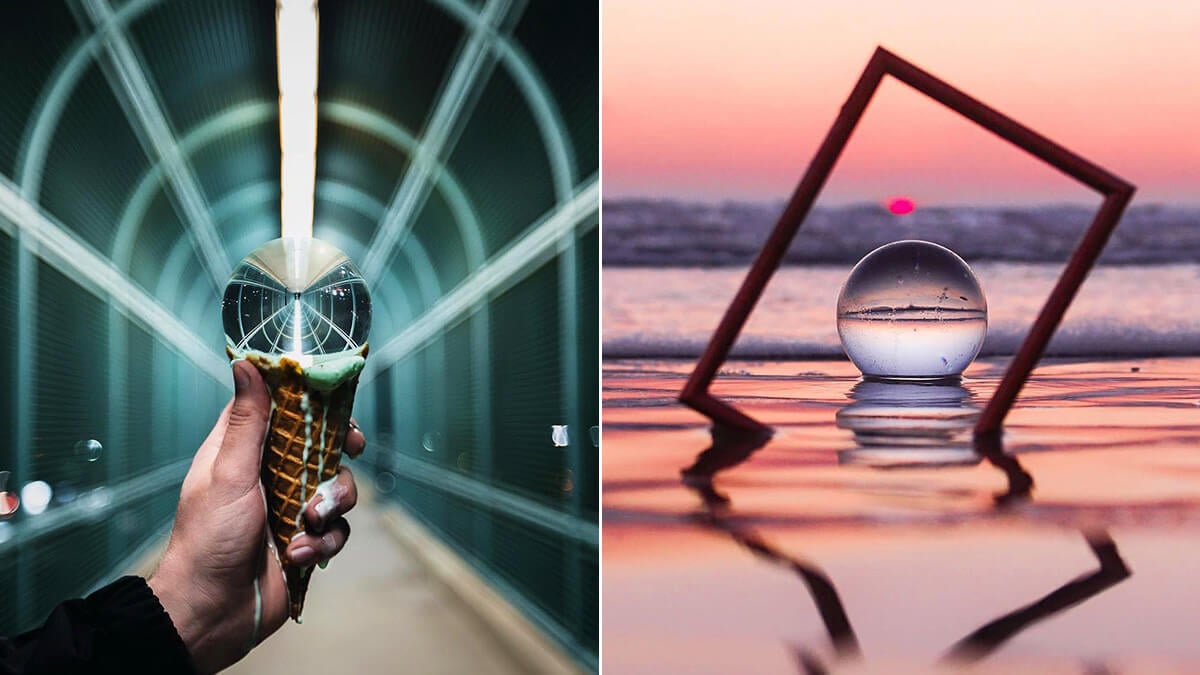 Images by @bgwynn and @theworldwithemmy
Creative Composition to Line Up Your Lensball
Speaking of unique composition, a simple place to start is placing the lensball centered inside a circular subject to create a satisfying visual.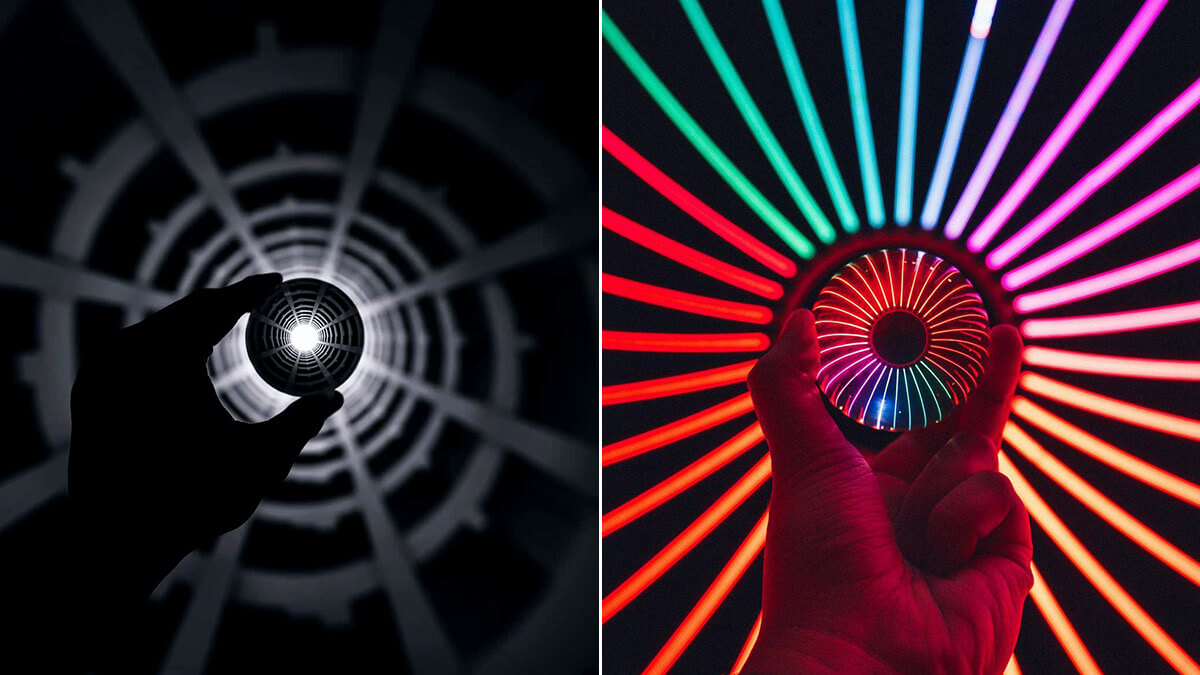 Images by @peonysus2nd and @xgorobao
Have any more ideas for crystal ball photography ideas? Let us know in the comments below!
Gridfiti is supported by its audience – when you buy something using the retail links in our posts, we may earn a small commission at no additional cost to you. We only recommend products we would use ourselves and recommend to our friends and family. Read more about our affiliate disclaimer.