Light is the bread and butter of photography (heck, "photo" in Latin literally means "light") – so, naturally, any means to work more light into our photography is always welcomed. Sometimes it's good ol' daylight, sometimes it's the warm orange cast of golden hour, sometimes it's neons on a bustling street, and sometimes, it's incorporating a prop to work in some illumination magic.
Enter fairy lights.
Fairy lights are an ultra versatile and ultra portable accessory that can be anyone's camera bag staple, available at the ready when you need to give your photos a literal glowup. Whether you need a light source, or just want to add some creative flair to your shots, fairy lights are as aesthetically pleasing as they are functional – giving any photo a magical, enchanting look.
From the best fairy lights to buy, to ideas on how to work fairy lights into your photography, get scrolling and dive into our full guide on fairy light photography!
Want more photography ideas and tips? Join our mailing list to get the latest straight to your inbox 📮
The Best Fairy Lights for Photography
There are a ton of fairy lights online to pick from, but we've rounded up the most-loved, highest-reviewed, and easiest-to-get fairy lights available!
All the fairy lights below are powered either via USB or AA batteries, making them completely portable. These fairy lights also come with a handy remote too – perfect for when you're shooting from afar, or want to adjust the brightness of your lights. Last but not least, all of these lights listed are waterproof, too!
If you opt for a USB-powered light, make sure you have a portable power bank with you (if you need any recos, check out our Tech Bag Essentials!)
Get the fairy lights:
If you already have conventional string lights, you can also grab some curtain string lights, which are great for lighting up your background and getting that sweet bokeh. Bonus: they'll also make your room feel super warm and cozy.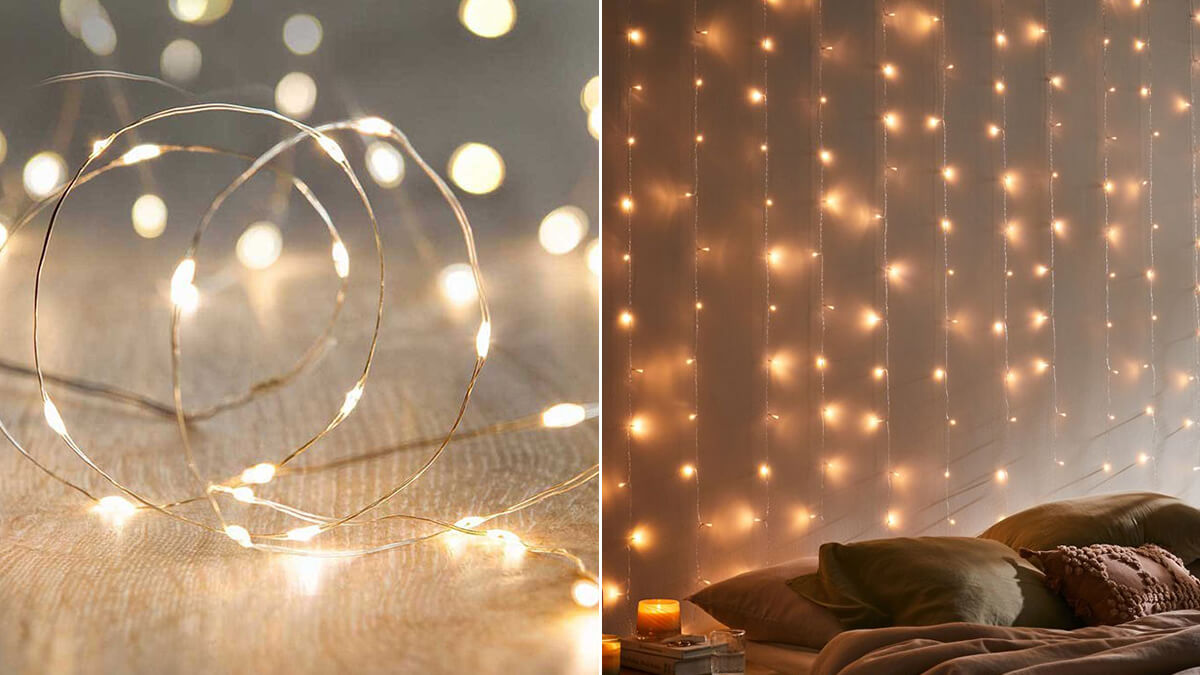 Images by ANJAYLIA & Urban Outfitters
How to Take Photos With Fairy Lights
Before we jump into fairy light photography ideas and concepts, let's run through some pointers on how to make the most out of your lights!
The most important factor when taking photos with string lights is your aperture – you want it as low as possible. For any beginners, aperture is how much light your lens lets into your camera, and the lower your aperture, the more shallow depth of field you can achieve – giving you that smooth, blurred effect in both your foreground and background.
Step two is making sure you're in a dark setting. Whether you're indoors or outdoors, making sure you're not shooting in a bright location will maximize the glow your fairy lights can provide. If you're looking for the best gear to shoot with in such conditions, make sure to check out our roundup on the best lenses for low light photography, or even check out one of the fairy lights OGs, Brandon Woelfel's gear!
Last but not least, pick a subject! Fairy lights are a great complementary prop, but no photo is complete without a central subject. Check out the inspo section below for ideas on how to work with fairy lights with your subject – from using them for your composition, to wrapping them around your subject to add that extra glow.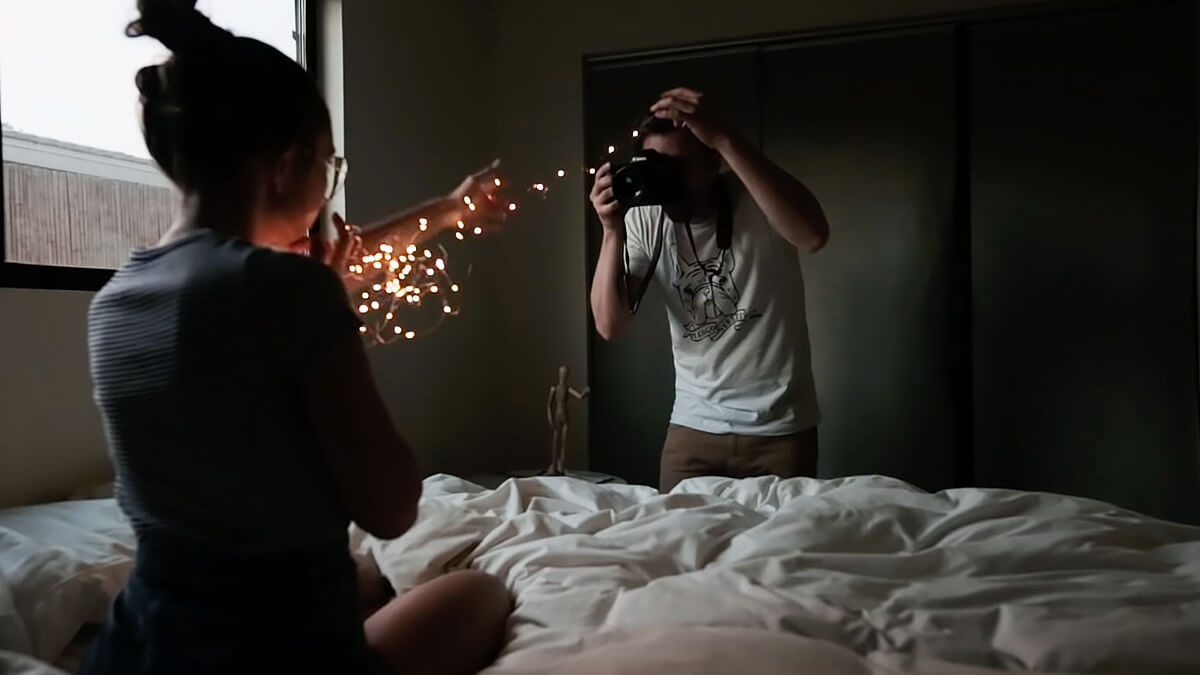 Frame: Mango Street on Youtube
Fairy Light Photography Ideas & Inspo
We've gone over the basics of fairy lights, how to take photos with them, and the best to buy – now let's check out the several ways you can use them to bring photo concepts to life!
Fairy Lights for Portrait Photography
If it isn't evident already, you can capture a ton of unique portraits with fairy lights. Beyond adding a dreamy, whimsical look to your images, they're perfect to (literally) shed some light on the subject.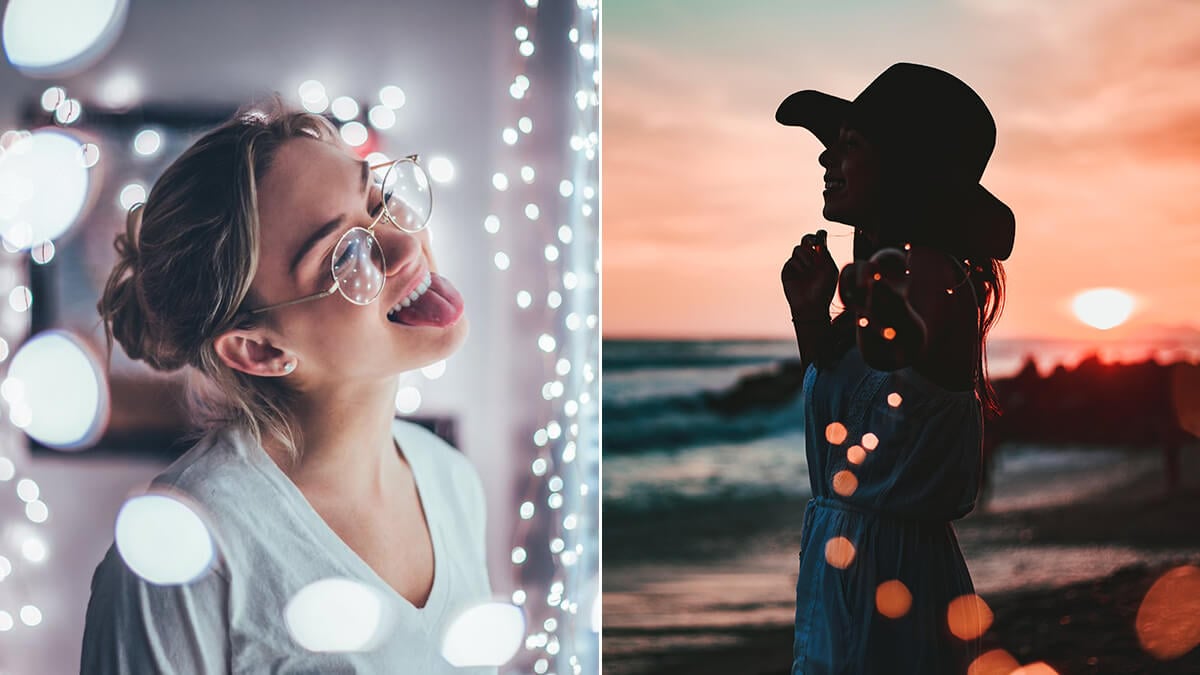 Images by @brandonwoelfel & @joelvalve
Create Leading Lines with Fairy Lights
Use fairy lights to up your composition game. Unlike your traditional leading lines, fairy lights will create glowing leading lines, drawing attention to your subject even more!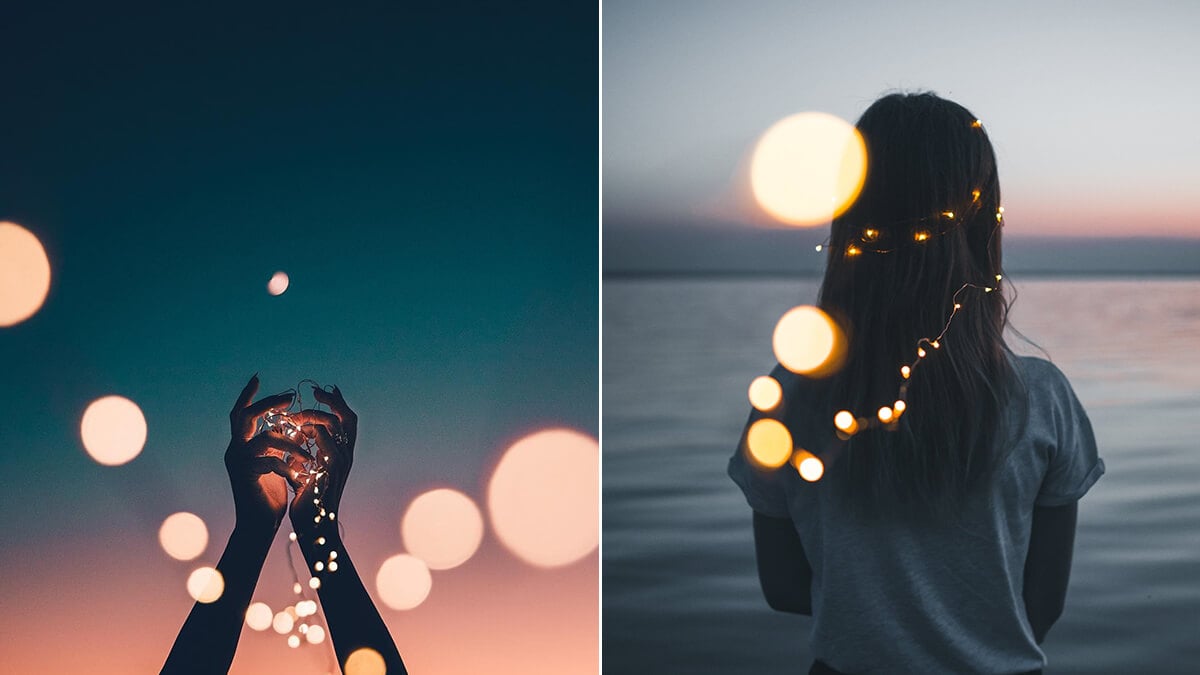 Images by @bryanadamc & Peaceful Dumpling
Fairy Lights Photography with a Mason Jar
Mason jars have all kinds of uses: from storing knickknacks, to holding beverages, and alas, photography. You can create stunning photos by simply placing the lights in your mason jar, instantly making it a magical source of glowing light. You can even get clever with your composition, like Yeshi has below!
Props you'll need: Mason Jar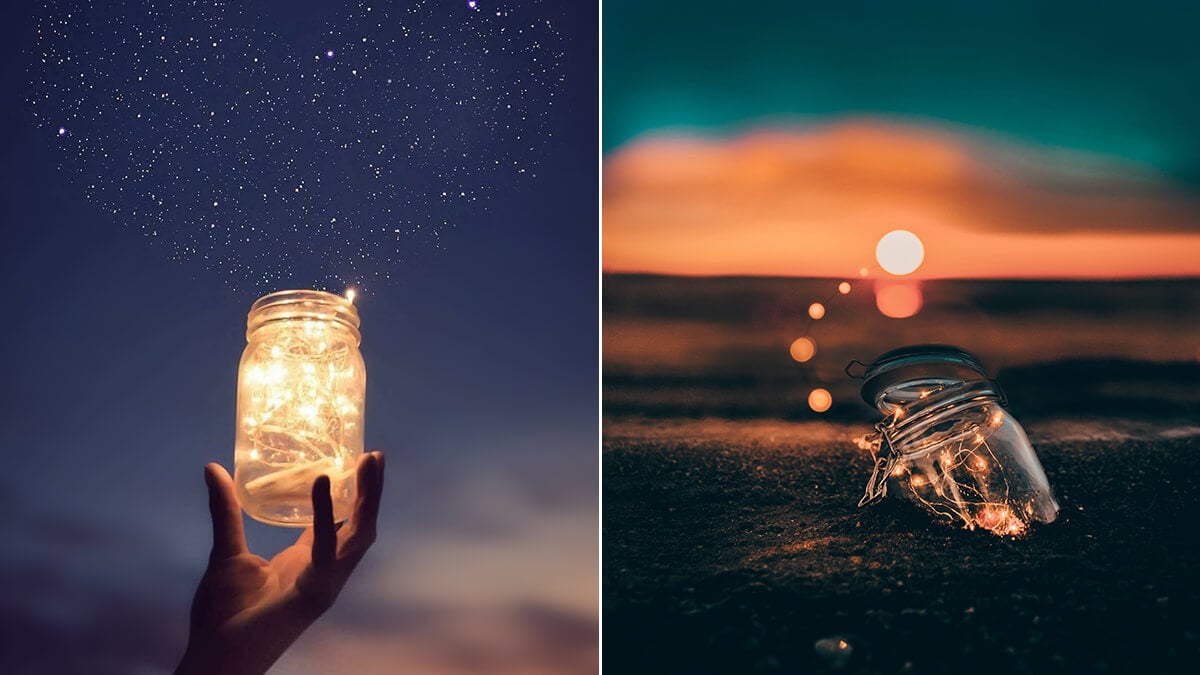 Image #2 by @omgitsyeshi
String Lights With a Clear Umbrella
For this idea, all you need is a clear umbrella – then let your imagination take you from there! Whether you want to recreate lit-up rain like Bryan Adam Castillo, or wrap the lights around the outside of the umbrella to create a bokeh-filled backdrop, adding a clear umbrella to your fairy lights shoot will open up another world of concept possibilities.
Props you'll need: Clear Umbrella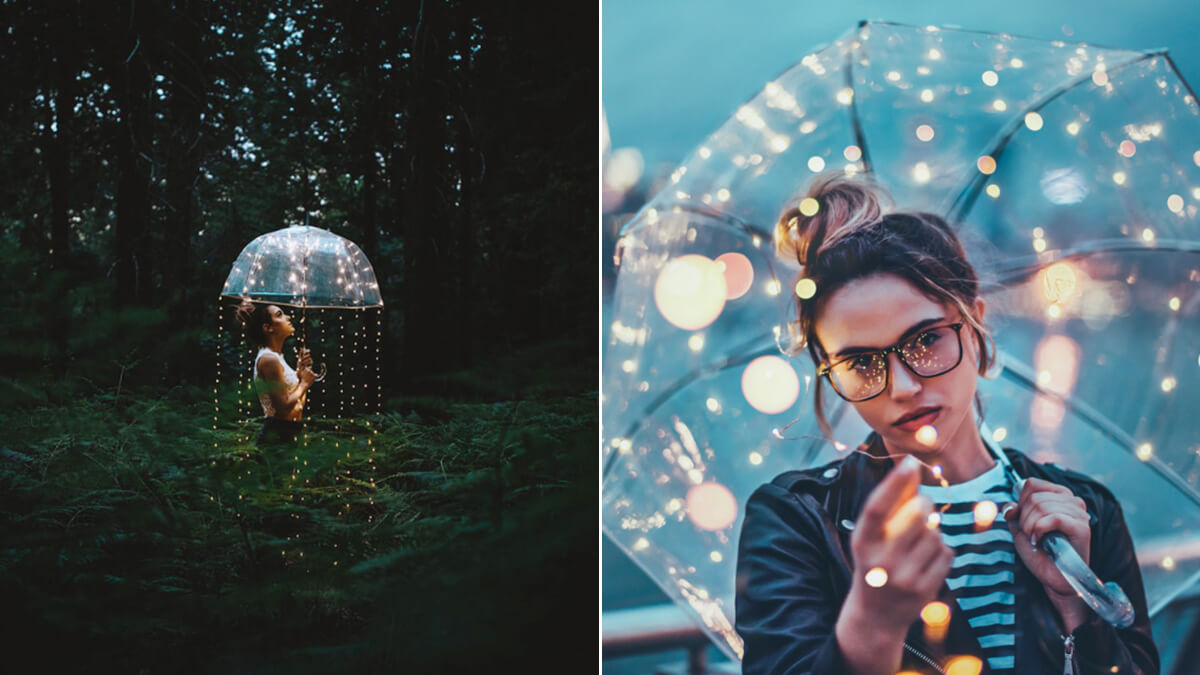 Images by @bryanadamc & @brandonwoelfel
Background Bokeh with String Lights
Having fairy lights in the backdrop of your shots creates a dreamy, enchanting world for portraits. To go the extra mile, use a 85mm portrait lens to not only get the lowest possible aperture, but also to compress your background, making the lights backdrop appear bigger in your shot.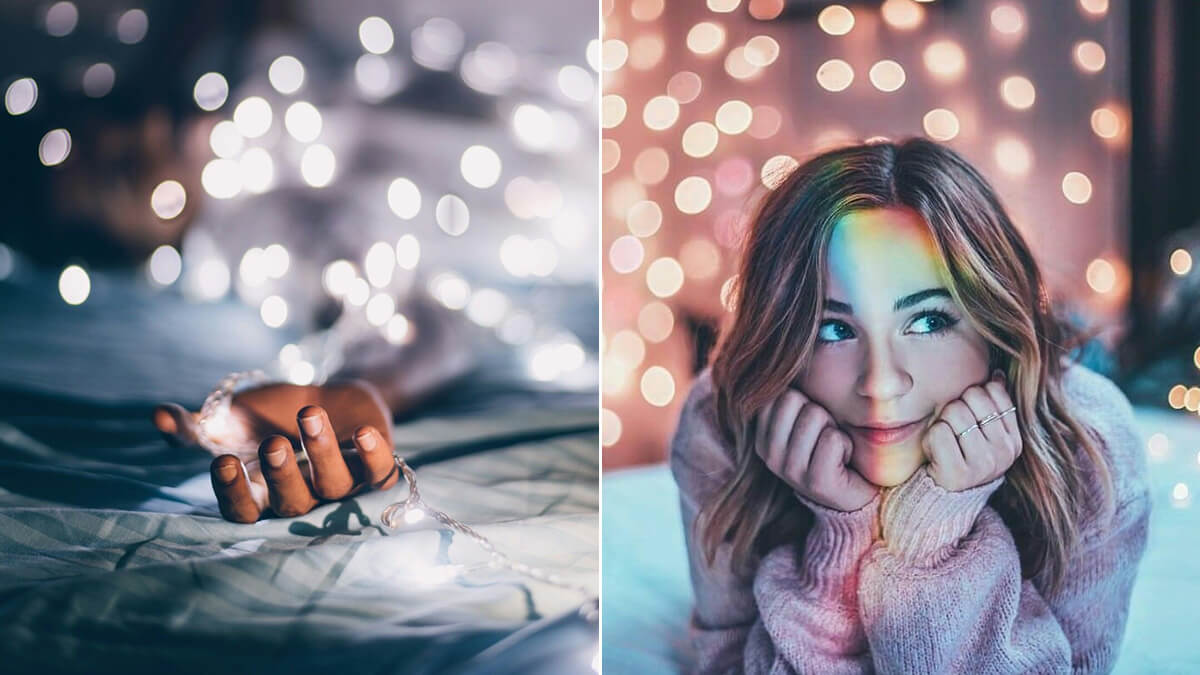 Images by @brandonwoelfel
Foreground Blur with String Lights
Last but not least, use your string lights to add a glow to your foreground too! Beyond adding a nice warm glow to your shots, having your lights blurred in your foreground will help you frame up your subject.
With both this and the background technique, it's extra important here to drop your aperture to the lowest possible setting!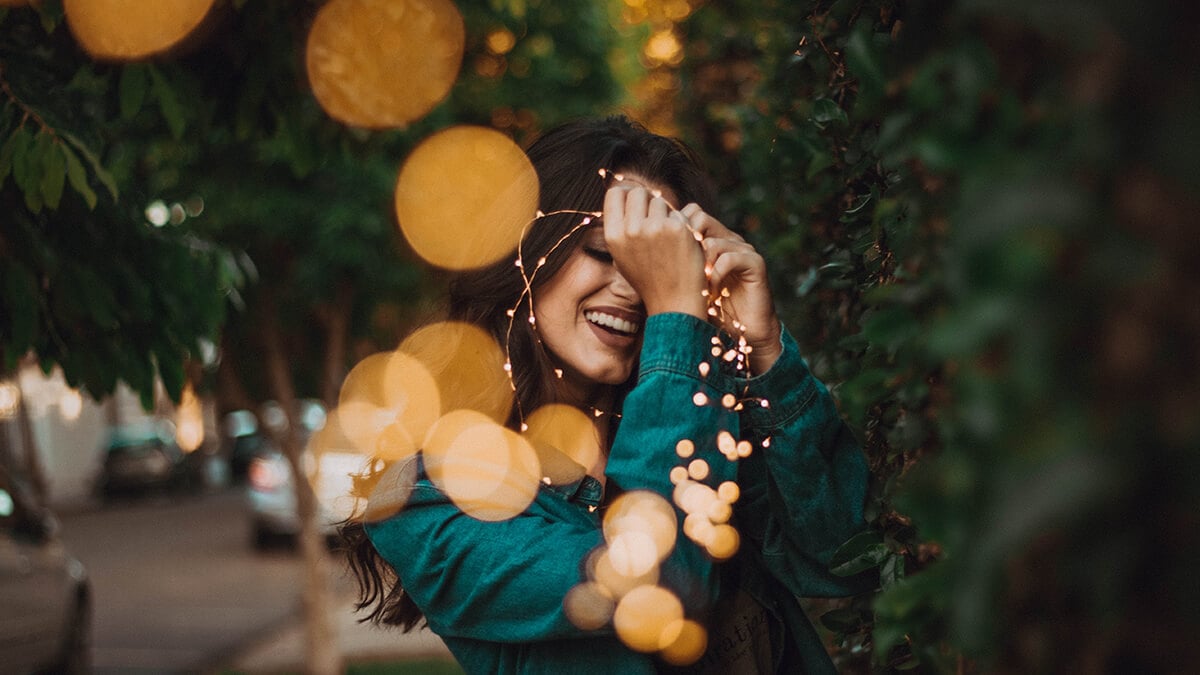 Image by @sete.ph
Have any other unique fairy light photography ideas you've thought of or shot? Let us know in the comments below!
Gridfiti is supported by its audience – when you buy something using the retail links in our posts, we may earn a small commission at no additional cost to you. We only recommend products we would use ourselves and recommend to our friends and family. Read more about our affiliate disclaimer.