My tech bag is filled with gear and electronics that help me achieve a specific goals more efficiently. The best tech bag will help me be more productive in my work and will help keep my tech essentials organized.
Having the best gear doesn't make you the best photographer or the best developer, but having the proper tech bag essentials can make a significant difference in your workflow. We rely so much on technology and spend so much time on our phones and laptops. Having the right gear can help you improve your overall efficiency and effectiveness when you're editing or writing that line of code.
I've recently graduated from college and have worked remotely full-time since then. I'm a photographer on the side, so the type of work I do requires a decent amount of travelling. I heavily rely on my electronics and having the best tech bag essentials on me at all times is essential.
I've bought so many tech essentials over the past few years and have seen both the good and the bad. Whether you're a photographer or a college student, I'm sure you can benefit from a list of good tech gear. What's in my tech bag are highly recommended electronics that have helped me throughout my travels, college, and my professional photography!
What's in My Tech Bag: A Summary of My Tech Essentials
Laptop + Accessories

Portable Bluetooth Mouse

Smartphone + Accessories

Portable Power Banks

External Portable Hard Drive

Phone Charging Cables

USB Wall Plug

Tech Carry Case for Gadgets

Portable Bluetooth Speaker

Wireless Earphones / Headphones

Stylish Backpack for my Tech Essentials
---
1. The 15 inch Macbook Pro with Touch Bar
2018 MacBook Pro 15 inch with i9 Processor and 32GB Memory – Buy from Amazon
This is the one absolute tech gadget that I could not live without. My laptop is something that I use to create basically everything. From taking notes in my freshmen year to editing photos and videos for major artists and brands. I bought this 15 inch i9 processor Macbook Pro this year and after months of usage, it has not failed to impress. This MacBook costed me a lot of money, but I use it every day for work so it is something worth investing in. Having the right laptop is crucial for the best desk setups and my MacBook Pro is by far the most essential piece of technology in my tech bag!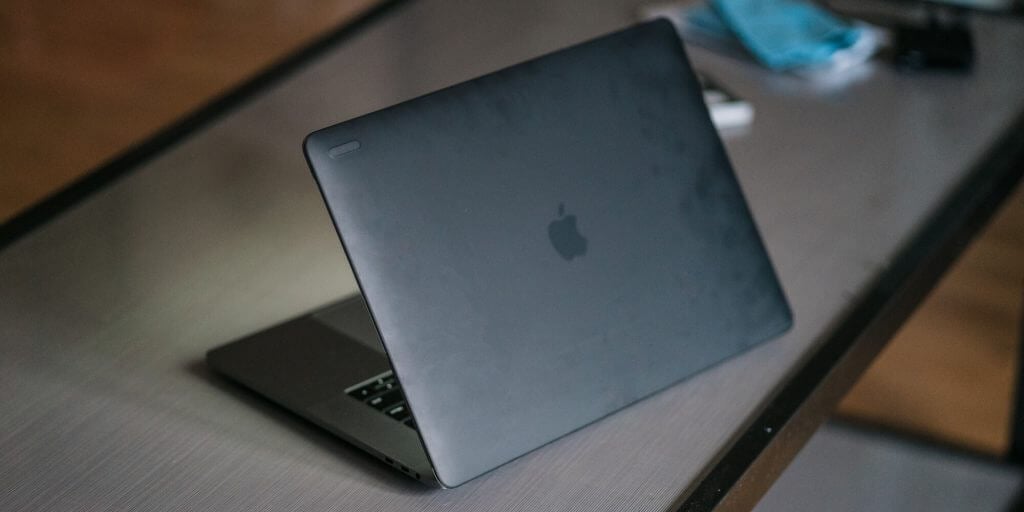 Regardless of your opinion on Apple, I have used my old MacBook Pro for almost 6 years and it still works fine without any issues. So this 2018 MacBook Pro is here to stay (hopefully). Over the past few months I've found the best accessories for my new MacBook. If you're curious to see what new accessories I've added to my tech bag, here is a post I wrote about the best 2020 MacBook Pro accessories.
MacBook Pro Case Cover
MOSISO 15 inch MacBook Pro 2018 Case – Buy from Amazon
Some things that have helped me keep this Macbook intact include the hard-shell Macbook Pro case I bought off of Amazon and a see-through silicone keyboard cover for my MacBook's keyboard. The MacBook Pro case comes with a top cover and a second piece to cover the bottom. I don't leave the bottom piece on because I find that it makes the MacBook more bulky and also adds to the heating issues.
Alternative:

Microsoft Surface Pro 6

Microsoft Surface Pro 6 – Buy from Amazon

The only Windows experience I've had was with an Asus laptop back in high school and it worked fine. Ever since I switched to my Macbook, I never really had the chance to try out other Windows laptops. I do run a desktop at home for miscellaneous tasks, but apart from that the Macbook has held up very well. I have heard good things about the Microsoft Surface Pro, so if you're anti-Apple, then it might be a good idea to check that out.
---
2. Logitech M535 Portable Bluetooth Mouse
Portable Logitech Laptop Mouse: Buy from Amazon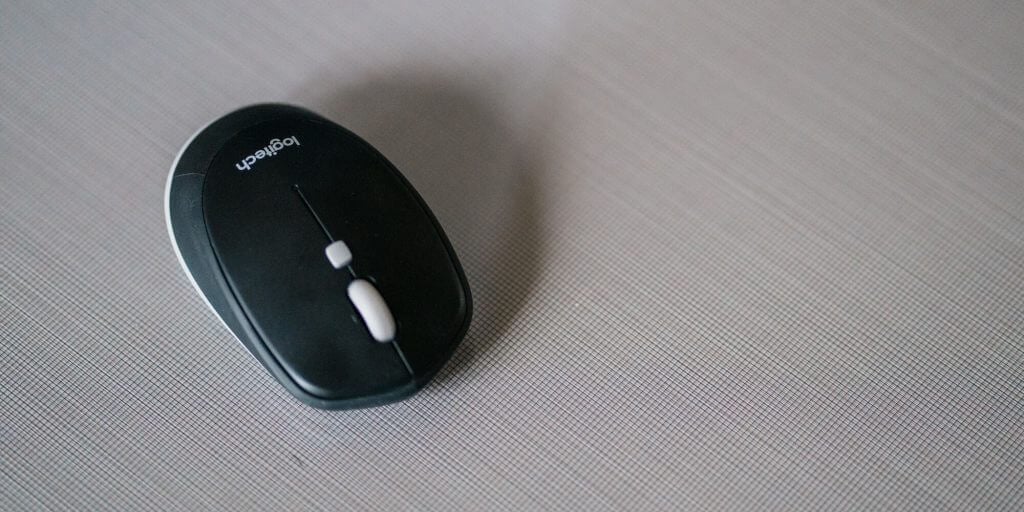 The Logitech M535 Bluetooth mouse travels with me everywhere. Whether I'm headed to the local coffee shop or travelling overseas, this mouse comes along  Having this Bluetooth mouse in my tech bag has made such a big difference in my workflow. For one, it's super compact which makes it very portable and easy to carry around in my backpack. The Logitech mouse is essential for my video edits, photo edits, and web browsing. I like how it pairs nicely with my laptop via Bluetooth and this is a big reason why it is one of my favorite MacBook accessories. Some people prefer the trackpad, but I am definitely more of a mouse user.
---
3. iPhone X
64GB iPhone X – Buy from Amazon

We've got the iPhone XS and the iPhone XR out there, but the iPhone X is a phone I've been rocking with for a while and love it. The iPhone X does everything I need and the move from an iPhone 6 to the iPhone X was a big change. Having no home button and the introduction of Face ID was really interesting and super intuitive.
The camera is great on the iPhone X and is actually comparable to the new iPhone XS and iPhone XR. Since I mainly take photos with my DSLR camera, I'm not too picky with the camera, but it definitely does help having a solid camera on your iPhone.
I've been using a variety of different iPhone X accessories that have really changed the way I've used my phone. The Airpods and wireless charging capabilities have helped me add a couple new gadgets to my tech bag essentials.
Alternative:

iPhone XS and Google Pixel 3

iPhone XS 256 GB – Buy from Amazon

Of course alternatives for your iPhone X can include the newer iPhone models such as the XS (max) and the XR (max). But the iPhone 8 and 8+ are still great as well if you're not looking to spend too much on a new mobile device. I've also heard nothing but good things from my friends who use the Google Pixel 2 or the recently released Google Pixel 3. I personally just love the Apple OS and the Apple ecosystem.
Moment iPhone X / XS Case + JETech Tempered Glass Screen Protector
Moment iPhone X / XS Case – Buy from Amazon
A couple things have helped me keep this iPhone X intact after months of everyday usage. The iPhone case from Moment is amazing and is so well built. It is a thick case that covers all sides of the iPhone, but also offers a great selection of lens. For places like concerts where I'm not allowed to bring my DSLR into. The Moment lens helps me capture some insane iPhone X photography.
2-Pack Tempered Glass Screen Protector – Buy from Amazon
I love the feel on the Moment case and it has helped the phone survive several drops. Speaking of drops… Get yourself a tempered glass screen protector. I've gone through two of these and trust me – they work. There's been several occasions that I've dropped my phone and the tempered screen protector has cracked – not my actual iPhone screen. Having the screen protector crack is an easy $10 replacement compared to the $200 iPhone X / XS screen replacement.
---
4. Anker Power Banks (5000 mAh and 20 000 mAh)
If you're anything like me, I rely on my phone and my tech pretty heavily when I travel. I take videos and pictures all the time, so staying plugged-in and charged-up is essential for me. Over the years, I've been using two portable Anker power banks and I live by these tech essentials.
The first one is the Anker Power Bank 5000 mAh which is a much more compact and portable battery pack. This small size battery pack is the size of about two chapsticks combined and it can charge my phone a couple times fully before needing to be plugged into the wall again. Whether, I'm on a plane or on a photoshoot, I can always rely on the Anker portable power bank to keep my phone at full power.

The second power bank is my Anker 20 000 mAh battery pack. This is a larger portable power bank which is heavier than the previous 5000 mAh Anker. But it also holds 4x as much more power. This power bank is your travel buddy and can charge your iPhone X a few times fully. This is perfect for road trips or long flights where you need to keep your music playing and your apps running for long periods of time.
Alternative:

Mophie Portable Battery Packs
---
5. Samsung T5 – Portable SSD External Hard Drive
1TB Samsung T5 SSD Hard Drive – Buy from Amazon

The Samsung T5 SSD external hard drive is something I've recommended many times in the past. It is part of my favorite MacBook Pro accessories for a reason and I love how compact it is. The advantage of an SSD drive over a regular hard drive is that it doesn't use a disk anymore. This means you can move the drive around freely without worrying about the disk inside being affected from movement outside. The SSD drive is also extremely quick and reduces the time needed for file transfers.
Getting an external hard drive was one of my best purchases. With an external drive, I don't have to worry about disk space on my laptop. I'm also not a fan of deleting old footage cause I have this mindset that I might need it one day. So I can easily buy more external hard drives instead of deleting files from filled disks. Nowadays, I recommend getting an external SSD hard drive and the Samsung portable SSD drives are amazing.
On my old MacBook Pro, I made the mistake of cheaping out on the internal hard drive and only got a 128GB SSD. I've learned my lesson and got the 512GB SSD on my new 2018 MacBook Pro. But even with the internal hard drive space, I still prefer having a good external hard drive to store my photos and video footage. I find it a lot easier to transfer files especially to friends and family that need it.
Alternative:

Seagate Slim Portable External Hard Drive

2TB Seagate Slim Hard Drive – Buy from Amazon

If you're on a budget, a good alternative would be the portable Seagate Slim external hard drive. This is a hard drive that I've used for over 2 years now and I bought the 2TB Seagate Slim which I carried around everywhere. I've had issues with Western Digital hard drives, but Seagate has held up so well and even with my Samsung SSD drive, I still carry around my Seagate as a backup.

Seagate Hard Drive Rubber Case Cover

Rubber Hard Drive Case – Buy from Amazon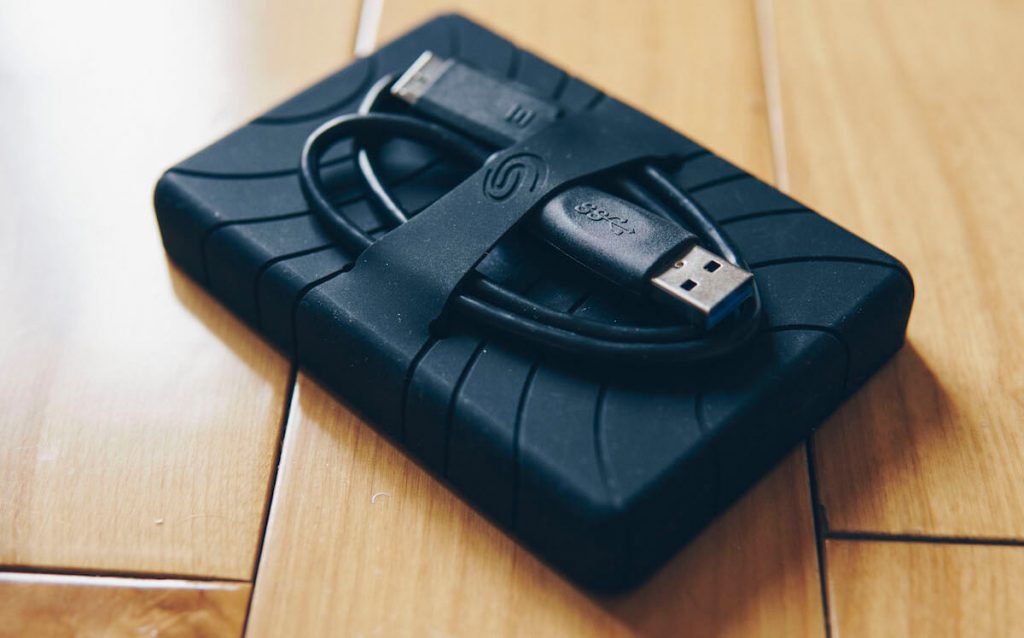 In addition to the hard drive, I wanted something that would protect the hard drive since I carried this in my bag while going to school and on my travels. I didn't want to fork the money on a Lacie hard drive, but I found this Seagate rubber case cover on Amazon and it fits well on the drive. The drive does exactly what I need it to do by protecting the outside of my external hard drive.
---
6. Aukey iPhone Lightning Cable for Charging
2-Pack Aukey Powerline+ Lightning Cables – Buy from Amazon

If you have an iPhone or any Apple product… You can probably agree that the original lightning cable they give you isn't the greatest… I've gone through several iPhone charging cables over the years.
I finally went on Amazon and found the Aukey lightning cables and it has worked great ever since. I rarely have these cables break on me and the Aukey customer service is always on point when it comes to cable replacements. Aukey doesn't only offer a better cable that doesn't tear apart. The cables are actually longer and offer more flexibility because of the threaded material.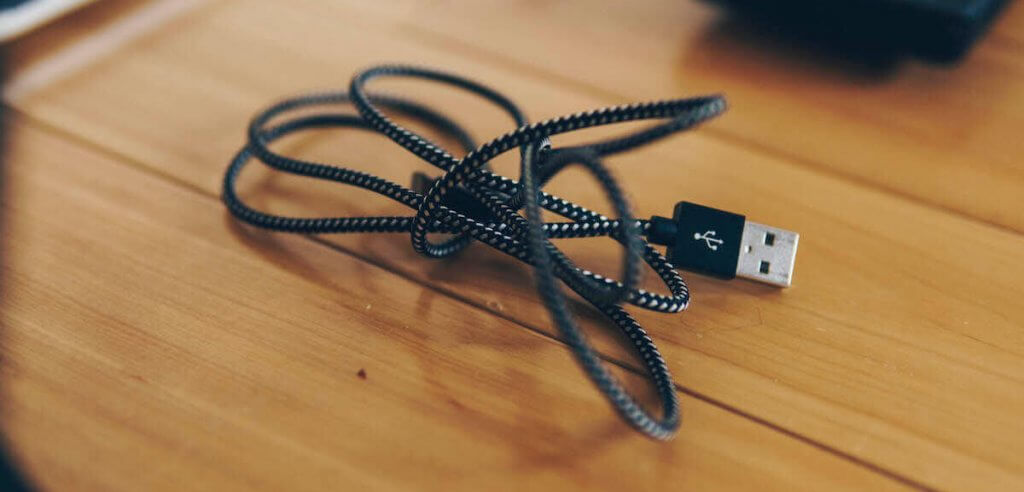 These Aukey cables come in a 2-pack and from Amazon, which may be pricey if you're looking at third party iPhone cable options. But, Aukey also offers a 2 year warranty. A quick email with pictures and a brief explanation will get you a new cable. You also get to choose from a variety of cord lengths to fit your preference.
---
7. Aukey 3-Port USB Wall Plug
Aukey USB Wall Plug – Buy from Amazon

Almost all of my portable tech gadgets plug into a USB port. Instead of carrying each individual USB brick for each product, I have the Aukey 3-Port USB wall plug. Aukey offers a variety of USB extension cords and wall plugs, but the one I use is compact and easy to carry around. It offers three ports, and I use it mainly to charge my iPhone, portable battery packs, and camera batteries. It's even part of my favorite Sony camera accessories.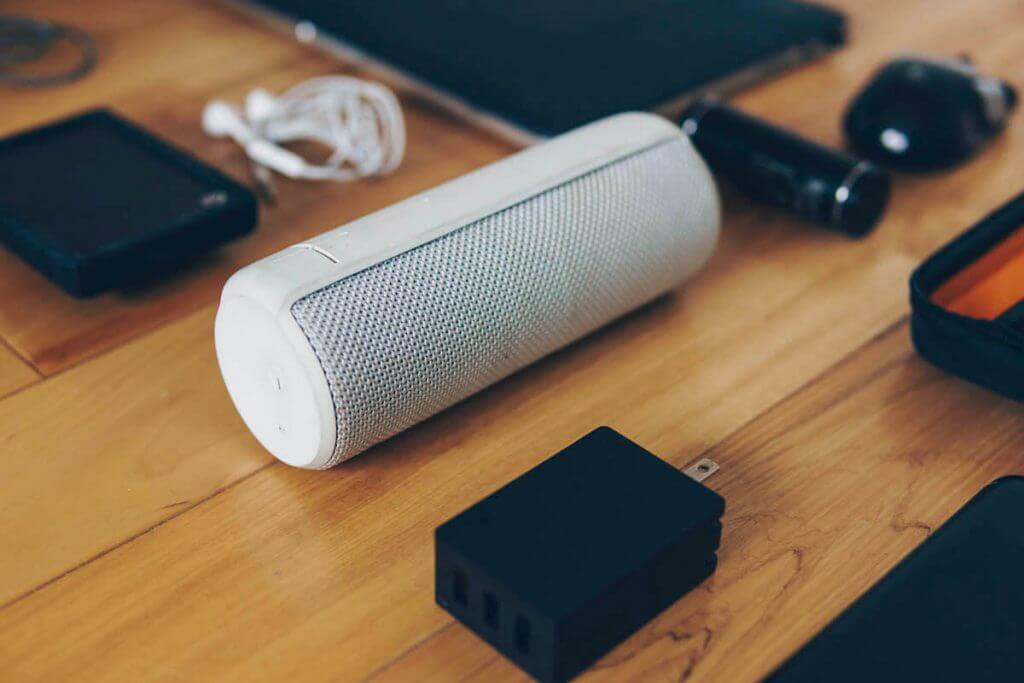 ---
8. AmazonBasics Universal Tech Travel Case
AmazonBasics Tech Hard Shell Case – Buy from Amazon
I just took a trip to Asia and this tech case I got from AmazonBasics was so useful. The tech case helped me keep my cables and chargers organized. This was so useful when I was moving from hostel to hostel around Japan. This inexpensive tech accessory organizer is well-built and is the perfect size for everyday travel. While it helps keep my tech gadgets organized, it also looks great and helps protect my electronics with its hard-case build. It fits into my tech bag perfectly and I can throw it into my rolling luggage without any worry.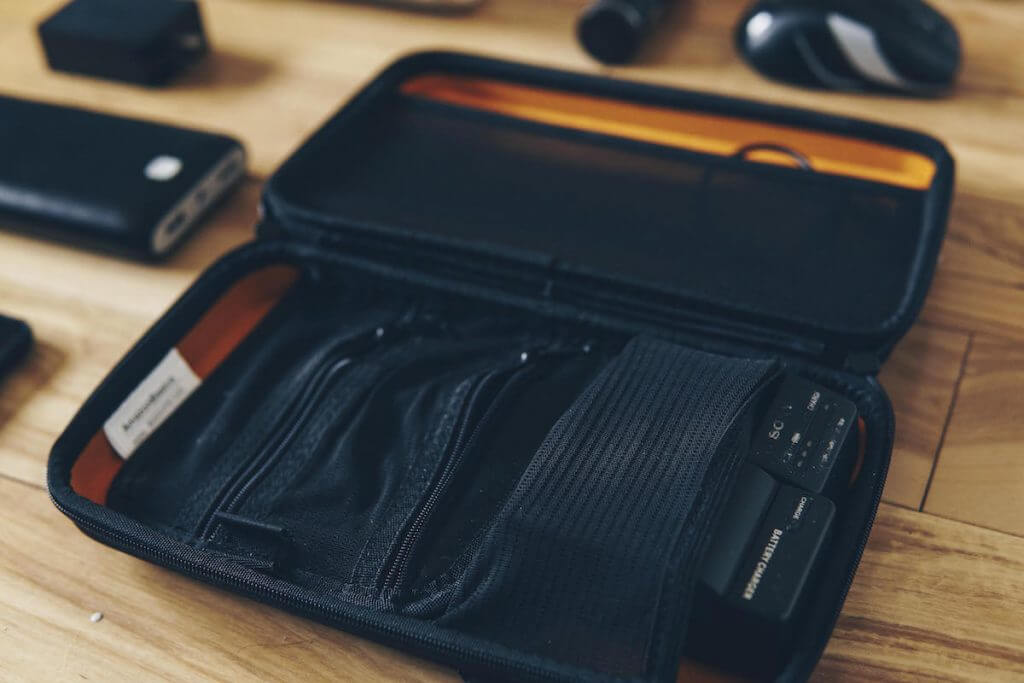 ---
9. UE Boom Portable Bluetooth Speaker
UE Boom Bluetooth Speaker – Buy from Amazon
I'm a big music lover and I absolutely love this portable Bluetooth speaker. The Ultimate Ears speaker is easy to carry around, looks great, and the sound quality is phenomenal. This is the first generation of the UE boom and I've had it for over 3 years now. I bring this thing everywhere with me and it's perfect for hotel stays. Very compact and it's easy to pack in with your other tech essentials. I love how durable it is and although it's not waterproof, it continues to work after taking some water. After a full charge, you can use the Bluetooth speaker for hours before needing to fully charge it again.

Alternatives:

Bose SoundLink Revolve+ Portable Bluetooth Speaker

Bose SoundLink Revolve+ 360 Bluetooth Speaker – Buy from Amazon

I've heard nothing but good things about the Bose SoundLinks and they seem like a quality speaker. Back when I bought my UE Boom, the Bose SoundLink didn't seem as durable and weather proofed as the UE boom. But Bose has now released waterproof versions that are worth considering. The only issue is that the Bose speakers are priced significantly higher than the UE Boom. If you have a Bose, I want to hear your thoughts on it in the comment section!
---
10. Apple Airpods
Airpods – Buy from Amazon

The Airpods have honestly been my favorite purchase this year. For earphones, I've always used the standard Apple earphones that came with the iPhone. However, the Airpods have honestly been a game changer for me. They're on me during all of my daily activities. I use them for the gym, office work, on the bus, and runs outside.
You can pay and get earphones or headphones that provide better sound quality, but I love how convenient the Apple Airpods are. They integrate well with my iPhone X and they don't feel like they're even on my ears because of how minimal they are. I love the charging case that Apple provides and I have not found any issues when it comes to battery life with them. The Airpods are for sure my favorite iPhone X accessory.
Alternative:

Bose QuietComfort 35 (Series II) On-Ear Headphones

Bose QC35 Wireless Headphones – Buy from Amazon

You might be a fan of headphones for your tech bag essentials, but I'm personally not a big headphone user. If you're looking for the right headphones, I would recommend checking out a list of the best travel headphones.

My next pair of headphones will most likely be the Bose QuietComfort 20 In-Ear headphones though. They don't seem too bulky and from the in-store tests, the sound is incredible. These are noise-cancelling which makes it perfect for longer travels and plane rides.
---
11. Herschel Backpack
Herschel Classic Black Backpack – Buy from Amazon
You might be wondering what bag I carry most of these tech gadget essentials in. The Herschel backpack is my go-to tech bag and it has served me very well for almost 5 years and still looks great. The one I have has a black exterior with a reflective strip on the bottom zipper. The inside has red and white stripes with a suede side for the laptop sleeve. This feels very nice when sliding the laptop in and out of the bag. I like having a compact and stylish tech bag, so this is the best camera bag for me to store my Sony camera body and lenses without any fear.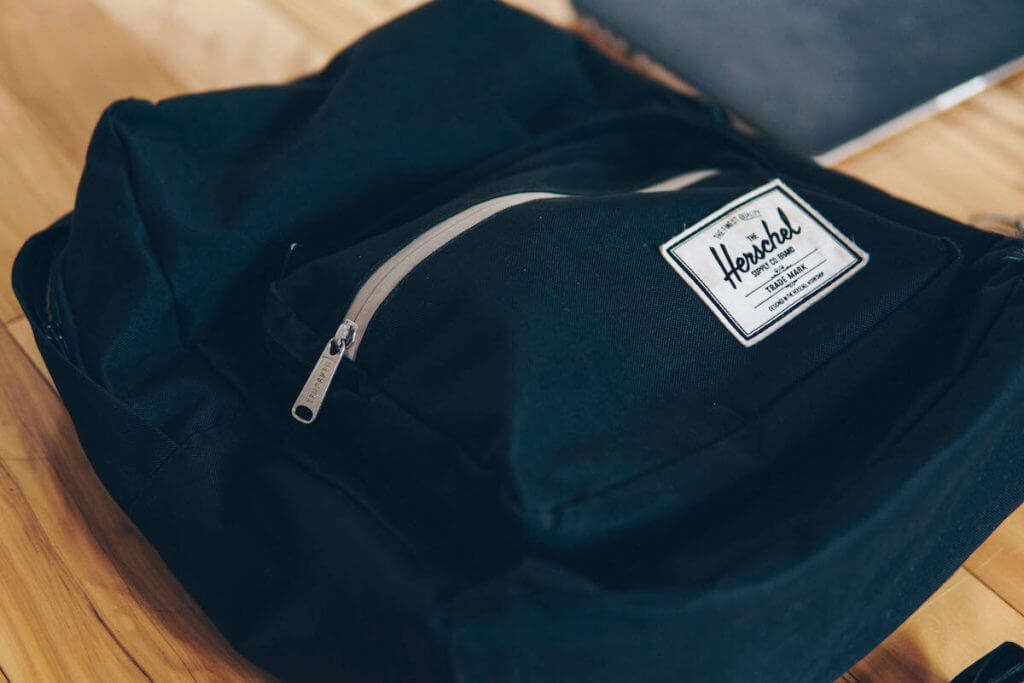 Although the backpack looks small, it actually carries quite a bit. You have a laptop sleeve that fits my 15 inch laptop and I have a huge pocket to fill up with either books, hard drives, tech gear, camera gear, and much more. You also have the front pocket to store your wallet, charging cables, or battery packs.
The Herschel bag is the best looking backpack that I've owned… hands down. This is a very popular backpack brand when I was in college – I can now see why.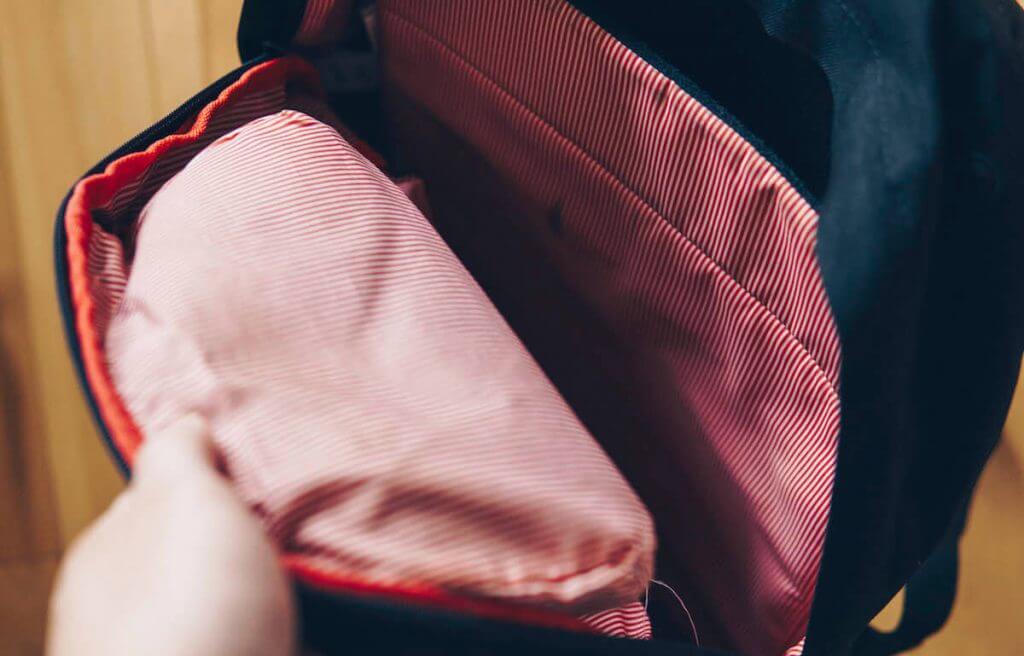 ---
Final Thoughts
What's in my tech bag might not necessarily be in your budget, but these are items that are well worth the price. I can vouch for this gear and each piece of tech that I've mentioned has helped me over the years. There are a ton of alternatives out there on the market, but I always like to look at reviews and see what other people recommend before buying.
I've upgraded and added quite a few new tech essentials from the last time I made a personal essentials post. As I go through new phases of my life, I'm sure these tech essentials will change. My tech bag from college and my tech bag from working full-time remotely are already significantly different. Now I can already see things changing in my everyday workflow. I'll try to keep you guys updated with what's in my tech bag, but for now I would love to hear what you all carry!
Did I miss something? Comment below some tech bag essentials that I should include for my 2020 travel kit and tech bag carry. Let me know if I should consider any alternatives for my current tech essentials!
Gridfiti is supported by its audience – when you buy something using the retail links in our posts, we may earn a small commission at no additional cost to you. We only recommend products we would use ourselves and recommend to our friends and family. Read more about our affiliate disclaimer.