There are many advantages to having a table top tripod with you when you're on the road. These tripods are compact and provide great stabilization for your photos and videos.
Most people associate table top tripods to YouTubers as part of their vlogging essentials, but there's more value to the tripod than just vlogs.
There are a couple well known mini tripods, but I've compiled a list of the best table top tripods that best suit your personal photography or filmmaking needs!
Factors That Make the Best Table Top Tripod
Before we get started, there are certain things we should consider before looking at the best table top tripods. When looking for the perfect mini tripod, you want to make sure that you're considering the following factors:
Lightweight – the tripod should be as light as possible without sacrificing build quality and camera support. My recommendation would be to choose a carbon fiber tripod for the lightest carry.
Portability – the table top tripod should be lightweight, but should also have a shorter folded length. You want to be able to carry your table top tripod everywhere with you and it should be something easy to pack in your camera bag.
Weight Support – It's important to consider how portable and lightweight the tripod is, but the most important factor you should consider for yourself is the weight support. What is your camera setup like? If you mainly carry around a large camera body with a large lens, you may want to consider a larger table top tripod. If you have a point and shoot camera, a small mini tripod would be best for your needs.
Ball Head Compatibility – Last, but not least is the ball head compatibility of your tripod. Some of the mini tripods that I mention include a ball head, but it's important to read up and see which ball head fits your needs. Certain ball heads offer more panning flexibility or the ability to switch your camera from landscape to portrait. These are factors you should consider when looking for the best table top tripod and or ball head.
1. Manfrotto Pixi Evo Mini Tripod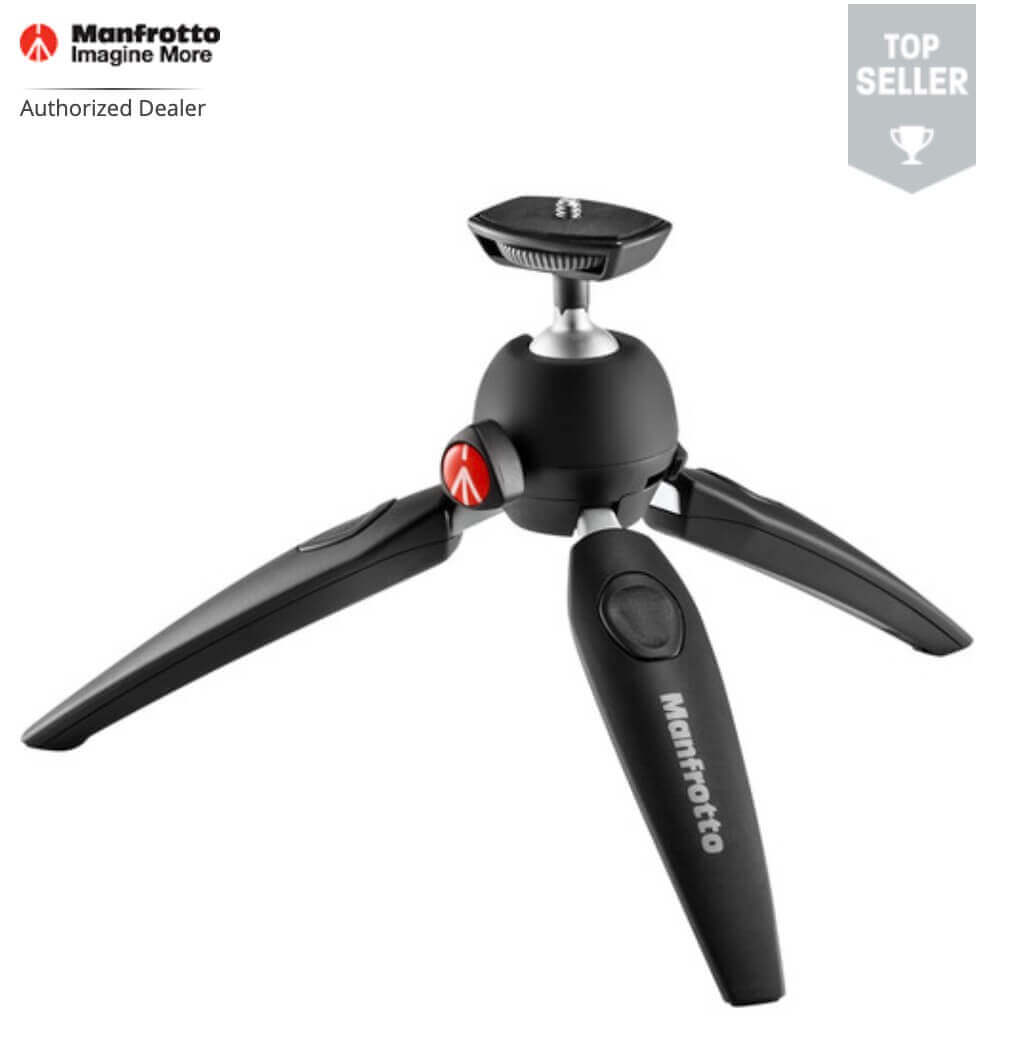 Purchase from Amazon / B&H Photo & Video
The Manfrotto is my favorite mini tripod and is in my opinion the best table top tripod on the market. If you know anything about photography brands, you know that Manfrotto makes some of the best tripods in general and this compact tripod is no different. They have a couple versions of the Manfrotto Pixi, but I like the Evo 2 because it allows you to adjust the size of the legs – for times where I just want a bit more height.
The mini tripod is overall well-built and I love how quick it is to setup. I can throw it in my camera bag without having to worry about space and I can prop my Sony DSLR on the tripod without having to worry about it tipping over. For the price point, I highly recommend this one or it's smaller counterpart if you have a smaller camera setup.
2. Joby Professional GorillaPod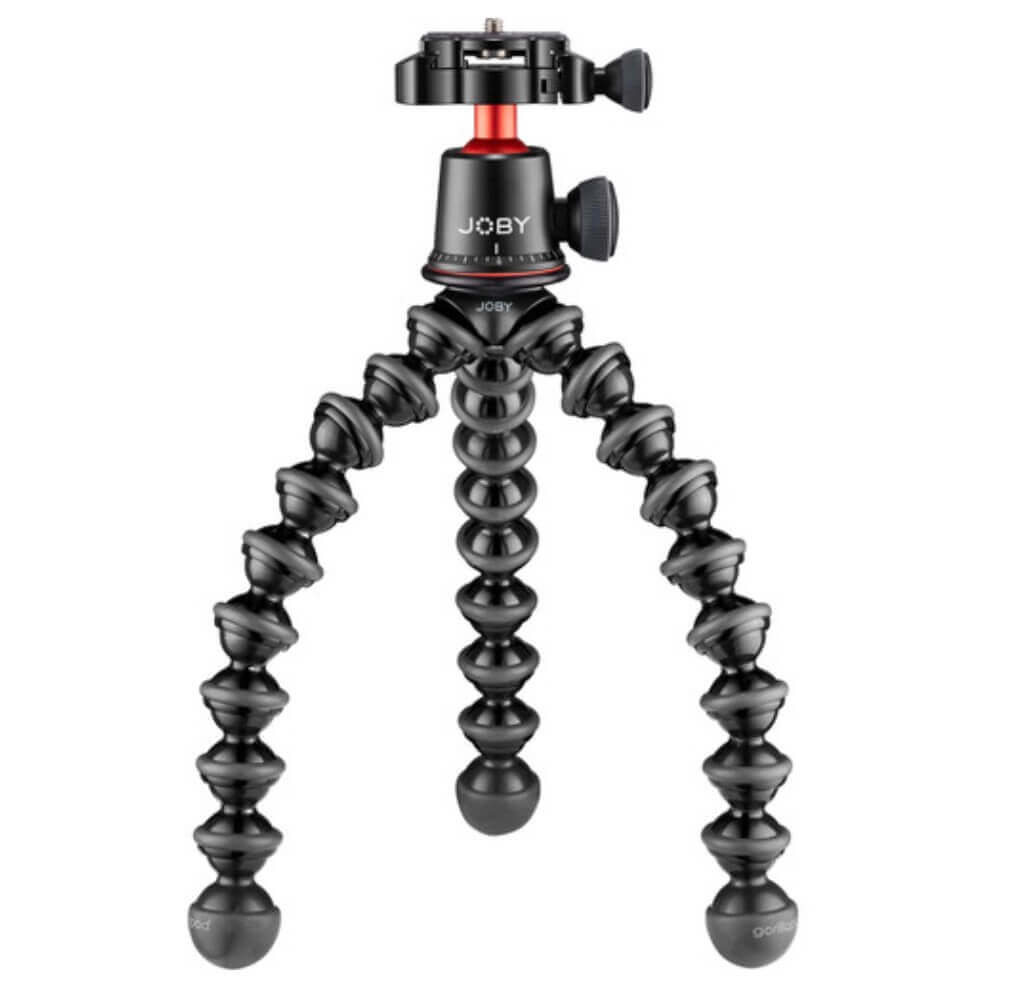 Purchase from Amazon / B&H Photo & Video
If you've been on YouTube, you've definitely seen these Joby GorillaPods everywhere. I have such a love hate relationship with the Joby table top tripods because they are great in certain situations, but they can also be a huge pain in certain situations.
The Joby gives you the ability to adjust the legs drastically and this makes it harder to setup in scenarios where you're trying to get the perfectly center and straight photo or video. However, the flexibility is great for vloggers because you can quickly grab the legs and carry your camera around.
The GorillaPod is a great run and gun mini tripod, but if you're looking for something more structured, I would recommend a different table top tripod.
3. FEISOL TT-15 Mark 2 Mini Carbon Fiber Table Top Tripod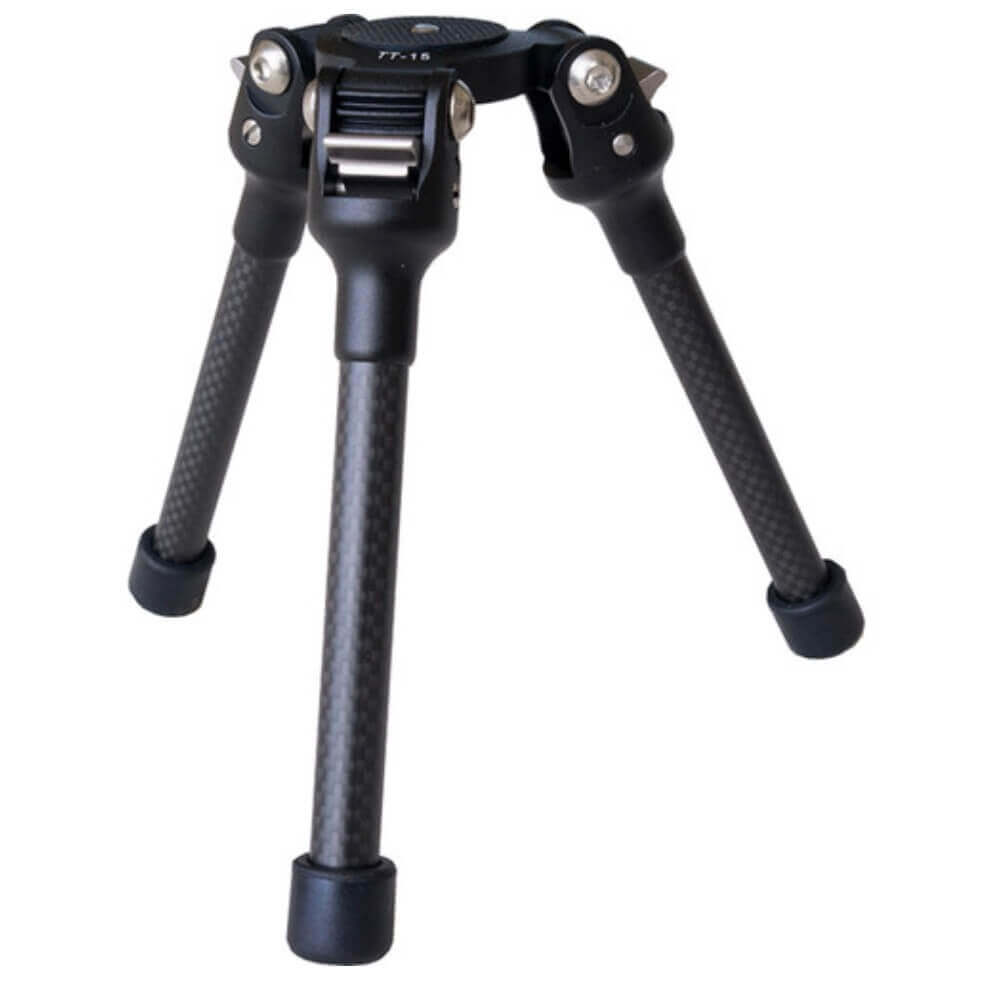 Purchase from Amazon / B&H Photo & Video
Carbon fiber tripods are personally my favorite. Although they cost more than other tripods, the benefits outweigh the cost. With a carbon fiber table top tripod you're getting a much lighter setup with a reliable and sturdy build. The Feisol has a load capacity of 17.6 pounds and a folded length of 6.3 inches.
Users typically attach a ball head onto this table top tripod for the perfect all around setup. At only 6.4 ounces, this is potentially the most lightweight setup with the most reliability and carrying power. I would highly recommend this setup for any photographer or videographer looking for the best table top tripod!
4. Really Right Stuff Pocket Tripod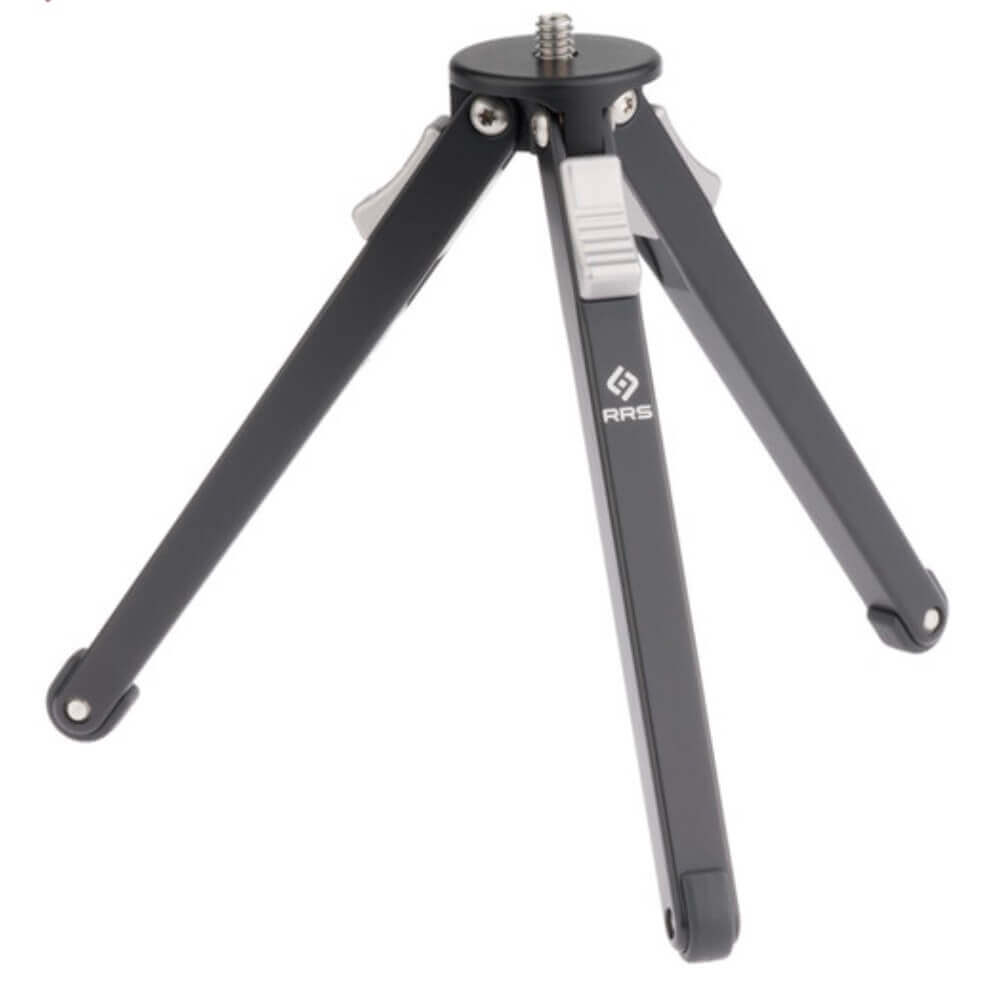 Purchase from B&H Photo & Video
Moving on to a less popular mini tripod, we have the Really Right Stuff pocket tripod. With 6 inch legs and weighing only 15 ounces, this little tripod can hold up to 15 pounds worth of camera gear. This is super impressive considering a pro DSLR camera setup should weigh less than 6 pounds.
The specs say that the pocket tripod is great for travel and macro photography. If you're interested in this tripod, you should buy the ball head with it and users have recommended that you use a smaller lens since a longer lens could cause for the tripod to tip over.
5. Pedco UltraPod II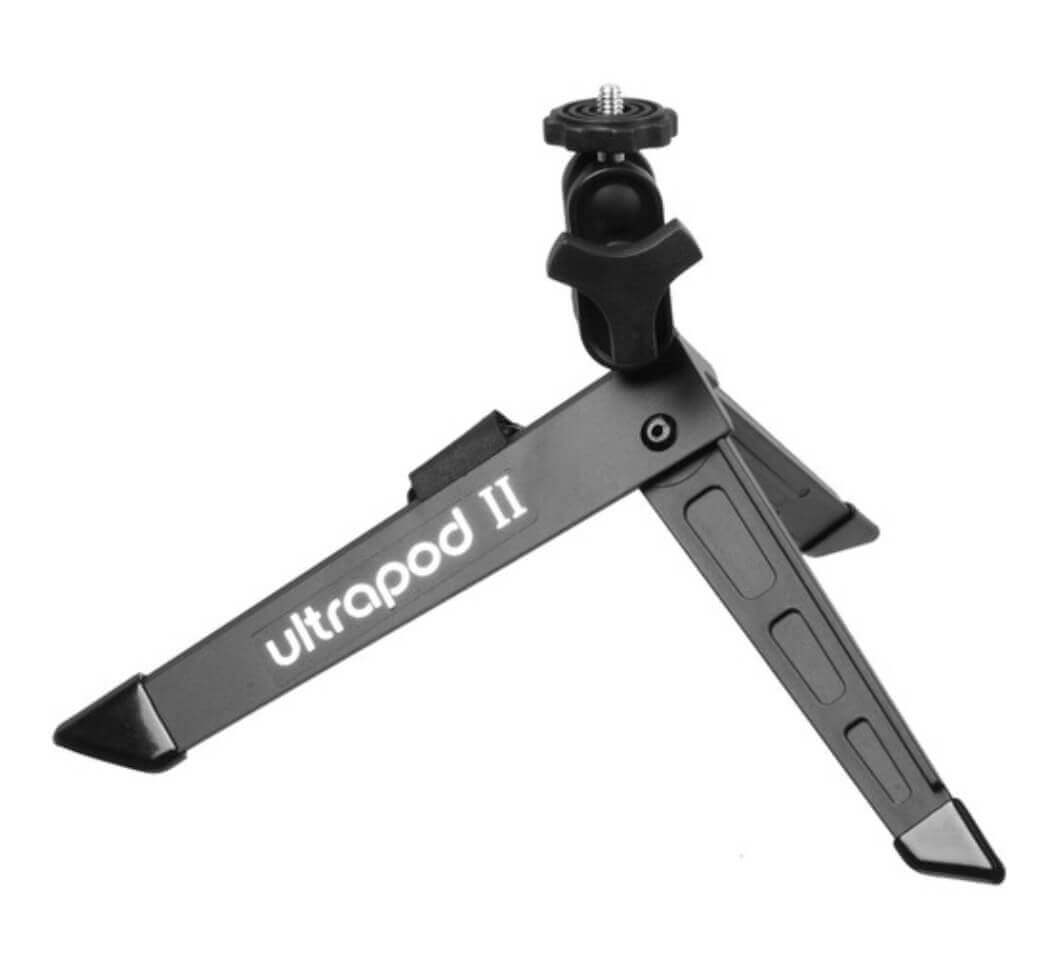 Purchase from Amazon / B&H Photo & Video
A cheaper table top tripod alternative would be the Pedco UltraPod II. It doesn't have as much flexibility or features compared to the other mini tripods on the market, but it's simple, sturdy, and very compact.
This table top tripod by Pedco is not meant for larger DSLR cameras, but more for smaller point and shoot camera systems. I would recommend the Pedco for those that are vlogging on cameras like the Canon G7X or Sony RX100. It is a table top tripod that would could just leave on the camera body and use as an extra support system for self vlogging.
6. Vanguard VS-82 2-Section Table-Top Tripod with 2-Way Pan Head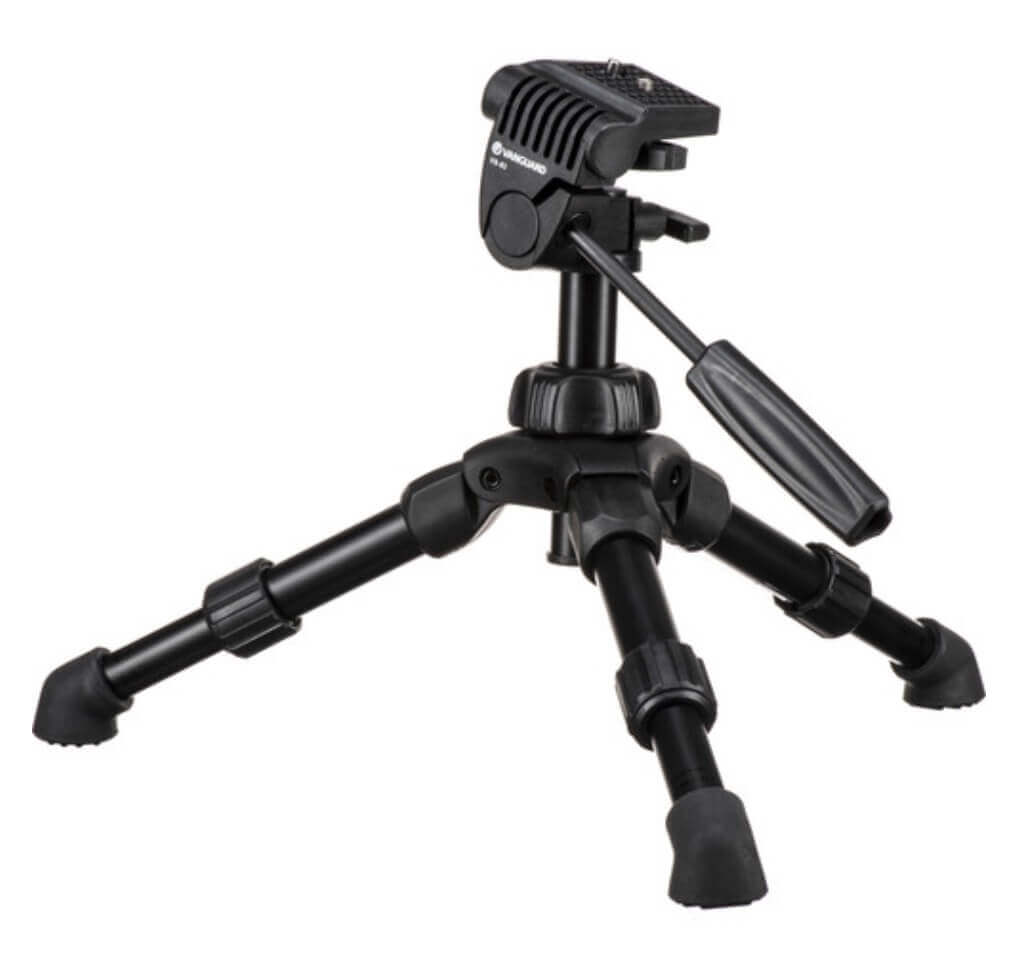 Purchase from Amazon / B&H Photo & Video
The Vanguard table top tripod is another cheap alternative which actually offers some great features for its price. The biggest feature is the 360 degrees panning which is great for filmmakers, but also the ability to adjust the height of the legs. With the Vanguard tripod, you can achieve a max height of 9.8 inches.
Similar to the Pedco tripod, you won't be able to support larger camera setups since the maximum weight would be 5.5 pounds. But, if you are using a point and shoot camera for photos or videos, this would be a very viable option for your needs!
7. CAME-TV Q166A Mini Aluminum Tripod with Ball Head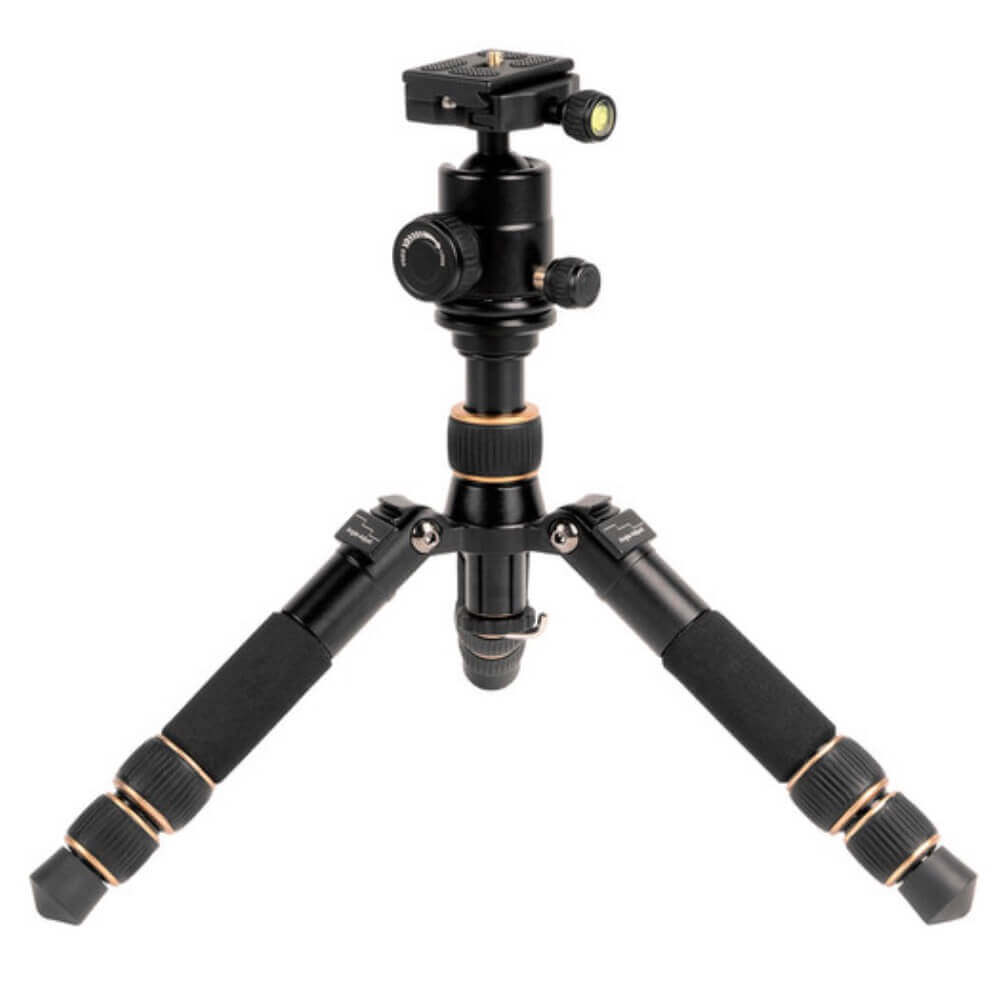 Purchase from Amazon / B&H Photo & Video
I would call the CAME-TV tripod more of a hybrid tripod instead of a table top tripod. It's the perfect in between of a regular tripod and a regular table top tripod. It offers features that you would see in a regular sized high-end tripod, but it's compact enough to be a table top tripod. For the price, I think it's super fair and you can prop your high-end DSLR on this tripod and not have to worry about it falling over or failing.
The CAME-TV table top tripod can hold up to 11 pounds worth of camera gear, while having a folded length of 7.9 inches which is still compact enough to throw in any camera bag. What's impressive is that it has a max height of 21.8 inches, which is unheard of in a table top tripod.
8. Sirui 3T-35K Plus Tripod with C-10S Ball Head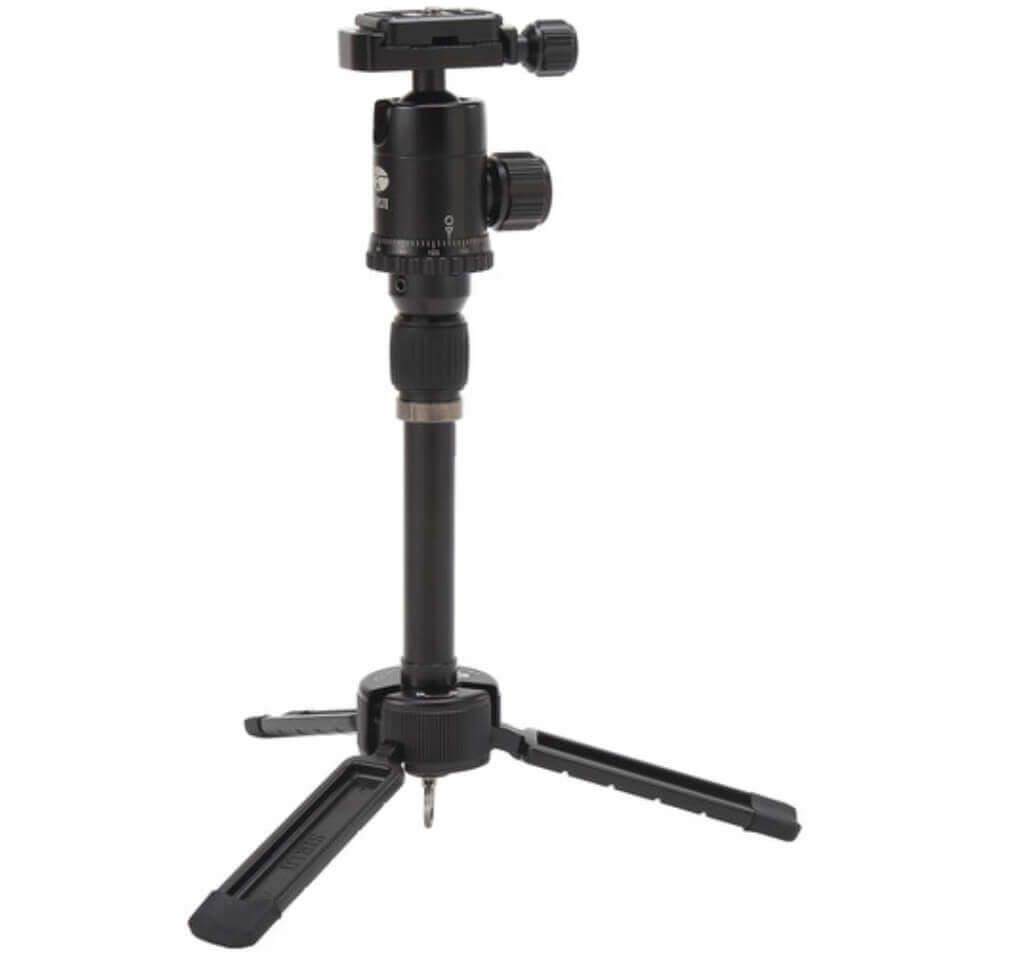 Purchase from Amazon / B&H Photo & Video
The Sirui is a unique tripod because it's more like a table top monopod than an actual mini tripod. It has a sturdy leg that props the camera up and has the smaller legs that are placed at the bottom to keep the camera upright. In my opinion, this mini monopod would be best for video to help hold the camera in place, but I wouldn't trust this tripod as much for long periods by itself especially in outdoor conditions.
From reading reviews, it seems like the Sirui can hold larger body cameras, but at maximum height in certain conditions like a windy environment – you may be at risk of your camera tipping over.
9. Oben CTT-1000 Carbon Fiber Tabletop Tripod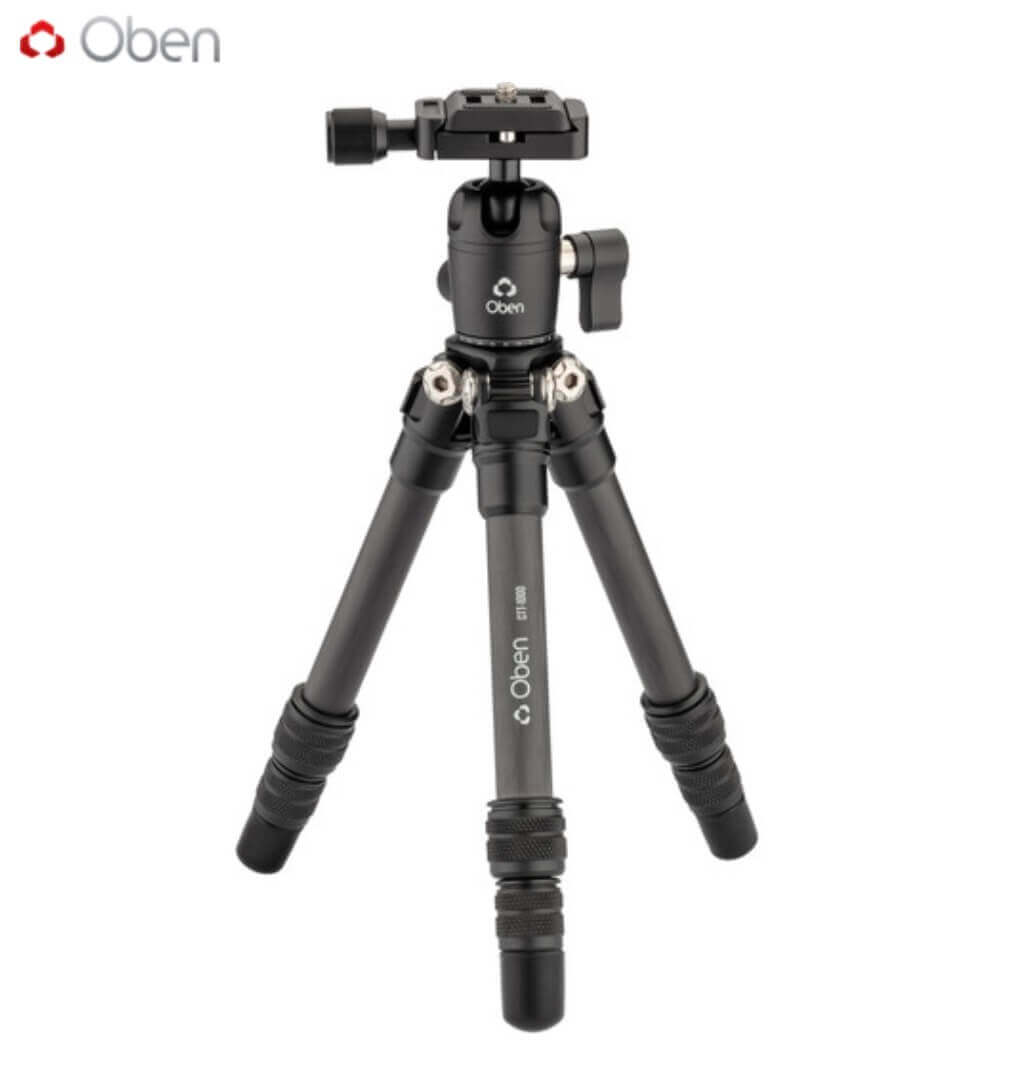 Purchase from B&H Photo & Video
The Oben CTT-1000 is actually similar to the CAME-TV tripod because of its hybrid nature. It works as a table top tripod, but also as a medium sized tripod with the extended legs. The big plus for me is that it is made from carbon fiber instead of aluminum so it is a lot more lightweight. Although it is on the pricer end of mini tripods, I think this is a great investment and will be something you can use in most situations.
The full tripod weighs under 1 pound which is impressive and the Oben can hold up to 11 pounds of weight and has a maximum extended length of 15.5 inches.
Gridfiti is supported by its audience – when you buy something using the retail links in our posts, we may earn a small commission at no additional cost to you. We only recommend products we would use ourselves and recommend to our friends and family. Read more about our affiliate disclaimer.