Tabletop tripods have become to go-to for anyone from vloggers to run-and-gun creators. The sturdy yet compact build of these tripods provides great stabilization, all in a nice compact package.
Tabletop and handheld tripods are often associated with YouTubers and podcasters – and we're here to share the best for not only these use cases, but the several others that command the utility and flexibility of these tripods.

Before we dive into our picks for the best tabletop tripods, let's break down the few factors you want to consider when choosing one:
Want more tips on camera gear for your setup? Join our mailing list to get the latest straight to your inbox 📮
Header images by @maurosfilms and @cewejapanphoto – make sure to check out their work!
Flexible Vlogging Tripod
We're just gonna come out and say it: the king of form-mounting, gripping tripods has to be JOBY's GorillaPod line. Featuring a flexible stand made up of wrappable legs that can allow you to mount anything from a smartphone, to a full-on DSLR, to virtually any surface – the GorillaPods are also known as the go-to tripod for vlogging, used by the likes of Casey Neistat and Peter McKinnon. The GorillaPod line ranges in size from the 1K to 3K to 5K, depending on your camera and lens weight.
Alternatively, the Fotopro Flexible Tripod is another popular pick for its comfortable hold. Even the vlogging queen herself, Emma Chamberlain, uses it on the daily!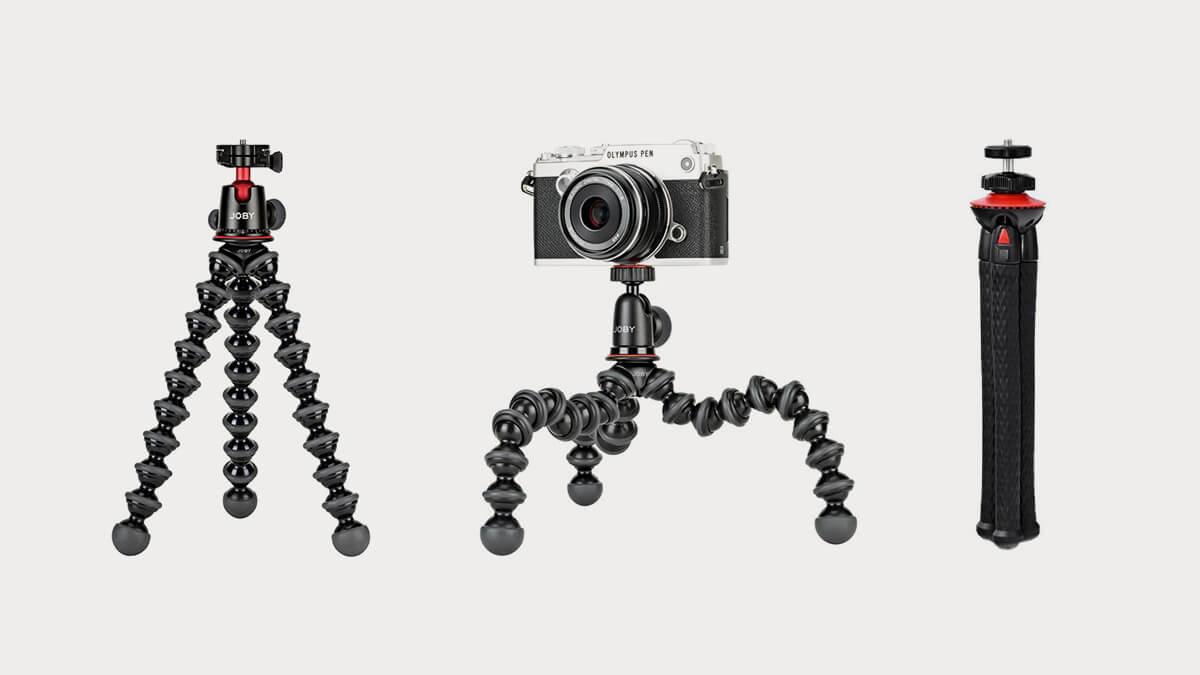 Tabletop Tripods with Ball Heads
Vlogging? Cooking? Podcasting? Anything in between? Tabletop tripods are already quite small, but the models with ball heads add the same versatility that you'd find in normal tripods. Sporting 360º swivel movement, bubble levels to help you align properly, and robust build quality – these ball heads that we all know and love make for some Jack-of-all-trades table tripods.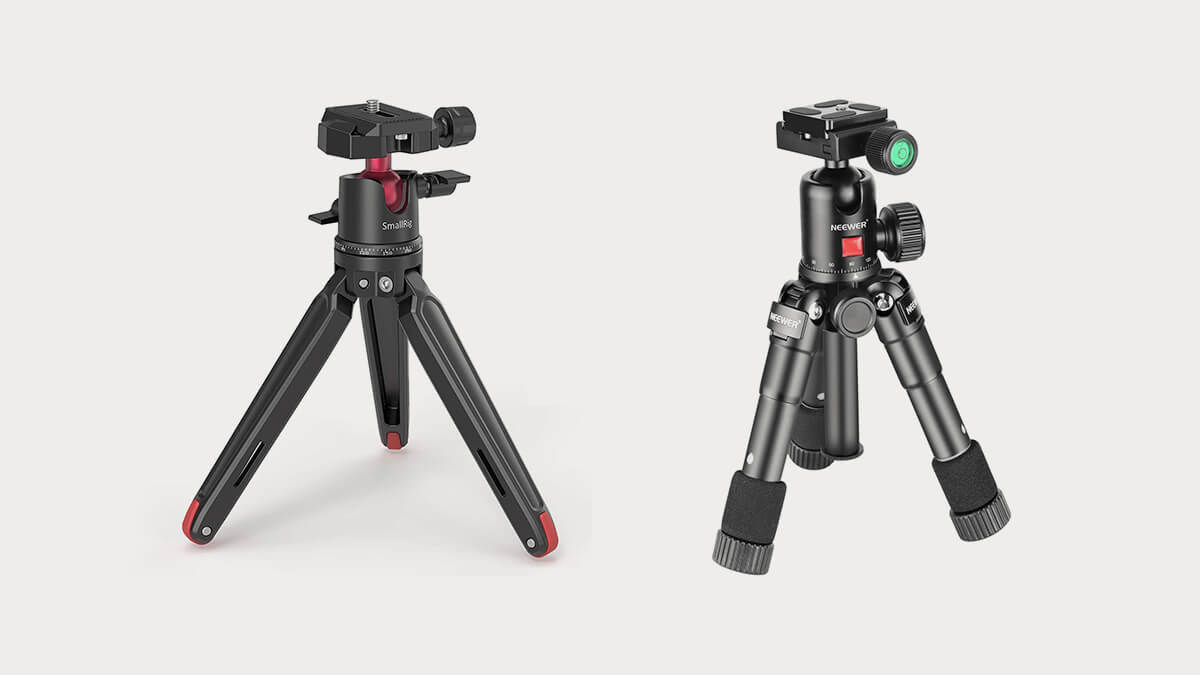 Lightweight Tabletop Tripods
Lightweight tabletop tripods add weight-saving, yet durable materials to the mix. The most popular form factors you'll see is these tripods made with carbon fiber legs. Carbon fiber's special composite and weaving allow for these tripods to hold upwards of 10-15 lbs in gear – perfect for even a heftier DSLR setup. As these tripods are made of premium materials, you'll often find that they come with ball heads and leg extendability. Check out our picks for lightweight tabletop tripods: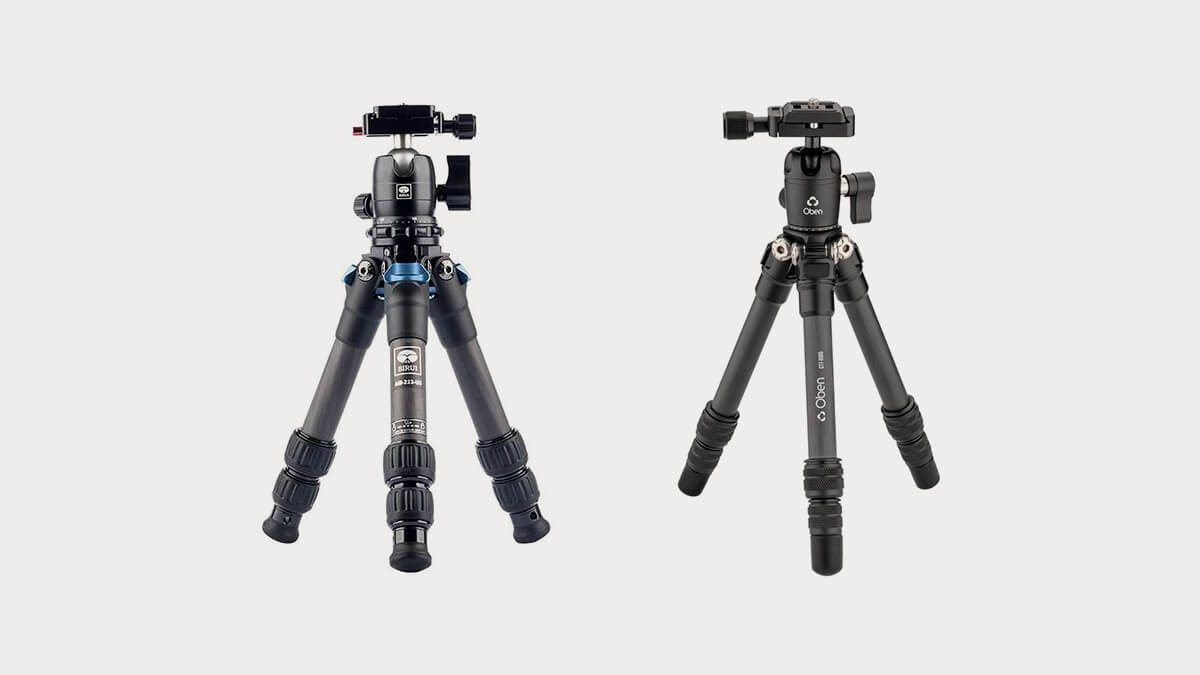 Pocket Tabletop Tripod
Pocket tripods bring convenience and ultra compact design into the mix. Designed to operate in the most minimal of settings, pocket tripods usually have legs that range from 15-20cm in length, and are designed to be set up quickly on any surface. Beyond serving as a simple static tripod, within seconds you can fold it up to become a handheld vlogging stand for on the go!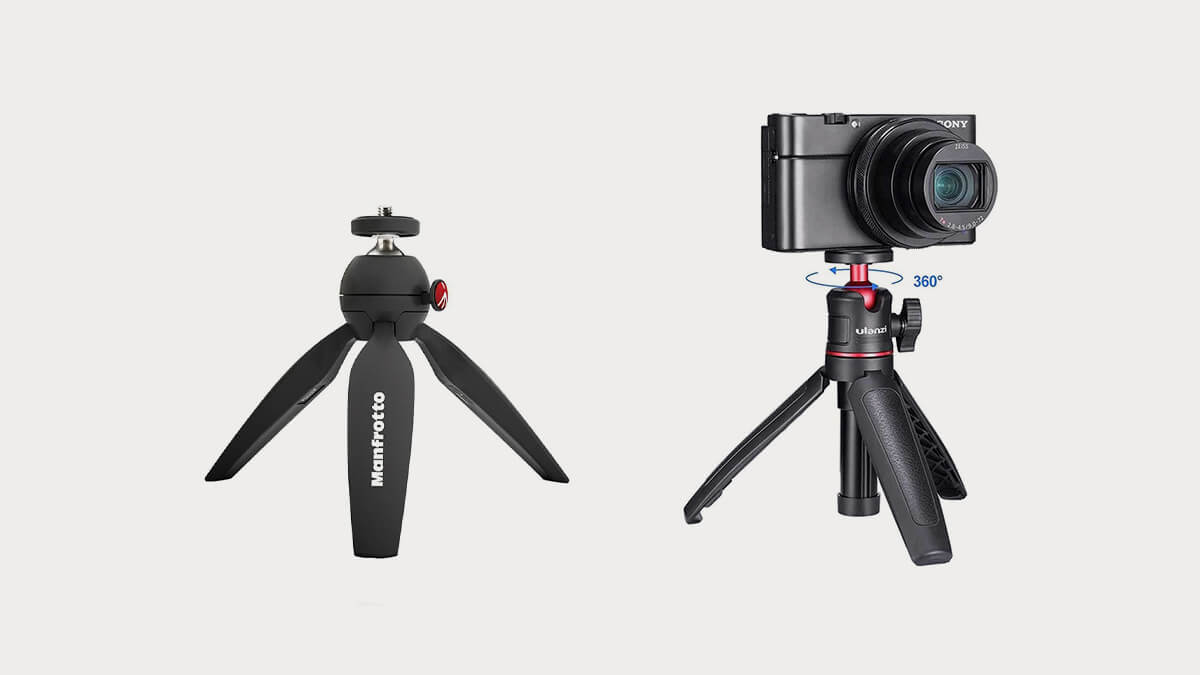 Smartphone Tabletop Tripod
Last but not least, so many vloggers and creators nowadays begin their journeys on a smartphone setup, and really benefit from a compact tabletop tripod built for their phones. These tripods are built with universal mounts that open up to hold virtually any smartphone, and have features such as ring lights, and even remotes to trigger your shutter for photo or video!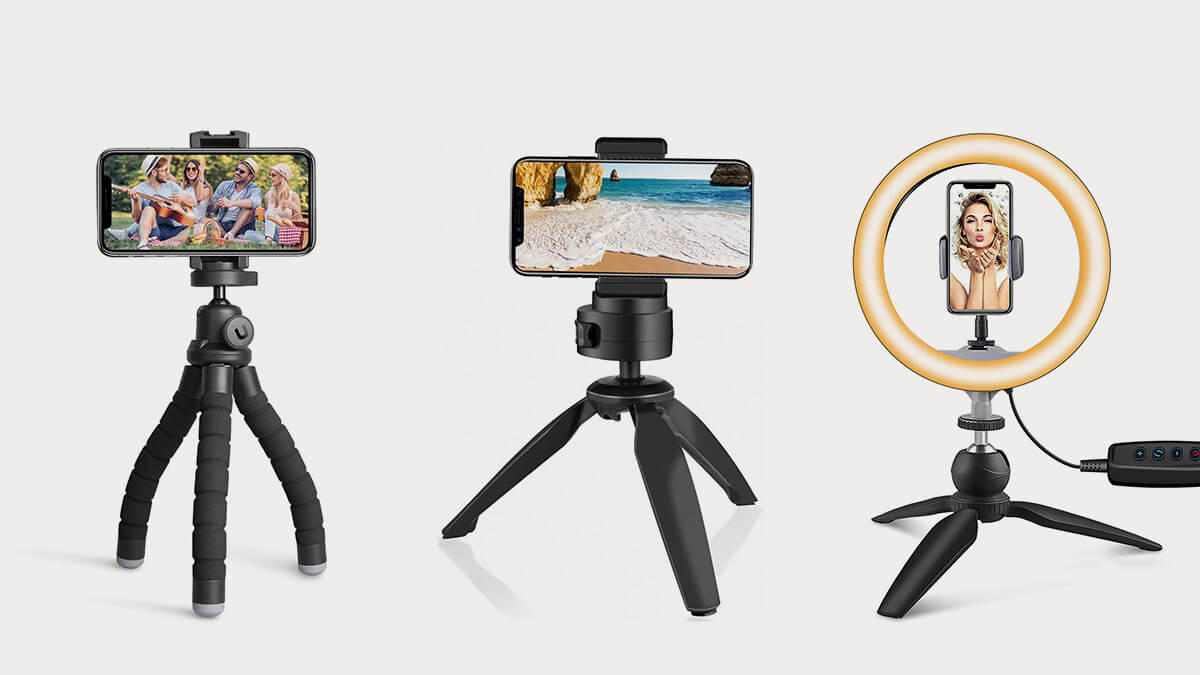 Which one of these tabletop tripods suit your setup best? Are there any that we're missing? Let us know in the comments below, and follow us for more gear tips on Instagram @gridfiti!
Gridfiti is supported by its audience – when you buy something using the retail links in our posts, we may earn a small commission at no additional cost to you. We only recommend products we would use ourselves and recommend to our friends and family. Read more about our affiliate disclaimer.