If you follow YouTube at all, you probably know who Casey Neistat is. Casey Neistat is the vlogging king and his emergence within the last decade has inspired filmmakers worldwide to pick up a camera and showcase their everyday life. What's notable about Mr. Neistat is that he's an incredible storyteller and every shot he films is incredibly well thought out.
After watching Casey's videos, you might be wondering, "how does Casey film all of this by himself? What camera equipment does Casey Neistat use? What is his Casey's vlogging setup like?"
I used to ask all these questions and I started to do my research. I've come up with a detailed list of Casey Neistat's camera gear and the vlog equipment he used to help him garner over 11 million subscribers!
Who is Casey Neistat?
Casey Neistat is a YouTuber with over 11.5 million subscribers and over 1000 videos on YouTube. Casey creates short films on YouTube, along with vlogs about his daily life, family, business, and leisure. For the majority of Casey's videos, he shot them in NYC where his main office resided, but has recently moved to LA in 2019 and we are all awaiting his new LA studio tour.
A common question that is typically asked by Casey's viewers: How much is Casey Neistat's net worth? Although, no one really knows (or should know), Casey has done well for himself over the years. With the following he has built on YouTube and an acquisition by CNN for a company (Beme) that Casey co-founded, we can assume that Casey is in no immediate financial trouble.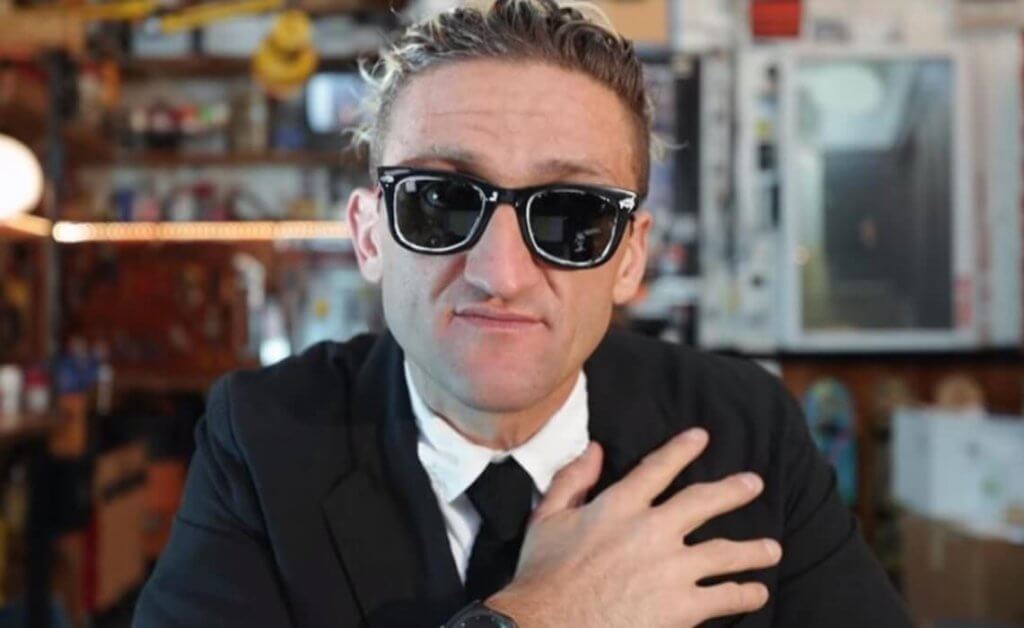 What Camera Does Casey Neistat Use?
Casey Neistat uses a Canon 80D for his vlog camera the majority of the time. If you watch Casey's videos, you know that he runs through gear fairly quickly and changes vlog equipment pretty often. But as an avid viewer, Casey started off using a Canon 70D for the longest time and switched over to the Canon 80D when Canon released the updated version.
Canon 80D DSLR Camera
The Canon 80D is a great camera and is a vlogging essential for anyone looking to get into YouTube. It has a flip out screen that allows you to see yourself while recording, but also gives you all the necessary filming capabilities to create a high quality video log.
Most of Casey's older vlogs are filmed on the Canon 70D, but his more recent videos are filmed on the Canon 80D after the update.
Canon EOS 6D Mark II
The Canon 6D Mark II is more advanced compared to the 80D and is a full frame camera. The 6D Mark II has a higher price point and uses full frame lenses instead of cropped lenses which the 80D uses so overall much more expensive.
The Canon 6D is a camera I would recommend for more advanced vloggers or someone who is looking for a great photography camera.
Canon 1DX Mark II
The Canon 1DX Mark II is pretty overkill for basic vlogging. This Canon camera is a top-of-the-line camera meant for advanced filmmakers or advanced photographers.
Casey Neistat would use this camera for any major projects that he is working on since this isn't the most practical camera body to be lugging around and using for basic video.
Sony RX100 IV Point and Shoot Camera
The Sony RX100 is the perfect beginner point-and-shoot vlog camera. It is very compact and isn't very intrusive so you can film in most places without having to worry about "no professional camera" policies.
The Sony camera or the Canon G7X are seen in most daily vloggers since it is so compact and easy to carry around.
What Camera Lenses Does Casey Neistat Carry?
The lenses that Casey Neistat uses are wide-angle zoom lenses. Two lenses in particular which are used for different camera bodies.
Casey Neistat carries the Canon EF-S 10-18mm lens which is used on the Canon 80D and 70D, but he also carries around the more expensive Canon 16-35mm Mark II for his Canon 6D and Canon 1DX full-frame camera bodies.
Canon EF 16-35mm f/2.8L II USM Zoom Lens
The Canon 16-35mm would be used on Casey's full frame cameras (Canon 6D Mark II and the Canon 1DX). This is an expensive camera setup which is typically meant for more advanced filmmakers and photographers, but it provides incredibly crisp footage.
Canon EF-S 10-18mm f/4.5-5.6 IS STM Lens
The Canon EF-S 10-18mm would be Casey Neistat's lens for the Canon 80D setup. This is also a great wide angle lens and the zoom would give more flexibility for vlogging. It's also much more affordable compared to the Canon 16-35mm.
Casey Neistat's Camera Audio Setup
Audio is such an overlooked aspect when creating YouTube videos, but it is one of the most important pieces of equipment. Casey is constantly on the move and in cities like New York where there is always background sound.
To achieve the best audio, Casey Neistat uses a Rode VideoMic Pro+ which attaches to the top of his Canon cameras. The direction Rode mic allows for Casey to speak clearly in his vlogs without any other loud distractions.
Rode VideoMic Pro+
Casey Neistat's Drone Setup
If you've watched a Casey Neistat video, you know that he goes above and beyond to get creative shots for his videos. Drone footage is a big part of Casey's vlogs and he uses them for B-roll and typically for his vlog intro and sometimes vlog outro.
A couple drones that Casey includes in his vlog setup are the DJI Mavic Pro 2 and the DJI Mavic Air.
DJI Mavic Pro 2 Drone
The DJI Mavic Pro 2 is a beast of a drone and the quality produced from the Hasselblad camera is amazing. It is a great drone to get high quality footage for your vlog, but it isn't as compact as the DJI Mavic Air and also costs a bit more.
DJI Mavic Air Drone
If you're looking for a more affordable compact drone, I would recommend going with the DJI Mavic Air. It is lightweight, easy to setup and provides great HD footage with 4k capabilities. If you're getting the Mavic Air, I would recommend also adding a couple batteries so that you're able to fly for longer than 20-30 minutes.
Casey Neistat's Camera Accessories
Having the best table top tripod is essential for any YouTuber or vlogger. Casey always has a table top tripod attached to his vlog setup and the one he uses and heavily endorses is the Joby GorillaPod.
There are several versions of the Joby GorillaPod, but Casey Neistat uses the GorillaPod 5k tripod to hold up his heavy gear.
Joby GorillaPod 5K Kit Tripod
Where Does Casey Neistat Live and Where is his Studio?
Casey Neistat lived in Manhattan, NYC for several years, but as of 2019, Casey and his family have moved to Los Angeles California. Casey still has part of his studio left in New York City, but he is currently building a new studio in LA.
Best Casey Neistat Videos and Vlogs
With over 1000 YouTube videos to his name, it's tough to pick a few of Casey Neistat's best videos. I've chosen some of his best videos which I think outline the different genres of YouTube videos that he creates.
With Casey's success on the platform, he is able to do outrageous things like review a $21,000 airplane ticket and he does it in an engaging and fun way. With over 68 million views on the video, Emirates definitely got their money's worth for upgrading Casey's seat.
While most people complain about the insane winters in NYC, Casey finds a way to take advantage of it. Casey loves creating short films and he does so with his "Snowboarding with the NYPD" video. Not a super safe piece of content, but it's a video that's hard for anyone who sees it, not to click.
Last but not least, Casey is a gear head and loves his technology. If you follow Casey Neistat's channel, you can expect several tech reviews, but all done in a fun way. Not super technical, but a genuine review based off of his own personal experiences with the product or services.
Notice any updates to Casey Neistat's camera gear? Any other vlog equipment that he added to his vlog setup? Let me know in the comments below!