Emma Chamberlain is one of the most prolific vloggers in recent years. In a world of overfiltering, flexing, and seemingly picture-perfect lives commonly shared in the YouTube space, Emma cuts through the clutter with her refreshing relatability, and just being her candid self. Beyond the commentaries and stories she shares in her vlogs, this relatability trickles down all the way to how she captures these stories – with her setup!
We're here to break down Emma's entire vlogging setup, all the way from what gear she films with, to the settings she films in, to what software she edits with, and even how she edits.
Whether you're a new vlogger looking for some new gear to get started, or a vlogging vet looking to switch things up, dive into Emma's world!
Want more creator gear guides and tips? Make sure to check out our breakdown on Casey Neistat's gear, and join our mailing list below 📮
Emma Chamberlain's Vlog Camera & Accessories
Vlog Camera & Lens
Camera: Canon EOS M50 Mk II & Lens Combo | Alt: Canon G7 X Mark II
Combo Set: Canon Content Creator Kit
Lens: Canon EF-M 15-45mm IS
Emma uses the Canon EOS M50 Mark II for all her vlogging adventures! The M50 is a mirrorless model by Canon offering 4K video recording, up to 120fps for buttery slow-mo b-roll, and a handy flexible LCD touchscreen for recording in selfie view – all at around 1lb with the kit lens, compared to a traditional DSLR weighing in at 1.5-2lbs for the body alone (sometimes, even more!)
Another great thing about the M50 compared to other popular vlogging cameras is that it allows for mountable on-camera mics to capture the best audio quality, and better yet, lets you use detachable lenses (we'll get to that more next). With all of these features in mind, the M50 really gives the best of both worlds for vlogging – with many functionalities of a DSLR, with a bit more portability and agility closer to a point-and-shoot. If you do any editing with a smartphone or tablet, you'll be pleased to know the M50 also has built-in WiFi, Bluetooth, and NFC technology – letting you wirelessly transmit your footage for any on-the-go editing!
Looking for something a little more compact? Emma previously used the Canon G7 X, and it's still to this day the most popular point-and-shoot vlogging camera pick amongst the YouTube community for its lightweight and compact form, 4K and up to 120fps capture, flexible built-in focal lengths (24-100mm), articulating screen, and more!
When it comes to the lens, the Canon EF-M 15-45mm lens that comes with the M50 (if you pick the bundle!) works perfectly for vlogging, giving you a super flexible range in focal lengths to capture everything from wide shots of you talking to the camera, to tighter shots focusing on a certain subject. If you're looking for more lenses to expand your vlogging kit, make sure to check out our guides on the best Canon M50 lenses and the best lenses for vlogging.
If you're looking for a full set of all the vlogging gear you need, Canon's even put together a Content Creator Kit which includes the M50 Mark II, the 15-45mm kit lens, a tripod grip, and stereo mic!
Video Camcorder
Emma often records b-roll with her handy Sony CX405 Handycam! Originally introduced in 1985, the Handycam has been the go-to for handheld video recording for decades. Emma uses this to make her day-to-day footage feel raw and approachable. She also opted for the 1080p version vs. the available 4K version – while not only is this model cheaper for you to pick up, 4K is likely just too HD for the borderline nostalgic and home video vibe Emma is going for.
Emma Chamberlain's Film Camera
Film Camera: Contax T2 (View on eBay)
35mm Film: Kodak Portra 400 (Amazon | Moment)
Related: Contax T2 Alternatives | Portra 400 Alternatives (for all budgets)
Emma uses the Contax T2 point-and-shoot film camera.
From Frank Ocean to Kendall Jenner, Zendaya, Gunner Stahl, and countless of other stars, Emma has joined the ranks of celebrity film lovers rocking the Contax T series. For many, it's the holy grail of point-and-shoot 35mm cameras and we can't blame them with the incredible photos that the camera produces. Emma chose the gold model for the T2, which is a lesser-seen colorway.
When it comes to the 35mm film, Emma uses Kodak Portra 400. Portra 400 is incredibly high quality, has great color reproduction, and captures clean details with top-notch sharpness. For more film to use with the camera, check out our post curating the best film to use with the Contax T2!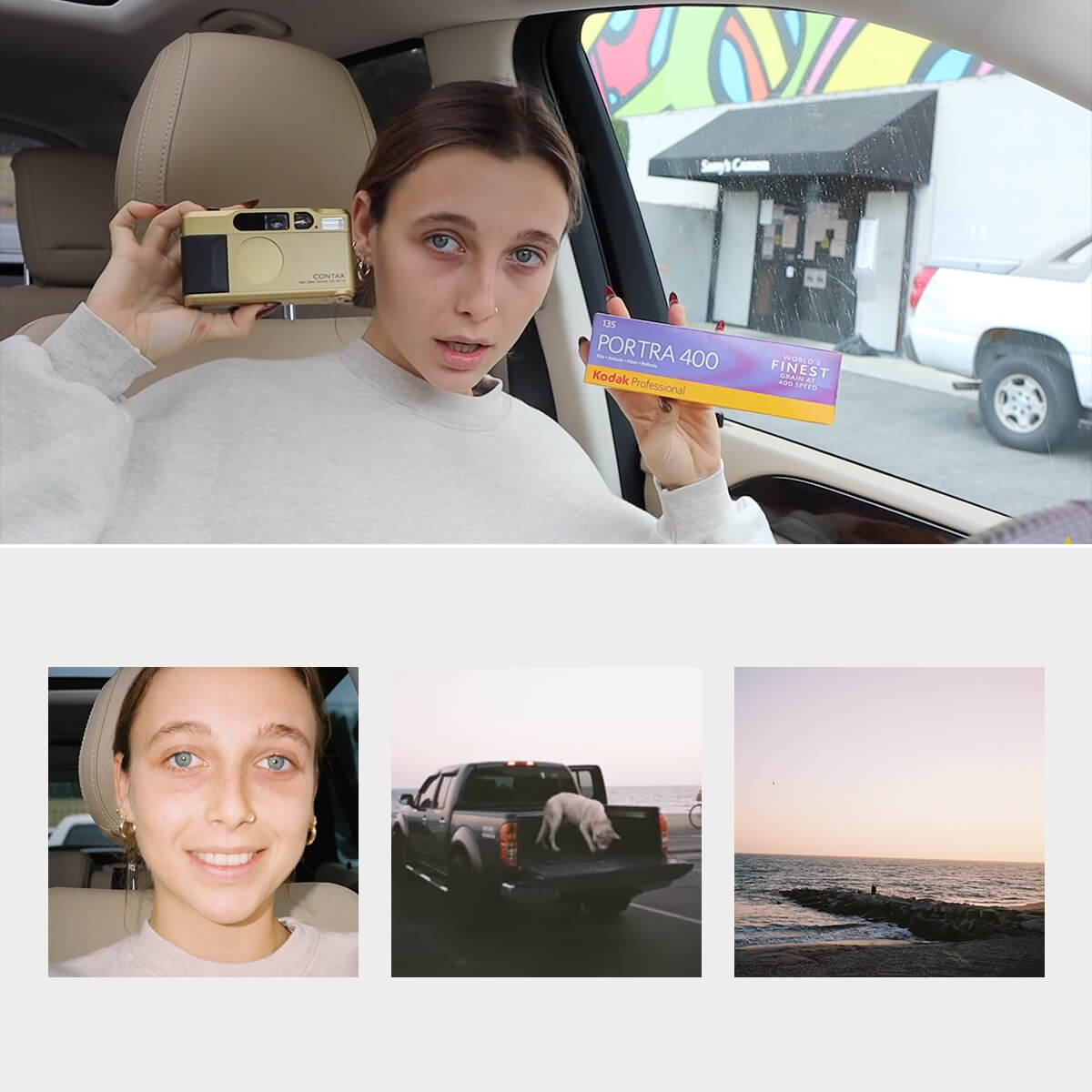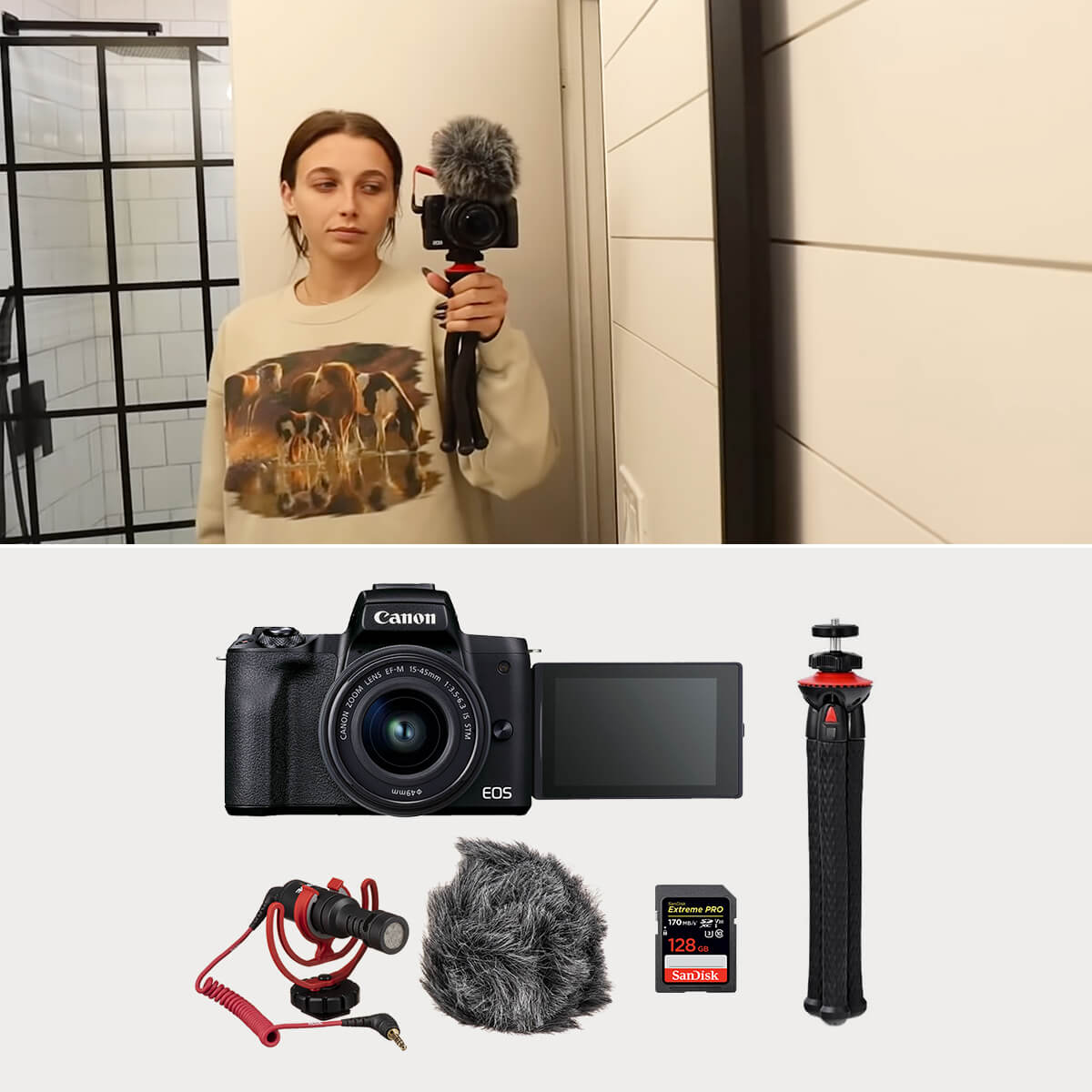 Frames: Emma Chamberlain on YouTube
Microphone, Tripod & Accessories
Mic: Rode VideoMicro Compact Mic | Alt: Rode VideoMic GO + Rode DDC-GO DeadCat Wind Shield
Handheld Tripod: Fotopro Flexible Tripod with Remote
Accessories: SanDisk 128GB SD Card | Wrist Strap | M50 Batteries & Charger | Portable Power Bank
As far as camera accessories go, Emma keeps it simple. To capture audio, she uses the Rode VideoMicro mic, along with a classic deadcat cover to block out any wind. When it comes to handheld tripods, Emma uses the Fotopro Flexible Tripod – which offers a bit more flexibility and comfort than the institutional, vlogger go-to GorillaPod.
Emma Chamberlain's Editing Setup
Editing Software
A lot of YouTubers at Emma's scale have a dedicated team to take care of production, but Emma does it all – and that doesn't stop at editing.
So, what does Emma use to edit? Believe it or not, she uses iMovie for all of her vlog edits. iMovie's free, and comes on all Macs and iOS devices.
When it comes to the machine Emma edits on, she rocks with the top echelon of MacBook Pros – the 16″! Beyond offering powerful specs to process footage and run your editing software, you get a healthy amount of screen real estate to review your footage and make your editing timeline as wide as possible.
As far as Emma's editing style and techniques go, she keeps it real, unfiltered, and leans into a lot of the things that most creators choose to cut out. What does this look like from a technical standpoint? Extended awkward silence, abrupt jump cuts, slow zooms in on her face, fisheye, chaotic shaking, muffled underwater-like audio – to name a few (👈 check those couple links out for tutorials). Like everything else in Emma's vlogs, these elements tie it all back to relatability.
Get the gear: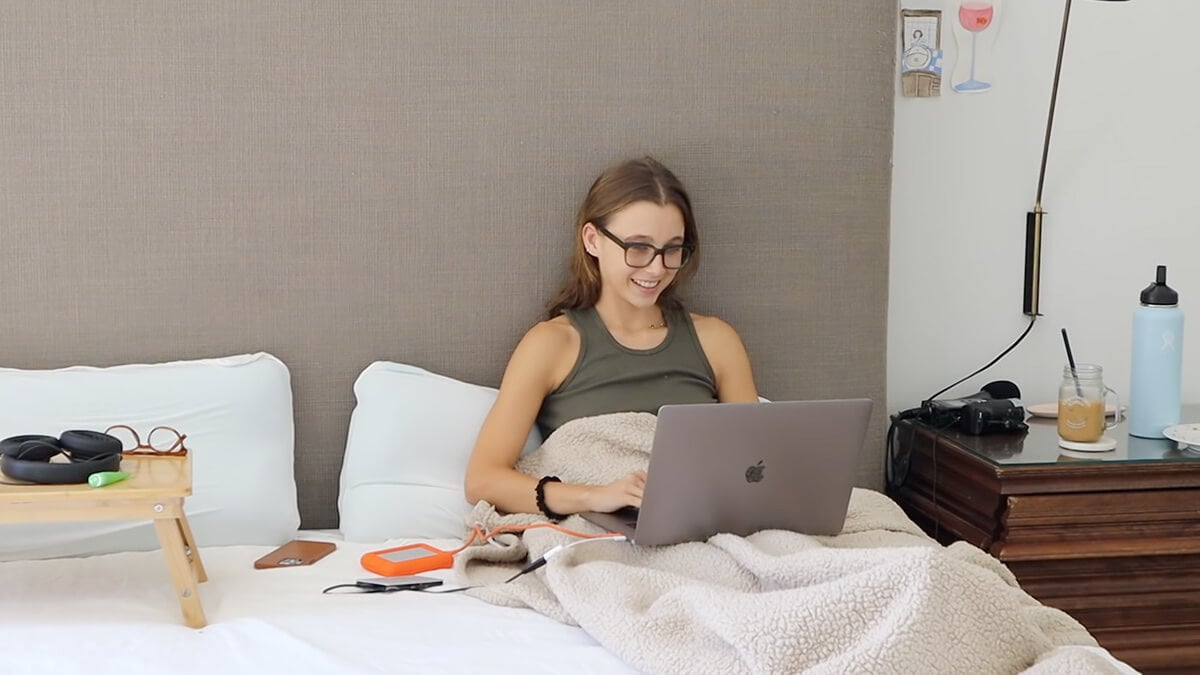 Frame: Emma Chamberlain on YouTube
Aesthetic Fonts & Colors
Emma tends to mix it up every now and then with a different array of fonts. Her go-to since time has been Arial Bold, but nowadays she's been mixing it up with serifs too! On the hunt for the perfect font to pair with the vibe of your vlog edit? We've got you with a roundup of aesthetic fonts.
Emma's color palette leans towards classic, nostalgic tones – from baby blue, to forest green, and beyond. If you're looking for a palette to fit your own vibe, check out our aesthetic color palettes!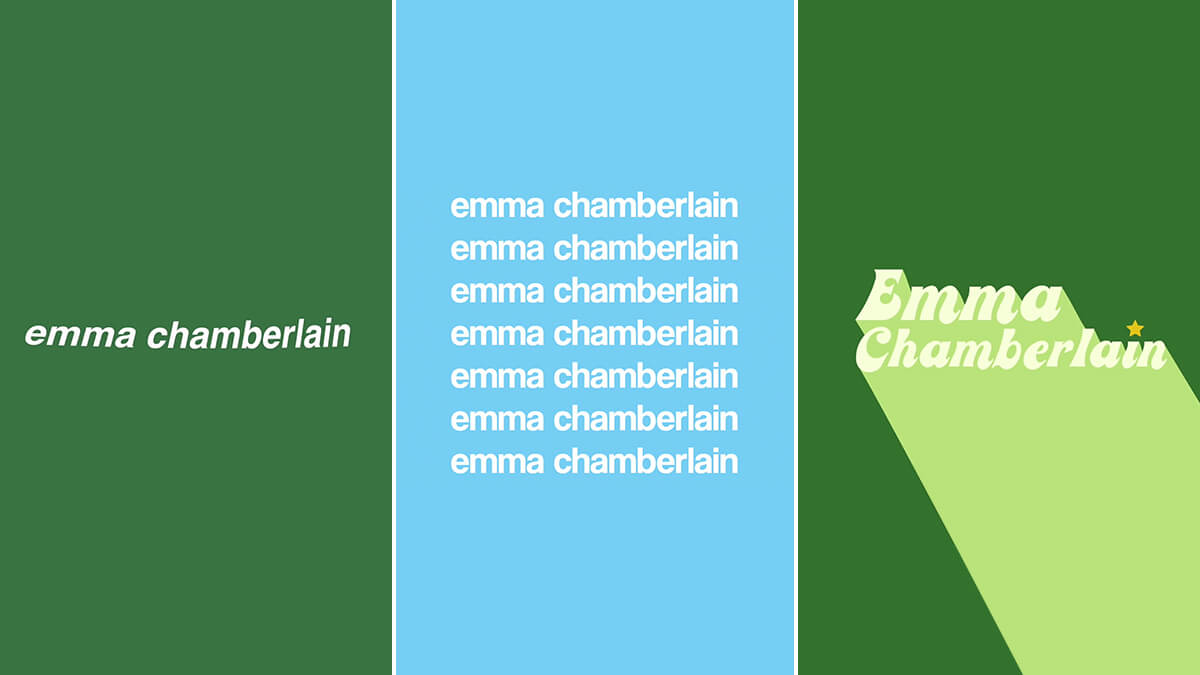 Frames: Emma Chamberlain on YouTube
Aesthetic Background Music (No Copyright) & Vlog Sound Effects
From slurp noises, to iconically cheesy elevator music, to tropical stock music, Emma's known for having fun with the music and sound effects in her vlogs. A lot of these sounds are even built-in on iMovie, coming back to Emma's simple, barebones approach to editing. Thankfully, some fellow creators have made compilations of all these sounds that are easy to find and ID. Check them out!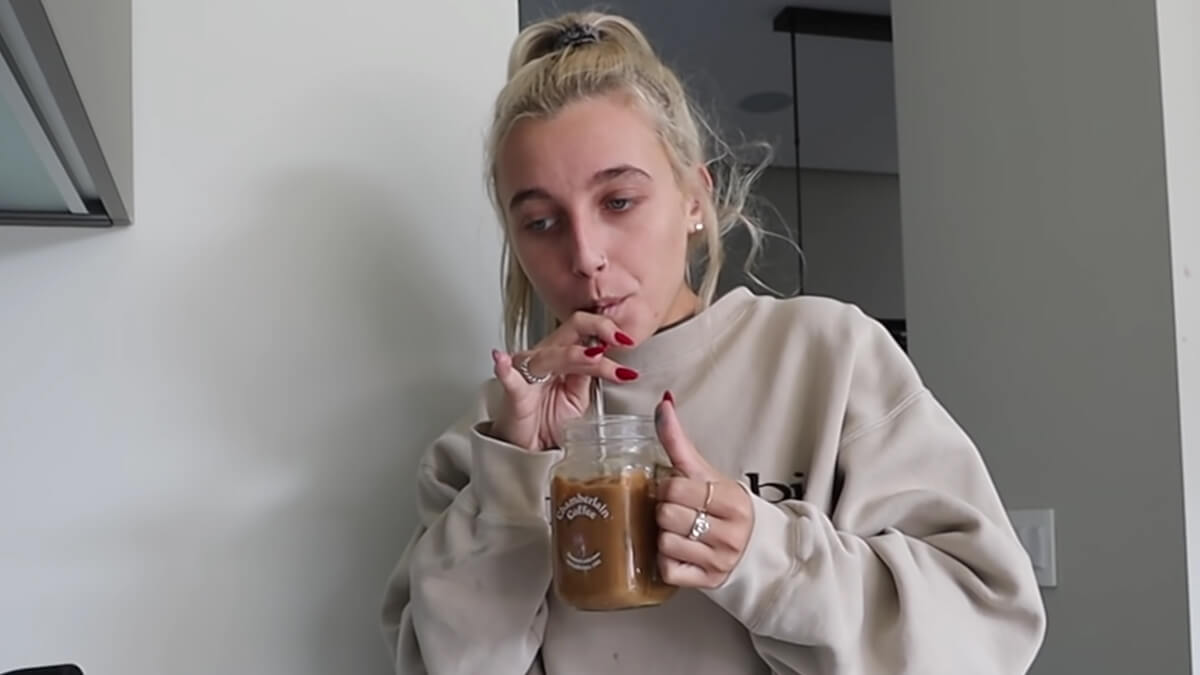 Frame: Emma Chamberlain on YouTube
Vlogging Setup: Filming Settings & Locations
Part of Emma's charm is filming in everyday locations that aren't out of reach to the average person. Instead of finding her at BOA Steakhouse or Catch LA like you may other YouTubers, Emma keeps it simple and (yet again) relatable, and doesn't choose extravagant settings.
Emma Chamberlain's Car
Emma is often driving in her vlogs or parked, recording her daily thoughts and adventures. Emma's car is the Mercedes-Benz GLE – the 2015 gen GLE to be exact, which sports a panoramic sunroof, full leather interior, and more than enough room to lug around her latest thrifting or Trader Joe's haul!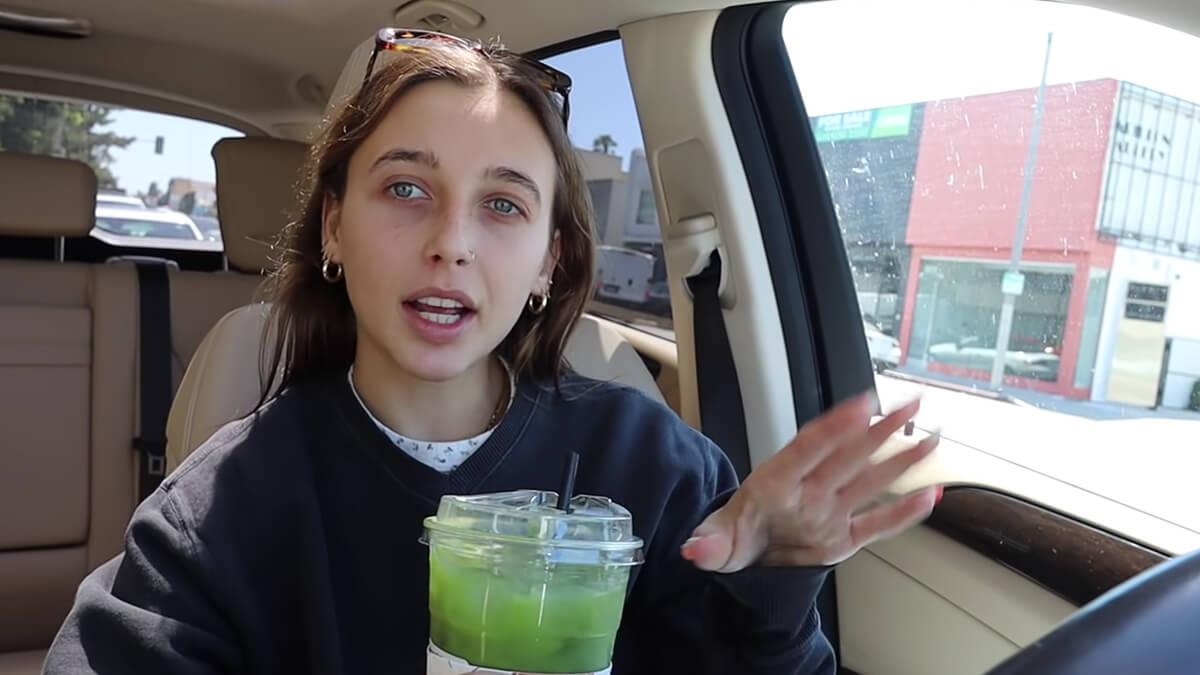 Frame: Emma Chamberlain on YouTube
At Home
Speaking of more relatable settings, Emma also films a lot around her home – in the kitchen, in bed, and even while she gets ready. Emma proves that anyone can film anywhere and still captivate an audience, including in the comfort of their own home.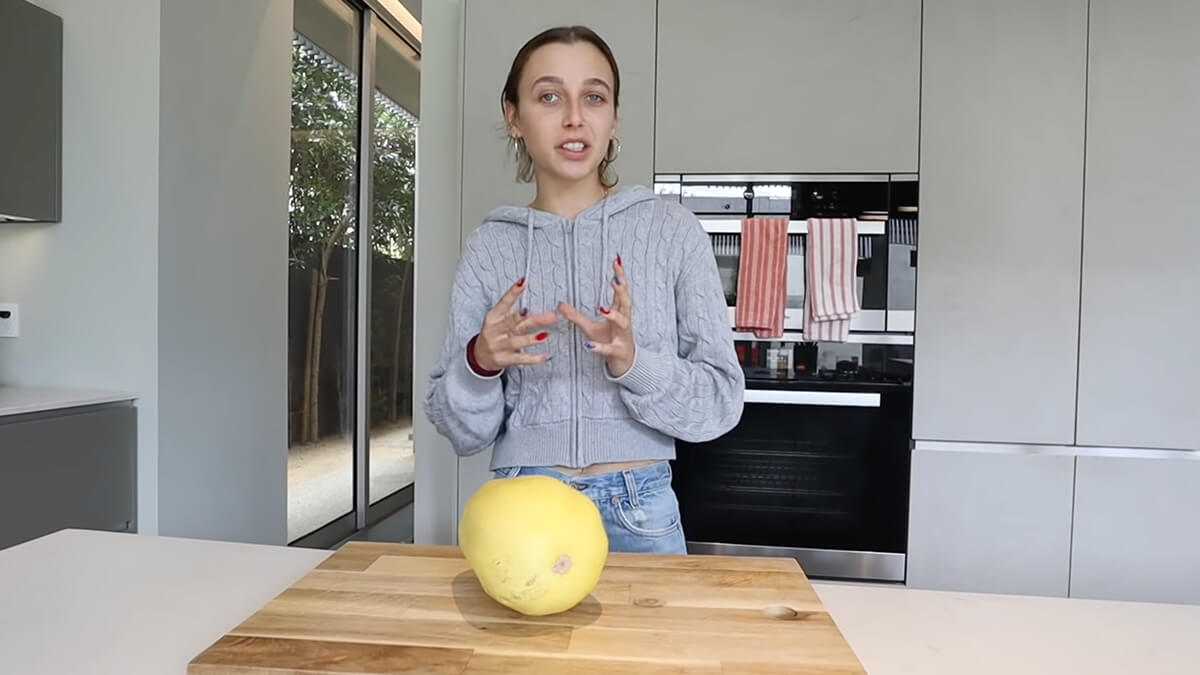 Frame: Emma Chamberlain on YouTube
Around Los Angeles
When Emma's not vlogging in the car or at home, she's capturing her daily life in LA! She's often out and about in Hollywood or West Hollywood, and yet again, keeps it simple and everyday – from picking up an iced matcha from Alfred, to hitting up local flea markets, or even doing groceries at Trader Joe's (we told you, relatability). Even if you don't live in the City of Angels yourself, you can take a page out of Emma's book and capture these aspects of everyday life in your home base.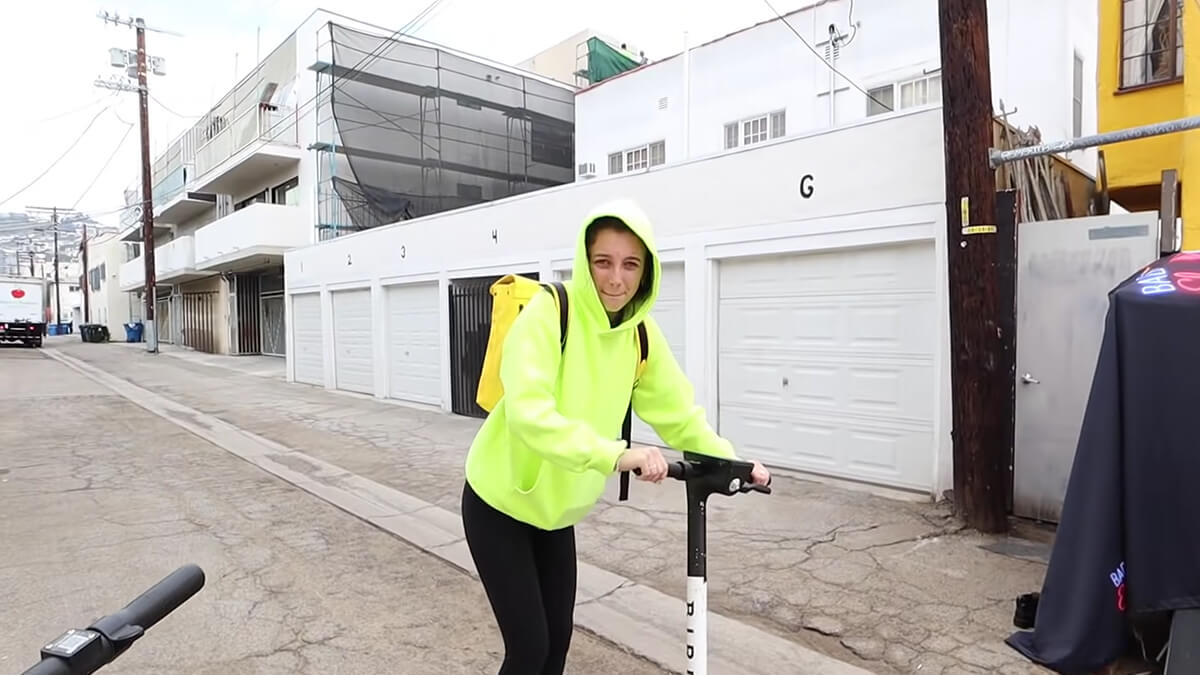 Frame: Emma Chamberlain on YouTube
What part of Emma's videos inspire you the most? Are you new to the vlogging game, or are you an experienced vlogger looking to take your setup to the next level? Let us know in the comments below!
Gridfiti is supported by its audience – when you buy something using the retail links in our posts, we may earn a small commission at no additional cost to you. We only recommend products we would use ourselves and recommend to our friends and family. Read more about our affiliate disclaimer.