Contax T2 – just saying the name of this titanium-built point-and-shoot rangefinder will send shivers down any film lover's back.
Owned by the likes of Kendall Jenner, Zendaya, Emma Chamberlain, and countless other A-listers, the Contax T2's explosion in popularity has also sadly led to a steep increase in price.
Fear not. While the coveted T2 was in production, there was also a plethora of other point-and-shoot rangefinders being built – all still perfectly functional to this day, and not costing you an arm and leg on the second-hand market.
We love this camera as much as the next person, but here are some of the best Contax T2 alternatives at different budgets.
Related: All of Kendall Jenner's Film Cameras
Want more film photography tips? Join our email list! 📮
Yashica T4
Price Range: $300-$400
Get the Yashica T4 / Kyocera Slim T
The Yashica T4 (also known as the Kyocera Slim T in North America) is one of the direct competitors to the Contax T2. At a fraction of current retail costs of the T2, the T4 won't break the bank, but offers similar attributes as the highly coveted Contax.
Instead of a titanium body, it's encased in plastic – allowing for a much lighter carry. It's got a built-in flash, spot-on auto-focus, and a snappy on/off button (for those moments where you need to just turn it on and snap without missing a beat). One of the most comparable aspects of this Yashica is its Carl Zeiss 35mm f/3.5 lens. While it's not quite at the f/2.8 level of the Contax T2, it still features the same lens build quality and capabilities of the Zeiss name!
The only thing to watch out for with this camera is that the lens stays close to the body, so it can be pretty easy to get your finger in front of it while shooting. Besides that, you're looking at one of the top Contax T2 alternatives on a budget!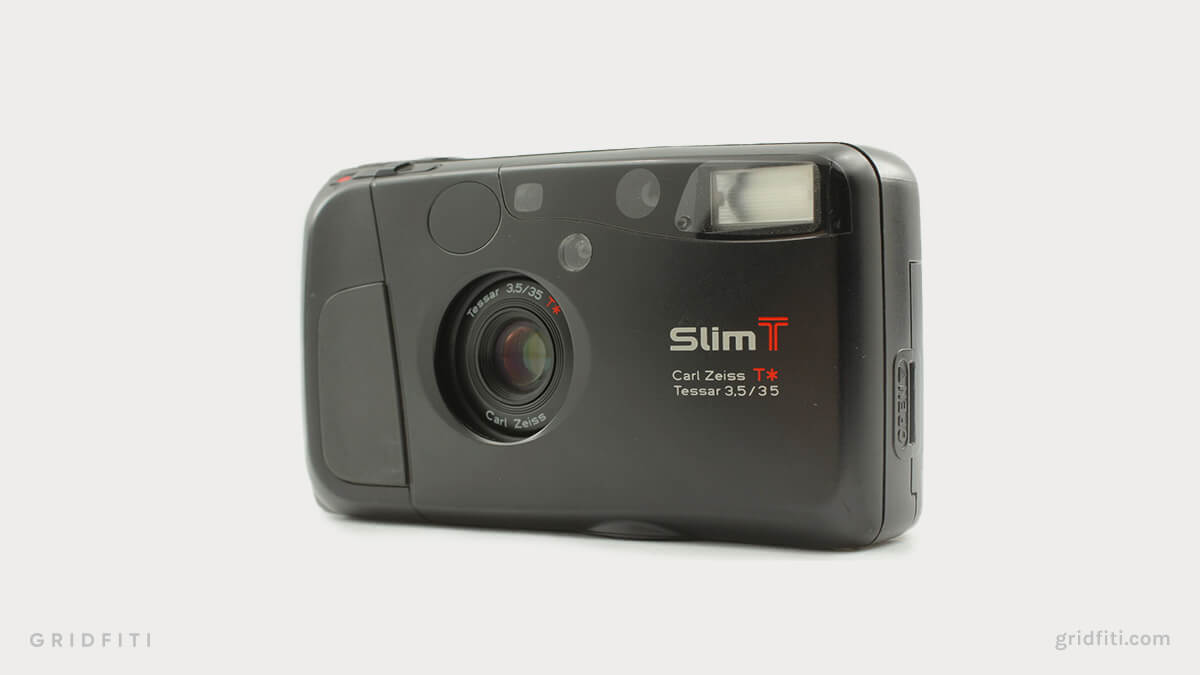 Olympus Mju
Price Range: $75-200
An incredibly budget-friendly Contax T2 alternative, the Olympus Mju packs an all-encompassing point-and-shoot into a compact, well-built package.
The Olympus Mju sports a 35mm f/3.5 lens (which is protected and hidden by the sliding cover when not in use), a variety of different flash options, and most notably, has one of the best auto-focus systems in the point-and-shoot game – with the lens focusing as close to 0.3m, perfect for close-ups!
While this is among the most cost-effective of the bunch, people are catching onto the Mju's magic – leading to a rise in popularity and price. If this camera's on your list, don't sleep!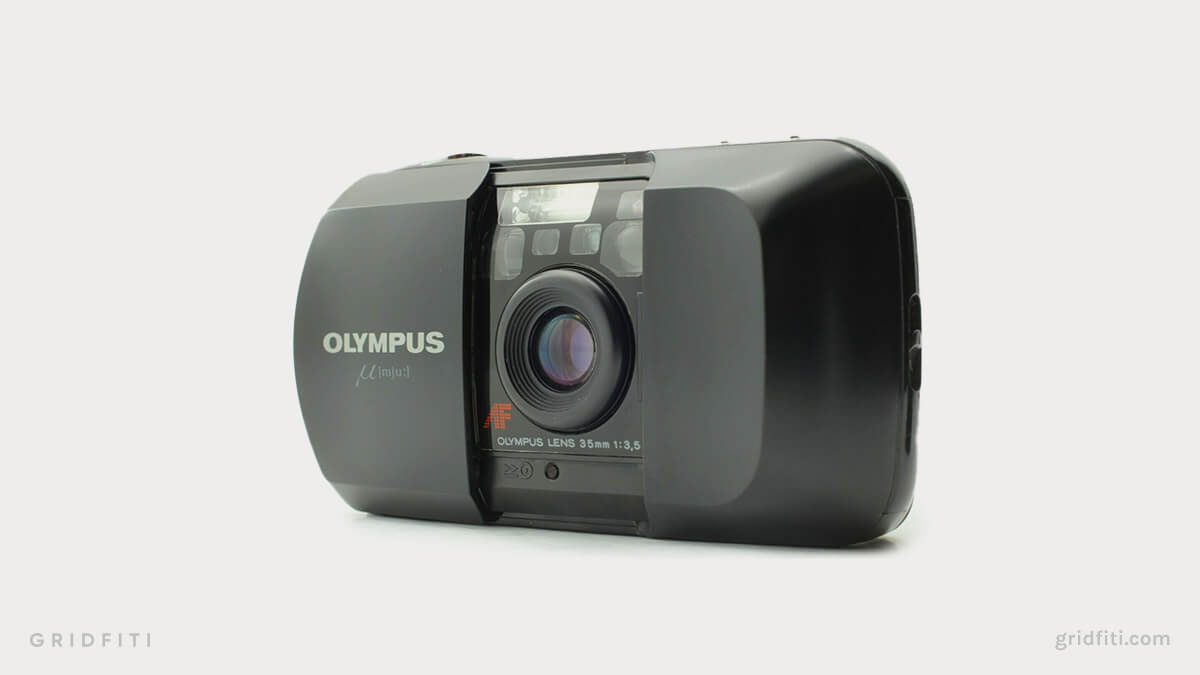 Nikon 35Ti
Price Range: $600-900
On the more premium end of the spectrum, the Nikon 35Ti shares a similar titanium build with the Contax T2 (hence the 'T' in 35Ti).
While it's not the lightest, it's a mighty and robust alternative to the Contax T2. The 35Ti has a 35mm f/2.8 lens (just like the T2), a built-in matrix metering system to get the exposure just right, and even the ability to create custom automatic flash adjustments for different exposure settings. It also features an interesting top-level dial, showing the camera's shooting settings – similar to that of luxury watches.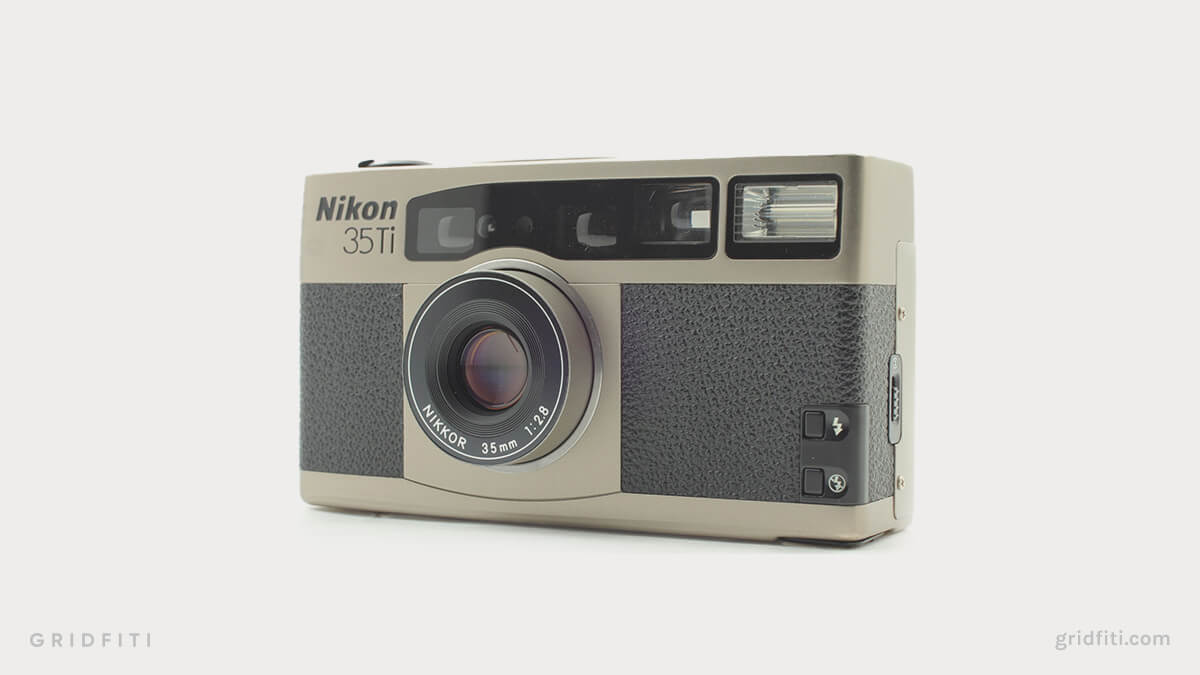 Nikon L35AF
Price Range: $100-200
Straight out of the '80s and looking like something that belongs in a DeLorean time machine, the Nikon L35AF is a bulkier, more affordable alternative to its pricier titanium counterpart, the 35Ti.
The built-in flash pops up and away from the lens which helps mitigate red-eye, its lens has the same focal length and aperture as the T35i at 35m f/2.8, and the L35AF also lets you to adjust the ISO metering (as the camera doesn't read DX codes of the film) – this allows you to push or pull the film! Lastly, the viewfinder shows a distance scale. What's a distance scale you ask? Half-press the shutter button, and you'll see little icons in the viewfinder telling you what the camera is focusing on – from closeups, to mid-range, to infinity with a landscape.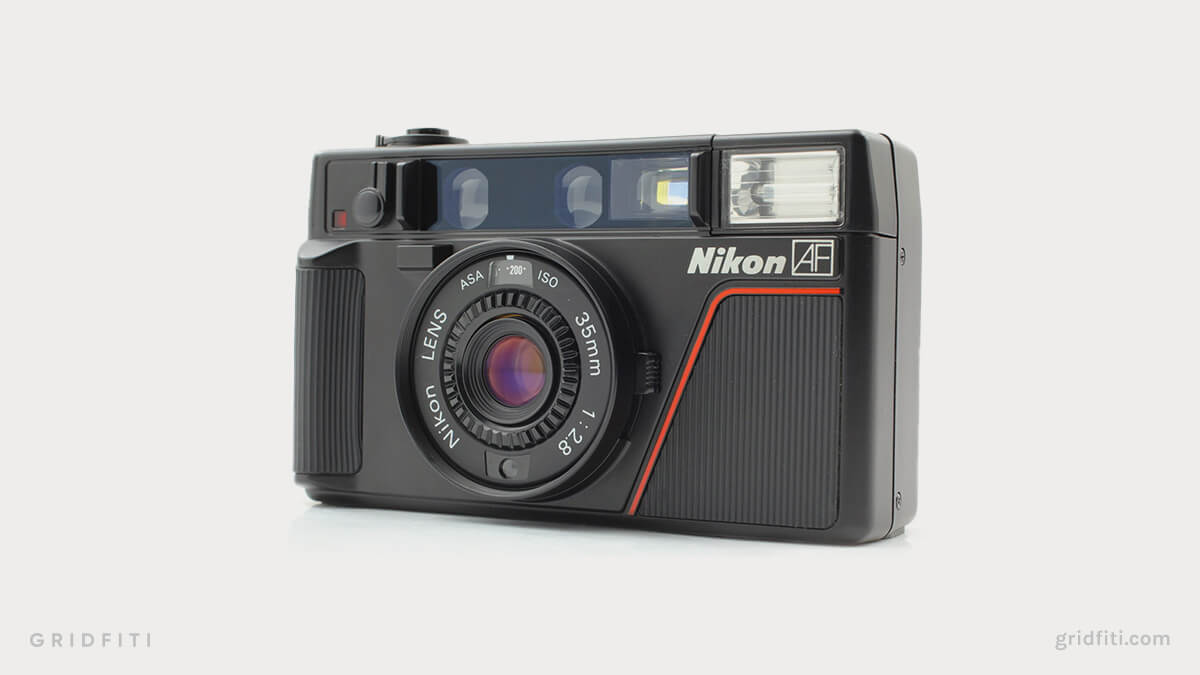 Fuji Klasse W
Price Range: $500-750
The lightweight, compact, super sharp Fuji Klasse W is another great Contax T2 alternative. Built in 2007, it's one of the more modern selects of the bunch. It features a 28mm f/2.8 (wider than most point-and-shoots), the auto-focus is fast, and it even has a dial devoted to aperture priority. Last but not least, the camera also has a front dial for exposure compensation, which allows you to push or pull film. Fuji's Klasse W is a wonderful point-and-shoot option with a few manual capabilities!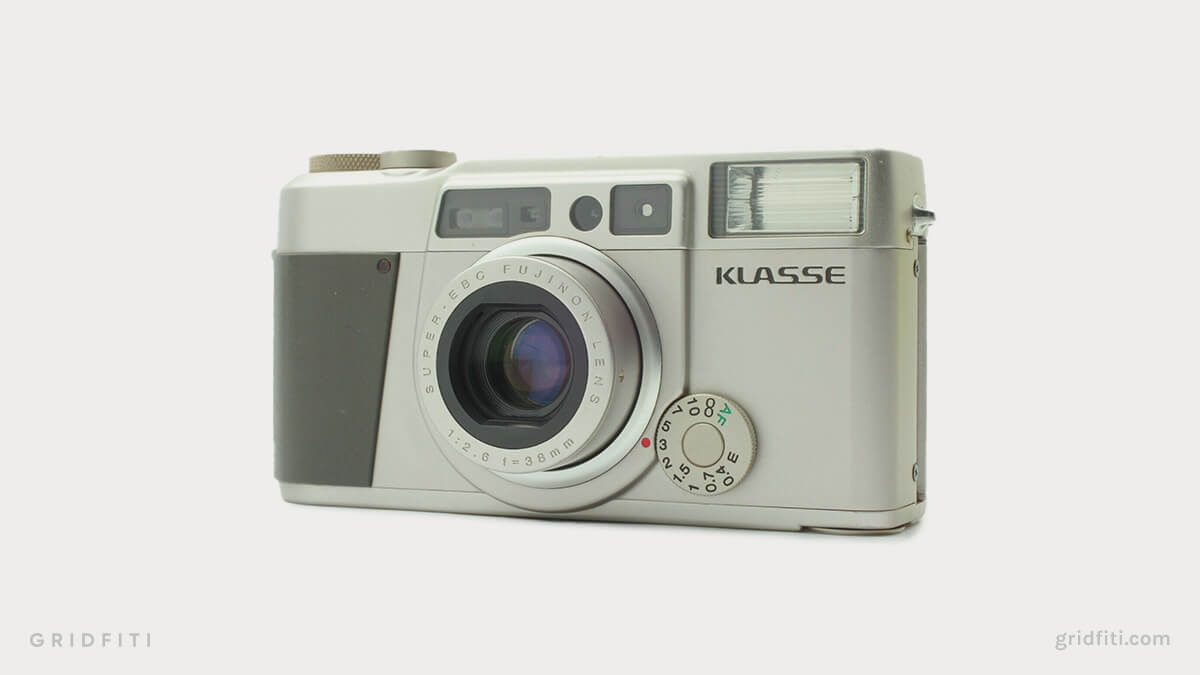 Minolta TC-1
Price Range: $600-700
The Minolta TC-1 sports a true pocket-sized form factor, allowing you to always carry it around and capture everything – as point-and-shoots should! The 28mm lens lets you to adjust your aperture all the way from f/3.5 to f/16, giving you great versatiilty for a point-and-shoot. The 'HOLD' mode on the function dial will literally let you create a custom function, locking in things like flash on/off, exposure compensation, and more. The only con that comes as a result of the small lens, is that the camera tends to produce subtle vignetting around the edges – but still meters well!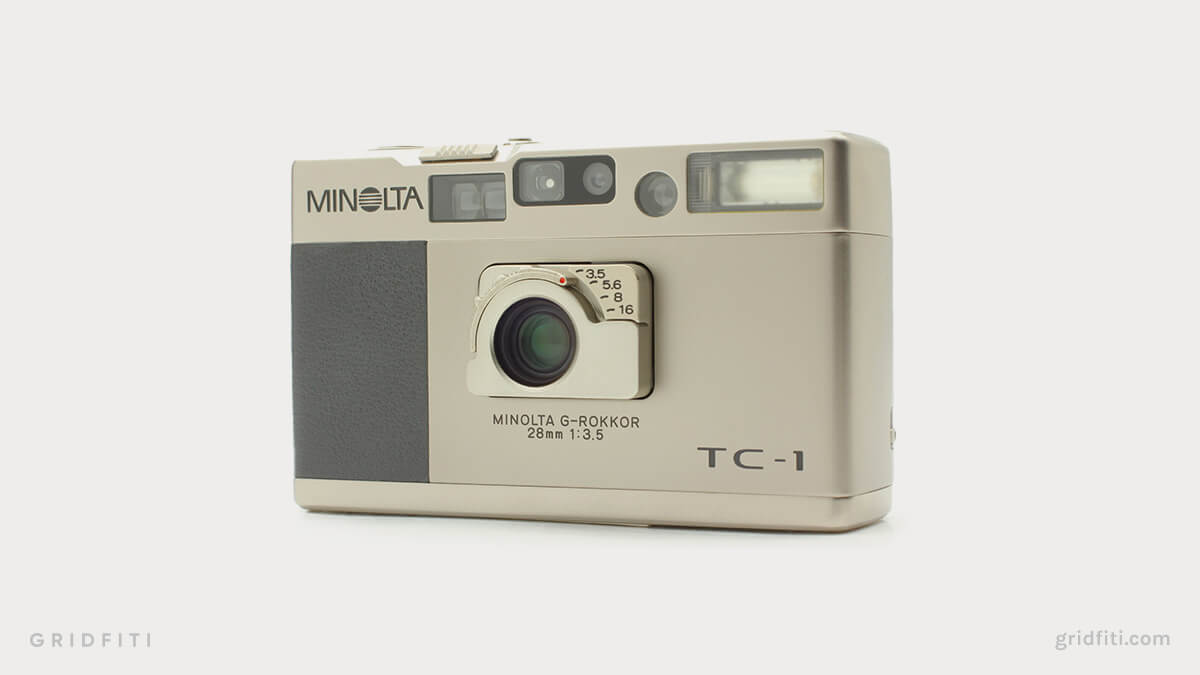 Konica Big Mini F
Price Range: $250-450
Lastly, one of the simpler alternatives to a Contax T2, we have the Konica Big Mini F. With similar lens capabilities at a 35mm focal length with a f/2.8 aperture, and super simple settings and setup, the Big Mini is there to capture life quickly and easily. It also features date/time stamping, giving your photos that classic look with the date embedded within it!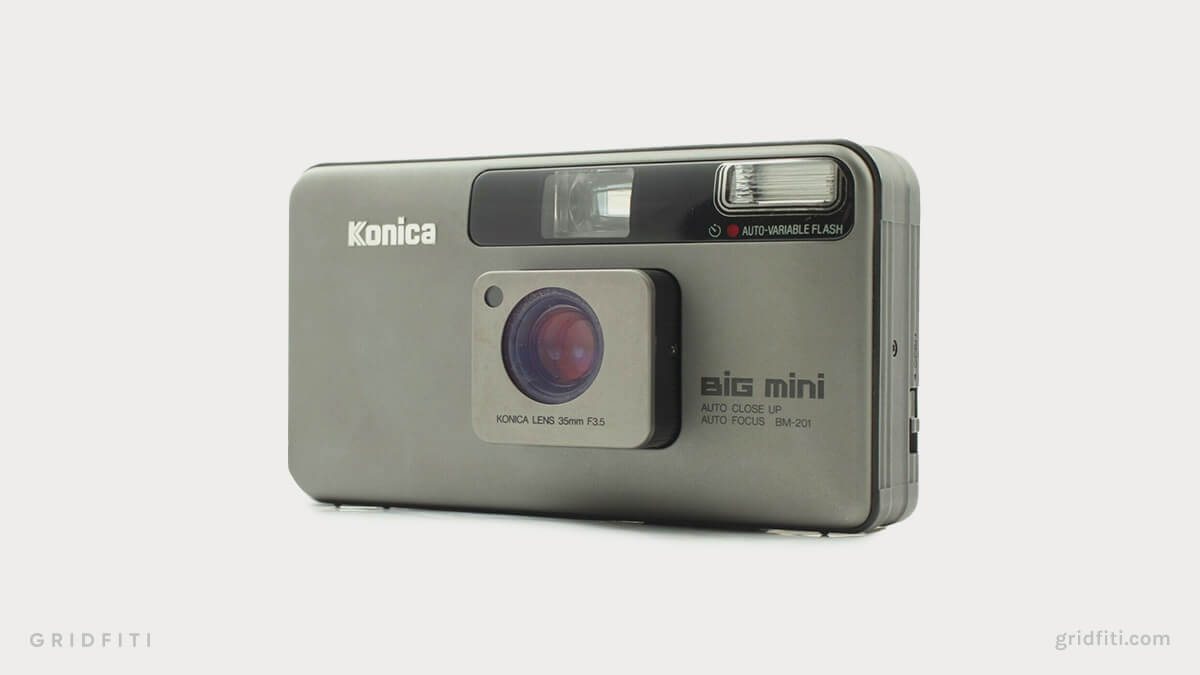 We hope these picks for Contax T2 alternatives can get you up to speed on point-and-shoot film! Are there any we're missing? Let us know in the comments.
Gridfiti is supported by its audience – when you buy something using the retail links in our posts, we may earn a small commission at no additional cost to you. We only recommend products we would use ourselves and recommend to our friends and family. Read more about our affiliate disclaimer.