Zendaya is no stranger to film photography, growing up around her grandfather and great grandfather who were both devoted film photographers. Over the years and from photoshoot sets to film sets, Zendaya has also garnered interest in the way the shoots are set up with regards to lighting, camera work, and more.
She's even gone on to learn from Euphoria cinematographer Marcell Rev and her Euphoria costar Jacob Elordi.
A lifetime of inspiration, and learning from those around her has led Zendaya to grab two grail Contax film cameras – a Contax G2 and Contax T2 (which is also used by Kendall Jenner, Emma Chamberlain, Gunner Stahl, and countless other stars).
From the Euphoria set, to Spider-Man sets, check out Zendaya's film cameras of choice.
Want film photography tips and insights? Join our mailing list below. If you're a Euphoria fan, don't miss our round-up on Jacob Elordi's film cameras, too!
What Camera Does Zendaya Use?
Contax G2
One of Zendaya's film cameras is the Contax G2. Known as one of the most advanced rangefinders, meant to go up against Leica M6s – the Contax G2 brings high-tech focusing, metering, and an assortment of great lenses to the Contax line.
Ergonomically, the Contax G2 is designed with form following function. Not a switch is out of place in regards to its exposure compensation knob, focus knob, and shutter knob. The camera's center-weighted metering and autofocusing makes capture feel natural and intuitive. The essence of rangefinders is to capture movement as candidly as possible, and the features built into the G2 accomplish just that. Zendaya sports her G2 with a 45mm f/2 Planar lens with Carl Zeiss glass, which is the cherry on top to capture all things from landscapes and streets, to candid portraits, and beyond.
Check out the Contax G2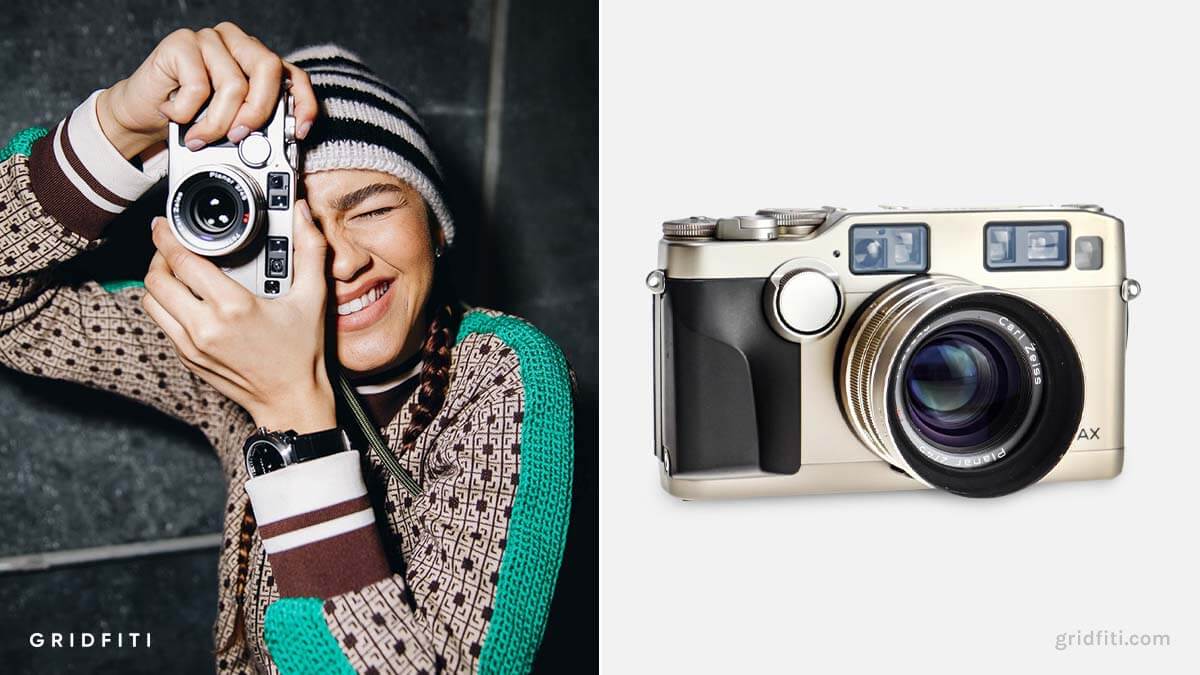 Image by GQ
Contax T2
On the set of Spider-Man: No Way Home, you'd find Zendaya shooting around with a Contax T2 in hand! Exploding in popularity over the years due to the resurgence of film and celebrity endorsement, the Contax T2 packs a punch within a nifty, high quality titanium-cased body. The camera's built-in flash, metering system, and autofocus combined with the best of Carl Zeiss glass in the 38mm f/2.8 lens makes this a point-and-shoot to rule them all. The Contax produces beautiful photos, but if the Contax T2 is looking a little out of your price range, you can always try these Contax T2 alternative cameras.
If you own a T2 and you're looking for the perfect film stock to use with the camera, check out our post featuring the best film to use with the Contax T2!
Check out the Contax T2 on eBay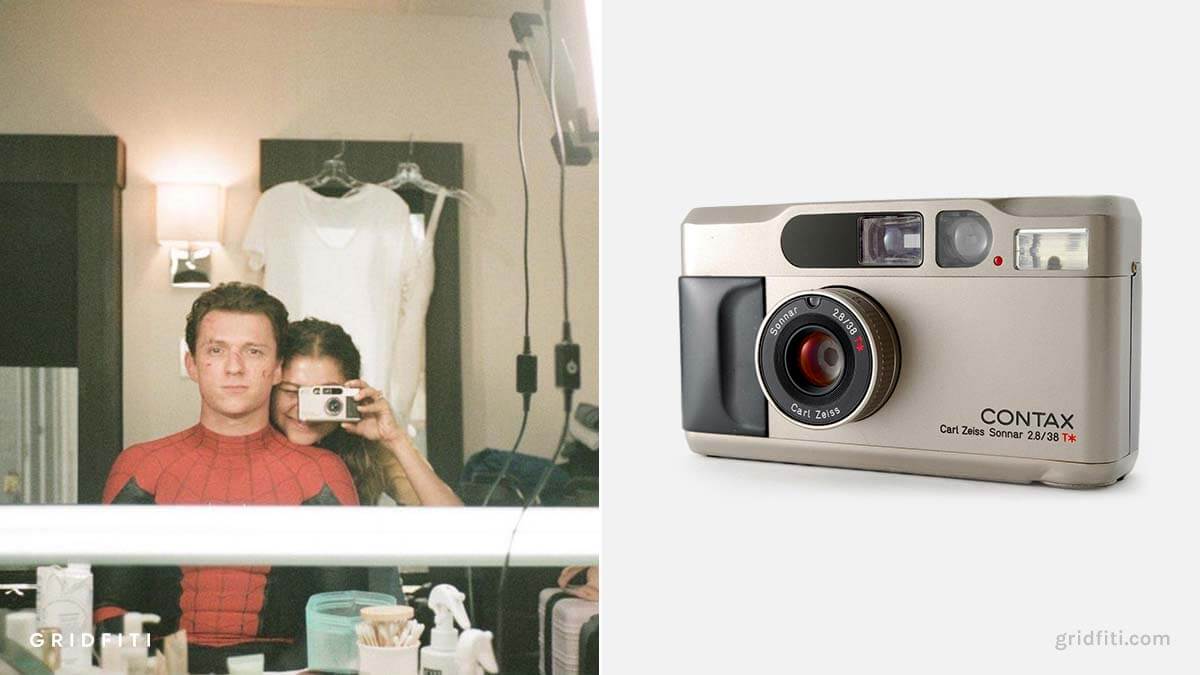 Images by Zendaya
What do you think of these Contax cameras? Which of Zendaya's film photos are your favorite? Let us know in the comments below! 
Gridfiti is supported by its audience – when you buy something using the retail links in our posts, we may earn a small commission at no additional cost to you. We only recommend products we would use ourselves and recommend to our friends and family. Read more about our affiliate disclaimer.