Jacob Elordi (aka Nate Jacobs on HBO's Euphoria) has been deeply entrenched in the world of film photography. Owning film camera royalty from the makers like Leica, Contax, Hasselblad, and more, Jacob's passion for film has been a driving force in capturing his life behind the scenes.
His camera family of SLRs, rangefinders, medium format SLRs, and twin reflex lens cameras are enough to make photography and analog enthusiasts implode – so without further ado, let's dive into Jacob Elordi's film cameras of choice.
Want to learn more about film cameras? Join our mailing list! And if you're a Euphoria fan, don't miss our round-up on Zendaya's film cameras, too!
What Film Camera Does Jacob Elordi Use?
Canon AE-1
The Canon AE-1 is one of the most popular beginner film SLR cameras. At the affordable end of the spectrum, the AE-1 ushered in an entirely new era of camera designs by Canon in the 70s – with a focus on a lighter, compact design and a departure from heavy metals. The center-weighted metering, interchangeability with Canon's fine line of FD lenses, easy-to-use manual modes, and a clear focusing prism – it's no wonder the AE-1 still holds up today as a go-to film camera for casual beginners to pro users.
Check out the Canon AE-1 on eBay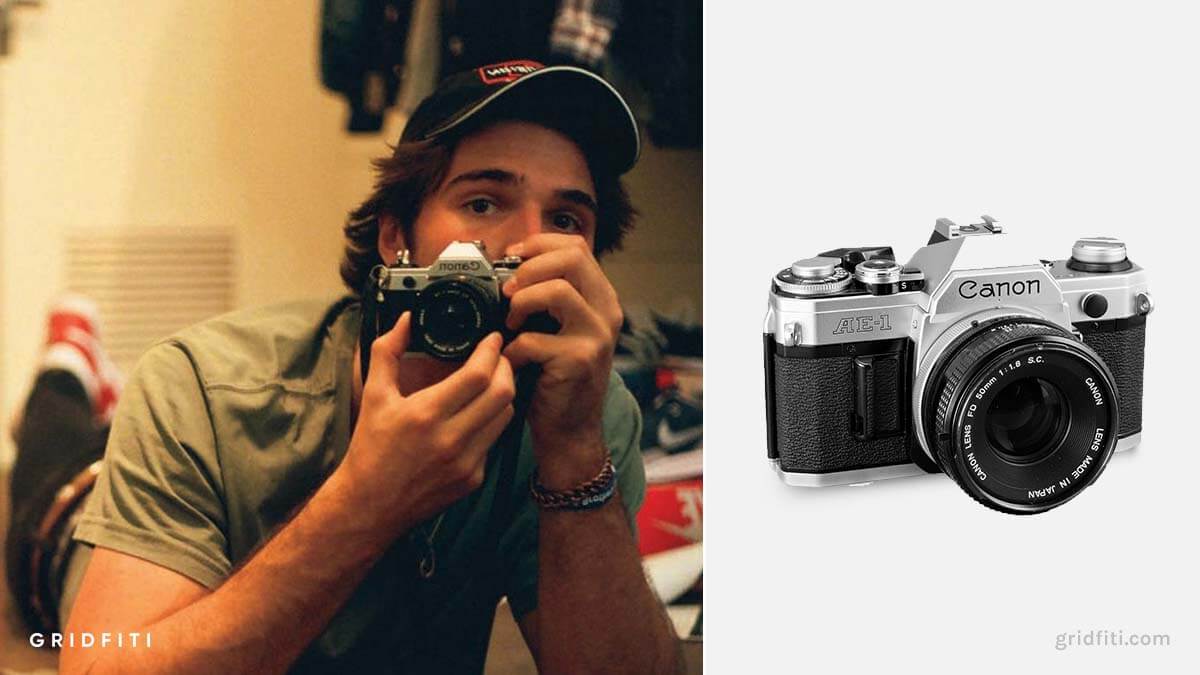 Leica M6
One of the most iconic film cameras of all time, the Leica M6 comes equipped with unparalleled build quality, making use of materials from magnesium to leather, and constructed in such a way to guarantee long-term use.
The M6 is also known for its ergonomic build with the levers, buttons, and knobs placed in just the right places to let you capture your photo in its essence. The camera's center-weighted built-in meter is top-notch with light readings, and its mechanical shutter makes the most satisfying sound (and can even work without a battery). Lastly, we can't forget that the famous M mount gives the M6 access to arguably the best crafted lenses, handmade by Leica.
Check out the Leica M6 on eBay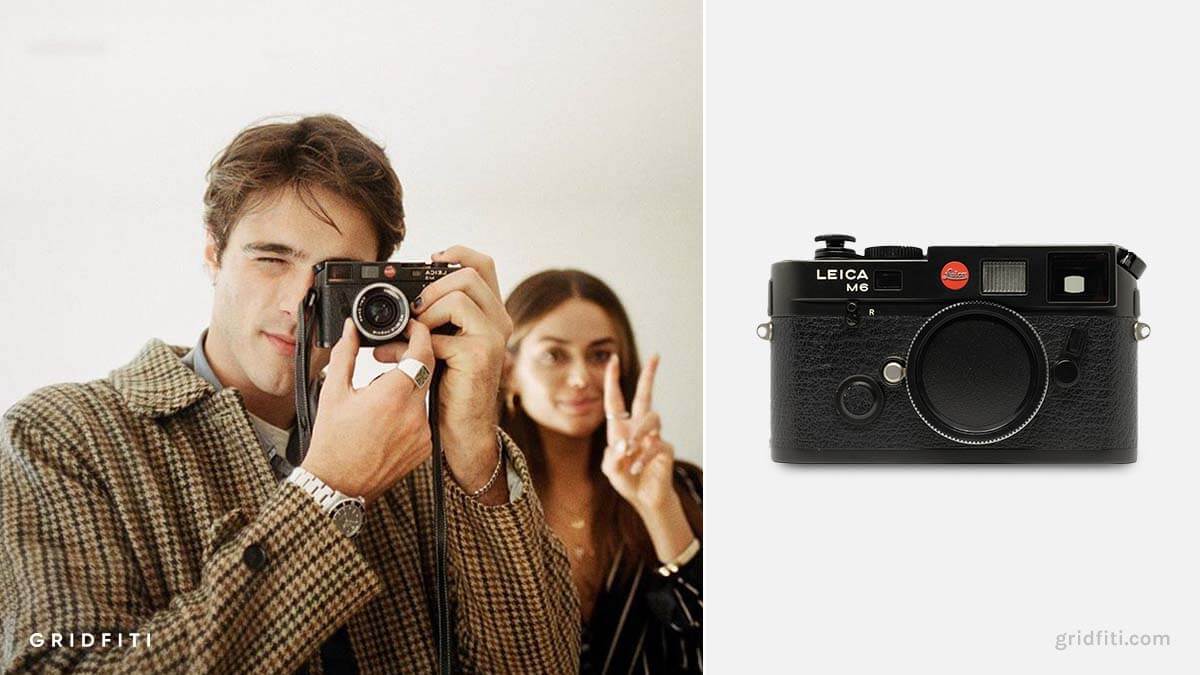 Contax G2
Contax film cameras have exploded in popularity in recent years, largely due to celebrities like Kendall Jenner, Emma Chamberlain, and even Jacob's Euphoria costar Zendaya all owning one. Jacob's Contax G2 is a master among point-and-shoot film cameras.
With a titanium-cased body, built-in flash, accurate autofocus and metering, combined with premium Carl Zeiss lens offerings, it's no wonder everyone wants a piece of this film camera beast.
If Contax G2 prices are looking a bit out of reach, worry not – the Contax T2 might fare better for your wallet. If you want to go even more budget-friendly, check out our round-up on Contax T2 alternatives – with options as low as in the $100 range!
Check out the Contax G2 on eBay
Leica M10
Not a film camera, but certainly a noteworthy one in Jacobs arsenal, the Leica M10 comes as a premium digital offering from Leica.
Following the same ethos as the M6 with a robust build and attention to ergonomics, the M10's 24MP full frame sensor produces balanced colors and sharpness, with knobs and aperture/shutter wheels placed just in the right spots. The camera's design will have the camera resting in your hand in all the right places, making the entire shooting process feel effortless – from looking through your viewfinder, to changing settings, and ultimately, shooting your shots.
Check out the Leica M10 on eBay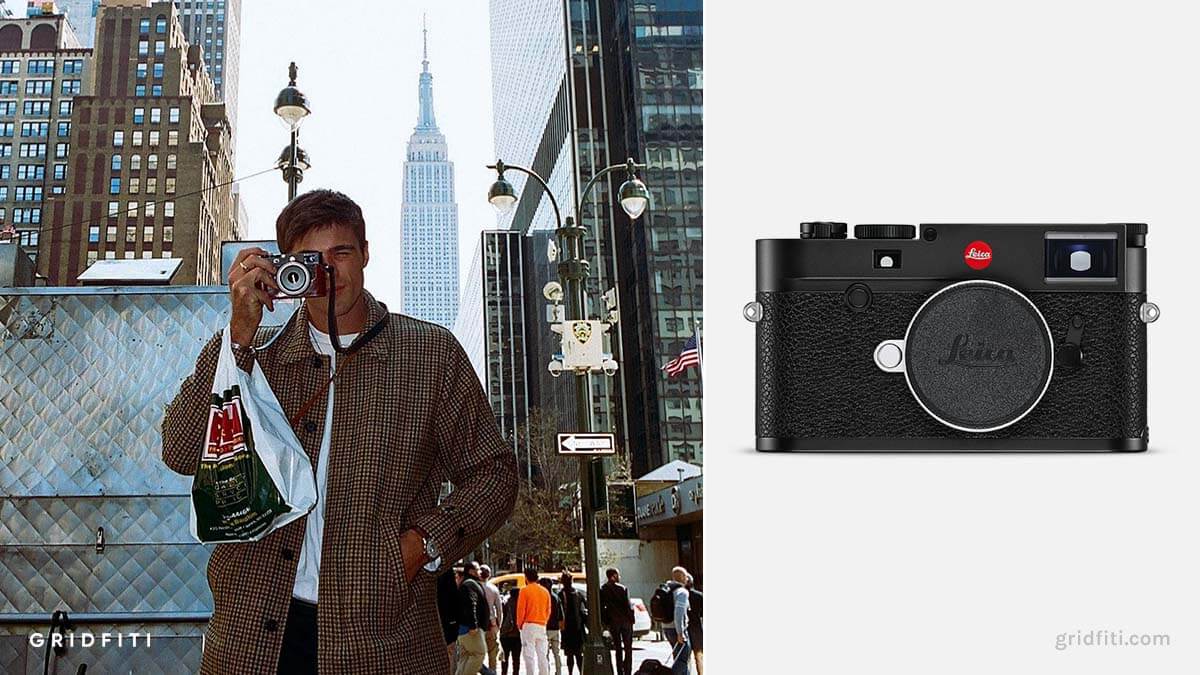 Image by @chroniclesofbliss
Mamiya M645
The Mamiya M645 is the perfect camera for photographers looking to venture into the world of medium format film. The camera's 6×4.5 negatives gets you 15 photos out of a roll of 120 film – and its modular design lets you customize it to a tee with features like prism finders, waist-level finders, external flashes, and handle mounts. The camera's multiple exposure mode will let you shoot artistic layered double exposure shots, too.
The M645 comes in two versions: the M645 (with a maximum shutter speed of 1/500 seconds), and the M645 1000s (upping the shutter to 1/1000 seconds).
Check out the Mamiya M645 on eBay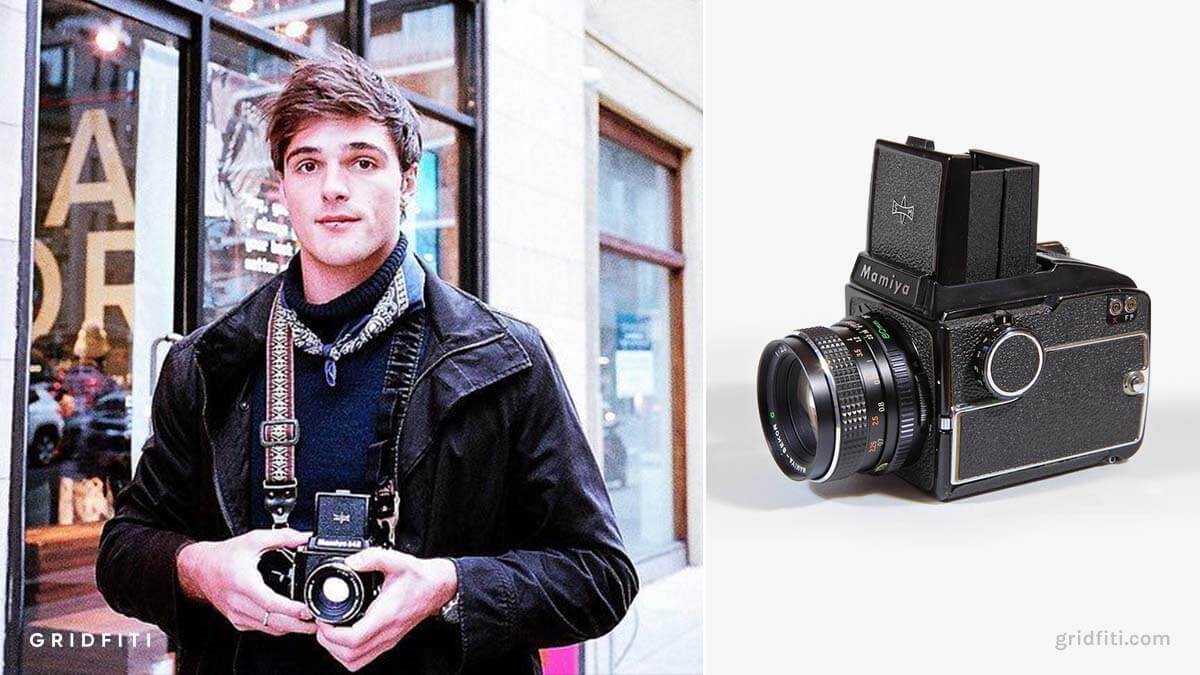 Rolleiflex T
A Twin Lens Reflex (TLR) camera houses two lenses – one to see the viewfinder, and one that is exposed to the film (and is ultimately doing the actual capturing).
Rolleiflex cameras are the go-to when it comes to TLR cameras, with the Rolleiflex T serving as one of its greatest hits! The Rolleiflex T is a beautiful relic of its era, coming from the 1960s to 70s. It's a medium format camera that produces 6×6 negatives – getting you 12 shots from a 120 roll of film, in a square format. The Rolleiflex T's quiet shutter and waist-level viewfinder combined with mid-range focal lengths (e.g. 75mm or 80mm) makes this TLR a perfect camera to capture anything from portraits to landscapes. Lastly, you just can't help but love the unique look of its twin lens vertical housing!
Check out the Rolleiflex T on eBay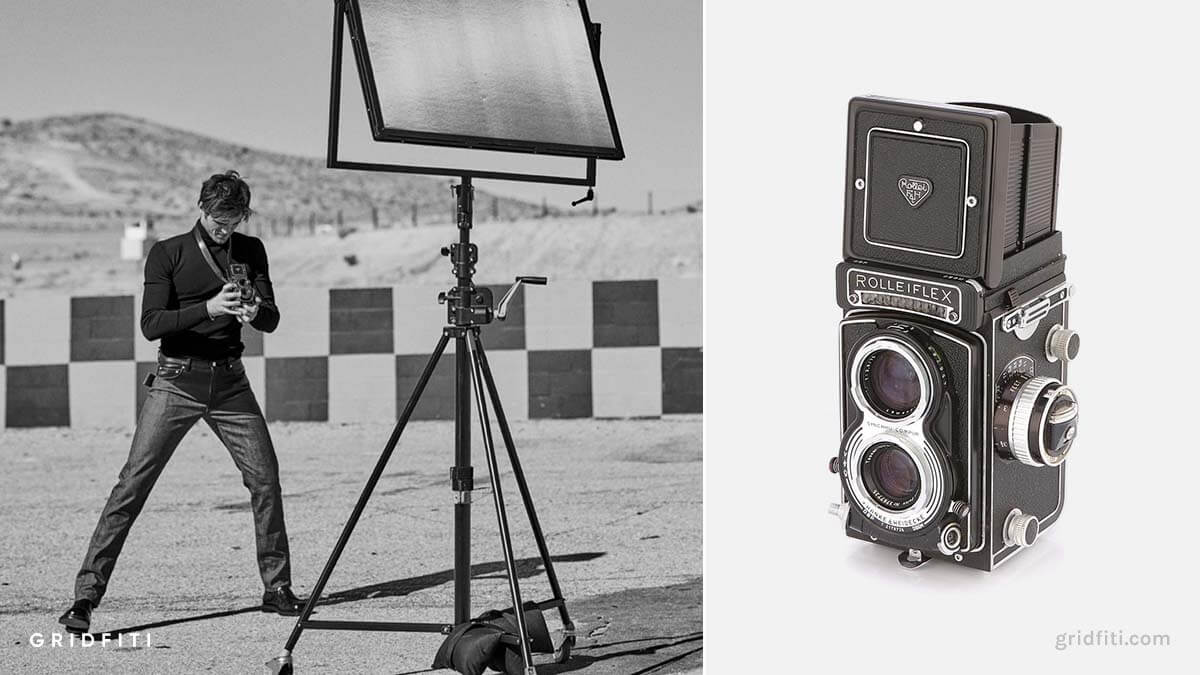 Hasselblad 503CW
And now we have the all-encompassing, almighty Hasselblad 503 CW – the last of Hasselblad's SLR medium format film cameras made from 1996 to 2006.
Hasselblads are highly coveted and known as creating some of the greatest medium format film cameras of all time, due to their devotion to high quality build, exceptional performance, and general enjoyment of use. If you see an iconic photograph from the golden years of film, chances are, it could very likely have been taken on a Hassy!
The 503 CW is mountable with the finest collection of Carl Zeiss lenses (which actually houses the leaf shutters), has an incredibly clear and bright viewfinder for composing your shots, and a mechanical superiority that guarantees the camera to last for the long haul!
Check out the Hasselblad 503CW on eBay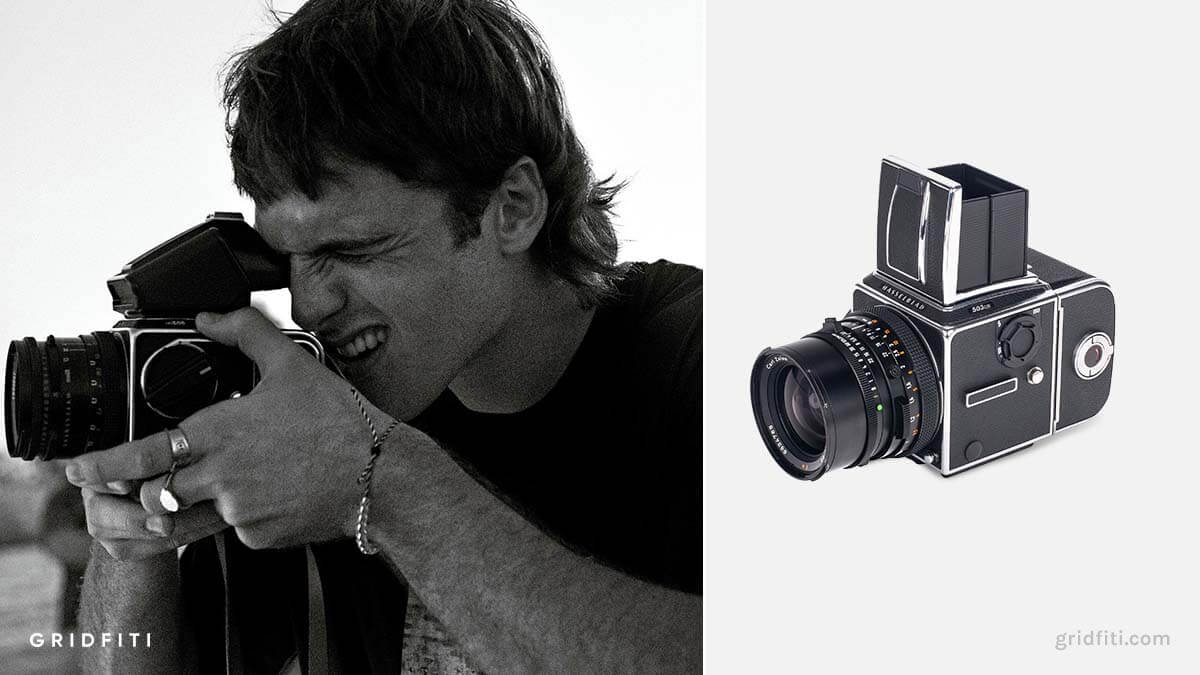 Which of Jacob's film cameras are your favorite? Let us know in the comments and tag us in your film pics on Instagram @gridfiti.
Gridfiti is supported by its audience – when you buy something using the retail links in our posts, we may earn a small commission at no additional cost to you. We only recommend products we would use ourselves and recommend to our friends and family. Read more about our affiliate disclaimer.