There are so many benefits to having a podcast – it's a great way to increase traffic, build brand authority, grow an audience – and nowadays, it's easier than ever to get started!
As simple as it is to start a podcast, it also takes a lot of work to scale and grow a successful podcast to profitability.
Instead of starting a podcast from scratch with little to no direction, using a Notion template catered to managing a podcast is one of the best and most efficient things you can do for your workflow. Depending on how far along you are in the process of creating a podcast, you can find a Notion podcast template that's suitable for your needs.
To help you begin, here's a round-up of the best Notion podcast templates – for those looking to start, manage, grow, and monetize their podcast!
---
Looking for more productivity tips and tools? Subscribe to The Flow — our quick, snappy, value-packed focus and recharge newsletter. Also, don't miss our several other Notion template round-ups and guides!
---
Notion Podcast OS Dashboard Template
The Notion Podcast OS Dashboard is the ultimate Notion template to help creators pitch, produce, publish, promote, and monetize their podcasts! From the creator of Morning Brew's podcast, Business Casual, and the mastermind behind the popular Newsletter Operating System – Josh and Janel created this in-depth system in Notion to help you launch, scale, and generate revenue through your podcast.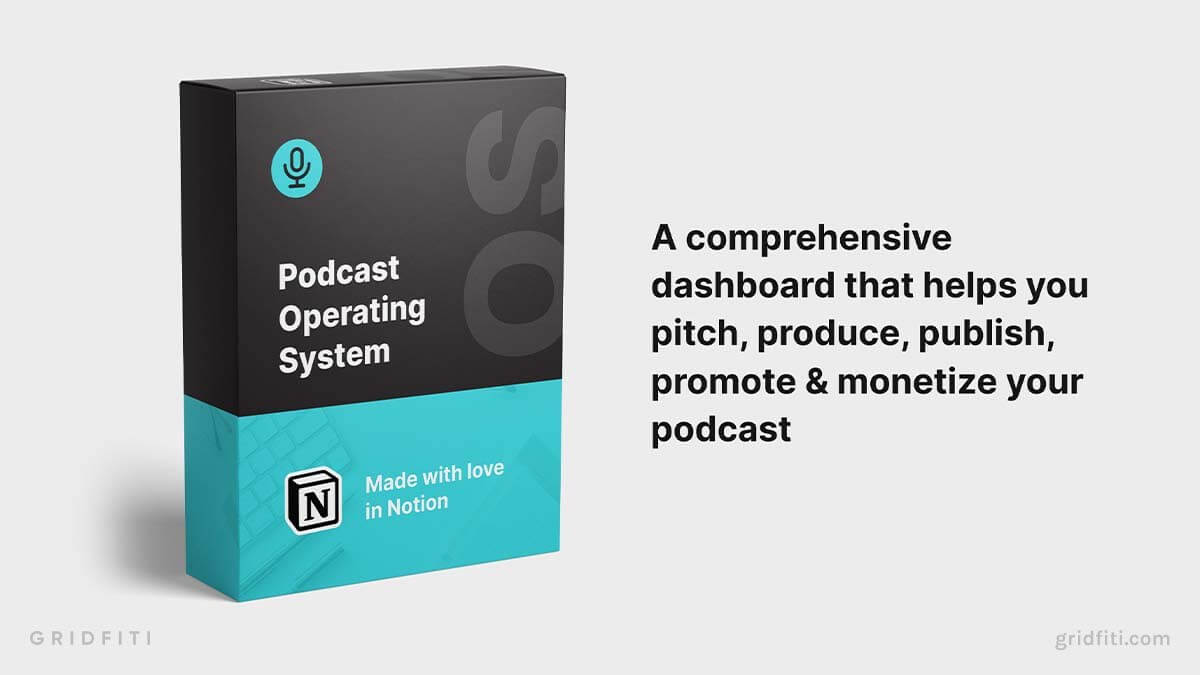 Pod Stack – All-in-One Notion Podcast Template
Organize your podcast workflow and learn how to build your podcast from start to profitability with Pod Stack, another all-in-one Notion podcast template! Whether you're a brand or individual looking to tap into the podcast game, the Pod Stack has you covered with everything you need – including a website template, tools, resources, trackers, and more!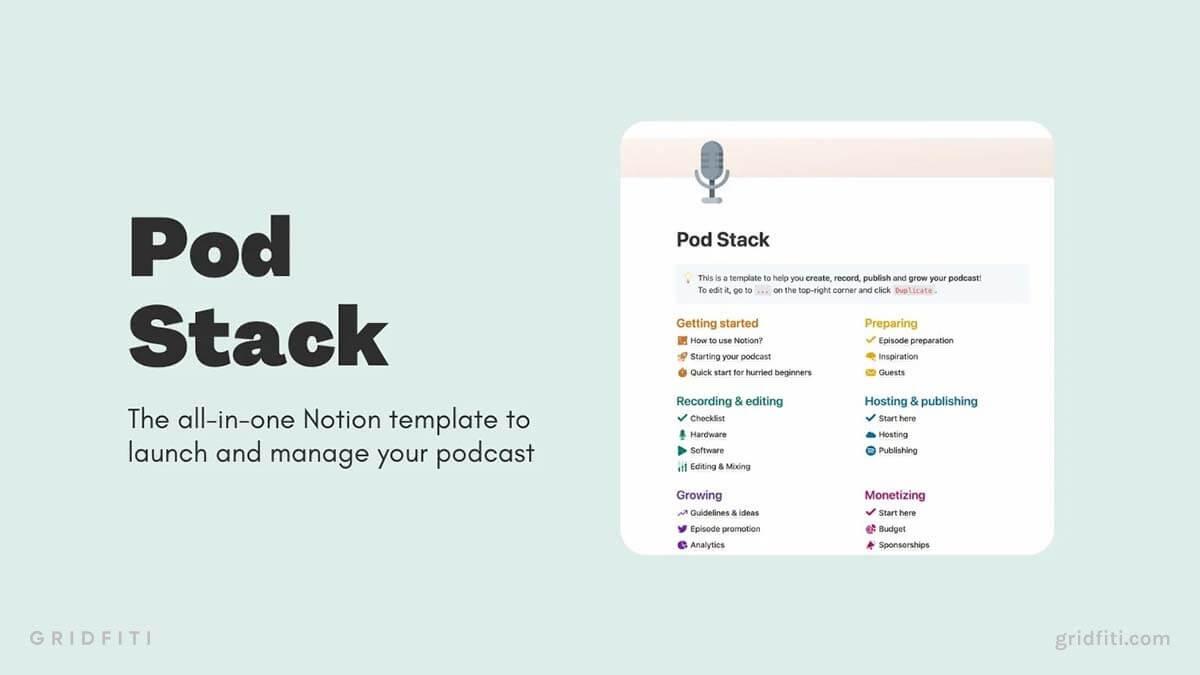 Notion Podcast Hub Template Bundle
If you run both a blog and podcast, this template is the one for you! Use the podcast hub to map out and create your content all in one digital workspace, brainstorm content ideas, track expenses, perform guest outreach, and much more!
For more blogging content, check out our round-up of the best Notion blog templates!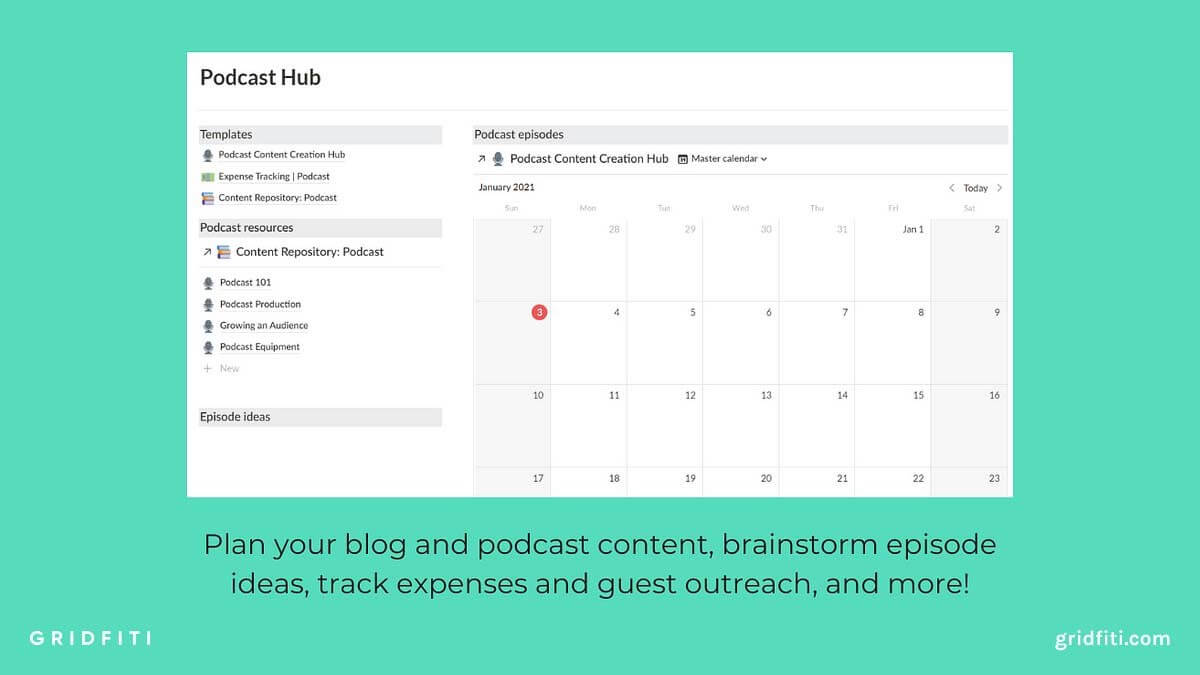 Basic Notion Podcast Planner Template
Starting a podcast is more work than you may think – but with the right tools and resources, you can streamline your workflow and create a valuable and scalable podcast. To get familiar with Notion and podcasts, use this planner template to track your episodes, create a guest list, set brand guidelines, plan social media content, and more!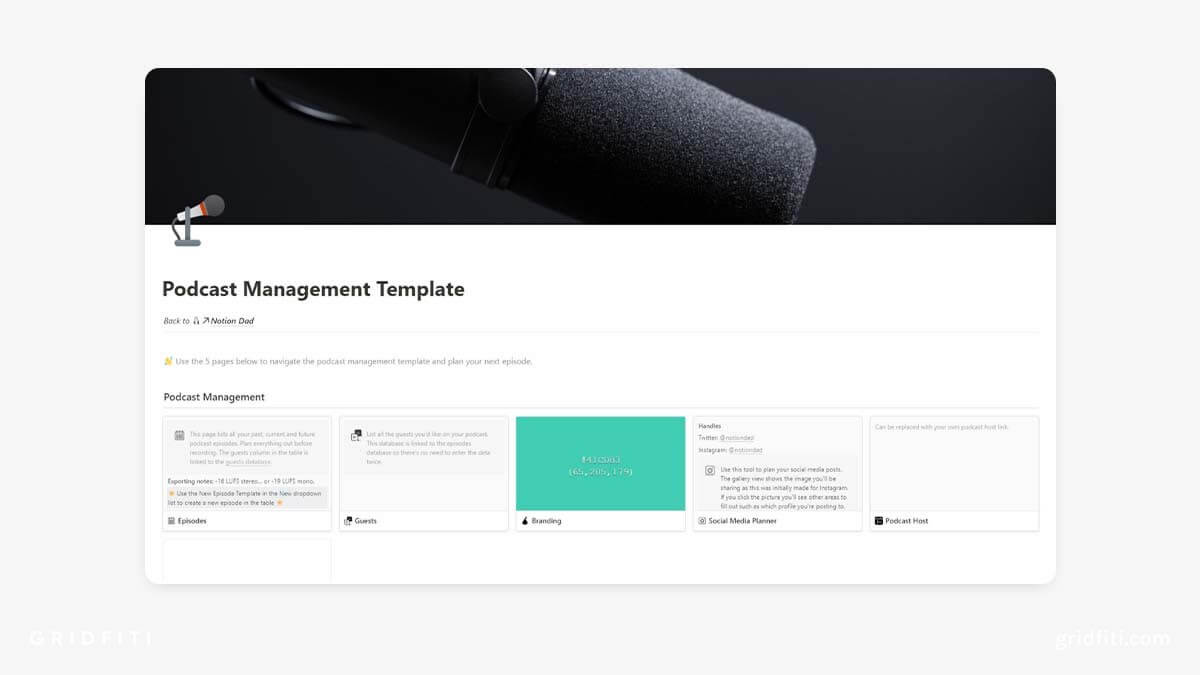 Which Notion podcast template are you using? Do you have any other podcast templates for Notion to recommend? Let us know down in the comments below!
Gridfiti is supported by its audience – when you buy something using the retail links in our posts, we may earn a small commission at no additional cost to you. We only recommend products we would use ourselves and recommend to our friends and family. Read more about our affiliate disclaimer.