Managing and scaling a blog can be a lot of work, but with the right tools, you can organize your blog content and streamline your business so you can focus on what you do best: blogging!
From organizing post ideas, to managing finances, content scheduling, and SEO – you can use a variety of different Notion blog templates to help you run your blog business as smoothly as possible.
To help you get started, we've curated the best Notion blog templates for you to choose from! Check out our picks, and find the template that's best suited for your blog's business.
Are you a writer looking to streamline your process in Notion? We've recently recommended our top picks for Notion templates for writers!
---
Looking for more productivity tips and tools? Subscribe to The Flow — our quick, snappy, value-packed focus and recharge newsletter. Also, don't miss our several other Notion template round-ups and guides!
---
Get the all-in-one Life OS template, the only Notion template you'll ever need — with over 25 integrated templates built in.
Notion for Blogging Premium Template Pack
The all-in-one premium blogging template dashboard that will help you organize everything related to running a successful and growing blog. Featuring a robust content calendar, guest post outreach tracker, keyword research tool, blog finance manager, brand kits, and more – this 75-page template will help you get organized, and ultimately grow your business.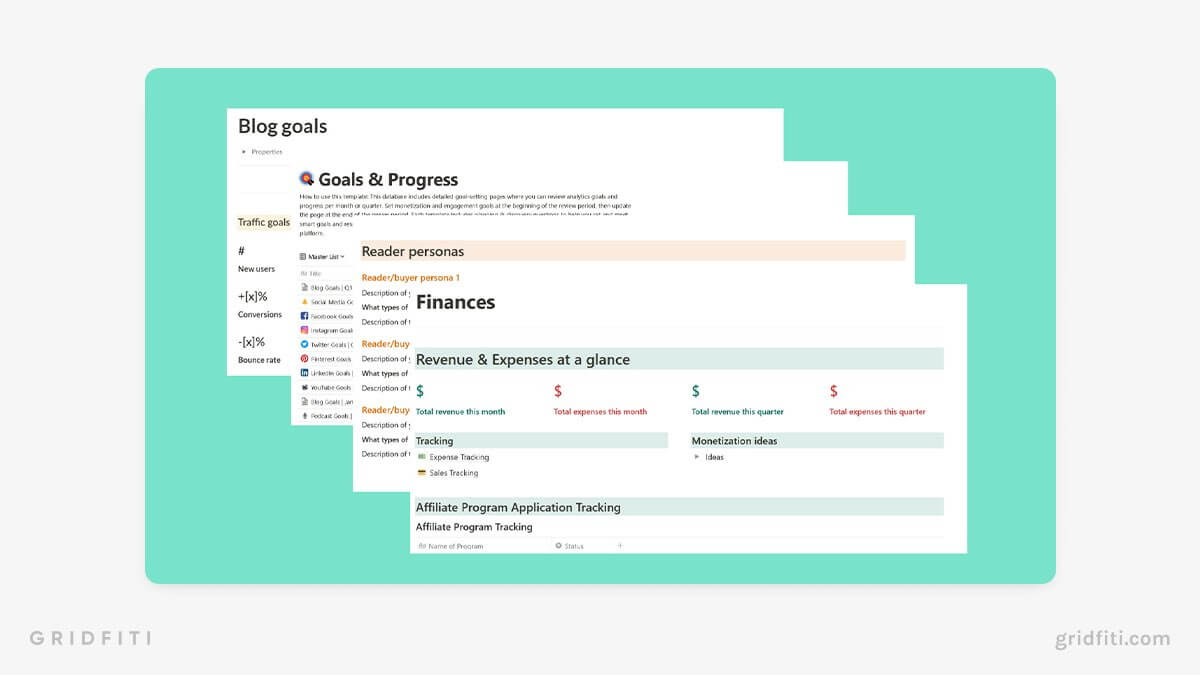 Notion-Zine – Aesthetic Blogging Template for Notion
Create a beautiful magazine layout for your blog's site with this aesthetic Notion blogging template from The Notion Bar! This template design is perfect for anyone looking to modernize their blog's presence using Notion – or anyone who just wants to organize and write their content in Notion before publishing on another CMS. Make your blog writing more memorable and more visually appealing with these 10+ different magazine layout designs.
For more, don't miss our round-up on the best Notion website templates!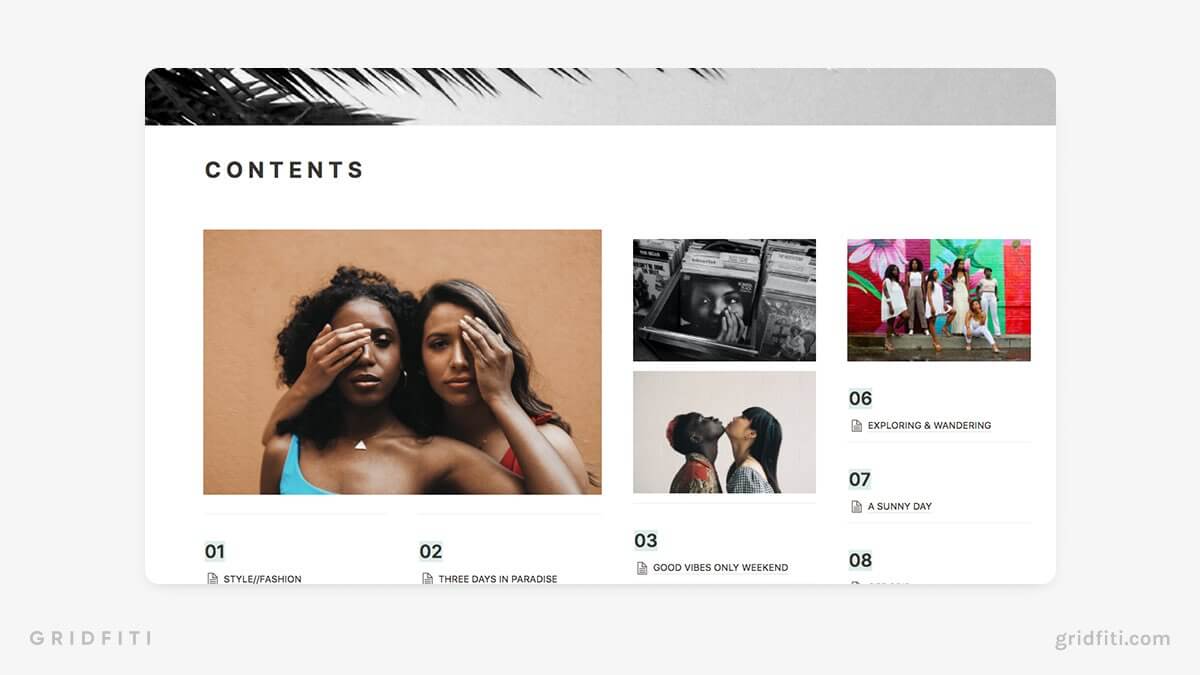 Basic Notion Blog Content Management System Template
Write, edit, and track your blog content using this simple Notion blog management system template. This template helps you capture post ideas, track content creation progress, and create an optimized blog posts!
Related Post: Notion SEO Templates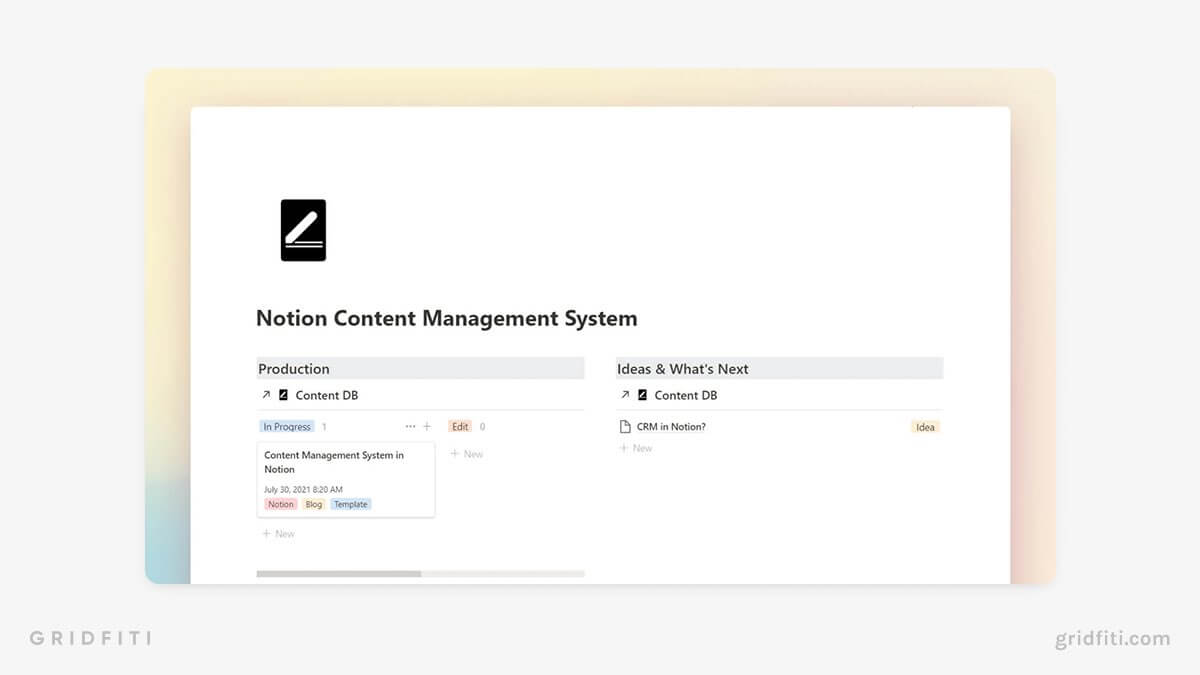 Blog Finance Tracking Templates
Keep your blog finances in check by streamlining your expenses and tracking your sales with this blog finance tracking template pack. Use this template to keep track of any blog monetization ideas, and log affiliate revenue generated from your blog. With the homepage dashboard, you can see monthly and quarterly revenue and expenses at a glance!
Related Post: Best Notion Finance Tracker Templates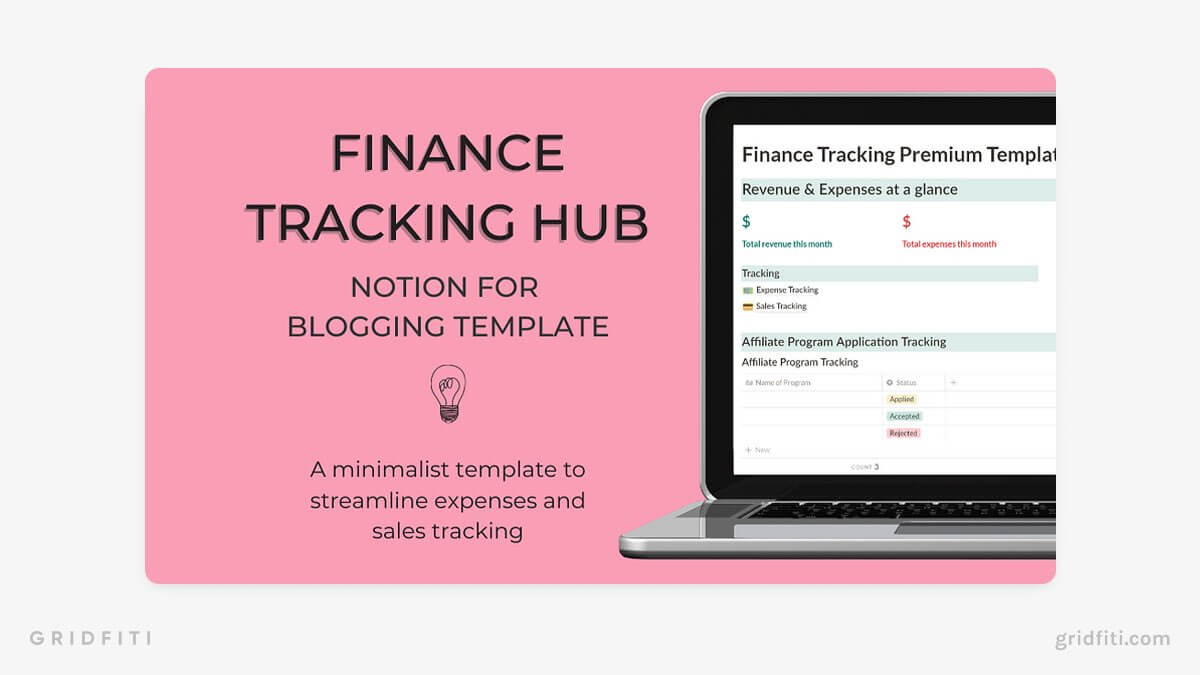 Content Creation Hub Template for Notion
The Content Creation Hub for Notion is a central database to your blog, social media, podcast, email, and YouTube content. Use this template to plan, organize, and create content for all of your different mediums in one place, using the 9 different Notion content templates!
Related Post: Notion Content Creation Templates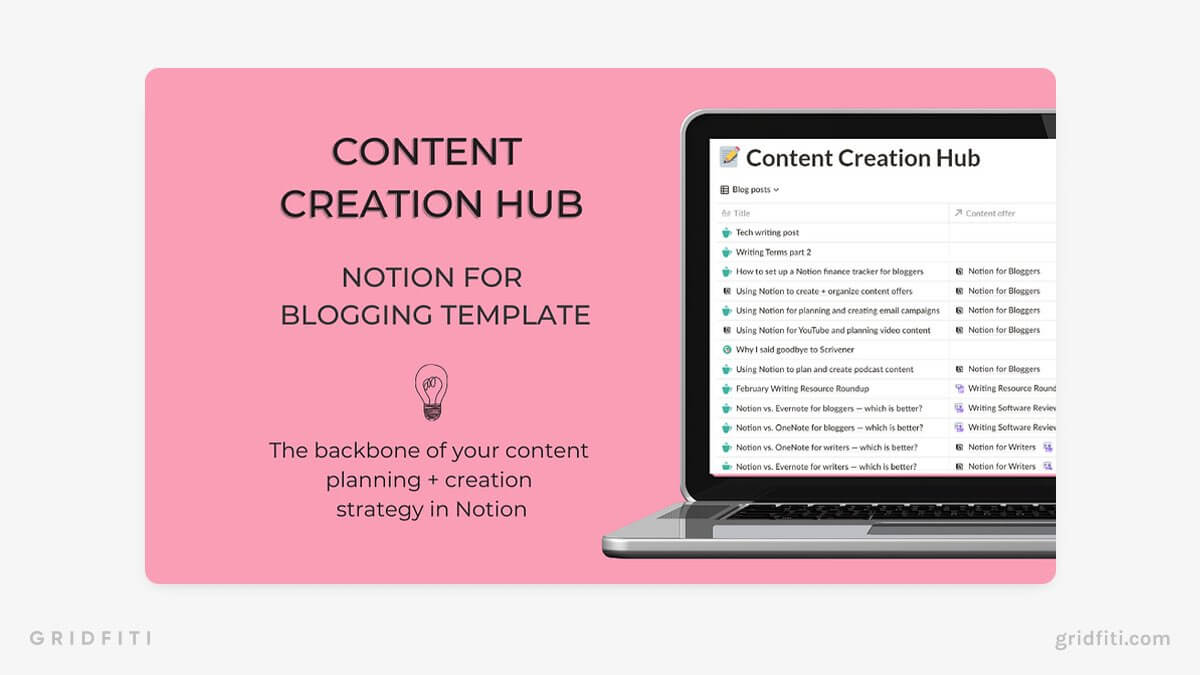 "Blog Magic" Notion Template
Coming up with new blog topics and organizing your posts can be time-consuming, but the "Blog Magic" Notion Template helps you plan, schedule, and generate new blog content ideas. Stay consistent and create compelling blog posts in Notion with this premium template pack!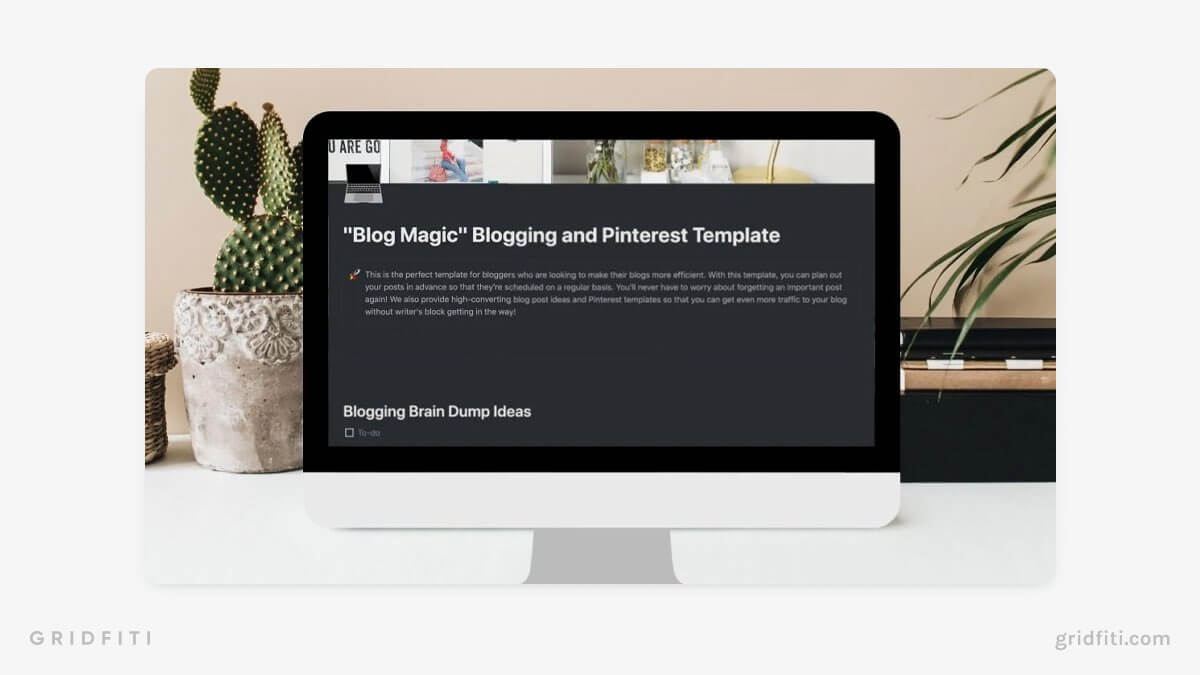 Notion Blog Post Planner Template
Come up with new blog post ideas, set writing guidelines, and map out your publishing schedule in a Kanban board with this Notion blog post planner template. Whether you have a team of writers, or you're running your blog solo, this template will help you organize your content ideas in one place so you know exactly what needs to be written and published!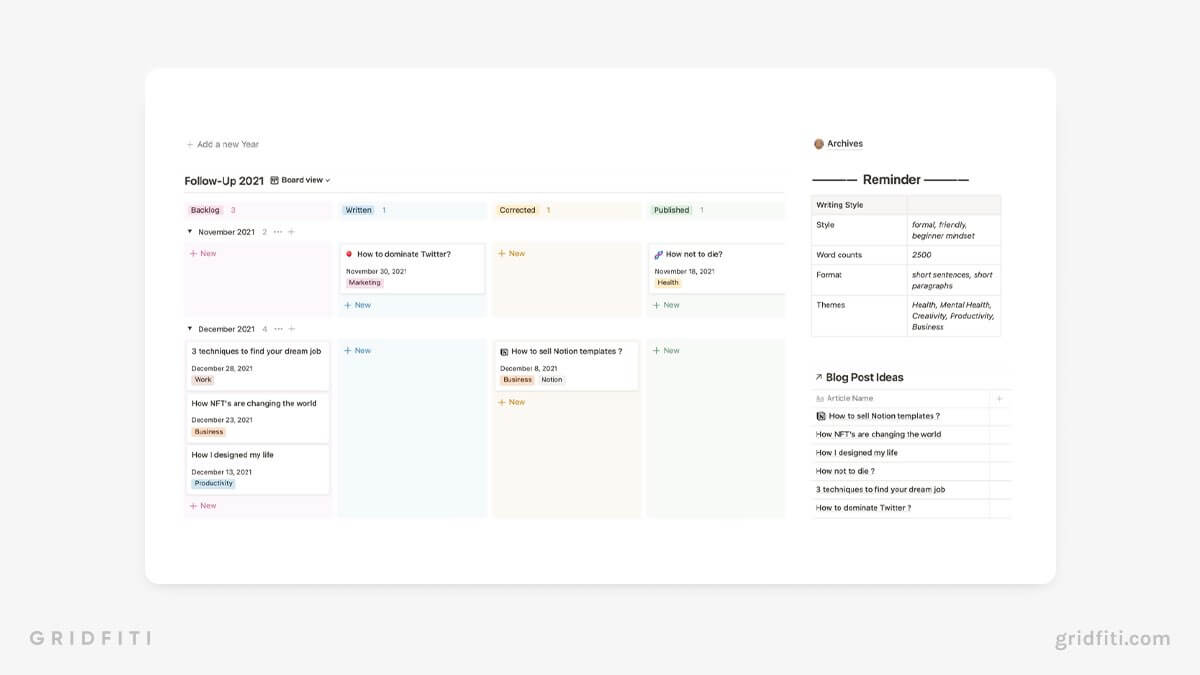 Which Notion blog templates would you recommend? Are there any Notion templates for blogging that we're missing from the list? Let us know in the comments below!
Gridfiti is supported by its audience – when you buy something using the retail links in our posts, we may earn a small commission at no additional cost to you. We only recommend products we would use ourselves and recommend to our friends and family. Read more about our affiliate disclaimer.