Notion business templates make it easier than ever to manage every element of your business in one place. But with so many templates out there for creating, maintaining, and scaling your biz, it can be hard to choose the right option for your needs.
To help you pick the right one, we've curated the best Notion business templates and dashboards for running your company — whether you're a freelancer, entrepreneur, small business, side hustler, or startup!
---
Looking for more productivity tips and tools? Subscribe to The Flow — our quick, snappy, value-packed focus and recharge newsletter. Also, don't miss our several other Notion template round-ups and guides!
---
Table of Contents
All-in-One Business Templates
If you're looking for a robust template bundle with all the bells and whistles, we've got you covered with all-in-one Notion templates for freelancers, entrepreneurs, startups, side hustles, small businesses, and even large companies.
Notion Enterprise OS
A Notion company management system to help you track tasks, projects, meeting notes, store knowledge, and more, the Enterprise OS template will streamline your operations. Reduce time spent on manual processes and admin tasks so you can focus on delivering, creating, and scaling!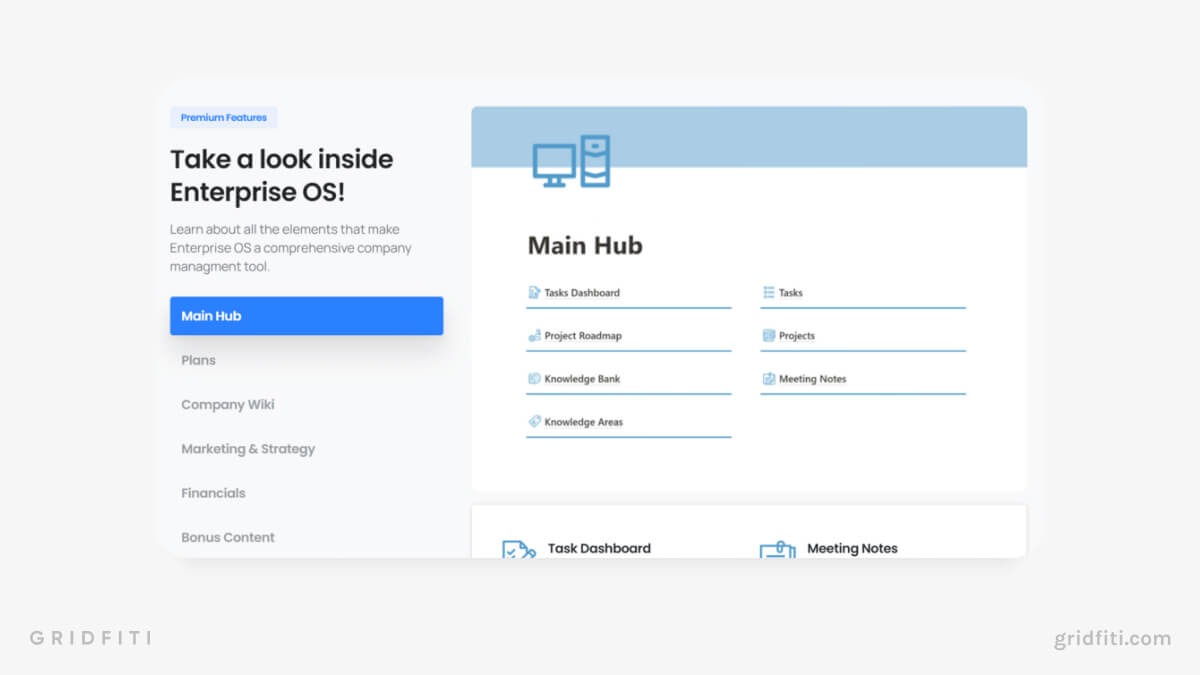 Notion Ecommerce Business Kit
If you're looking for a Notion template that caters more specifically to your online shop, then this Notion ecommerce template is the one for you!
This Notion template is an in-depth, customizable operating system that consists of over 30 built-in templates designed to help you run and scale a successful ecommerce storefront — perfect for side hustles and passive income!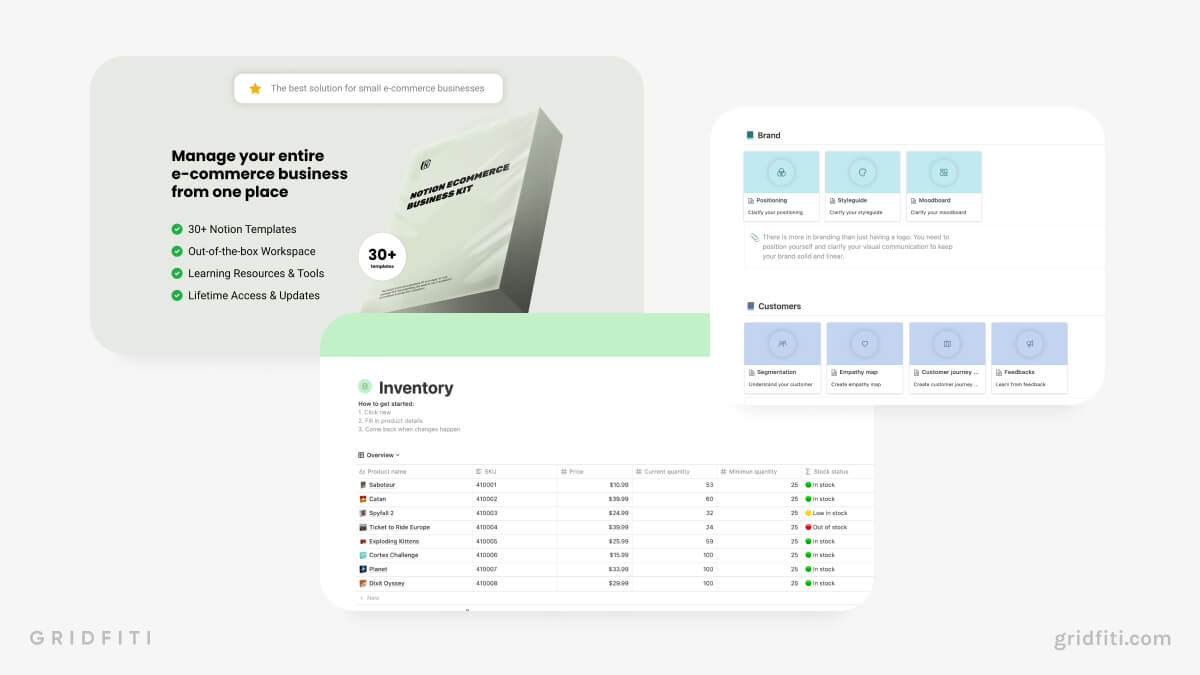 Remote Business OS – Notion Template for Remote Companies
The ultimate Notion kit for any remote businesses, the Remote Business OS focuses on simplicity over complexity by providing an all-in-one system and dashboard that adapts to your remote company.
With this package, you get cohesive templates that cover the core aspects of running a remote business — from project management, to finances, operations, sales, company overview, time tracking, and more!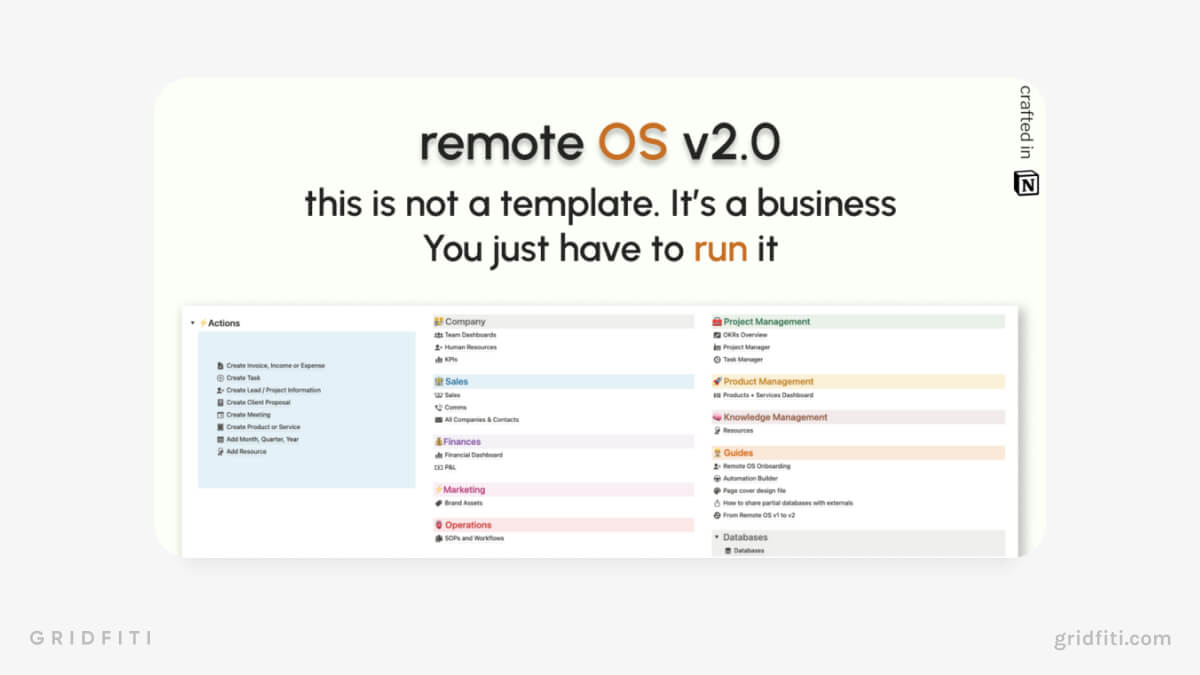 All-in-One Notion Freelancer Dashboard
Every freelancer knows that running a successful business involves so much more than managing projects, clients, and invoices. Complete with a content planner, research hub, OKRs, expense and income tracking, and more, the All-in-One Notion Freelancer Dashboard does what it says on the tin.
This beefy template also includes automations for creating recurring tasks, proposals, invoices, and more so you can focus on the important stuff: your client work!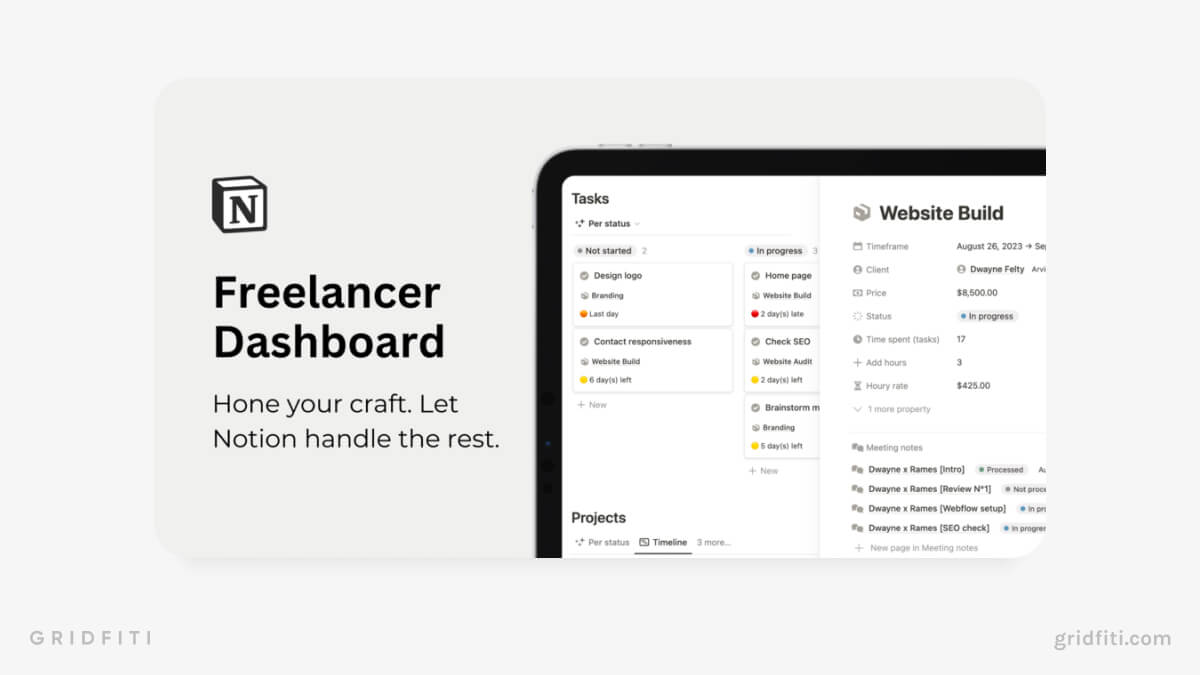 Notion Startup OS
The perfect Notion operating system to plan, launch, and grow your startup, Startup OS includes over 60 business templates — including a customizable business dashboard, business model canvas, value prop canvas, and company OKR tracker!
Startup OS is as much of a system as it is a pre-built template, helping you get organized and back to focusing on doing what you do best.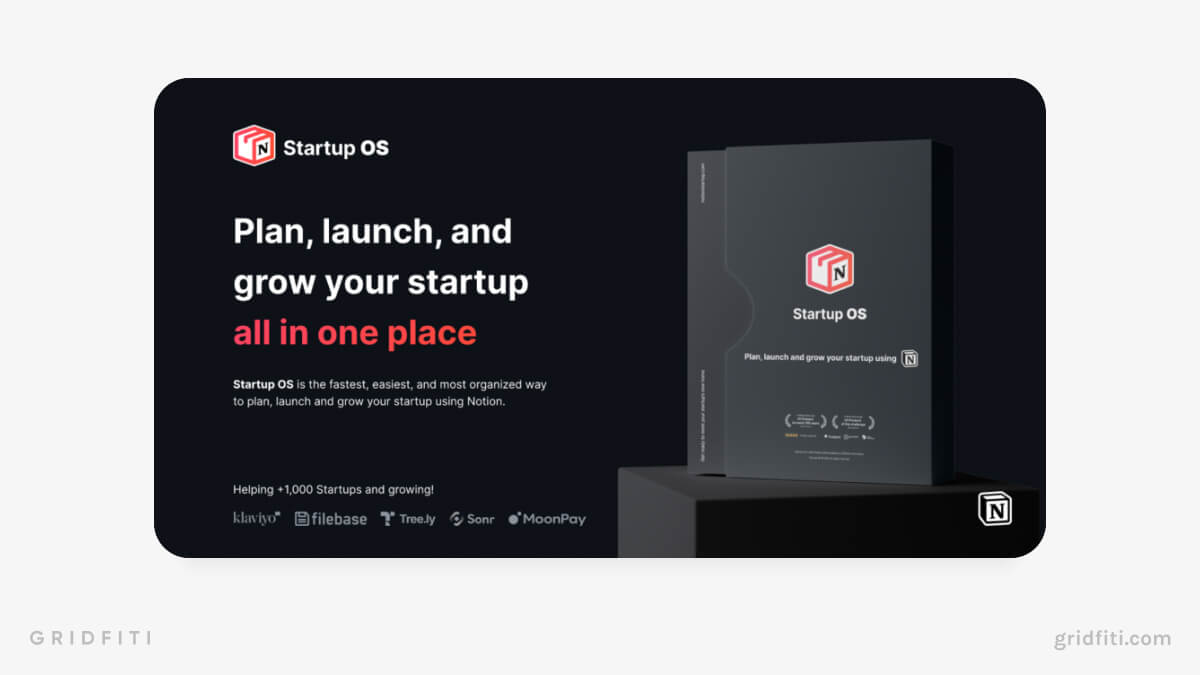 Intranet Business OS
One of the few Notion templates for enterprises and large corporations on the market, Intranet Business OS truly is the total package.
Choose between the solopreneur or enterprise version, each of which comes with its own features. The enterprise version includes templates for employee management, expenses and labor costs tracking, salaries and scheduling, and so much more!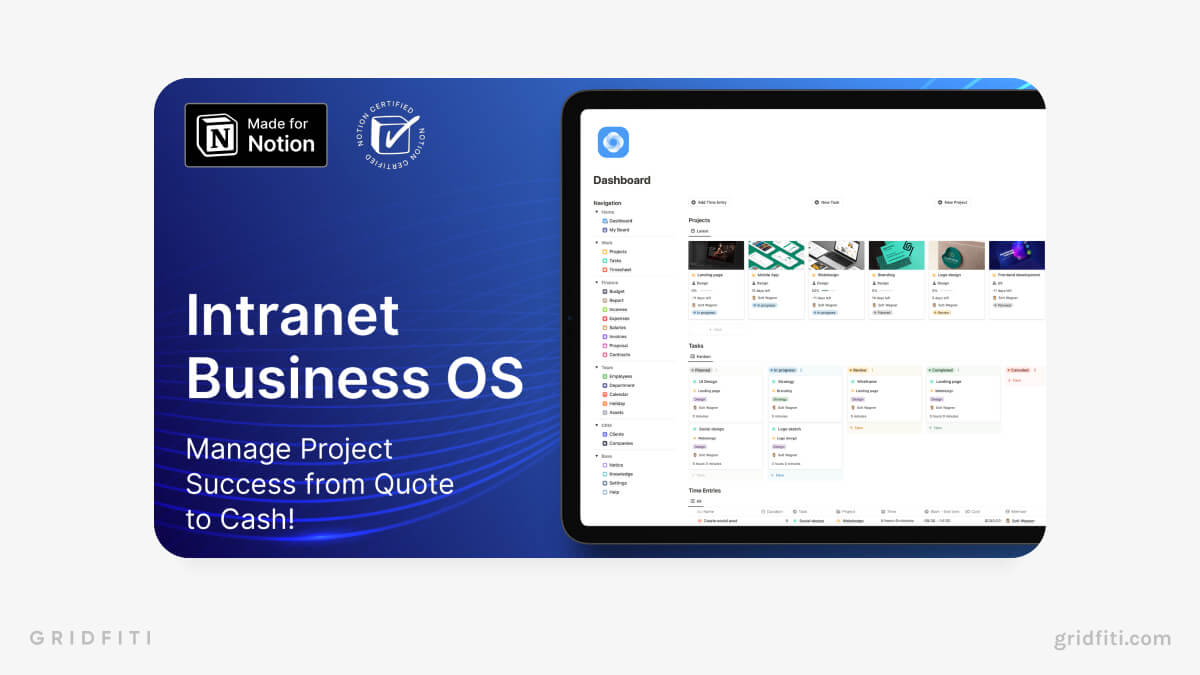 Business Hub for Notion
Calling all entrepreneurs! The Business Hub has the systems you need to turn your product idea into a thriving business. Conduct market and user research, outline your brand strategy and identity, make plans and set goals, manage creative briefs, and more.
The best part? This template includes business tools, guides, and resources to help you along your journey!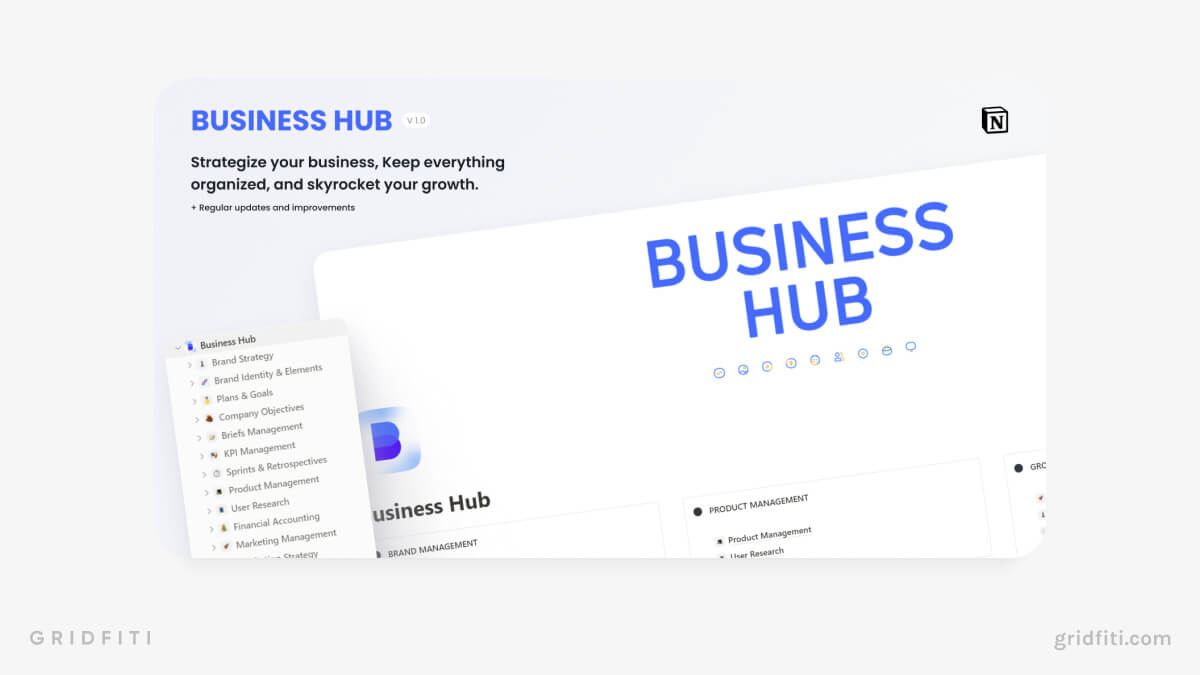 Notion Templates for Freelancers & Entrepreneurs
Working for yourself is super liberating — but managing admin and finances on top of your services and client work can be hectic without solid systems in place. If you can relate, check out our top Notion templates for freelancers, entrepreneurs, and self-employed business owners!
Want more templates? Check out our roundup of the best Notion templates for freelancers!
Notion Entrepreneur Bundle
This bundle of 3 templates — the Agency Kit, Productivity Kit, and Content Creator Kit — is the perfect one-stop shop for consultants and entrepreneurs.
The Agency Kit includes a CRM and trackers for finances, meetings, notes, assets, and projects, plus extra business resources and outreach management. The Productivity Kit is essentially a planner for entrepreneurs, while the Content Creator lets your manage your content calendar.
All 3 templates include handy automations to help you work faster (and smarter!).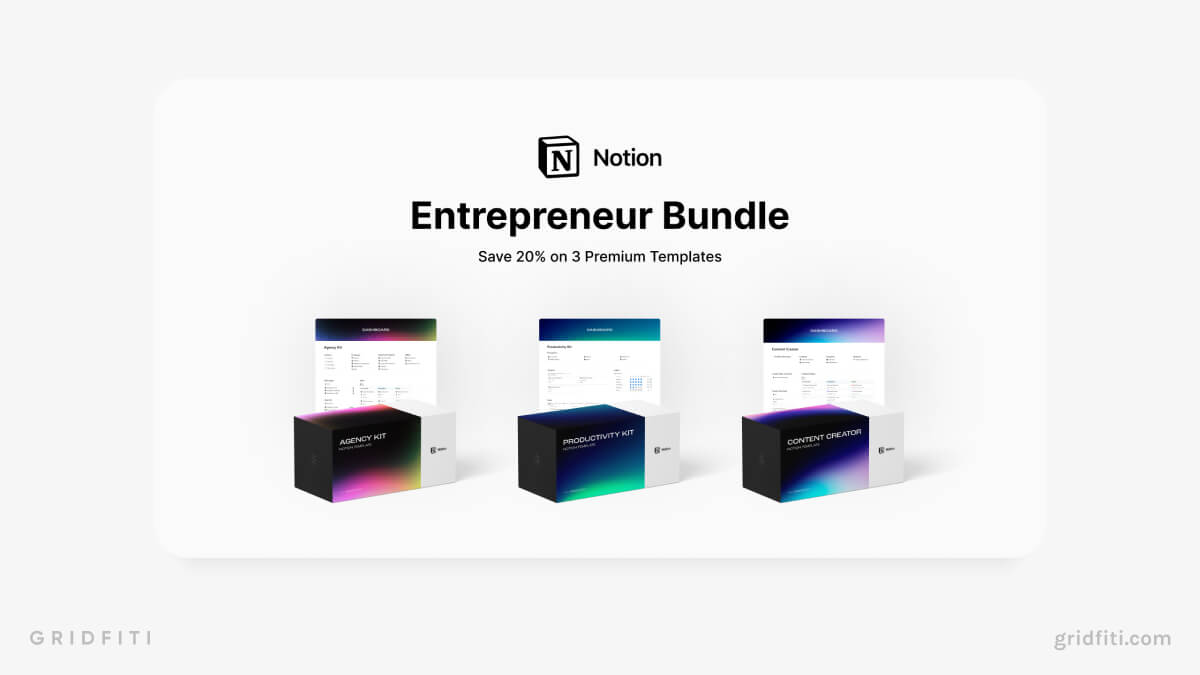 ProjectOS Pro
Most project management templates are essentially a planning tool — but not ProjectOS Pro! This template lets you track your results for each quarter and see your progress every step of the way, even after project completion. You'll also find templates for meetings, tasks, progress reports, and more!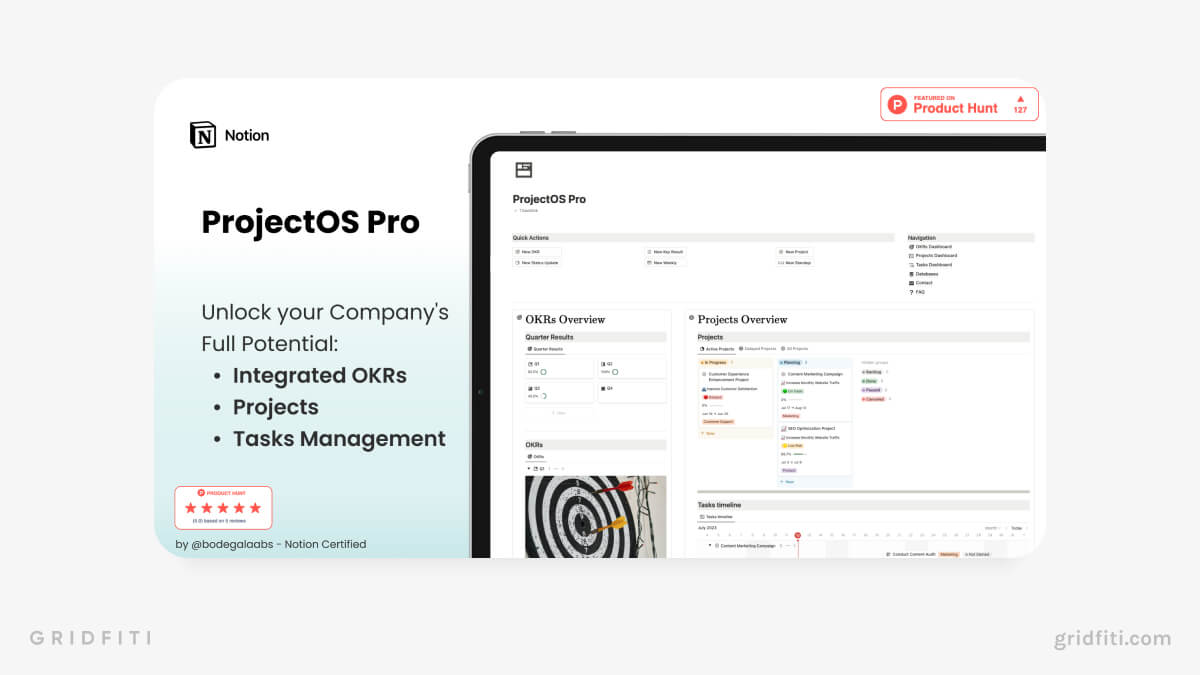 Notion Solopreneur Workspace
Unlike some of the other Notion templates for solopreneurs on our list, this one includes content creation tools and trackers to help you market your business and services. You'll also find templates for setting your prices and services, managing your invoices, and even storing contact info for other professionals in your network.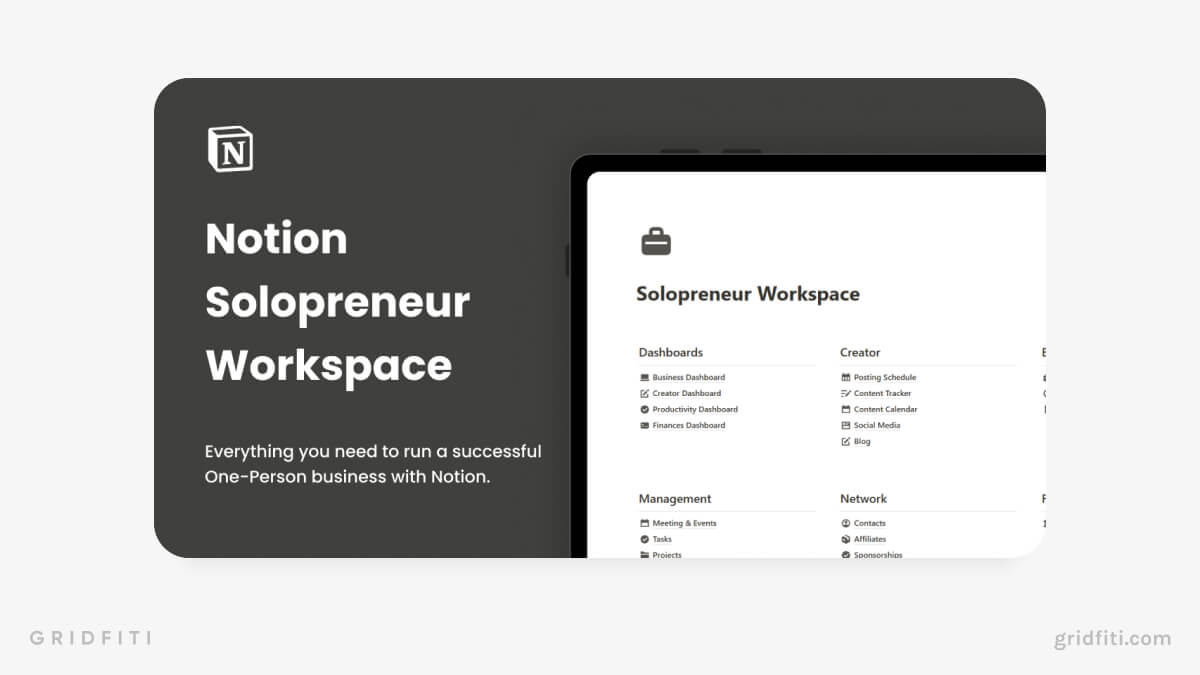 Problem Solving Kit
Client and project management templates will come in handy when you're in the "feast" cycle of freelancing. But what about when the "famine" cycle hits, or you have a business problem that feels too tricky to solve?
That's where the Problem Solving Kit comes in! This template includes trusted frameworks like SWOT and TOSCA to help you identify the problem and what's causing it. From there, you can deploy the built-in solutions and analysis tools to tackle your biggest challenges and measure your success.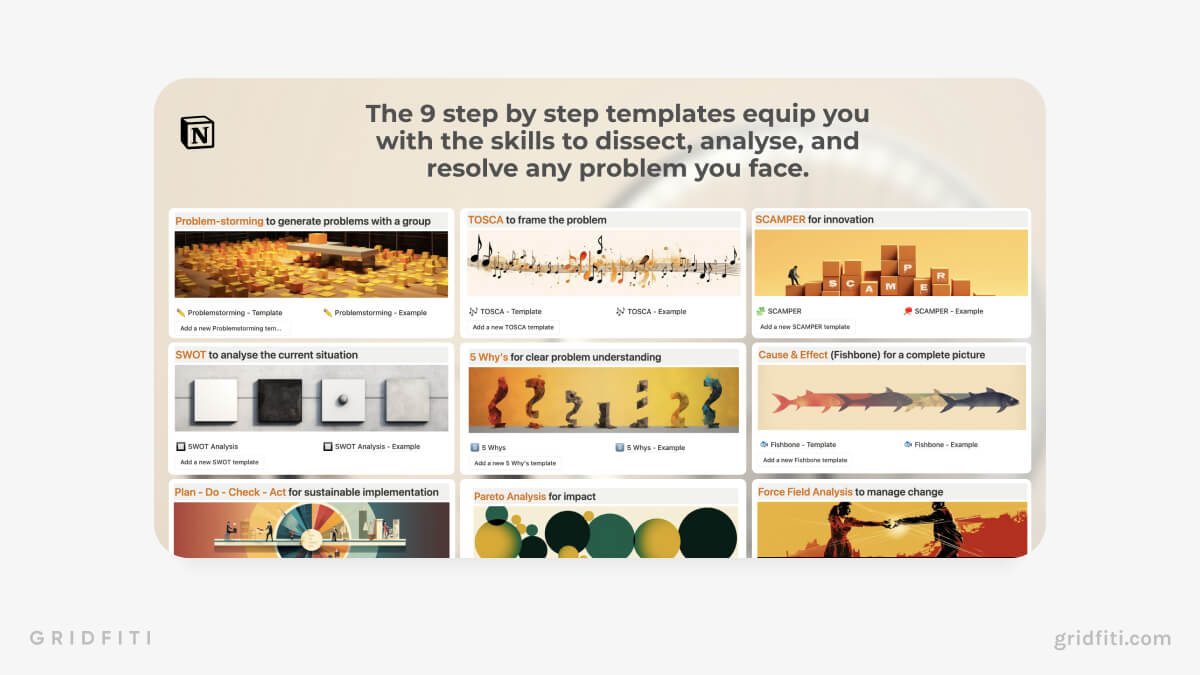 Ultimate Business CRM
Manage your projects, tasks, clients, contacts, and more with the Ultimate Business CRM. Designed for freelancers and entrepreneurs, this template lets you track the status of prospects from lead capture to conversion. With Ultimate Business CRM, you can also store notes, schedule meetings, and manage projects.
Related Post: The Best Notion CRM Templates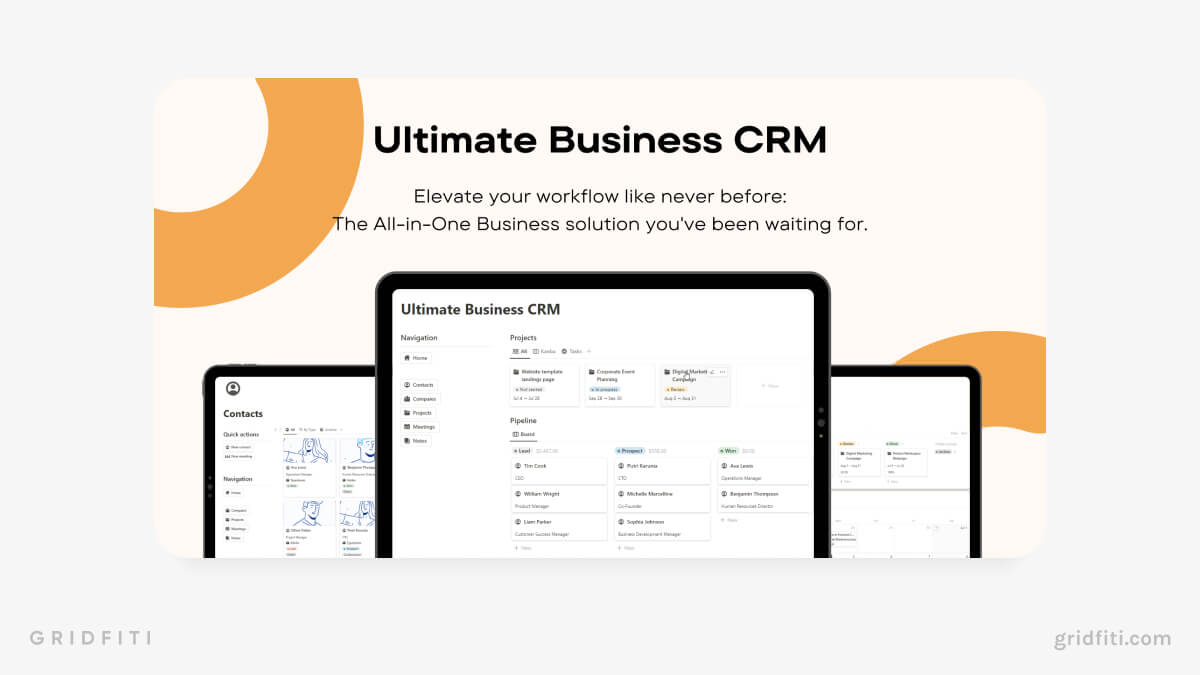 Notion Networking Hub
Searching for an ADHD-friendly Notion CRM designed for freelancers and entrepreneurs? The Notion Networking Hub includes automated reminders for reaching out and following up with your network, plus easily accessible notes and info for each contact.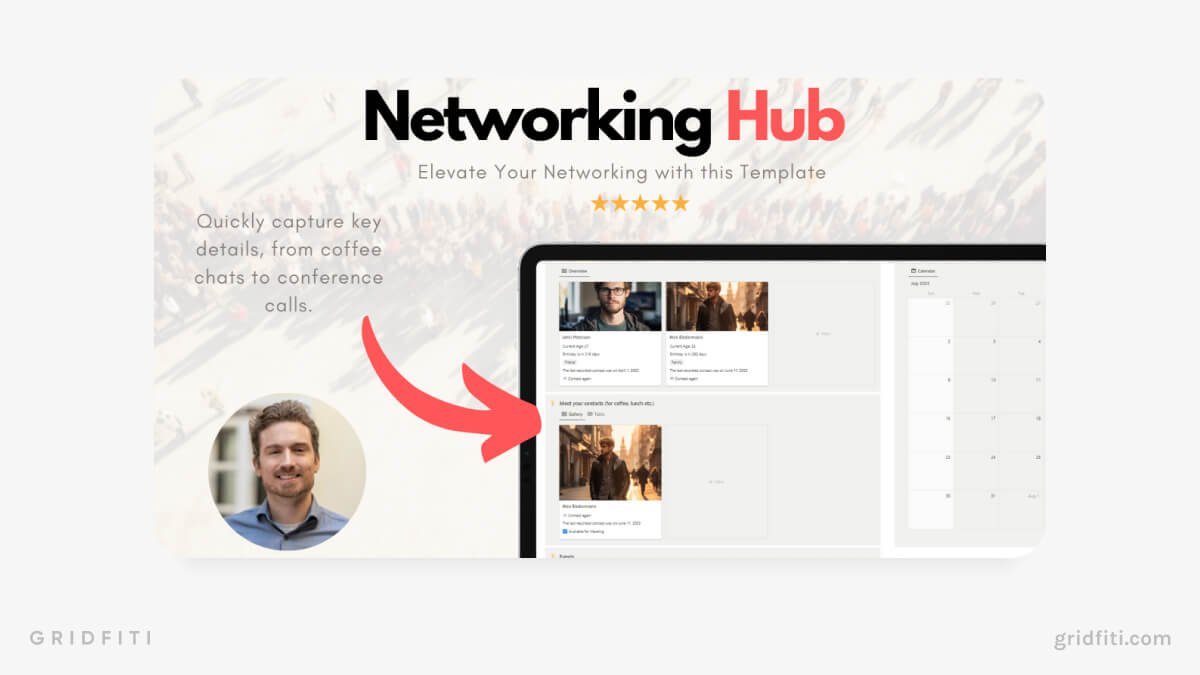 Notion Templates for Small Businesses
Whether you're a one-person show or a tight-knit team, these Notion templates will help you organize every element of your small biz, from validating your bright ideas to launching your shiny new brand!
The Notion Small Businesses Kit
The Notion Small Business Kit is an all-in-one package to help you start and manage your small business in one place. The kit includes over 40 templates, including exploration questions for starting and growing your biz, examples, tips, tools, and tons more!
Related Post: The Best Notion Inventory Management Templates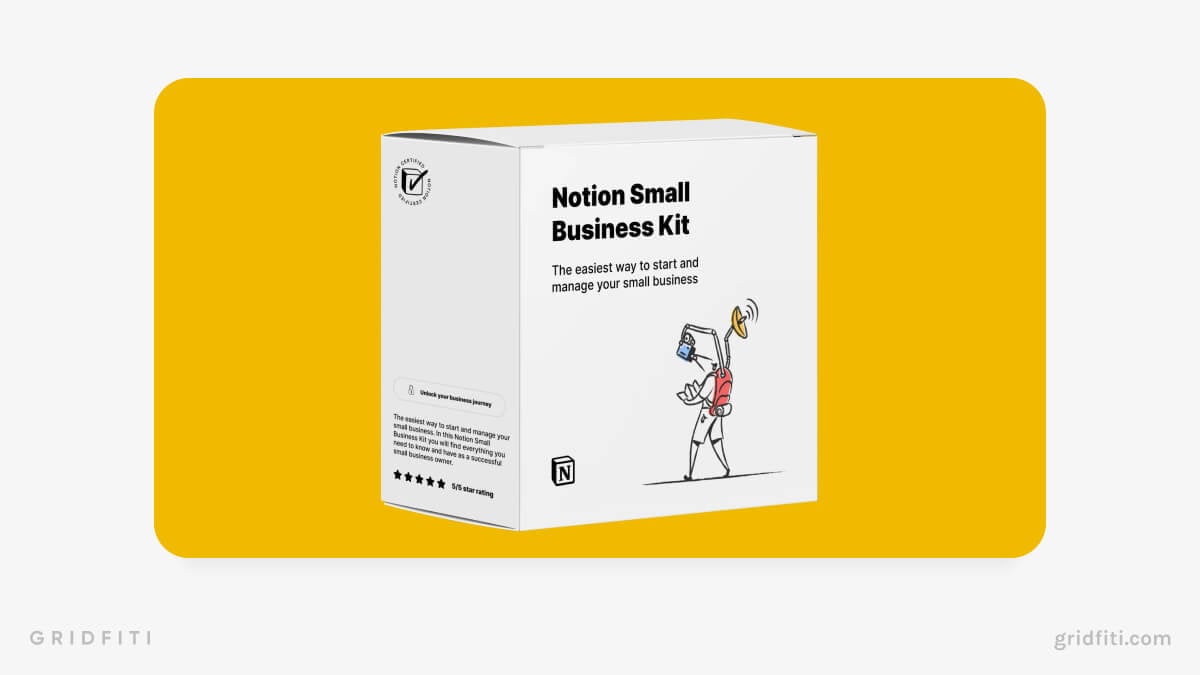 Launchboard
Tired of switching between dozens of apps and browser tabs to plan your product launch and communicate with your team? Say goodbye to constant context-switching with Launchboard!
Built for teams, this Notion product launch template lets you create and store tasks, meeting notes, campaign assets, and so much more. Automated alerts ensure you're notified of roadblocks as soon as they happen so you can respond swiftly before go-live.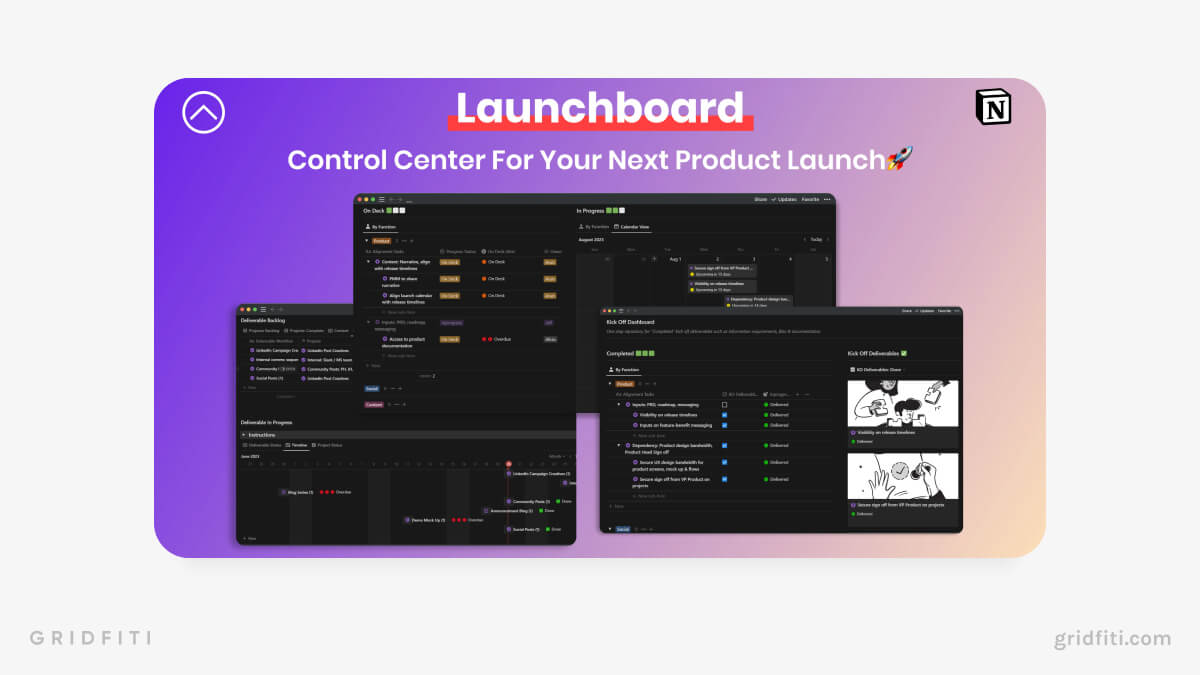 Notion Shift Business Planner
Employee scheduling tools can get expensive fast, even for small teams. The Notion Shift Business Planner lets you set one-time and recurring schedules for every member of your team. See the company-wide schedule at a glance with calendar views, and store notes, agendas, tasks, and more with this intuitive template!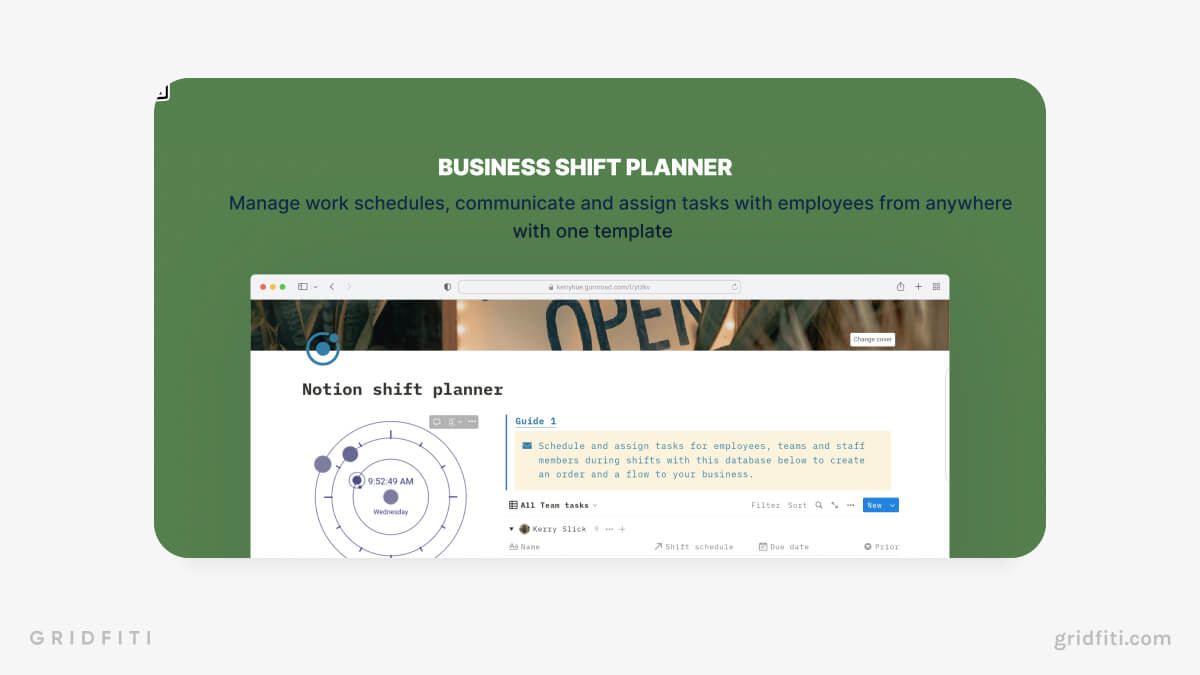 Notion Customer Support Template
Looking for an affordable alternative to help desk apps and ticketing systems? This minimalist Notion business template has everything you need to manage customer support for your biz, from generating support tickets and managing agent profiles to creating your company's knowledge base and storing answers to frequently asked questions.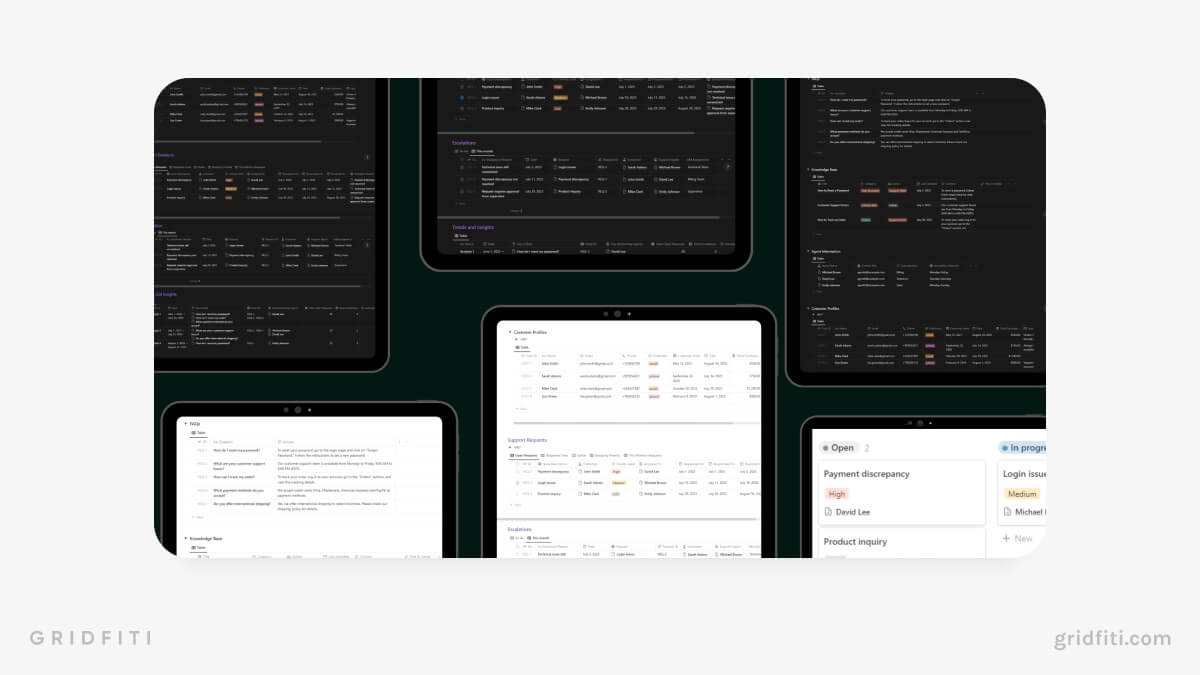 Small Business Operations Manual
Creating (and implementing) solid operating systems and procedures is one of the biggest challenges for small businesses. Luckily, the Small Business Operations manual is on hand with built-in best practices on everything from creating your company's philosophy and vision to outlining your daily operations systems. Perfect for new business owners and those looking to centralize their company's systems.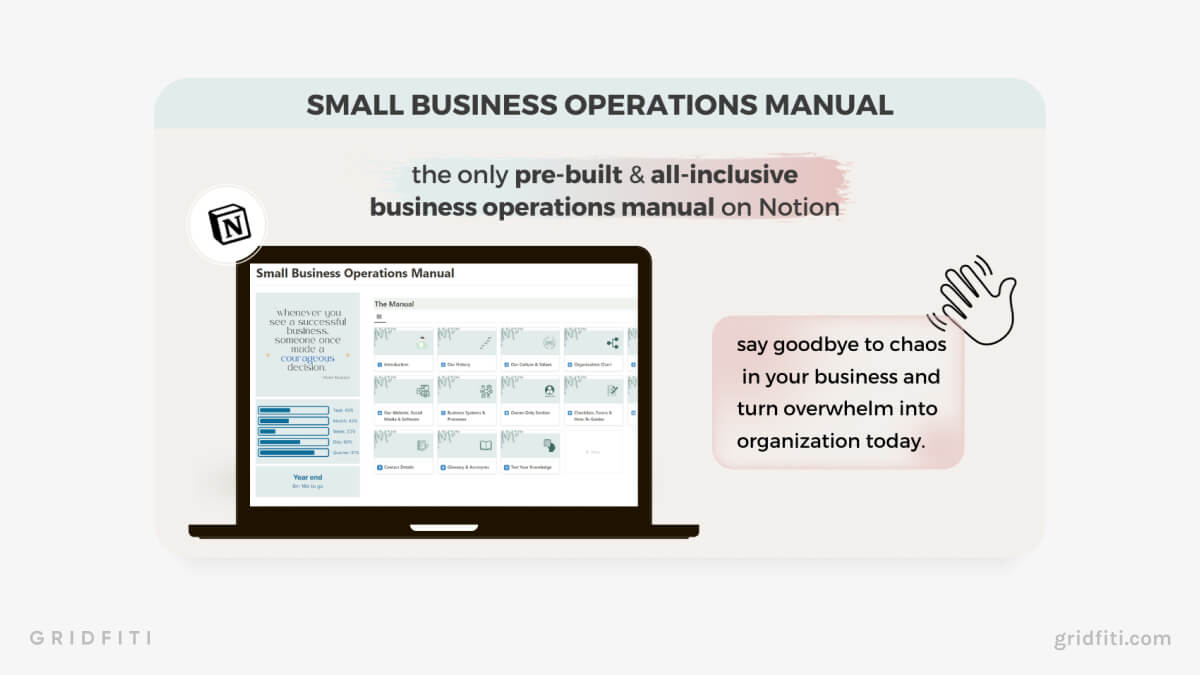 Notion Templates for Startups
Staying organized is a big challenge for startup founders — totally understandable when you're juggling so many plates! These Notion startup templates can help streamline your operations and free up your bandwidth, ensuring your precious time is spent on the most impactful activities.
Keen to explore more templates? Dig into our full list of the best Notion templates for startups!
Bootstrap OS – Notion Business Dashboard Template
If you're feeling overwhelmed by the process of turning your idea into a full-fledged business, this one's for you!
This easy-to-follow guide includes an in-depth walkthrough of every part of the process, from laying your foundations and creating your value proposition to A/B testing and executing your product roadmap. Built-in checklists and resources will help ensure you don't miss a single step!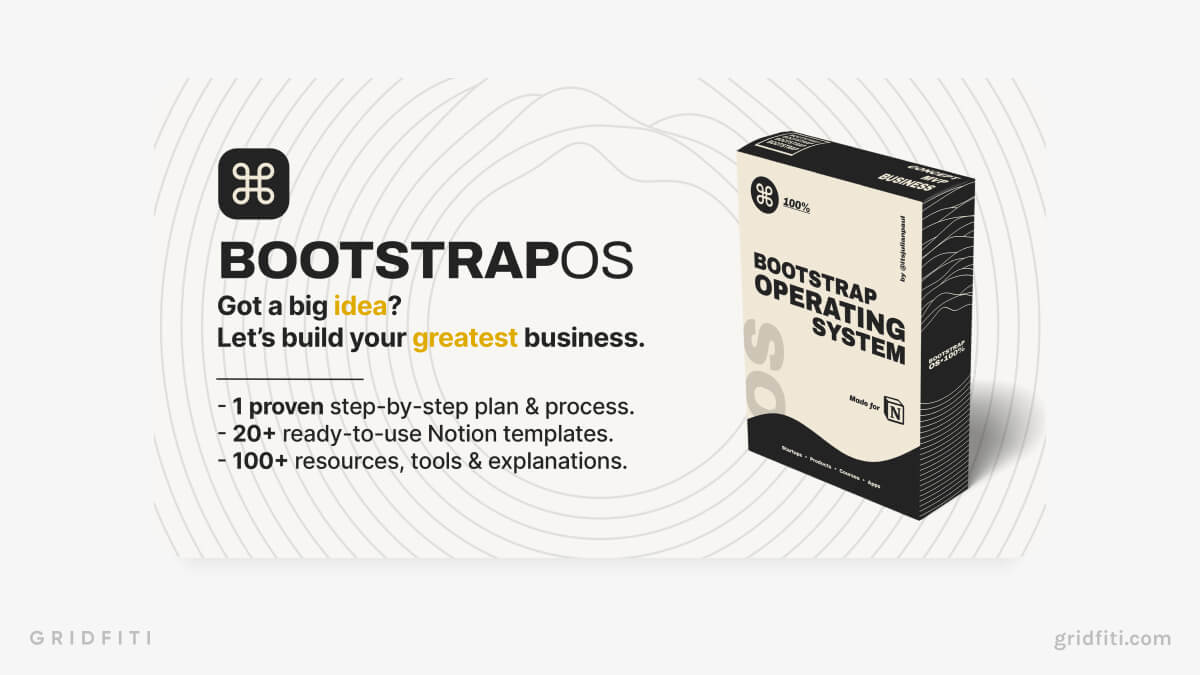 BusinessMind for Notion
Designed for startups, BusinessMind is the ultimate business management solution. Personalized dashboards let you see the info that matters most to you — whether it's KPIs, projects, tasks, or even meeting notes. BusinessMind includes robust, easy-to-use databases for everything from business ops to product to distribution.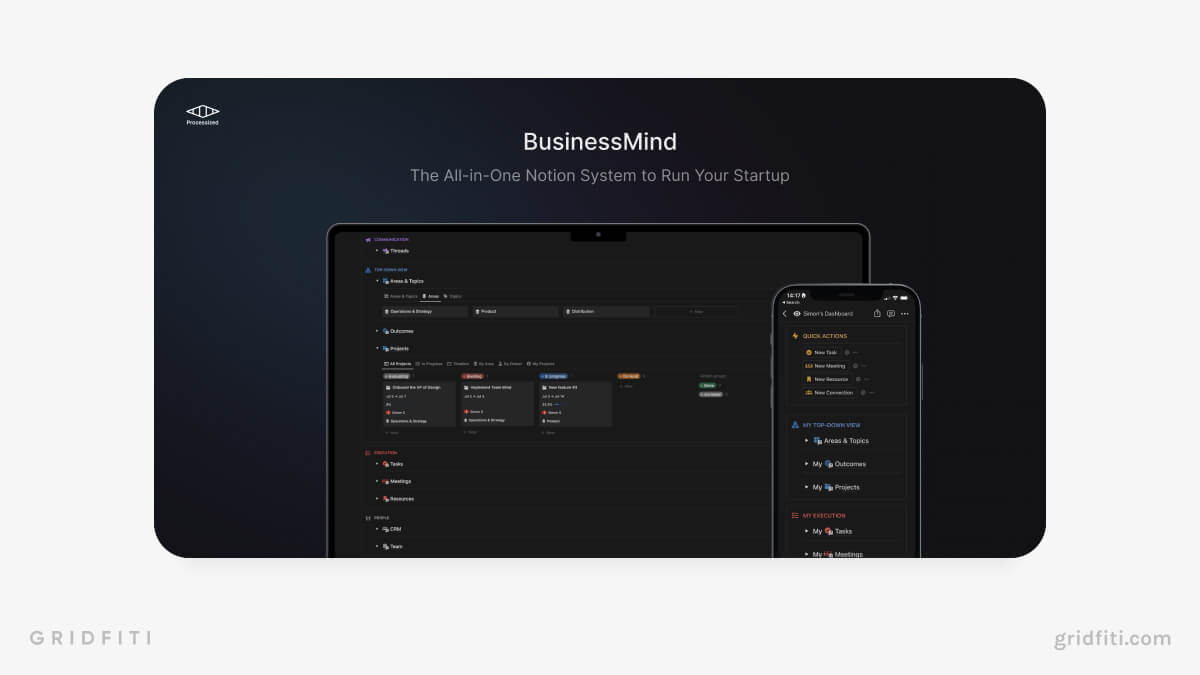 Notion Company OS
Looking for a Notion business template that combines a CRM with task, project, and client management? You've found it! Notion Company OS lets you track leads, finances, clients, team members, and so much more — all in one clean, minimalist space.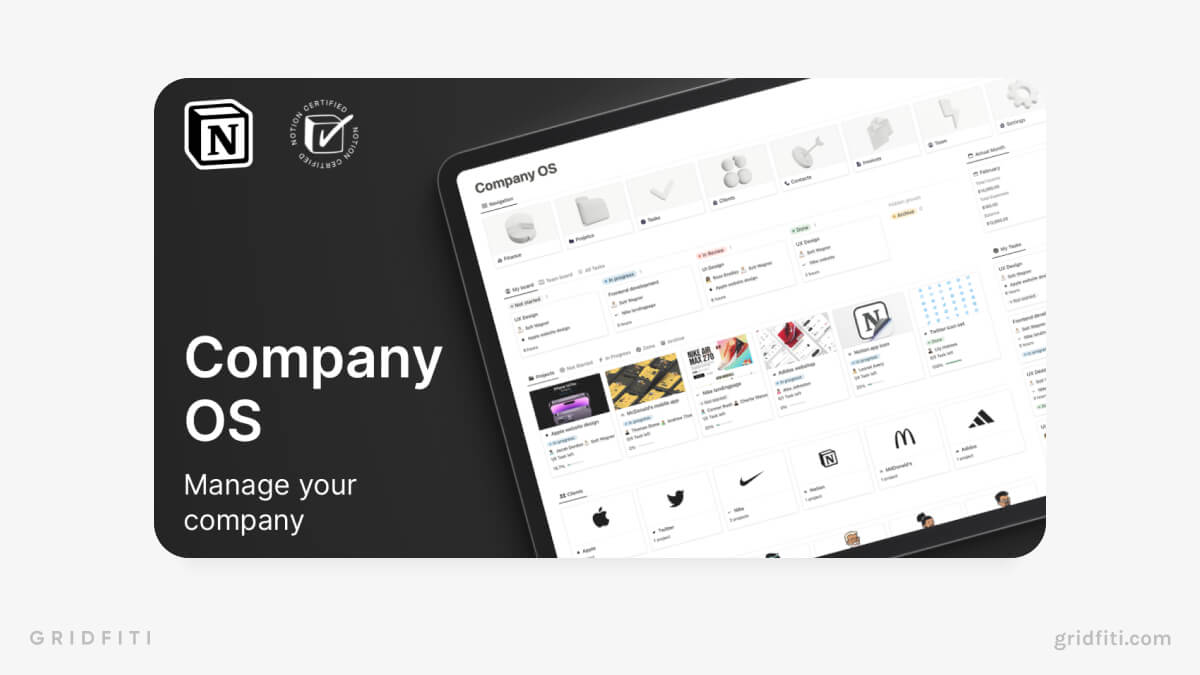 Startup BaseKit
Whether you're still searching for your winning product idea or you're neck-deep in the fundraising process, Startup Base Kit is the ultimate companion for every founder.
From brainstorming and developing your ideas to conducting industry analyses and creating your business model canvas, this template lets you do it all. And if you integrate AI into your work, Startup BaseKit also includes templates powered by Notion AI to help you make the most out of your setup.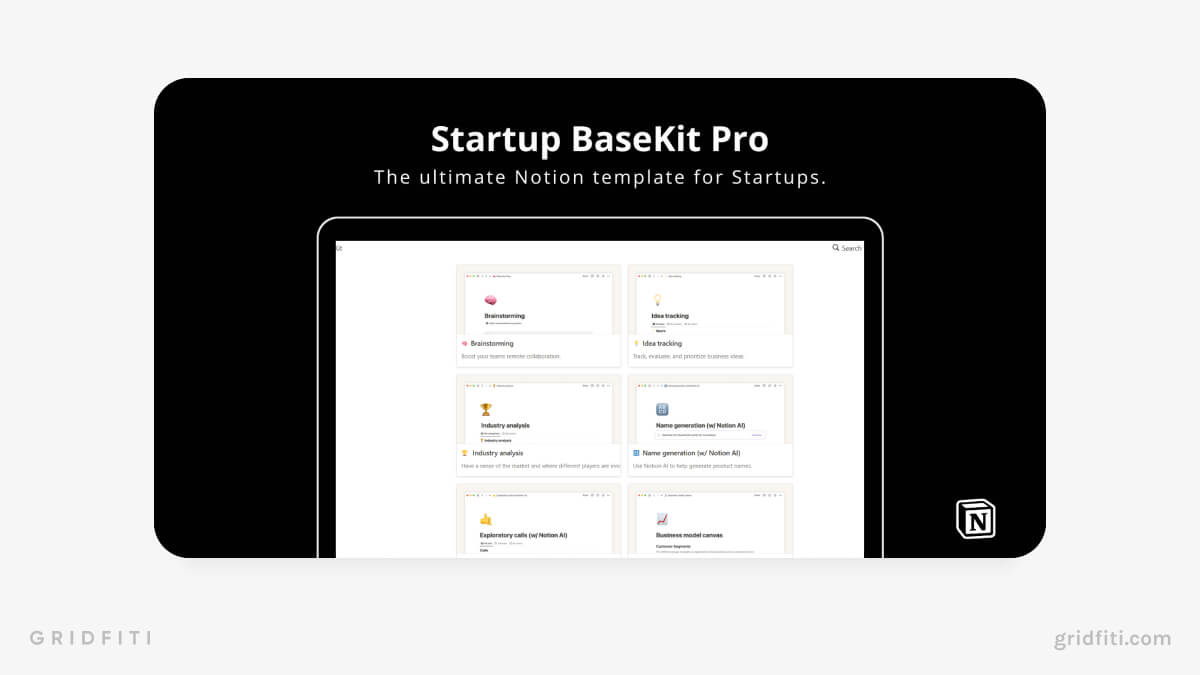 Remote Team Collaboration Notion Hub
Managing a fully remote team while scaling your startup? Check out the Remote Team Collaboration template! This simple yet powerful template includes a shared team dashboard, meetings database, task management, project tracking, resource library, and more.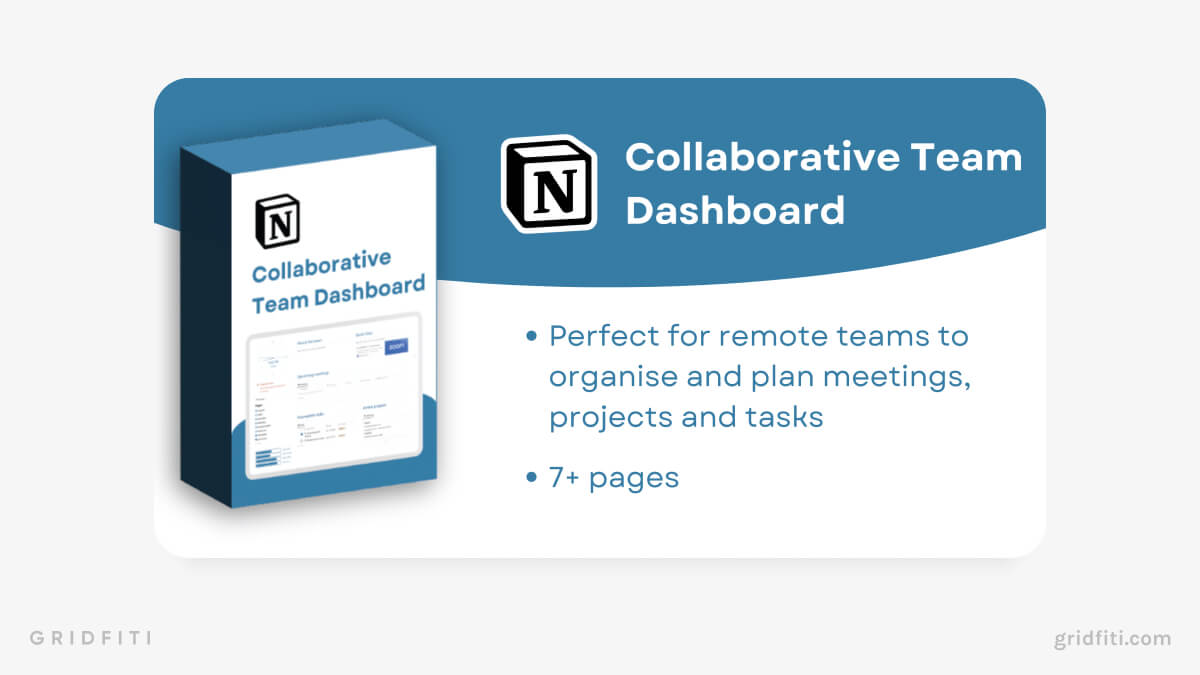 Notion Templates for Side Hustles & Passive Income Streams
Need a better system for managing your income streams? Check out our favorite Notion templates for side hustles, passive income, and other side gigs!
Notion Business Starter Pack
Looking for your next side gig idea? Already have an idea that you're itching to develop? Check out the Notion Business Starter Pack, complete with resources on creating an irresistible offer and boosting your sales, plus over 1,500 ChatGPT prompts to speed up your time to launch!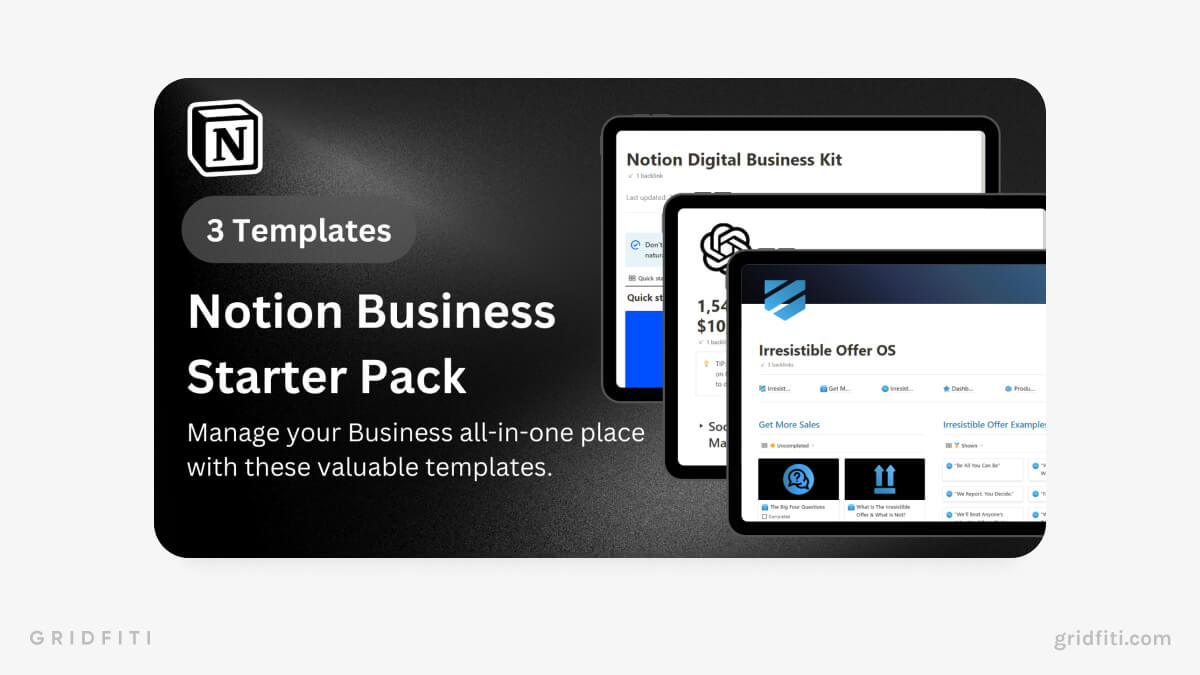 Brainstorming Notion Template
If you're just dipping your toe into the side hustle life, you might feel a little overwhelmed by the all-in-one templates out there. So if you just need a space to brainstorm your next hustle, this template is just the trick!
Once you've chosen an idea to develop, create an action plan to execute it in just one click. And if you find you do your best brainstorming on paper, this template also comes with a printable PDF!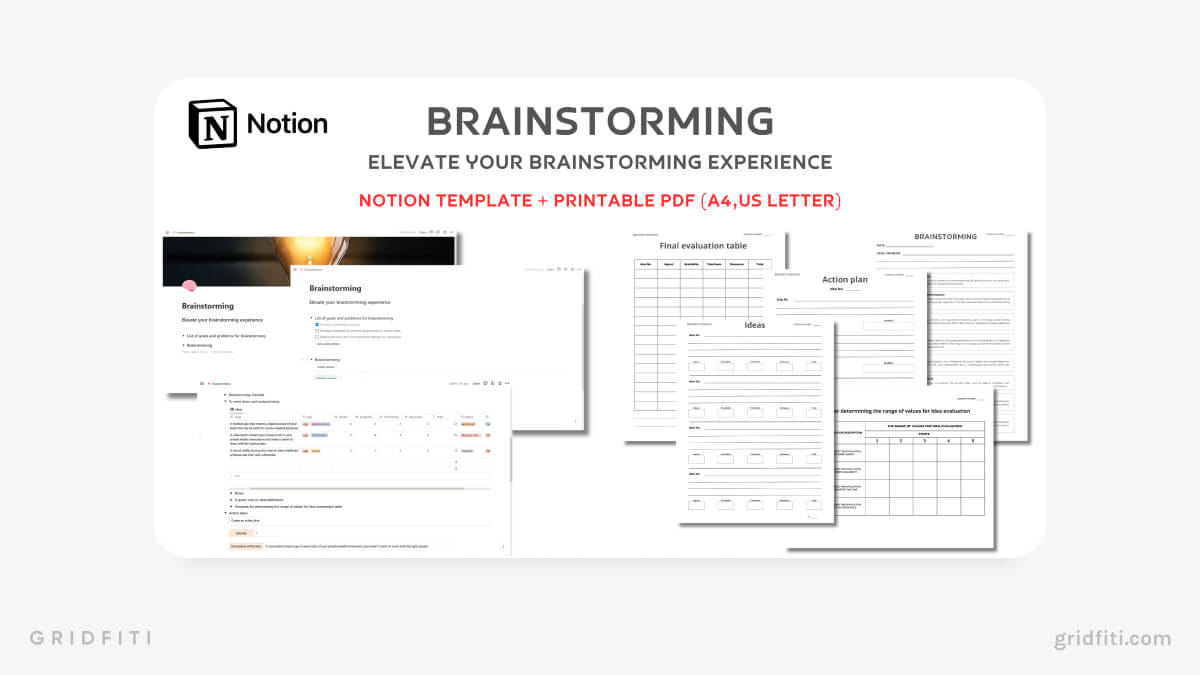 Notion Business Planner Template
Whether it's your first foray into passive income or you're an established hustler with multiple streams under your belt, the Notion Business Template has everything you need to start and scale your side gigs. Conduct research on products, competitors, and market trends, and track everything from your expenses and suppliers to marketing campaigns and product launches.
Lean Business Plan
Need to get your thoughts together before starting your side hustle in earnest? The Lean Business Plan template is the perfect solution for identifying the problem you're looking to solve, your target market and competitors, your revenue streams, and more. Ideal for newbies or side hustlers who are keen to hit the ground running!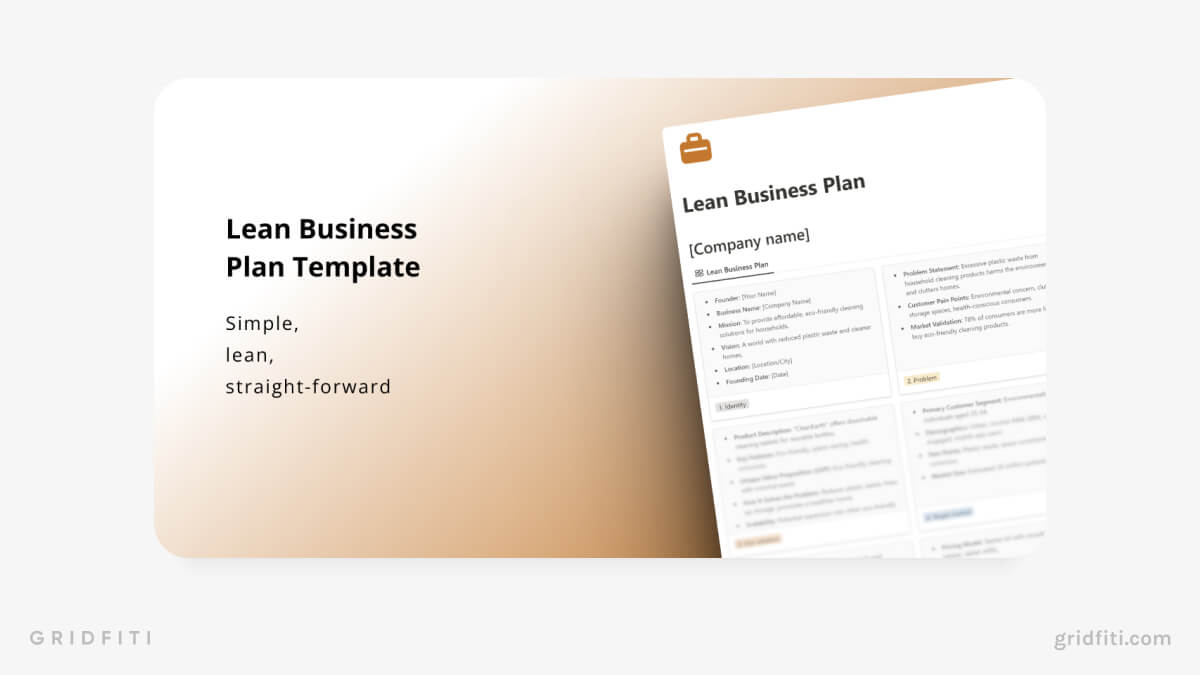 Free Notion Business Templates
Not sure if you're ready to go all in on Notion with a huge template pack? Try these free templates on for size before upgrading to a full package!
Shopify Business Blueprint – Early-Stage Business Template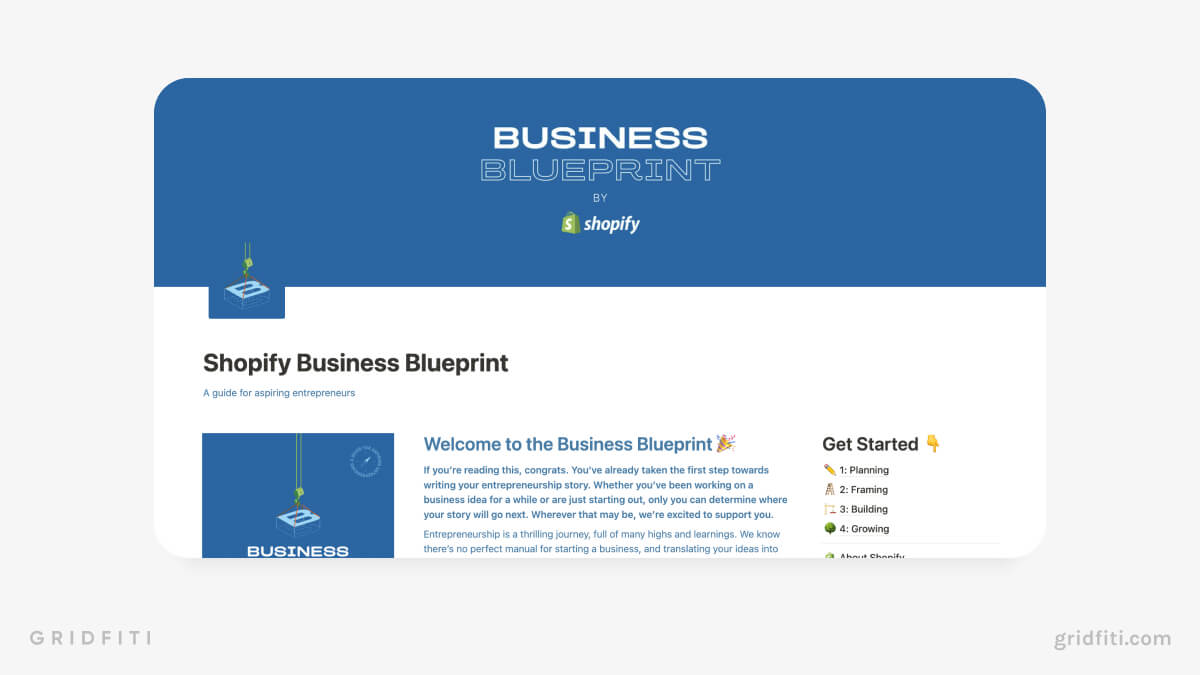 Notion Business Plan Template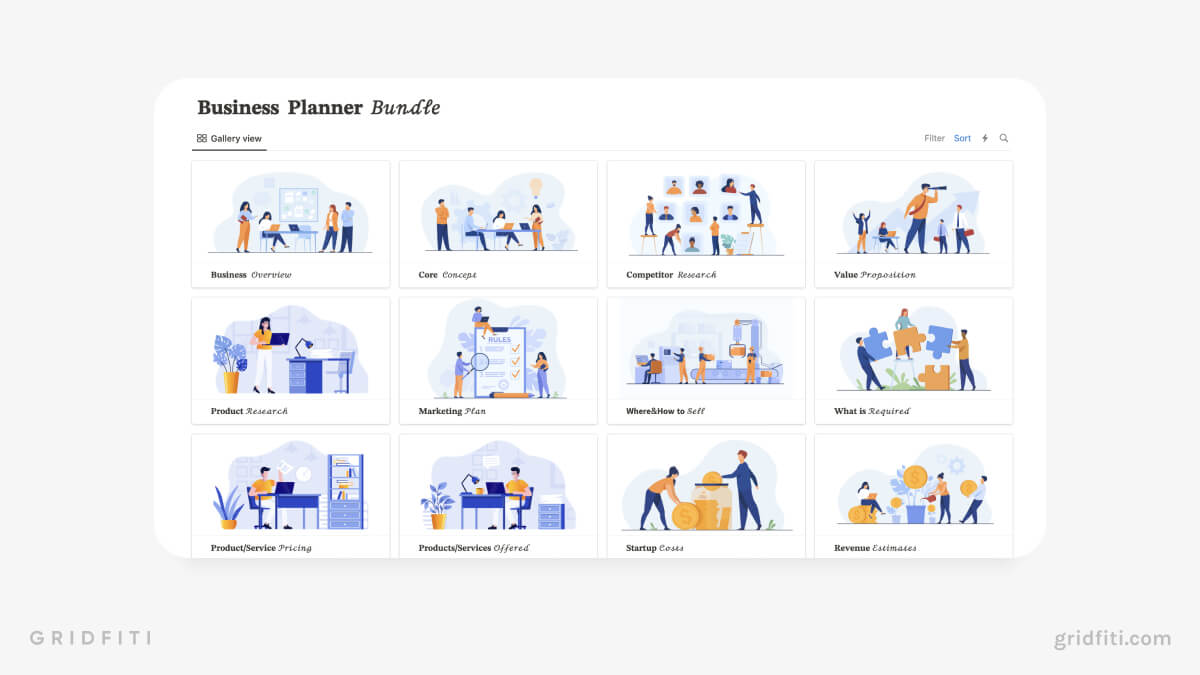 Idea Generator Notion Template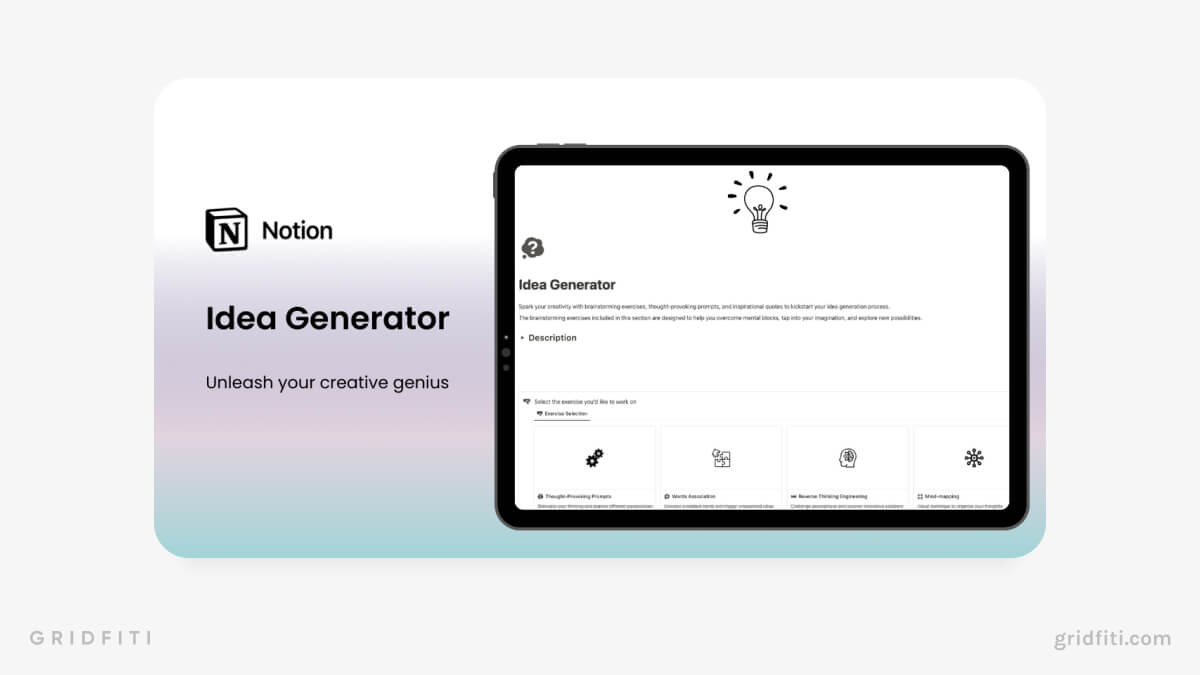 Business Finance Dashboard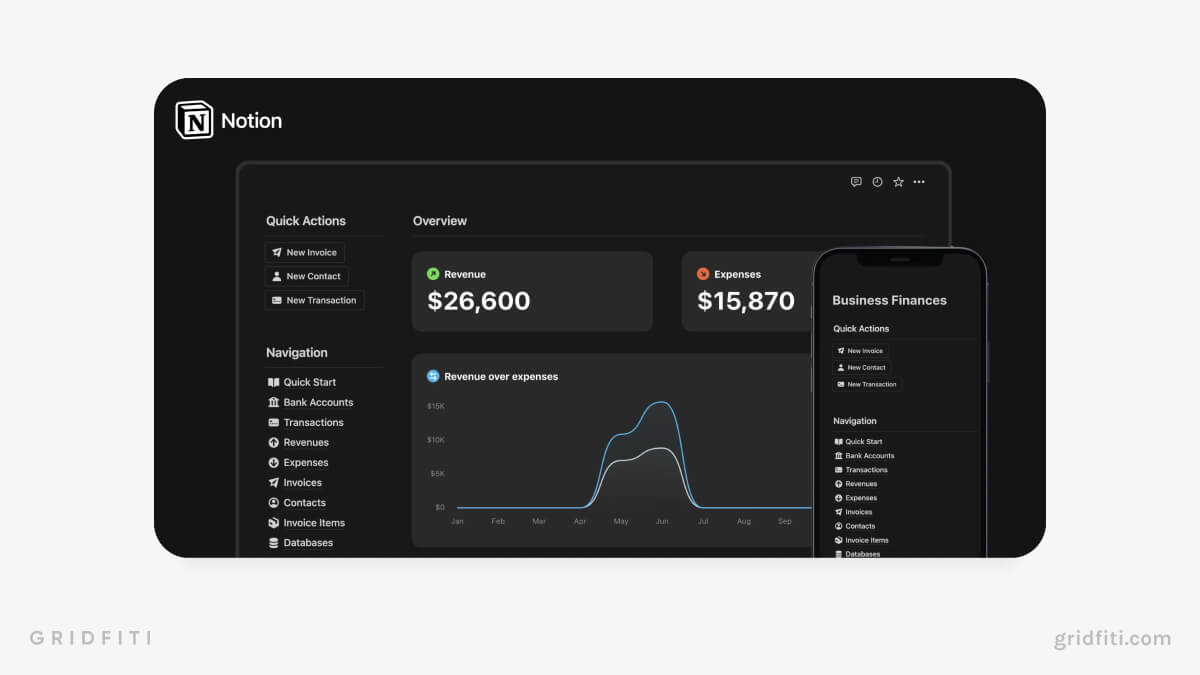 Side Hustle Template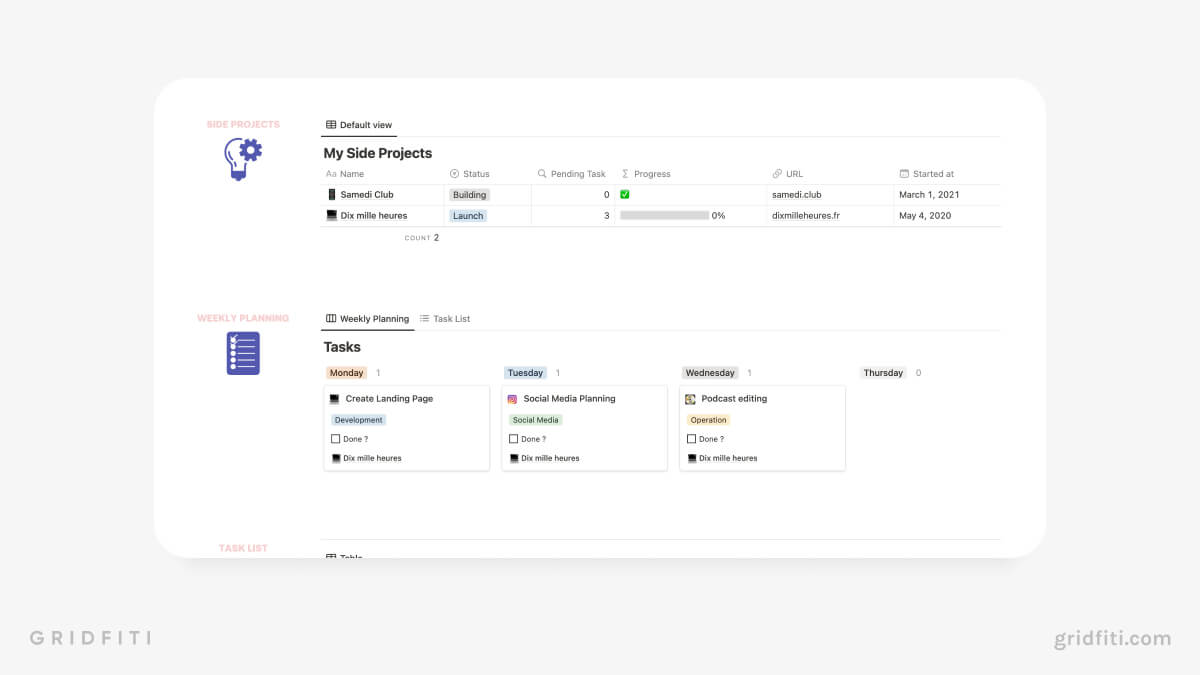 Simple Notion Branding Kit & Mood Board Template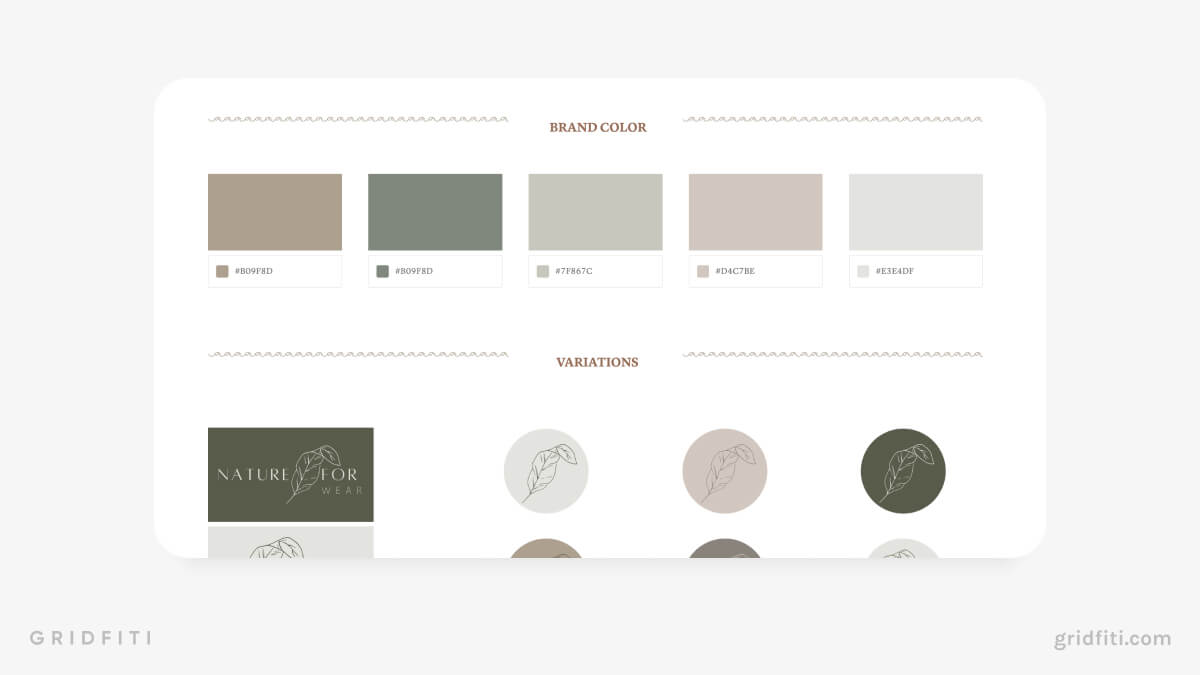 Business Model Canvas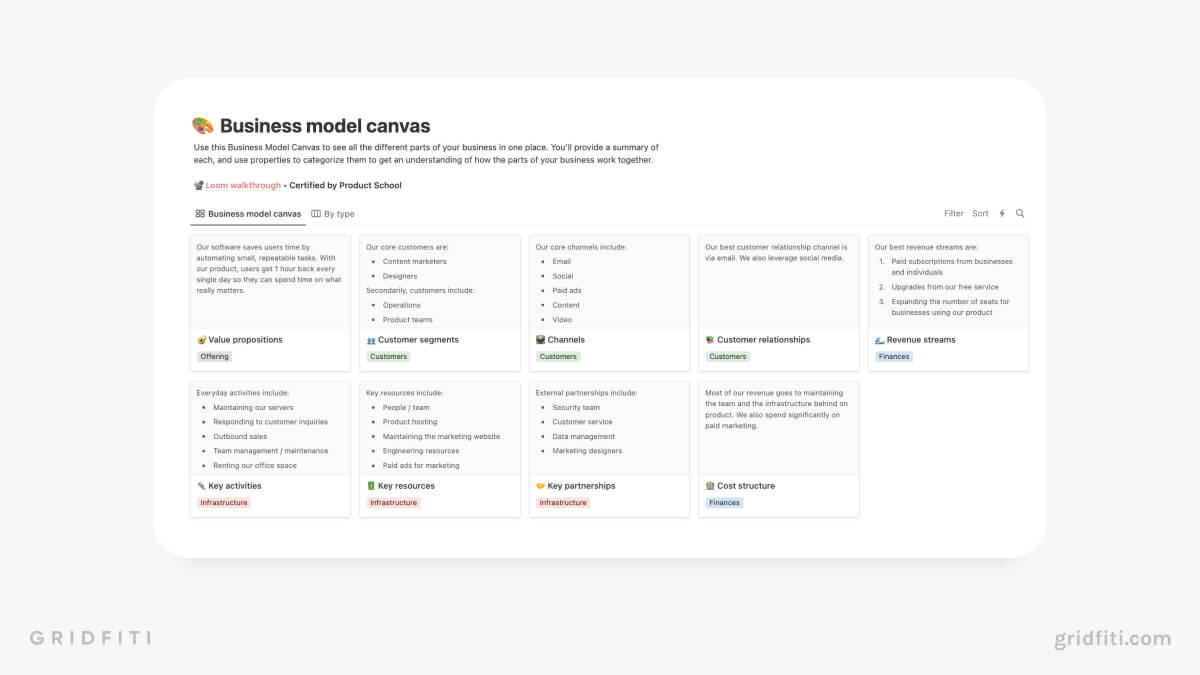 Small Business Inventory Tracker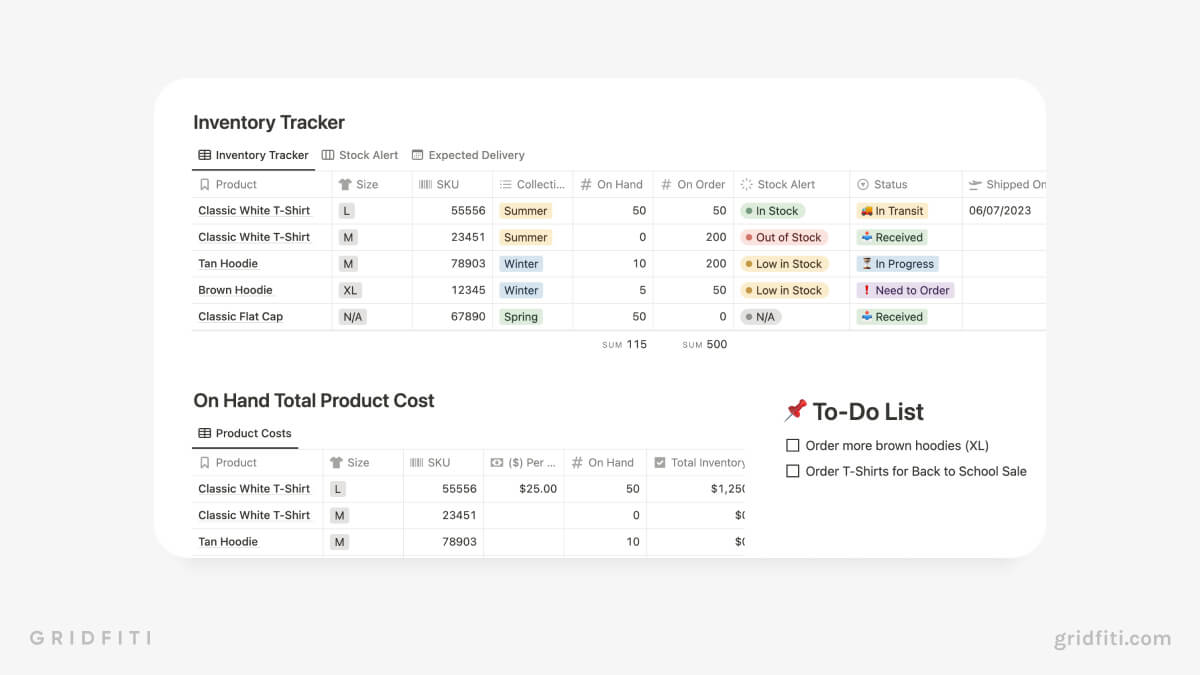 Business Home Page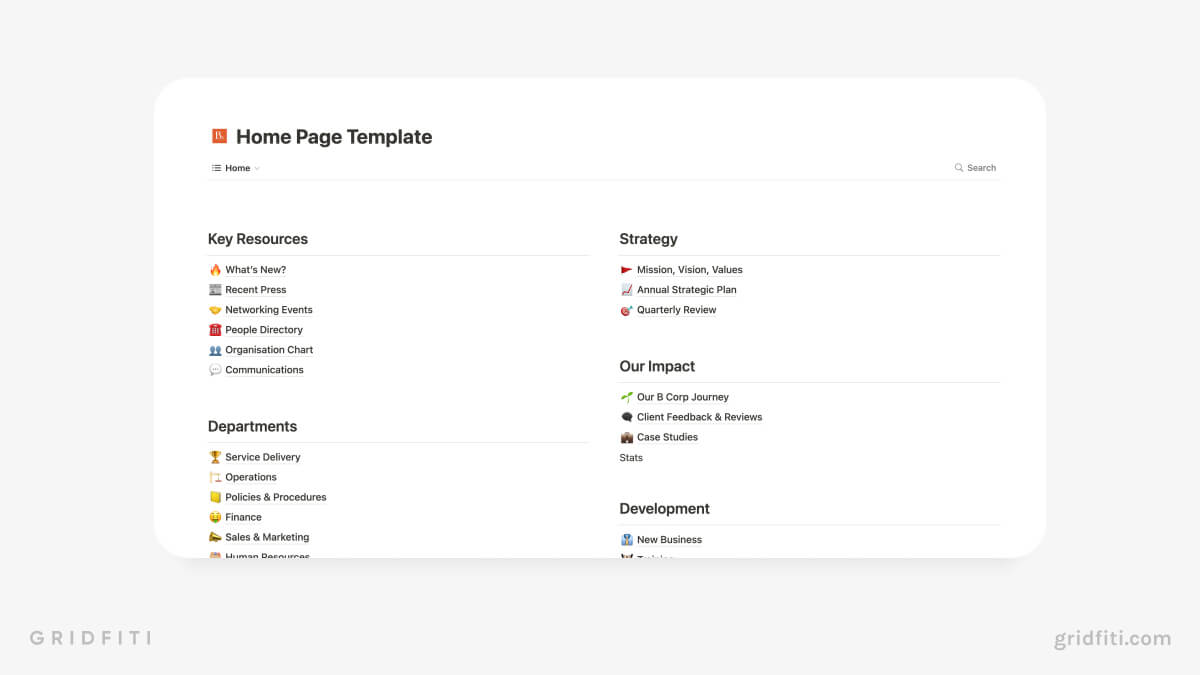 Which Notion business templates are you using? Do you have any other recommendations on Notion templates for small businesses to use? Let us know in the comments below!
Gridfiti is supported by its audience – when you buy something using the retail links in our posts, we may earn a small commission at no additional cost to you. Read more about our affiliate disclaimer.