Notion is one of the best platforms for organizing all your freelance work in one central hub. With Notion, you can manage your projects, create and share proposals, send out invoices, receive client feedback, and so much more — all in the same workspace!
Since you're here, you're probably looking to use a plug-and-play template instead of building your own freelance dashboard in Notion from scratch. To help you find the right option for your specific needs, we've curated the very best Notion templates for freelancers!
---
Looking for more productivity tips and tools? Subscribe to The Flow — our quick, snappy, value-packed focus and recharge newsletter. Also, don't miss our several other Notion template round-ups and guides!
---
Table of Contents
All-in-One Notion Templates for Freelancers
Notion is the perfect solution for managing every element of your freelance business. Check out these all-in-one Notion templates for freelancers, complete with all the features you need to manage your clients, project, finances, and more!
Freelance Starter Kit
Perfect for Notion newbies or anyone looking for a clean layout, this minimalist Notion bundle includes 5 supercharged templates for project and client management, time tracking, social media content planning, and more. Our favorite feature? The Creative Board, packed with resources and product ideas to inspire your growth and development!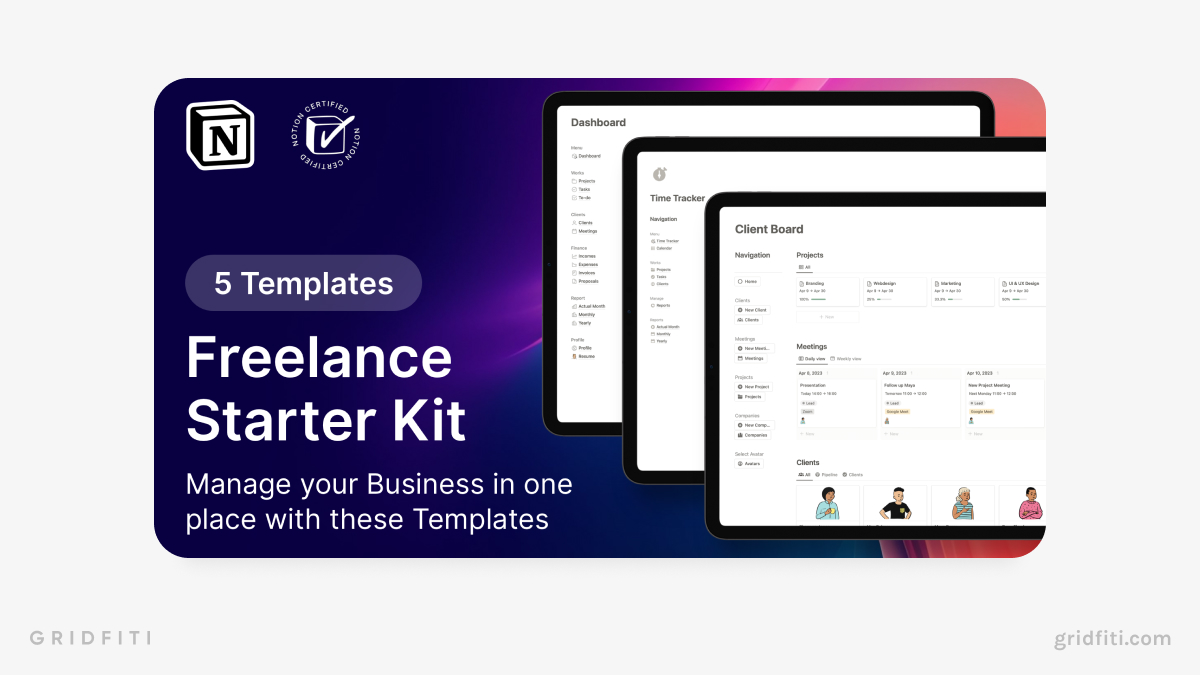 Notion Freelancer Kit
Go beyond simple client and project management with the Notion Freelancer Kit. One of the highlights of this template is the Goals & Milestones page, which lets you set business goals and see your progress right from your home dash. You can also store notes, assets, client testimonials, portfolio items, and more in Notion — no more tab switching or digging through different apps to find what you need!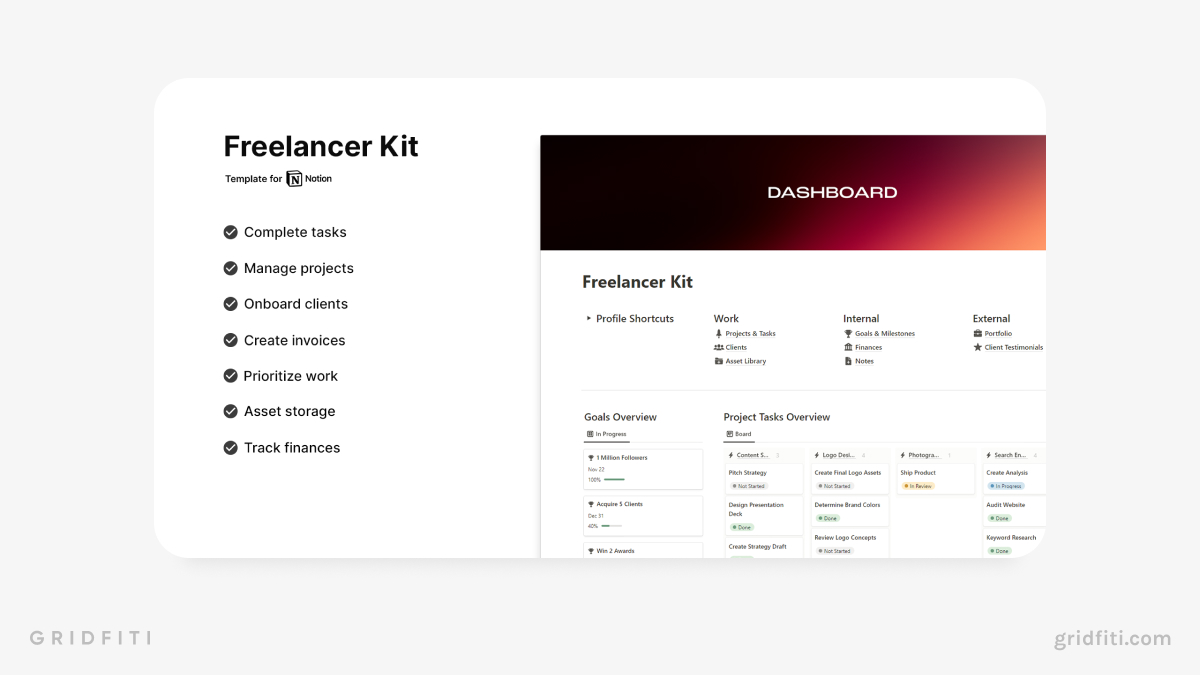 Notion Freelancer Template Pack
The Notion Freelancer Pack is more than a bundle of templates — it's a system of templates that has everything you need to start, run, and manage your freelance business all within Notion. This pack includes over 40 templates, with 4 main areas of focus: Freelance, Work, Tools, and Learning. The beauty of this freelancer bundle is that it grows with your business — you can customize, scale, and adjust the workspaces as your needs evolve!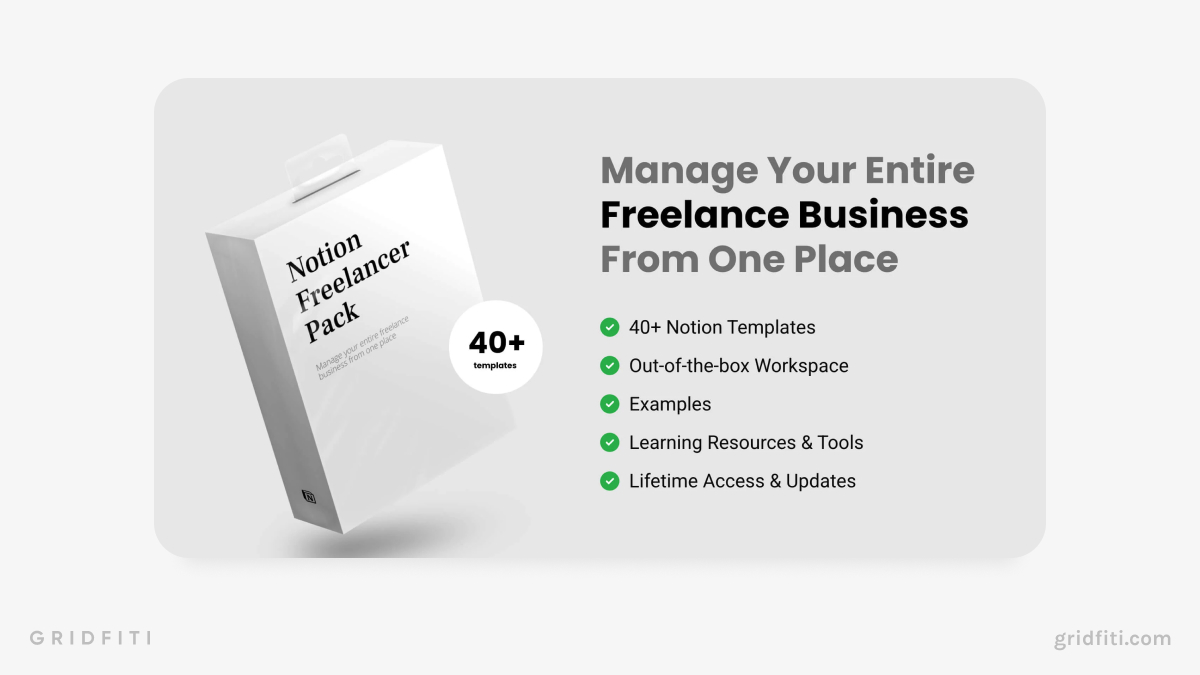 Automated Notion Freelancer Dashboard
With over 20 robust templates all under one roof, the Freelance Dashboard is the only tool you'll need to manage and scale your entire freelance business. Track projects, subscribers, sales, clients, marketing, and so much more with this jam-packed freelancer kit made for Notion!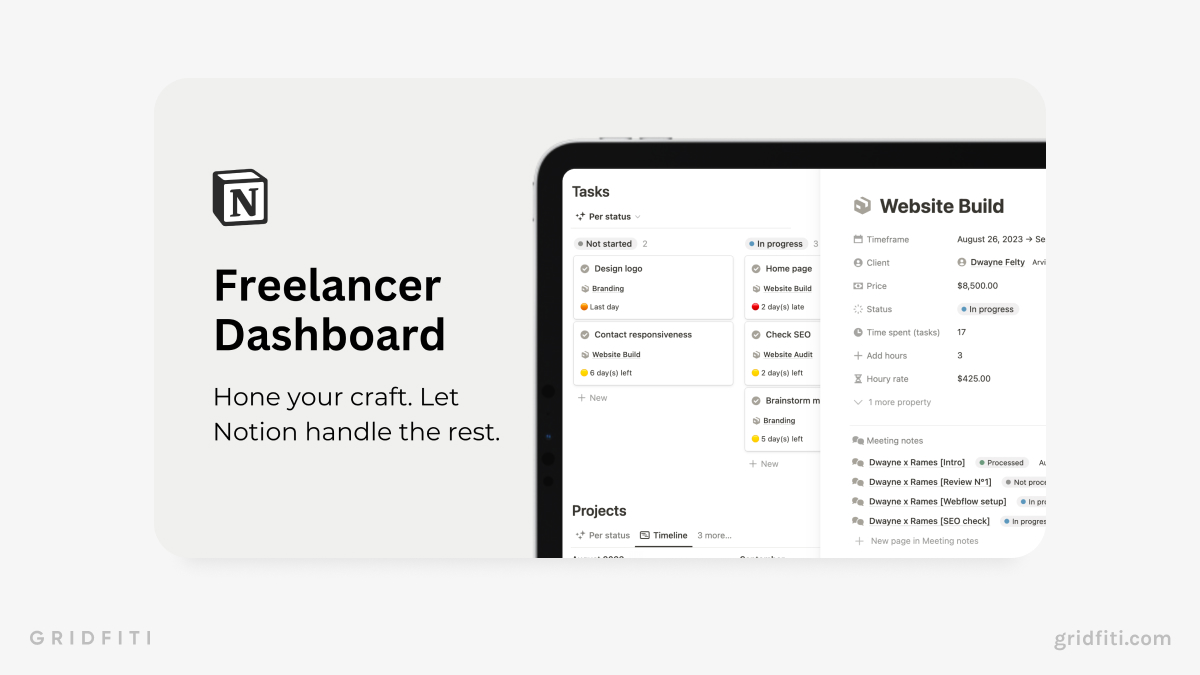 Freelance Compass – Notion Freelance Dashboard
This Freelancer Compass is a to-do list template and task management dashboard for freelancers looking to increase their productivity and grow their business! The Freelance Compass includes a GTD dashboard, a daily to-do list, time tracking, task overviews, project management capabilities, and lots more!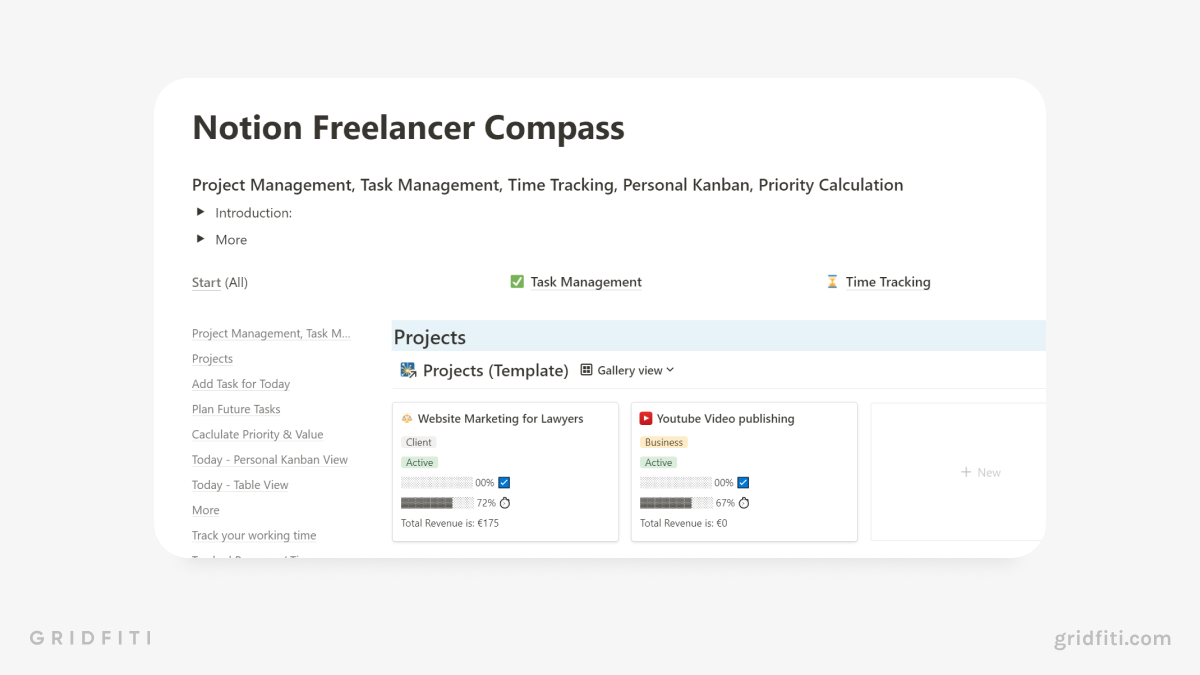 Notion Freelance OS
The all-in-one Notion operating system to manage your projects, clients, and finances, the Notion Freelancer OS is a robust tool for any freelancer to have in their arsenal. Features include client CRM, project management systems, task tracking, and lots more – not to mention a beautiful minimal theme.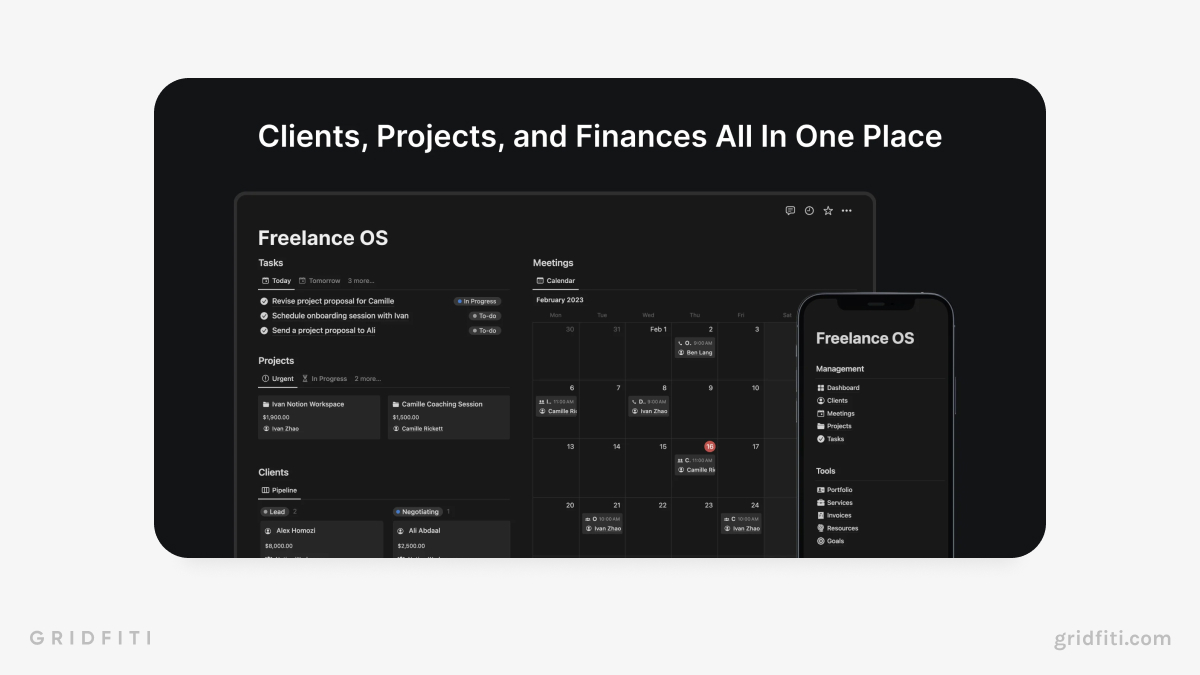 Notion x Freelance
Searching for an all-in-one template that includes robust finance tracking? You've found it! With Notion x Freelance, you can manage your invoices, transactions, and even expenses, like subscriptions for your business tools. If you're a freelancer who subcontracts, works with a team, or outsources work to a VA, check out the Notion x Freelance x Teams upgrade, which includes a team manager, roadmap, and more.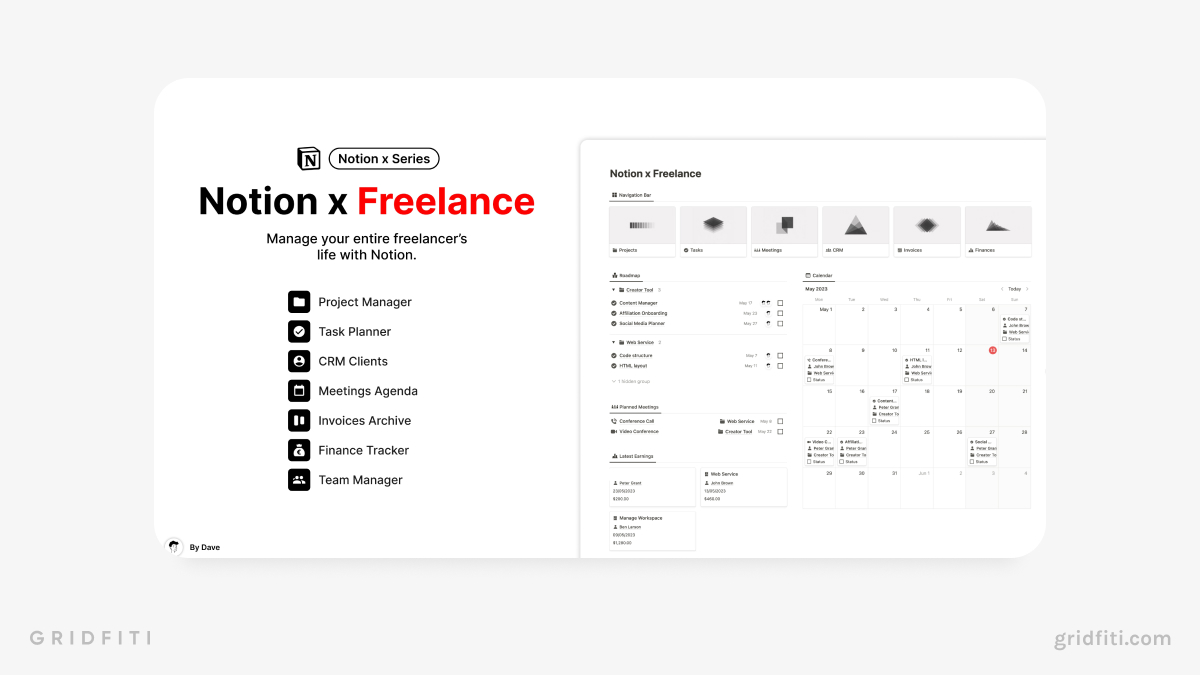 Notion Freelancer Bundle
Some Notion templates can be a bit too busy or cluttered — but not the Notion Freelancer Bundle! This clean interface includes a home dash with navigation links to all your key pages. As well as the standard client, finance, and finance trackers, the Notion Freelancer Bundle also includes space for you to manage meetings, events, resources, notes, and even your website.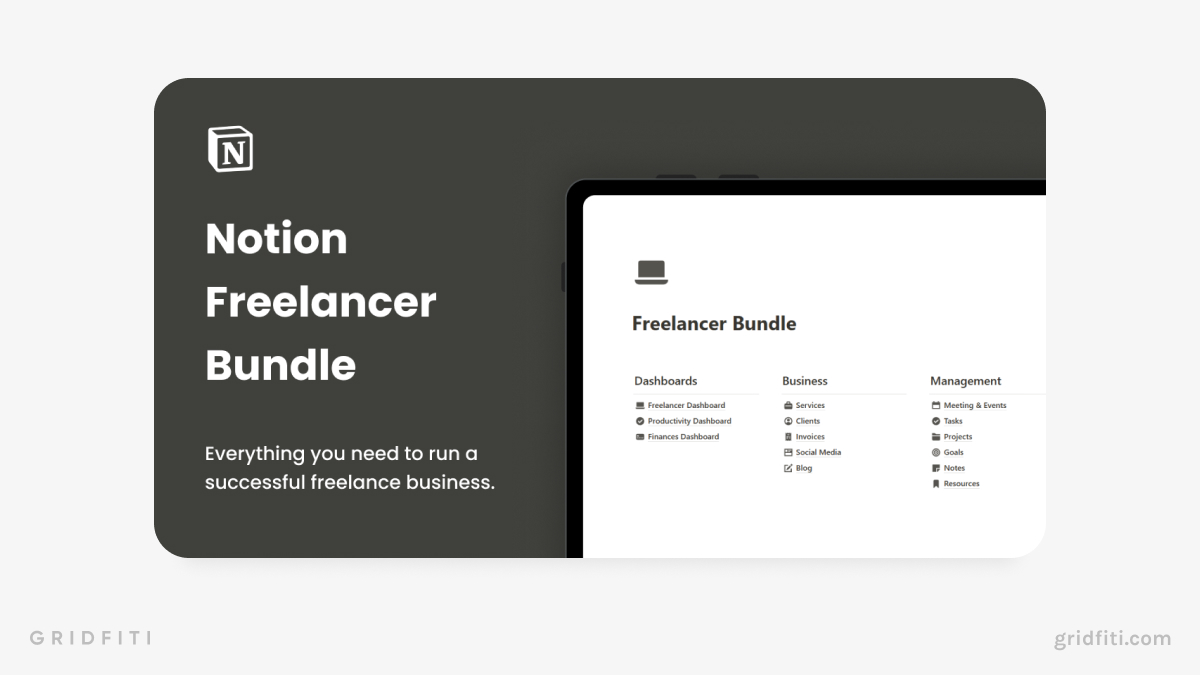 Notion Advanced Freelancer Management System
A no-frills template that has just what you need to manage your workload — nothing more, and nothing less! This system includes just a handful of pages for your clients, projects, tasks, time entries, and invoices. This "linear workflow" lets you focus on each individual stage of your work from onboarding to invoicing, making it an ADHD-friendly template for neurodivergent freelancers.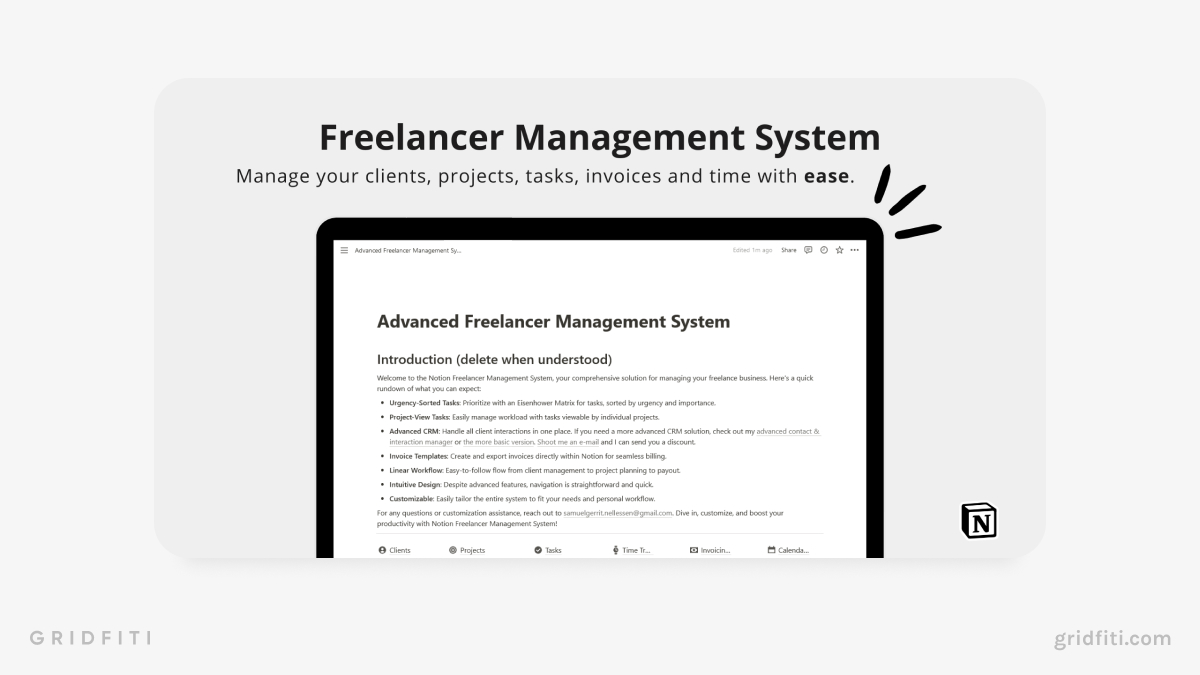 The Notion Pack – Freelance Templates
Save hundreds of hours with these 20 templates and documents designed just for freelancers! Including Notion templates for proposals, invoices, scope of work, client questionnaires, and several more areas, this bundle packs a punch. It's even offered in multiple languages.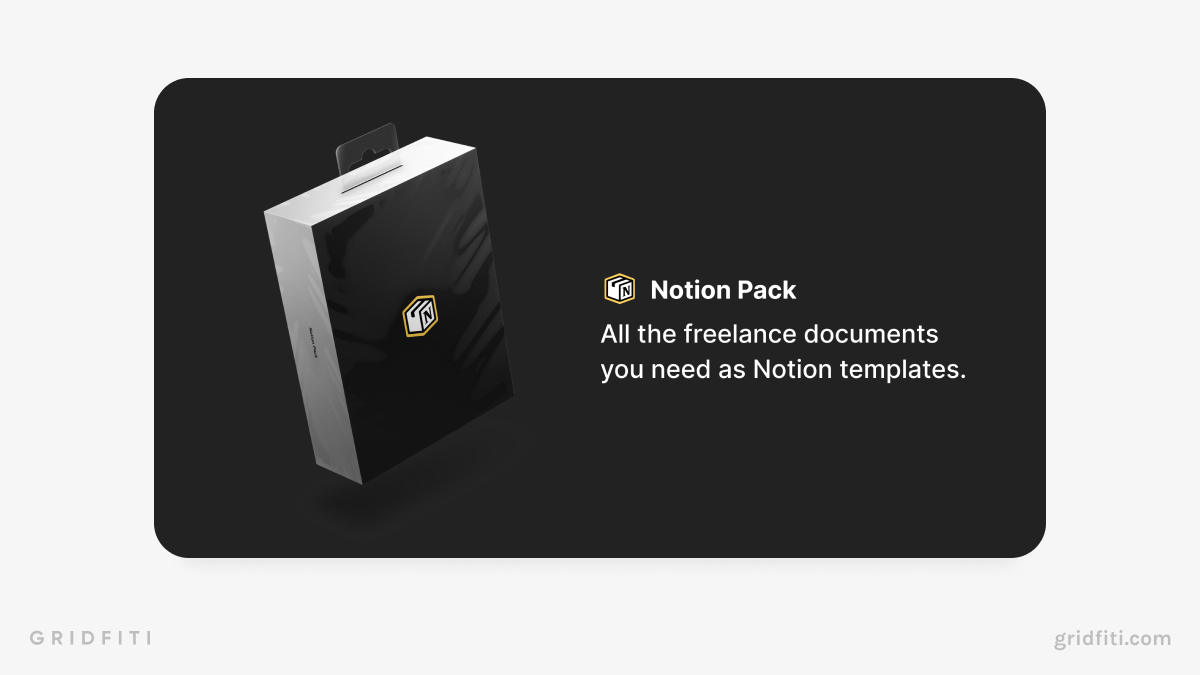 Notion Templates for Freelancers by Industry
Looking for a Notion template for freelancers that's built for your industry? We've curated templates specifically for graphic and web designers, photographers, and coaches to help you find the perfect template for your unique needs!
The Designer's Workspace
One of the best Notion templates for freelance designers, this kit includes everything you need to attract leads, complete your work, market your services, and everything in between. You'll get all the standard project, client, and invoicing templates you'd expect from a freelance kit — plus a robust project template that includes space to share content and designs for client approval and feedback. The brand guidelines templates are especially handy for designers and include space to input brand colors, tone and voice guidelines, typography, and more.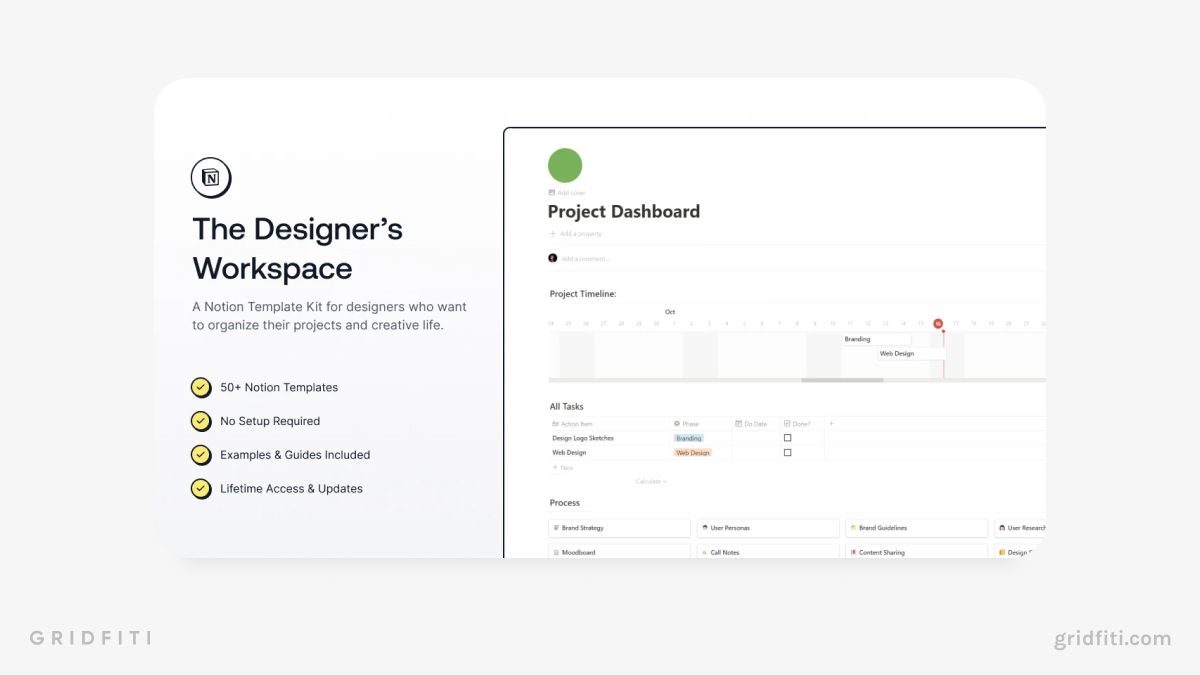 Photography Lead & Client Management Template for Notion
Searching for a simpler way to track your enquiries and active photo sessions? This easy-to-use Notion template for freelance photographers lets you create new leads, visualize the progress of your current projects, and more. Complete with a place to store client contact info, as well as checklists for different types of shoots, this template is a dream for photographers of all skill levels!
Don't miss our full post on Notion photography templates for more templates just like this!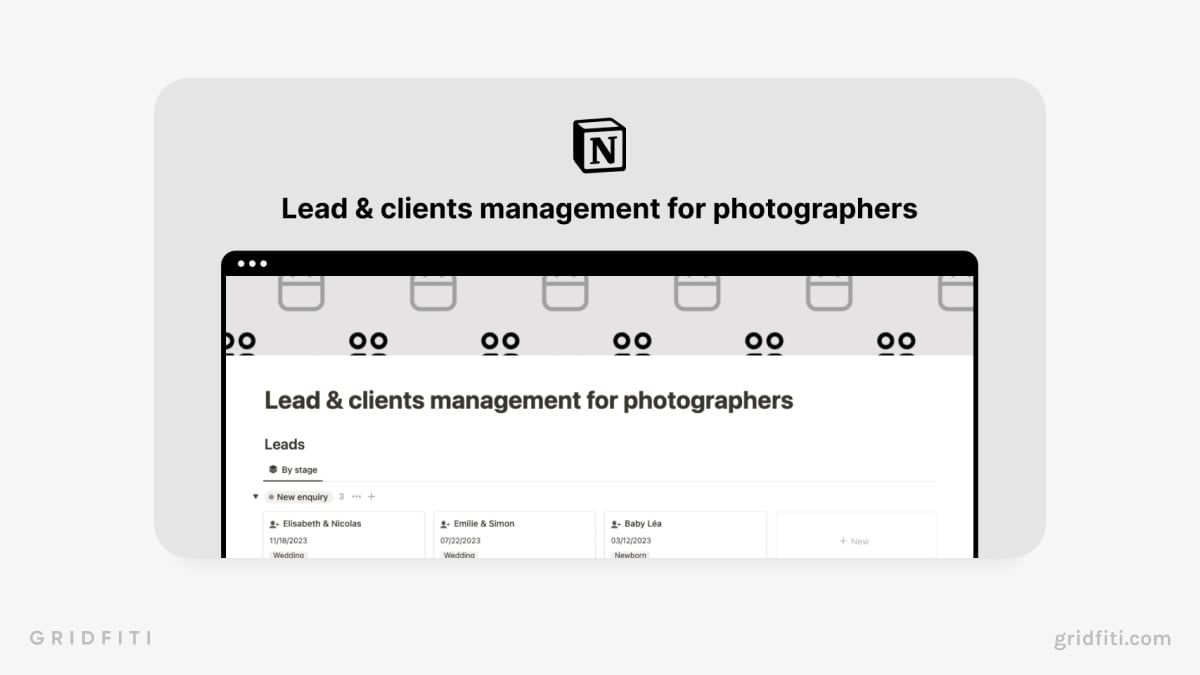 The Ultimate 1-on-1 Coaching Client Portal
This stunning Notion template for coaches is packed with useful features, all laid out in a gorgeous purple color scheme. Collaborate with clients like never before, with well-organized pages for contracts, payments, feedback, resources, client homework, coaching sessions, and so much more.
Related Post: Best Notion Client Templates (Coaching, Portals & More)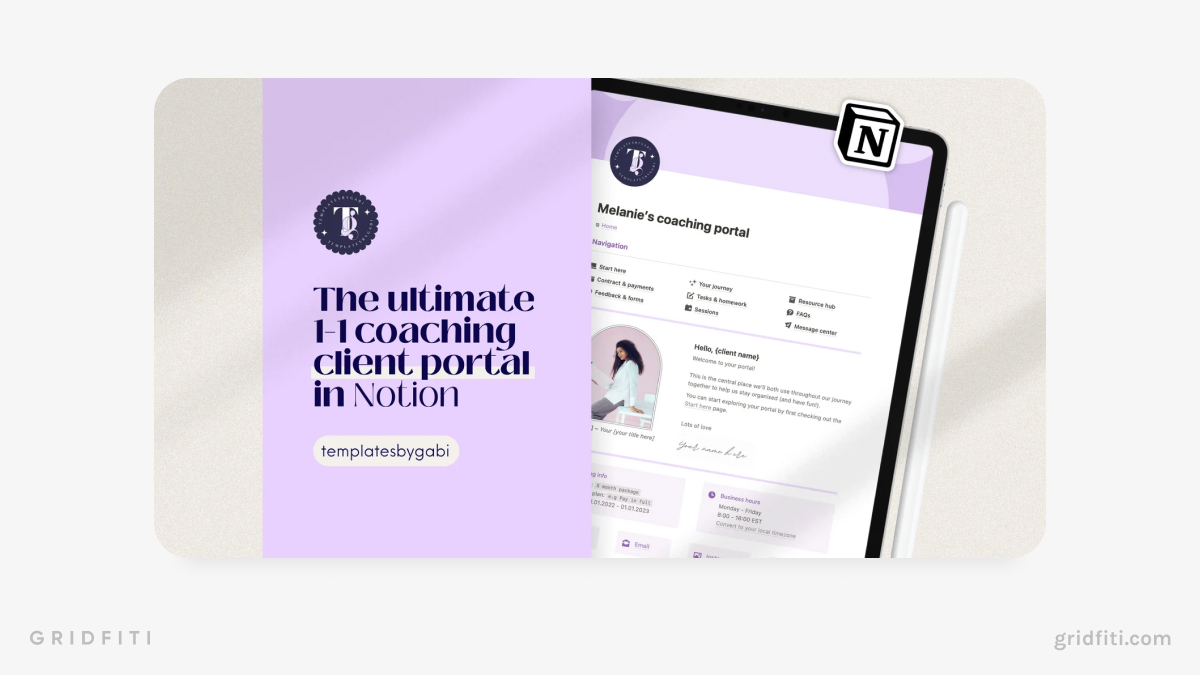 Freelancer Pro System for Web Designers & Webflow Developers
The Freelancer Pro system is a Notion template catered for freelance Webflow developers and web designers who are serious about streamlining their processes. From finances, proposals and invoices, project briefs, an exclusive $10K website roadmap, and more, this template will bring all resources and areas freelance business under one roof.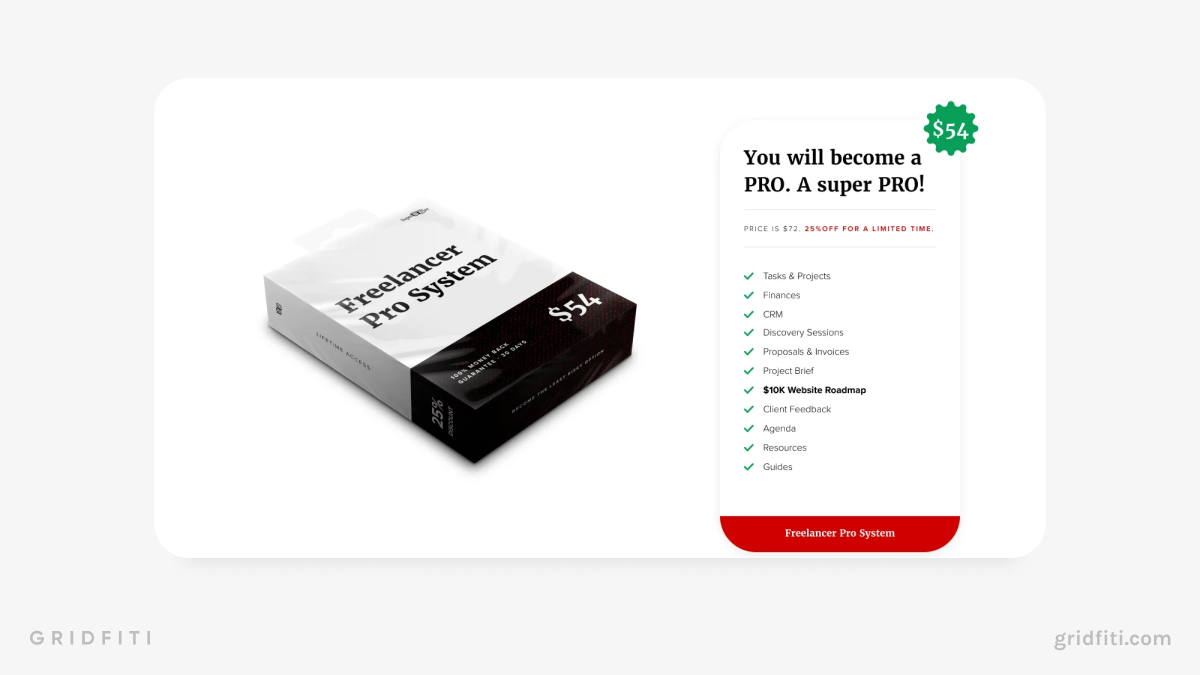 Miscellaneous Notion Templates for Freelancers
Not keen on purchasing an all-in-one bundle? Just need a template for a specific part of your work? Dig into our favorite miscellaneous templates for freelancers!
Minimalist GTD Dashboard
This Notion GTD template does what it says on the tin. This one-page template keeps your tasks tucked away nice and neat under toggles — perfect for neurodivergent freelancers who struggle with overwhelm and distractions. You can also create new tasks, notes, projects, and goals in just one click, and view your tasks by their urgency and energy requirements all from your home base.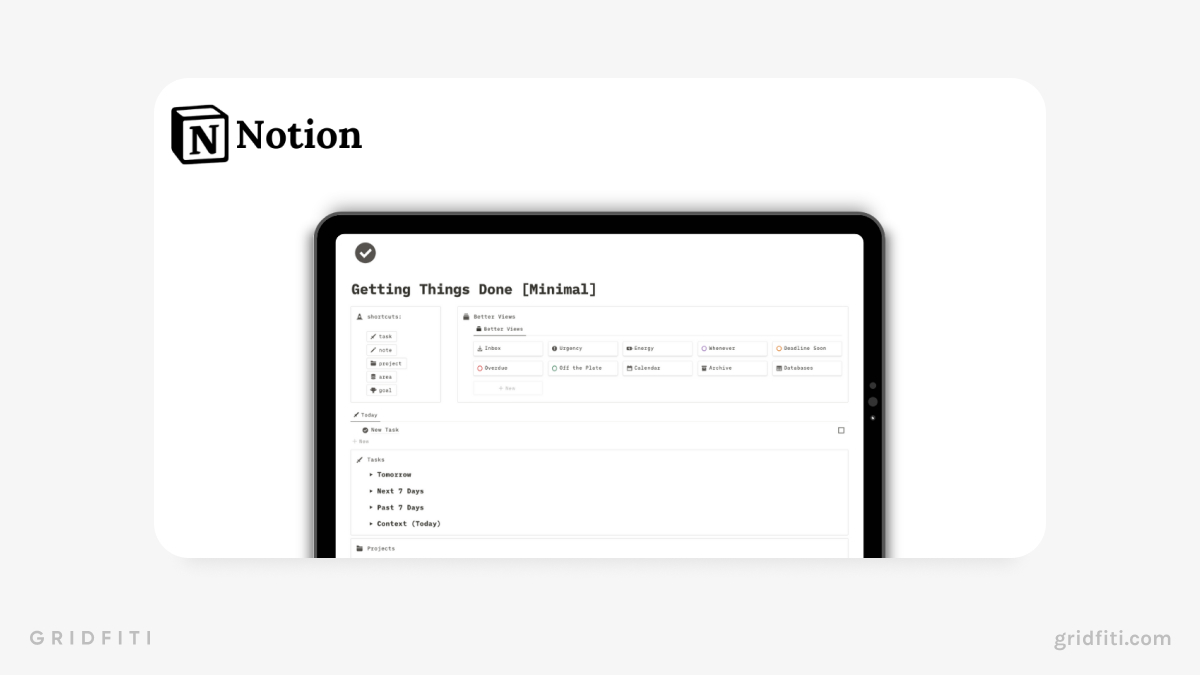 Notion Clients, Meetings & Invoices Manager
Streamline and simplify your client management process with this slick Notion CRM template from LogiSparks. Built-in checklists, automations, and buttons make it quicker than ever to create a new invoice, update client info, take meeting notes, and so much more.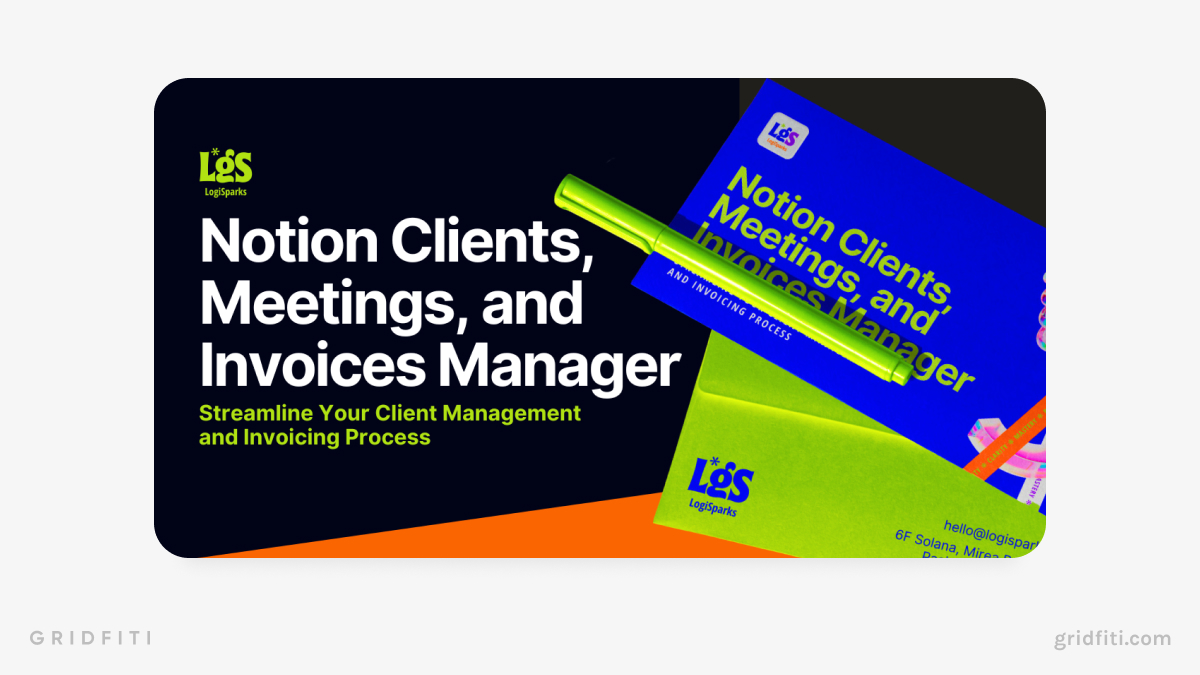 Notion Freelance Client Portal Template
Make the onboarding process simple for your customers with this client portal Notion template from The Notion Bar! Instead of spending your time and energy on different tools to manage your clients – use this client portal to create a transparent process, so everyone involved knows exactly what stage of the project you're on. Win more freelance clients with this unique Notion onboarding system!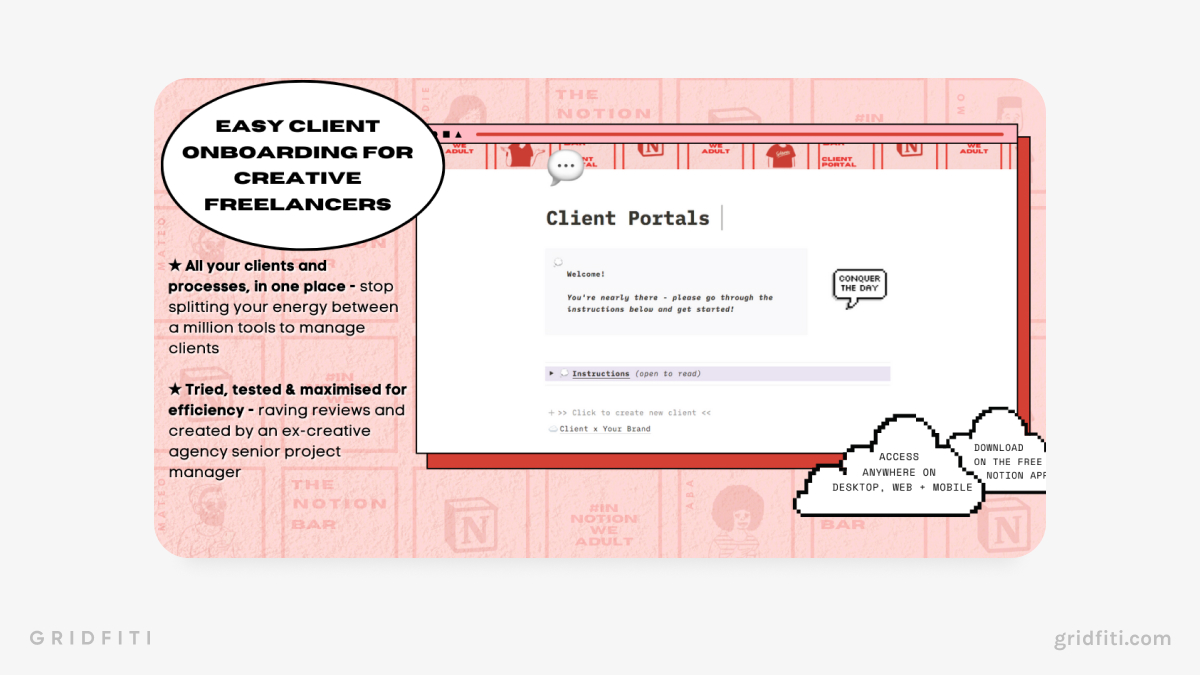 Notion Personal Knowledge Base
Freelancers are constantly learning and soaking up new industry knowledge. But with so many bookmarking tools out there, keeping track of your TBR and all those helpful articles can be tricky. That's where the Personal Knowledge Base comes in! Organize your resources, jot down key takeaways, tag items by subject or area, take notes, and more.
Check out our full round-up of Notion knowledge base templates for more!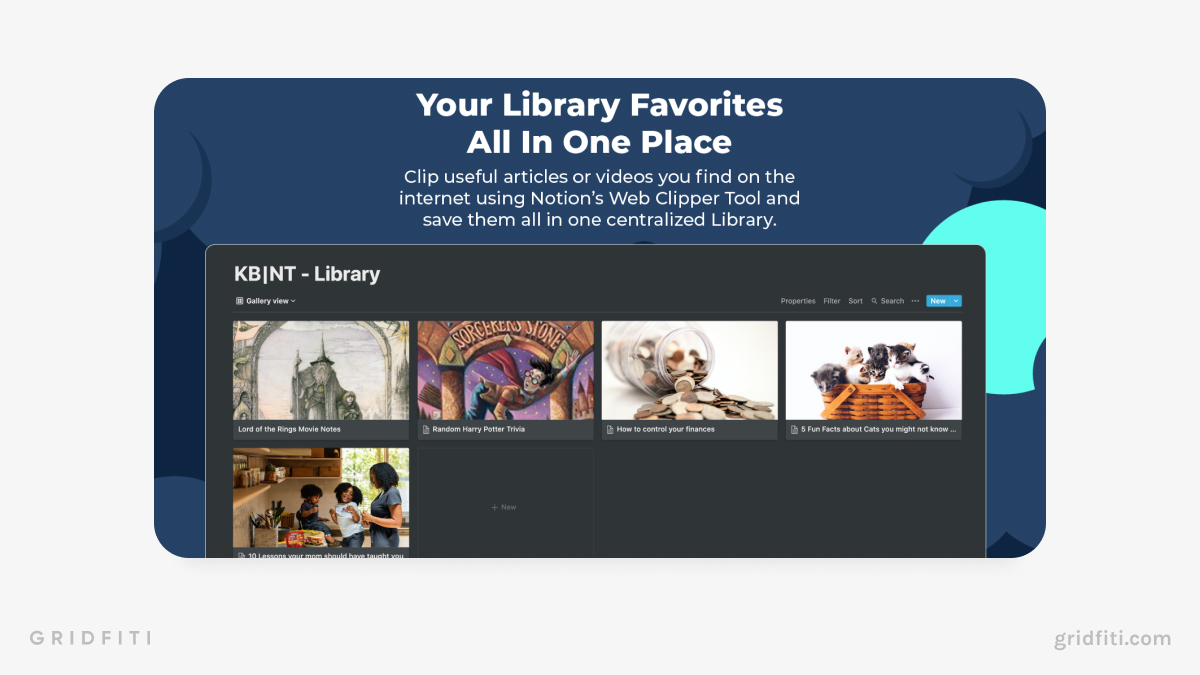 The Ultimate Planner Dashboard with Daily Time Blocking
As a freelancer, your health, moods, nutrition, and other factors can often get in the way of our work (trust us, we're speaking from experience!). While this template isn't strictly designed for freelancers, the Ultimate Planner Dashboard by yours truly lets you manage work, health, and more — all in one place.
See how many hours you worked (and how productive you were during that time) in the summary card on the homepage. Track your moods, nutrition, habits, and more to add context to your workday. And if you're feeling stuck or unmotivated, use the affirmations and gratitude prompts to get in the right headspace.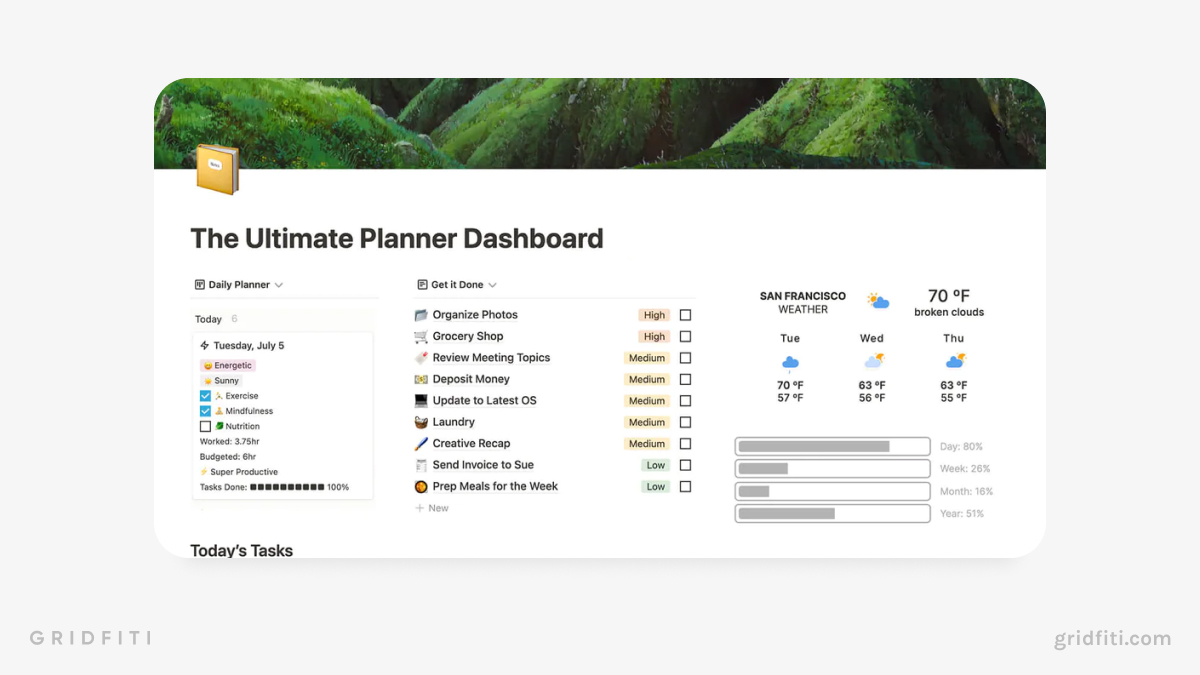 Simple Content Creation Notion Template
There's just no way around it — marketing your services online is a key part of every successful freelance career. If you're not sure how to organize your content plan, check out the Simple Content Creation template. See posts by type, track action items and content assets, and view your content pipeline at a glance.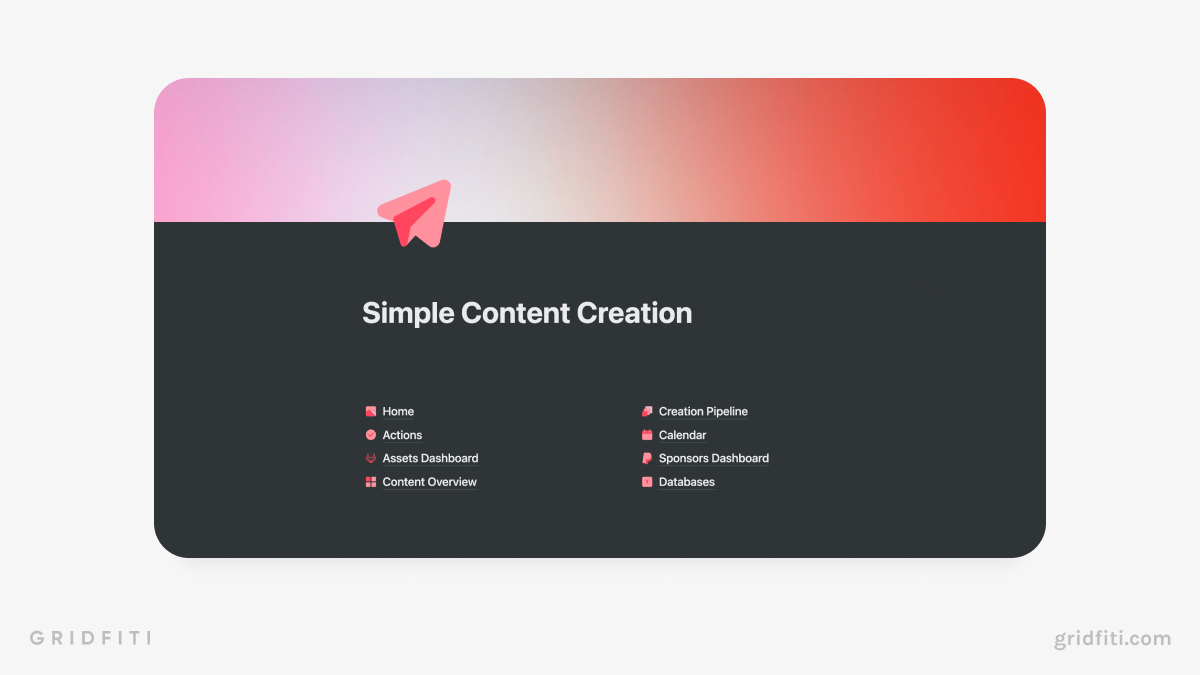 Notion Networking Hub
Regularly connecting with fellow freelancers and potential clients can be a significant obstacle people who are neurodivergent or have ADHD. If you're in that camp, or if you just struggle to stay on top of networking, this done-for-you system makes managing your connections a breeze. The built-in reminders are great for freelancers who struggle with "time blindness" and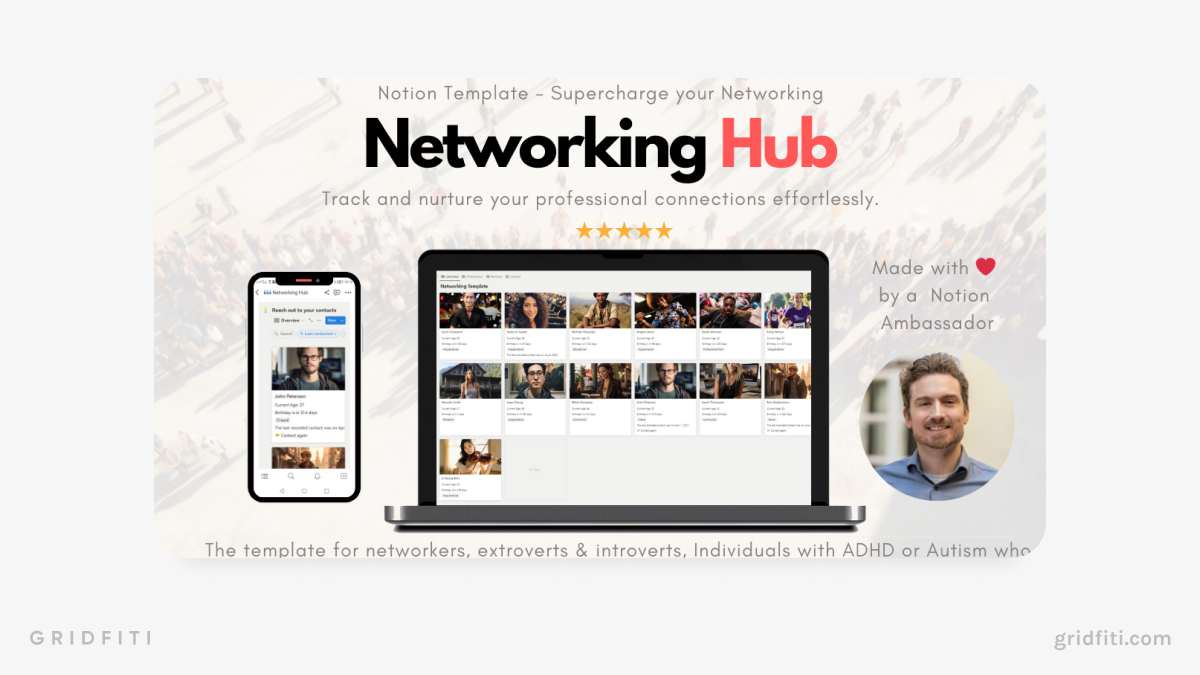 Client Dashboard for Notion
Another aesthetic Notion template for freelancers, the Client Dashboard adds a little pizazz to your client portal. Create your contract, log meetings and notes, manage tasks and projects, and ask clients for feedback — all from the same page! The home dash also includes a space where you can add your bio to make this template your own.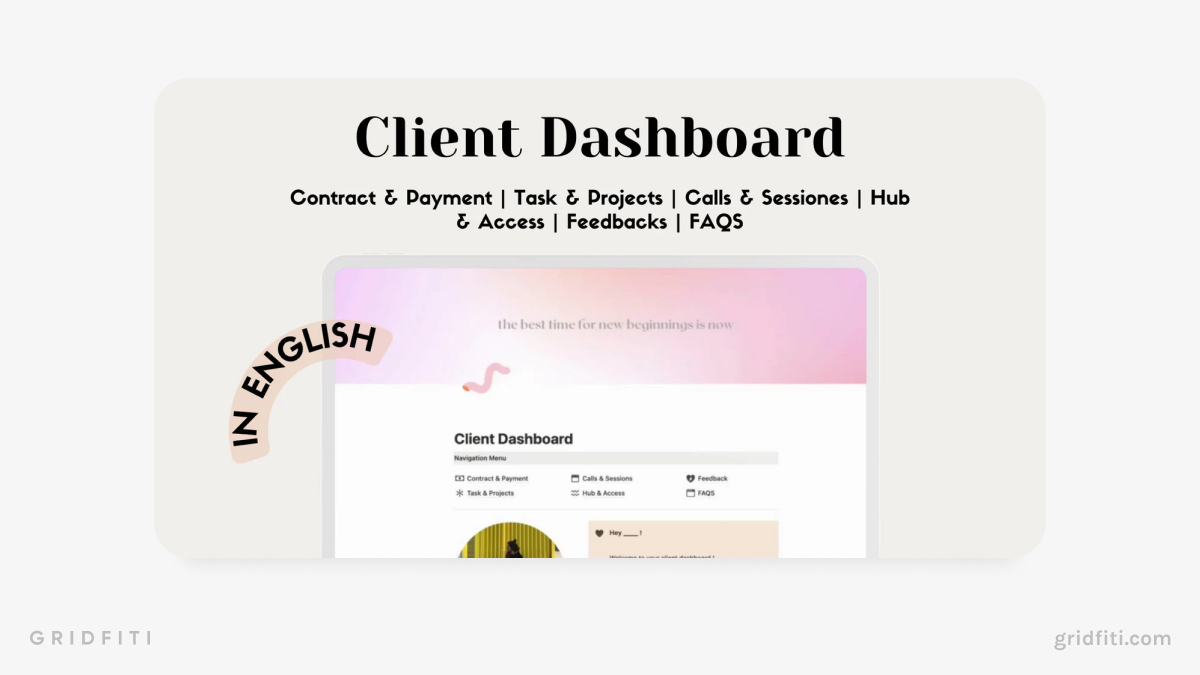 Free Notion Templates for Freelancers
Not sure if Notion is the right tool for managing your freelance biz? Try a free template on for size and see how you get along! Here are a few of our faves.
Project Manager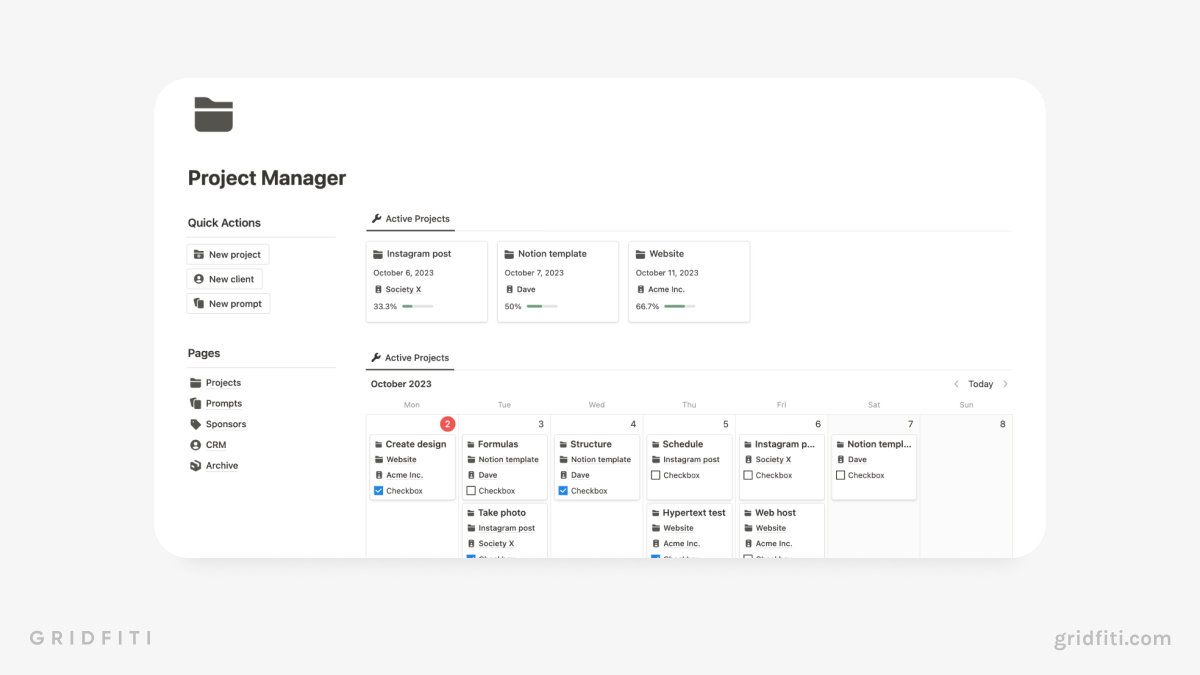 Template by Dave
Simple Freelancer OS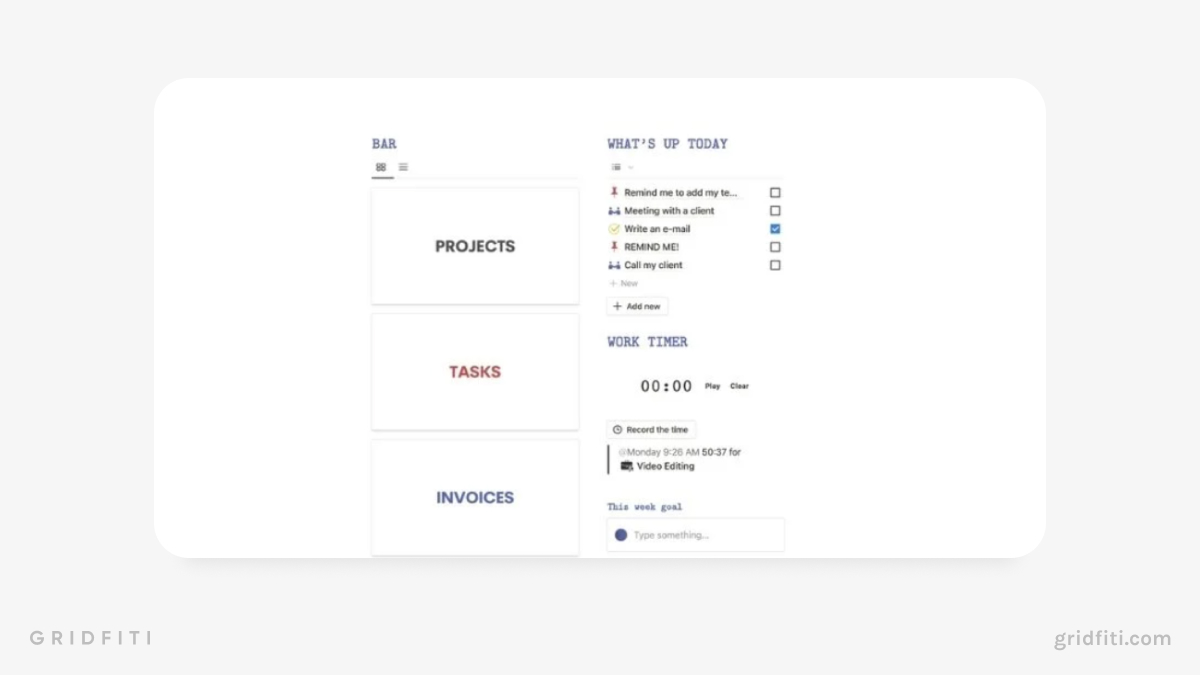 Template by Valeria Notion
Free Invoice Notion Template
Check out our full round-up of Notion invoice templates for more!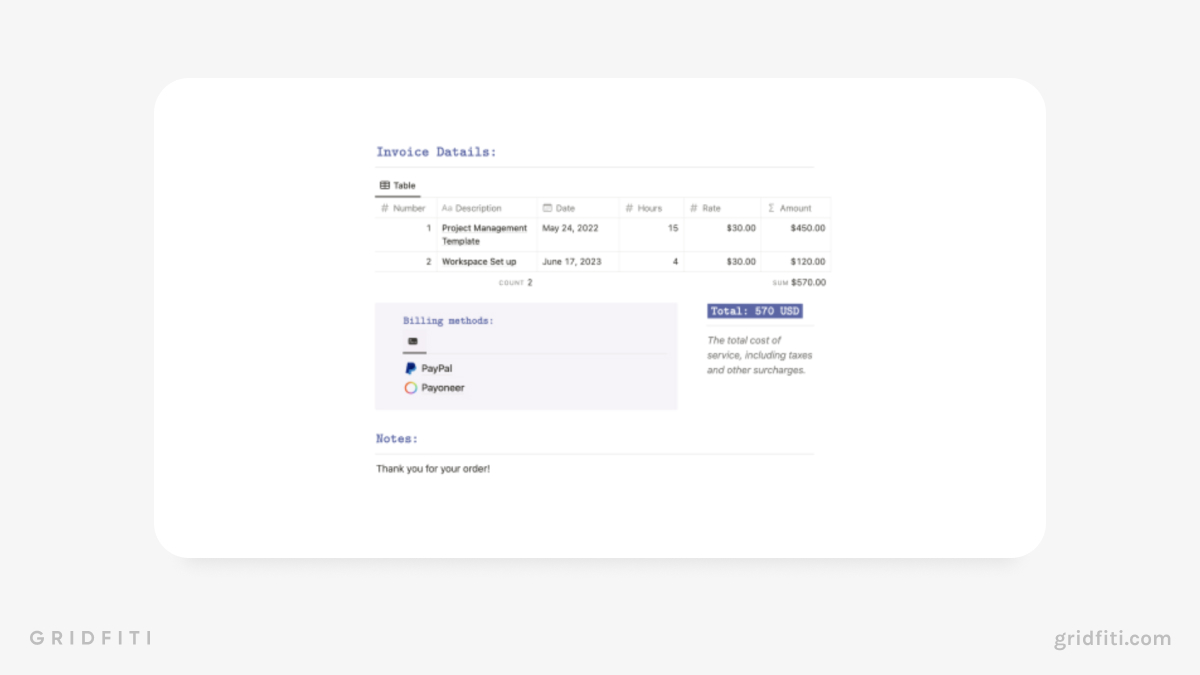 Template by Valeria Notion
Notion Freelance Portfolio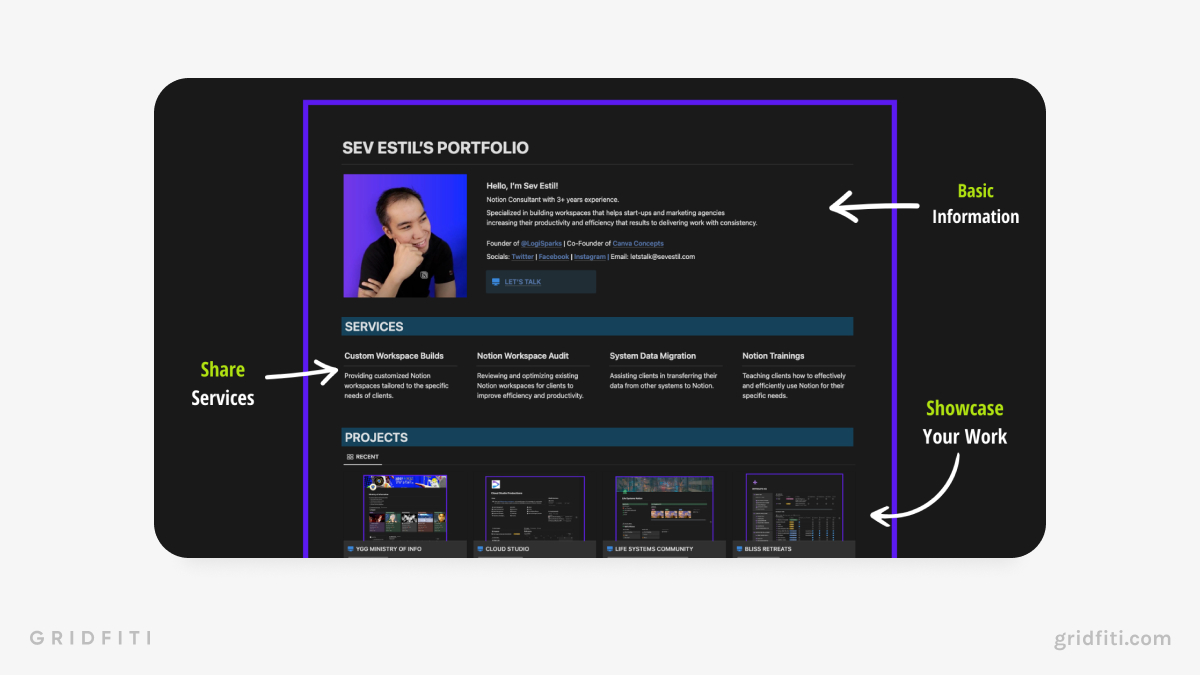 Template by LogiSparks
Minimal Notion Invoice Template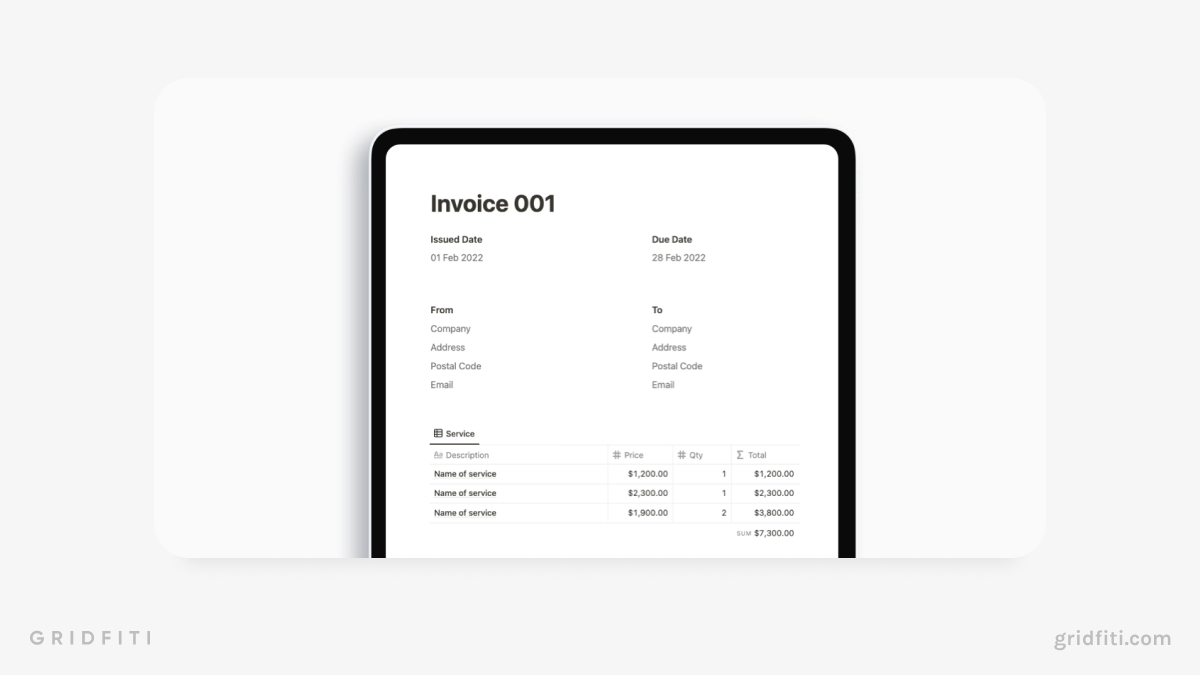 Template by Easlo
Which Notion freelance templates are you using? Do you have any other recommendations for Notion templates for freelancers to use? Let us know in the comments below!
Gridfiti is supported by its audience – when you buy something using the retail links in our posts, we may earn a small commission at no additional cost to you. Read more about our affiliate disclaimer.