If you're a freelancer looking to streamline your business and save time navigating through a million different freelance apps, you've come to the right place.
Notion is one of the best platforms to aggregate all things freelance into one central hub. With Notion, you can manage your projects, organize your proposals, send out invoices, receive client feedback, and so much more – all in the same workspace!
To help you get started, we've selected the best Notion freelance templates for you to pick from to best suit your business needs.
Want more Notion tips, tricks, and templates? Join our Notion mailing list below and check out our several other Notion guides and round-ups!

Sign up for Notion here! Free for personal use, students, and educators.
Freelance OS Template
A place to track everything related to clients, projects, proposals, and invoices, Freelance OS is a robust system for any freelancer to incorporate in their workflow! Featuring a detailed client CRM, financial tracker, resources page, advanced project manager, marketing tools, portfolio section, and so much more – manage all your freelancing needs in this single workspace.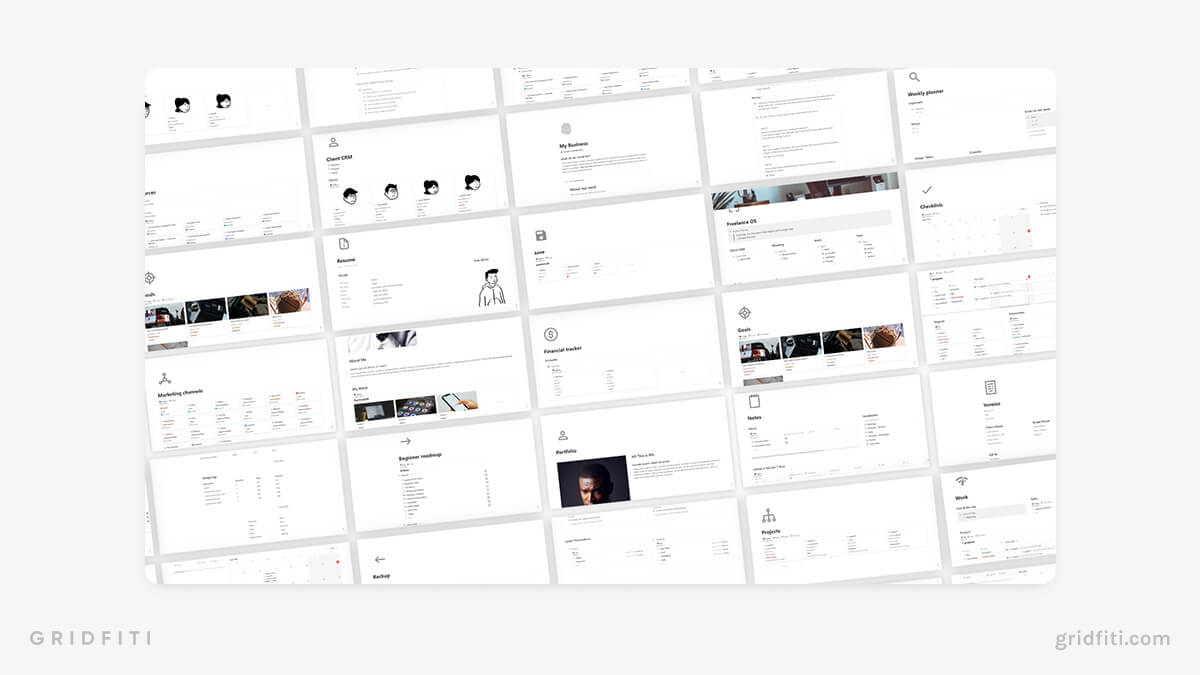 Notion Freelancer OS
The all-in-one Notion operating system to manage your projects, clients, and finances, the Notion Freelancer OS is a robust tool for any freelancer to have in their arsenal. Features include client CRM, project management systems, task tracking, and lots more – not to mention a beautiful minimal theme.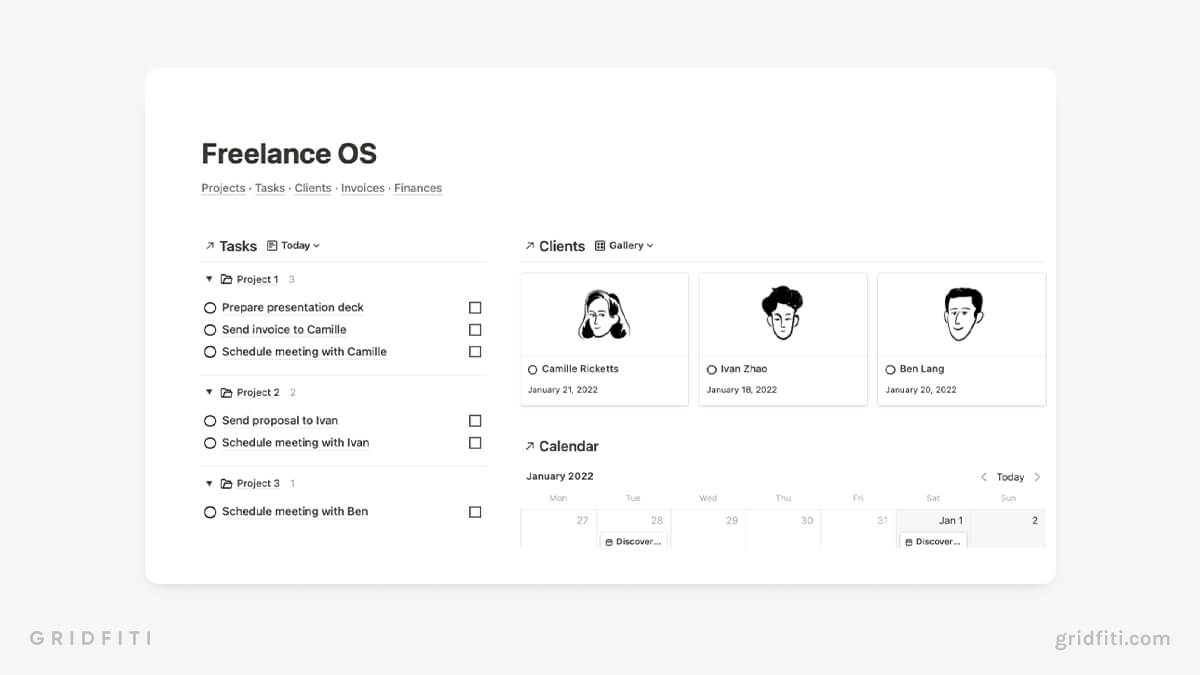 Notion Freelancer Template Pack
The Notion Freelancer Pack is more than a bundle of templates – it's a system of templates that has everything you need to start, run, and manage your freelance business all within Notion. This pack includes 40+ templates, with 4 main areas of focus: Freelance, Work, Tools, and Learning. The beauty of this freelancer bundle is that it grows with your business – you can customize, scale, and adjust the workspaces as your needs evolve!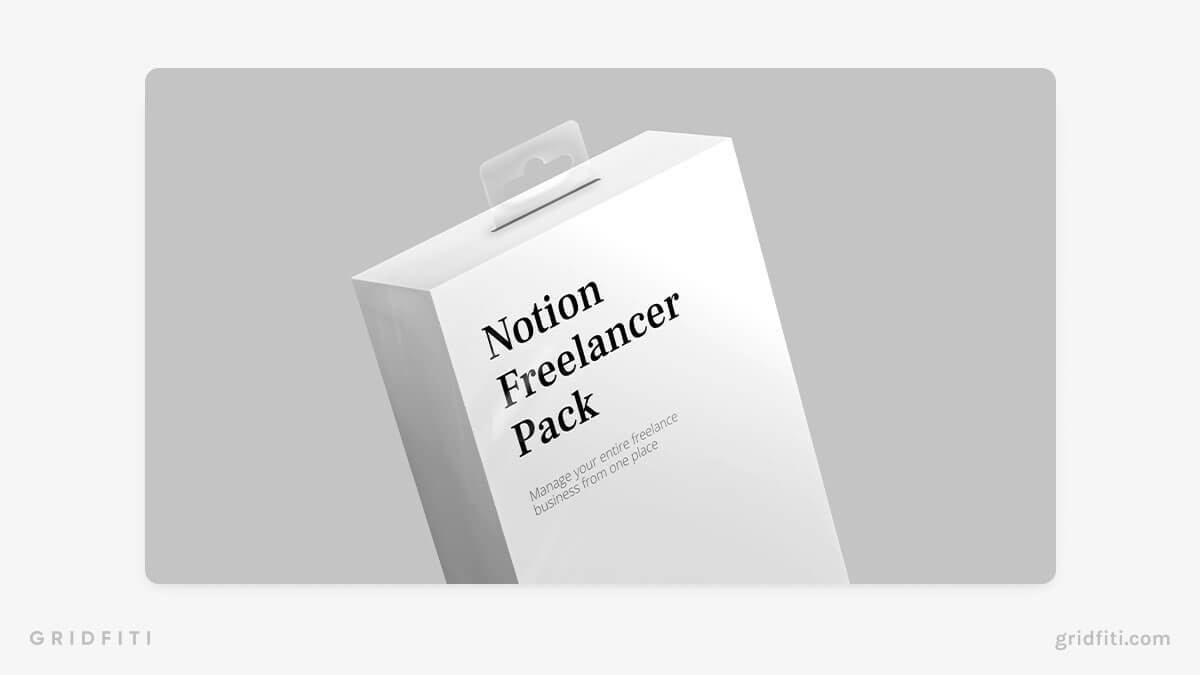 The Notion Pack – Freelance Templates
Save hundreds of hours with these 20 templates and documents designed just for freelancers! Including Notion templates for proposals, invoices, scope of work, client questionnaires, and several more areas – this bundle packs a punch. It's even offered in multiple languages.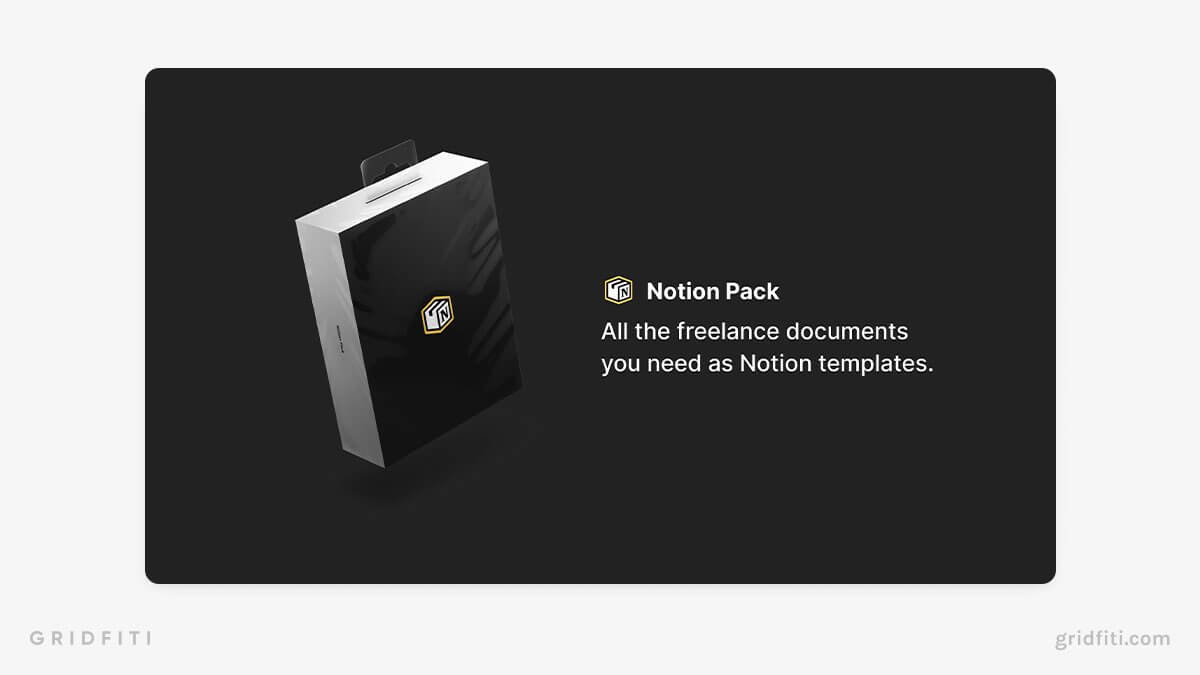 All-in-One Notion Freelancer Dashboard
With 20+ robust templates all under one roof, the Freelance Dashboard is the only tool you'll need to manage and scale your entire freelance business. Track projects, subscribers, sales, clients, marketing, and so much more with this jam-packed freelancer kit made for Notion!
For more templates for sales, check out our round-up post featuring the best Notion sales templates!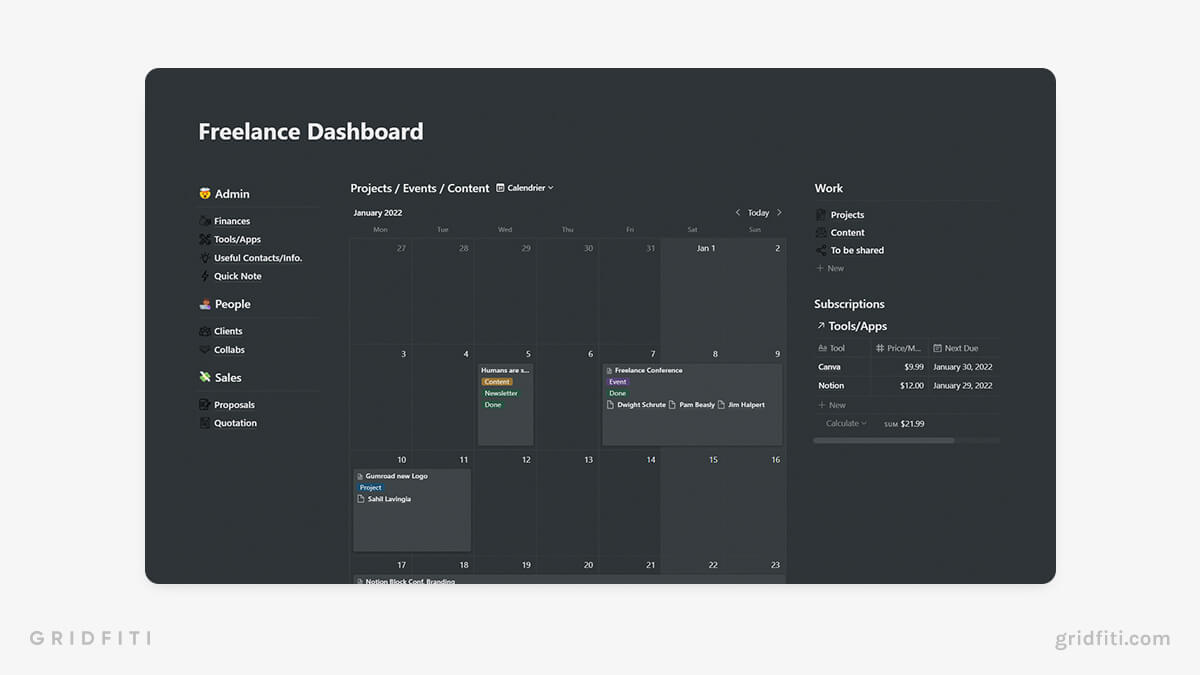 Freelance Compass – Notion Freelance Dashboard
This Freelancer Compass is a to-do list template and task management dashboard for freelancers looking to increase their productivity and grow their business! The Freelance Compass includes a GTD dashboard, a daily to-do list, time tracking, task overviews, project management capabilities, and lots more!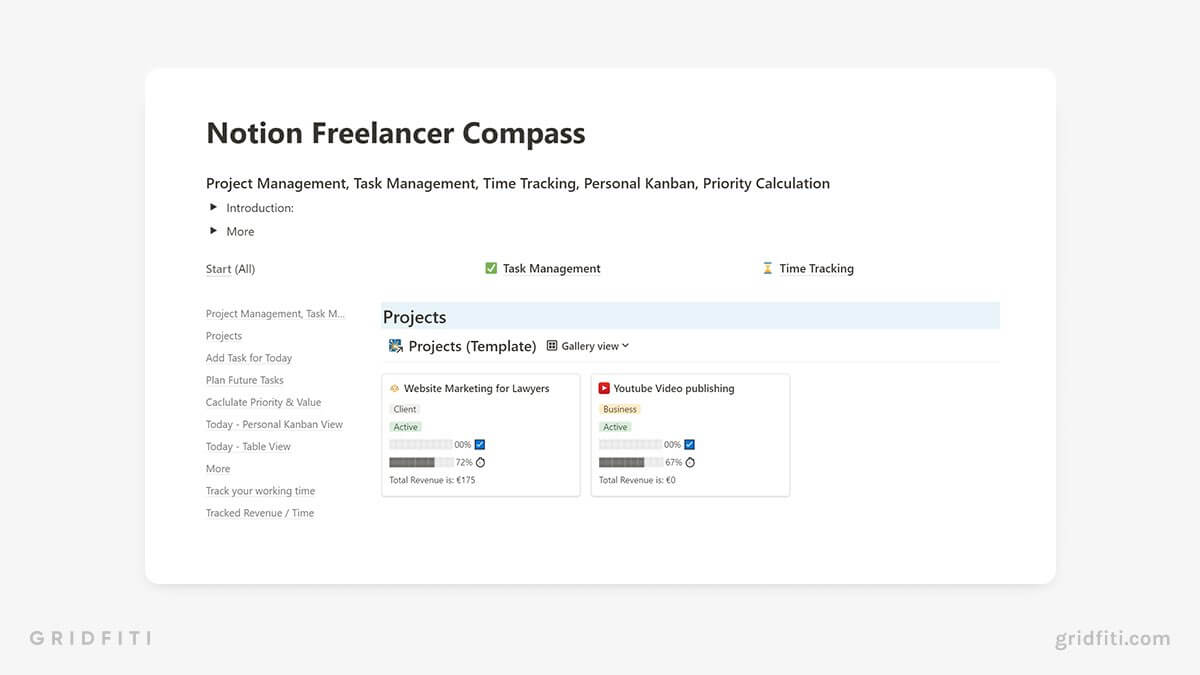 Freelancer Pro System
The Freelancer Pro system is a Notion template catered for freelance Webflow developers and web designers who are serious about streamlining their processes. From finances, proposals and invoices, project briefs, an exclusive $10K website roadmap, and more, this template will bring all resources and areas freelance business under one roof.
For more templates like this, check out our round-up post featuring the best Notion templates for designers!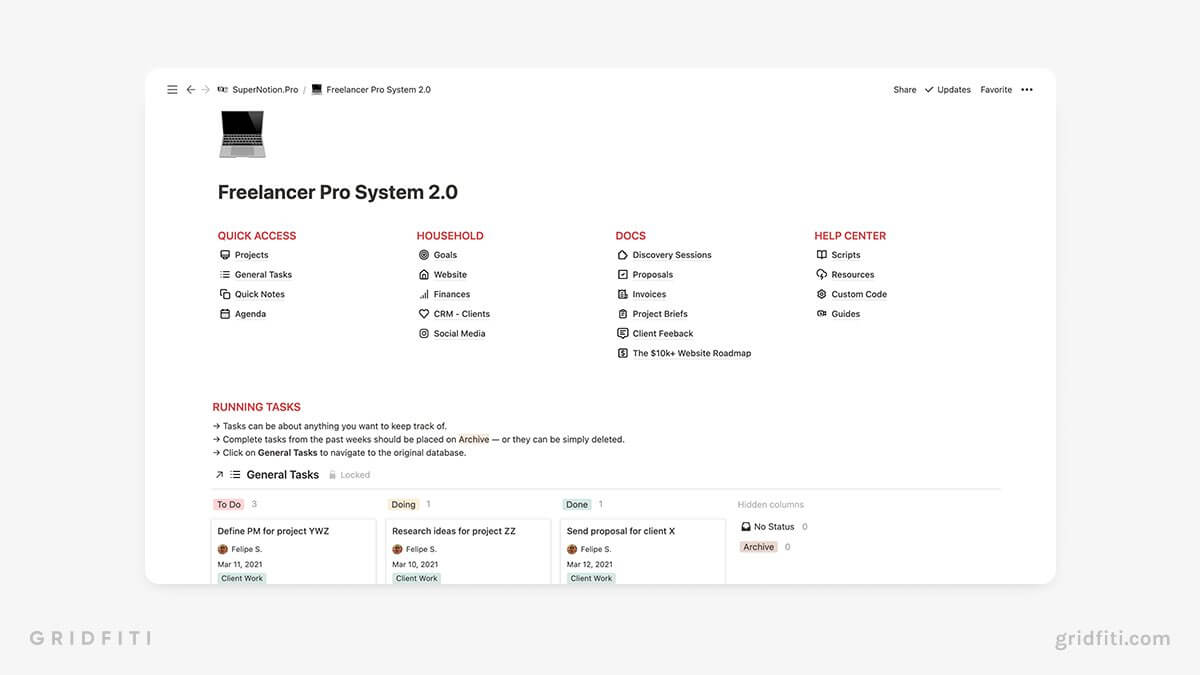 Robust Notion Client Work Dashboard
While built for agencies, this template is adaptable for any freelancer looking to seriously scale their business using Notion. This advanced package includes 7 workspaces and 30+ Notion templates – including Contract, Proposal, Onboarding, Strategy Questionnaires, and more!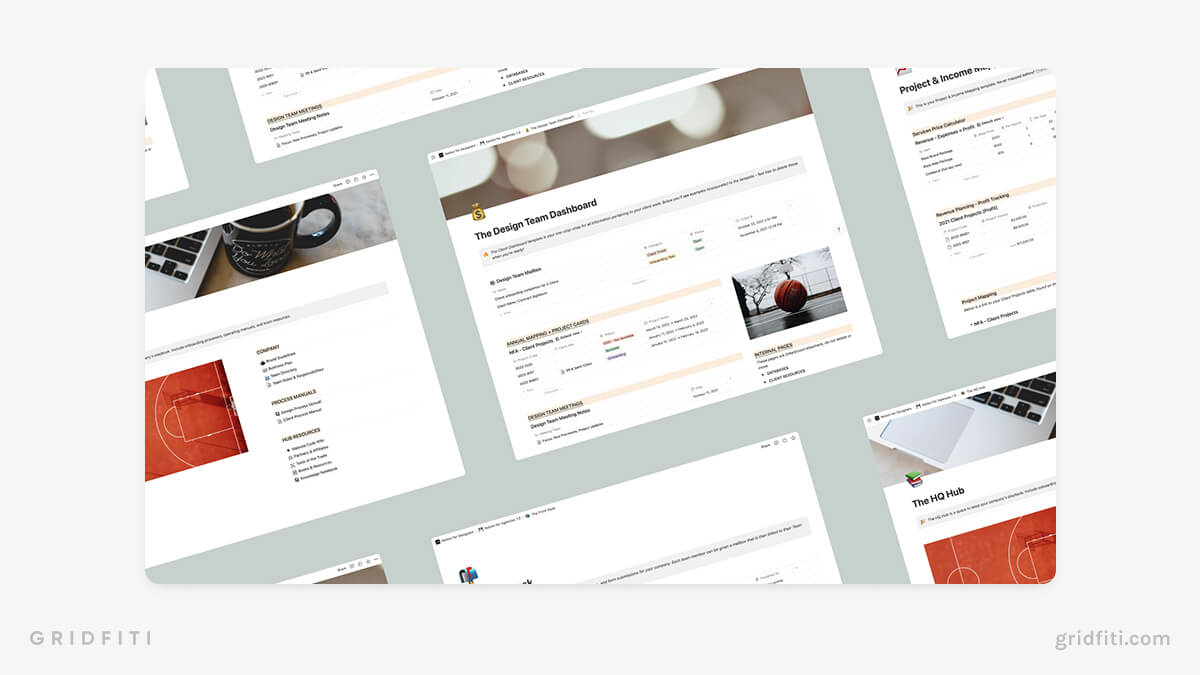 Notion Freelance Designer Template
Track all of your ongoing design projects and streamline your client work all in a single digital workspace! Use the Notion Freelancer Template for Designers to monitor progress on your tasks and create personalized dashboards for each new client.
Looking for more templates to run your design business? Check out our round-up on the best Notion templates for designers.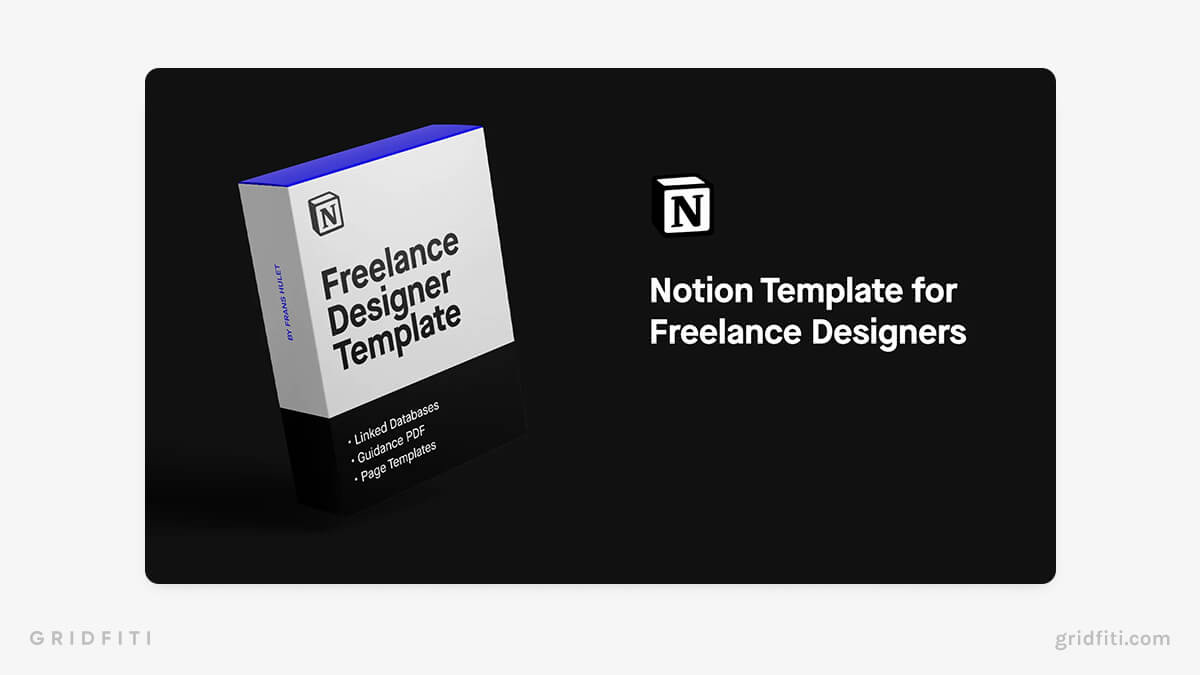 Simple Freelancing Template for Notion
If you're looking for a more simple solution for managing your freelance client work, this is the template for you! This template includes a basic dashboard that covers the essentials with simple pages for projects, clients, finances, and more.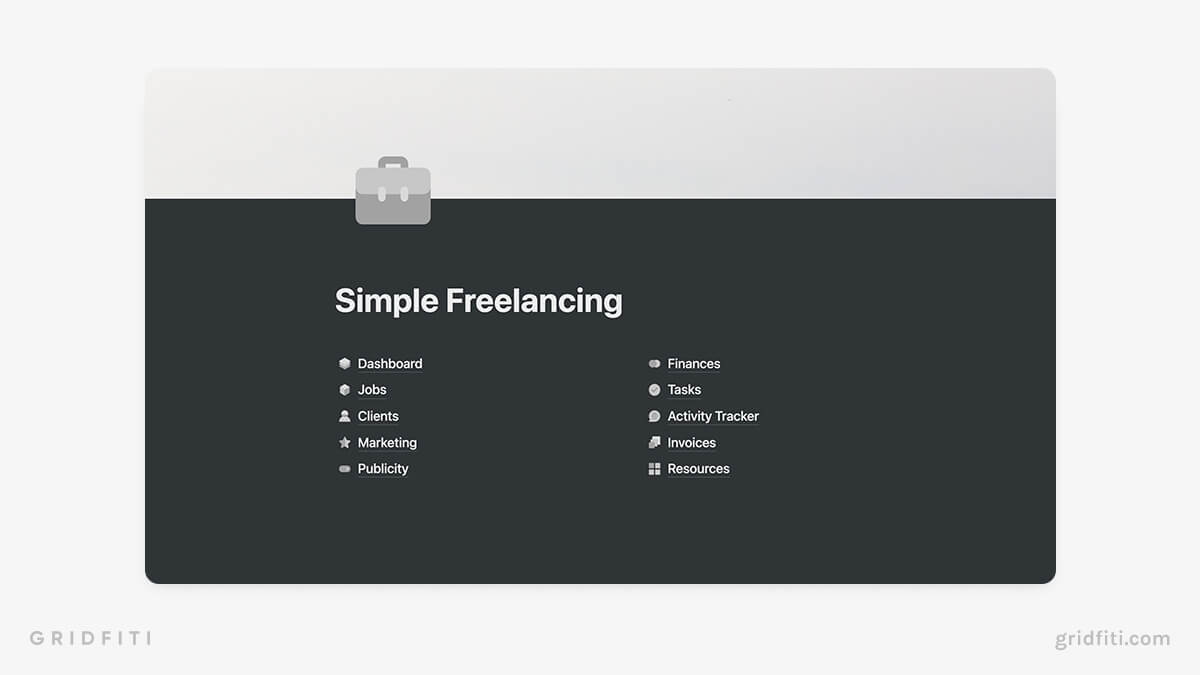 The Complete Freelancer Notion Setup
The ultimate freelancer trifecta! This bundle gives you the core freelance templates to grow your business. The kit includes: a project proposal template, client surveys, and a Notion template package to help you manage your clients and organize your clients and documents.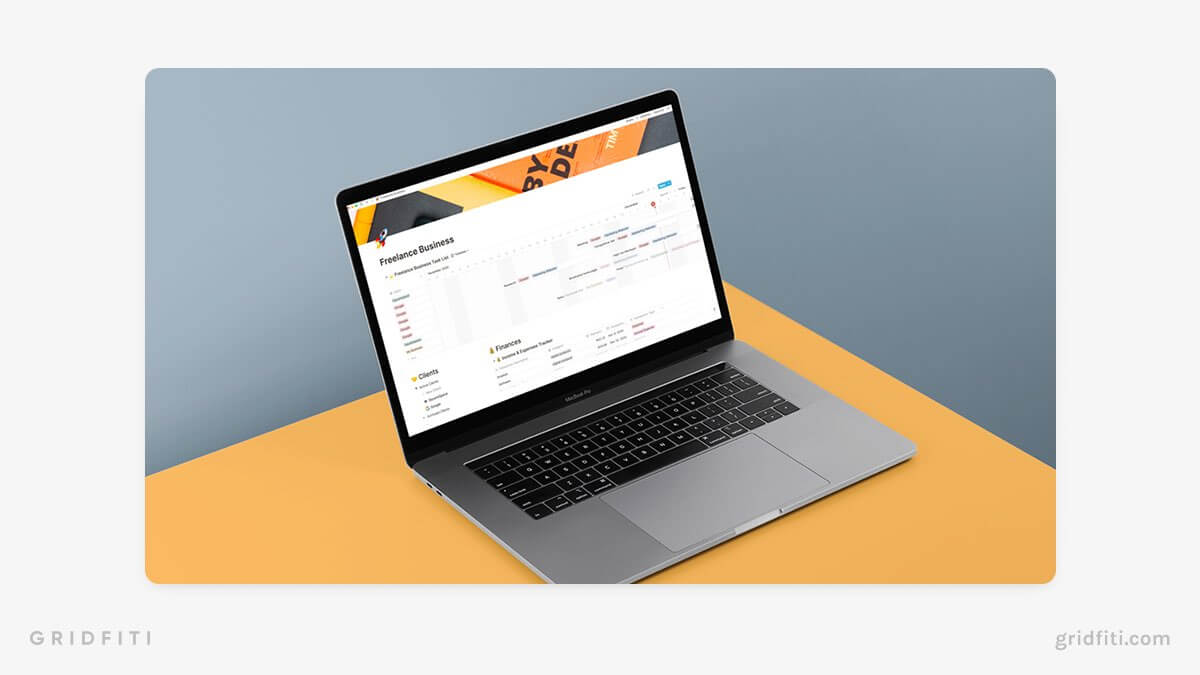 Notion Quotation Proposal Template for Freelancers
A simple Notion quotation proposal template that allows you to understand your clients' expectations, and get a better overview of what deliverables to prioritize. Having a proposal in Notion allows for clients to directly comment within the doc, saving you all that email back-and-forth!
For more proposal templates, check out our full round-up post here!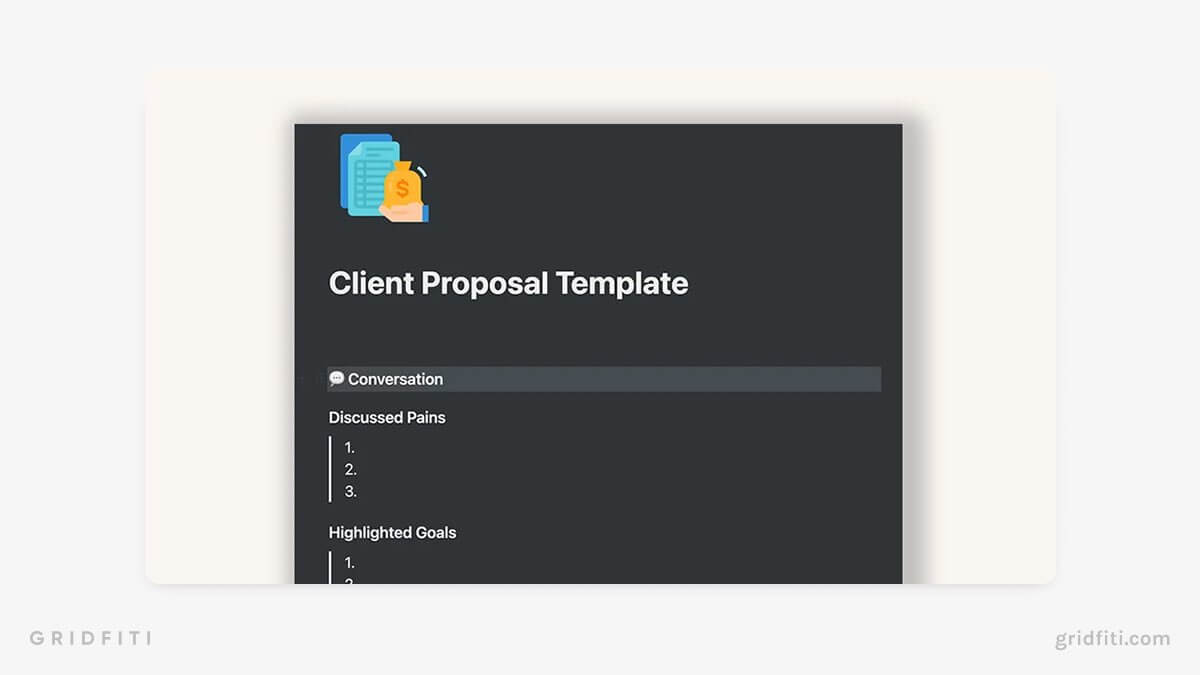 Notion Freelance Client Portal Template
Make the onboarding process simple for your customers with this client portal Notion template from The Notion Bar! Instead of spending your time and energy on different tools to manage your clients – use this client portal to create a transparent process, so everyone involved knows exactly what stage of the project you're on. Win more freelance clients with this unique Notion onboarding system!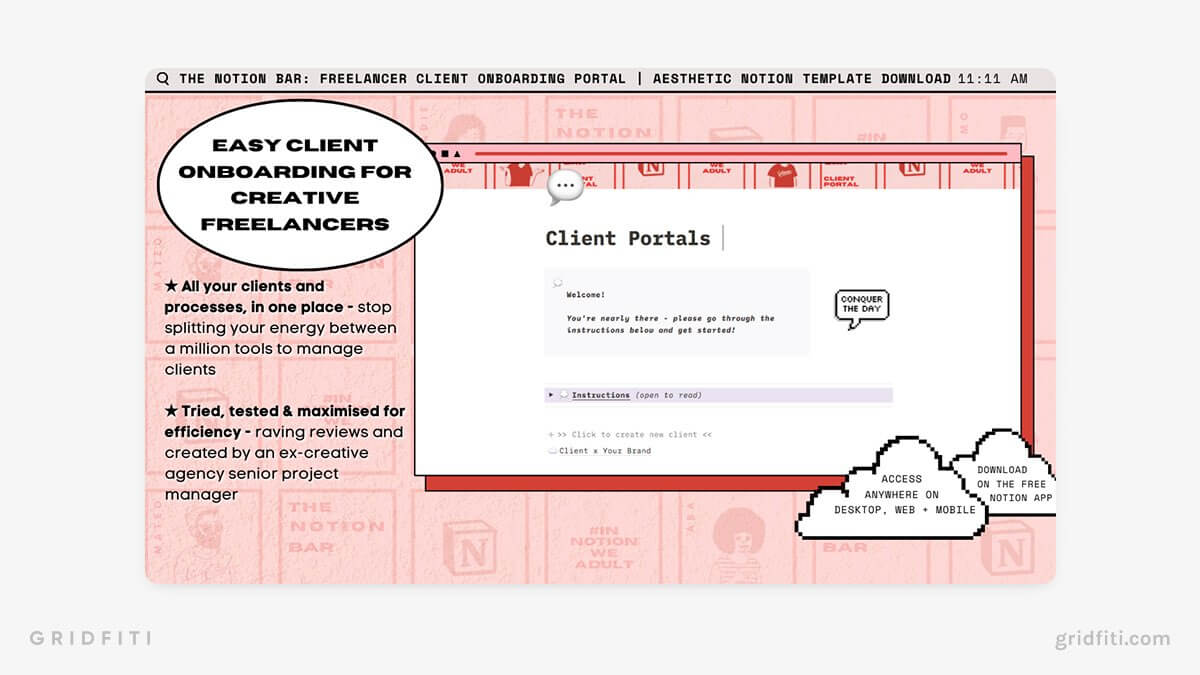 Notion Freelance Invoice Templates
Create, customize, track, and manage your freelance invoices all in one place with Notion. Gone are the days of designing your invoices from scratch – now you can build a log of your past, present, and future invoices with pre-designed templates to make sure you get paid on time.
Templates Available Here: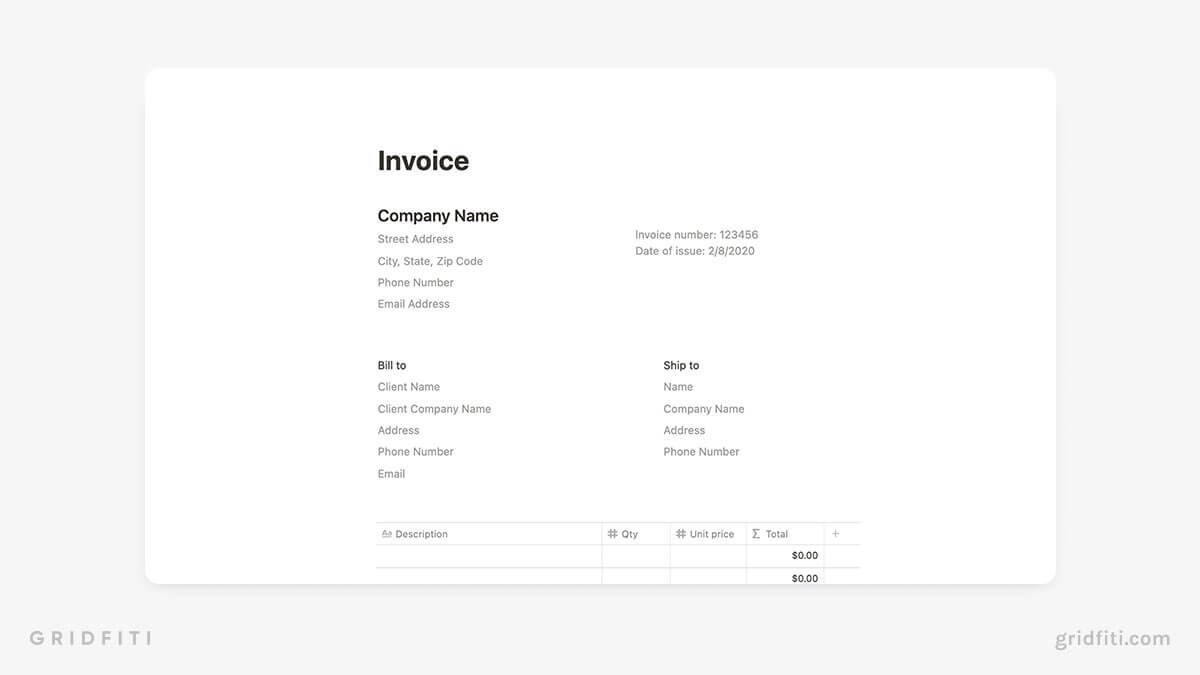 Which Notion freelance template are you using? Do you have any other recommendations for Notion templates for freelancers to use? Let us know in the comments below!
Gridfiti is supported by its audience – when you buy something using the retail links in our posts, we may earn a small commission at no additional cost to you. We only recommend products we would use ourselves and recommend to our friends and family. Read more about our affiliate disclaimer.