Between your personal life, work, school, and everything else, staying focused on everything going on around you is a challenge. One of the best ways to stay organized is to digitally manage and track all things in your life with a Life OS (operating system)!
A Life OS template (or all-in-one life dashboard) can help you build better habits, track your progress and goals, journal your thoughts, plan and complete your tasks, track your media consumption, organize your finances, and practically everything else!
Notion is one of the best platforms for your life dashboard. This all-in-one workspace makes it easy for you to combine all aspects of your life into a single app, which you can bring with you everywhere while you're navigating your days.
You'll find all sorts of Notion life operating system templates out there. Not sure which one is best for your needs? We've curated the very best Notion life OS templates and life dashboards designed to make you more productive, self-aware, and fulfilled — check 'em out below!
---
Looking for more productivity tips and tools? Subscribe to The Flow — our quick, snappy, value-packed focus and recharge newsletter. Also, don't miss our several other Notion template round-ups and guides!
---
Table of Contents
Life OS: All-in-One Notion Template
The all-in-one Life OS Notion template by yours truly includes over 20 templates for all aspects of your life. Here's a sneak peek at just a few of the templates you'll find inside:
Daily, weekly and monthly planner, to-dos, routine and habit tracker, journal and mood tracker, chores tracker, finances, goal-setting and note-taking, meal planning and recipes, fitness and workouts, travel planning, restaurants and cafes to visit, wishlist, TV shows and movies tracker, reading list, closet organizer, and so much more.
All of these templates are integrated and work together seamlessly, bringing all your information together into a live, dynamic homepage that shows your most timely information — whether it's plant care tasks, upcoming birthdays, wardrobe management, or anything in between!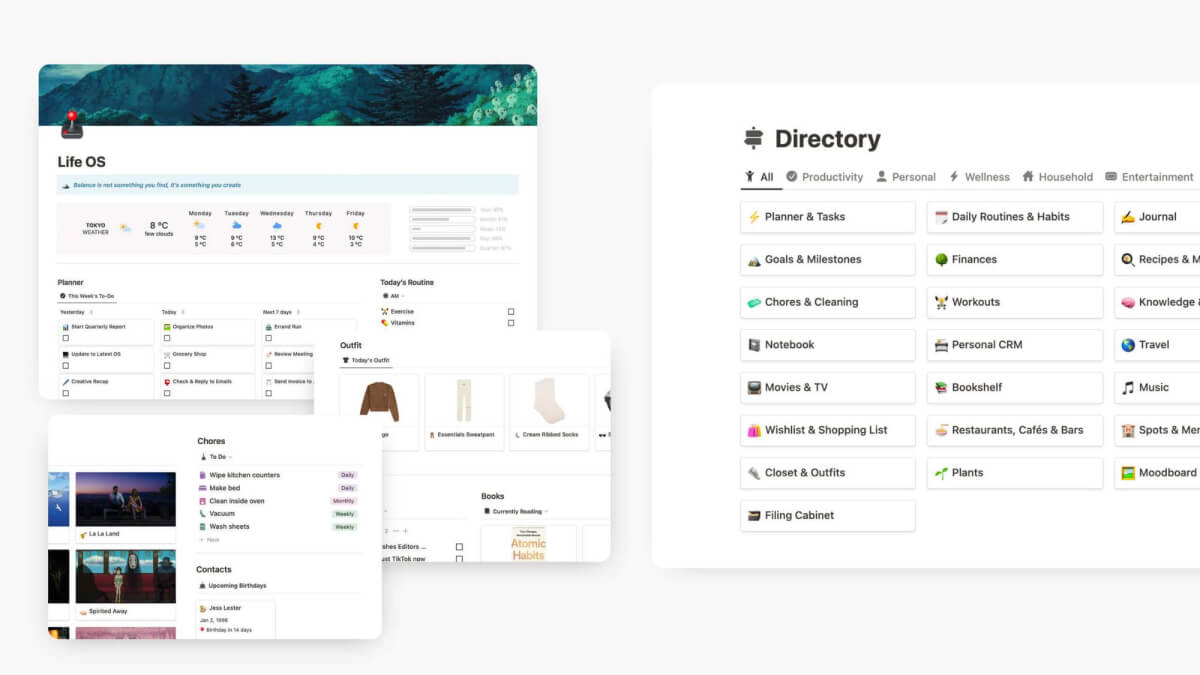 AlignOS: Maximizing Potential
Designed to provide clarity of purpose, mind, and action, the aptly named Align OS will help you organize every part of your life in one place. Featuring a habit tracker, daily and weekly planner, goal setter, journal, self awareness exercises, and more, AlignOS is a great tool for building your dream life.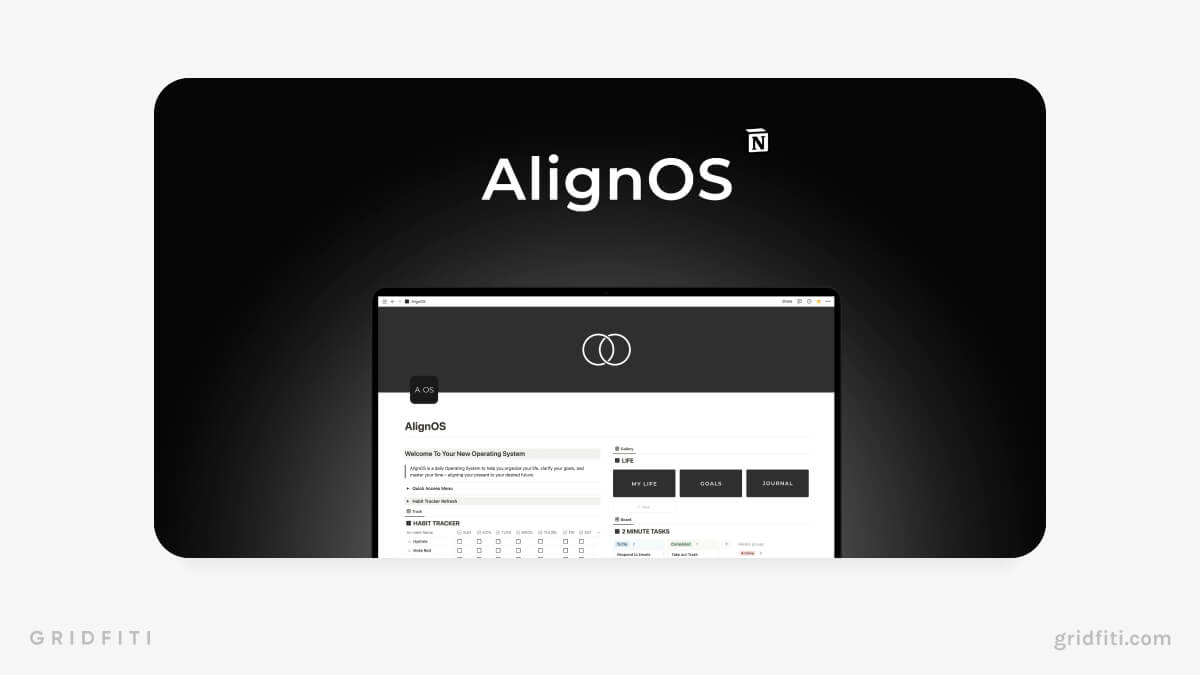 Stoic Life OS Template
Whether you're new to Stoicism or want to incorporate it into your lifestyle more consistently, Stoic Life OS is a single system for managing all aspects of your life in Notion! With over 25 templates — including workout plans, journals, to-do lists, notes, wikis, and lots more — this OS makes it easy to start living your best (and most Stoic!) life.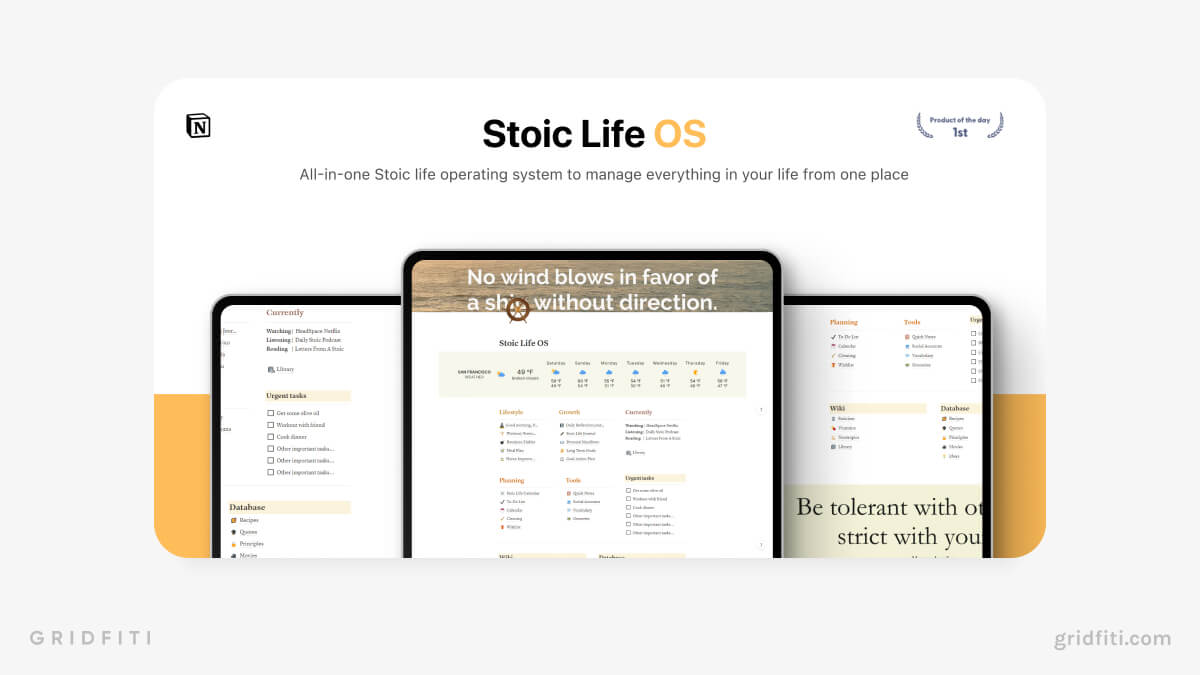 My Life OS – Second Brain Template
Supercharge your second brain with the My Life OS Notion template! This bundle of 8 templates lets you create budgets, organize your projects, track your habits, categorize resources, and much more. Control everything from your dash, with an inbox for all your upcoming to-dos. Quickly jot down new ideas from your dash so you never miss a beat when inspiration strikes!
Related Post: Notion Second Brain Templates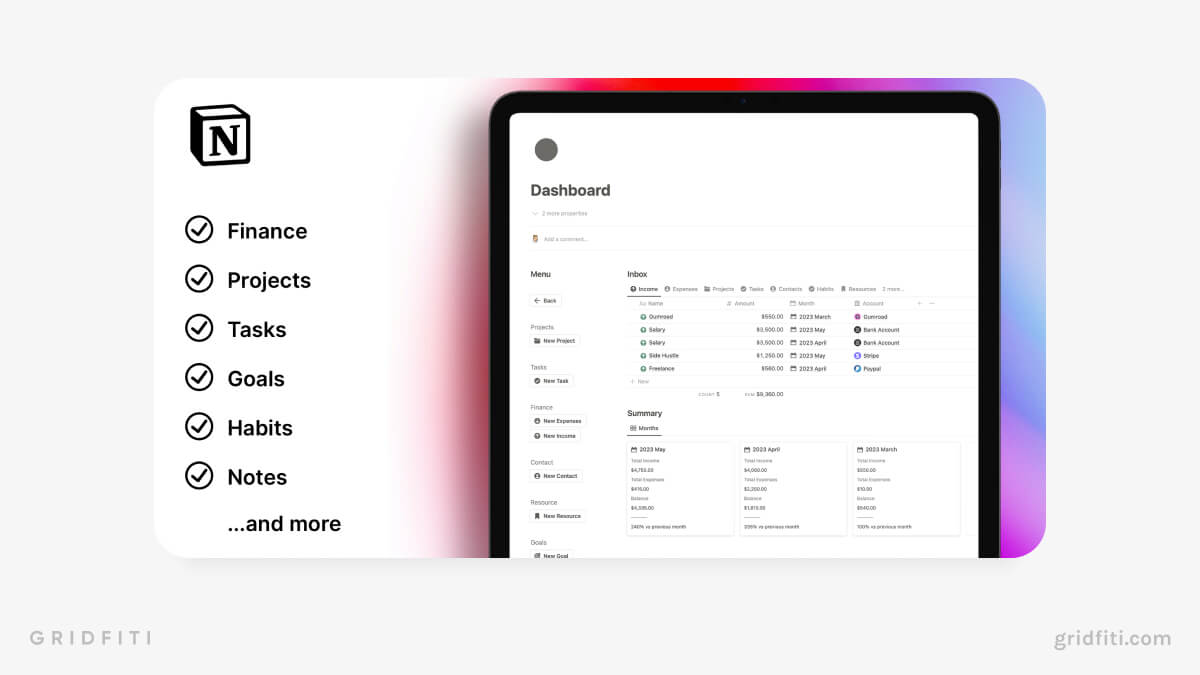 Life OS Dashboard
Featuring a second brain, finance tracker, CRM, OKR goal tracker, fitness planner, bullet journal, and so much more, Chris' Notion OS Dashboard offers a single destination for feeding your focus and building your life management system. We love how this template has a visuals-first dashboard, with a clock widget and habit tracker at the forefront – yet there's still so much packed behind the hood. The template also comes in a variety of themes for you to pick from, with 5 light mode and 5 dark mode options.
Related Post: CRM Notion Templates (Personal, Work & More)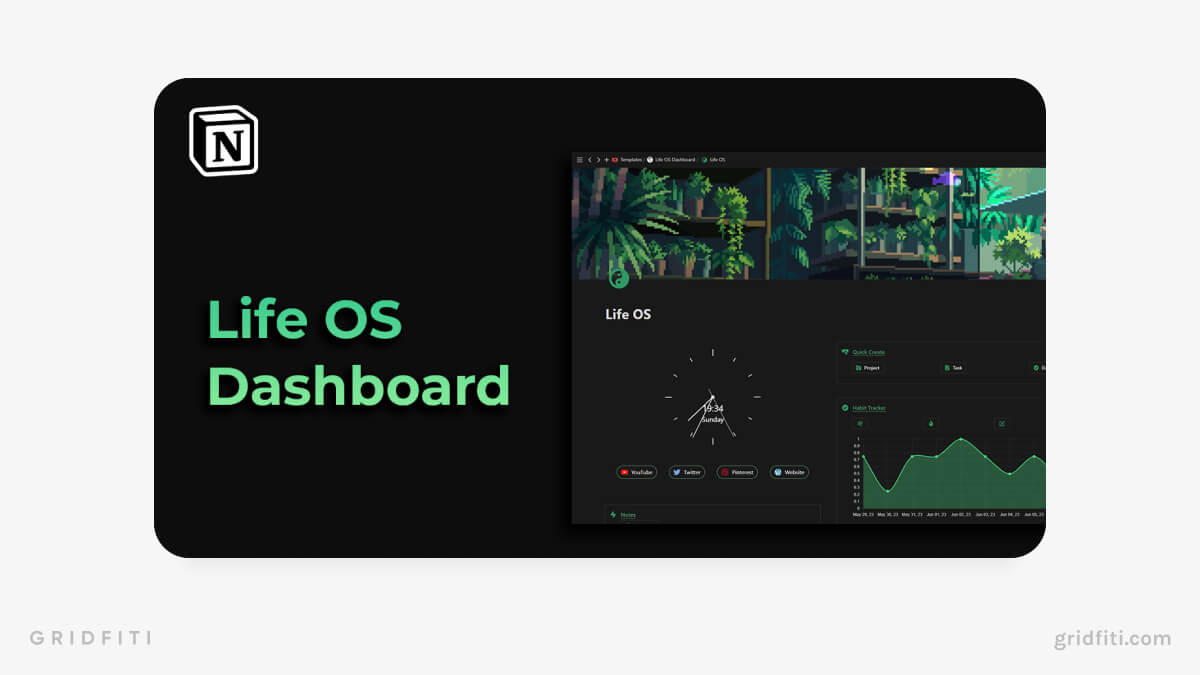 Notion Student Life OS
Student OS is the ultimate all-in-one workspace for everything you need for your academic life — both in and out of the classroom! With 15+ templates in a centralized dashboard, track your classes and assignments, organize your tasks, journal your days and mood, track college and job applications, and so much more.
Related Post: Notion Templates for Students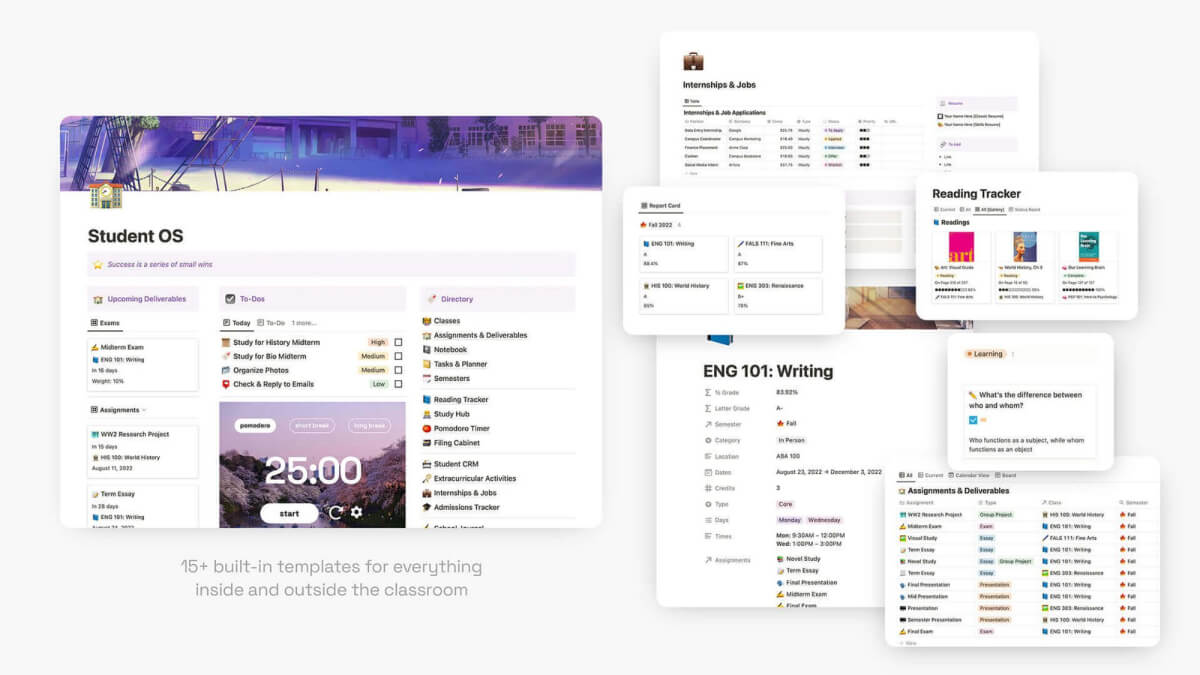 Habitat – Life Management System & Dashboard
Habitat is one of the best life OS Notion templates, with tons of handy tools to make your schedule run smoothly. Track your daily mood, habits, and health, and reflect on your progress with the monthly roundup. Your inbox, tasks, and to-do lists ensure all your essential chores are up to date.
Habitat is also super aesthetic, with custom banners and badges to match your style. You'll also find some useful extras like a weather widget, a full vegan recipe database, and an asset library!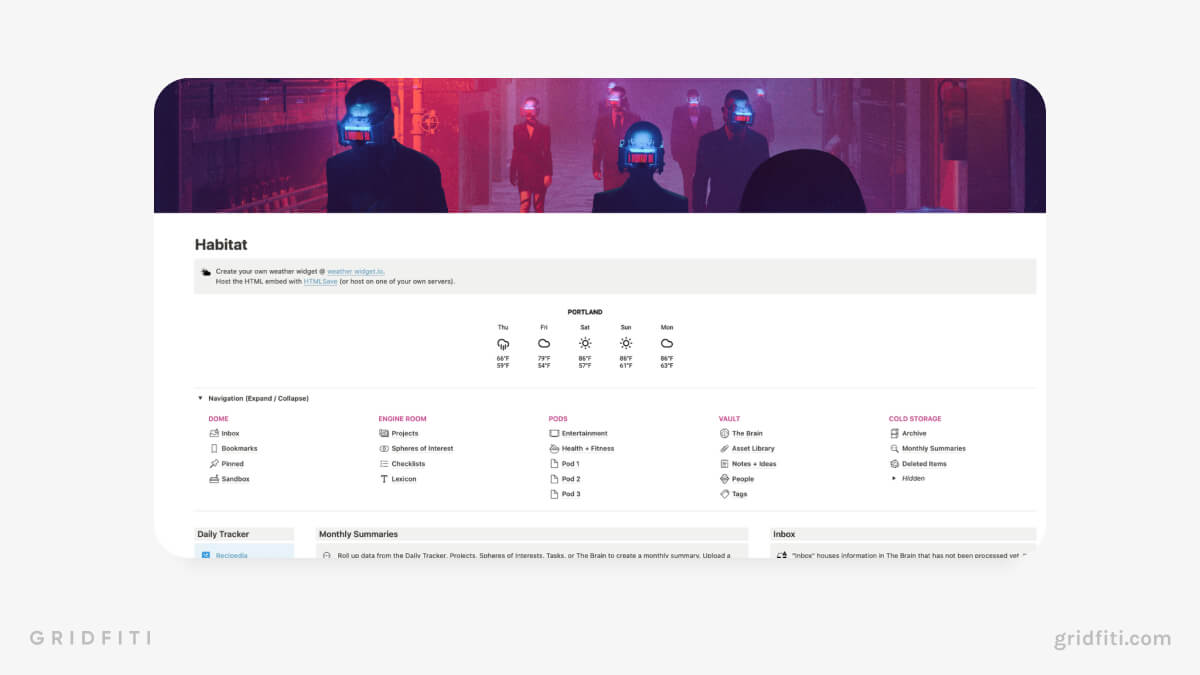 Notion Life OS v2.0
Notion Life OS v2.0 truly is the total package. Prioritize your tasks, visualize your progress, and sort items into categories to declutter your brain. Spaces for your recipes, bucket list, household chores, projects, subscriptions, and more mean you won't have to worry about tasks getting lost in the ether. Make life a little easier by linking your databases, and let Notion's automation capabilities handle the rest!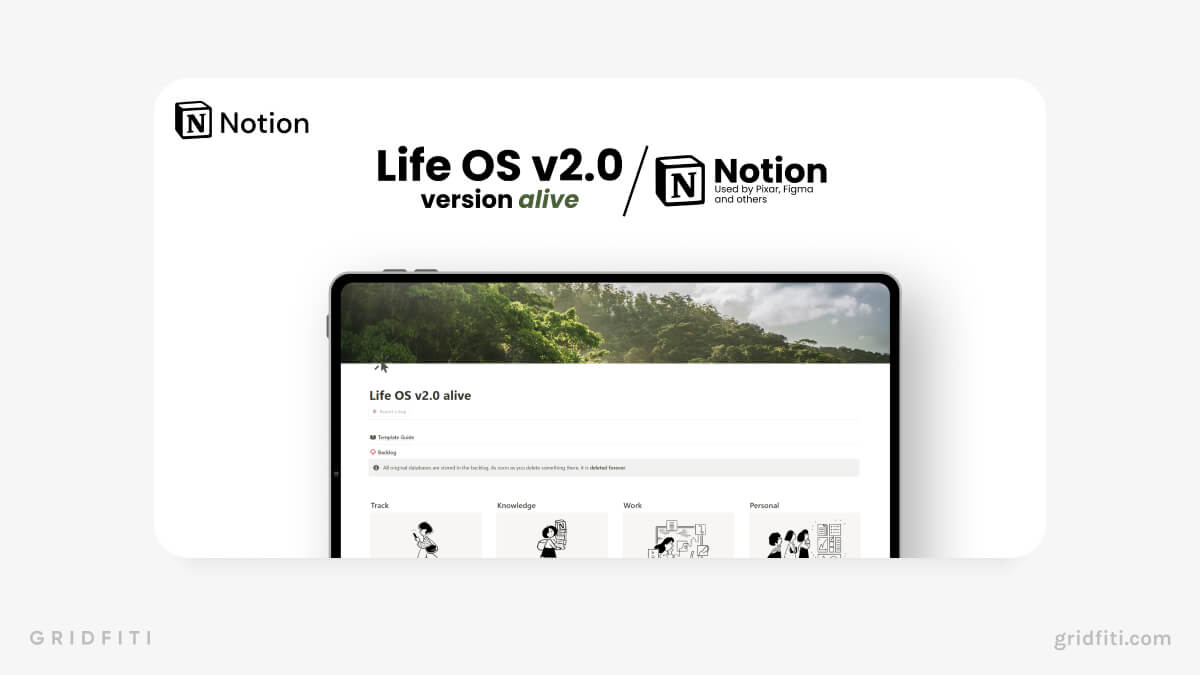 Notion Life OS: The Complete Second Brain
Look no further than Notion Life OS: The Complete Second Brain if you're searching for a straightforward Life OS template that ticks all the boxes. In this set, you'll get templates for GTD, prompted Stoic journaling, monthly reviews, project management, and more.
Customize your second brain set-up with icons and cover packs for a personal twist. This is an excellent personal organization Notion template for Notion newbies, thanks to a detailed tutorial and access to a private Discord community!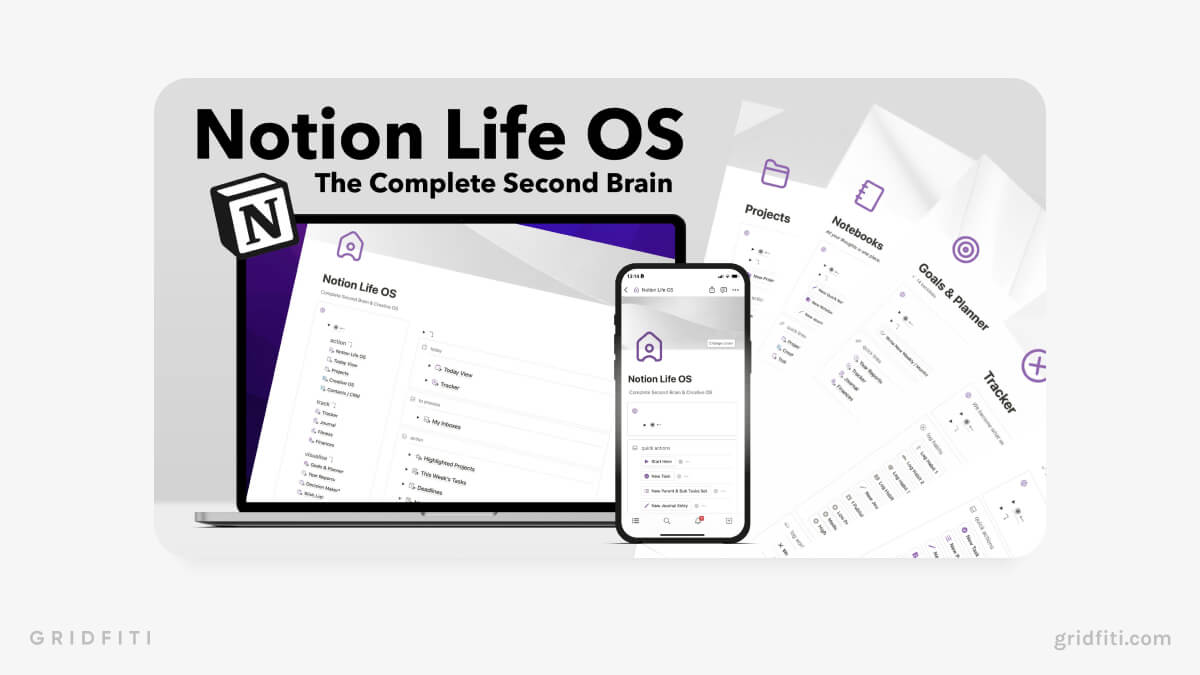 Minimal Notion Life Design OS Template
The Life Design OS template is the ultimate Notion life OS designed for beginners and advanced users alike. The purpose of the Notion Life Design OS is to help you learn more about yourself by helping you create a clear vision and set plans and goals for your future! With both light and dark mode options, its minimalist design allows you to customize the life dashboard to your liking.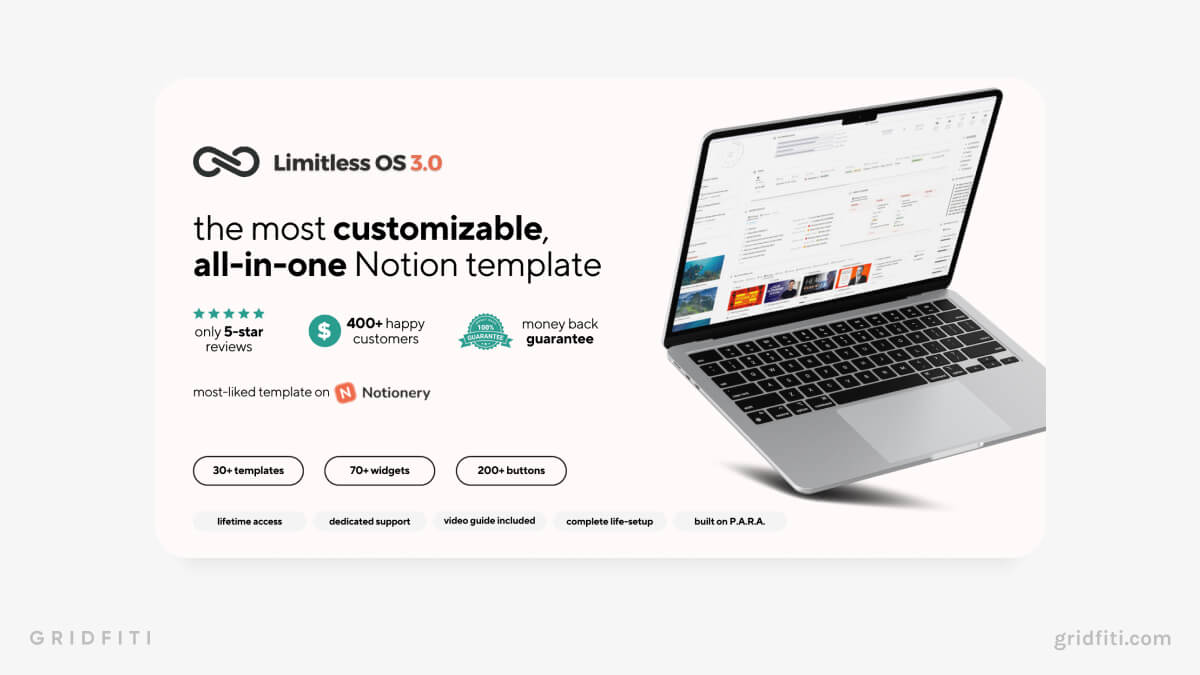 Obsidian Life OS – Notion Operating System Template
Start spending your time more intentionally and break the mold in a world where busyness is often glorified. The Obsidian Life OS is designed to be an all-in-one personal workflow Notion system that makes it easier for you to focus on the things you need to accomplish.
Obsidian Life OS's goal is to provide a Notion operating system that helps you understand your life and gives you actionable steps to cut out the clutter and make positive changes!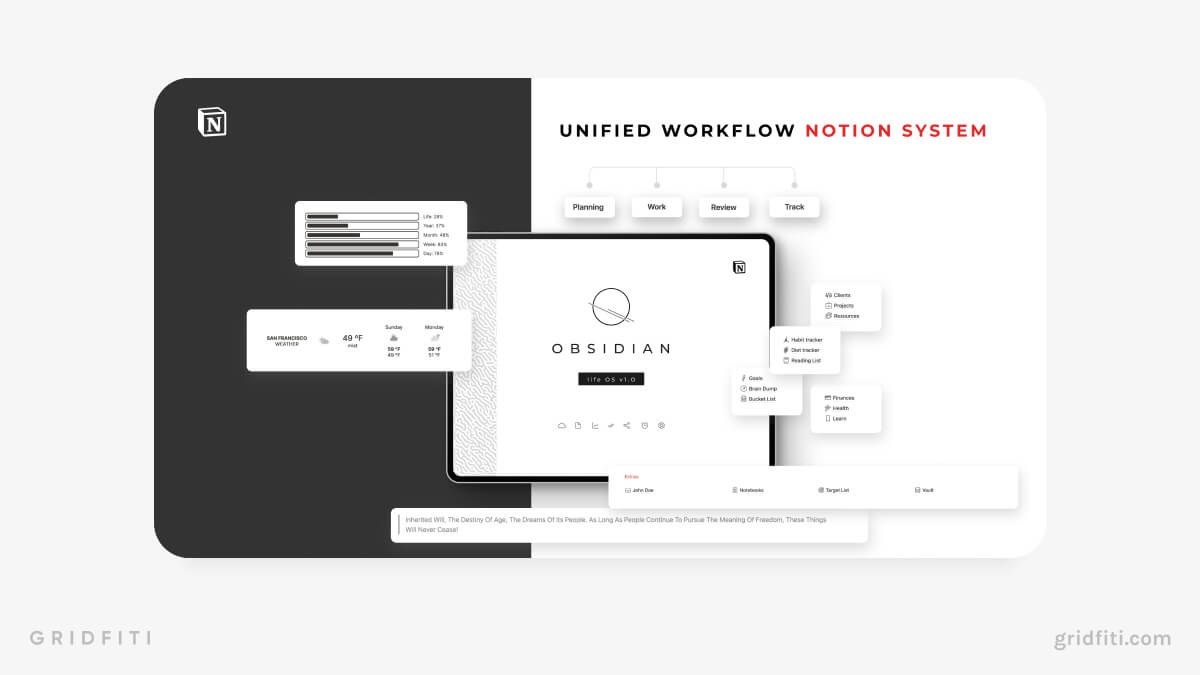 Aesthetic Life Dashboard Templates
Centralize your life in Notion with these easy-to-use and aesthetic all-in-one life dashboard by yours truly. With over 15 done-for-you templates, you can organize almost every aspect of your life, from your daily habits and and journal entries to your life goals and reading list.
Related Post: Aesthetic Notion Templates & Ideas
Templates Available: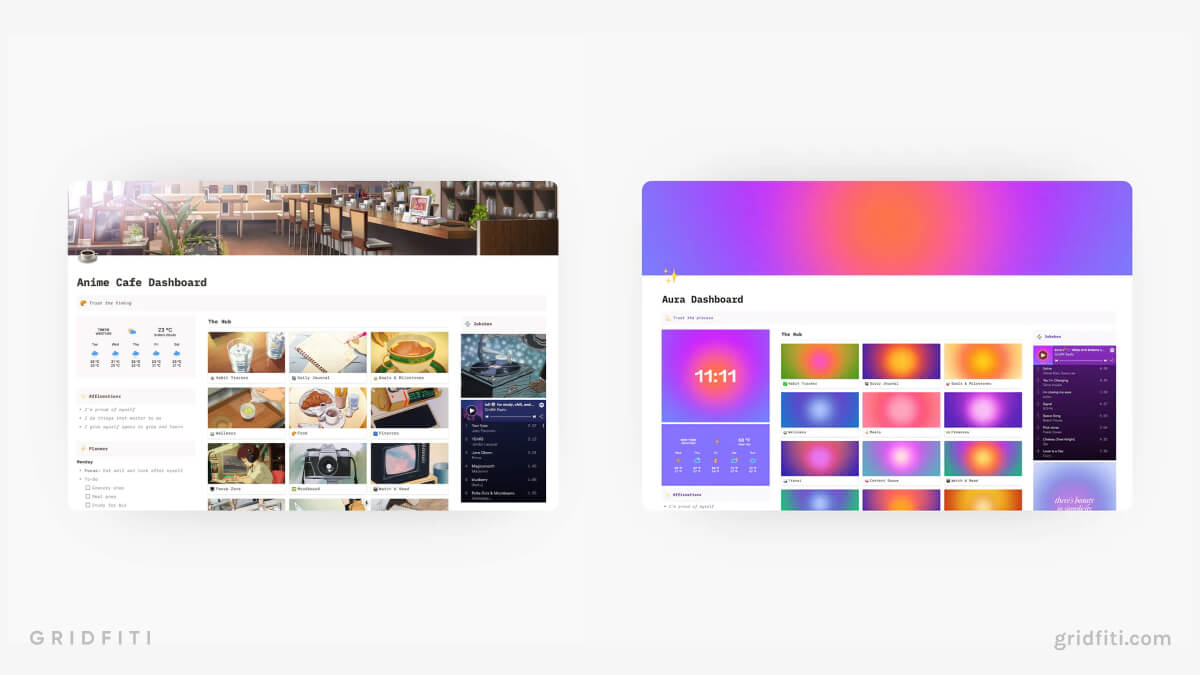 Balance OS – Integrated GTD, PARA & Goal Setting
Life is all about balance. The Balance OS for Notion is designed as an all-in-one life management system to help you organize and align all different areas of your life, from work to personal and every area in between.
The template uses the GTD system, the PARA method, a life balance journal, and a goals dashboard to encourage you to review and reflect on your life and your future. The template is available in both a minimalist and an aesthetic theme so you can choose one based on your personal taste!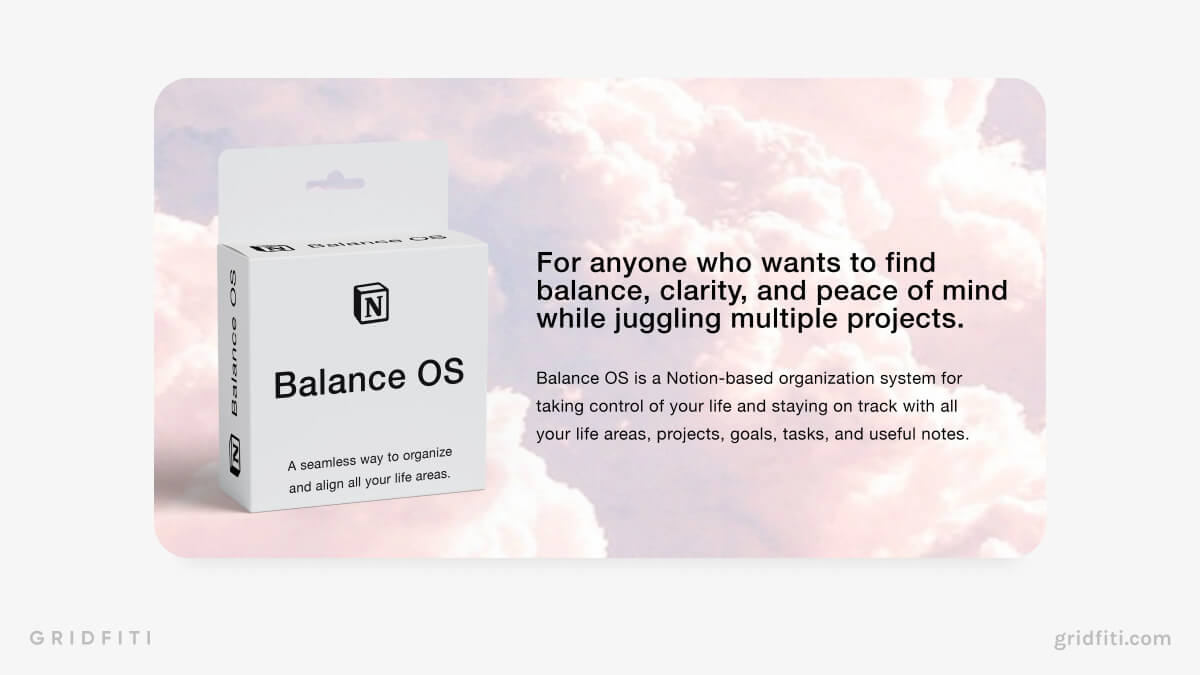 Quantified Self OS
Improve your work-life balance like never before with this Notion template for life management! Quantified Self OS gives you a snapshot of how much time you spend on your tasks and activities each month and year.
Quantified Self OS keeps tabs on all your time with a 2-way sync between your Notion workspace and Google Calendar. Rate each aspect of your life to help you reflect on work, health, motivation, and relationships. Track your screen time, workouts, sleep score, and more.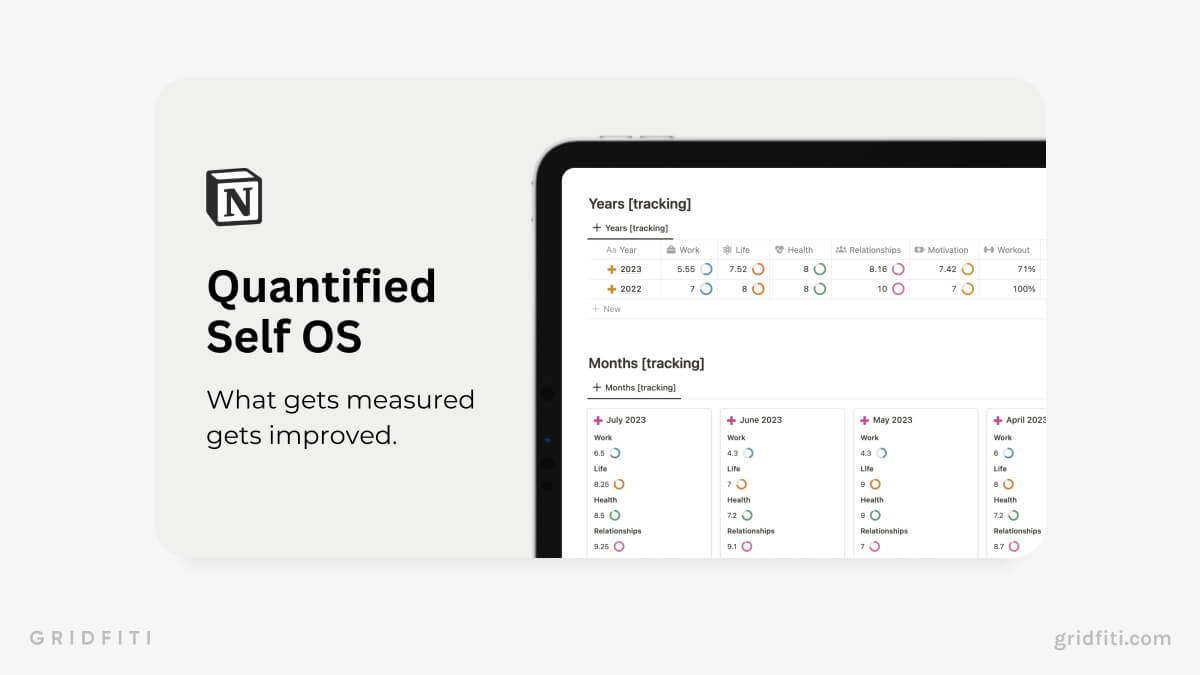 Aesthetic Dark Mode Life OS
Manage your life in dark mode with this aesthetic Life OS Notion template! Set routines, check off your habits, journal your thoughts, and create daily to-dos. Manage all aspects of your second brain directly from your dash. Customize page banners and icons to make this template match your Notion aesthetic.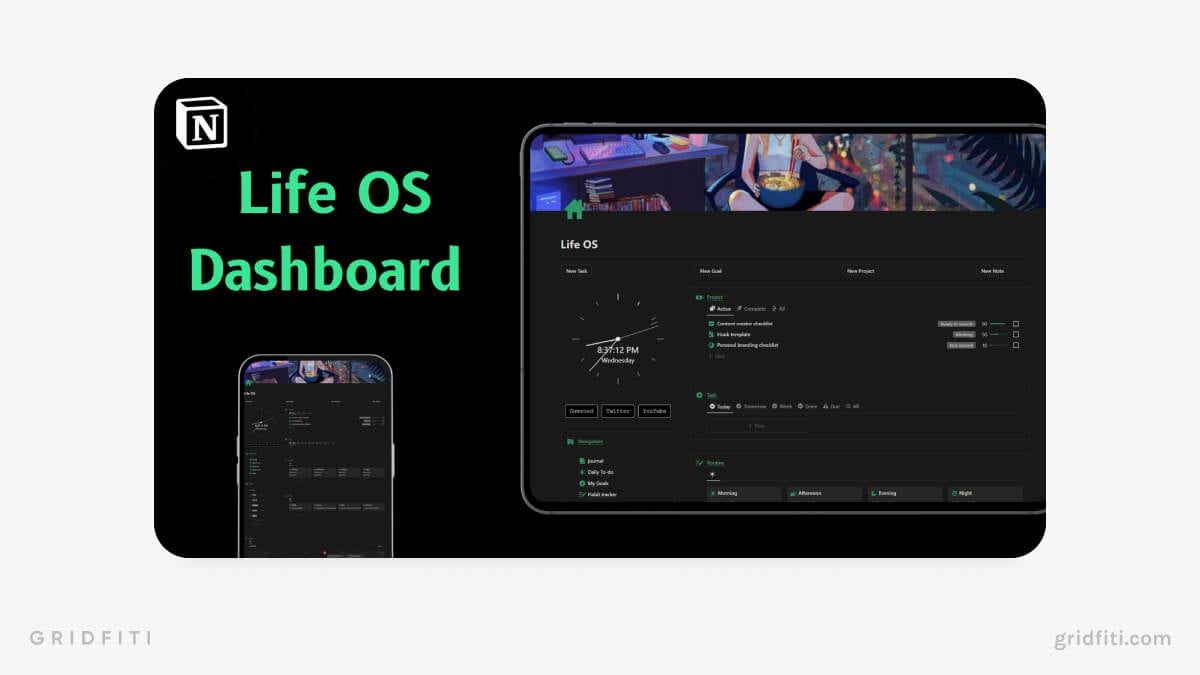 Manifest OS – A Mindful Productivity System in Notion
Build a system to get 1% better every day with the Manifest OS Notion template. Use this operating system to monitor your progress, build healthy habits, and accomplish more with less stress!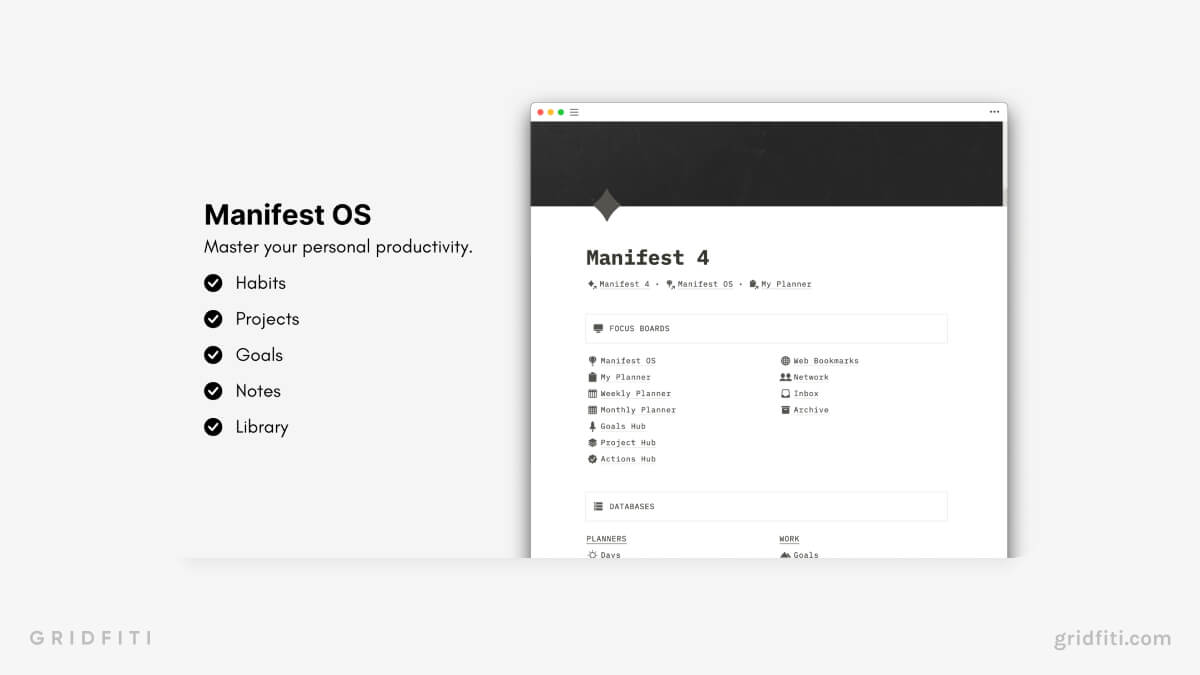 Health Hub OS for Notion
Health is wealth. In order to live a productive and happy life, it's important to make sure your physical and mental health are in check – which is just what the Health Hub Notion OS is built to do!
With this health operating system, you'll be able track everything health-related with 15 unique templates and 10 health trackers. Use the check-in system and the daily logs to monitor your health, and use the pre-designed databases to build a strong routine.
Related Post: Notion Health Templates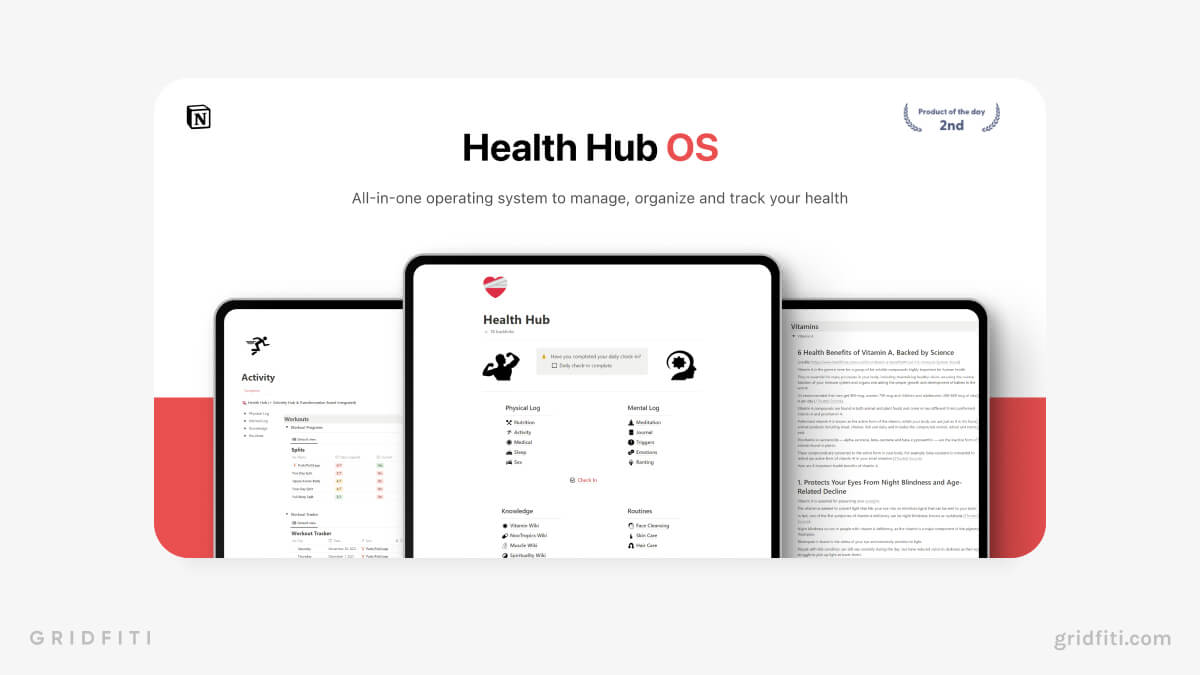 Notion Business OS Templates
You came here for Life OS templates, but what if you want an OS for all things related to your business too? Thankfully, several Notion template creators have taken the OS dashboard blueprint and built some great systems to centralize all things for your company or company-to-be. For some work-life OS balance, check out these templates!
Related Post: The Best Notion Business Templates
Templates Available: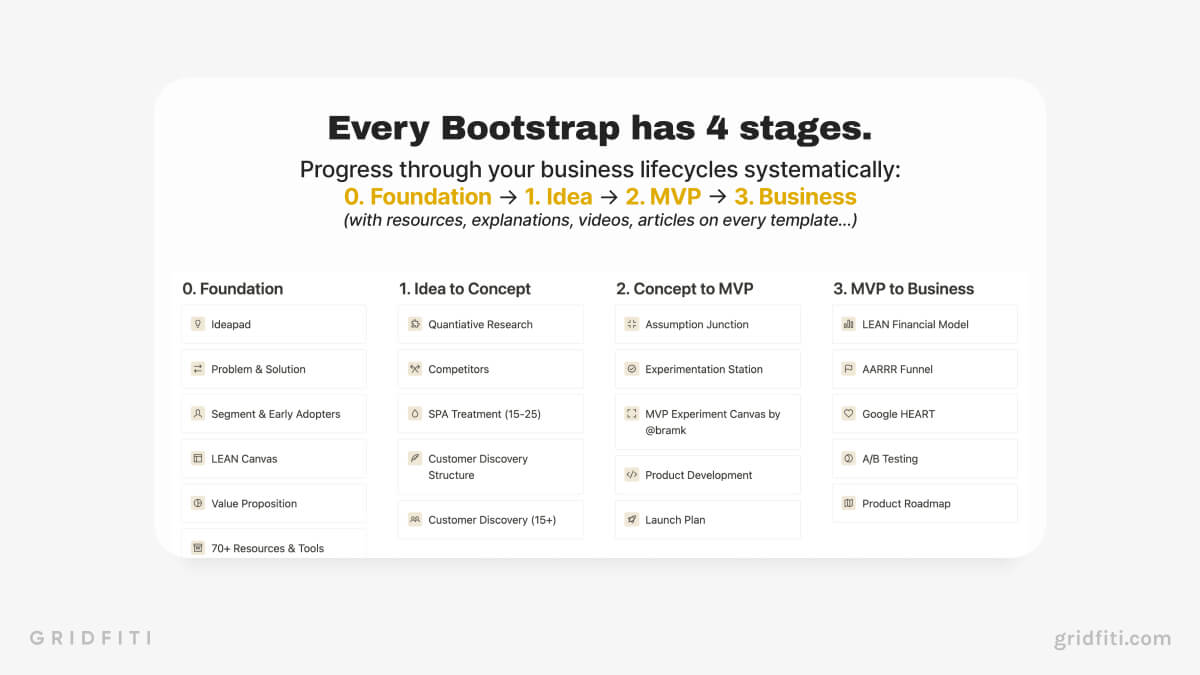 Free Notion Life OS Templates
Not quite ready to make the switch to Notion for your Life OS needs? Discover if it's right for you with these free Notion Life OS templates!
Student Life Planner OS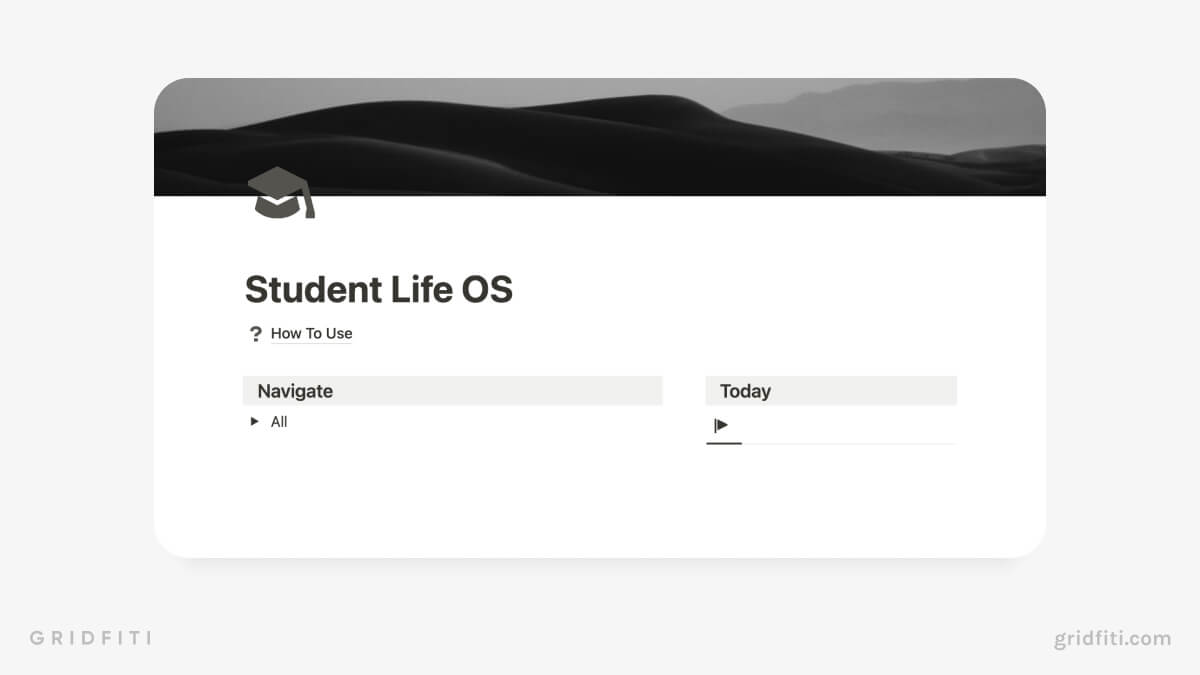 Template by NotionPlates
Simple Life OS Dashboard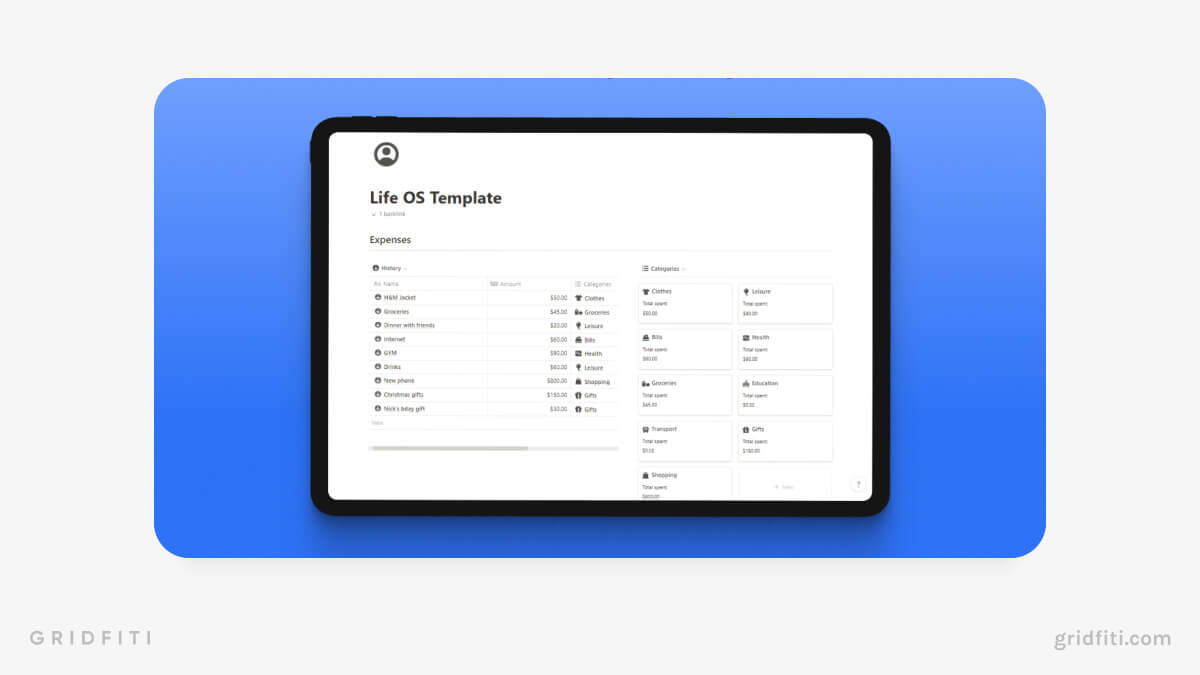 Template by Notion Tinn
Get Organized: Life OS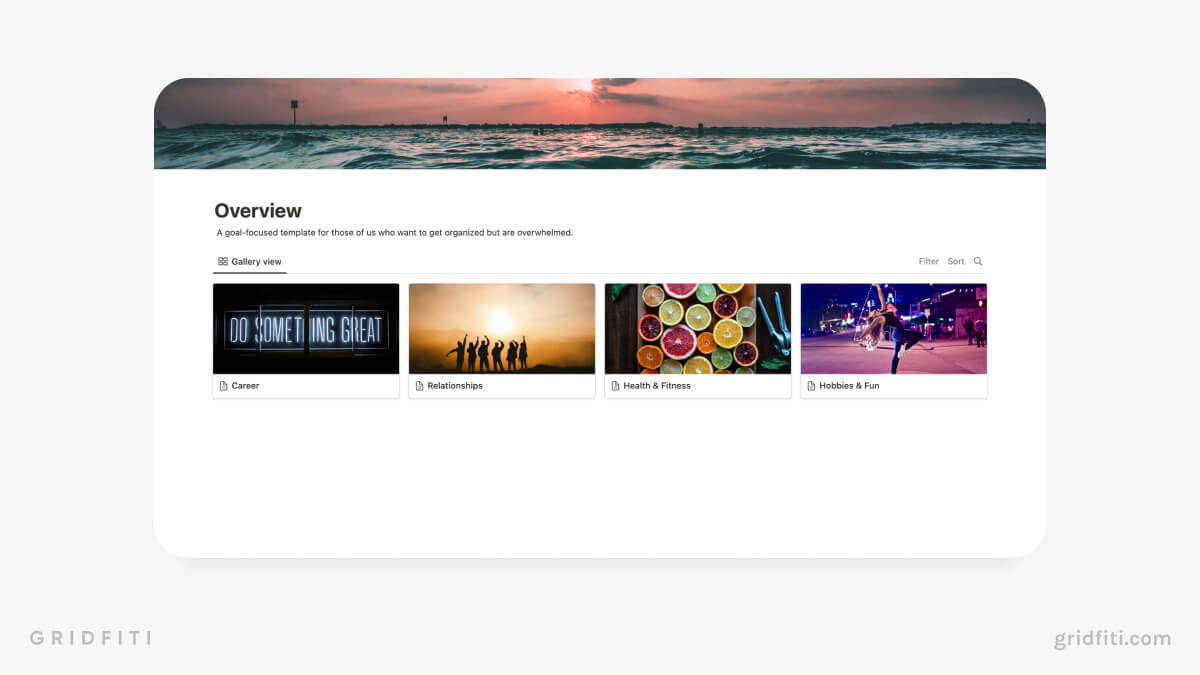 Template by swatty
Which Notion life operating system templates do you use the most? Do you have any other Notion life OS dashboards to recommend? Let us know in the comments below!
Gridfiti is supported by its audience – when you buy something using the retail links in our posts, we may earn a small commission at no additional cost to you. Read more about our affiliate disclaimer.