Notion can be used for anything and everything, and one of its best features is the database tool. One great way to use that database functionality? To keep track of opportunities and build meaningful relationships with your network!
We've curated the best Notion CRM templates to use, which have all of the under-the-hood work already done for you.
Whether you're a business owner, realtor, or individual looking to manage your network and friendships, these CRM templates are easy to use, and will help you organize all of your contacts – regardless of what industry you're in!
Want more Notion tips, tricks, and templates? Join our Notion mailing list below, and check out our several other Notion guides and round-ups!
Personal CRM in All-in-One Life OS Template
Track all of your contacts including family, friends, colleagues, and anyone else in your network with the built-in Personal CRM in Life OS! Get automatic overdue catch-up and birthday reminders, and even pick from several hobby and interests if you want ideas for activities to do together or gifts. Track who introduced you to who, who your rockstar connections are, who you've got high mutuals with — and so much more.
You can also tag your contacts within several other aspects of the template to get a full automatically aggregated picture of your interactions with them – from travels together, restaurant recommendations, journal entries, and so much more.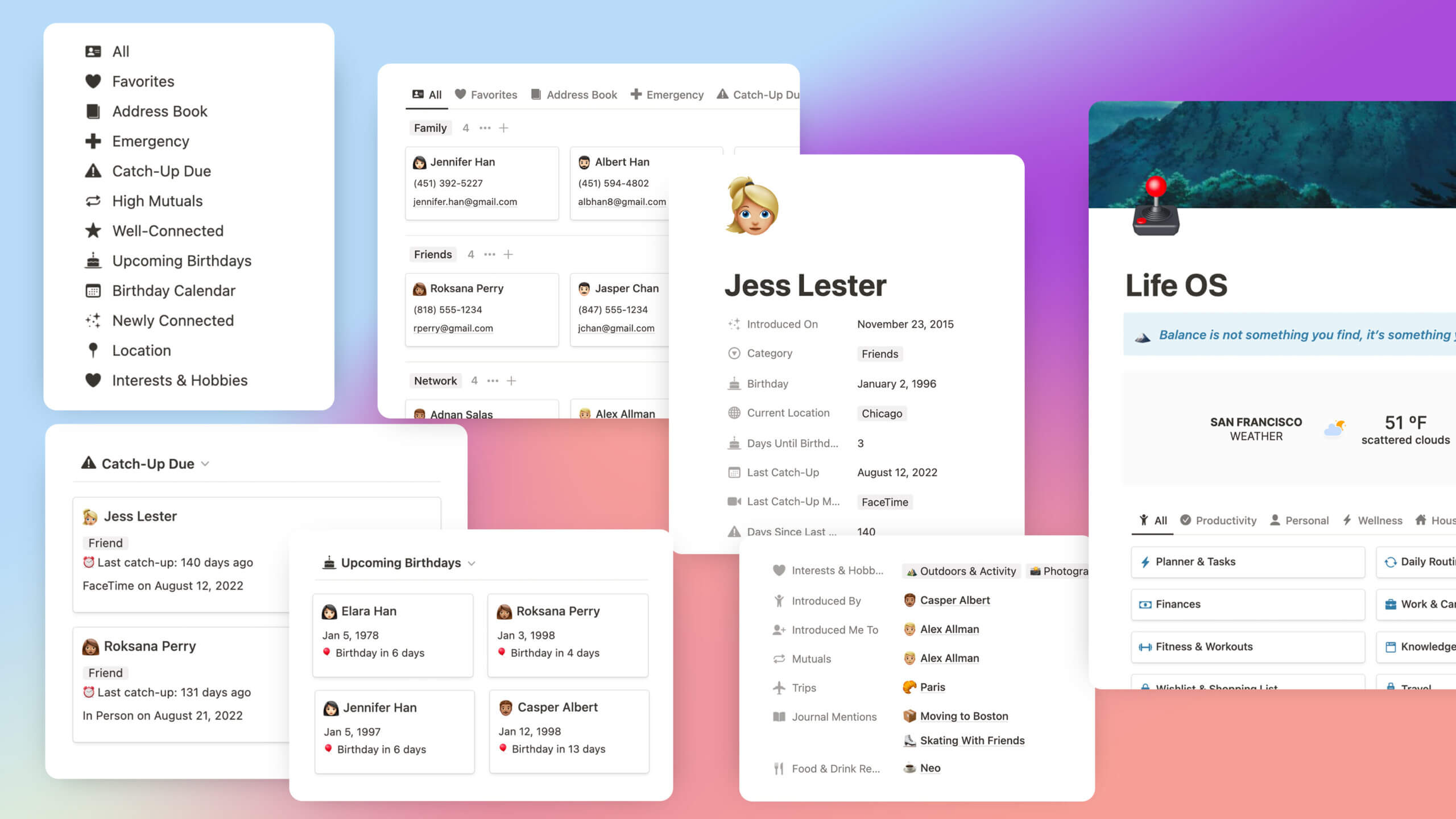 Notion Personal CRM Dashboard
Life is busy, and with so many people from so many different aspects of life, it can be hard to keep up and stay in touch. Keep your personal relationships strong and thriving with this personal CRM template – designed to serve up automatic reminders to connect with friends, family and colleagues, track birthdays, save contact info, and help you remember where and how you met each person.
Looking for a template more catered to your romantic relationship? We've published a post rounding-up the best Notion relationship templates for couples!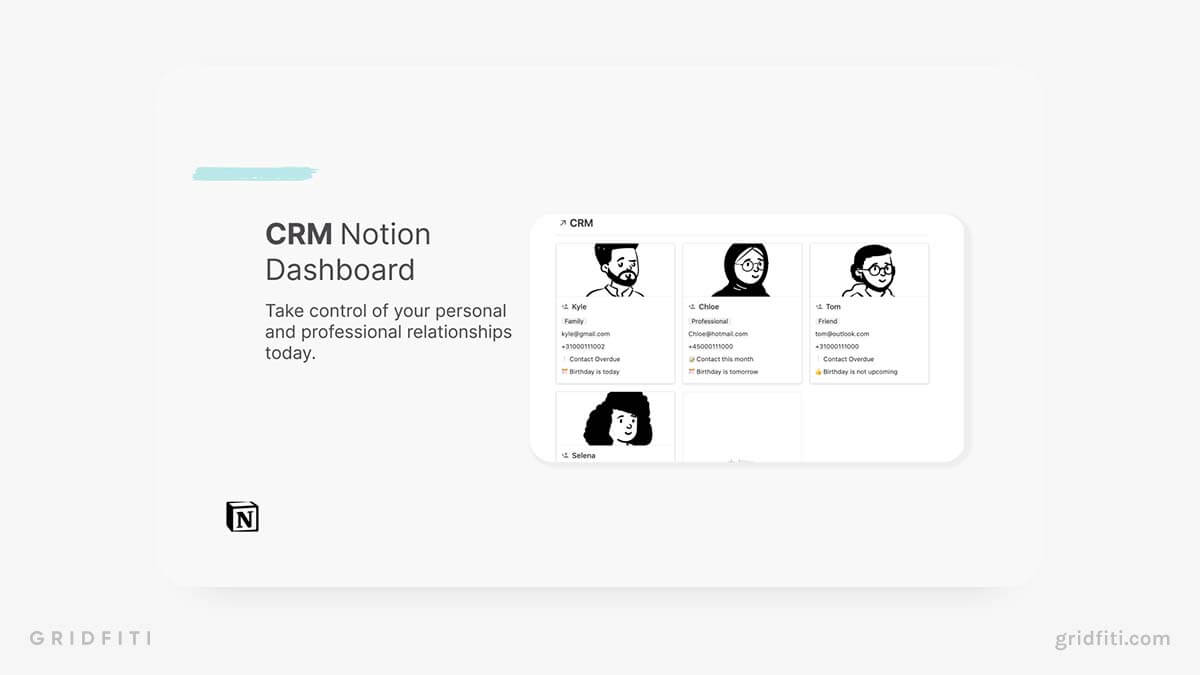 Advanced Real Estate CRM Notion Template
Become the agent with the best memory with this advanced real estate CRM template for Notion! The template provides a full view of all interactions with your customers and clients in one place, as well as integrated trackers for sellers, buyers, properties, showings, tasks and communication, and more.
Related Post: The Best Notion Templates for Real Estate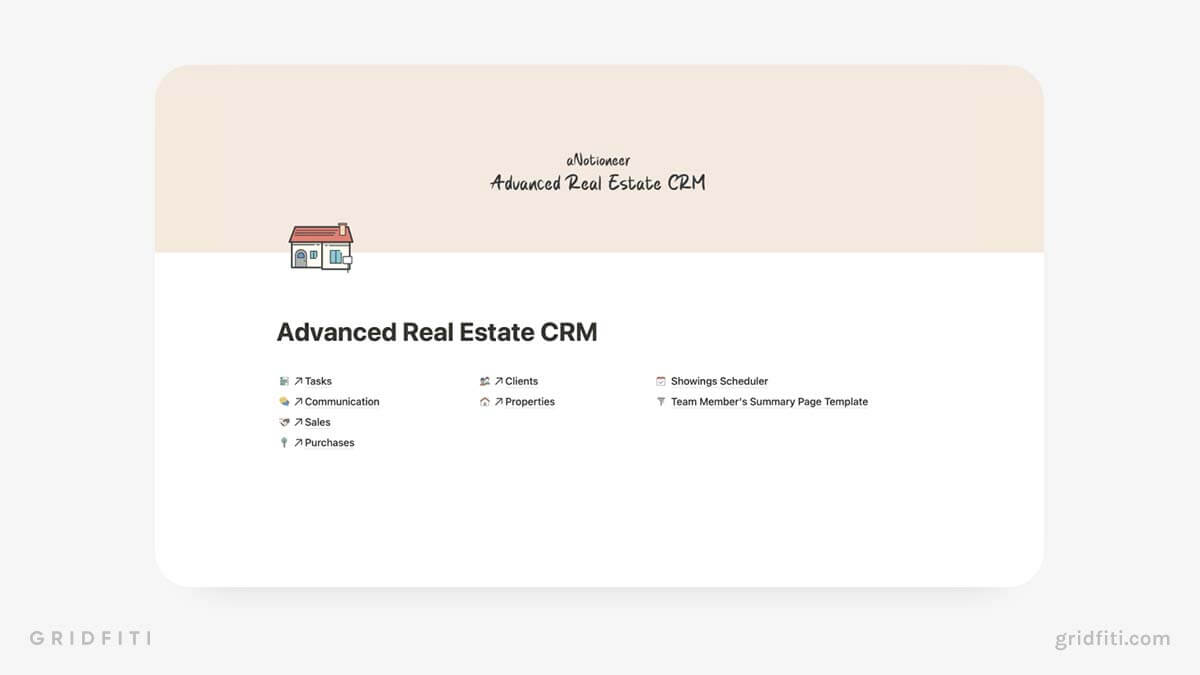 aNotioneer Advanced CRM for Businesses
The best way to describe this advanced CRM template by aNotioneer is a simplified Salesforce. The template is structured like a traditional relational CRM, while including a separate, yet connected databases for sales, companies, people, meetings, and products.
Templates Available Here: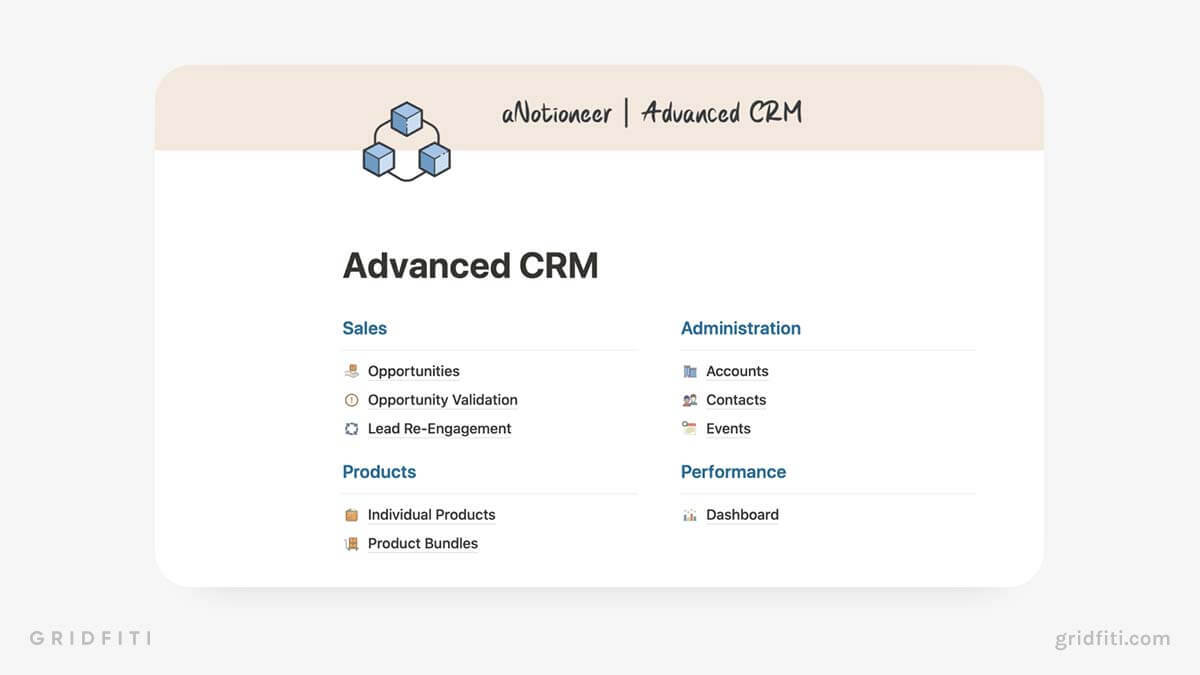 Super Notion Pro CRM for Creatives
For designers, developers, and creative entrepreneurs, this all-in-one template includes a CRM framework for clients, while also providing a full hub for you to run a successful business. With CRM features like sales pipeline, clients, and lost opportunities database – in addition to the rest of what the pack has to offer – you get it all with this template!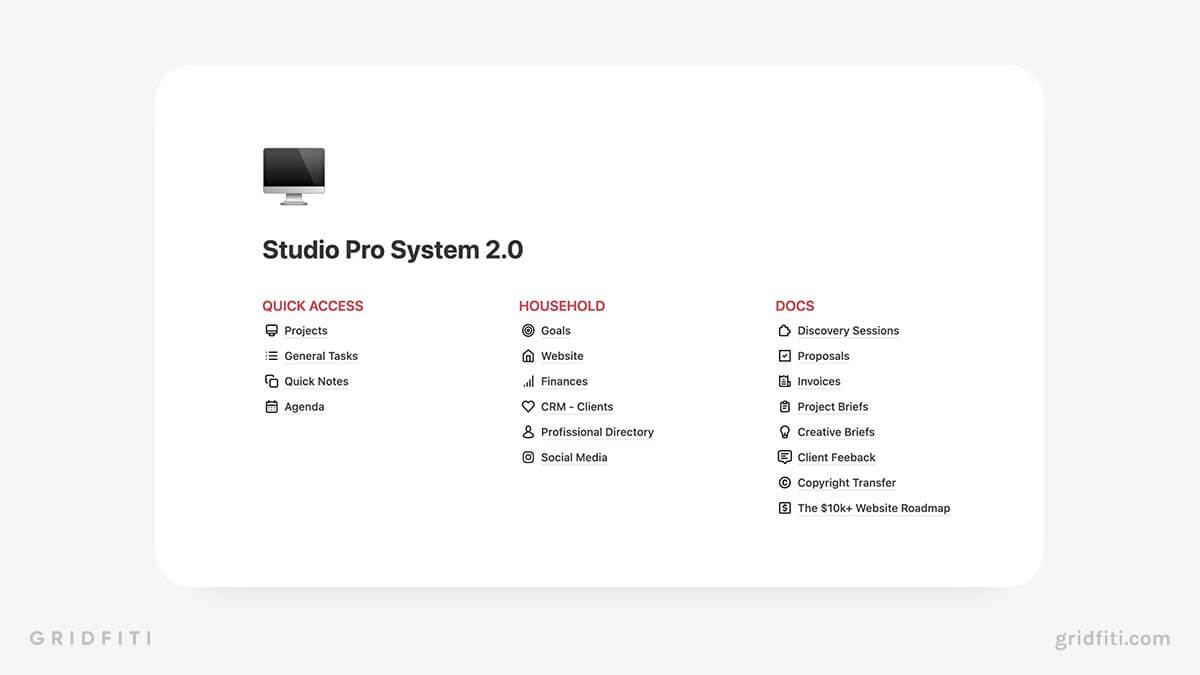 Startup Fundraising Template with Investor CRM
The Startup Fundraising Toolkit is a premium template for any company looking for a robust, efficient, and user-tested fundraising system. One of the most important parts of fundraising is building great relationships with, well, the people who provide the funds – and this template will help you do just that with its dedicated investor CRM feature!
Related Post: Notion Templates for Startups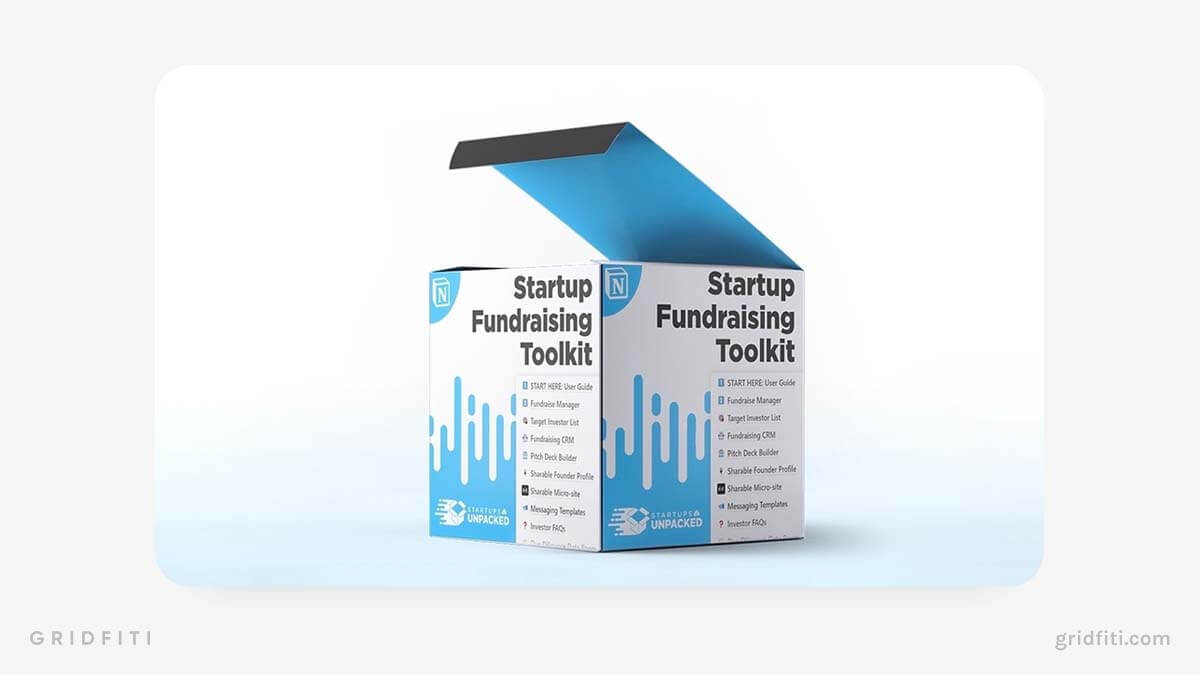 Photography Lead & Client Management Notion Template
This template is any photographer's best friend for generating new leads, and nourishing existing client relationships! Separate leads by several different types of photography categories, forecast rates, track locations, and book in upcoming client shoots!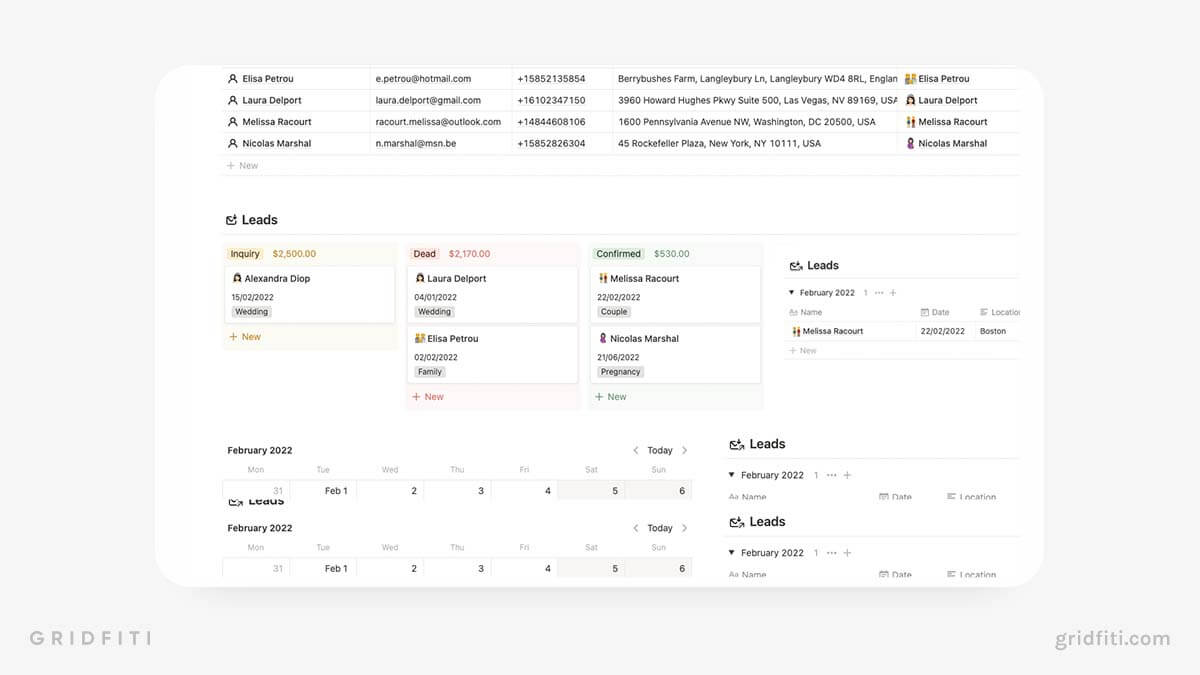 Business CRM & Task Management Template for Notion
This business CRM template comes equipped with a full database to log previous interactions with your network, organizations they're a part of, contact info, and which stage of the business relationship you're at with them! Beyond that, use the opportunities view to tie yearly and monthly dollar values to each contact, and easily prioritize high ROI relationships!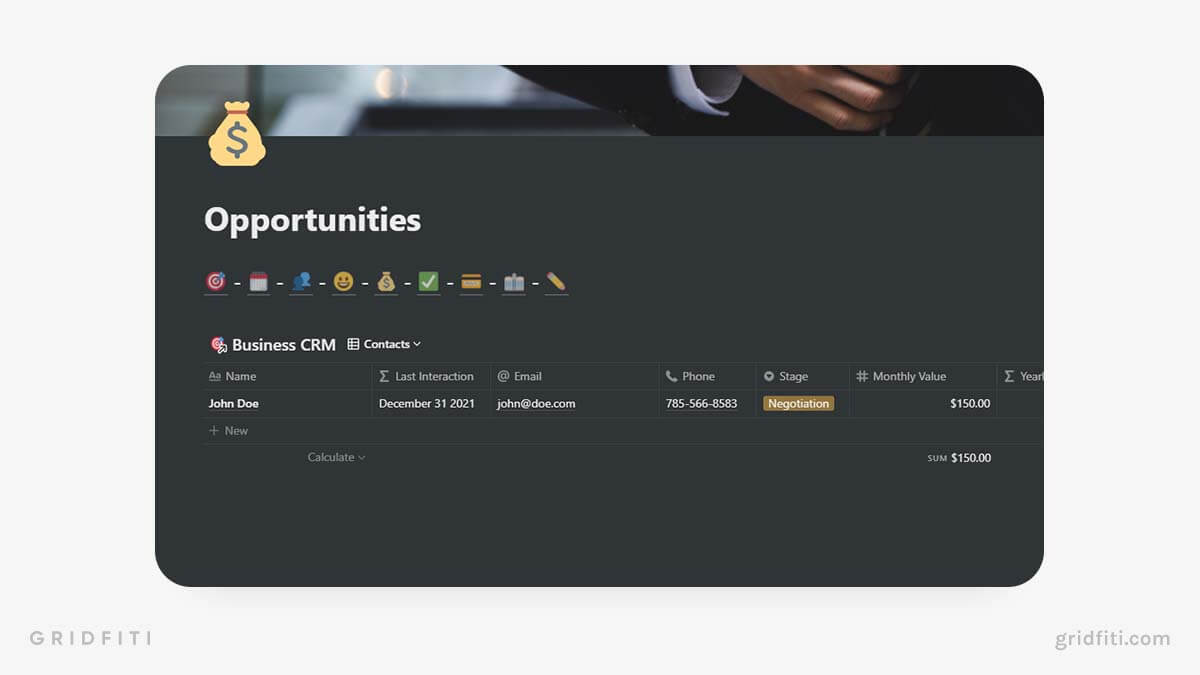 Twitter CRM & CMS Notion Template
Marketed as the perfect tool for those who want to sell on Twitter, this template has everything you need for managing relationships, crafting the perfect tweets, and ultimately, selling products.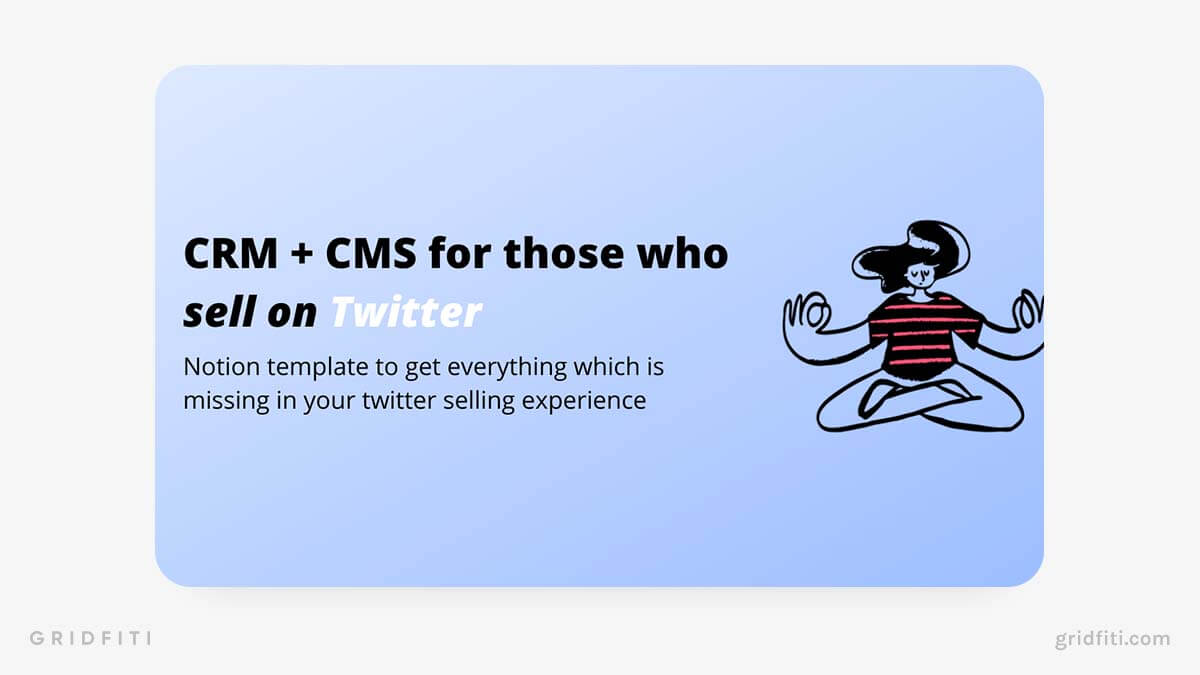 Aesthetic Personal CRM & Relationships Tracker Template
Take notes, set reminders, adjust frequencies, create tags, and more with this simple personal CRM template from The Notion Bar!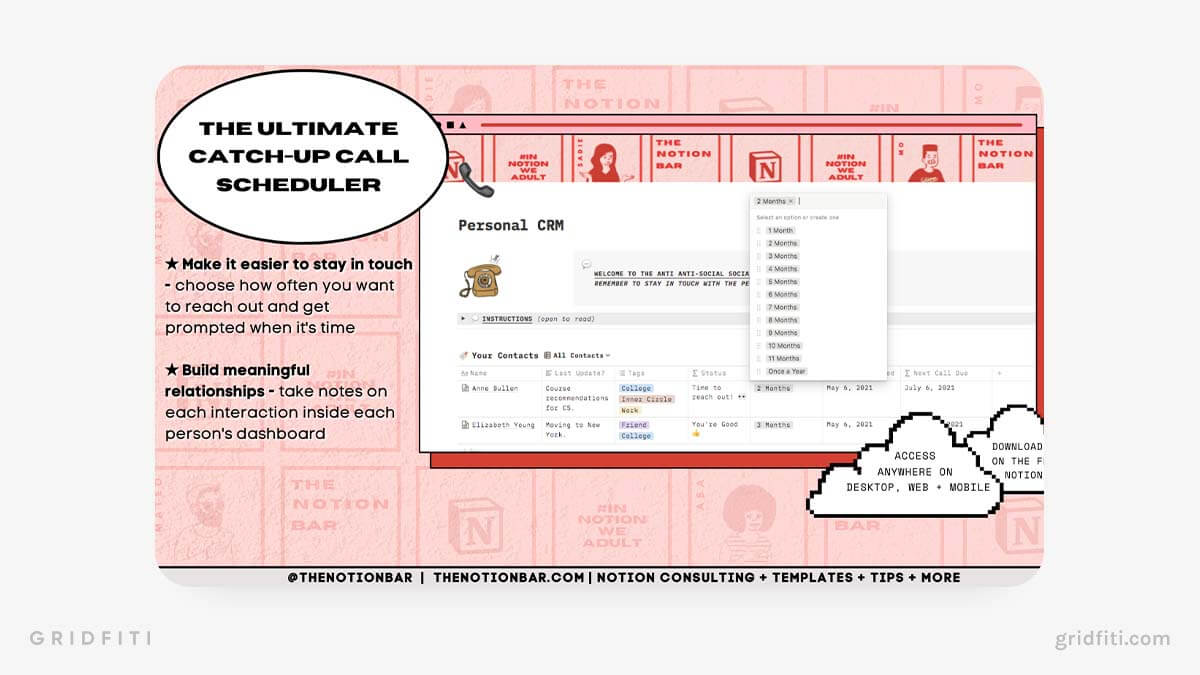 All-in-One Freelancer CRM Notion Template
Modelled after Salesforce, this template sports over 7 databases built as robust CRMs. Additionally, build sales proposal templates and take second brain-style notes with this all-in-one freelancer CRM workspace!
Related Post: Notion Templates for Freelancers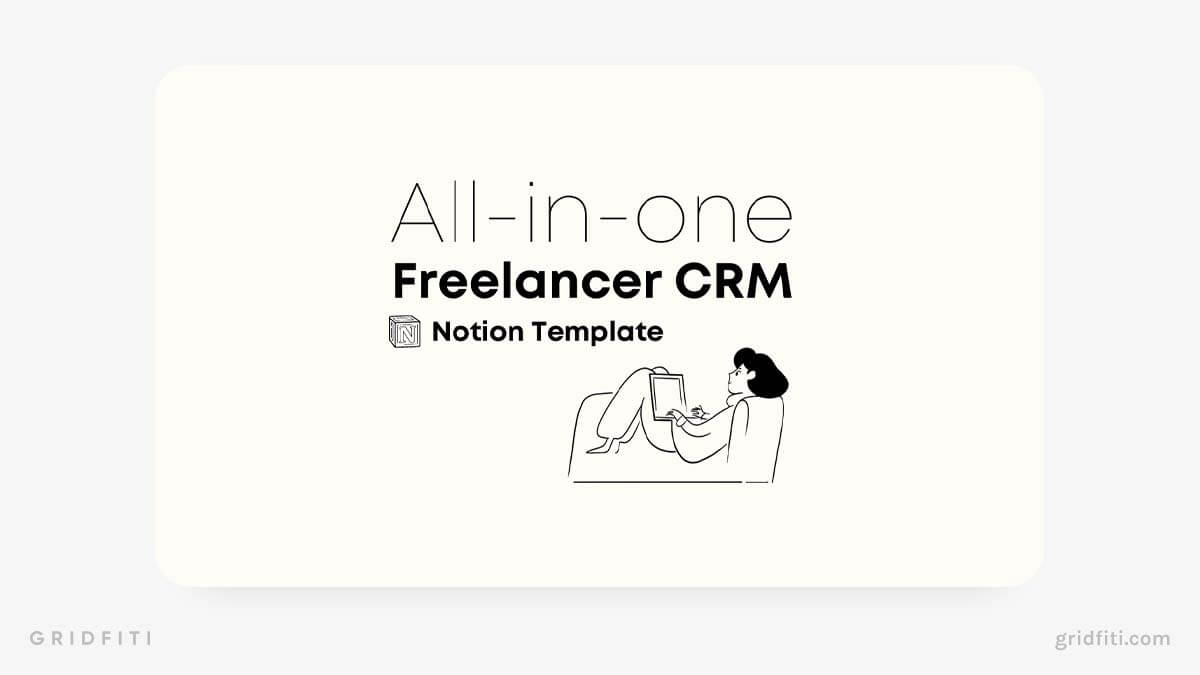 Simple Sales CRM & Client Management Notion Template
Generate new leads, track your customers, and set up your pipeline stages with this one-page CRM template!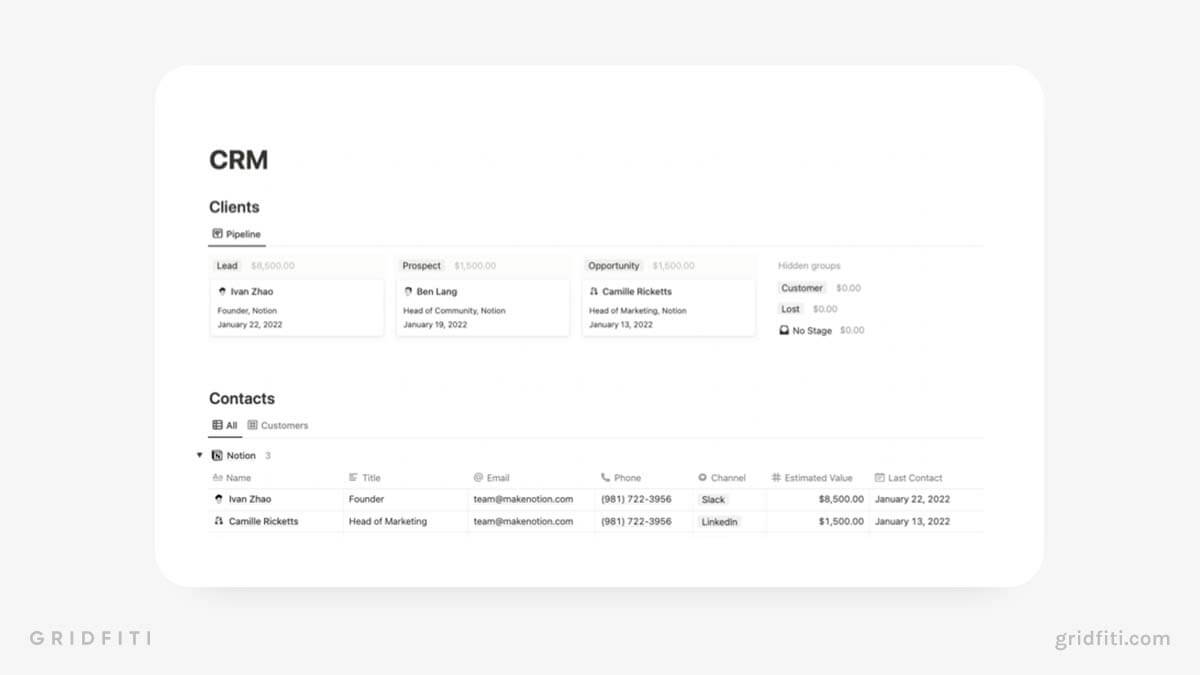 Recruitment CRM Template for Notion
If you're in the recruitment business, you know relationships with both employers and candidates are everything – and with Recruitment CRM, track them all in one place with this simple template!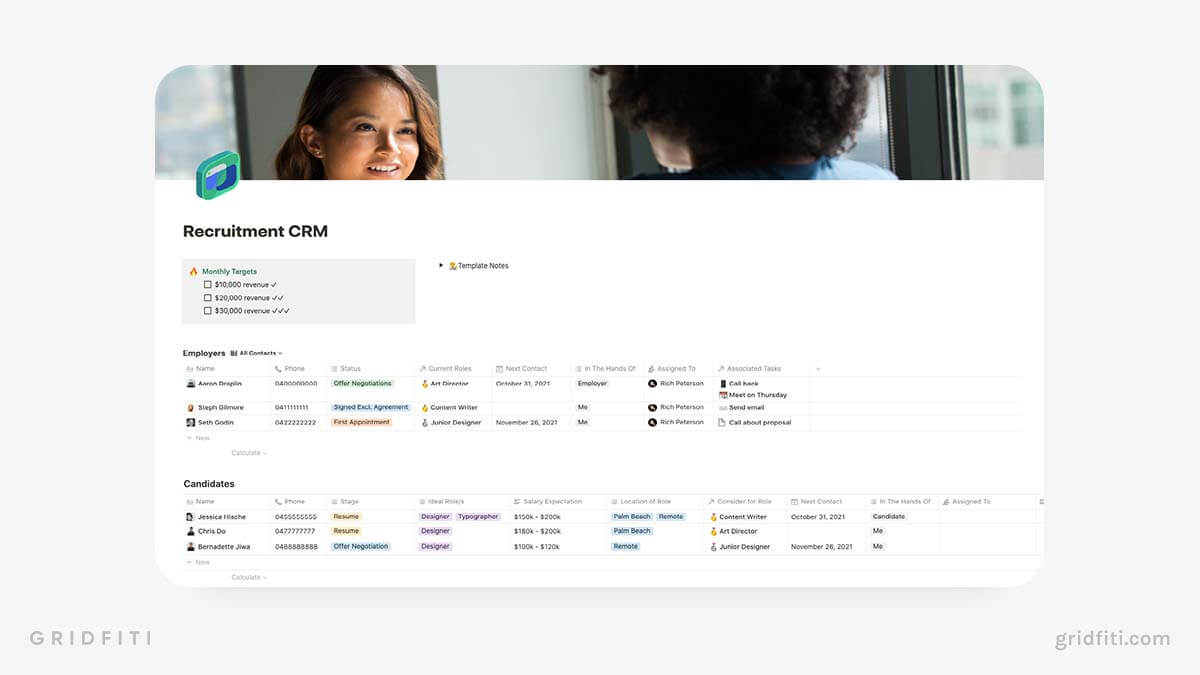 CRM System & Deals Dashboard
This easy-to-use CRM system allows you to track each deal in your organization, connect them with contacts involved, and tie in action items! Making great use of Notion's Kanban board view, see your ongoing deals and the people involved, at a glance.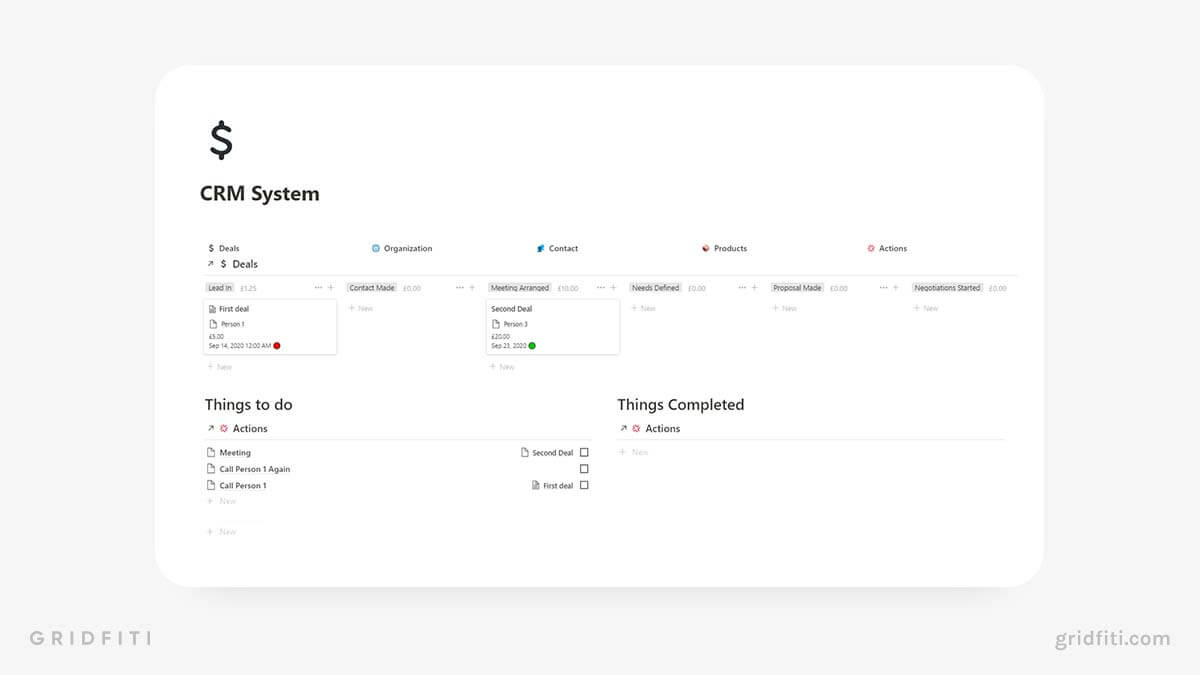 Notion Client Hub for Brand Strategists, Designers, and Web Developers
The Client Hub brings everything related to your clients and their projects into one workspace for your team! Get project scope, meeting notes, and a full fledged client portal all centralized in one place.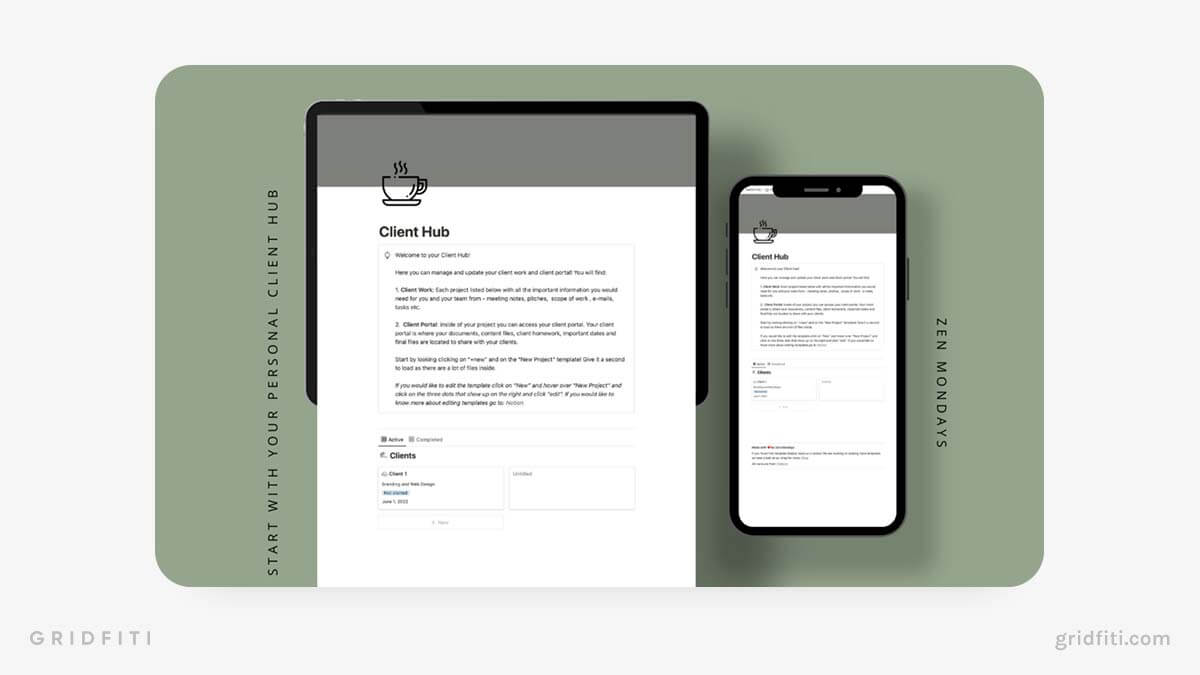 Do you have any other recommendations for Notion CRM templates? Let us know down in the comments below!
Gridfiti is supported by its audience – when you buy something using the retail links in our posts, we may earn a small commission at no additional cost to you. We only recommend products we would use ourselves and recommend to our friends and family. Read more about our affiliate disclaimer.