In the intricate dance of relationships, having a little organization can go a long way. Whether you're swiping right in the dating world or nurturing a long-term partnership, communication and planning are key for a thriving connection.
Enter Notion relationship templates. These thoughtfully-designed templates serve as the perfect tools for keeping romance alive, aligning expectations, planning special dates, keeping track of important conversations, and so much more. Ideal for both the long-term duo or the casual dater, these templates blend functionality with that touch of romance. Let's dive in.
Want more Notion tips, tricks, and templates? Join our Notion newsletter below and check out our several other Notion guides and round-ups!
Aesthetic Notion Date Ideas Planner & Dashboard
Figuring out date ideas and locations can be a maze, but this aesthetic planner template simplifies the process by neatly organizing all your date ideas. Whether it's a trendy new cafe, a cozy bar, or an exciting venue, this template will let you track and rate these spots – and put your date onto some hidden gems.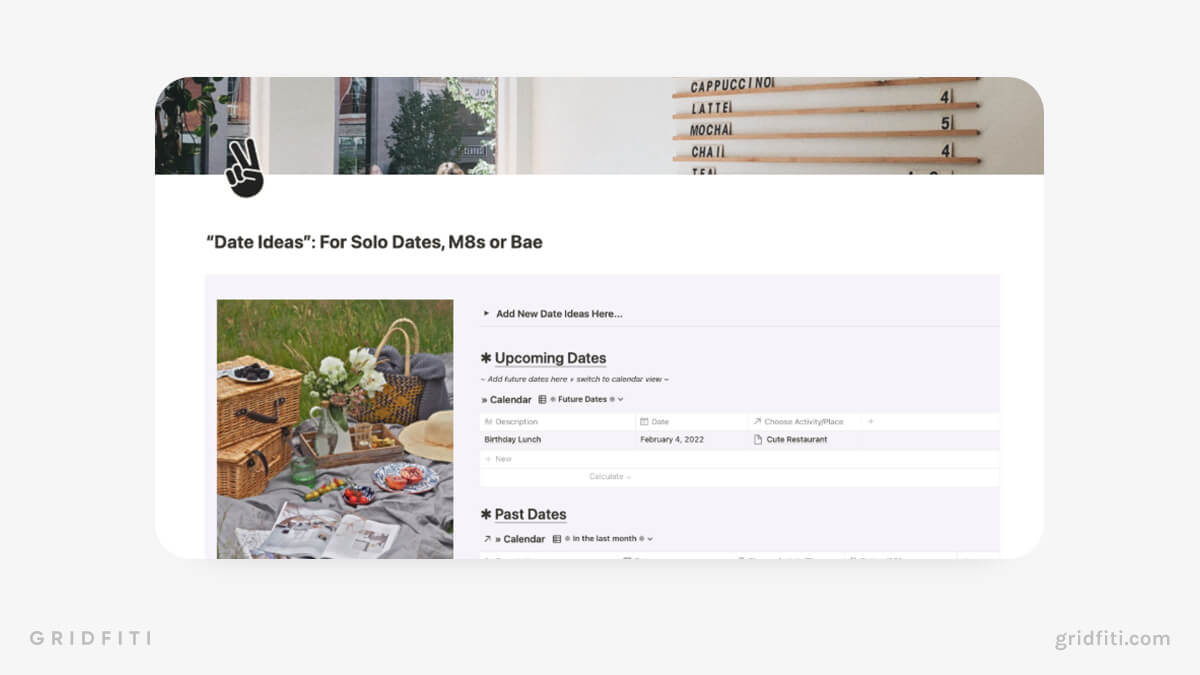 Notion Marriage Playbook Template
This interactive marriage playbook is your guide for ensuring a happily ever after by building communication, understanding love languages, managing finances, and so much more. Featuring love language quizzes, intimacy trackers, budgeting systems, and more, make this your foundation for a strong, fulfilling marriage.
Looking for wedding templates? Check out our full round-up post featuring the best Notion wedding templates!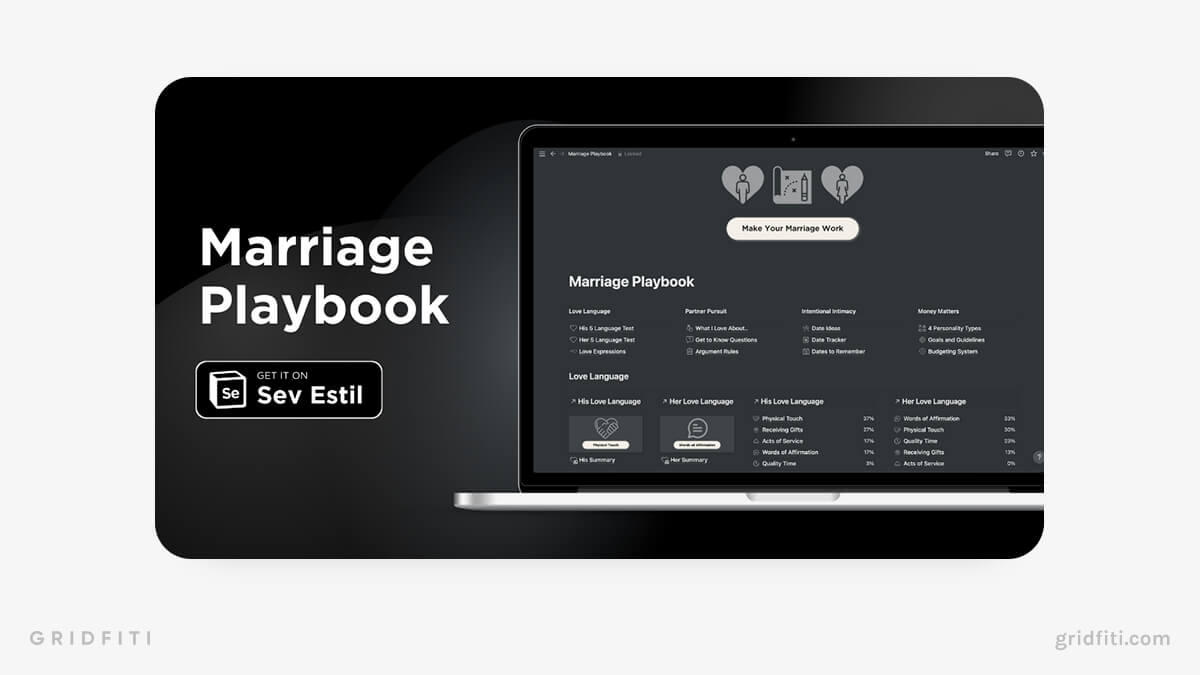 Relationship Notion Template with Long Distance Relationship Tracker
With this relation template, curate the precious moments you share with your loved one – all in an aesthetic theme. From music to shared travels, notes, and events, this template is a treasure chest of your shared experiences. Particularly for those in long distance relationships, this dashboard bridges the physical gap with a virtual space to connect and reminisce with each other.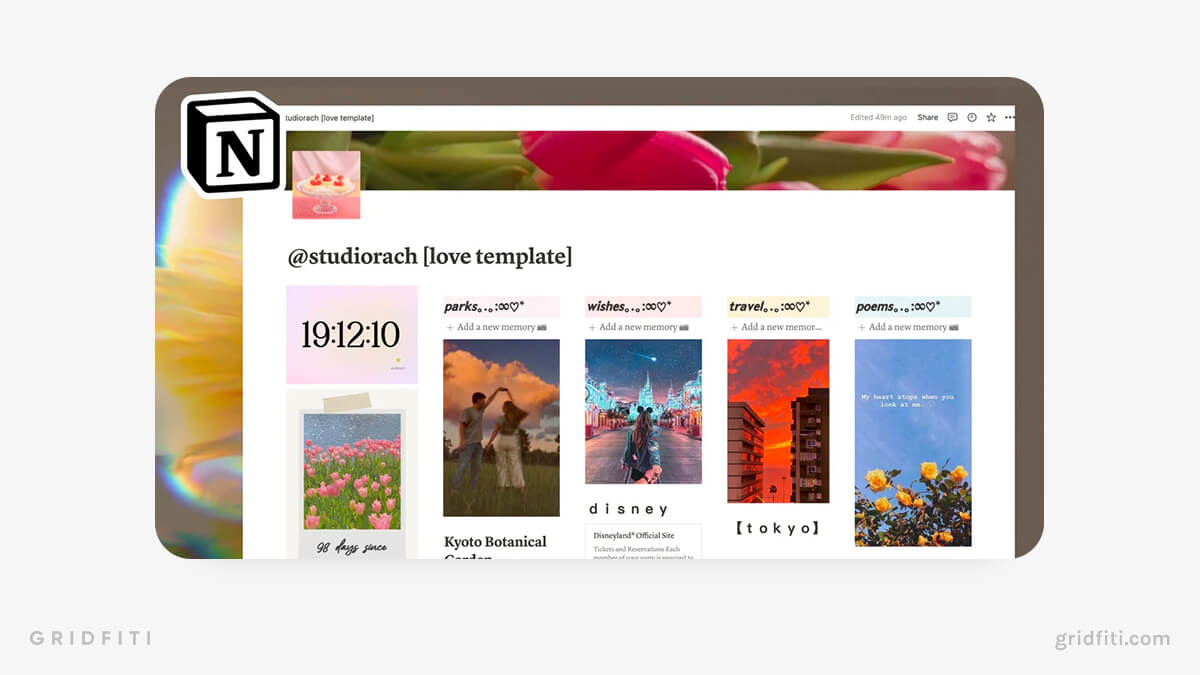 Notion Couple's Finance Tracker
Whether we like it or not, getting on the same page with finances is key for a healthy relationship. With this template, align on and track all income, expenses, and savings with ease. With features like monthly savings goals, monitoring individual contributions, and analyzing spending habits with categories, this template will help you stay proactive with your joint finances to avoid any hiccups down the road.
For more templates to help manage your finances, don't miss our full round-ups of Notion finance tracker templates and Notion budget templates!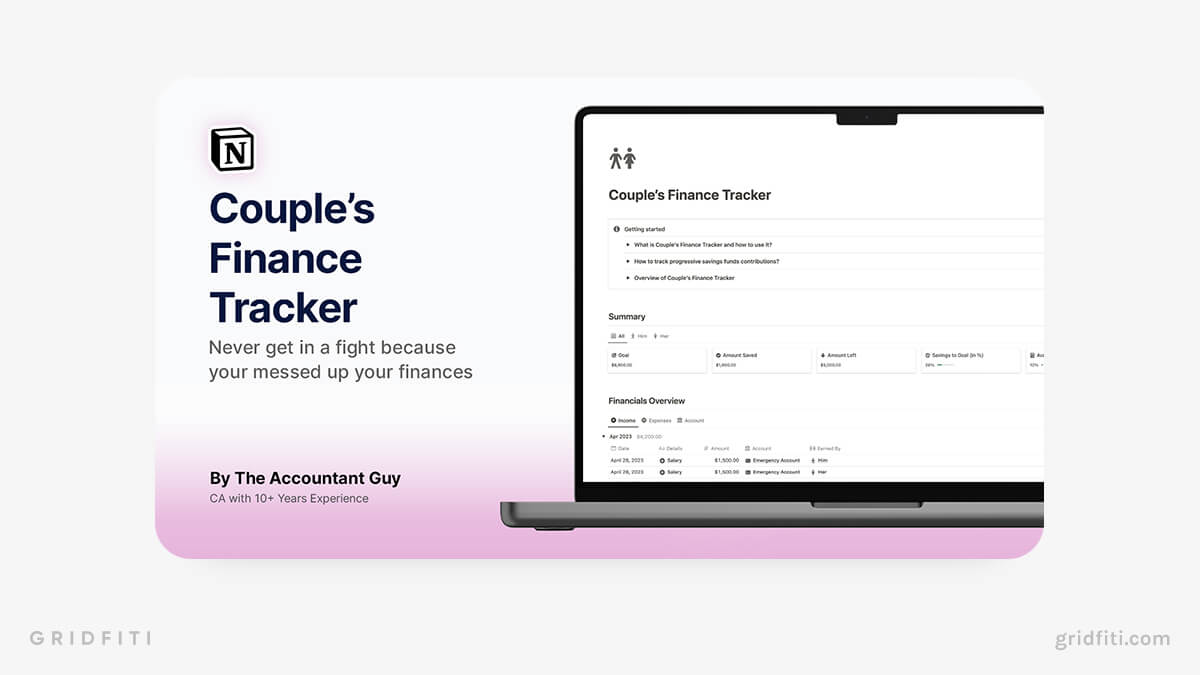 Relationship & Personal CRM in All-in-One Life OS Template
Whether you're playing the dating game or committed to a long-term partner, track all the details in the Personal CRM template in our all-in-one Life OS! Along with information for friends, family, colleagues, and more, get automatic overdue catch-up and birthday reminders, and best of all, pick from and tag several hobby and interests – and always have gift or activity ideas!
You can also tag your love interests in several other aspects of the template to get a full automatically aggregated picture of your interactions with them – from travels together, restaurant recommendations, journal entries, and so much more.
Check out our full round-up of Notion personal CRM templates for more options like these!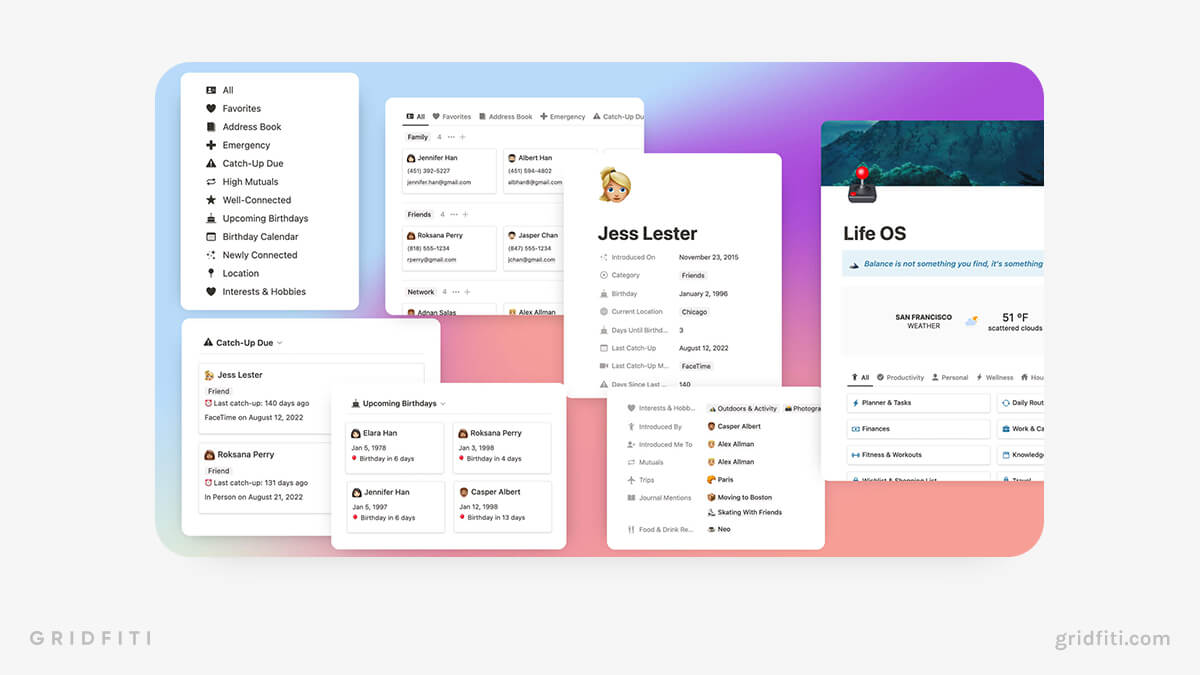 Relationship Journal Notion Template
With a pastel theme, nurture your relationship with this relationship journal template! Document discussions, create photo albums, set shared goals, and maintain a calendar of special dates. You can even bond over music with joint Spotify playlists and plan your next Netflix binge! Use this as a template to share your current interests, while building a digital scrapbook to look back on in years to come.
For more journal templates, we've go full round-ups on Notion journal templates, Notion gratitude journal templates, Notion bullet journal templates, and Notion mood journal templates!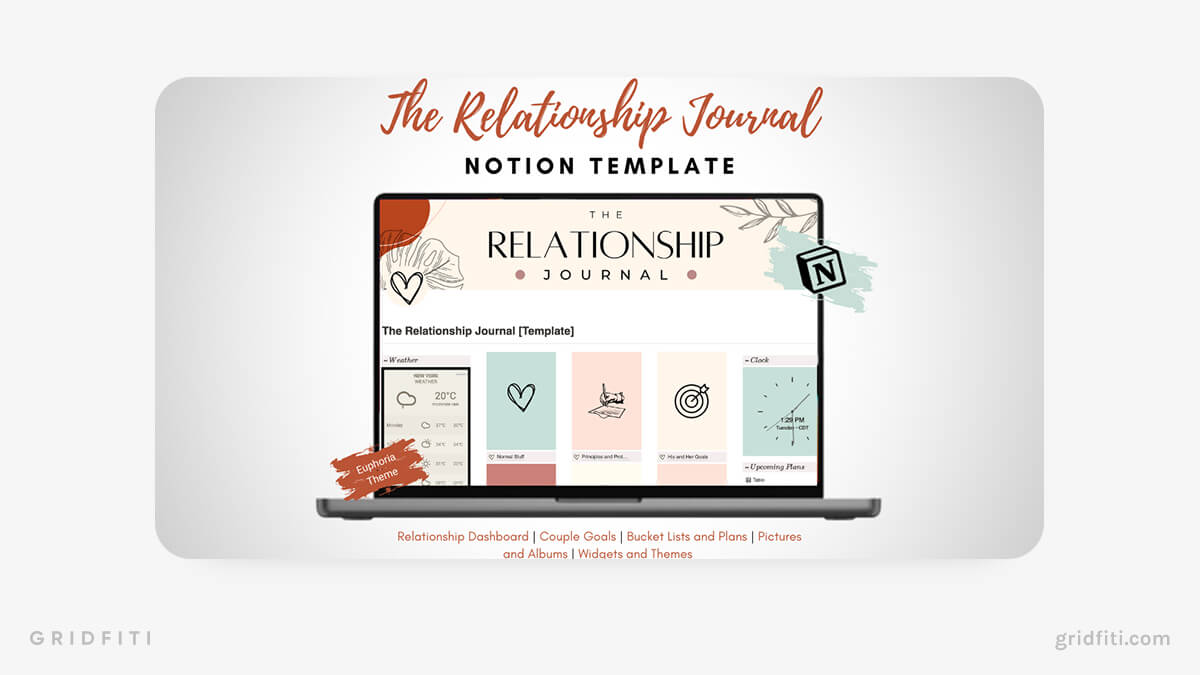 Bonding Blueprint for New Couples
Tailored for new relationships, this template has prompts and discussions across over 15 essential relationship aspects. Whether it's communication, personal growth, or travel plans, this tool will guide you and your partner through meaningful conversations, and will help align expectations from day one.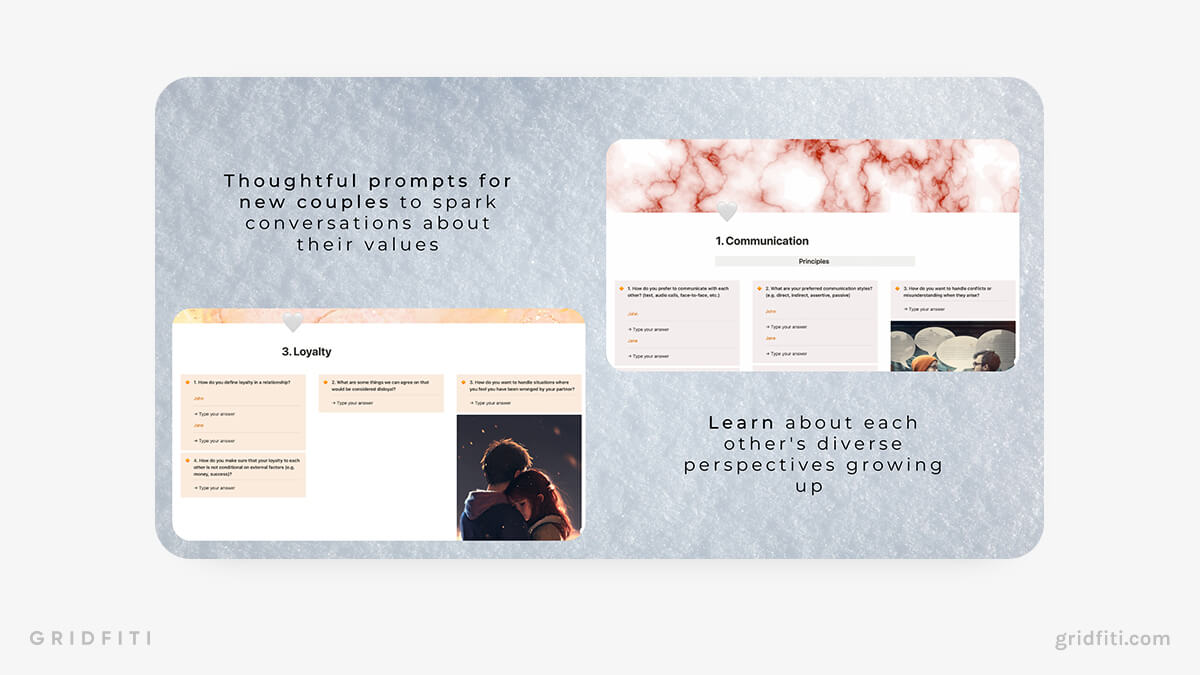 Relationship Blueprint for Mature Couples
While the Bonding Blueprint is for newer relationships, this template is catered to seasoned couples. With over 20 relationship categories, talk all things finances, family planning, or even household responsibilities. With these prompts, define your values and have big picture conversations to keep your long-standing relationship going!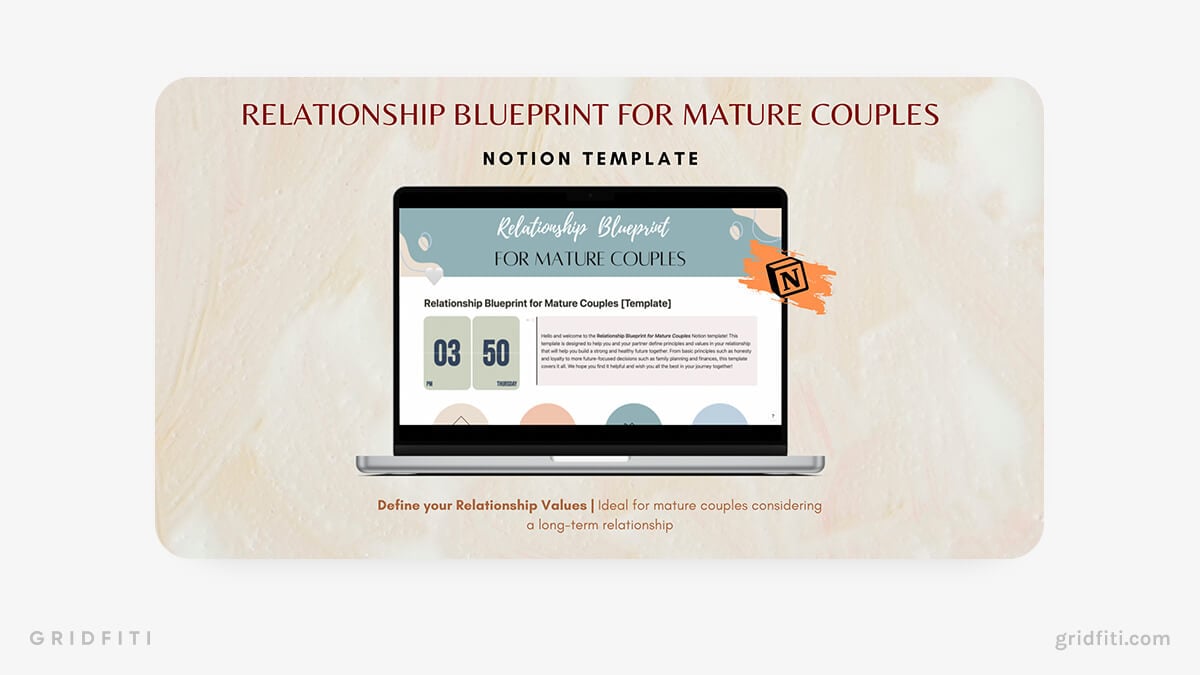 Notion Relationship Goal-Setting Template
With this template, set specific, tailored relationship goals, track their progress, and celebrate wins with your partner! Featuring 10 goal categories, 50 relationship goals, and 20 rewards, this template is the perfect companion for couples who are all about leveling up together.
For more Notion goal-setting templates, we've got you!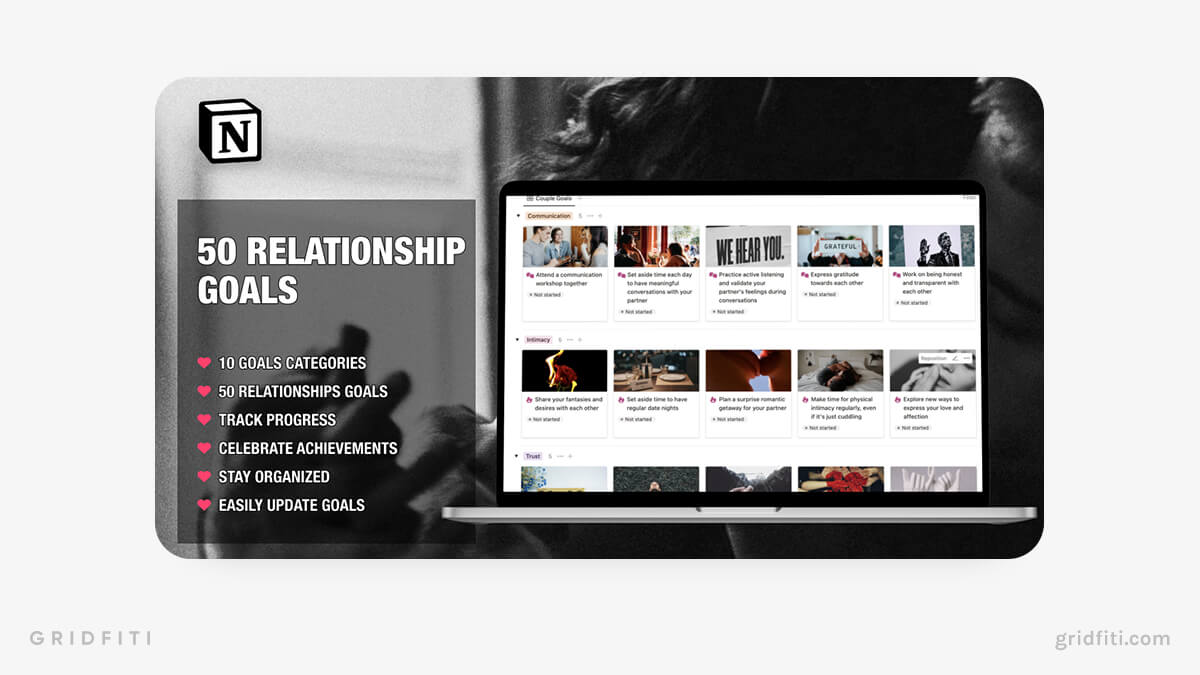 Notion Dating Organizer Template
Confidently embark on your dating journey with this template to organize all the details! With sections for pre-dating, before dates, and after dates, see it as your Notion dating assistant. The template also offers several creative date ideas, safety tips, and engaging questions to keep conversation flowing.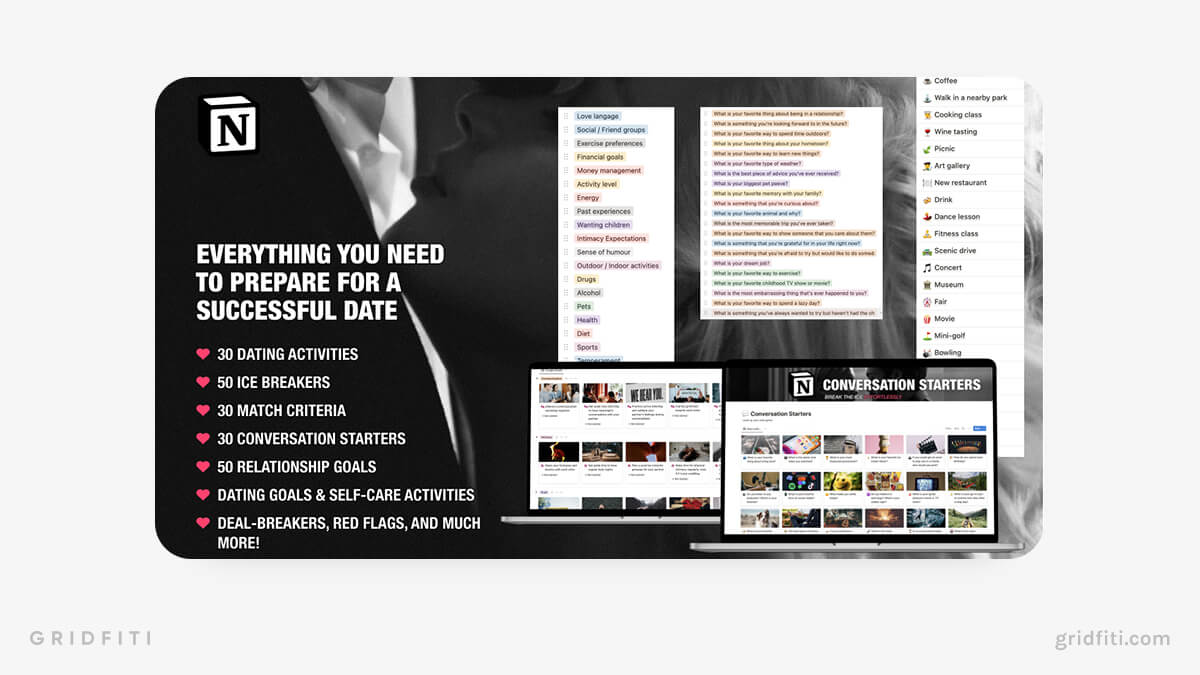 Which Notion relationship template do you see yourself using? Let us know in the comments below!
Gridfiti is supported by its audience – when you buy something using the retail links in our posts, we may earn a small commission at no additional cost to you. Read more about our affiliate disclaimer.