There are so many different apps and options when it comes to planning your wedding, but if you're looking for the ultimate all-in-one platform that's pre-designed by experienced professionals and wedded couples – Notion, paired with the perfect Notion wedding template, is the way to go!
From simple to more advanced dashboards, we've rounded-up the best Notion wedding planning templates to help you prepare for your wedding day, bridal shower, bachelorette, and even your marriage life!
On the hunt for more event planning templates? Don't miss our post highlighting a range of the best Notion event planning templates!
If you're not quite ready to plan your wedding yet, we've published a post featuring the best Notion relationship templates for couples!
---
Looking for more productivity tips and tools? Subscribe to The Flow — our quick, snappy, value-packed focus and recharge newsletter. Also, don't miss our several other Notion template round-ups and guides!
---
The All-in-One Notion Wedding Planner Template
Plan your wedding like a professional without the cost of hiring a professional. The Notion Wedding Planner template was developed by former event planner Natascha Buck – and created to save you countless hours of research.
The template features a guest list tracker, budgeter, wish lists, day-of scripts, a workback schedule for the big day, moodboards for your ring, decorations, flowers and photo ideas – and so much more. With the guidance of Natascha's wedding template, jump right into planning your big day while centralizing everything into one place.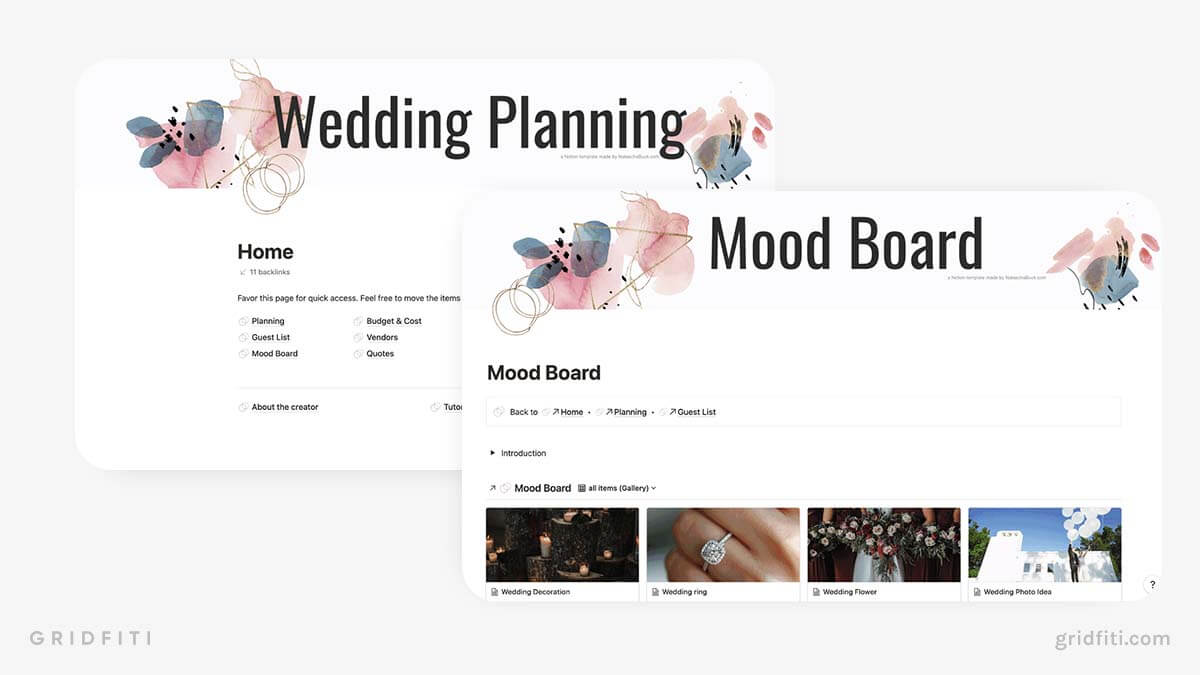 Wedding Planner Dashboard
Venue comparisons, seating charts, guest list management – these are a few of the many templates you'll receive with this wedding planner dashboard. Streamline all things for your wedding, and see what needs to be done before the day!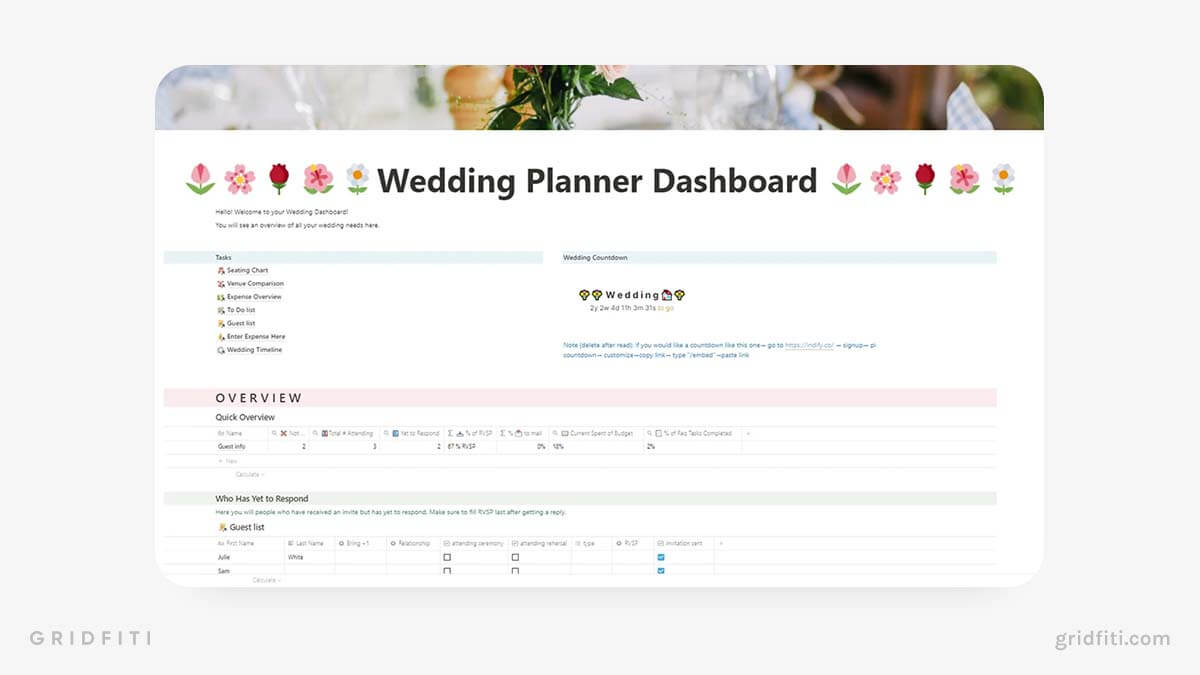 Wedding Planning Master Template
More than just your wedding itself, plan your bachelorette, bridal shower, post-wedding brunch, and more with the Notion Wedding Planning Master template! Share your to-dos and packing lists with others to make sure everyone is ready for the big day.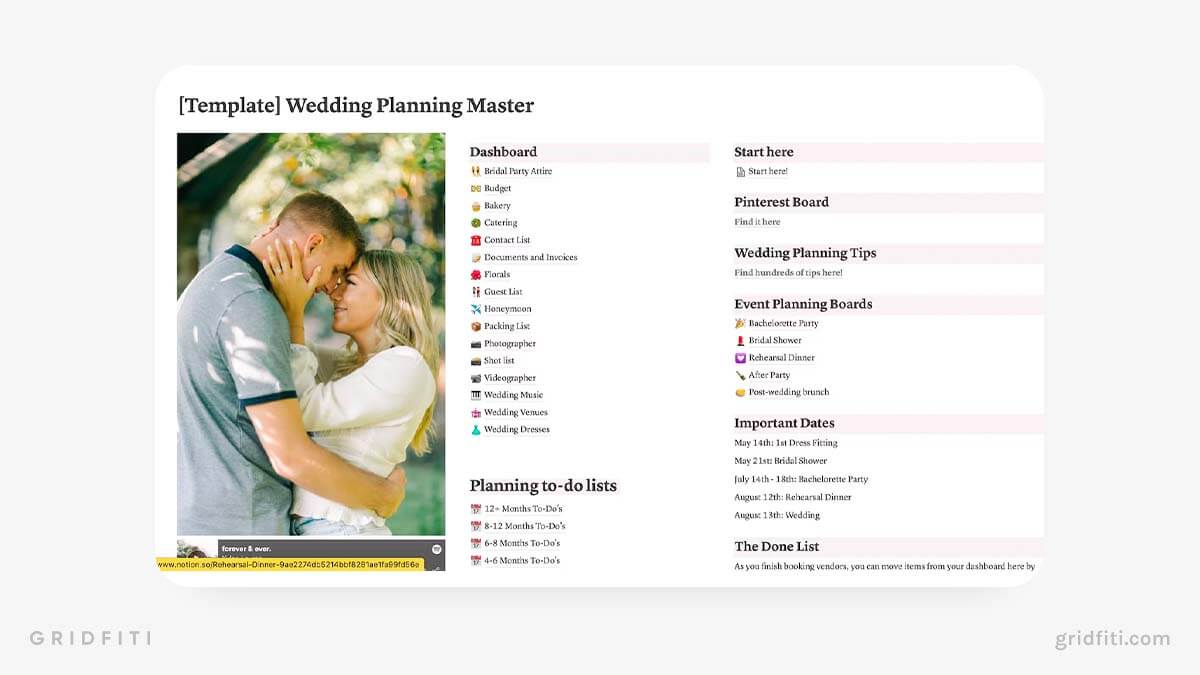 Ultimate Notion Wedding Planning Template
With this template, you'll be able to plan and schedule your magical day down to the minute. You can even build Notion moodboards for every aspect of the wedding to piece together the picture-perfect event!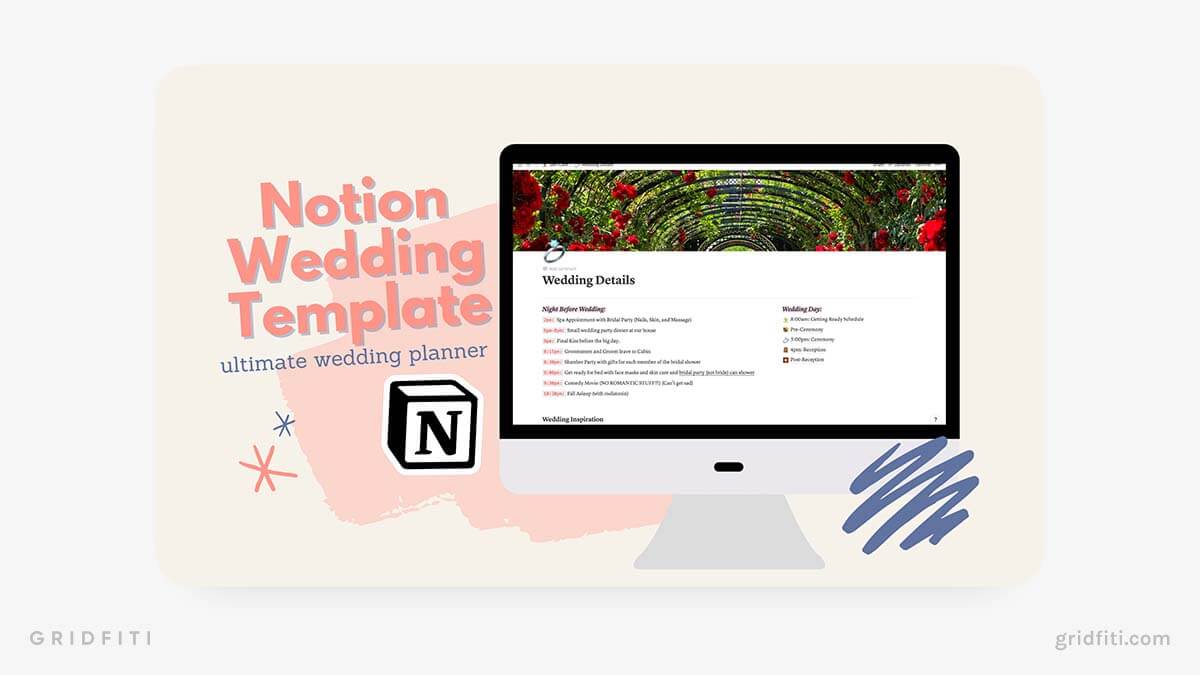 Simple Wedding Planning Dashboard for Notion
Set important dates, plan your honeymoon, pick your wedding dress, and so much more – all with the help of the wedding planning dashboard template. To keep track of your wedding party and gather some inspo for your big day, this is the template you'll want to use!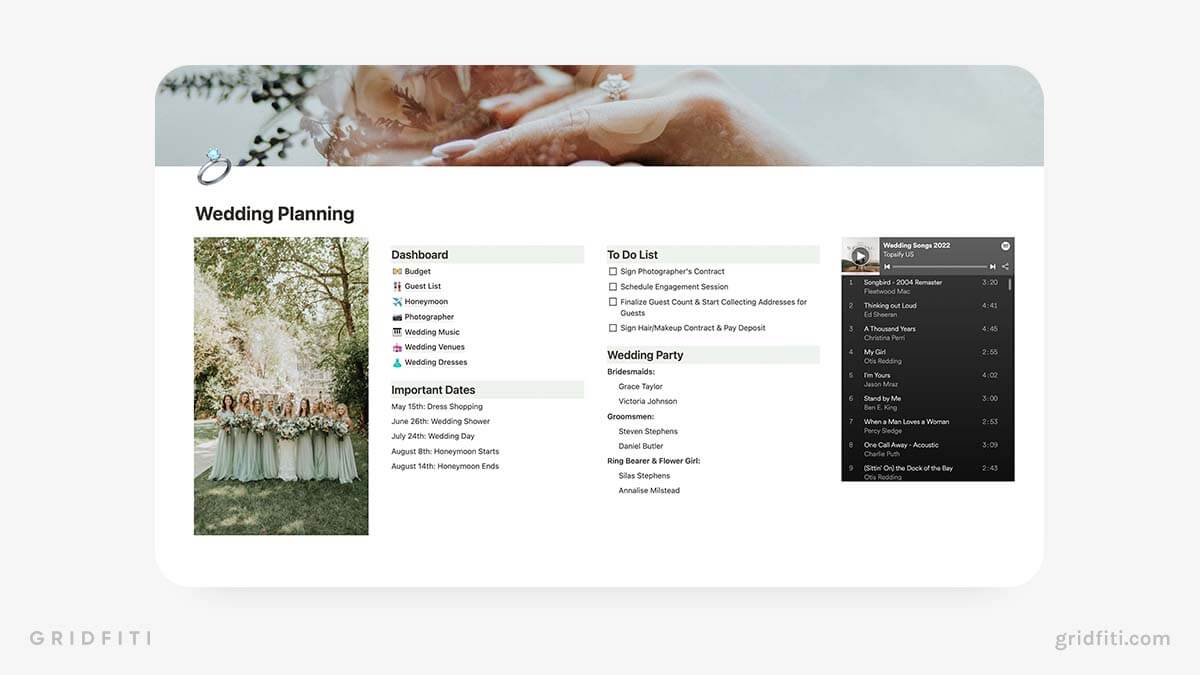 Simple Notion Wedding Planning Template
If you're looking for a simple dashboard to track your expenses, manage your guest list, organize vendors, or create a to-do list, this is the basic Notion wedding template for you!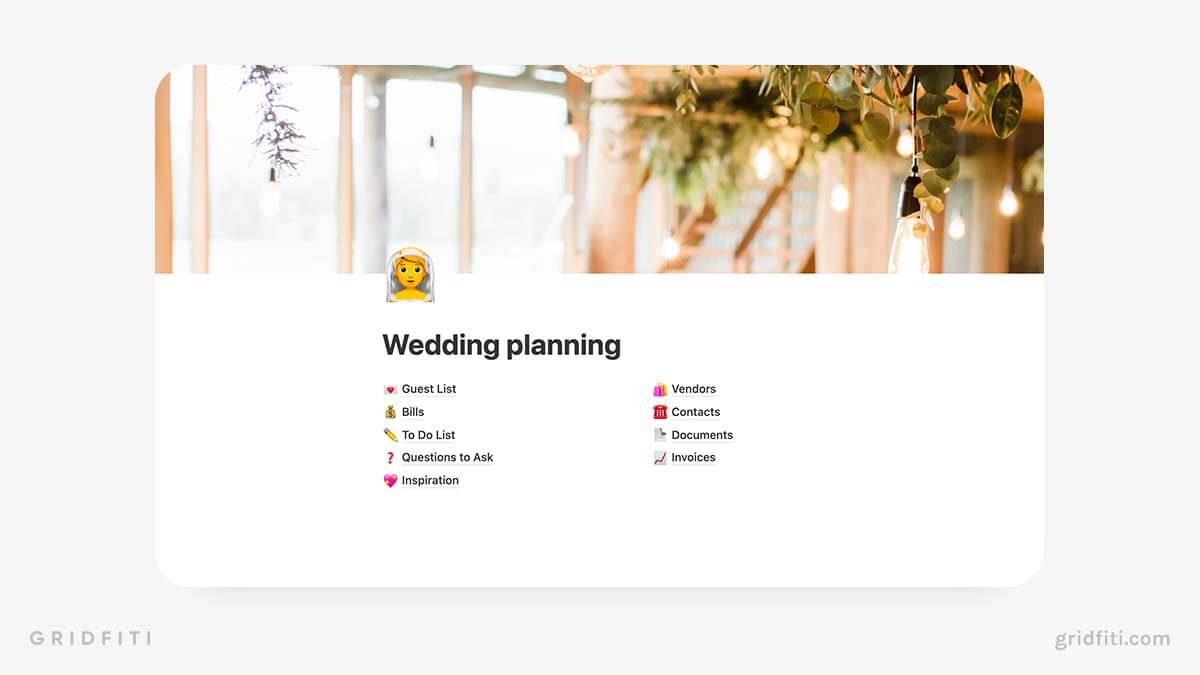 Notion Marriage Playbook Template
If you used Notion to plan your wedding, you'll be happy to learn that you can also use it to maintain and better your relationship with your partner! Featuring dozens of trackers and tools, the Notion Marriage Playbook is an interactive Notion dashboard to help you enhance and enrich your marriage for a happily ever after.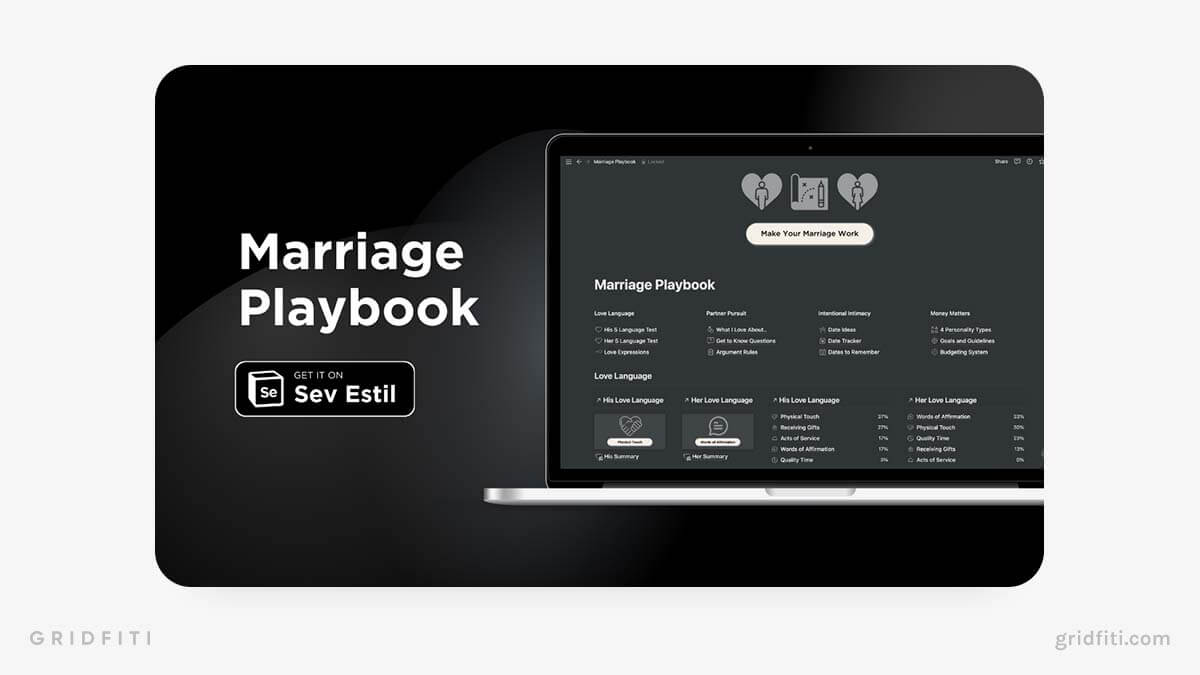 Are we missing any Notion wedding planning templates? Do you have recommendations for wedding planner templates to use in Notion? Let us know in the comments below!
Gridfiti is supported by its audience – when you buy something using the retail links in our posts, we may earn a small commission at no additional cost to you. Read more about our affiliate disclaimer.