Whether you're looking to take control of your personal finances or manage a business budget, having a clear overview of your spending is essential for achieving your financial goals.
With a wide range of templates available, it can be overwhelming to choose the right one for your needs. That's why we've compiled a list of the best Notion budgeting templates, offering a variety of options for tracking your expenses, creating a budget plan, and staying on track with your spending.
From simple and straightforward to more robust templates, we've got you covered with the best Notion budget templates!
Want more templates like these? Check out our round-up post gathering the best Notion finance templates and track your investments with the best Notion stocks investment templates!
---
Looking for more productivity tips and tools? Subscribe to The Flow — our quick, snappy, value-packed focus and recharge newsletter. Also, don't miss our several other Notion template round-ups and guides!
---
All-in-One Personal Finance Template
The Ultimate Personal Finance Dashboard template is a one-stop-shop for all things personal finances and budgeting. The template includes advanced income and expense tracking, a connected budget status tracker by monthly averages for each category, recap of top total income streams and spending categories, total net worth tally, financial habit tracker, trip budgeter, rate calculator – and even a bonus "$10K in 100 days" spending challenge!
The template is available in different themes, offering the same functionality: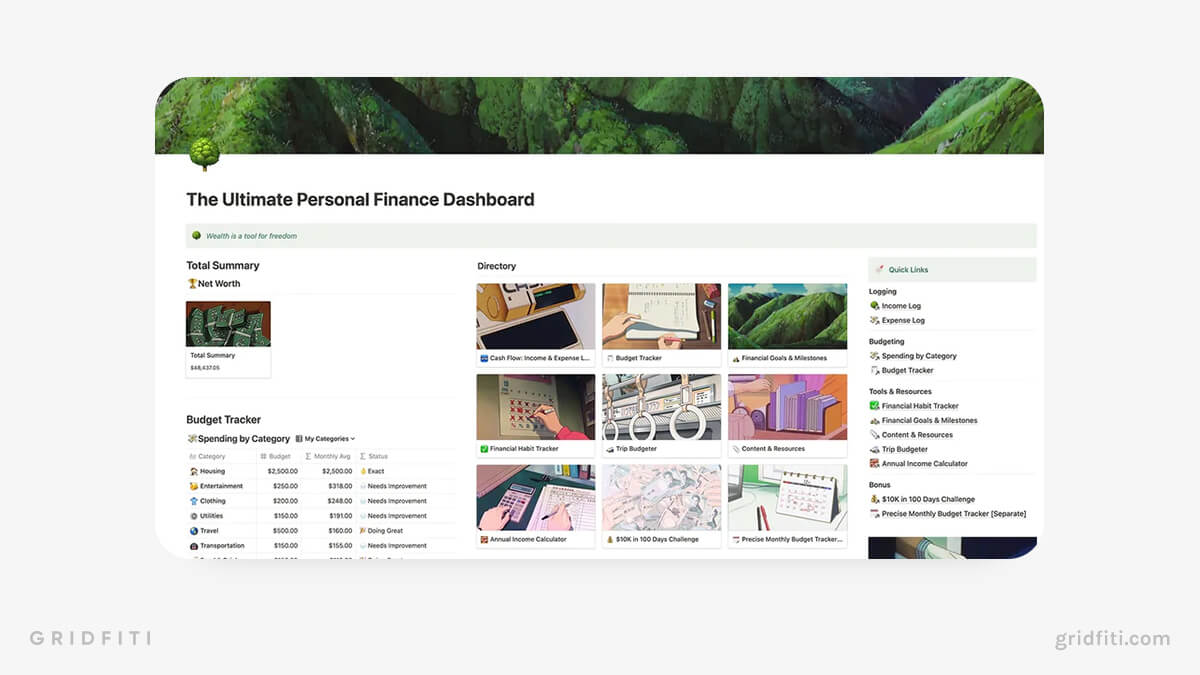 Budget Planner Dashboard Template
If you need a digital budget planner that's both versatile and user-friendly, this template is the solution for you. It's suitable for personal and business use, and allows you to track all types of financial transactions, including expenses, bills, and investments. With this advanced budget tracker template, you can easily keep your finances organized and on track!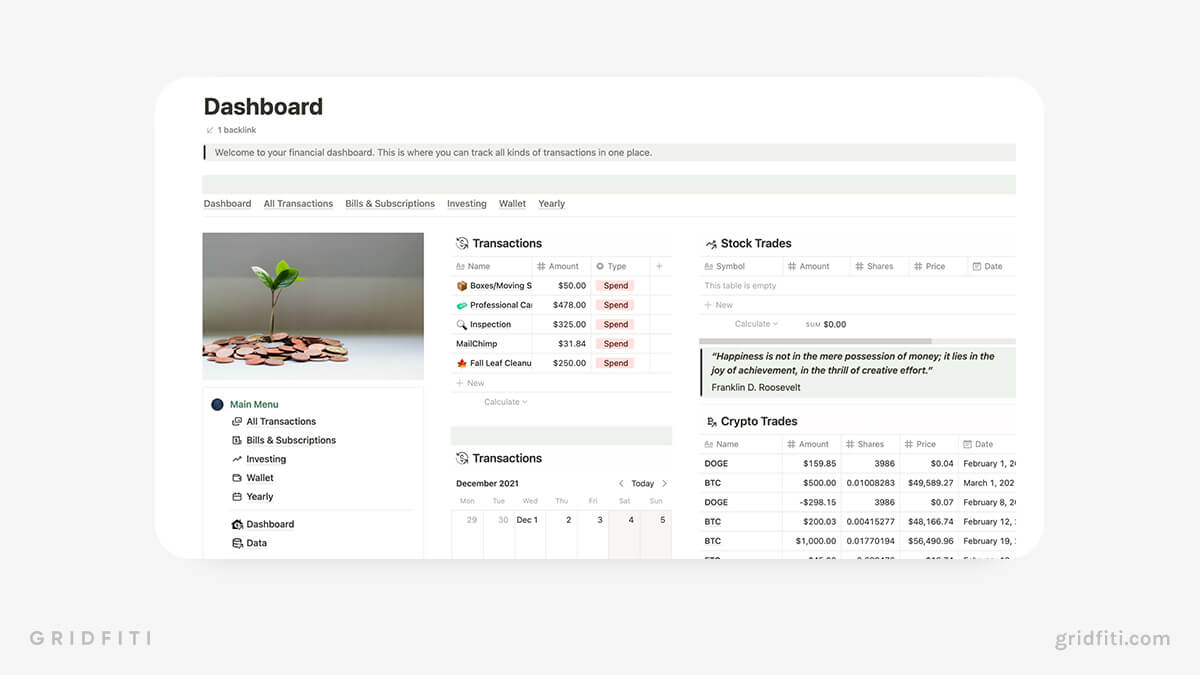 Notion Money Jars System – Notion Budget Template
The Money Jars system, created by T. Harv Eker, is a creative way to visualize your finances by dividing your money into 6 different jars, each with a specific purpose: Necessities, Long-Term, Play, Education, Financial (investments), and Give. This Notion template allows you to easily implement this budgeting system in your digital workspace so that you can see where your money's going, and tweak your habits to keep things balanced.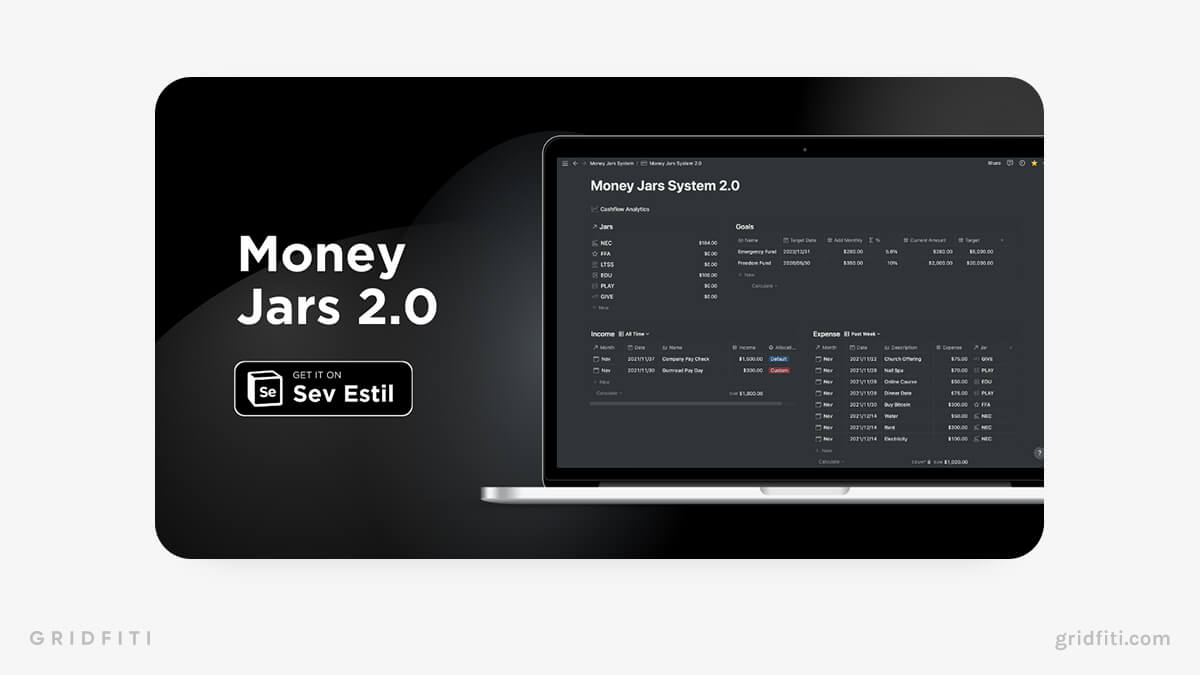 50/30/20 Budgeting System
If you're looking to simplify your budgeting with categories like the Money Jars system, the 50/30/20 rule is another great budgeting method — and is built right into this template! With this system, splitting up your needs (50%), wants (30%), and savings (20%) ensures you're covering your bases – while leaving room for savings and fun!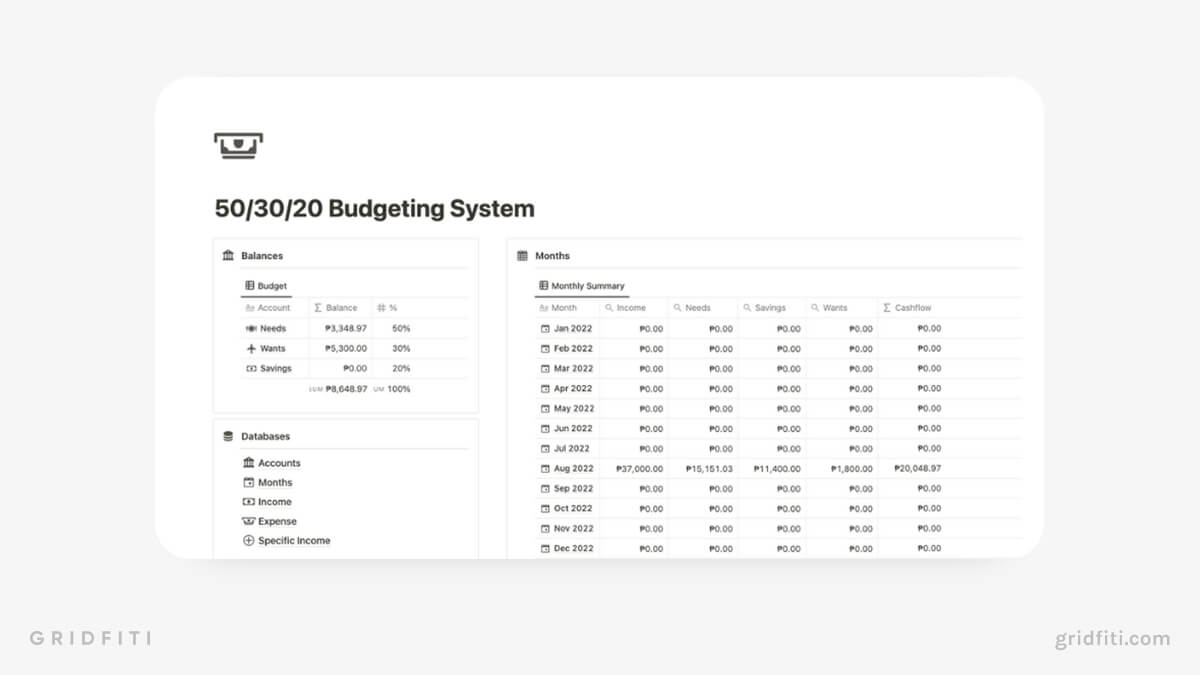 Notion Automated Budget Planner Template
Easily track your finances and reach your savings and investment goals with this fully automated budget and finance planner for Notion. It includes progress trackers and income/expense logs, and comes with a comprehensive instruction manual and walkthrough video to help even Notion beginners get started!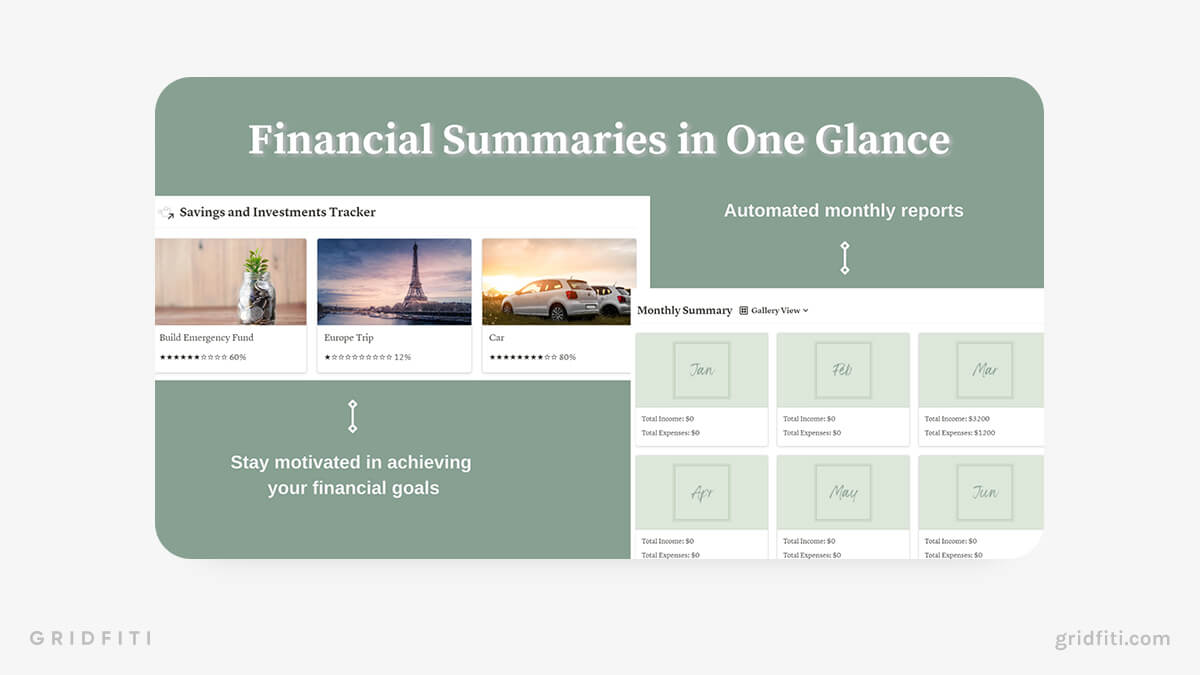 Notion Event Budget Template
This Notion Event Budget Template is designed to help you plan and track the budget for your next event – and has variations catered to conferences, weddings, parties, or construction projects. With these templates, add expenses categories, estimated costs, and relevant notes. You can then update the sheet with actual costs and track what's been booked or paid.
Whether you're an experienced event planner or new to the process, these templates are a must-have for keeping your event budget organized and under control.
Looking for more templates to plan your big event? Don't miss our round-up with some great Notion event planning templates!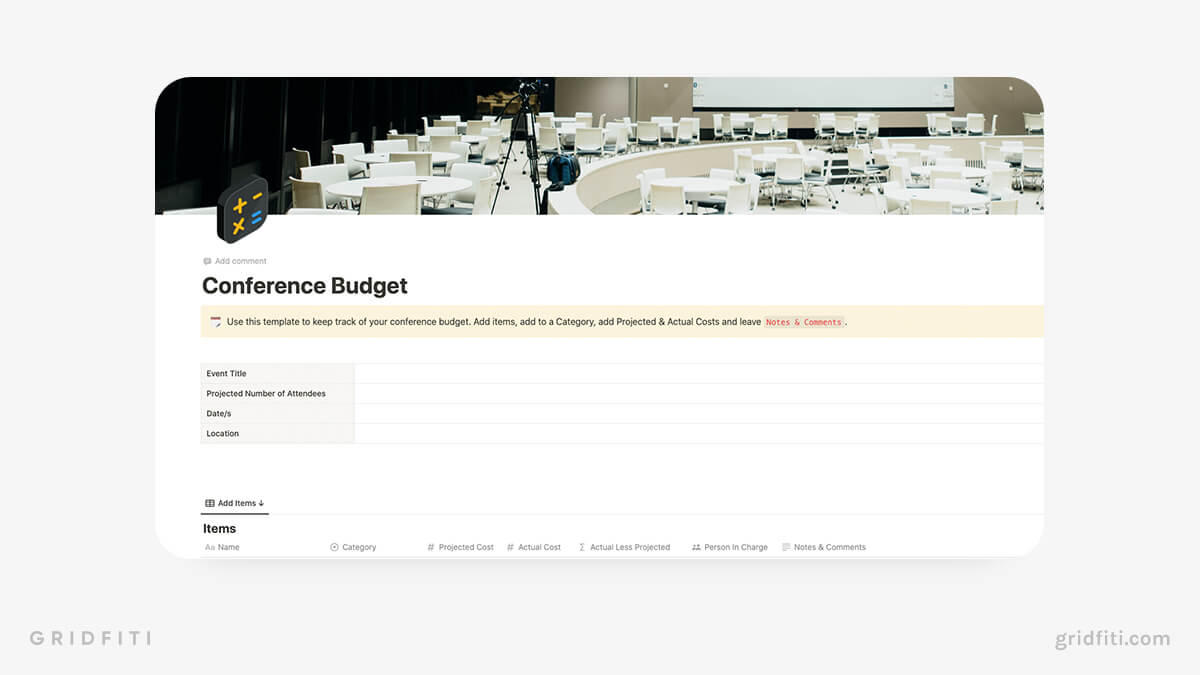 Personal Notion Budgeting Template
A comprehensive tool for planning your personal spending and keeping track of regular subscriptions and donations, this template allows you to plan with three budgets in mind – a current budget, an ideal budget for your financial goals, and a budget for special circumstances. You can categorize expenses as essential or variable, helping you to understand how much you can splurge. A dashboard that contains all of these databases in one convenient location makes it easy to stay organized and on track with your budget.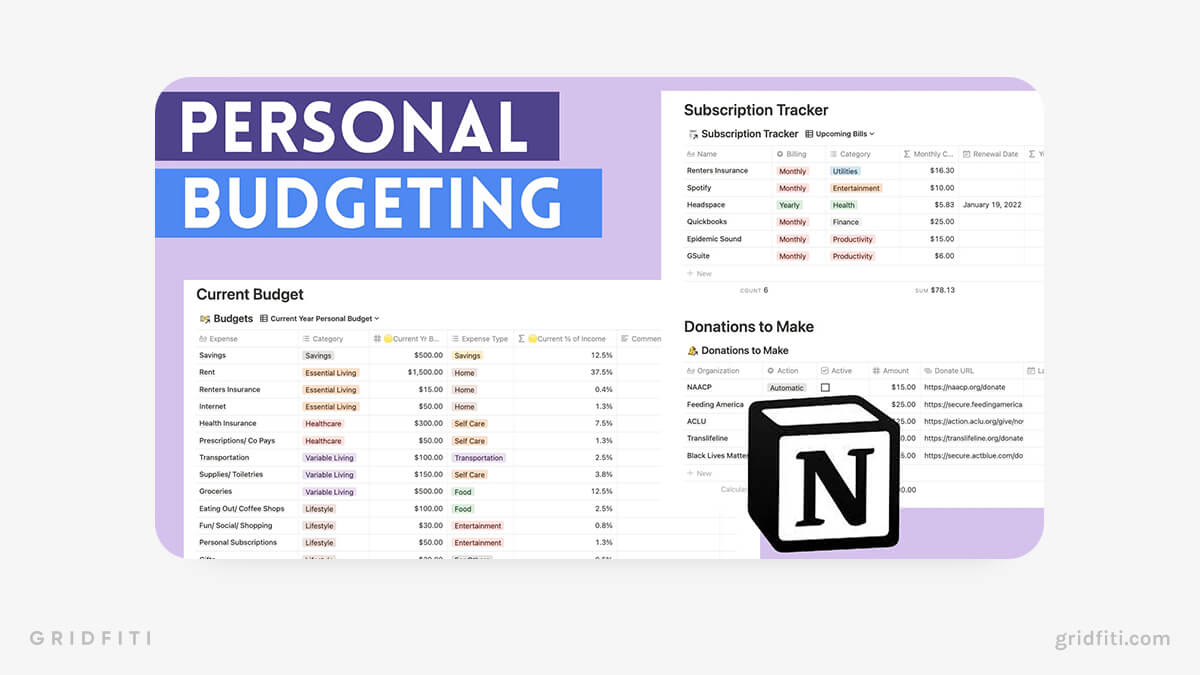 Monthly Budget Planner for Notion
With this robust budget planner, you can budget precisely to the very last cent. Plan your income and assets and set limits for different expense categories – then the tracker will show you when you're over limits to help you avoid overspending. This is a great tool for anyone looking to get out of debt and take full control of their finances.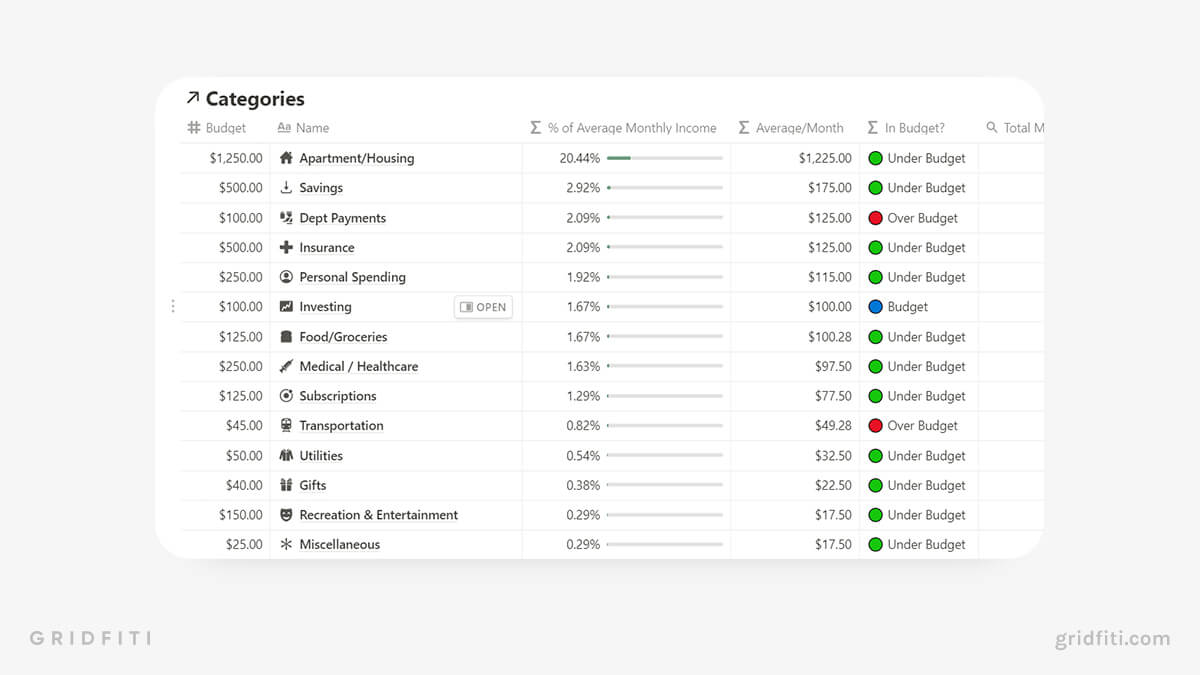 Simple Personal Budget Planner Template
Bundled with an income and expenses page, a monthly budget planner, and a saving goals planner, this template will help you stay focused on your financial goals. Minimally designed and robust, it gives you all the tools you need to manage your finances and keep track of your expenses – making it easy to stay organized and make the most of your money.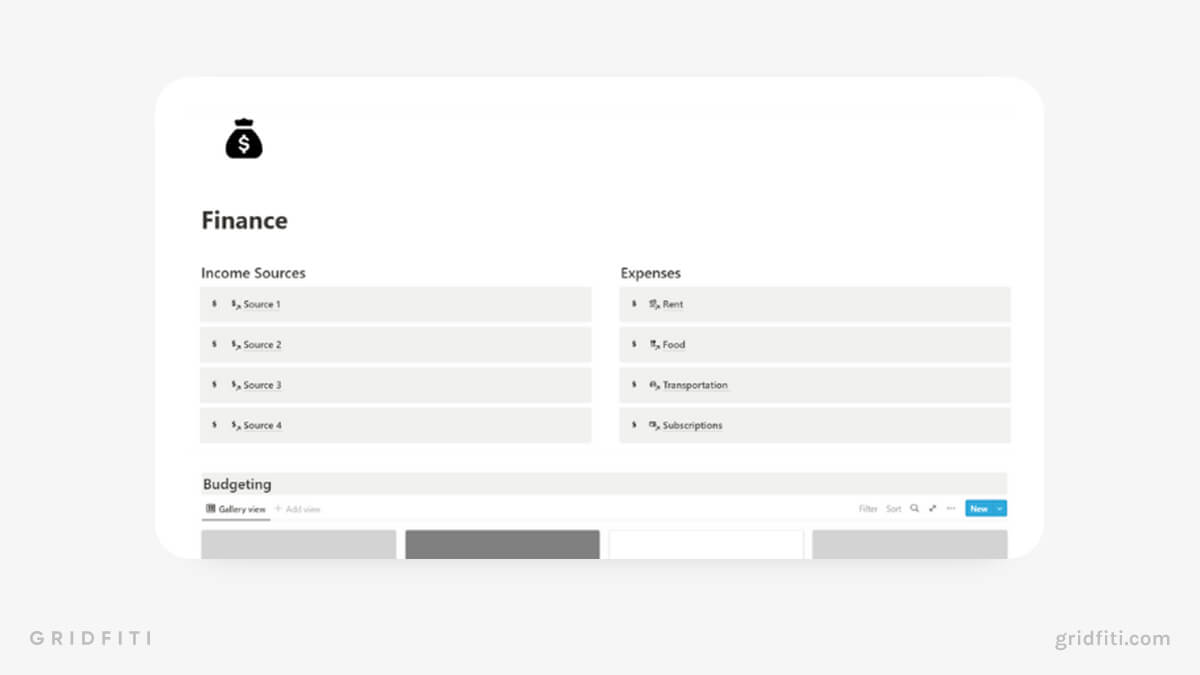 Simple Notion Budgeting Template
If you're looking for an easy-to-use budgeting template that allows you to see what comes in and out of your bank account at a glance, this is the one for you! Create wishlists, track recurring subscriptions, and more within your Notion workspace!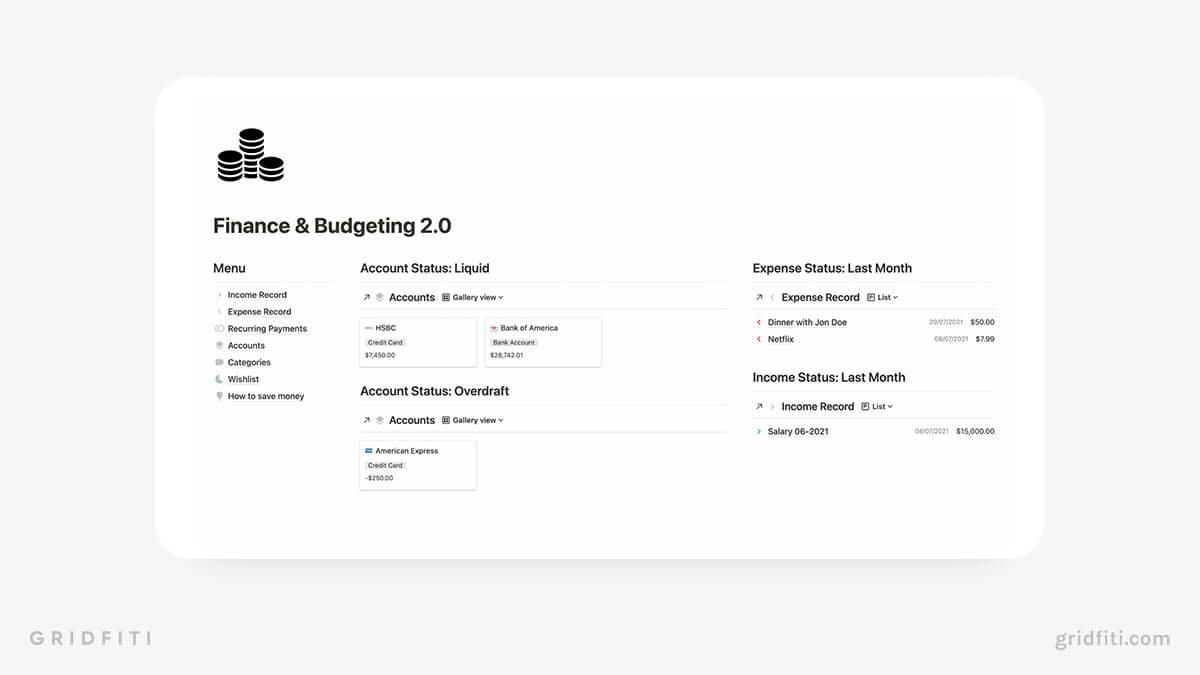 Notion Expense & Budget Tracker
This budget template helps you keep track of all your expenses and revenue in one convenient database. It also includes a feature that shows you your annual and monthly profit. You can even tag your expenses by category and see how much you're spending in specific areas.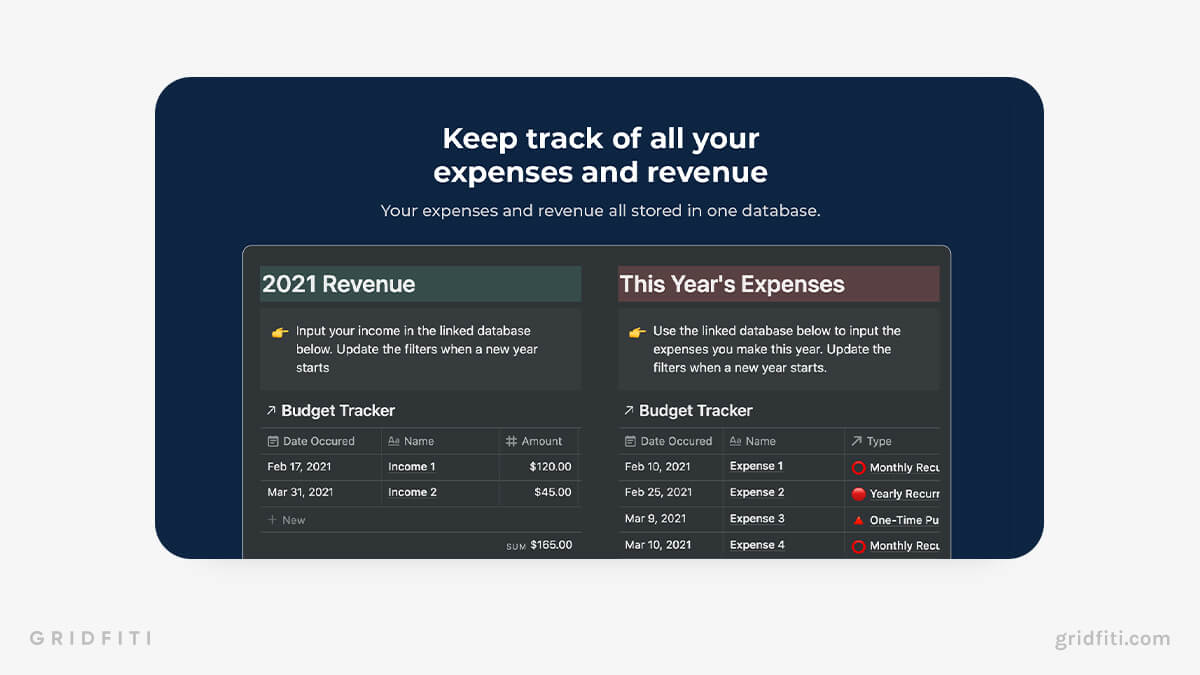 Money Caretaker
The Money Caretaker is a powerful Notion budgeting tool that helps you make informed financial decisions. Easily set your monthly budget estimates, log expenses, and see a clear summary of your income and spending by month, category, and year. With this template, stay on top of your cashflow with visual graphs and dashboard overviews!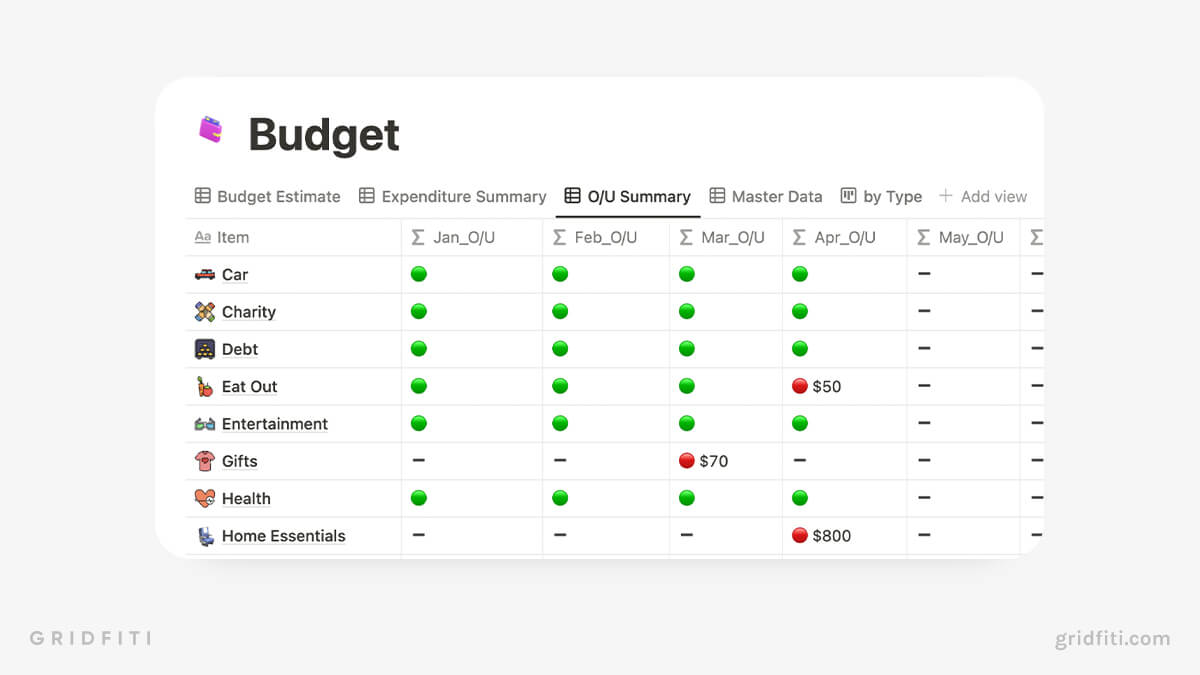 Free Notion Budget Templates
Looking to try out budgeting in Notion before diving into some premium picks? These free templates are less feature-rich than their paid counterparts, but they're a great way to start budgeting in Notion.
Simple Budget Manager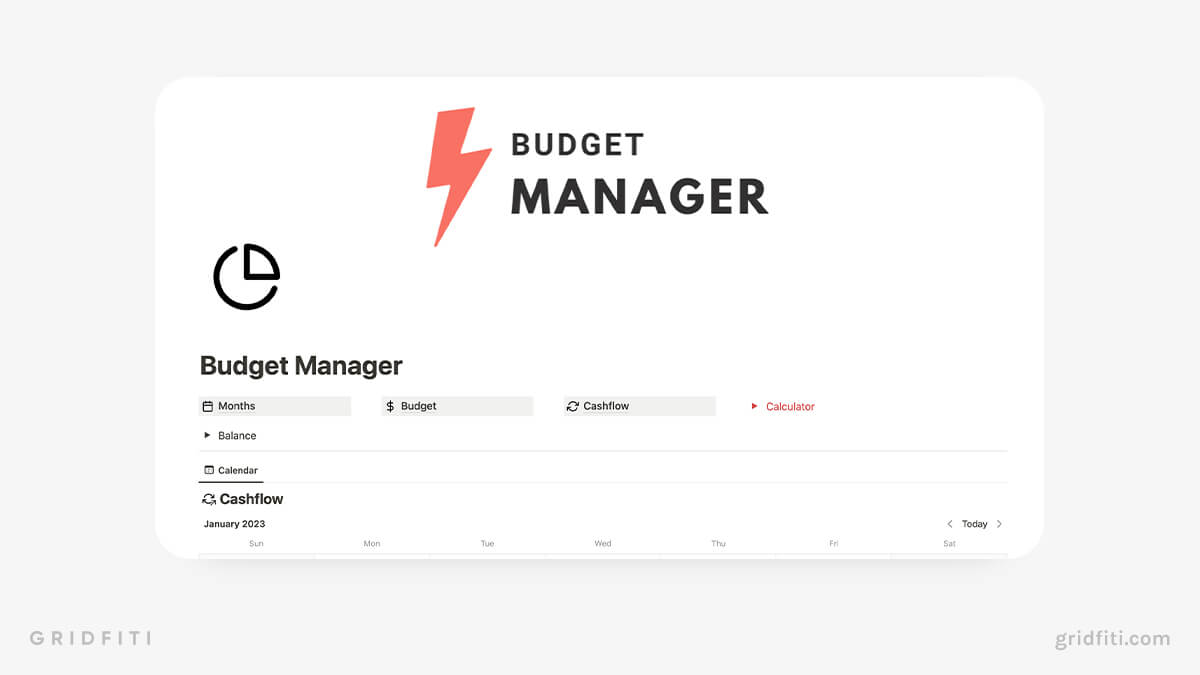 Simple Budget Tracker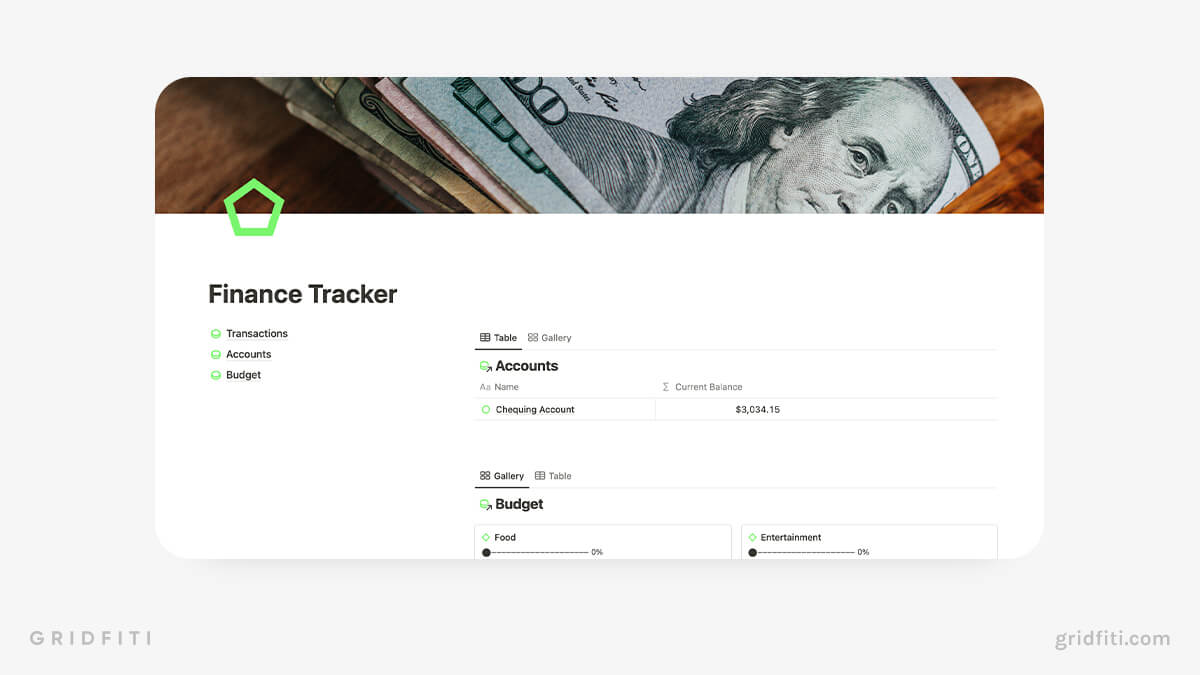 Notion Budget Spreadsheet Template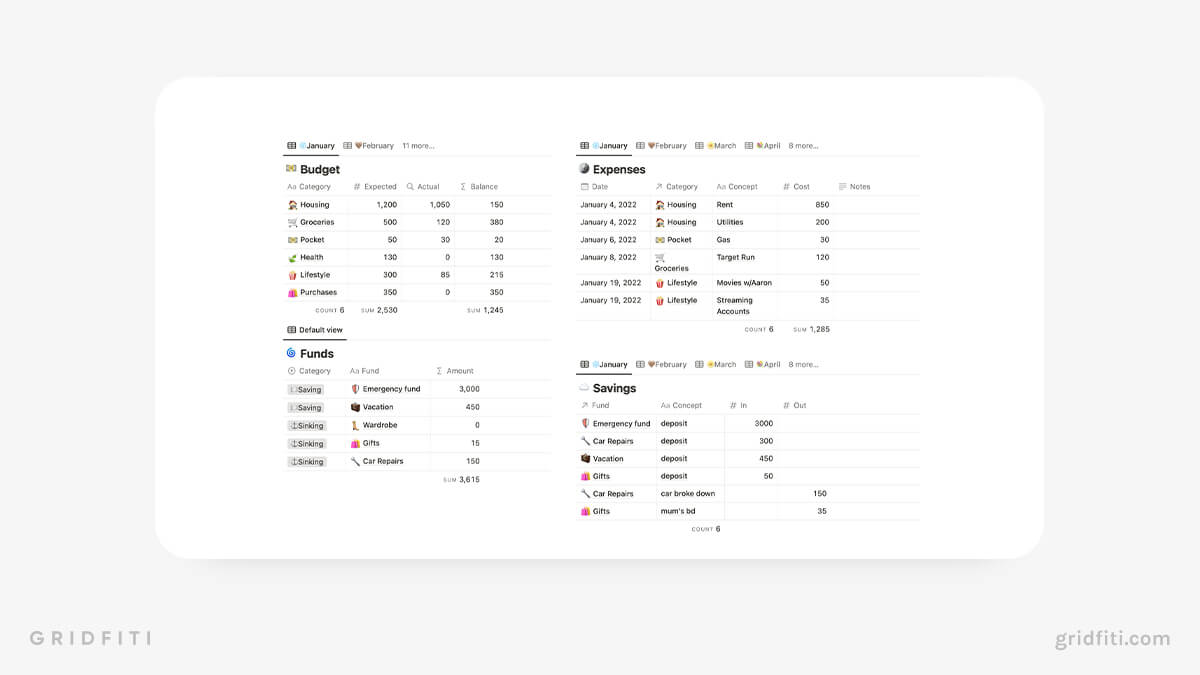 Personal Budget Planner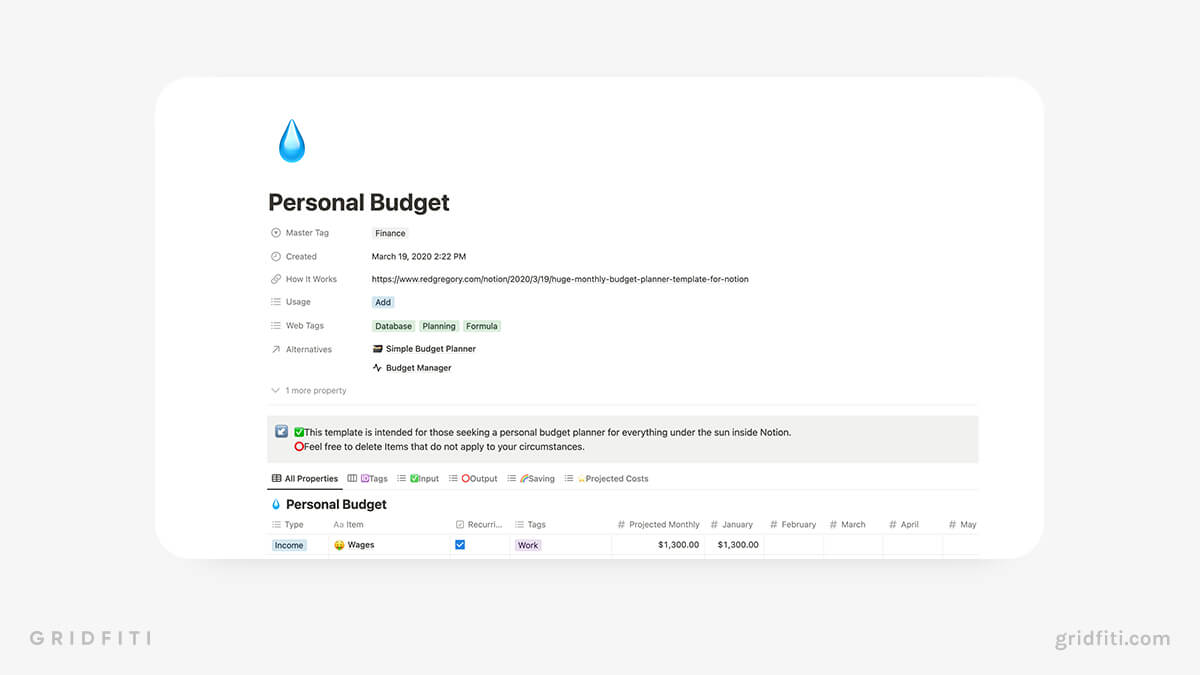 The Monies – Notion Template for Budgeting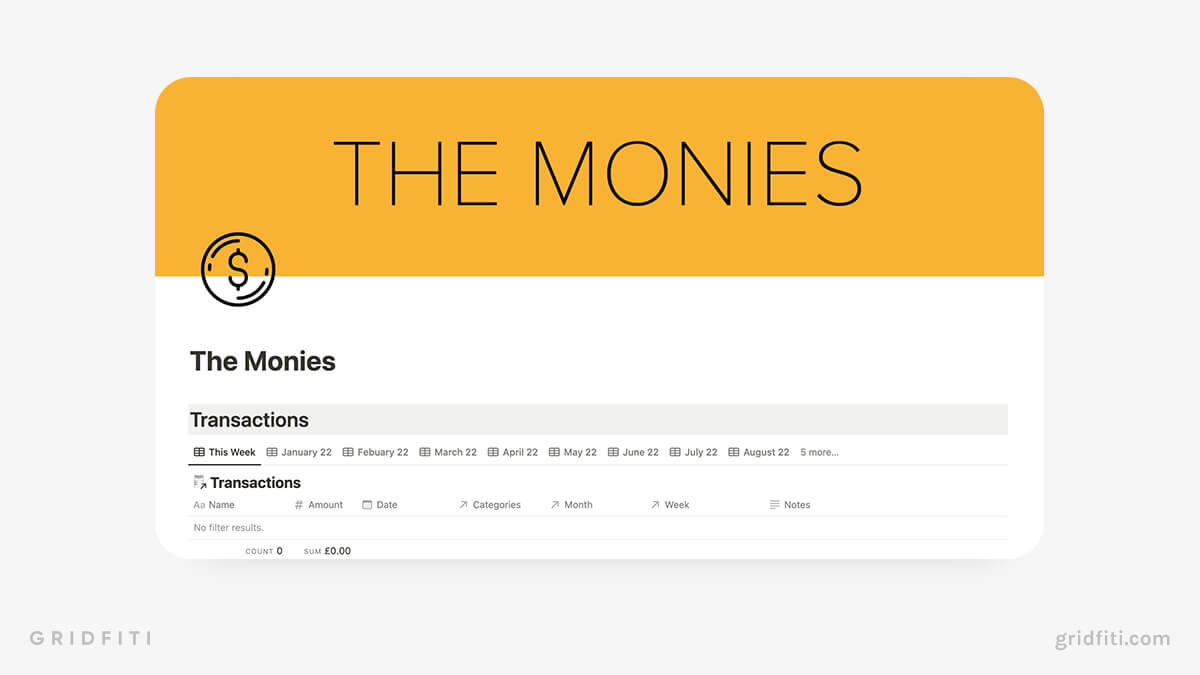 What do you look for in a budgeting template? Which Notion budget template fits your spending behavior the best? Let us know in the comments below!
Gridfiti is supported by its audience – when you buy something using the retail links in our posts, we may earn a small commission at no additional cost to you. Read more about our affiliate disclaimer.