In December 2022, Apple launched Freeform, a new collaborative whiteboard tool. Freeform is quite similar to Notes, but its infinite canvas and additional bells and whistles make it a great free app for note-taking, mind-mapping, and so much more. Scroll on to discover some creative ways you can use Freeform, plus some Freeform tips and tricks!
Want more productivity and digital decor tips? Join our newsletter!
Make a Vision Board
Freeform's infinite canvas is the perfect medium for creating a vision board that's as big and bold as your goals. Advanced iOS 16 features, like isolated image copying and multiple windows, are a great way to create a personalized vision board that you'll want to revisit again and again.
To save time when creating your vision board, you can drag and drop photos from Safari or your Photos app into your Freeform canvas. Many of Freeform's built-in shapes — especially in the People, Activities, and Ornaments categories — make great embellishments for any vision board.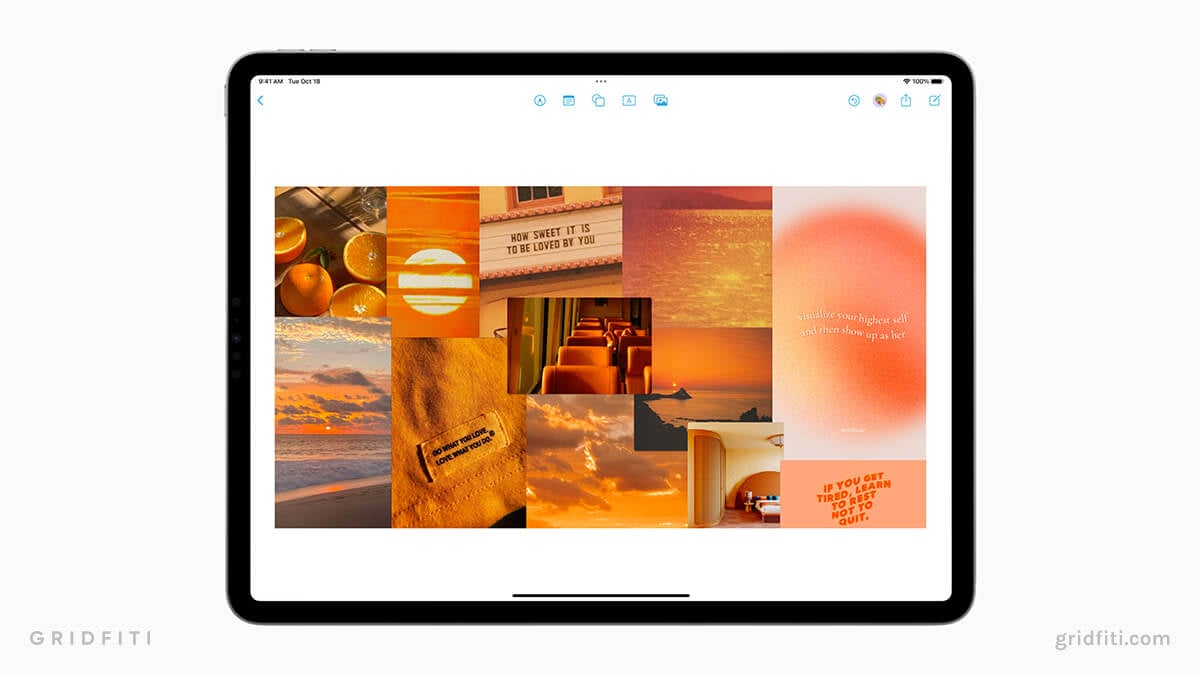 Create a Mood Board
Whether you're a professional designer or you just want to redecorate your bedroom, mood boards are a great way to identify the style or aesthetic you want.
For graphic, interior, and fashion designers, Freeform's shapes are especially useful. Graphic designers can use Freeform's basic shapes to sketch a wireframe or rough draft of their design before bringing it to life in their preferred design app. Interior designers can use the lines and geometrical shapes to create a basic wireframe of the client's room before starting their project. Fashion designers can find some basic stickers of t-shirts, pants, sweaters, tanktops, shorts, and shoes for quick sketches of design ideas.
Along with basic wireframes, you can paste images and links from the web to inspire your next creation. Want to keep all your design assets in one place? You can even upload files right to Freeform and access them in a single click.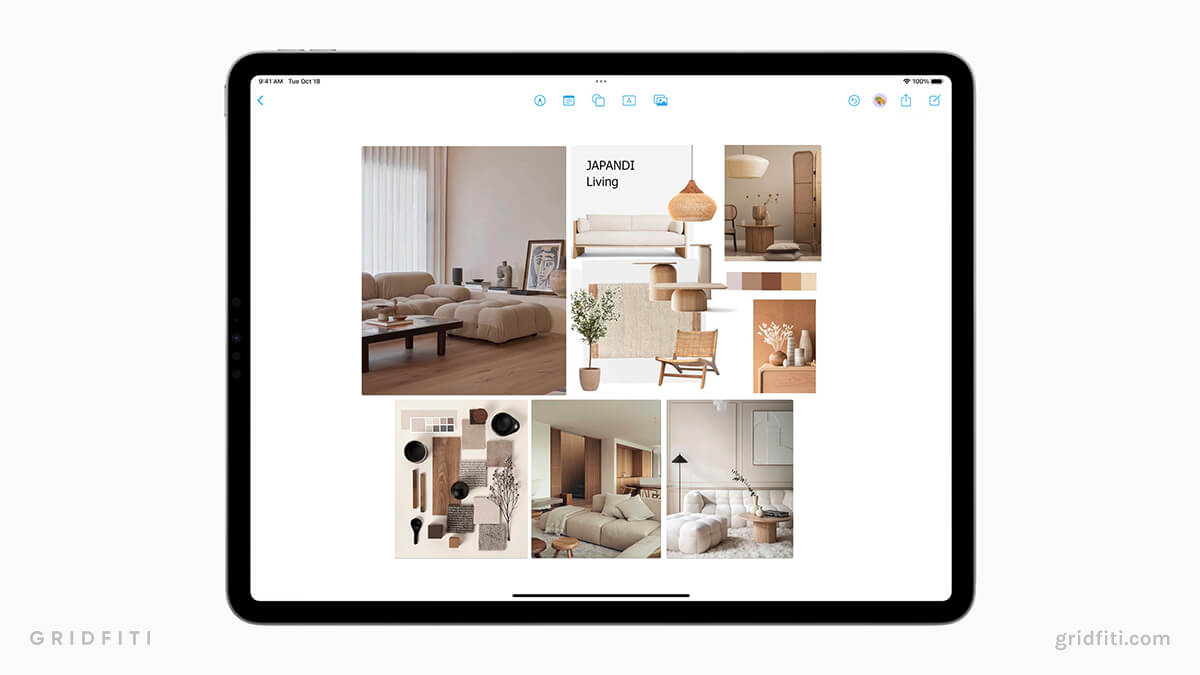 Host Brainstorm Sessions
Since Freeform is a collaborative tool, it's perfect for individual or team brainstorming sessions. You can share your Freeform canvas with specific people via iMessage, or share it to the web for easier collaboration.
One of the coolest things about Freeform's brainstorming capabilities? You can even use Freeform while on a group FaceTime call! Chat with your teammates and jot down your ideas simultaneously to discover which ideas are worth pursuing.
Don't worry if you lose an idea or run out of space — Freeform's infinite canvas expands depending on the amount of content. Plus, you can use the "Find" feature to track down that great idea that got buried in all the scribbles.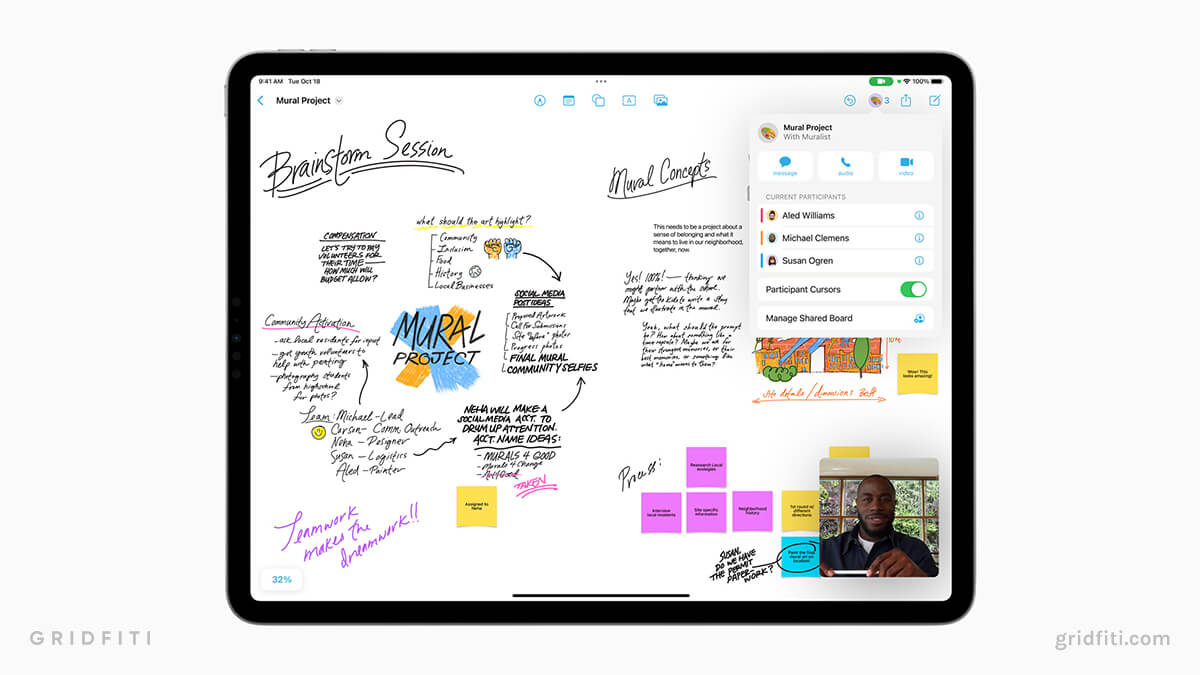 Make Digital Collages
Digital collage enthusiasts will love Freeform's infinite canvas, which gives you plenty of space to create your next collage. Pro tip: Use iOS 16's image cutout option to add images with transparent backgrounds!
You can also quickly import images from the web or your photos app. Open Freeform and Safari in split screen, then search for images you'd like to add to your canvas. Simply tap and drag an image from your browser to Freeform to add it to your canvas.
Tap an image to see the customization bar. Then, tap the menu icon on the right side of the bar to see additional customization options. From here, you can turn off rounded corners, add a shadow, choose whether you'd like to constrain proportions when resizing, and more.
While you can't access a list of layers in Freeform like you can in Procreate, you can send objects forward or backward to create layered collages.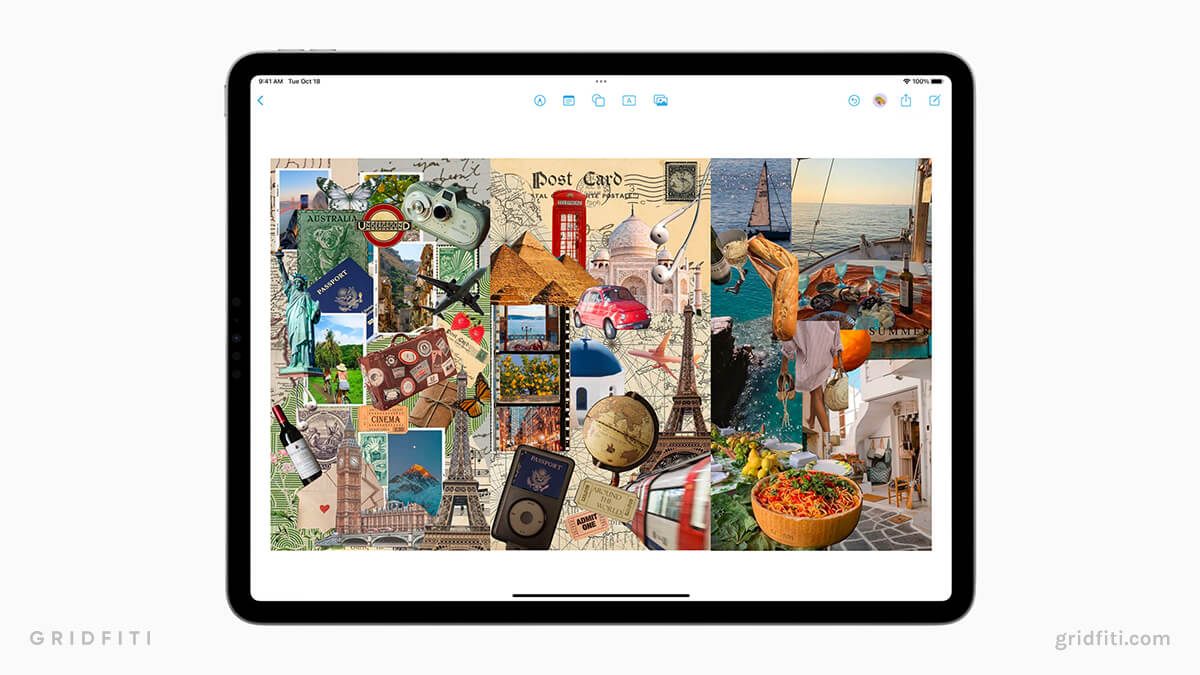 Create Wallpapers
Freeform is a cool way to create basic wallpapers. Use the paint tool to fill the canvas by drawing a shape with your finger or an Apple Pencil.
Anything you draw in Freeform won't "snap" to create a perfect shape if you hold down your finger or Apple Pencil. But you can get around this by using more space than you need to create your filled shape, then cropping the final product. If you want to make your very own quote wallpaper for any device, you can download any aesthetic font to your Mac or use iFont on iPad, and type right in Freeform!
Just be aware there's currently no way to set or alter the dimensions of your canvas. Creating a wallpaper that fits your device perfectly may be tricky — especially since you can't export a Freeform canvas as an image unless you're using a Mac.
Important note on creating wallpapers in Freeform: On iPad, there's currently no way to export your Freeform canvas as an image (unless you take a screenshot of your canvas). However, there is a workaround for this on the Mac version of the Freeform app:
In the Mac version of Freeform, open your canvas, then click File in the top menu bar**.**
Click Print. (Or, use the keyboard shortcut Command ⌘ + P.)
Click the drop-down arrow next to PDF at the bottom of the pop-up window.
Click Open in Preview.
In the Preview window, click File in the top menu bar.
Click Export.
In the Finder window, click the drop-down arrow next to PDF.
Click the file type you'd like to export to (typically PNG or JPEG).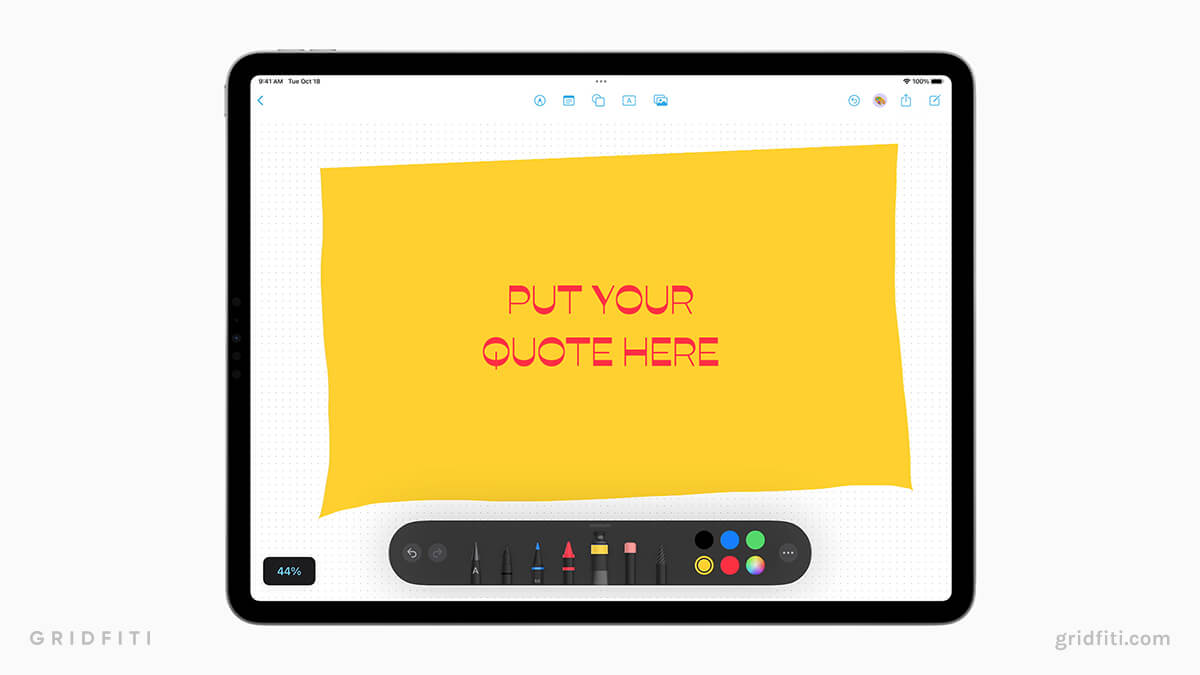 Create Digital Stickers
Whether you customize Freeform's built-in shapes or draw your own, Freeform is a great way to create basic stickers for free, for personal use.
As we mentioned above, Freeform isn't a design app, so its features are limited. And if you're using an iPad, you can only export your canvas as a PDF (unless you take a screenshot of it). If you're using Freeform on a Mac, you can use the workaround we detailed in the previous section to save your canvas as an image.
Be aware that Apple's shapes are copyrighted. We don't recommend using Freeform to create stickers to resell, especially if your stickers incorporate any of the shapes available in Freeform.
Looking for stickers for GoodNotes? Don't miss our full roundup of GoodNotes digital stickers!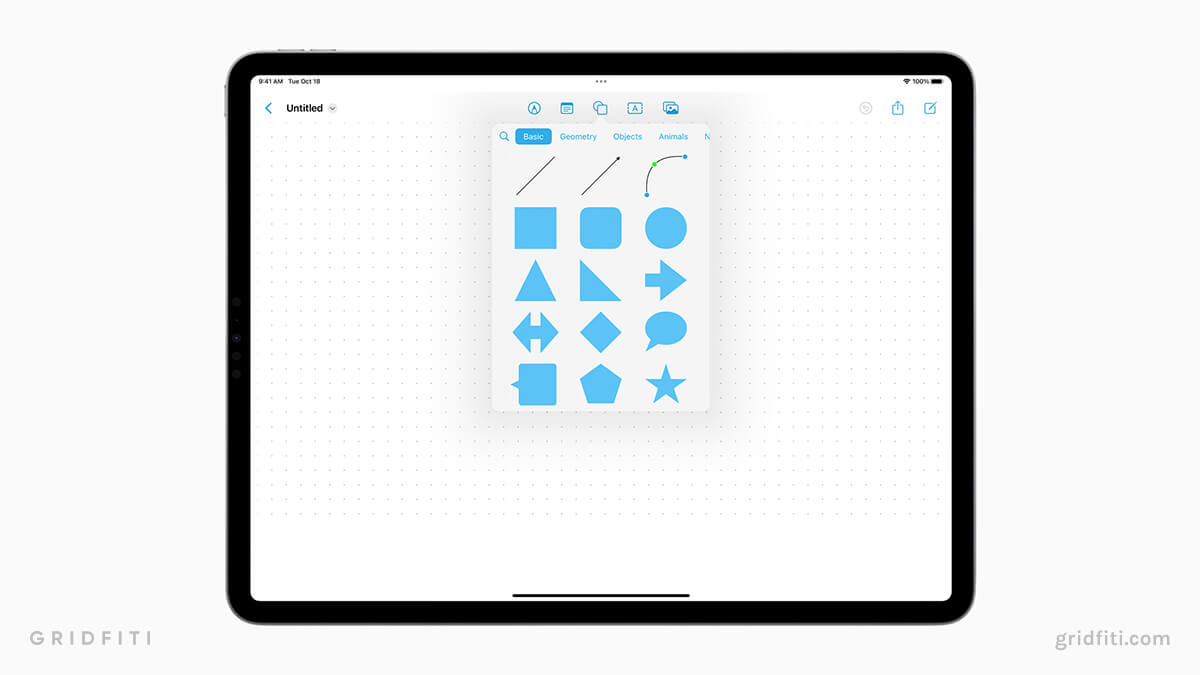 Create Mind Maps
Freeform is practically made for mind-mapping. And the best part is, unlike other mind-mapping tools, Freeform is totally free!
Use the shapes, connectors, and text boxes to make connections between concepts and visualize entire projects in one convenient place. Keep it basic with Freeform's default colors and fonts, or spruce it up with custom colors and fonts. Whether you're an individual who likes living in color or you're creating a branded mind map for your company, Freeform is an intuitive tool.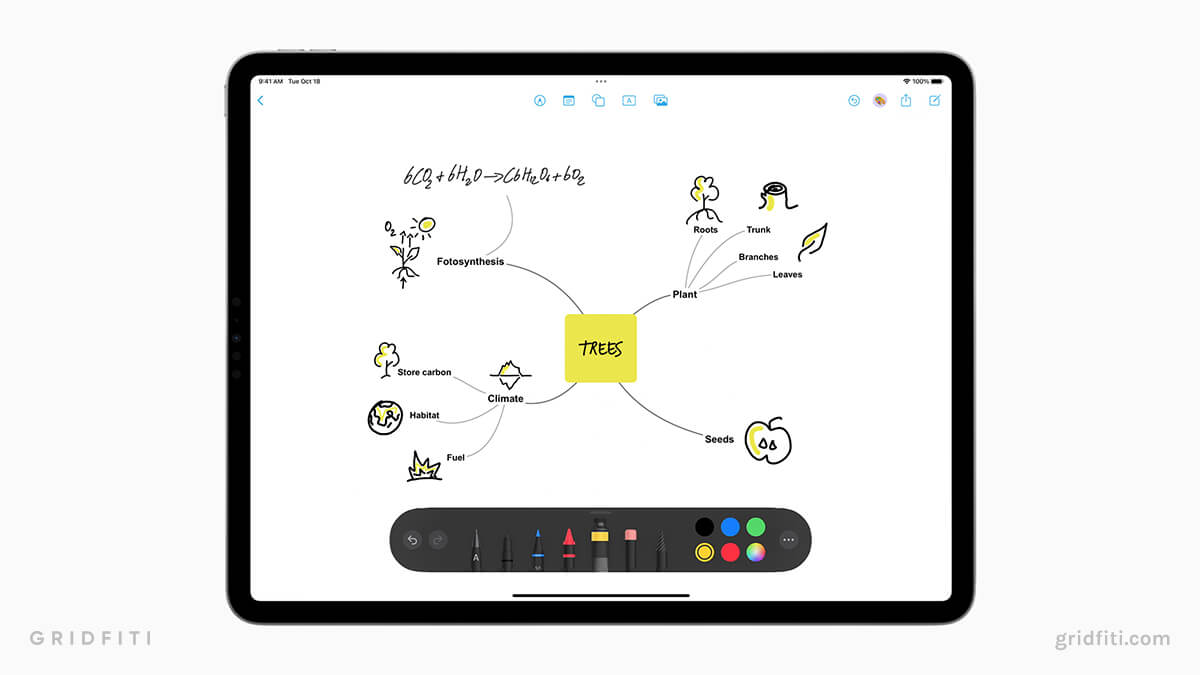 Drawing via SimpleMind
Create Synergy Maps
Synergy maps are a project management tool that let you visualize your business strategy and goals, make connections, and identify roadblocks and ways that individual goals can support each other.
A synergy map typically features a circle with each goal plotted as a point in 1 of the circle's 4 quadrants. Draw lines or arrows to connect similar goals. Outside the circle, note external factors or roadblocks that affect the goal's completion. Add a check mark above a connector to quickly see whether you've completed the goal.
Freeform is the perfect tool for creating and collaborating on basic synergy maps. Simply drop in a circle shape, use the drawing tool to add points, and add text to describe each goal. Take it a step further and add colors to your connectors — for example, your completed goals might have green points or connectors, while goals you haven't started yet could be red or black.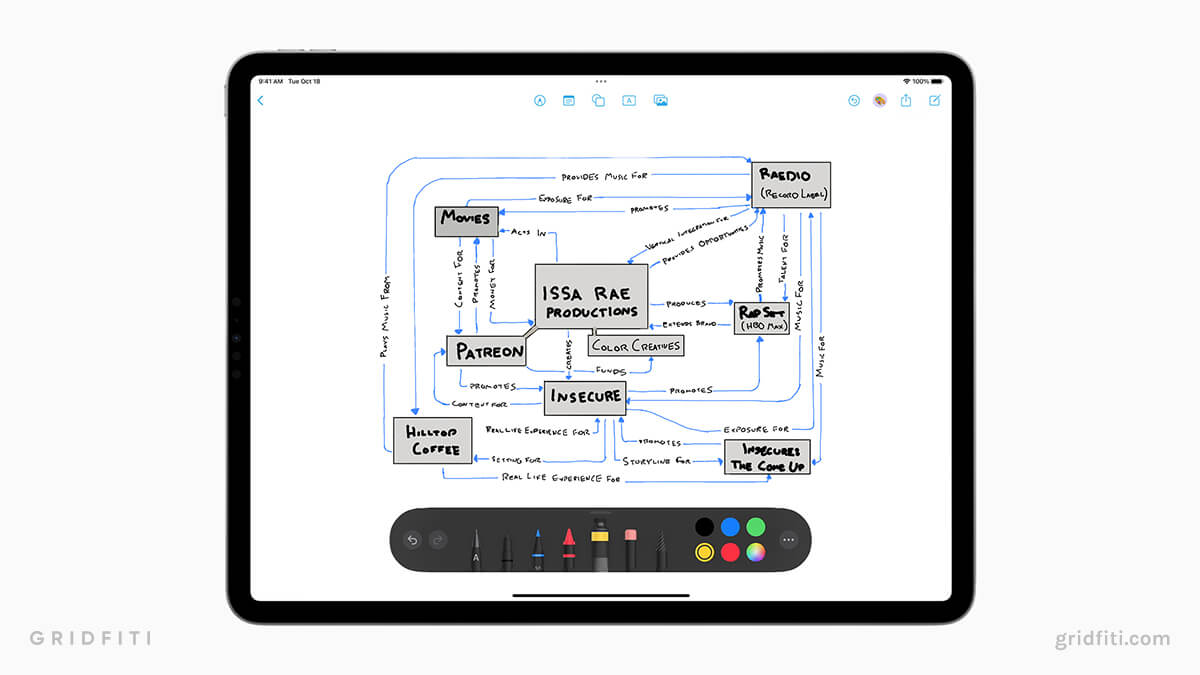 Drawing via Issa Rae
Use Freeform for Note-Taking
Freeform is a great free note-taking app for students and avid learners. Freeform doesn't offer note-taking templates (like Cornell notes), but you can easily create your own note-taking template in Freeform by adding some lines from the shapes tool.
The shapes and drawing features make Freeform the perfect note-taking tool for students who value flexibility, creativity, and lots of blank space. Freeform also offers a range of educational shapes like chemistry flasks, books, graphs, and flowcharts. Break apart these shapes to move around the elements individually and truly make them your own!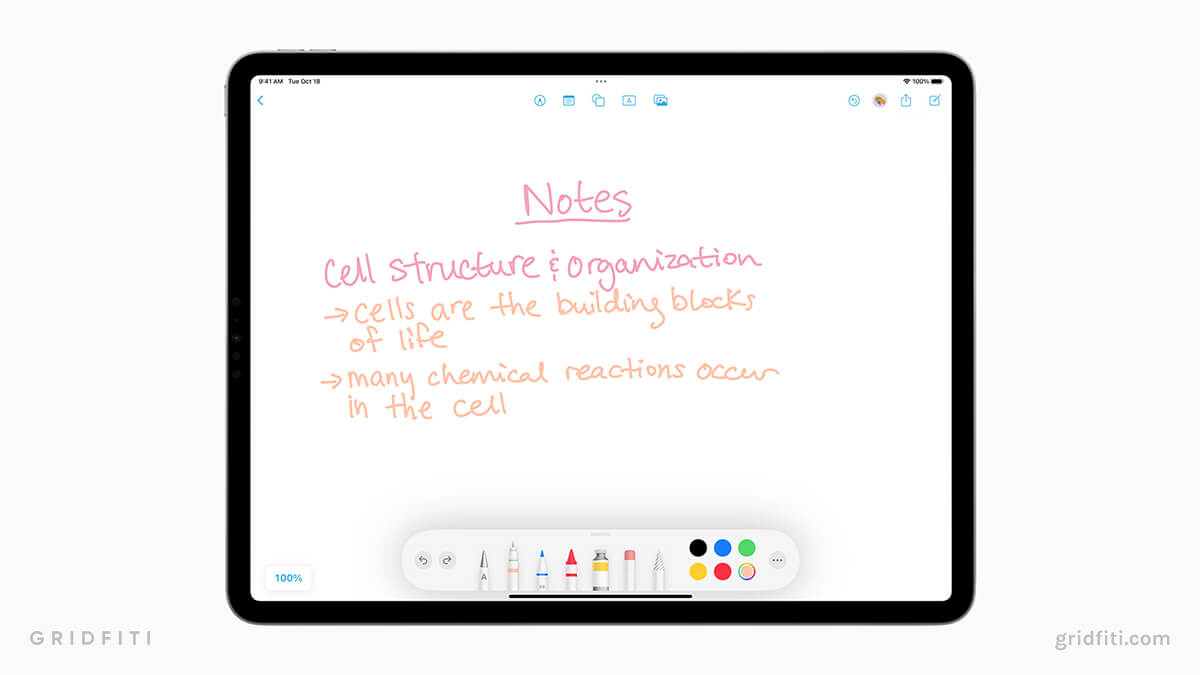 Use Freeform for To-Do Lists & Digital Planning
Whether you're creating a running to-do list or separating your tasks by day, week, or month, Freeform is a simple way to track your to-dos in one convenient place.
Freeform offers 2 basic shapes to visually organize your to-do list: a task list, and a calendar. Insert the task list shape by tapping the shapes icon at the top of your Freeform canvas. Scroll over to Objects, then scroll down until you see the task list icon. Tap it to insert it, then tap it again to see the customization bar. Tap the menu icon on the right size, then tap "Break Apart" to separate the checkbox from the list. You can duplicate the check mark and change the color to easily see which tasks you've completed.
Inserting the calendar follows the same process. If you break apart the calendar shape, you can move around the individual date boxes and change their color and style.
If you'd prefer not to use Freeform's built-in shapes, feel free to DIY your own calendars and task lists using the drawing tools. You can use Freeform's select tool to quickly move tasks around if you need to. If you're formatting your tasks as text boxes, you can also use emojis to indicate the task's status.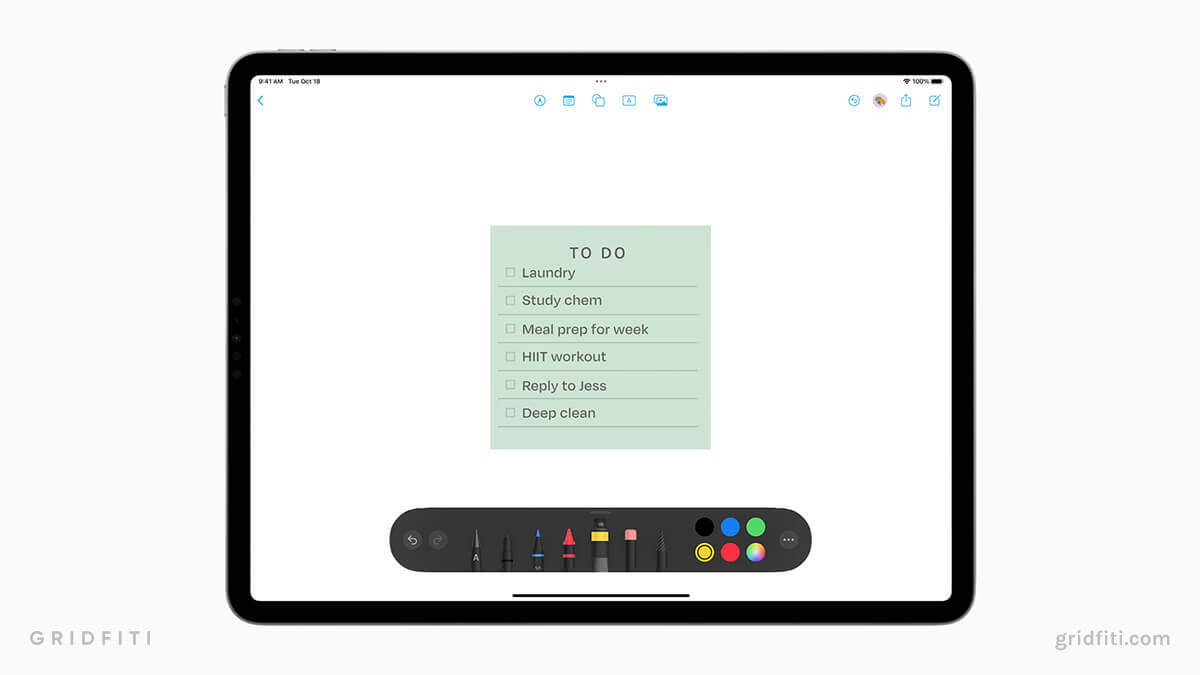 Use Freeform as a Bullet & Gratitude Journal
Avid journalers who feel too restricted by the page layouts of popular journaling apps like GoodNotes and Notability may prefer Freeform's infinite canvas. The responsive user interface also makes this a great free gratitude app, especially if you want to create a running gratitude list.
Want an easy solution for filling in the blanks with templates? Check out GoodNotes templates (and ensure the file is a PDF), and bring the template into your Freeform app to mark up and write on!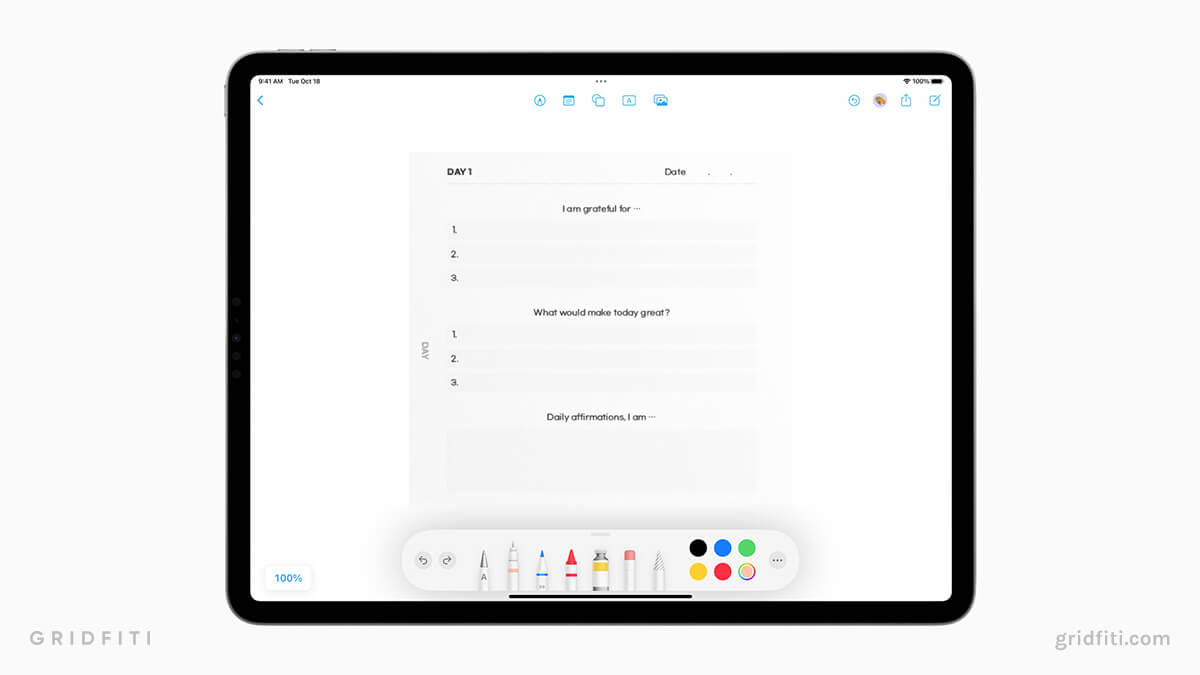 How you use Freeform to create your bullet journal is totally up to you. Create multiple canvases for each day, week, or month, or keep everything visible on a single canvas instead. Or, you can create dedicated spreads, like book trackers, wishlists, mindset affirmations, and more.
Freeform's shapes and text boxes might seem a little too basic for bullet journaling upon first glance — but there are plenty of ways to customize elements in Freeform to create a matching spread. One way to achieve this is to customize the color and stroke of Freeform's shapes.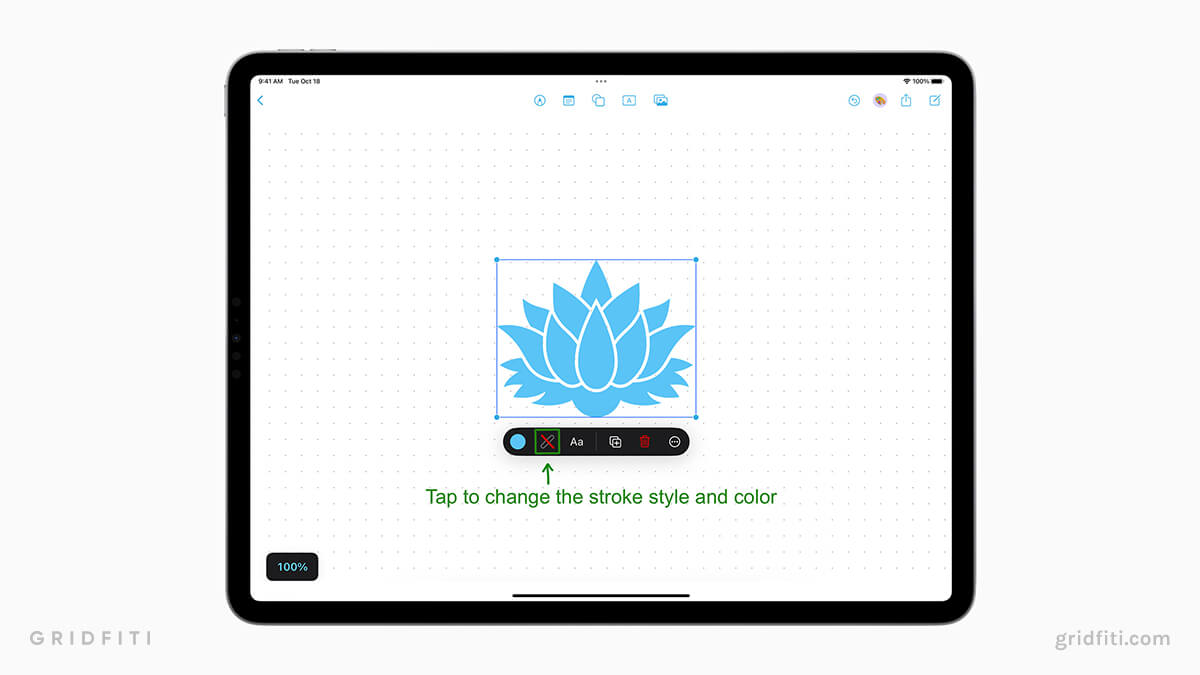 Simply add a shape, then tap it to see the customization options. From here, you can change the color of the shape, the style and color of the shape's stroke, add text, and see more customization options by tapping the menu icon on the right side of the bar.
If you don't like the stock fonts that come with your iPad or Mac, you can personalize your Freeform bullet journal with custom fonts! iPad apps like iFont let you install new font files in seconds. Be sure to install any fonts you use on all your Apple devices to ensure a uniform look across your phone, iPad, and laptop.
Design Social Media Cover Photos
Want to create a custom social media cover photo without using Canva, Procreate, or another paid app? Try Freeform! While it's not a design app and some of its functionality is limited, you can still create an aesthetic social media cover photo pretty easily. You can even bring in a screenshot of your current social profile to see a mockup of how it looks in-situ!
You can't change the dimensions of your canvas in Freeform, but there is a way to ensure your cover image is the right dimensions for your social media app. Before you try this walkthrough, be aware that Freeform only displays the width and height of imported images in centimeters or inches, not pixels.
How to ensure your Freeform creations are the correct dimensions:
Import an image that's the same dimensions as your social media cover to your Freeform canvas. (Dimensions will vary based on the platform — we've included some dimensions and conversions below.)
Tap the image you just imported, then tap the menu icon on the right side of the customization bar.
Ensure Constrain Proportions is checked.
Click and drag one of the blue circles on the corners of the image to resize it.
As you resize the image, you'll see a black box that shows the width and height of the image.
Resize the image until the width matches the social media cover dimensions of the app you're designing for. (See a list below.) Remember, Freeform will display the image height and width in centimeters or inches, not pixels.
Once it's properly resized, lock the imported image.
Design your thumbnail over the top of the image to ensure it's the correct dimensions.
Best social media cover dimensions for 2023
Facebook: 851 x 315 pixels (22.51 x 8.33 centimeters or 8.49 x 3.28 inches)
Twitter: 1500 x 500 pixels (39.69 x 13.23 centimeters or 15.63 x 5.21 inches)
Reddit: 1000 x 300 pixels (26.46 x 7.94 centimeters or 10.42 x 3.13 inches)
LinkedIn: 1200 x 627 pixels (31.57 x 16.59 centimeters or 12.5 x 6.53 inches)
Using Freeform on an iPad? Remember, you can't save Freeform canvases as images. Your best bet is taking a screenshot of your cover photo. Or, use the workaround we provided above on a Mac to export your canvas as an image. If you want to ensure these are always retina device-ready, simply double all the above dimensions!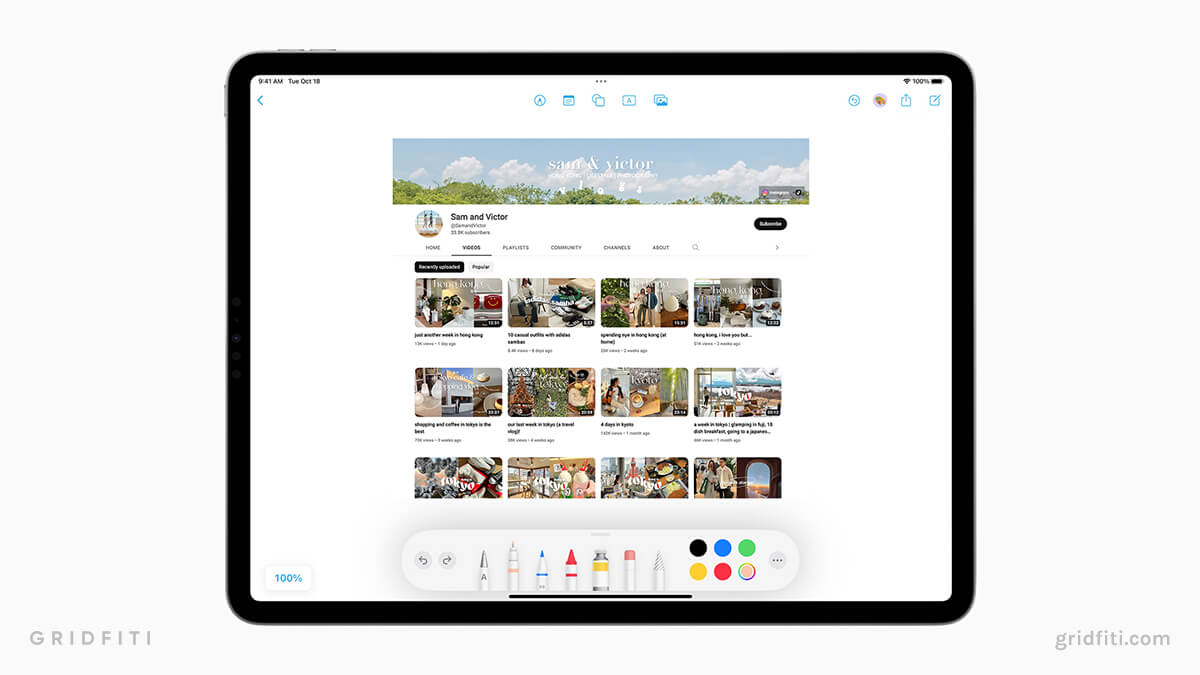 Cover Photos via Sam & Victor
Design YouTube Thumbnails
Freeform is a great tool for creating YouTube thumbnails for free. As we mentioned, you can't set or change the dimensions of your Freeform canvas. But you can use the same workaround we provided in the previous section to create YouTube thumbnails to spec.
Follow steps 1-5 of the walkthrough in the previous section, then resize the image until the width is 33.87 centimeters or 13.33 inches (1920×1080). Then, design your thumbnail on top of the image you just imported.
Again, if you're using an iPad, you can't share your canvas as an image. Take a screenshot of your completed thumbnail and crop it, or use our workaround to export your Freeform canvas as an image on your Mac.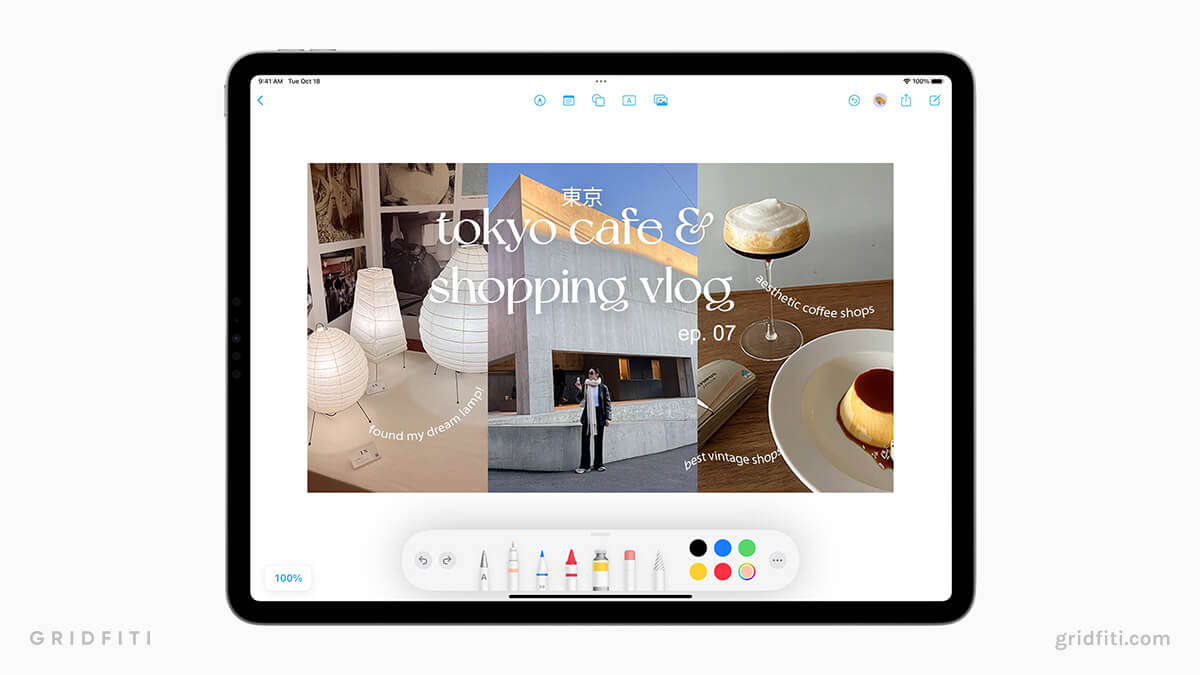 Thumbnail via Sam & Victor
Make Memes
Forget Mematic and other meme apps with those pesky watermarks — Freeform is a great way to make memes for free! Whether you're throwing it back to the early '00s with classic characters like Good Guy Steve or Bad Luck Brian, or you're creating a more modern meme that resembles a Tweet, Freeform's editing features let you create your own dank memes in minutes.
Install these fonts on your device to create memes in Freeform:
Chirp (Twitter memes)
Impact (old 2010s-style memes)
Helvetica
Remember, if you're using Freeform on an iPad, you can't export your canvas as an image. Either take a screenshot of your finished meme and crop it, or open your Freeform canvas on your Mac and use the workaround we mentioned in the wallpaper section to save your canvas as an image.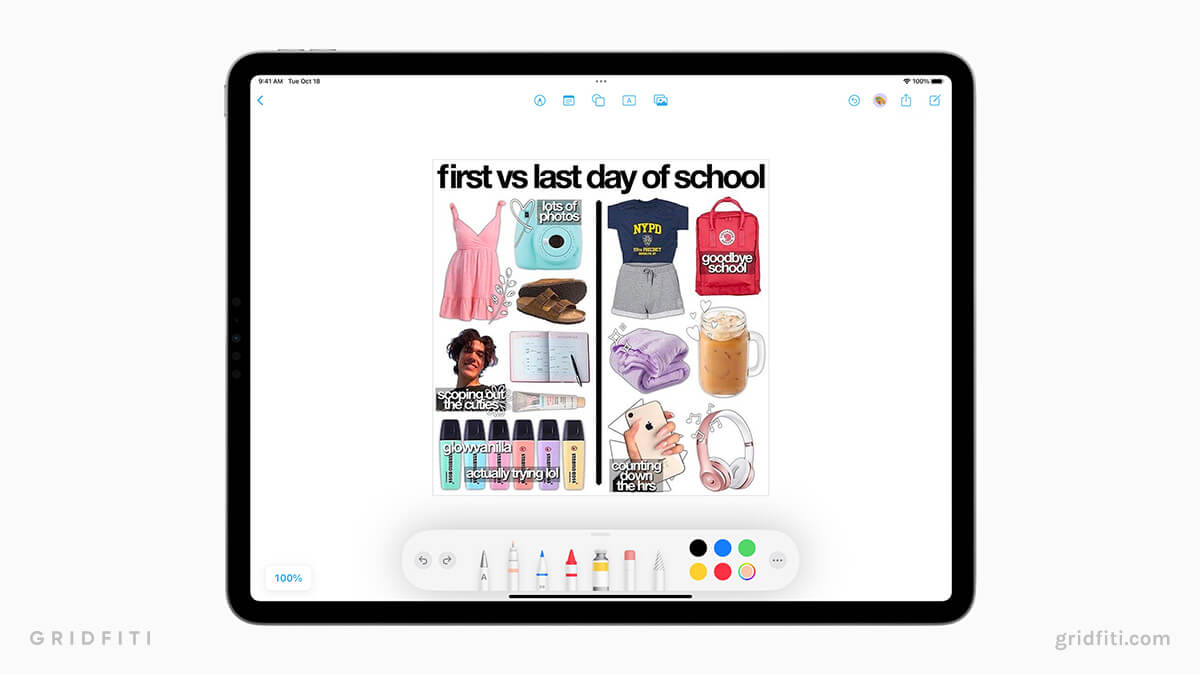 How are you using Freeform? What creative Freeform app ideas would you add to this list? Let us know in the comments!
Gridfiti is supported by its audience – when you buy something using the retail links in our posts, we may earn a small commission at no additional cost to you. Read more about our affiliate disclaimer.