When planning a party, family gathering, corporate event, wedding, or any other type of event, there are so many details to consider, and organization is key.
It only makes sense to plan and organize your event on one of the best platforms for organizing anything and everything: Notion. No matter the occasion – personal or corporate, in-person or virtual, we've gathered some of the best Notion event planning templates for you to get started with!
Want more Notion tips, tricks, and templates? Join our Notion mailing list below and check out our several other Notion guides and round-ups!
All-in-One Minimalist Event Planner Dashboard
Manage any event with ease with this all-in-one monochrome and minimalistic Notion template! Plan your event in advance and manage decisions for each event, with templates for the overall event plan, event schedule, guest list, checklists, menus, decorations, and budget tracker!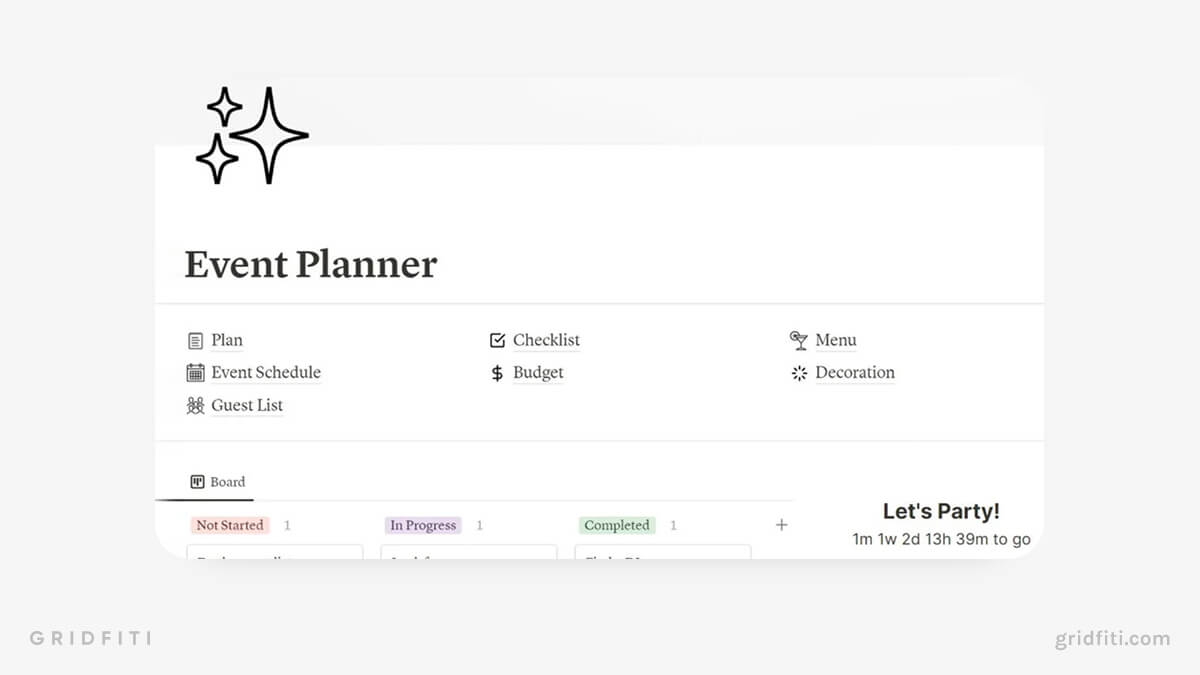 The Ultimate Event Planner Template
With this thoughtfully-designed template, plan your event start to finish with ease! Featuring an inspiration page for everything from food to venues, as well as pages for planning, finances, guests, decor, stationery, and photography – no detail will be missed using this all-in-one event planner!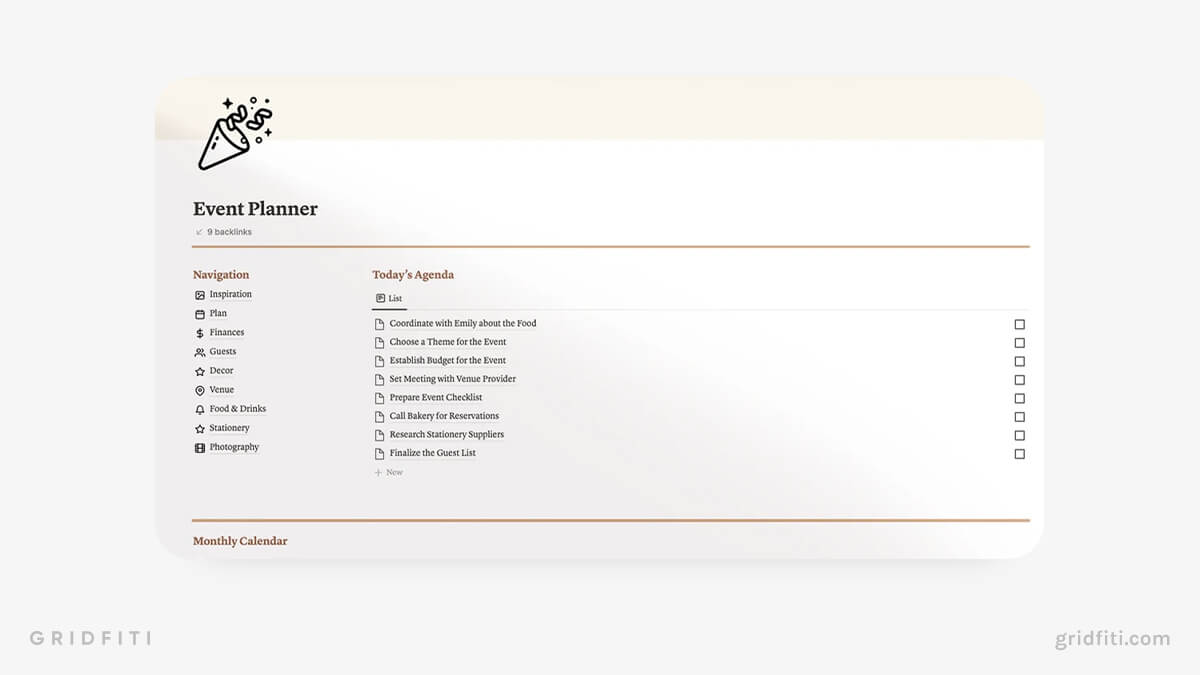 Family Event Planning Template
With this event planning templates designed for families, plan birthday parties and special family events – with trackers for guests, presents, invites, food, shopping, activities, and more. Coming complete with video instructions, this is the template for planning any family function!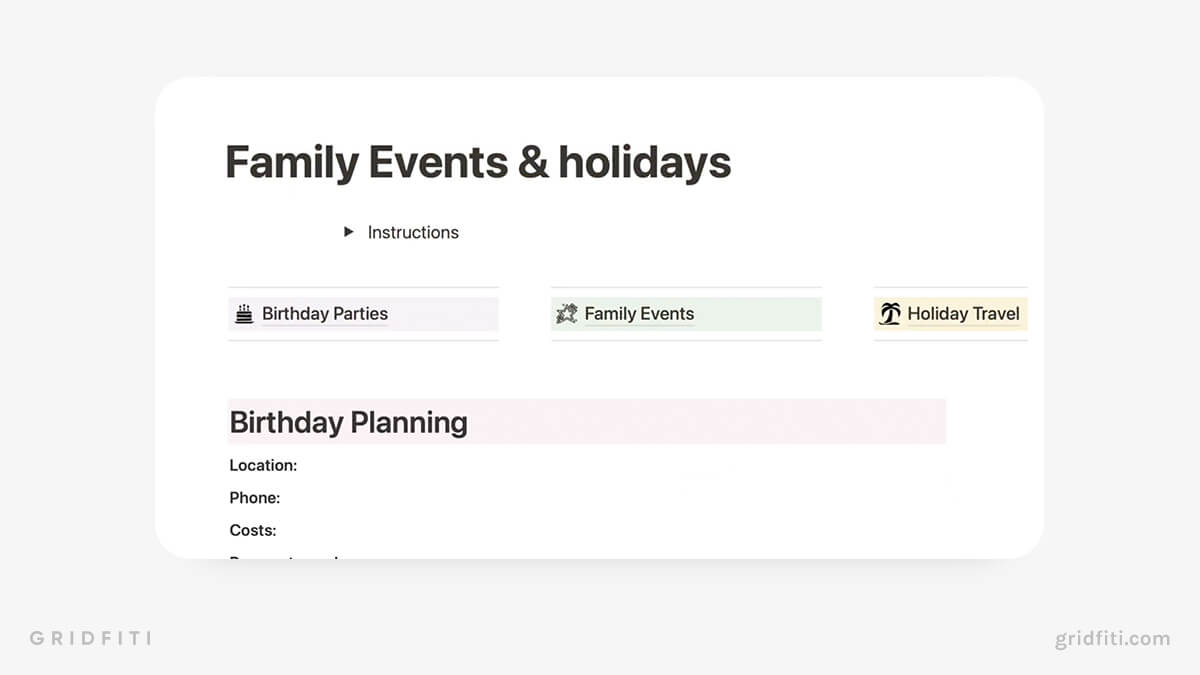 Event Planning Checklist Template
Whether your event is in-person or online, this checklist template has you covered and will help you ensure you don't miss a detail! Designed to be used either solo or with an event planning team, track all your event-related tasks in this streamlined and simple Notion spreadsheet template.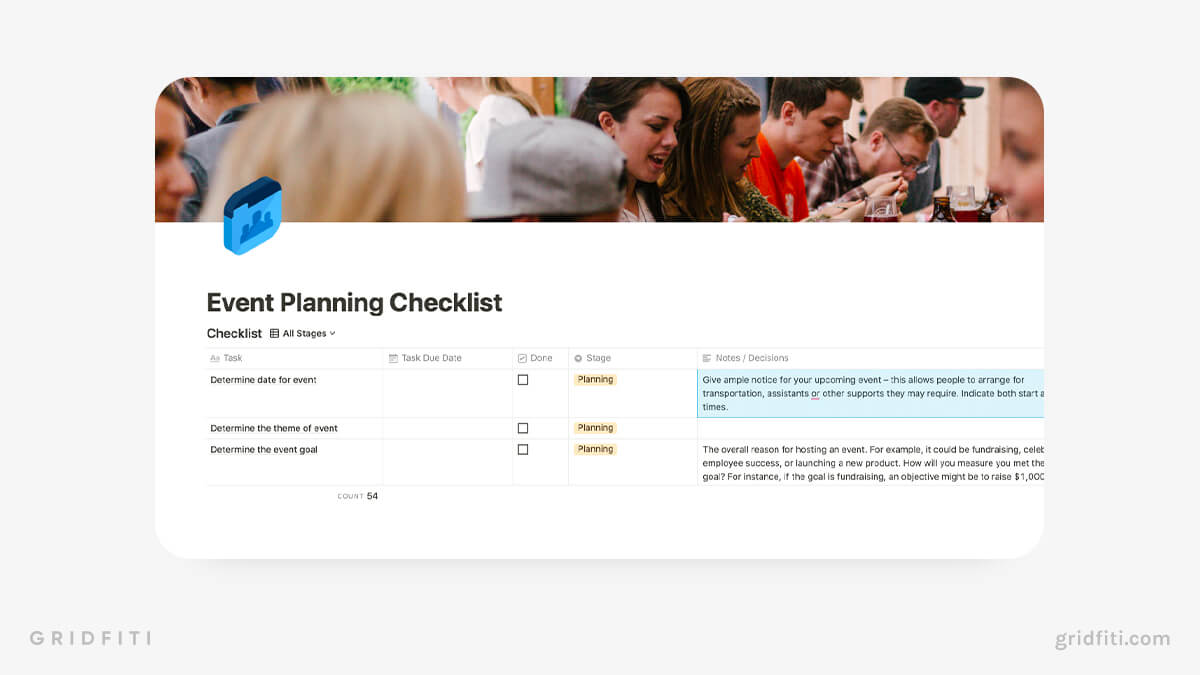 Notion Event Promotion Plan Template for Corporate Events
One of the biggest hurdles for any event is getting people to actually attend, and this template was designed to help you ensure just that! With this event promotion plan template designed for teams, drive attendance goals, coordinate outreach and promotions, organize your channels and deadlines, and engage your potential attendees with tailored promotion tactics.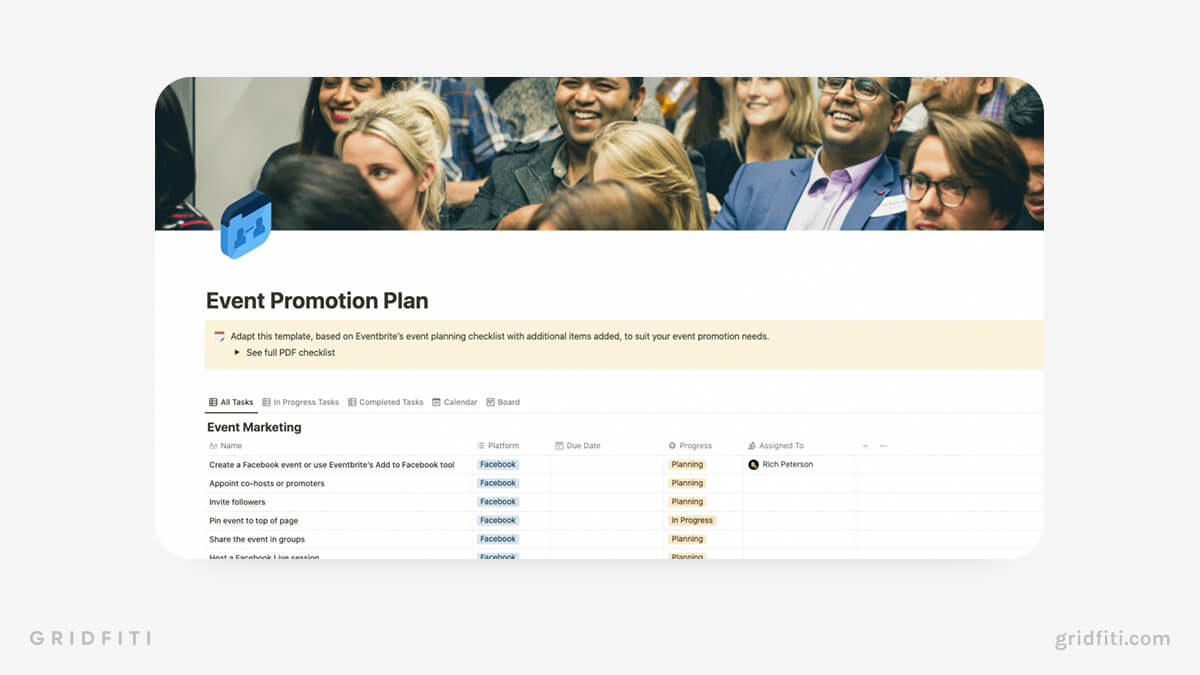 Notion Holiday & Christmas Planner Template
'Tis the season to be jolly and stress-free planning your family holiday party! Designed by someone who grew up in a big family, this template was designed to take the pressure out of holiday party planning, and putting personal values at the forefront. Set out your holiday and seasonal event tasks, create a holiday bucket list of both new and old traditions, track presents, see the calendar at a glance, and even map out your holiday values – whether it's to be more sustainable, intentional, charitable, or anything in between!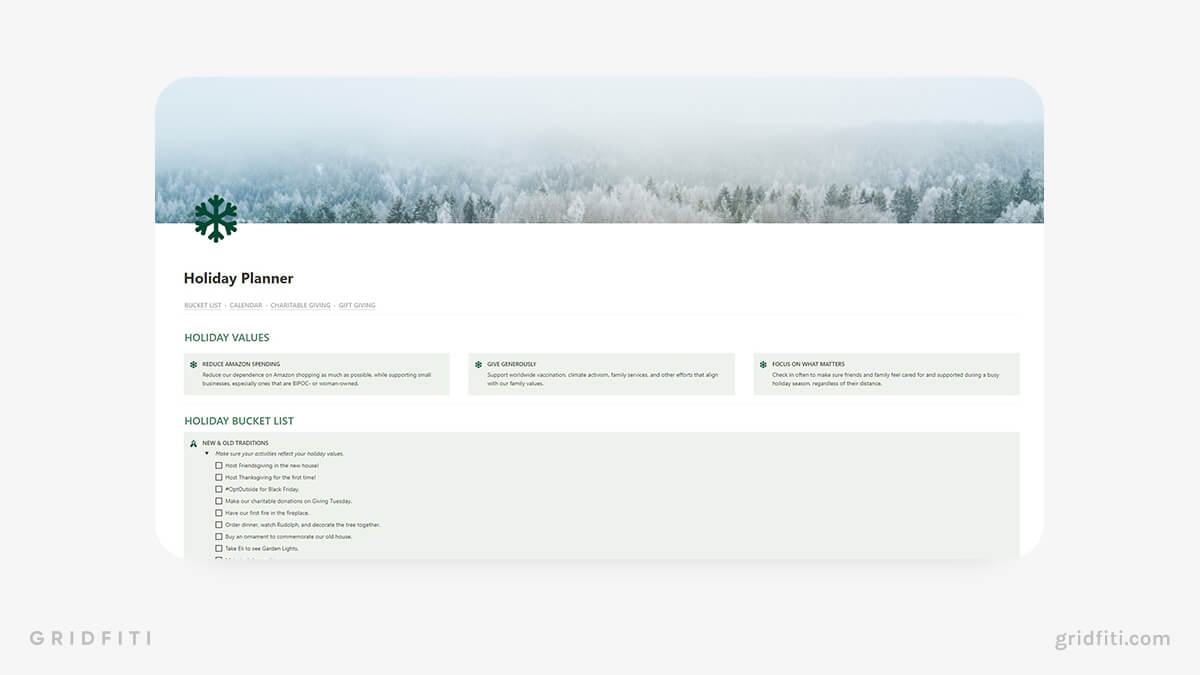 Simple Birthday Party Planner Notion Template
Looking to throw a birthday party and want a simple solution to get organized? With this pretty pink template, centralize all your details, costs, activities, and more into one hub!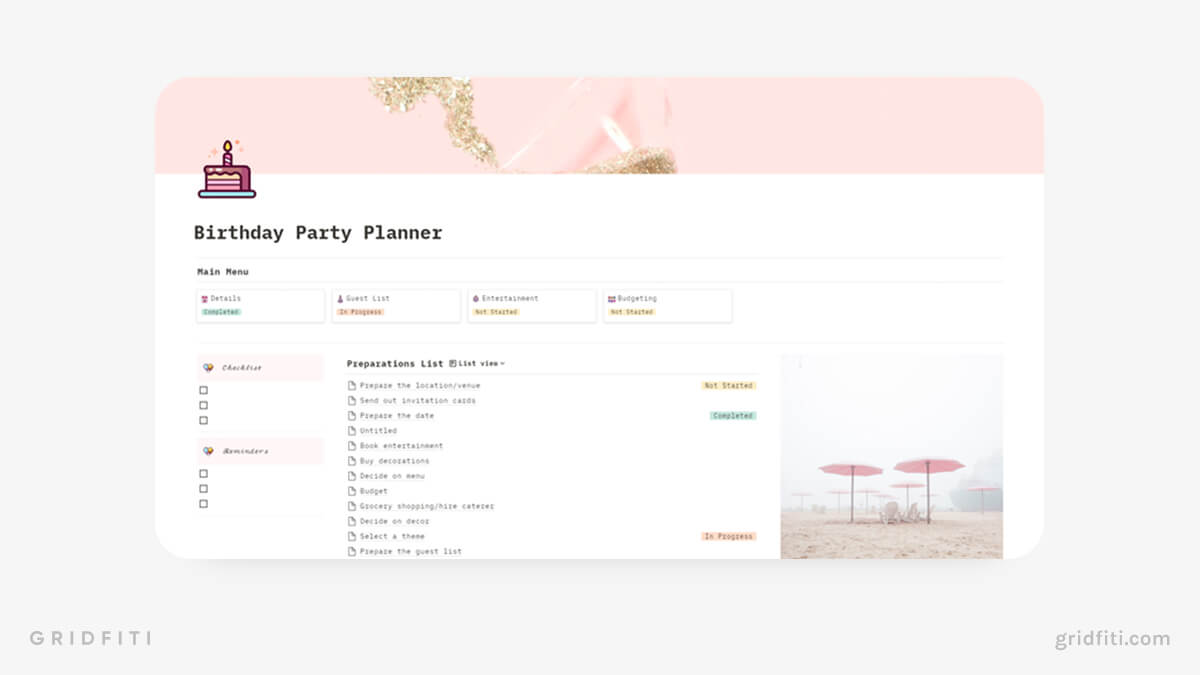 Notion Wedding Planning Templates
Looking for more templates to plan the big day? Don't miss our full round-up of the best Notion wedding planning templates!
All-in-One Notion Wedding Planner Template
With this template developed by former event planner, save countless of hours of research and centralize your wedding planning all in one place! The template is jam-packed with a guest list tracker, budgeter, wish lists, day-of scripts, a workback schedule for the big day, and moodboards for your ring, decorations, flowers and photo ideas.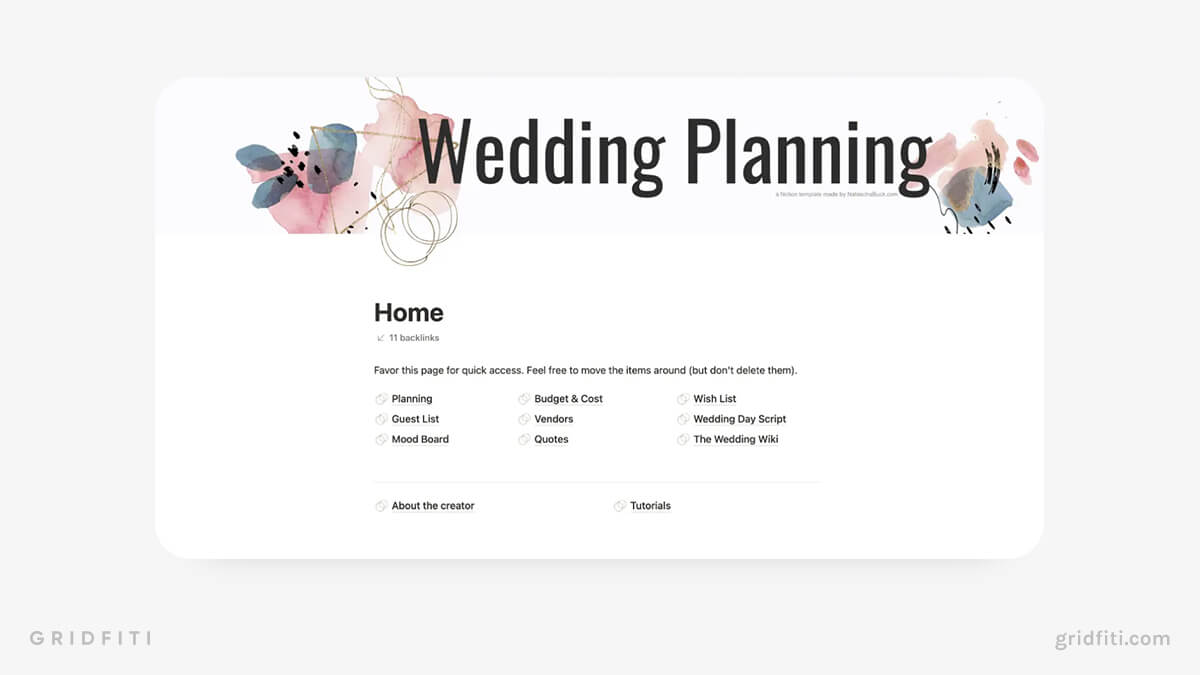 Notion Wedding Planner & Organizer Template
Another great wedding planning template – this dashboard by TheSeekerSociety was designed to help you plan your wedding with ease. With this template, make your day as stress-free as possible: organize your wedding vendors, track expenses, create a guest list, and even plan your honeymoon!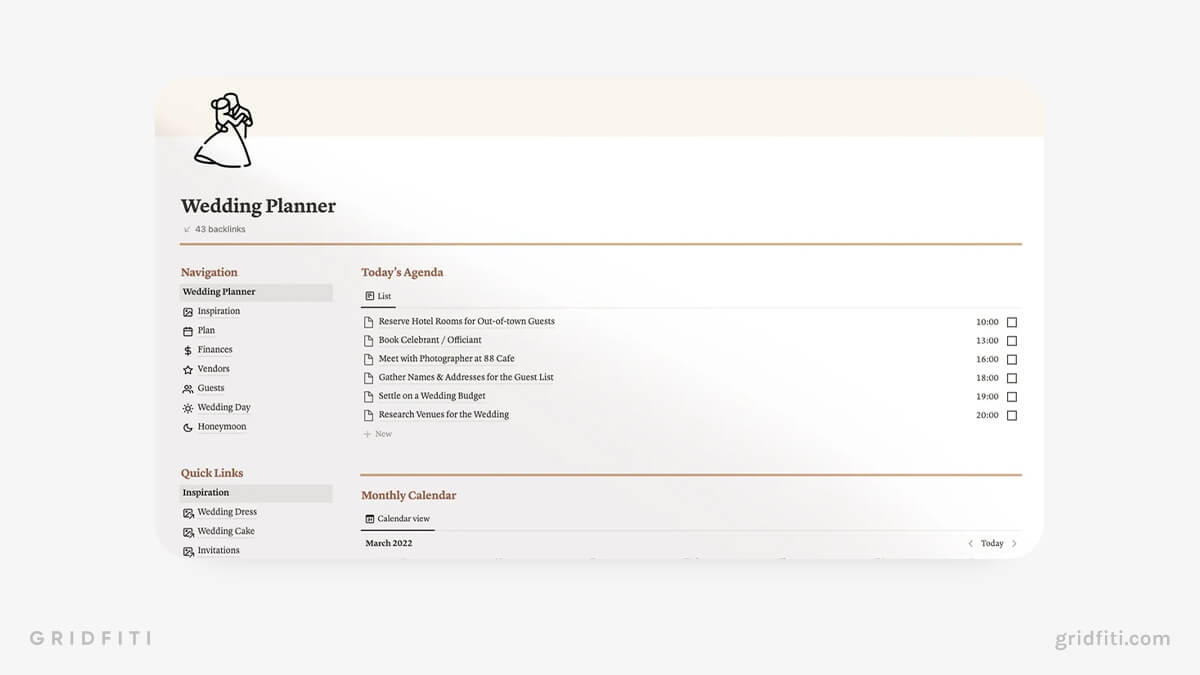 Which Notion event planning template do you see yourself using? Let us know in the comments below!
Gridfiti is supported by its audience – when you buy something using the retail links in our posts, we may earn a small commission at no additional cost to you. Read more about our affiliate disclaimer.